Chicken, Sweet Potato and Quinoa Bowl Recipe
I spend quite a good deal of time forking up suppers to suit the whole family's dietary requirements. No peas, no meatballs, no fish, no carrots, no tomatoes, I feel I should have a spread sheet by the oven to refer to at all times. When I finally get around to cooking my own supper I have more than likely lost the will to cook/live. Today's delicious offering was born out of my lack of will to cook, whilst still needing something relatively healthy for dinner. So, it is my pleasure to share this Chicken, Sweet Potato and Quinoa Bowl recipe.
I fashioned this flavourful, one pot dinner with store cupboard staples. I had a rather large sweet potato, too big to have as a baked potato, half a bag of quinoa with no home to go to and a couple of chicken breasts. Not a terribly inspiring line up until you add the deliciousness that is lightly sautéed onions and garlic, some curry powder and just a smidgen of fresh coriander. This is not haute cuisine, this is rib sticking wholesome food, filled with protein and vitamins. Let's just take a moment to mention the fact I have given this recipe the fashionable 'bowl' title. Everything's a bloody bowl at the moment, ramen noodle bowl this, breakfast smoothie bowl that, so I thought I would jump on the bandwagon and bowl this up too. Besides, this super tasty chicken and quinoa combo is served in a bowl so it's not wholly slanderous.
I have struggled with quinoa in the past, it's either been gritty or sloppy, but this recipe has it cooked to a perfectly firm *slightly stodgy* consistency, which sits brilliantly alongside the soft sweet potato and chicken breast. All the food groups are represented in this top supper bowl, serve with some greenery or stir through some fresh spinach and you could eat this happily for a whole week. I have been and very happy I am too.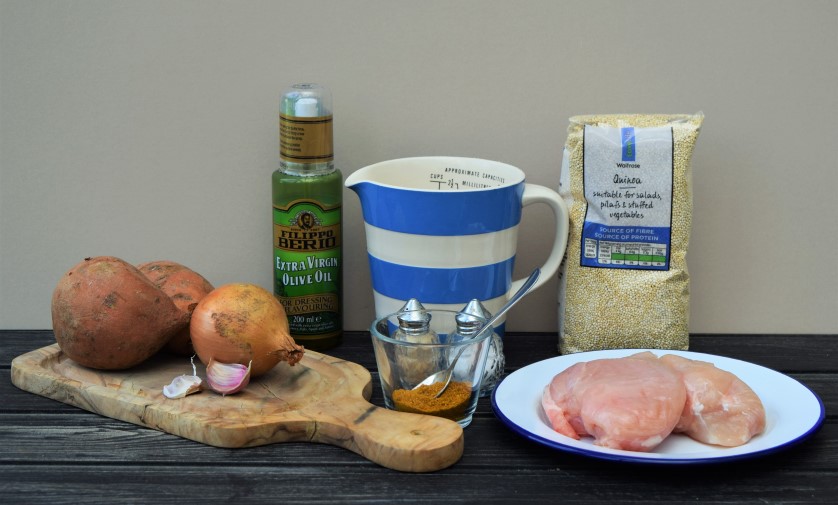 Ooh, what a super wholemeal looking line up. Who would guess this tastes completely bloody delicious. I have made this too with some three coloured quinoa *I had no idea there were another two colours* and it was delicious, but just use what you have in your cupboard.
Make a start with a spray or two of oil in a large frying pan. Add in the as finely as you can be arsed chopped onion and garlic and sauté until just softening and starting to brown.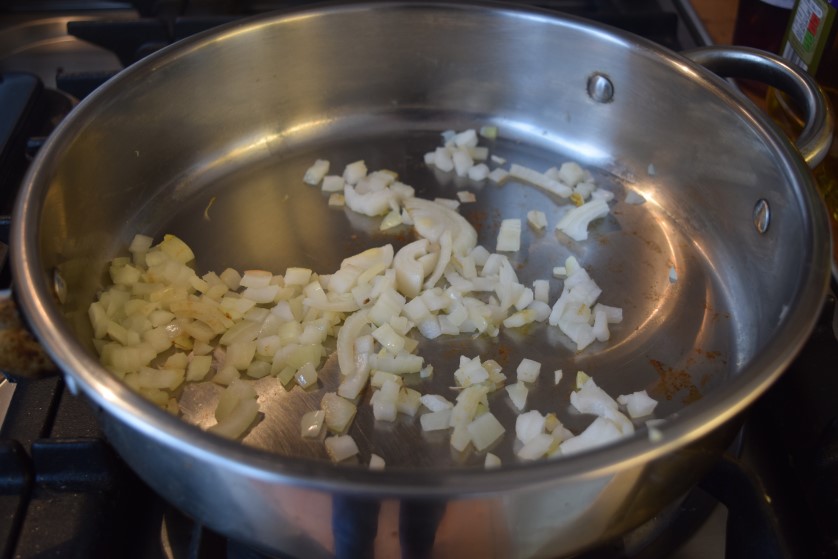 Peel and cube the sweet potato then add this into the pan too.
Along with your cubed chicken breast.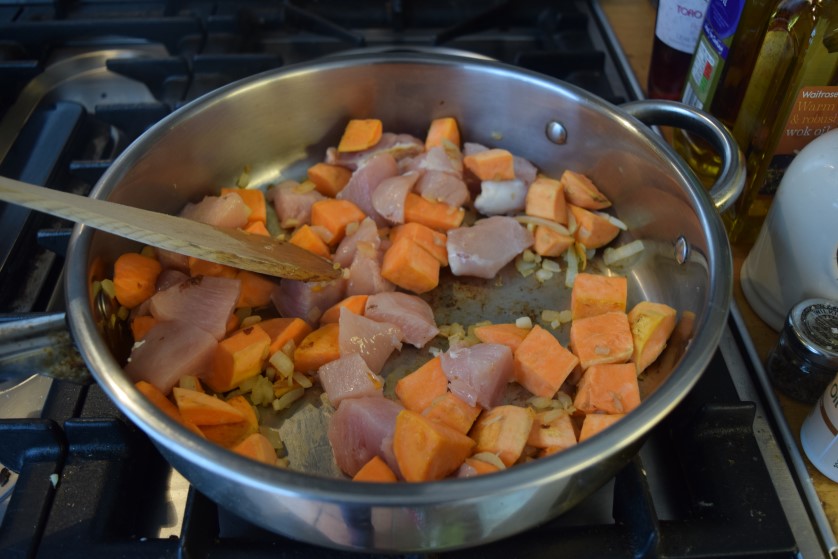 Cook this mixture for a couple of minutes until the potato and chicken are starting to brown then stir through the fragrant curry powder and inhale the most delicious smells.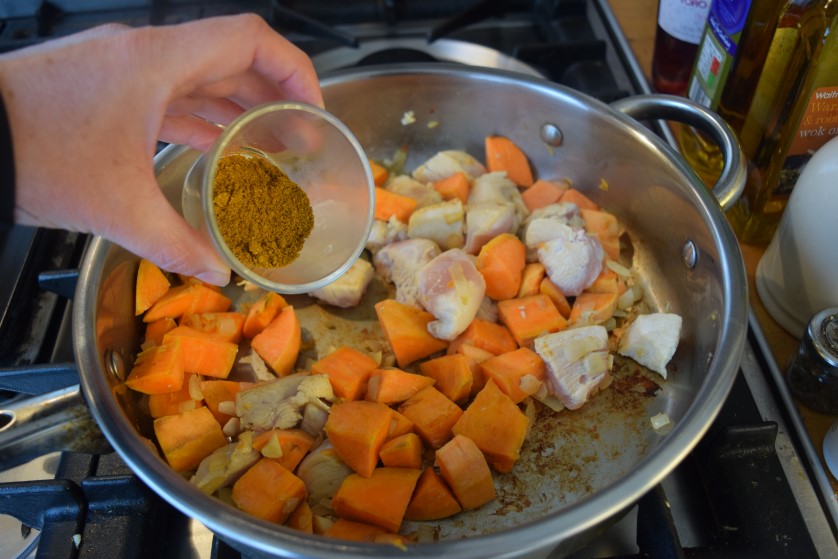 Pour in the terribly fashionable quinoa and stir, toasting it for a moment coating it in the spices, then follow in with the chicken stock and stir well again.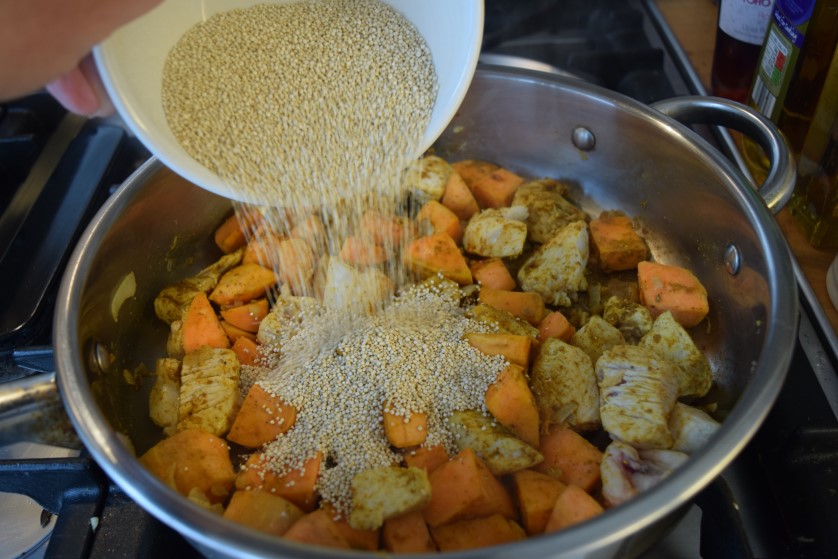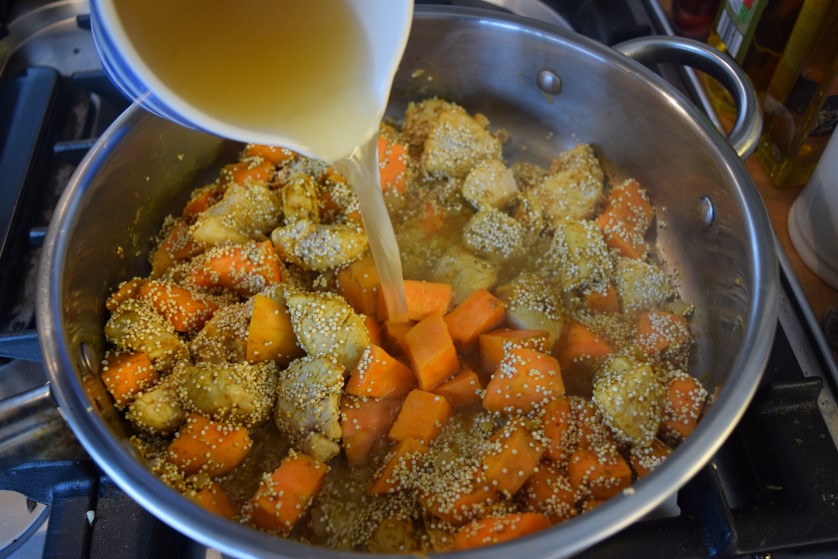 Bring this one pot treat up to the simmer then turn down and pop a lid on for around 25 minutes. Keep an eye on the pan after around 20 minutes to ensure it's not sticking to the bottom. If it is, pour a touch more stock into the mix.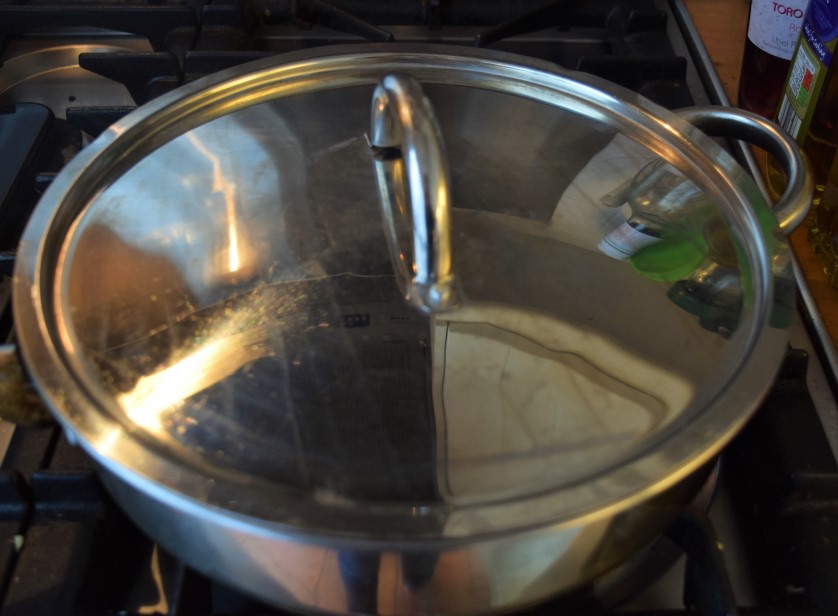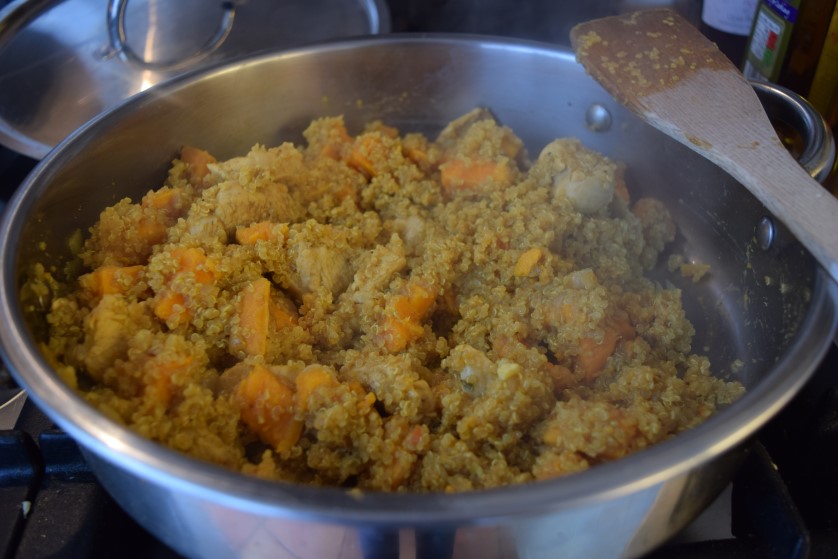 Once the chicken and sweet potato are cooked through and the quinoa is soft, there's nothing more to do other than stir through some freshly chopped coriander and serve with some sort of greenery and perhaps a spoonful of mango chutney.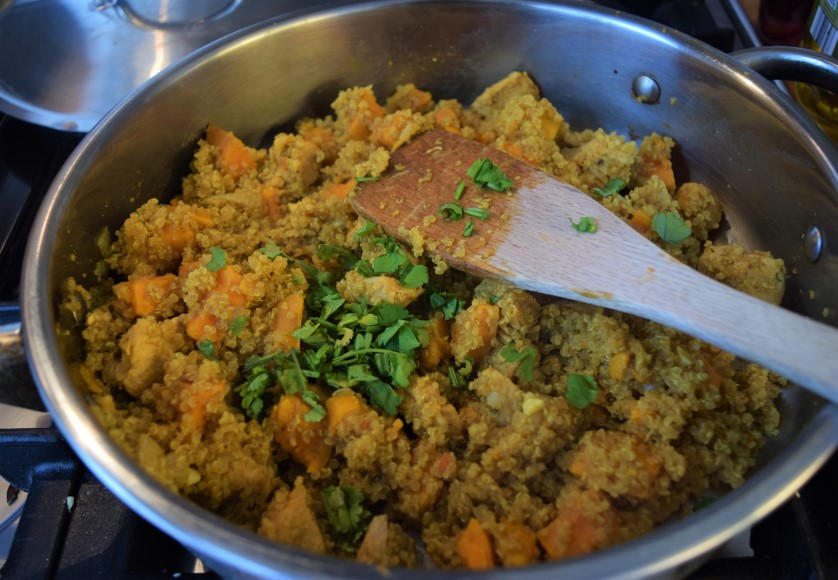 And there you have it, simple with a whiff of health and beyond tasty.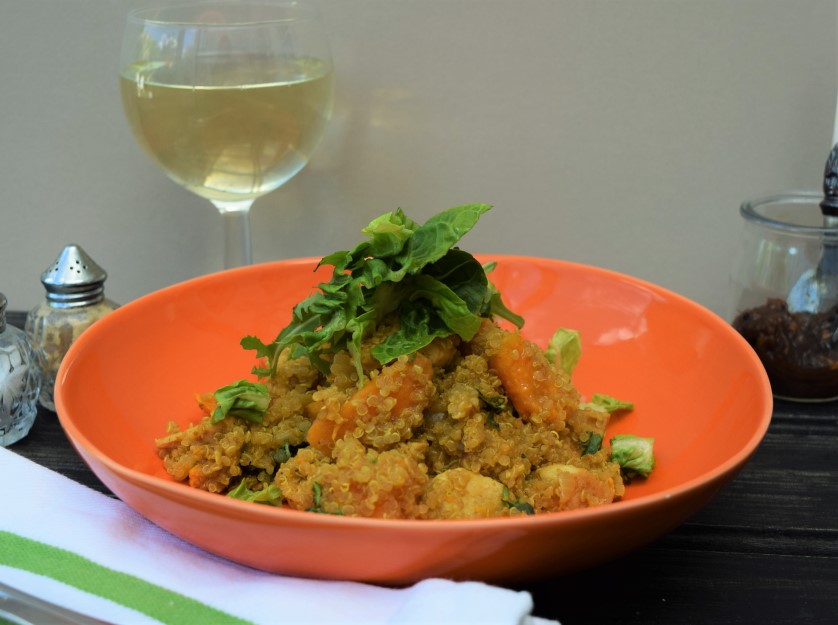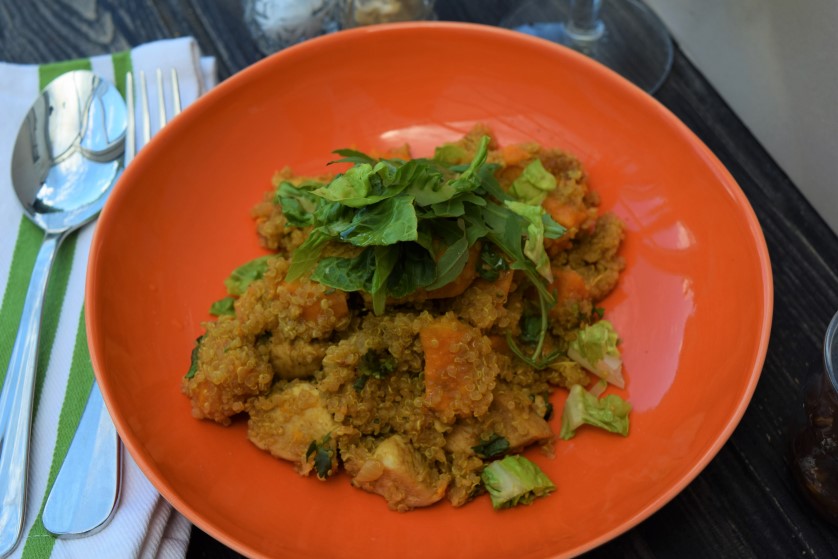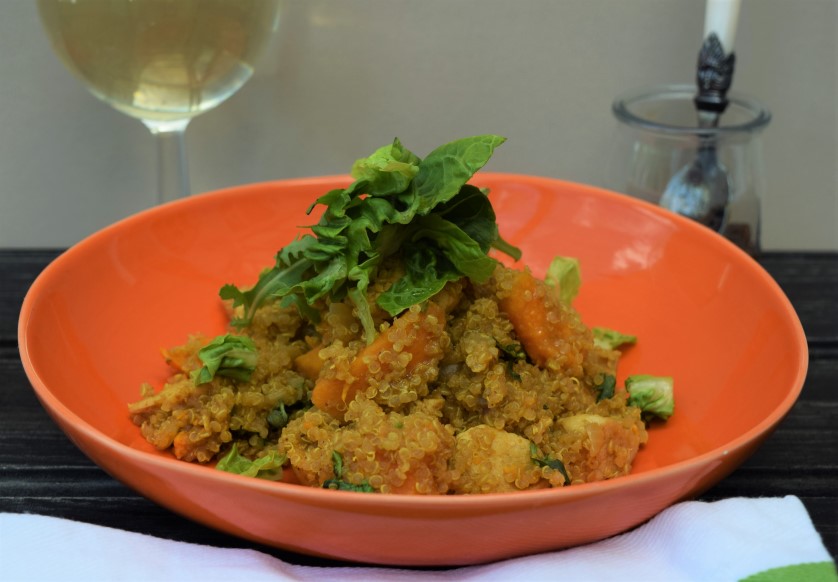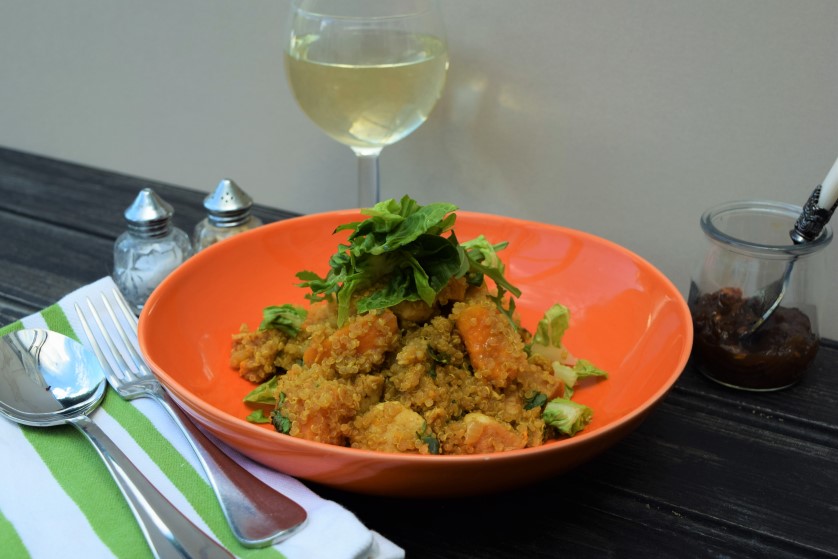 The bucket of white wine is optional, but was particularly delicious. This is such an easy recipe, born out of ingredients I had to hand and devoured in big bowlfuls. As usual, I had to wrestle this plate away from Ben long enough to photograph it, but rest assured there wasn't a scrap left afterwards. It's like living with a plague of locust.
Lucy x
Chicken, Sweet Potato and Quinoa Bowl Recipe
Serves a generous 4 people
Spray oil or a tablespoon olive oil
1 onion, finely-ish chopped
1 or 2 garlic cloves, chopped
1 large sweet potato or 2 smaller ones, peeled
1 large or two smaller chicken breasts, cubed
3 teaspoons curry powder
150g quinoa
500ml chicken stock
Salt and pepper
Freshly chopped coriander to garnish, mango chutney to accompany and a green vegetable or leaves to serve
Heat the olive oil or spray oil in a large frying pan. Finely chop an onion and the garlic cloves and add to the hot pan. Cook for a couple of minutes until softening and starting to brown. Peel and cube the sweet potato then add this to the onion mixture. Cook for a couple of minutes before adding the cubed chicken breast then cook this for a further minute or two or until it's all just starting to brown.
Stir in the curry powder until everything is coated then tip in the quinoa and stir this through, toasting slightly, before pouring on the chicken stock. Stir well, season then pop a lid on for 25 to 30 minutes or until all the stock is absorbed and the quinoa is plump. Keep an eye on the pan from 20 minutes to ensure the quinoa doesn't stick to the bottom, if it does just add a splash more stock.
Stir through the fresh coriander and serve hot with spinach, leaves or green beans and a spoonful of mango chutney. Any leftovers keep well in the fridge for a couple of days, reheat accordingly.