Instant Pot Orzo Bolognese Recipe
I love a kitchen gadget. So much so, Clyde has now installed a one in, one out policy for any new purchases *miserable old git*. Over the years I have made some brilliant acquisitions, for example my Magimix, and some shit ones, such as an electric rotisserie oven, amongst others. My Instant Pot, however, is on another scale. I deliberated for a while over buying one, but, now I wished I had bought one ages ago, for all sorts of reasons, but this Orzo Bolognese recipe being right at the top of that list.
An Instant Pot, which I bought with my own hard earned money, this is not a sponsored post btw, is an electric pressure cooker. Not like your Mum's old one which used to sound like it was going to explode every time she used it, this is much more swanky *George's worst word ever*. It cooks things super quickly, leaving meat tender and succulent, it makes yoghurt and rice pudding and it even slow cooks too. It doesn't get George to revise for his GCSE's but it does do pretty much everything else. I have a lot of favourite recipes for my Instant Pot, but this Orzo Bolognese is a total godsend. Apart from a bit of sautéing at the start this cooks in 8 minutes, and requires no more washing up than putting the pan in the dishwasher so hooray for that tiny victory. You can make this without an IP, I have included the instructions at the bottom, but if you do fancy one, it's well worth the purchase.
This Orzo Bolognese is rich, tasty, really easy and doesn't even require any chopping. All your midweek one pot pasta dreams have just come true.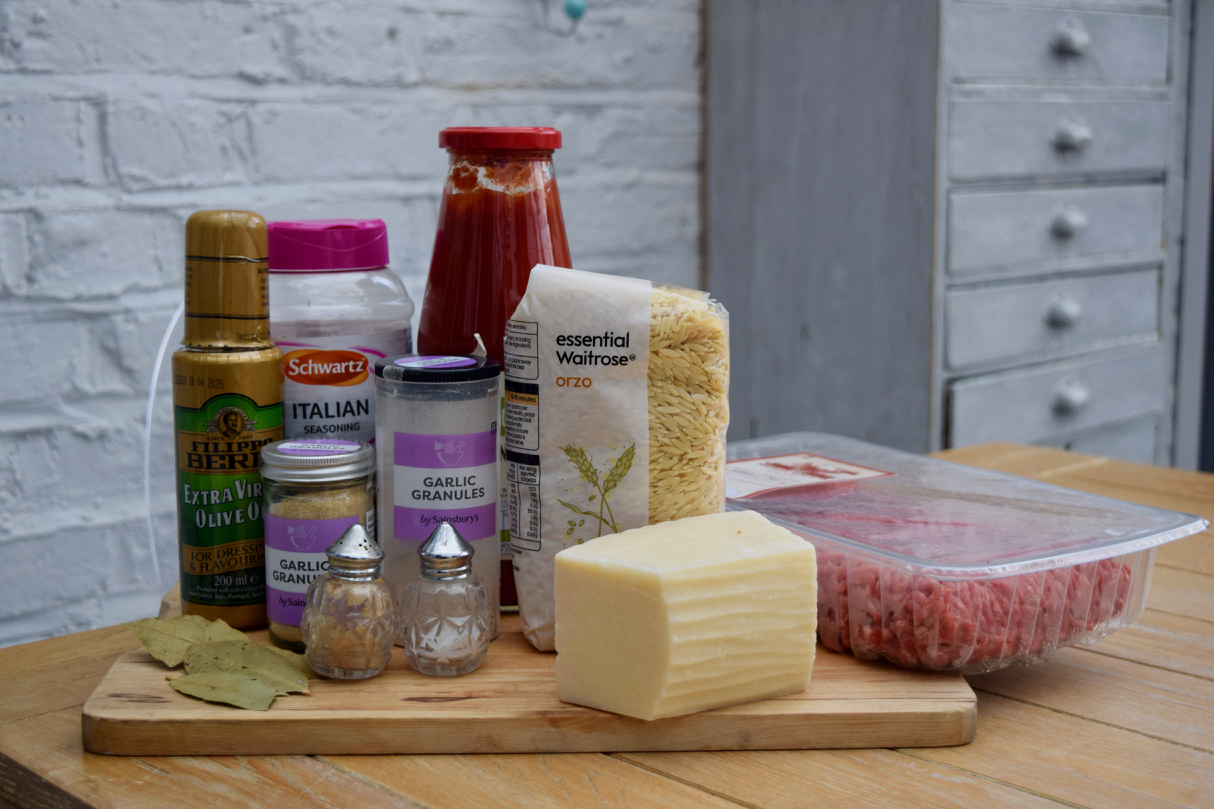 Spot the deliberate mistake in this line up. Two pots of garlic granules instead of one jar of onion granules. I was tired, I have no better excuse than that.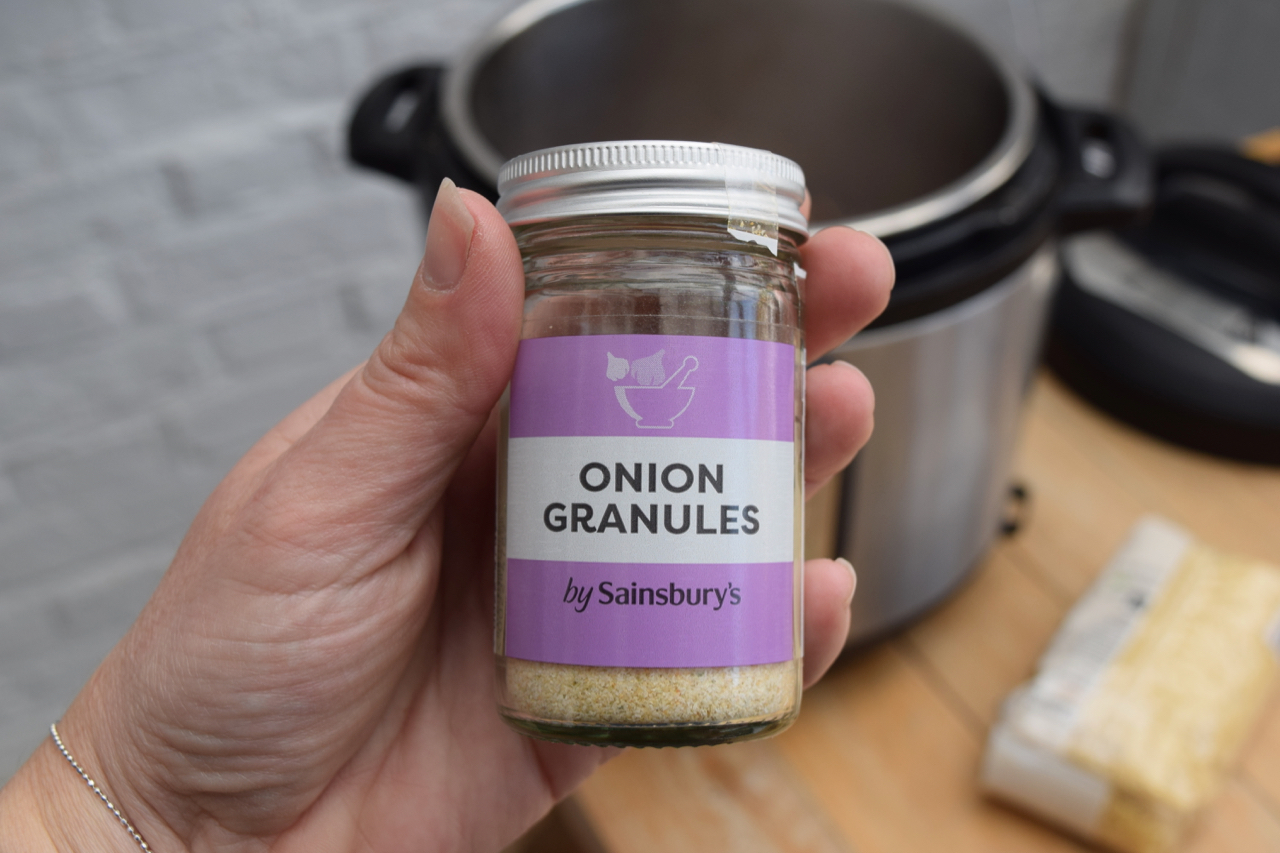 These little pots of seasoning are great, super standby's and always on hand, quite literally in this photo. I used a jar of passata for my pasta but if you had a jar of tomato based pasta sauce that would be great too.
Make a start on this recipe by adding some oil to your Instant Pot and turning the setting to sauté mode.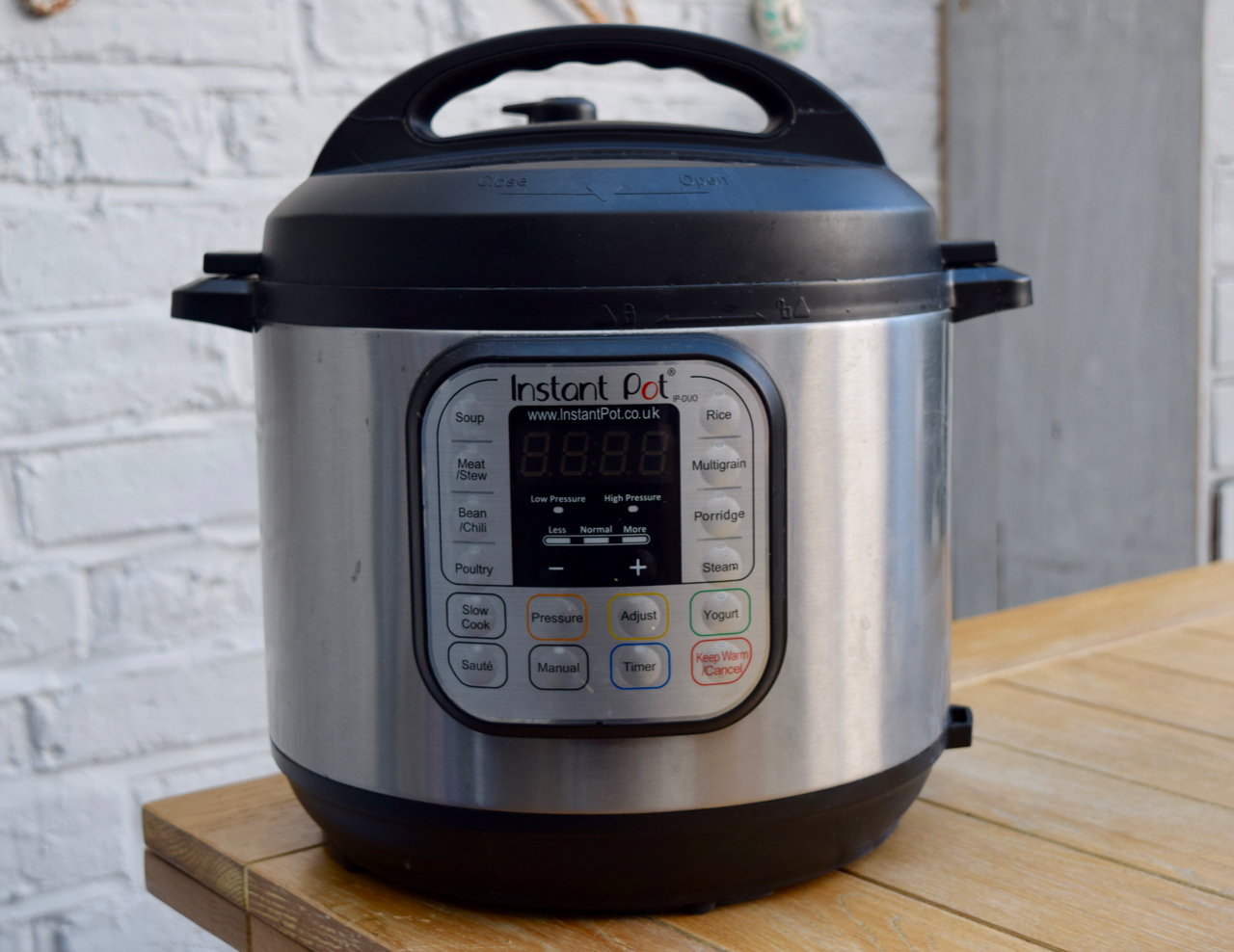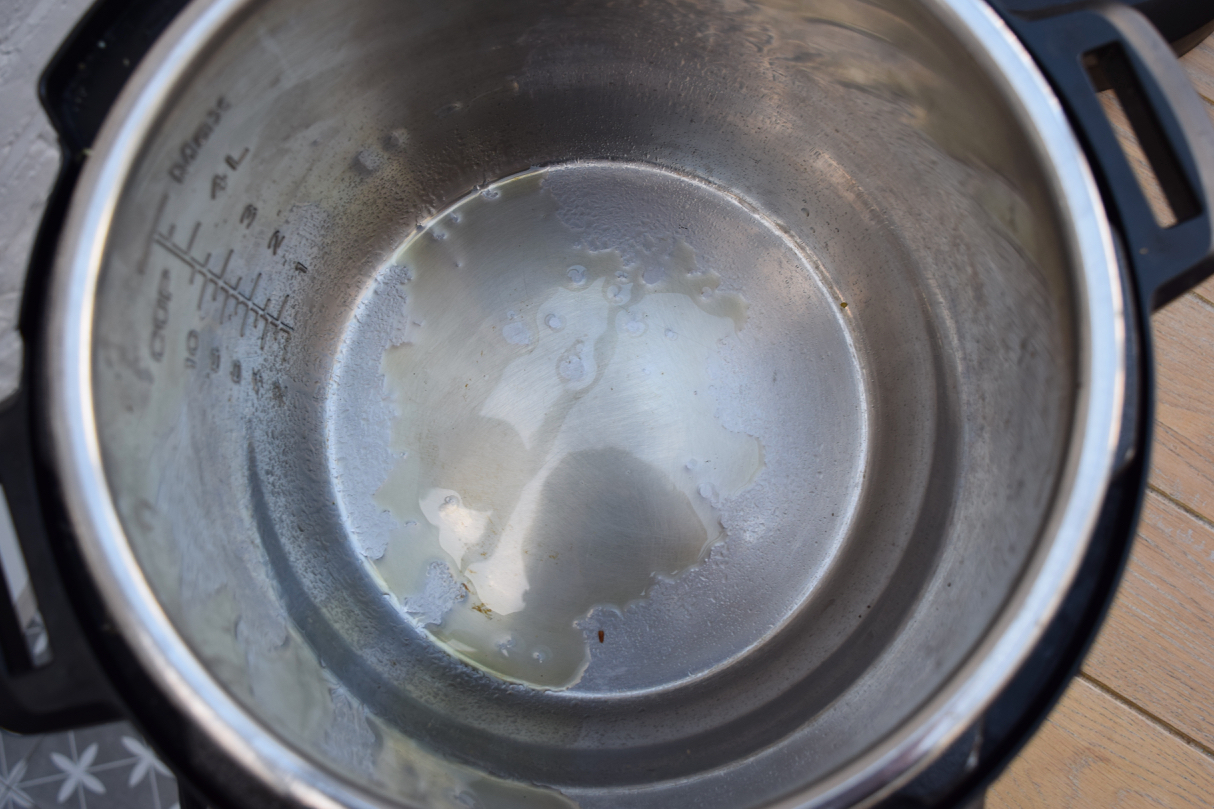 Once the pan has heated up, add your mince and cook until browned.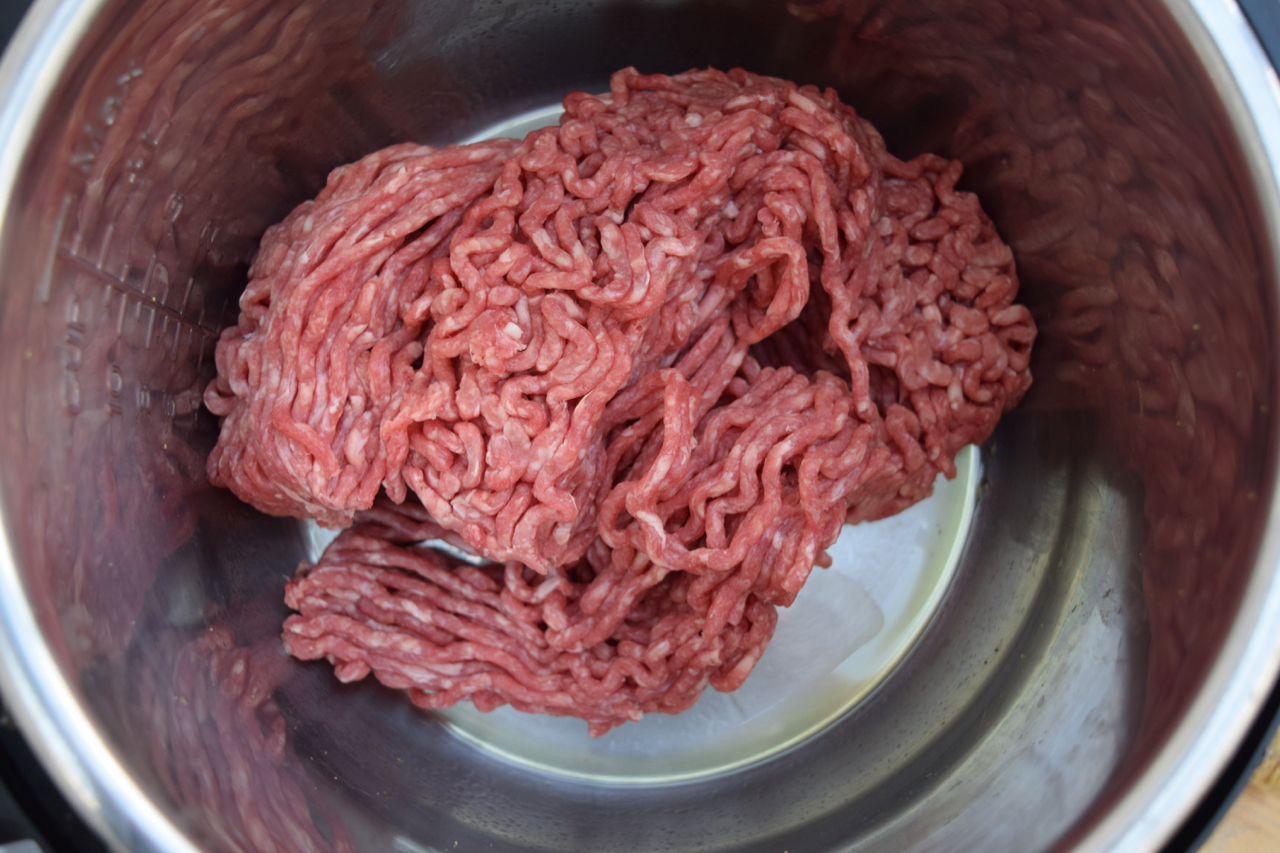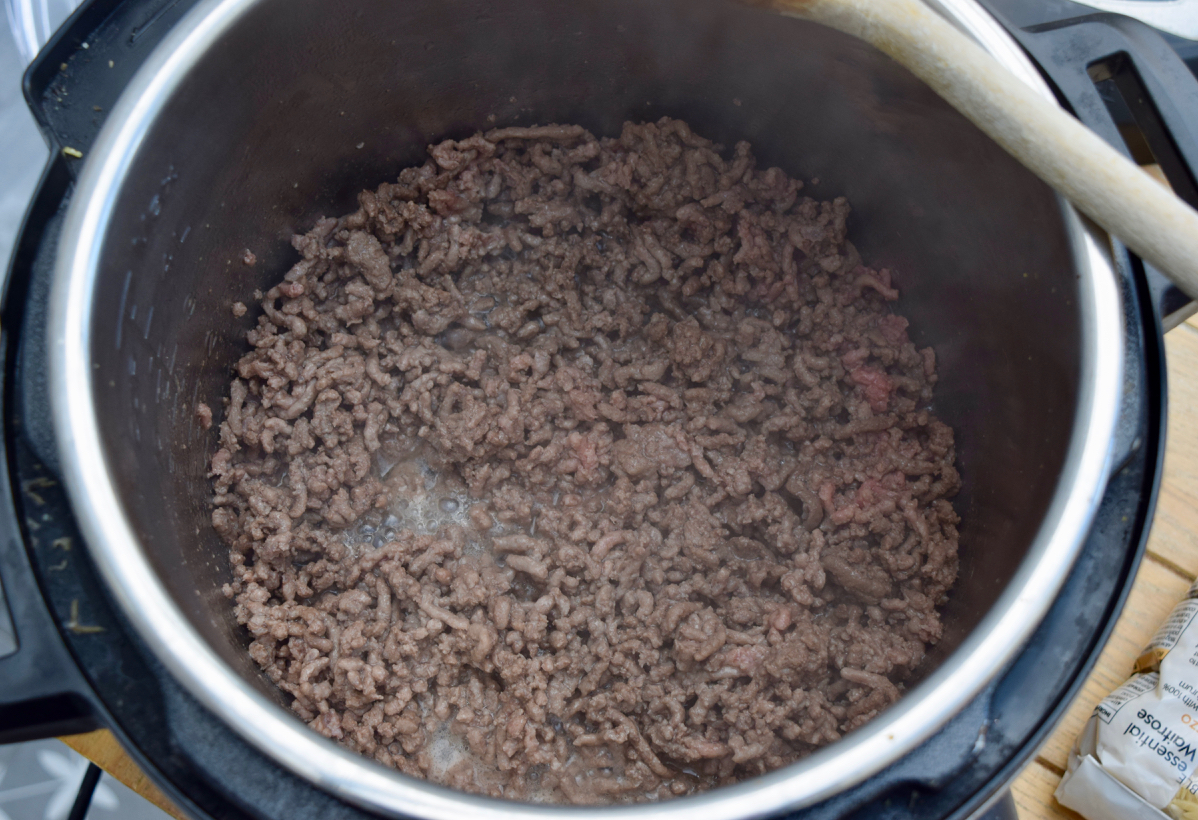 Now, stir in the Italian seasoning, garlic and onion granules, salt, bay leaves and black pepper. Pour in 100ml of the water and stir well, scraping up any tasty browned bits from the bottom of the pan. Turn the sauté mode off now.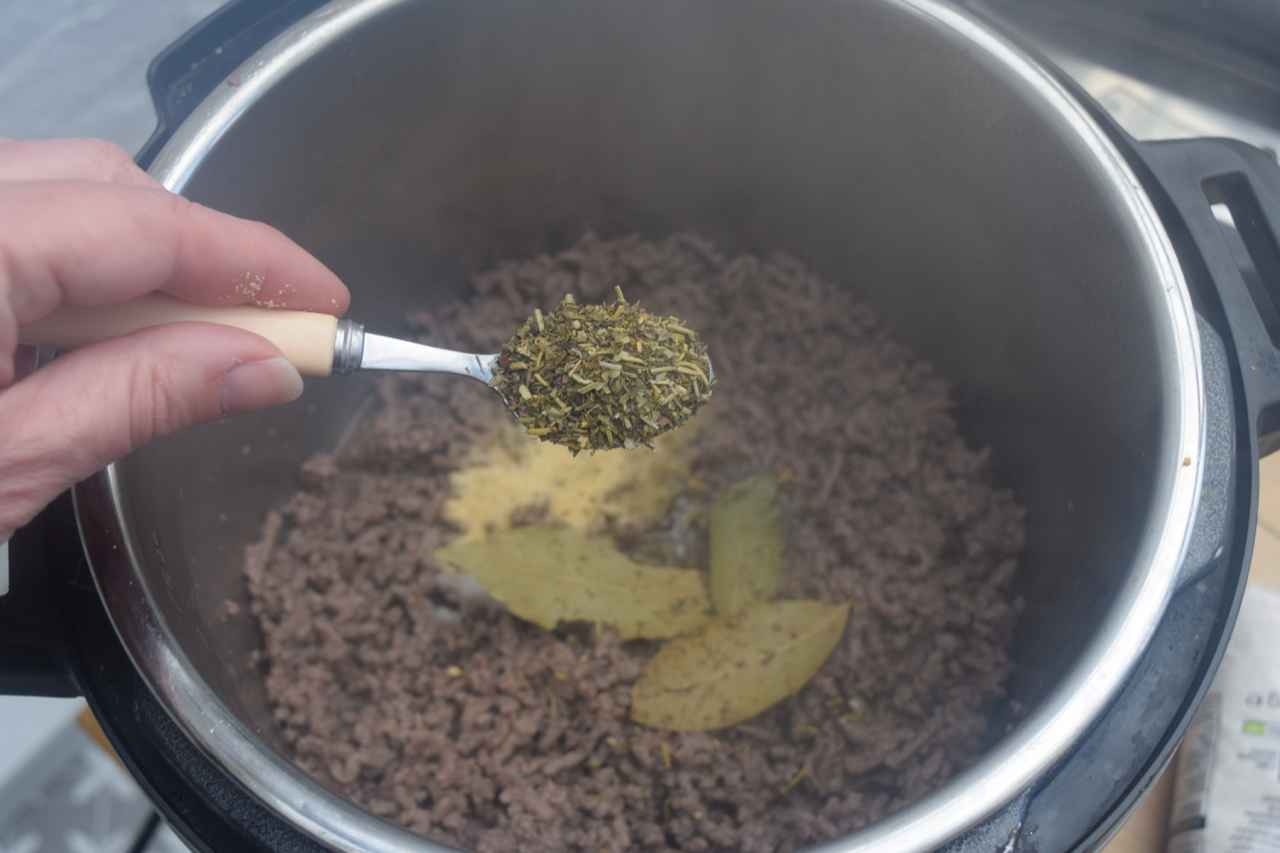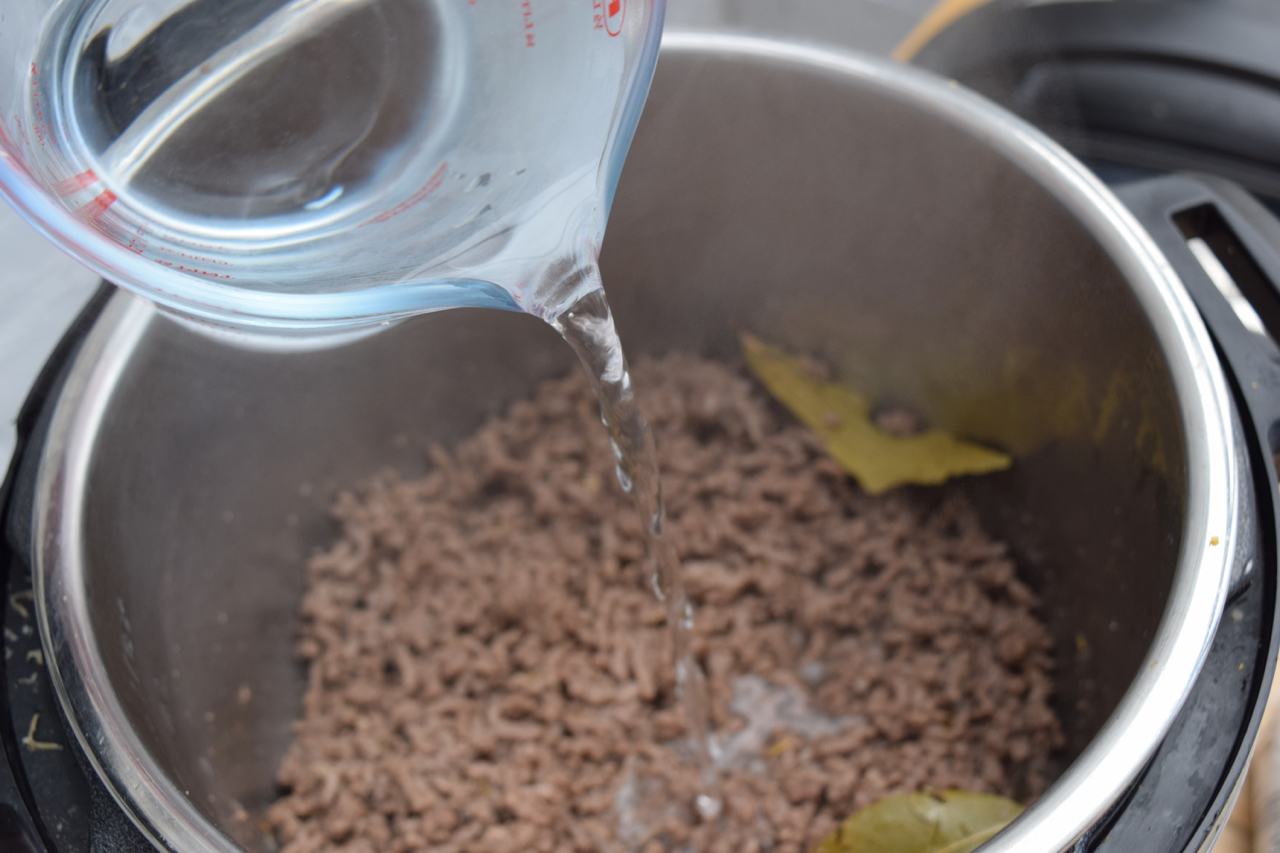 Pour in the passata or pasta sauce, with a pinch of sugar, and stir well.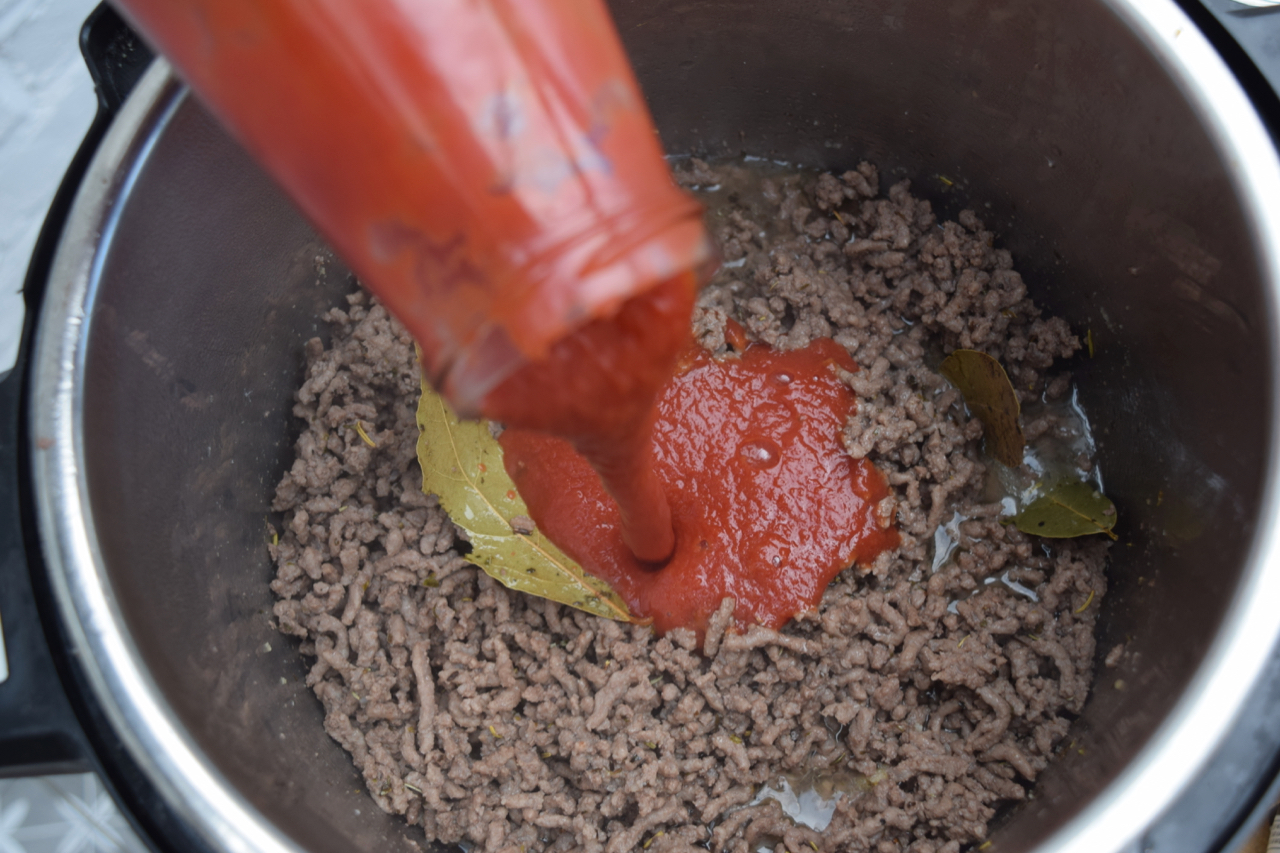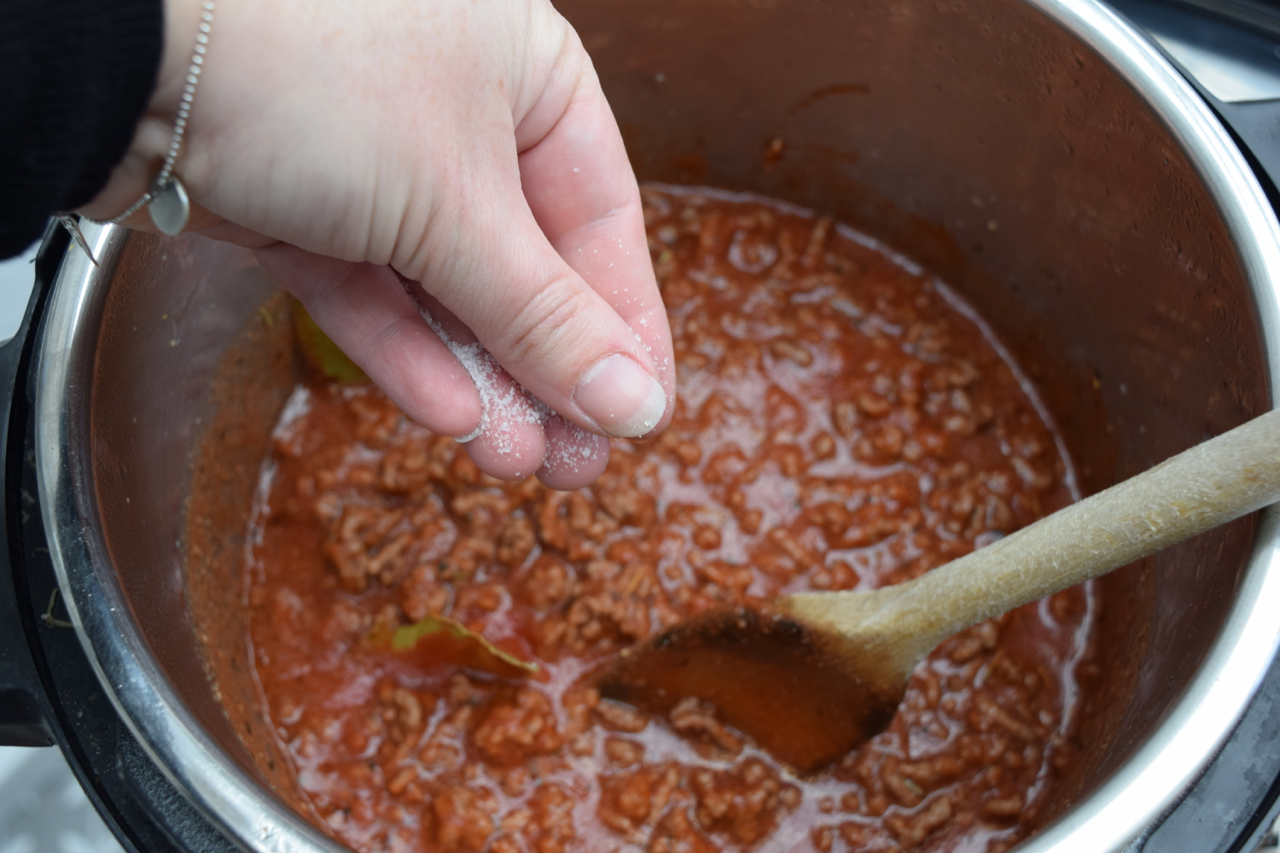 Now, tip in your orzo pasta, and don't stir from here on in.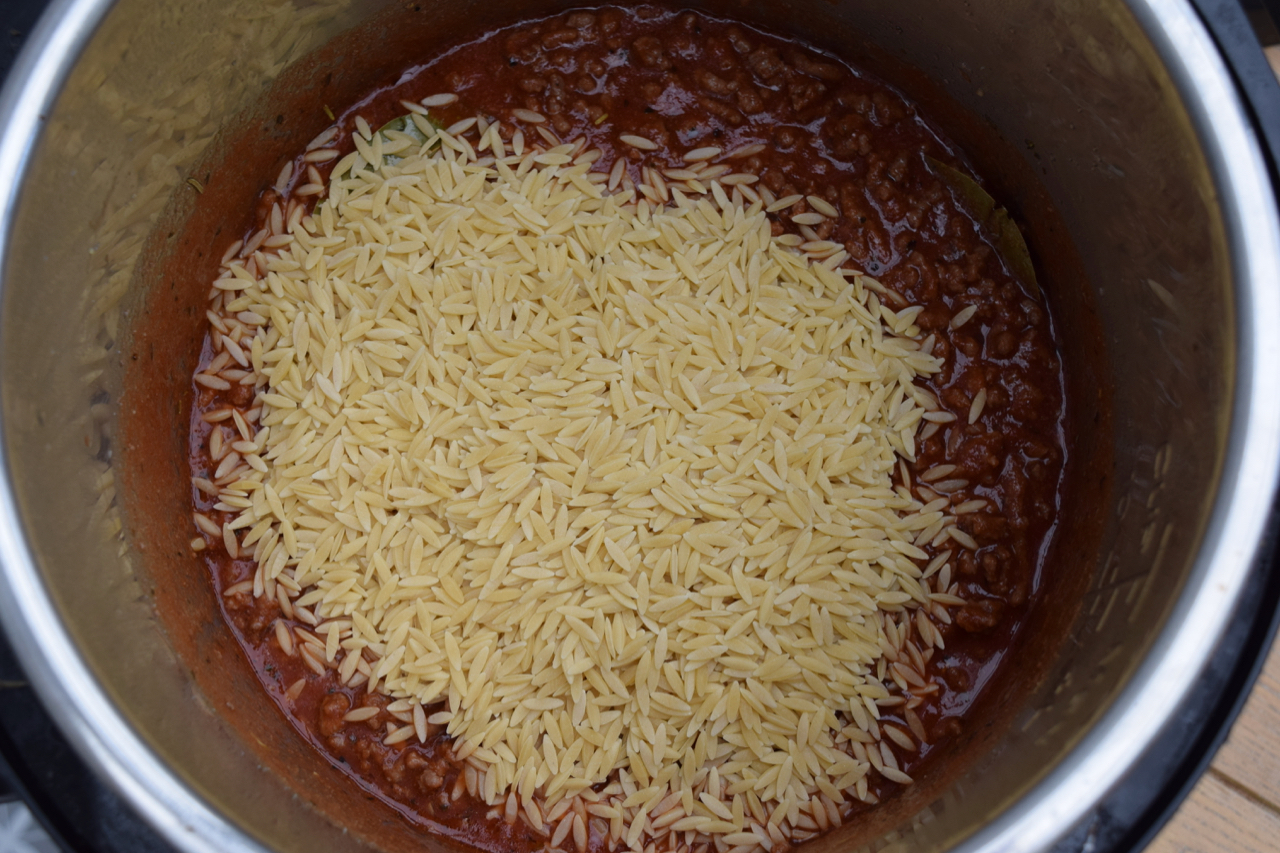 Pour the remaining 400ml of water into the passata jar, swill it around, then pour over the pasta. Remember, no stirring.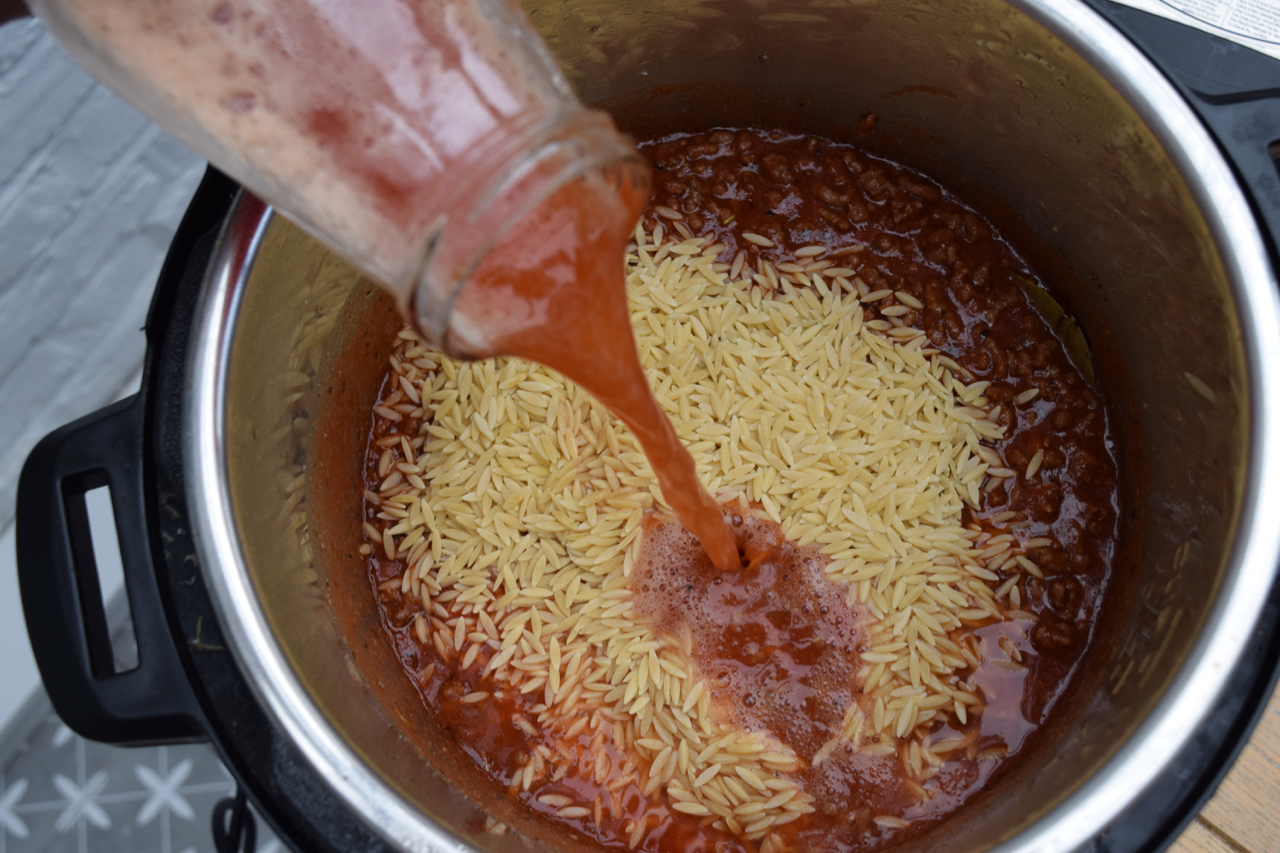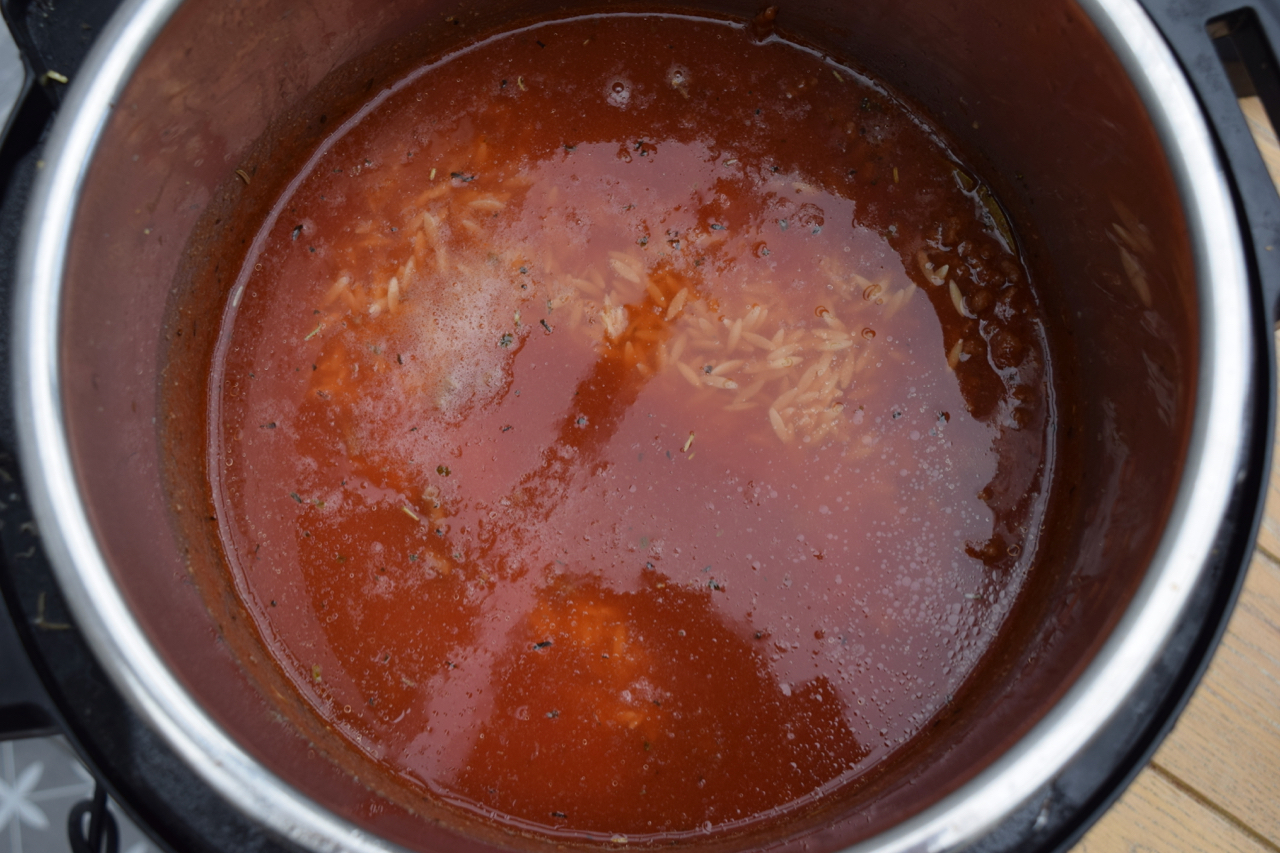 Now, put the Instant Pot lid on and seal, making sure the vent is in the correct position. Press manual and set for 8 minutes. Yes, only 8 minutes. Leave the pot to come up to pressure, it will take around 10 minutes. Then the 8 minute countdown begins.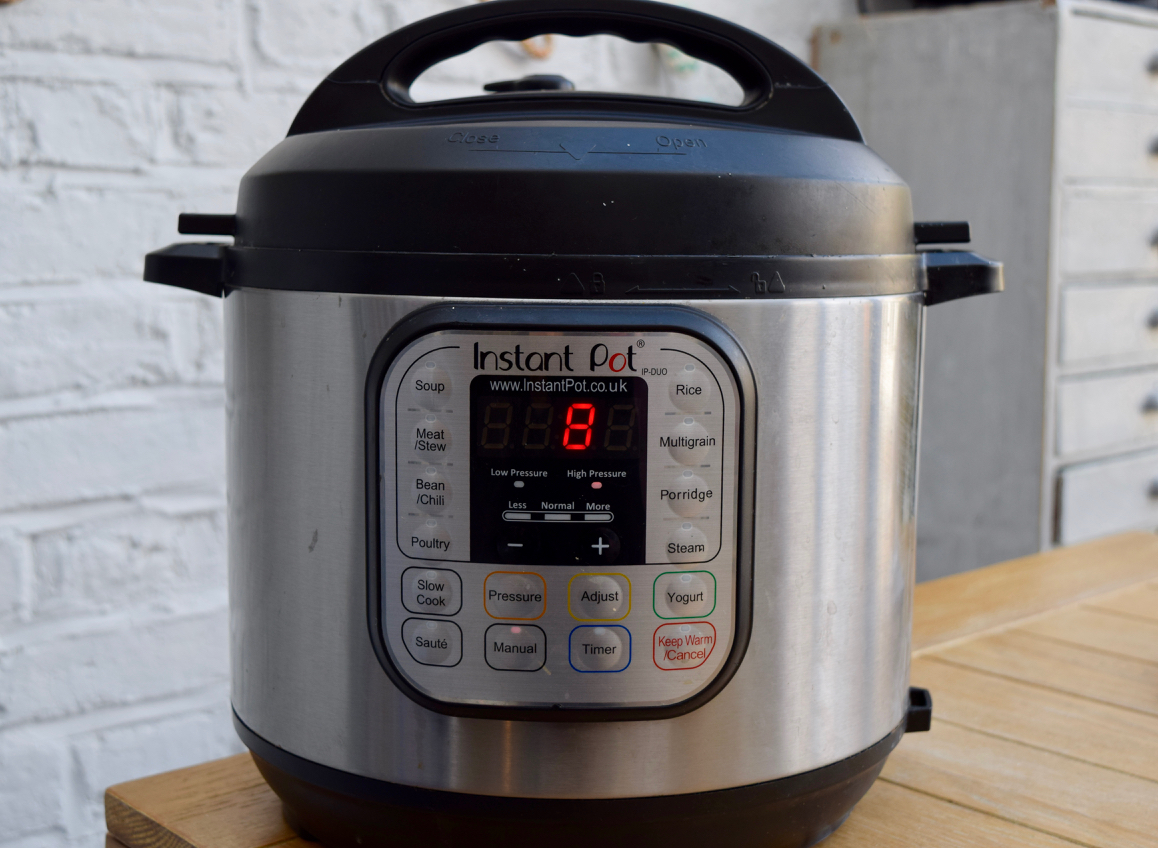 When you hear the bleep signalling the 8 minutes is up, turn the vent to allow the steam to release manually.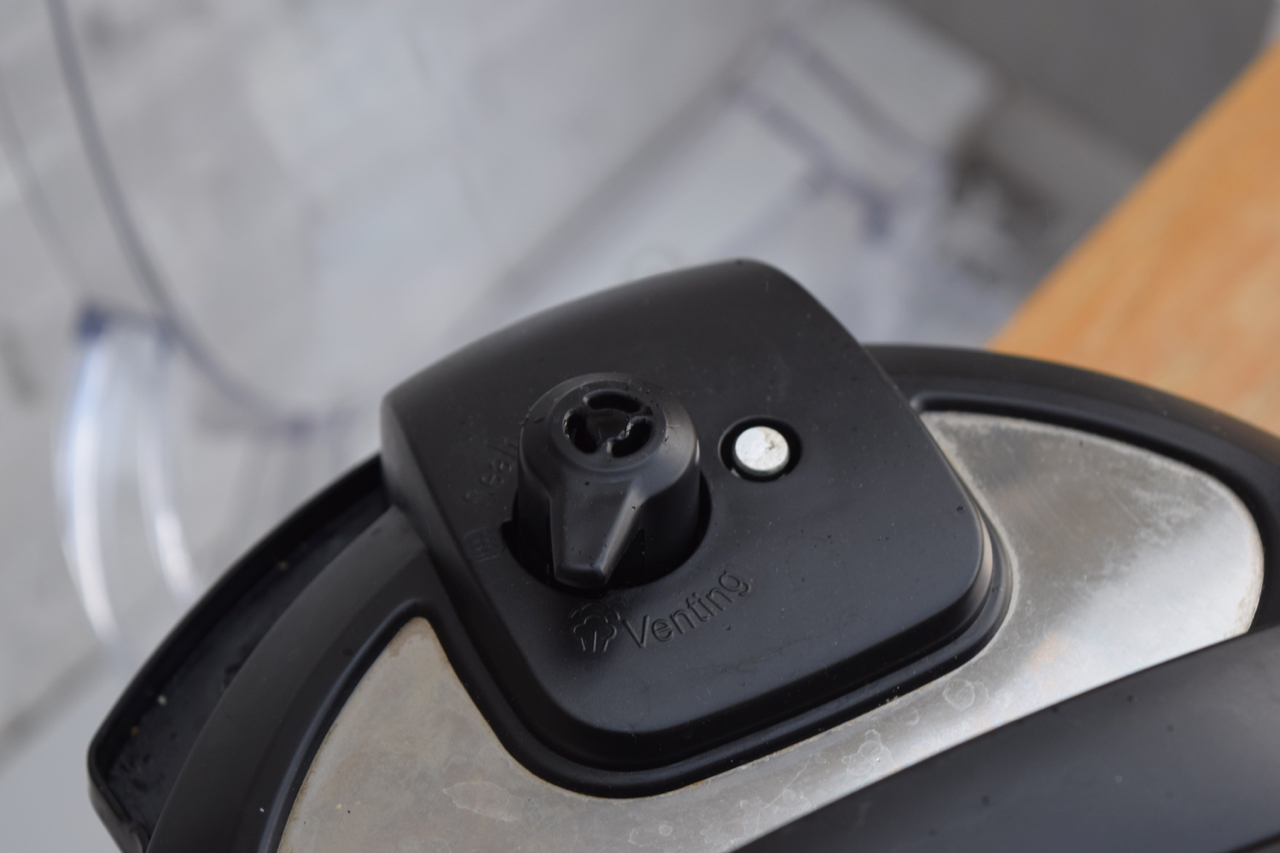 When the pressure has released, take the lid off and give the Orzo Bolognese a good stir and remove the 3 bay leaves.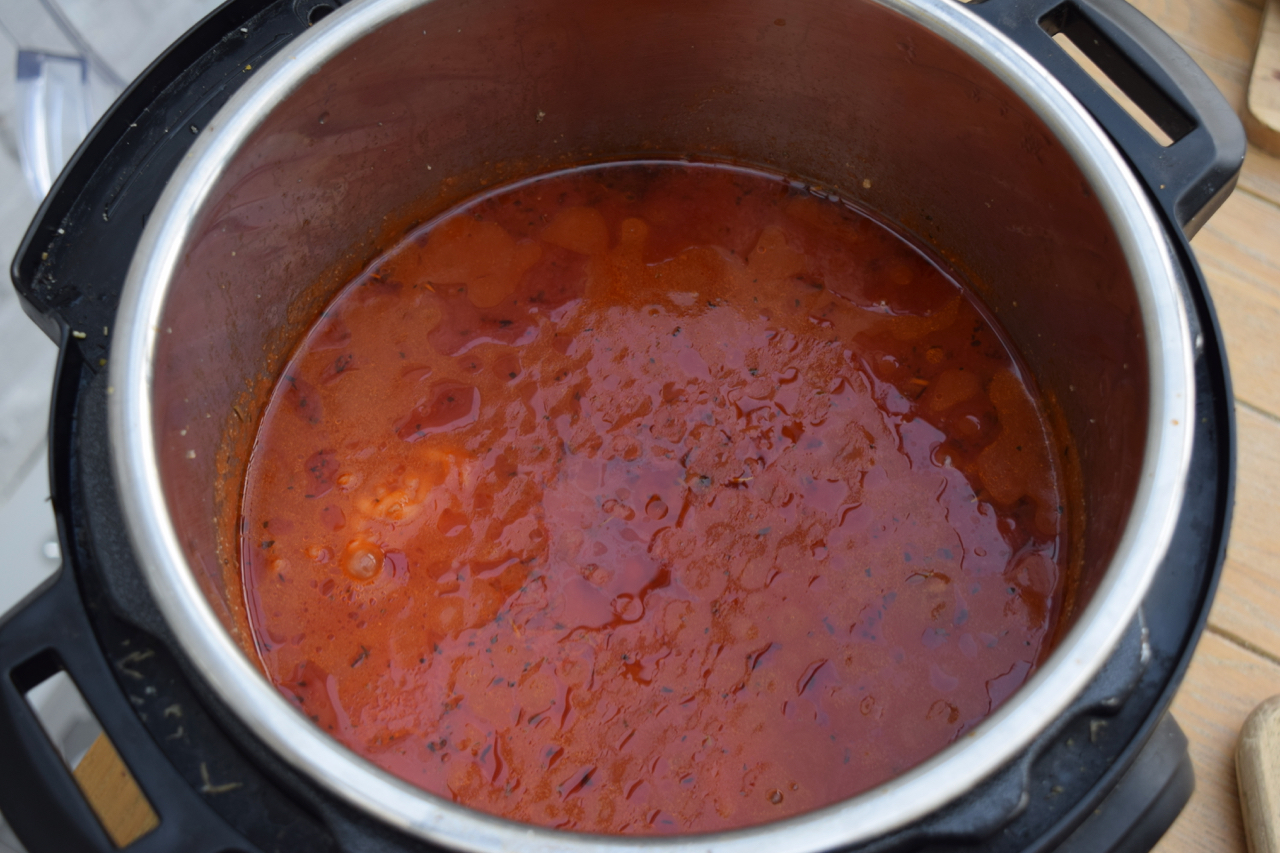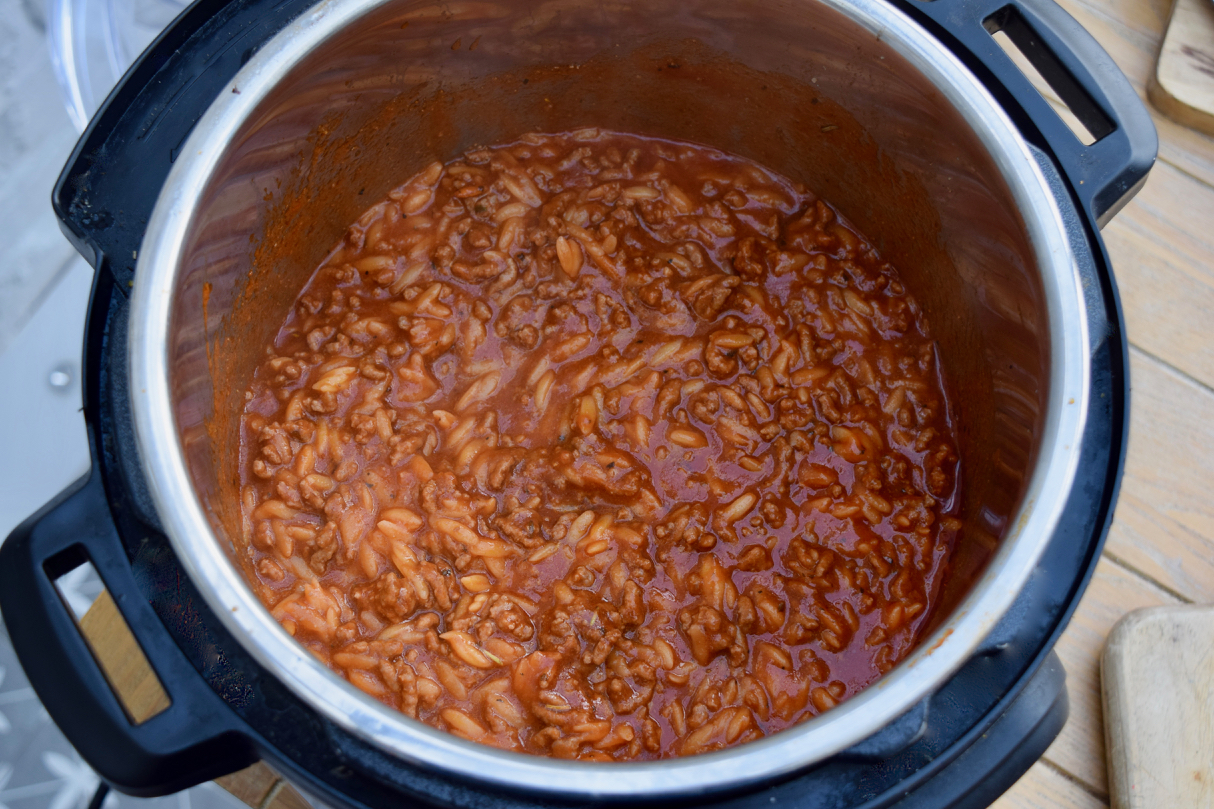 Stir in three quarters of the grated parmesan, reserving the rest to serve at the table.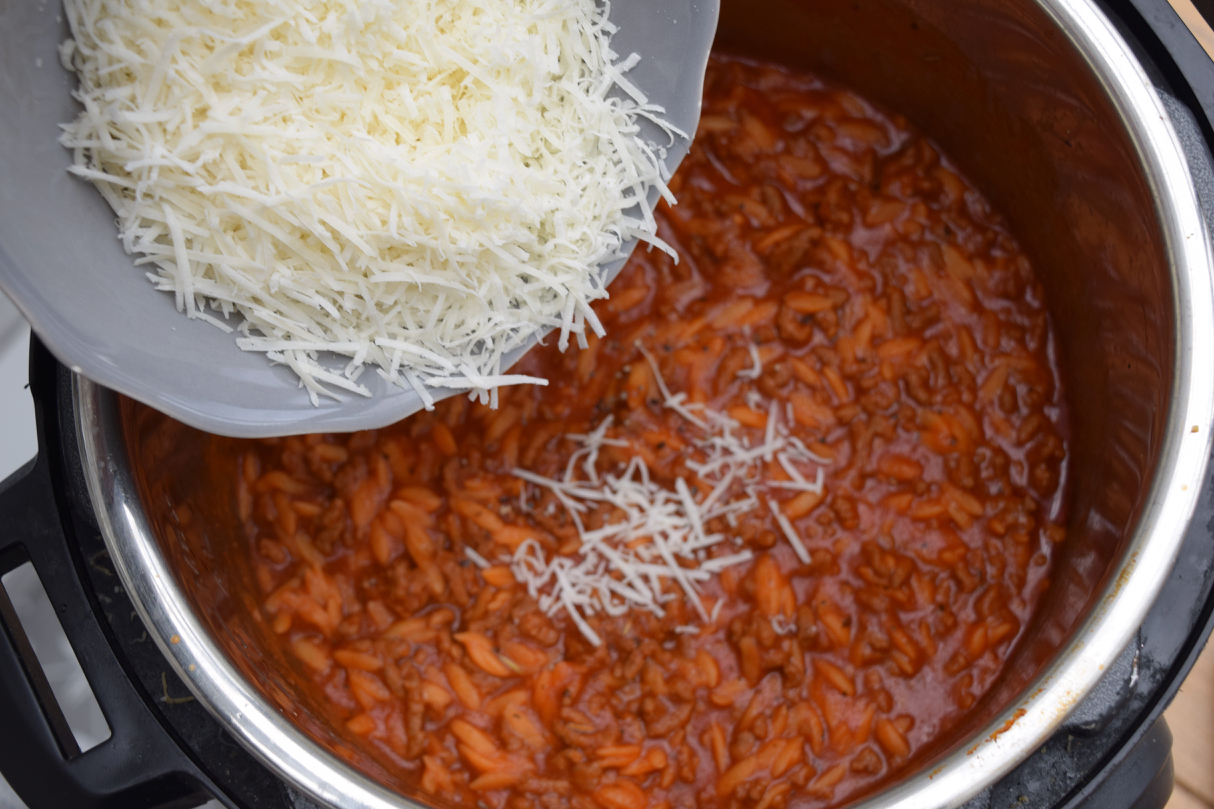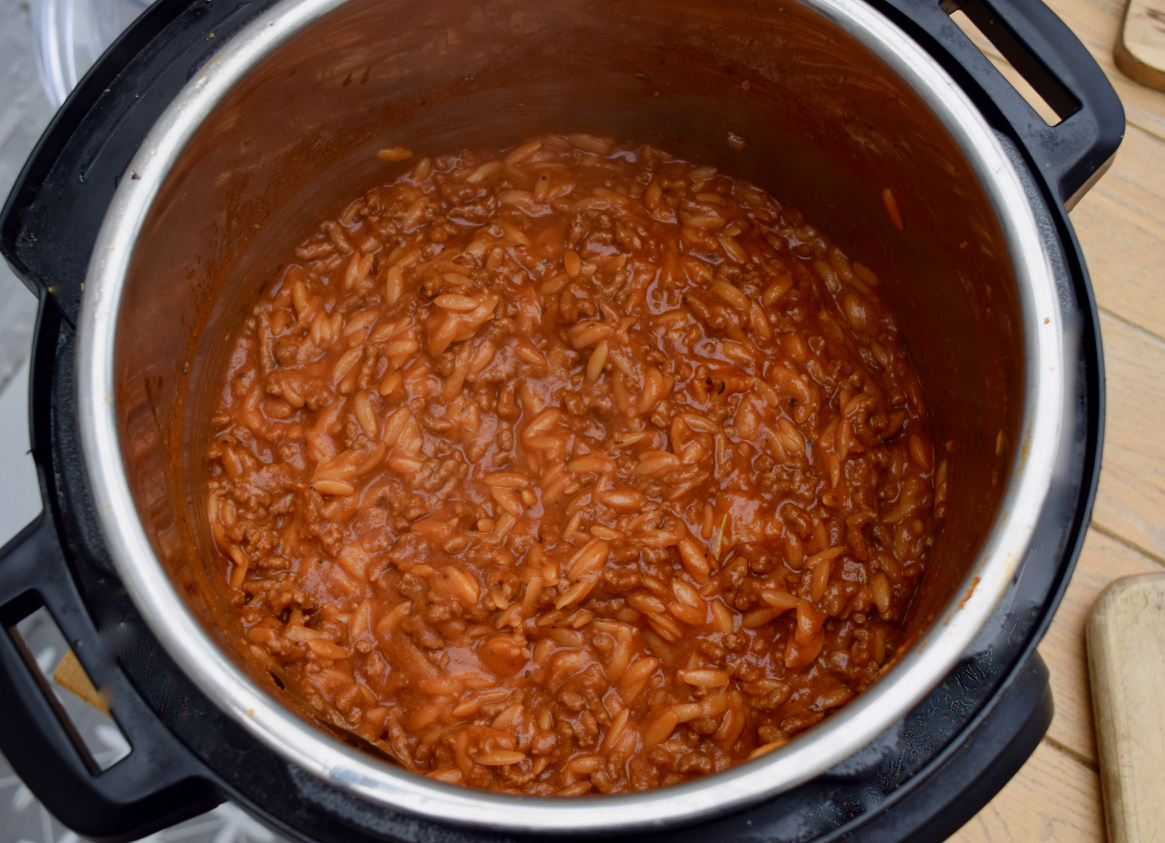 Now your rich, one pot bolognese is ready to bury your face in. Or, serve in large bowlfuls with a basil garnish if you like and a flurry of parmesan.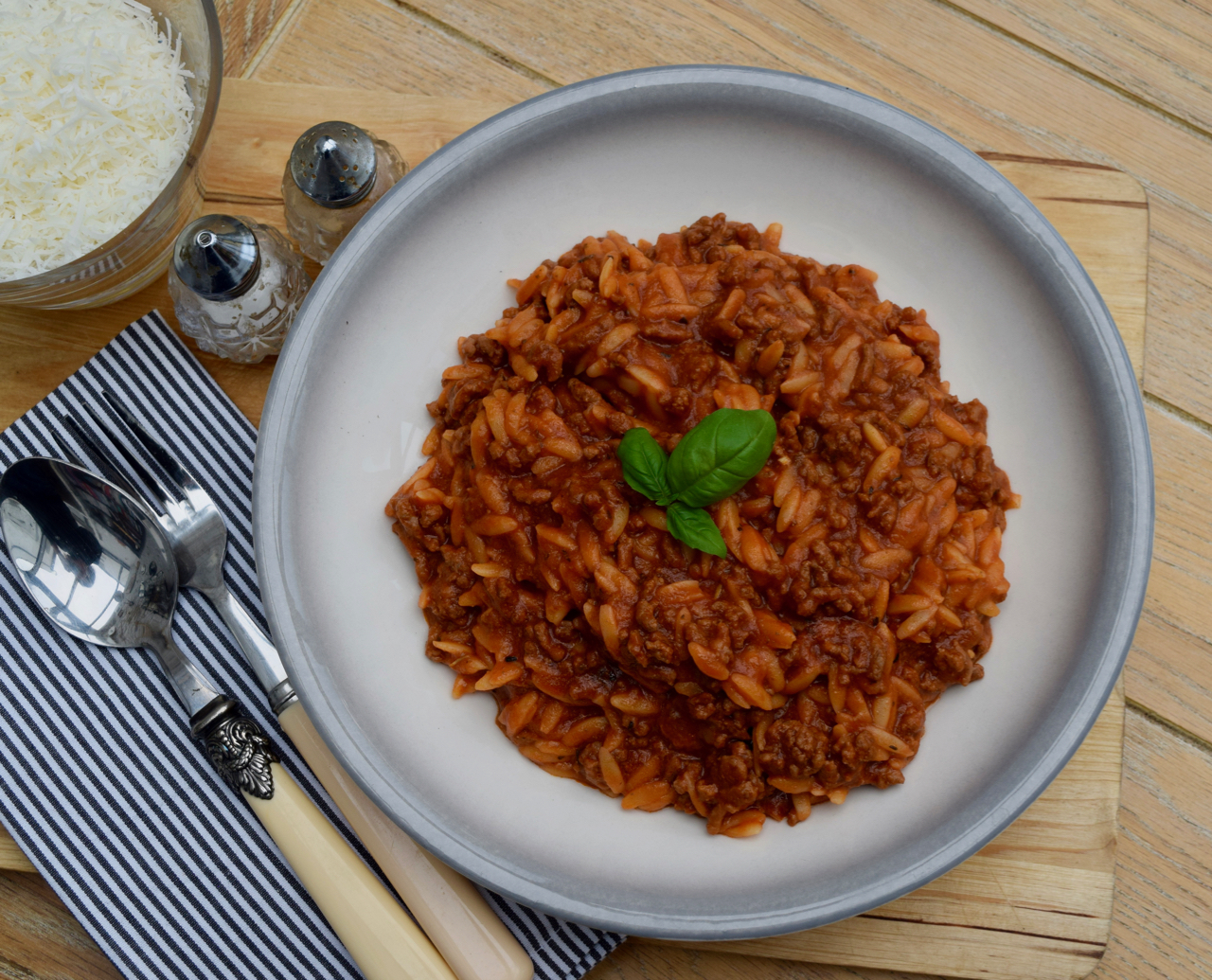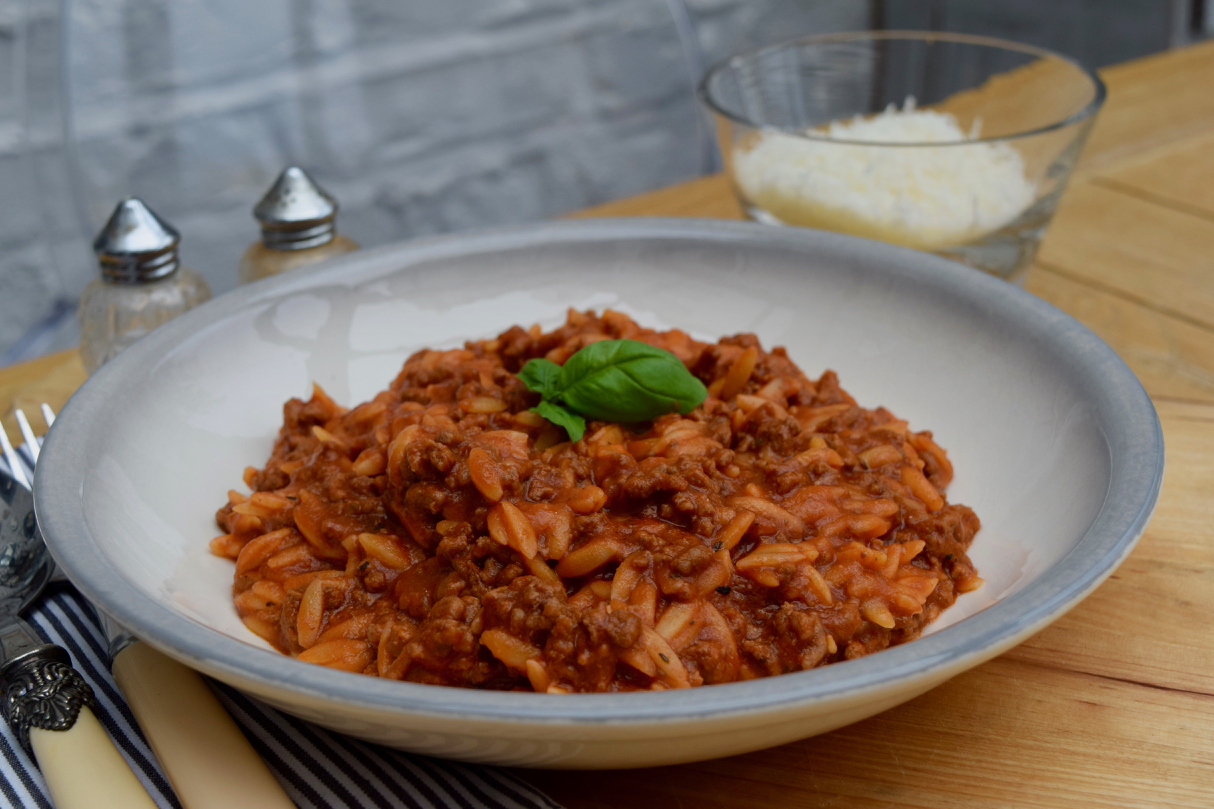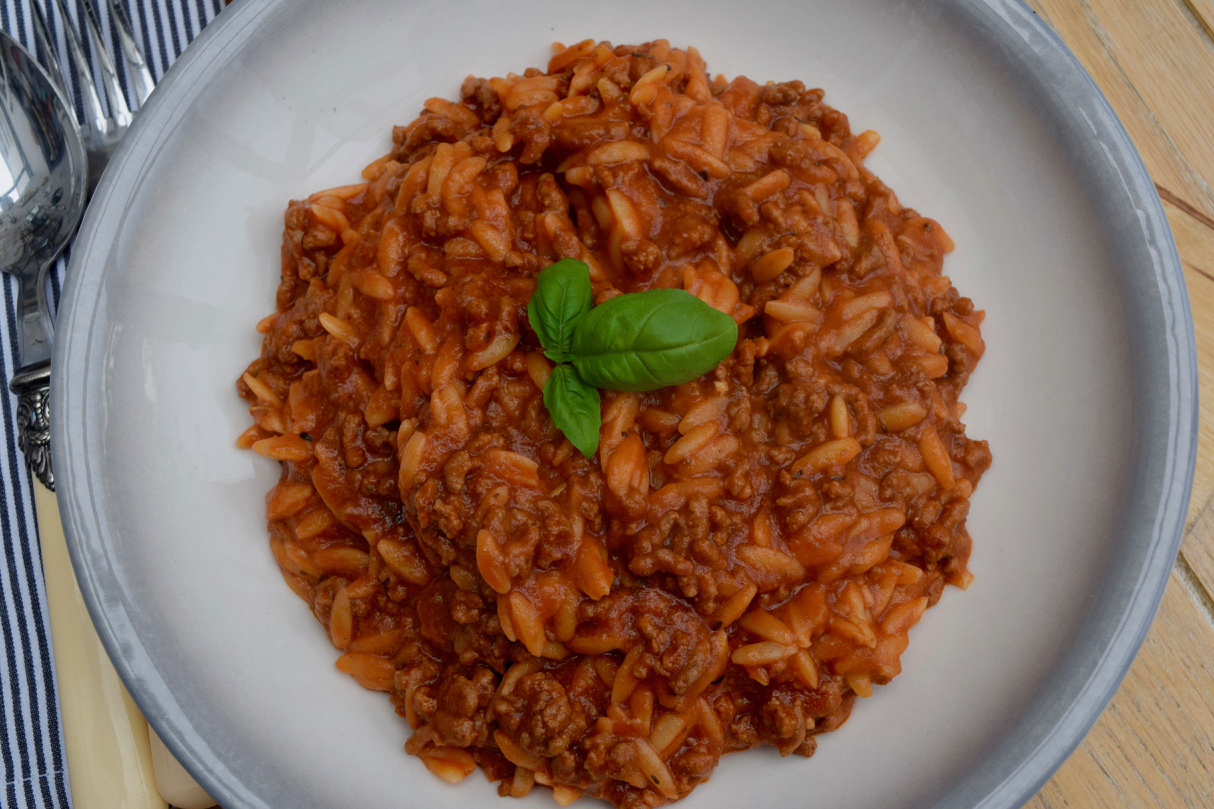 This recipe is brilliant. In true Lucy Loves style, you can make this what you want it to be. Exchange orzo for any pasta you have in your cupboard, add some onions in when you sauté the mince, use pork mince, use an Instant Pot, or not. Make this your own. Then share it with your own.
Lucy x
The post contains an affiliate link to Amazon, should you decide to buy through this, Lucy Loves will receive a tiny commission, at no extra cost to you. Thank you. x
Instant Pot Orzo Bolognese Recipe
Serves 4
You will need an Instant Pot or a large sauté pan 
1 tablespoon olive oil
500g beef mince
1 teaspoon salt
1 teaspoon onion granules
1 teaspoon garlic granules
1 heaped teaspoon Italian seasoning
3 dried bay leaves
A generous grinding black pepper
680g jar passata or tomato based pasta sauce
A pinch sugar
500ml water
250g orzo pasta, or any other pasta you have to hand
75g freshly grated parmesan or pecorino
Fresh basil to serve
Take your Instant Pot and set to sauté mode and add a tablespoon of oil. Add the mince and saute until well browned. Add the salt, onion and garlic granules, Italian seasoning, bay leaves and pepper. Pour in 100ml of the water and stir well scraping any browned bits from the bottom of the pan. Turn the sauté mode off.
Pour in the passata and add the pinch of sugar and stir well. Tip in the orzo pasta then don't stir again.
Add the remaining 400ml water to the passata bottle, swill it around, then pour the water into the pot without stirring again. Put the lid onto your Instant Pot and seal. Set to manual pressure for 8 minutes then leave it to come up to pressure.
When the time is up, turn the vent to release the pressure manually. Remove the lid and stir well, removing the bay leaves, then mix in three quarters of the grated cheese. Serve in large bowlfuls, with some fresh basil to garnish and the rest of the cheese to serve.
* For non instant pot users, sauté the beef as above in a large pan following the rest of the instructions as above. Instead of putting the lid on, stir in water after you have added the pasta and simmer, lid off, for around 10 minutes or until the orzo pasta is cooked.