Espresso Panna Cotta with Nut Brittle Recipe
We are in the midst of having our kitchen and dining room renovated and I am only weeks away from losing the use of my kitchen completely. This will be a challenging time not only because I write a food blog but because I am surrounded by hungry people at all times. To compensate and prepare for these siege like times we have a) bought a new barbecue b) buttered up various friends and family so I can use their kitchens for the next few months and c) wept quietly whilst lying in the foetal position. So, in preparation for not being able to entertain, potentially until Christmas, this week I am have been sharing some lovely dinner party ideas with you. So lets finish the meal now with this smooth and simple Espresso Panna Cotta with Nut Brittle.
Panna Cotta is one of my most favourite puds because it's so simple, but has the appearance of something which may have taken all day to make. This espresso variety is smooth, rich and when paired with the dark caramel Nut Brittle, the dessert takes on a creme caramel flavour. I have always been put off caramel recipes thinking it was all thermometers and third degree burns, but this one is simple, only involves some caster sugar and a handful of nuts.
There is no more perfect way to finish a meal than with a coffee and something sweet, well with this Espresso Panna Cotta and Nut Brittle, all avenues are covered. You can make the panna cottas the day before, but leave the brittle until the day you are serving as it gets quite sticky the longer it's left. The recipe is easily doubled for a crowd, and as I have managed to persuade Clyde we need a dining table to seat up to 12 in our new kitchen, I may well be trebling this in the future.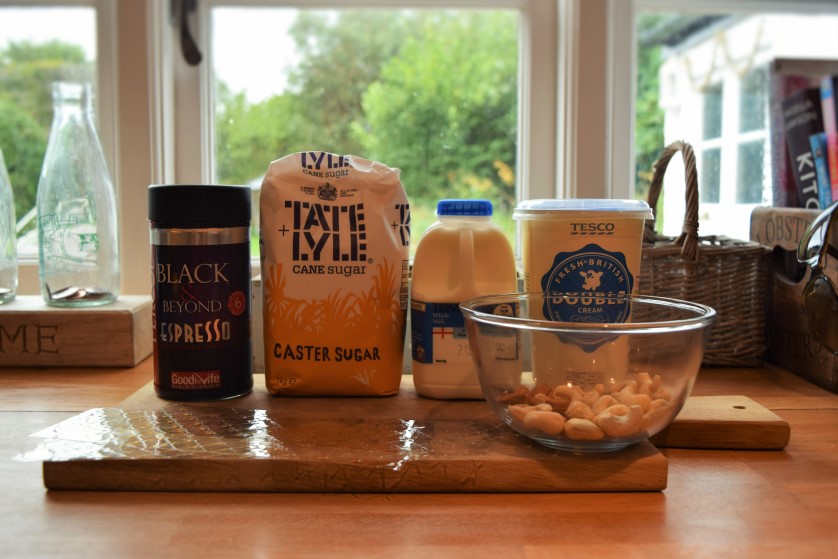 Doesn't everything look so much nicer in someone else's kitchen. This week I escaped to my sister's lovely house on the Isle of Wight for a girls weekend, just out of shot of these ingredients are quite a lot of empties.
Make a start with this super simple pud by oiling your pudding moulds, basins or pots. I used a spray oil or butter would also be good. Then put your three gelatine leaves into a small amount of water for 5 to 10 minutes to soften.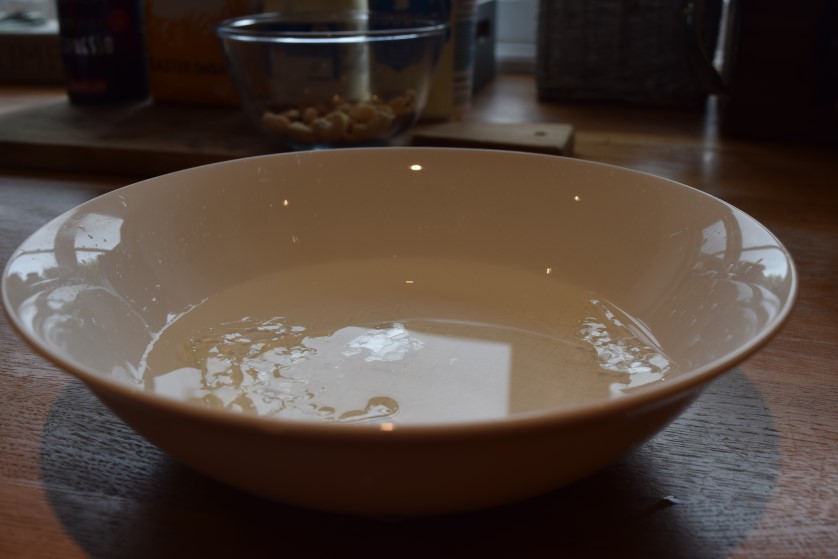 Next, measure out your cream, whole milk and sugar into a medium sized saucepan.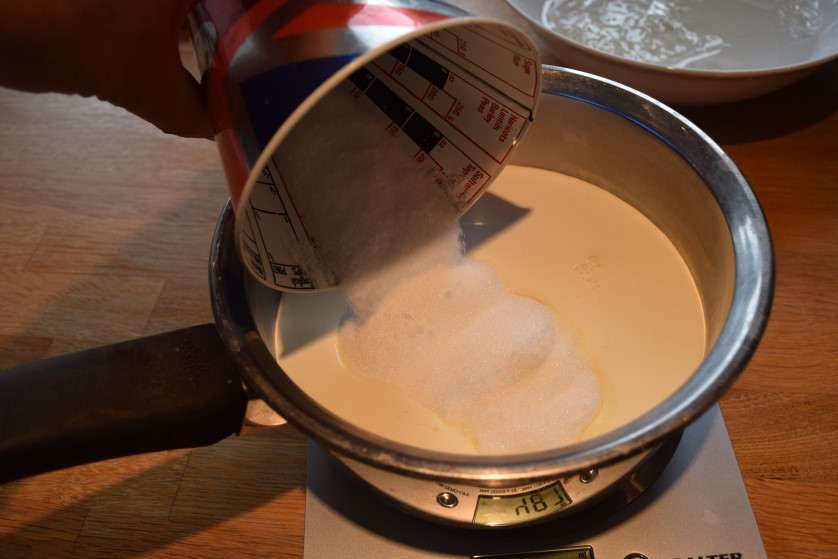 Then spoon in your instant espresso powder or pour in your shot of strong coffee then put the pan on the hob to heat up.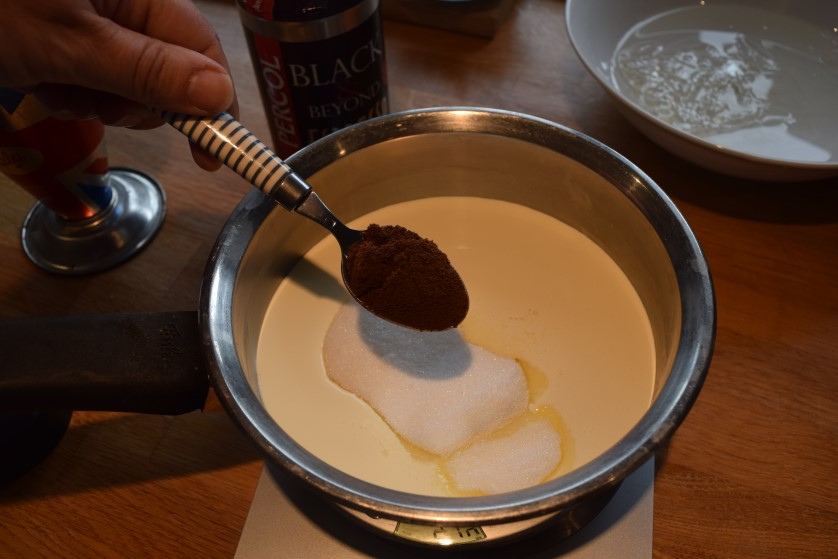 Whisk well to blend the ingredients together and bring up to the simmer, then remove from the heat.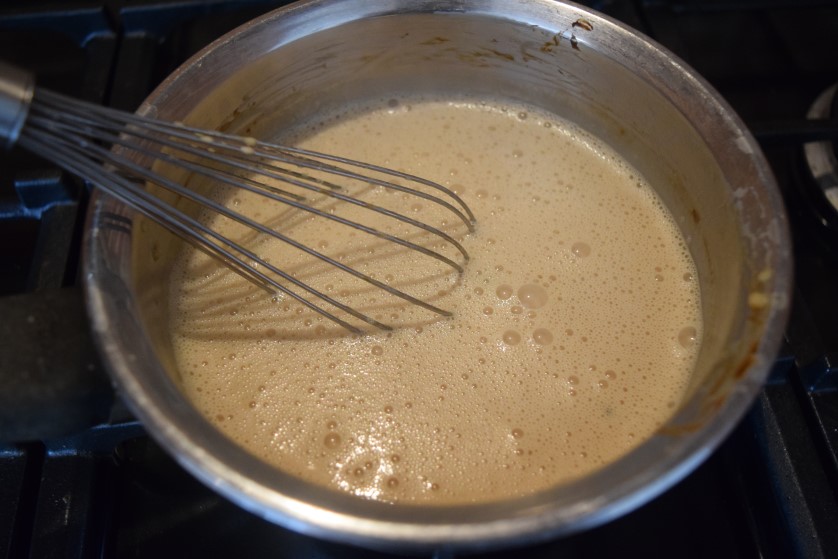 Once simmering, take off the heat. Squeeze the excess water from your now softened sheets of gelatine then whisk these into the wonderful, hot coffee cream.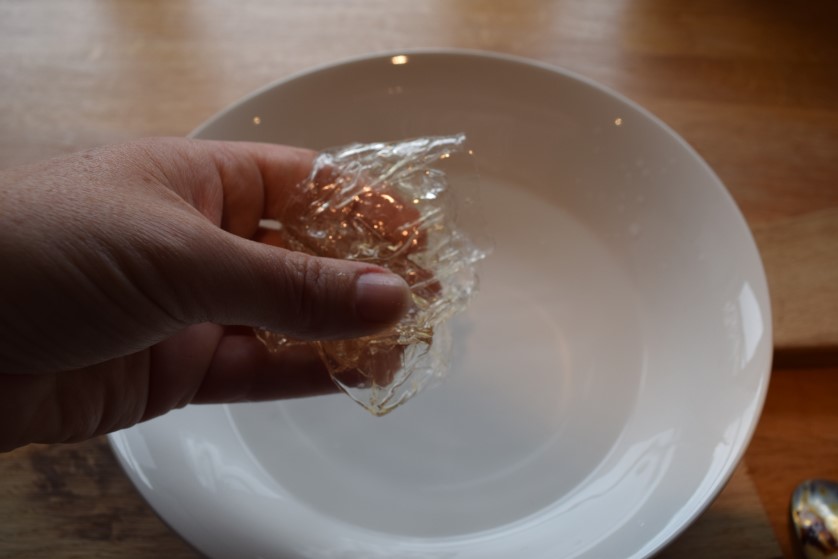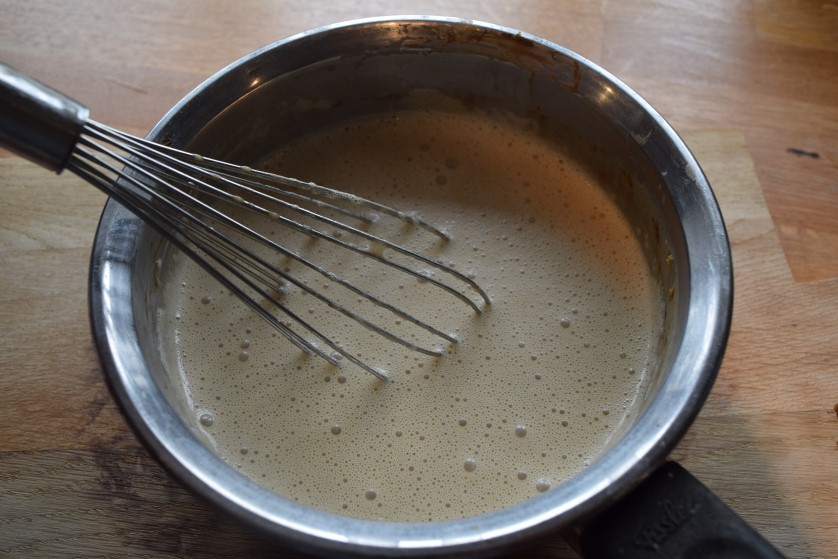 Pour this cooked cream into your oiled pots then leave to one side to cool before refrigerating for at least four hours.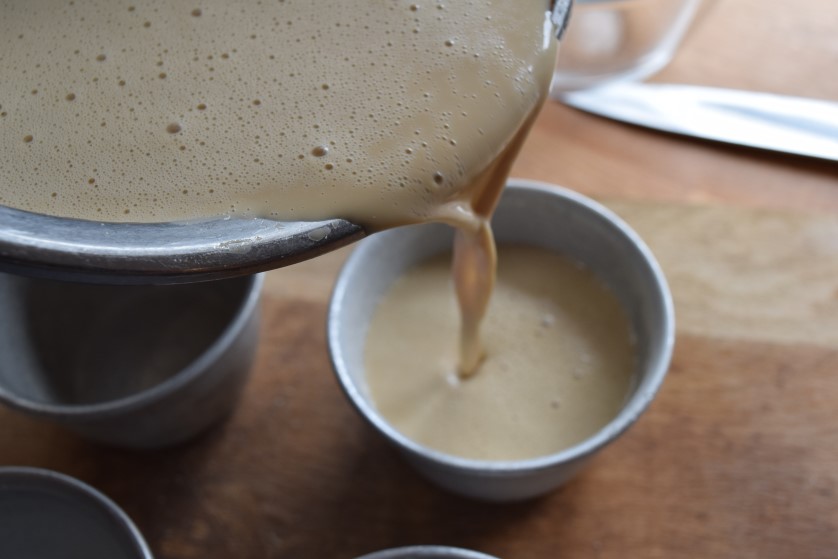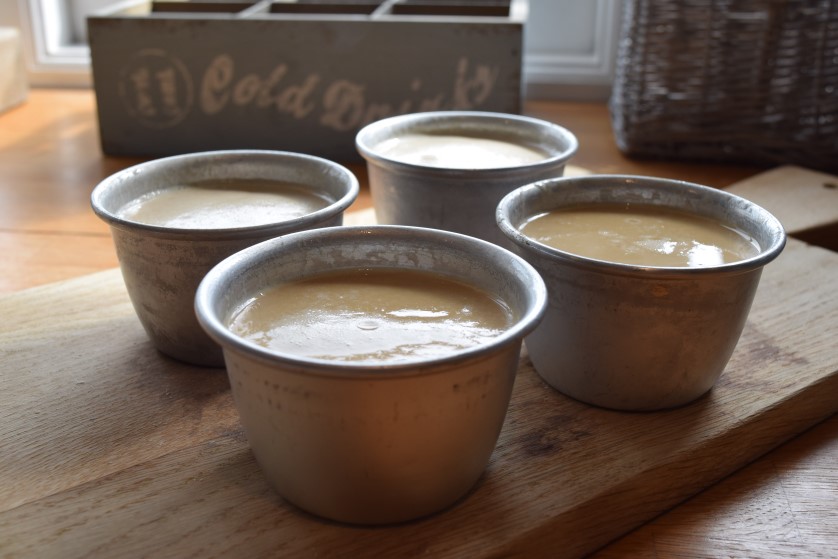 While these little gems set, crack *I am such a comedienne* on with the Nut Brittle.
Pre heat your oven to 170 degrees fan assisted and line a baking tray with oiled baking paper or one of those sillicone tray liners. Take your nuts and if they are particularly sizeable, give them a little chop.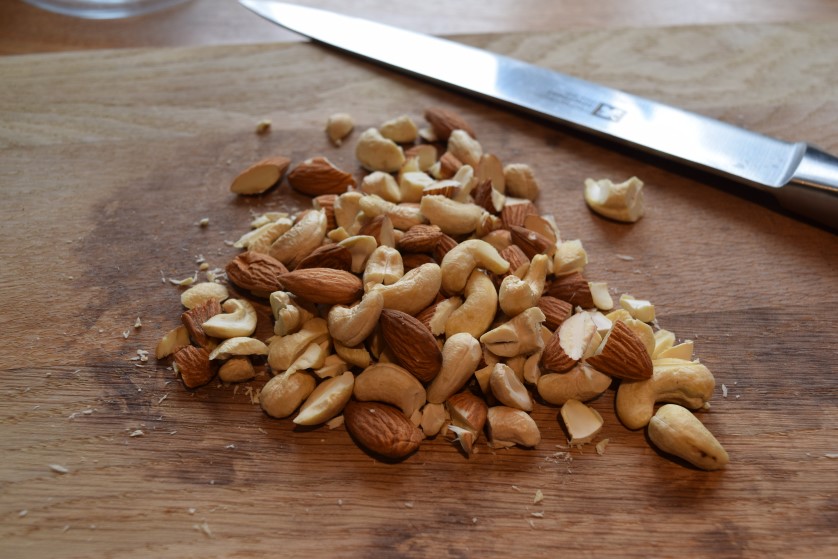 Place these on another baking tray and bake for 5 to 10 minutes until just starting to turn golden and when they smell all nutty and fragrant.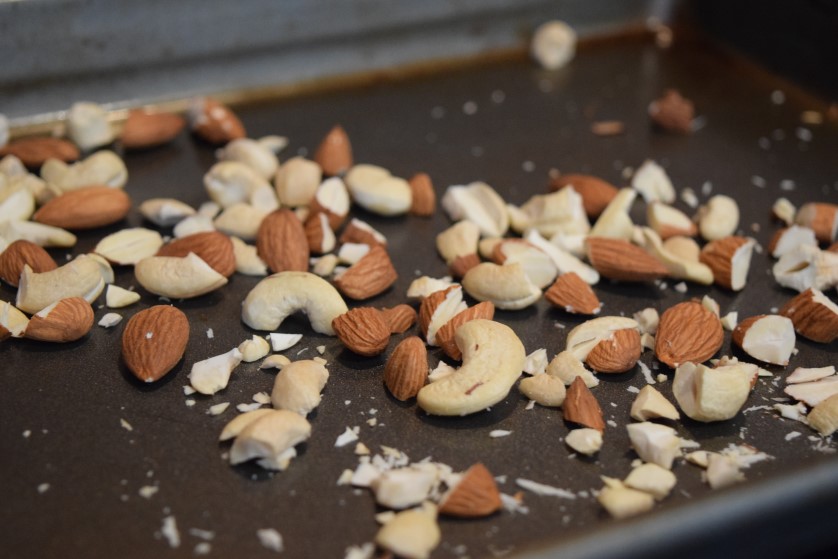 Pop to one side whilst you make your caramel.
Take a medium sized saucepan and add the 200g of caster sugar. Heat this over a medium heat, being super careful not to burn it, until the sugar turns a golden brown colour. I did stir mine, but I believe you are meant to swirl the pan in order for it to colour evenly. Mine seemed fine, however.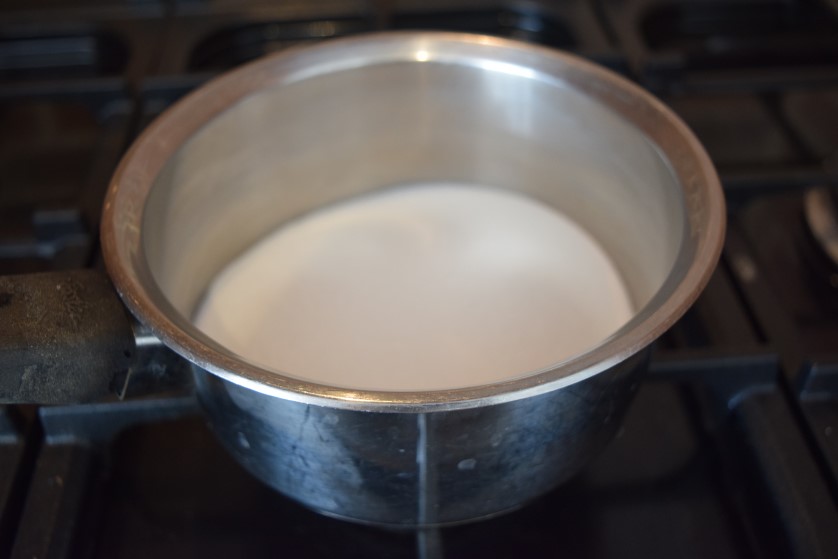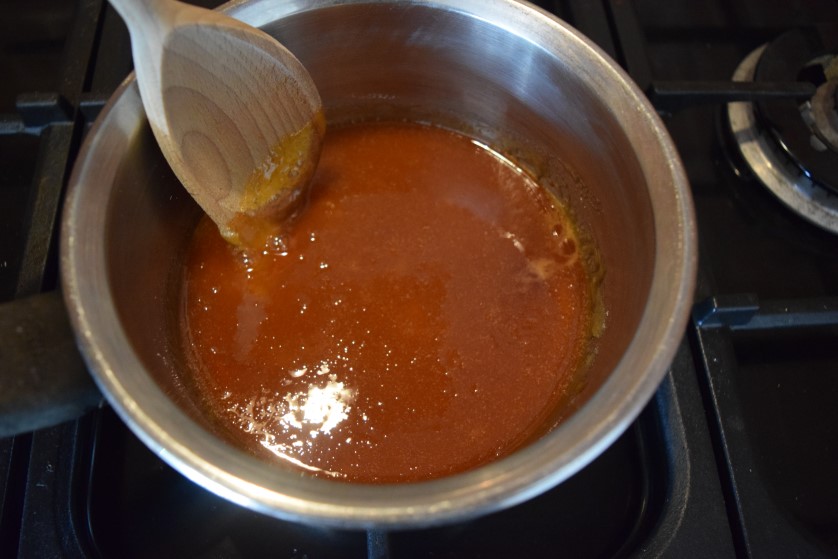 Once it has turned a wonderful amber, caramel colour, which happened quite quickly, tip in the toasted nuts and stir to ensure they are well coated.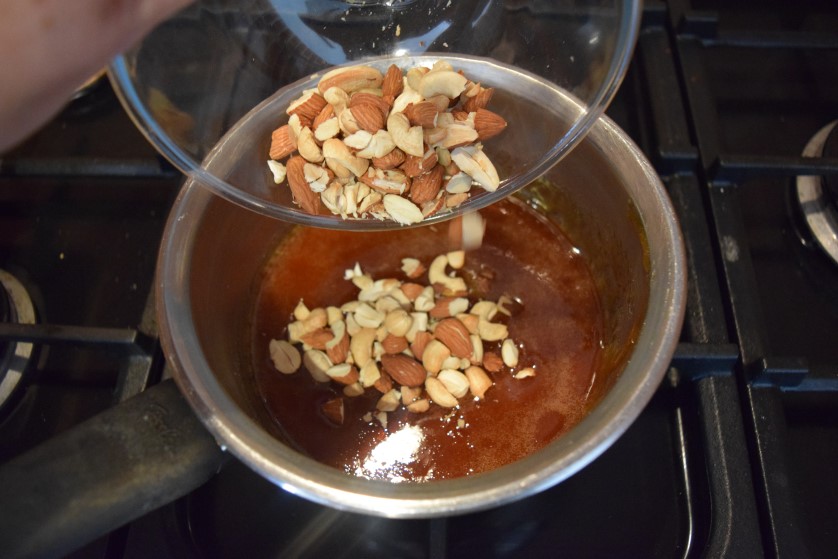 Pour this onto your lined tray then smooth out into an even-ish layer, ensuring the nuts are well distributed.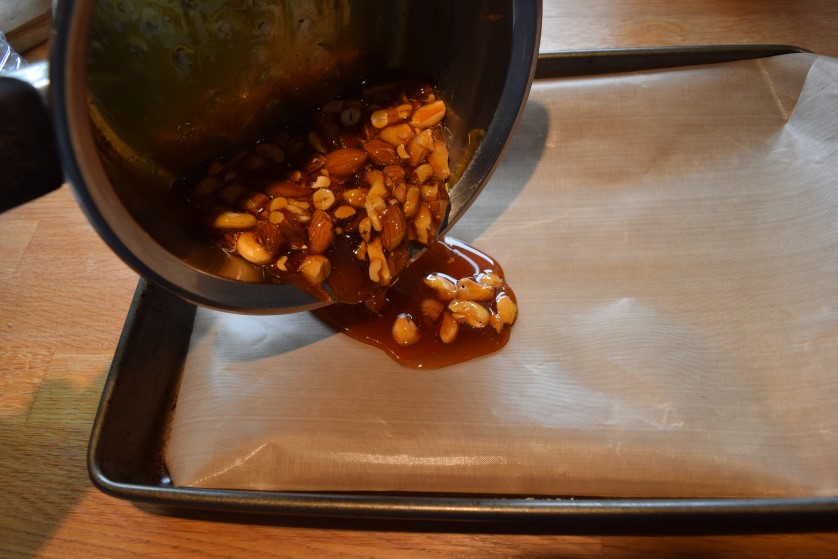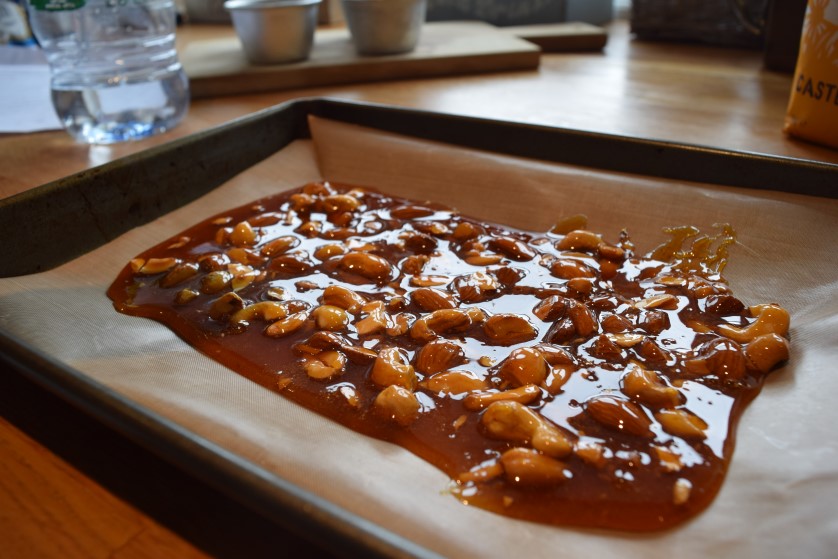 Leave this at room temperature to set for at least an hour. Don't refrigerate as this will make the brittle wet and sticky.
When your Espresso Panna Cottas and your Nut Brittle are both firm and ready to serve, take a plate and run a knife around the edge of your pots or moulds to loosen the puddings.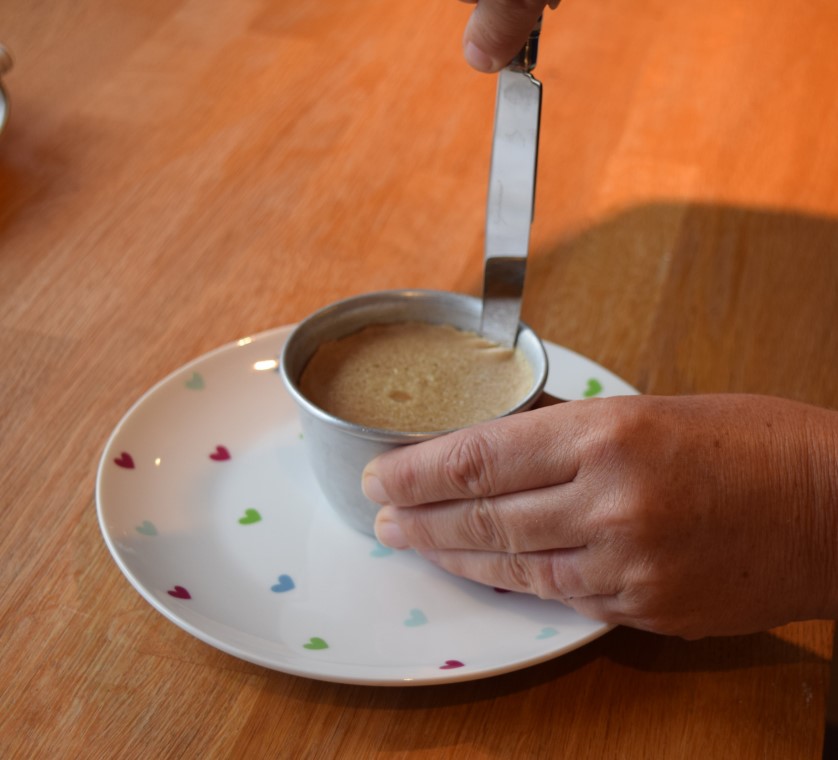 Sorry about the ugly hand shot, it's been a while.
If you are having trouble getting them out of the moulds you could always dip the base of your pots in a bowl of hot water briefly to loosen them further. Place your de-moulded panna cottas on a pretty plate and serve with shards of broken nut brittle.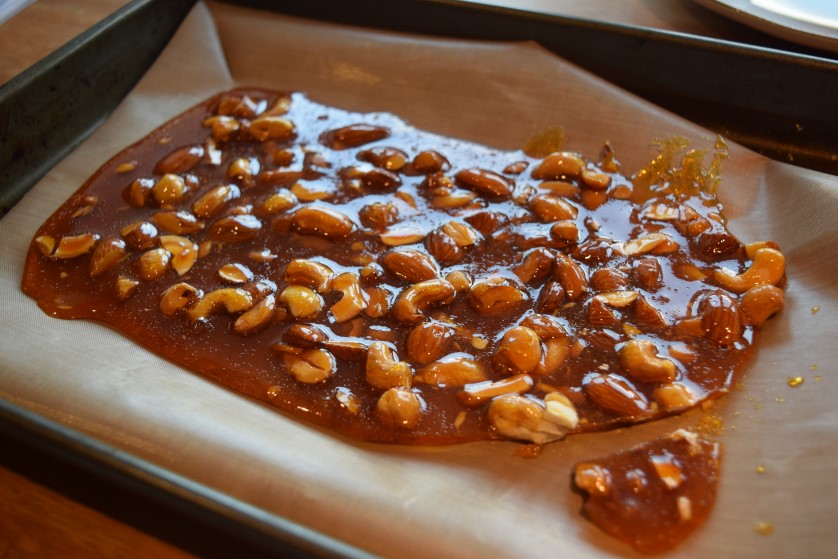 Serve with a jug of cream if you like, I resisted, but only so you didn't see what a pig I am.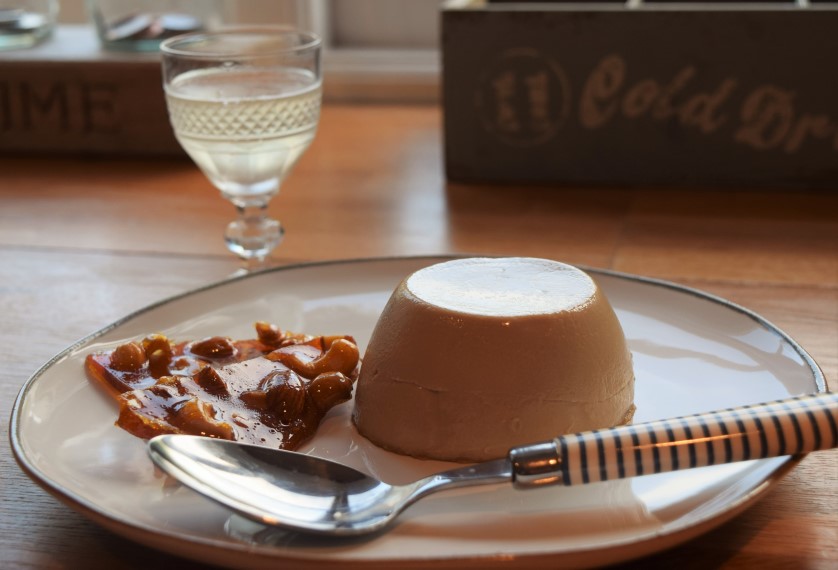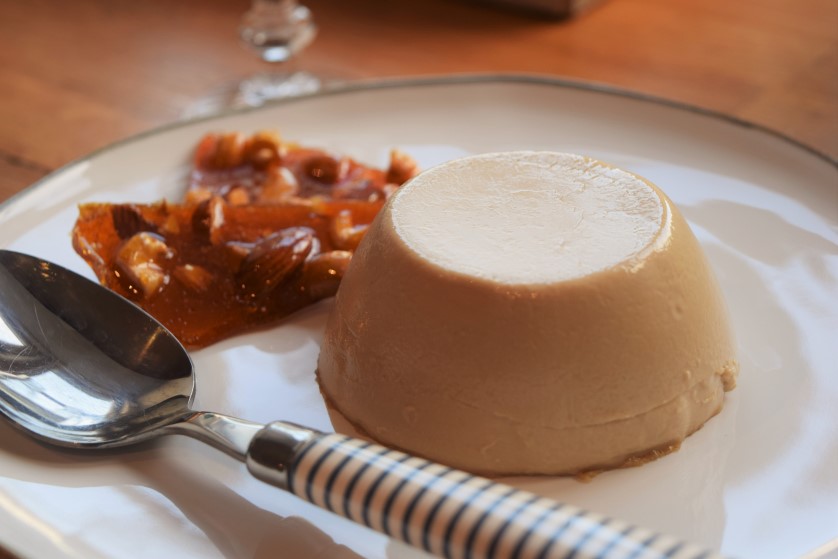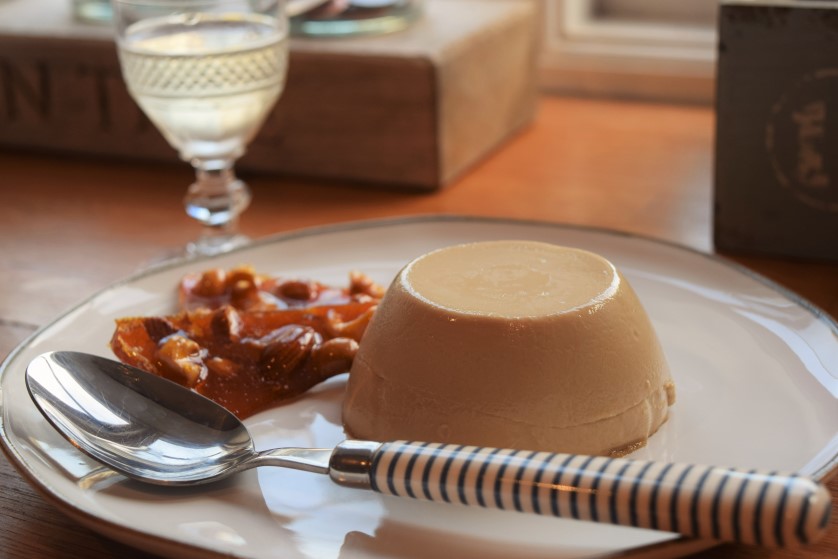 This is such an elegant pudding with the nut brittle taking a simple coffee dessert into a new league. Prepare to wow your diners, or sod them, and eat all four panna cottas and the huge slab of brittle yourself.
Lucy x
Espresso Panna Cotta with Nut Brittle Recipe
Makes 4
You will need 4 dariole moulds or pots
Panna Cotta
3 sheets leaf gelatine
400ml double cream
75ml whole milk
100g caster sugar
2 teaspoons instant espresso powder or a 50ml shot of espresso coffee
Brittle
75g nuts, chopped, I used almonds and cashews
200g caster sugar
Make a start by lining your moulds with spray oil, flavourless oil or butter.
Next take your gelatine sheets and cover with water and leave to soften for 5 to 10 minutes. Then take a saucepan and measure in the double cream, milk, sugar and either espresso powder or coffee shot. Place over a low heat and whisk.
Once this is simmering remove from the heat. Squeeze the water out of the gelatine sheets then whisk these into the hot coffee flavoured cream. Once the gelatine is well mixed, pour into your well oiled pots and leave to cool down before putting in the fridge to set for at least 4 hours.
While these are chilling, crack on with the brittle. Heat your oven up to 170 degrees fan assisted then place your chopped nuts on a baking tray and put in the oven to toast for 5 to 10 minutes. Keep an eye on them as nuts burn quite quickly. Once lightly toasted and smelling fragrant, remove from the oven and leave to cool.
Take a baking sheet and line with oiled baking paper or a non stick liner. For the caramel, take a medium sized saucepan with a sturdy bottom. Add the sugar and heat over a medium flame until the sugar starts to turn golden at the edges. Swirl and move the pan around so the sugar caramelises evenly. Once all the sugar is dissolved and it's a lovely not too dark brown, tip in the nuts and stir. Immediately pour the caramel onto the lined tray and smooth out so the nuts are evenly distributed. Leave to set somewhere cool.
Once fully cooled, break the brittle into medium sized pieces. Take your panna cottas and run a knife round the edge of the moulds. Ease them onto a plate and serve with chunks of brittle.
The panna cottas can be made 24 hours in advance, the brittle is best served on the day as goes a little sticky if left overnight.