Poke Salmon Rice Bowl Recipe
When I find a recipe I like the look of, I get slightly obsessed with the ins and outs of it. My obsession with Poke Salmon came about thus a) it features on many current trending food lists b) I adore raw fish c) I read an article on how Costco salmon is sushi grade, but without an horrendous price tag and d) I am always hungry and the thought of Poke made my mouth water lots. So, once I'd finished my rambling list, I decided, having bought a great value kilo of salmon, that Poke was so the way forward. Poke is a salad of raw fish, being either salmon or tuna amongst others, dressed with a number of flavourful items including sesame oil, soy, chilli and mayonnaise.  It originates in Hawaii, of all places, where I would love to go more than anywhere in the whole world, which I think is another reason I am mildly Poke obsessed. So, for this reason and tons more delicious ones, today's recipe is my Poke Salmon Rice Bowl.
The first time I made this dish, it was sampled by about 6 different people. As I was making the Poke Salmon Rice Bowl, there was so much drooling from various family members passing through my kitchen I had to keep dolling out forkfuls for them to try. The amazingly tender and fresh salmon is dressed in a combination of mayonnaise, Sriracha, soy and a brilliant Japanese seasoning called Togarashi Shichimi which is a savoury and spicy blend of chilli, sesame, seaweed amongst other randoms. I love a rice bowl, so I decided to fashion my Poke into a complete dish, perfect for serving as a light lunch. My Poke Bowl includes sushi rice, edamame beans and avocado, making it almost a healthy option. The Poke is rich, so a little goes a long way, but it's also addictive, so don't think you won't get through the whole bowl, you, or you and your family, most certainly will. I found two recipes I loved and meddled with both, with thanks to Lil Vienna and Cooking with Cocktail Rings.
I thought my family would be a little squeamish over the raw fish, but sushi and sashimi feature everywhere these days, and are a supermarket lunchtime staple, to there wasn't a whiff of squeam. Since making this, I have been asked for the recipe so often, it is in haste I am getting this Poke Salmon bowl on 'paper' today. It will save me having to text it 5 time a week, so crack on with this, it's bloody marvellous.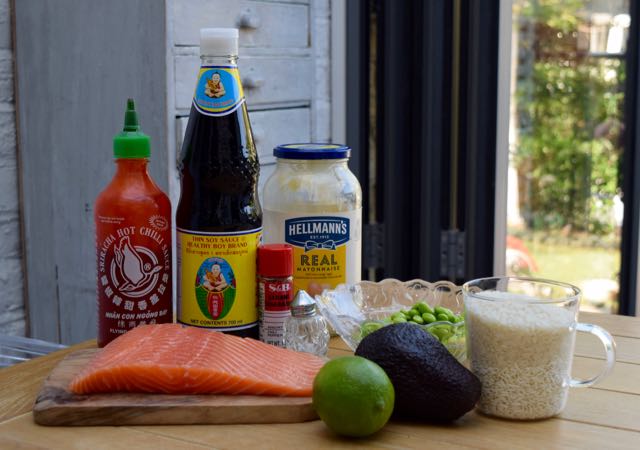 What a lovely elegant line up for this Poke Salmon Rice Bowl. So fresh, wholesome, I enjoyed every mouthful and feel I could eat this every single day. There's my Costco salmon, if you can't get to this, just buy the freshest, best quality you can. I made a couple of other special purchases for this dish, such was my obsession, one being Shichimi Togarashi seasoning and the other being Furikake. These aren't imperative to the dish, they just add some salty depth and a touch of spice. You can get them both from Amazon or your local Oriental supermarkets.
This is a brilliant, simple recipe, and super quick. Make a start by taking your elegant slice of salmon and popping it in a freezer bag then into the freezer for around 30 minutes to firm up, making it easier to cut later.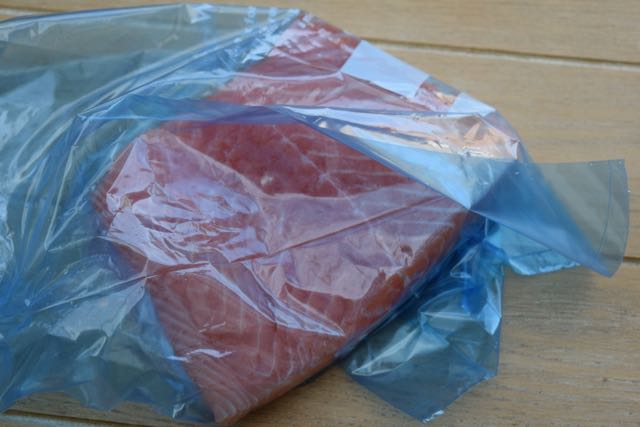 While this happens, crack on with cooking your sushi or Thai style rice to serve cold later. Cook according to the instructions on the packet, I added around 150g frozen edamame beans in for a couple of minutes towards the end, to save the need to wash another pan. Rinse once cooked then leave to drain and cool until needed.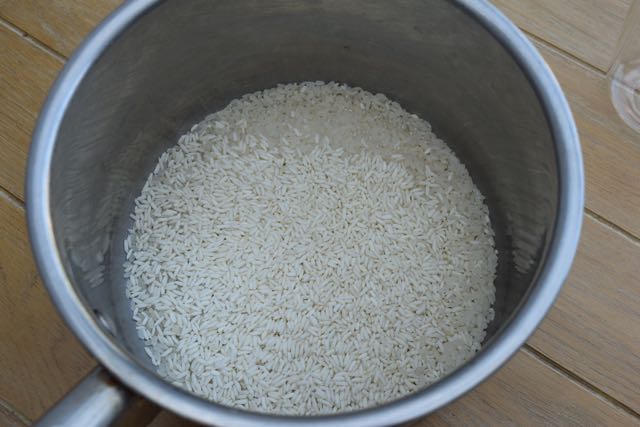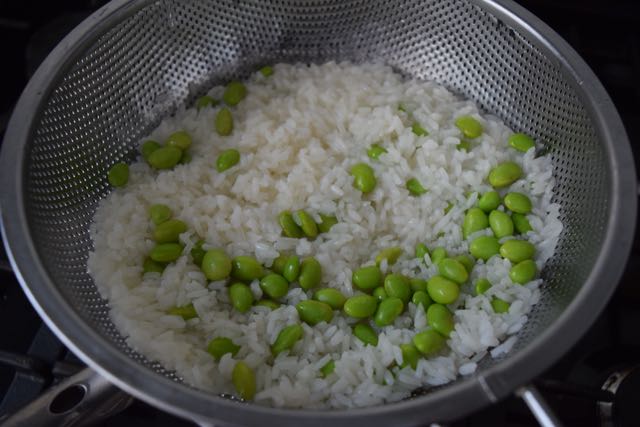 Now on with the all important Poke dressing. Take a medium sized bowl and add your mayonnaise. No need for homemade, just a good quality affair. Then stir in the Sriracha and the Togarashi Shichimi or if you can't get this add your chilli powder and sesame seeds and soy. Add a squeeze of fresh lime juice, to taste.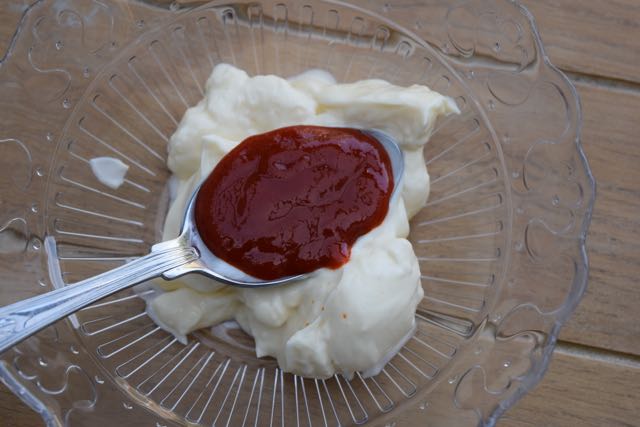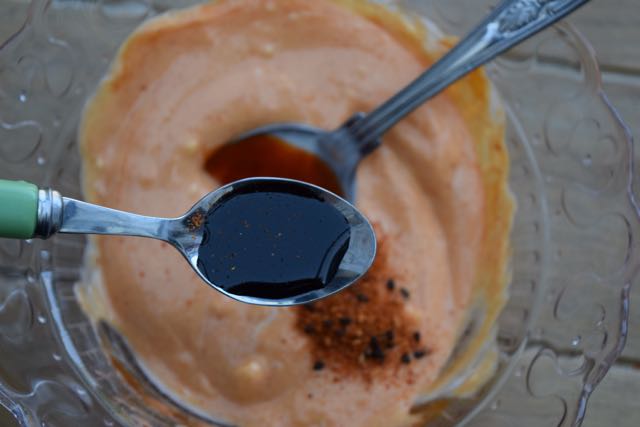 Give this all a good stir then crack on with the salmon. Remove it from the freezer and sharpen your best knife. Cut your top grade salmon into strips then cube into tiny bite sized pieces.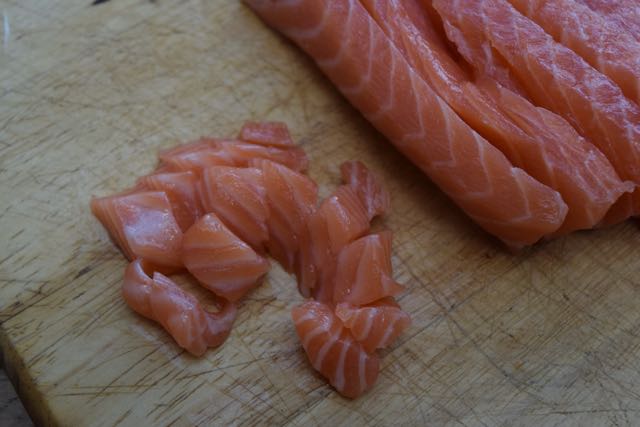 Stir this pink, tender fish into the spicy dressing and then taste to see if you need any salt and pepper. You can keep the fish in the fridge for up to 24 hours or serve straight away as you won't be able to help yourself.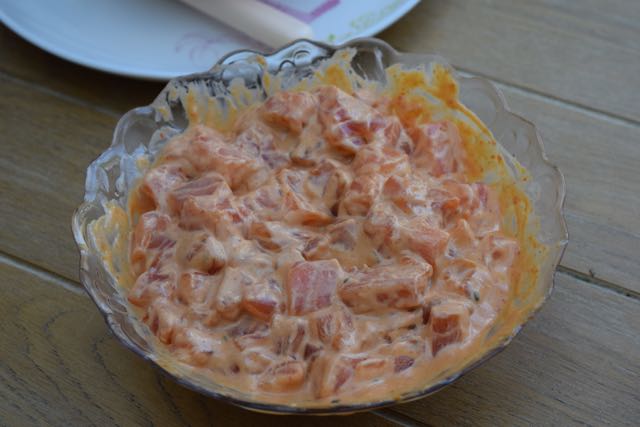 To assemble your dish take a pretty bowl, one per person and spoon in a little rice and edamame beans. Add sliced avocado, with a spritz of lime juice to stop it browning, and some shoots or any leaves of your choice. Feel free to adapt your Poke Bowl adornments to suit your taste. Add a couple of spoonfuls of Salmon, if you have left after you have 'sampled' it and sprinkle with the Furikake seasoning, or either white or black sesame seeds.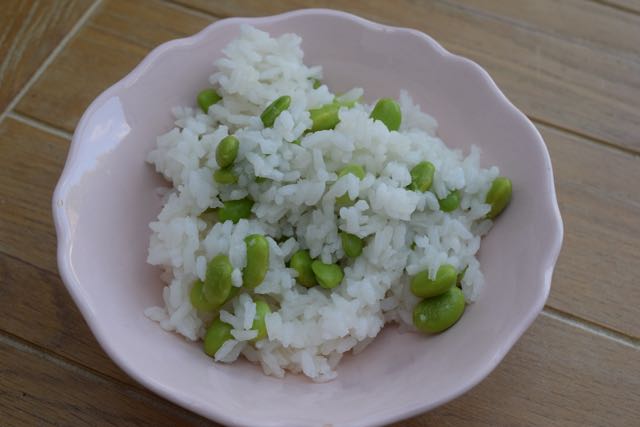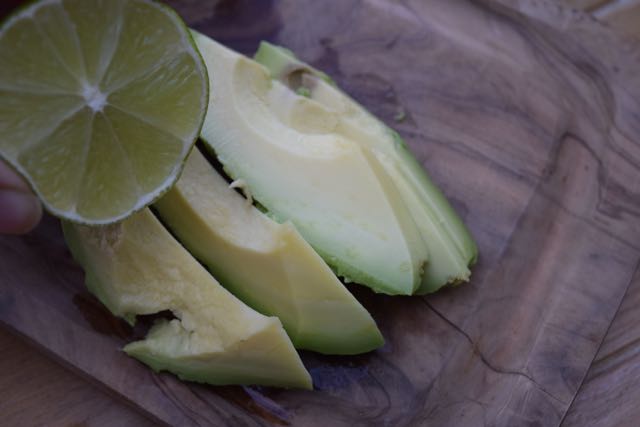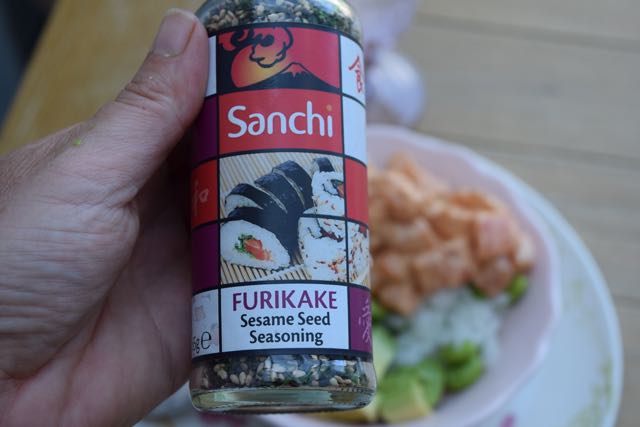 I am borderline Furikake dependent now I've discovered it, it just adds a lovely savoury, nutty taste to oriental dishes. Now, dig in, and enjoy this fresh tasting Hawaiian phenomenon.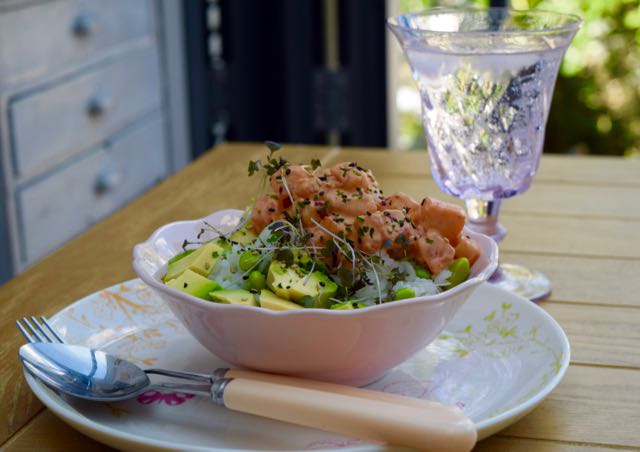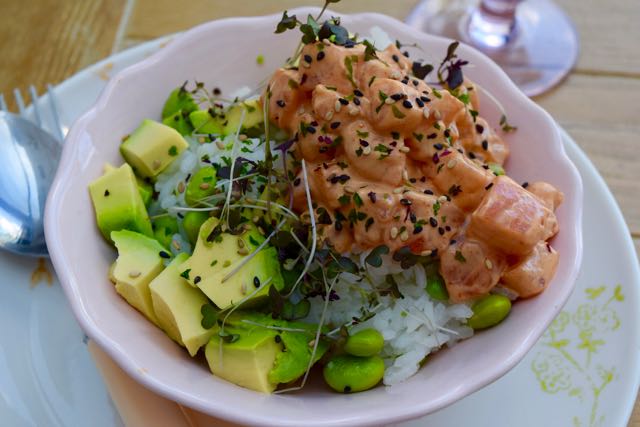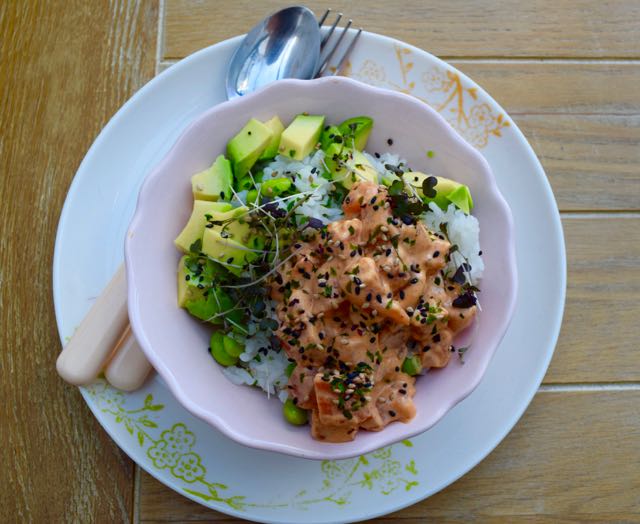 This Poke Bowl is a surprise family hit recipe. And by family, I mean everyone other than George, it's far too cosmopolitan for the likes of a plain eating 14 year old who mainly enjoyed the rice. For everyone else, however, this fresh fish, spiced dressing alongside rice and protein packed edamames and avocado is the lunch dish of choice. If you take a bowl of this Poke to the office, I can guarantee you will be the envy of everyone around you. Do be prepared, however, to slap their snaffling forks away from your lunch, however.
Lucy x
This post contains a couple of links to Amazon. If you buy through these links, Lucy Loves will receive a tiny commission at no extra cost to you to fund my Poke Bowl obsession.
Poke Salmon Rice Bowl Recipe
Serves 2 to 4, as a main or first course
You won't need any exciting equipment, just a nice sharp knife
500g good quality, super fresh salmon fillet
3 heaped tablespoons mayonnaise
1 tablespoon Sriracha, more if you like more spice
1 heaped teaspoon Togarashi Shichimi or substitute with 3/4 teaspoon cayenne and 1/4 white or black sesame seeds
1 teaspoon soy sauce
A squeeze fresh lime juice, to taste
Salt and pepper to taste
Furikake seasoning to garnish
Cooked sushi or thai sticky rice, edamame beans, sliced avocado and coriander shoots or leaves of your choice, to serve
Take your piece of salmon and put in a plastic freezer safe bag and put in the freezer for half an hour to firm up. Take your really sharpest knife then cut into small cubes and put in a bowl.
For the dressing combine the mayonnaise, Sriracha, Togarashi Shichimi or cayenne and sesame if using, soy sauce, lime and salt and pepper to taste. Stir it all well then add the salmon cubes. Cover and pop in the fridge for up to 24 hours.
To serve take individual serving bowls and add a generous couple of spoonfuls of cooked sushi or Thai sticky rice and some cooked and cooled edamame beans. Spoon on your Poke Salmon then a flourish of sliced avocado, spritzed with lime to stop it browning, shoots or leaves then a sprinkling of Furikake or sesame seeds. Devour. Any salmon leftovers should be eaten with 24 hours while the fish is still super fresh.
SaveSave
SaveSave
SaveSave
SaveSave
SaveSave
SaveSave
SaveSave
SaveSave