Peanut Butter and Honey Granola Recipe
This week I am trying to eat less sugar. This is quite a tall order given the amount of cake mixture I consume in a week, however, I am really going to try. I have a terrible sugar addiction, which is fueled by a constant supply of biscuits in our office and my love of a handful of the children's Tangfastics.
I have been reading various books about cutting down on sugars (when I should really have been reading my book group suggestion but can't seem to get further than page 5) and feel with this delicious Peanut Butter and Honey Granola, I can enjoy breakfast without eating vast amounts of refined sugar. Even more so if you use a no added sugar peanut butter. This is such a simple and tasty recipe which is not overly sweet, but oh so flavoursome. I love peanut butter, if I could incorporate it into every meal I would. This crisp granola can be eaten for breakfast with milk, sprinkled onto yoghurt or just nibbled on when you have a low moment during the day. I added a good cup full of a dried fruit and nut mix to the granola once it had cooled, but this is up to you. You could also add chocolate chips, if your bottom isn't as huge as mine. The recipe is a fiddled with version of one which originated from Kristine's Kitchen blog, so thank you to Kristine.
This is so delicious, I have already eaten half my jar in two days, perhaps I have not quite fully grasped this diet business, but it's a start.
Here's the brilliantly small ingredient list. Alongside a new jar I found and my lovely copper measuring cups from Anthropologie my kind sister bought me for Christmas.
Even with this small amount of items I missed off the vanilla, so here it is. All alone. Forgotten.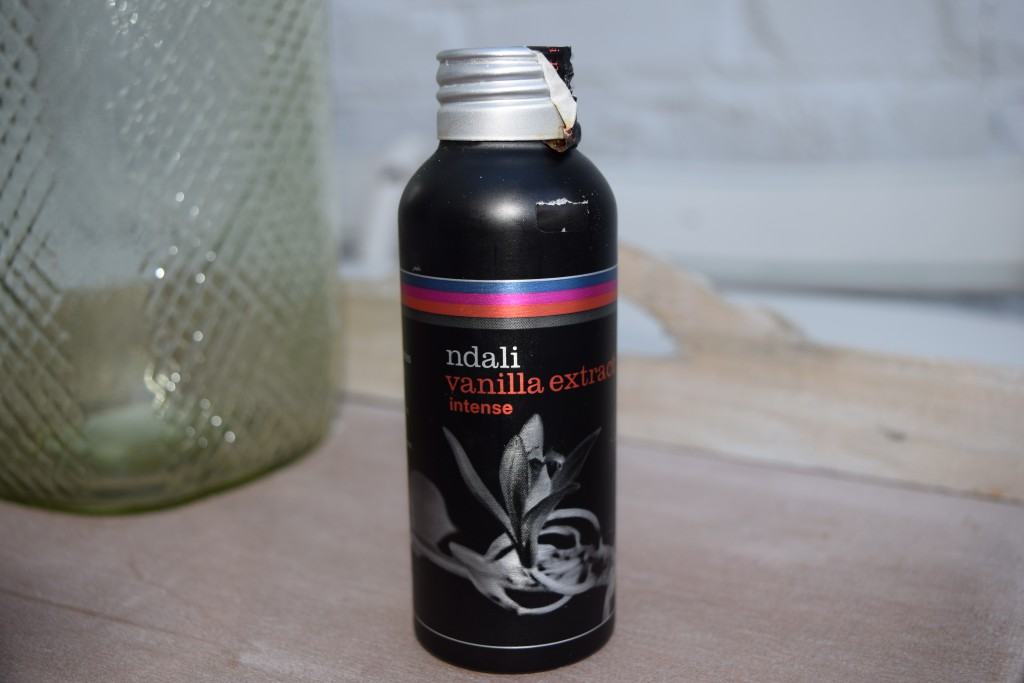 Start by pre heating the oven to a low 130 to 140 degrees. You don't want the granola to brown too quickly, so if your oven is fierce, keep it low. Line a large flat baking sheet with baking paper then weigh out the oats and put to one side.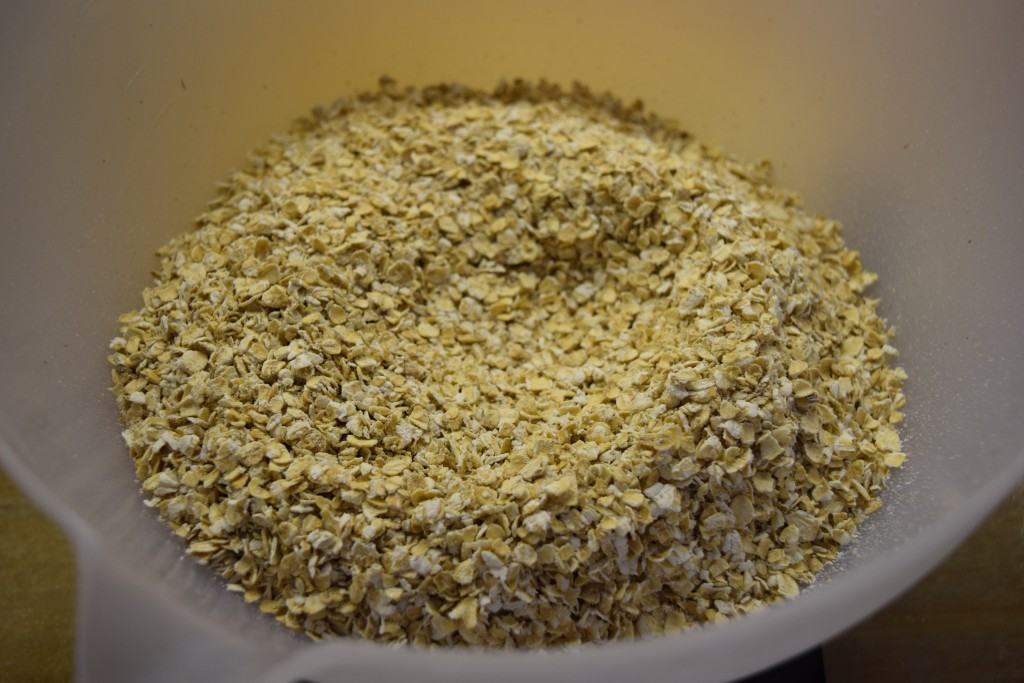 Spoon out the peanut butter and honey into a small saucepan or microwaveable receptacle. Heat gently using either method, until both honey and peanut butter are warm and melting together. I am drooling just writing that.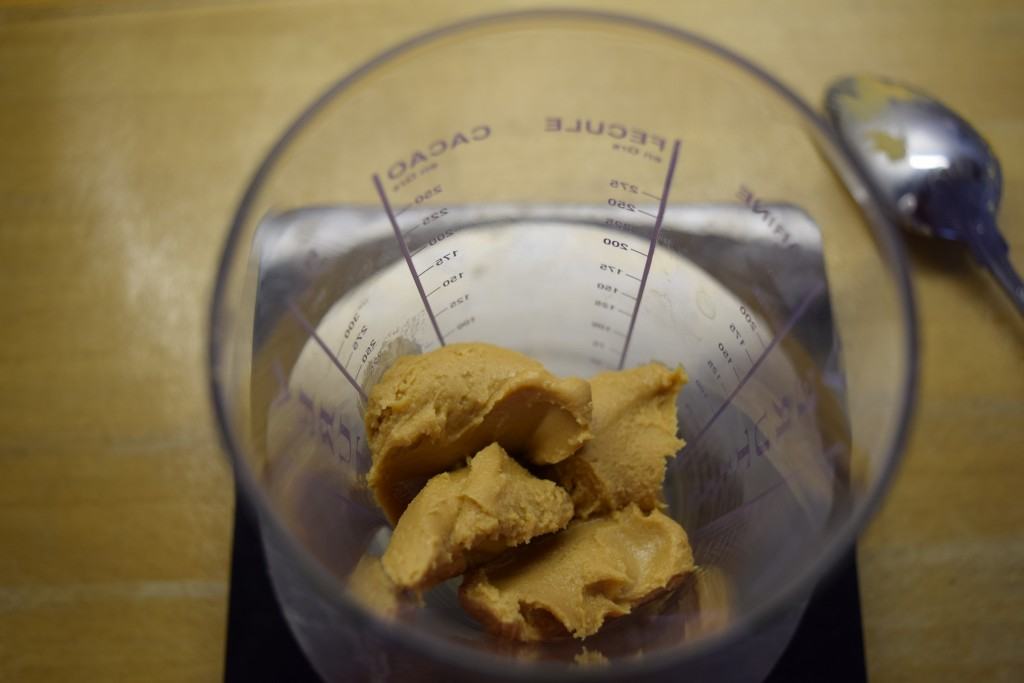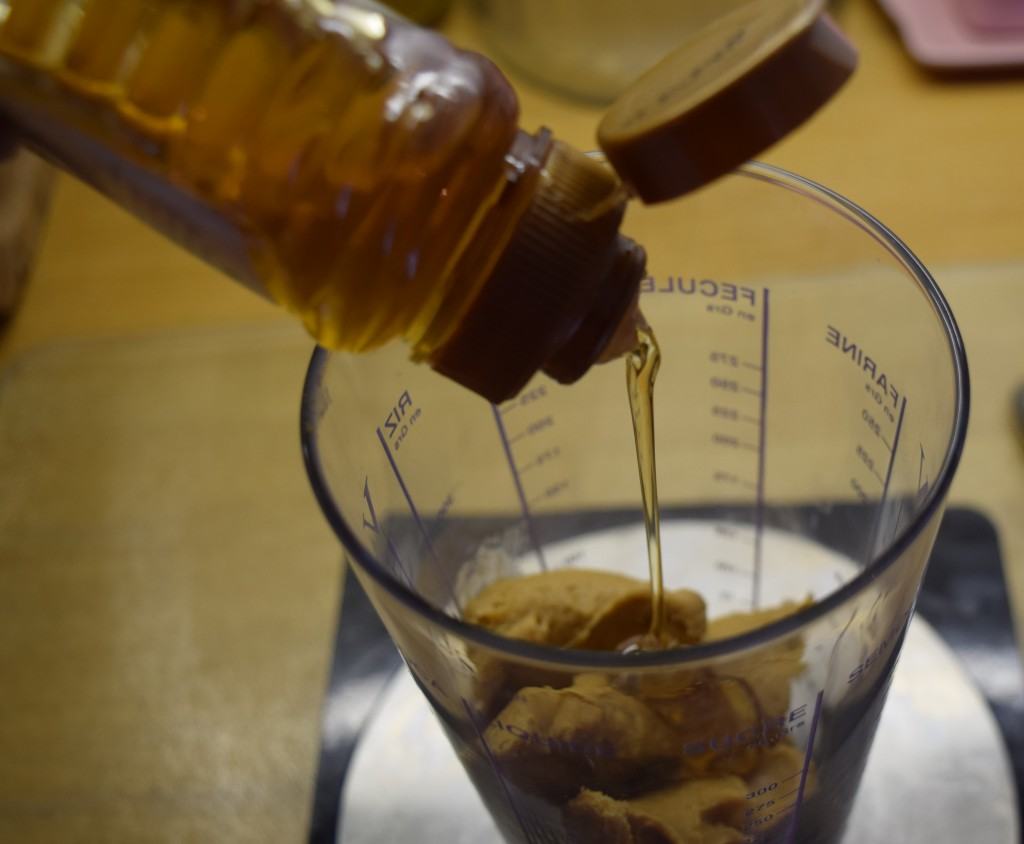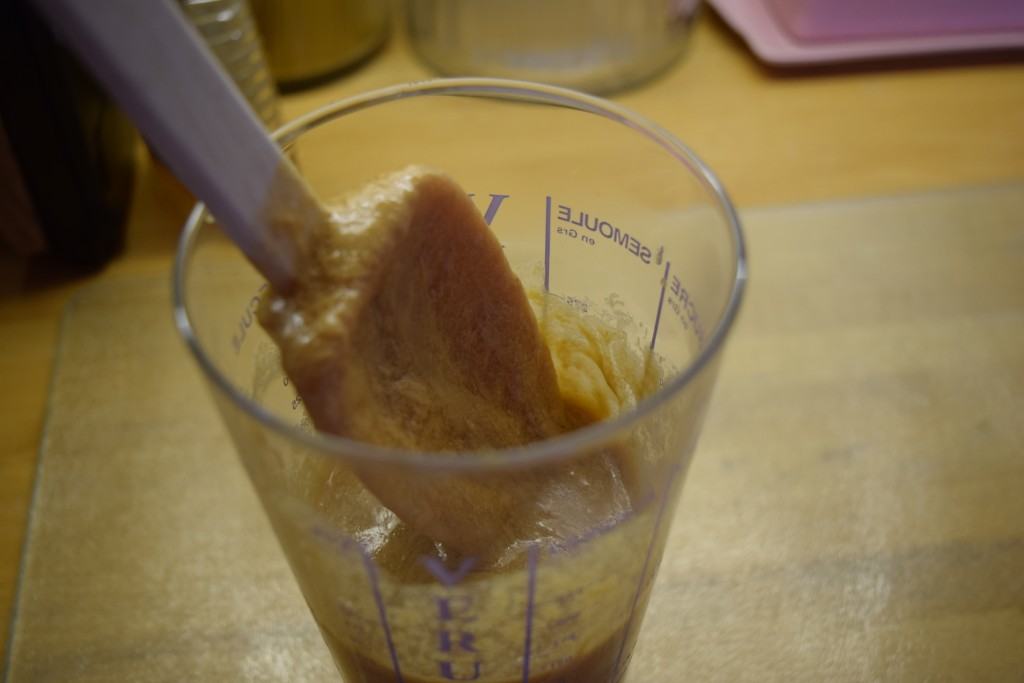 Look at that, all gooey, peanutty and golden.
Give the gloop a good stir then add in the forgotten vanilla extract for extra deliciousness to be had by all.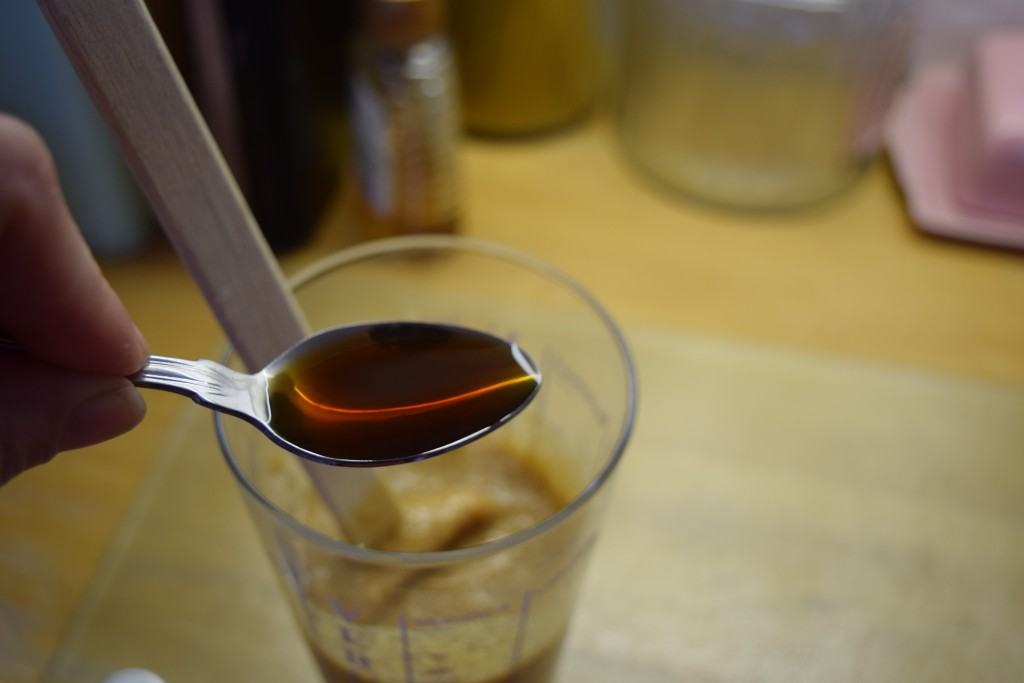 Pour this warm peanut lava onto the oats and stir until everything is evenly coated. It doesn't look terribly promising at this stage, like anaemic flapjack, but don't lose heart. Spread the mixture out into an even layer and pop in the oven for a first stint of 20 minutes.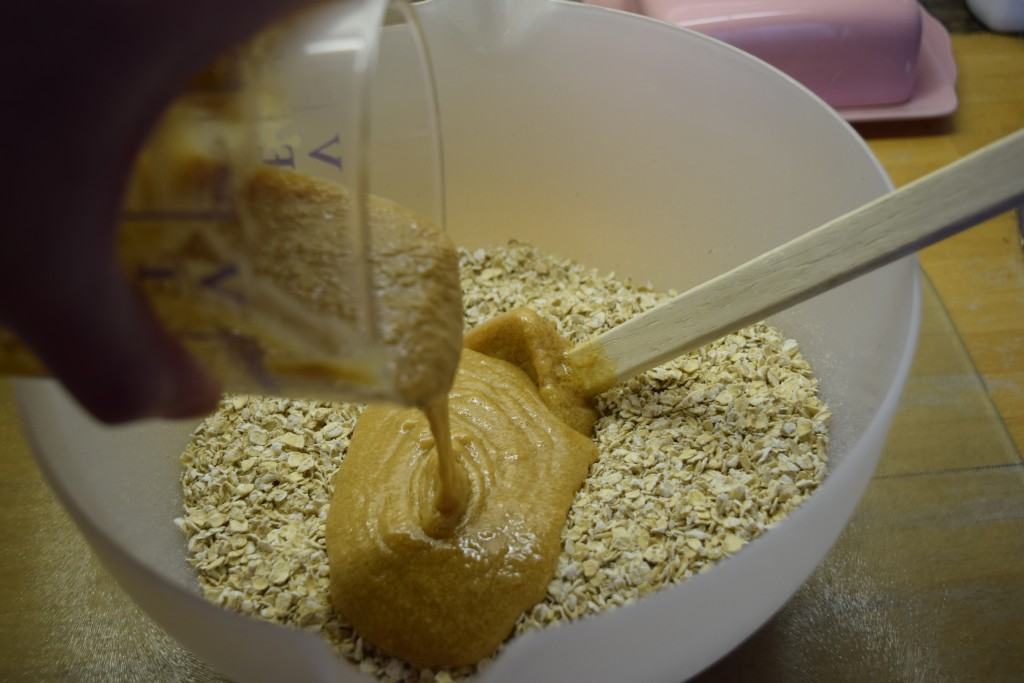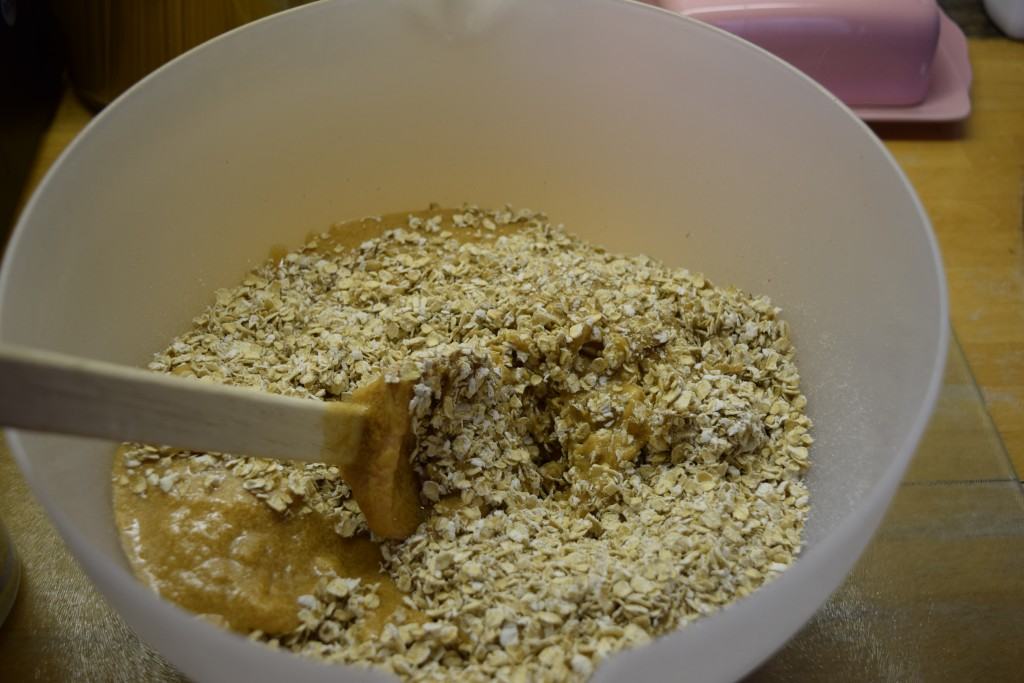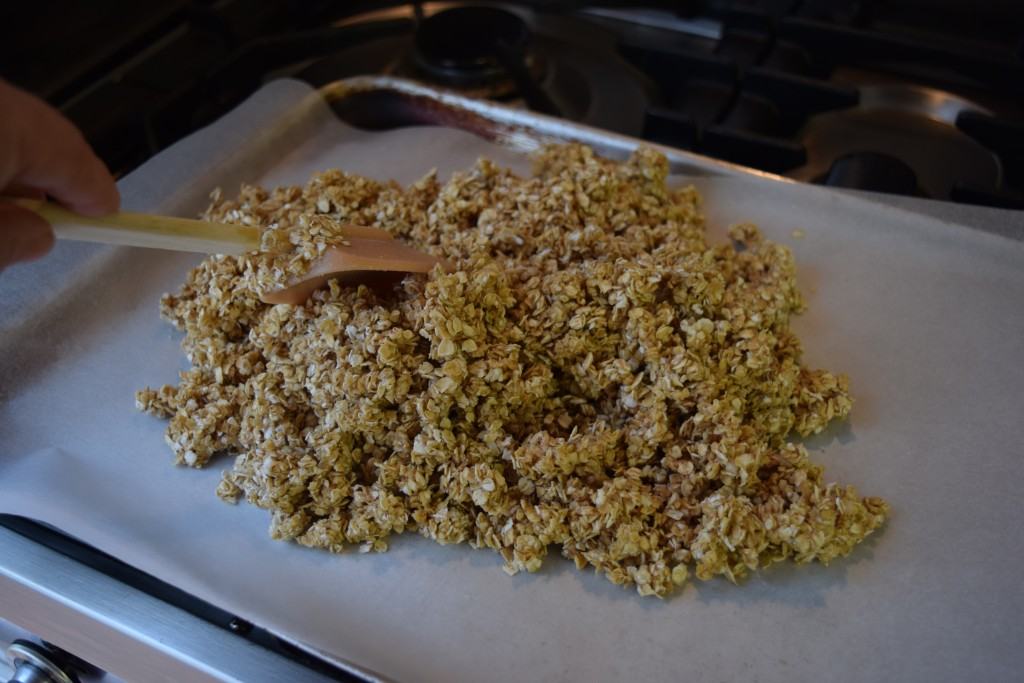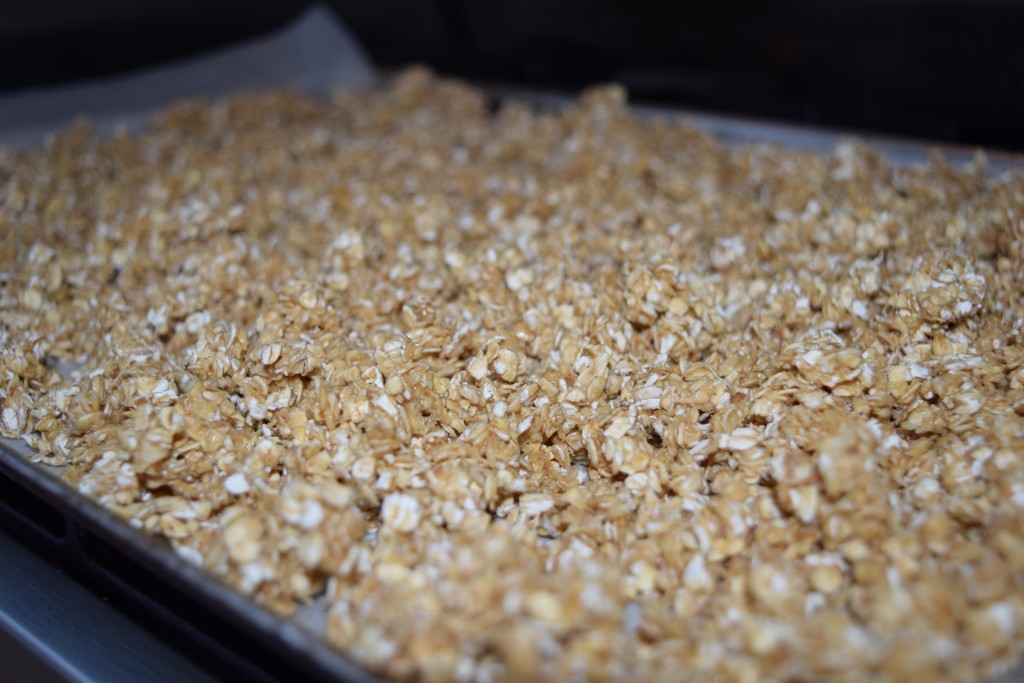 Once your timer goes off, take the tray out and give it all a good stir.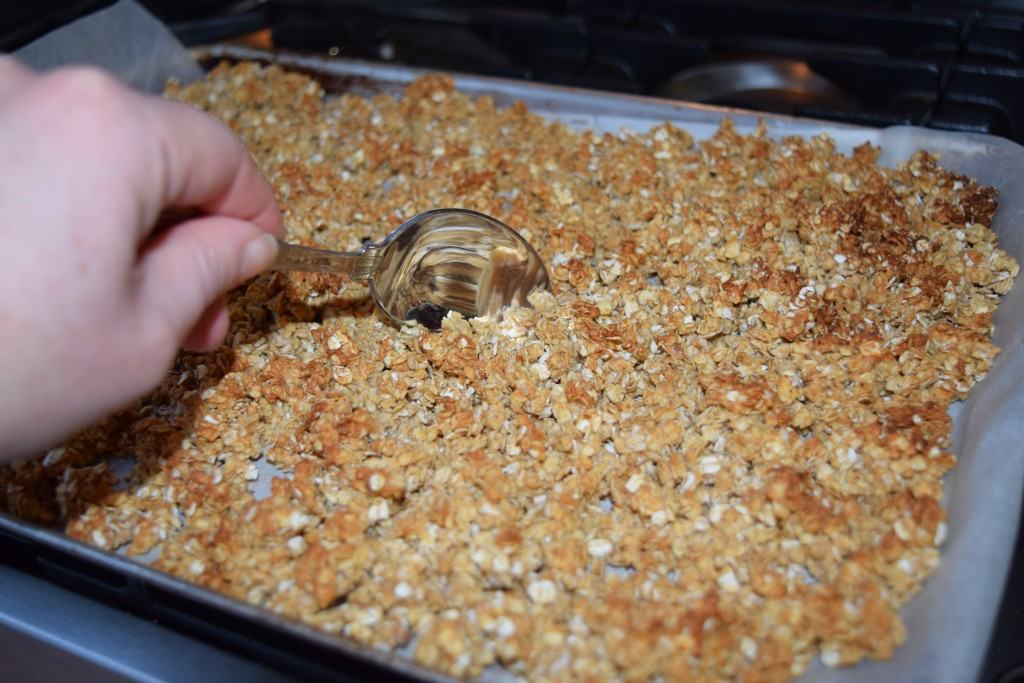 Pop it back in for a final 15 to 20 minutes, but keep an eye on it after 10 as you don't want to incinerate it at the final furlong. Once cooked, leave to cool, taking care not to burn your fingers as you try and sneak a handful of the warm granola as you pass.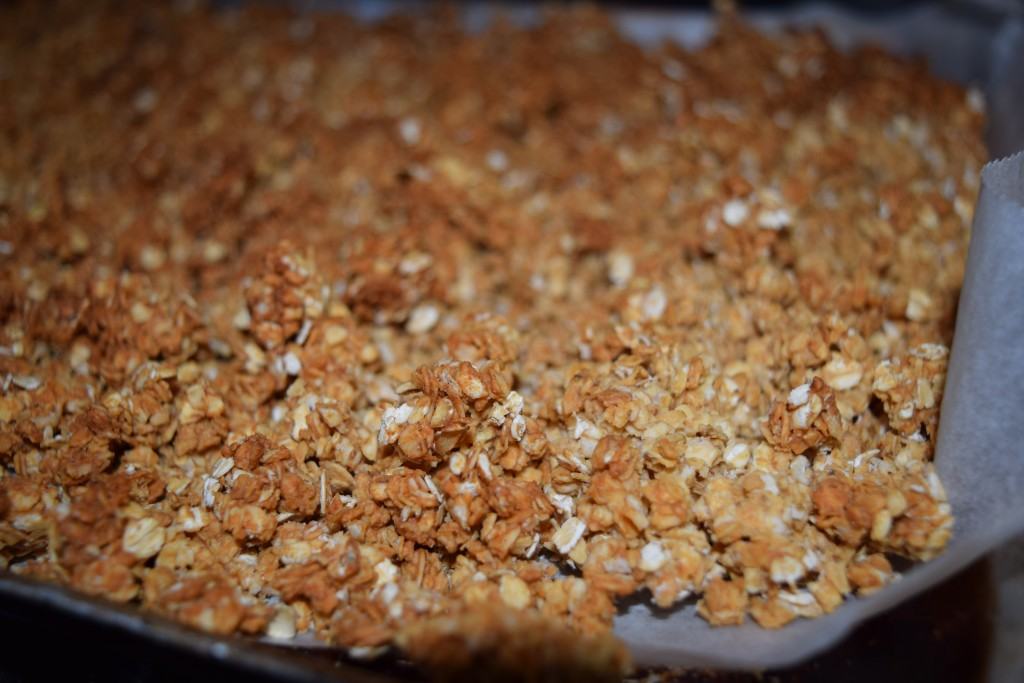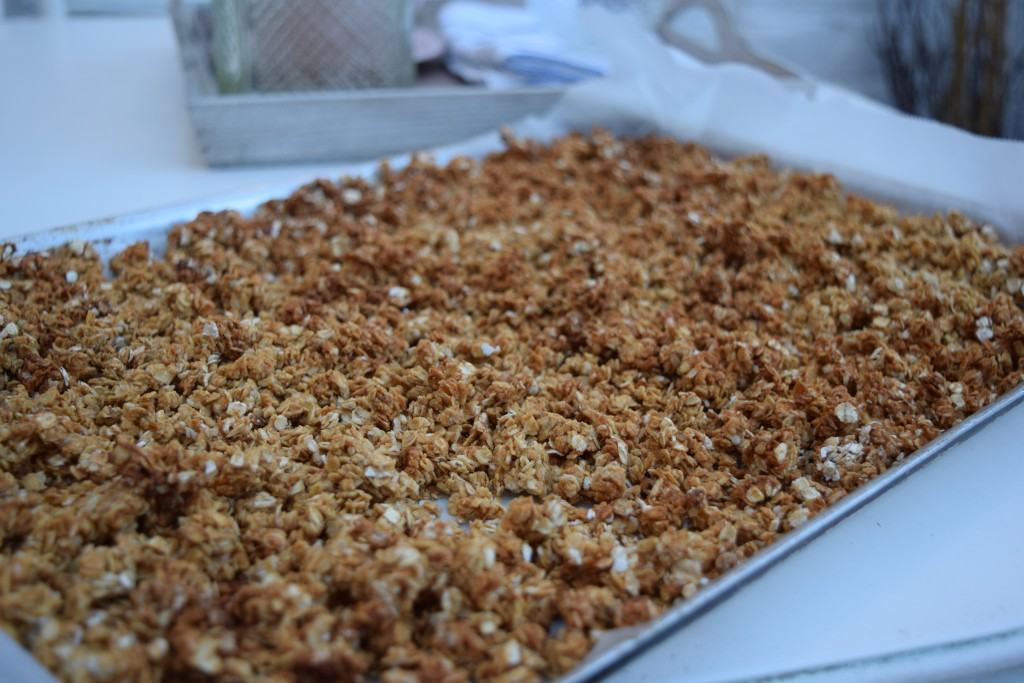 Once this is cool and crisp, you can add any dried fruit, nuts or chocolate, as you wish. I had a Mixed Berry Sprinkle business nearing *well past*  it's use by date in my cupboard from Waitrose which worked perfectly.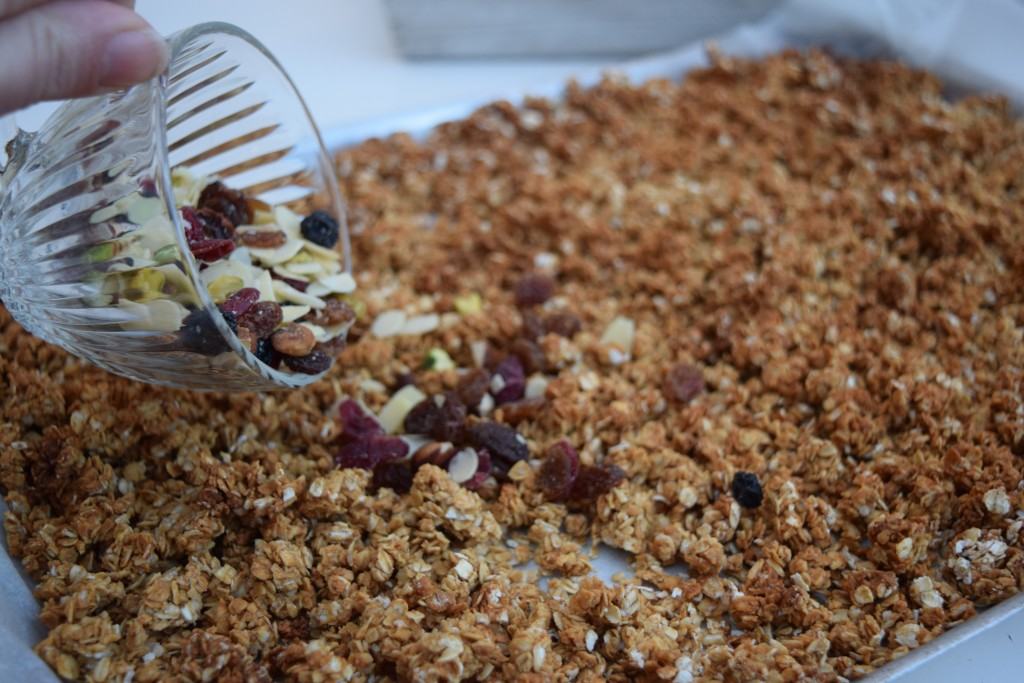 Store this oaty goodness in an air tight jar. One you can fit your hand in easily may be useful.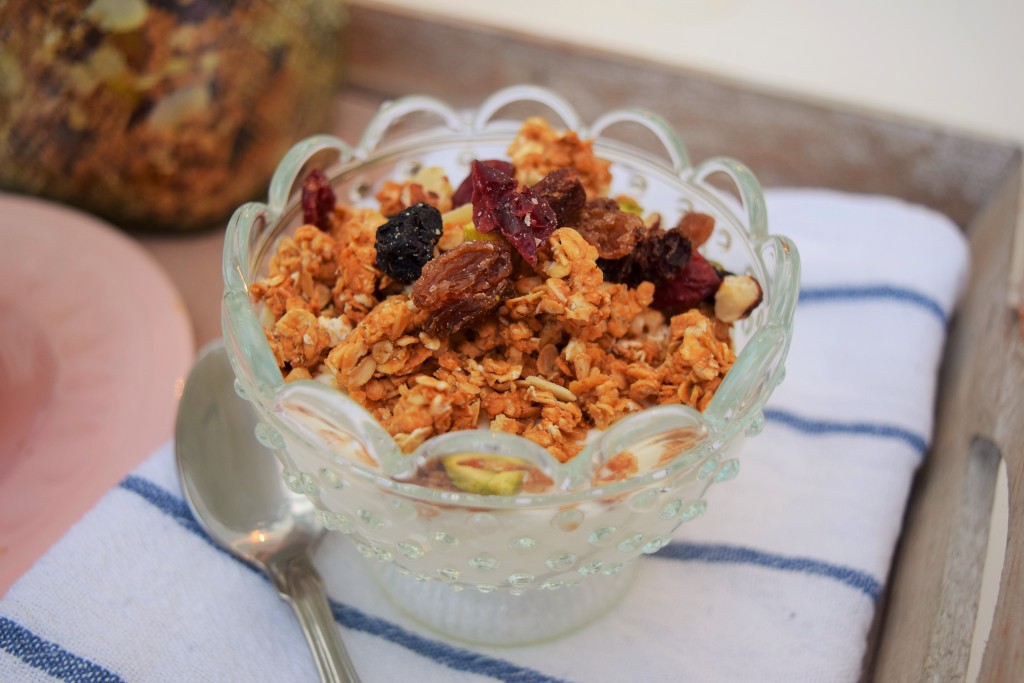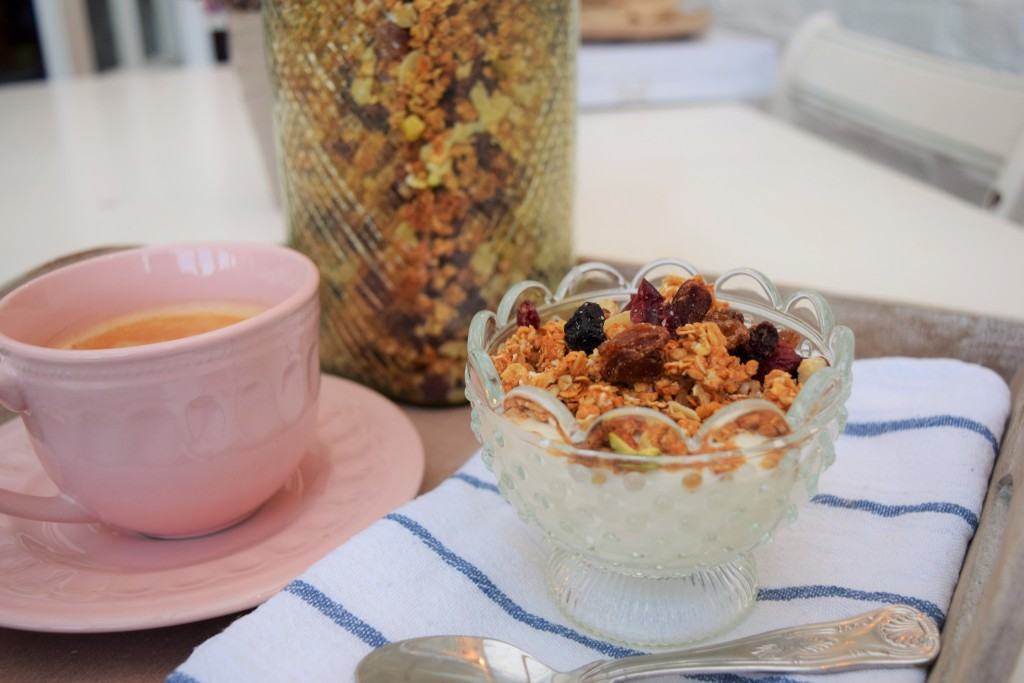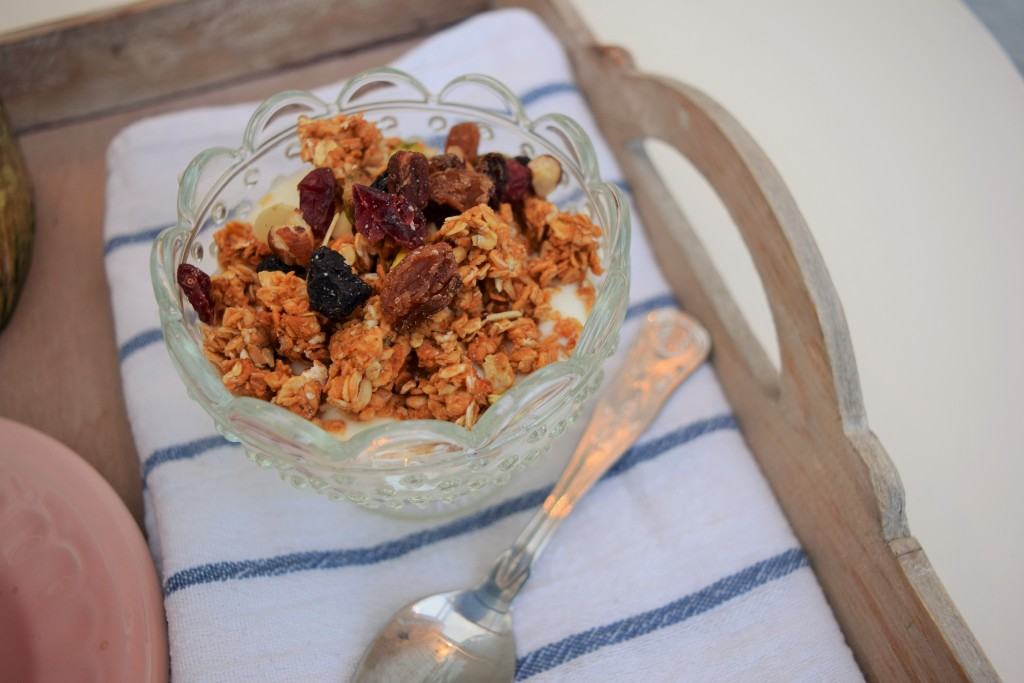 Use this tasty, golden Peanut Butter and Honey Granola to adorn yoghurt or with milk at breakfast time or dessert time or anytime. I just passed the jar a moment ago and had a handful and it's 10.15pm. I do know how to live. Just not how to diet.
Lucy x
Peanut Butter and Honey Granola Recipe
Makes a big jar full
400g porridge oats
125g peanut butter, the healthier the better, but I just used supermarket smooth which I had to hand
170g honey
1 teaspoon vanilla extract
Optional handful of dried cranberries, sultanas, apricots, almonds, pistachios, chocolate chips, you choose
Pre heat the oven to 130 to 140 degrees fan assisted and line a large flat baking sheet.  Weigh out the oats in a large bowl and put to one side. In a saucepan or microwaveable bowl, weigh out the honey and peanut butter then microwave or heat over a low flame until the two ingredients have melted together. Give them a good stir then mix in the vanilla extract. Pour the warm peanut butter mixture onto the oats and give everything a really good mix. Ensure the oats are fully covered then pour onto a lined baking sheet and spread out into an even layer. Put in the oven for 20 minutes. Once this time is up, stir the mixture, turning the oats over so they cook evenly. Give this another 15 to 20 minutes, but keep an eye on it as you want it to be wonderful golden brown. Leave to cool down and crisp up. At this stage, stir through your chosen dried fruit, nuts or chocolate chips if you are that way inclined. Then pour into a fancy jar, where it will safely keep for a couple of weeks.