Cherry White Chocolate Florentines Recipe
Mother's Day can be a difficult time as well as a special day for Mother figures. It brings sadness for some and celebration for others. Mother's of all nature will be cherished this coming weekend, whoever they are to you in your lives; Mothers, Fathers, Grandparents, sisters, friends. As chief feeder in our house, my favourite way to show those I love is via their stomachs. My Mother's favourite all time treat is a Florentine, so for her, this week I'm sharing these Cherry White Chocolate Florentines.
I have attempted to make my Mum Florentines before, but they have failed epically. With such a classic recipe, however, I should have known to have gone to the top for advice, so it's with thanks to the evergreen Mary Berry for this brilliant interpretation. I have left out all the bits I don't like *candied peel* and included some fantastic dried cherries and almonds, but you can pretty much use any fruit or nuts you have to hand. These are folded into a simple mixture of butter, demerara sugar, flour and syrup to make an almost brandy snap like base. My Mother is borderline white chocolate dependent so I then coated the back of these cherry almond Florentines with plenty of it. Having always thought these were a pain in the arse to make and having spent a fortune buying Mum super expensive shop ones, I am pleased to report these are beyond easy. Some simple chopping, melting, then an eye kept on them when cooking, as they only take around 8 minutes. All that's left to do is to leave the chocolate to set then you are ready to gift way. Or not, these are totally amazing, you may not feel like giving them away at all.
These Cherry White Chocolate Florentines are such a vintage treat, whether you are treating the Mother figure in your life, or just treating yourself, these crisp fruit, nut and chocolate delights come filled with love. From me to you.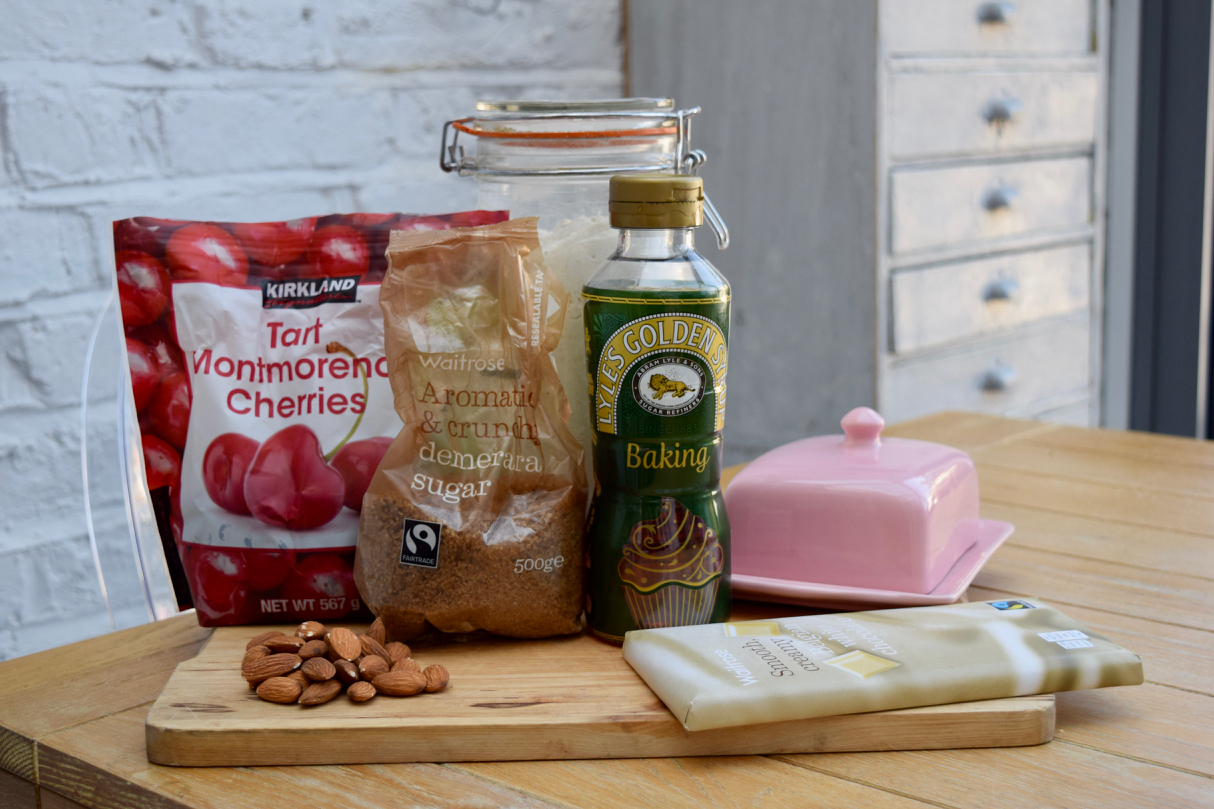 Such a pretty ingredients line up for these sweet treats. If you have cranberries or candied peel, do feel free to add those if you like. Likewise, any nuts would work here, I just have a thing for the whole Bakewell tart nature of the cherry almond combo.
Make a start on these by lining two baking sheets with baking paper, pre heating the oven to 160 degrees fan assisted and then take a medium sized saucepan, to which you add the butter, demerara sugar and golden syrup. Heat gently until the butter has melted.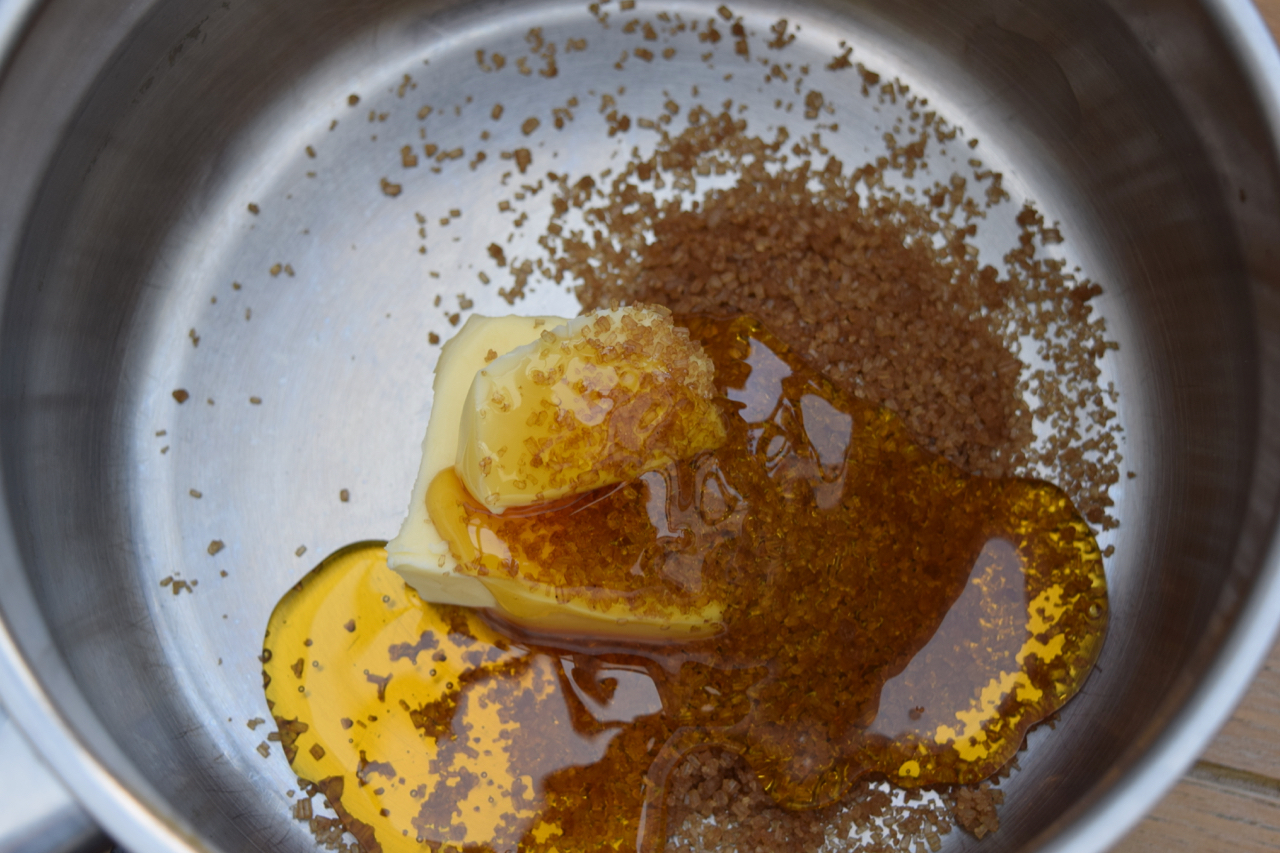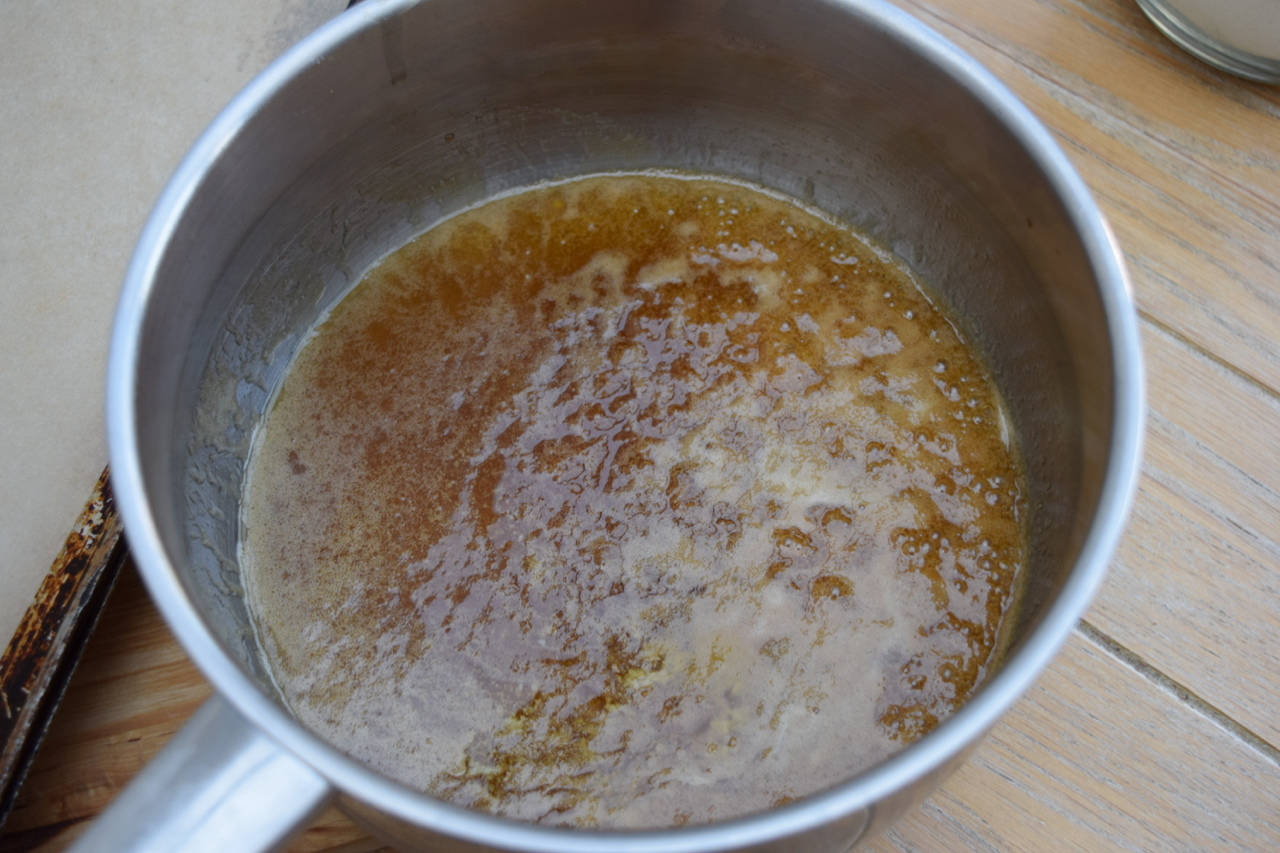 Remove from the heat and stir in the flour until you have a smooth-ish batter. Then, roughly chop your cherries and nuts and add these to the pan.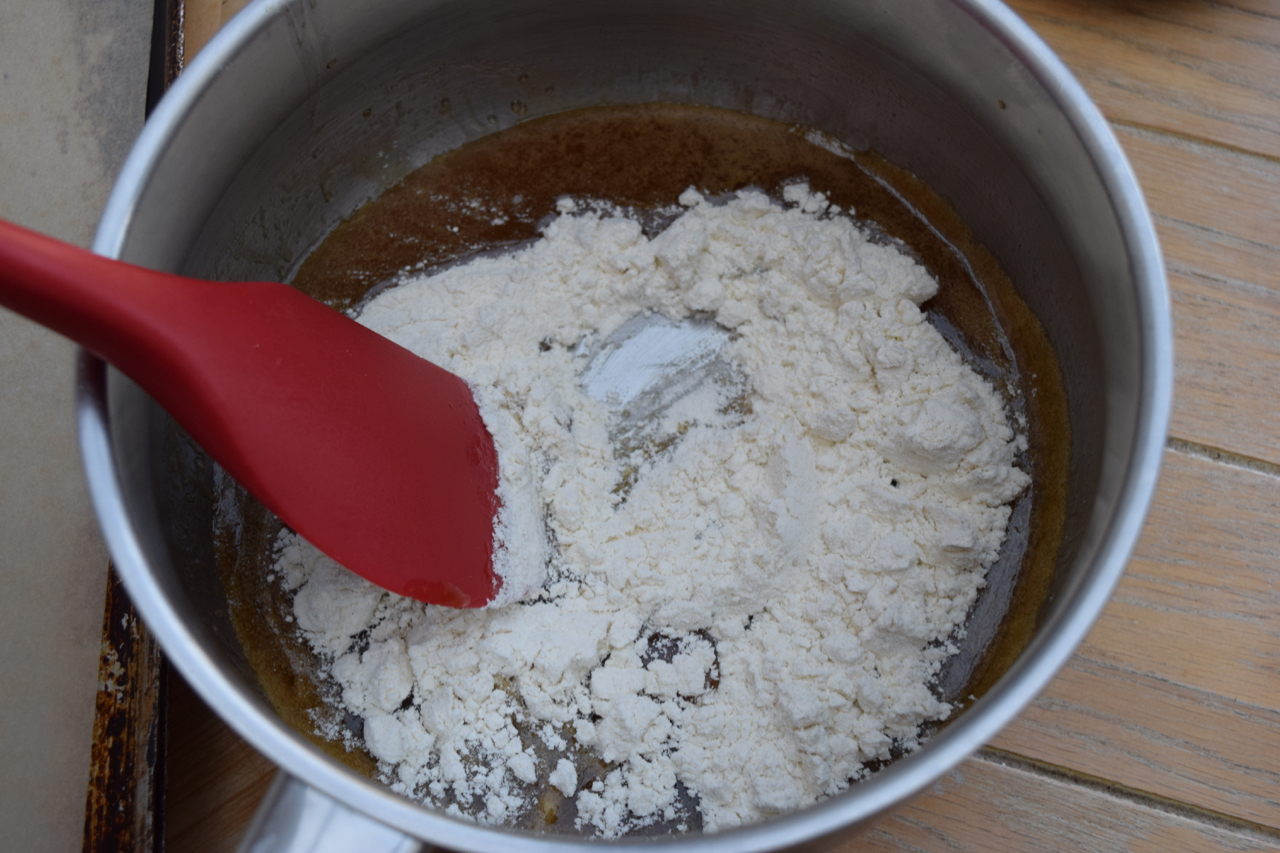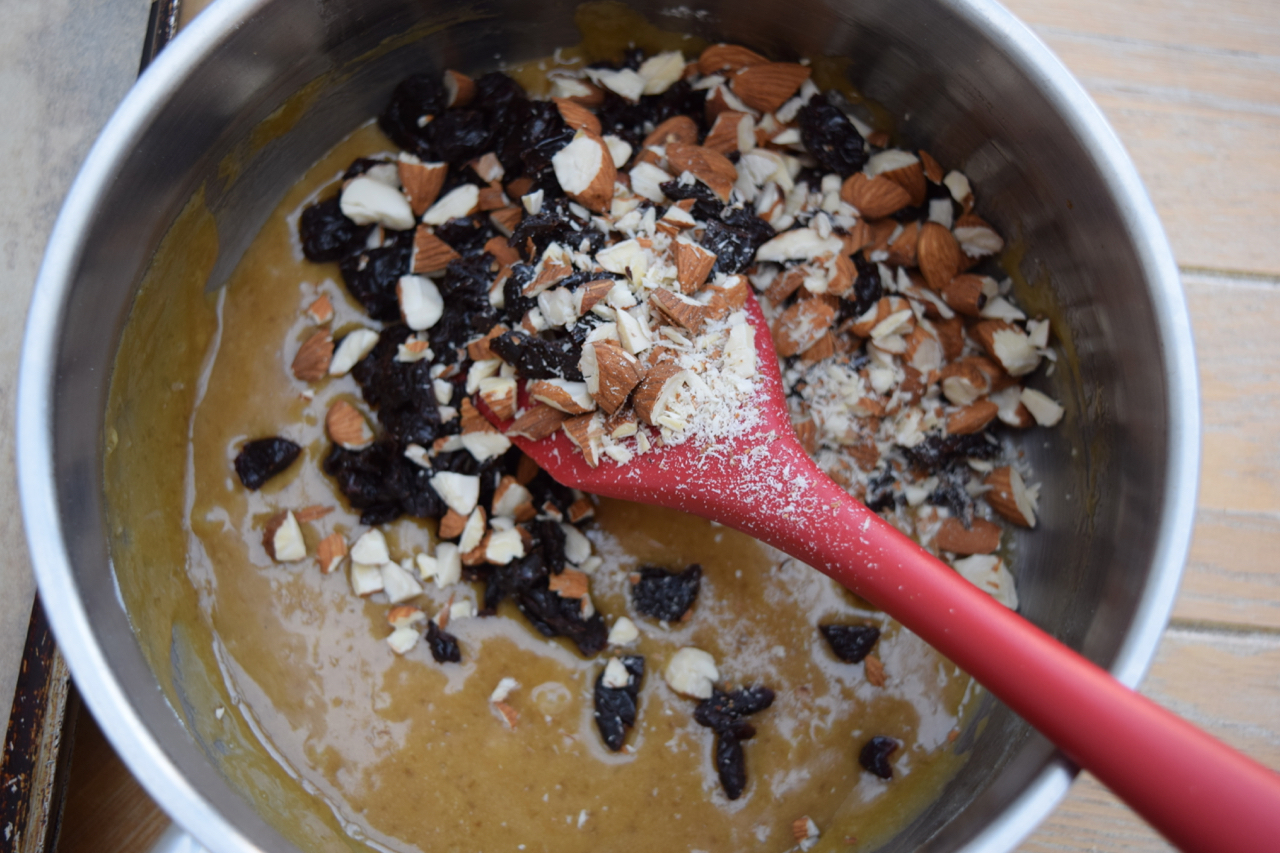 Stir well then spoon heaped teaspoons of the florentine mix onto your lined baking sheets. Leave some space in between each one to allow for spreading.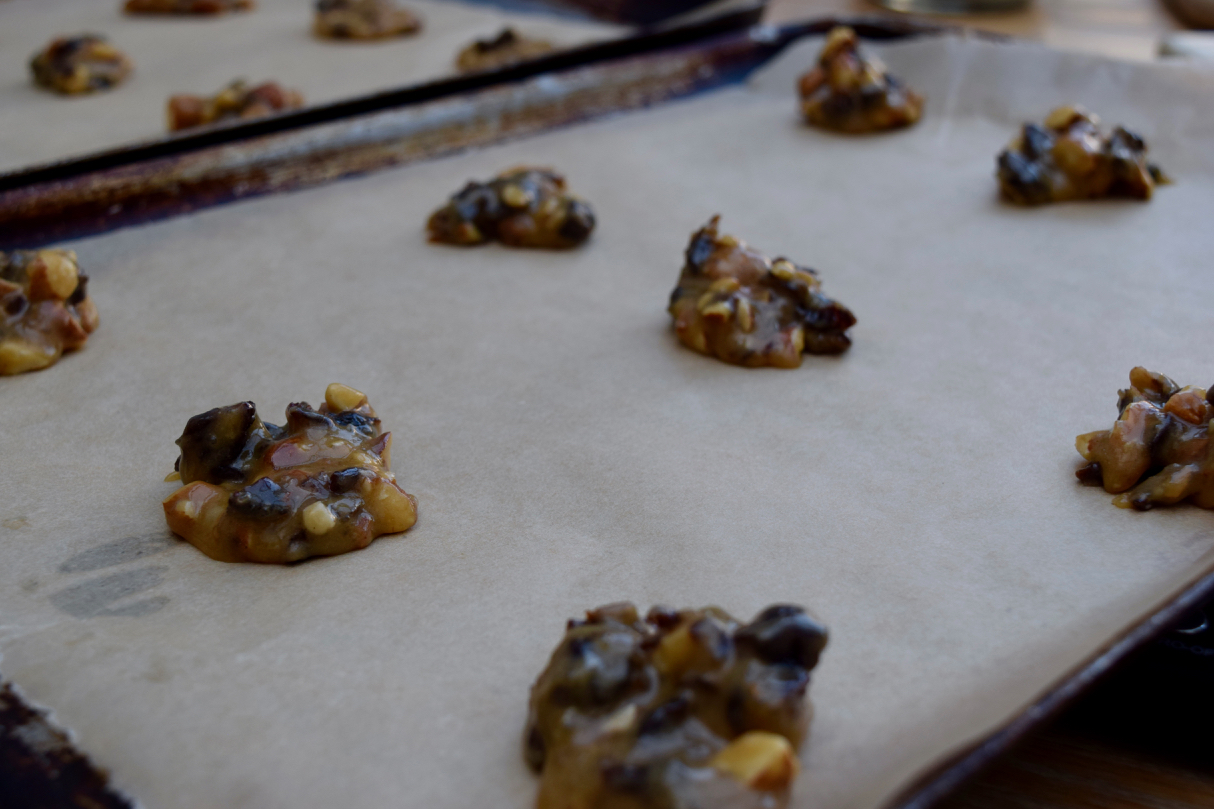 You should get around 16 to 18 florentines from this mix. Place the trays into the oven and cook for a scant 8 to 10 minutes. You just want them to be golden and bubbling around the edges.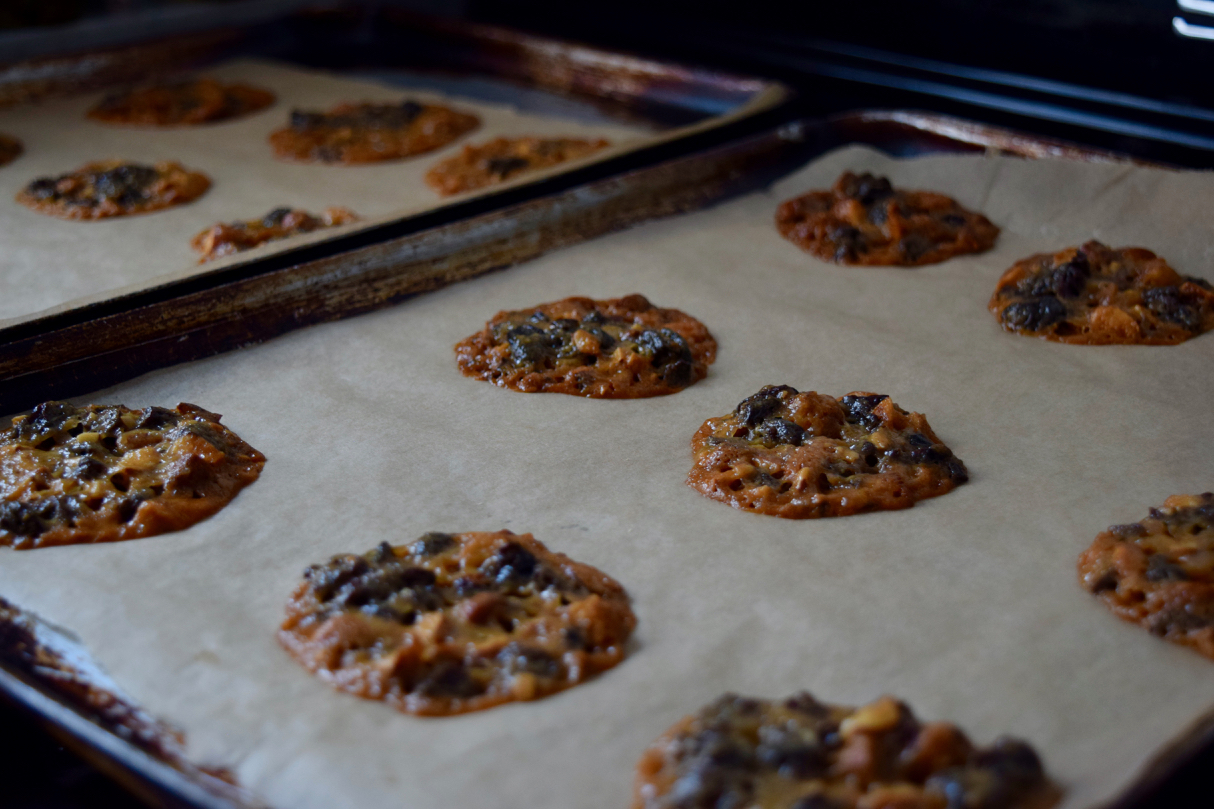 Allow these to cool for just long enough for the florentines to firm up so you can remove them from the tray and onto a wire rack. Leave them to cool completely.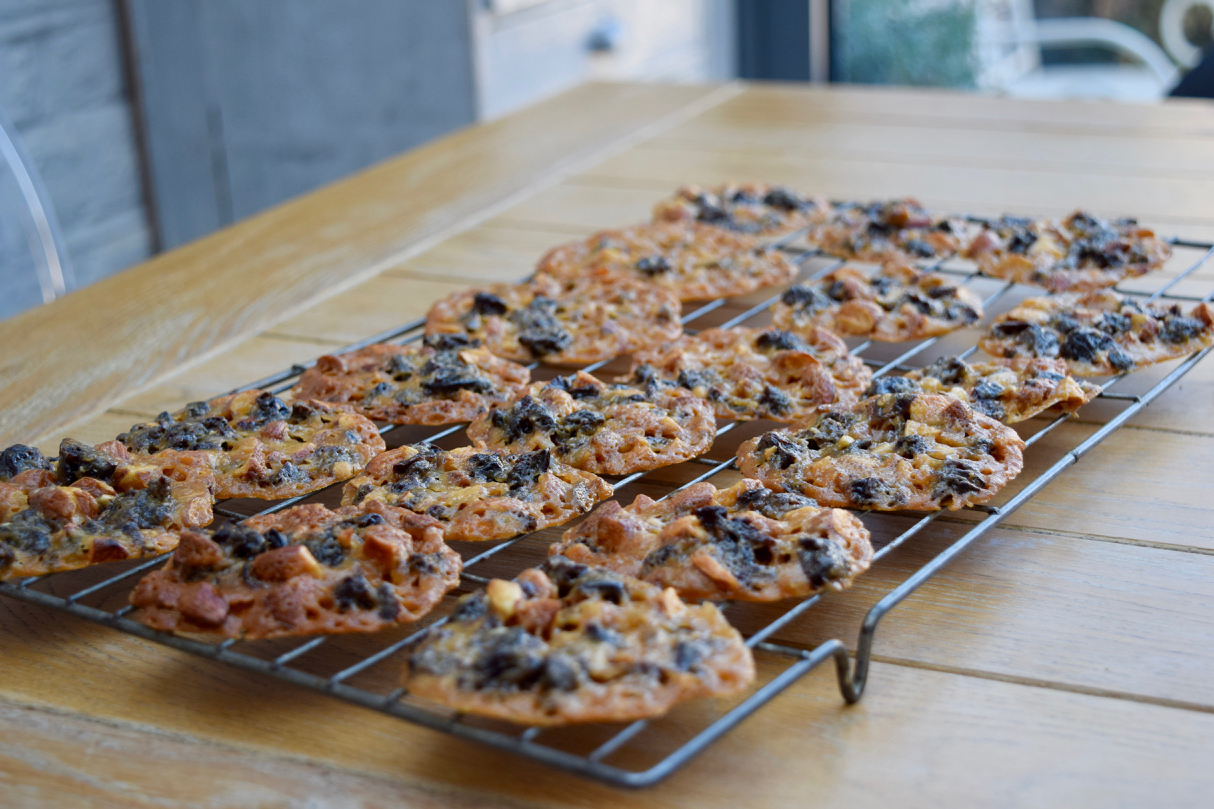 While they cool, melt your white chocolate either in the microwave or over a pan of simmering water. Be careful which ever method you use as white chocolate melts and burns quickly. I melted mine in the microwave in 30 second bursts and it only took a minute. Stir well then turn each florentine over, flat side up.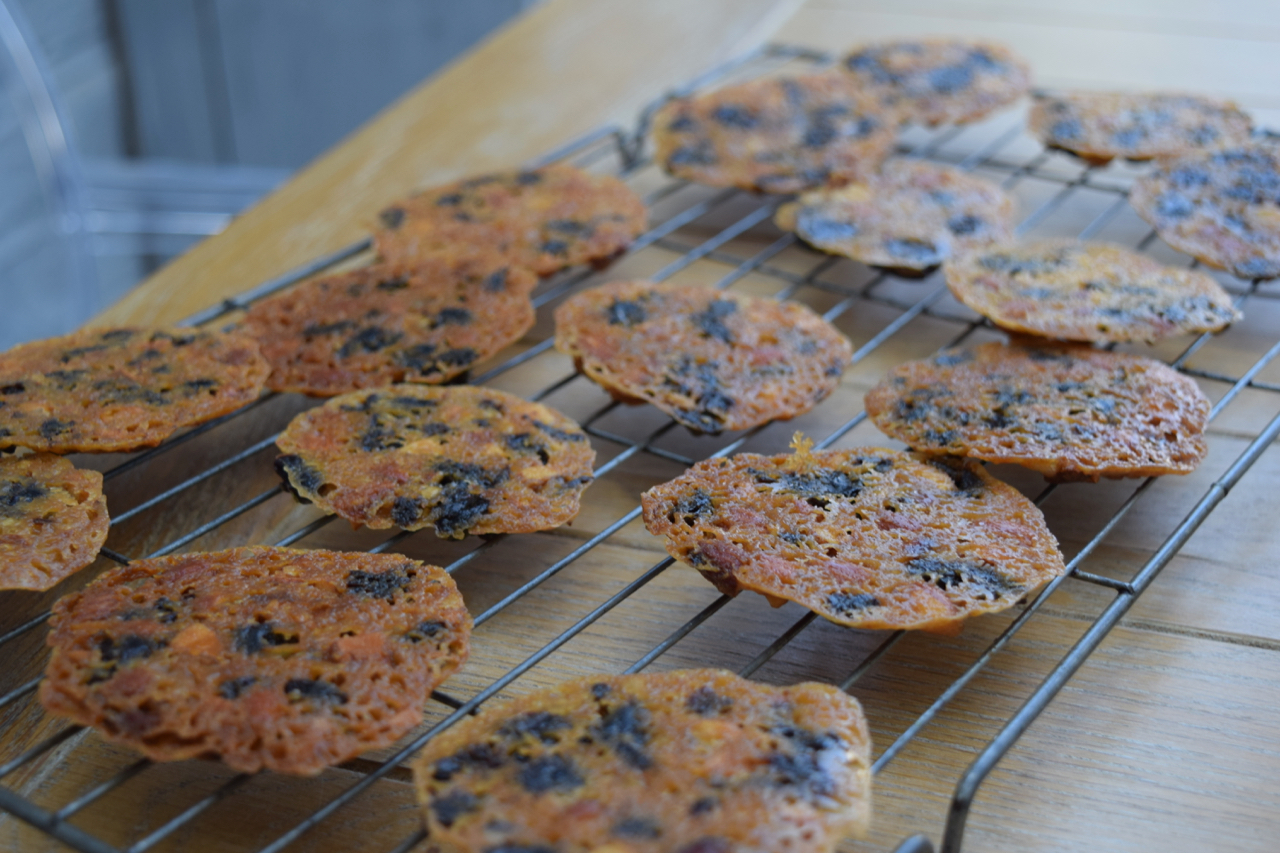 Using a teaspoon, spoon the white chocolate onto the florentine's. Spread it out, so it reaches the edges.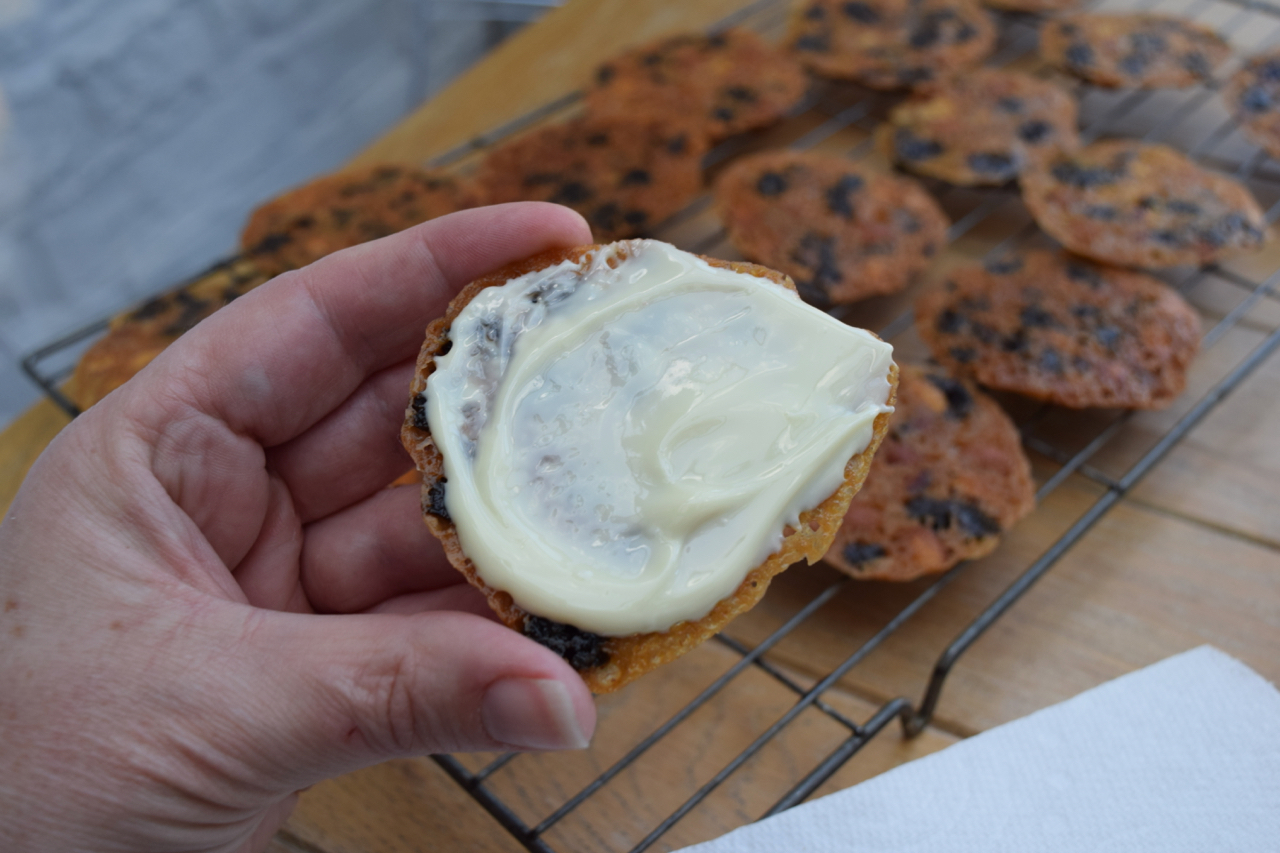 Continue with the rest of the chocolate on the rest of the florentines. Leave to cool slightly then, using a fork, make wavy prong marks in the white chocolate, for a bit of vintage charm.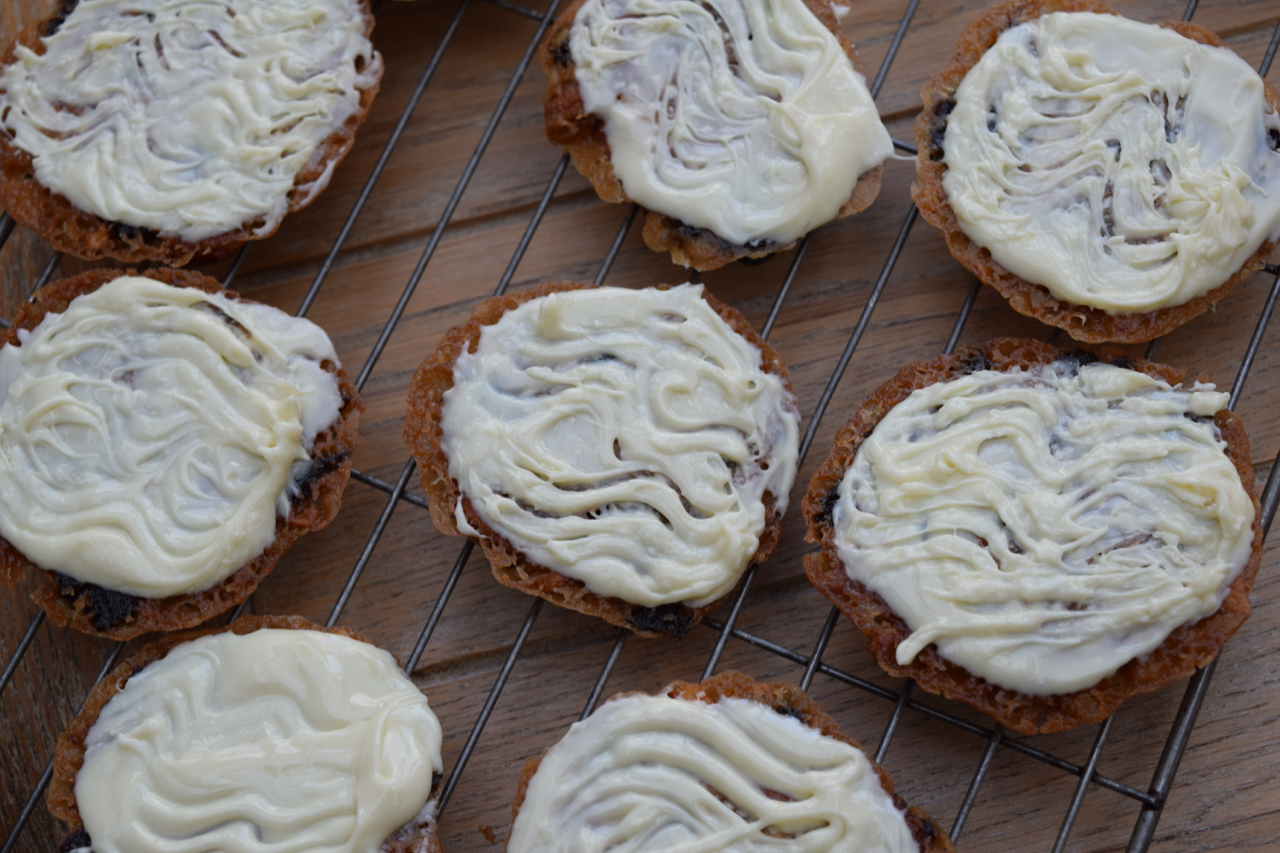 Leave these to cool completely so the chocolate sets. I sprinkled mine with a little glitter to a) add a bit of glitz and b) to cover up my slightly crap chocolate coating skills. You are now ready to devour these/bag them up and gift them to your loved one.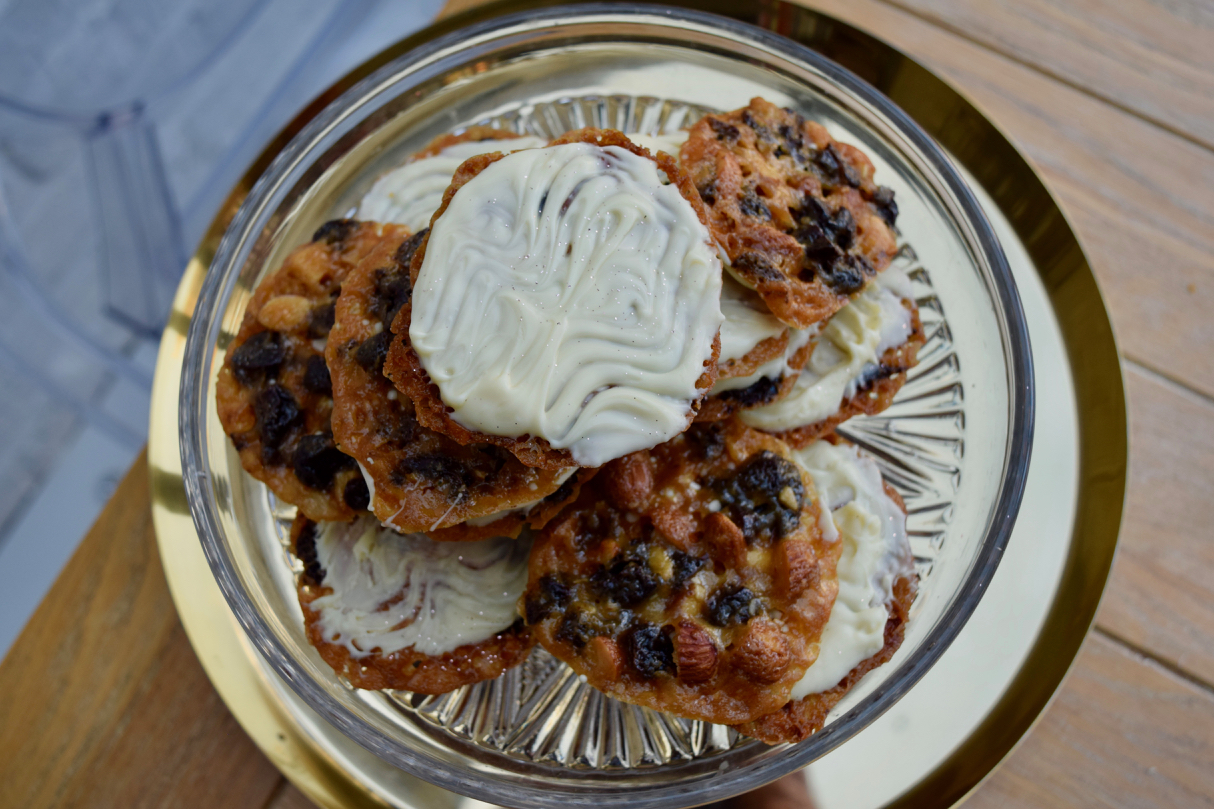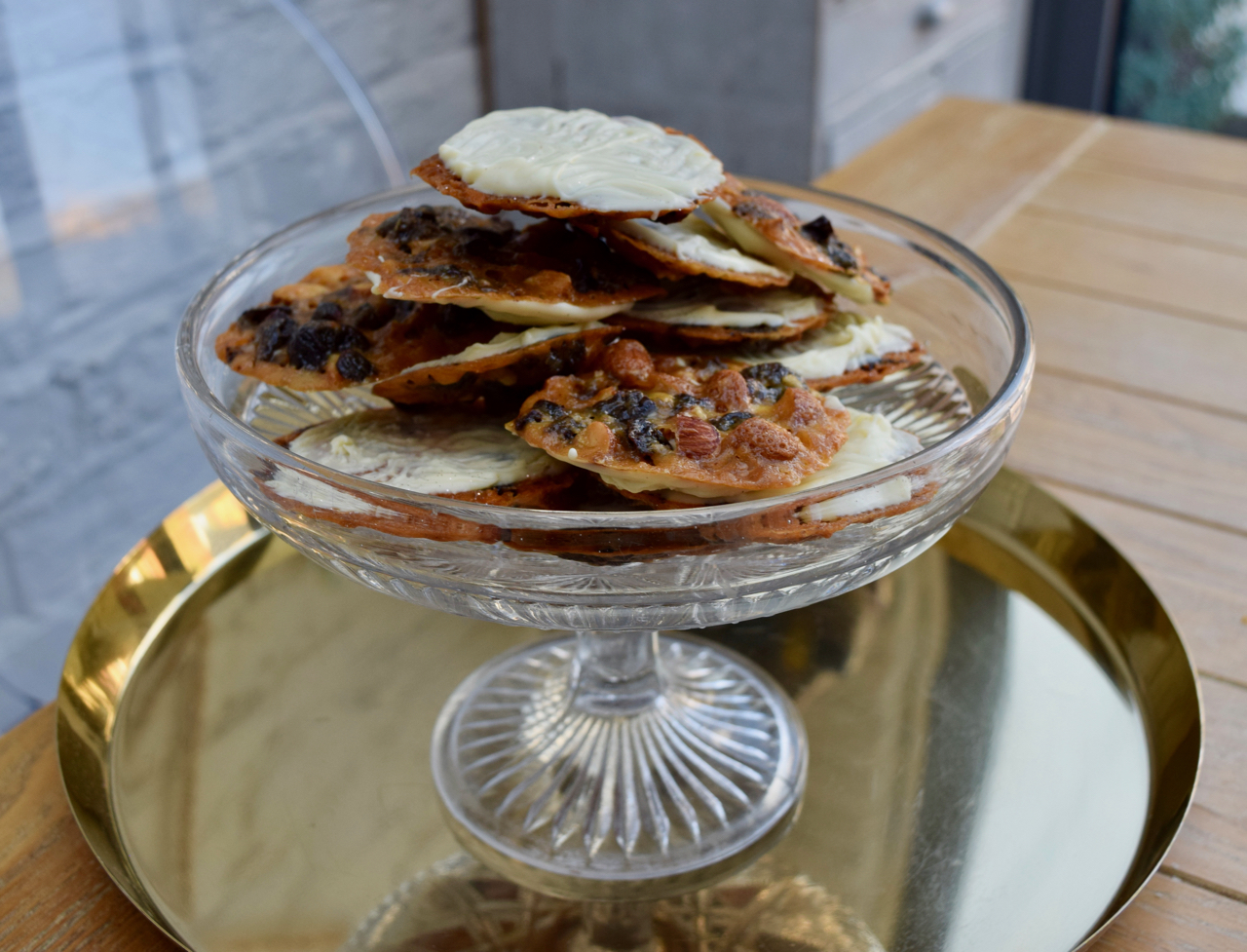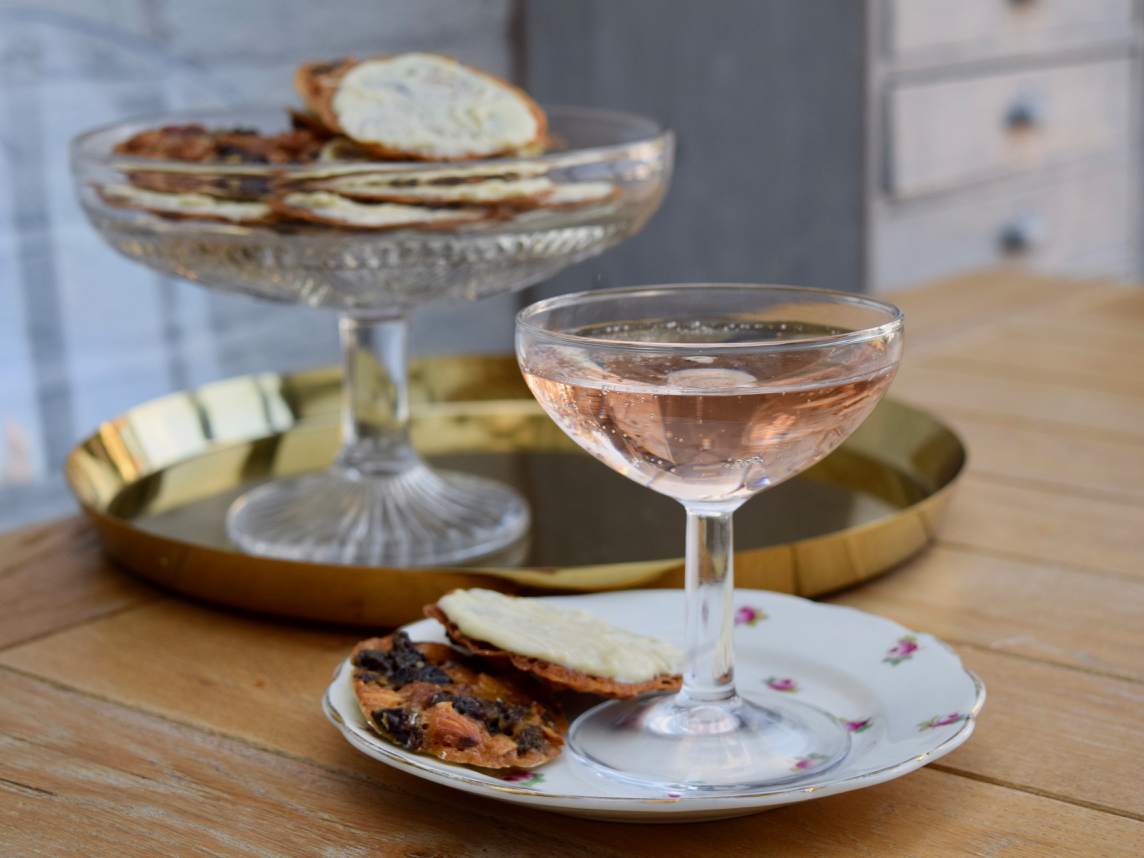 These are crisp but chewy, sweet but fruity and perfect for gifting. I boxed mine up *the ones I could wrestle out of Clyde's hands* and posted them to my Mother. They are her favourites and I love her. Whom ever you are celebrating this Sunday, a Cherry White Chocolate Florentine may be a way of saying you love them.
Lucy x
Cherry White Chocolate Florentines Recipe
Makes 16 to 18
You will need lined baking sheets and a saucepan
50g butter
50g demerara sugar
50g golden syrup
50g plain flour
75g dried cherries or cranberries, roughly chopped
50g almonds, roughly chopped, or us any other nuts you have to hand
150g white chocolate, or milk or dark if you would rather
A touch of glitter to decorate, if you fancy
Pre heat your oven to 160 degrees fan assisted and line two baking sheets with greaseproof paper.
Take a saucepan and measure in the butter, demerara sugar and golden syrup. Heat on the stove over a low heat until the butter has melted. Take off the heat and stir. Fold in the flour then add the chopped almonds and cherries.
Place heaped teaspoons of the mixture onto your lined baking sheets, leaving plenty of space for spreadage. Place into your pre heated oven for 8 to 10 minutes. The Florentines will be turning golden, have spread and be bubbling. Leave them on the baking paper until they are just set then remove to a cooling rack. Leave to cool completely.
To melt the white chocolate place in a bowl and microwave in 30 second increments, mine only took 1 minute. Leave to meld together, stirring well. Or melt briefly over a pan of simmering water.
Turn the florentine's over so they're upside down. Spoon the melted white chocolate onto the flat side and spread to the edges. Leave to cool for a moment then use the prongs of a fork to make a pattern in the chocolate. Leave to cool completely then devour. Store in an airtight tin for 3 to 4 days.