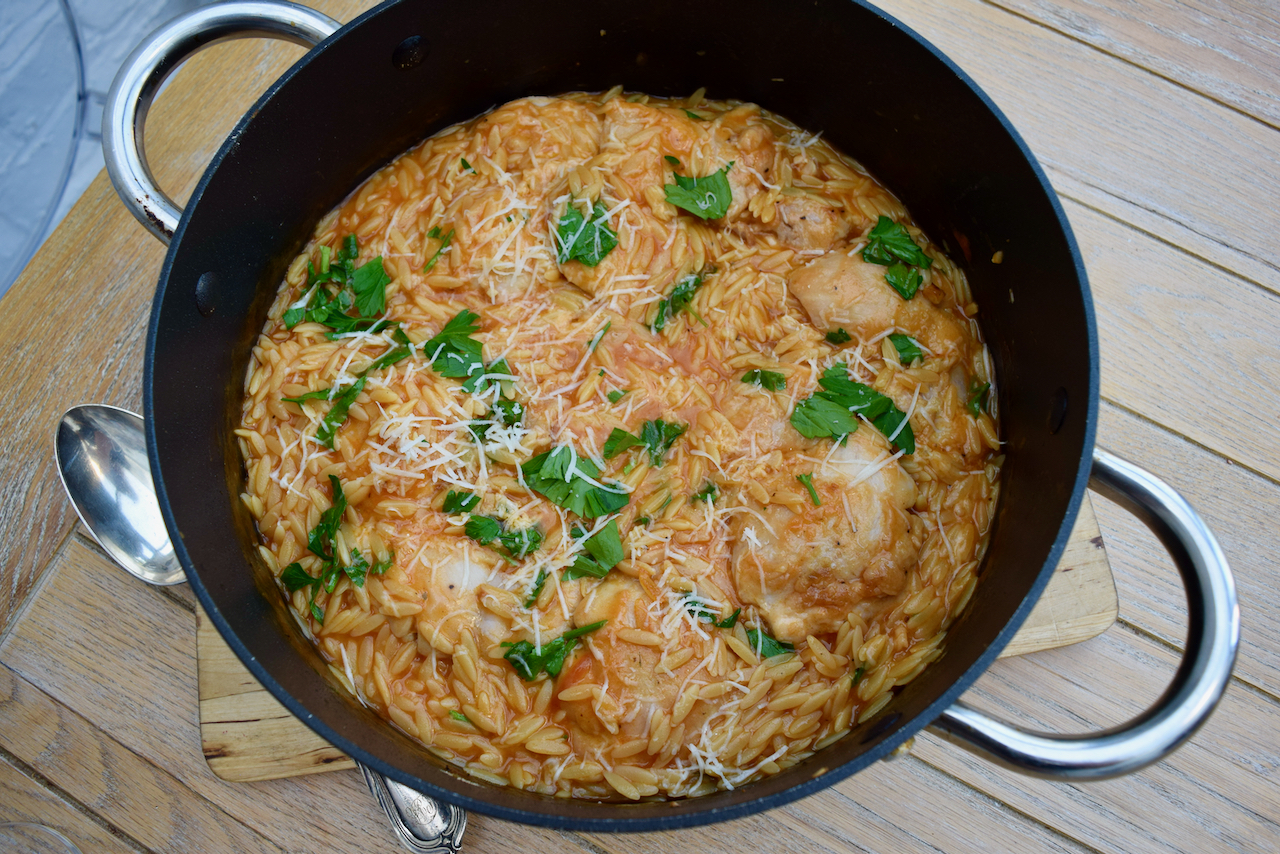 One Pot Chicken with Orzo and Parmesan recipe
Some weeks I'm very organised and know what we're eating, what I'm cooking for the blog and what everyone's meant to be doing in a really quite impressive way. And some weeks I don't. This lack of organisation led me to create this One Pot Chicken with Orzo and Parmesan recipe. Sometimes it pays to fly by the seat of your pants; you may just find yourself sticking a fork into a bowl of something really delicious.
As quite often happens in my fridge, I had a rogue packet of boneless chicken thighs that really didn't want to be made into another curry. After a quick cupboard forage, I discovered we had orzo and passata and came up with this quick one pot dish. One pot often implies a slightly rushed and not particularly glam supper. My chicken and parmesan loaded offering is certainly not destined for midweek only, accompanied by yet another fresh offering from Wine at Heart, this is perfect for friends, as well as family.
This Chicken with Orzo and Parmesan is a rather delicious endorsement for not being quite so organised. You now have my permission to be as tardy as you like as it pays off in all sorts of tasty ways.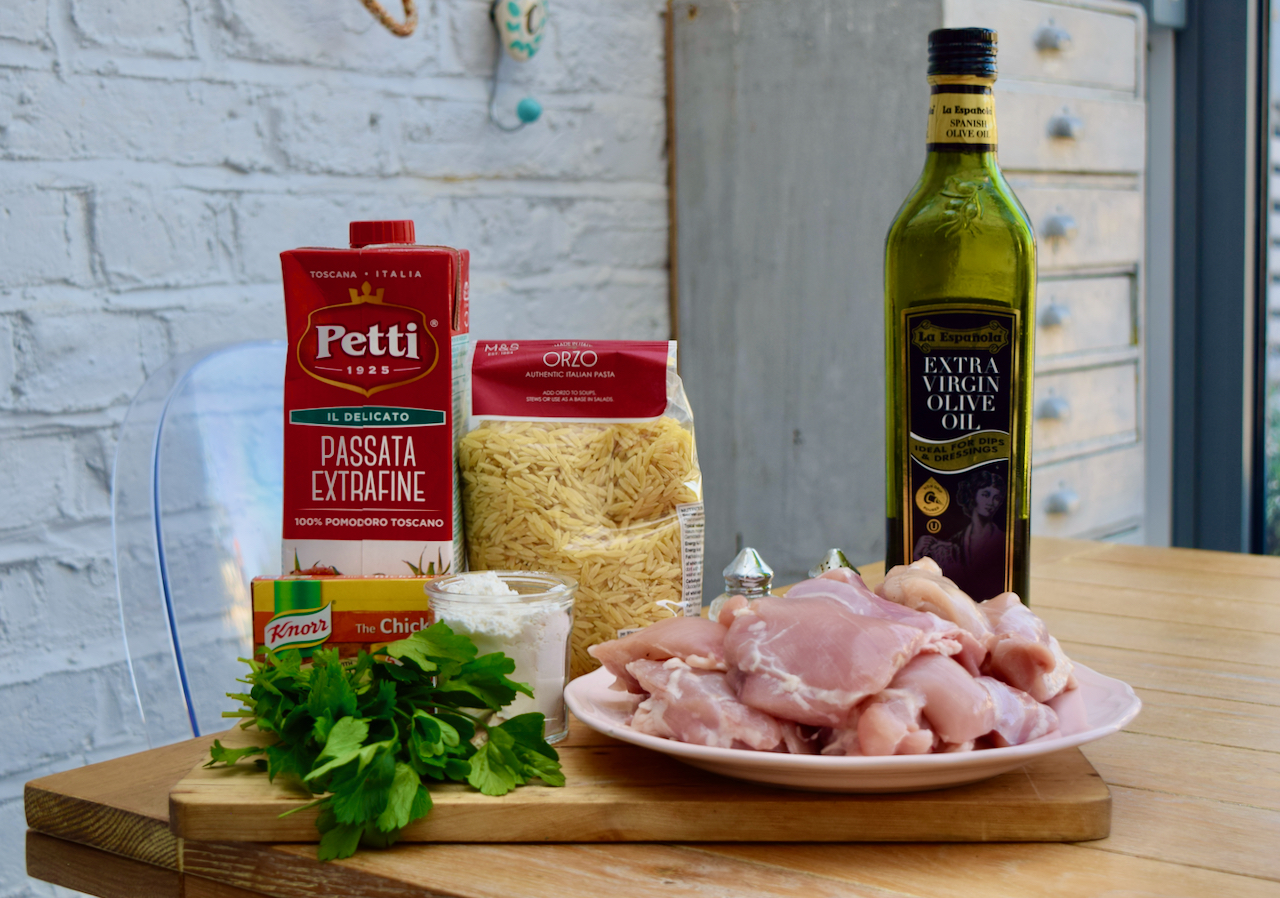 I know I have a pretty well stocked cupboard, but there's nothing terribly off piste here. You may note my tardiness continued into my blogging as there's no sign of the parmesan in this photo; you could just pretend it's behind the chicken if you like.
Make a start on this dish by heating two tablespoons of oil in a large high sided frying pan with a lid, over a high heat. Next, mix the flour with salt and pepper and lightly coat your chicken thighs in the mixture. On a side note, if you have chicken breasts lurking, do use those instead, you'll probably only need one per person, unless you're cooking dinner for my children.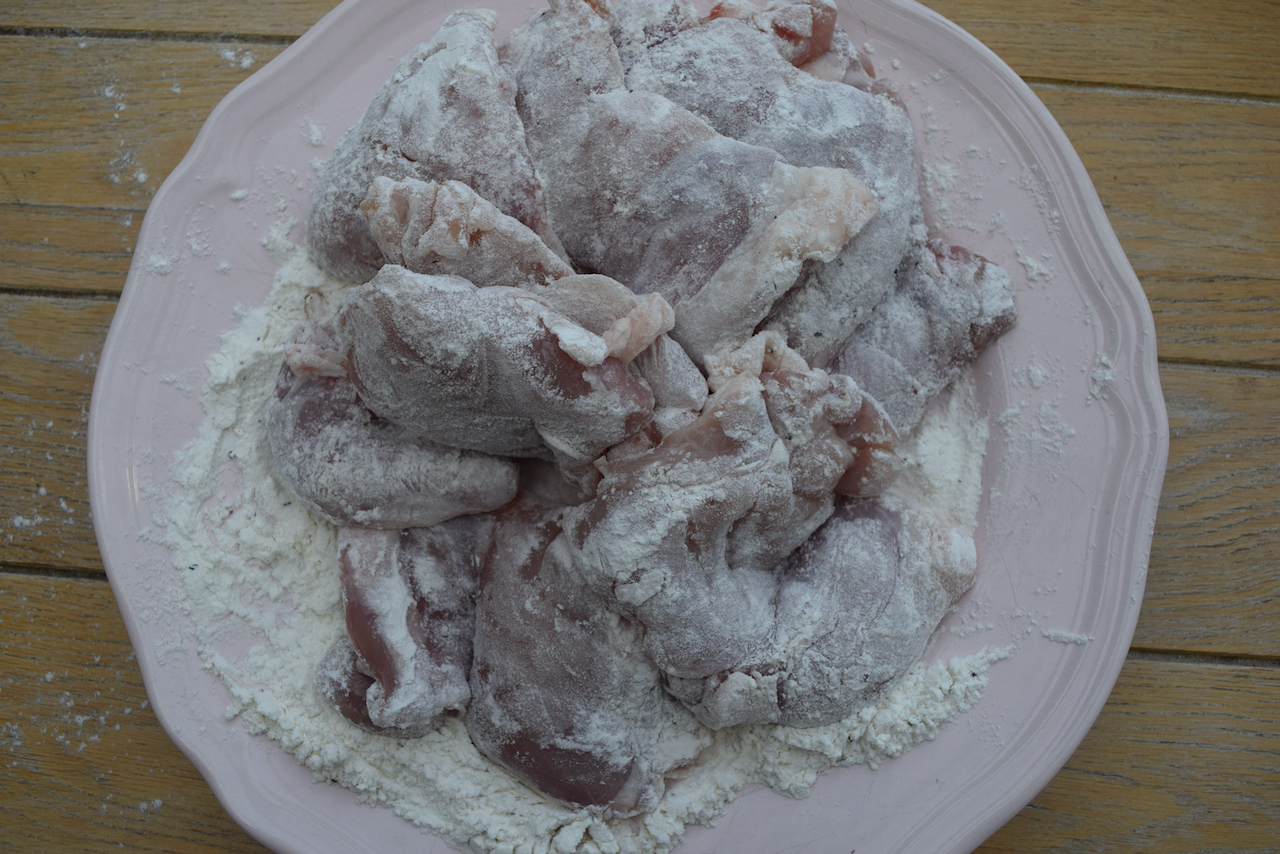 I went for two boneless thighs per person, as my family have appetites like horses.
Pop the coated thighs into the hot oil and cook until golden then flip and do the same on the other side. They should be almost cooked through, this will take about 3 to 4 minutes on each side, size dependent. Cook in batches as you don't want to overcrowd the pan.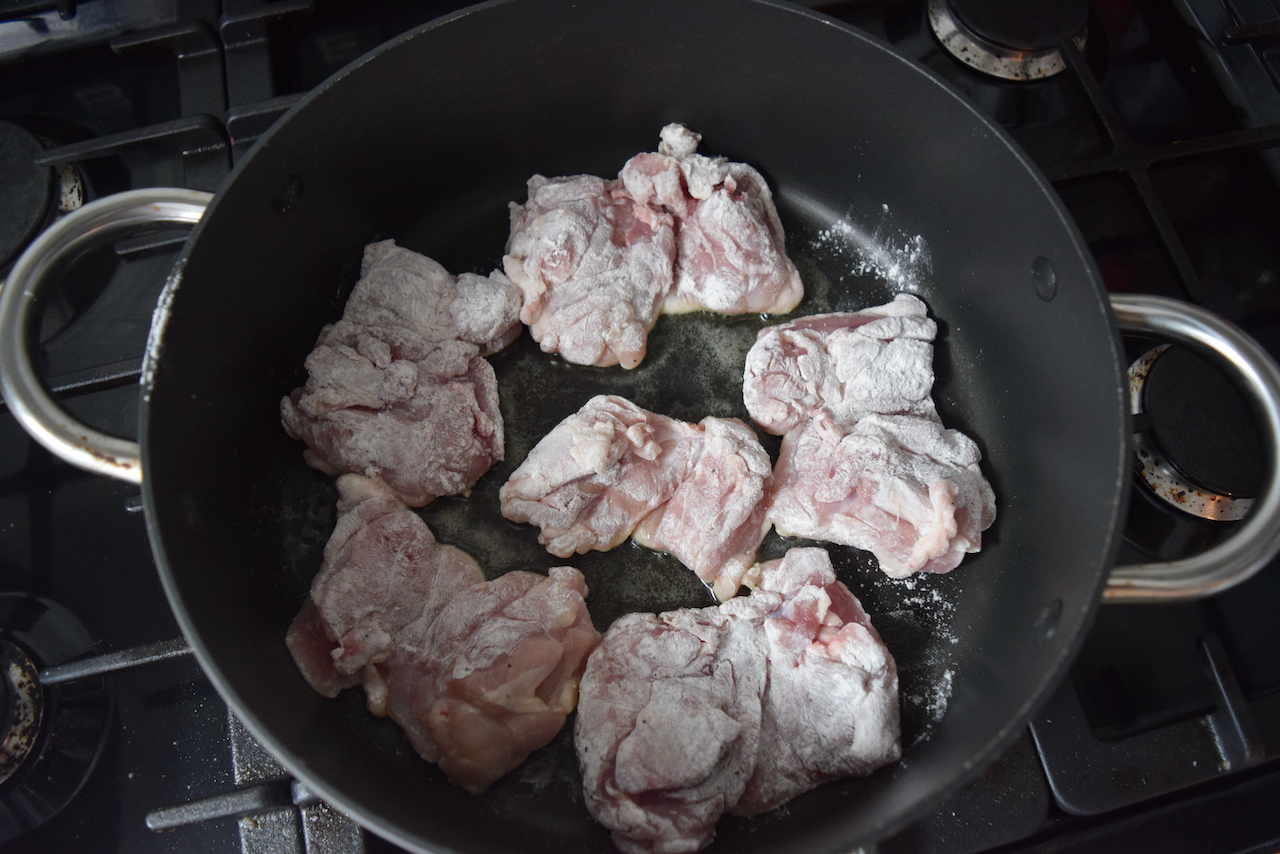 Remove the browned chicken to a plate for the moment. Add another tablespoon of oil to the pan and turn the heat down. Add the chopped garlic and cook for around a minute until just softened and turning golden. Then stir in the orzo pasta.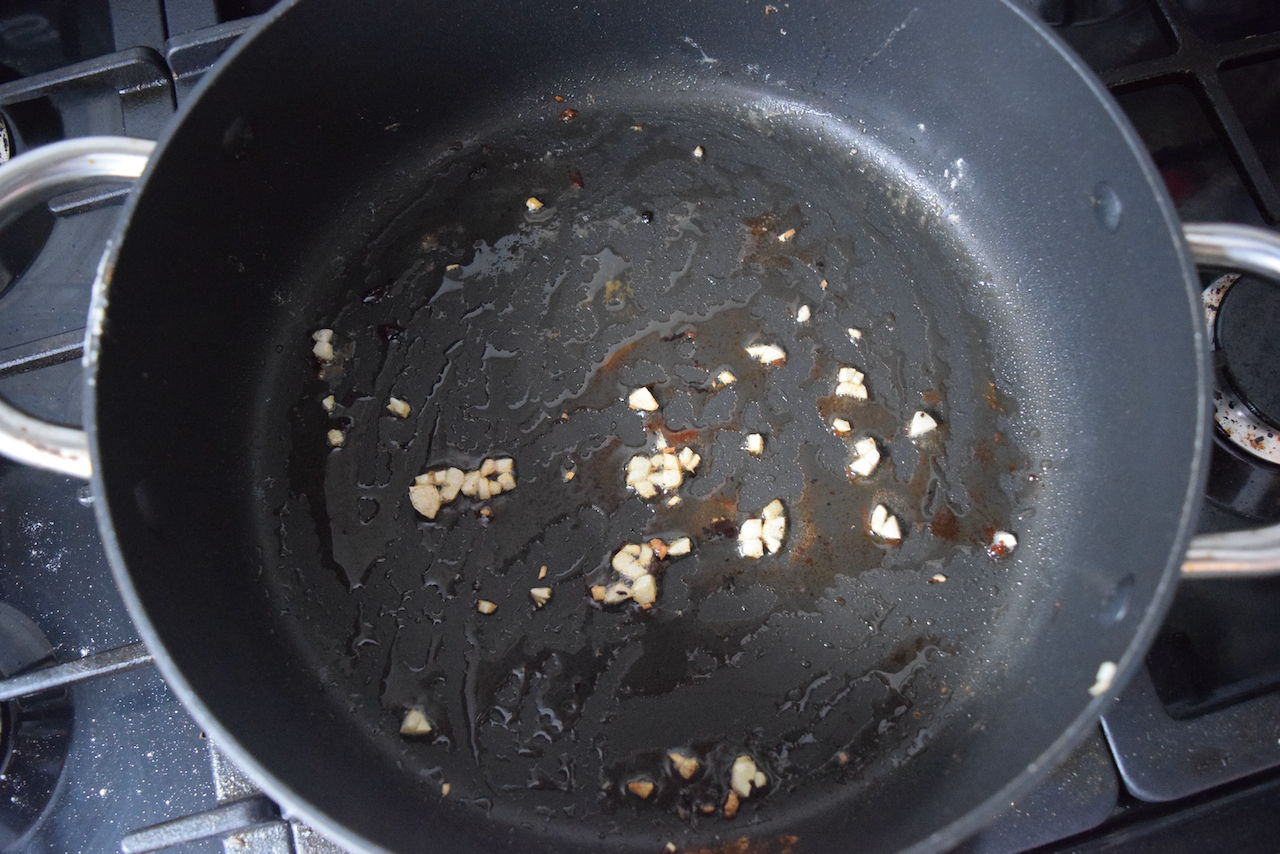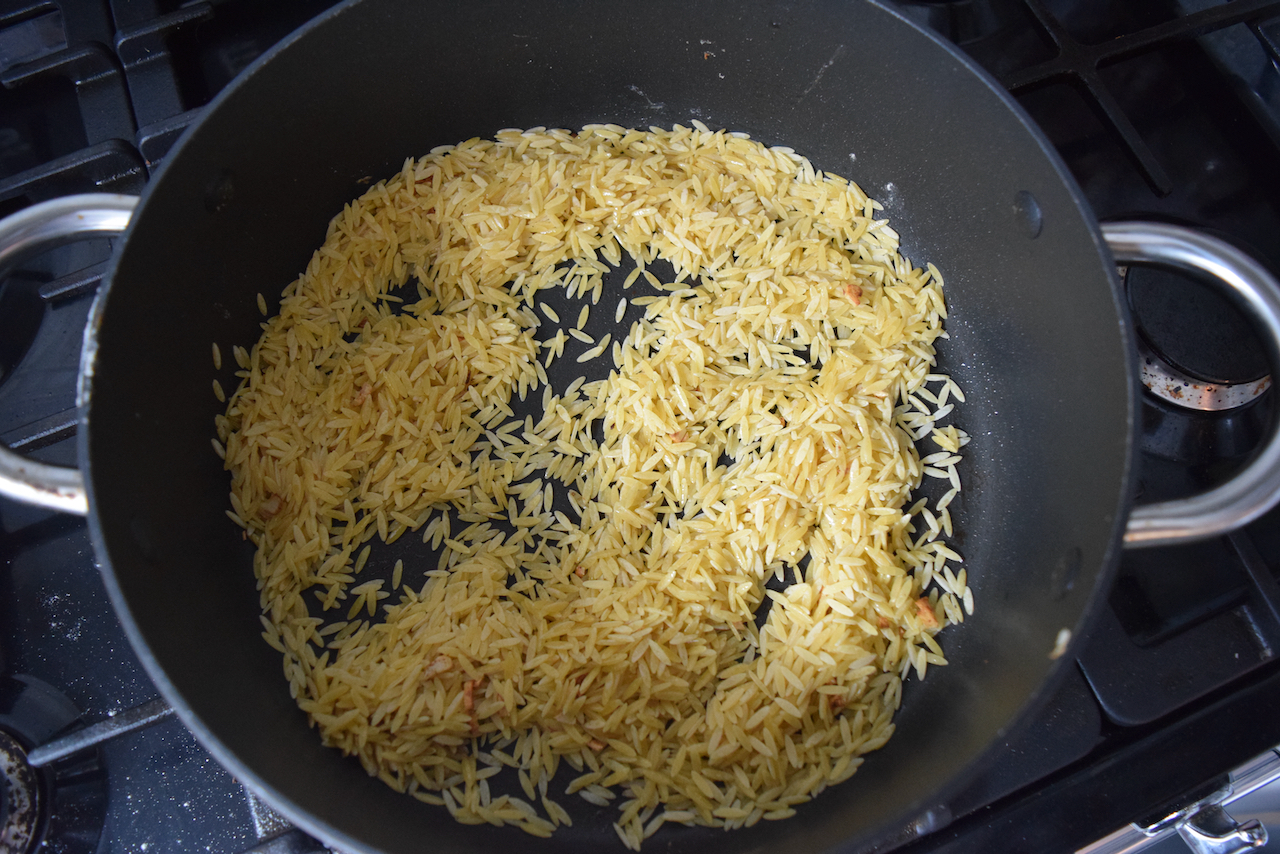 Pour on the chicken stock, stir, then pour in the passata, and yes, stir again.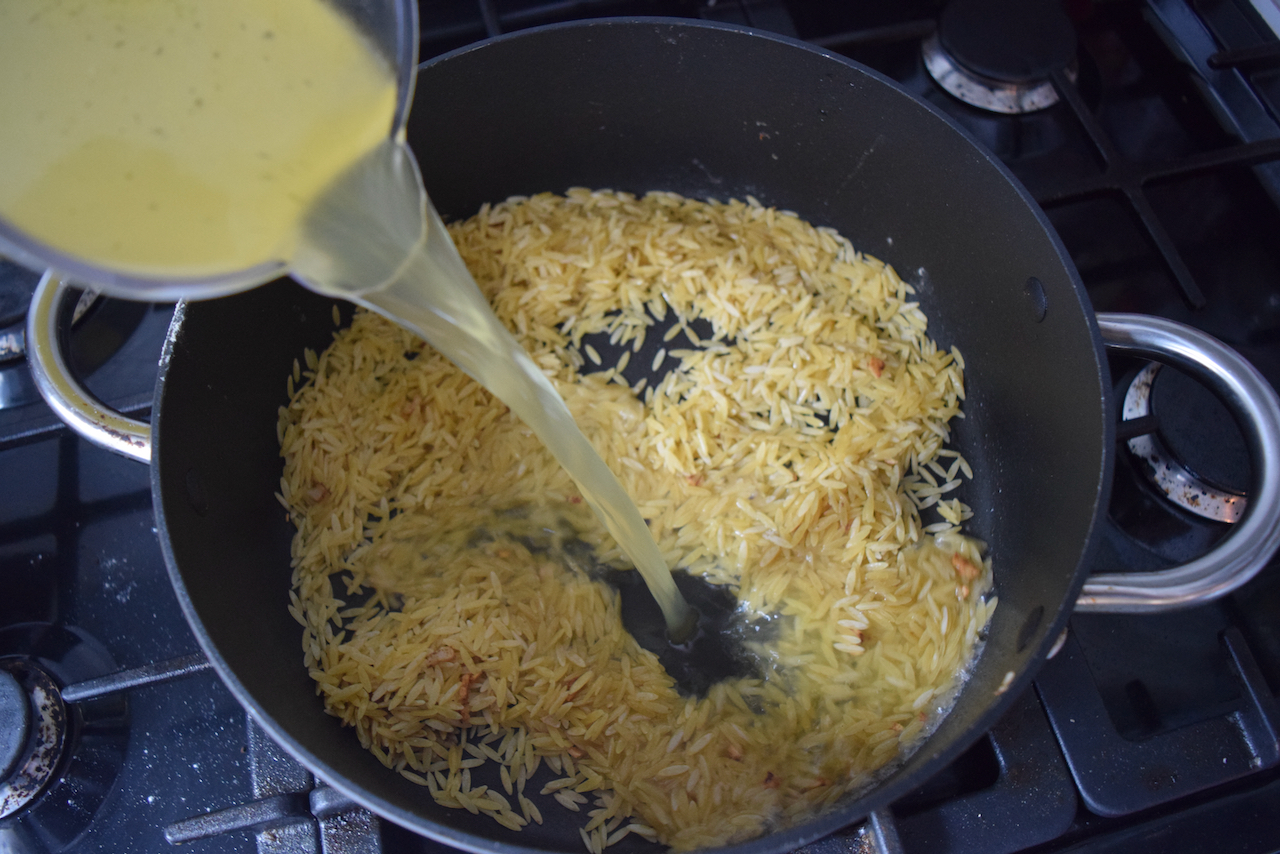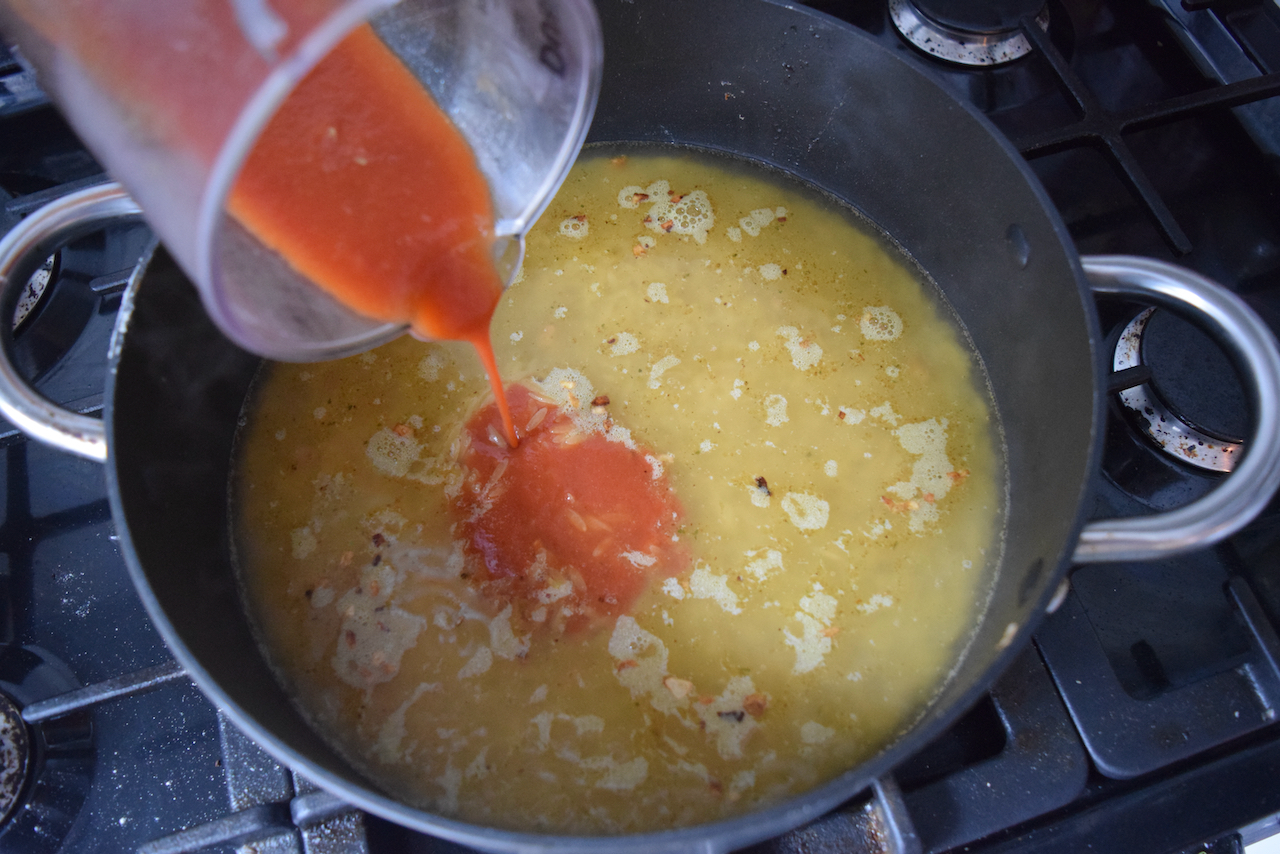 Return the chicken to the pan, along with any juices, bring up to the simmer, then turn the heat down, put the lid on and cook for around 15 minutes. Keep an eye on the orzo, stirring if need be, so it doesn't stick to the pan.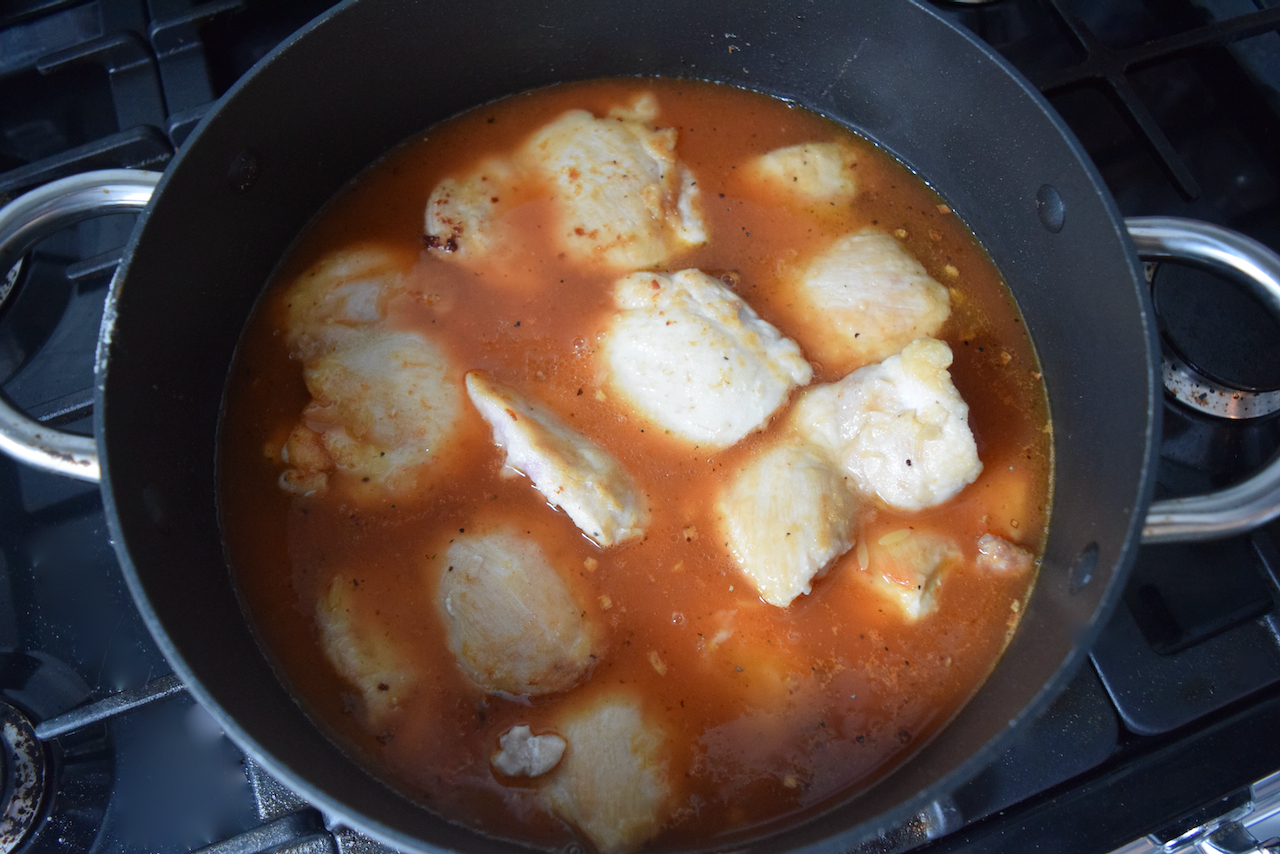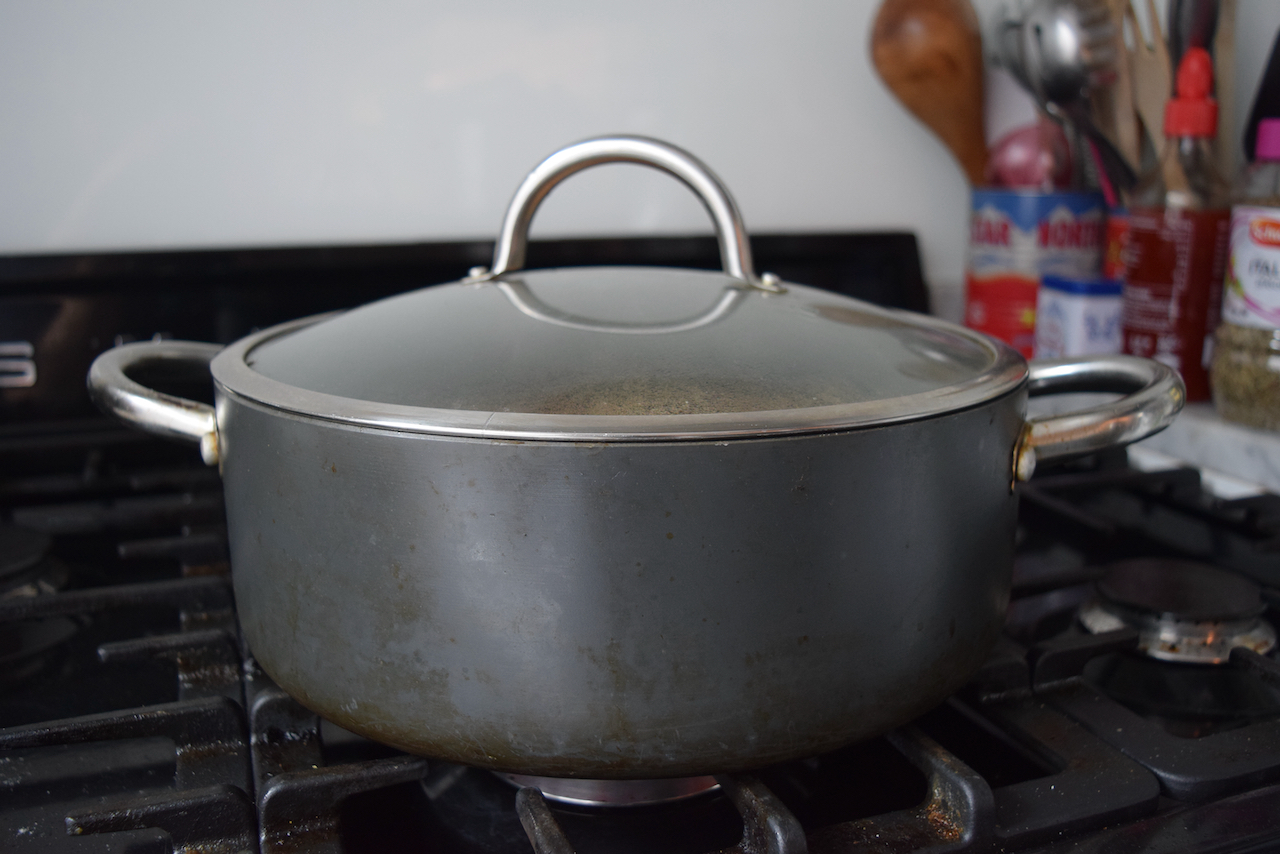 This dish is ready when the pasta and chicken are both cooked through.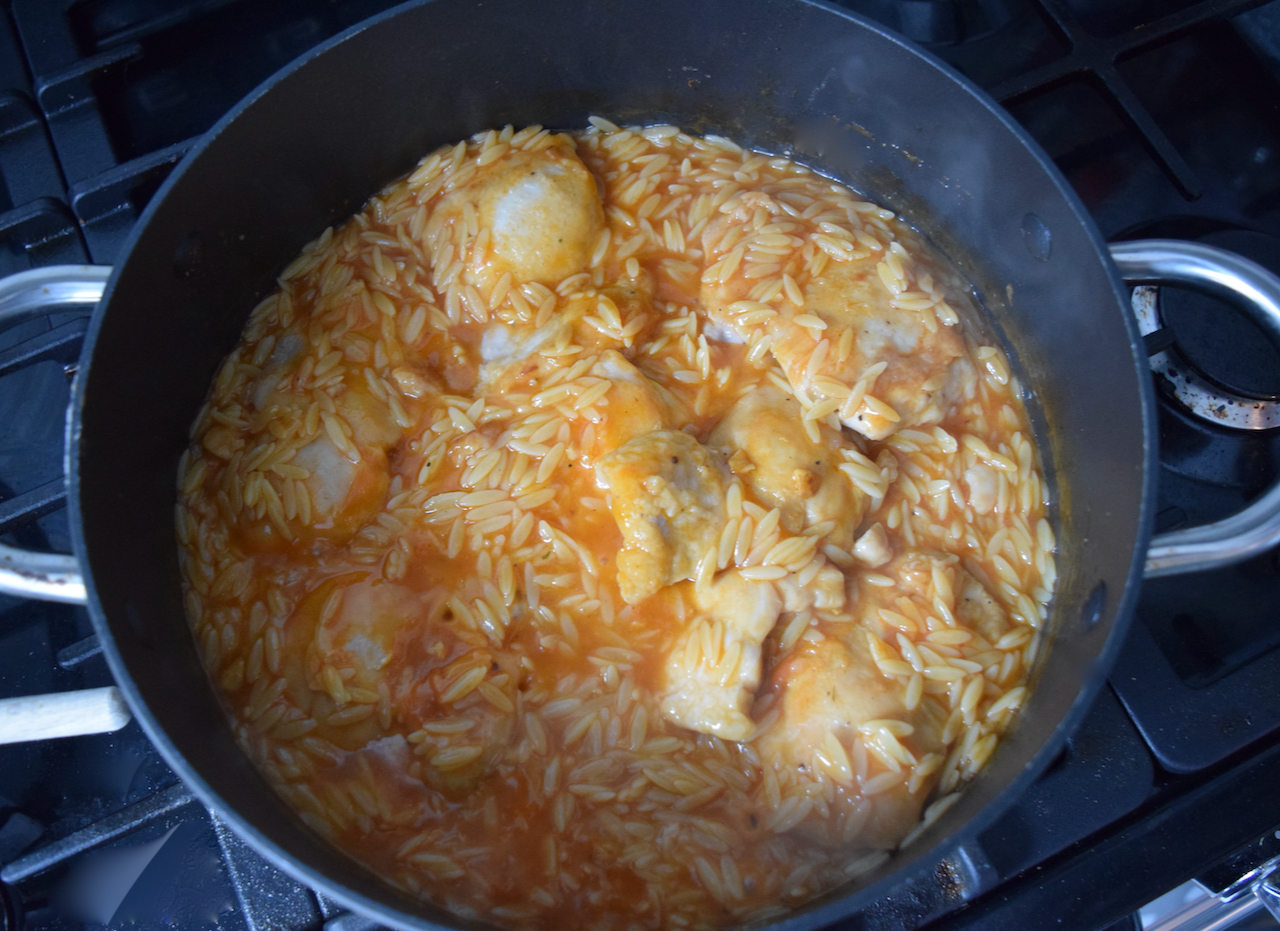 Stir through plenty of freshly chopped parsley or basil and the grated parmesan then add salt and pepper, as needed, which means having a lovely big mouthful.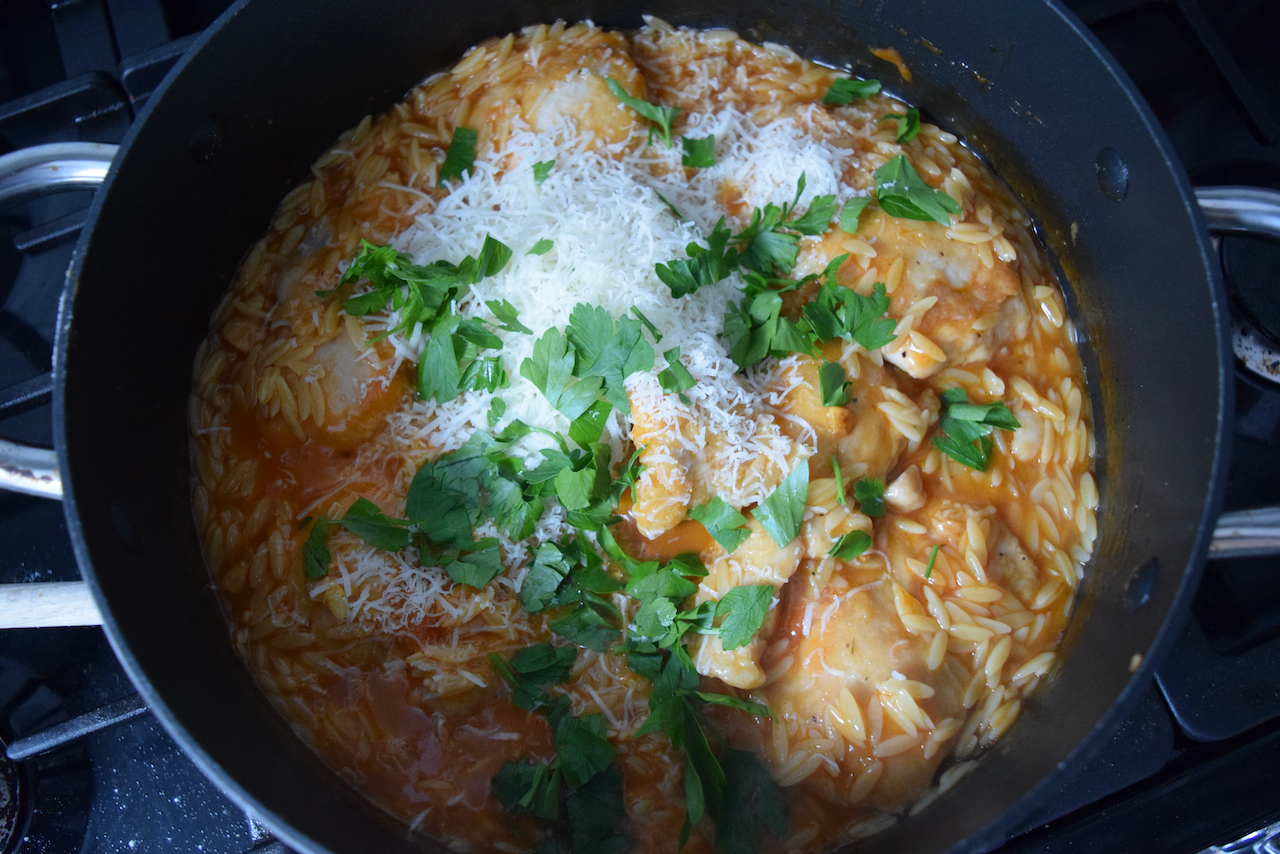 Leave to sit for 5 minutes then serve in big bowlfuls with some extra herbs and parmesan. A beautiful glass of Wine at Heart's Albarino is also a must. It's a clean, fresh and zesty white wine, incredibly easy to drink, I can happily vouch for this. Pair this Albarino with fish, risotto, cheese or alone, beautifully chilled, while it's still so warm and sunny.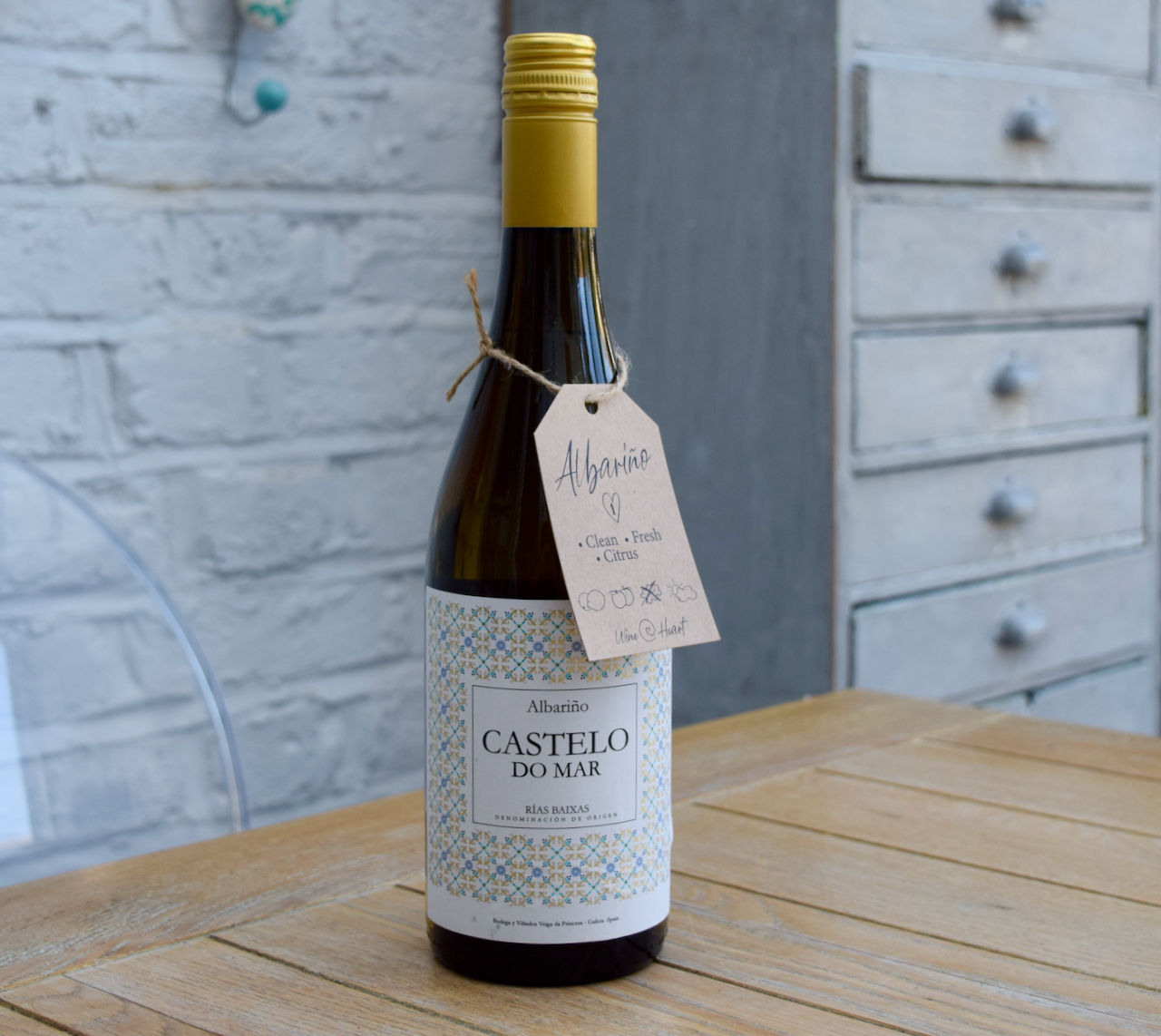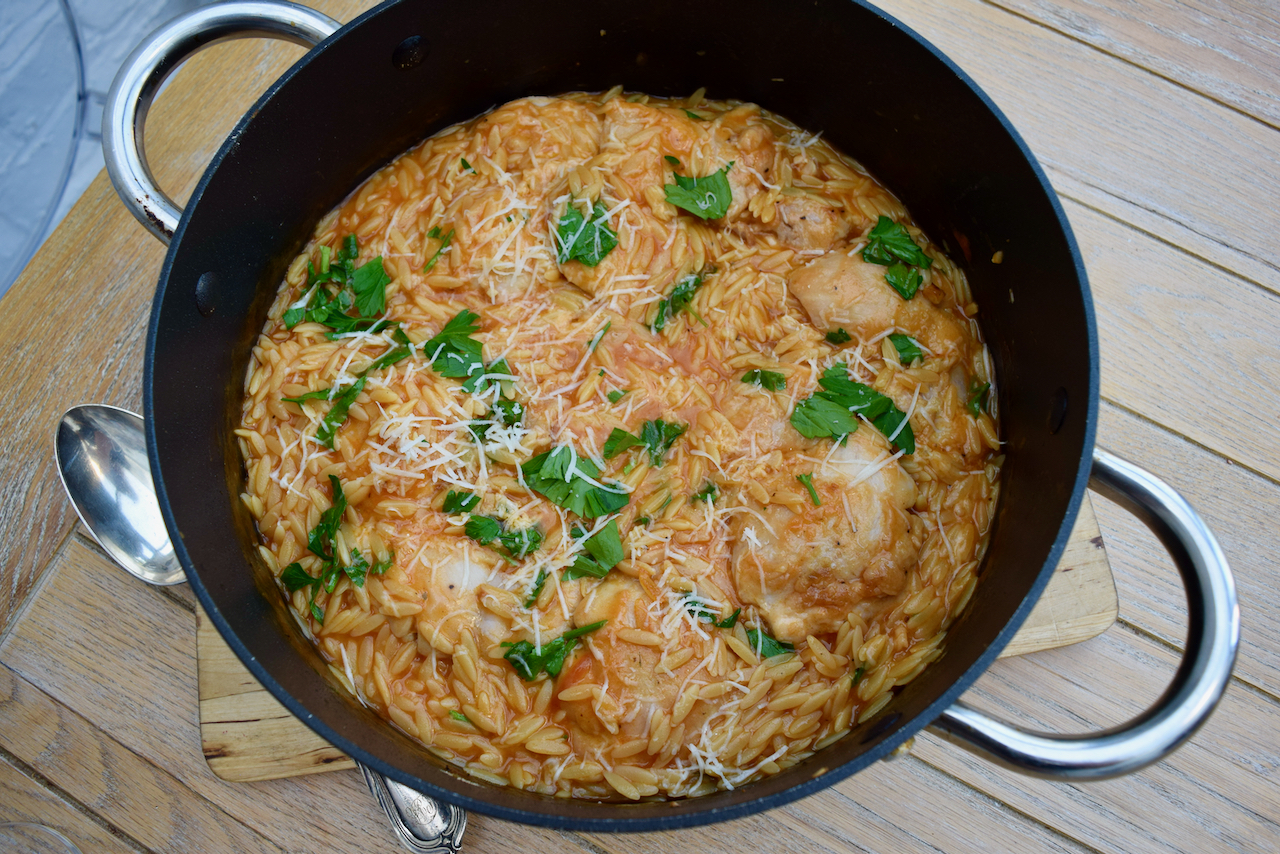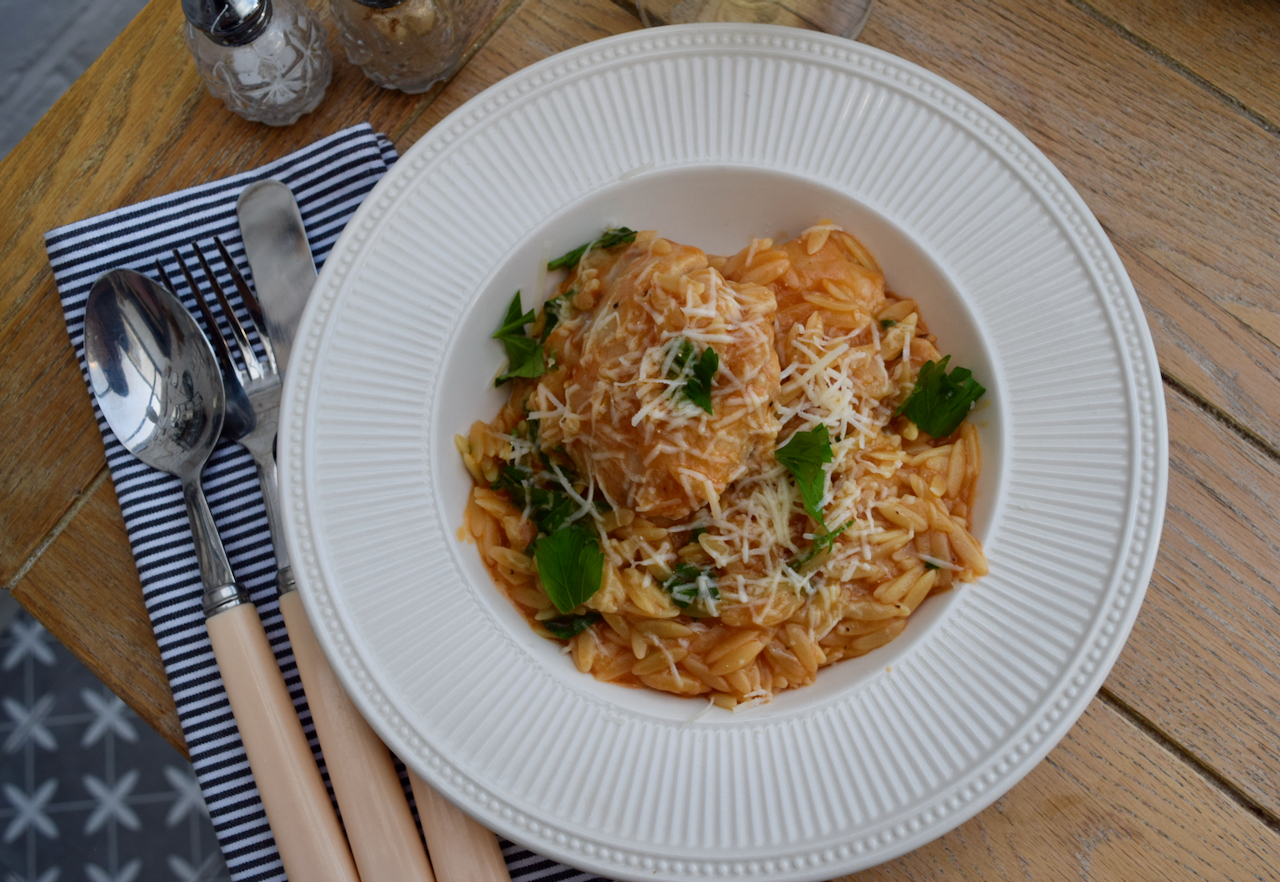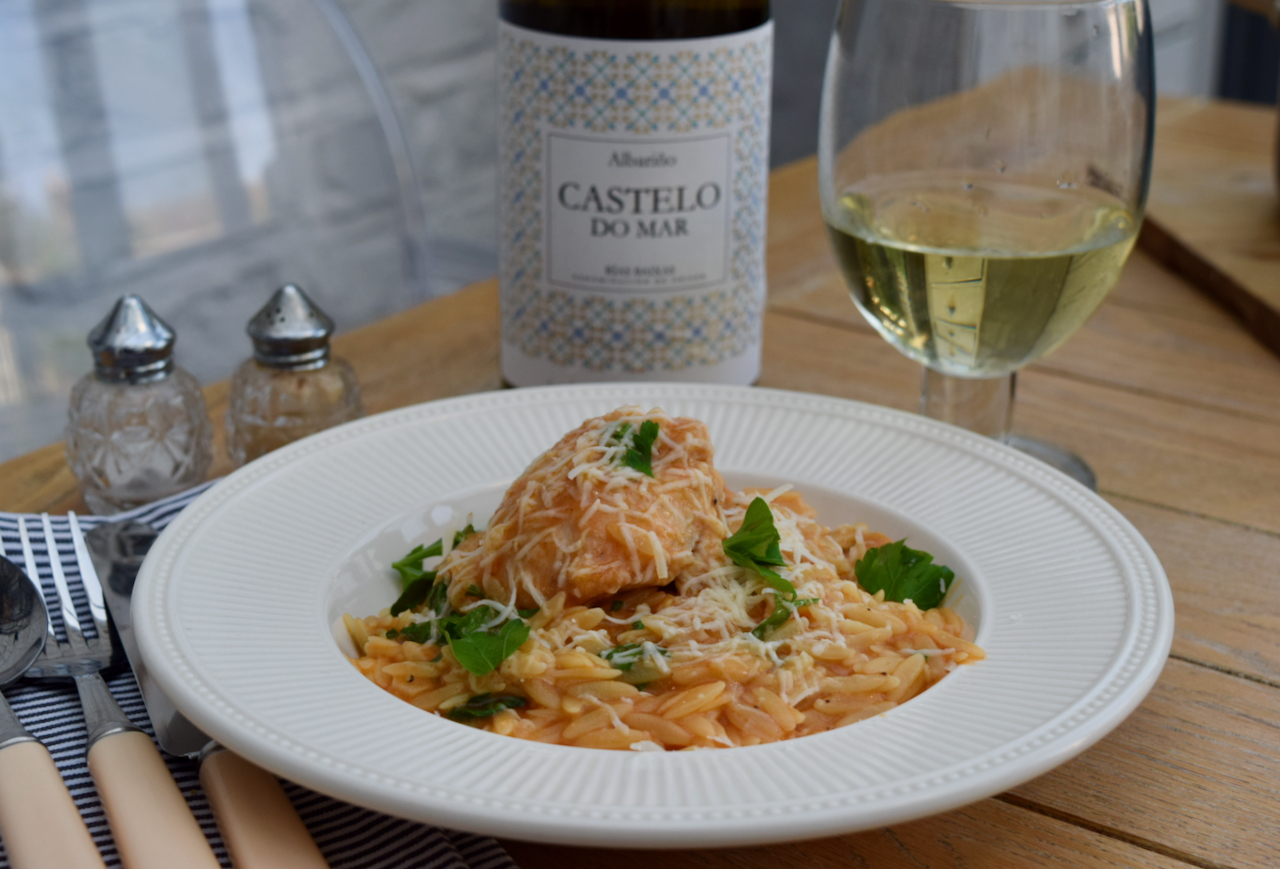 Well thought out wine with a thrown together, but still smart dinner. That just about sums me up at the moment.
Lucy x
Wine at Heart kindly gave me their wine to try, however, all opinions and ramblings are, as always, my own.
One Pot Chicken with Orzo and Parmesan recipe
Serves 4, generously
You will just need one pot, no surprises here
4 tablespoons plain flour
salt and pepper
8 boneless chicken thighs or 4 chicken breasts would also work
2 to 3 tablespoons olive oil
2 cloves garlic, finely chopped
300g orzo pasta
750ml chicken stock
125ml tomato passata
75g grated parmesan or pecorino cheese
Handful chopped fresh parsley, or basil if you prefer
Salt and pepper
More parmesan and chopped parsley/basil to garnish
Take a large lidding, high sided pan and heat two tablespoons of olive oil over a medium high flame.
Tip the flour onto a plate and season generously with salt and pepper. Dip your chicken into the flour, lightly coating on both sides, then add to the hot oil. Do in two batches if need be, you don't want to overcrowd the pan. Cook until golden on both sides and almost cooked through, for 3 to 4 minutes per side. Remove to a plate once all the chicken is browned.
Add another tablespoon of oil to the same pan, if needed, then turn down the heat and fry the garlic for a scant minute, until just starting to colour. Tip in the orzo pasta and stir. Pour on the chicken stock and passata, stir well, then add the browned chicken and any juices on the plate to the pan. Bring up to the simmer, turn the heat down, then pop a lid on and cook for around 15 minutes, or until the pasta is cooked through and most of the liquid has evaporated. Keep an eye on it during this time, you may need to stir if the orzo starts to stick.
Remove the lid, stir through parmesan or pecorino and parsley, check for seasoning, turn off the heat and leave the pasta to sit for a couple of minutes before serving.
Serve in big bowlfuls with some more parsley and more parmesan.