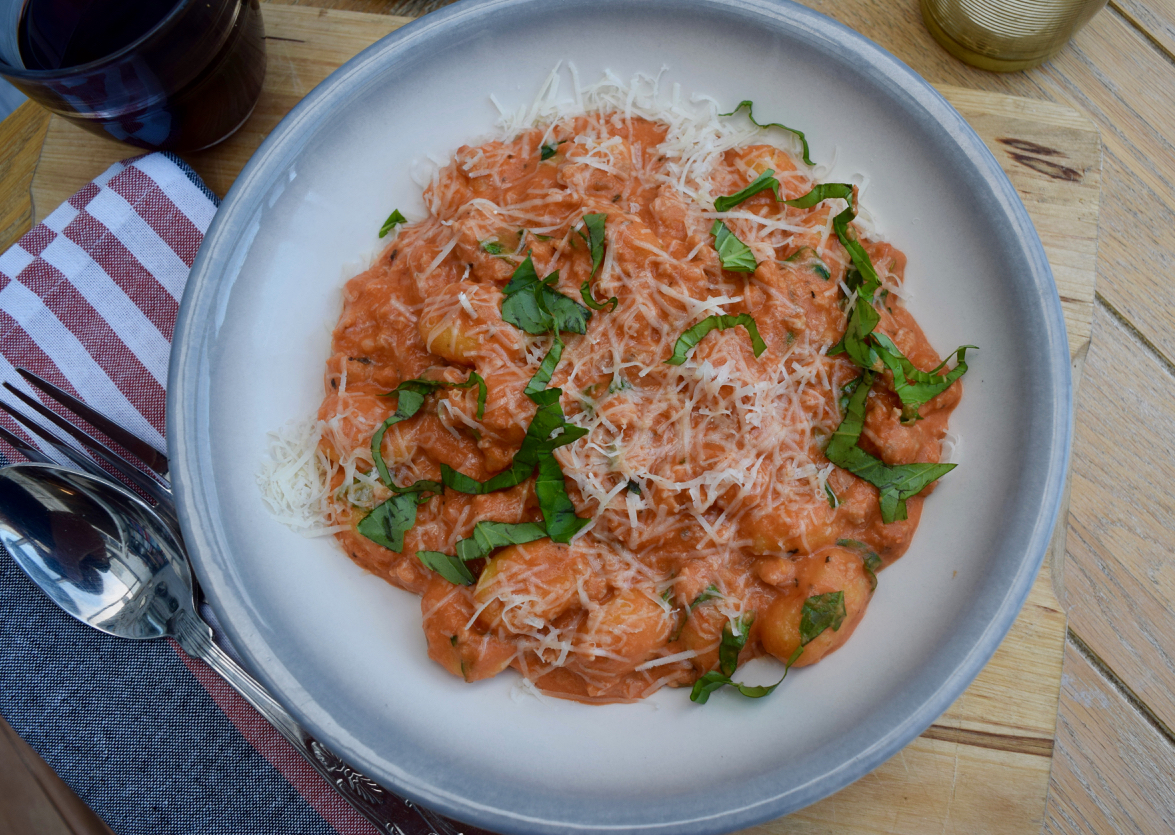 One Pot Creamy Sausage Gnocchi Recipe
The clocks go back this weekend and this fills me with dread. I dislike the dark evening for several reasons. a) the days are so short, you leave for work in the dark and get home in the dark b) summer's well and truly over for another year and c) food photography for the blog has to be done in the mornings which means weekend lie ins are few and far between until March. But enough of my miserable ramblings. On a more positive note it means we can start eating lovely, rib sticking dishes to warm the body and soul. This One Pot Creamy Sausage Gnocchi is a total dream; full of flavour and super quick. It may just make the darker evenings a little brighter.
I love sausage meat as an ingredient. We use it a lot for pasta dishes, meat loaf and breakfast treats. It has a great flavour, it's good value and quick to cook. Coupled with a creamy tomato sauce, a touch of Italian seasoning and fresh basil this is the sort of recipe you will make again and again. This is a real family favourite in the making if my lot are anything to go by, and I loved it too, as it took less than half an hour to whip up. And only one pan to wash up, this dish was truly love at first sight.
Whip out the hot water bottle, dust off your bobble hat and try and embrace the end of British Summer Time. I'll try if you do.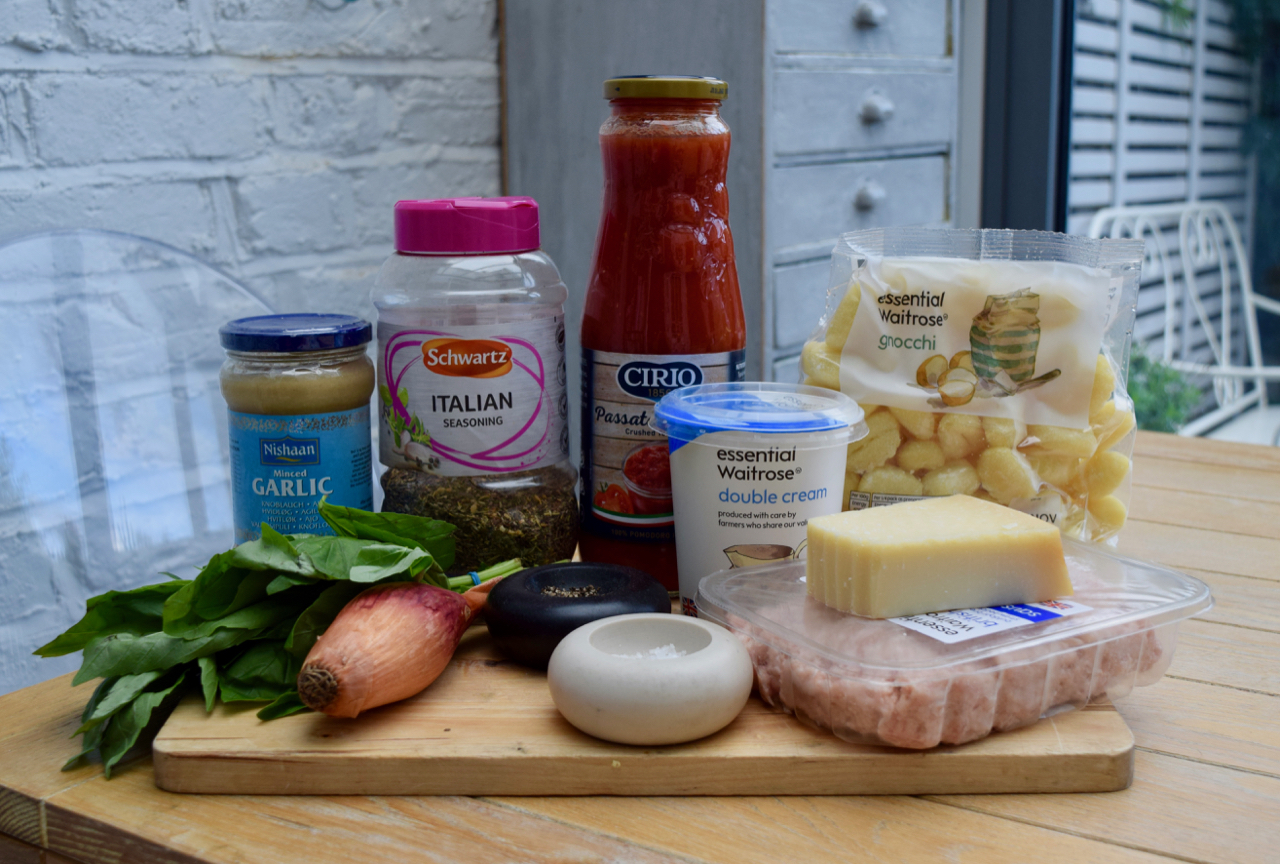 All these ingredients are delicious, flavoursome and simple. Perfect Lucy Loves fodder for longer, winter evenings. I tend to keep a pack of sausage meat in the freezer for emergency suppers and this is just one of those type of occasions.
Make a start on this by taking a large lidded pan and adding a tablespoon of olive oil. Heat this over a medium flame then add your small chopped onion or shallot and cook for a minute or 2 to soften.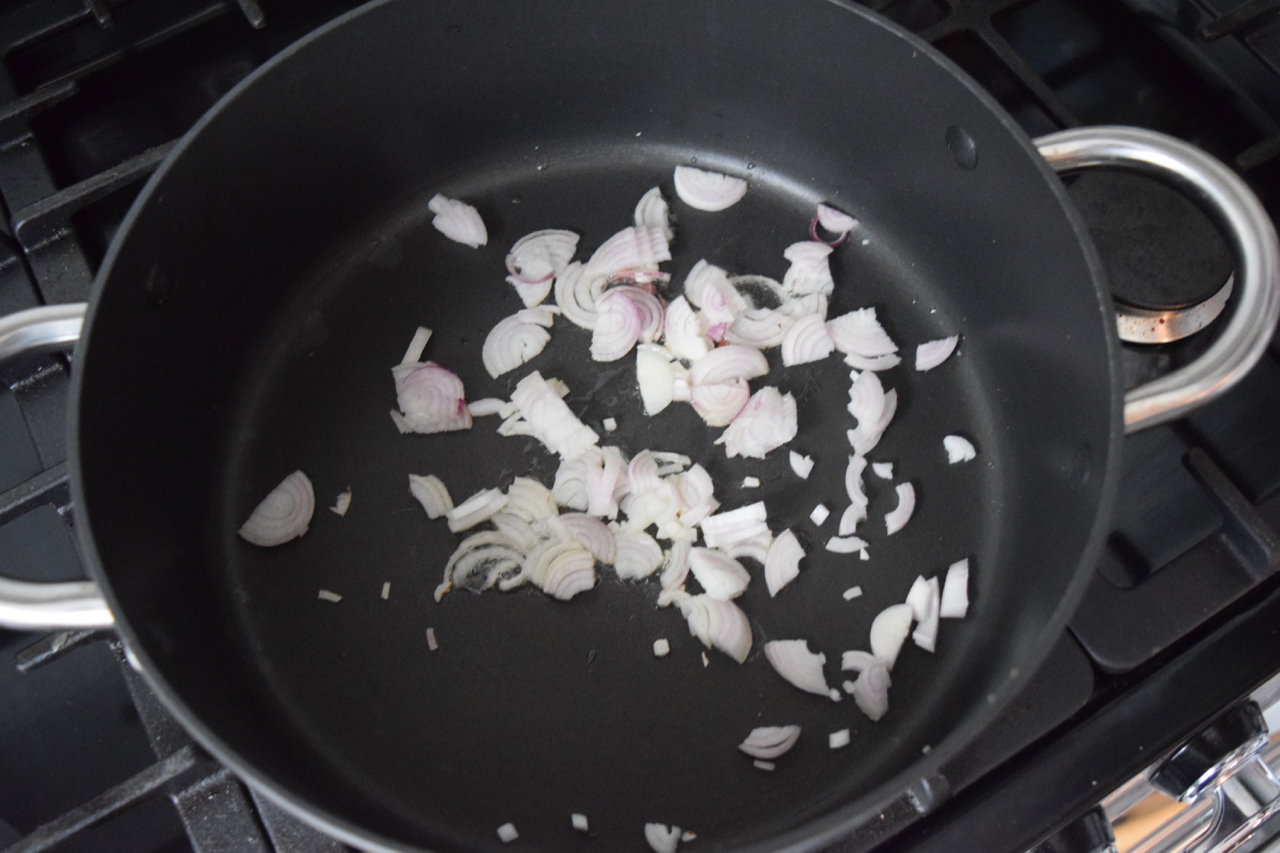 Next add the sausage meat, breaking it down with a spatula and cook until golden, sizzling and cooked through.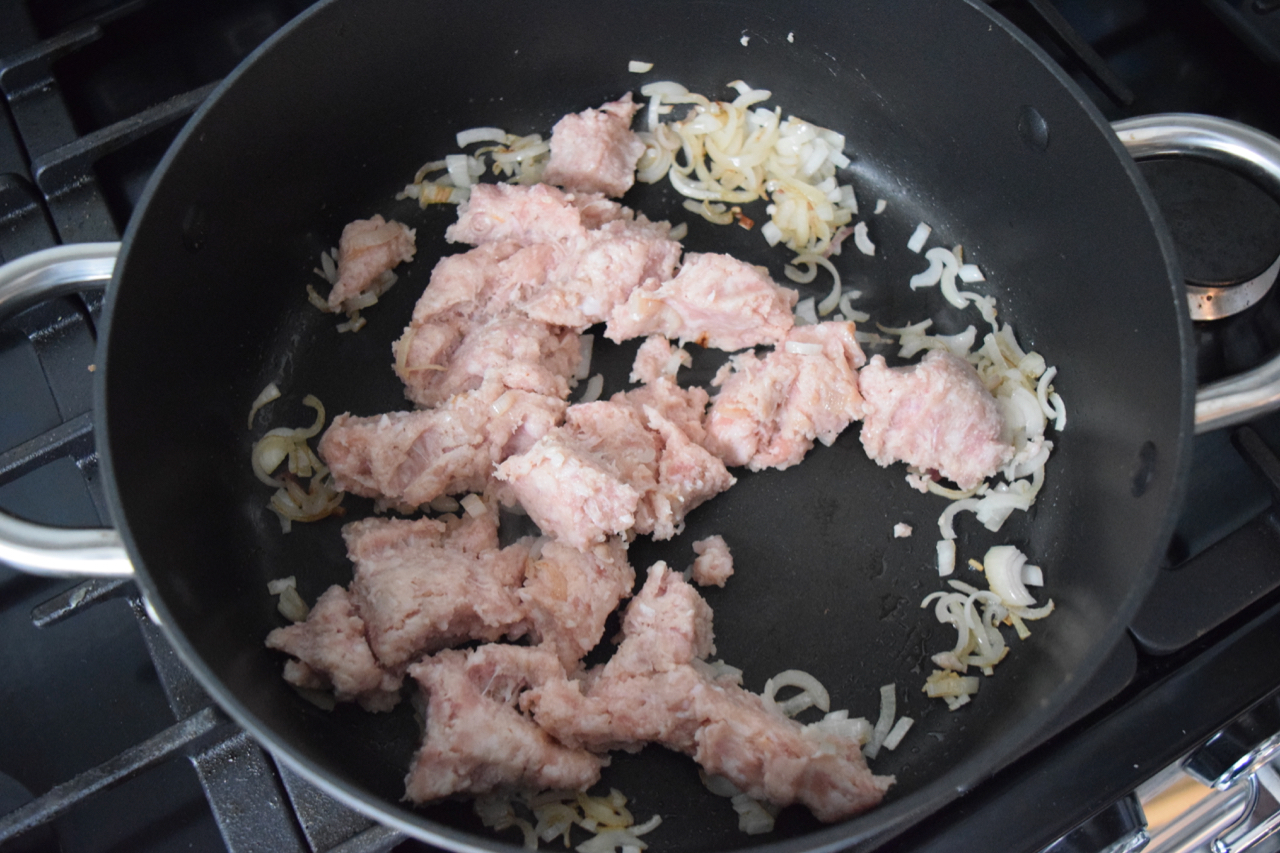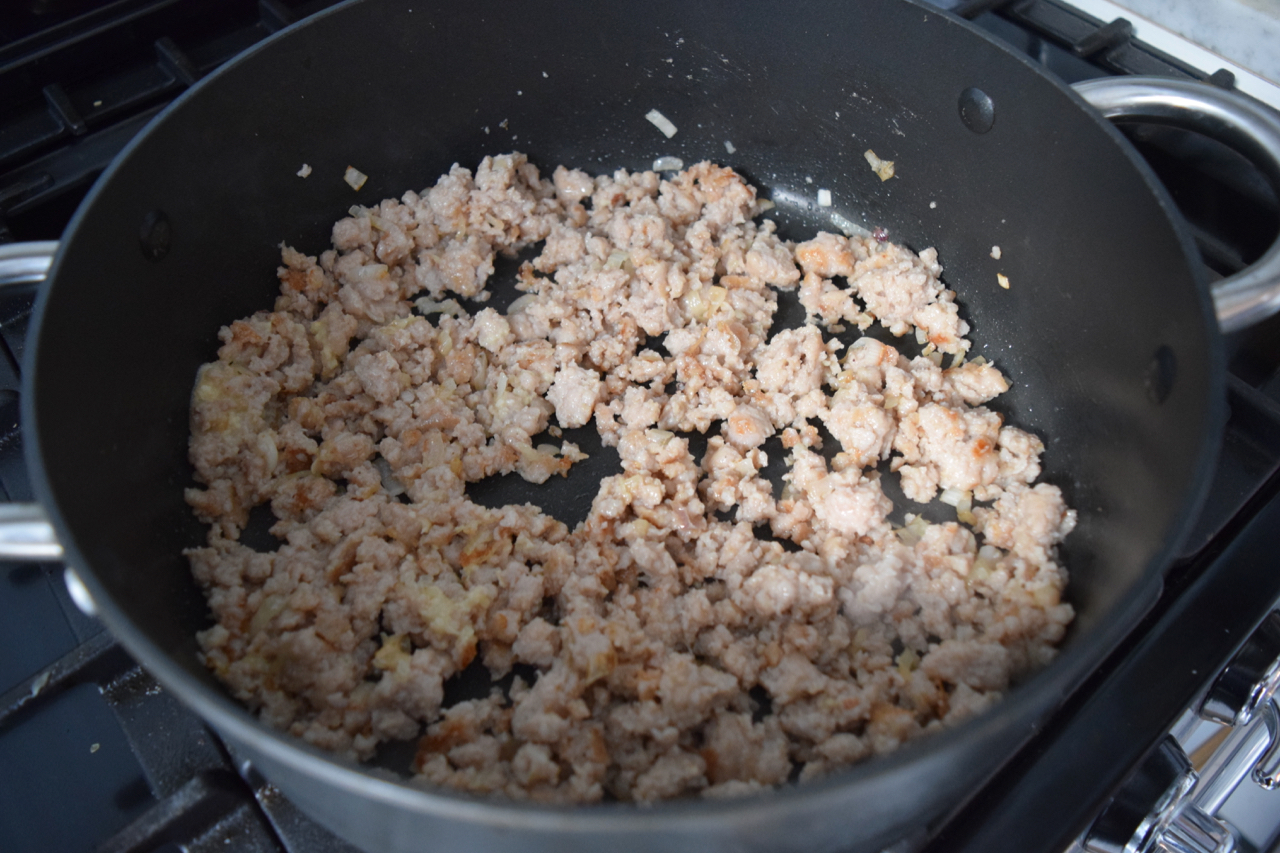 Stir through the garlic and cook for another minute. Next, pour in the passata. Rinse the jar with the 100ml of double cream then add that to the pan too, stir well.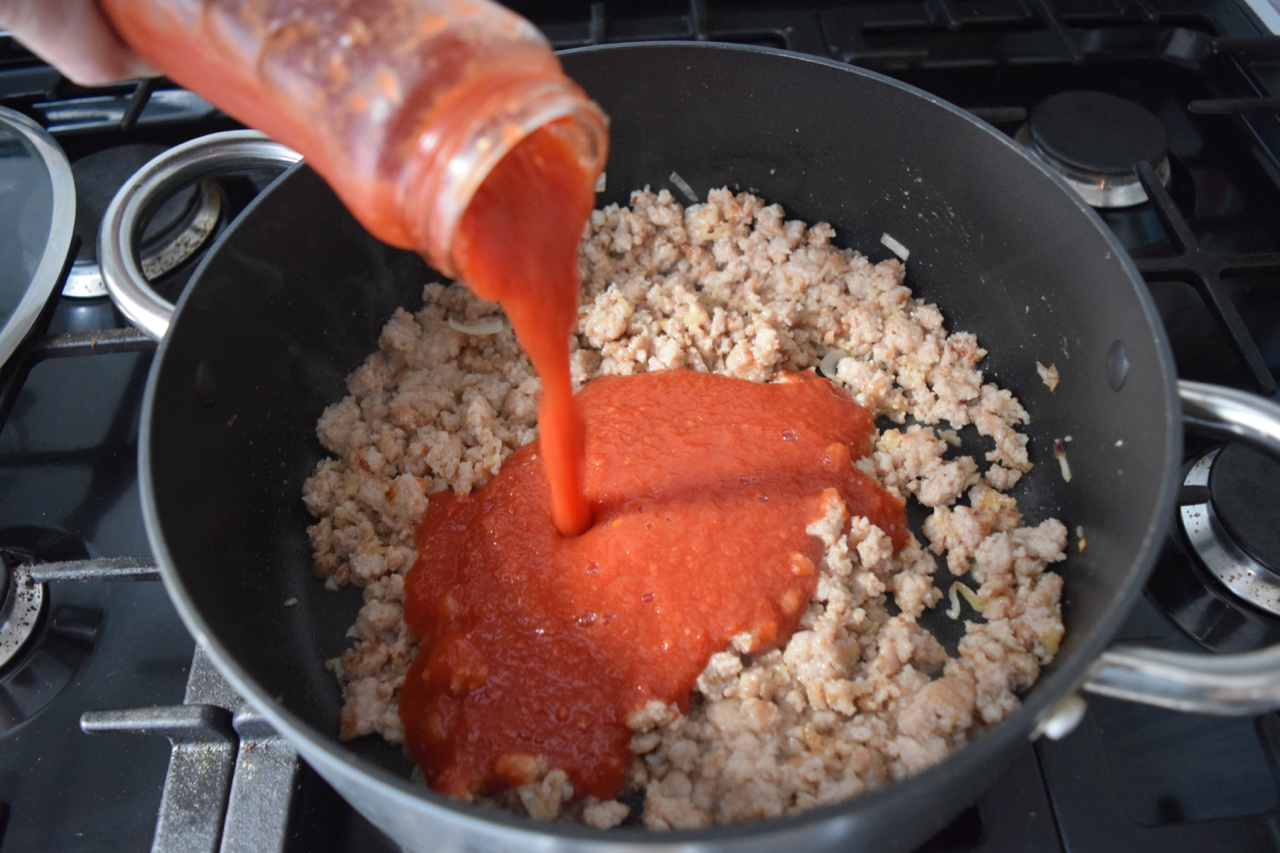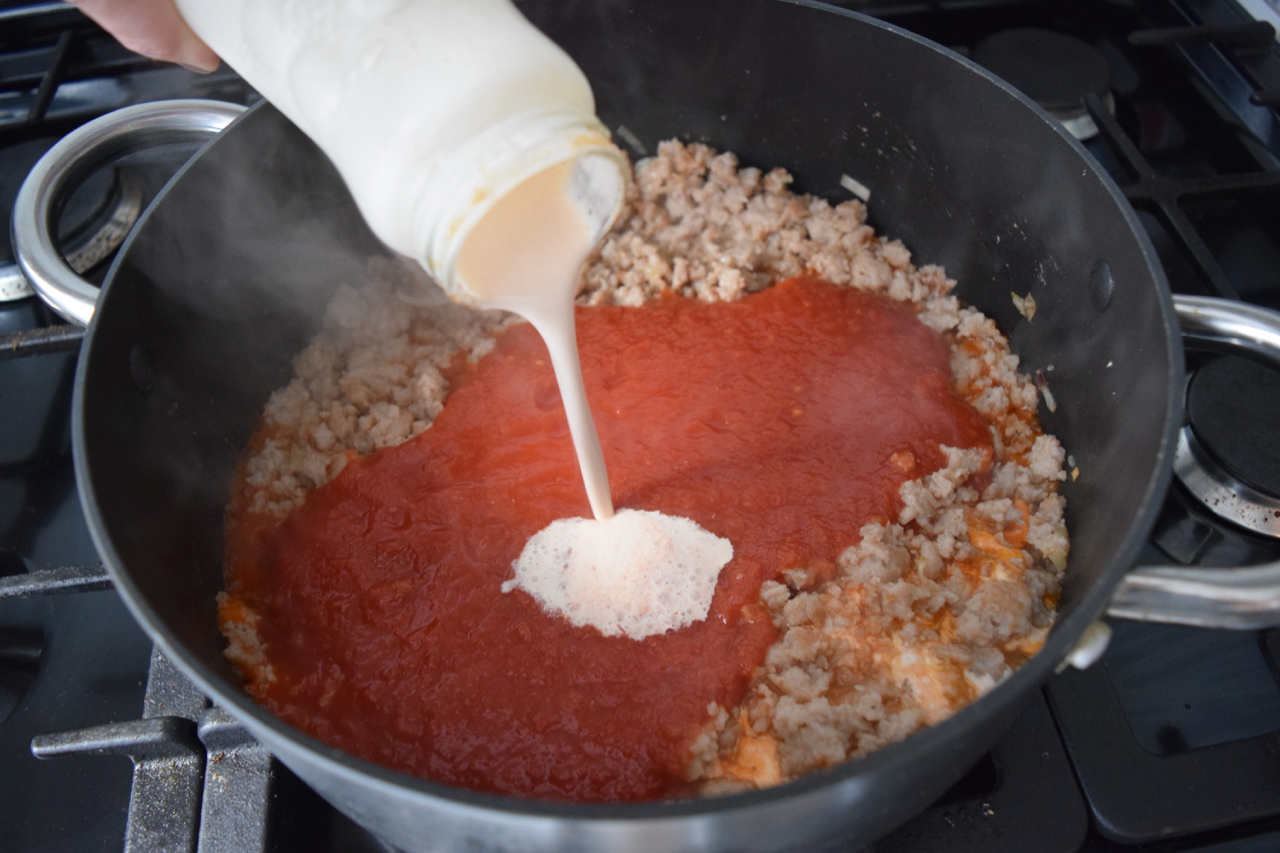 Add the tablespoon of Italian seasoning and the pinch of sugar and bring up to the simmer.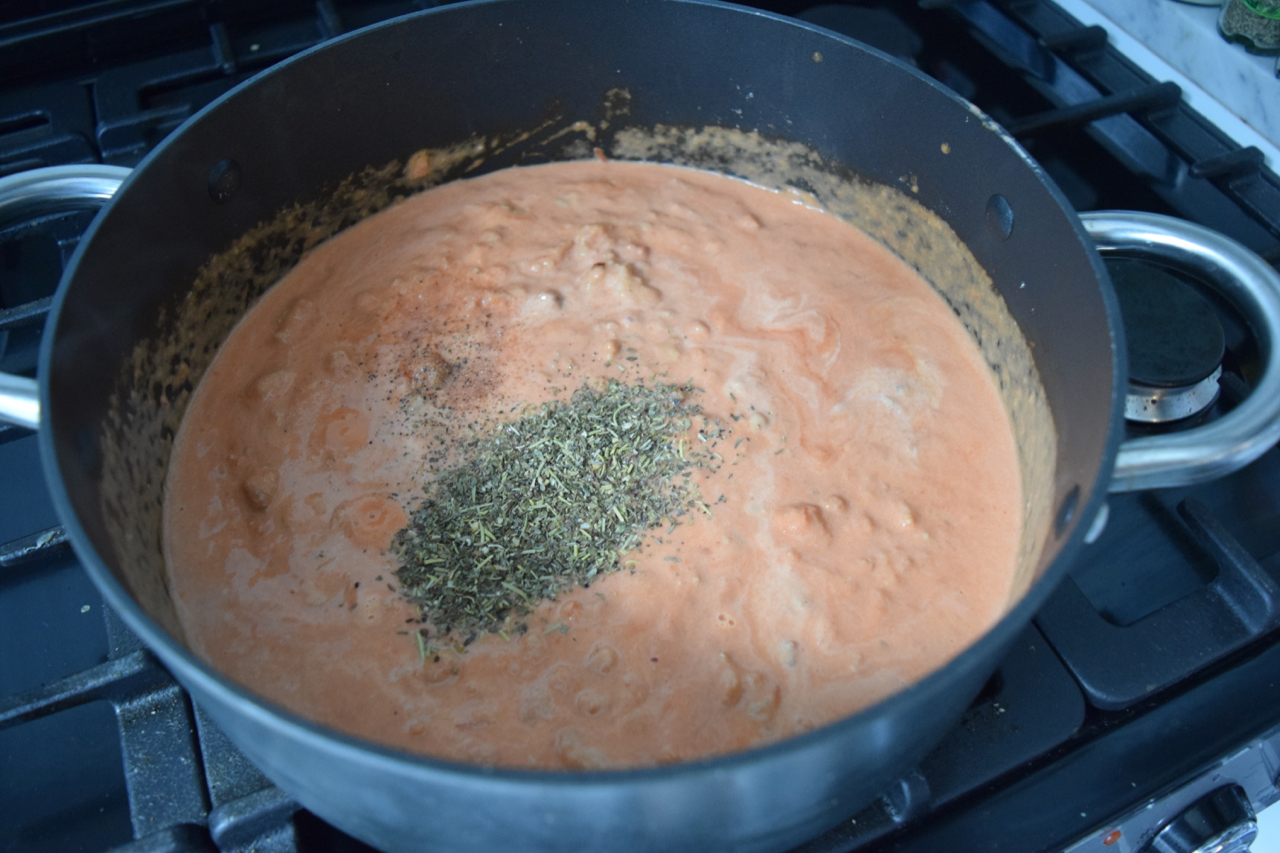 Tip in the gnocchi, stir and bring back up to the simmer. Lower the heat right down and pop on a lid then cook for a further 5 minutes, or until the gnocchi are soft and piping hot.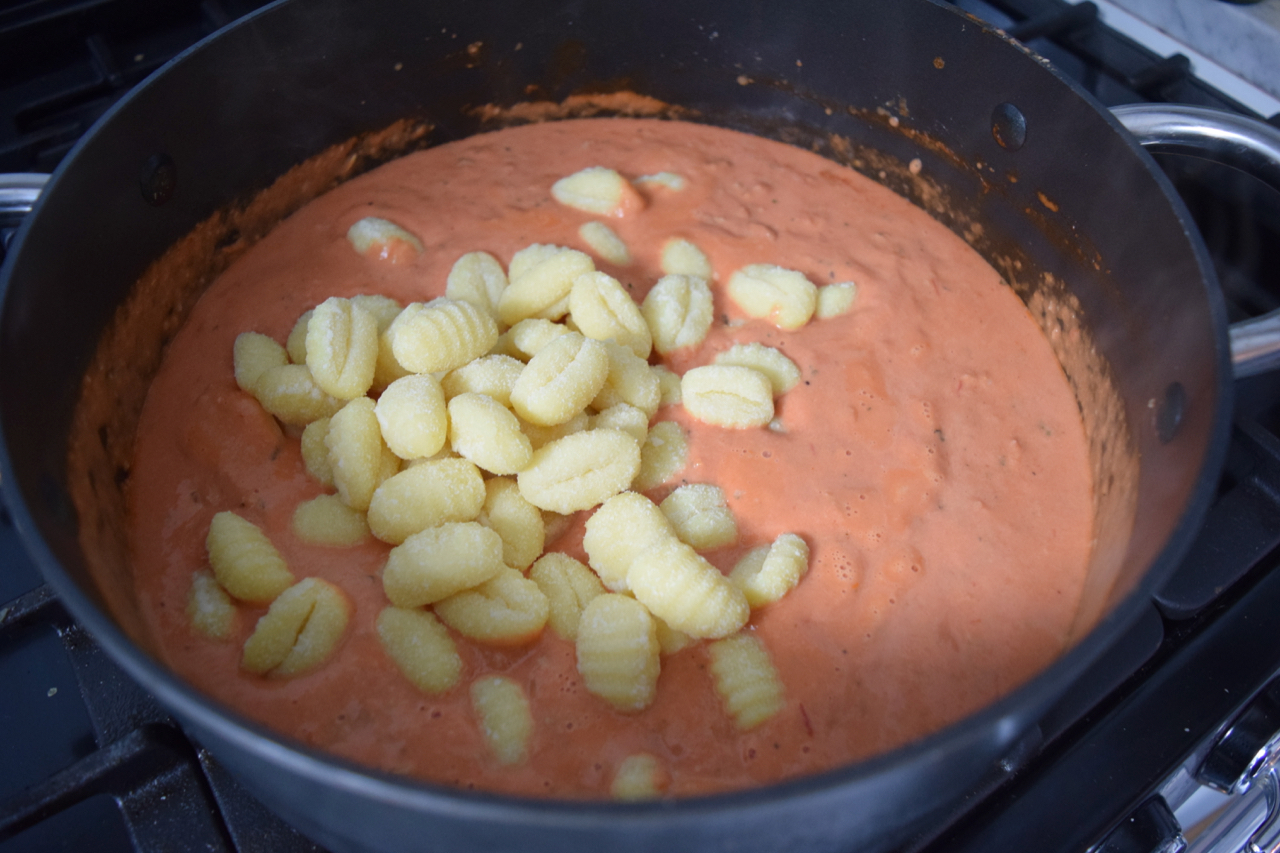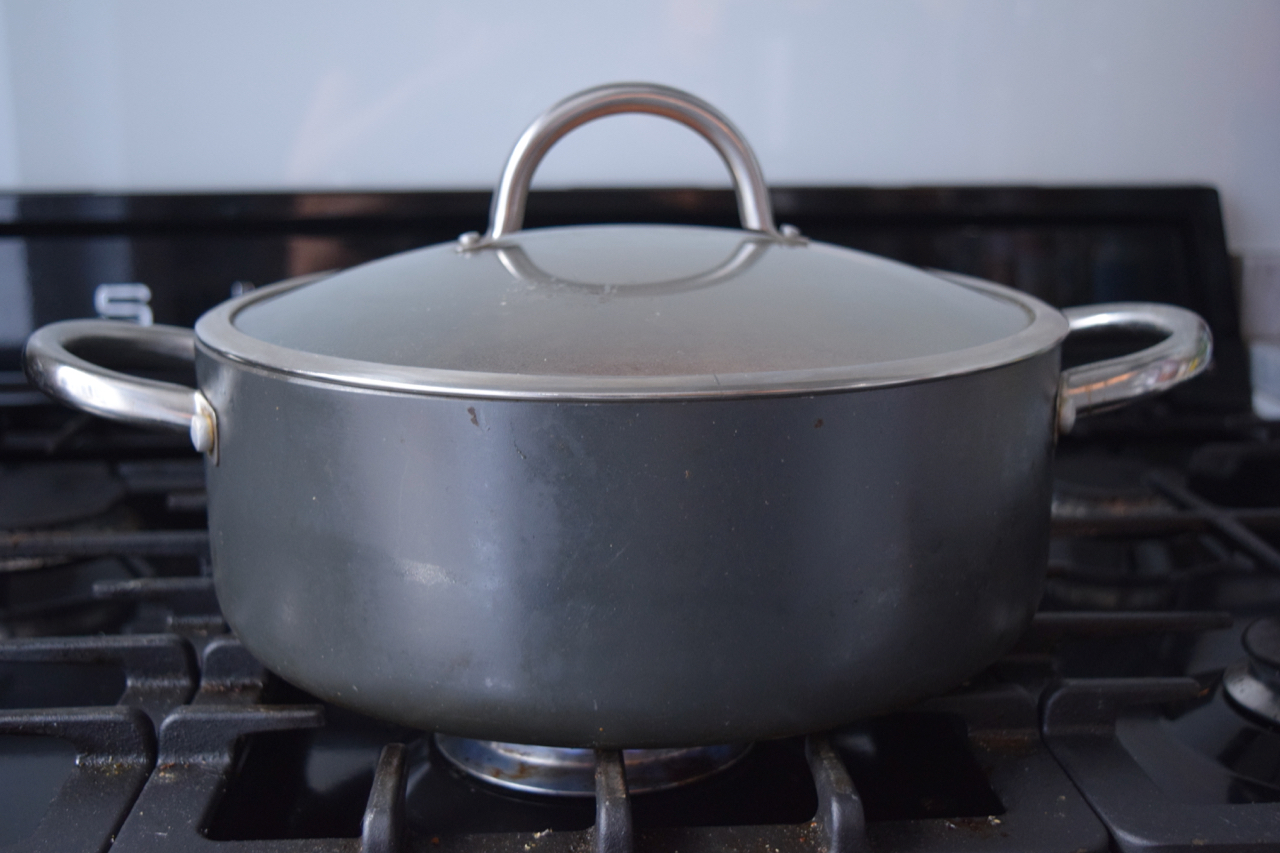 When the time's up, stir through a handful of chopped fresh basil. Have a big mouthful to check for any salt and pepper needs.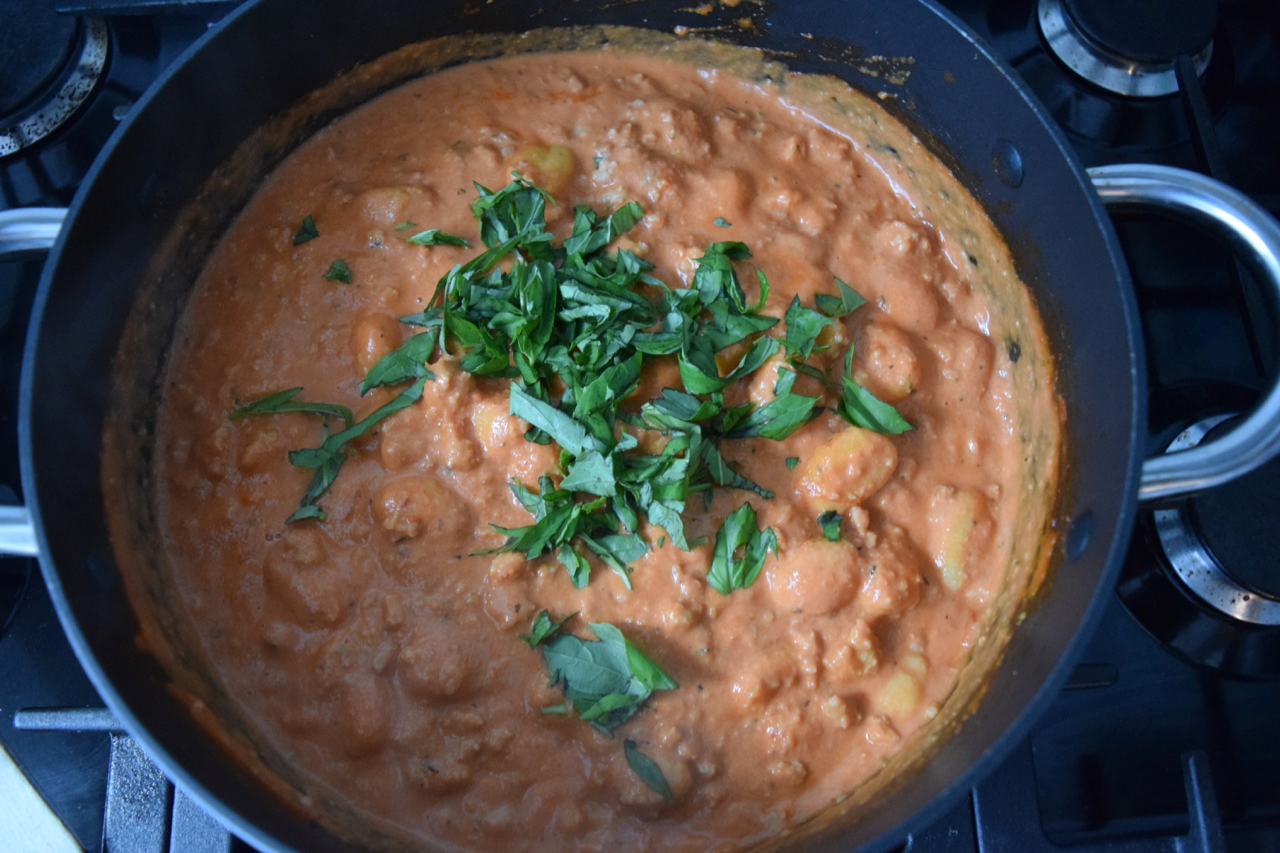 Serve this gem of a dish in warm bowls with plenty of grated parmesan. It's filling, but desperately moreish, so one bowl may not be sufficient.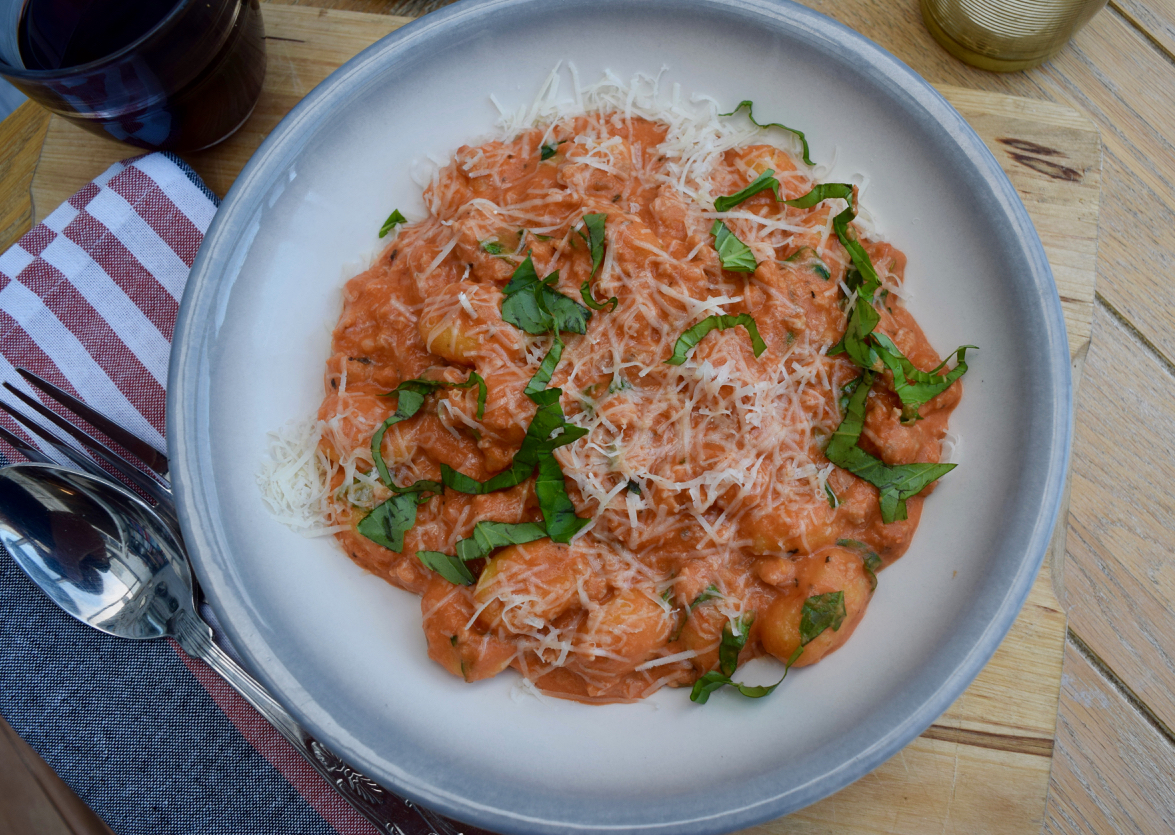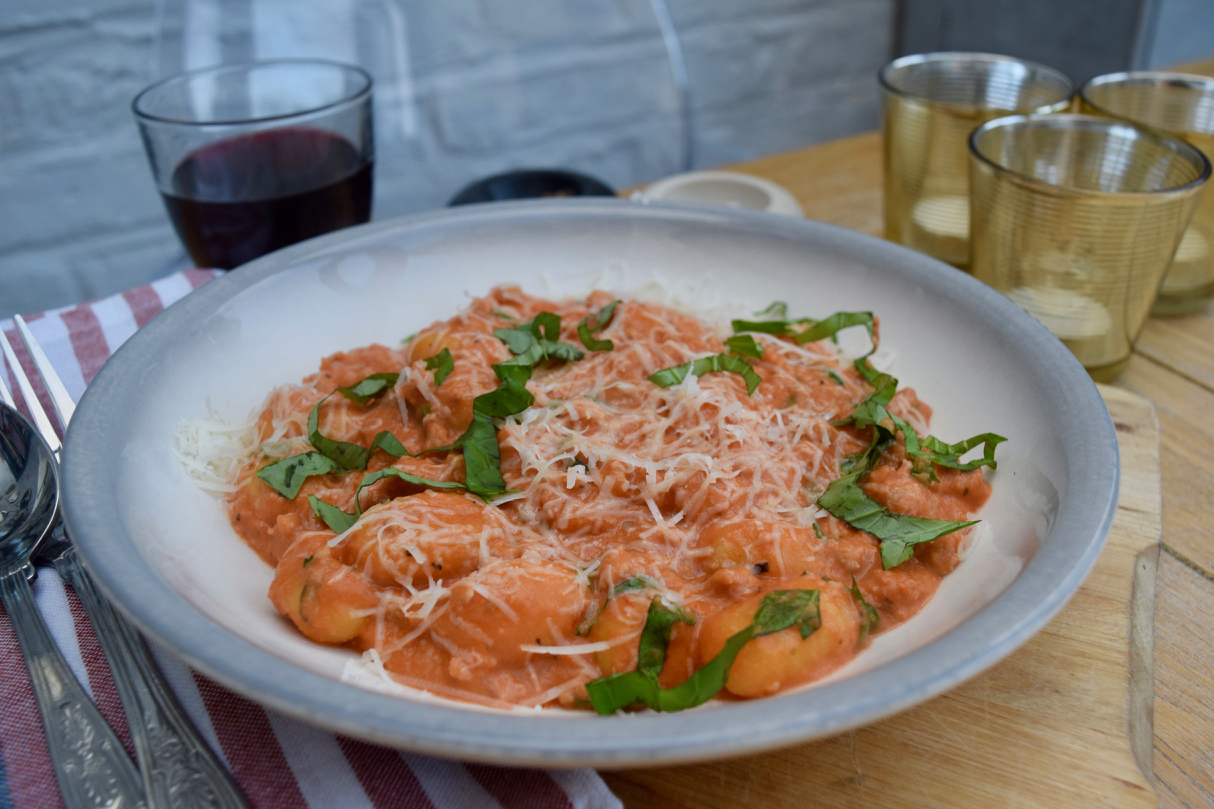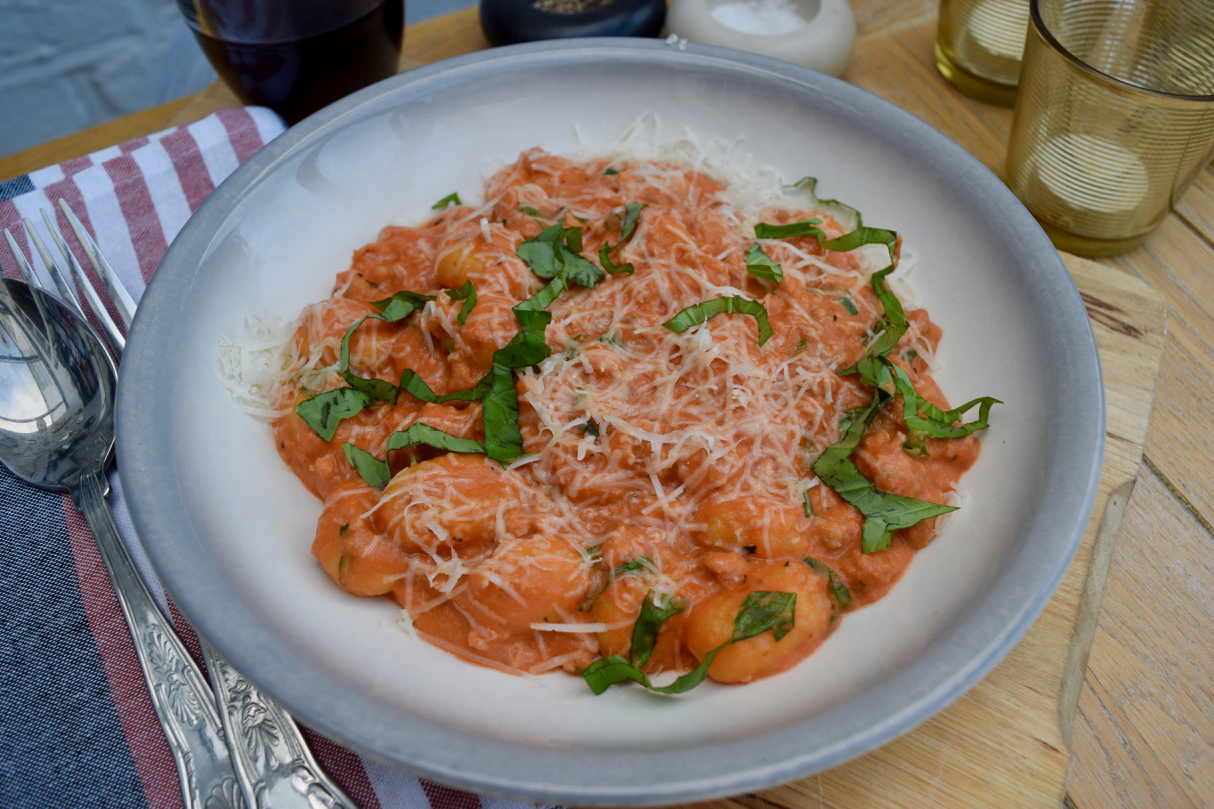 Big bowls of my Creamy Sausage Gnocchi are one of the reasons to welcome Greenwich Mean Time for another year. That and the legitimate consumption of litres of mulled wine, but that's for another day.
Lucy x
One Pot Creamy Sausage Gnocchi Recipe
Serves 3 to 4, unless you're my family and then it's for 2
You will not need any complicated equipment
1 tablespoon olive oil
500g sausage meat, pre prepared or remove the skins from sausages
1 small onion or shallot, finely chopped
1 teaspoon chopped garlic or use lazy garlic from a jar
1 jar passata, around 680g
100ml double cream
1 tablespoon italian seasoning
500g fresh gnocchi
A handful chopped fresh basil
a pinch caster sugar
Salt and pepper, to taste
Grated parmesan and more fresh basil, to serve
Take a large frying pan and heat the tablespoon of oil over a medium flame. Add the chopped shallot or onion and cook for a couple of minutes until just softening. Add the sausage meat, breaking it down with a spatula and saute until cooked through and golden. Add the garlic, cook for another minute then pour in the passata. Rinse the jar with the 100ml of double cream, swill around, then pour into the pan.
Stir well then add the Italian seasoning and pinch of sugar. Tip in the gnocchi, pop a lid on and cook for around 5 minutes or until they are soft and cooked through.
Remove the lid and stir through the fresh basil and check for any extra salt and pepper needs.
Serve in warmed bowls with some parmesan and more freshly chopped basil.