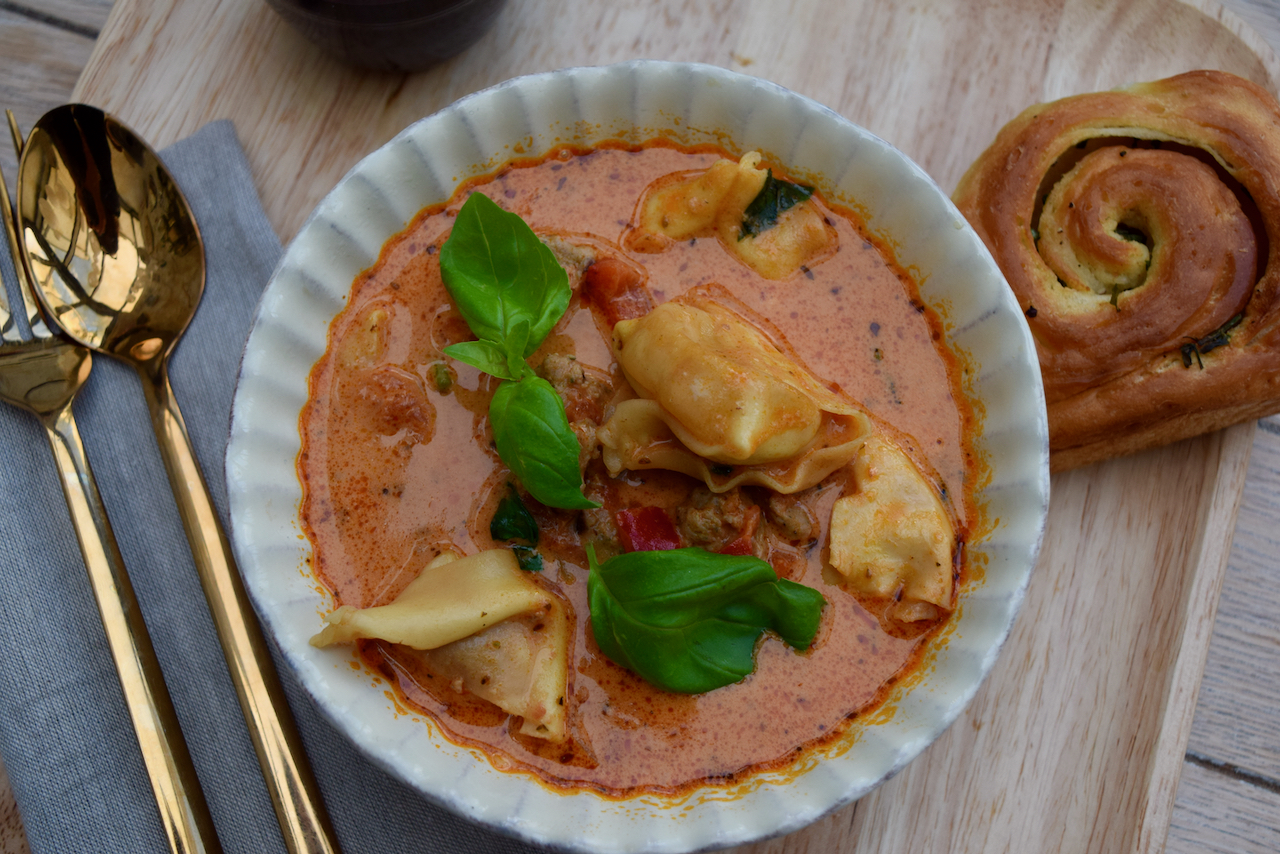 Tortellini Sausage Soup recipe
At last, it seems to finally be soup season hooray. I love soup, although in our house, it's often seen as more of a lunch or first course option. This Tortellini Sausage Soup, however, is very much a main course with plenty of carbs and meat to keep all your diners happy *as long as they love carbs and meat*.
When we were first married we ate a lot of fresh filled pasta with sauce; it was quick, easy but ultimately quite dull. This Tortellini Sausage Soup is anything but dull; it's packed with sautéed sausage, red pepper, chilli, tomatoes, parmesan and Italian herbs. It's filling, but so tasty and has a rustic elegance that I love. Soup is inherently a one pot wonder, and this is no different; light on washing up, huge on warming comfort food. Thank you to the lovely Food 52 for the inspo.
Pop a cardi on, warm your bowls and embrace soup time; to be fair, it's going to last until May, at best.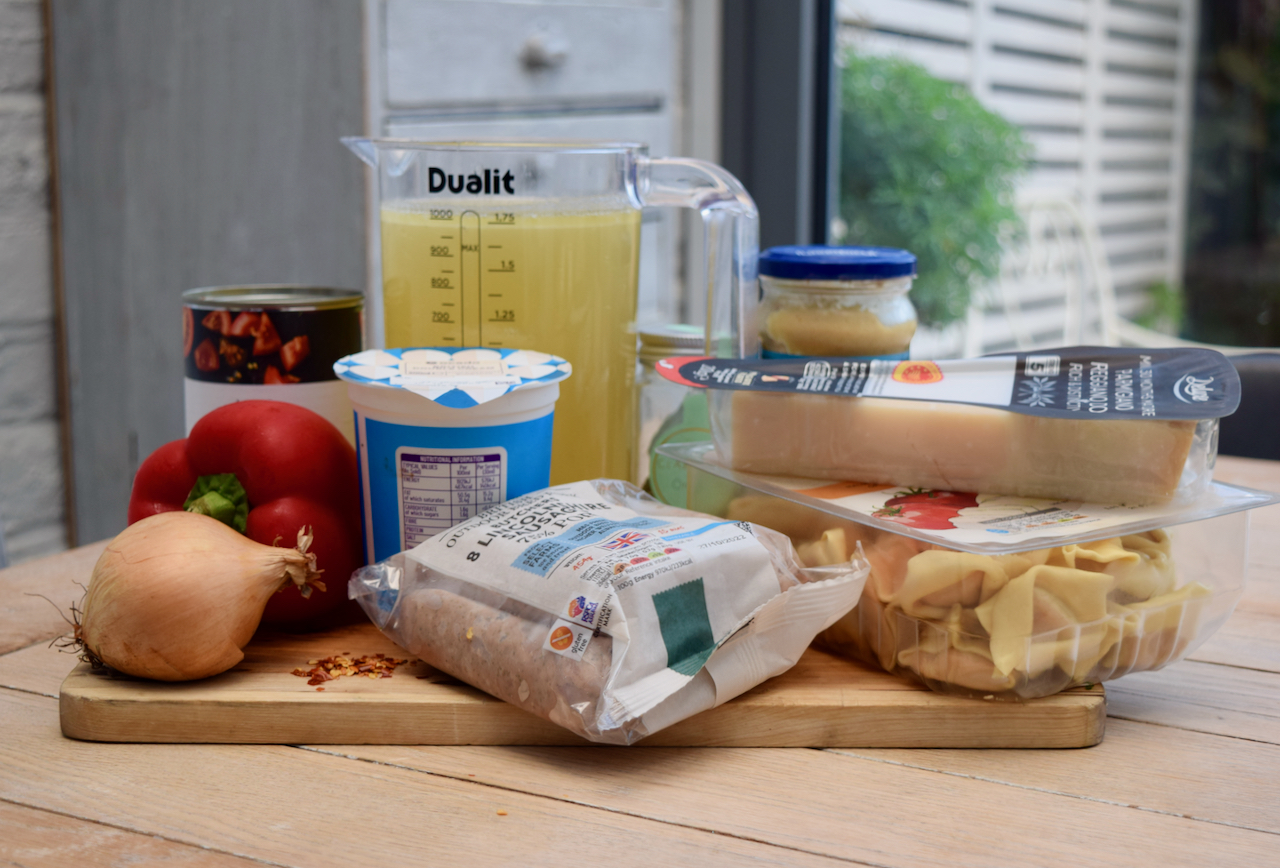 This is such a wholemeal line up, so many delicious things, all sitting together so beautifully for this soup. To completely go against the Italian nature of this soup, I had Lincolnshire sausages; they're well flavoured and meaty, so I ran with them, you can choose any you have to hand. My tortellini were cheese and tomato, you go with your favourites.
Make a start on your super soup by heating the olive oil over a medium high heat in a large high sided pan with a lid. Add the chopped onion and pepper and cook for a couple of minutes, until just softening and starting to take on a little colour. Add the garlic and sausage, breaking it down with a wooden spoon as you go.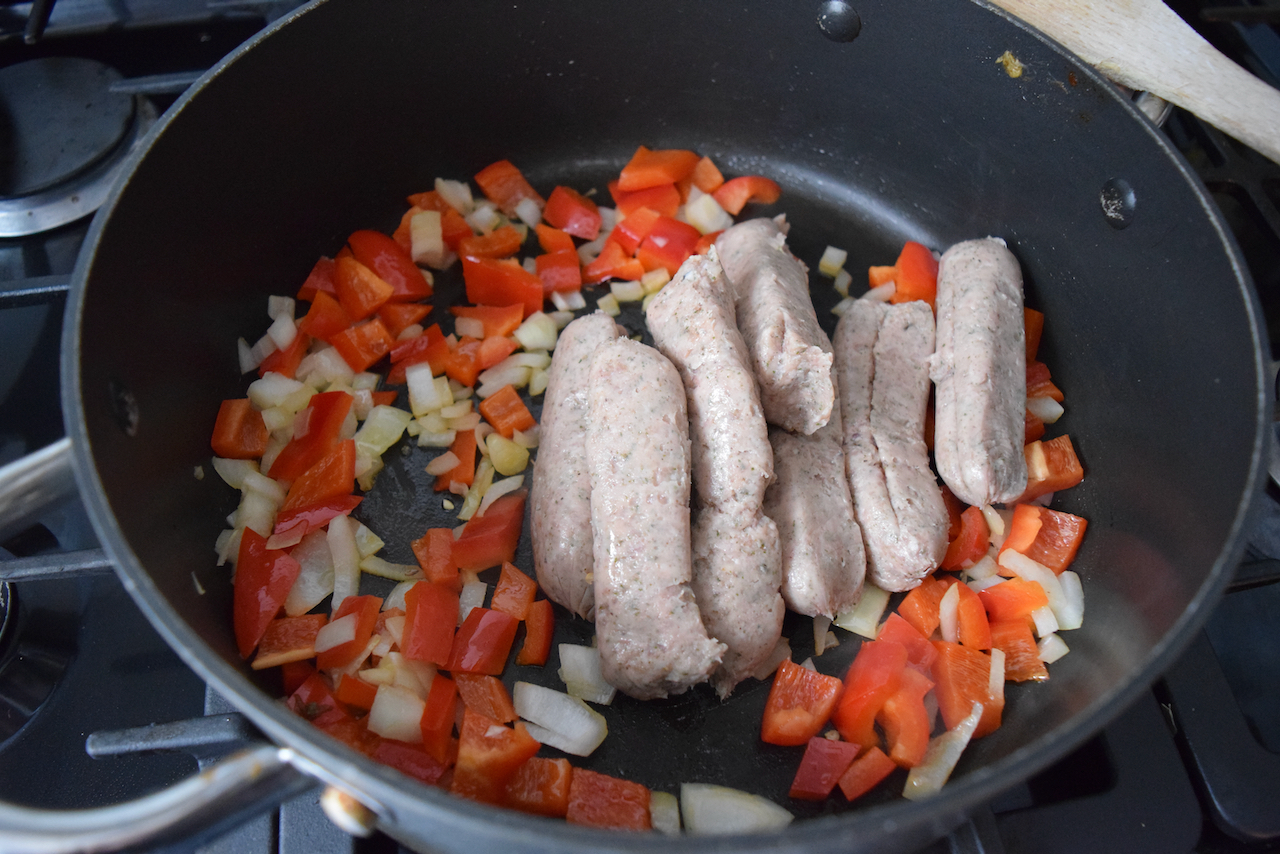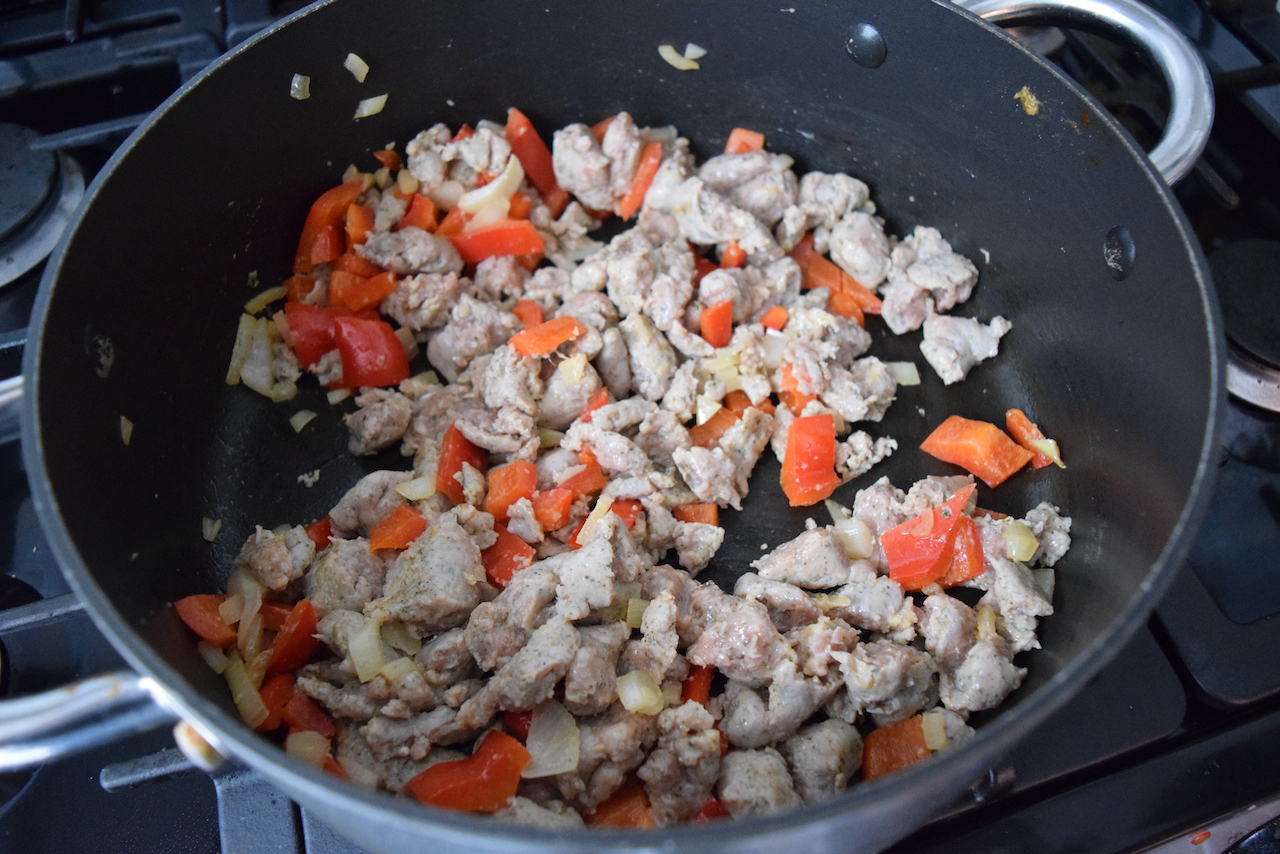 Cook for around five minutes until browned and almost cooked through. Stir in the tomato puree, chilli flakes and oregano then pour in the chicken stock and tinned toms.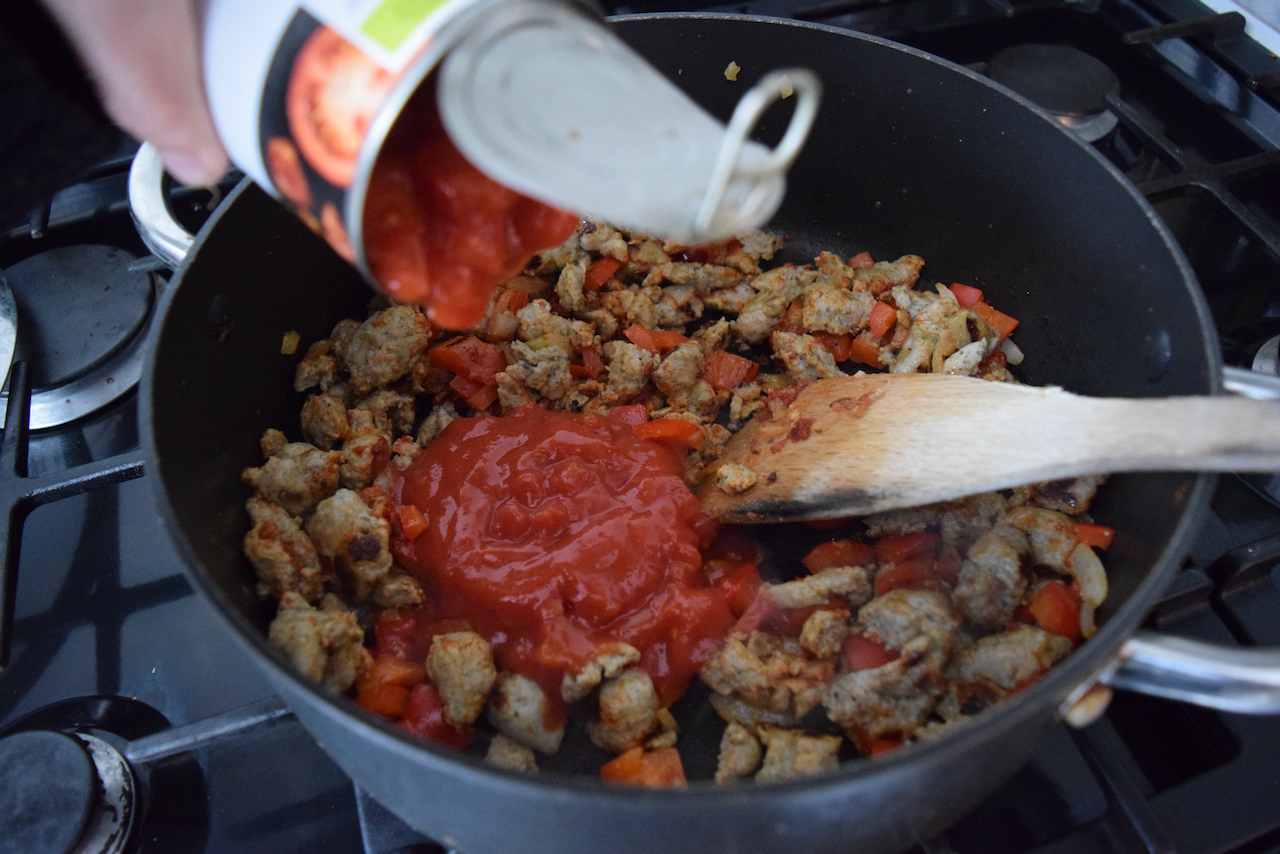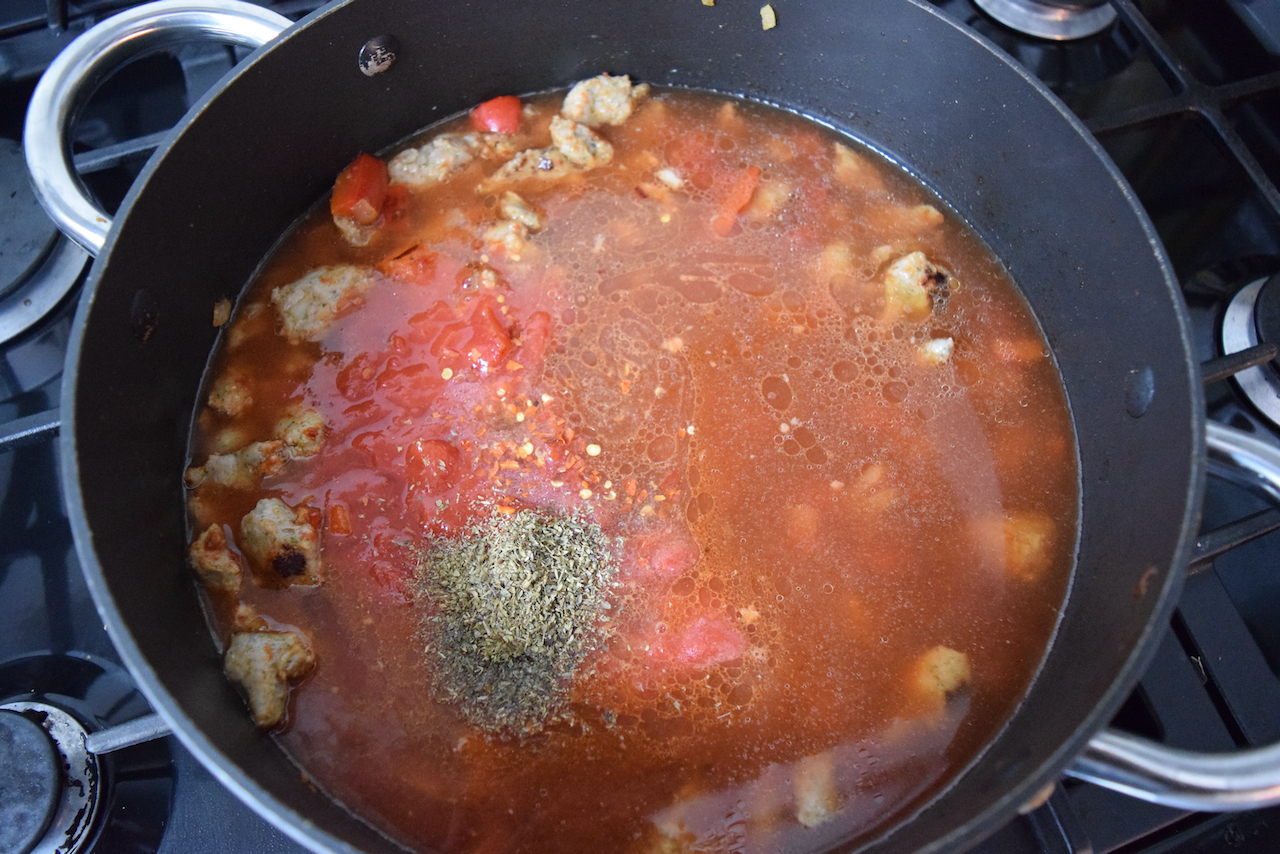 Stir the whole lot well, bring up to the simmer, turn down and pop on lid and cook for 10 minutes. When the times up, add the tortellini pasta.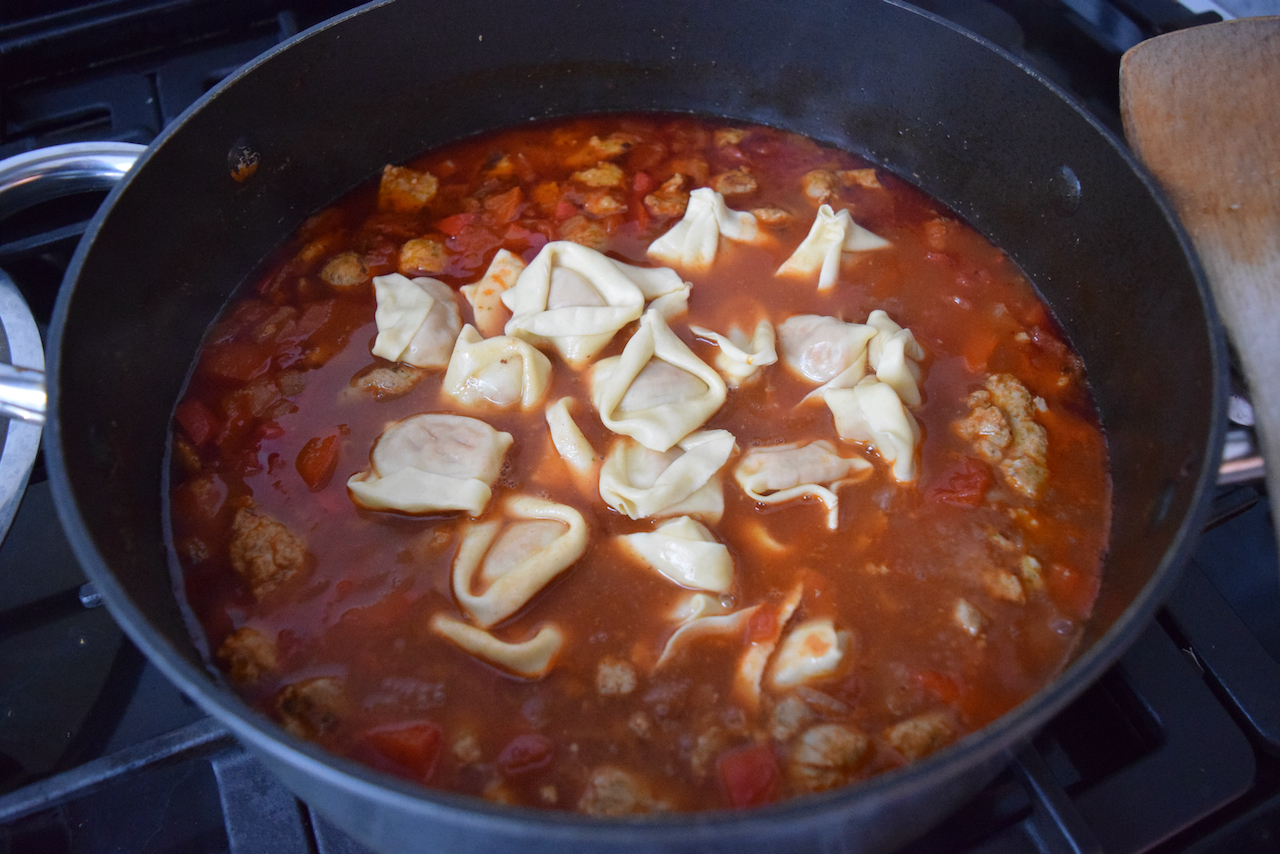 Cook for two minutes then stir in the cream and parmesan, for total soup joy.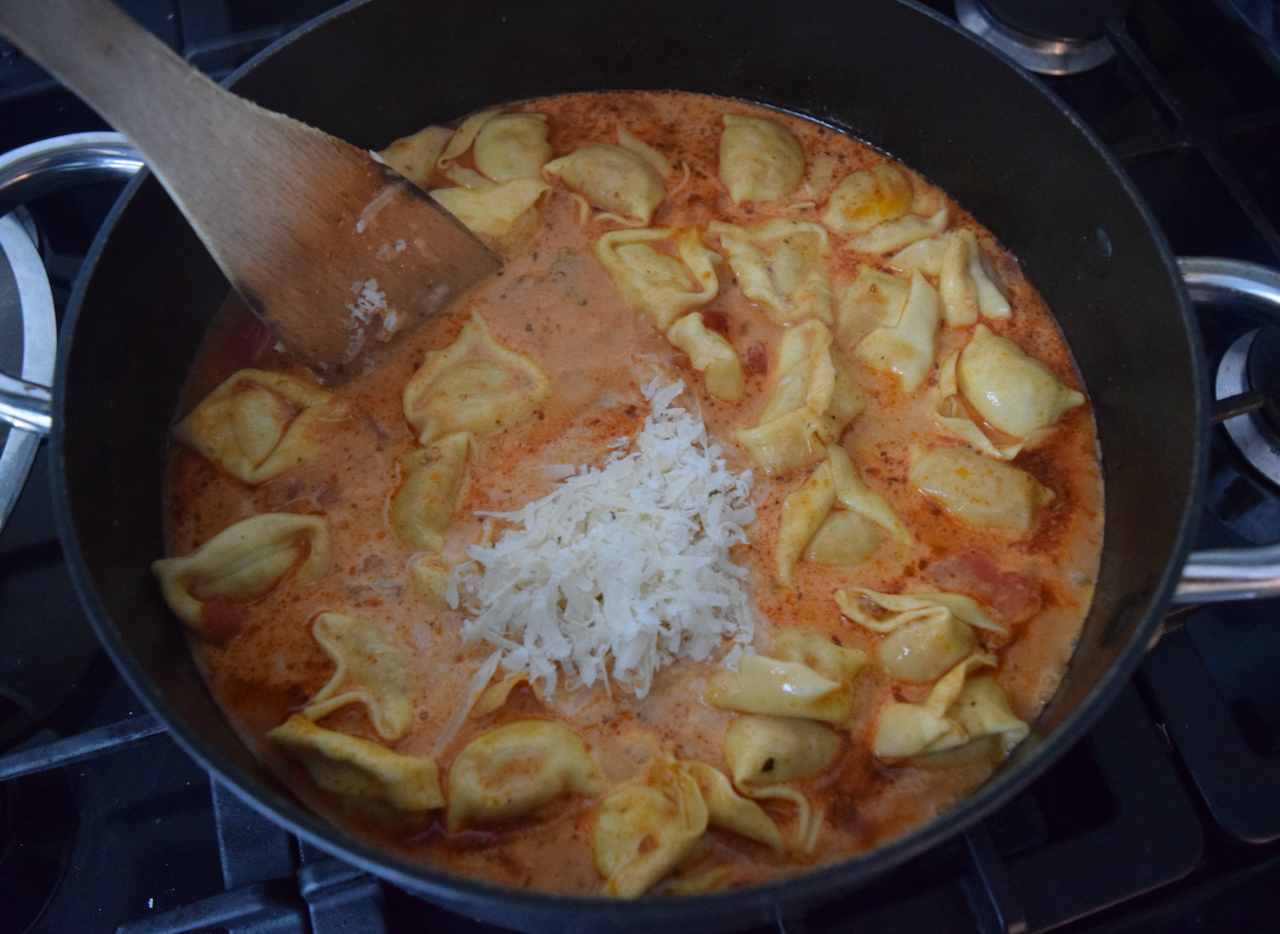 Bring back up to a gentle simmer, check for seasoning needs, then add plenty of fresh basil and serve in hoofing great big bowls with one of my lovely garlic butter rolls, if you so desire.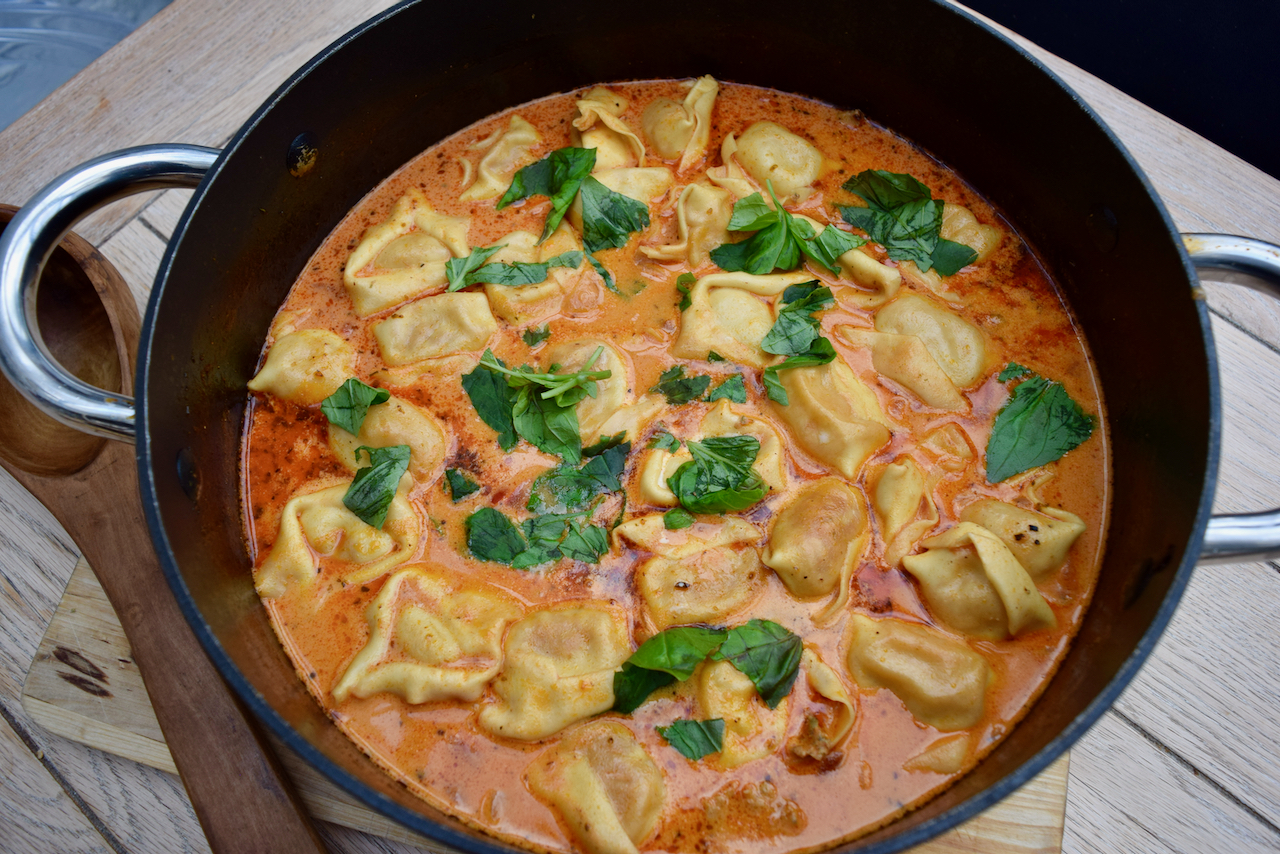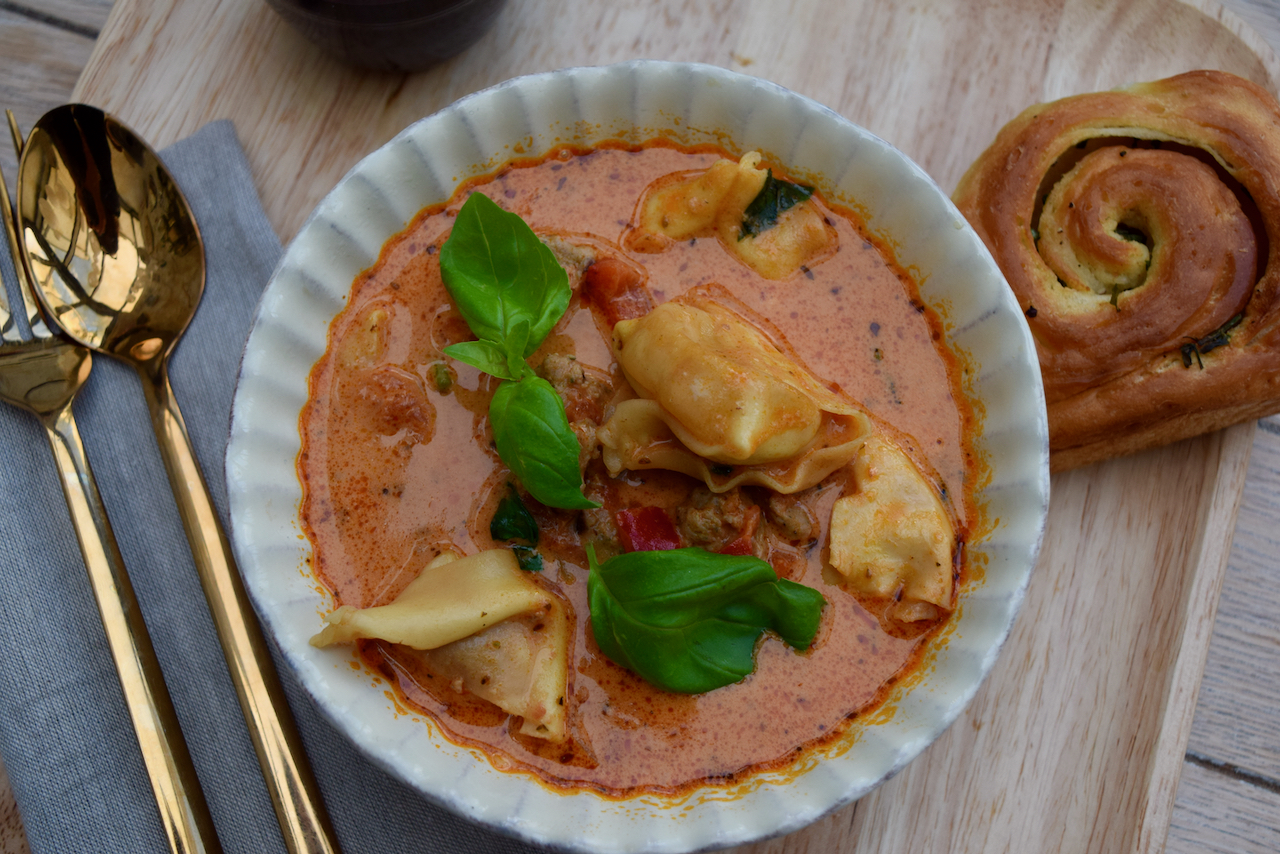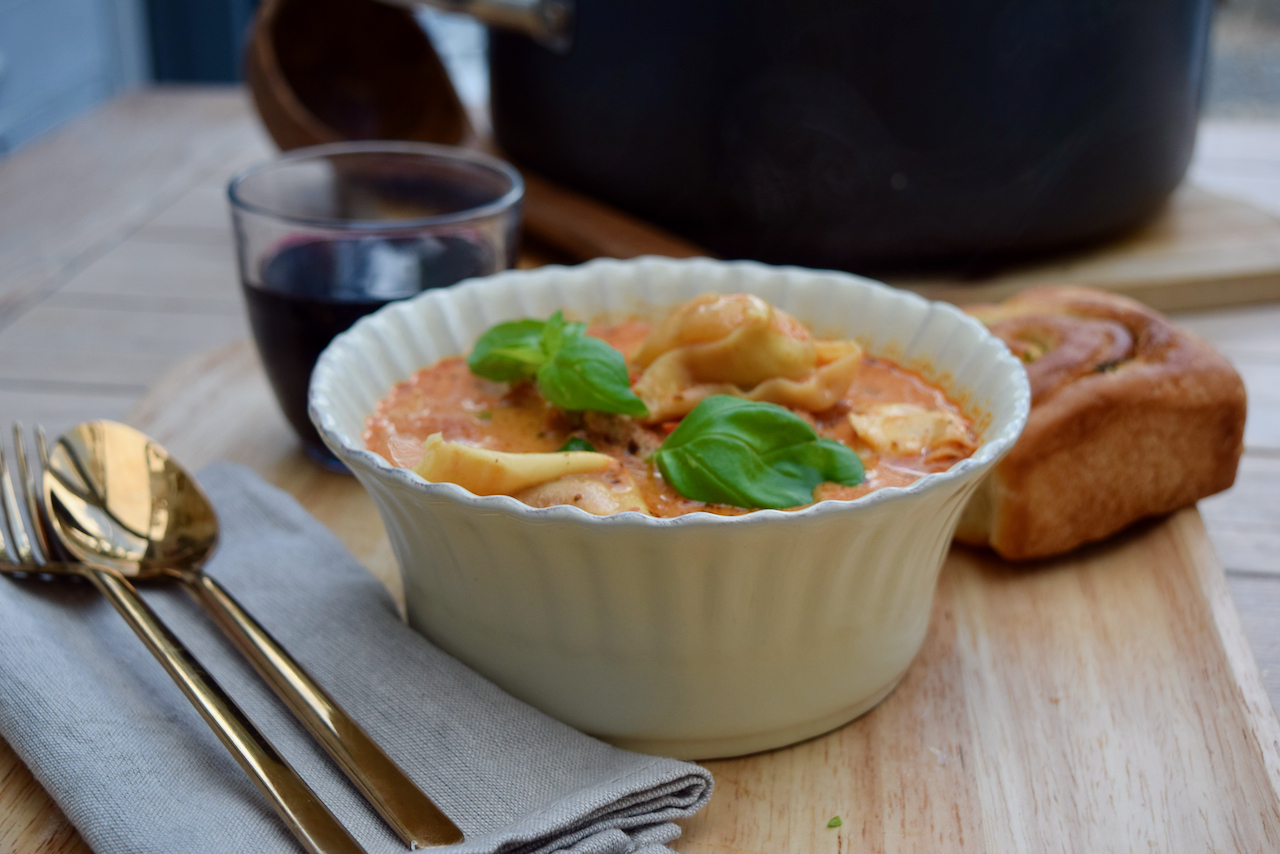 Ok, so it's hardly sub zero in London, but I've got a blanket on my knees as I type, so soup can certainly feature on your menu without judgement. To be fair, this Tortellini Sausage affair has been on ours for weeks.
Lucy x
Tortellini Sausage Soup recipe
Serves 3 to 4 hungry people
You will just need one great big pot for this
2 tablespoons olive oil
1 onion, thinly sliced
1 pepper, sliced into thin strips
2 cloves crushed garlic, or a teaspoon of lazy garlic
400g sausages something with a bit of flavour, skinned, or use sausage meat
2 tablespoons tomato paste
1 x 400g tin chopped tomatoes
1 litre chicken stock
2 teaspoons oregano
Good pinch dried chilli flakes
300g fresh tortellini, you choose the flavour
150ml double cream
40g parmesan, grated
Plenty of salt and black pepper, to taste with fresh basil, to garnish
Take a large saucepan or pot and heat the olive oil over a medium high heat. Add the onion and pepper and cook for a couple of minutes until just starting to brown. Add the sausage and the garlic, breaking up the sausage as you go, stirring well so it browns and cooks through, for around 5 minutes.
Stir in the tomato puree, oregano and chilli flakes, then pour in the chicken stock and tinned tomatoes and stir again. Bring up to the simmer then turn down the heat and put a lid on and cook for 10 minutes.
Remove the lid and tip in the tortellini, cook for two minutes, then stir in the cream and grated parmesan. Taste to check for salt and plenty of black pepper.
Serve, piping hot, with torn fresh basil and maybe a lovely garlic butter roll or two.
Any leftovers can be kept in the fridge for re-heating over the next couple of days.