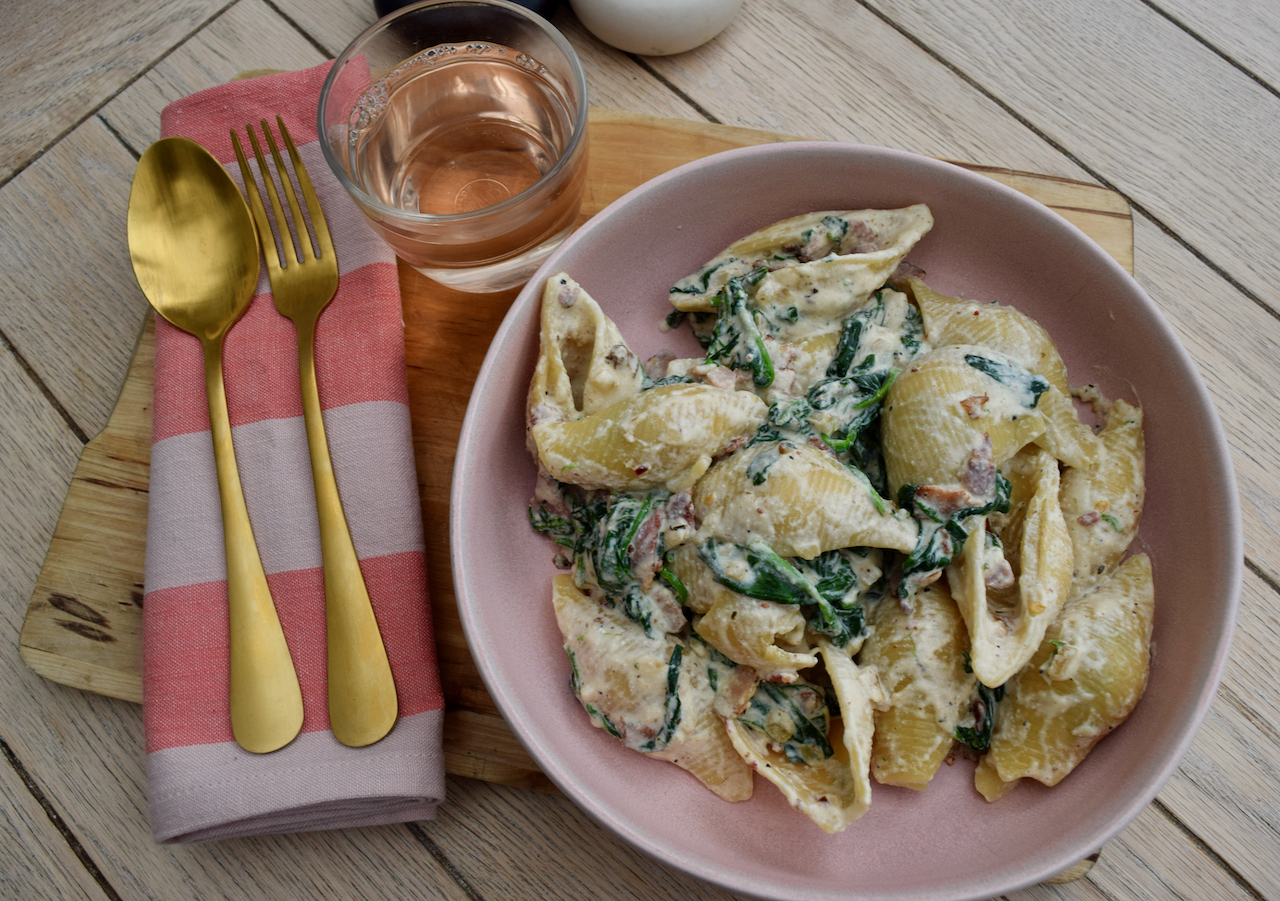 Pasta with Bacon, Spinach and Ricotta recipe
After just one day of semi warm sunshine, I'm still not quite in salad mode yet. I'm eating as though it's November and still sporting a winter spare tyre around my waist. This Pasta with Bacon, Spinach and Ricotta will lift your spirits until the sun shows it's face again.
Pasta is usually thrown together in our house, with little thought and using anything wilting in the fridge. But this creamy, salty, wilty leafed dish is beautifully thought out whilst still being ready in less time than it takes to go upstairs and get a cardigan. I used large shells; they hold the ricotta and cream sauce well and look so elegant. Fresh spinach adds a whiff of health and there's a touch of chilli and black pepper for much needed warmth. Big thanks to Food 52 for the tasty inspiration, as always.
This is such a comforting supper, serving two very hungry diners, or three if one of them's me, who barely gets a look in when this amazing pasta dish is being served.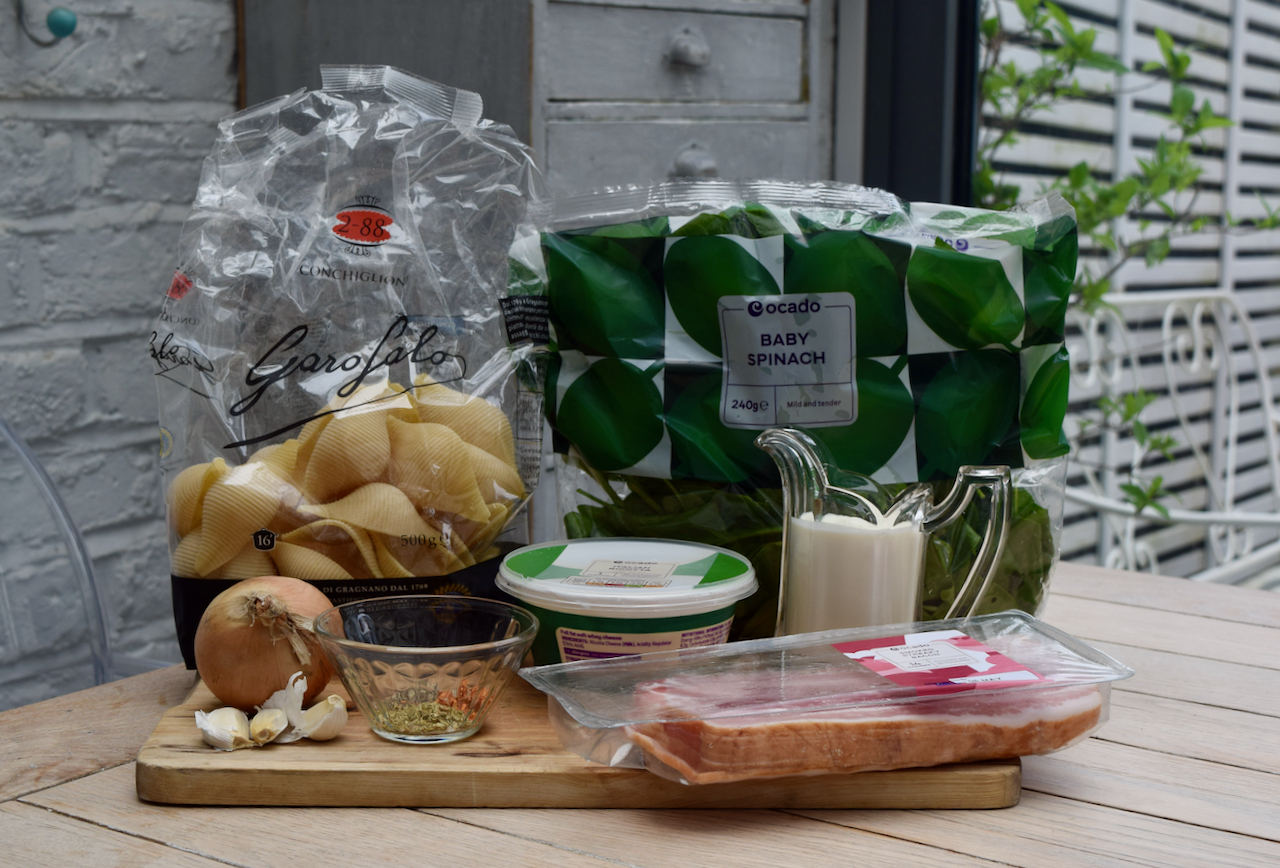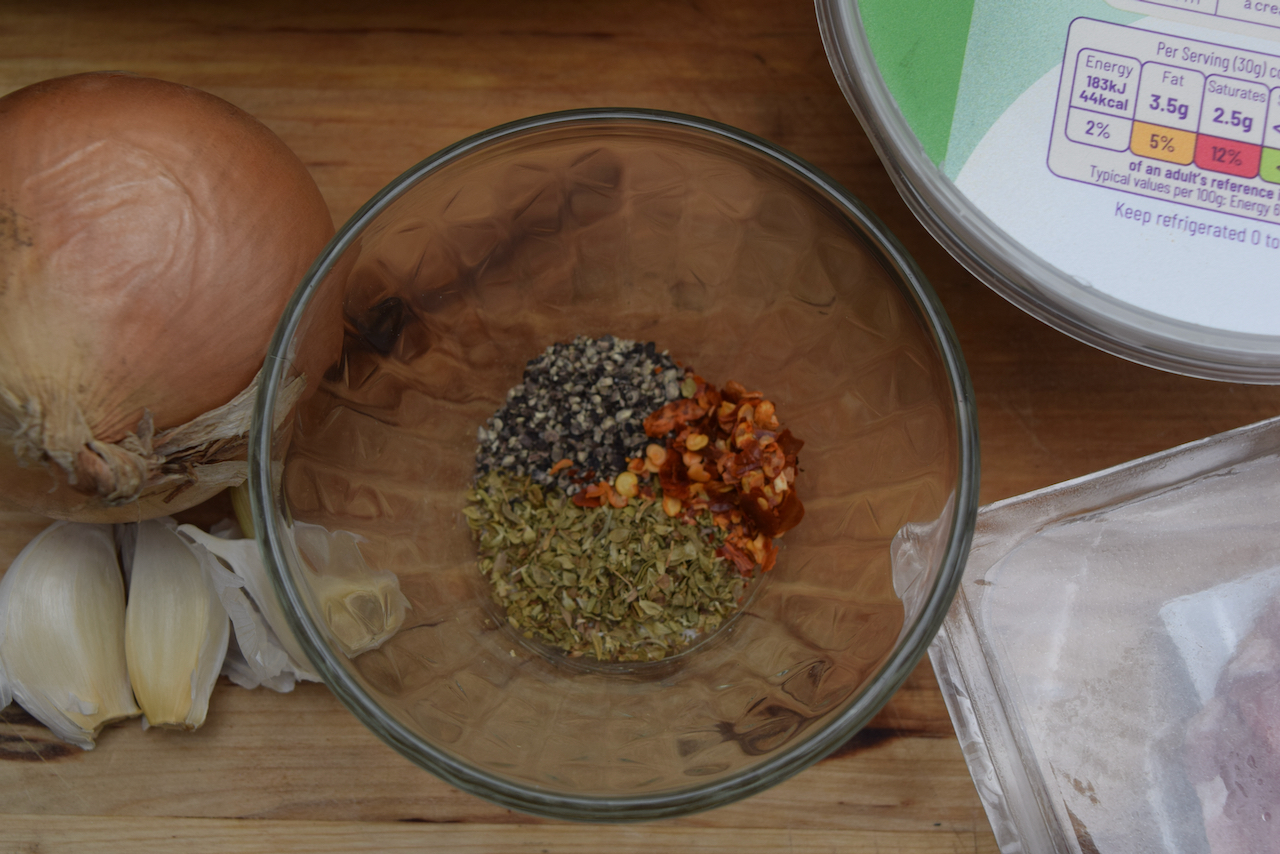 Ricotta is my new favourite ingredient, you'll find me dolloping it on everything at the mo. It seems lighter than mascarpone, but no less brilliant in pasta. I used streaky bacon, a whole packet of which I managed to wrestle out of George's hands. The rest of the ingredients are always in my fridge, the spinach usually being ignored by everyone but me.
Make a start with those wonderful great big pasta shells. Cook them as per the instructions on the packet, then drain and pop to one side. Make sure you cook them in a huge pan of water, or the shells get stuck inside one another. Reserve a couple of 100mls of the cooking water for later.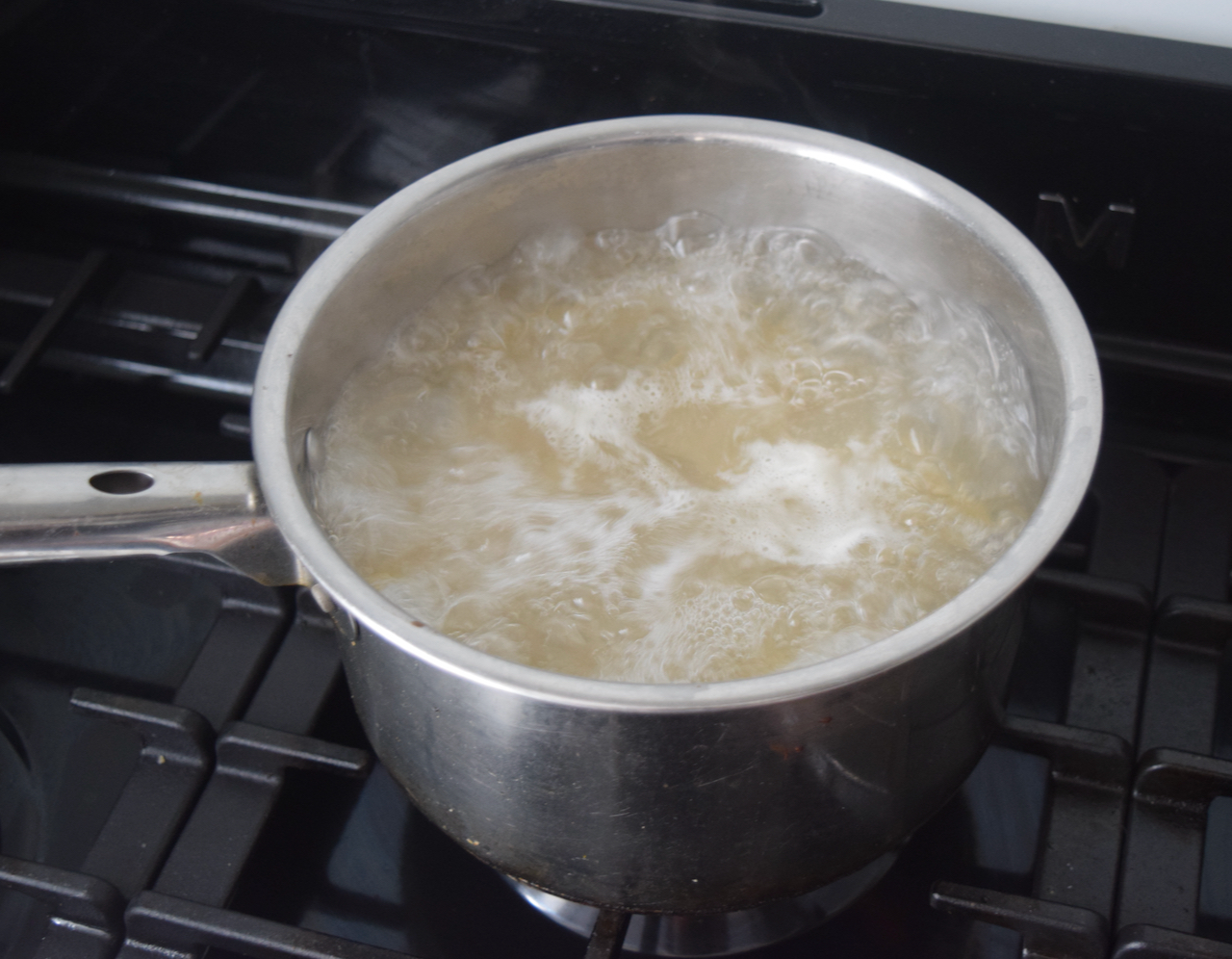 Whilst the pasta's cooking, crack on with the bacon. Heat a tablespoon of olive oil in a large high sided pan, over a high heat. Add the chopped bacon and cook until crisp and golden.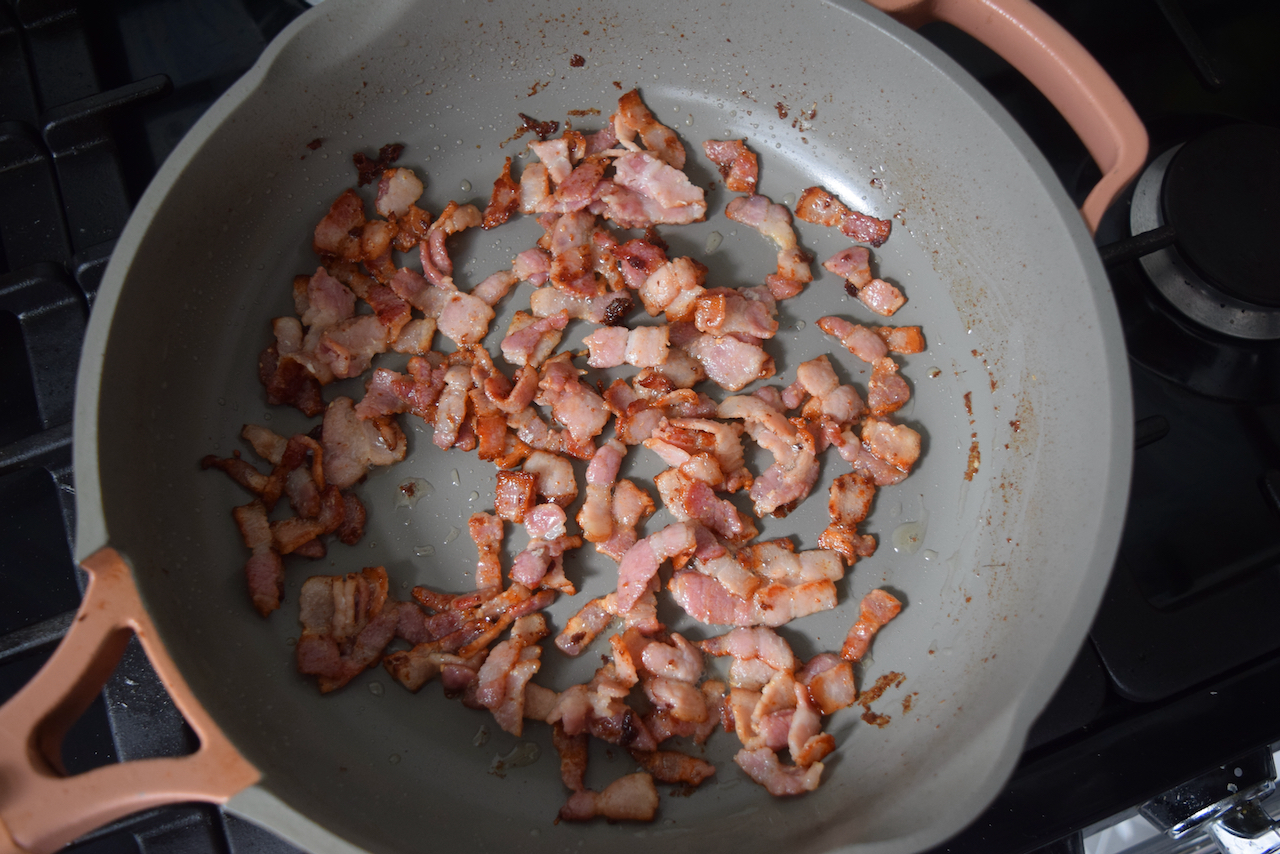 Add the finely chopped onion and garlic, cook for a further minute or two, then add the chilli flakes, black pepper, salt and oregano and give it all a good stir.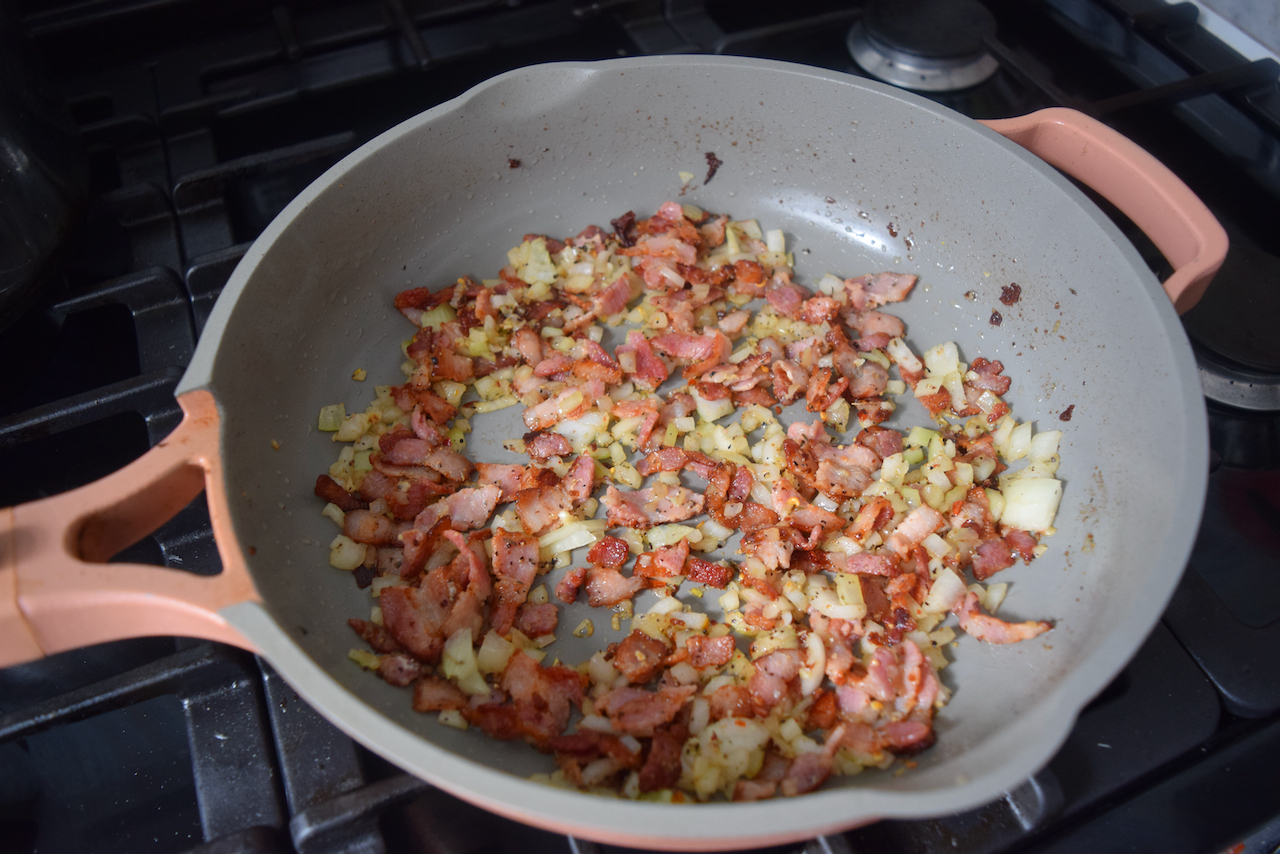 Tip in what looks like a vast amount of spinach and stir to wilt it down, then pour on the double cream and bring up to the simmer.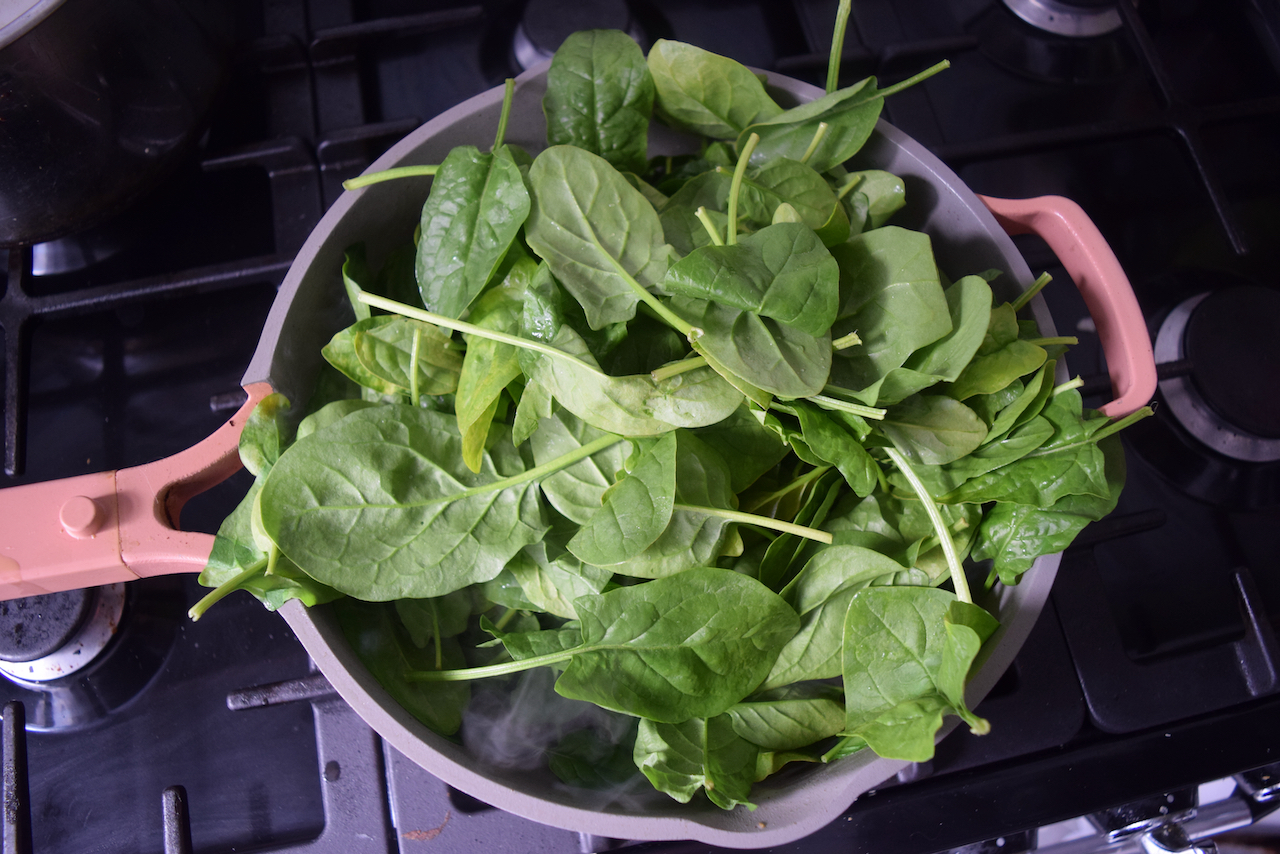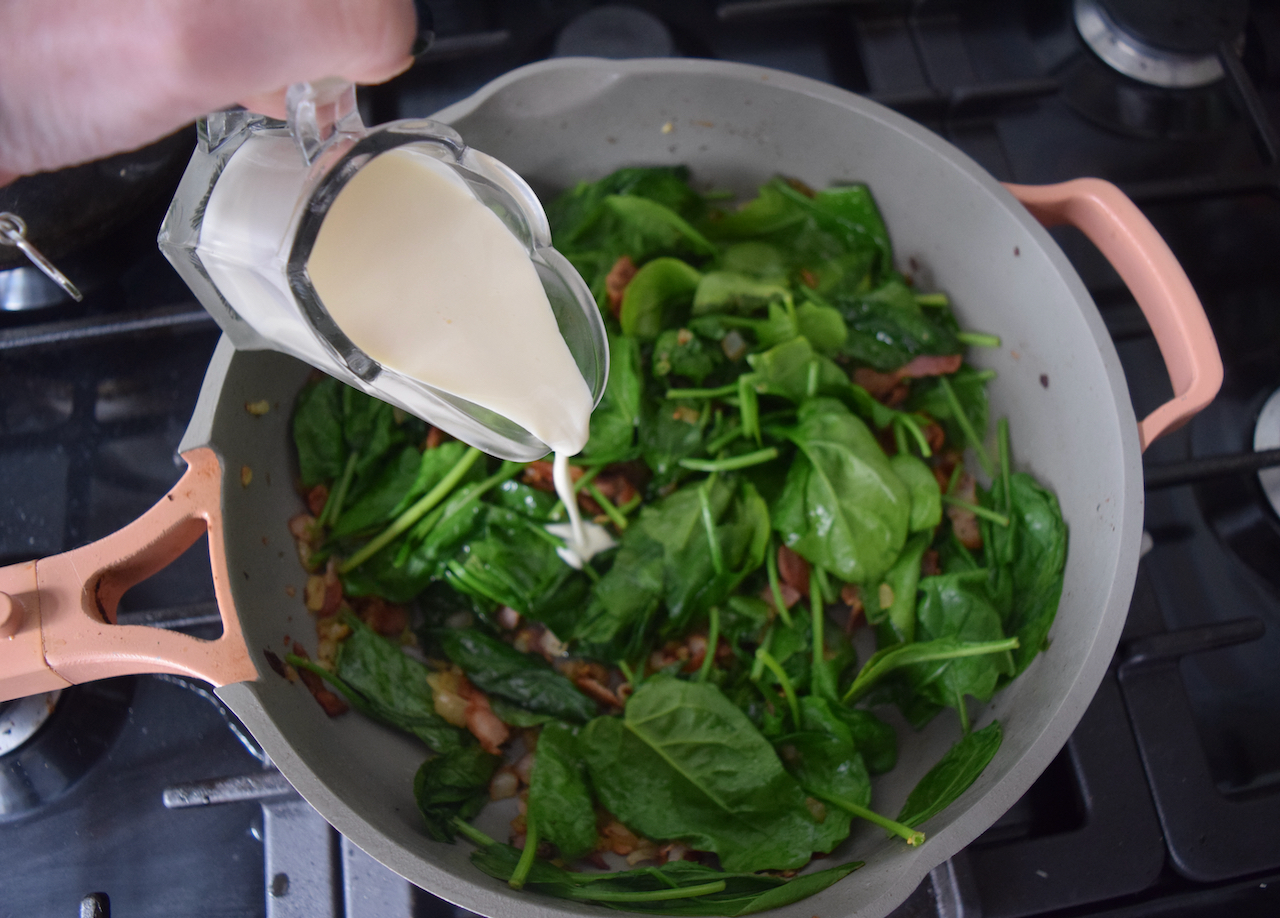 Finally stir through the delicious ricotta, then add the cooked pasta shells.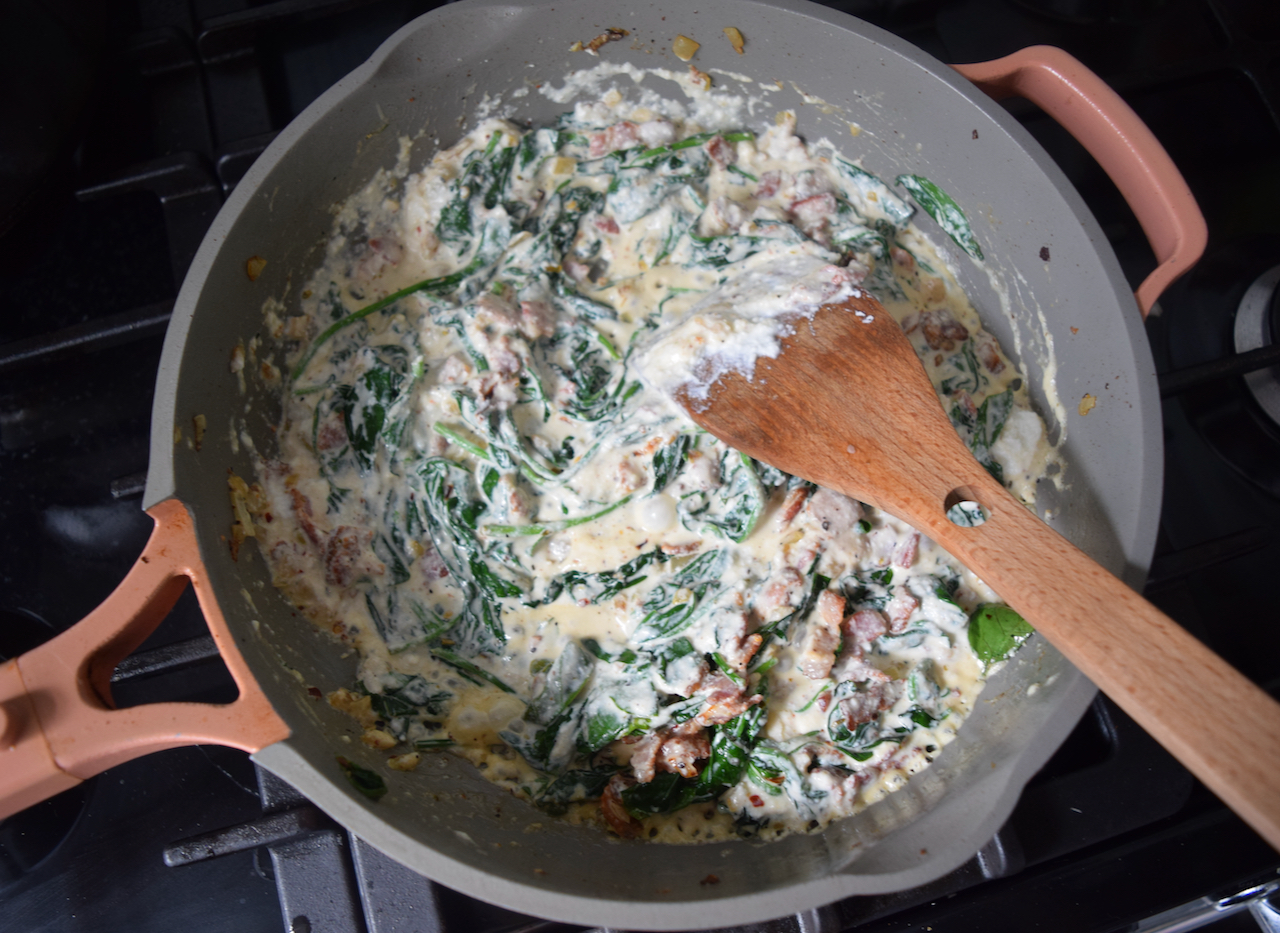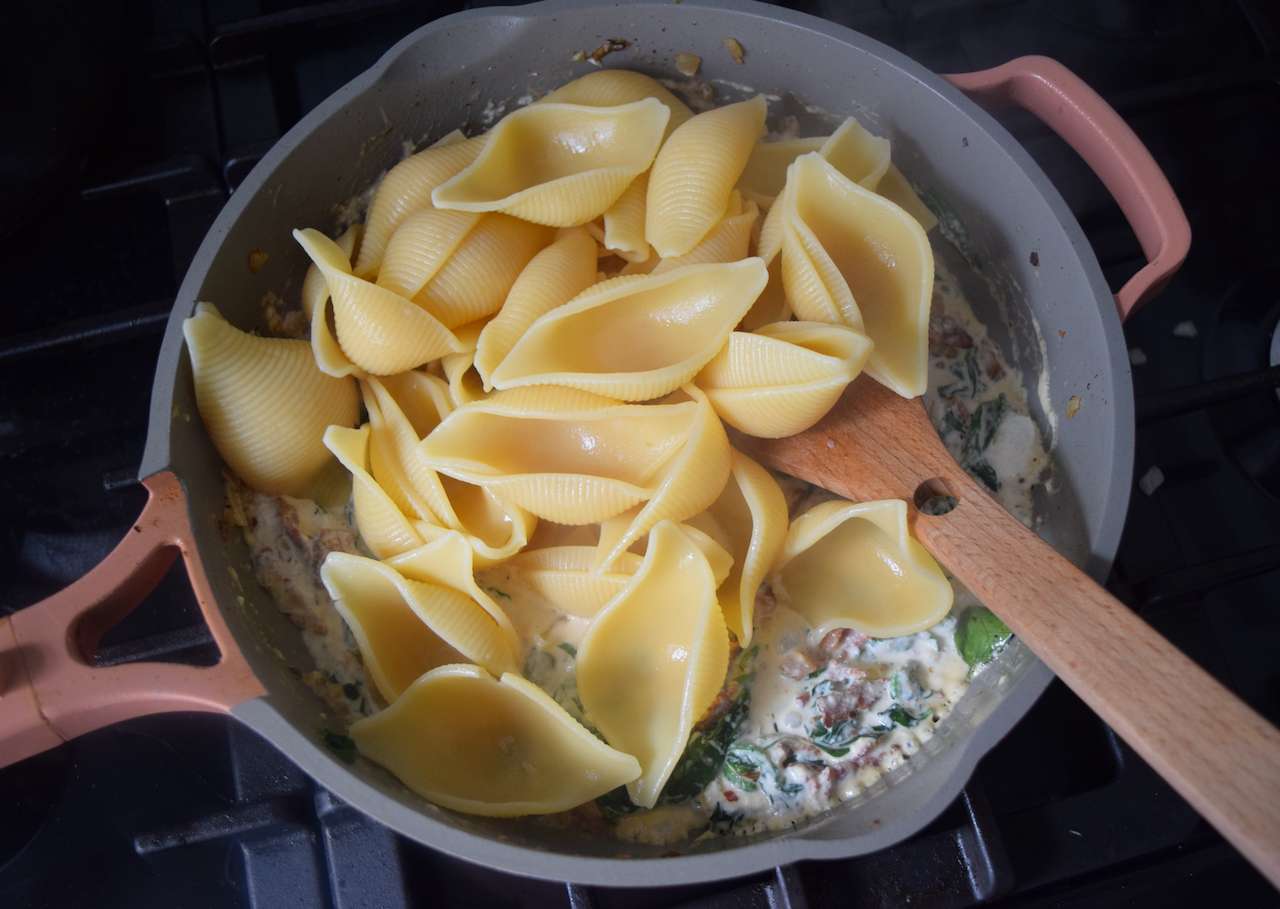 Give the whole dish a good toss together, adding a splash of the reserved pasta water to create a glossy, creamy sauce. Try a big mouthful to check for any additional seasoning then serve, piping hot, with a sprinkle of chilli flakes or some fresh basil if you like.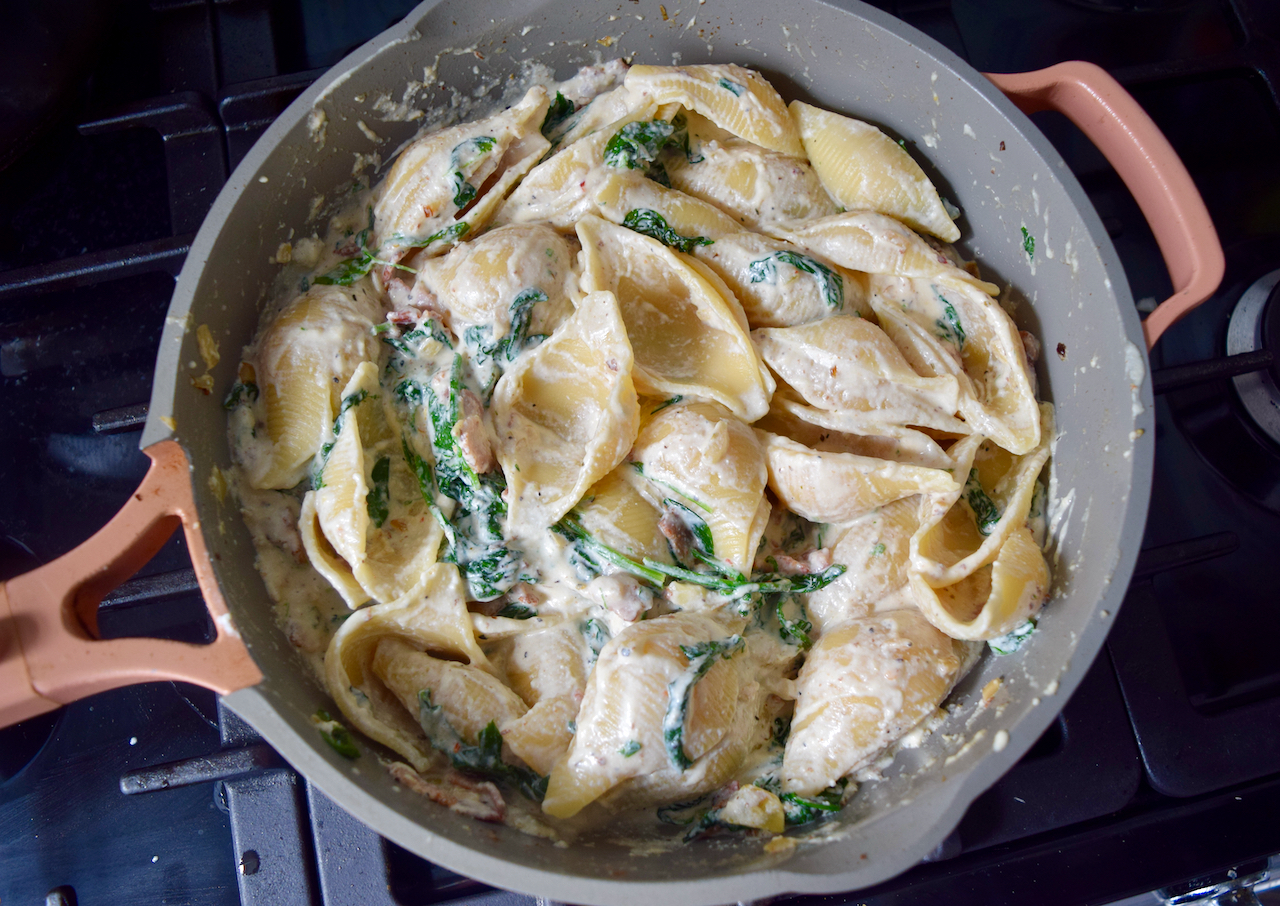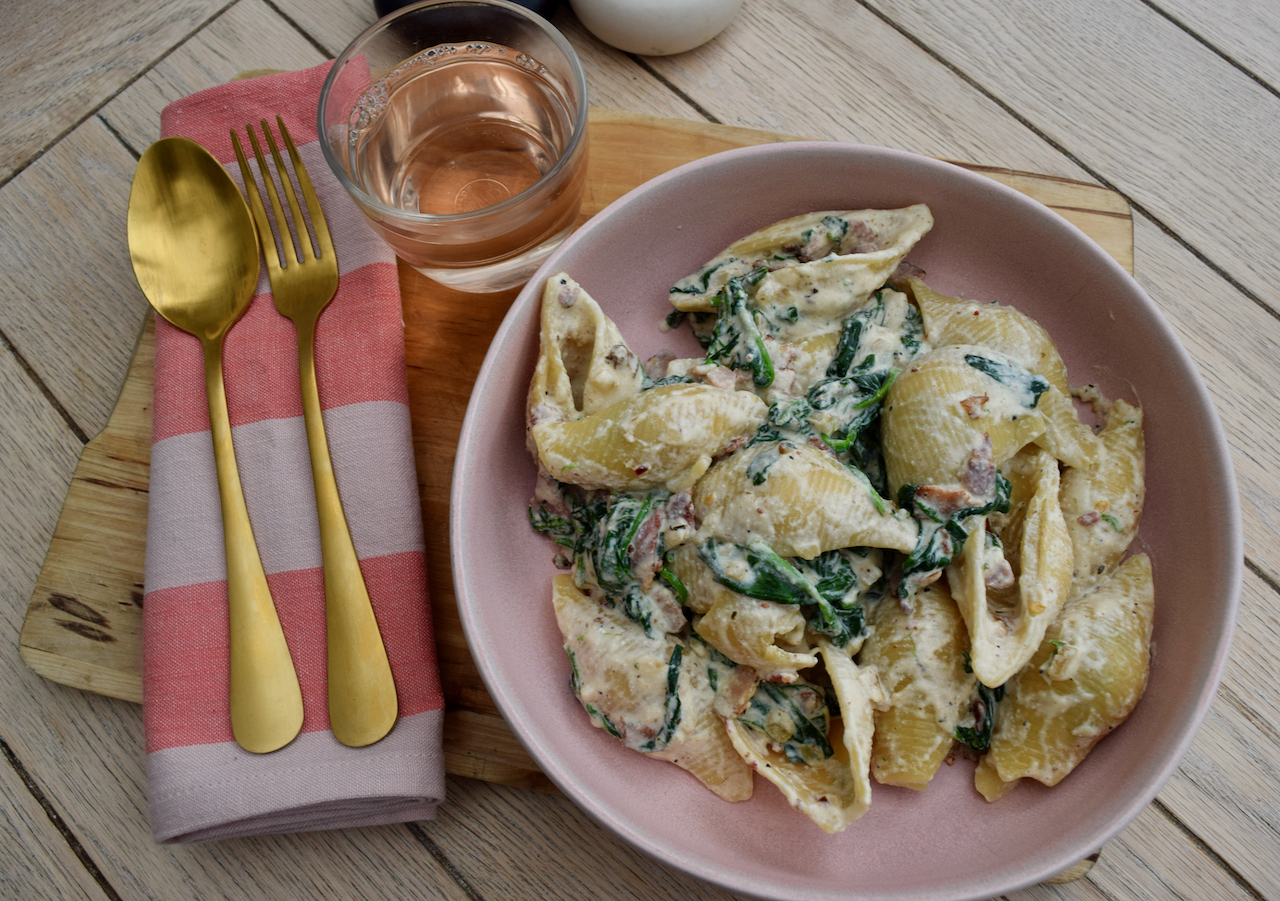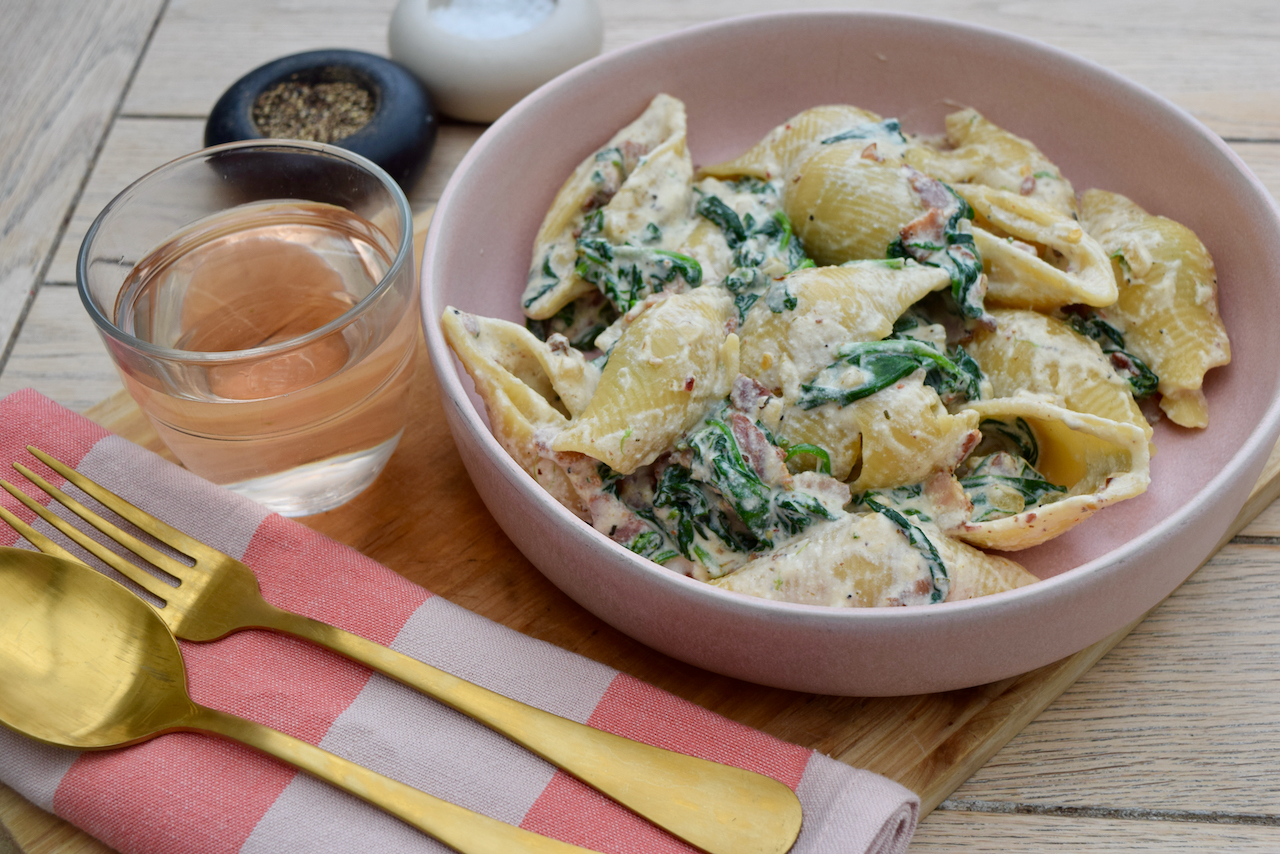 This is so much more than a bowl of mid week pasta; it's elegant, flavoursome and isn't, for a change, made using the dying contents of the bottom of my fridge.
Lucy x
Pasta with Bacon, Spinach and Ricotta recipe
Serves a generous 2 to 3
You will just need one large high sided pan for this
250g pasta, I love large shells for this
1 tablespoon olive oil
250g chopped streaky bacon
1 small onion, finely chopped
2 to 3 cloves garlic, size dependent, crushed
1/2 teaspoon each of salt, black pepper and oregano
1/4 teaspoon chilli flakes
150g baby spinach leaves
100ml double cream
150g ricotta
More chilli flakes to garnish, if you like extra spice, or fresh basil if you'd rather
Cook your pasta shells according to the instructions on the packet until just al dente. Reserve 200ml of the pasta cooking water for later, then drain in a colander.
In a large frying pan, heat 1 tablespoon olive oil over a medium high heat. Add the chopped bacon and cook until golden and starting to crisp. Turn the heat down and add the onion and garlic, cook for another minute then stir through the seasonings.
Add the spinach, stirring well to wilt, then pour on the cream and bring up to the simmer. Finally dollop in the fresh ricotta, stir to combine then add the pasta to the pan. Mix well adding a splash or two of the cooking water to thin the sauce. Taste to check for seasoning, then devour, whilst piping hot.