Festive Trifle Recipe
There's nothing more delicious than a Festive Trifle. A sweeping statement maybe, but I think a trifle is worthy of such high praise. Over Christmas, as you probably already know, there is far too much shopping, cooking and eating to be done. So if one dessert is an easy store cupboard affair then it's worth it's weight in Christmas gold. No boiling for 4 hours then another 4 hours on the day for this baby, just a bit of light beating *if you do it by hand then it's calories burnt too* and spooning for huge sponge, fruit and custard cream based reward.
My Festive Trifle recipe is actually my Mother's recipe and I have no idea where she got if from. It's been in our family for years and is always greeted by a greedy smile. No jelly in our trifle, just layers of Sherry soaked trifle sponges, raspberries and bananas and a rich custard topping made my mixing good bought fresh custard and mascarpone. Top this with a pint of whipped double cream and the sprinkles of your choice and it's Christmas dessert heaven. It tastes even better a couple of days after you've made it so if you have any leftovers *doubtful*, keep a spoon handy to dip in like Nigella in a satin dressing gown on Boxing Day night.
This Festive Trifle would make a tasty alternative to Christmas pudding on the big day or whip it up on Boxing day if you have a large gathering. I can imagine for regular appetites this would feed at least 8 guests, if you don't have Clyde in your party, who ate 3 helpings of this particular trifle today. No last minute pre Christmas diets in this house. Feel free to vary the fruits and jam to suit your tastes, you could give it a really festive feel with the addition of orange or satsuma segments. I love the raspberry, banana and Sherry combo myself, but then I am old school. As well as just old.
Ooh, look at that lovely line up. And you'll notice *or not* I am back in the kitchen for the moment. In an exciting turn of events we have a beautifully tiled kitchen floor so are able to put our new table up. You'll also note that quite generous shot of Sherry, you may or may not need all of that, depending on how much booze you like in your Festive Trifle.
Make a start with a beautiful bowl for your trifle.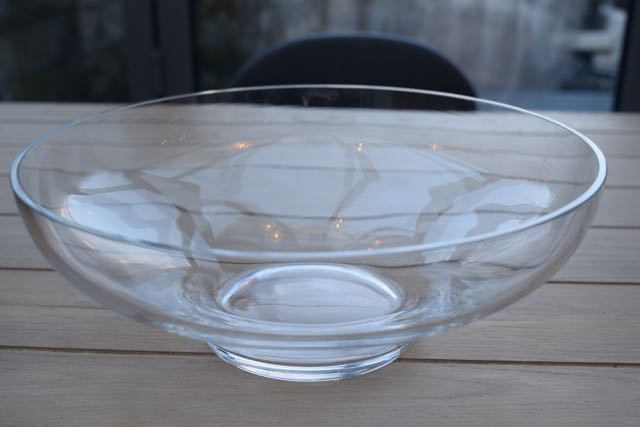 Take your trifle sponges or loaf sponge cake and halve or slice into thin-ish slices. Slather each slice in a jam to co-ordinate with your chosen fruit. Mine was raspberry.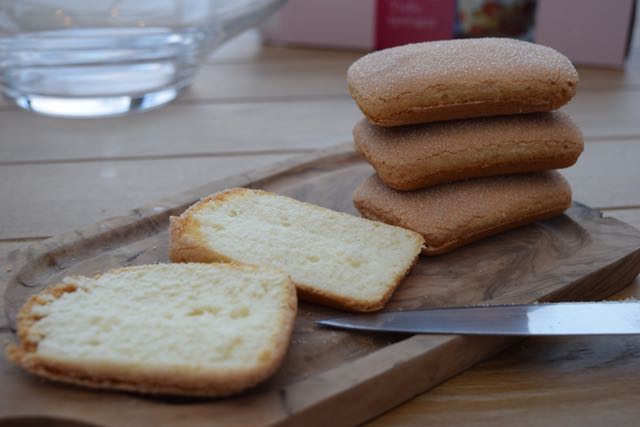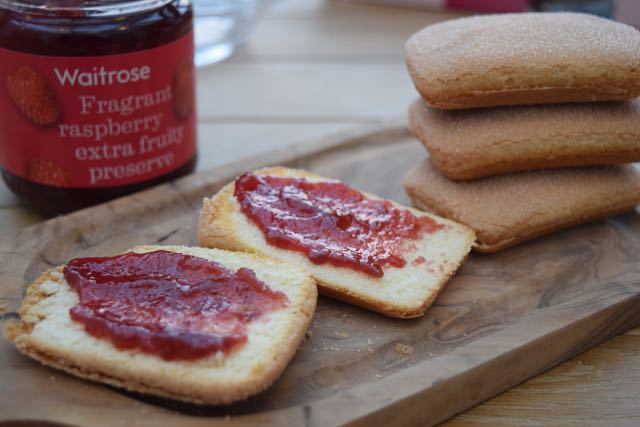 Layer the jammy slices into the bottom of your chosen bowl. I put mine up the sides too as the square footage of the bottom wasn't that great.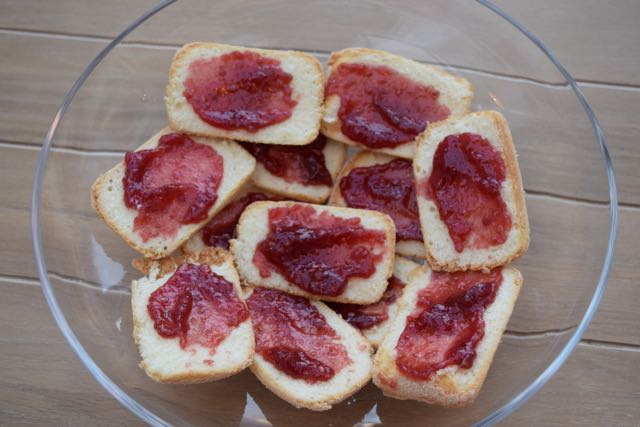 Take your small shot of Sherry and drizzle over the sponge base. Do add another spirit if Sherry isn't your tipple of choice.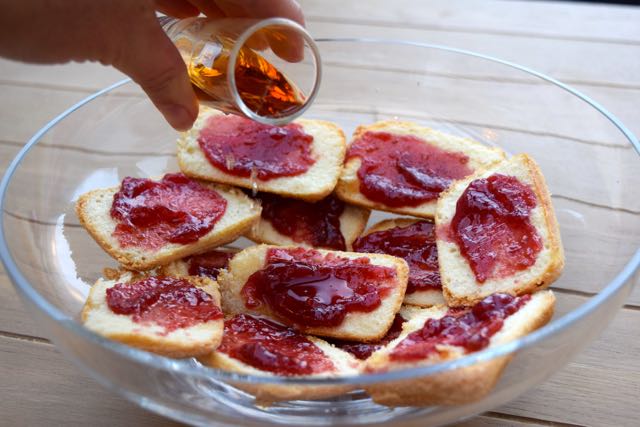 Next tumble on your raspberries, mine were frozen and I didn't bother to defrost them, such is my devil-may-care attitude.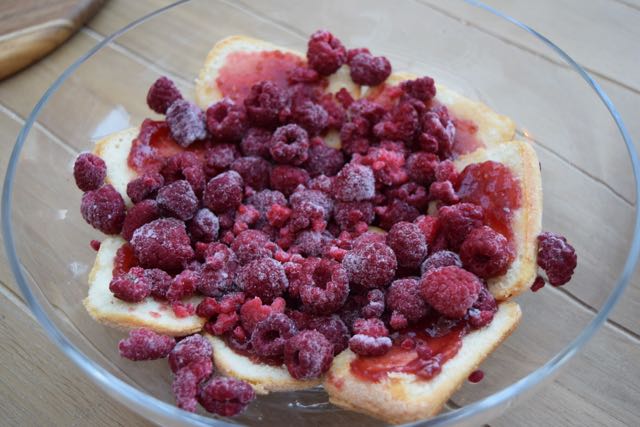 Slice your bananas, 2 to 3 should be fine, and squeeze on the juice of half a lemon to stop them going brown. Then layer these onto your raspberries.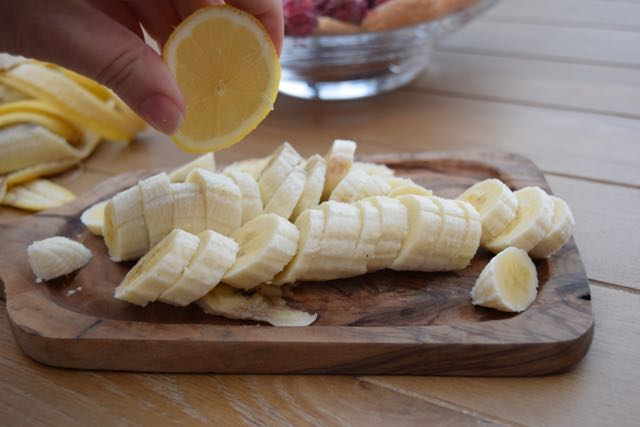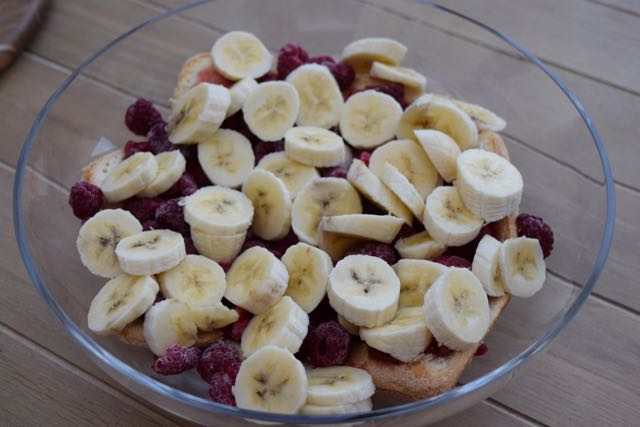 Next, dig out your stand mixer or take a large bowl with a hand whisk and spoon in the mascarpone. Beat for a moment to soften then spoon in the posh custard and beat until the mixture is smooth.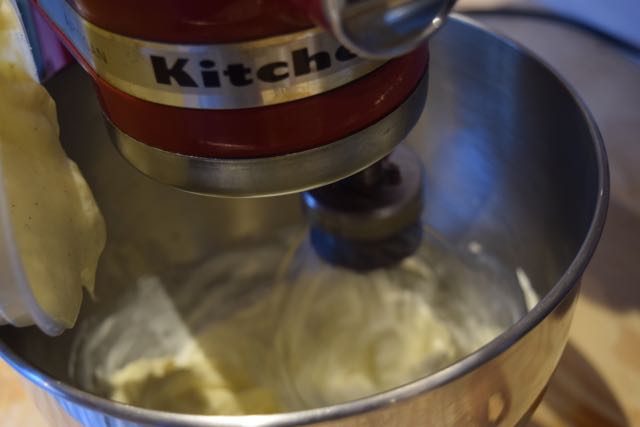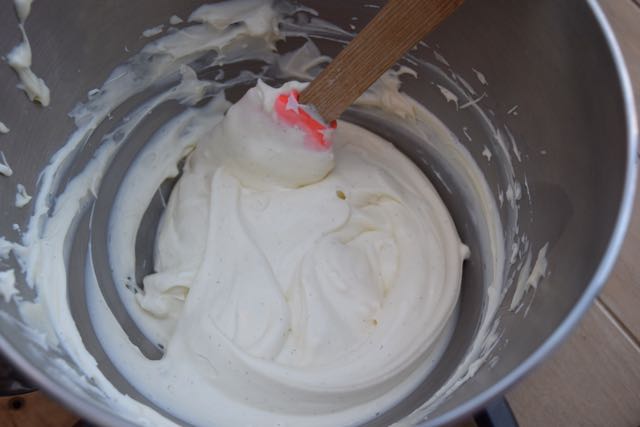 Spoon this rich custard sauce onto the fruit and fashion it into a smooth layer.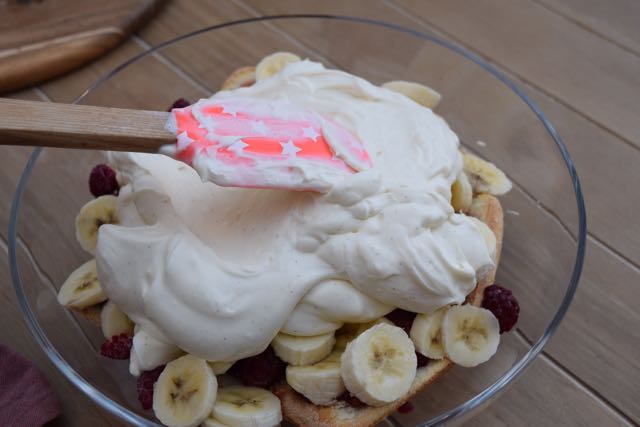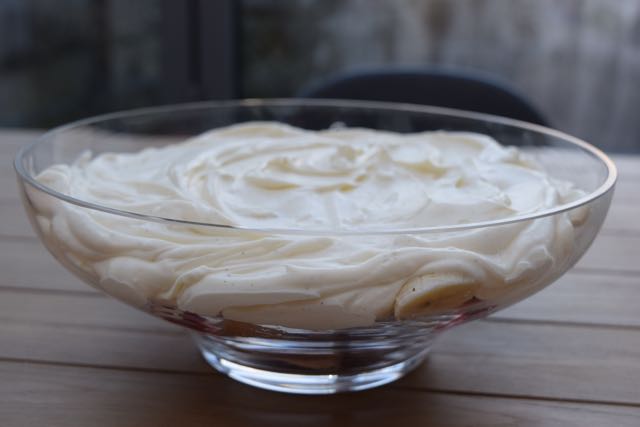 In a final flourish, whisk 500ml double cream until it holds soft peaks then spoon this onto the custard layer and fork it up into peaks.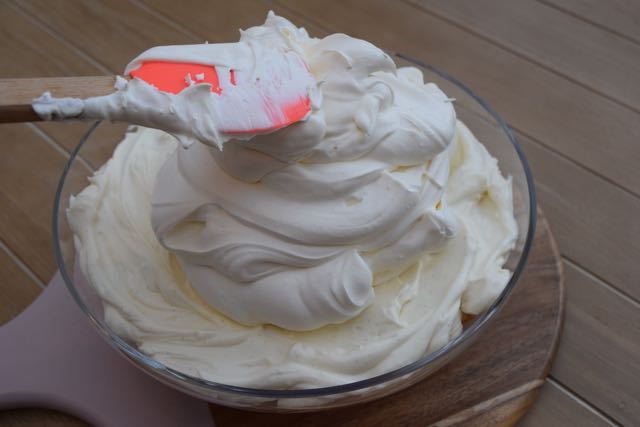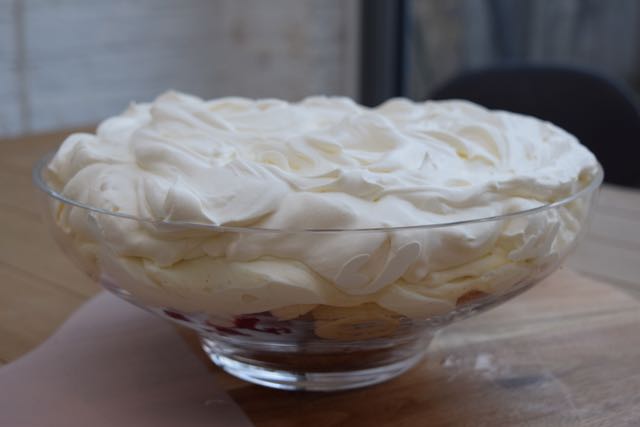 Now adorn with the sprinkles of your choice. I like shaved chocolate but to embrace the season I chose some festive sprinkles and stars with just a hint of glitter.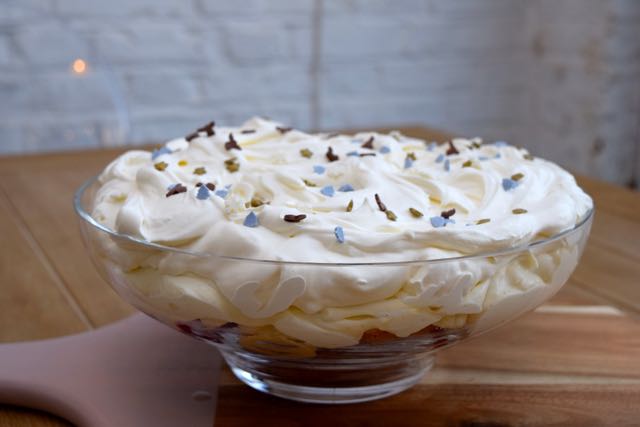 Pop this absolute beauty into the fridge for a couple of hours at least, a day would be fine. When you are ready, serve your trifle in enormous bowlfuls. Or straight from the bowl with a serving spoon.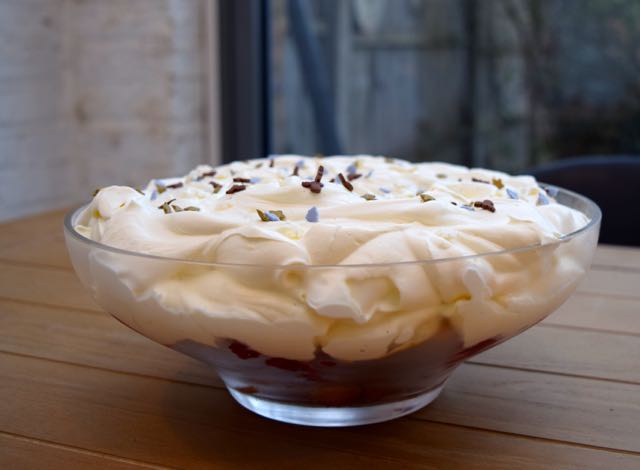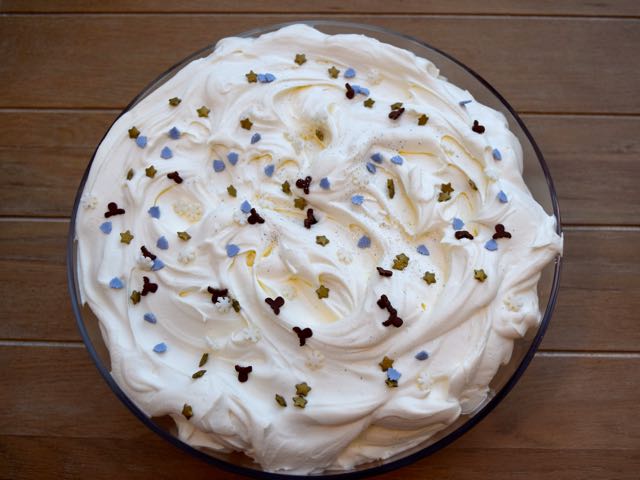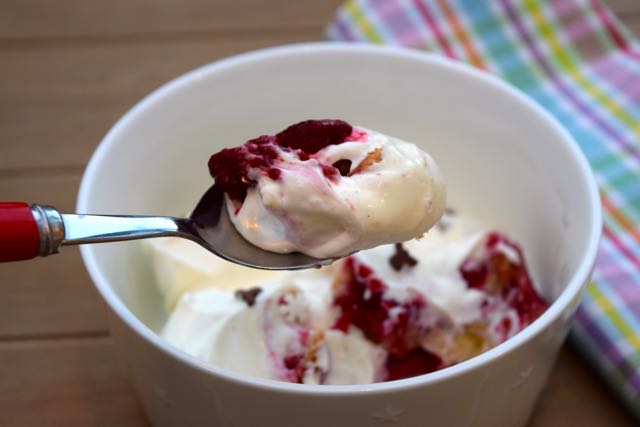 Christmas is a time for trifle. Anytime is time for trifle in our house and this one was inhaled. Throw this together over the festive period and you may just have earned yourself a place at the top of the 'Nice' list.
Lucy x
Festive Trifle Recipe
Serves at least 6 to 8 people
You will need a stand or hand whisk
6 to 8 trifle sponges or a small plain loaf cake
approx quarter jar of jam, I like raspberry
4 tablespoons Sherry
2 to 3 bananas
juice from half a lemon
200g raspberries, I used frozen
500g carton fresh custard
250g mascarpone
500ml double cream
Sprinkles, crumbled flake, chocolate shavings and/or glitter to decorate
Take your trifle sponges or sponge cake and cut in half or into thin slices. Spread each slice with jam then place in the bottom and up the sides of a large bowl.
Sprinkle the sherry over the jammed sponges then tumble on the raspberries. Slice your bananas and squeeze over the lemon juice to stop them going brown. Add these to the raspberries.
In your stand mixer or in a large bowl with a whisk beat your mascarpone until softened. Add the fresh custard and whisk/beat until smooth. Pour this onto the fruit and smooth the layer.
Finally whisk the double cream until it holds soft peaks then spoon onto the custard layer and swirl the top.
Top with sprinkles and glitter, at your discretion.