Anzac Biscuits Recipe
I am surprised I haven't shared an Anzac Biscuit recipe on Lucy Loves before. They are a huge favourite with me and we have them a lot at work because a) we have a Kiwi head chef and b) our accountant is a dab hand at making these oat based beauties. I love a baked item with history and these biscuits have quite a bit of previous. They were made by the relatives of Australian and New Zealand soldiers during World War 1 when the families were concerned for their loved ones nutritional welfare during their time in battle. The wholesome ingredients didn't spoil easily, therefore making them travel well and they were filling and nutritious. The Anzac biscuits in our office only travel in from Hertfordshire and don't get much of a chance to spoil as we usually eat them in a day or two but the sentiment is there. So in honour of this week's Anzac Day commemorations, whip up a batch of these Anzac Biscuits, as a mark of respect and because they are delicious.
These sweet, crisp yet still chewy treats couldn't be much easier to make if they tried. They are made in just two bowls making them washing up shy and there's no need to dirty your mixer. From thinking about Anzac Biscuits to eating Anzac Biscuits the time span is a scant 30 minutes, even less if you eat them burning hot from the oven tray *I did and burnt my mouth again*. They are sweet, but not sickly, and wonderfully chewy and horribly moreish. I ate 4 without a backward glance as I hurtled off the diet wagon for the 20th time this week. This version of these classic, historical baked goods came from the Taste website, based in Australia, so they must be authentic, with thanks.
A quick, delicious bake to fill an empty biscuit jar, and history to boot, what more could you ask for. I made two batches today and there are a scant handful left with the majority being eaten, hot, straight from the tray. As they did nearly 100 years ago, however, they do keep well, should you not have such a voracious appetite as me and my family.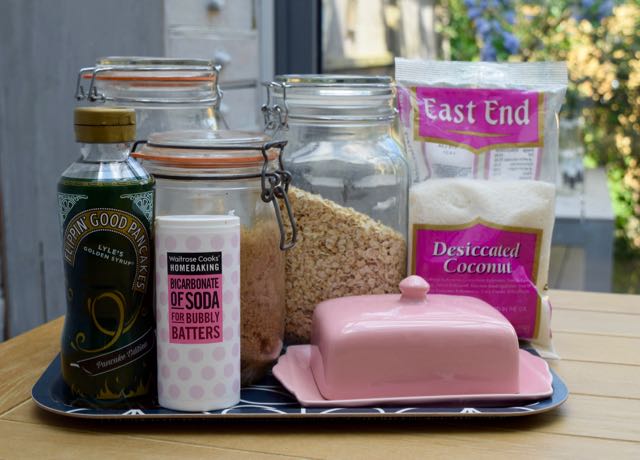 Super simple, hardy ingredients with great travelling qualities. Not that mine had much of a journey, just from the tray to my mouth. And I managed not to forget anything, so well done me.
Make a start by pre heating your oven to 160 degrees fan and lining a couple of large baking trays with greaseproof paper or buttering them well. Now take a small microwaveable bowl or saucepan and add the butter, golden syrup and two tablespoons of water.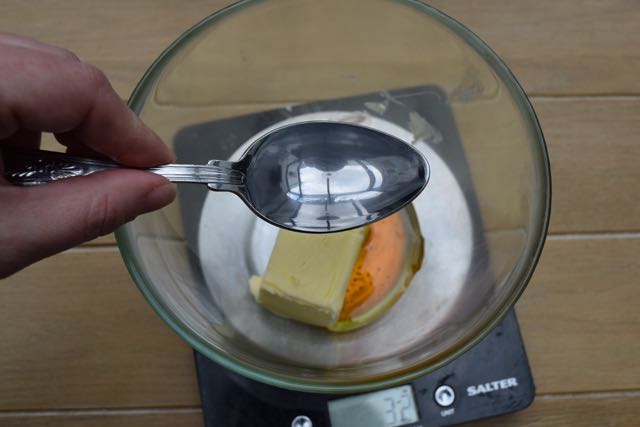 Either melt in the microwave for a minute and a half-ish or on the hob until the butter is just melting.
While this tiny bit of cooking is going on, measure out your dry ingredients into a large bowl. Add the oats and the flour.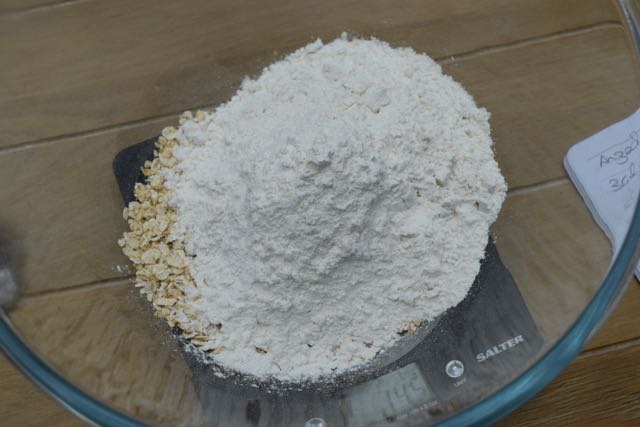 Follow in with the soft brown sugar, not pictured here as I forgot to add it until later *overtired*, and then stir in the coconut.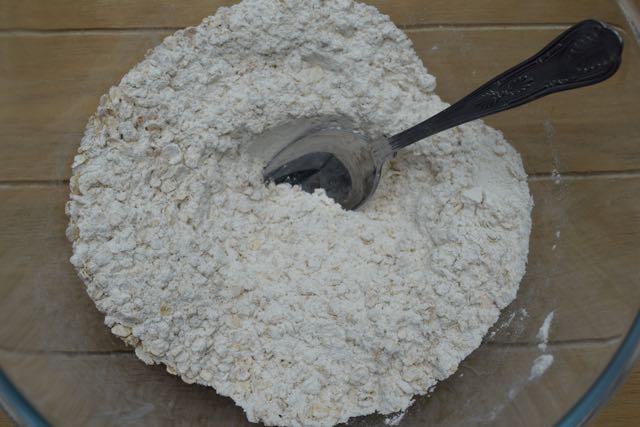 When the butter syrup affair has melted, stir through the half teaspoon bicarbonate of soda then pour this warm, sweet mixture into the dry bits.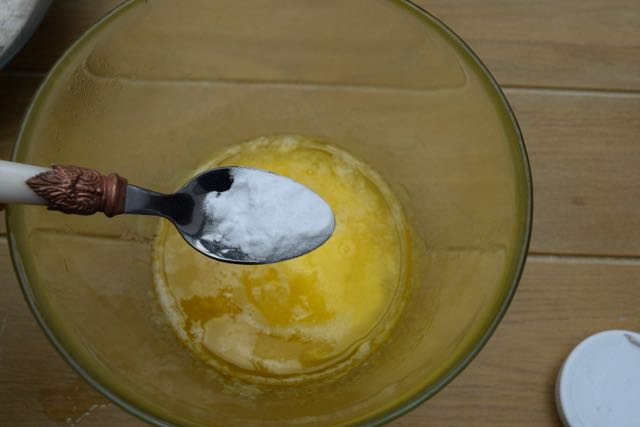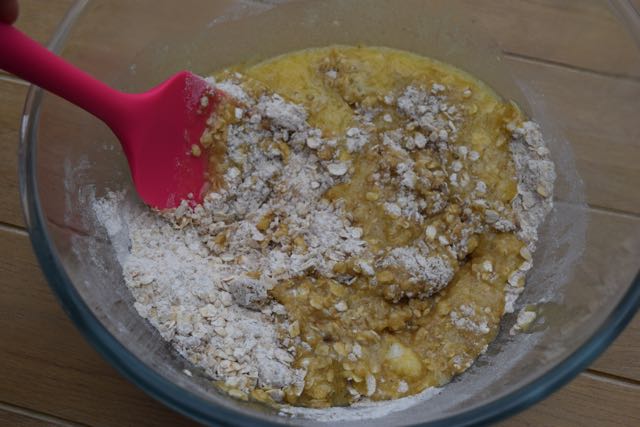 Stir it all together until it becomes an oaty dough business. Fashion tablespoons of the mixture into balls and pop them onto your lined baking trays.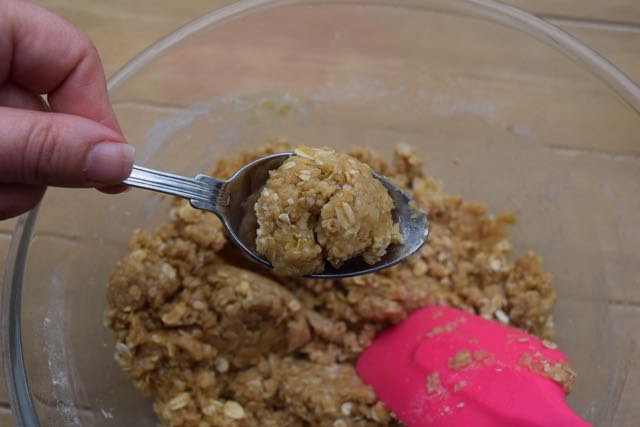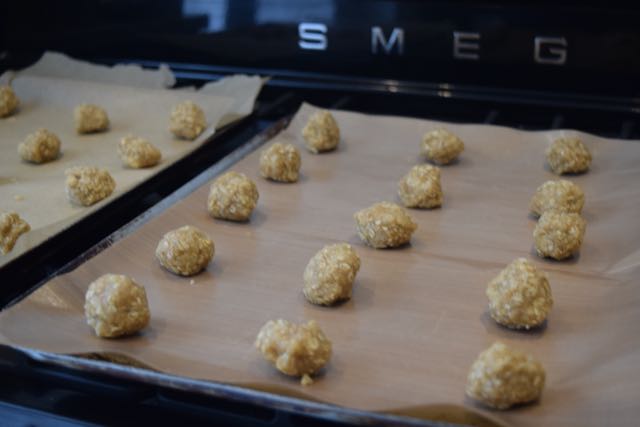 Flatten your Anzac's slightly before placing the trays of balls into the pre heated oven. 10 to 12 minutes should be perfect. The cooked biscuits will be golden, firm on the edges, but still soft in the middle and smelling divine.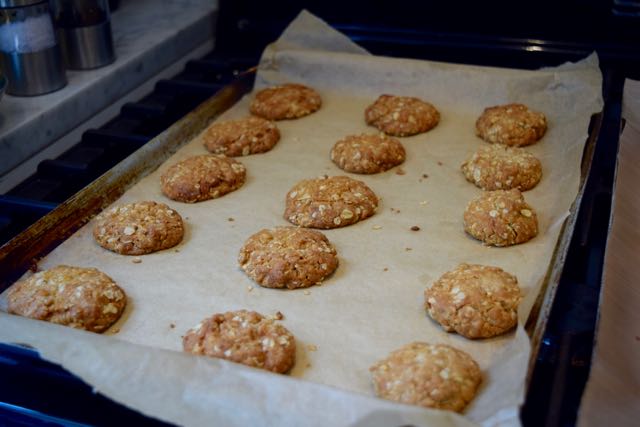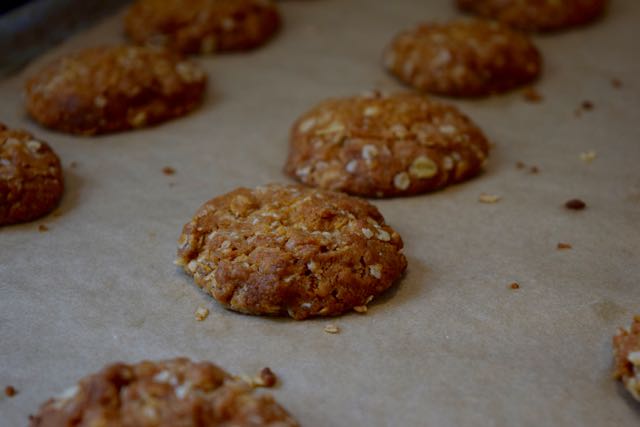 Allow the Anzac Biscuits to cool for a moment, if you an bear to, before enjoying one or two or five with a cup of coffee.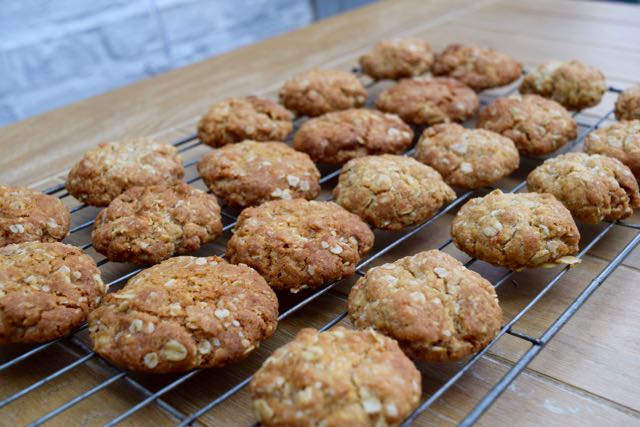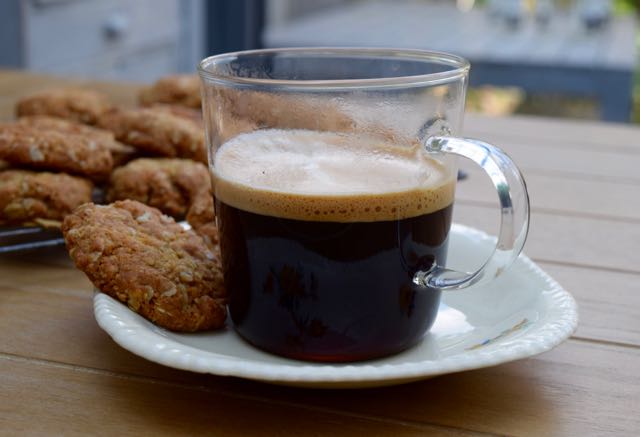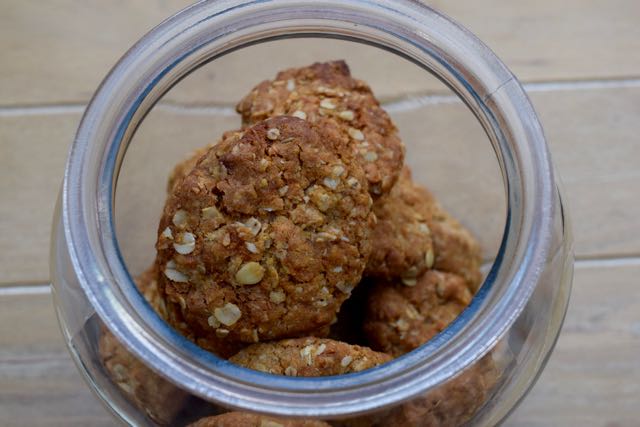 I was slightly overtired *hungover* after a manic weekend when I made these biccies. I had spent most of the weekend in the kitchen but the bit of light stirring and rolling to make these, felt effortless but for huge, warm and comforting reward. There's nothing finer than a jar of fresh biscuits to welcome you home. If only this jar had stayed full, I am sure they would have been very welcoming.
Lucy x
Anzac Biscuits Recipe
Makes 25 to 30
You will need a bowl and two lined or buttered baking sheets
125g butter, I used salted
2 tablespoons or 30ml golden syrup
2 tablespoons water
1/2 teaspoon bicarbonate of soda
150g plain flour
100g porridge oats
50g desiccated coconut
100g soft brown sugar
Pre heat your oven to 160 degrees fan assisted and line two large baking sheets with greaseproof paper or butter them well.
Take a small bowl, jug or saucepan and add the butter, golden syrup and water. Microwave for a couple of minutes or heat on the hob until the butter has melted and the ingredients meld together.
In a large bowl measure in the flour, porridge oats, coconut and soft brown sugar.
When the butter has melted, stir in the bicarbonate of soda then pour this into the oat mixture. Stir well until the mixture starts to stick together. Roll tablespoons of the mixture into balls and place onto the lined baking sheets. Flatten the balls a little with your hands.
Place in the oven for 10 to 12 minutes or until the biscuits are just starting to turn golden brown and are smelling wonderful.
Leave to cool slightly before eating the whole lot, or at least one or two. Any leftovers can be kept in an airtight tin for up to a week.