Avocado, Pine Nut and Chorizo Salad Recipe
Finally the sun's out and it's salad season again. Those winter months are just not conducive to eating leaves alone, but once the warmer *fingers crossed* months arrive, I am happy to become the queen of salads. That said, the more loaded the salad is, the better. In our house, a bowl of leaves alone does not cut the mustard. Salad Lucy Loves style needs to be laden with cheese, avocado and meats in order for anyone other than me to eat it. So I present to you, my Avocado, Pine Nut and Chorizo Salad recipe.
This has been hailed by the family *not George who only ate the cheese and chorizo* as the best salad ever. Fair compliment from two thirds of the vegetable dodging men in my life. And I have to say, I do agree with them as this is bloody tasty. I chose chorizo instead of pancetta on this occasion for a change of scenery and the thinly sliced version crisps up so brilliantly, it's perfect. This tasty dish is based on one from the talented Jamie Oliver, thank you, Jamie.
For the dressing, I used some wonderful This is Good Macadamia Nut Oil recently, and kindly, sent to me to try.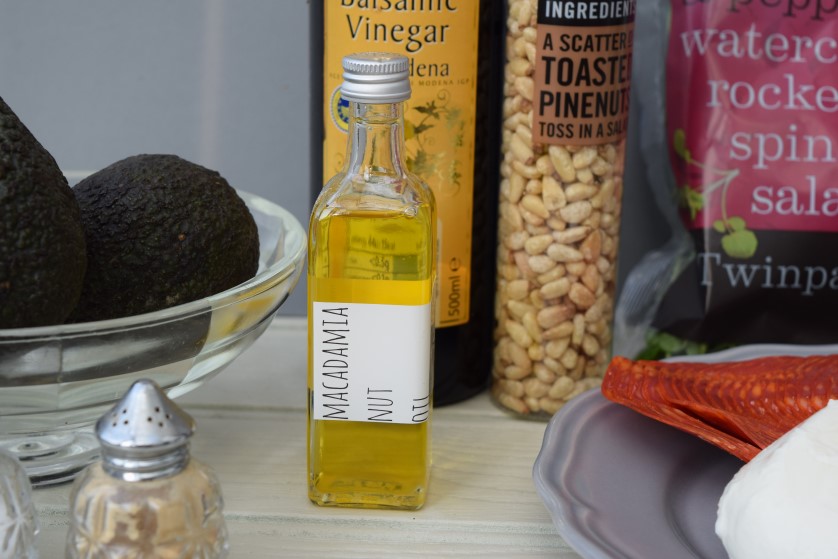 This was my first outing for this golden, nut oil and it was wonderful and worked brilliantly in the dressing. It's has an incredibly mild, smooth flavour without the bitterness of some other oils. On the health benefits front, This is Good Macadamia Nut Oil is high in 'good' fats and low in saturated fats and a fab source of Omega 9. It's not cheap, but worth trying not just because it's good for you, but because it is super tasty.
Rambling over, it's not often something green gets such a warm welcome at our table, but it was wolfed down. This Avocado, Pine Nut and Chorizo salad makes perfect picnic fodder, pack it into a basket with a couple of forks, served as a dinner party first course or as a summer side dish. You can also make this all your own by varying the choice of cheese or meat. Try feta, goats or blue cheese with crispy pancetta, proscuitto or bacon. This is a summer blank canvas of a dish to be enjoyed anywhere and anyhow.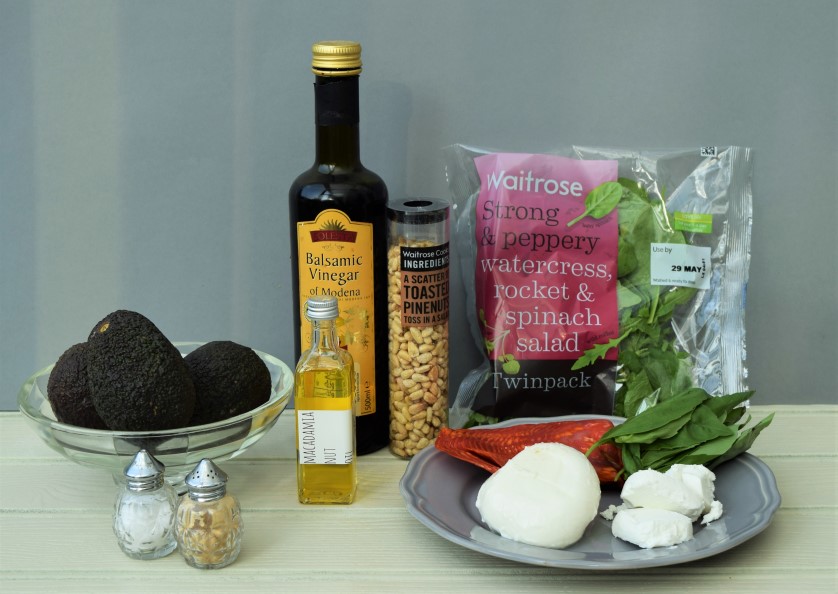 Here's the fresh and delectable line up for my salad. I went half mozzarella and half goats cheese as Clyde loves the former, I love the latter.
This is such a simple dish and is virtually cooking free. Make a start with the only bit of stove work needed. Heat a frying pan over a medium heat and add the snipped chorizo.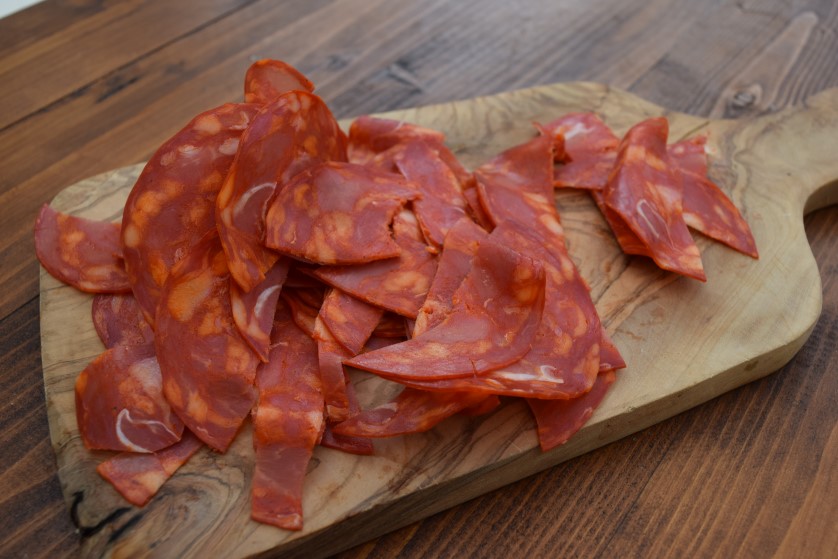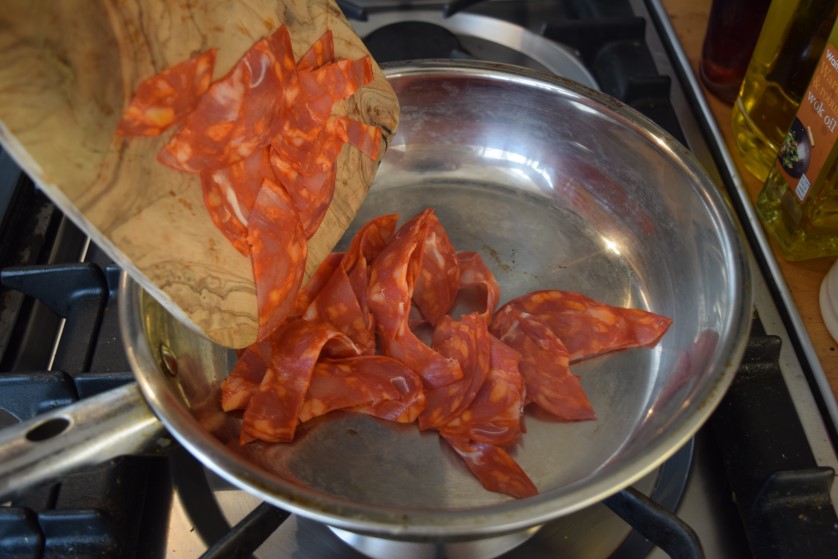 Cook this for a couple of minutes or until crisp then leave to drain on some kitchen paper and pop to one side until later.
Using the same pan, unless super mucky in which case give it a rinse, and pop the pine nuts in to toast for a minute or so.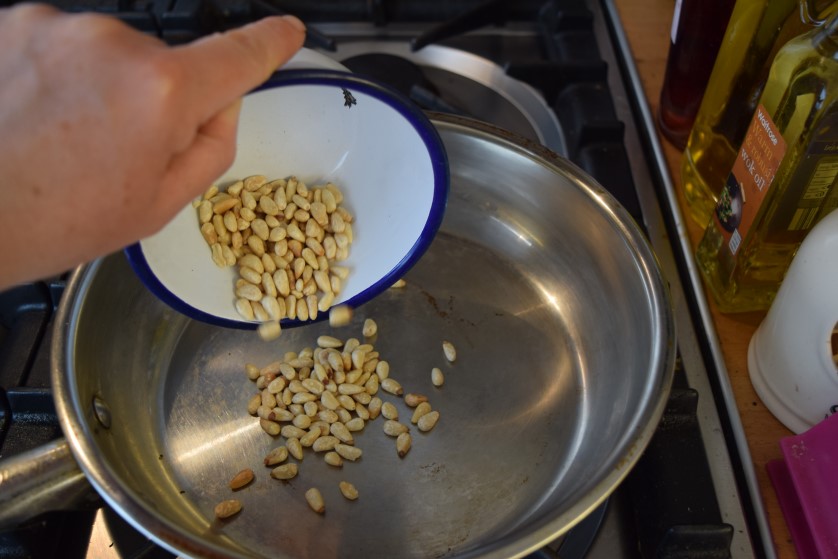 Keep an eye on them, the nuts can burn and be ruined in seconds. Once toasted, pop to one side along with the crispy chorizo.
Next, peel, stone and slice the avocado. Season and spritz with a little lemon juice to prevent it from turning brown.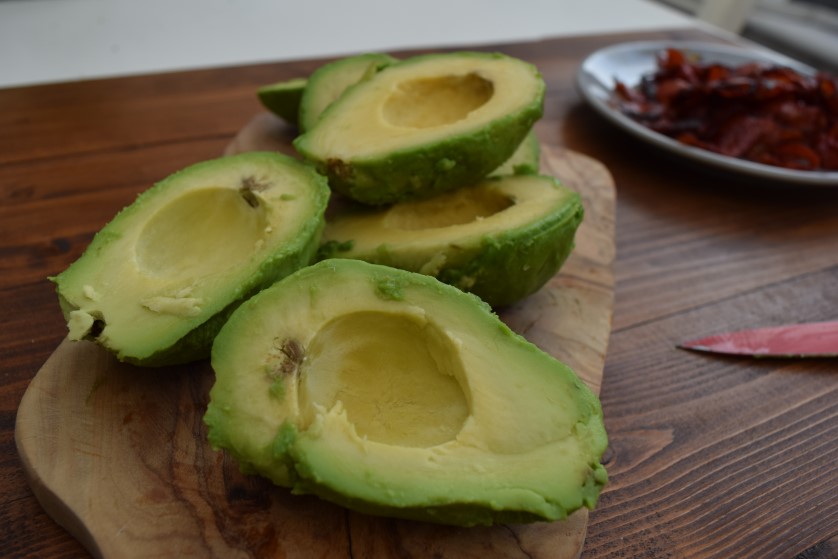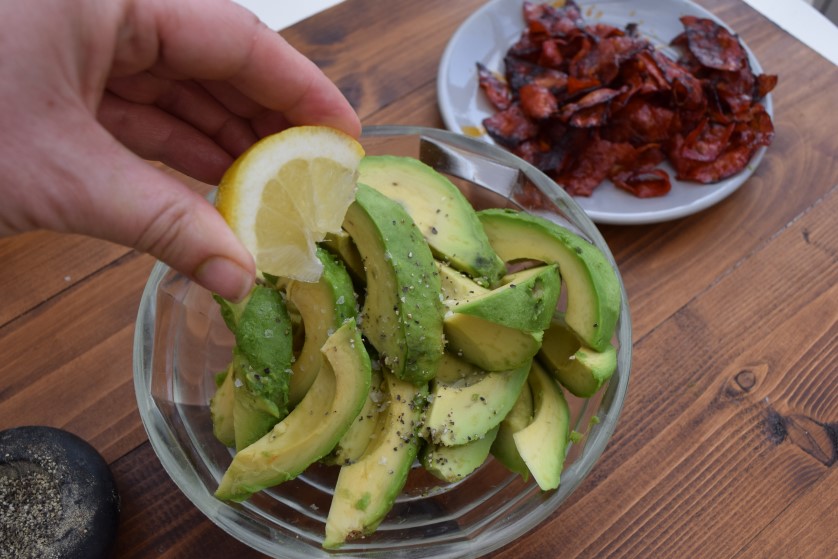 Finally, make the wonderfully smooth Macadamia Nut oil dressing. Pour two tablespoons of oil and one tablespoon of balsamic vinegar into a jar. Season then shake well to mix.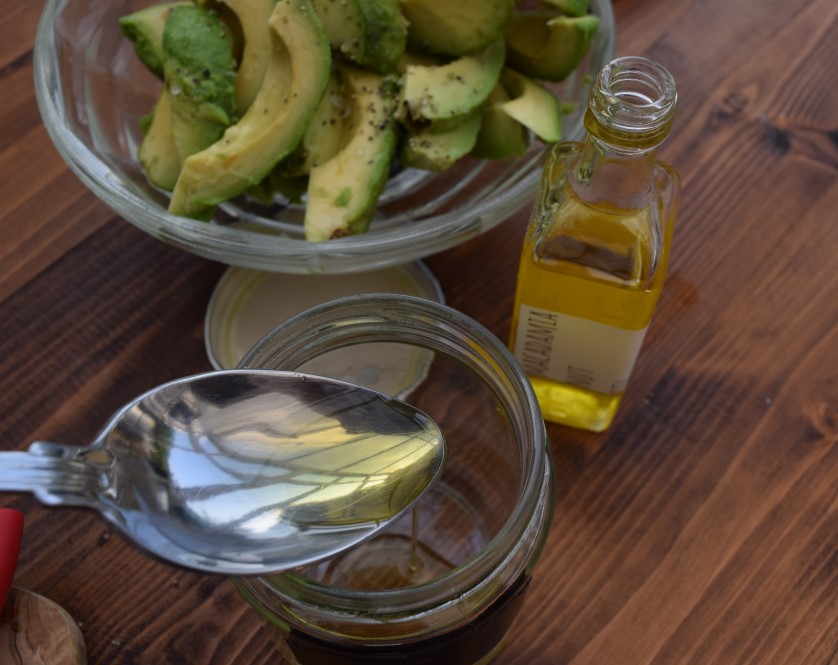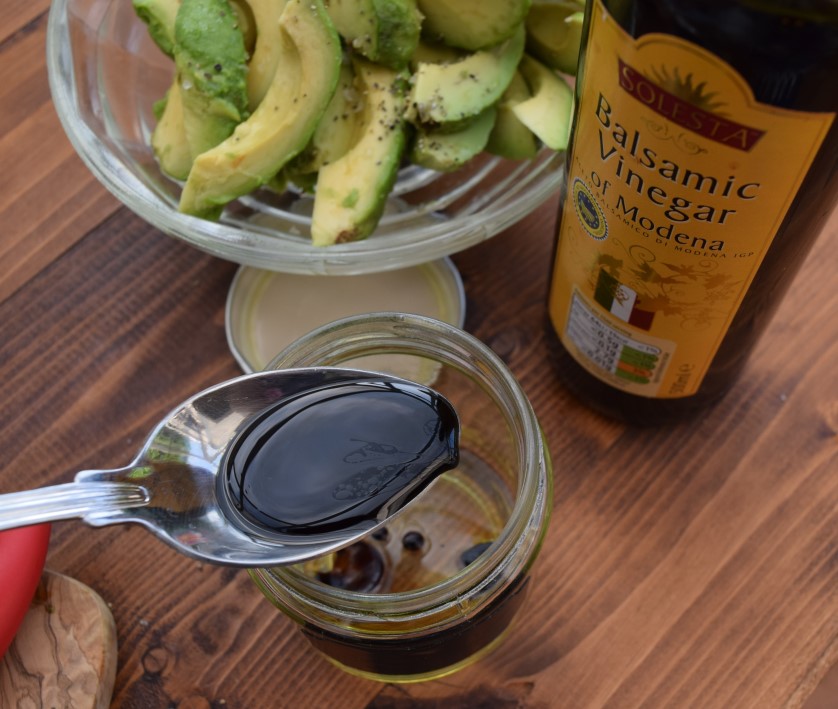 And now it's time to assemble all these wonderful ingredients.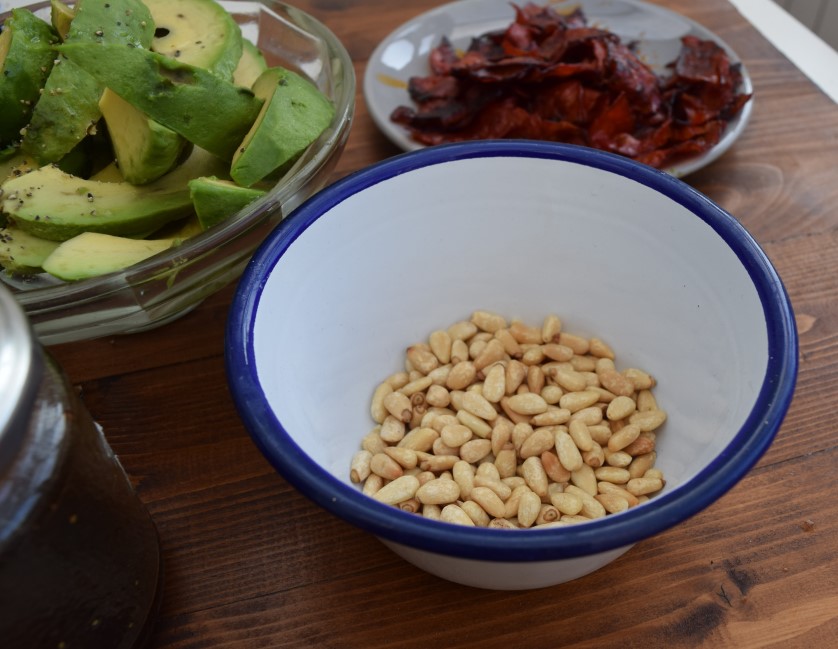 Make a start by taking a large plate, platter or board and adding your choice of leaves. Add the slices of avocado and arrange artfully *messy if you're me*. Tear up or chop your cheese choices and dot these onto the salad leaves.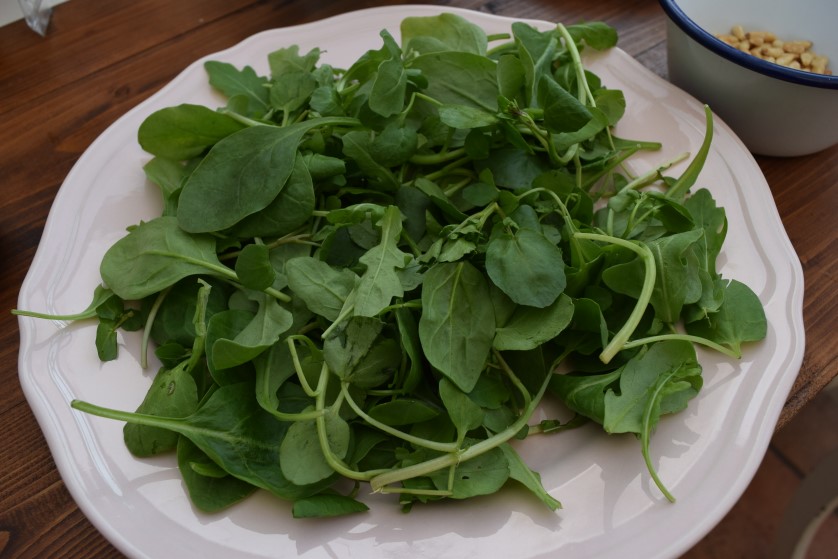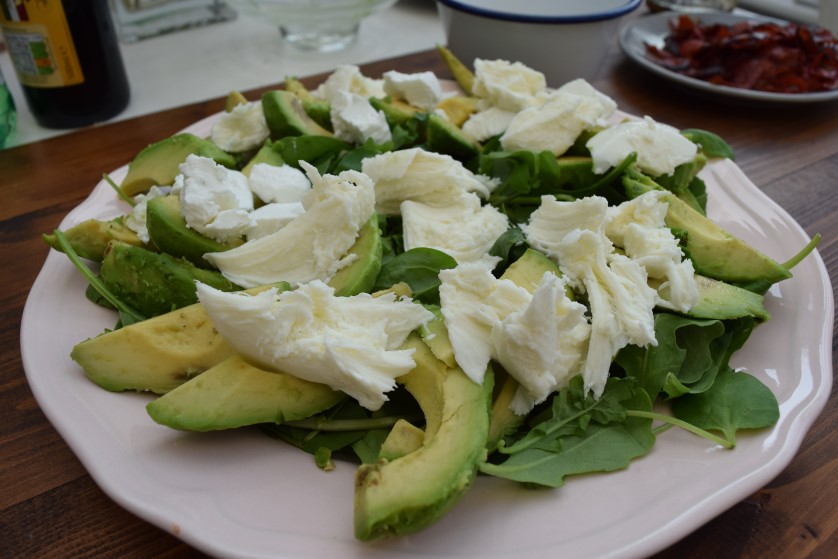 Scatter the toasted pine nuts and handful of torn basil and sprinkle the crisp chorizo, trying not to eat too much of it as you adorn the dish.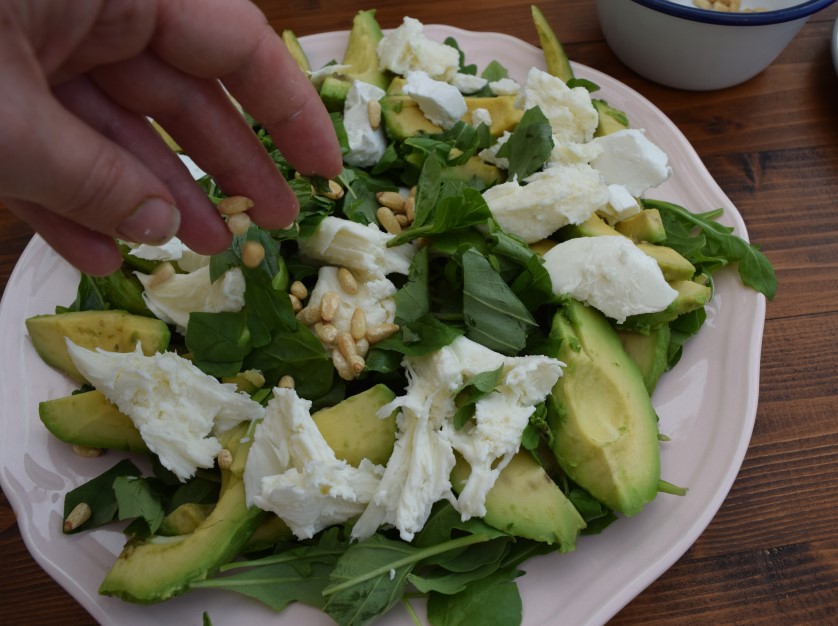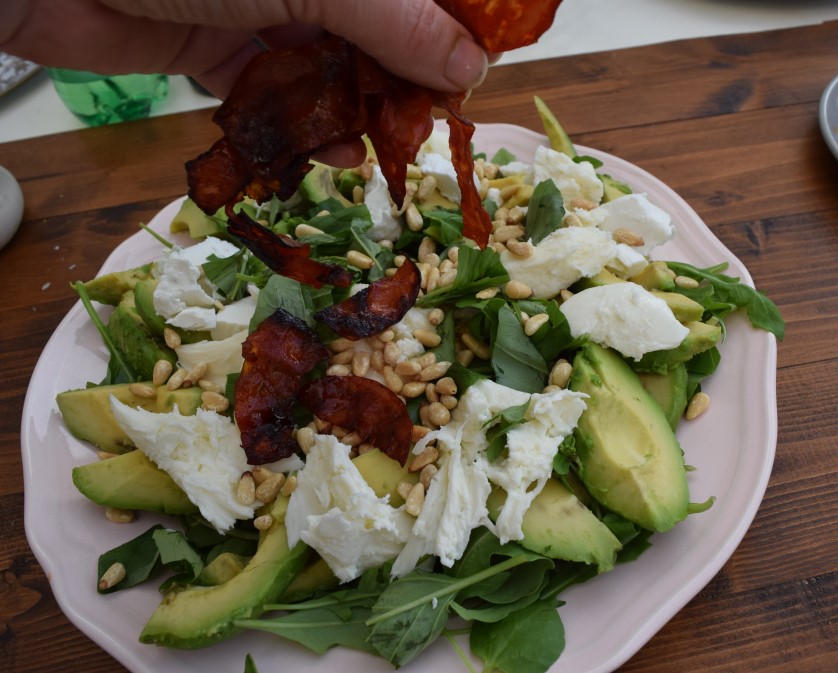 Finally, last to this salad party is the wonderful Macadamia Nut oil dressing. Drizzle away.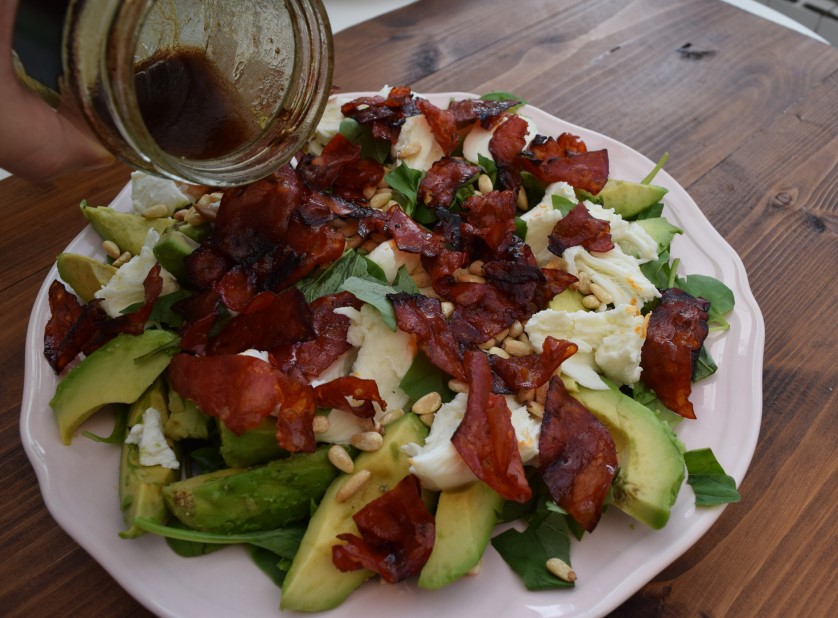 And that's it. Serve this salad immediately and devour.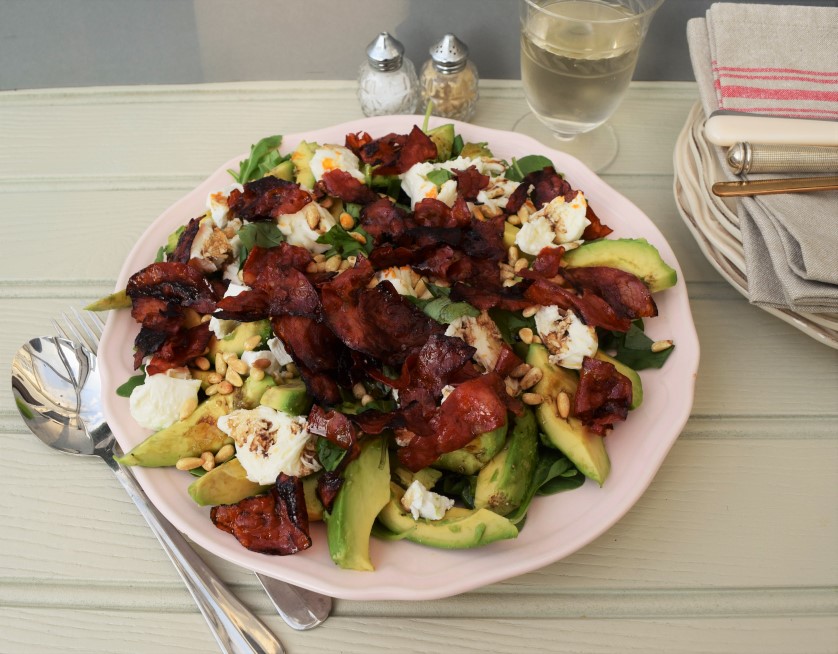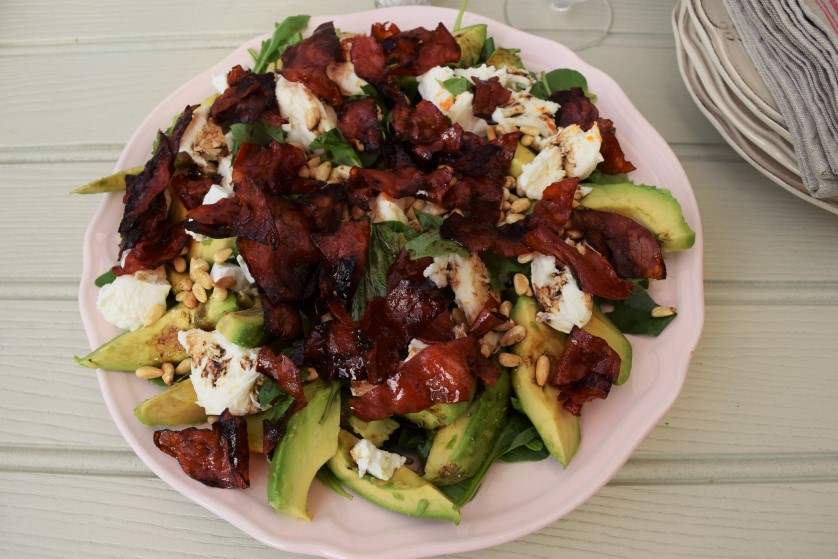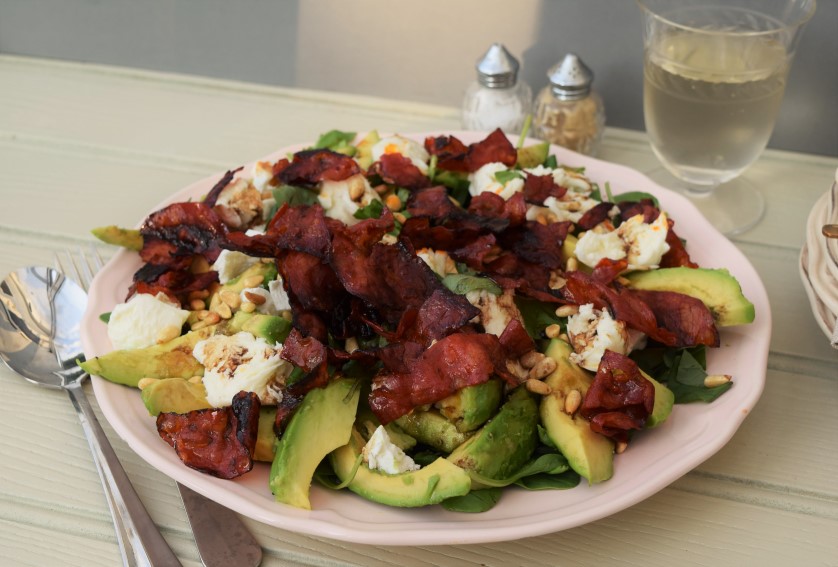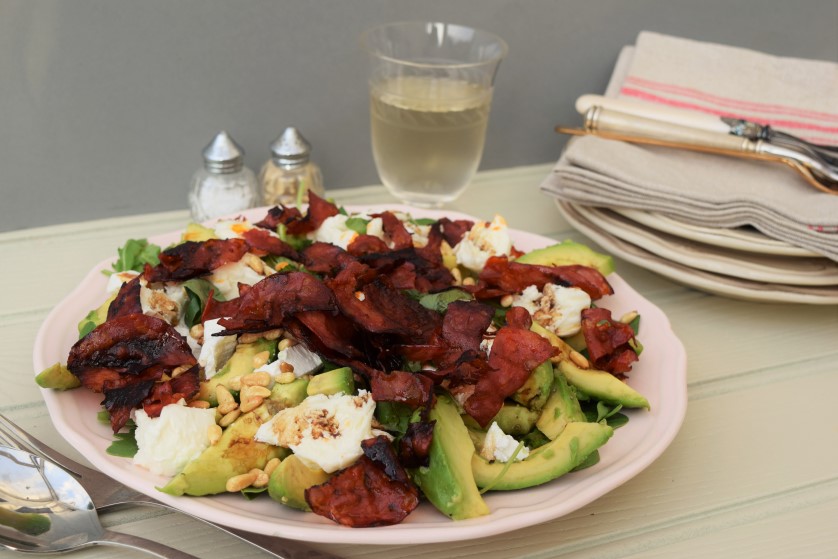 I love this salad and am so pleased the summer is here to enjoy it. That said, this is so delicious there is no reason why you couldn't eat this in the winter with the heating on and a bobble hat. I hope you agree.
Lucy x
This Is Good sent me the Macadamia Nut Oil sample to try, but all opinions and ramblings are, as always, my own.
Avocado, Pine Nut and Chorizo Salad Recipe
Serves 3 to 4 as first course, light lunch or side
You won't need any exciting equipment for this
100g sliced chorizo or pancetta
A small bag of salad leaves or spinach
2 to 3 ripe avocado, peeled, stoned and sliced
A squeeze fresh lemon juice
A handful fresh basil leaves, torn
2 x 125g mozzarella or approx 200g goats cheese
50g pine nuts
Dressing
2 tablespoons macadamia nut oil, or oil of your choice
1 tablespoon balsamic vinegar
salt and pepper
Take your chorizo or pancetta slices and snip them into strips. Heat a medium sized frying pan until hot then add the strips and fry until crisp. This should only take a couple of minutes. Once browning and crispy, put onto some kitchen paper to drain and cool.
Wipe the frying pan or wash if super dirty, then add the pine nuts and toast for a minute or so until just starting to brown. Keep an eye on them as they will burn super quickly. Pop in a bowl and leave for a moment. To make the dressing add the macadamia nut oil and balsamic vinegar with a pinch of salt and pepper then shake to amalgamate.
Peel, stone and slice the avocados, adding some salt and pepper and a squeeze of lemon to stop them browning. On a large serving platter, board or plate assemble your salad by adding your choice of leaves. Top with the avocado slices and torn basil leaves. Tear or chop your mozzarella or goats cheese and dot this around onto the salad. Finally, sprinkle with pine nuts and crispy chorizo or pancetta then drizzle the whole salad with your dressing. Serve immediately as a lunch, first course or side salad.