Lemony Spaghetti Carbonara Recipe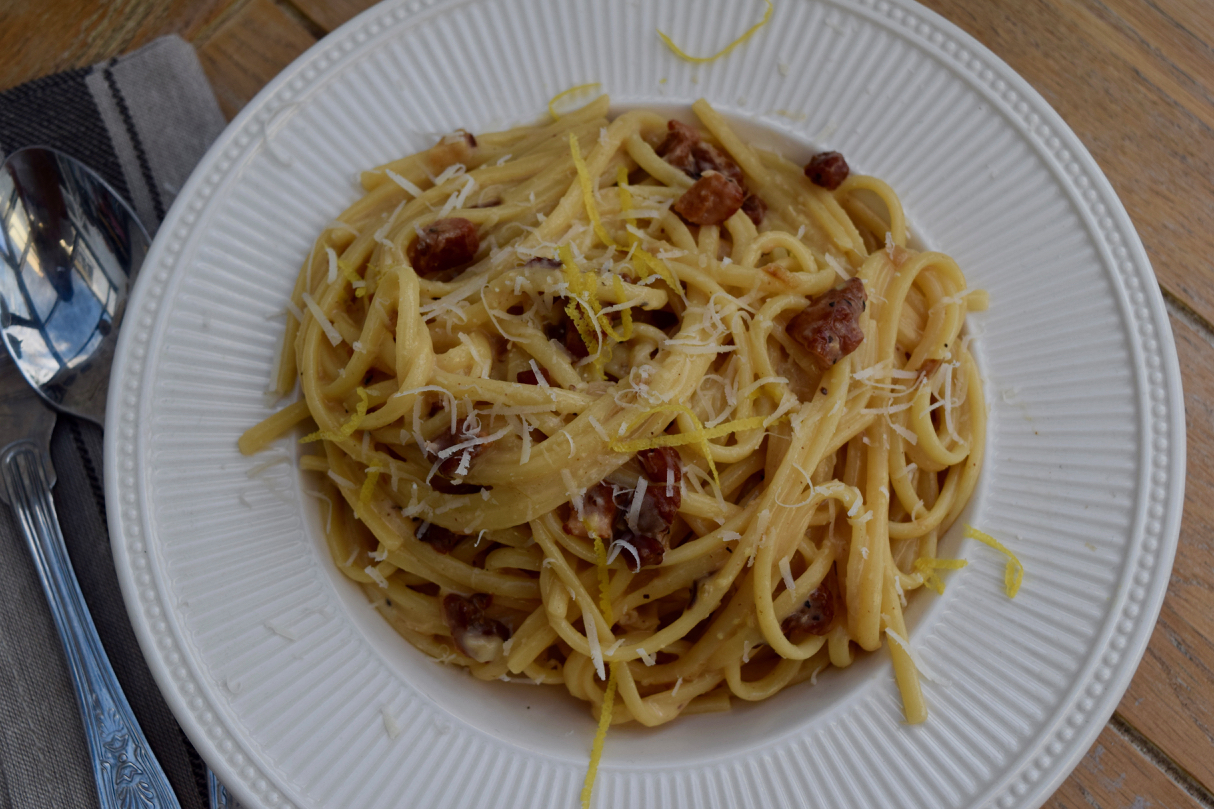 And just like that, the summer holidays are over and my house is quieter. Ben's gone back to uni, George is, so far, throwing himself into sixth form life and my fridge is taking slightly less of a daily battering. I'm feeling a little flat, as I always do when normality resumes, so I thought I'd share a bloody great big bowl of Lemony Spaghetti Carbonara with you, by way of comfort.
This recipe is a real winner. It's a reasonably glam midweek supper for you or guests, or if you have one of your little darlings heading off to uni, they can fork this up for themselves without blowing their grant in the first week. It's simple and super full flavoured. The pancetta, or streaky bacon if on a budget, is crisp and flavours the whole dish, with the lemon cutting through any richness. Using the pasta cooking water to create the sauce is a great tip and helps the cheese and egg yolk to amalgamate into something glossy and smooth. It's on the table in just under 20 minutes, so it won't take you away from the last of the summer evening sun for too long. I will be ever grateful to Bon Appetit for this total gem.
Pasta doesn't have to be pedestrian *tongue-twister* it can still be special. And judging by the way this Lemony Spaghetti Carbonara was inhaled by us, this really is special.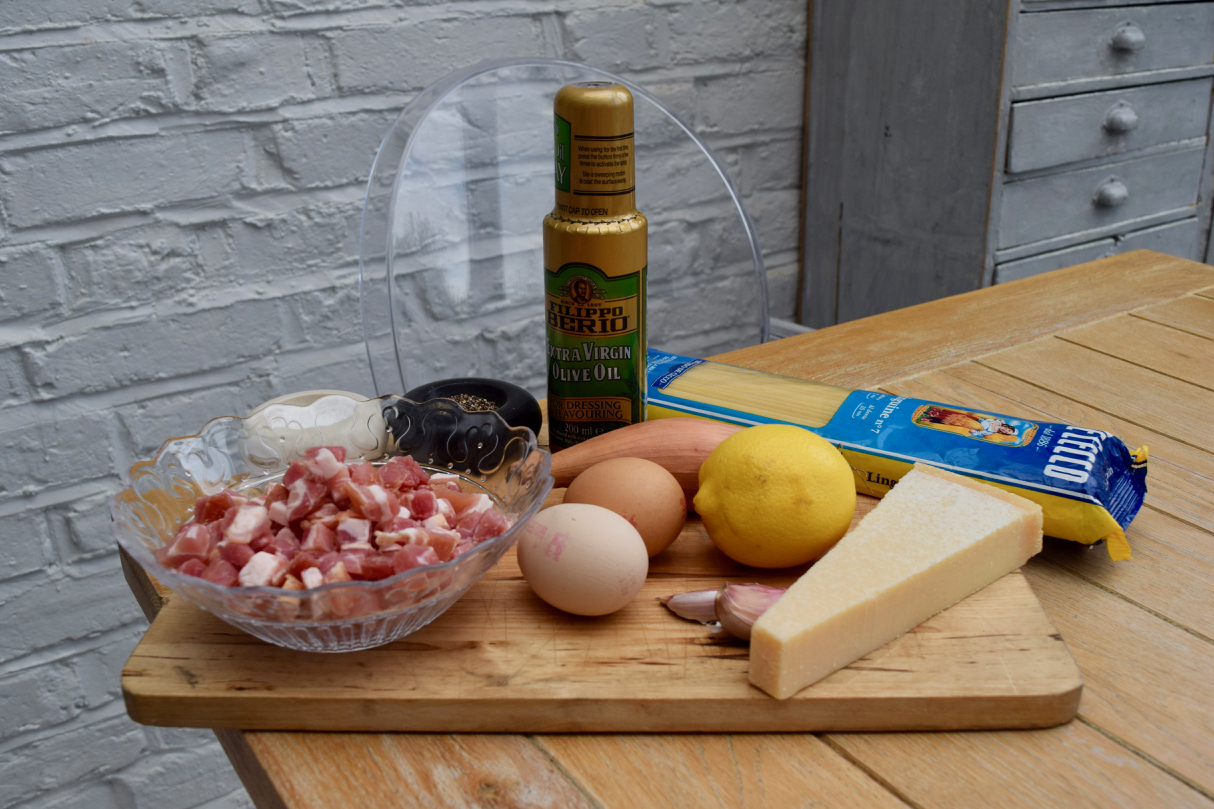 Crisp pancetta makes anything bloody delicious. Couple it with parmesan, egg yolk and lemon and you get a super tasty supper in next to no time.
Make a start by boiling the kettle and cooking your pasta according to the instructions on the packet. Whilst it's simmering, crack on with the sauce.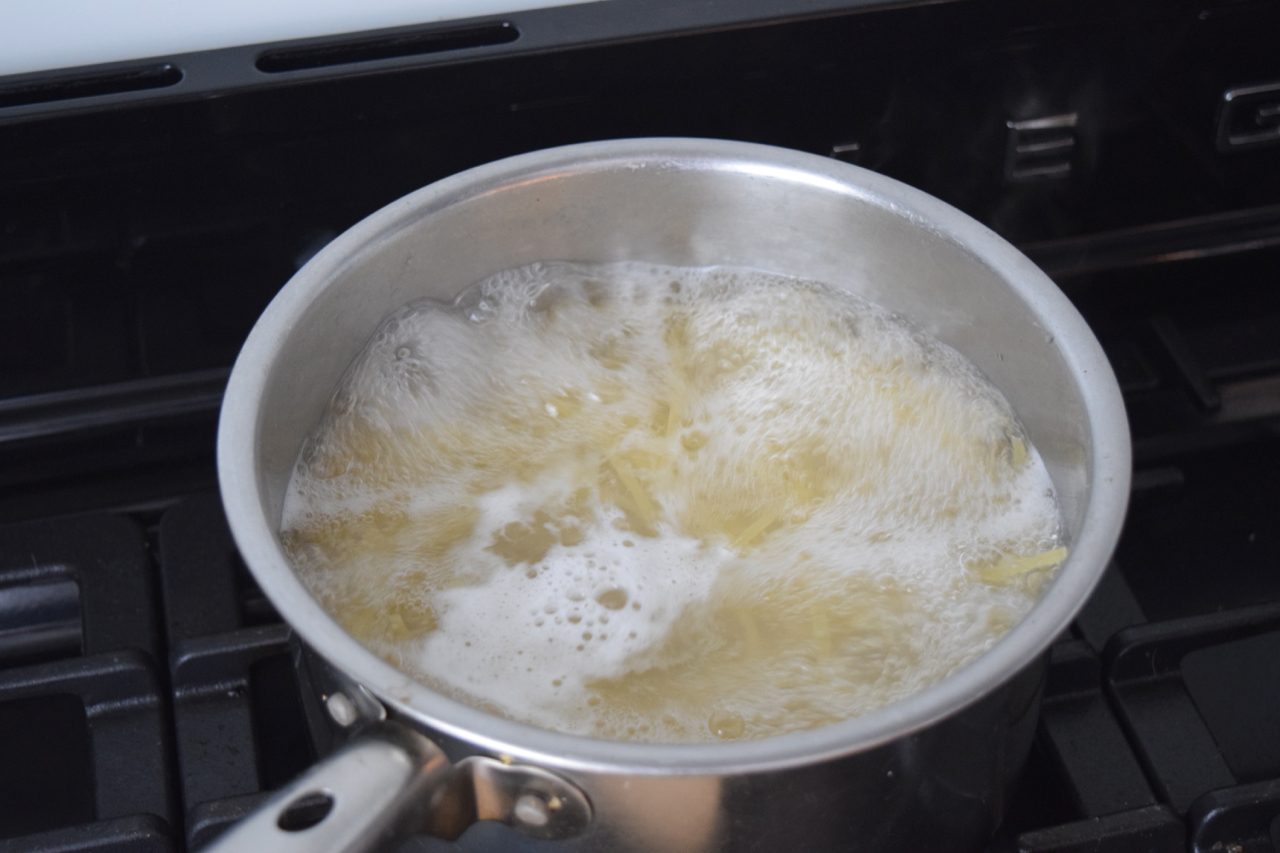 Take a large-ish frying pan and heat over a medium high flame. Add your pancetta or streaky bacon, chopped, and start to brown and crisp. This will take just over 5 minutes.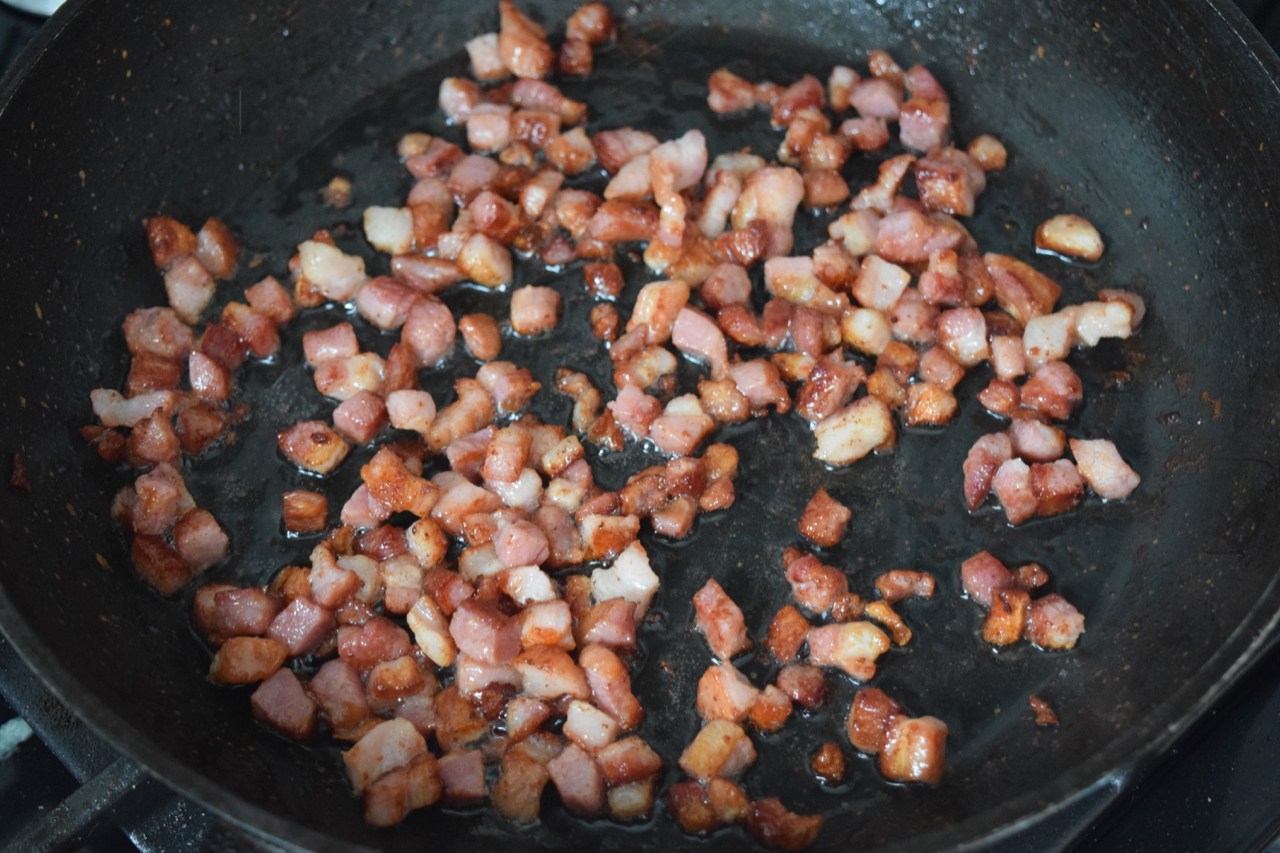 Finely chop your shallots and garlic, then turn down the heat slightly, and add to your crisped pancetta.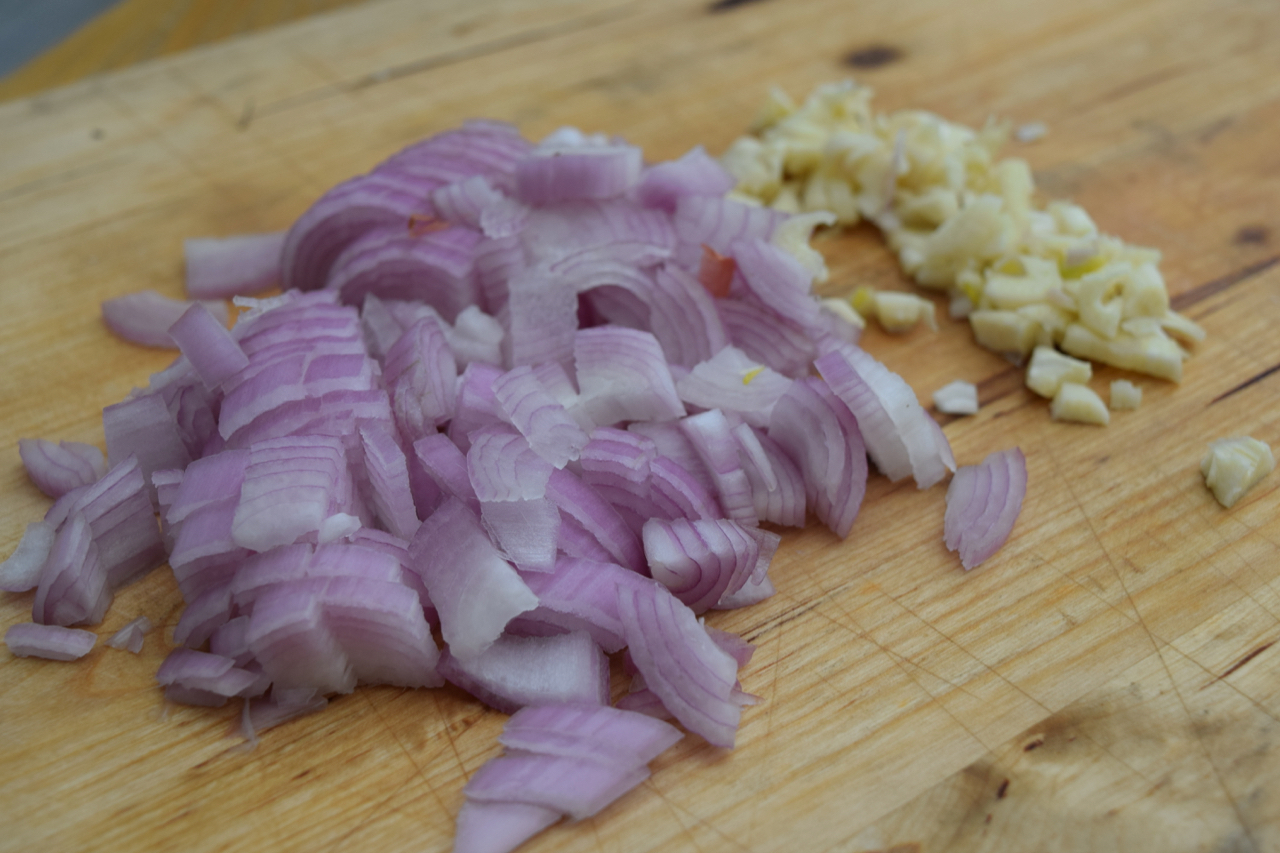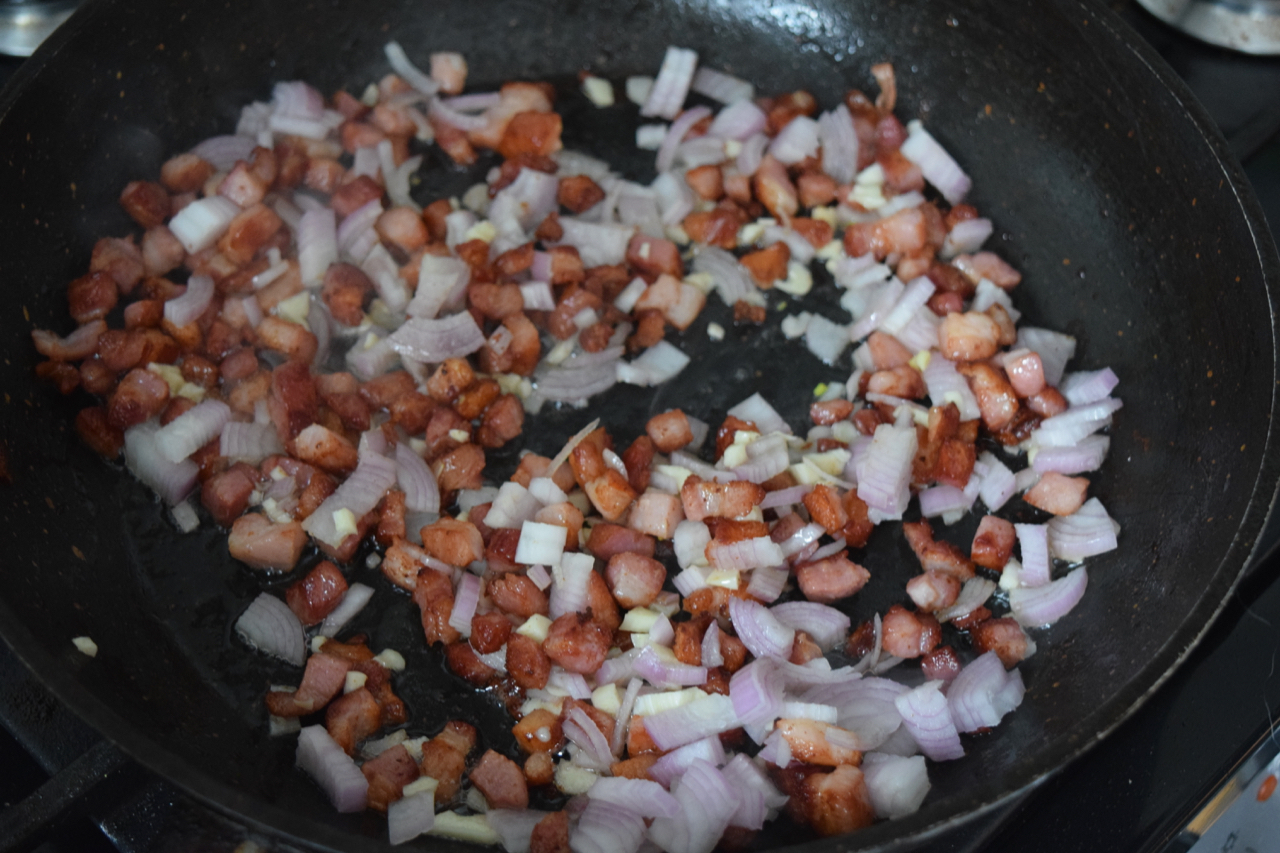 Cook for a further 5 minutes until the shallots and garlic have softened and taken on a little colour. Next, stir in the black pepper and cook for another minute.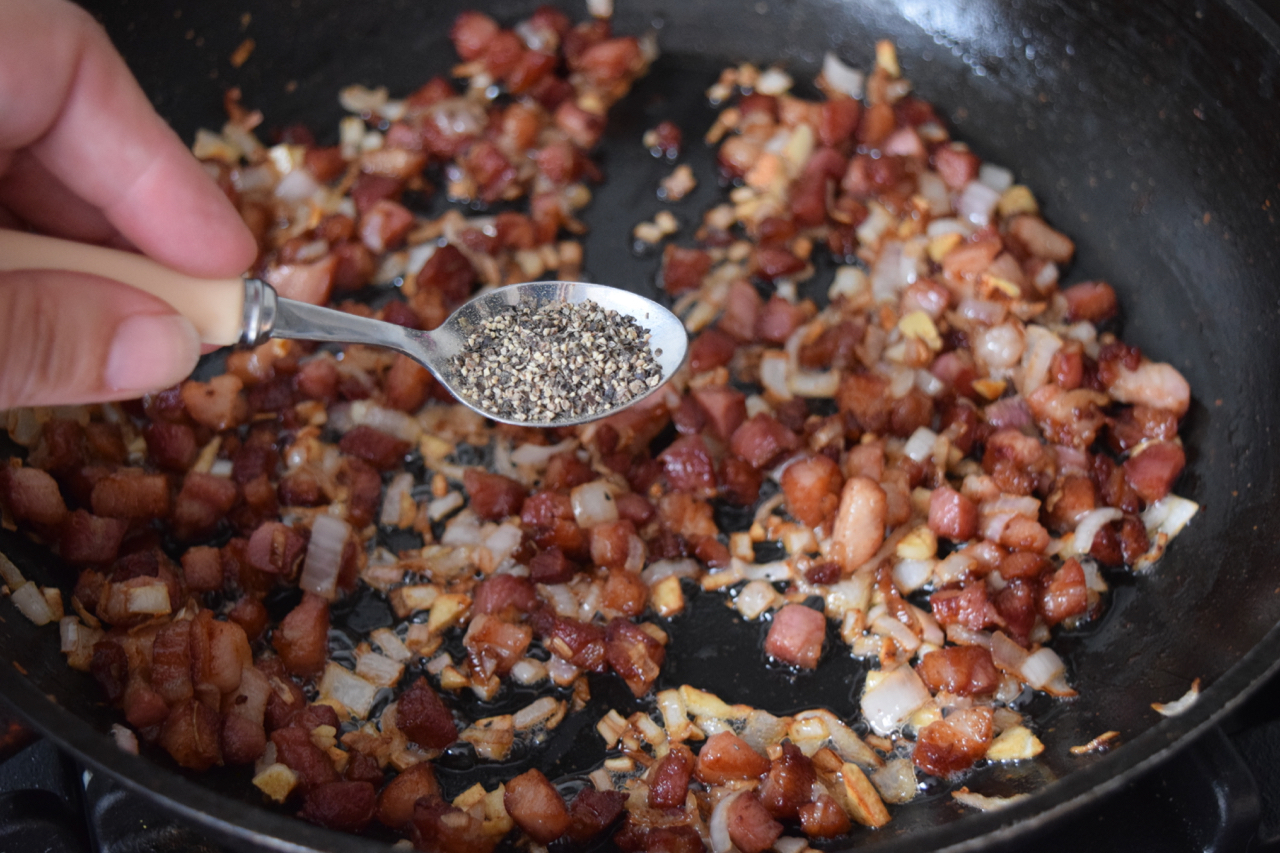 Before you drain your pasta, remove around 300ml of the cooking water and pop to one side.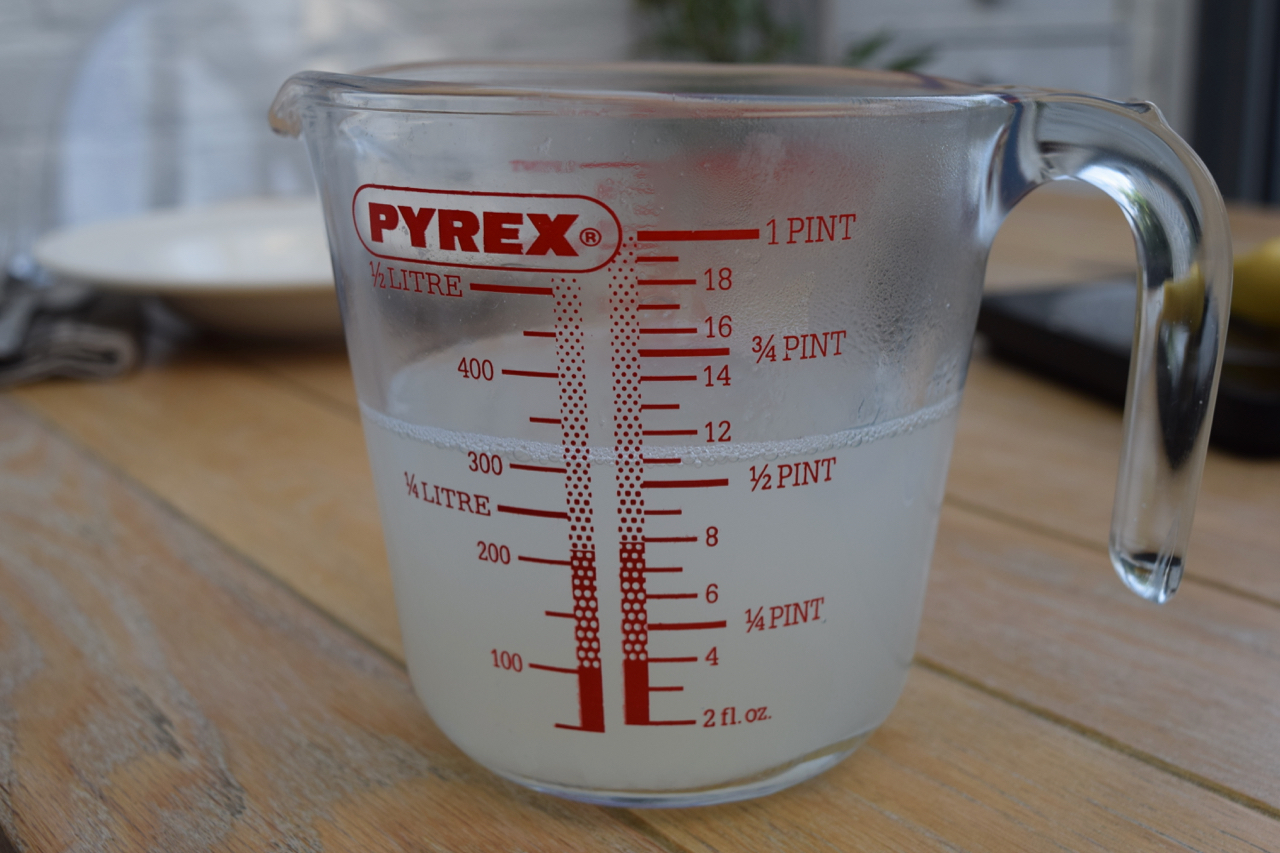 Tip the drained pasta into your pan of pancetta business and stir well.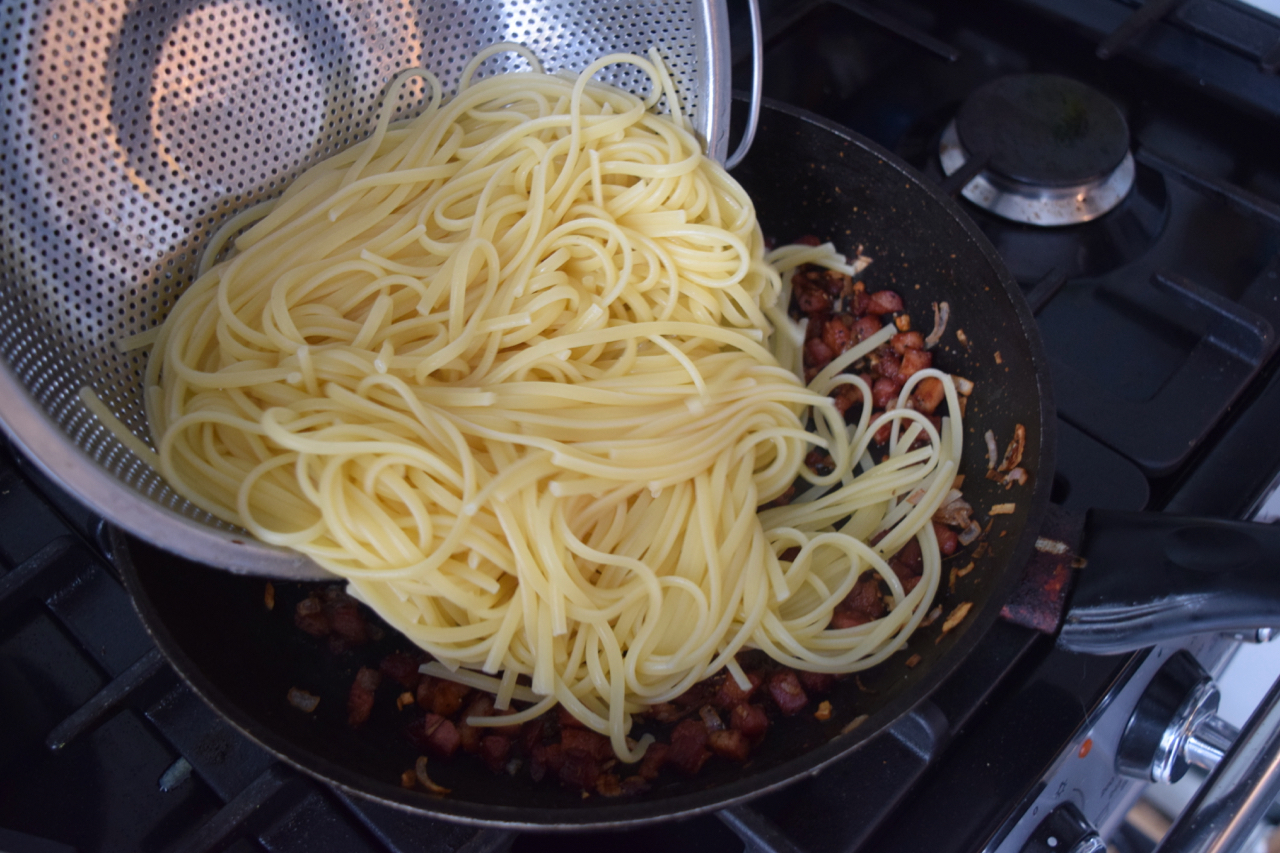 Pour in around 125ml of your reserved cooking water along with half the parmesan, and yes, stir again.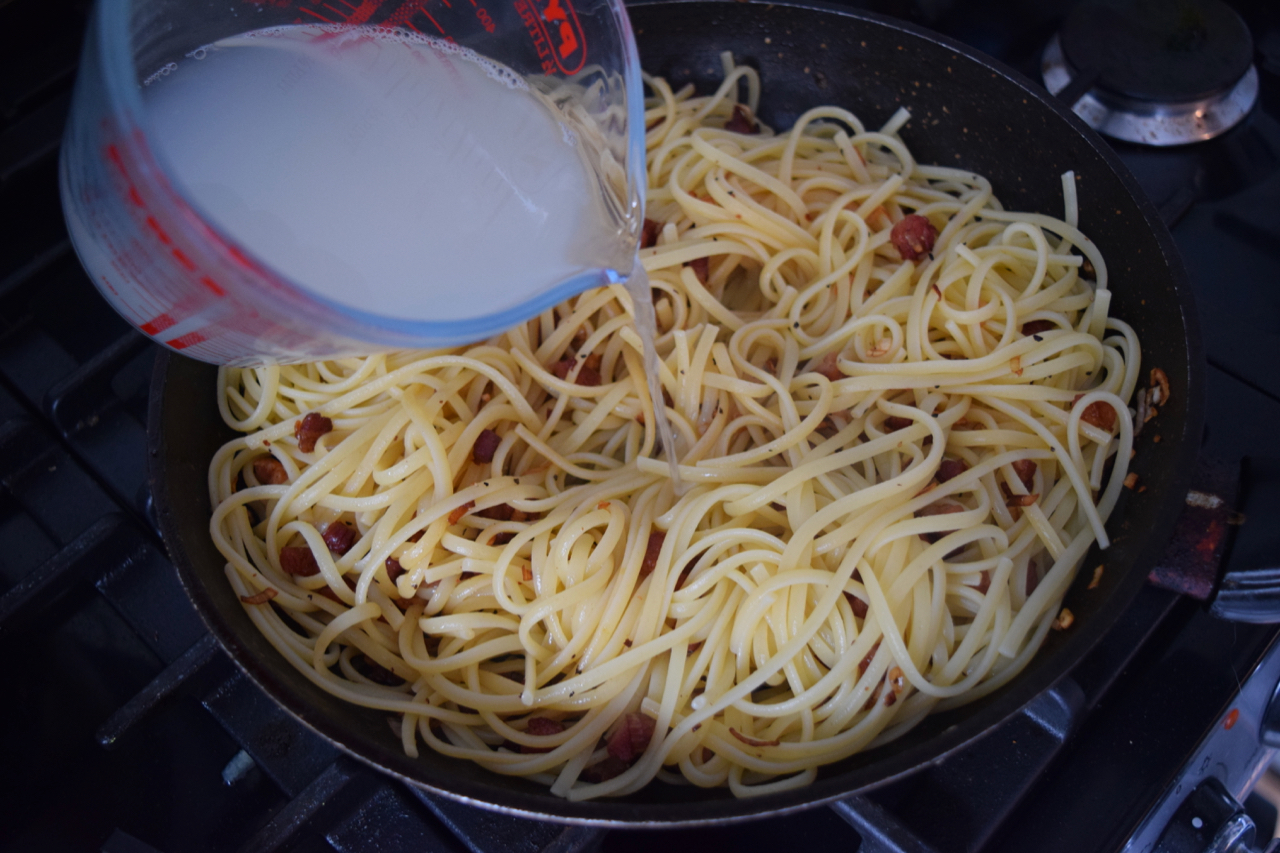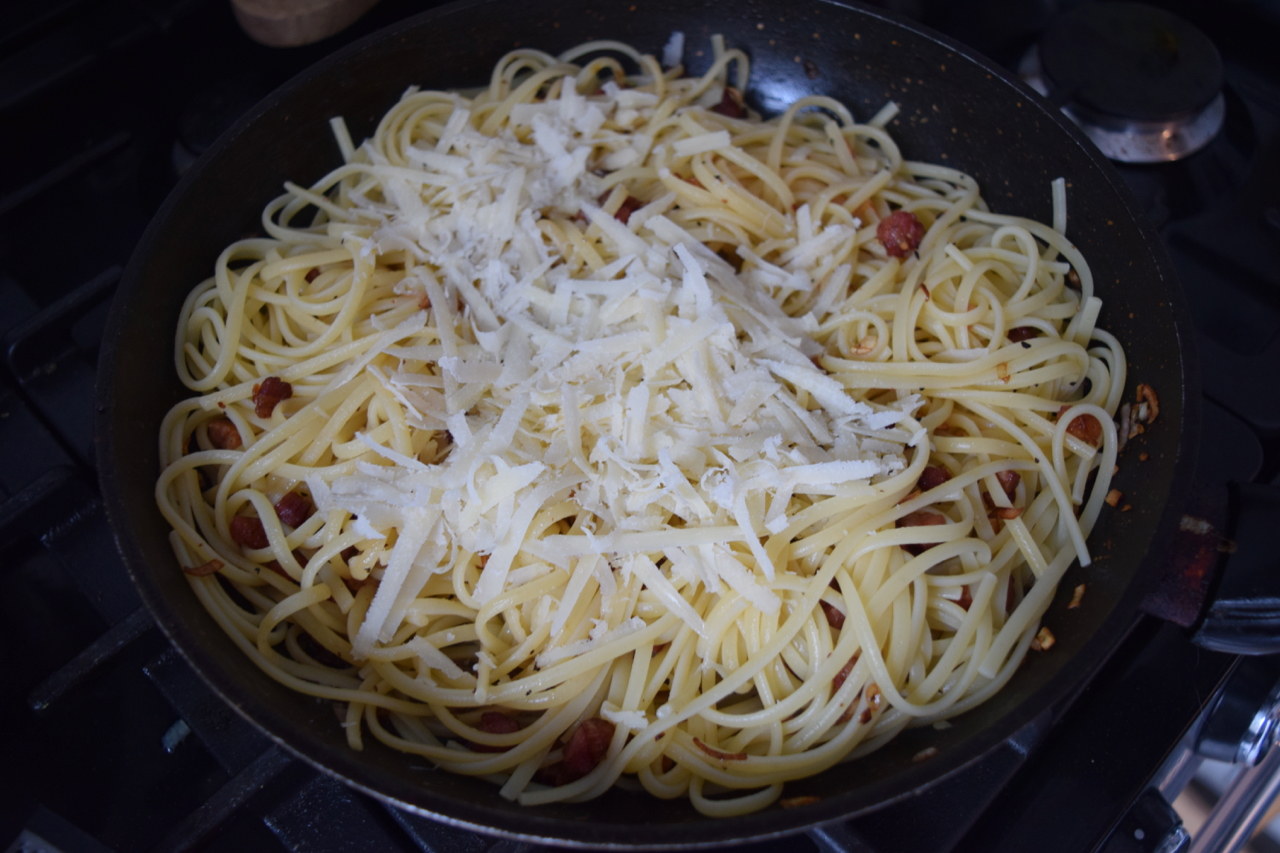 Your pasta will be coated with a light sauce at this stage. Now, take off the heat and tip in the two egg yolks, stirring well. Loosen the sauce off with a splash more pasta water. Then add the last of the parmesan.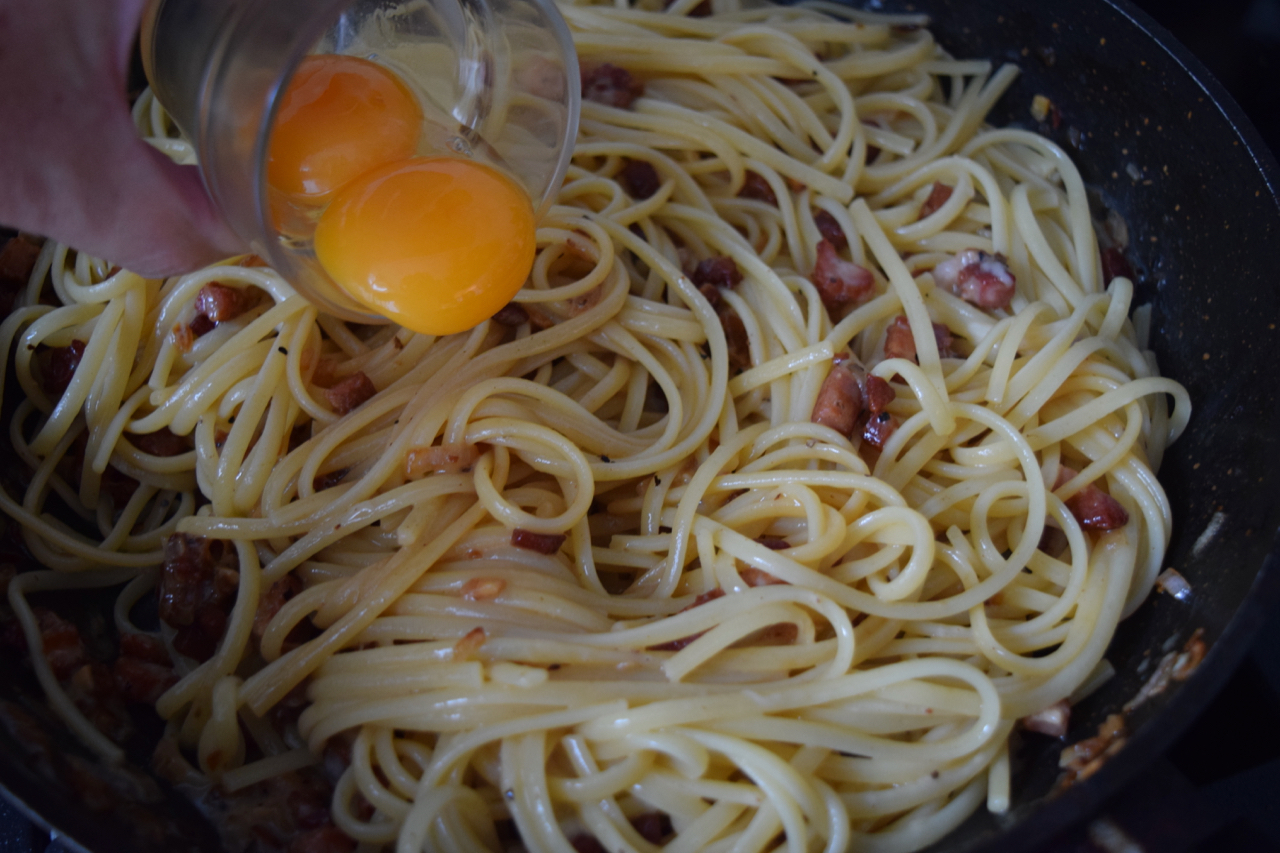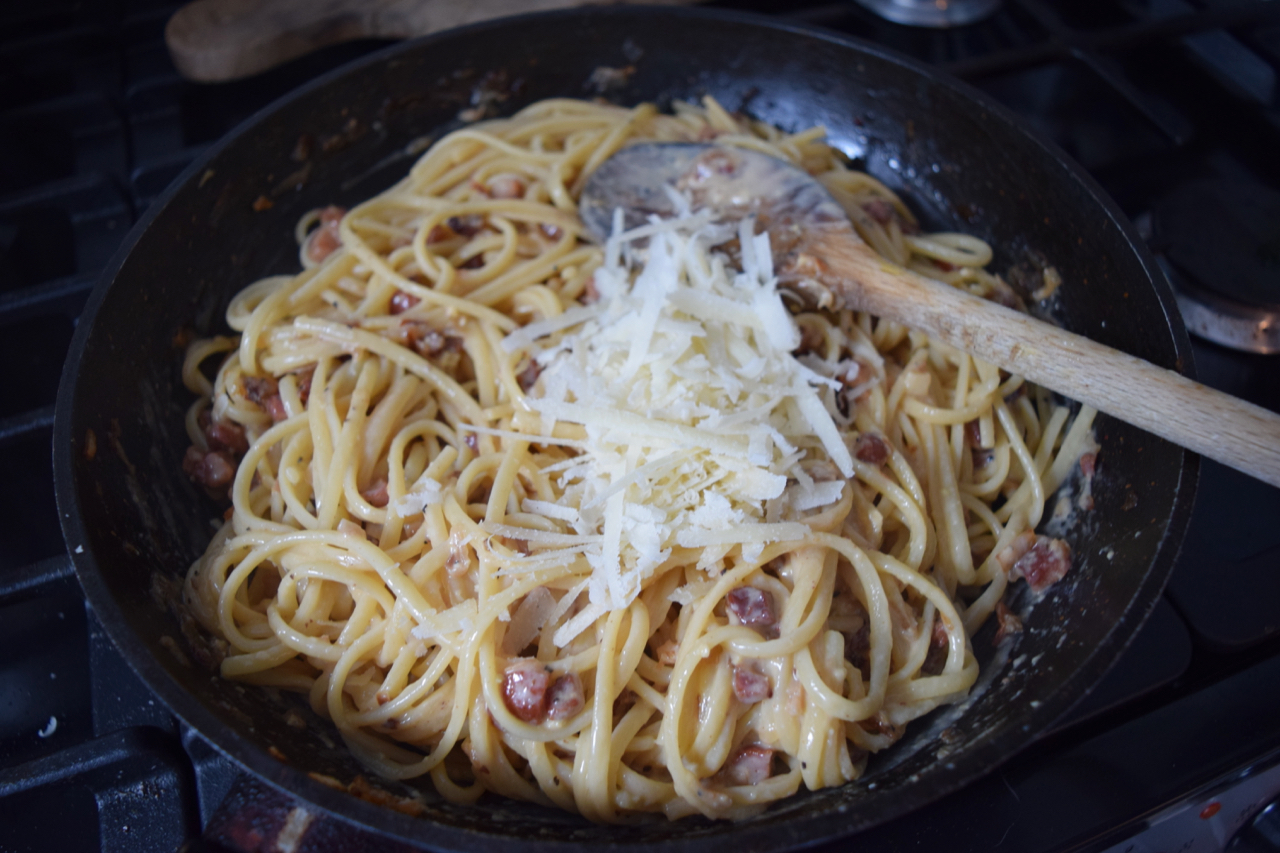 Finish with a touch more pasta water and the lemon zest and juice. Mix everything well, adding more water if the sauce is too claggy *top word*.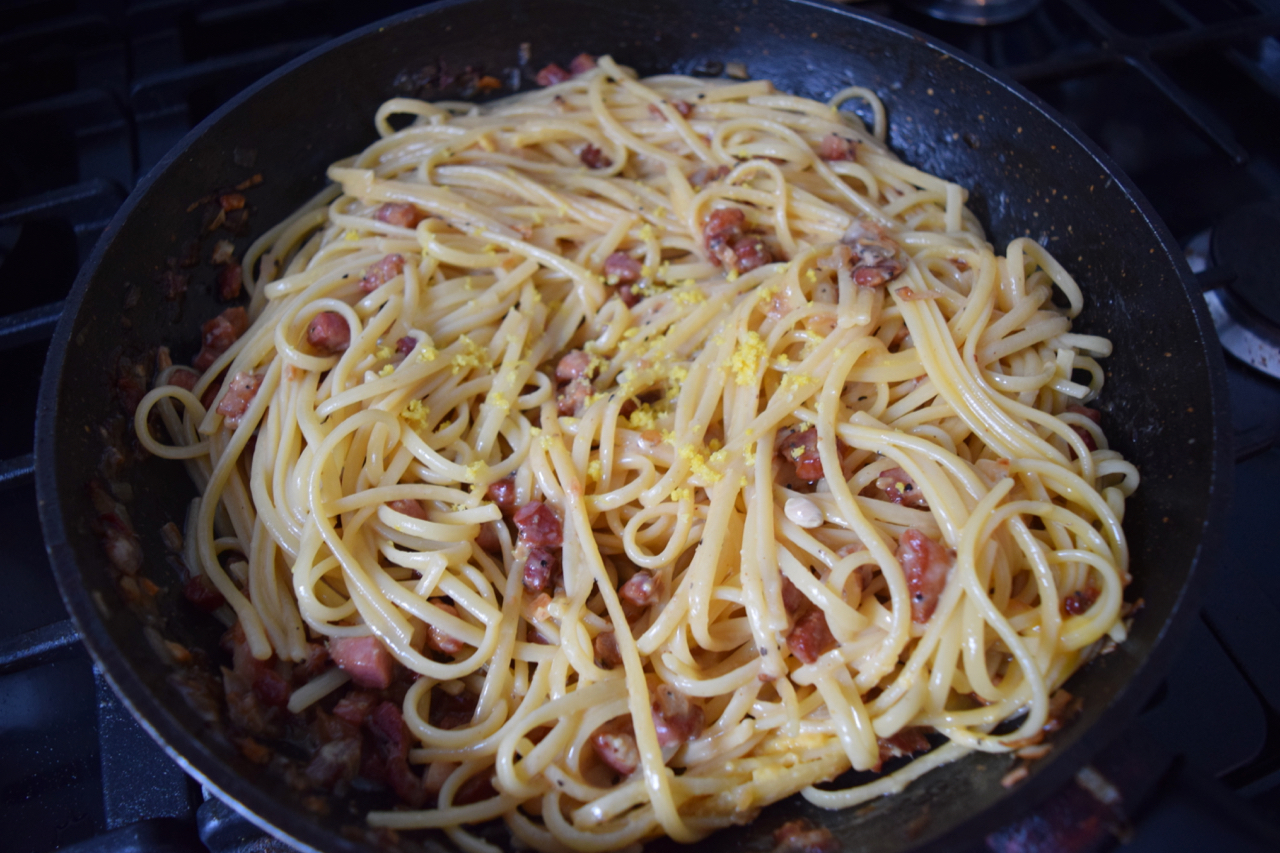 Serve this piping hot with some further lemon zest and more parmesan for added amazingness. Tuck right in, straight from the pan, if the mood takes you. Or plate up if people are watching.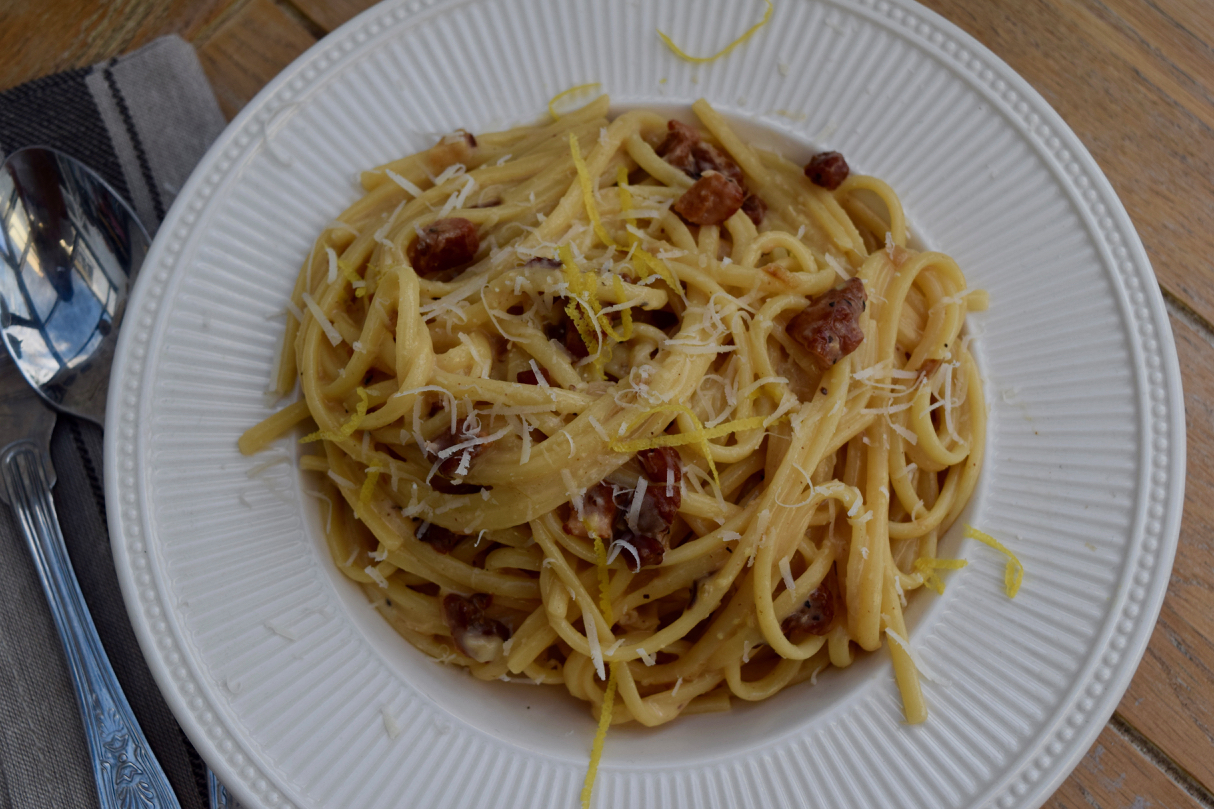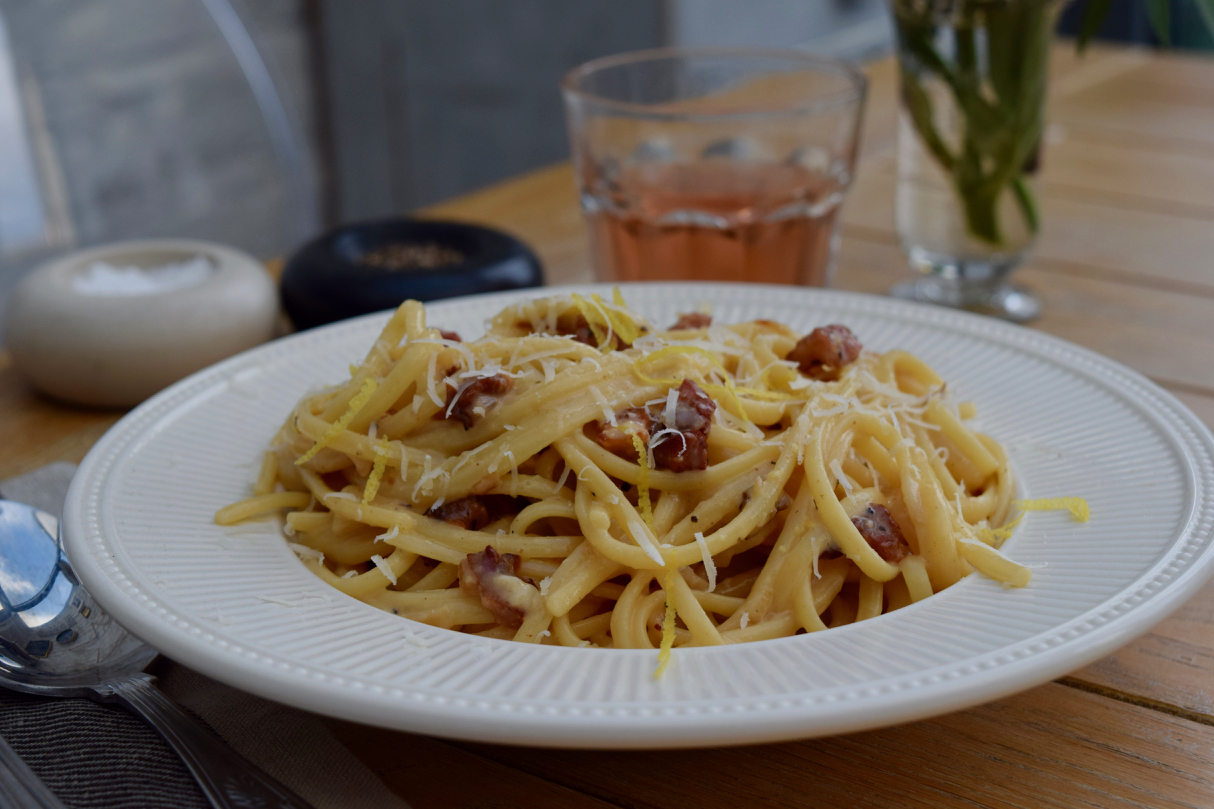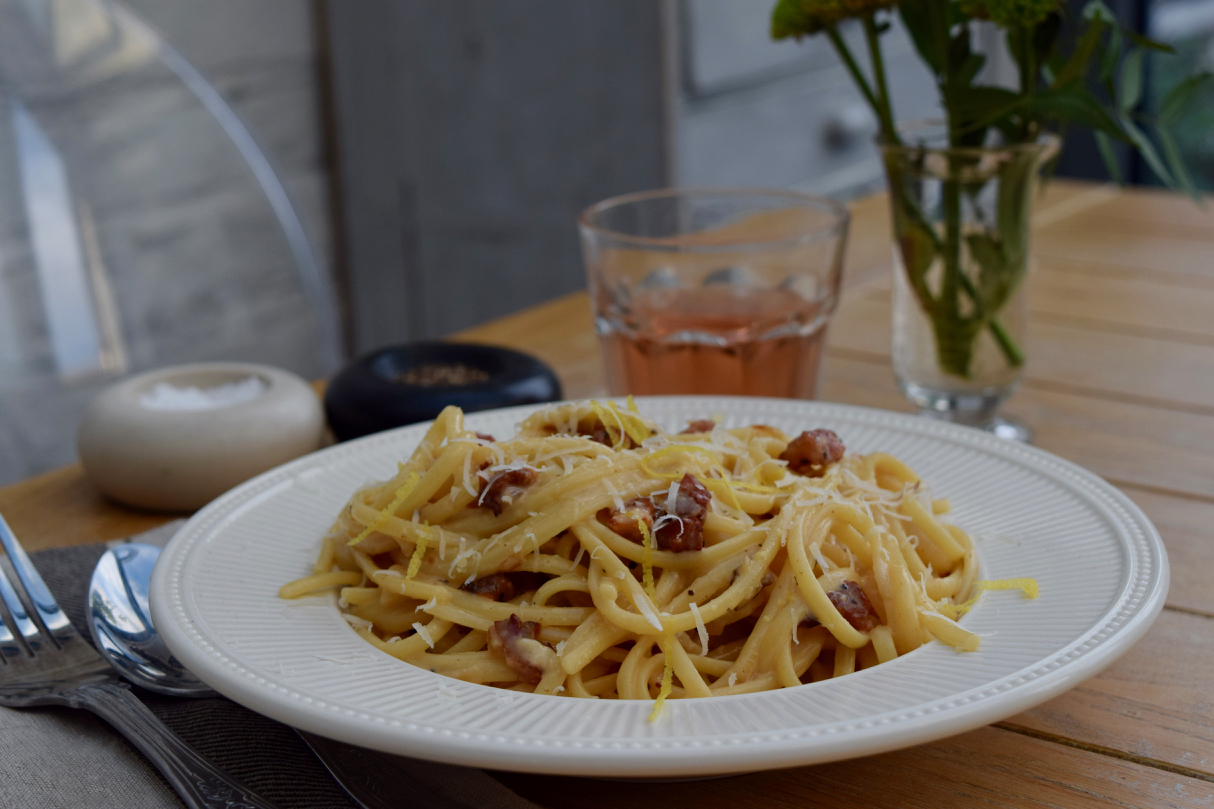 This isn't your usual Tuesday night dustbin pasta. It tastes rich, elegant whilst still only taking around 20 minutes to make and only dirtying two pans. Bloody marvellous.
Lucy x
Lemony Spaghetti Carbonara Recipe
Serves 4
You will only need a large frying pan for this
1 tablespoon olive oil
150g pancetta, chopped, or you could use streaky bacon
2 small shallots, finely chopped
3 to 4 cloves garlic, chopped
1 teaspoon cracked black pepper
400g spaghetti, tagliatelle, bucatini, whatever long pasta you have to hand
75g parmesan, grated, but extra to serve
2 egg yolks
zest of a lemon
2 tablespoons lemon juice
More lemon zest and some more parmesan, to serve
Put the pasta on to cook, according to the instructions on the packet. Once cooked, reserve around 300ml of the cooking water then drain well.
While the pasta cooks, take a large frying pan or saucepan and add the olive oil. Heat over a medium high heat then add the pancetta or bacon and cook for around 5 minutes or until just turning crisp and golden.
Add the shallots and garlic, turn the heat down, and cook for another 5 minutes or until starting to soften and colour a little. Stir in the black pepper and cook for another minute.
Add the drained pasta plus 125ml-ish of the reserved cooking water and half the parmesan. Stir well, then turn off the heat and add the 2 egg yolks and toss everything together, adding more pasta water where necessary to make a glossy coating.
Finally, add the grated lemon zest, juice and the last of the parmesan and give it another good toss, adding a little more cooking water if necessary to loosen the sauce.
Serve immediately with some extra parmesan and a sprinkling of lemon zest.