Beef and Soy Casserole with Coriander Dumplings Recipe
I love a casserole, but sadly, I am very much alone in my house with this stew based adoration. The boys used to love my Annabel Karmel beef and carrots baby food but sadly, that was the last time anyone, other than me, enjoyed a casserole supper. Clyde has never been a fan and his dislike of delicious braised beef has eventually rubbed off on the boys and I am now bereft of a casserole partner. Until now, that is, drum roll please. I found this wonderful Beef and Soy Casserole recipe via the delightful Hugh Fearnley Whittingstall and just knew it would be the one we could all enjoy together. And, as I always am, I was right.
This Beef and Soy Casserole with my addition of Coriander Dumplings is bloody lovely. It's got a whiff of ginger and chilli and a touch of garlic and no vegetables in it. The braised vegetables in a casserole are the bit Clyde really dislikes, and with this one, there are none, not even an onion, despite me including one in the ingredients line up. The beef is beautifully braised in soy and apple juice with just a hint of red currant jelly for sweetness. This is then popped in the oven for 2 hours giving you plenty of time to start thinking about your Christmas list. The dumplings can be made in a food processor or old school stylie by hand in a bowl, either way they barely contain three ingredients, plus a splash of milk, but once they are cooked off in the casserole, they are soft, fluffy and divine. The perfect accompaniment to my family approved casserole.
You can serve this with some sautéed greens, noodles or just as it is with the herby dumplings for substance, it's up to you. All I can say is I have converted Clyde and George into casserole eaters once again, so for that, Hugh Fearnley Whittingstall my old darling, I will be eternally grateful.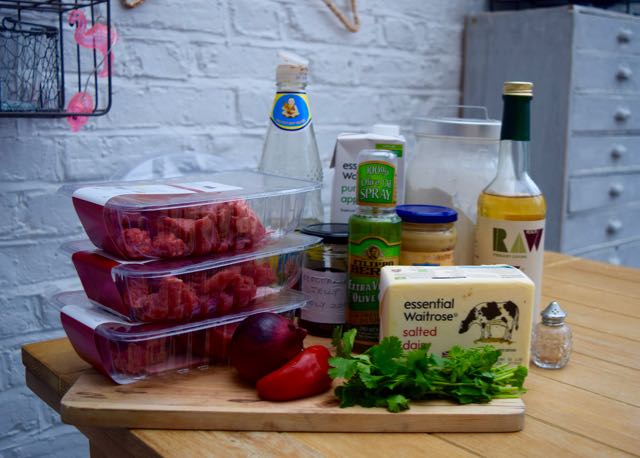 That's a proper winter line up there right in front of your eyes. And one which doesn't contain the garlic needed for the recipe but does contain an onion which isn't in the recipe. In my defence, I was criminally hungover and had only had a mere 5 hours sleep, so to be fair you're lucky any of these photos are vaguely in focus and containing images of the actual casserole.
Make a start on this life changing dish by pre heating your oven to 120 degrees fan assisted, seasoning your beef and heating a couple of tablespoons of oil in your frying pan. Add half the beef and brown over a high heat.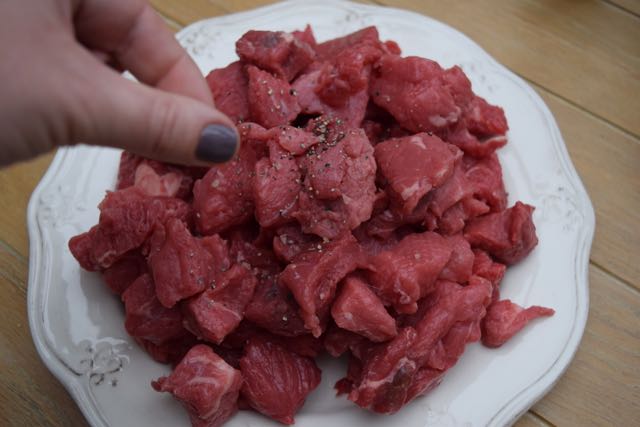 However, hungover I was, I still managed to showcase my lovely manicure which had amazingly survived my drunken dinner party.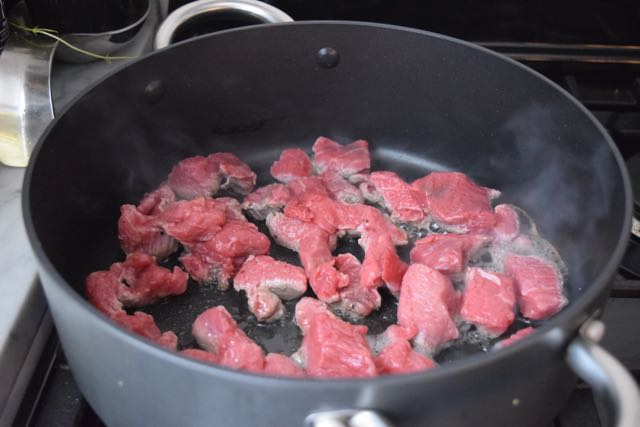 Once both the batches of beef are browned beautifully, place them on a plate while you toss in the ginger and garlic. Cook these two over a low heat until just softened. If you need to, add an extra tablespoon of oil here.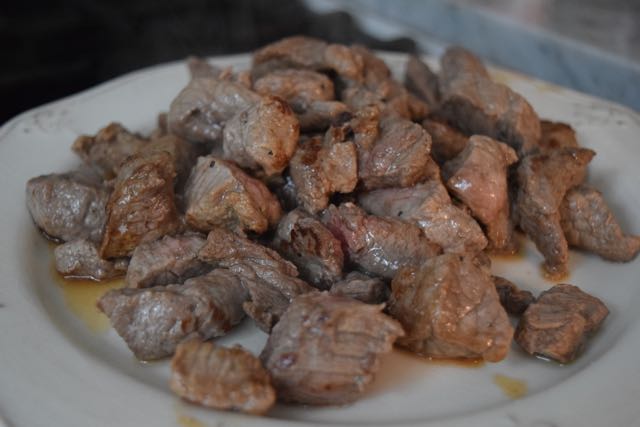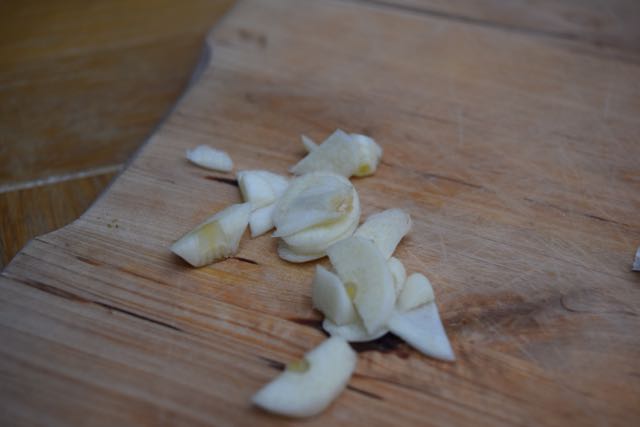 I used lazy ginger from a jar, blame the hangover. Next into the pan, add the 3 tablespoons of redcurrant jelly and stir well into all the pan juices.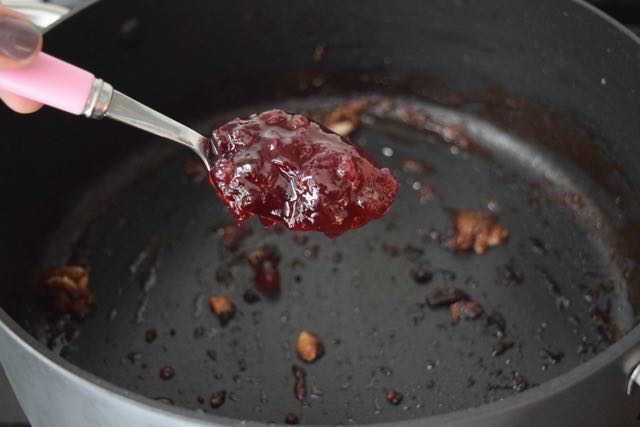 Now it's time for the soy, then add the beef, and it's juices back into the pan.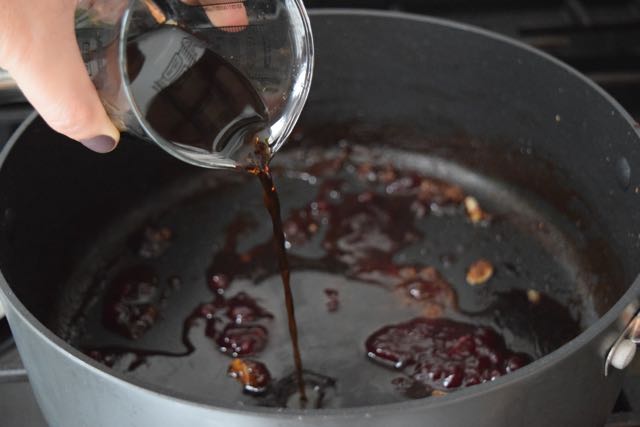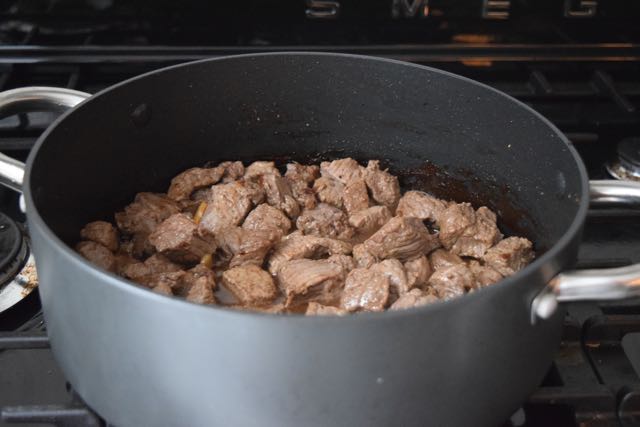 For the final additional pour in the apple juice, drop in the chilli then add the 2 tablespoons of vinegar. You only want a hint of heat from the chilli, so leave it whole but give it a little stab with a knife before you drop it in.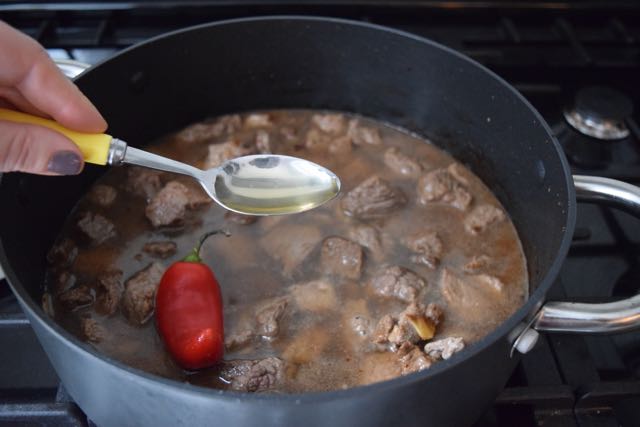 Give this a good stir, put a lid on and put this fragrant combination in the pre heated oven for two hours.
Just before the two hours is up, throw together the dumplings. Either in a bowl or your food processor, combine the butter and flour and coriander until you have a breadcrumb like texture.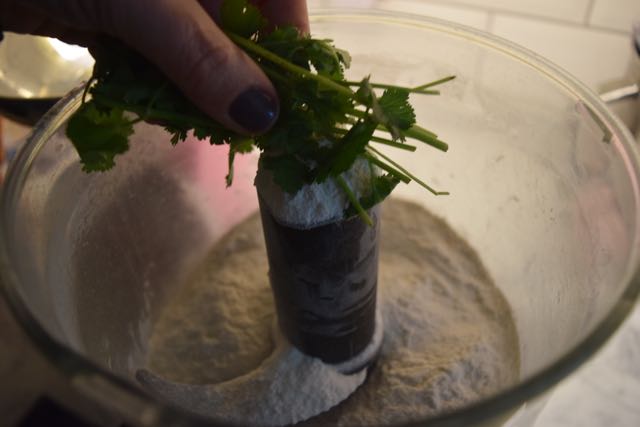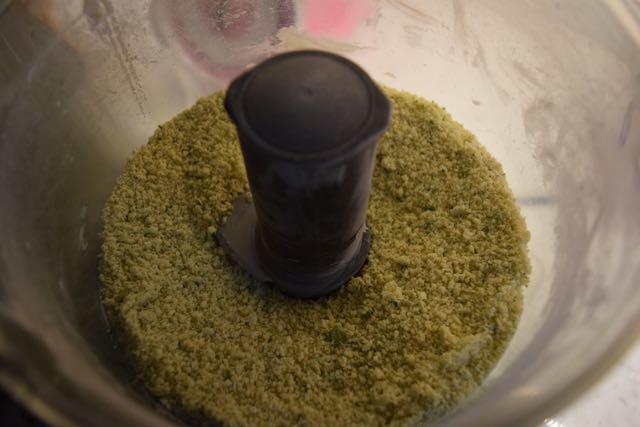 Add a couple of tablespoons of milk to bring the dough together, season with a tiny bit of salt and plenty of pepper then roll the dough into 8 big walnut sized balls.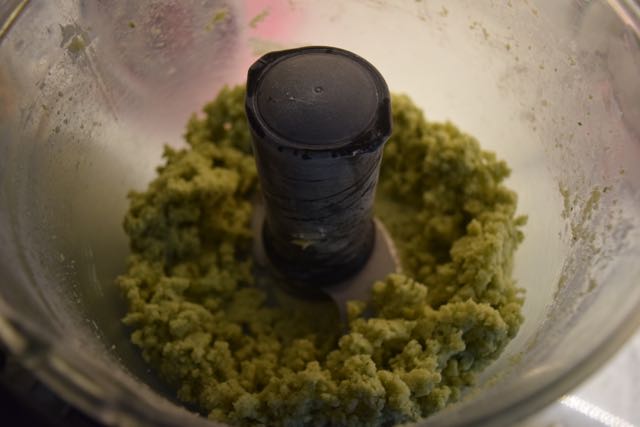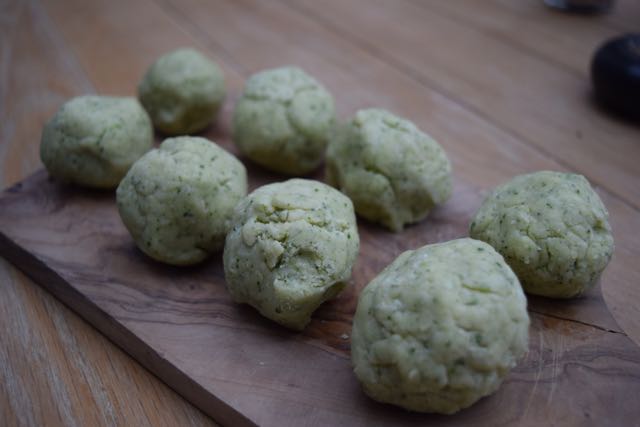 Take the casserole, smelling divine after the long slow cooking time, out of the oven and take off the lid. If it's looking a bit dry at this stage, stir through an extra 200ml of water, as the dumplings are going to absorb quite a bit of liquid while they cook. Drop in the herb dumplings, pushing them down into the gravy, then put the lid back on and return it to the oven for a further 20 to 25 minutes or until the dumplings are firm, but still fluffy.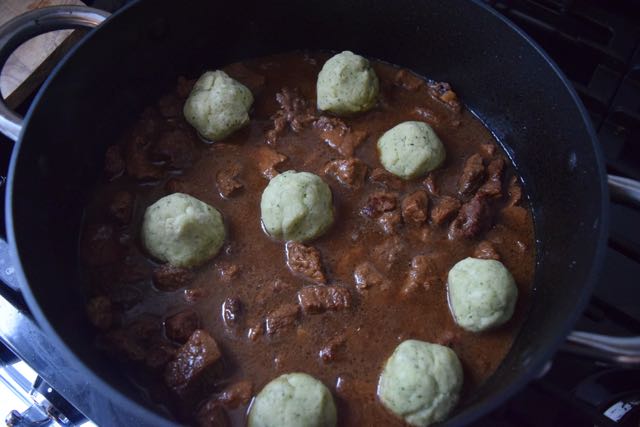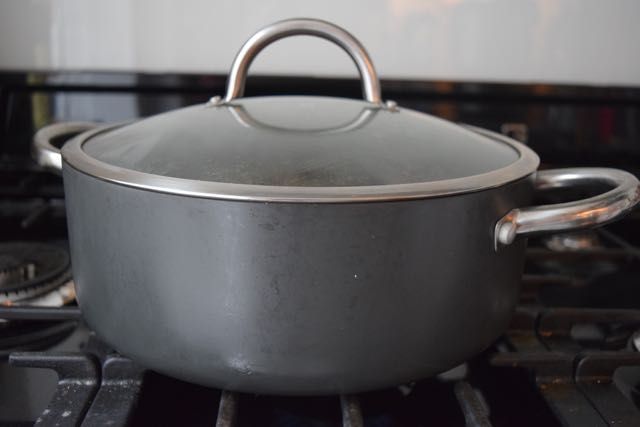 When the time's up, remove the chilli, which has done it's work, have a good mouthful to check for any additional seasoning and serve this divine casserole with some noodles and greens, or just on it's own in a huge bowl. Garnish with some extra herbs then dive right in.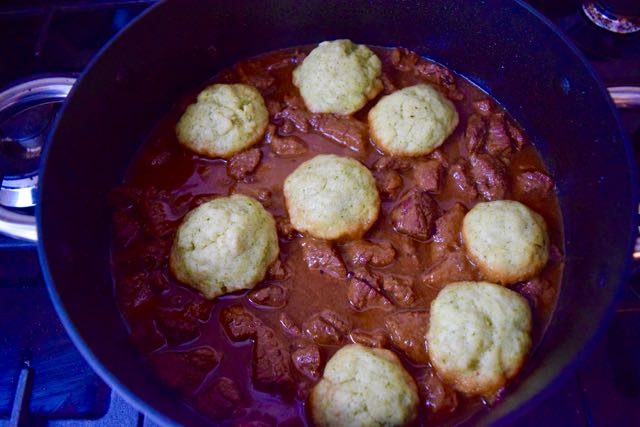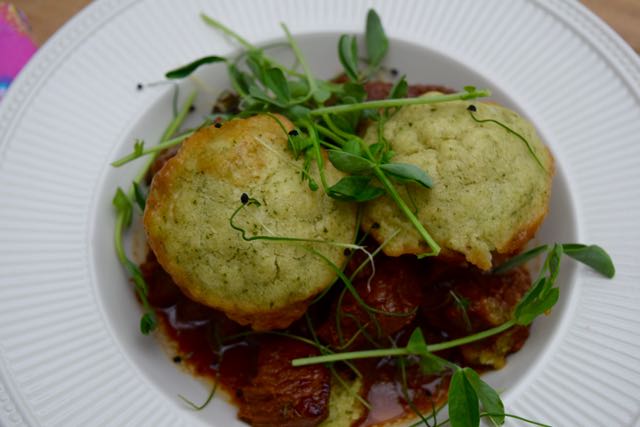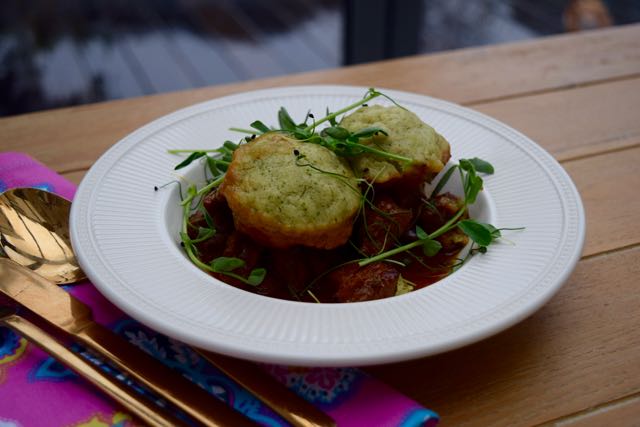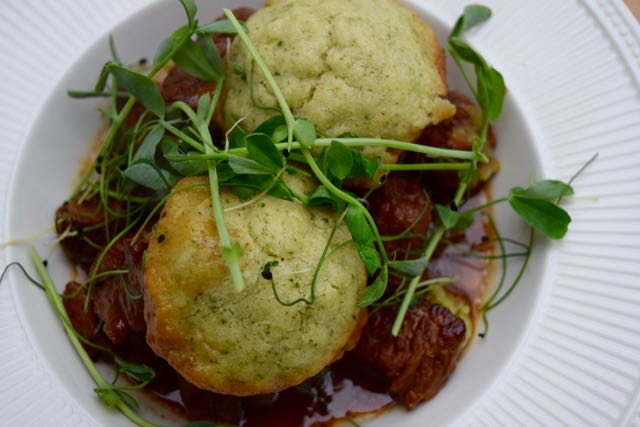 This is no ordinary casserole for oh so many reasons. a) my family ate it, so it must be extraordinarily good b) it has warm, lightly spiced flavours and c) the coriander dumplings are fragrant, soft and addictive. The tender beef melts in your mouth and I would love to be able to confirm it tastes just as good, if not better the next day, but I can't. The three of us inhaled this in one sitting, mainly due to 2 of the 3 of us being almightily hungover.
Lucy x
Beef and Soy Casserole with Coriander Dumplings Recipe
You will need a lovely big casserole dish
Serves a generous 4 people
Casserole
1.2kg beef, I used braising beef but the original recipe called for shin of beef which I couldn't get hold of
2 tablespoons oil
3 big cloves garlic
2 teaspoons lazy ginger or 1 large thumb sized piece of fresh ginger peeled and chopped
3 tablespoons redcurrant jelly
100ml soy sauce
500ml apple juice
2 tablespoons cider vinegar
1 large fresh or 2 dried chillis
salt and pepper – go easy on the salt, you may not need any due to all the soy
Dumplings
200g self raising flour
100g butter
a handful fresh coriander
freshly ground black pepper
2 to 3 tablespoons milk
Noodles, sautéed green and fresh herbs to garnish
Pre heat your oven to 120 degrees fan assisted.
Take a large casserole dish, add two tablespoons of oil and heat over a high heat. Season the beef then brown in the pan in two batches. Don't overcrowd the pan or the beef will not brown properly. Place the batches of beef onto a plate once browned.
Turn the heat right down then add the garlic and ginger, adding more oil to the pan if needed. Cook until just softening for a minute or two. Next stir in the redcurrant jelly, then mix in the soy sauce and cook for a minute until combined.
Add the meat and it's juices back to the pan then pour on the apple juice, vinegar then drop in the chilli or chills. Prick the fresh chilli all over with a knife first as you just want a touch of heat, it will be removed before serving. Season with black pepper then bring up to the simmer. Pop a lid on and put the casserole in the oven for two hours. Keep an eye on it, however, in case it's getting dry.
While the casserole is cooking crack on with the dumplings. Either in a food processor or in a bowl by hand rub the butter into the flour until it resembles bread crumbs. Add the coriander to the processor or chop and add to your bowl then add enough milk to bring the flour mixture into a soft dough like consistency. Form the dumpling dough into 8 balls.
When the two hours is up, remove the casserole from the oven. If your casserole is looking a bit dry, add 200ml of water, stir and then drop in the dumplings. Make sure they are half submerged in gravy then put the lid back on and return to the oven for 20 to 25 minutes or until the dumplings are cooked through and well risen.
Serve, piping hot, with some cooked noodles, greens and extra herbs to garnish. Keep any leftovers in the fridge, covered, for 2 to 3 days.
SaveSave
SaveSave
SaveSave
SaveSave