Beer Mac and Cheese Recipe
I do spend far too much of my 'spare' time on Pinterest and various other food based sites. Usually on days when I am meant to be dieting so I find it horribly satisfying to read about and drool over delicious food rather than eat it. I spend most of my time trying to find recipes to share with you which I think you and your families would love. As well as me sharing them with my fussy family and hoping to God George will like some of them. So when I stumbled across this Beer Mac and Cheese recipe, I nearly cried. Because – and here comes another of my favourite lists – a) it looked so tasty in the photos, all cheese topped and bubbling b) as a family we love Mac and Cheese and I am always looking for different ways to serve it and c) there's nothing not to like about Mac and Cheese so my family, as well as yours, should bloody inhale this version.
When I made this for the first time I didn't really expect too much, because I often find Macaroni Cheese recipes made without a white/roux sauce are a bit lame. Oh how I was put right back in my basket however. This recipe is genius. You don't have to cook the pasta in advance and theres not a roux sauce in sight, which however delicious they taste, they are a slight kerfuffle. This is a one pot affair and contains a hidden portion of spinach which nobody in my family even bothered to pick out, which is a minor meal based miracle. This Beer Mac and Cheese has a brilliant, quite grown up flavour, but is rich, cheesy and buttery with a generous hint of garlic. The whole business is popped under the grill at the end to create a mozzarella based bubbling crust, bloody marvellous. With a huge shout out to the BBC Good Food website for the inspiration, with thanks.
So, to recap a) one pot b) no need to cook the pasta in advance and c) beyond tasty. These are three inspired reasons to get this on your table this week. The final point to note is you don't need the whole bottle of beer for the recipe, so in my case there was a rogue 100ml to slurp down whilst cooking. This recipe really is win, win, win.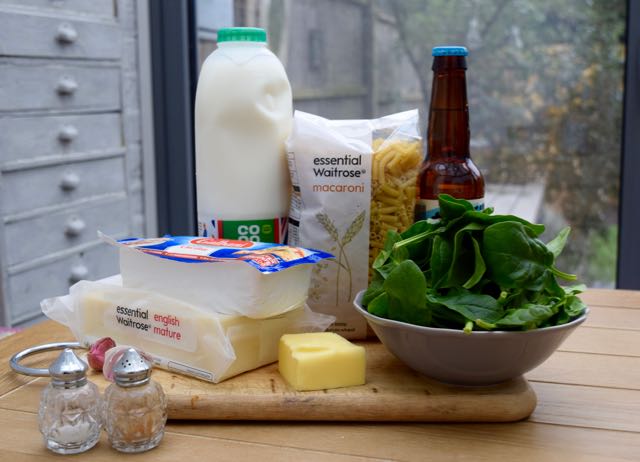 Nothing but simple wholesome ingredients here, apart from maybe the beer. The recipe called for Pale Ale, so I chose this BrewDog one, but I am sure any 250ml of beer you have to hand would be as amazing.
Make a start by finding a good sized, grill safe frying pan. Pre heat your grill to hot and set the shelf in a position where the pan will fit nicely to brown. Take the high sided frying pan and add the butter to melt over a low heat.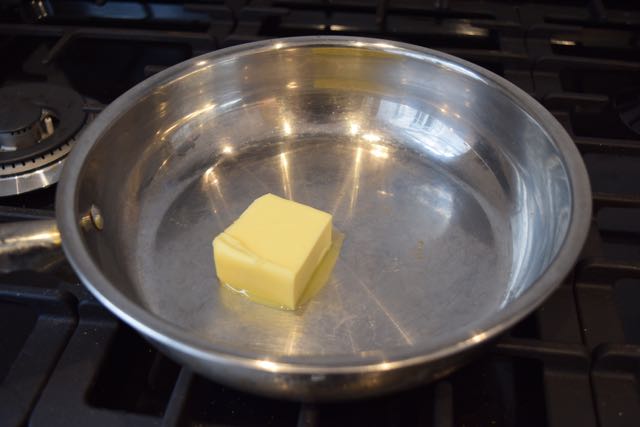 Crush or finely chop the garlic then add this to the melted butter to cook for a couple of minutes. Please note, my garlic wasn't finely chopped, lazy cow.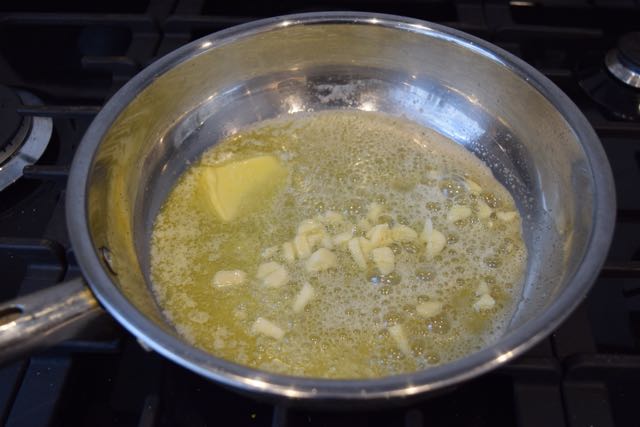 Next into this wonderfully fragranced pan is the spinach. Stir well and wilt for a minute or two.
Pour in the milk followed by the beer and give it all a good stir.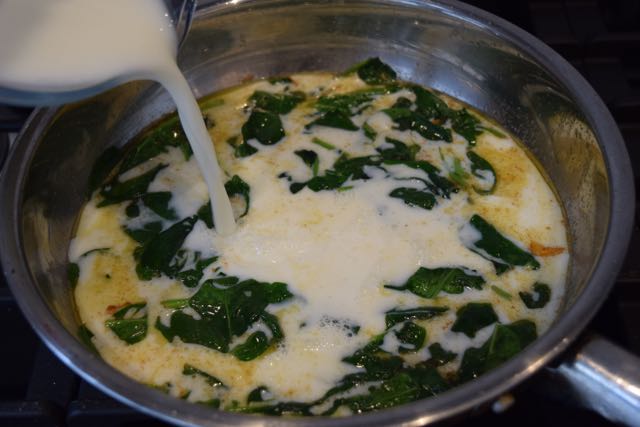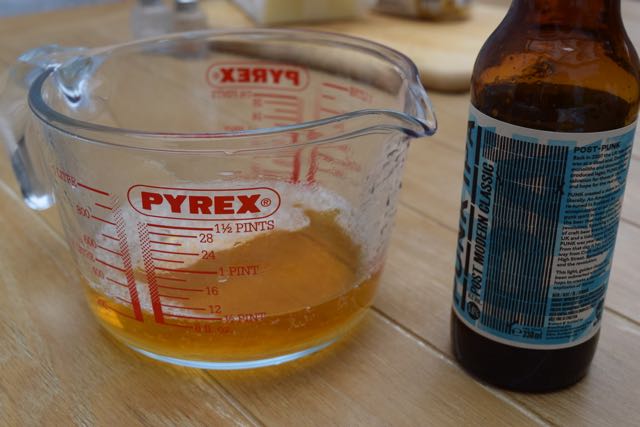 Next, tip in the macaroni and give this whole dish a big stir.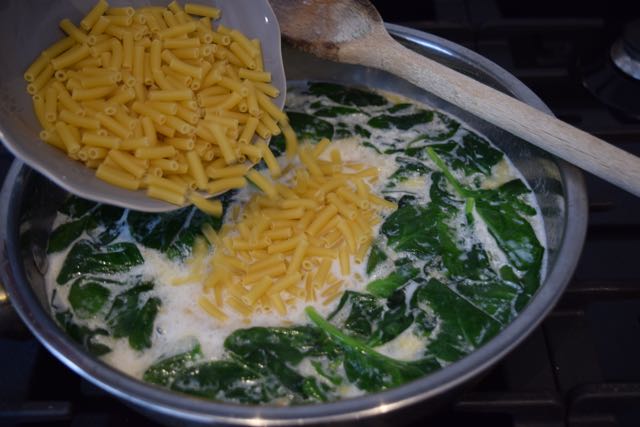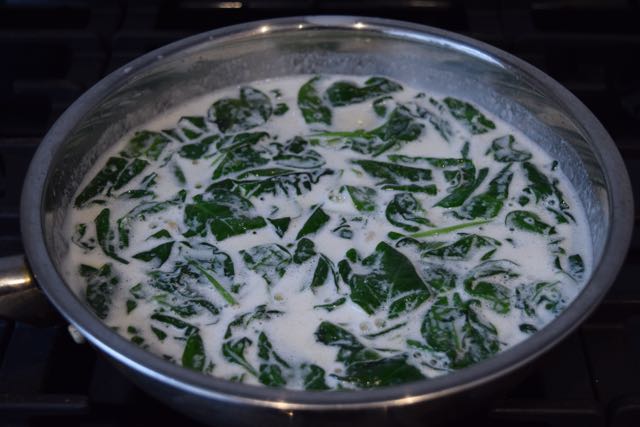 Season with plenty of salt and pepper then leave to simmer over a low heat for around 20 minutes. The pasta will be cooked through and covered in the beer based sauce.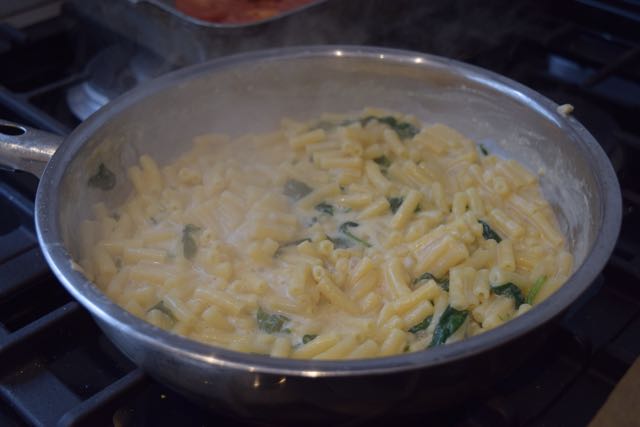 While this is quietly simmering away, cook some bacon, even using my special cooking method if you like, and oven roast some tomatoes.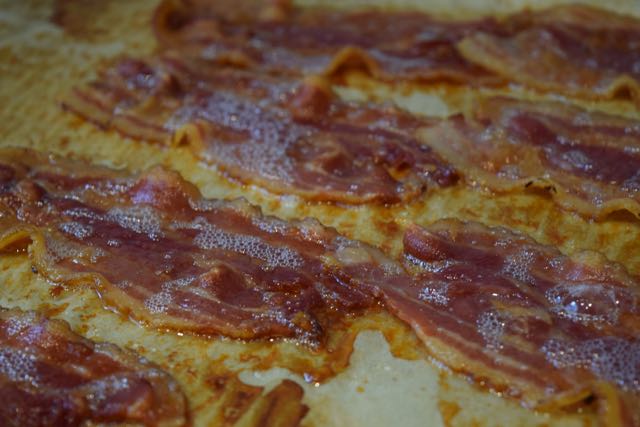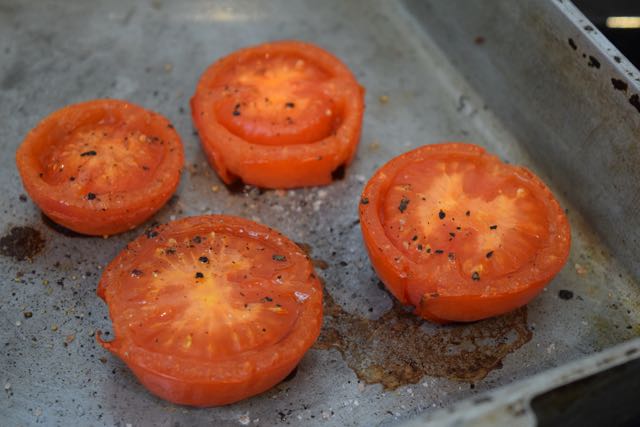 When the pasta is cooked and all lovely and saucy, stir through the cheddar and half the mozzarella, trying not to eat big handfuls as you go.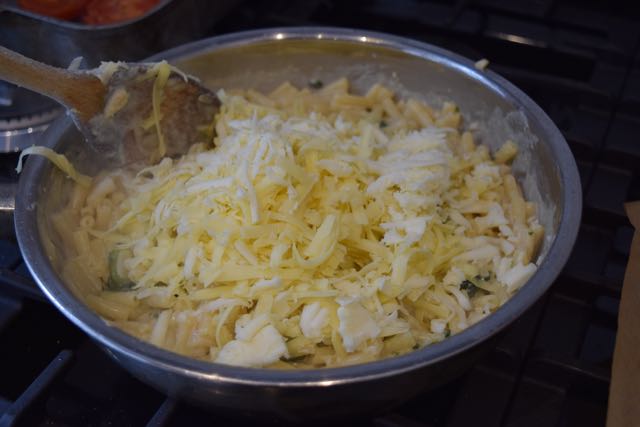 Smooth the top of the mixture in the pan then, once all the other cheese has melted, sprinkle the top with the remaining mozzarella. Pop this under the grill for around another 5 minutes to create the most satisfying, bubbling, crispy topping.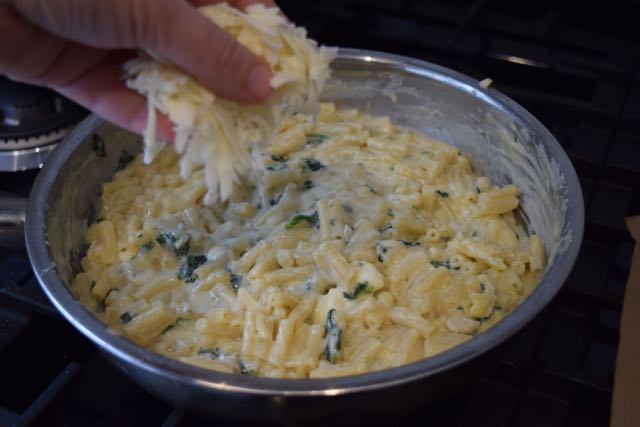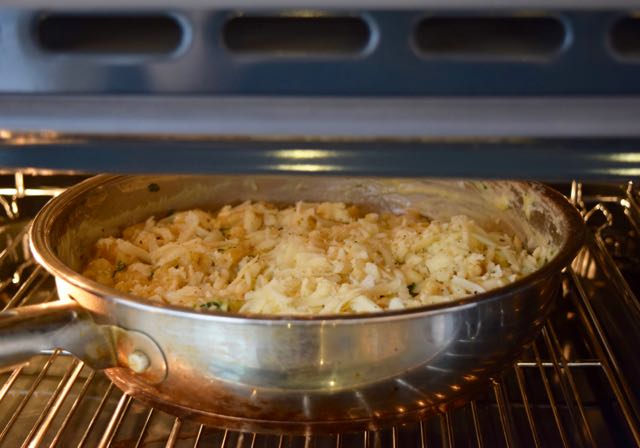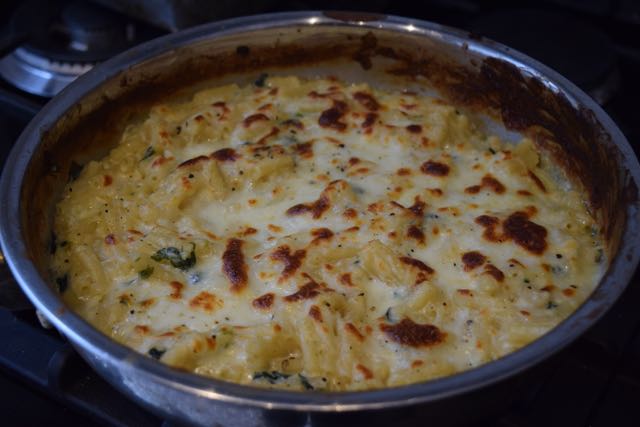 Utterly mouthwatering. Serve straight from the pan at the table. Devour this, garnished with parsley, alongside the bacon and roasted tomatoes, sharing this wholesome dish with your family and friends.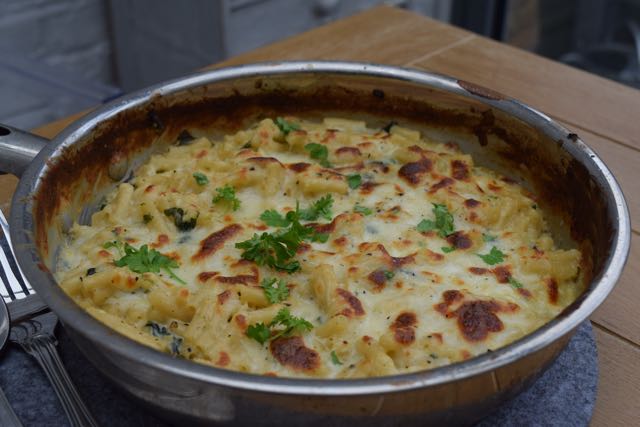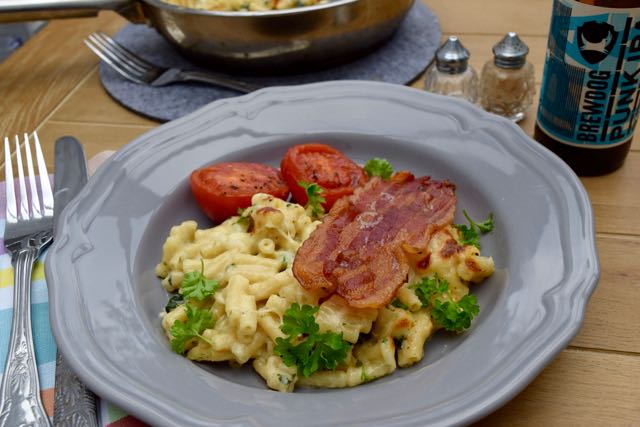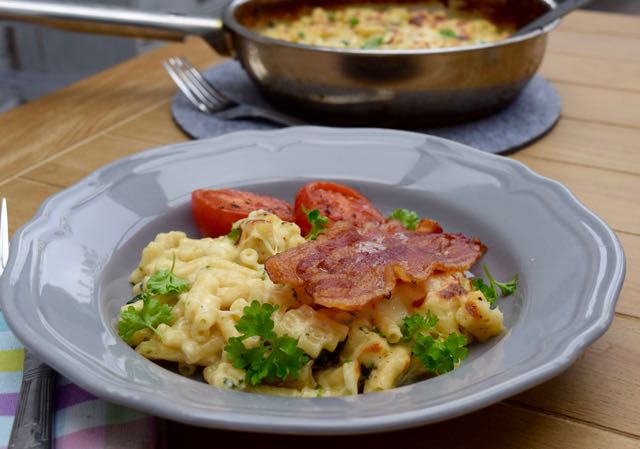 Today is one of those days when I am trying to eat less so to be writing this lovely post about Beer Mac and Cheese is pure torture. I am safe in the knowledge, however, that should I falter, this stringy, gooey, flavour filled dish is only 30 minutes and minimal washing up away.
Lucy x
Beer Mac and Cheese Recipe
Serves 3 to 4, appetite dependent 
50g butter
2 cloves garlic, finely chopped or grated
50g spinach, I used baby spinach
500ml milk
250ml pale ale, I used a BrewDog variety
220g macaroni
100g cheddar, grated
200g mozzarella, grated
salt and pepper, to taste
Chopped parsley to garnish, roasted vine tomatoes and crisp bacon, to serve
Take a large grill proof frying pan and melt the butter. Add the garlic and cook for a couple of minutes or until just starting to brown.
Stir through the spinach and cook until just wilted. Pour in the milk followed by the beer and stir well.
Add the uncooked macaroni and stir through the sauce. Cook for around 20 minutes, or until the liquid has been absorbed and the pasta is well coated. At this point, add all the grated cheddar and half of the mozzarella and stir again.
Flatten the top of the dish and sprinkle with the remaining mozzarella then pop under your hot grill until bubbling and golden, around 5 minutes. Serve garnished with parsley and with some oven roasted tomatoes and crispy bacon.