Cheese and Marmite Rolls Recipe
Christmas wouldn't be Christmas without a pastry based nibble. To be fair, I eat pastry based nibbles all year round and have the waist line to prove it. However, I do feel sorry for those who would rather not eat meat who are cheated out of a sausage roll over the festive period. There is no real substitute and no one really fancies a stuffed date while others are noshing away on hot, flaky buttery pastry. Until now that is. I feel my humanitarian work towards creating delicious pastry based treats for vegetarians this Christmas starts here. Vegetarian or not, these Cheese and Marmite Rolls are the daddies, I have eaten at least 30, so I should know.
I know Marmite isn't everyones favourite, you either love it or hate it, etc, etc, however, it does add the most tasty savoury saltiness to everything which steps into it's path. Including my Cheese and Marmite Rolls. These are a super simple creation of mine involving some fresh or frozen breadcrumbs, tons of grated strong cheese and a couple of tablespoons of Marmite. What could be simpler or more delicious. Wrap the filling in bought puff pastry, egg wash and bake for a festive smelling kitchen and an extremely full tummy. I can vouch for the fact these are irresistible. So much so, I had to dispatch my nephew with a bag full to take home in order to stop me from finishing the whole batch. They were met with much enthusiasm from my sister who was convinced they had sausages in them, such was their tasty, satisfying filling. My recipe is loosely based on this one from the Tesco website, minus the onions which no one wants repeating on them all over Christmas.
There's plenty of time for meaty things over Christmas, so it's definitely time to give the sausages a rest and try these Cheese and Marmite Rolls for a change. Their rich cheesiness will not leave you feeling as though you have missed out, you will be feeling really rather full and will be brushing a lot of pastry crumbs off your Christmas jumper.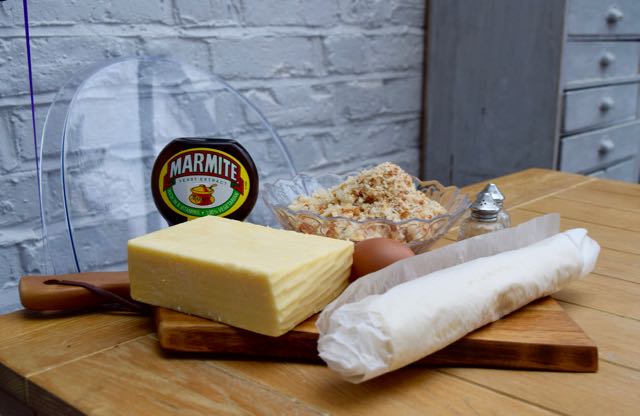 So few ingredients for such an amazing result. In fact, this is missing a roll of pastry as this recipe makes enough filling for two sheets of ready made puff. Mine was frozen and was fab, as you can keep it in the freezer and whip up a batch of these at a moments notice. My breadcrumbs were made from a posh sourdough loaf I couldn't bear to throw away and frozen exactly for this purpose. So this really is a brilliant store cupboard/freezer based recipe making it so easy for you to make a nibble whenever you like.
Start on your Cheese and Marmite Rolls by taking a large bowl and adding your breadcrumbs. If you don't have any frugally stashed away in the freezer then do feel free to blitz a couple of slices of sliced white in your food processor. Panko style dried breadcrumbs may be okay, but I haven't tried them, so let me know if you have success with these. Add the strong grated cheese and give it all a stir.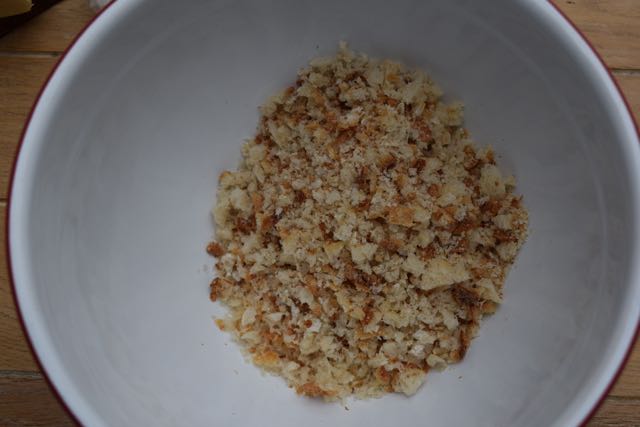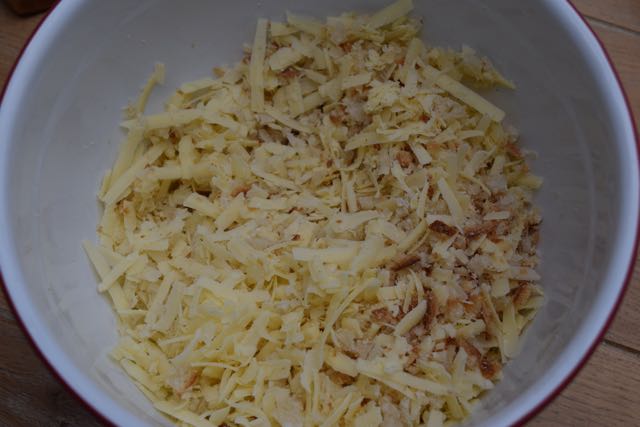 Now, it's time to stir in your Marmite. Now I love Marmite, so I went for 2 generously heaped tablespoons, but if not go with slightly less. Start by stirring the mixture with a spoon, but you want the Marmite to be thoroughly mixed, so it's best if you go in with your hands and get a little messy with this.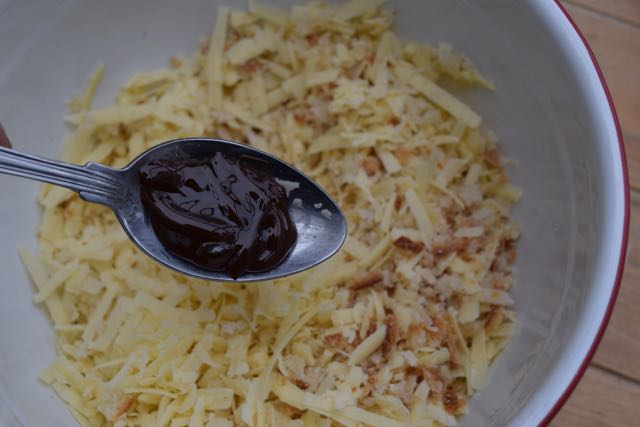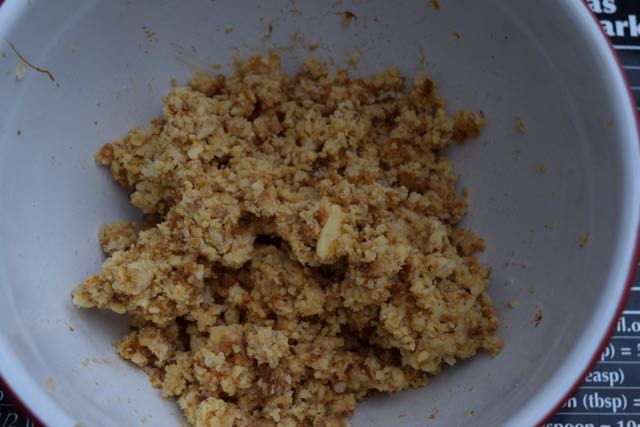 The mixture will sort of clump together, but it will still be crumbly. Season with plenty of ground black pepper, you won't need any salt due to the cheese and Marmite combo.
Now, take your pastry and unroll it. Cut each roll into three pieces and lay some of the cheese and Marmite mix along the middle of each slice. Press it into a sort of crumbly line.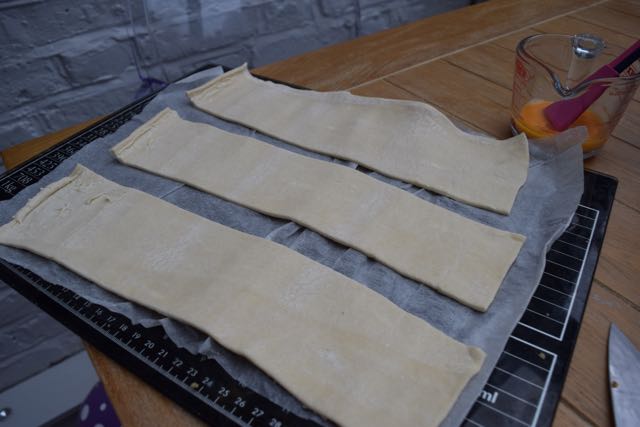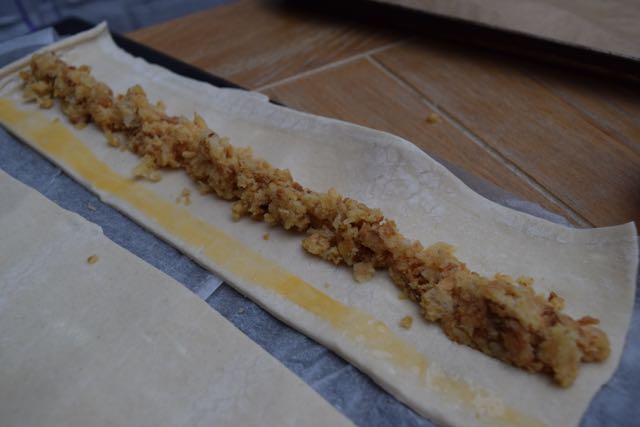 Brush a little beaten egg along the edge then fold over the top of the pastry and pinch the edges together. This takes a little patience as you don't want the filling to fall out. In a final flourish, fork the edges of the rolls to ensure they stay sealed and for traditional style decoration.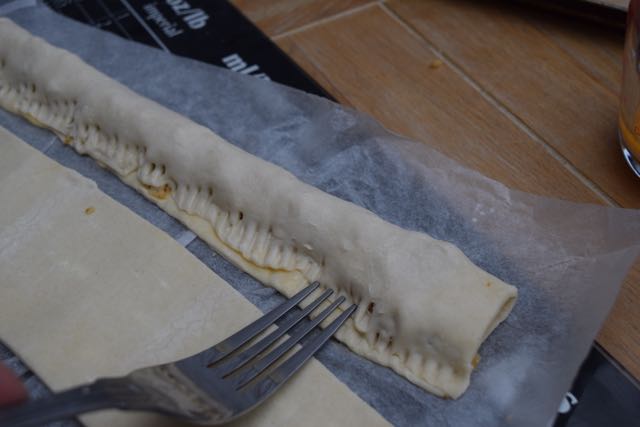 Now cut the roll into around 8 to 10 pieces and lay on a lined baking tray. Repeat with the rest of the pastry and the other sheet until you have around 48 to 60 Cheese and Marmite Rolls. Brush with the beaten egg for a wonderful golden finish.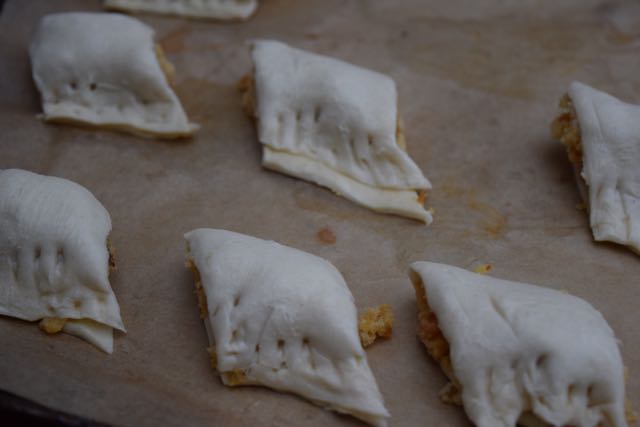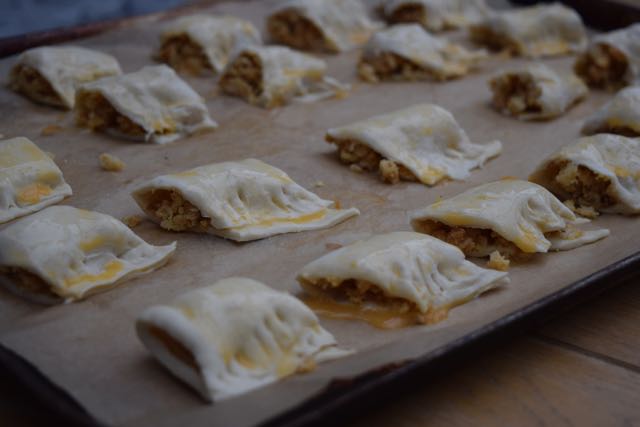 Pop these cheesy, dreamy treats in the oven for 12 to 15 minutes or until golden brown, crisp and smelling simply amazing.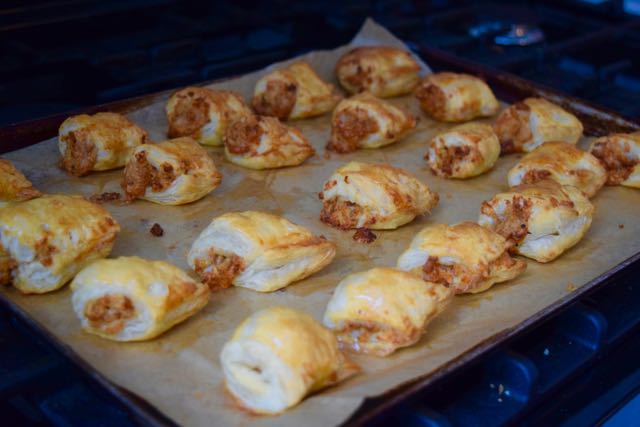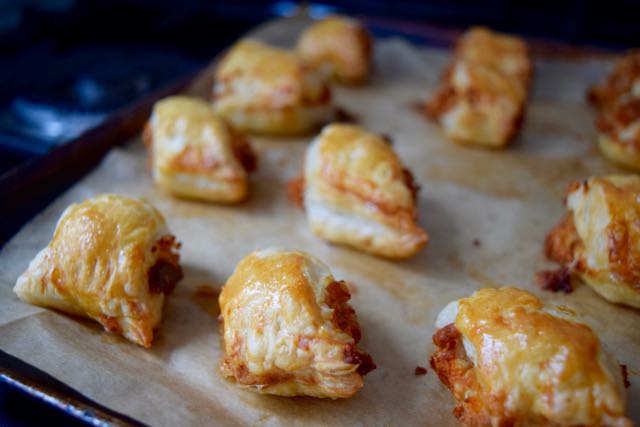 I don't want to sound immodest, but bloody hell, they really are delicious. Cheese and Marmite is a wonderful combination and once it's wrapped in pastry, it's even better. Serve these with a herb garnish, but these need no more than a glass of fizz to go with.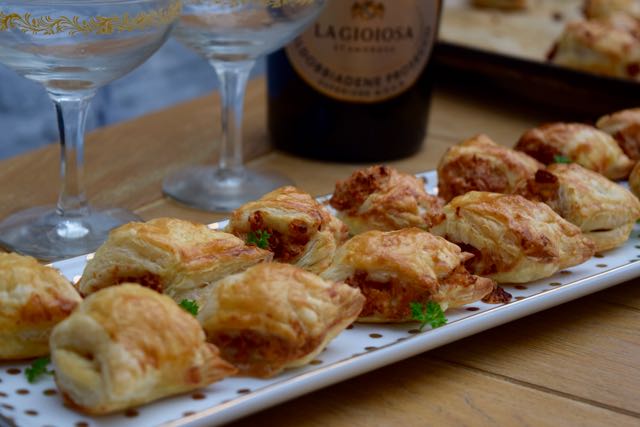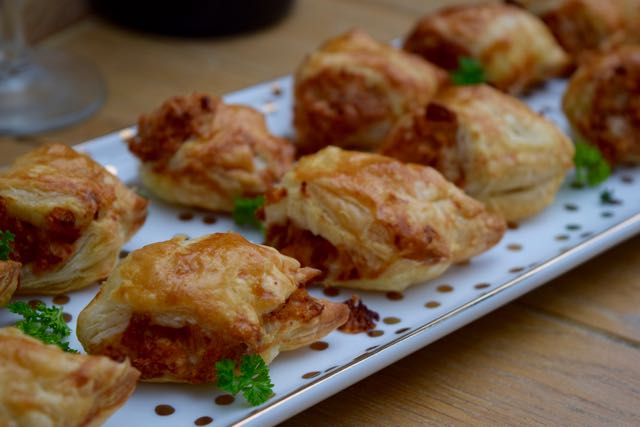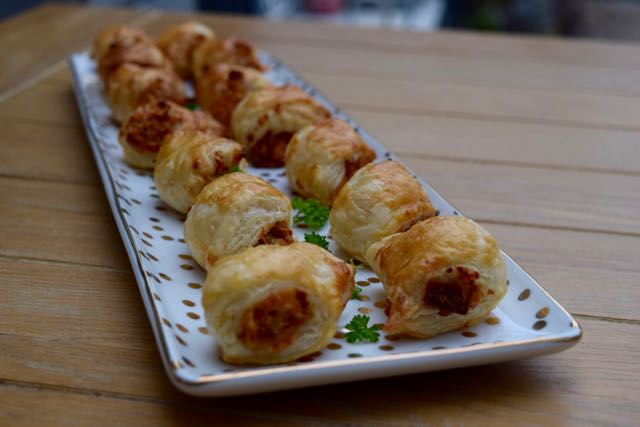 This recipe does make quite a good deal of Cheese and Marmite Rolls, but don't be fooled. You will eat them, or your guests will, or you can freeze them so you and/or your guests can eat them on another occasion. Because, once you have eaten one of these, you will want to eat some more. I can only apologise in advance for any inadvertent pastry dependency cause by my festive treats.
Lucy x
Cheese and Marmite Rolls Recipe
Makes a lot, around 48 to 60, size dependent
2 x sheets puff pastry, mine were 215g each
200g strong cheese, grated
100g breadcrumbs, fresh is best
2 heaped tablespoons Marmite, more if you are Marmite dependent
Freshly ground black pepper
1 egg, beaten
Fresh herbs to garnish
Pre heat your oven to 160 degrees fan assisted and line a couple of baking sheets with greaseproof paper.
In a bowl, mix the fresh breadcrumbs with the grated cheese and black pepper. Measure in the Marmite, stir around then go in with your hands to ensure everything is evenly mixed. The mix will be a crumbly cheese and Marmitey rubble.
Take your sheets of pastry and cut each one into 3 sections. Press the filling along each length of pastry then dab the edge of the pastry with your beaten egg. Fold the pastry over the filling, taking care to ensure it doesn't all fall out, press the edges of the pastry together then use a fork to seal it. Cut each length of sausage roll into around 8 to 10 pieces and then lay onto a baking sheet.
Continue with the rest of the pastry and the rest of the filling. Brush all your cheese and Marmite rolls with the beaten egg then pop in the pre heated oven for 12 to 15 minutes or until golden brown and smelling divine.
Eat warm, or re heat in a hot oven as guests arrive. These can also be frozen and defrosted as and when needed over the festive period. Re-heat in a hot oven to serve.
SaveSave
SaveSave
SaveSave
SaveSave