Cherry Tomatoes with Salad Cream Dressing and Carrot and Peanut Salad
It's August, it's high summer and it's barbecue central. Our garden is overwhelmed by the wonderful fragrance of other peoples chargrilling food and it's torture. So today I decided to share two, yes, two brilliant summer salads with you so your barbecue menus can take a step up to another level. There's nothing worse than serving delicious grilled meats with a paltry display of limp lettuce. So, in today's two for one offer I am sharing my Cherry Tomatoes with Salad Cream Dressing and Carrot and Peanut Salad.
These two come care of the ever brilliant Nigella Lawson, and I have had my eye on both of these salads for a while. The lure of the Cherry tomato salad was the brilliant addition of the homemade salad cream style dressing. And what a lure it is. I love salad cream and make no apology for this love, I know it's not fashionable, but I don't care, it's bloody lovely. The Carrot and Peanut salad has the appeal of being the easiest salad on the planet and bizarrely delicious. It's just two ingredients and a dressing, easy peasy personified. Almost easier than opening a bag of tired old leaves, but a million times tastier.
The only drama involved in either of these salads is the salad cream dressing. And even that is no real kerfuffle. It's a white sauce style mix with the addition of egg and vinegar to thicken and flavour. Then it's just pouring, chopping and stirring all the way. Simple, and your barbecue or dare I say, buffet, game will be elevated to a whole new level.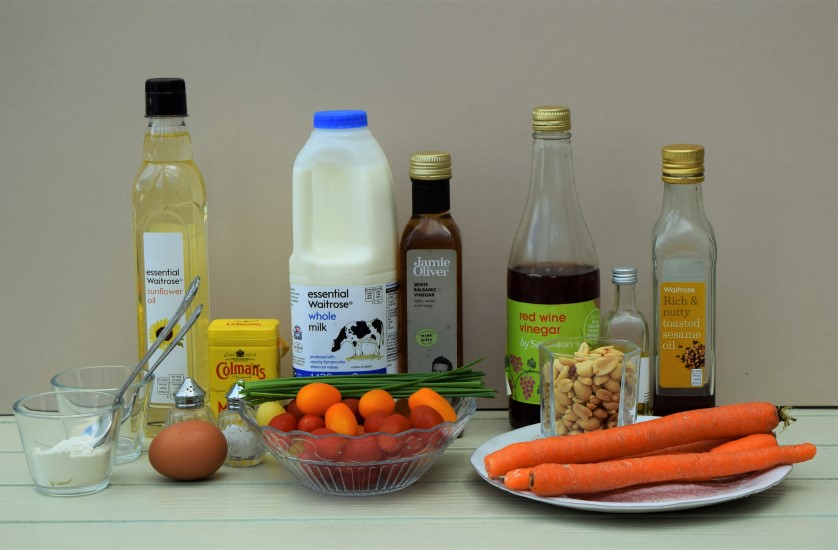 Here's the line up for both these super simple but majorly brilliant salads. On the left the wherewithal for the Tomato and Salad Cream Dressing and to your right the Carrot and Peanut Salad.  Nothing terribly alarming to see here. On the right, slightly hidden is my lovely sample of Macadamia nut oil, but do feel free to use peanut or any other nut oil if you'd prefer.
Make a start on the Cherry Tomato dish by making the Salad Cream Dressing. Take a small saucepan and stir together the mustard, flour, sugar and salt and pepper.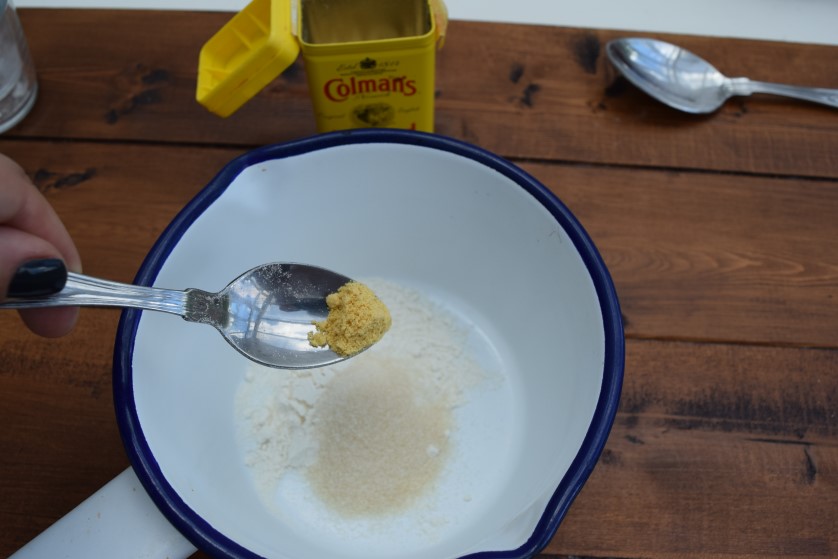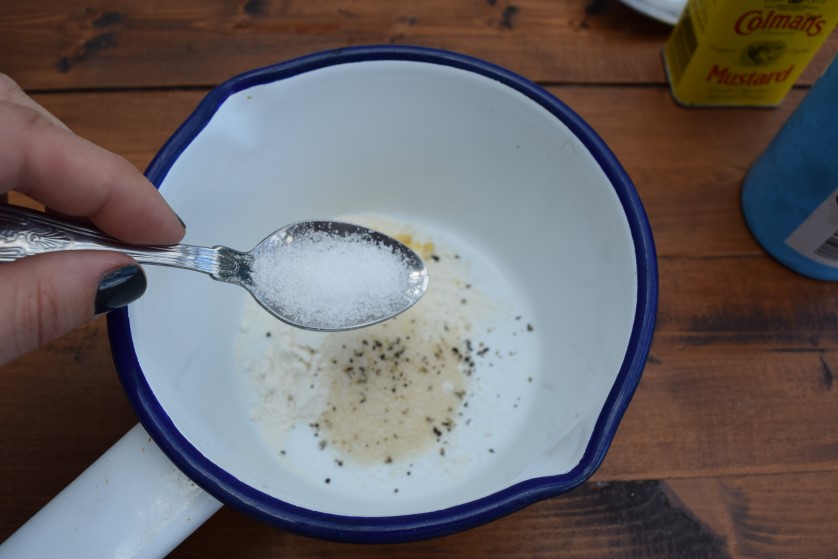 Blend in some of the 250ml of milk to fashion a paste. Then put the pan on the hob over a low heat and continue to add the milk, a little at a time.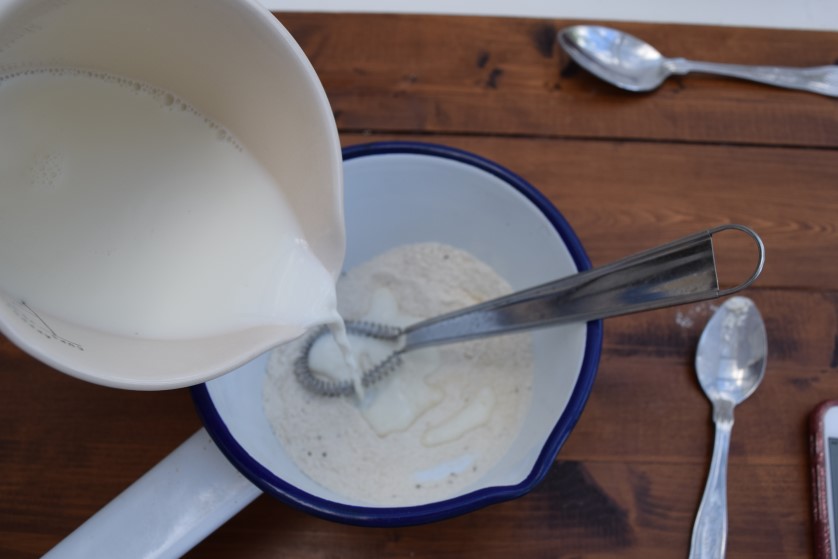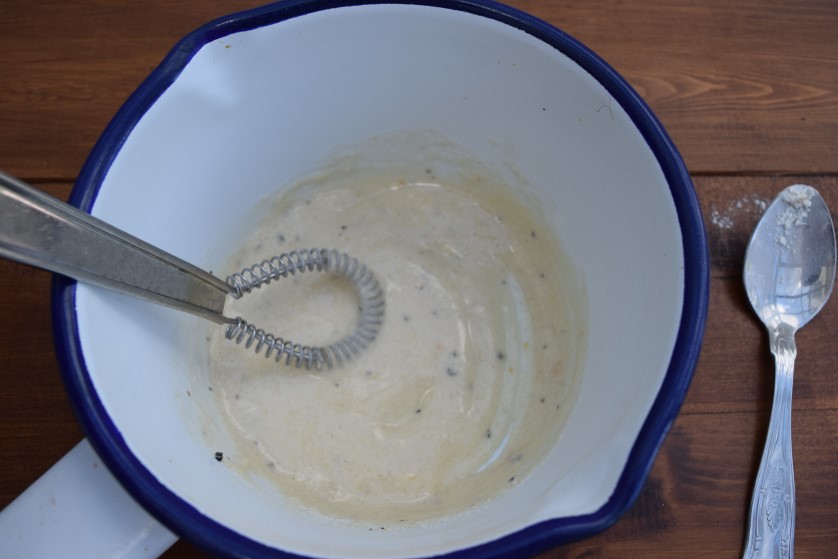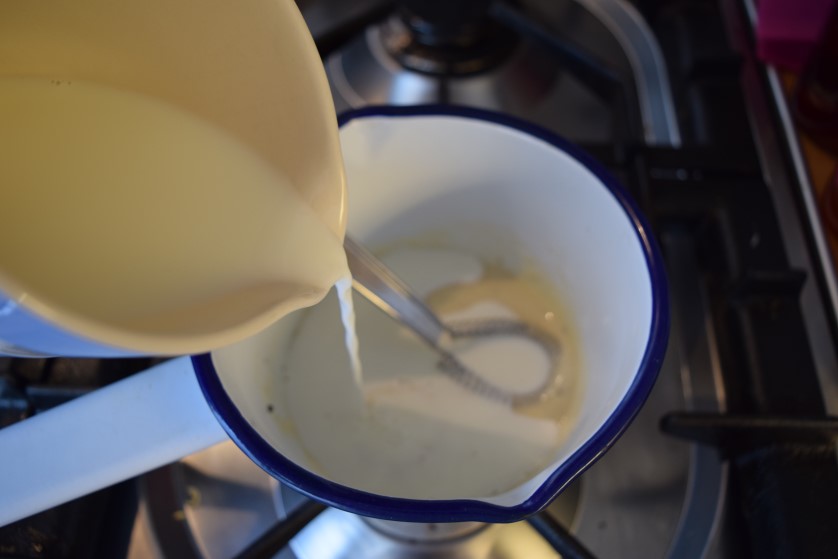 Slowly whisk in all the milk until you have a sauce-like consistency. Turn off the heat then whisk in the beaten egg and vinegar of your choice.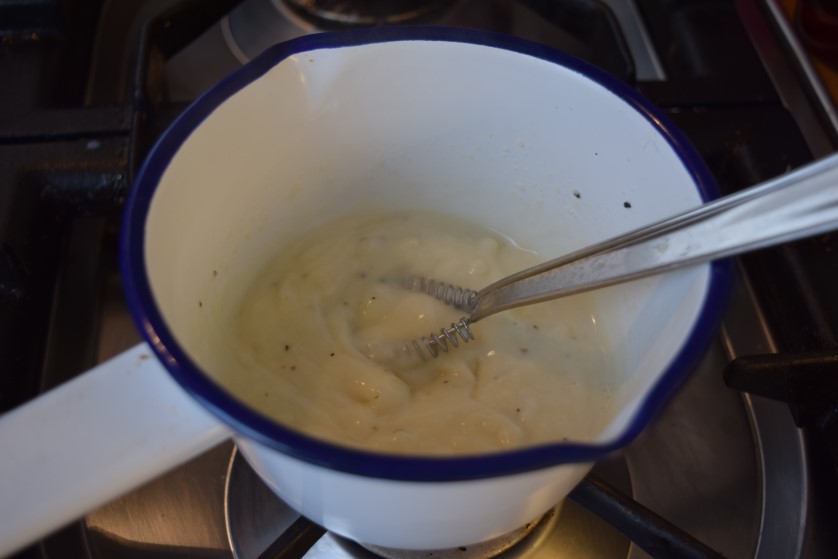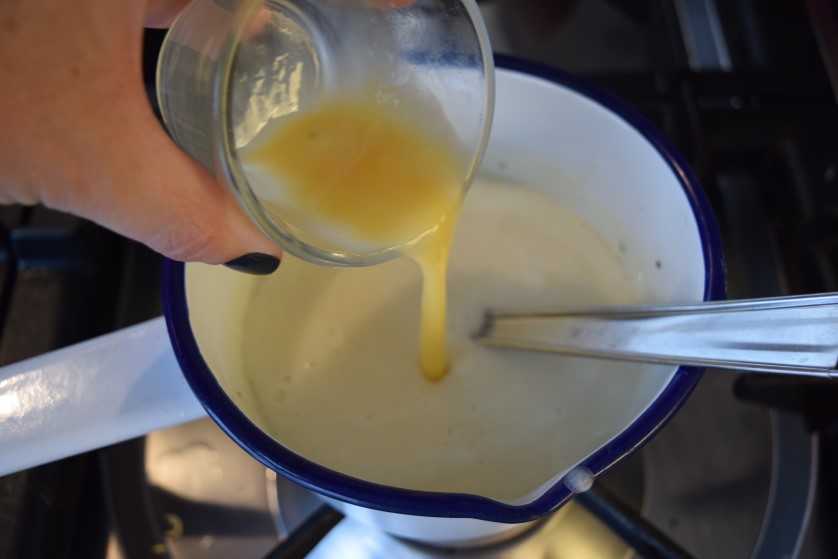 Put the bottom of the pan in a sink full of cold water and whisk until the mixture starts to cool down. Whisk in the tablespoon of sunflower oil then pour into a jug and leave to cool.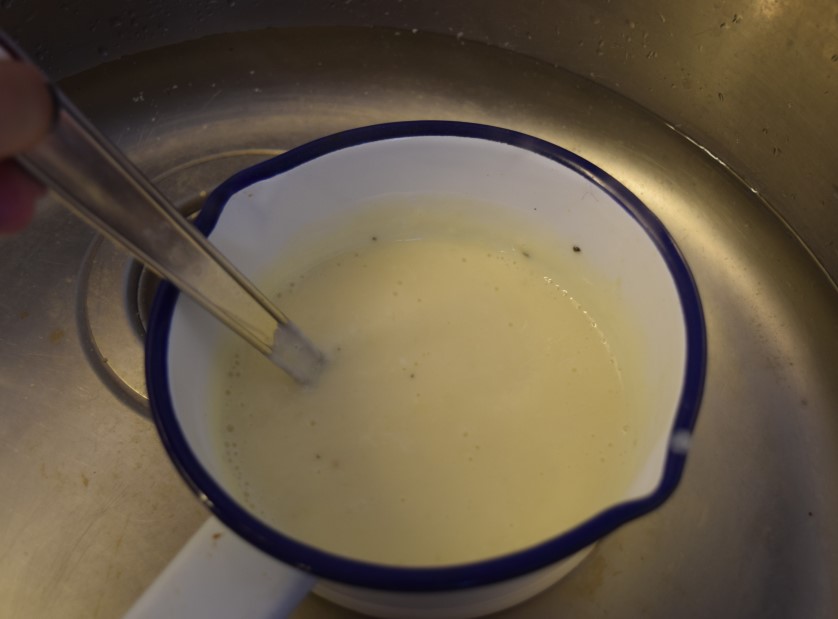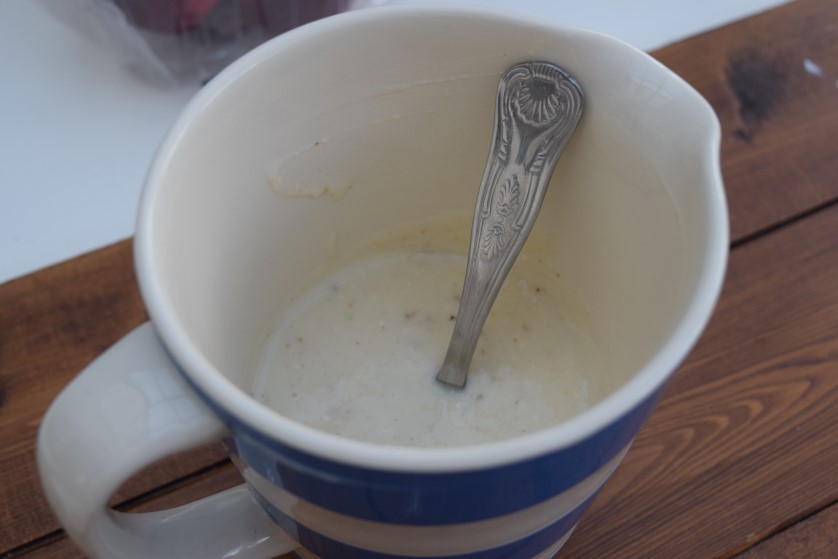 If your dressing is a little lumpy, just sieve it before cooling. I used course ground black pepper so mine didn't look lovely and pale, but it tasted completely amazing.
Now, crack on with the cherry tomatoes. Halve them or cut into three if they're bigger units, then place on a serving plate.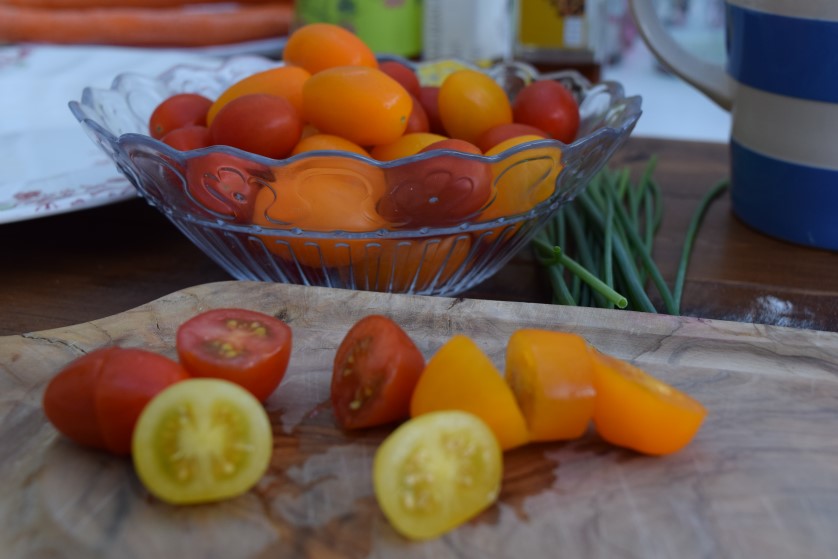 Drizzle with the cool, stylish salad cream dressing and garnish with snipped chives or chopped spring onions, if you'd prefer.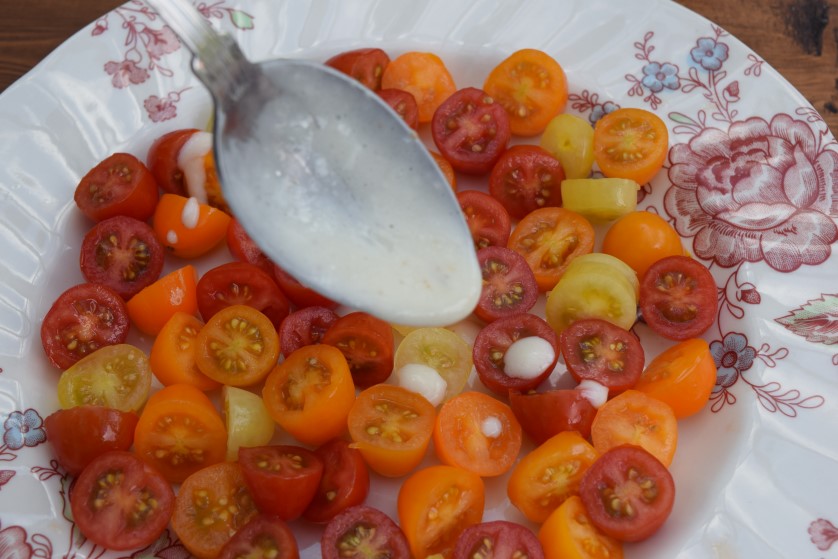 Think drizzle rather than drown in dressing here, you could always serve more on the side as the recipe makes loads.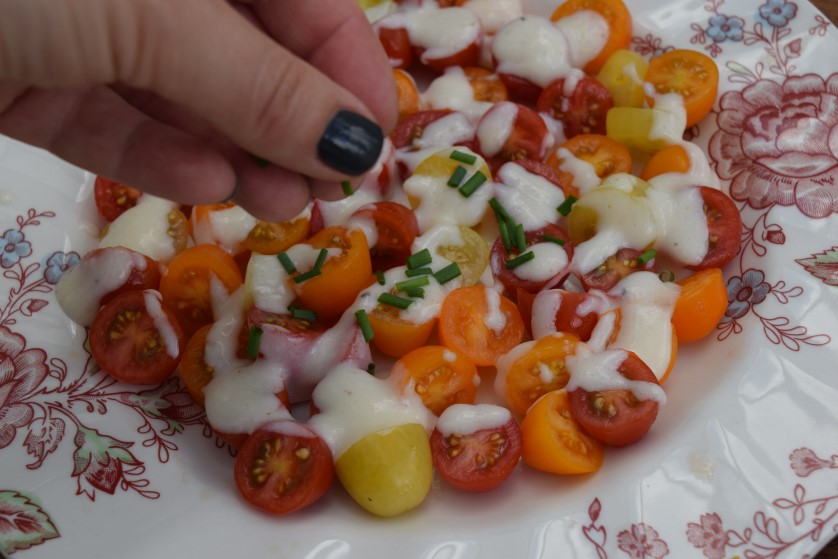 Now for the Carrot and Peanut Salad. Just some chopping and whisking awaits you. Take your carrots, mine were some limited edition fancy variety, super sweet and delicious. Peel them and cut into batons then halve or quarter these.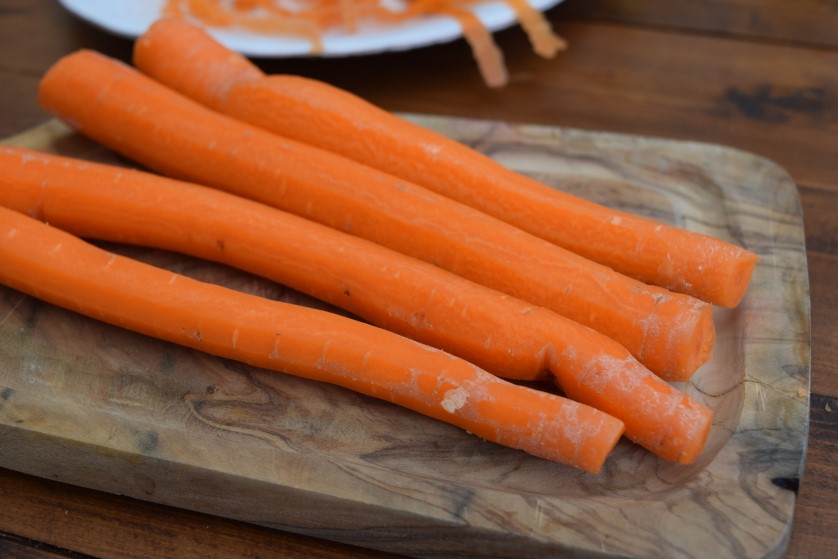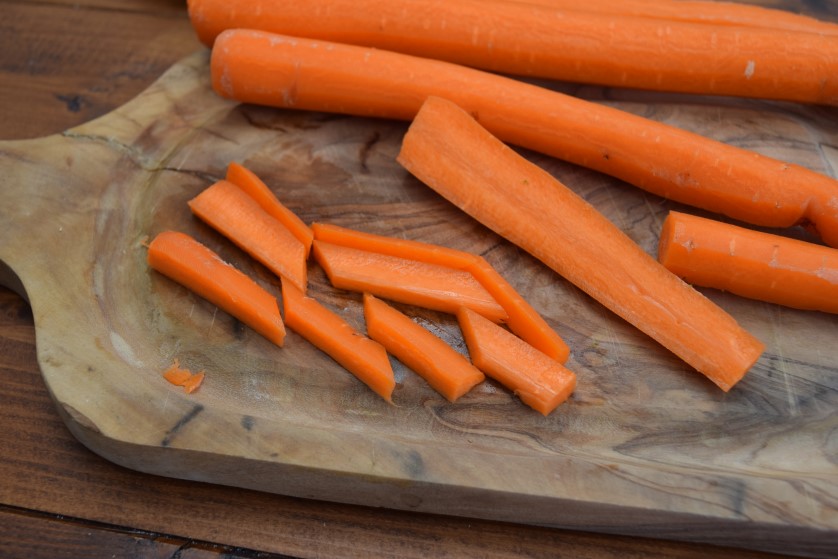 Mix these wonderful carrot pieces with your salted peanuts then prepare the dressing.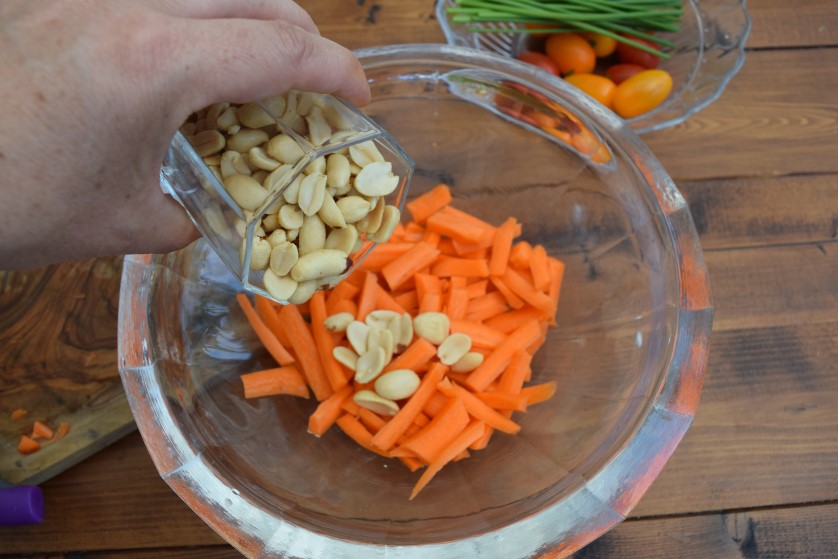 Whisk the nut oil, sesame oil and vinegar together until you have a smooth dressing.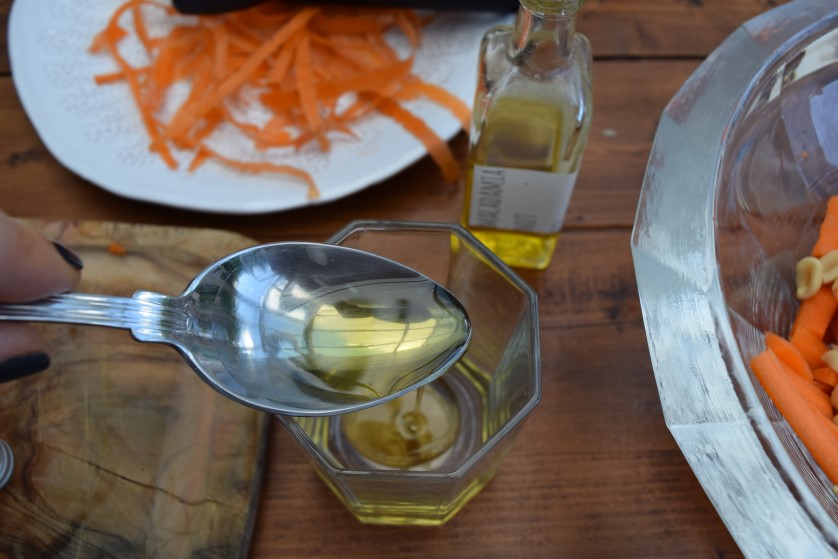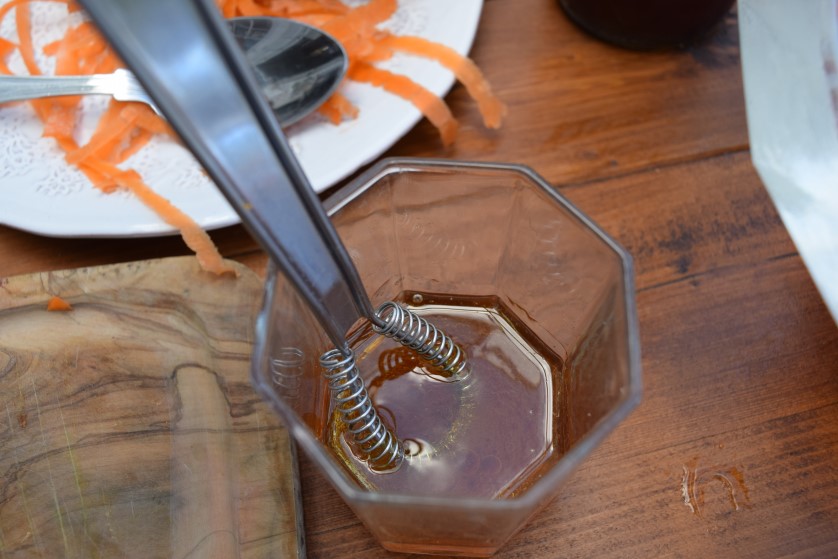 Pour this flavoursome dressing over the carrots and peanuts and you are just a parsley garnish away from tucking in.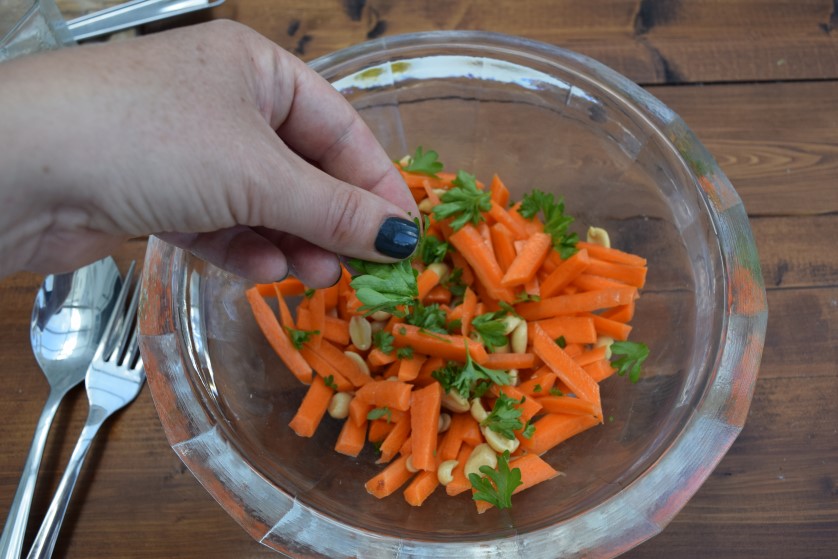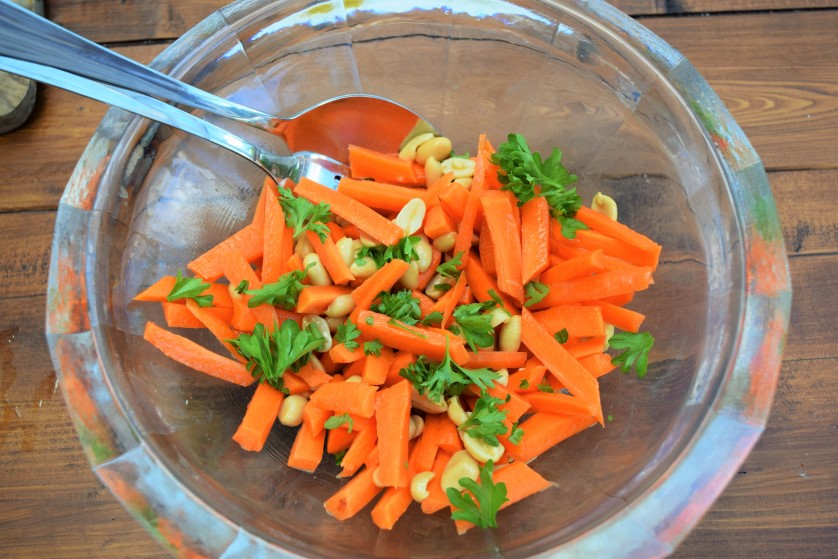 Serve these colourful, flavourful salads together, separately, with a barbecue or buffet lunch. Or, as Nigella suggests, eat the peanut salad in big mouthfuls with the bowl tucked under your chin.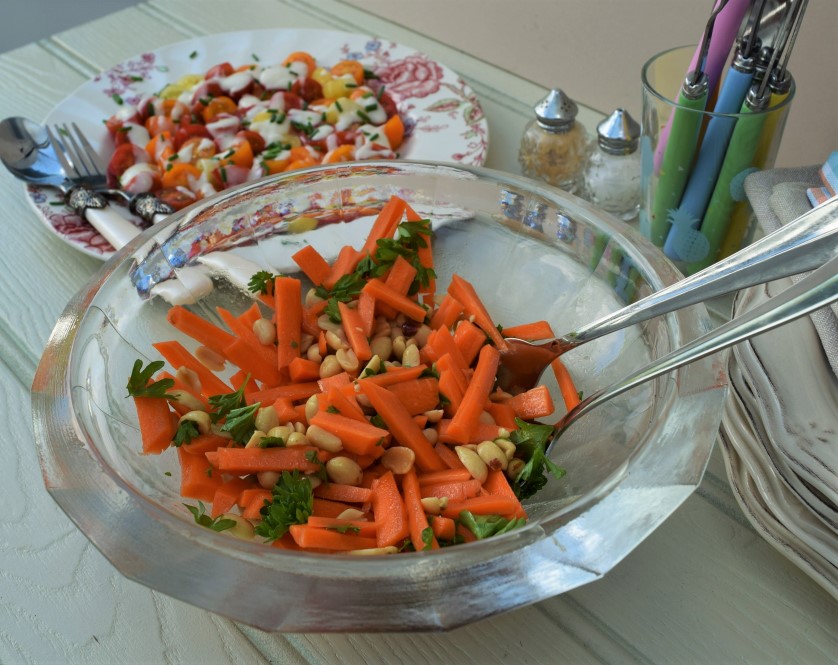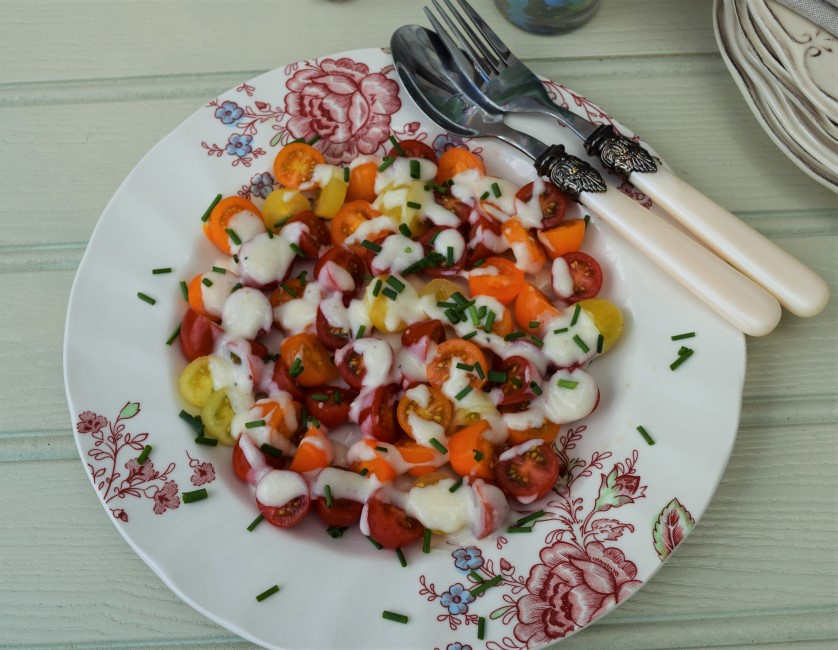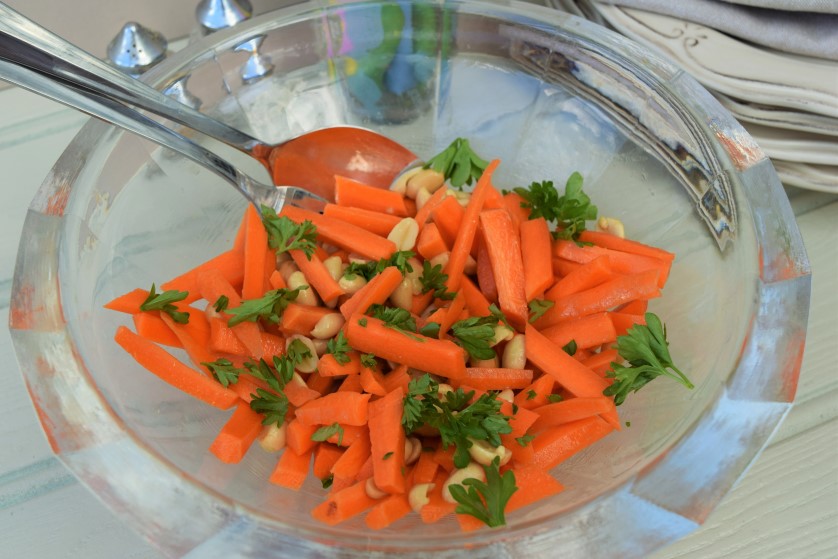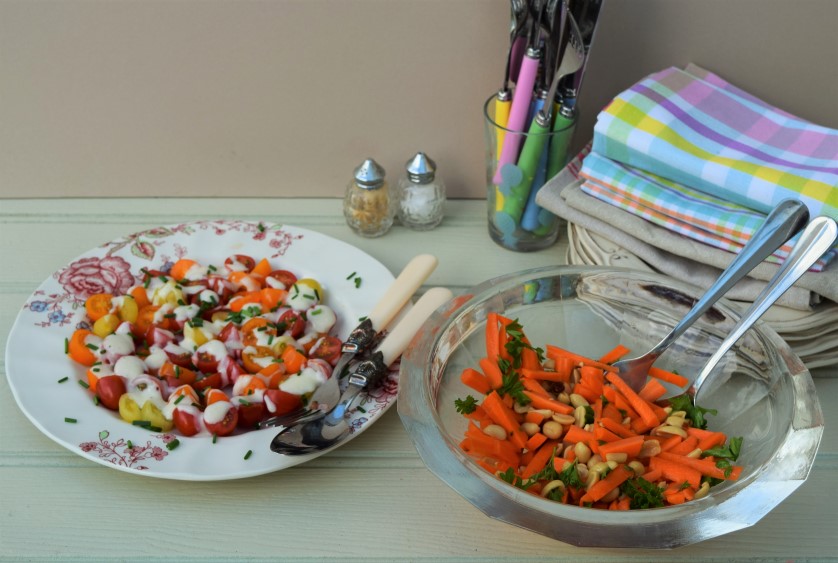 These are such simple recipes but they both have huge flavours. These will compliment any main course, or just inhale these two on their own with some crusty bread. Just after this shot was taken I could be seen sitting down, troughing through the carrot salad with a large serving spoon. Classy I am not, hungry I am, always.
Lucy x
Cherry Tomatoes with Salad Cream Dressing
Serves  4 – with dressing left over
You will only need a small saucepan
500g cherry tomatoes, halved
Dressing
1/4 teaspoon English mustard or a pinch of mustard powder
1 heaped tablespoon plain flour
1 teaspoon caster sugar
1/2 teaspoon salt
a big pinch/grind black pepper
250ml full fat milk
1 egg, beaten
4 tablespoon vinegar, I used white balsamic, but use anything with a lovely flavour
1 tablespoon sunflower oil
Chopped chives or spring onion tops to garnish
Start with the dressing. Fill your sink with cold water. Take a small saucepan and mix together the mustard, flour, sugar and salt and pepper. Mix with a little of the milk to fashion a paste then put on the hob on a low heat and blend in more of the milk. Use a small whisk to prevent lumps. Slowly add the rest of the milk, whisking, until you have a thickish sauce-like texture. Turn the heat off then whisk in the beaten egg and vinegar.
Put the bottom of the saucepan into the sink of cold water and continue to whisk while the dressing cools. Add the tablespoon of sunflower oil then pour in a jug and leave to cool.
Halve, or third if bigger, the cherry tomatoes and place a on pretty plate. Drizzle over some of your cooled salad cream style dressing over the chopped tomatoes. Garnish with some snipped chives or spring onions and devour.
Carrot and Peanut Salad
You will need a pretty bowl for serving
4 medium sized carrots, cut into batons, then halved if you like
80g salted peanuts
Dressing
2 tablespoons red wine vinegar
2 tablespoons nut oil, peanut is good, I used macadamia nut
a couple of drops of sesame oil
Some parsley to garnish, if you like
Peel your carrots and cut into batons then halve or cut into smaller chunks, it's up to you. Tip in the salted peanuts and stir to combine.
For the dressing whisk together the red wine vinegar, nut oil and sesame oil.
Pour the dressing onto the carrot and nut mixture and stir well to coat. Garnish with a few sprigs of parsley, if you are that way inclined. Eat on it's own or as a salad side dish.