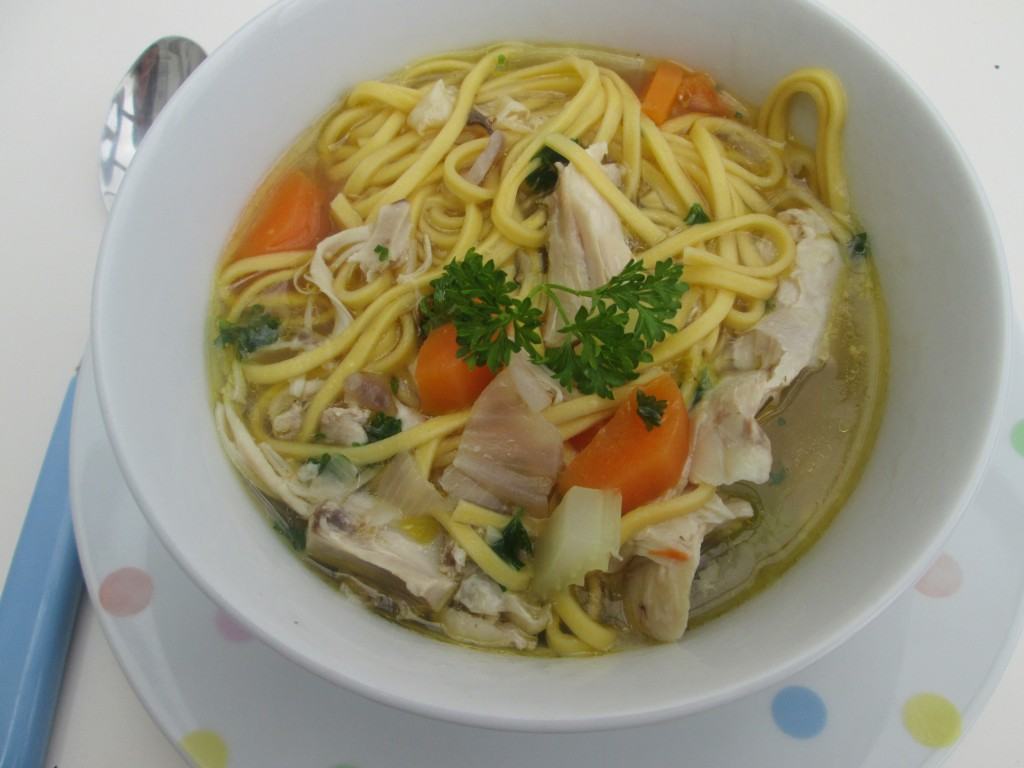 Chicken Noodle Soup Recipe
This is one of my favourite, most tasty recipes. I know, its only soup, however, it can take on many roles and has lots of redeeming qualities. Being super hearty and filling it can serve as a delicious family lunch or with warm bread, a snuggy week night supper with friends.
If you have leftovers from a Sunday roast chicken, these can be added to your soup. If you are that way inclined your chicken carcass could be used to make a fantastic stock, just simmer the bones with seasoning, a couple of carrots, celery and parsley stalks until they are reduced by half and it tastes flavourful and rich. Strain them and use accordingly. This soup is also a good way to get children to eat their vegetables. You can include as many different types as you like, I go with celery and carrots, but often sneak in a pea or some brocolli if I am feeling brave.
It's a family supper, great for entertaining, economical and nutritious, I did say this soup had many roles, I wasn't lying.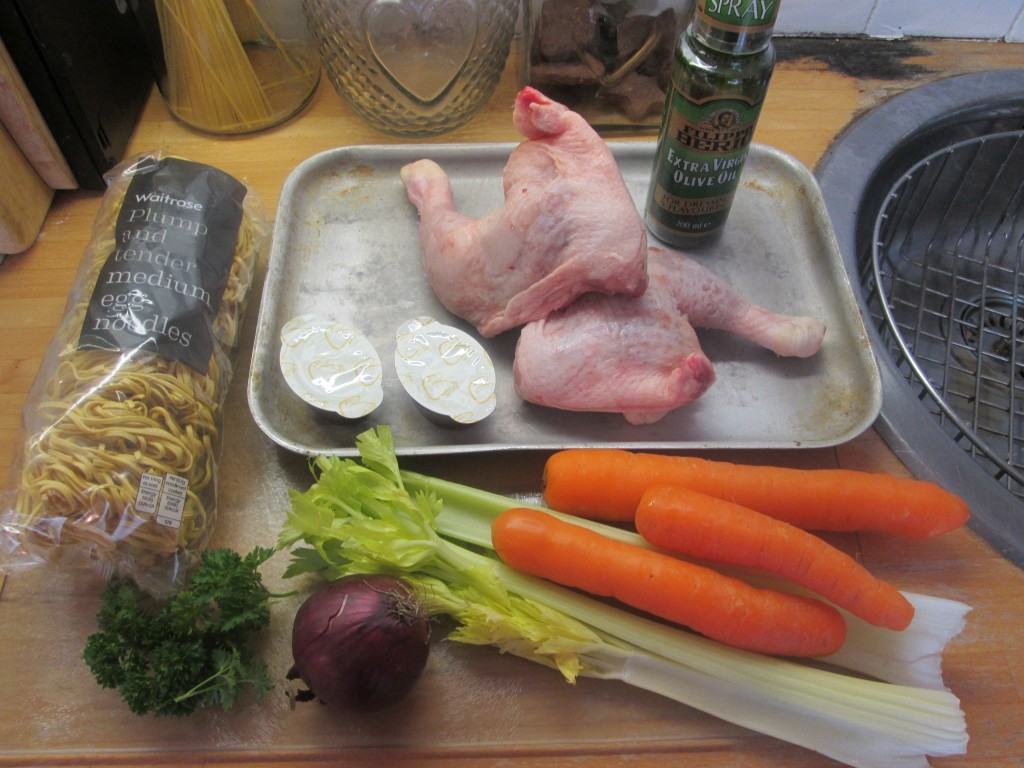 The soup starts with roasting a couple of chicken legs (unless you have leftovers). This provides flavourful chicken for the soup, along with some delicious roasting juices to add to the pot. I added a couple of extra chicken legs to the roasting tin so there was cold chicken for a sandwich or salad later in the week, but you should only need two for the soup.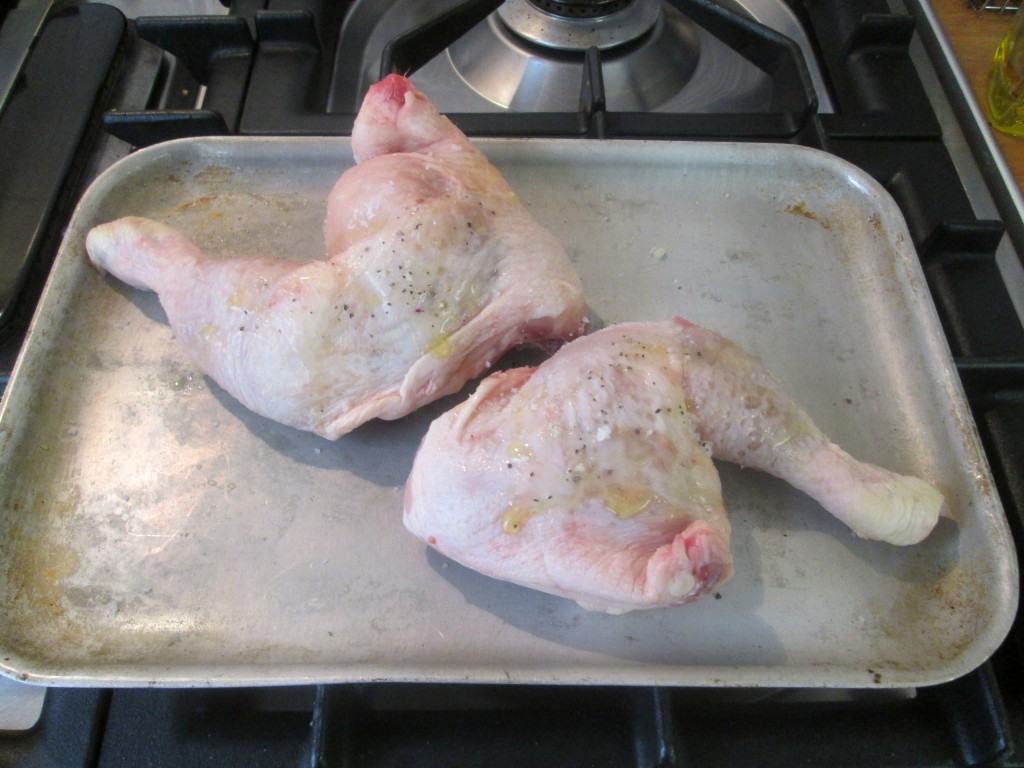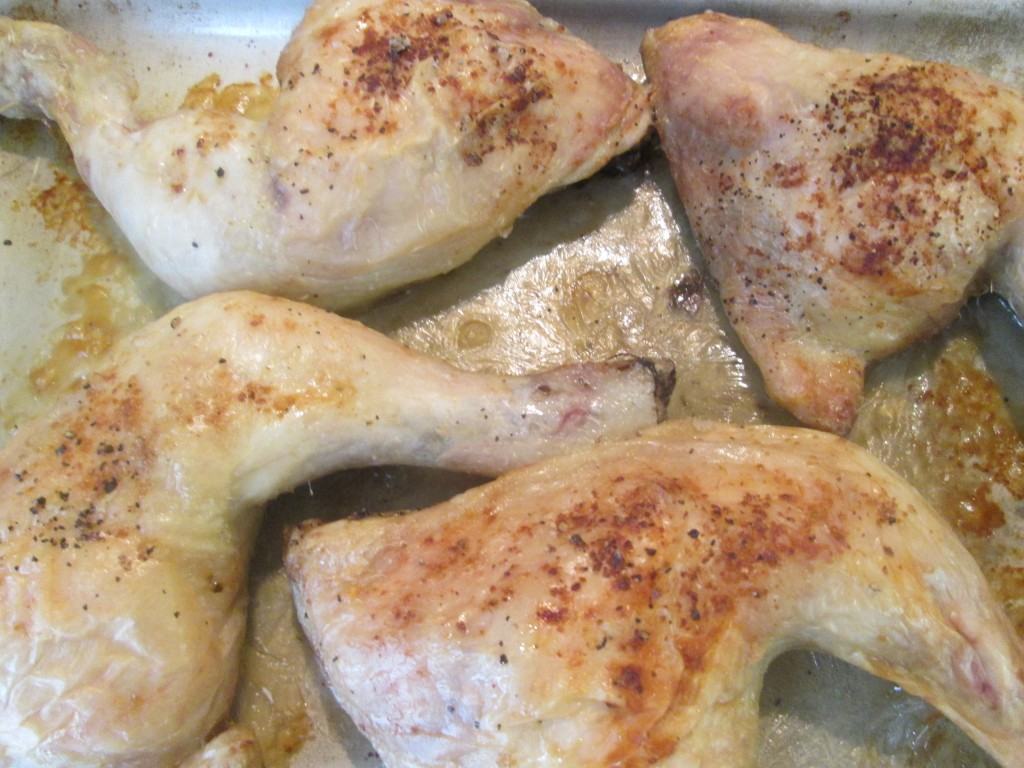 Leave the succulent chicken to cool while you get on with the soup base. Heat a little olive oil, with some of the chicken roasting juices for extra flavour, in a large pan.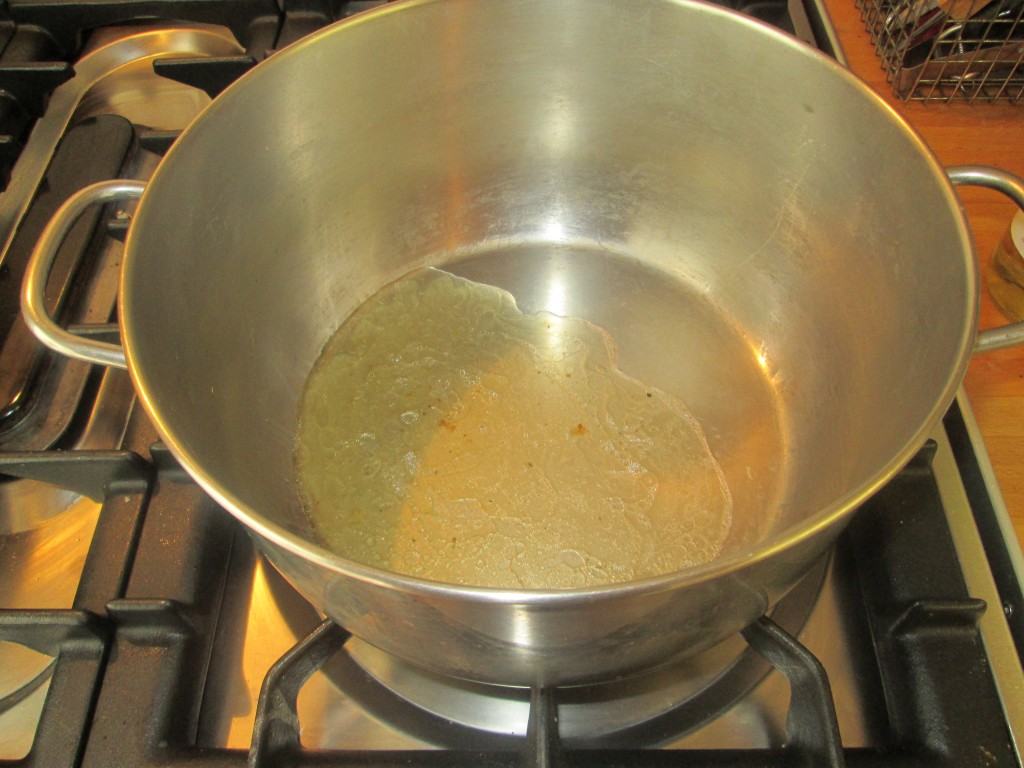 Finely chop your celery, carrots and onion and add to the pan, with the bay leaves and salt and pepper. Lightly sweat for around 10 minutes. This is where the flavour for your soup base comes from, so take the time to soften the vegetables slowly.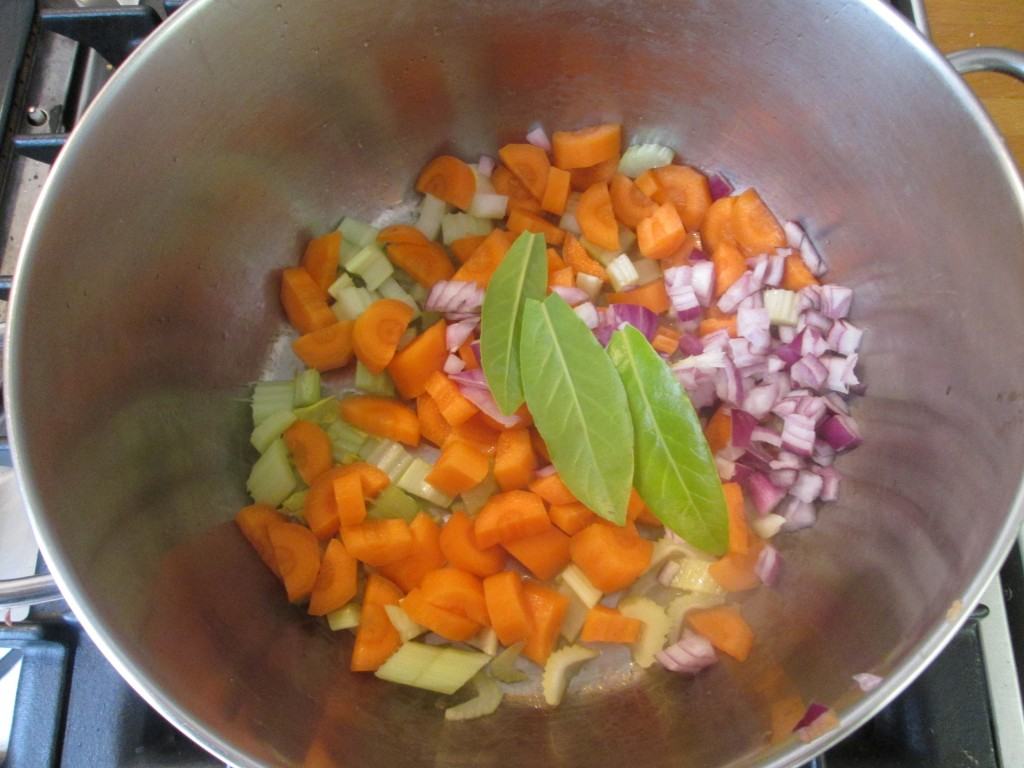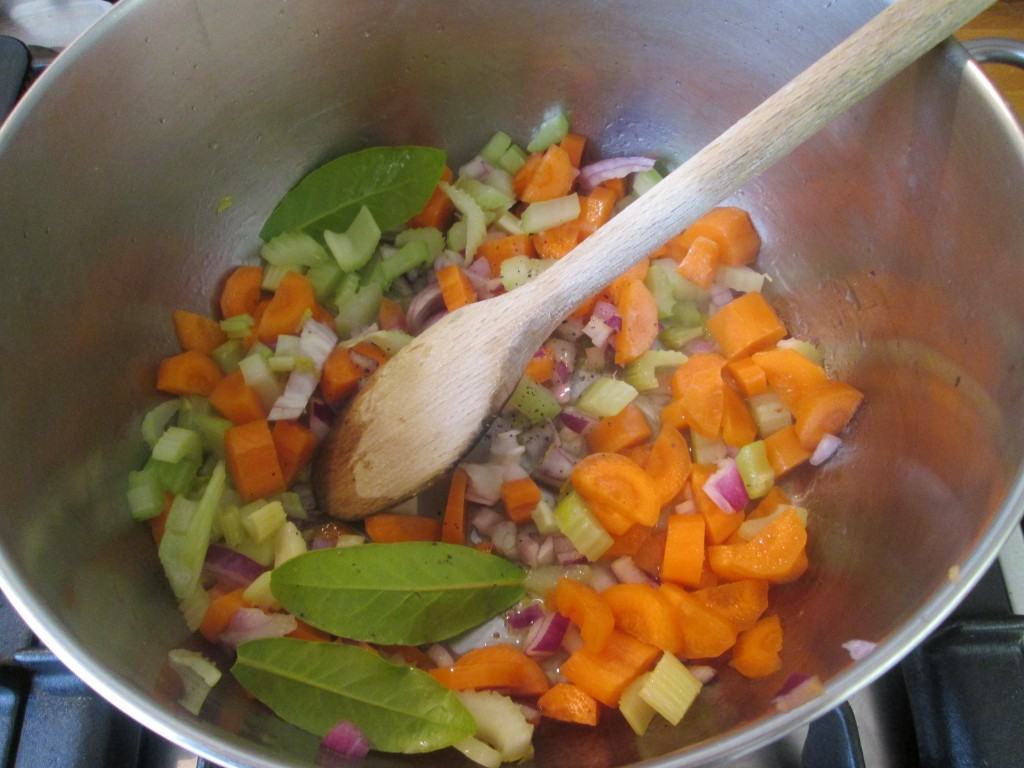 I didn't have a tasty chicken carcass to hand, so I made my chicken stock from a concentrate, no less delicious, just slightly less work.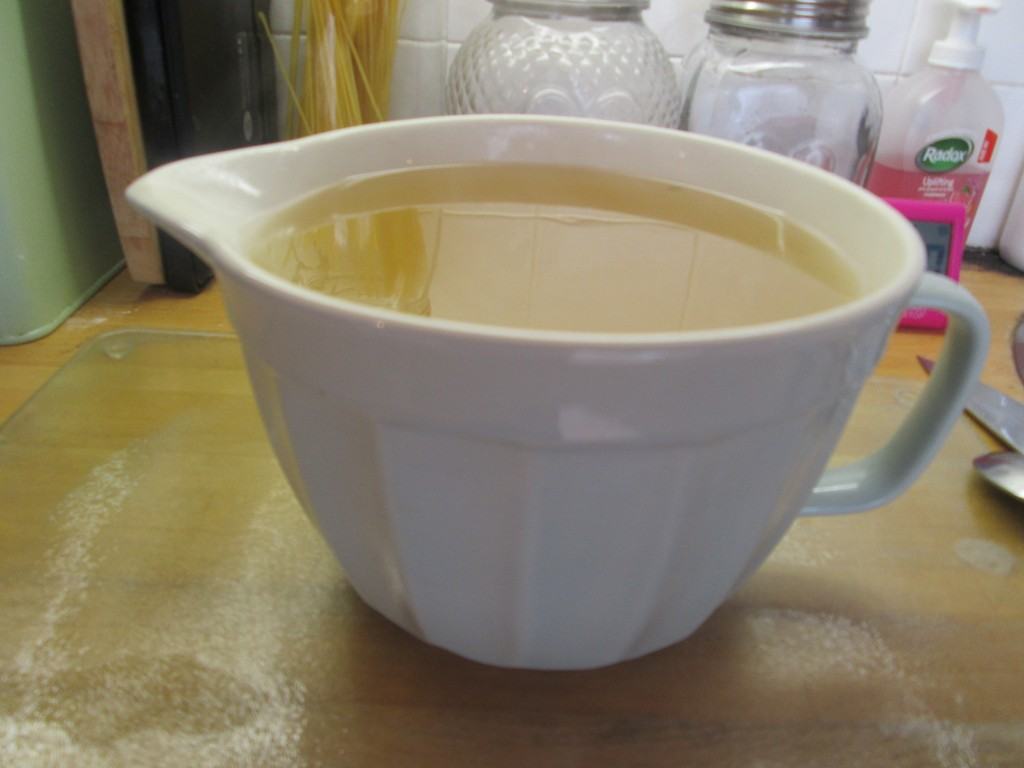 Add this to your softened vegetable base and simmer for a further ten minutes.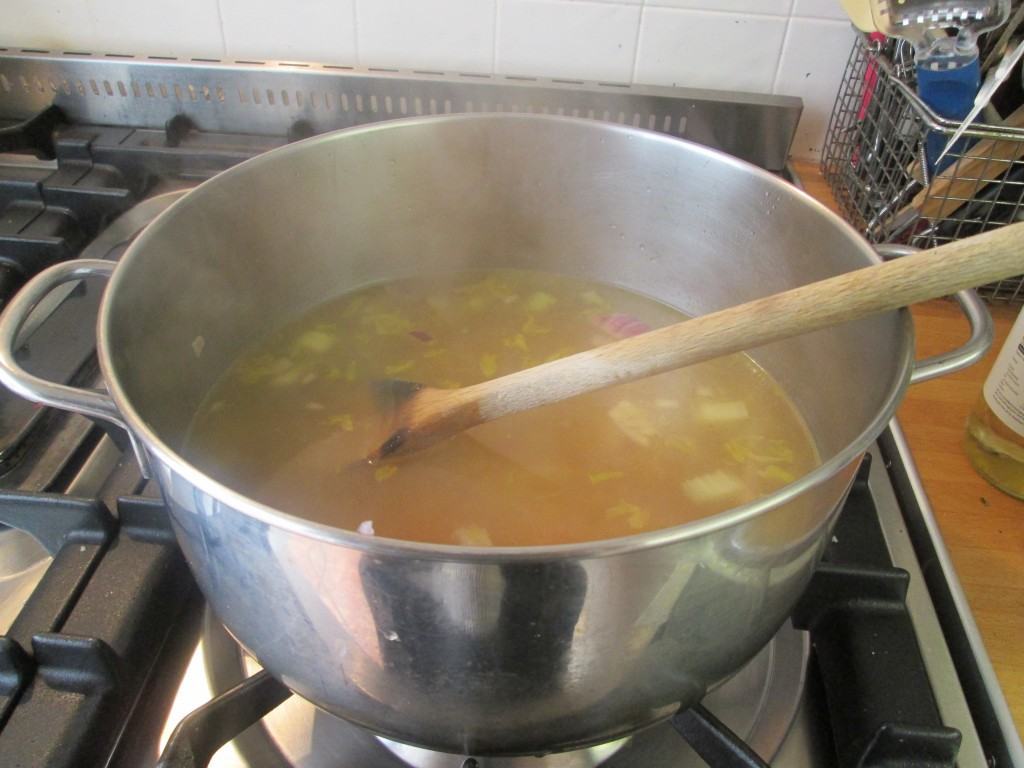 We like a noodle heavy soup, so after your ten minutes is up, add three noodle nests to the simmering soup. This will create a thicker soup, so if you prefer more broth to noodle ratio, add less.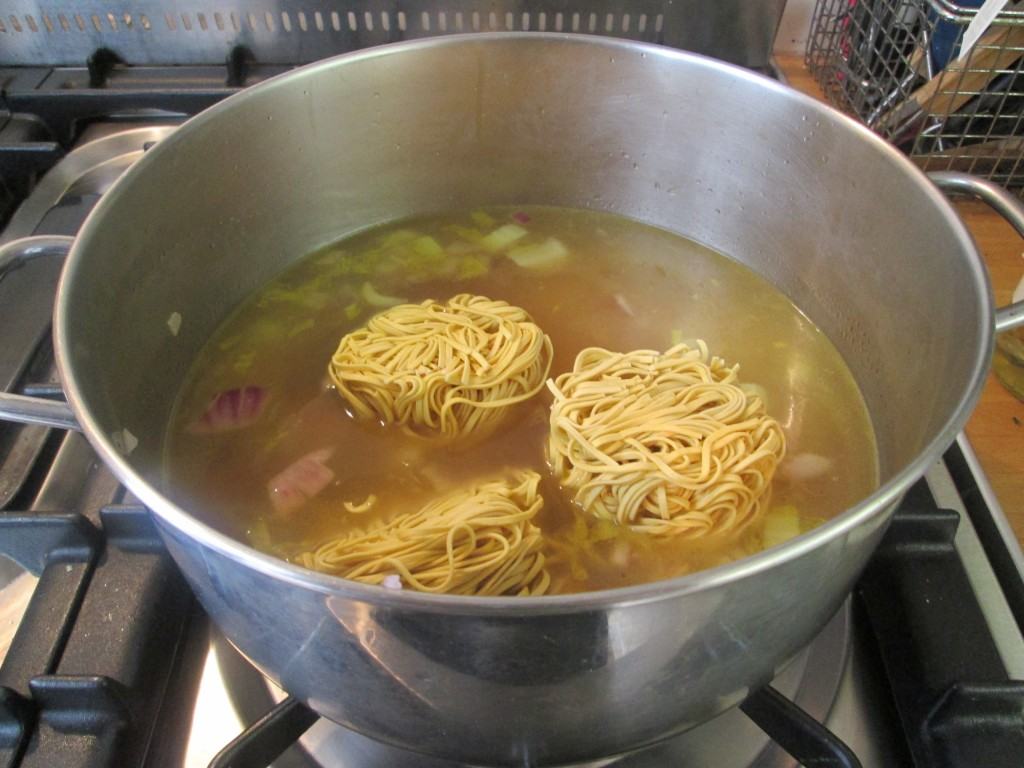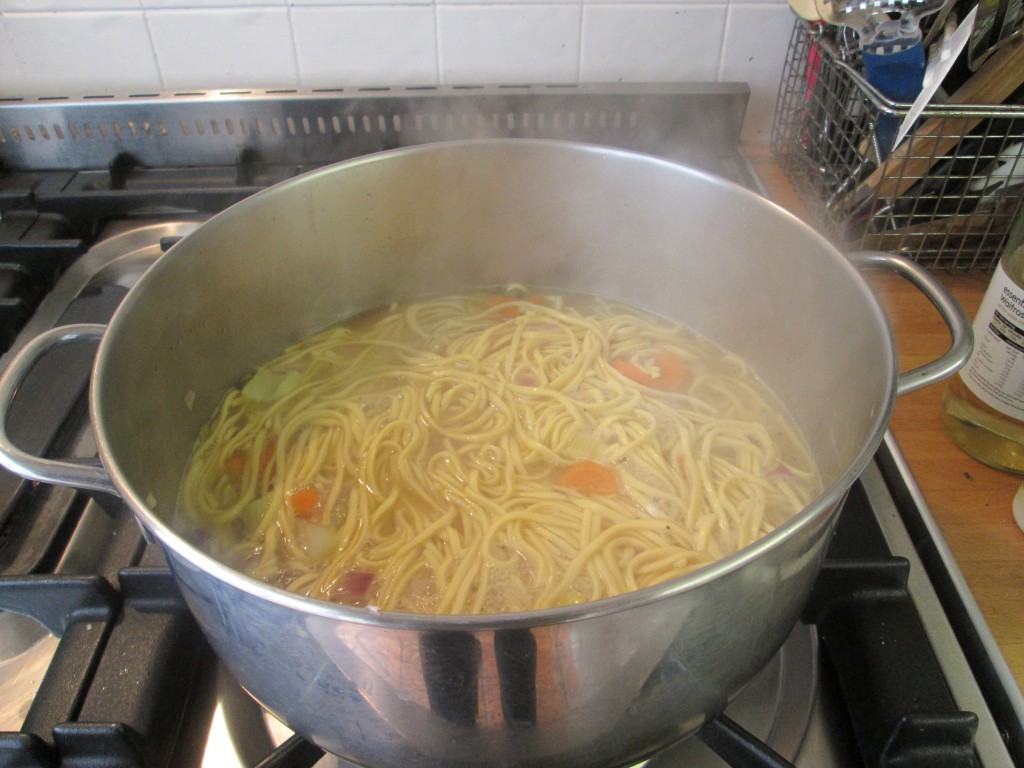 While the noodles are simmering, remove the juicy roast chicken from the bones. I had an audience when I did this as the cat and dog knew they were getting the skin.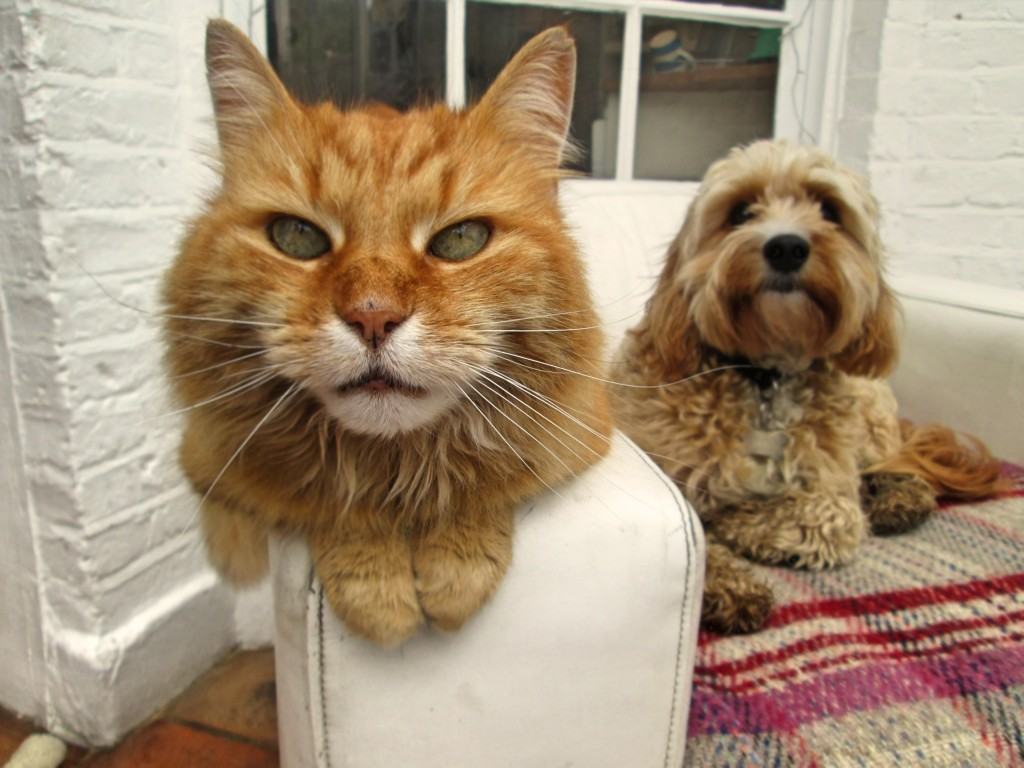 Add the chicken and chopped fresh parsley to your broth and simmer for a further minute or two, to reheat the chicken and let the flavours combine.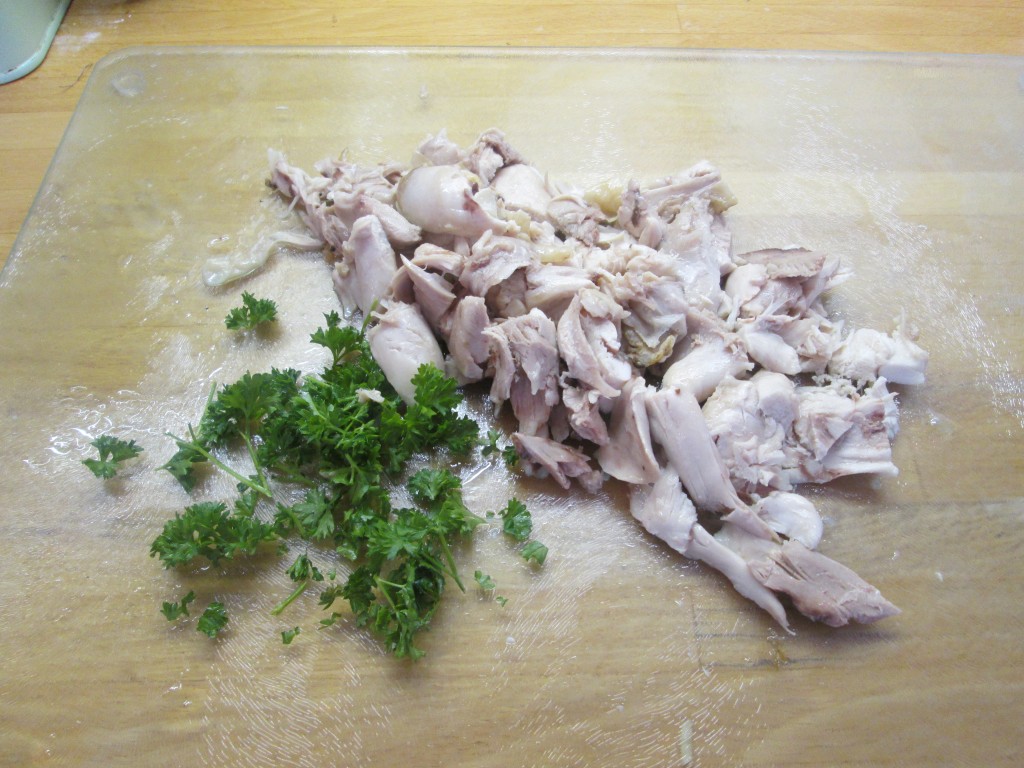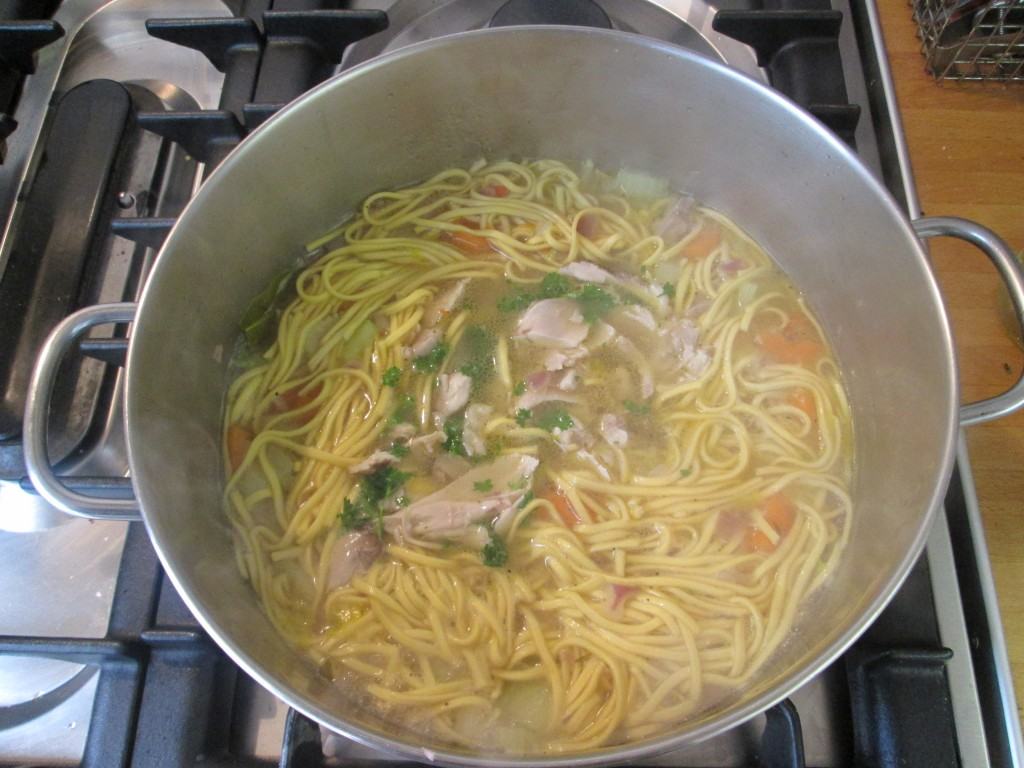 It's mouthwatering and smells so comforting and tasty.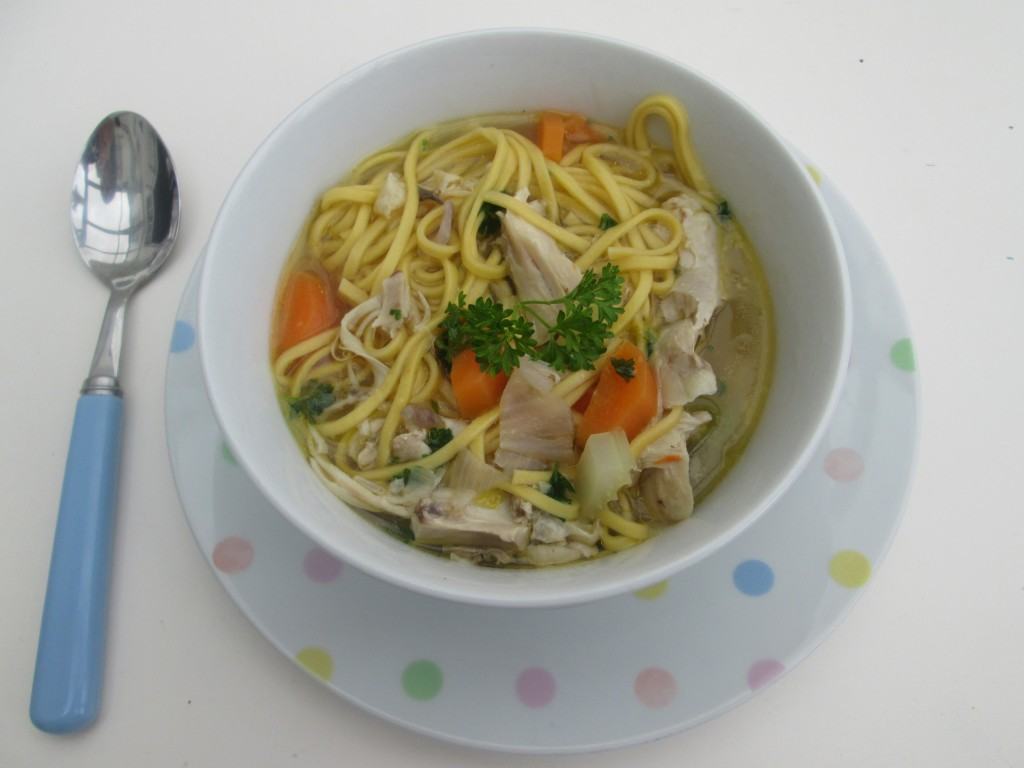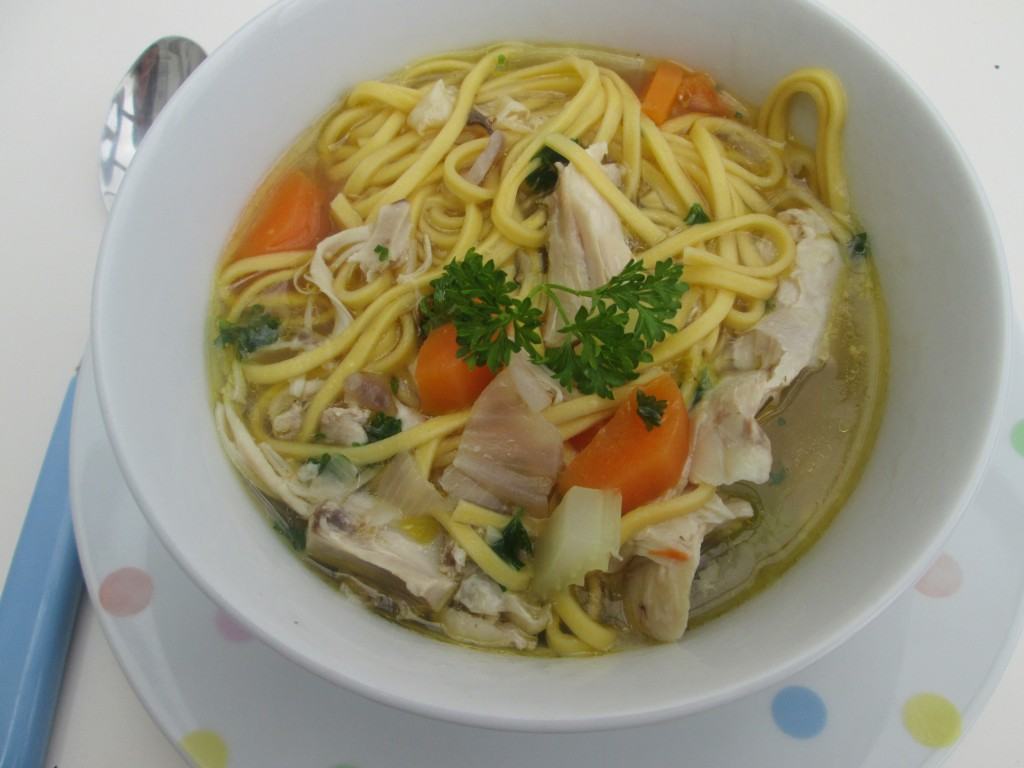 I hope your family, lunch or supper guests or you yourself, enjoy my chicken noodle soup.
Lucy x
Chicken Noodle Soup Recipe
Serves 4 to 6 people, appetite dependent
2 chicken legs, or left over roast chicken, a couple of handfuls should suffice
A slug of olive oil and a couple of tablespoons of chicken roasting juices
3 carrots
2 sticks celery
1 medium sized onion
3 bay leaves, fresh or dried
1.5 litres chicken stock, homemade from your chicken carcass or from concentrate
3 rounds of dried noodles, or less if you prefer more broth
A handful of chopped parsley
salt and pepper, extra parsley to garnish
Roast your chicken legs at 180 degrees for around 45 minutes with olive oil, salt and pepper. Leave them to cool but keep the roasting juices.
In a large pot and over a low-ish heat, add a small slug of olive oil and a couple of tablespoons of the chicken roasting juices, if you have them. Finely chop your celery, carrots and onion and add them to the pan with some salt and pepper and the bay leaves. Leave them to sweat down for around 10 minutes. Add your chicken stock to the pan and simmer for a further 10 minutes. Add the noodles and simmer for 5 minutes. Remove the chicken from its bones, discarding, or giving the skin to your pets, chop into bite sized pieces and add to the pot with the chopped parsley. Warm through and serve, ladling the broth into bowls. You will need tongs to distribute the noodles and the other delicious bits and bobs. Scrape your bowl clean.