Strawberry Crumble Recipe
Hot strawberries, no thank you. That's what I thought when I first saw this recipe in the foxy Nigella Lawson's Kitchen book. Strawberries for me have only ever been chopped and served with a squeeze of lemon juice, sugar and mint. To cook them would be sacrilege in my mind. However, this was until I made this Strawberry Crumble. The strawberries cook down nicely becoming sweet and soft, without being too sludgy due to the welcome addition of ground almonds.
This crumble has a taste of summer in what is traditionally a winter pud. Served with chilled cream this is a perfect addition to a garden lunch menu. I use my favourite crumble topping recipe and I make extra, as in our house, the fruit is always the less popular part of the dish, so this has a brilliant fruit to crumble ratio. This pud is inhaled by my friends and family, in a way an apple crumble never is. It's also a fab way of using up any strawberries you may have which are slightly on the turn and could even be padded out with a few raspberries. The vanilla scented fruits make a standard crumble into something really rather special.
Today marks the start of the Wimbledon tennis championships just down the road from Lucy Loves headquarters, so it's now officially strawberries and cream season. What more of a brilliant reason to make this delicious Strawberry Crumble do you need?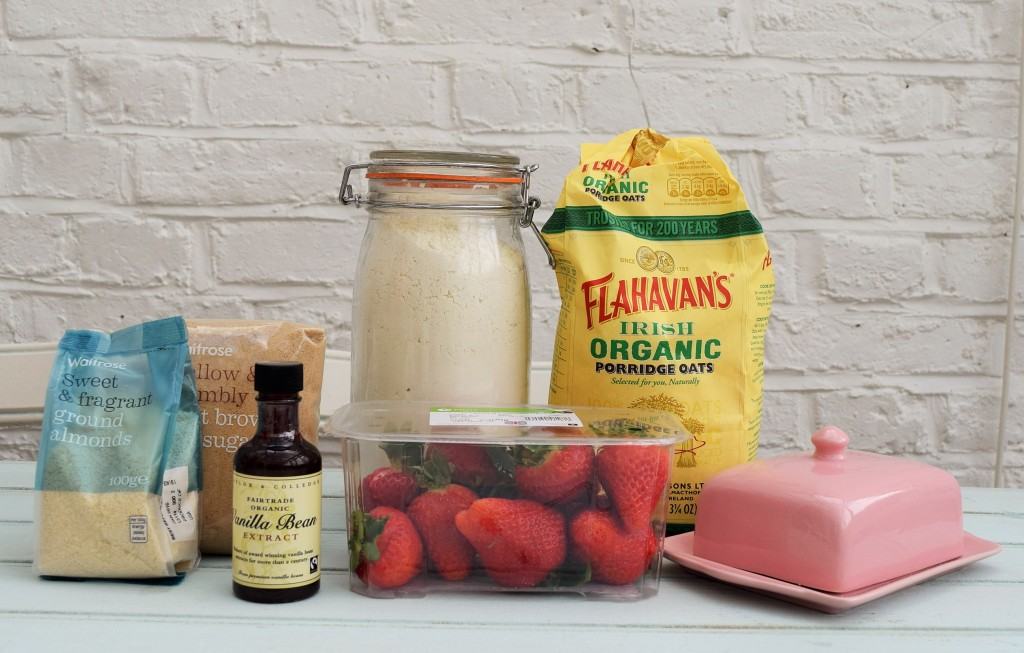 Just a small line up for today's Strawberry Crumble, and, wait for it, nothing forgotten, so well done me. I only had a 400g punnet of strawberries, but 500g to 600g would work well here. Or you could use a mixture of any summer fruits to make up the numbers.
Start by cutting your fragrant strawberries in half or quarters if big, and pop them in a medium sized baking dish. Cover them with the sugar and ground almonds then sprinkle on the teaspoons of vanilla extract for extra flavour.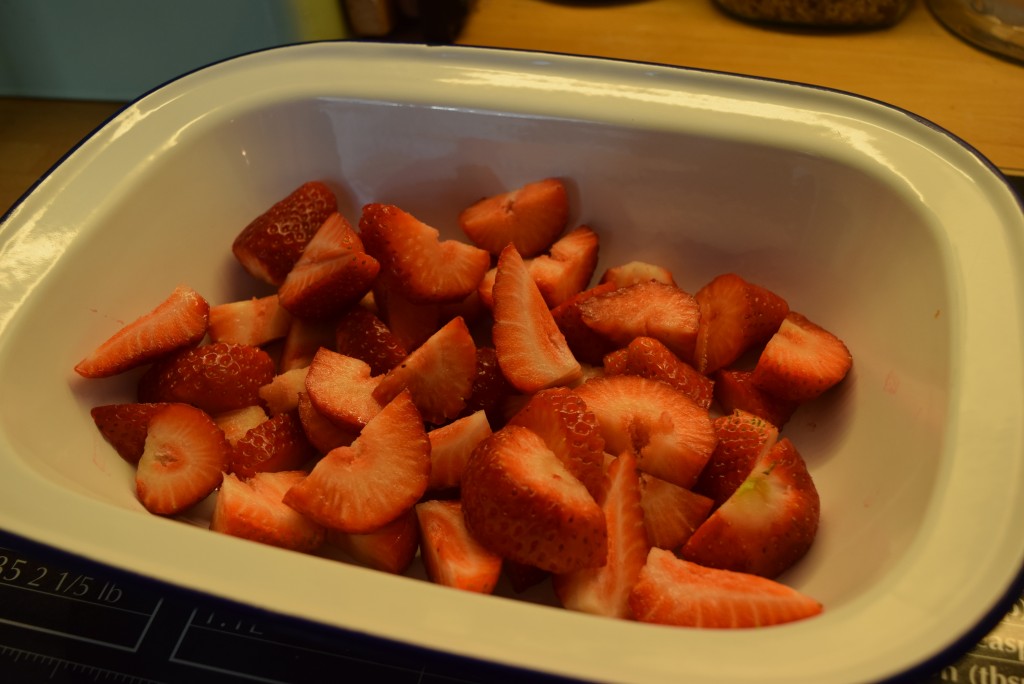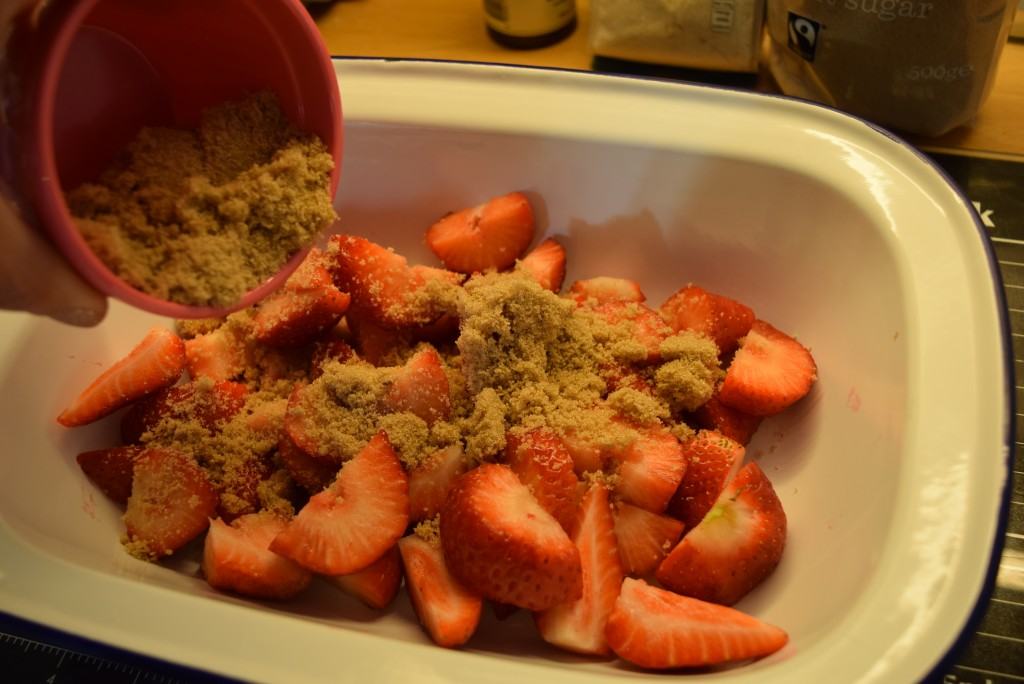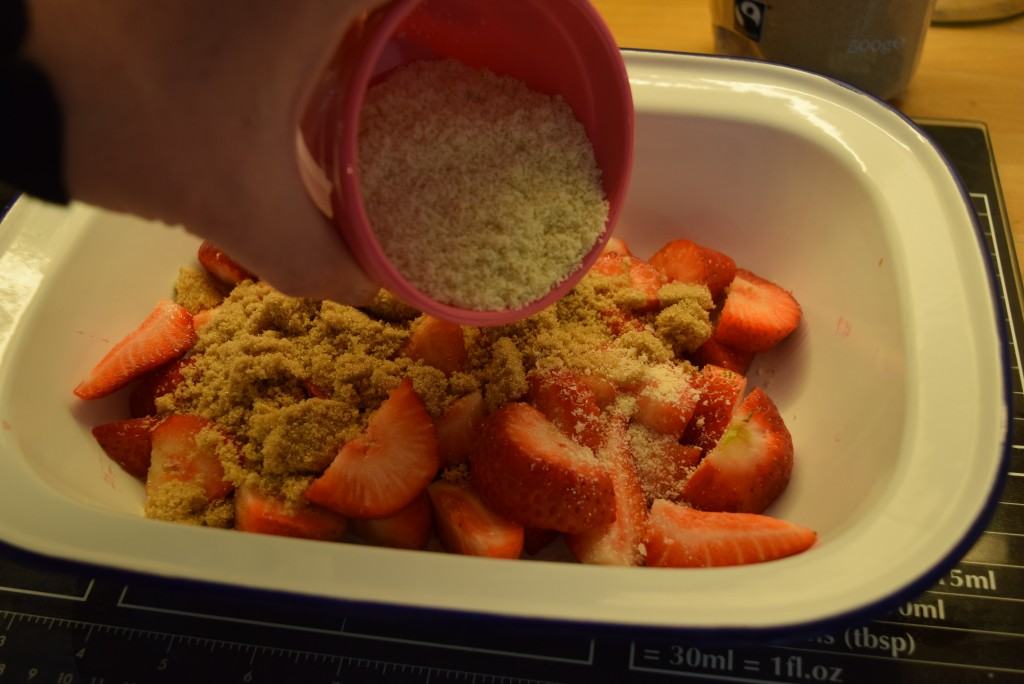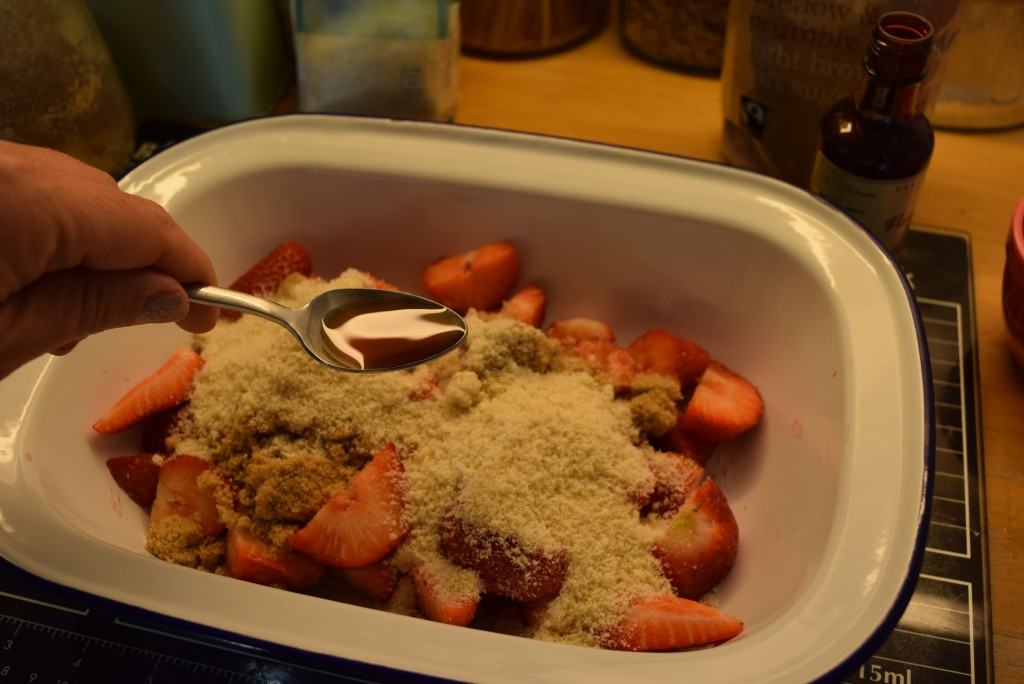 Give this slightly messy looking mixture a good stir, inhaling the wonderful sweet, almost Bakewell Tart-like fragrance.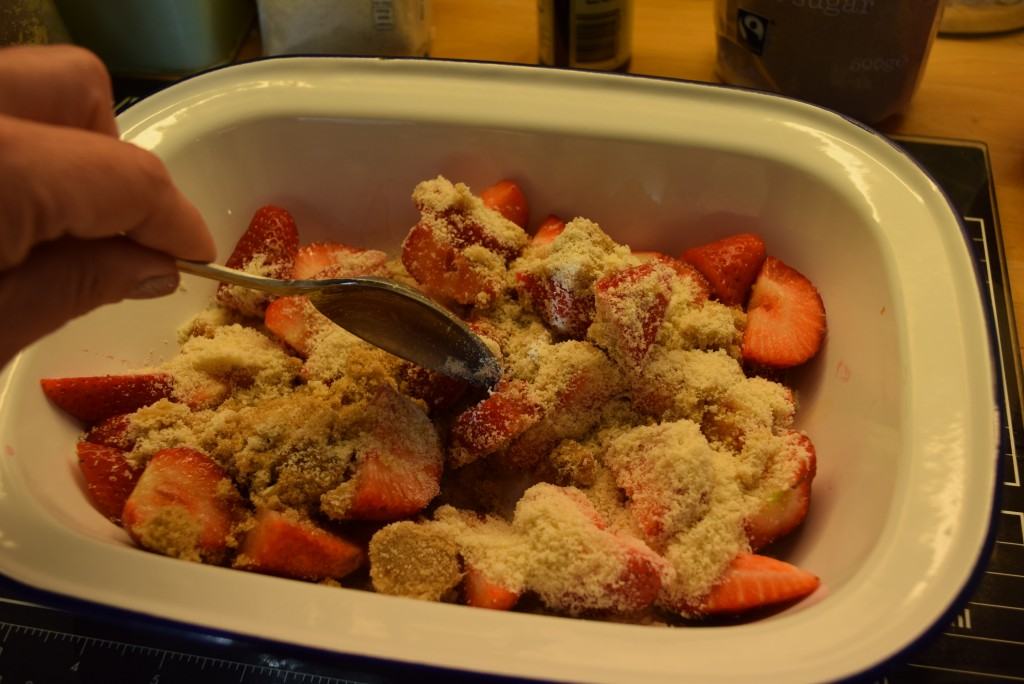 Then, stop eating the fruit mixture and get on with making the crumble. Either use a food processor for this or make by hand in a big bowl. Add the flour and butter and rub together using your finger tips, or blitz until the mix looks like breadcrumbs. UNLIKE MINE – NO PHOTO SPOILER ALERT. I had a incident with my scales and ended up using too much butter and it ended up like shortbread. The end result was just as good though, as I salvaged the incident with extra flour.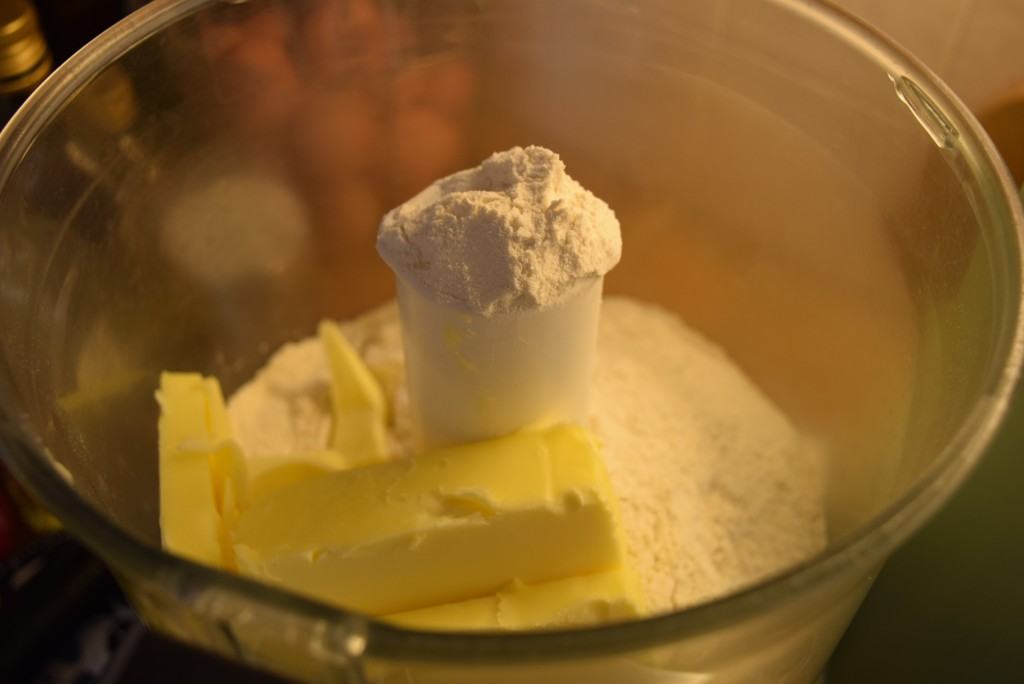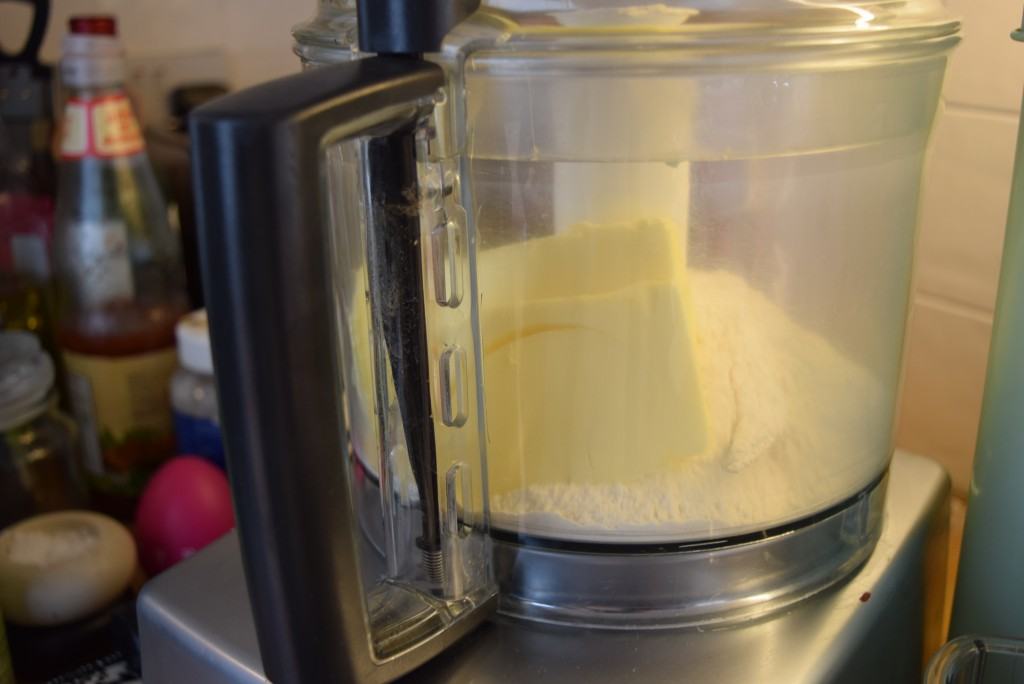 Please use your imagination here to envisage the flour and butter breadcrumb-like texture.
Next up, add the soft brown sugar and oats and mix well to create your brilliant crumble topping.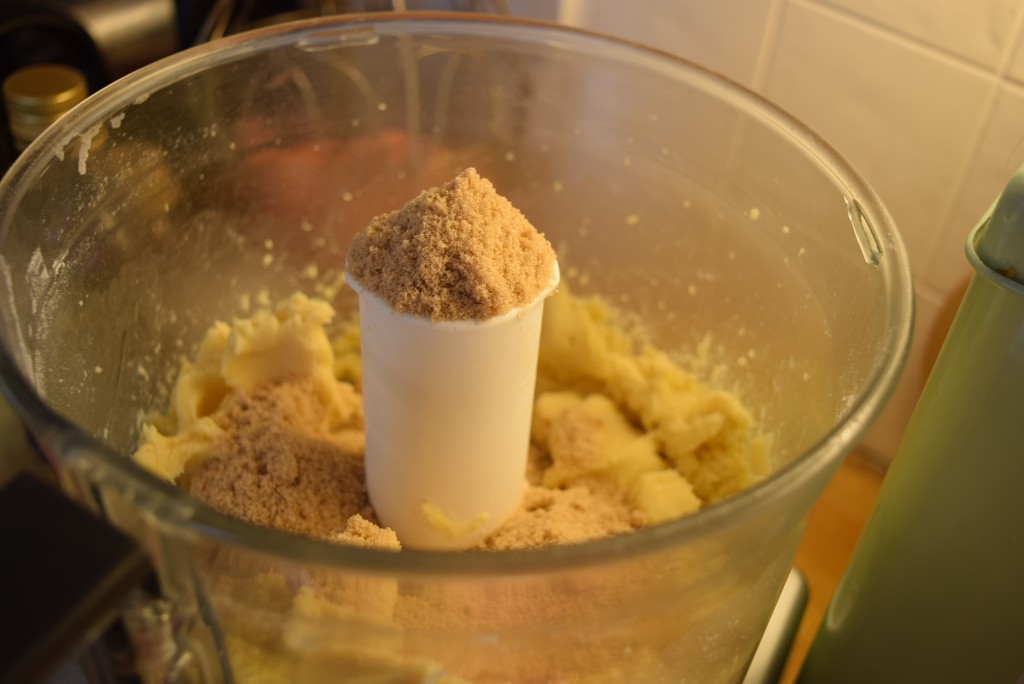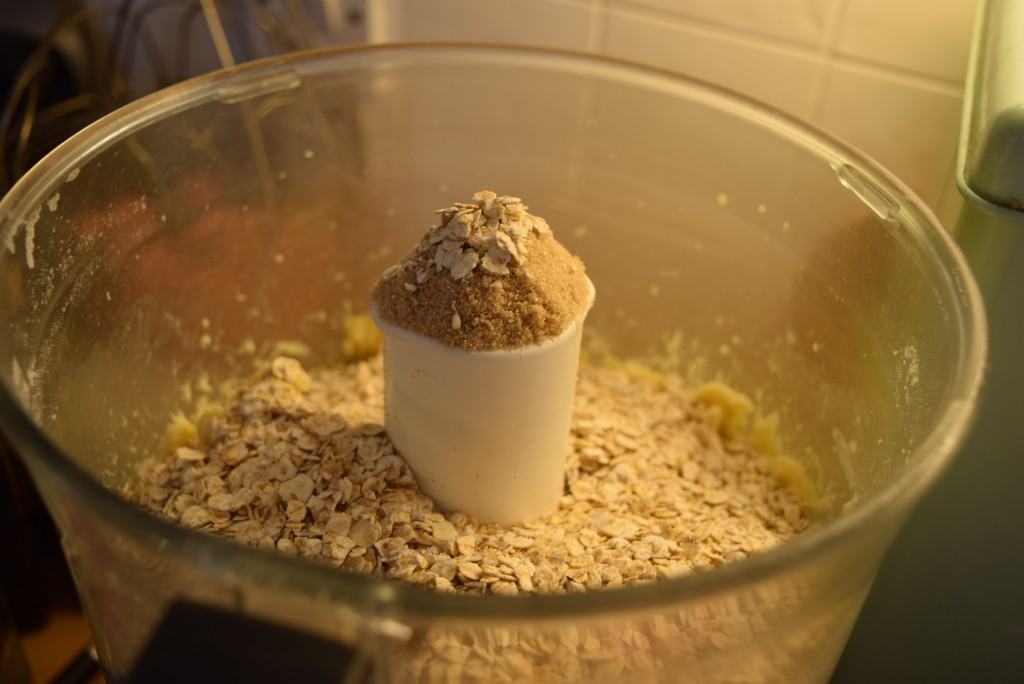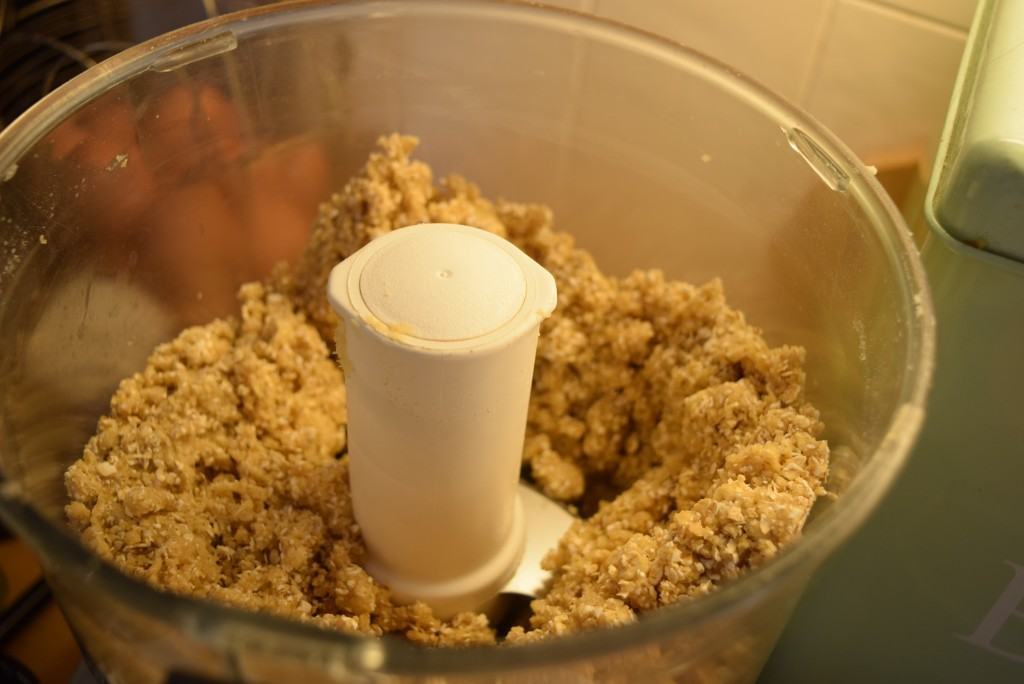 Tip this oaty goodness onto the strawbs, no need to press it down, just sprinkle and put the Strawberry Crumble into the oven.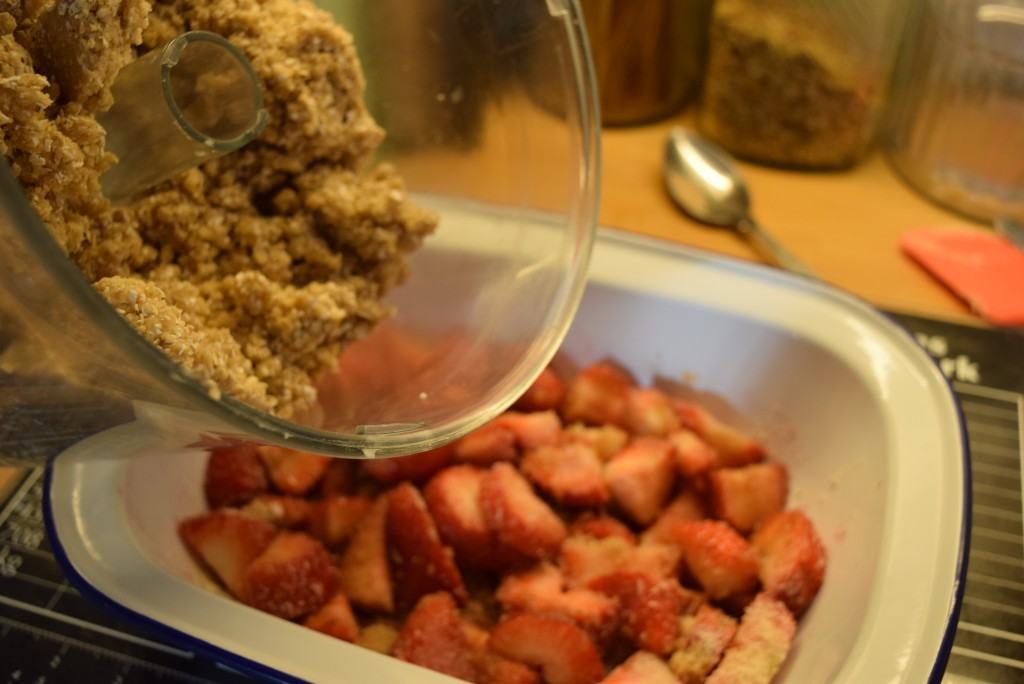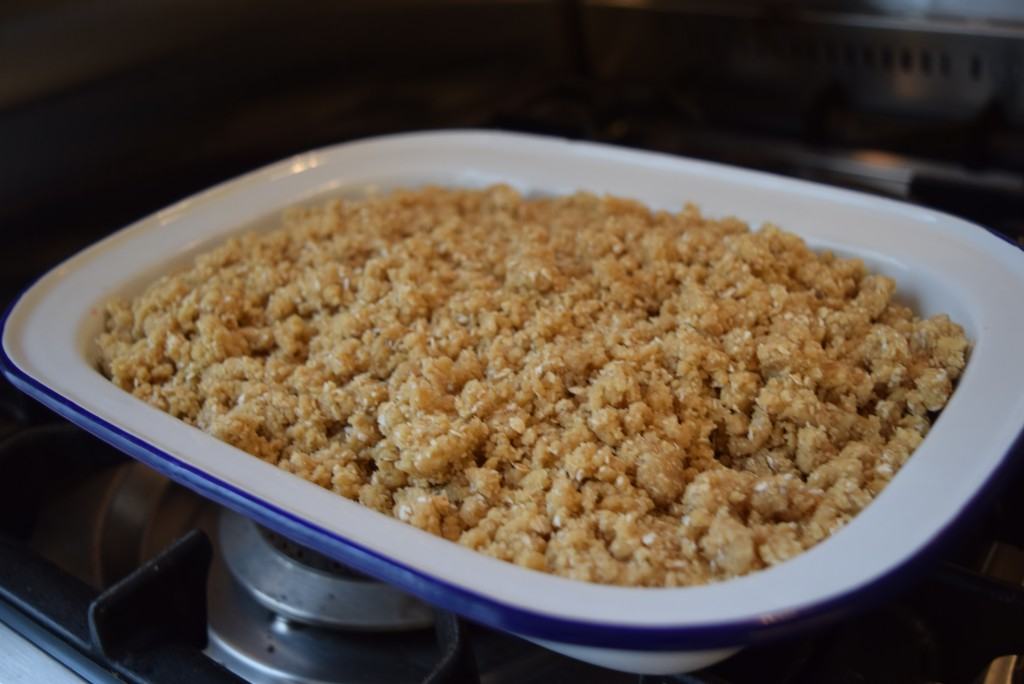 This summery pudding will be ready in around 30 minutes, or when the strawberries are bubbling through the topping and the crumble is golden brown and crisping up nicely.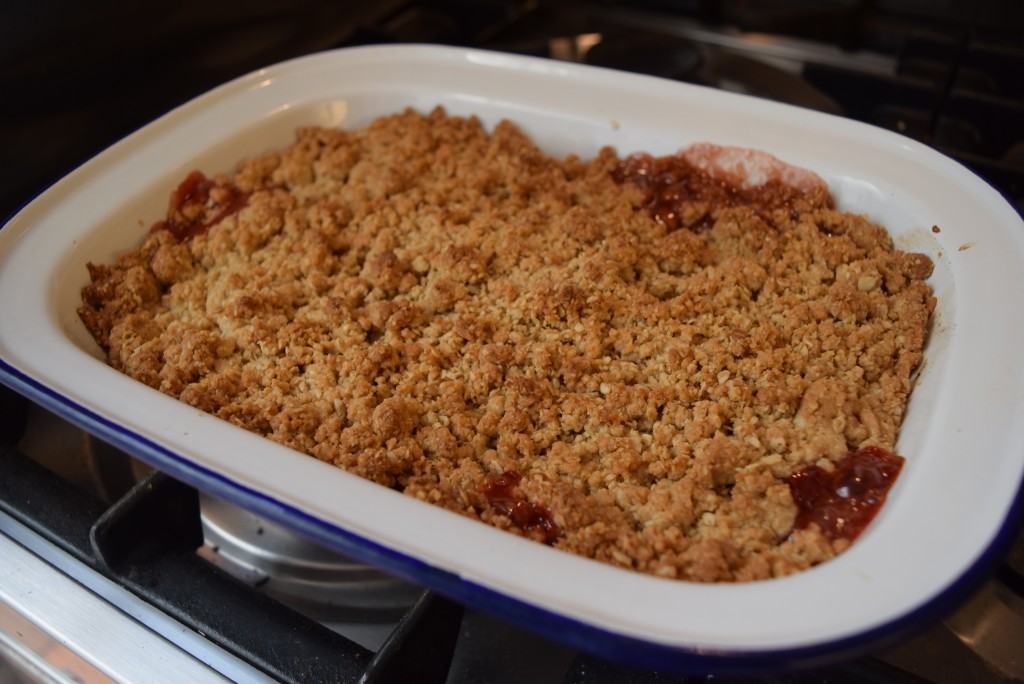 And there you have it. Fruity, crisp, sweet and tasty. A winter dessert with a whiff of summer.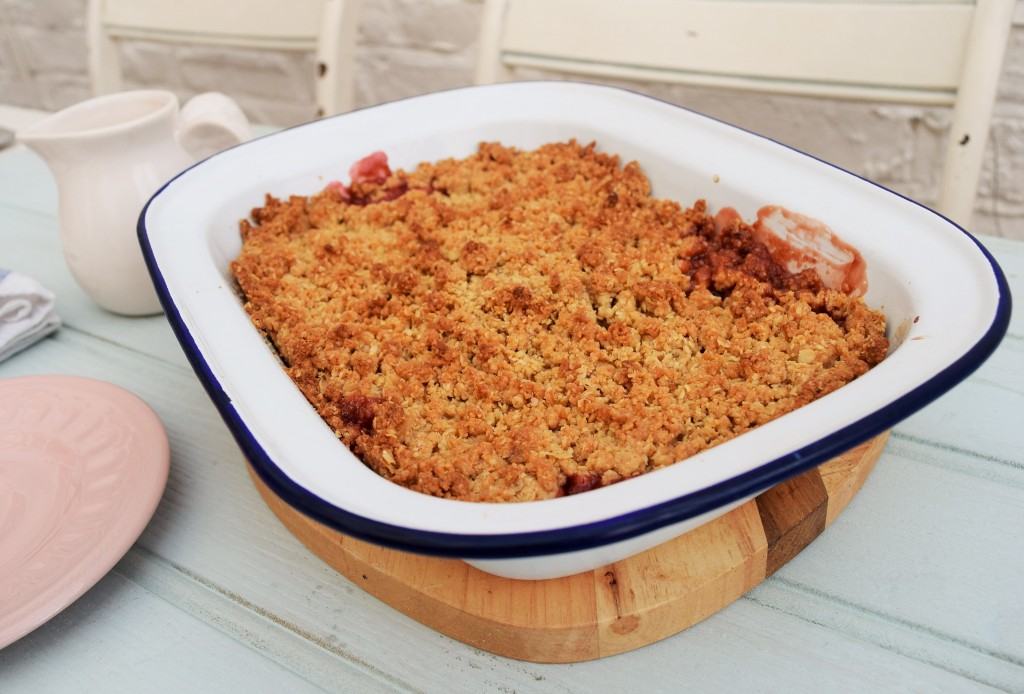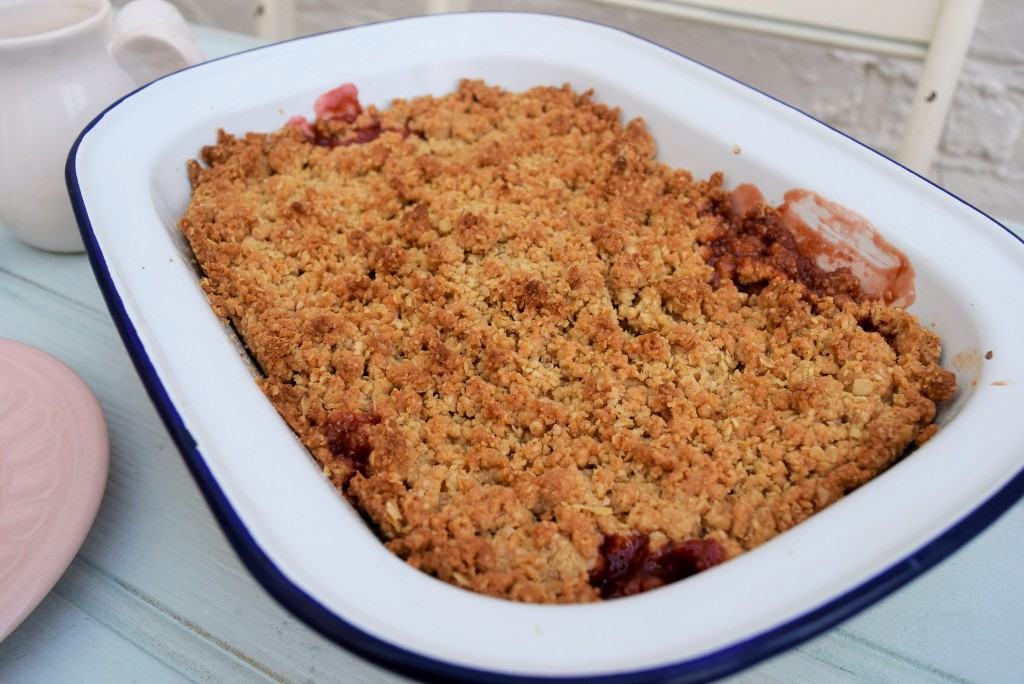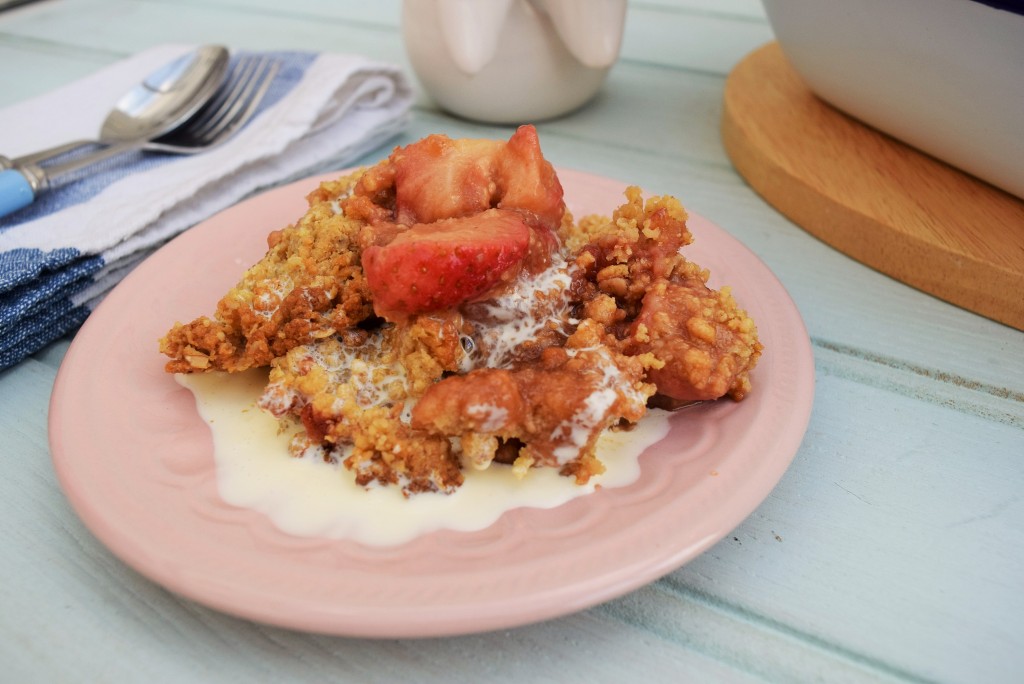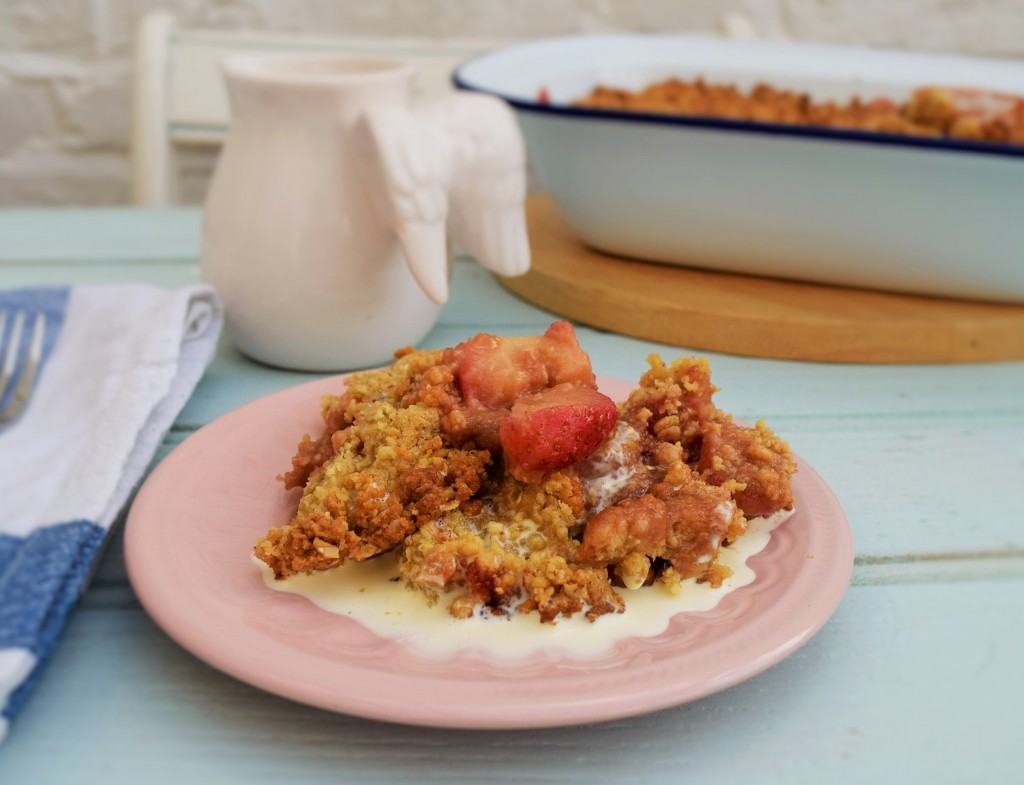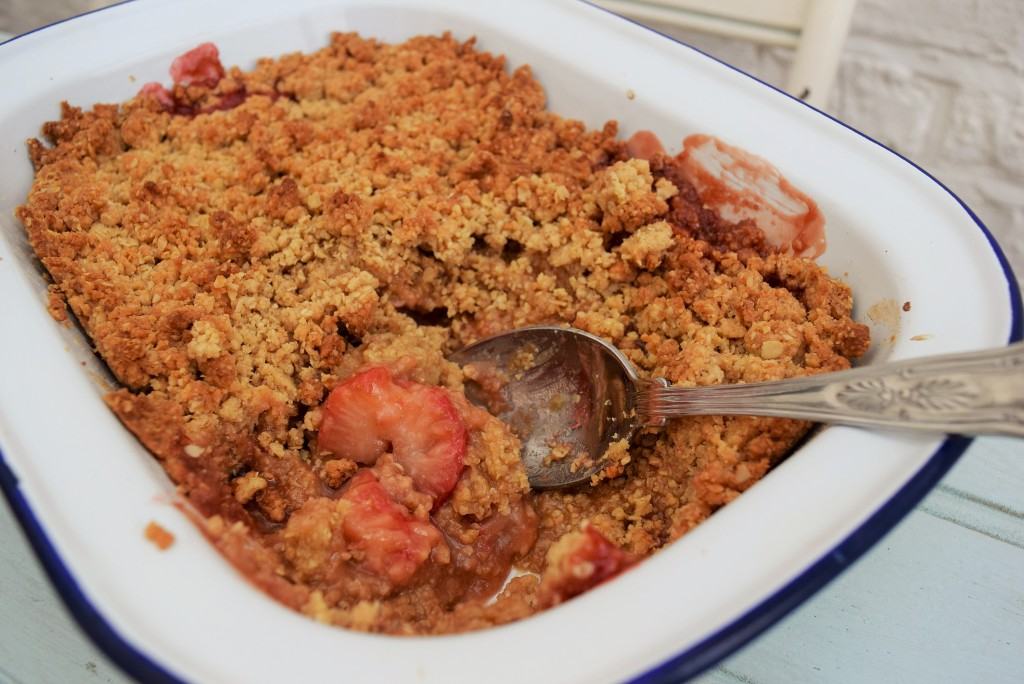 I could so eat a huge bowl of this tonight, as I am nursing quite a substantial hangover. And this Strawberry Crumble is comfort food of the highest order. It has helped me overcome my fear of hot strawberries, hot strawberries are the way forward.
Lucy x
Strawberry Crumble Recipe
Serves 6, dependent on hunger
You will need a medium sized baking dish
Fruit
500g to 600g strawberries
50g caster or brown sugar
25g ground almonds
4 teaspoons vanilla extract
Crumble
175g plain flour
125g butter
125g soft brown sugar
150g porridge oats
Pre heat the oven to 170 degrees fan assisted.
Take your strawberries and cut the green stalks off. Halve or quarter them, size dependent, and pop them in a medium sized baking dish. Pour over the sugar and ground almonds then sprinkle on the vanilla extract. Give the fruit a good stir then crack on with the topping. Put the flour and butter in your food processor or a large bowl and pulse or rub the butter into the flour with your hands until the mixture resembles breadcrumbs. There should not be any big lumps of butter left in the mix. Stir in the brown sugar and oats so the crumble looks like rubble, then pour this carefully onto the fruit mixture. Pop into a hot-ish oven for 25 to 30 minutes or until the fruit is bubbling through the crumble and the top is crisping and golden brown. Spoon out enormous portions and serve with cream or custard. Cold leftovers from the fridge the following day are also delicious.