Chocolate Granola Recipe
This Chocolate Granola recipe caught my eye a couple of weeks ago and I couldn't stop thinking about it. A bit like a first crush, except it's on cereal, not Andrew Ridgeley. Ordinarily the thought of chocolate cereal positively turns my stomach. All that fuss about how it turns the milk brown makes me run for the hills.  Chocolate for breakfast just isn't usually what I fancy. The boys hack through jars of Nutella and bags of chocolate brioches, but I just can't get my head round something so sweet, so early in the day. I think this harps back to my old coffee and ciggie breakfasts when anything other than the caffeine and nicotine combination before lunchtime was completely unacceptable. Luckily, those days are over and I can now happily embrace this wonderful Chocolate Granola, although I still can't get it down me before 10.30am at the earliest.
This oat, chocolate, coconut based combination is so, so good. This is unlike any granola I have enjoyed in the past. Mainly based on my granola history being either the super low sugar affairs or the ridiculously high sugar, slightly crappy affairs. My Chocolate Granola, based on the Pinch of Yum's recipe, with huge thanks, is superior in every way. This baked breakfast is doused in coconut oil and maple syrup for sweetness and studded with dark chocolate chips which are then speckled with Demerara sugar and sea salt for added interest. I am under no illusion this is a healthy breakfast choice, but at least you've made this yourself so you know what's gone into it. I used organic coconut oil and good quality dark chocolate chips and cocoa, so what if it's a little high in calories, some things are so, so worth it.
This recipe makes around 16 servings which sit beautifully in a jar in your kitchen making you look like quite the domestic goddess. However, this also leaves it vulnerable and open to thieving hands, not least my own, but specifically my husband and eldest son, who think this Chocolate Granola is quite the most tempting thing to ever have graced our kitchen. You may want to think about popping a padlock on the aforementioned jar, if you ever imagine you are going to get a bowl of this to yourself.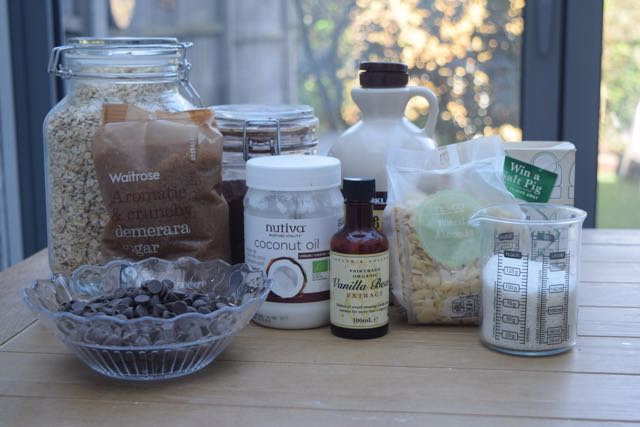 Nothing using these ingredients is ever going to be horrid, lets face it. The temptation to just stir everything together and eat it from the bowl was strong, but I resisted. I am trying to learn resistance, it's tricky but I am getting better at it.
Make a start by pre heating your oven to a low 125 degrees and lining a large baking sheet with greaseproof paper.
Take a large bowl and add the oats, flaked almonds and desiccated coconut. Yum, yum and more yum.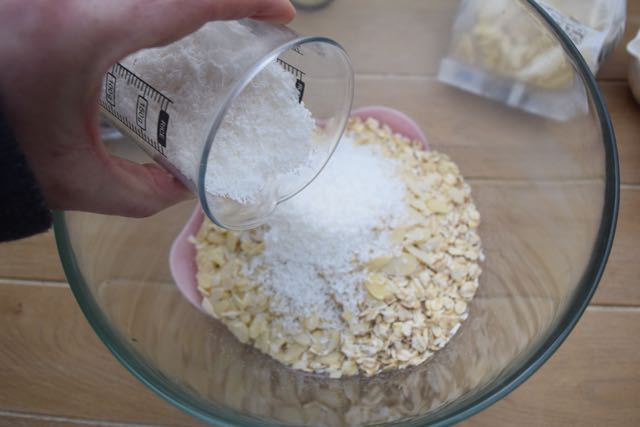 Next, into this bowl of dreams tip in the cocoa, the table salt and 40g of the demerara sugar and stir the whole lot together until well mixed.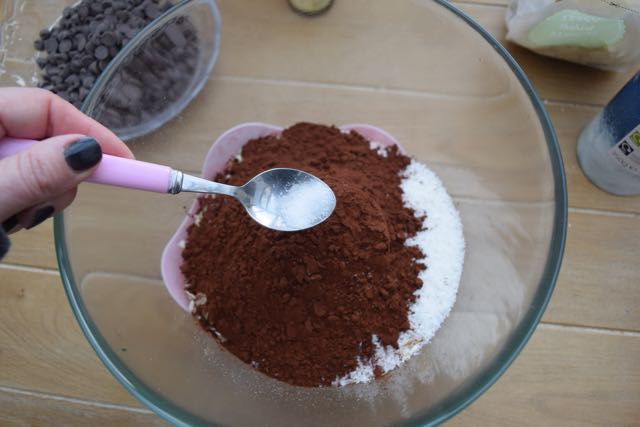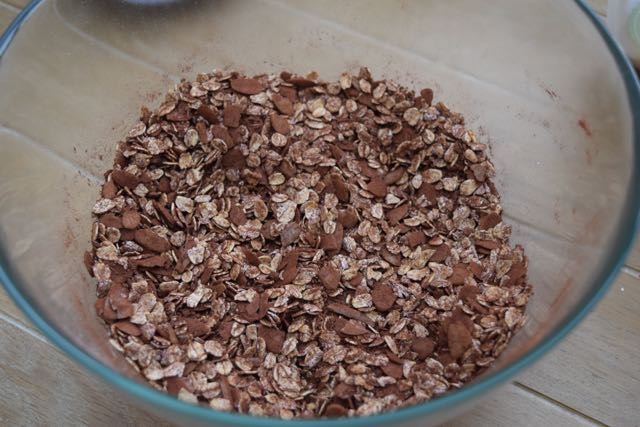 Next for the liquid ingredients. Melt the coconut oil to make 150ml and pour this into the oat mixture along with the maple syrup.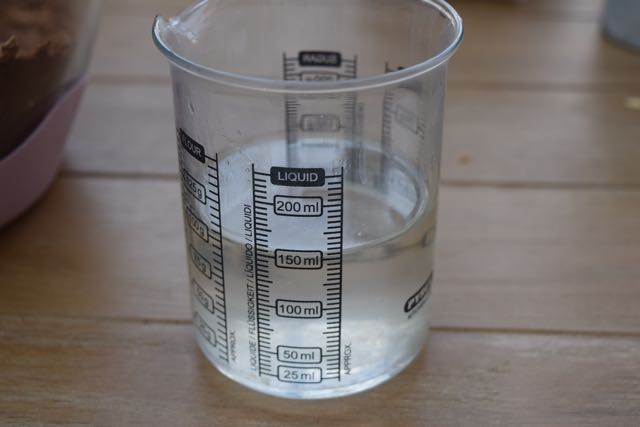 Follow in with the vanilla extract, then it's time for a good old mix then tip the granola onto your lined baking sheet.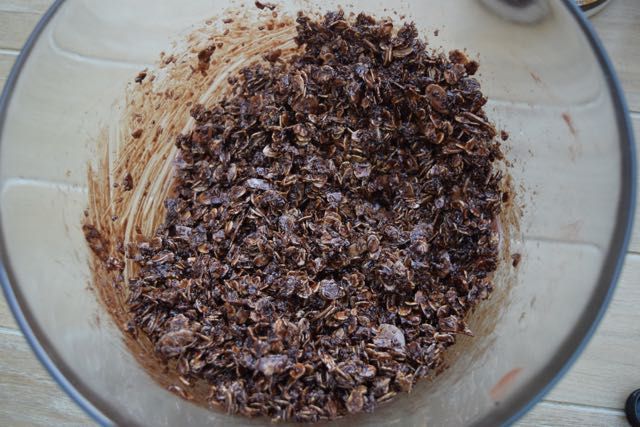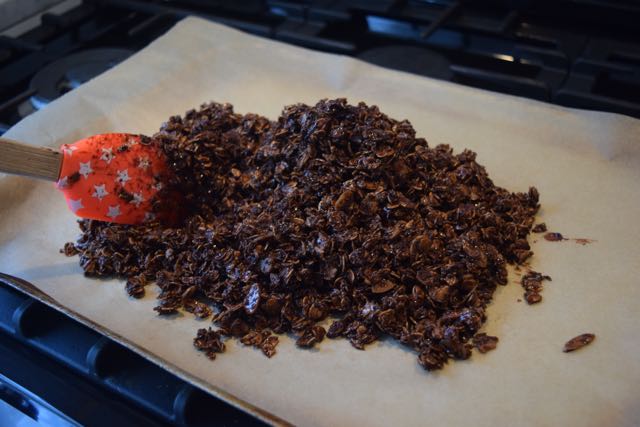 Spread the granola out into an even layer and then pop into the preheated oven for around 45 to 50 minutes.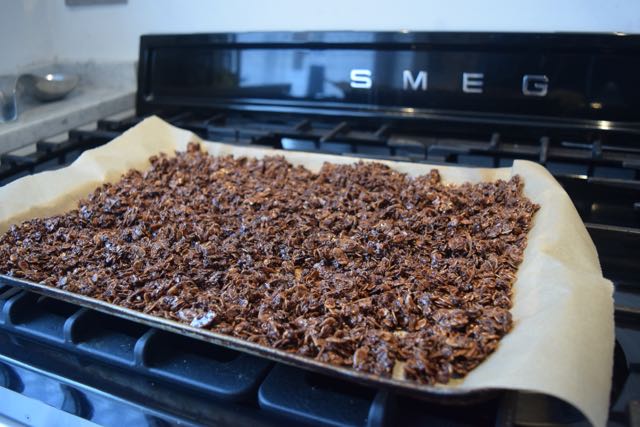 You may need to give this a stir or turn the tray half way through if it's cooking unevenly. The granola will be crisp and just golden at the edges and clumping together.
When the time is up, remove the tray from the oven and pour on the remaining demerara sugar, the chocolate chips and a good sprinkling of sea salt. Put this back in the oven for 5 to 10 minutes or until the chocolate chips have just melted.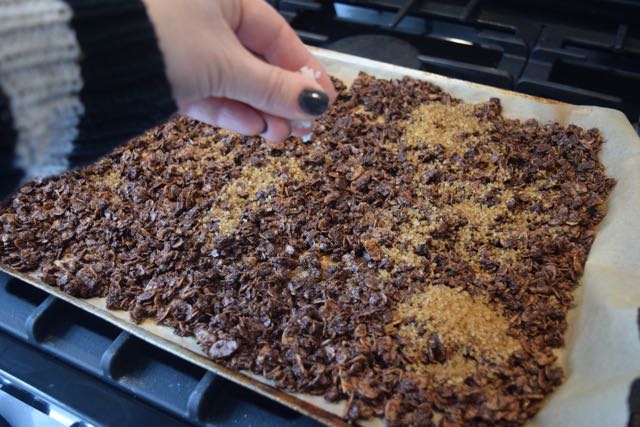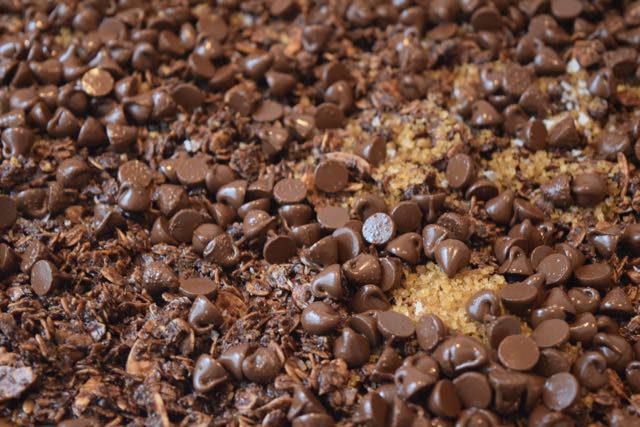 Leave this tray of temptation to cool completely, without nibbling hands picking at it. Brace yourself as the wait is almost impossible to bear.
Once it's cool, break up into pieces and spoon into a jar or straight into a bowl with ice cold milk. Or just straight into your mouth with a shovel.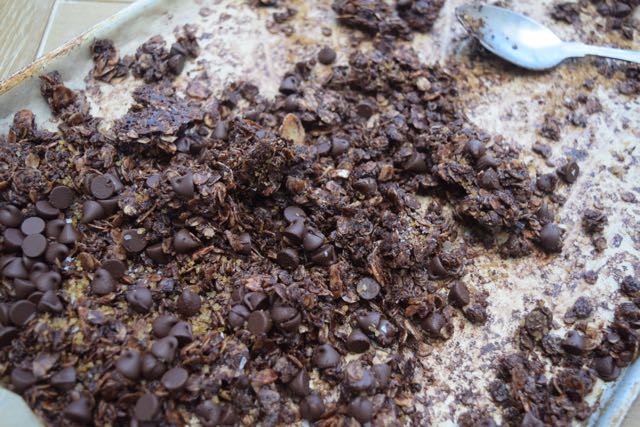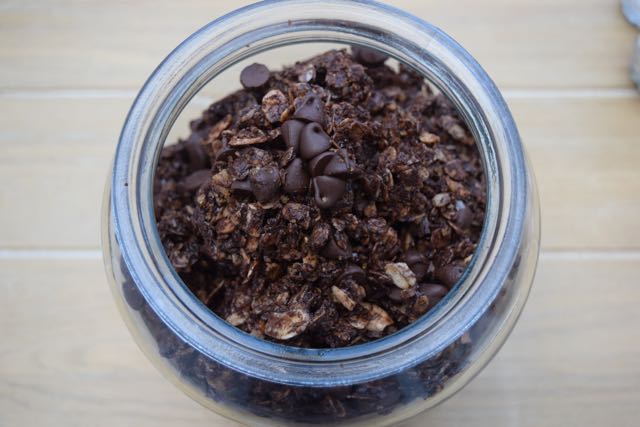 This salty, sweet, dark oat based breakfast is divine. No further rambling needed.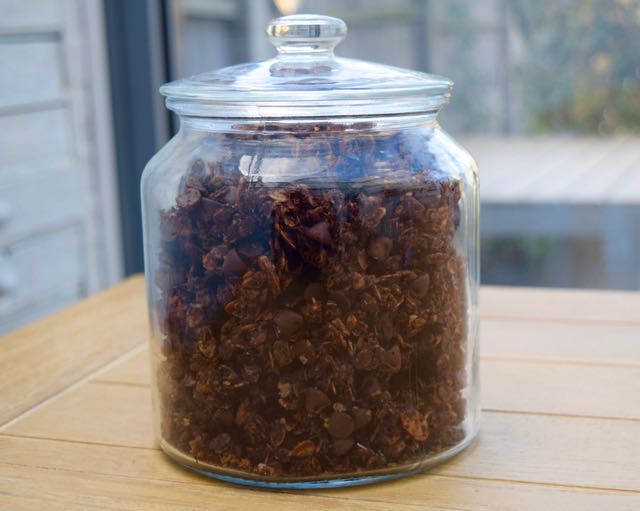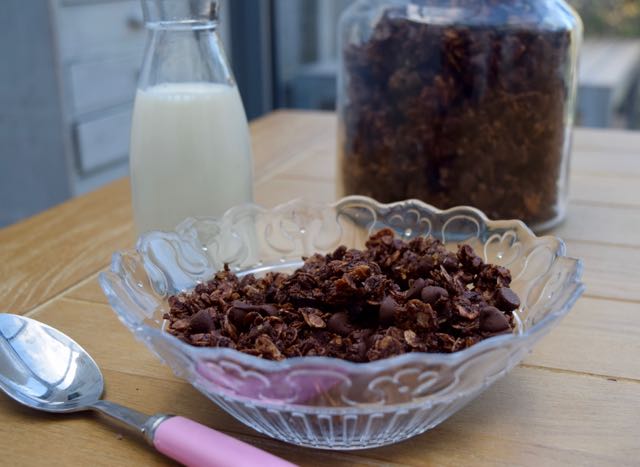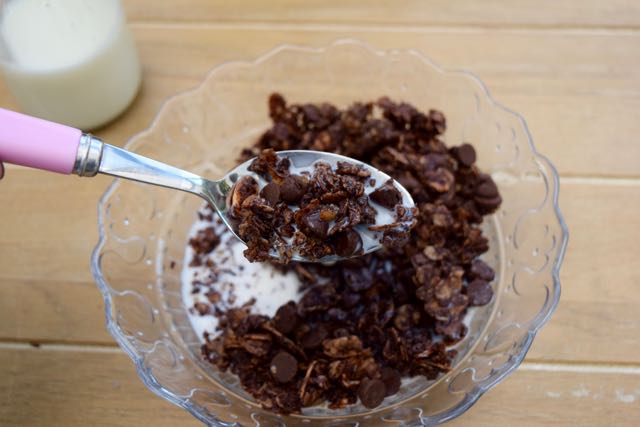 This Chocolate Granola will change the way you think about chocolatey cereals. It's so amazing I don't think you should even limit it to breakfast. If I didn't have a couple of pounds to shed, this would be breakfast, lunch and dinner for the next month.
Lucy x
Chocolate Granola Recipe
Makes a big jar full, anywhere from 1 to 16 servings
You will need a large, lined baking sheet
270g porridge oats
100g flaked almonds
50g desiccated coconut
50g cocoa
1/4 teaspoon table salt
100g demerara sugar
150ml melted coconut oil
80ml maple syrup
1 teaspoon vanilla extract
150g dark or milk chocolate chips
a good sprinkling sea or Malden salt
Pre heat your oven to around 125 degrees fan assisted and line a large baking sheet with greaseproof paper.
In a large mixing bowl add the oats, flaked almonds, coconut, cocoa, table salt and 40g of the Demerara sugar. Mix well then combine the coconut oil, maple syrup and vanilla. Pour this into the oat mixture and stir again to ensure everything is well coated.
Spread an even layer of the chocolate oats onto your lined tray and pop in the pre heated oven for 45 to 50 minutes. You may need to give it a stir or rotate the tray half way through for even cooking.
When the cooking time is up, remove the tray from the oven and pour on the remaining 60g demerara sugar, the chocolate chips and finally a good sprinkling of sea salt. Put back in the oven for a further 5 to 10 minutes or until the chocolate chips have just melted. Leave to cool completely before breaking into lumps and storing in an airtight jar, if you don't eat it all from the baking tray.
Serve with milk, sprinkled on yogurt or just with a spoon from the jar.