Mulligatawny Soup Recipe
The nights are drawing in blah blah blah. They are but there's no need for me to bang on about it, as life is depressing enough as it is. The summer barely rocked up and now it's over, so let's just make the best of things. I quite like autumn, I feel all fresh starty and quite optimistic. I don't expect that will last, however, when I'm walking the dog at 8am in the pissing rain, when it's barely light with my old lady nose dripping away as soon as I leave the house. What I love, however, is soup season. I could live on soup to be fair, it's quick and simple to make, you can bastardise recipes to suit the mouldy selection of veg in your fridge and it always has the air of being healthy. With that in the forefront of my mind I have dug around in the annals of time and today bring you the recipe for this Classic Mulligatawny Soup.
We spend a good deal of time teasing my Brother in Law, who I love dearly, because he has two stand out favourite foods. The first being Prawns Marie Rose and the second, a curry house Mulligatawny Soup. We don't rib him because his faves are unpleasant we just love his retro 70's choices and who doesn't love a prawn cocktail? I had never even tasted Mulligatawny Soup, but felt in honour of my lovely Brother in Law, I would recreate his top dish and seek his approval. This vintage classic is beyond tasty and I can't believe I haven't tried it before. The vegetable base is thickened with red lentils, flavoured with madras curry powder and just a hint of mango chutney for sweetness. Shredded chicken is added at the end for a bit of texture to this creamy spiced soup. This is an Anglo-Indian recipe from days gone by, but it has a modern, light taste and I was eating it with a ladle straight from the pan. You can serve this with some naan bread to add a bit of ballast but it's quite filling enough without. My inspiration for this dish came via The Guardian, with huge thanks.
I delivered a portion of my Mulligatawny Soup to my brother in law for him to critique and thank God, it got the green light from him. If he had said it was rubbish, however, I would have removed any reference of him from this post and just left him out of this tale of retro food love. Thankfully for him, and for Lucy Loves, this classic soup lives up to his Curry House favourite first course, so my tribute to him is intact.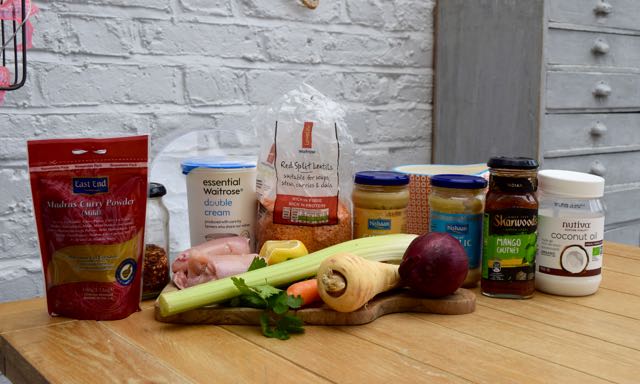 I know this looks like a lengthy line up, but bear with me. It all pretty much goes in the same pot, and is totally drama free. And it's on the table in under an hour, so that's all to the good.
Make a start with a large, high sided frying pan which has a lid. Heat the coconut, or other preferred oil over a medium heat and add the roughly chopped onion. There's a theme here, all the vegetables are roughly chopped because the final soup will be blended so no need for military precision here. Cook the onion for around 5 minutes or until it's softened and starting to brown.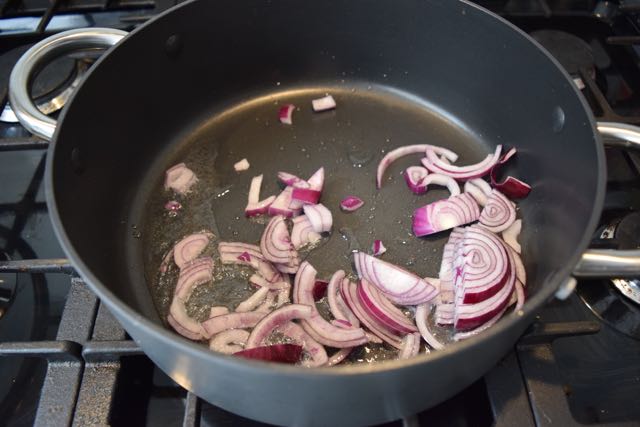 Now tip in the other roughly/lazily chopped vegetables, season with plenty of salt and pepper then cook for around 5 minutes.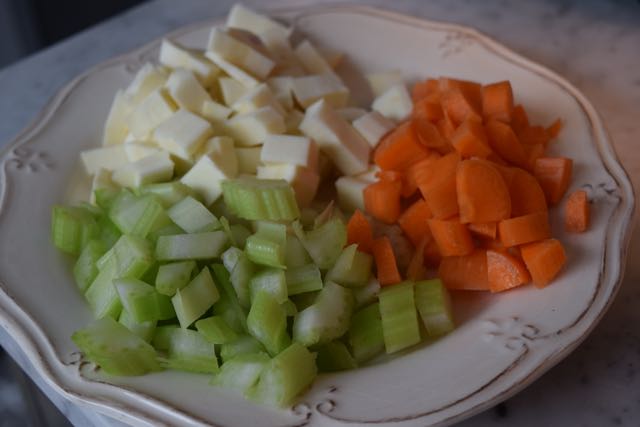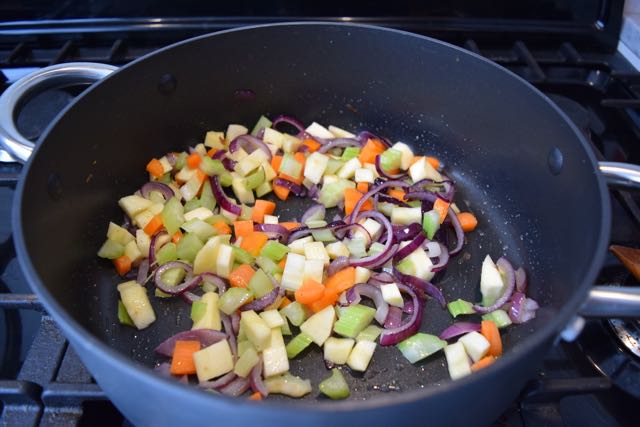 Add your chopped or lazy garlic and ginger, cook out for a minute before adding the curry powder and the pinch chilli flakes.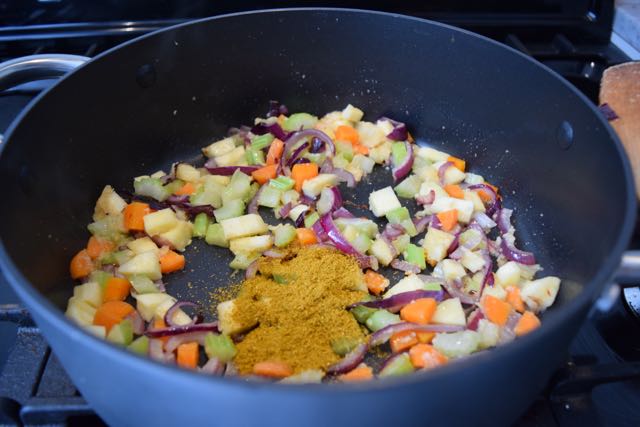 Next into the flavour pot add two boned chicken thighs, whole, the red lentils then pour on the stock, either chicken or vegetable and give the whole lot a big stir through.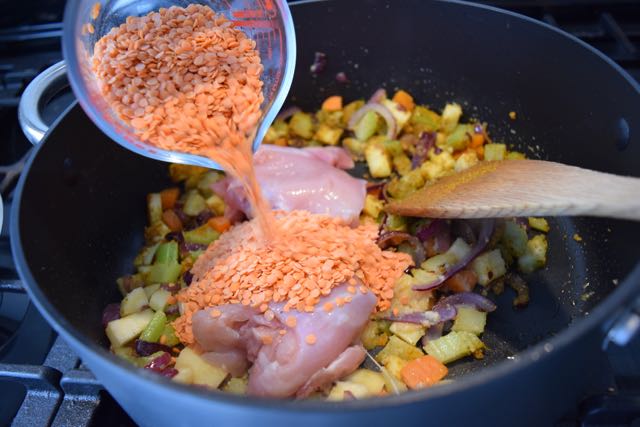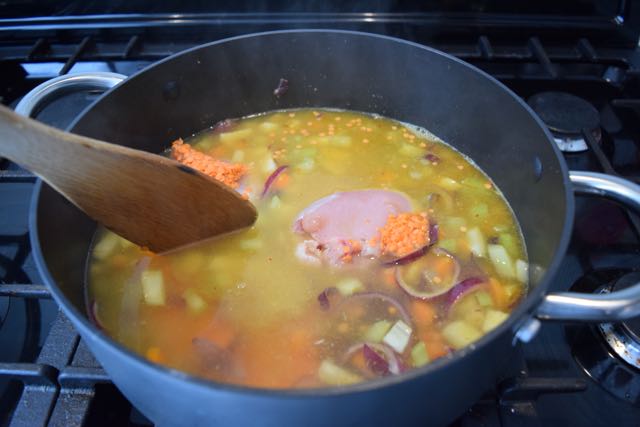 Bring the soup up to the boil then turn down to a simmer and pop the lid on for around 30 to 35 minutes or until the chicken and vegetables are cooked through.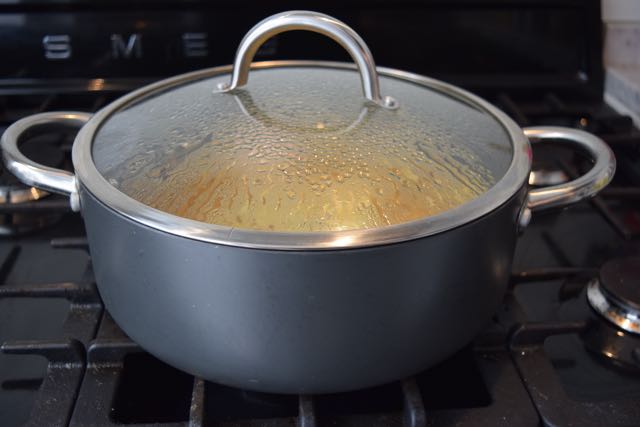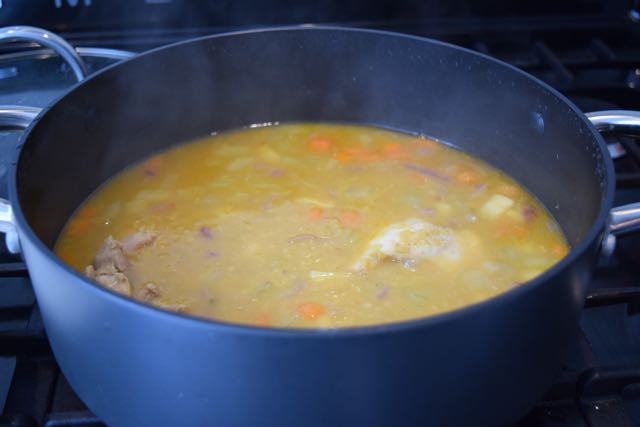 Fish out the two chicken thighs, shred with two forks, then keep warm on a plate. Blend the soup using a stick blender or conventional blender until smooth.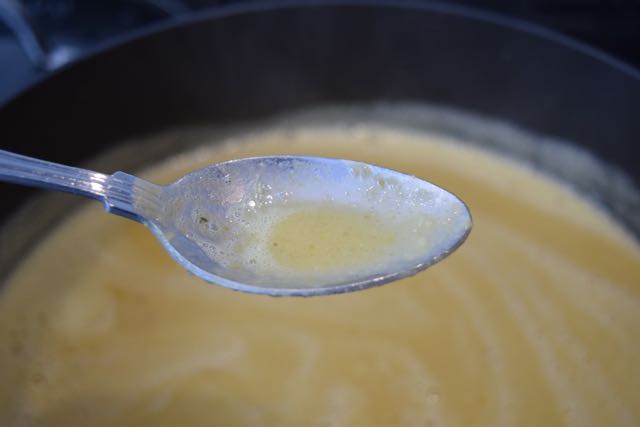 Now add extra flavour to your Mulligatawny with a squeeze of fresh lemon juice and a teaspoon of mango chutney. Then add the shredded chicken back to the pan for some texture.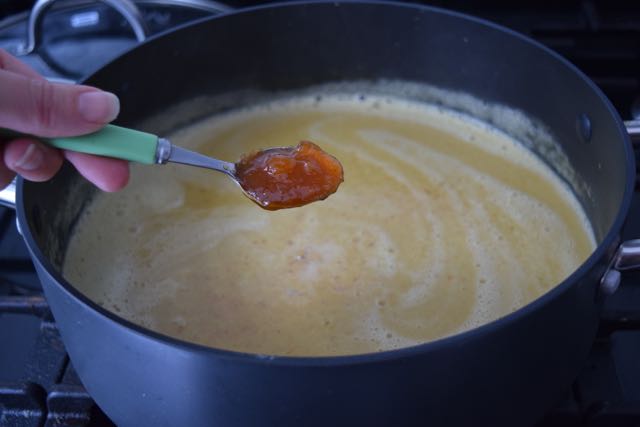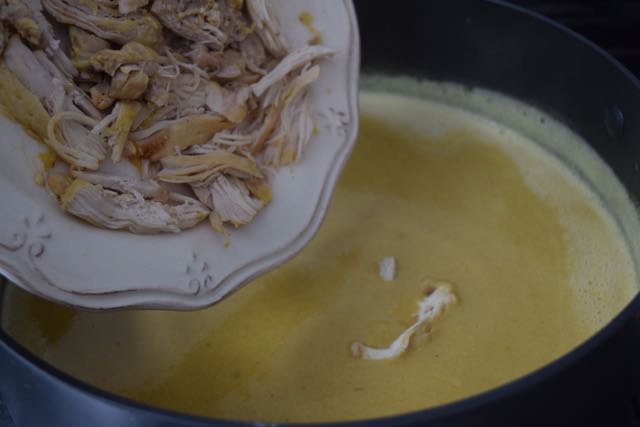 In a final flourish add the chopped fresh coriander, at least a couple of tablespoons, then a swirl of double cream, just in case the soup wasn't delicious enough already.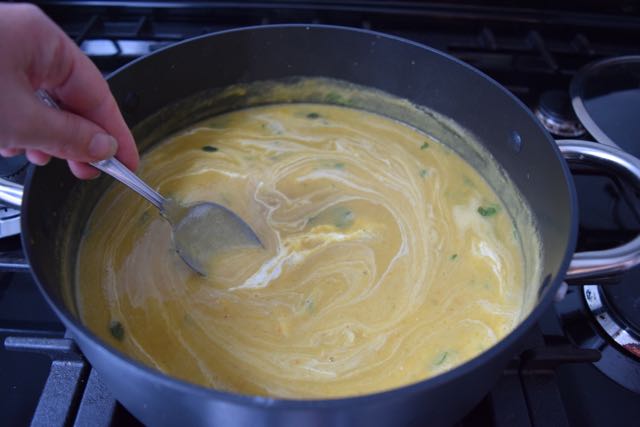 Devour piping hot bowls of Mulligatawny, garnished with a touch more coriander, with warm naan on the side if you like. Vintage this may be, to die for, definitely.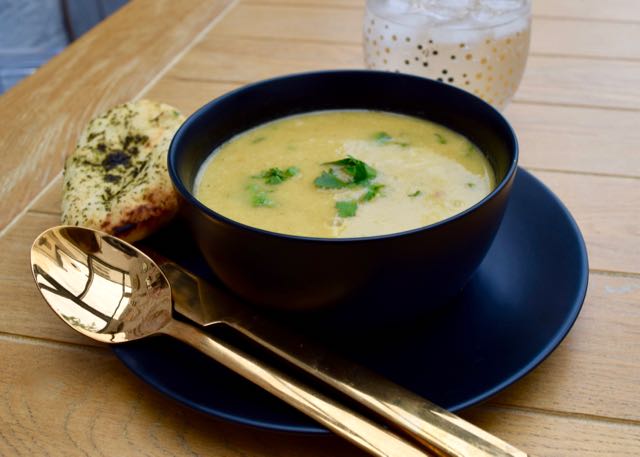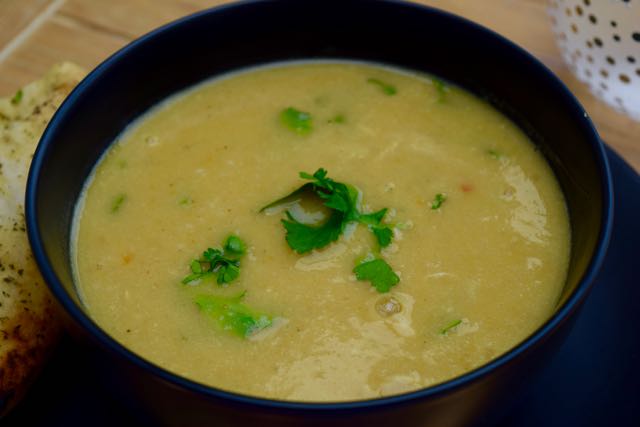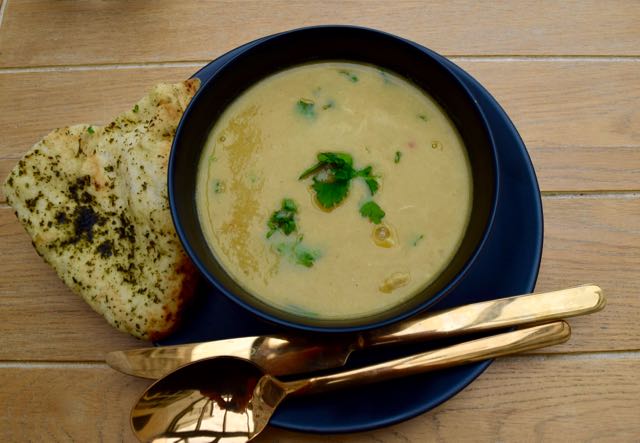 I could eat this Mulligatawny every day for a week, and I often do when I make a soup. It's such a good office lunch, portable, filled with flavour and warming goodness, I would never tire of such tastiness. All credit to my brother in law for putting up with our teasing for all these years, when he had a valid point about how tempting Mulligatawny is, although I am hoping my homemade is better than any he's had before *immodest face*.
Lucy x
Mulligatawny Soup Recipe
Serves 4
You will need a large lidded pan and a blender of some nature 
2 tablespoons coconut oil, or any oil you have to hand
1 onion, roughly chopped
1 carrot, roughly chopped
1 parsnip, roughly chopped
1 celery stick, roughly chopped
2 big cloves garlic, or 3 smaller ones, or lazy garlic
2 tablespoons fresh ginger, or from a jar
3 teaspoons madras curry powder
a pinch chilli flakes
1.3 litres chicken stock, or vegetable if you prefer
2 boneless chicken thighs, whole
150g red lentils
salt and pepper
a couple of tablespoons fresh corainder
a squeeze lemon juice
1 teaspoon mango chutney
2 tablespoons cream
Fresh coriander to garnish, warm naan breads to serve
In a large high sided frying pan, with a lid, heat the coconut, or other oil until hot. Add the roughly chopped onion and cook for around 5 minutes or until softened and starting to brown. Add the carrot, parsnip and celery, season with plenty of salt and pepper, then cook off for another five minutes.
Stir in the ginger, garlic and cook for a minute or so before adding the curry powder and pinch of chilli flakes, stirring well. Drop in the chicken thighs, whole, and lentils then pour on the stock of your choice and bring up to the boil.  Turn down until simmering then put the lid on and cook for 35 minutes.
Once the time's up, remove the chicken thighs to a plate and then blitz the soup either in your blender or with a stick or hand blender. Stir through a squeeze of lemon juice, a teaspoon mango chutney and the cream, along with additional salt and pepper if needed. Shred the chicken thighs with two forks then stir the shredded chicken along with some freshly chopped coriander,  through the soup.
Serve piping hot, with extra coriander leaves to garnish and maybe some naan breads on the side. Any unlikely leftovers can be kept in the fridge for 3 to 4 days.
SaveSaveSaveSave
SaveSave
SaveSave
SaveSave
SaveSave
SaveSave
SaveSave