Chocolate Mousse Recipe
I am forever being asked 'what's for pudding?'. I am certain I have discussed with you before my Mother's standard response from my childhood being – 'fruit or yoghurt'. Even knowing what the answer will be, my children, and Clyde, on a daily basis enquire what's on offer for dessert. I, being in the minority it would seem, feel a pudding is for a special occasion or as a weekend treat when you have more time to fashion something delicious. But no, the question still appears most days, and on most occasions still gets the fruit or yoghurt reply. Unless, by chance, there's leftover ice cream from a dinner party or indeed, if I have made today's brilliant Chocolate Mousse recipe.
Everyone should have a good mousse recipe they can whip up at a moments notice. This recipe should be simple, quick, make enough for a small army and be completely irresistible. Enter my Chocolate Mousse for any occasion. If that occasion should call for a Chocolate Mousse. I can't, off the top of my head, think of an occasion which doesn't require a chocolate mousse, apart from, no, I just can't think of one. This recipe is another from the ever youthful Jamie Oliver, who has rather been monopolising my timeline this week, so thank you, Jamie, for years of Chocolate Mousse based weight gain. The best thing about this recipe is it genuinely does make at least 8 good sized portions, maybe more, if you use smaller cups or glasses. It seems to be the magic porridge pot of mousse, however much you've portioned up there still seems to be some left. Never a problem in our house, Clyde did say he would happily eat this for breakfast if no one was looking.
I have adapted the recipe to include a little milk chocolate, as well as the dark, which makes this mousse genuinely suited to all occasions. It's not too dark,  but still rich enough to be served at a dinner party. But then not too rich that children won't eat it. It's thick and creamy, but never sickly, it really is the mousse that keeps on giving. If you hide all 8 little pots of it at the back of the fridge and eat them all yourself, that is.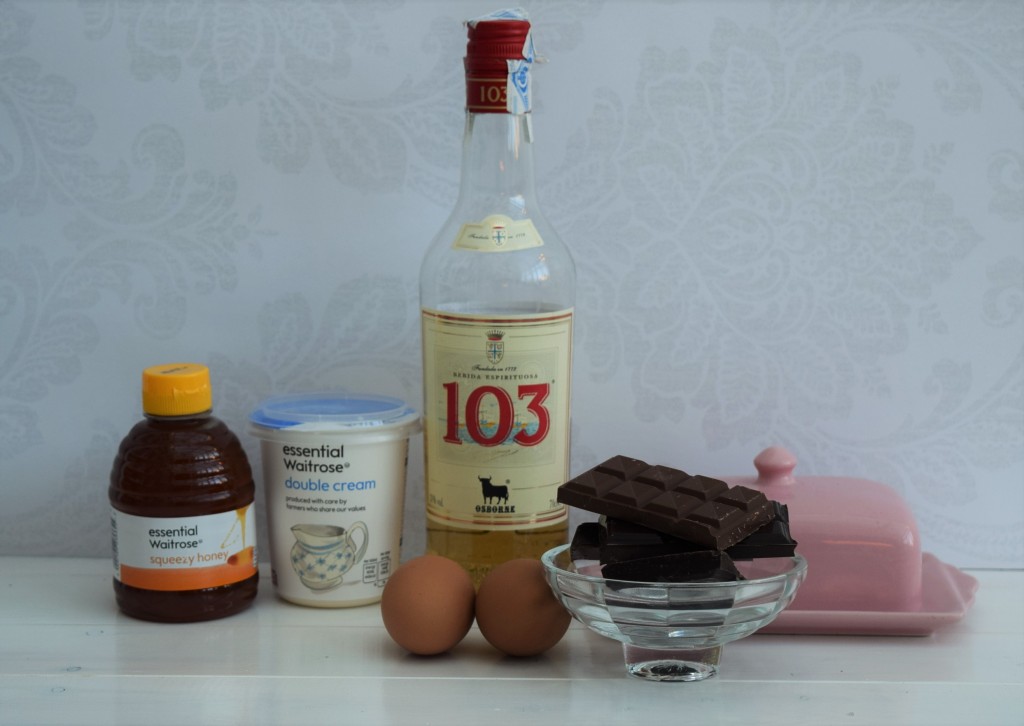 Nothing to upset anyone in this tempting line up. Perhaps apart from the booze. It's only a tablespoon, but if you don't want to include it, do just add a teaspoon of vanilla extract if you like. Any booze of your choice would be good here, though, apart from maybe Campari, that would be foul.
Make a start by melting the chocolates and butter together in a small bowl over simmering water, or in your microwave for around a minute and a half. This recipe is a bit bowl heavy, so get your marigolds on, or empty the dishwasher in readiness for a load.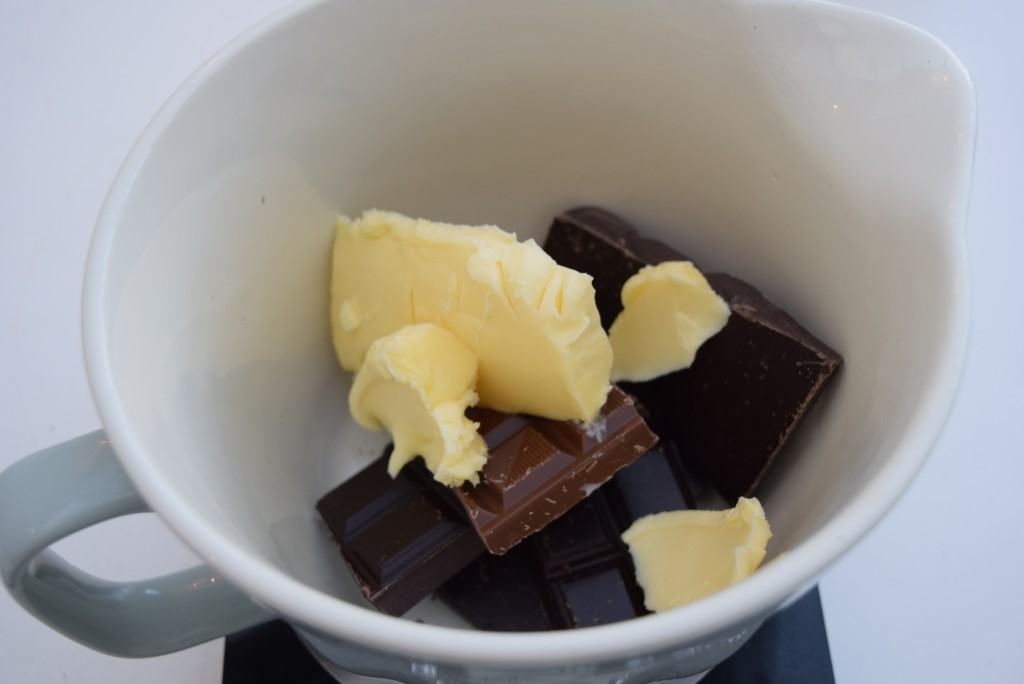 Heat these until they are just starting to melt together, then leave to sit for a moment. Mix until smooth then pop to one side to cool slightly.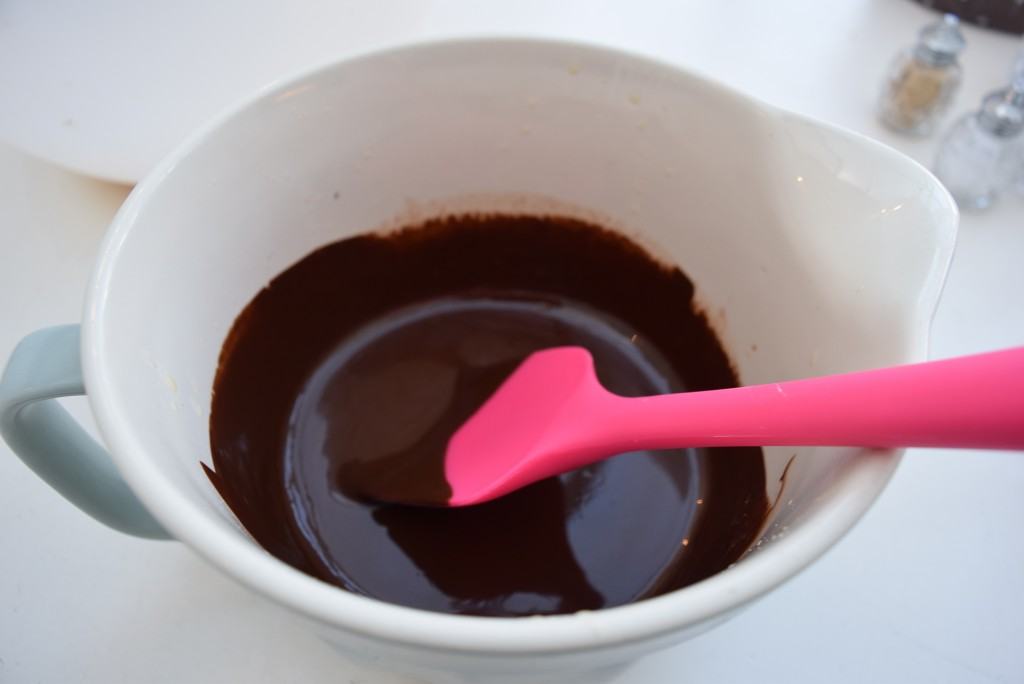 Next, in a large-ish bowl number 2, whisk together the two eggs and the tablespoons of honey. Just until you have a slightly paler, frothy business.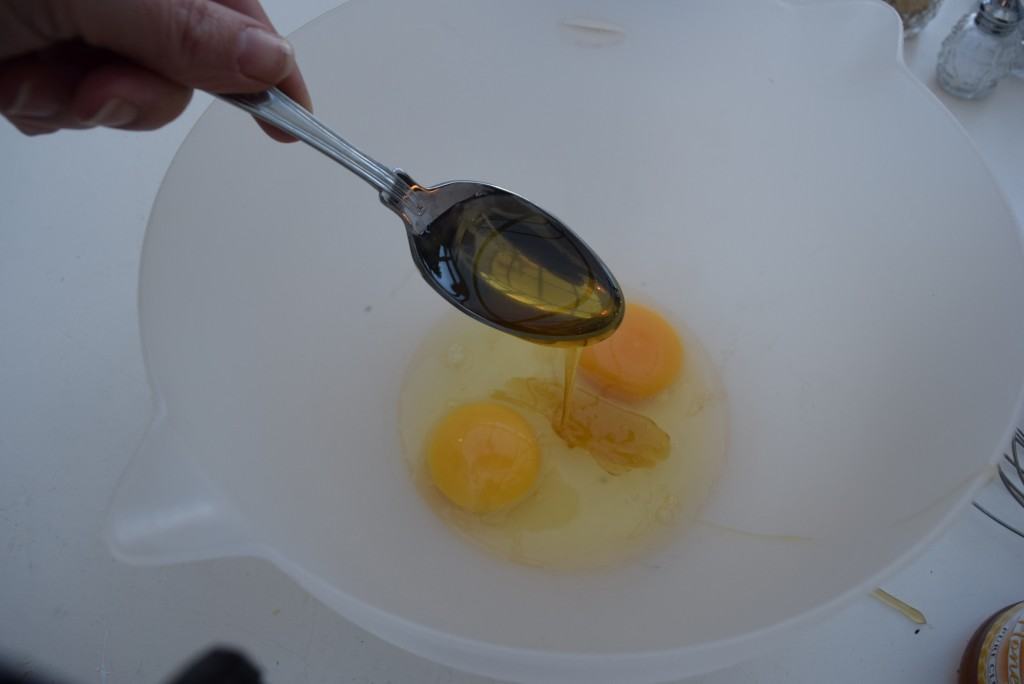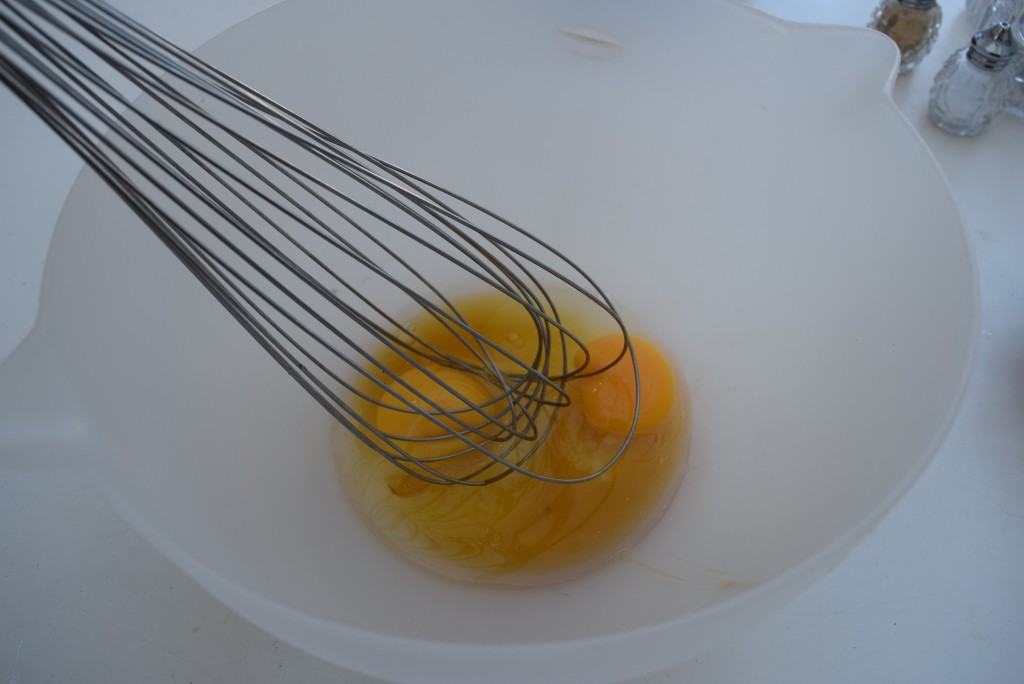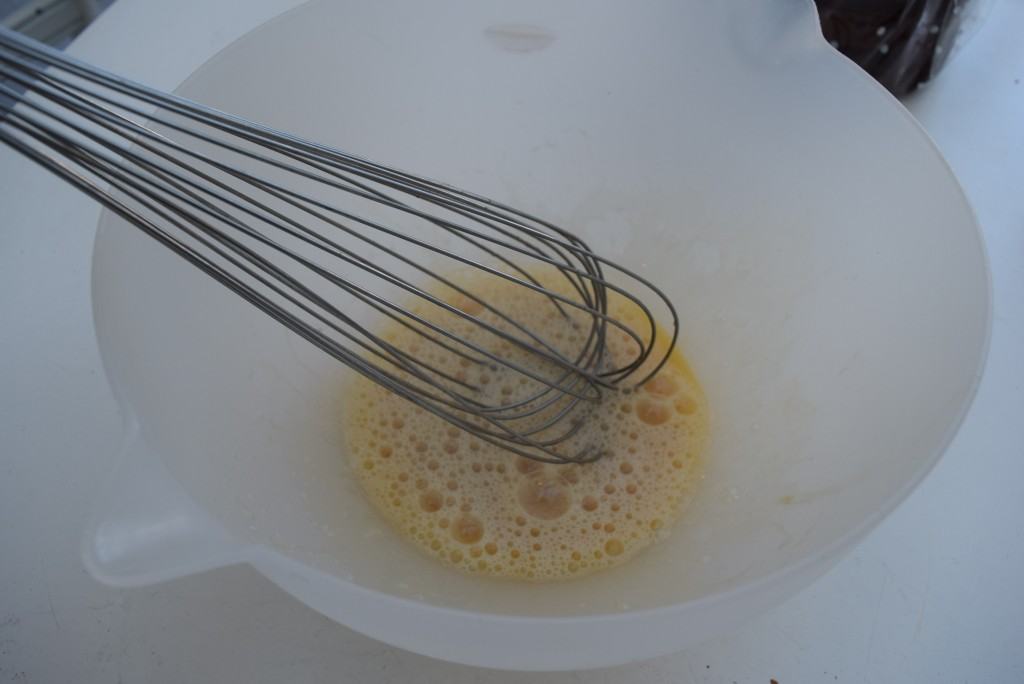 Next, whisk in the booze of your choice, or vanilla, for a boost of flavour.
Now into the final of the three bowls, I did say this recipe wasn't light on washing up, add the double cream. Whisk until lightly whipped and just holds a soft peak.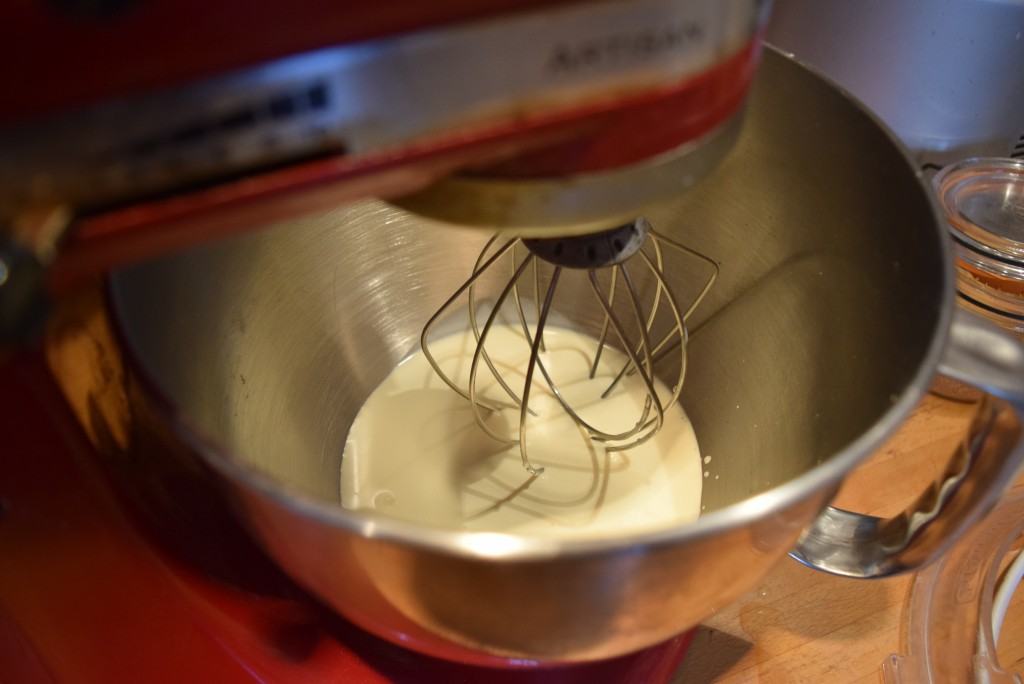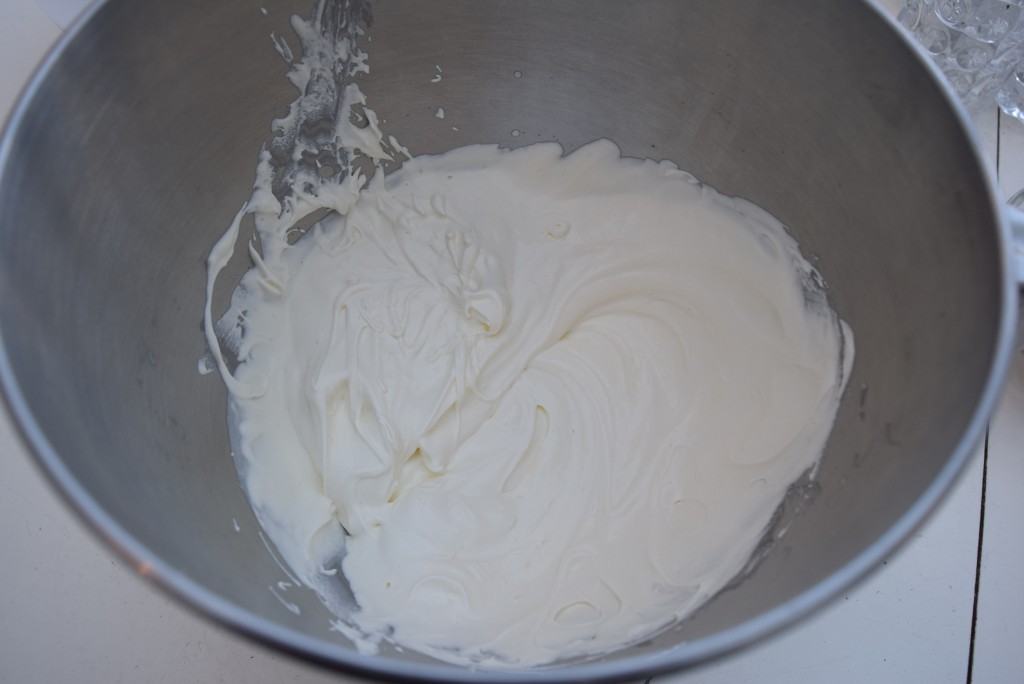 Now it's time for the final assembly. Firstly, add the melted chocolate mix to the eggs and honey.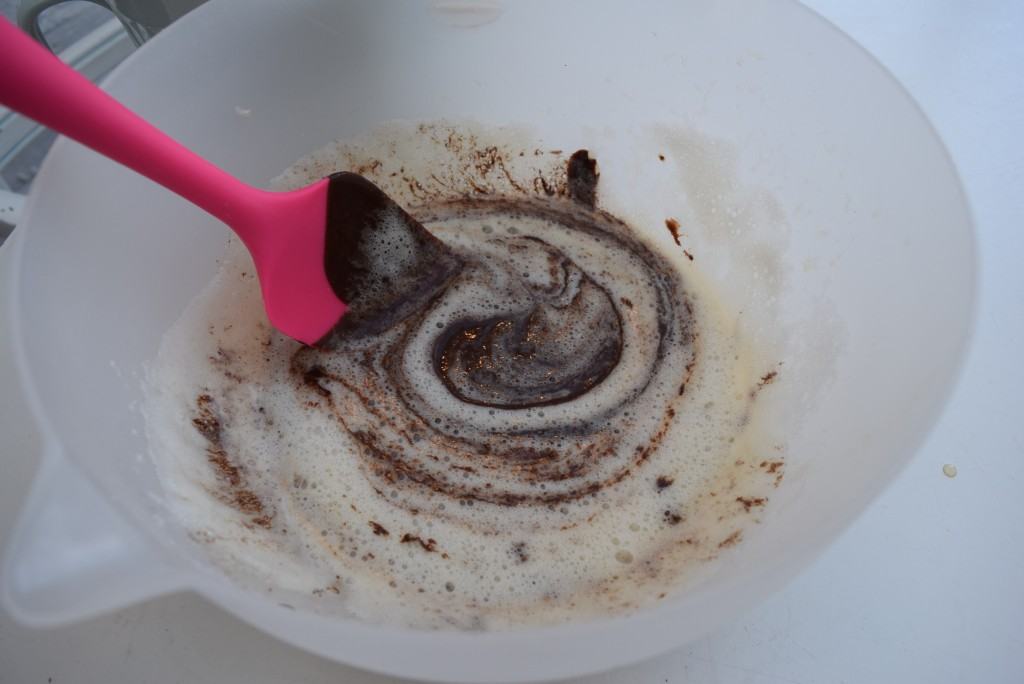 Mix lightly, but until well blended.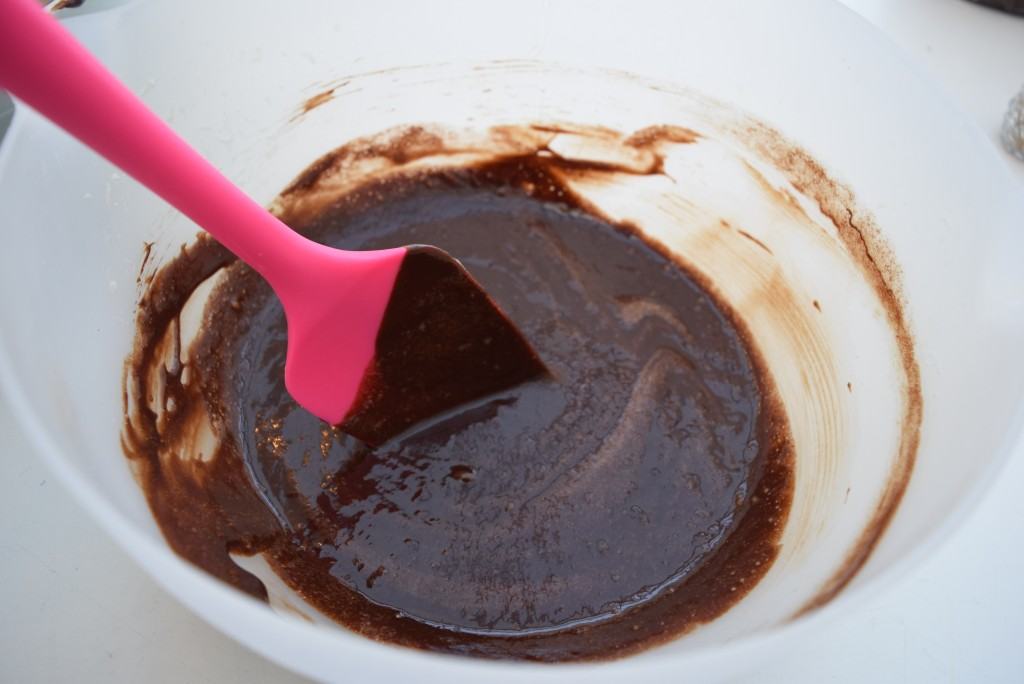 Now, fold in the lightly whipped cream. Fold well, until there is no marbling of colours.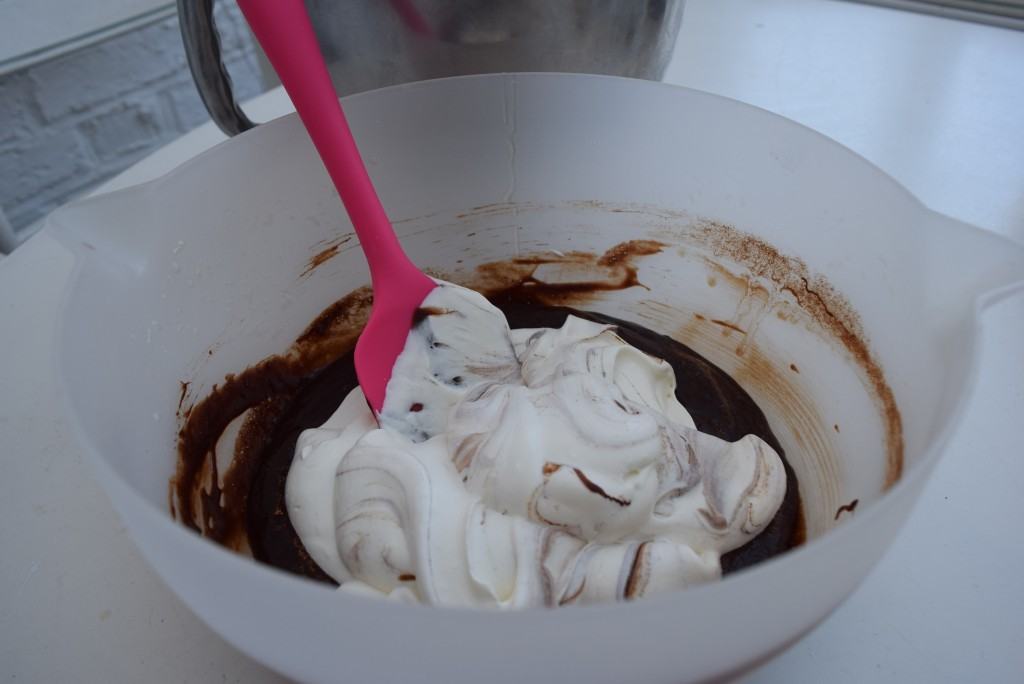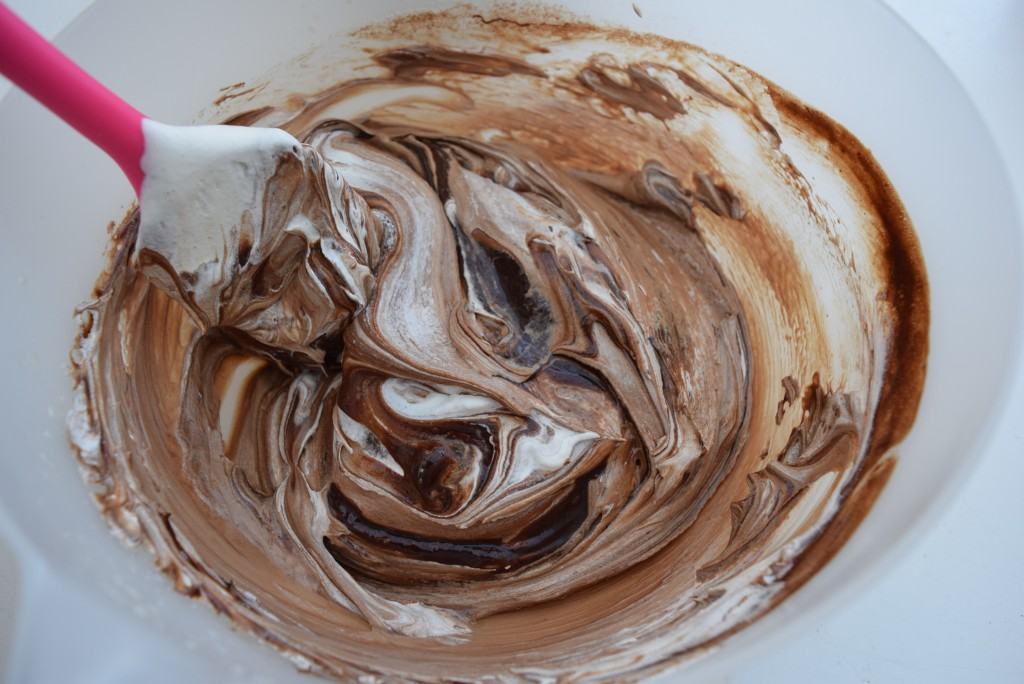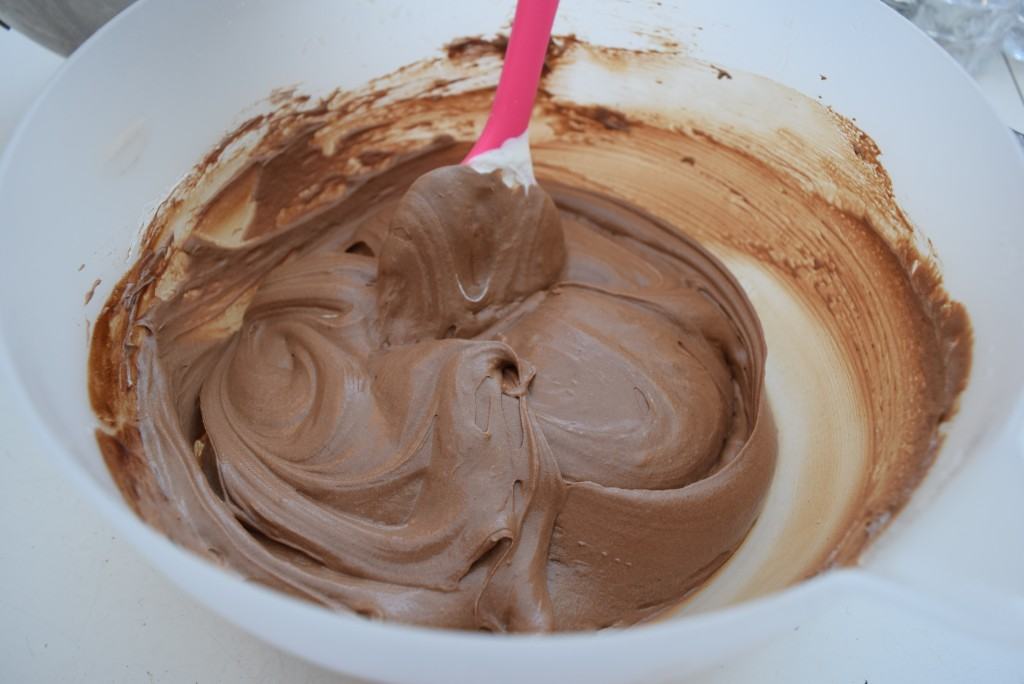 You could just sit in a quiet room and eat this with a spoon. The alternative being to spoon this wonderful, soft, chocolatey mousse into some festive looking cups, pots or glasses.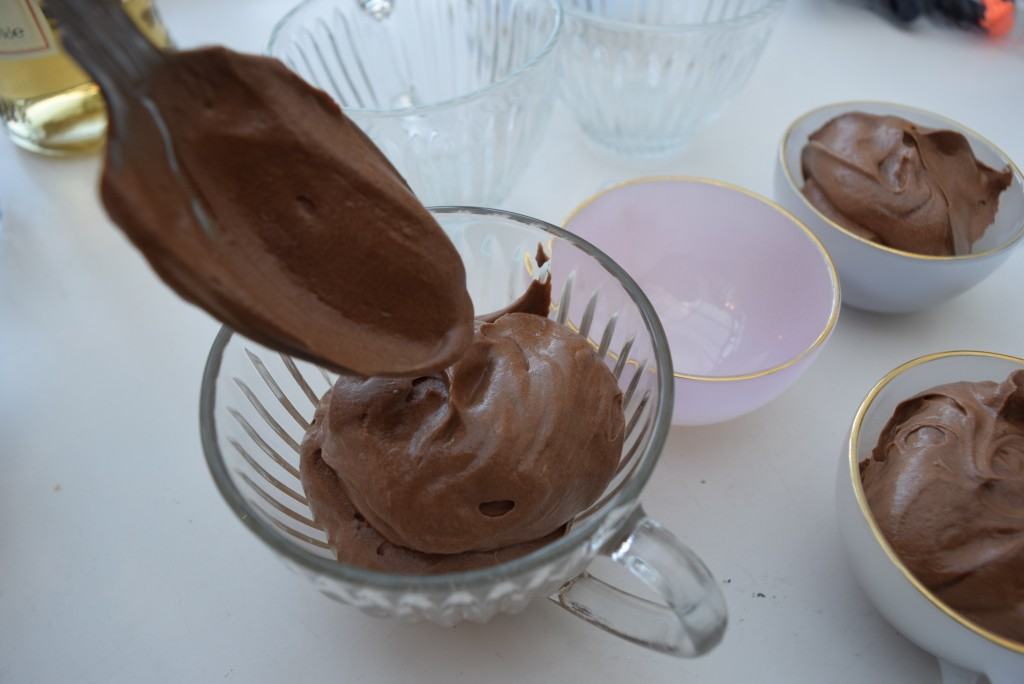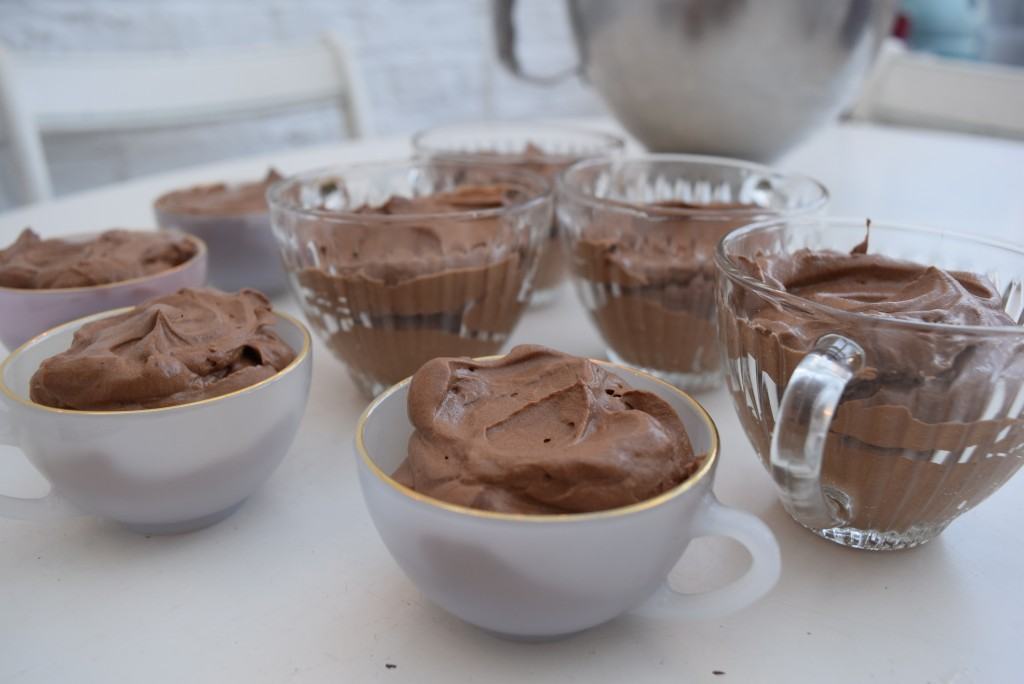 Grate or potato peel some chocolate curls and sprinkle onto your mousses. Add a touch of edible glitter, if you are feeling in a glittery mood.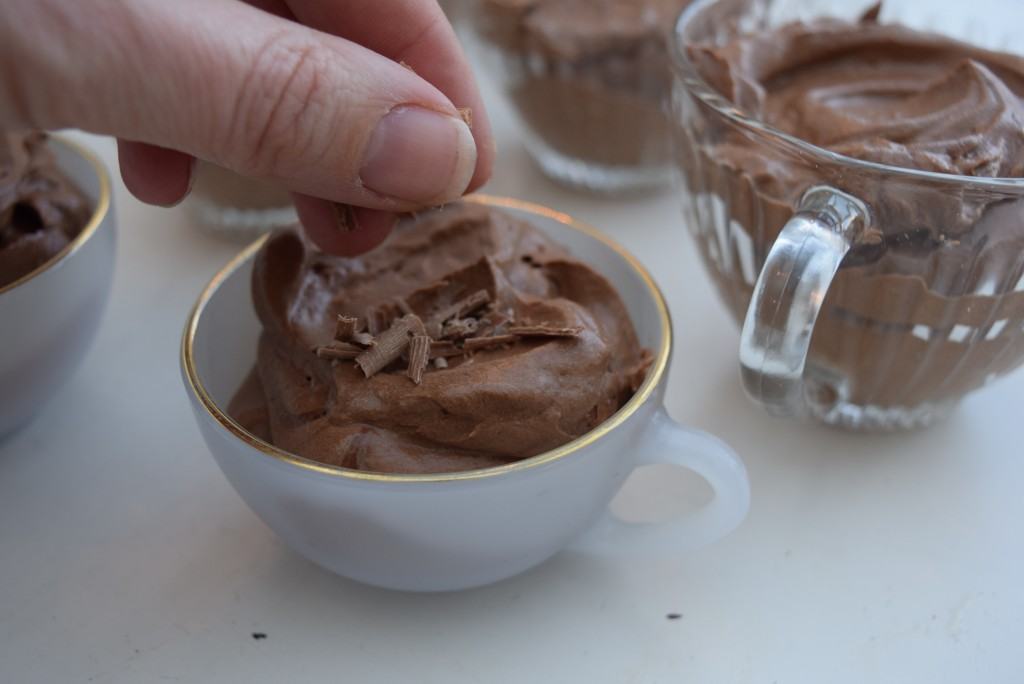 Pop these elegant little pots of pud into the fridge to chill down, although the mixture is nice and firm, so you could serve straight away at a push. If chilling, leave out of the fridge for 5 to 10 minutes before serving then enjoy, sharing the other 7 if you must.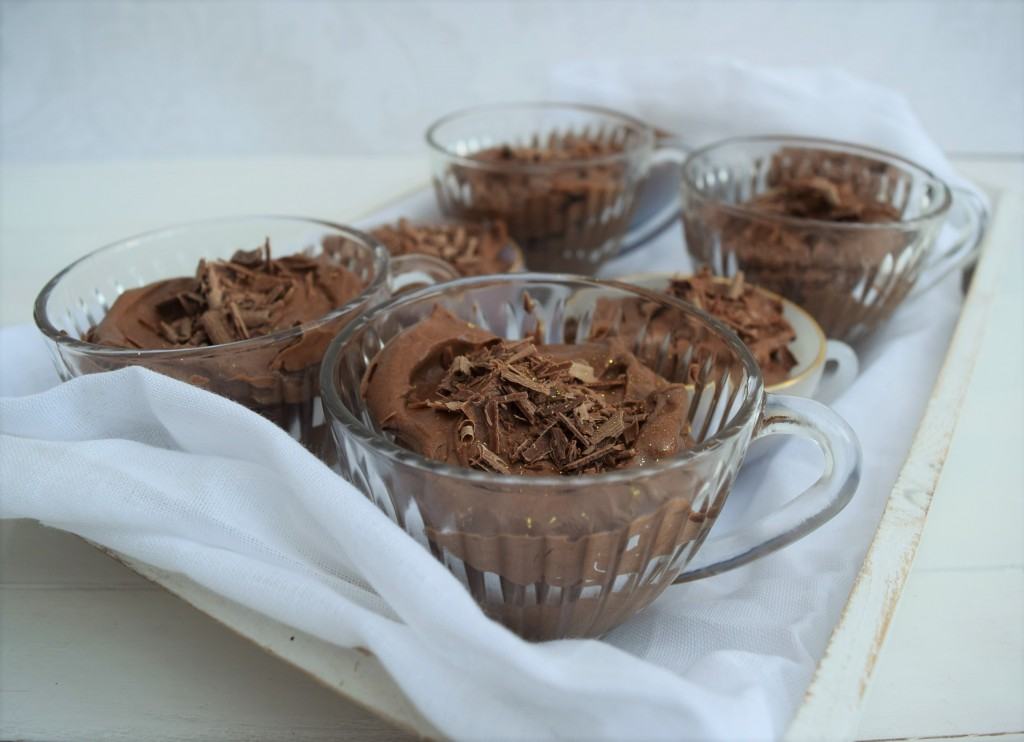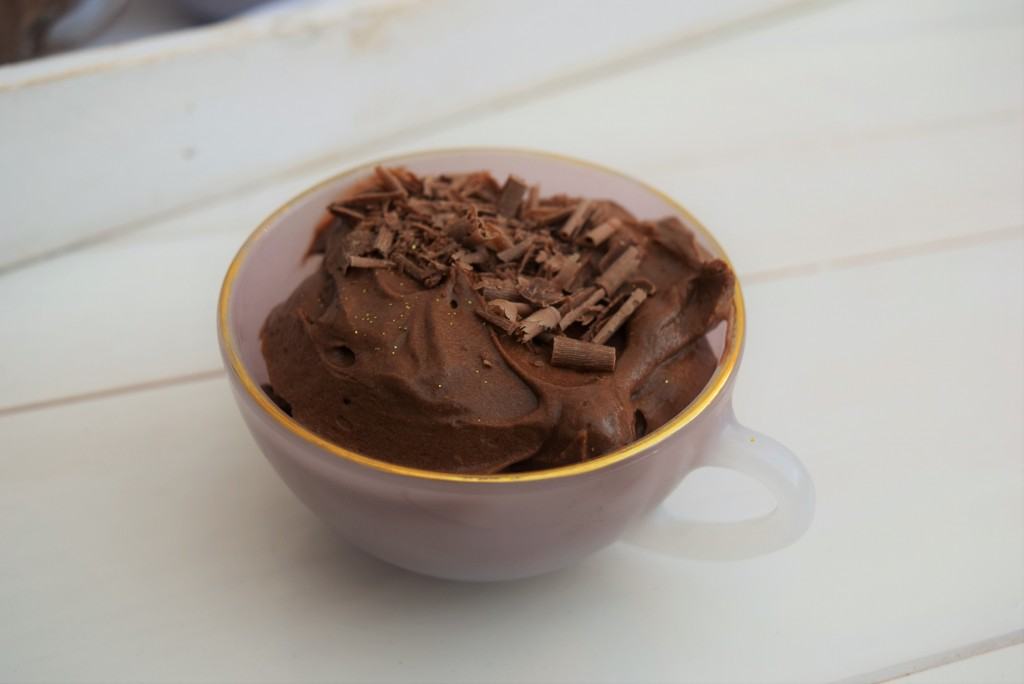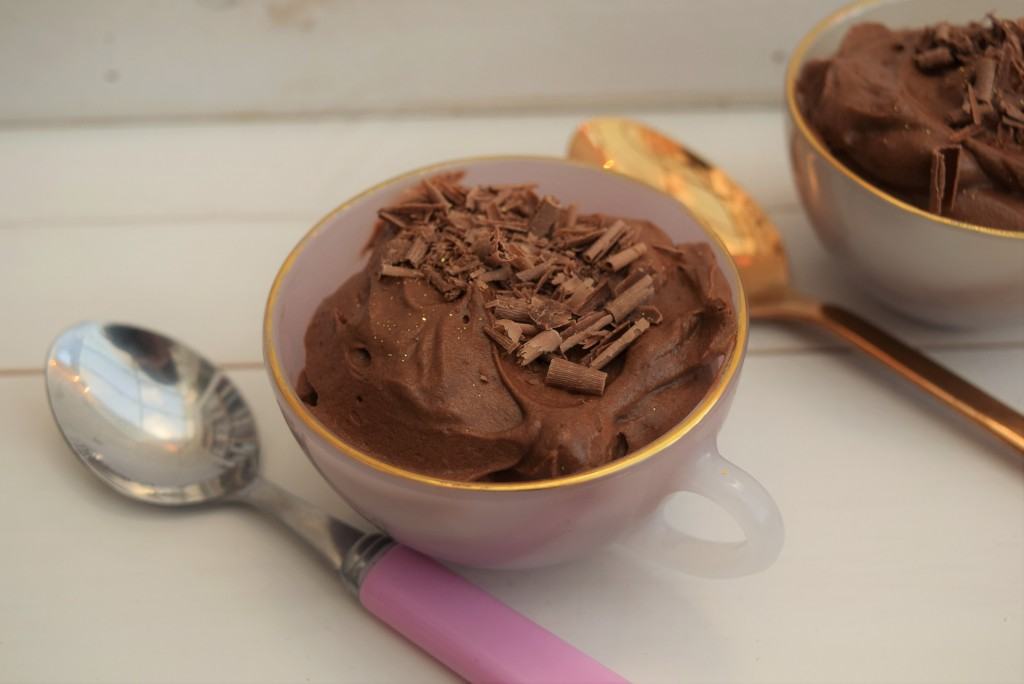 Audible tummy growl at the sight of this.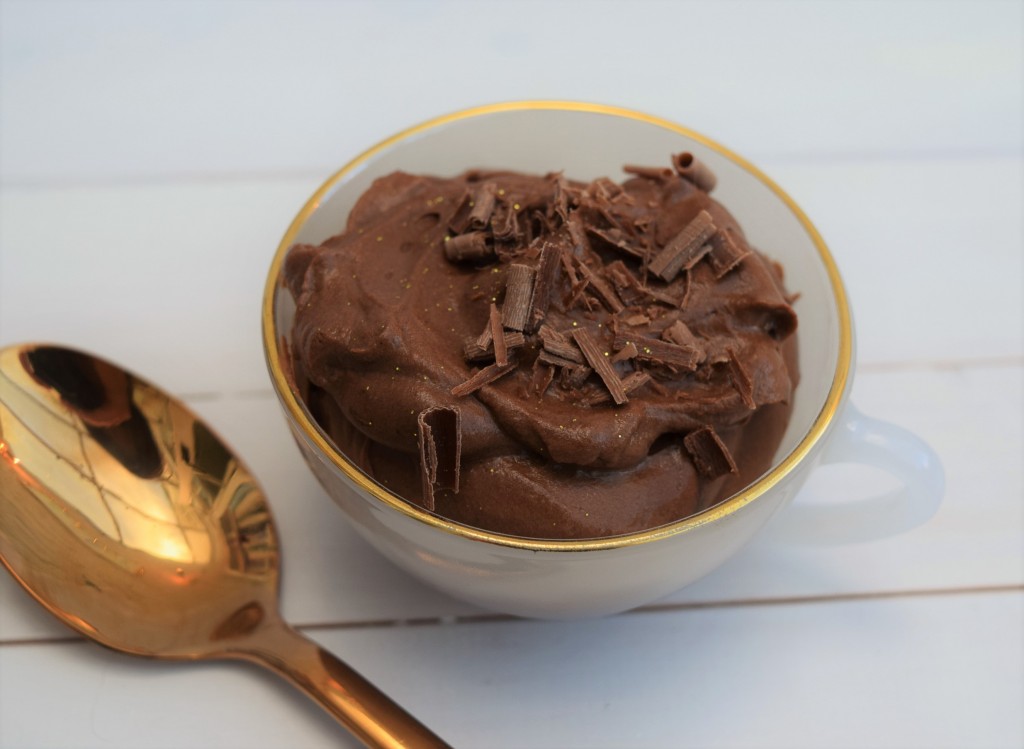 This is your new signature dessert. So when you are asked what's for pudding, you can now, within an hour, be able to say Chocolate Mousse. Or say, fruit or yoghurt, because you have inadvertently eaten all the mousse yourself. I won't be judging, either way.
Lucy x
Chocolate Mousse Recipe
Serves 6 to 8, dependent on your serving size
You will need tiny cups, glasses or pots to serve, or a bloody great big bowl
150g 70% cocoa dark chocolate and 50g milk chocolate, or use all dark chocolate if you'd prefer
70g butter
300ml double cream
2 eggs
2 tablespoons honey
1 tablespoon whisky, brandy, coffee liqueur, or vanilla extract if booze free
Make a start by adding the two chocolates and the butter to a microwavable bowl or a bowl over a pan of simmering water and heat or microwave until the butter and chocolate are just starting to melt. Leave to cool then mix well until smooth.  Whisk the eggs and honey together until frothy and well mixed. Whisk in the spirit of your choice or vanilla extract.
In a stand mixer, by hand or with a hand whisk, whip the double cream until just holding soft peaks.
To assemble the mousse, pour the cooled chocolate mixture into the eggs, mix, then add the softly whipped cream. Fold everything together quite gently, but until the mixture is a light brown colour and there are no streaks. Spoon into a large bowl or smaller cups or glasses and refrigerate until needed. These will keep for 2 to 3 days in the fridge *ha ha*. Leave out of the fridge to soften for 10 minutes or so before serving.