Chorizo Meatballs with Cheese Polenta Chips Recipe
Two things which are perennially popular in our house are meatballs and chorizo. Along with halloumi, I think I could serve a combination of any of the above items and get clean plates every time. So imagine my joy when I discovered a recipe for Chorizo Meatballs, I now think my Mother of the Year Award may at last be within my grasp for the first time in 18 years.
I decided to pair these lightly spiced little balls of joy with Cheese Polenta Chips just for a change of scenery. Meatballs in our house are either served in a marinara style sauce with spaghetti or the Swedish way with a sort of cream based gravy, so I snaffled around for a different accompaniment and discovered polenta chips.
The boys had a brief fling with cheesy polenta a few years back but they soon fell out of love with it, much preferring mash. Having tried the polenta in chip form, however, it is back in fashion again. These are cheesy as the title suggests, crisp and full of flavour. They make a welcome change from spuds, rice or pasta and are incredibly simple to make. In fact the whole dish can be on the table in less than an hour so that makes it everyones new best friend. Inspiration for these tasty dishes came via Matters of the Belly and Leite's Culinaria, with thanks to them both.
These two recipes are also quite versatile. With the festive season approaching, these meatballs could be paired on a skewer with squares of the baked polenta in a canapé nibble type of fashion. Washed down with a Sherry and Tonic, this is aperitif heaven. Either way, these are wonderful as a main course or nibble, so filled with flavour, brace yourself for some sort of shiny award from your family.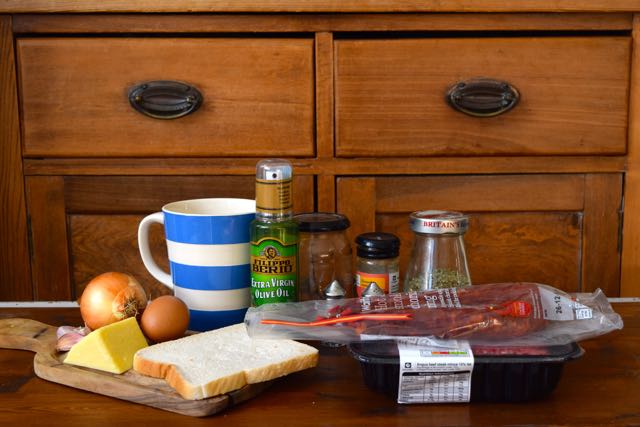 Here's the line up for the wonderful chorizo laden meatballs.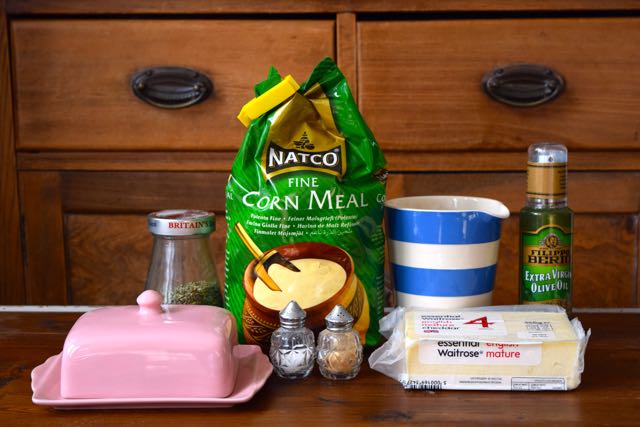 And here's the line up for the polenta chips. I couldn't find my polenta so whipped out the cornmeal I use for cornbread and it was just perfect.
Make a start with the polenta as it needs time to cool. Line a 33cm x 23cm rectangular tin and pre heat the oven to around 160 degrees fan assisted. Bring your water to the boil in a large saucepan.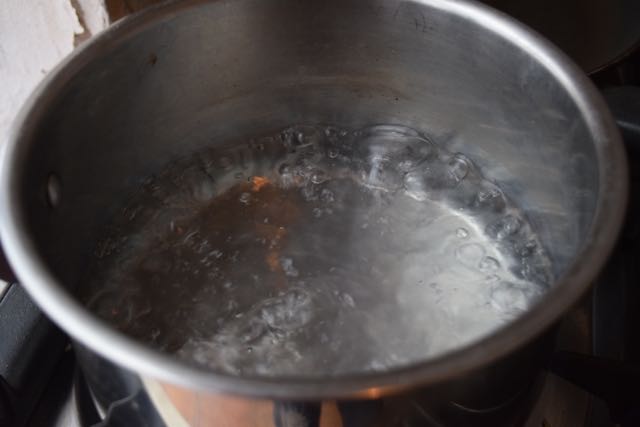 Tip the cornmeal into the boiling water in a steady stream, whisking all the time to prevent lumps. As I was busy photographing not whisking, mine did err a little on the lumpier side.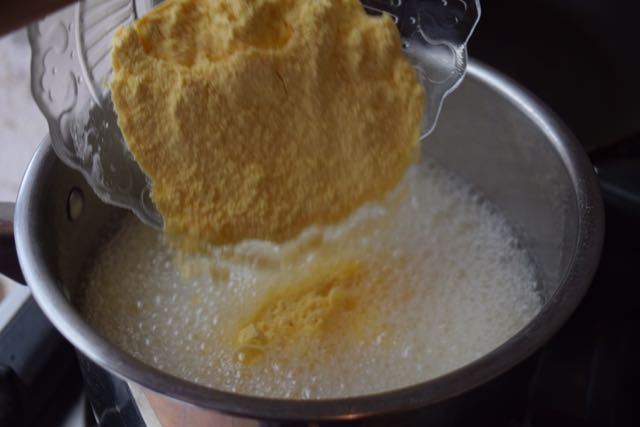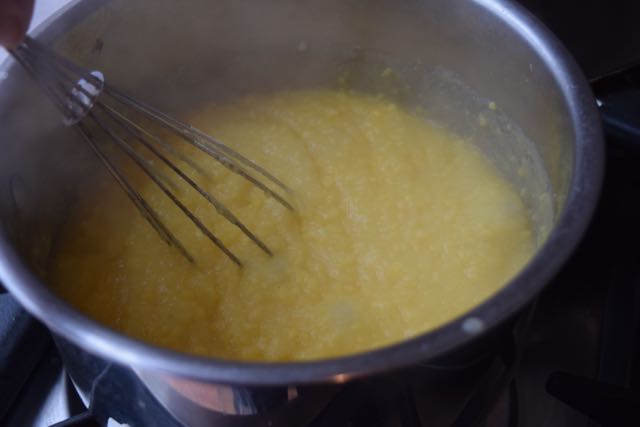 If you squint you can hardly see the lumps.
When you have whisked for 2 to 3 minutes and the polenta is starting to thicken, whisk in the butter, cheese, herbs and seasoning until you have a smooth-ish, wonderful tasting mixture.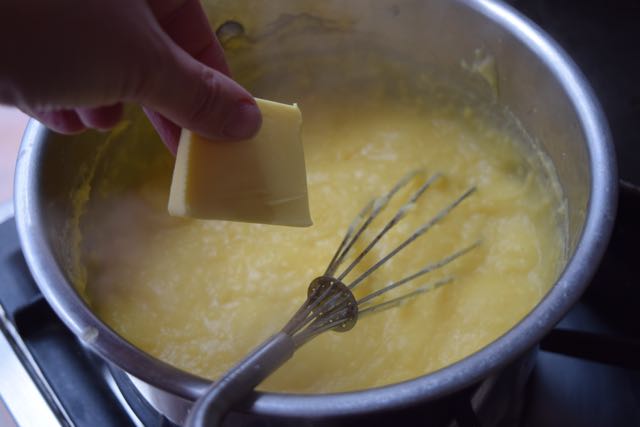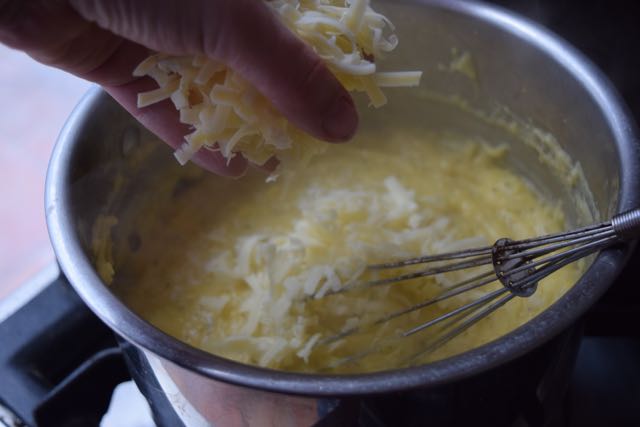 Pour the mixture into your lined tray, level the top then leave to cool then put in the fridge until set.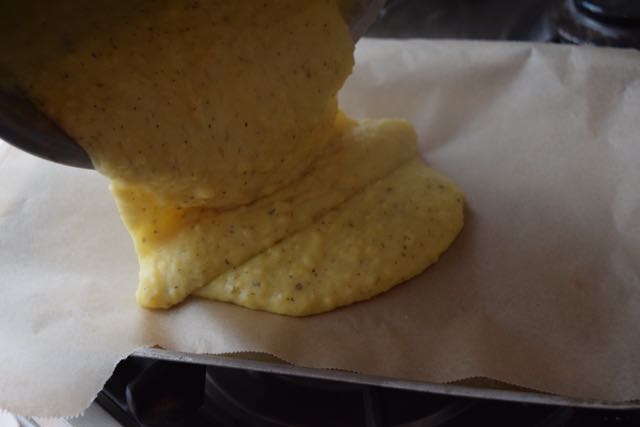 While this is chilling, you have no time for chilling as you have to crack on you with your Chorizo Meaty Balls.
Make a start by finely chopping a small onion and your garlic and gently frying this until soft in the olive oil.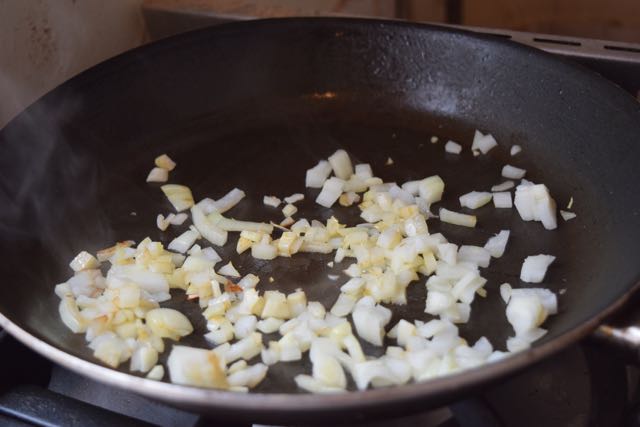 Next, blitz the slice of bread to make crumbs and grate the cheese. I did this in the food processor but do it by hand if you don't have one.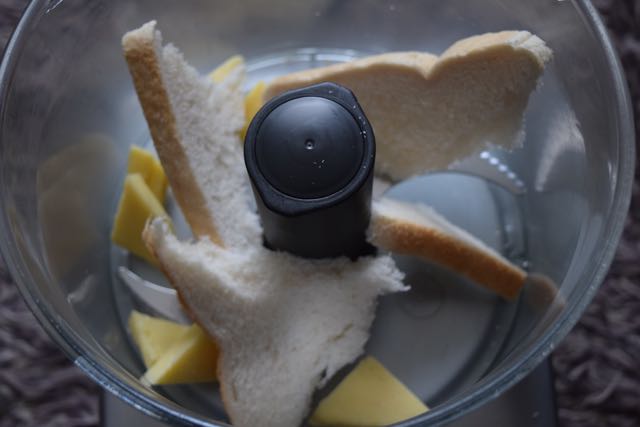 While you've got the processor out, process the chorizo, or chop finely by hand.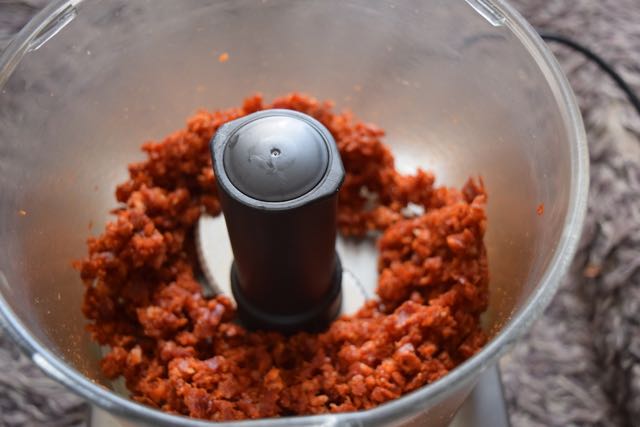 Put the crumbs and cheese into a large bowl and add the chilli flakes, cumin, oregano and salt and pepper.
Add the cooked onion and garlic, egg and milk then give it a good mix.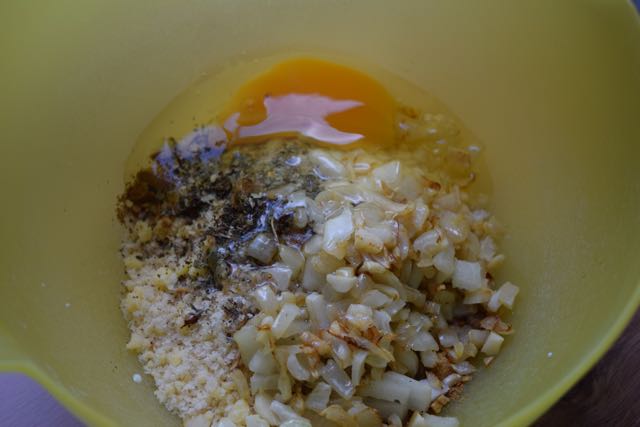 Finally, add your minced chorizo and beef mince then it's best to go in with your hands and squidge the whole lot together until beautifully combined.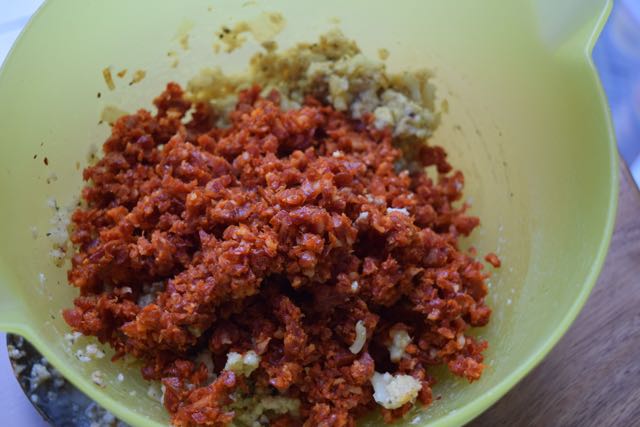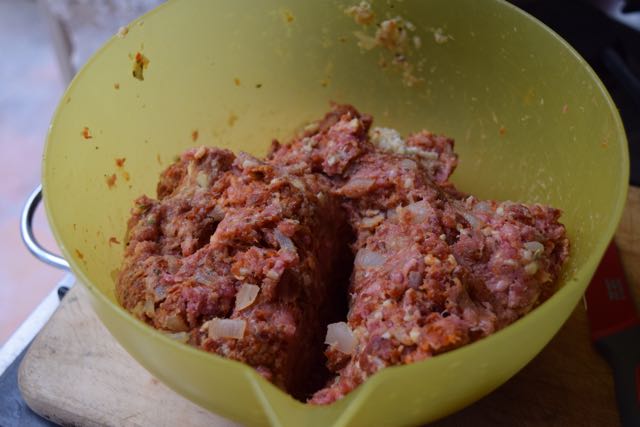 Fashion this wonderful meatball mixture into meatballs. They should be the size of a walnut and placed on a lined baking sheet.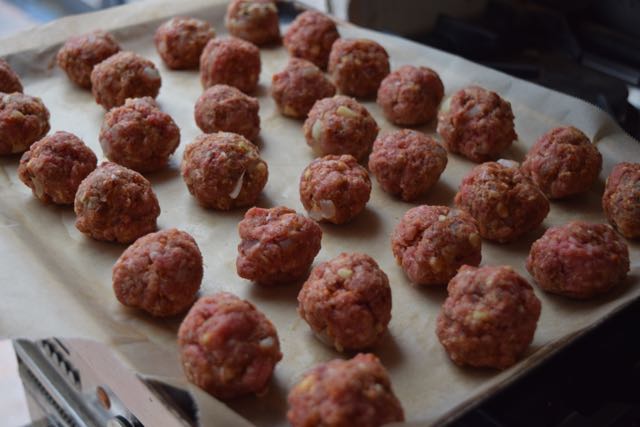 Put them in your pre heated oven for 15 to 20 minutes or until sizzling, golden and smelling irresistible. Crack on with the polenta chips and they can join the balls in the oven.
Once your polenta is set firm, turn out onto a chopping board and cut into chip like shapes.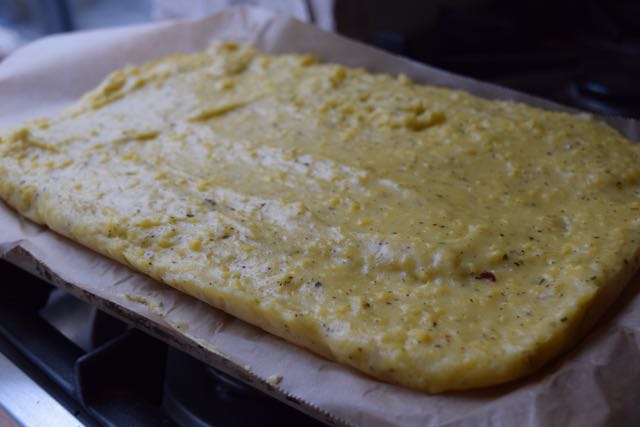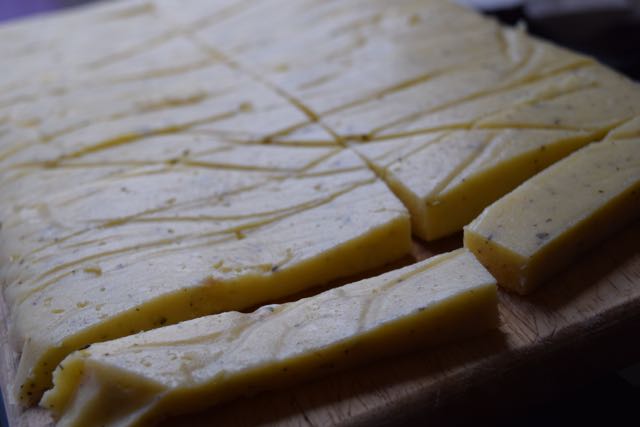 Pop these onto another lined baking sheet, drizzle with olive oil and some more salt and pepper and bake these for 25 to 35 minutes or until golden brown and smelling wonderfully cheesy.
Once everything is piping hot, serve these super tasty Chorizo Meatballs with the crisp Cheese Polenta Chips, providing you don't eat them all hot straight from the pan.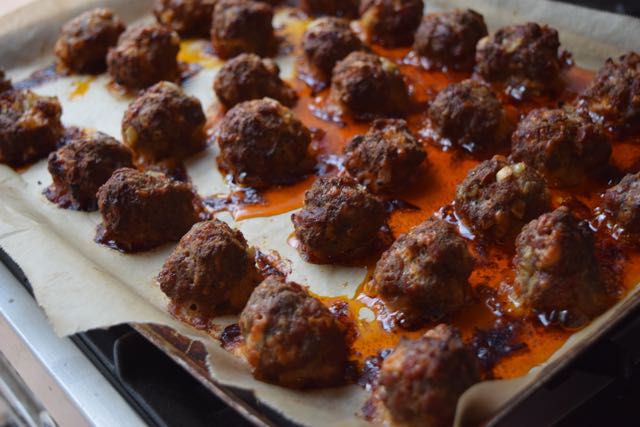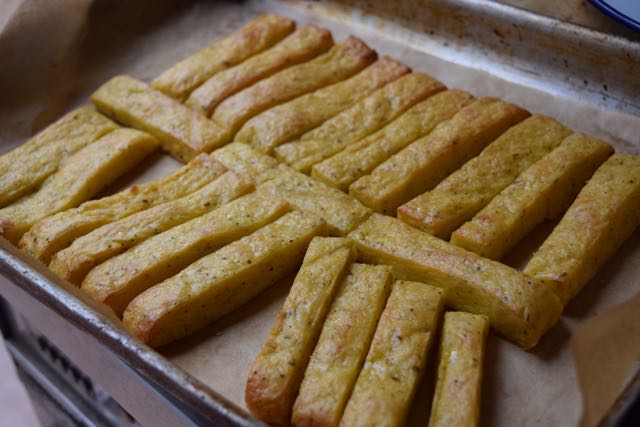 These are delicious, spicy, crisp, warming. Together, on their own, balls, chips, supper, nibbles, these will be loved by all.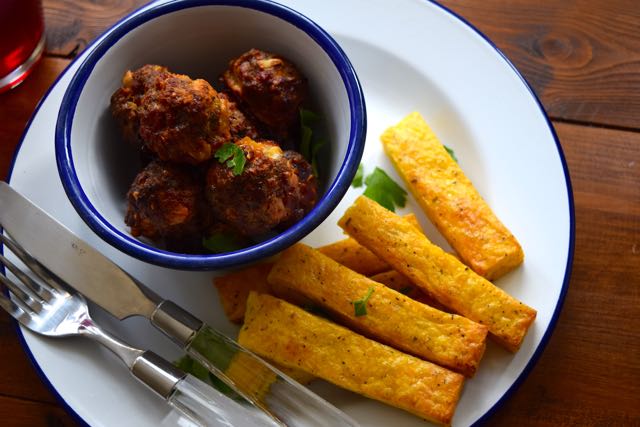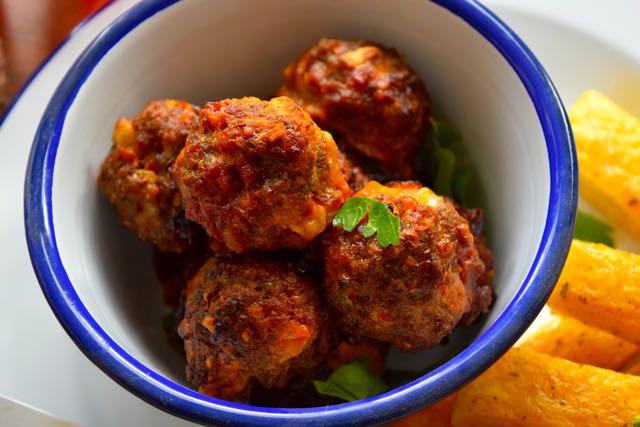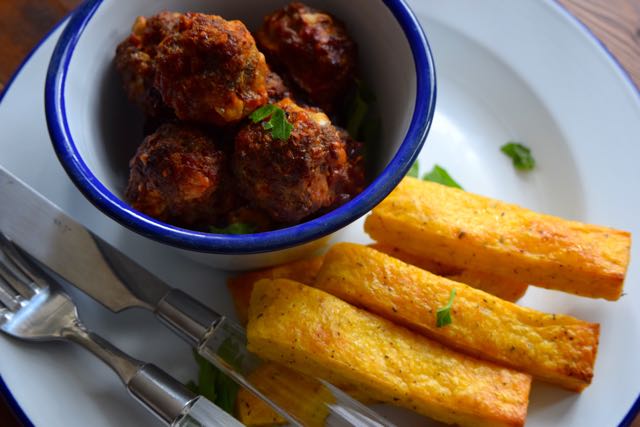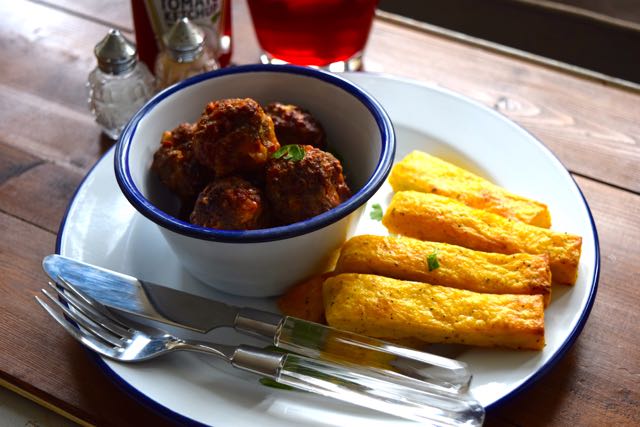 What a brilliant supper for Bonfire Night. Or any night. Every night, possibly.
Lucy x
Chorizo Meatballs with Cheese Polenta Chips Recipe
Serves 4 to 6, appetite dependent
You will need a lined baking tray
Chorizo Meatballs
2 tablespoons olive oil
1 small onion or shallot, chopped
2 cloves garlic, chopped
1 slice bread, blitzed into breadcrumbs or 50g fresh breadcrumbs
50g strong cheese, grated
1 egg
2 tablespoons milk
a big pinch chilli flakes
2 teaspoons ground cumin
1 teaspoon oregano
500g minced beef
250g chorizo, minced or processed in your food processor
salt and pepper
Cheese Polenta Chips
1 litre water, boiling
220g polenta or cornmeal
100g grated strong cheese
30g butter
1 teaspoon dried herbs, I used Oregano
1 teaspoon garlic powder, optional, if you have it
salt and pepper
Olive oil for roasting
Start with the polenta chips. Pre heat your oven to 160 degrees fan assisted and line a 33cm x 23cm rectangular tray.
In a large saucepan, heat the litre of water to a rolling boil. Pour in the polenta or cornmeal, whisking all the time to prevent lumps forming. Keep stirring for 2 to 3 minutes until the mixture is thickening then stir in the herbs, butter, cheese and salt and pepper. Stir well then pour into your lined baking tray, level the top, and leave to cool before putting in the fridge until completely set.
When you are ready to cook your chips, remove the polenta from your lined tray by turning the slab out onto a chopping board. Cut into chip-like shapes and lay on another lined baking tray. Drizzle or spray with olive oil, sprinkle with salt and pepper then bake in the oven until crisp and golden brown, this should take around 25 to 35 minutes, dependent on the size of your chips.
For the meatballs, line another large baking tray and pre heat the oven to 160 degrees fan assisted.
In a small frying pan heat the olive oil over a medium heat. Add the finely chopped onion and garlic and cook over a low heat until the onion is starting to soften. Leave to cool.
Take your food processor and process the chorizo until roughly chopped, or do this by hand, then pop to one side. Next, blitz the slice of bread and cheese to make cheesy crumbs, pour these into a large bowl. If you don't have a processor grate your cheese and add this to a bowl along with the breadcrumbs. Add the beaten egg and milk along with the chilli flakes, cumin, oregano and salt and pepper. Add the mince, chopped chorizo and onion and garlic and stir well. Squidge the mixture together with your hands and roll into walnut sized balls and place on a baking tray. This makes around 30 to 35 meatballs.
Put in the oven and cook for 15 to 20 minutes or until golden brown and sizzling.
Serve piping hot with the polenta chips, or mix with marinara sauce and serve with spaghetti and parmesan. Or serve both on a skewer as a canapé, its up to you.