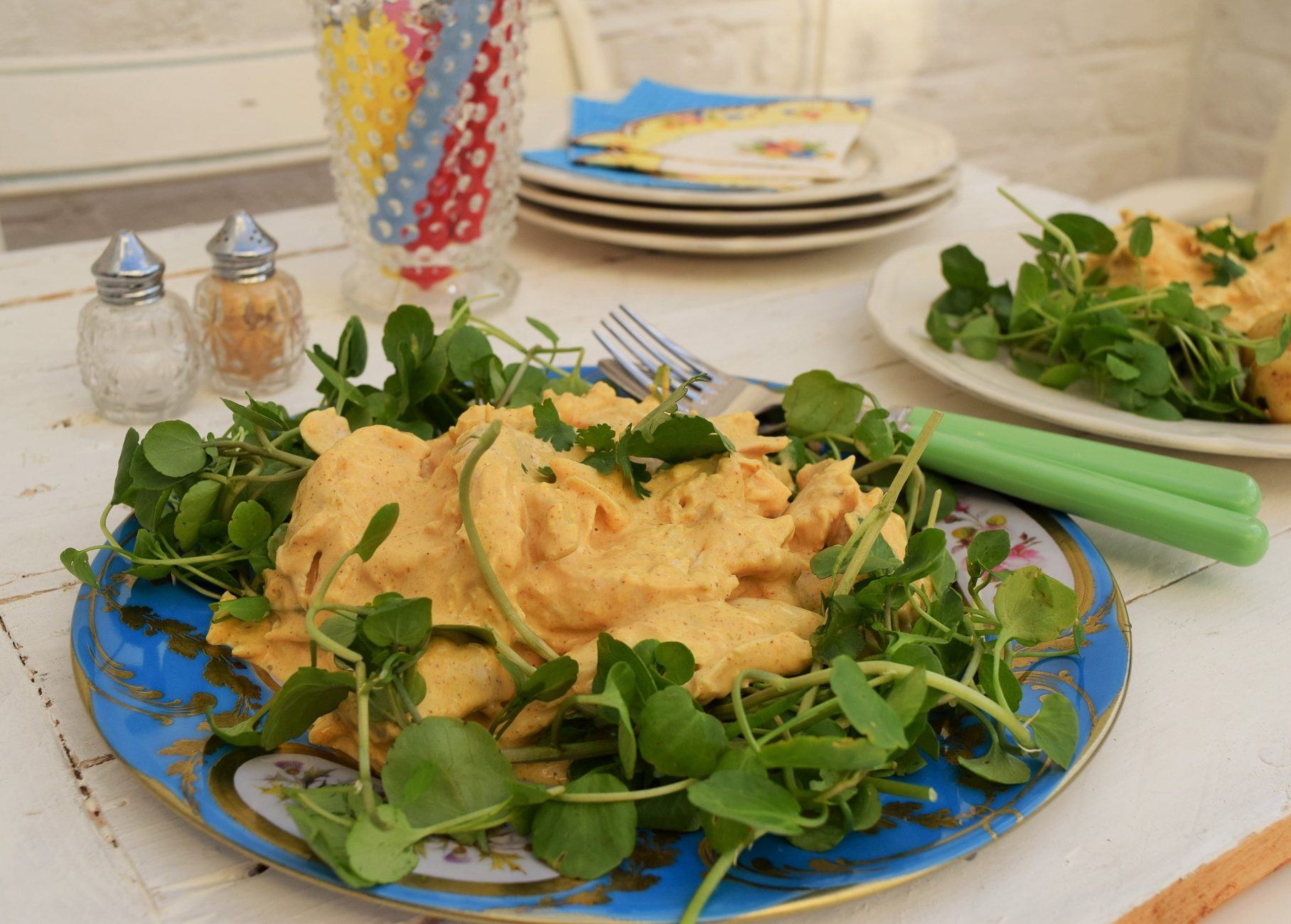 Classic Coronation Chicken Recipe
This is a classic old school recipe. Based on the original from the 1950's, Coronation Chicken has received some pretty bad press in the past. Relegated to an M&S sandwich filling, most versions made now are just chicken in a curry mayo. Not so this Classic Coronation Chicken. I have taken it back to the 50's and made this tasty dish just as my mother used to for summer lunch parties when I was a child.
Don't be put off by the list of ingredients, they are mostly store cupboard staples and apart from some stirring, this delicious recipe is not too drama laden. I have included the instructions for my favourite way of cooking chicken as I love nothing more than to poach a chicken. I take great joy in the gentle way it's cooked, and the resulting chicken being so soft, tender and never dry. A completely perfect vehicle for your Coronation sauce.
And once you have created this classic dish, how you serve it is up to you. I am not a huge fan of cold rice, but do go with a traditional rice salad if you have a great recipe. I decided to serve my Coronation Chicken, garnished with coriander, with some lightly buttered new potatoes and watercress. But other occasions will cry out for it to be wedged between two doorsteps of white bread with a bit of iceberg or inside a crisp baked potato. Style and good taste will determine how you serve this Classic Coronation Chicken, if I am being really honest, I had a good few mouthfuls of this batch straight from the bowl with a spoon, and it needed no further adornment.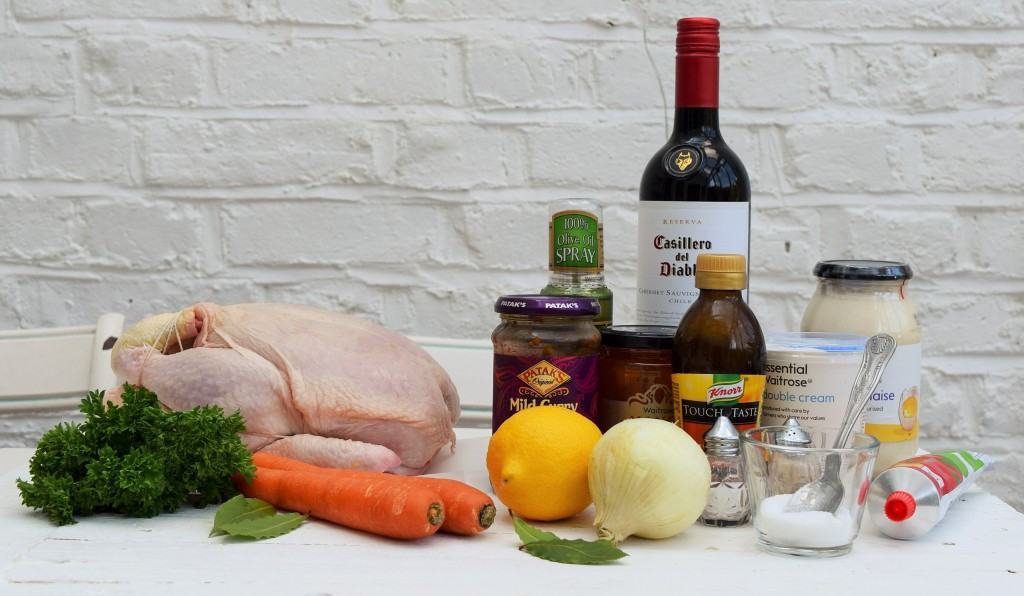 Here's the elegant line up. It does look lengthy, but most of the ingredients will be in your cupboard as we speak. And I don't think I missed a single item, a massive surprise to me and you, I expect.
Make a start by poaching your chicken. Don't feel you have to do this, you can always use pre-bought cooked chicken or simply bake 3 or 4 chicken breasts, but if you have the time and inclination, poaching a chicken can be a hugely satisfying experience. Rambling again. Take a large pan and put your whole chicken in breast side down. Add in a couple of carrots, the sprig of parsley, bay leaves and salt and pepper. Fill the pan with cold water, until the chicken is just covered, then put on the heat and bring to the boil.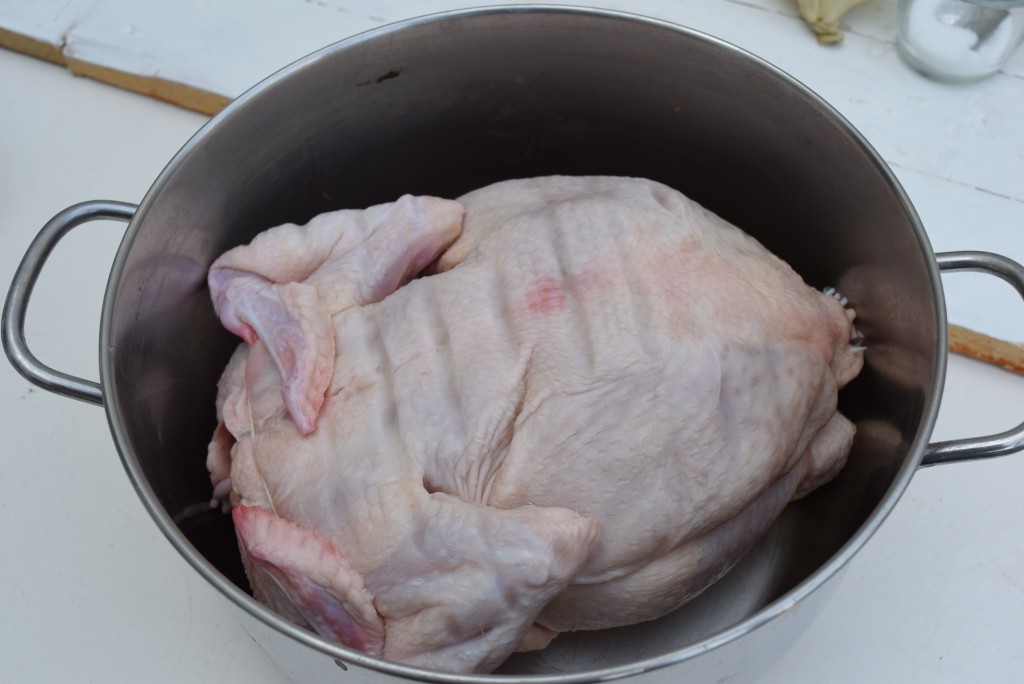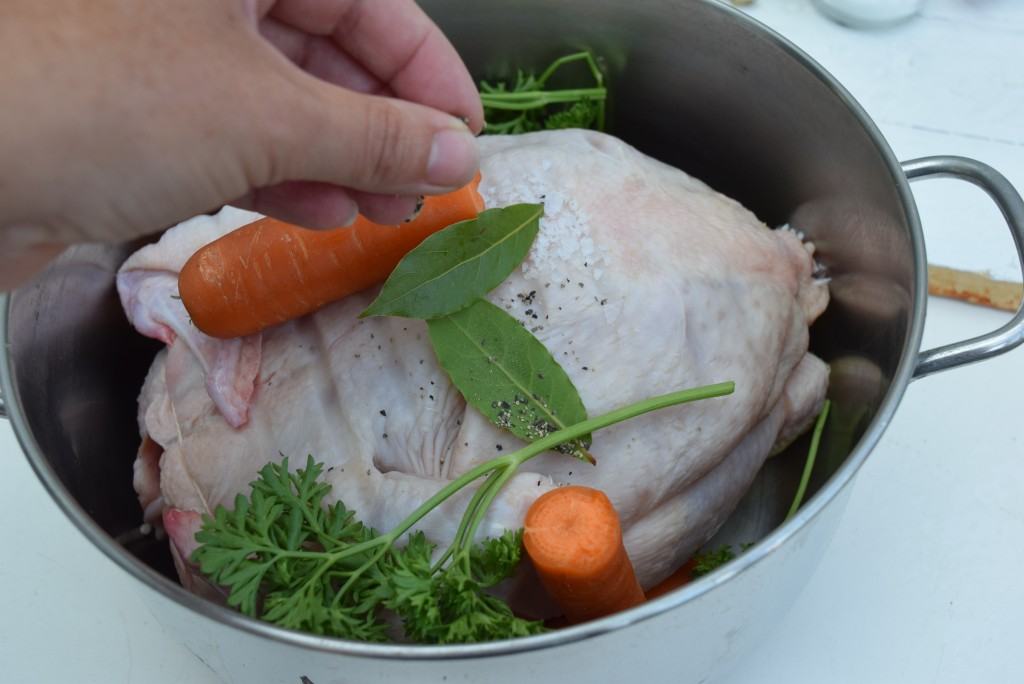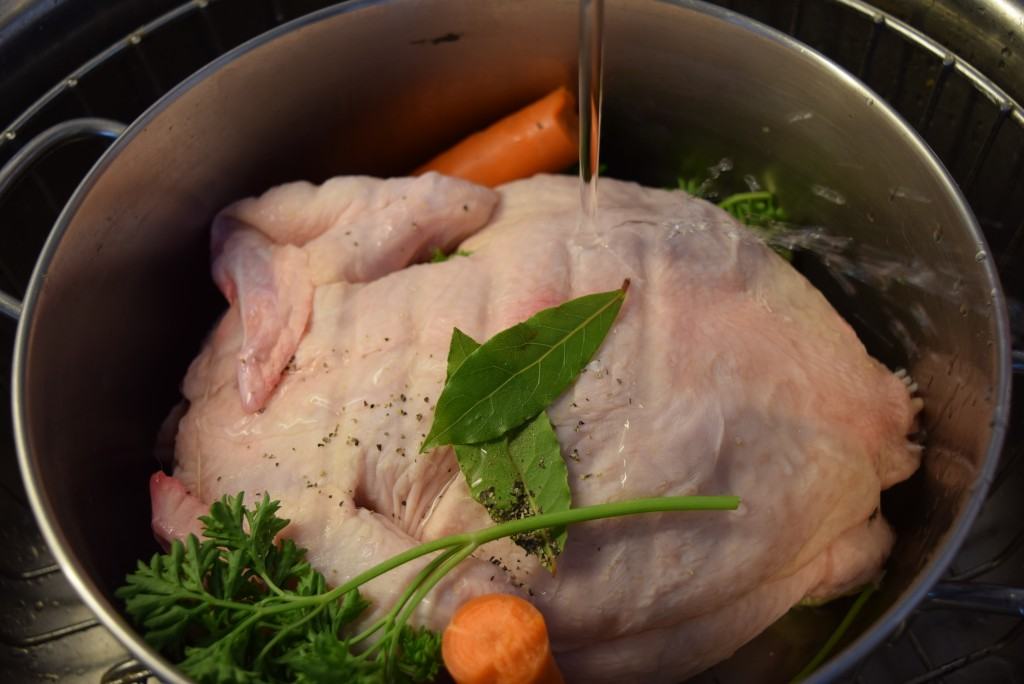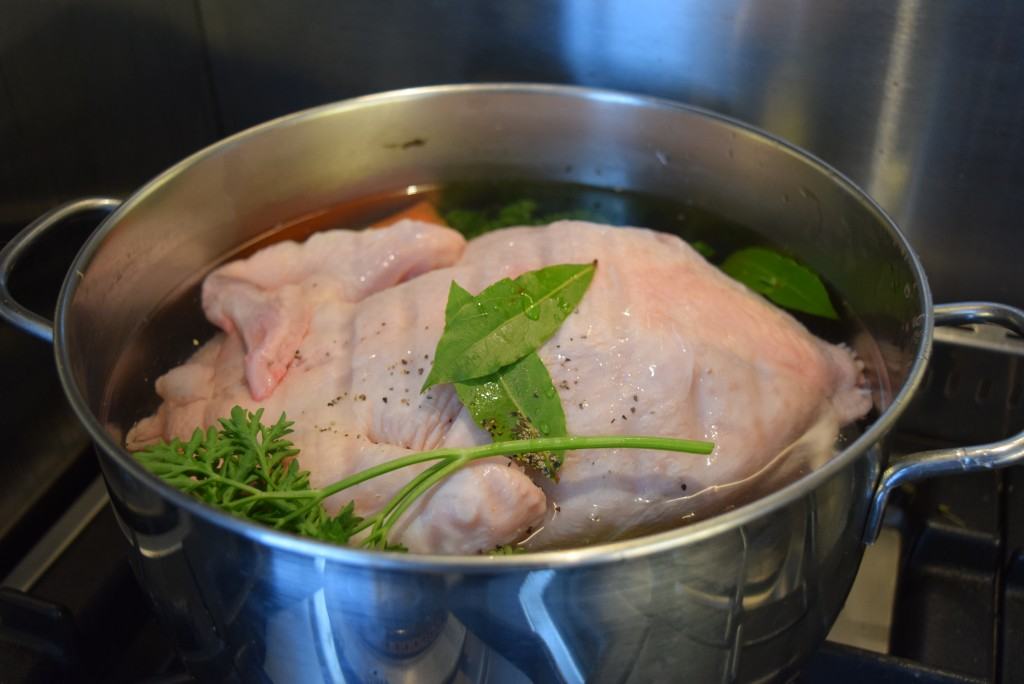 Once your lovely bird is boiling, turn down to a simmer, pop on a lid and cook for an hour. When the hour's up, just turn off the heat and leave the chicken to cool in it's own broth. This will take four or five hours.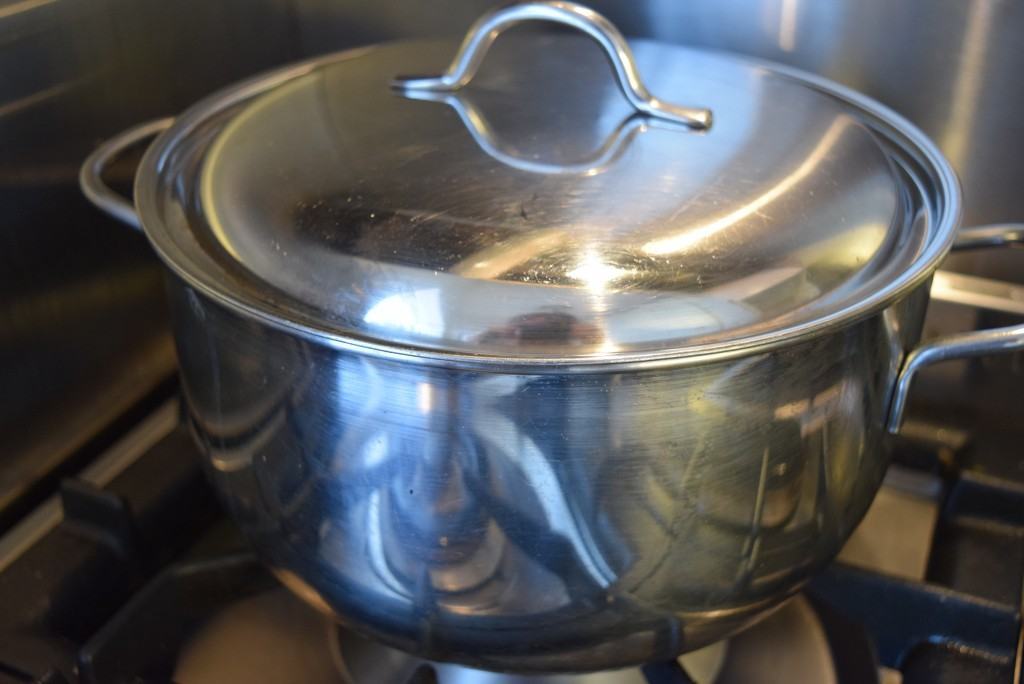 While this is going on, crack on with the curry sauce base. Finely *as much as you can be arsed* chop an onion. Heat a little oil over a low heat and add the onion and cook slowly for around 5 minutes, until just softened without too much colour. Stir in the curry paste, cook for a few minutes then stir in the tomato paste.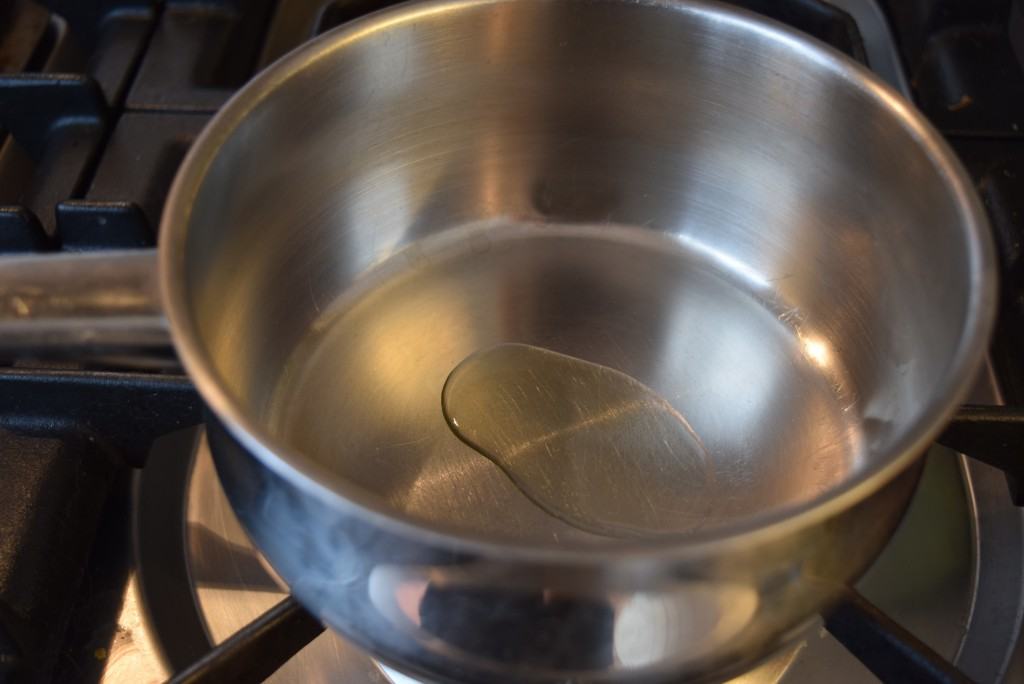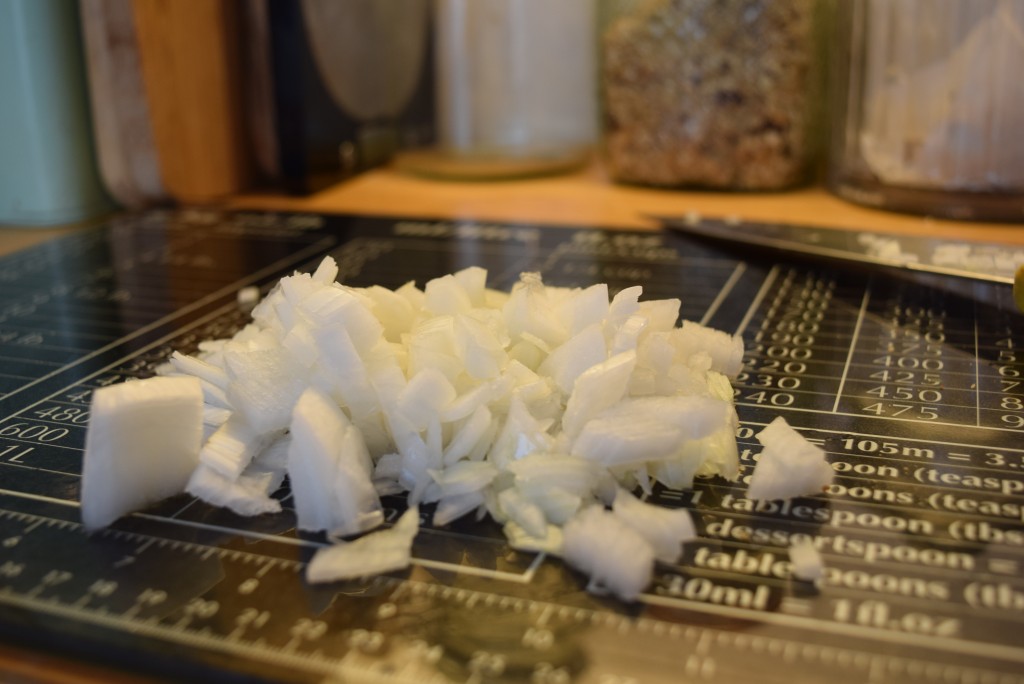 Ooh, not so finely chopped, look at that big lump of onion. My school cookery teacher would not be proud of me.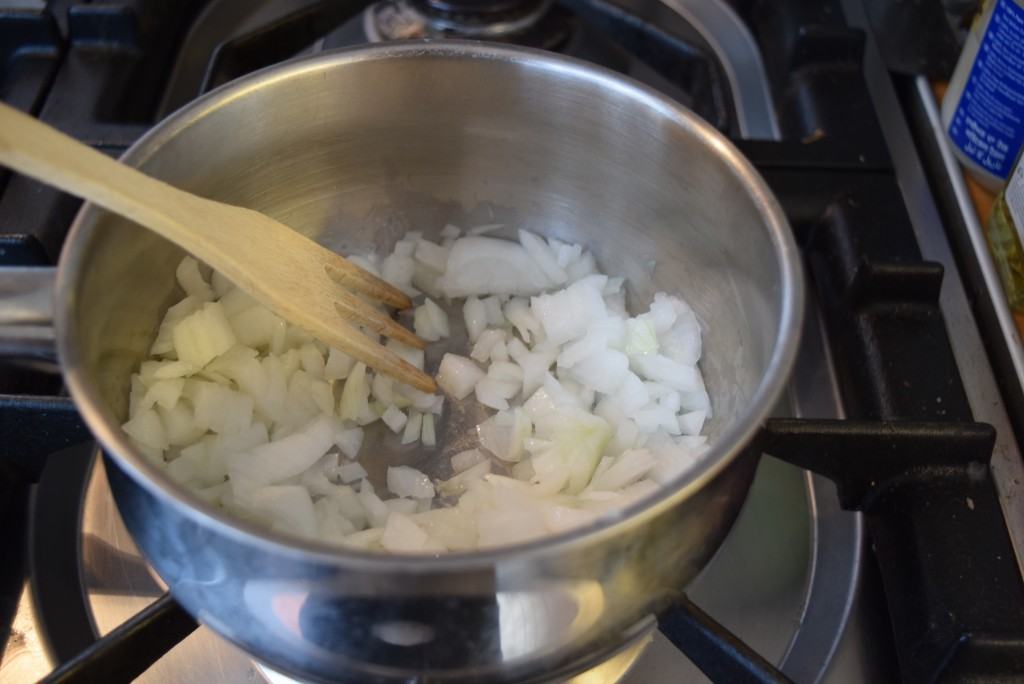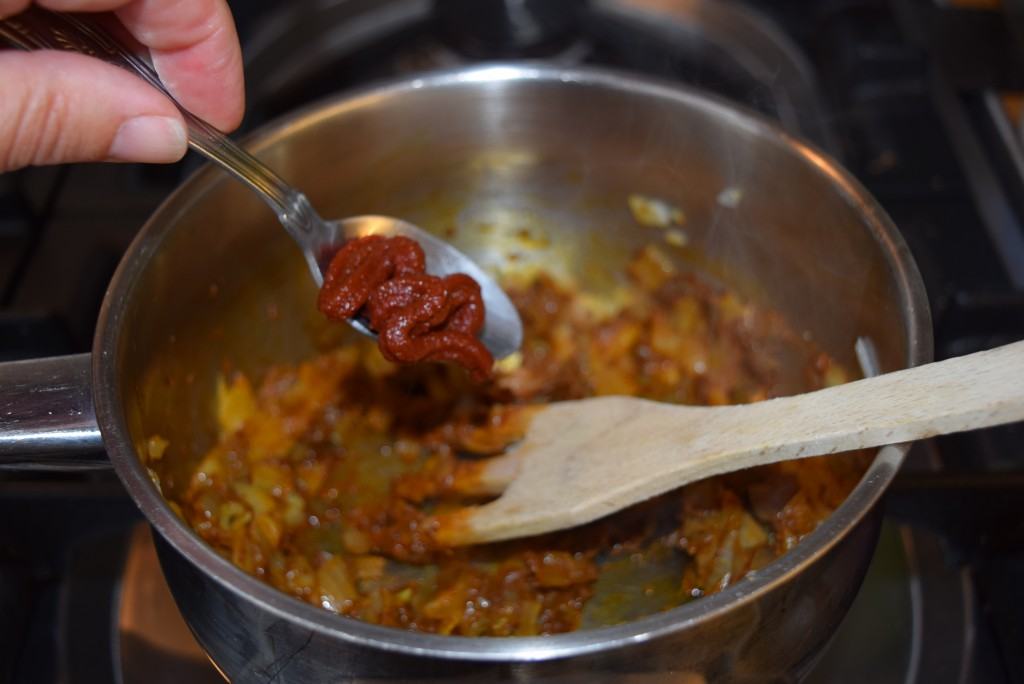 Take this wonderful fragrant mixture off the heat and pour in the 125ml of hot chicken stock. Add the slug of red wine and stir that through too.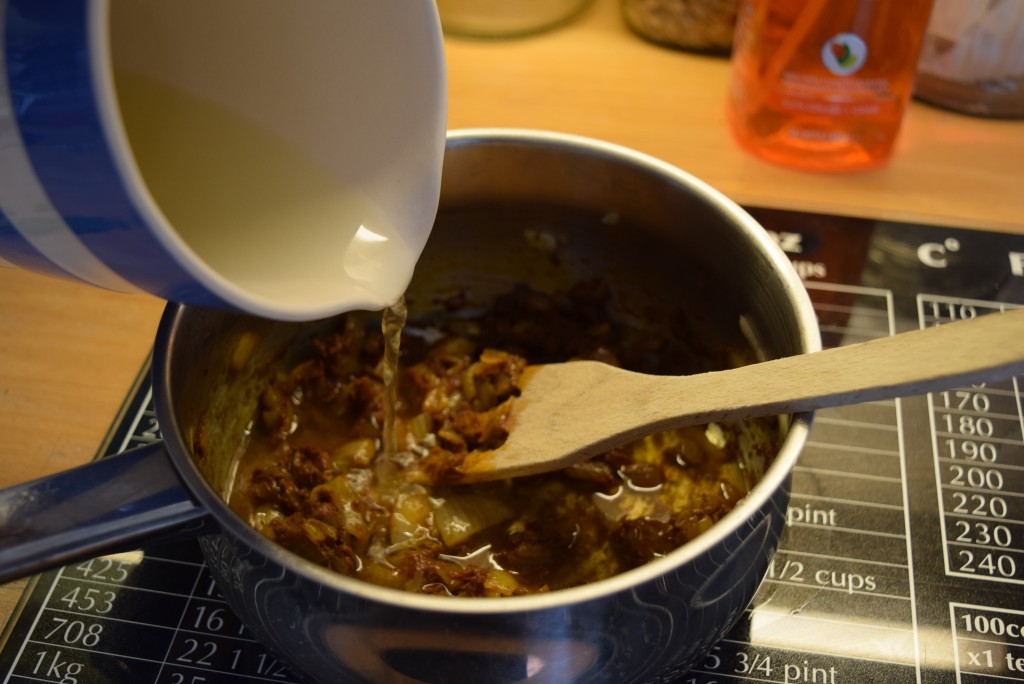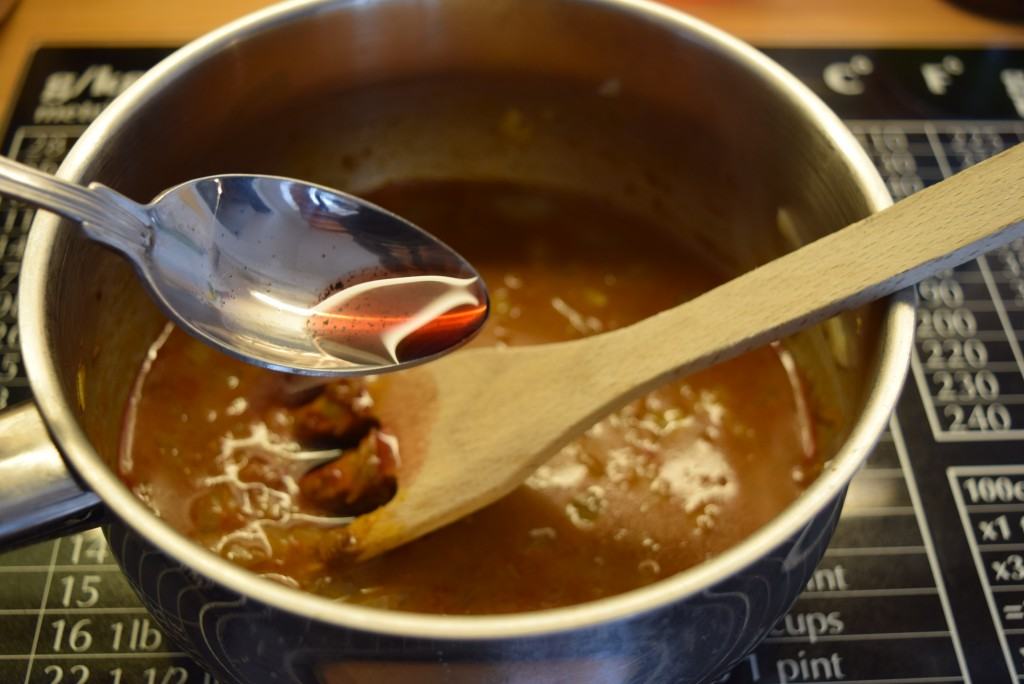 Pop this back on the heat with the fresh bay leaves and bring to the boil. Add in the sugar and lemon juice then simmer for about 5 minutes.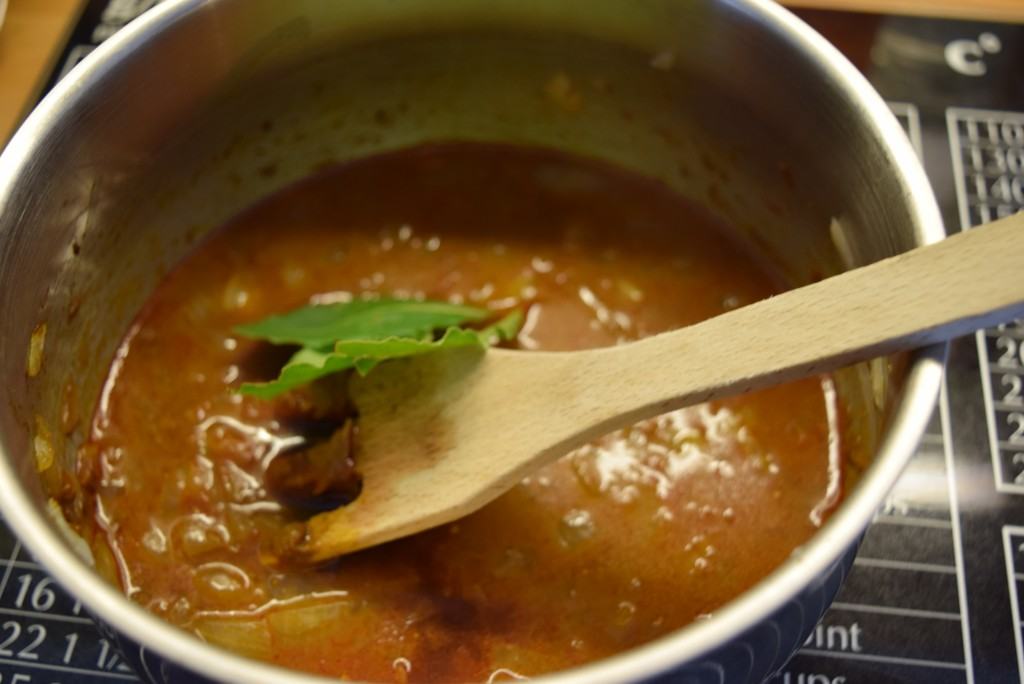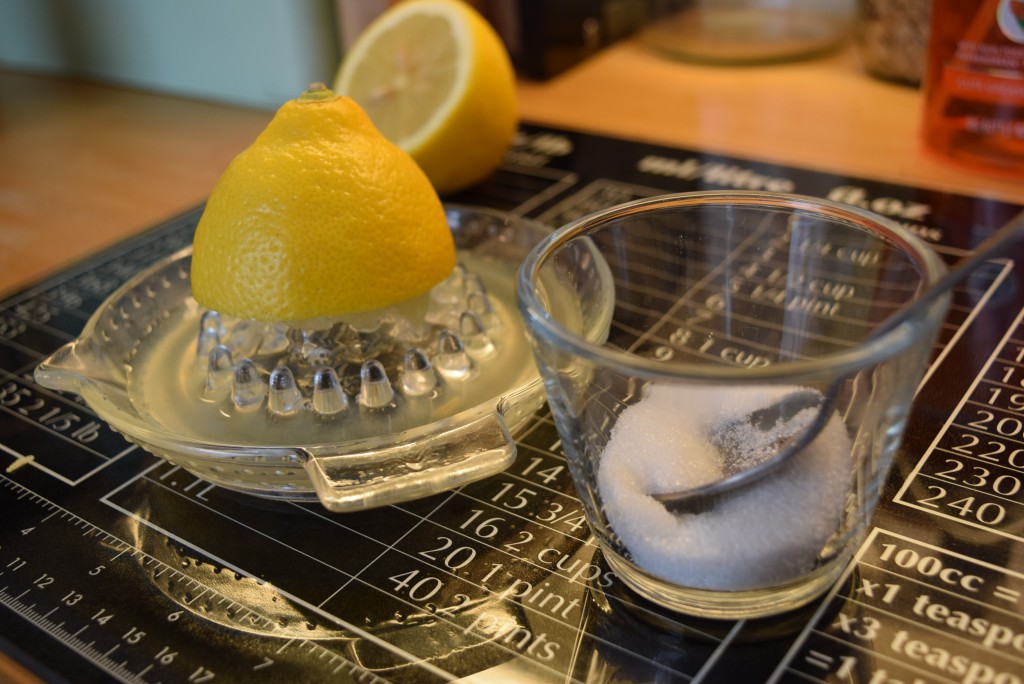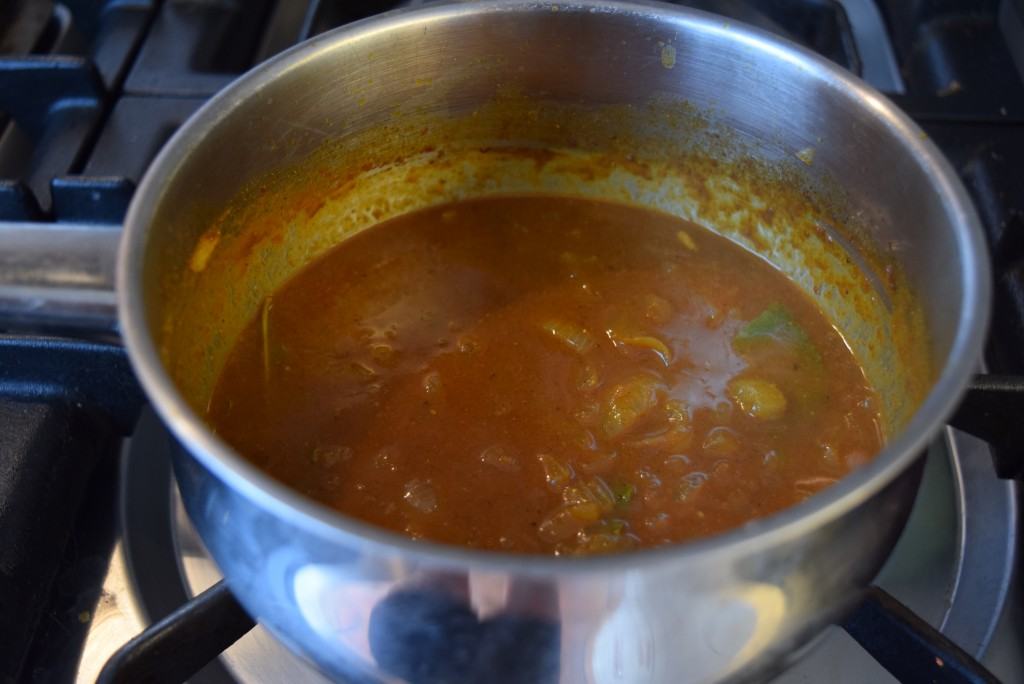 At this stage, it's not the prettiest dish.
Leave this curry sauce to cool before blitzing with a hand blender or pushing through a fine sieve. Not forgetting to remove the bay leaves *I nearly did*.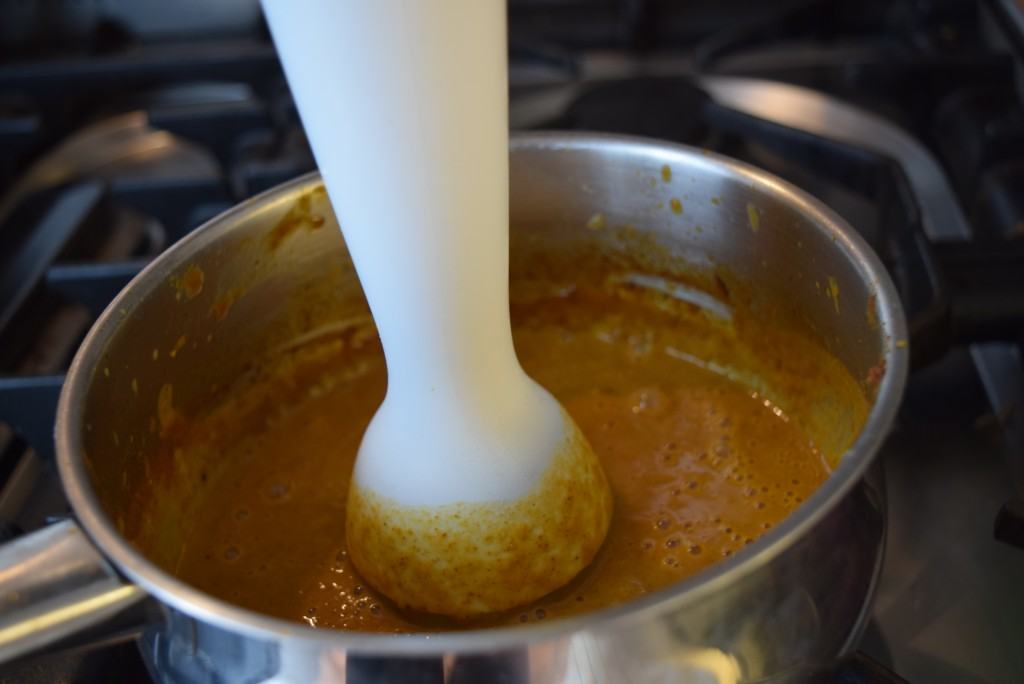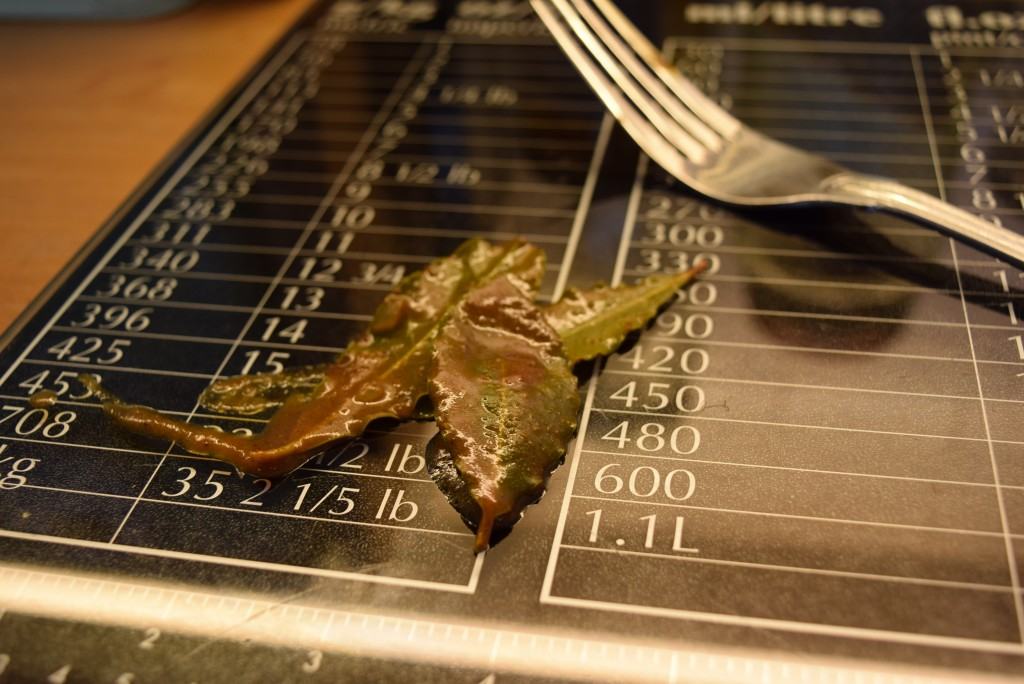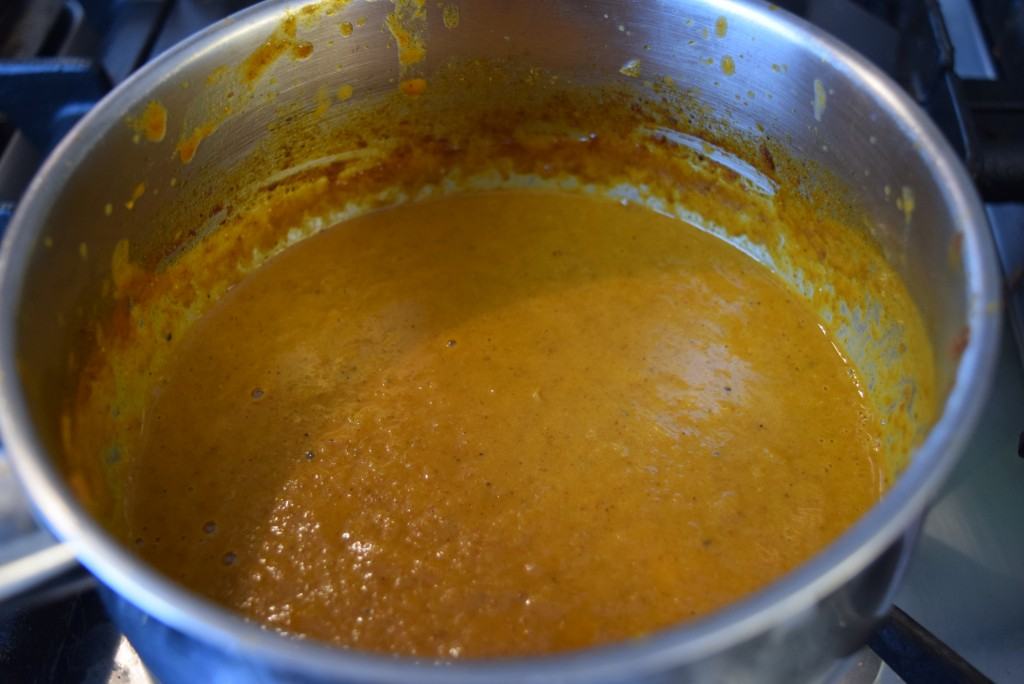 When your chicken has cooled in its tasty broth, after around 4 to 5 hours, remove it from the pan and take the tender meat from the bones and chop into bite sized pieces.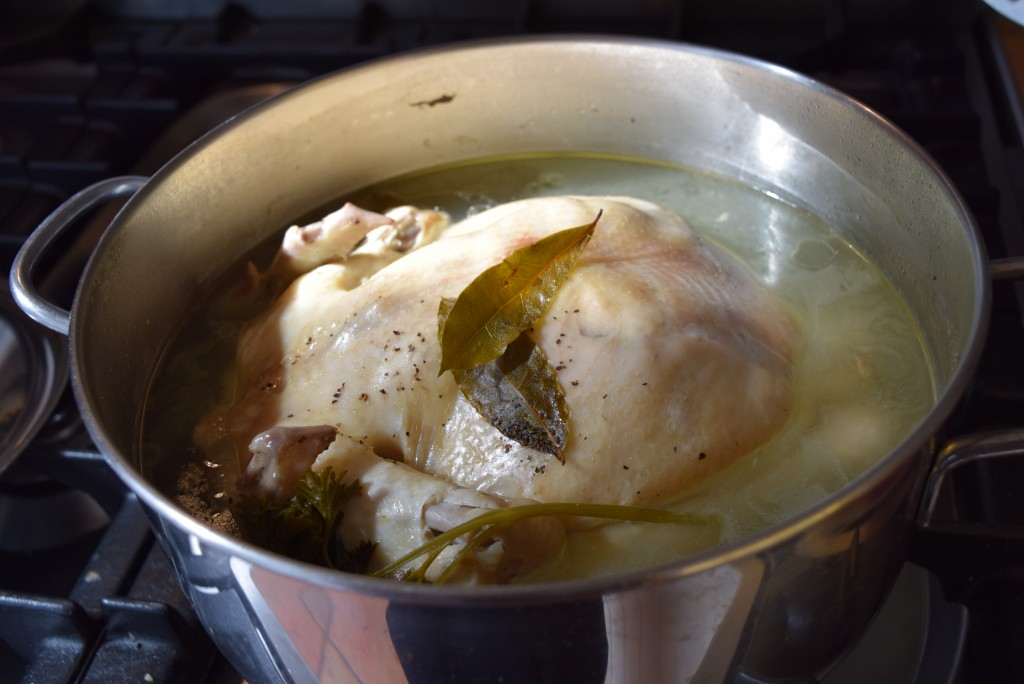 Make sure you add the bones back to the broth and simmer the stock down for soup later. A poached chicken is the gift that keeps on giving.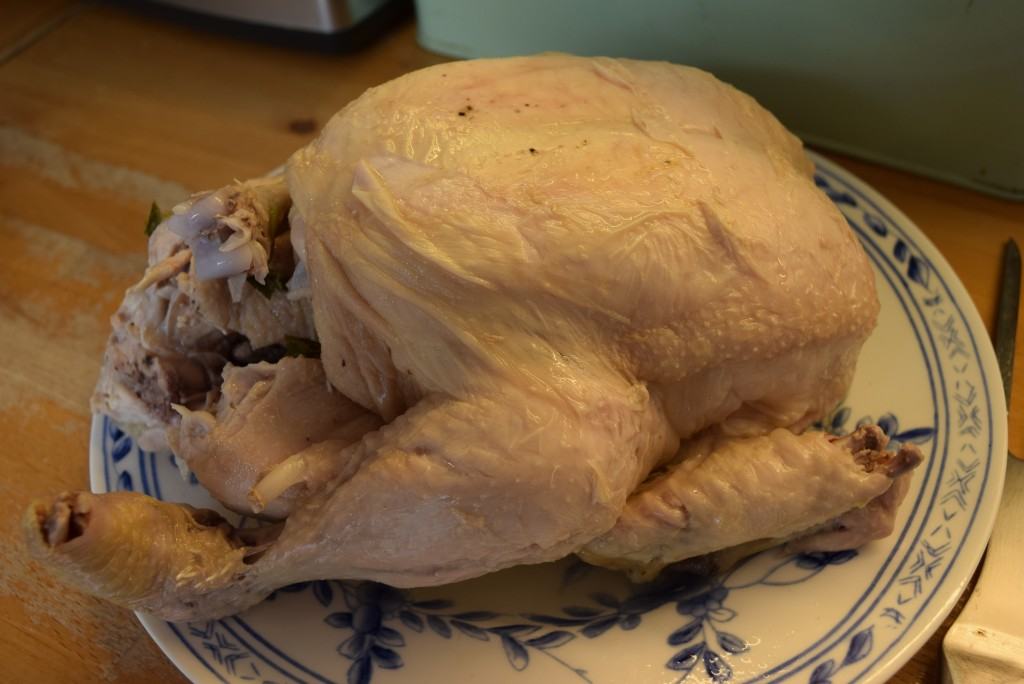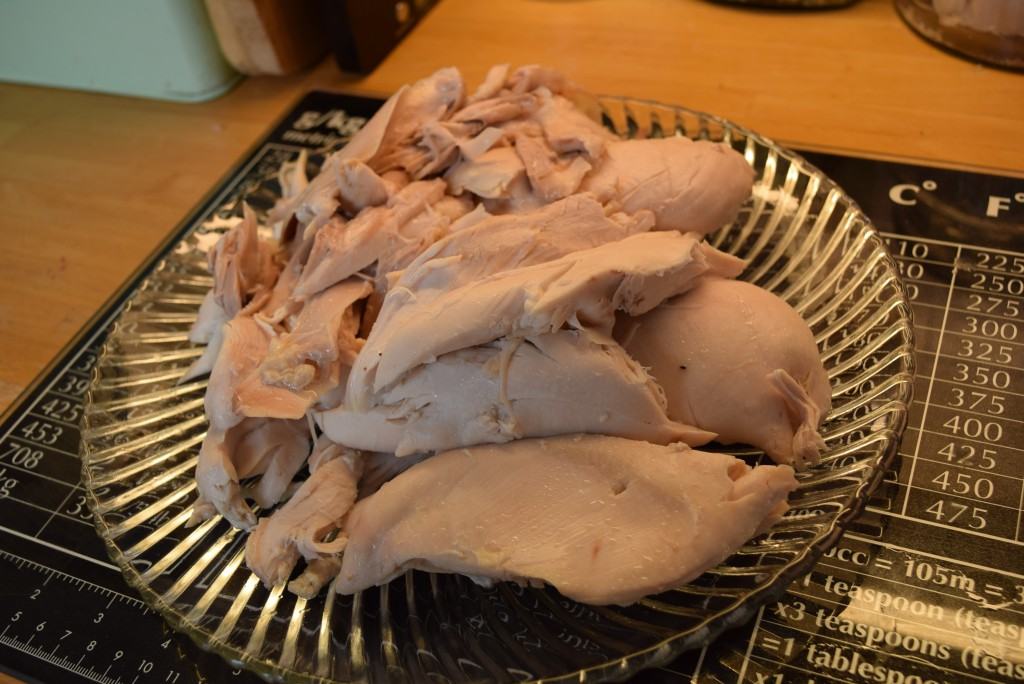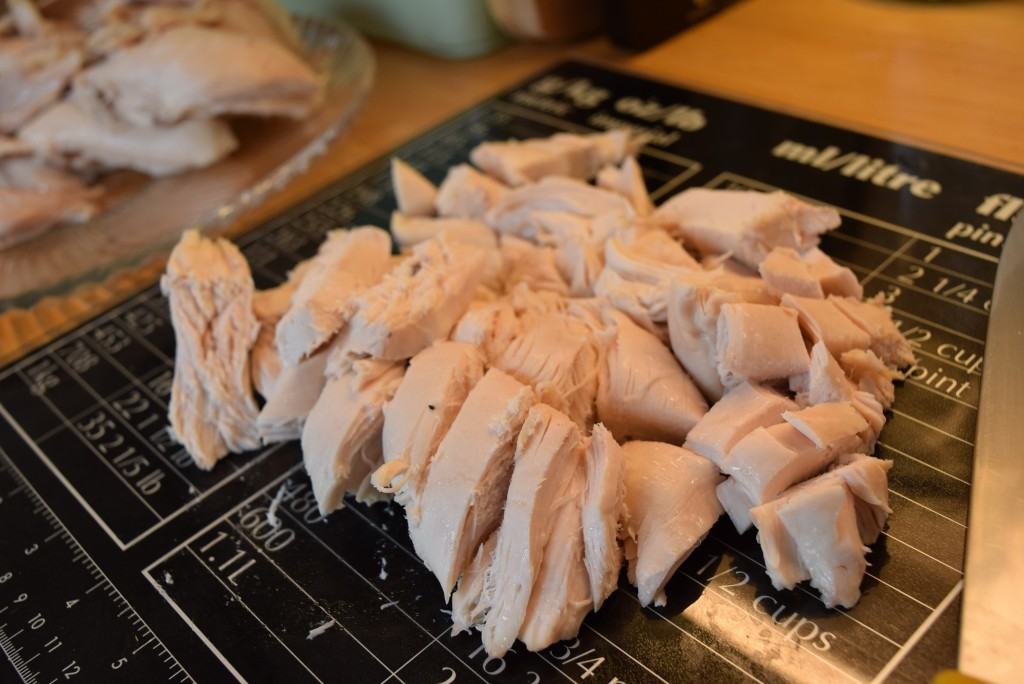 Look, not a scrap of dry chicken in sight. And then it's time to assemble your Classic Coronation Chicken.
Pour the blitzed curry sauce into a large bowl, making a sloppy mess up the side like I did. Stir through the mango chutney or apricot jam. I went with the mango chutney, because I had it in my cupboard. And because adding jam, however delicious, just sounded a tiny bit strange.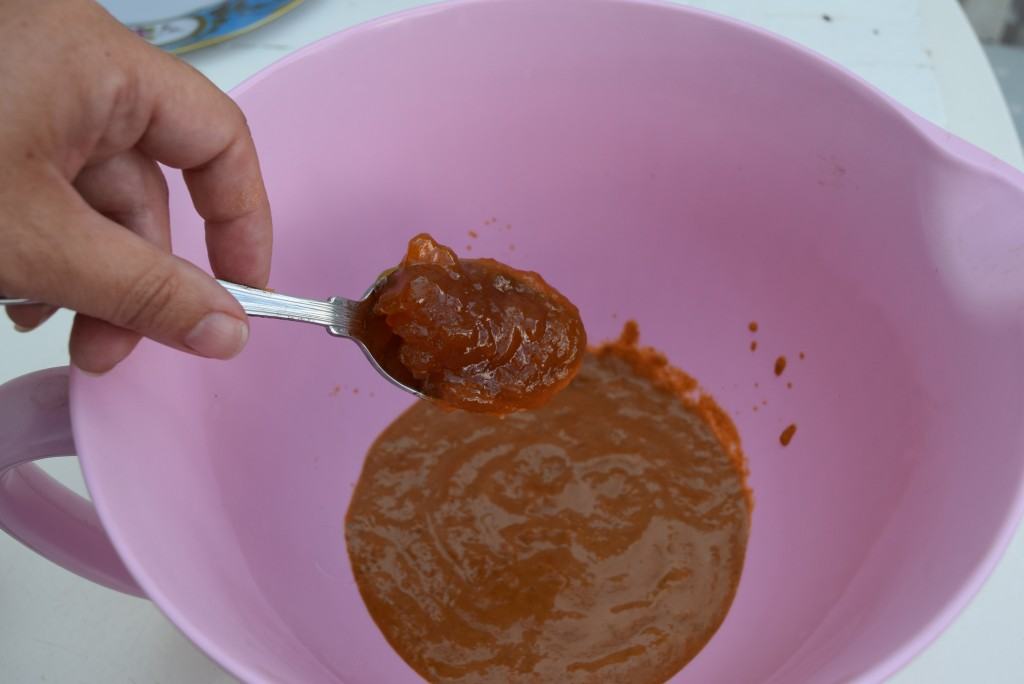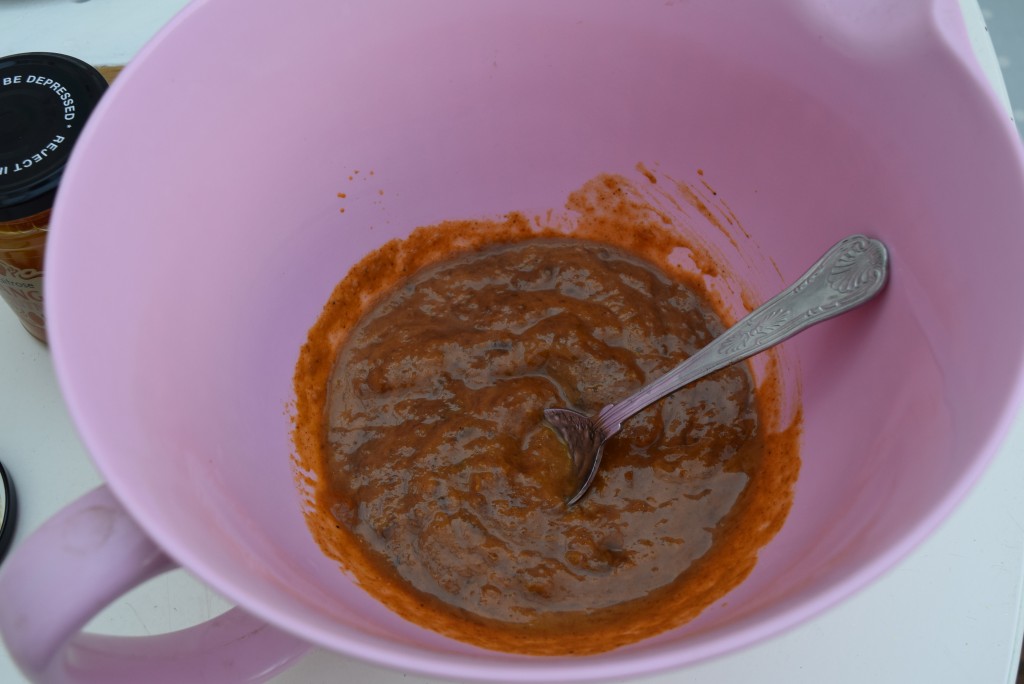 Next, lightly whip two tablespoons of double cream. I used my tiny whisk and just thickened it up a bit, before adding it to the curry sauce. Once that's in, stir through the mayonnaise.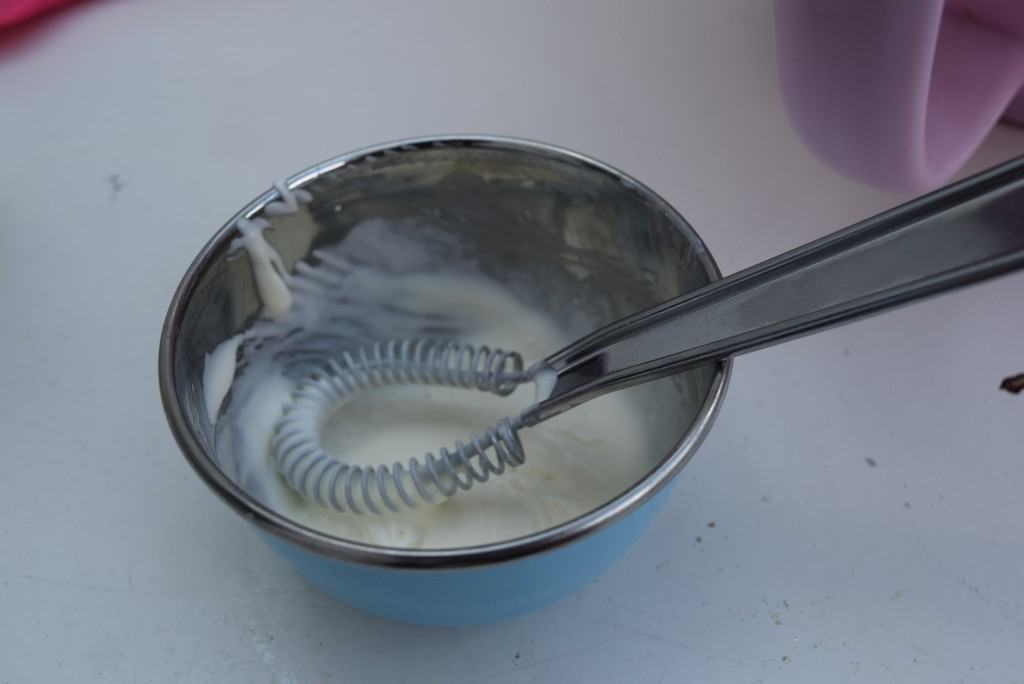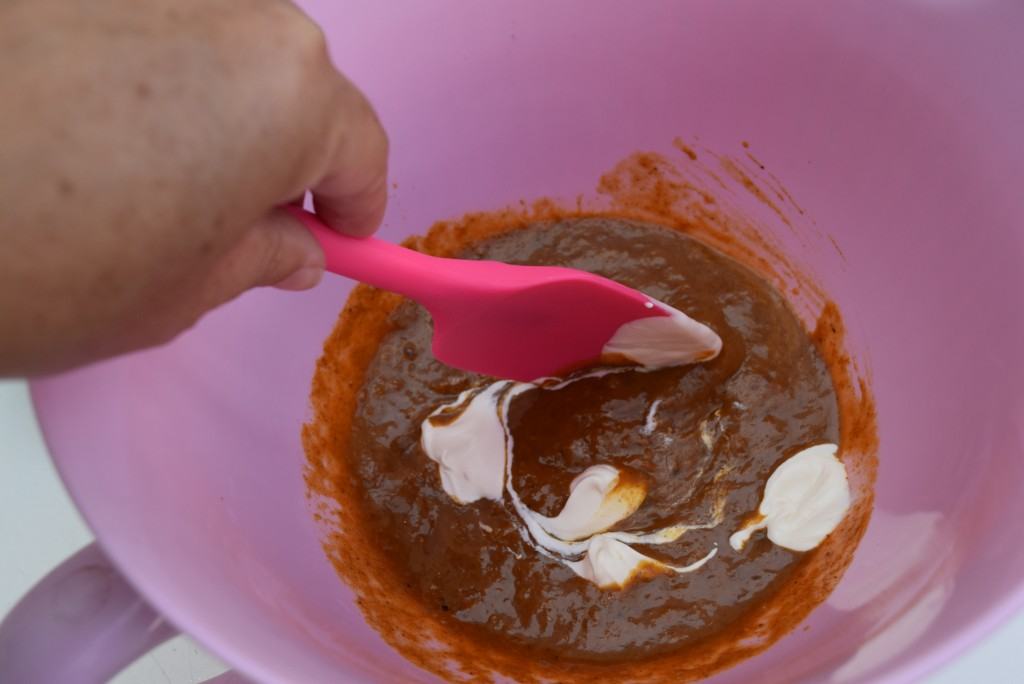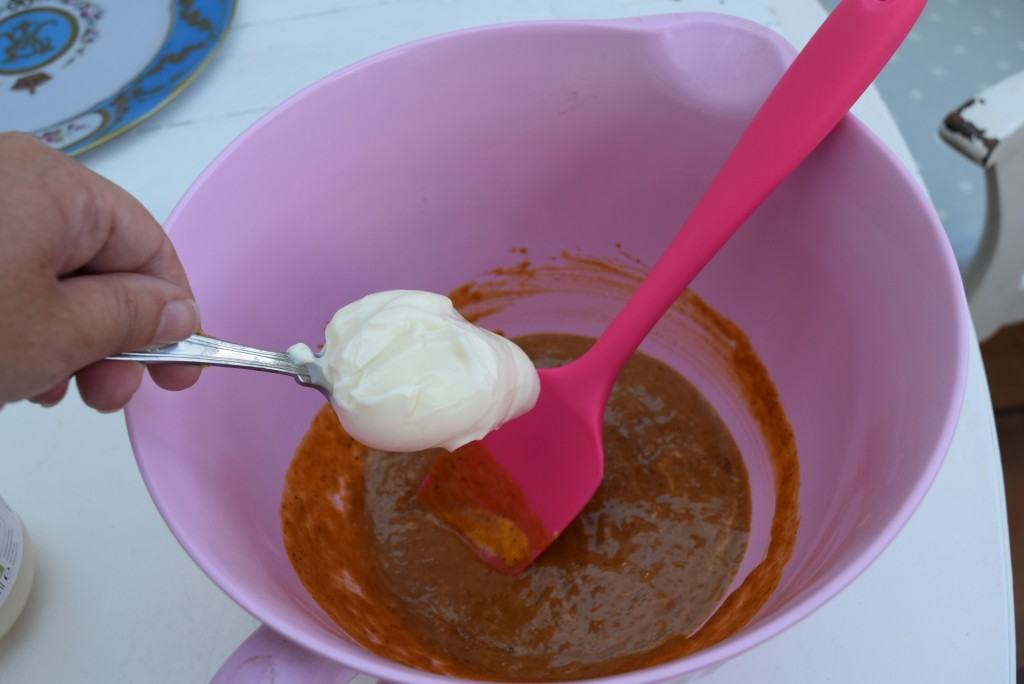 Mix it well and then stir through the chopped poached chicken, until every last piece is covered in the spiced sauce.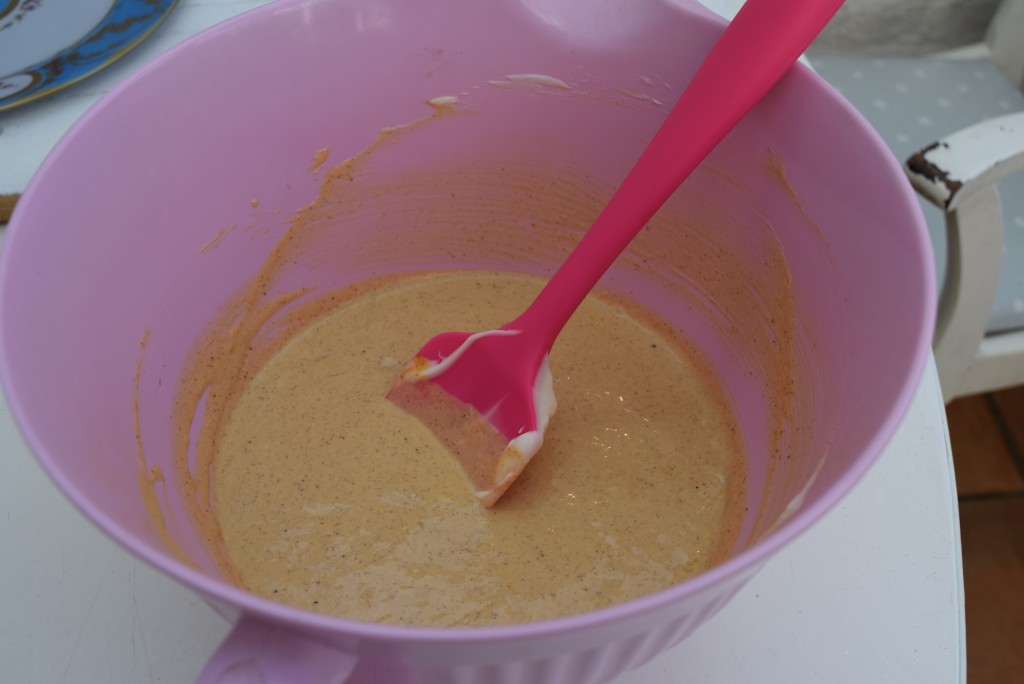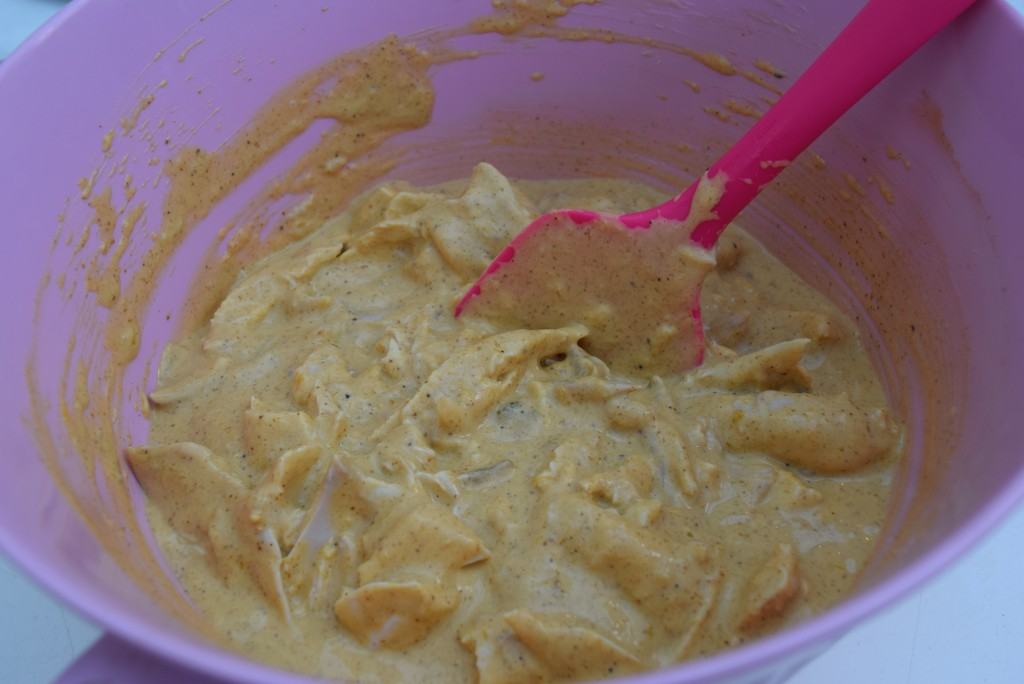 Here's where I went in with a spoon and shovelled down at least three big mouthfuls. I need help with my lack of restraint issues.
Leave this wonderful creation to chill down, covered, in the fridge until needed. Leave the Coronation Chicken out of the fridge for around 15 minutes before serving, garnished with coriander, if you wish and with the accompaniments of your choice. Or between two slices of bread.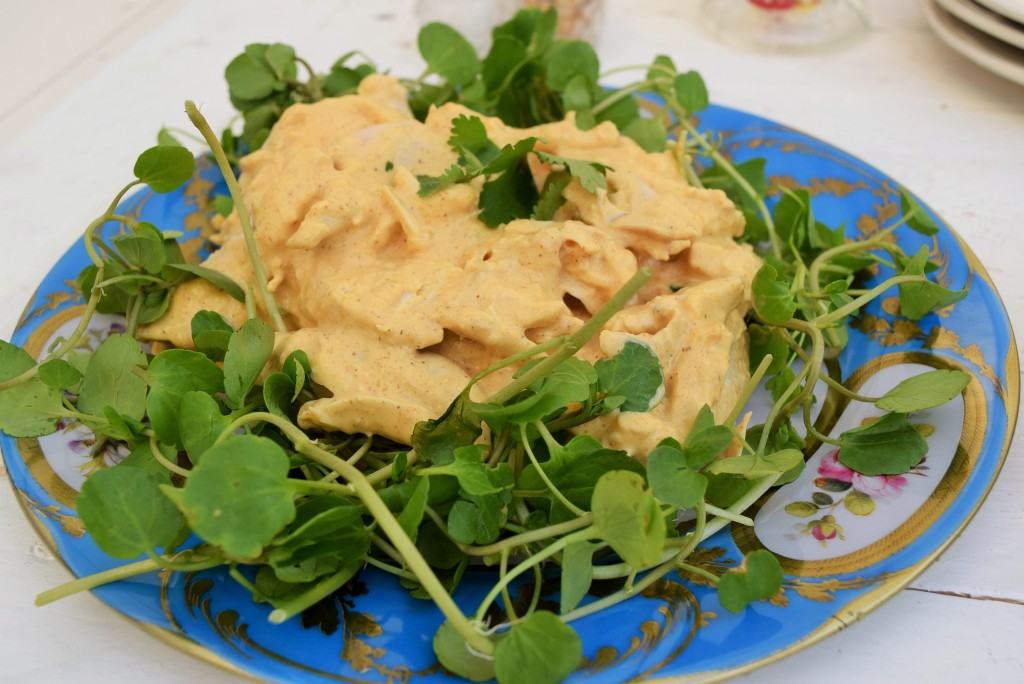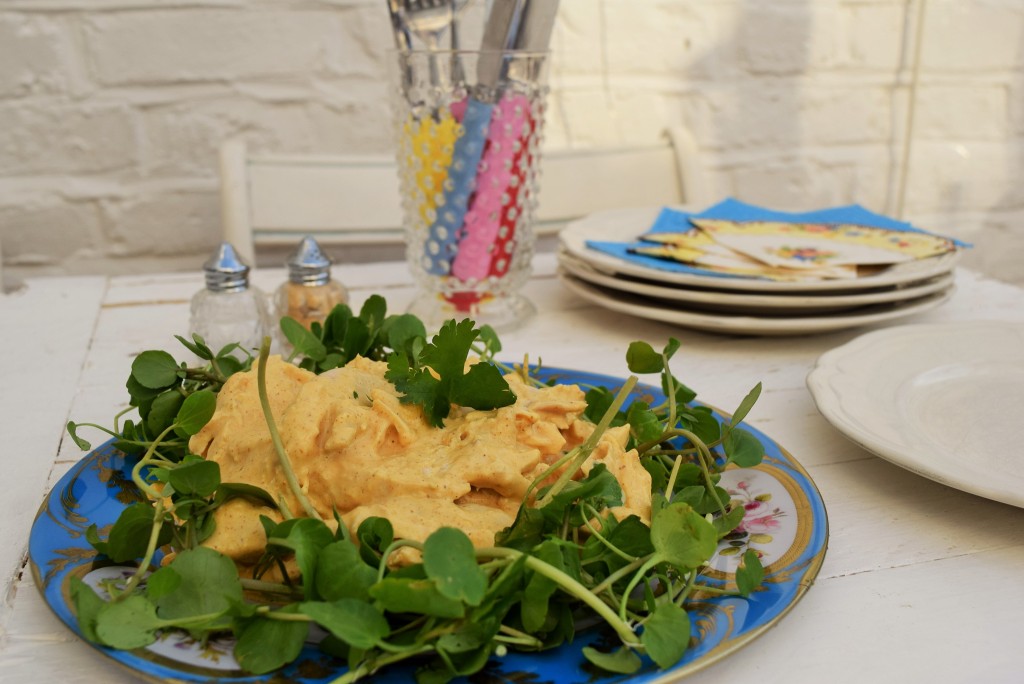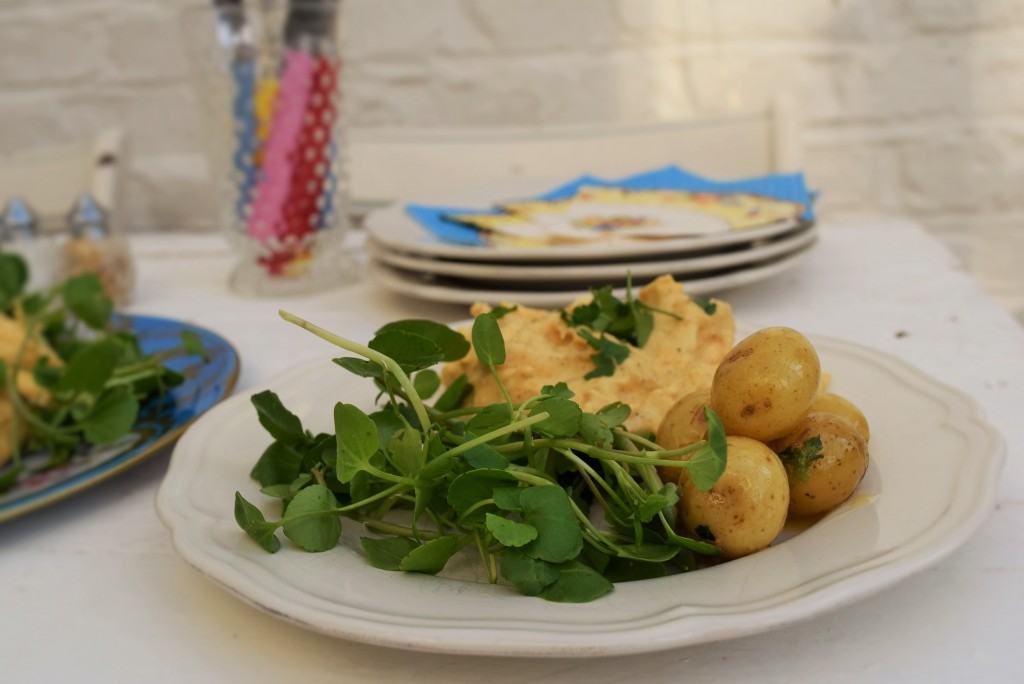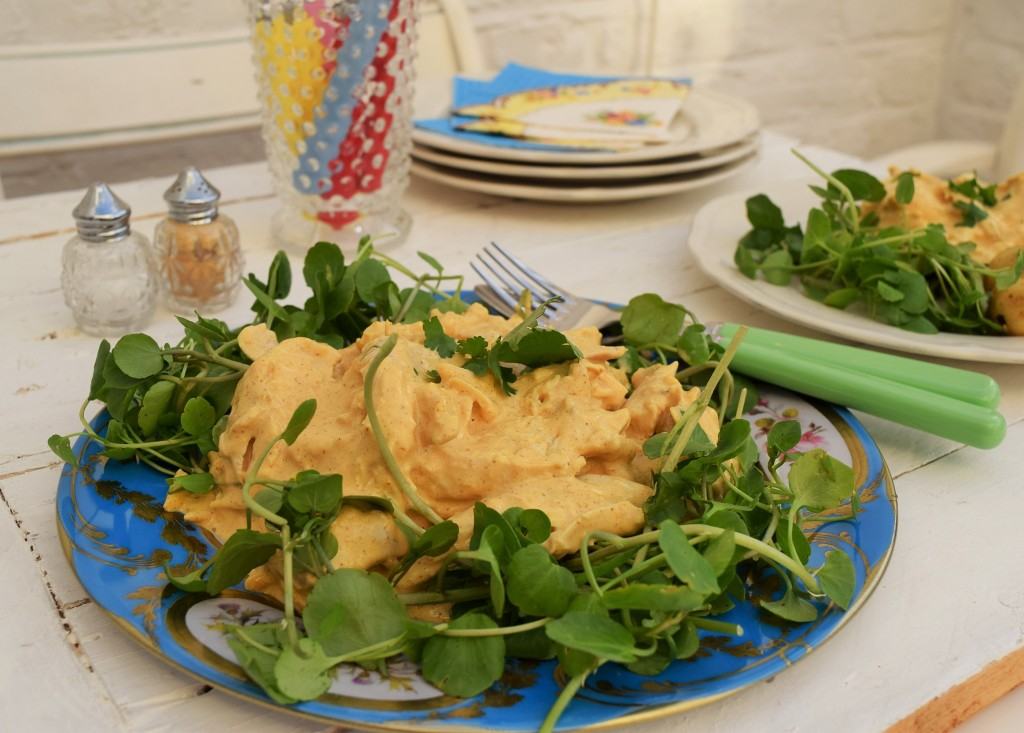 Being a child of the 1970's (when my children think everything was in black and white), I shamelessly, and without irony, love Salad Cream and Butterscotch Angel Delight. And I adore the slightly retro nature of this Classic Coronation Chicken, not forgetting it's bloody delicious too, and such a great recipe to whip out when a lunch buffet is called for. I hope you love this too.
Lucy x
Classic Coronation Chicken Recipe
Serves at least 6 people (unless your guests are my family)
For the chicken
One medium sized chicken, mine weighed around 1.5kg
2 carrots
3 bay leaves
Large parsley sprig
salt and pepper
Water to poach chicken
Or use 4 or so chicken breasts, roasted or any pre cooked chicken if you'd prefer
For the Coronation Sauce
1 tablespoon olive oil
1 medium sized onion
1 1/2 to 2 tablespoons curry paste, I used Pataks Mild Curry paste
1 teaspoon tomato paste
1 tablespoon red wine
125ml chicken stock
2 bayleaves
1 teaspoon sugar
juice of half a lemon
4 tablespoons mango chutney or apricot jam
2 tablespoons double cream, lightly whipped
450ml mayonnaise
salt and pepper
Start by poaching your chicken, allowing 6 to 7 hours for it to cook and cool. Or cook some chicken breasts or buy pre cooked chicken from the supermarket.
Take your whole chicken and lay breast side down in a large saucepan. Add the carrots, bay leaves, parsley and salt and pepper. Add cold water so the chicken is covered and place on the stove. Bring to the simmer and put on a lid and leave to poach for an hour. Turn off the heat when the hour is up and leave the chicken to cool in its stock. This should take around 4 to 5 hours.
While the chicken is cooking, crack on with the sauce. Take a medium sized saucepan and add the olive oil. Heat it over a low heat then add the chopped onion and cook until soft, but not coloured, for around 5 minutes. Stir in the curry paste and cook for a minute or so, then stir in the tomato paste and cook again. Take the pan off the heat and slowly add the chicken stock and tablespoon of red wine. Return to the heat, add the bay leaves and bring to the boil. Stir through the lemon juice and sugar, simmer for around 5 minutes then check for seasoning, adding salt and pepper where necessary, turn off the heat and leave to cool.
Once your chicken has cooled, remove all the tender chicken from the bones and chop into good bite sized pieces.
When the sauce has cooled, blend in a liquidiser or with a handheld blender (don't forget to take out the bay leaves) until just blitzed or push through a sieve, don't worry too much if there are few lumps. Add the curry sauce base to a larger bowl then stir through the mango chutney or apricot jam. Lightly whip the two tablespoons of cream then add this to the bowl and stir through. Add the mayonnaise and give it all another really good stir. Tumble in the soft cooked chicken, mix well, then the rest is history. Serve garnished with coriander with buttered new potatoes and leaves, a rice salad, chopped mango, in a jacket potato or as a sandwich filling. This keeps well in the fridge, covered, for two or three days.