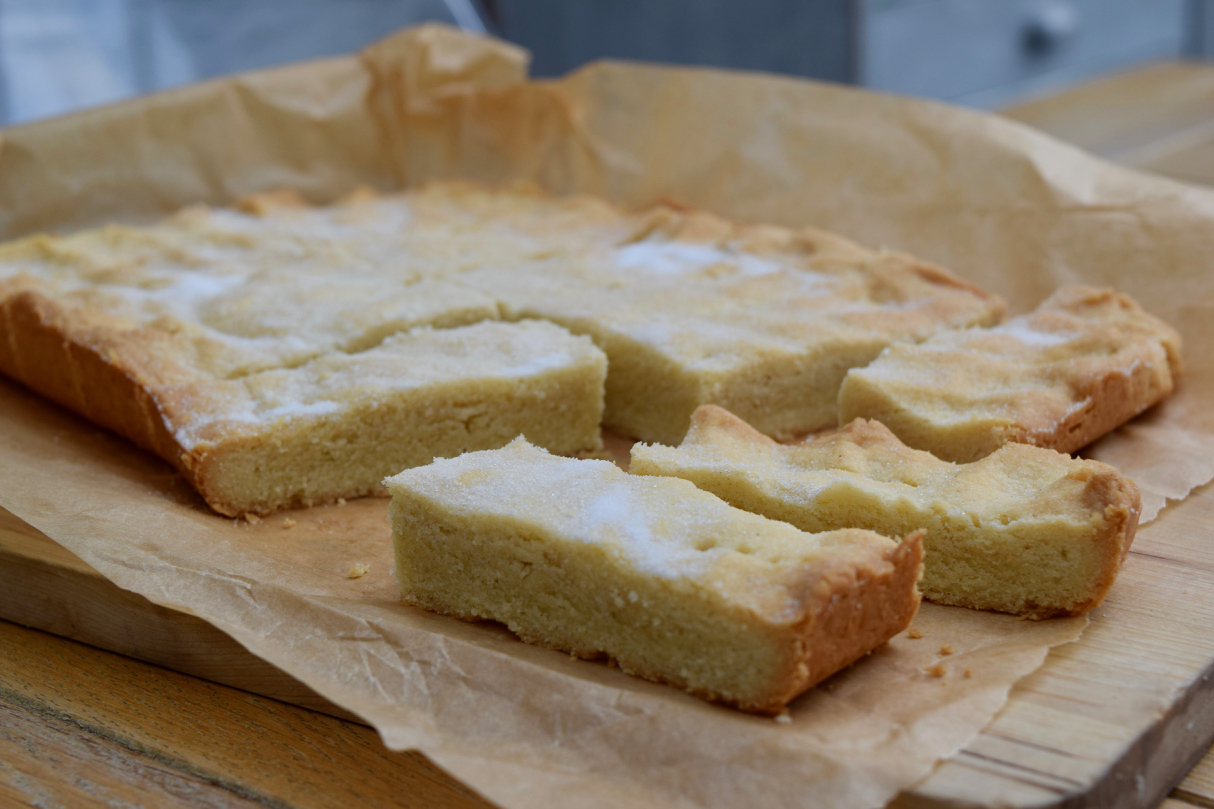 Clotted Cream Shortbread Recipe
This Clotted Cream Shortbread could be my new favourite baked item. Because a) it's shortbread which I love love love and b) it's one third rich, indulgent clotted cream. Nothing about this recipe was ever going to be horrid. When it comes to simple treats, shortbread is the absolute Daddy of recipes. It's quick, has a scant 5 ingredients and tastes bloody lovely. Serve it with a cup of tea, serve with ice cream or fruit, just make sure you serve it.
This recipe caught my eye on the Rodda's website, and let's face it, they know a thing or two about clotted cream. I know leftover clotted cream isn't really a thing, but I had a extravagantly large tub and couldn't justify eating it neat with a spoon. So Clotted Cream Shortbread and I became best friends. Make this in a stand mixer if you like, for speed, or this is just as easy by hand with a wooden spoon and a bit of muscle. I chose to cook my shortbread pressed into a rectangular tin as I love it in chunky fingers; but you could just as easily roll the dough out and use a cutter to make elegant biscuits. Either way the end result is rich, buttery, sweet and soft.
I have yet to get the ultimate seal of approval on this Clotted Cream Shortbread from my Mother, the unofficial Queen of Shortbread. However, I have eaten bloody loads of this and am delighted to confirm we will be spending a long and happy life together.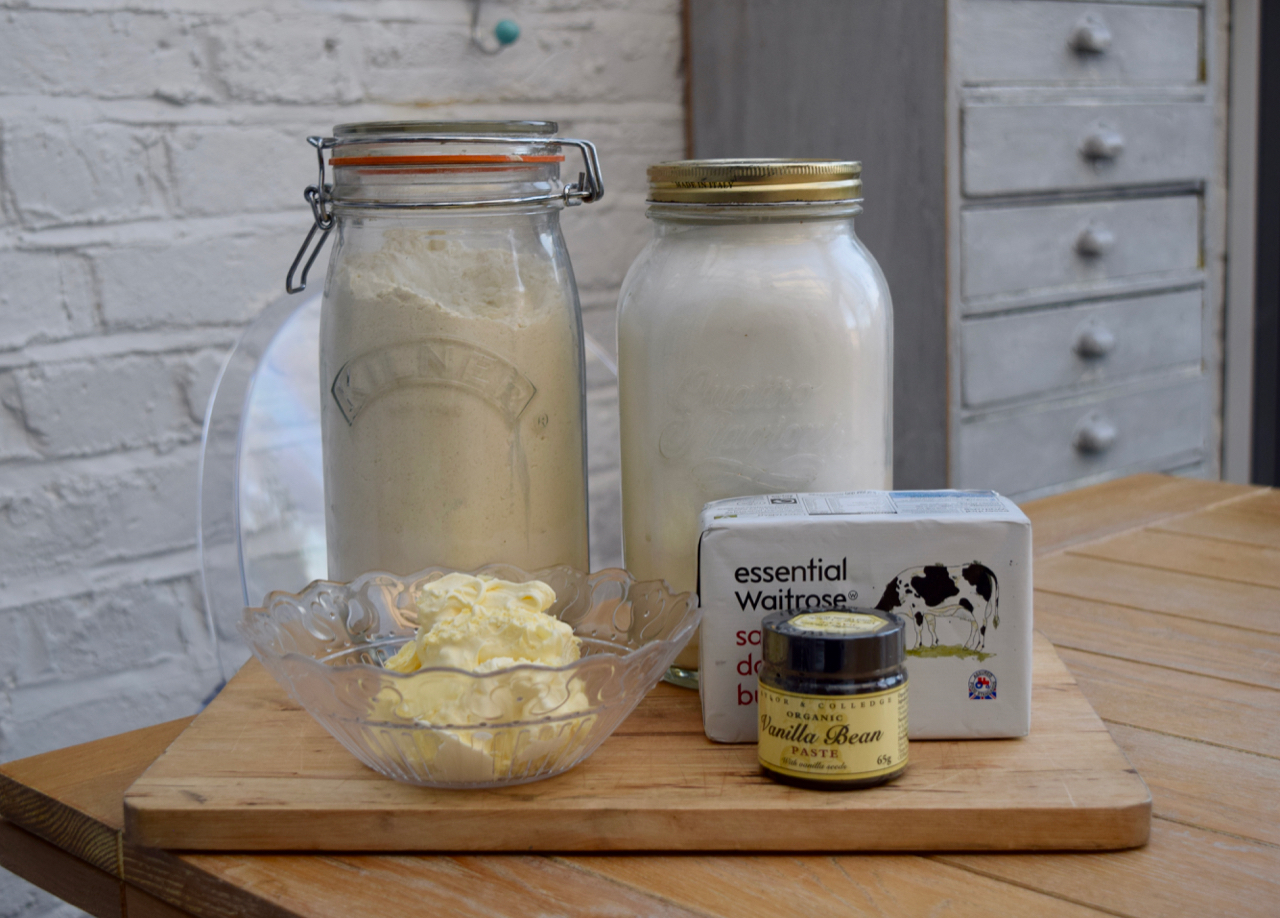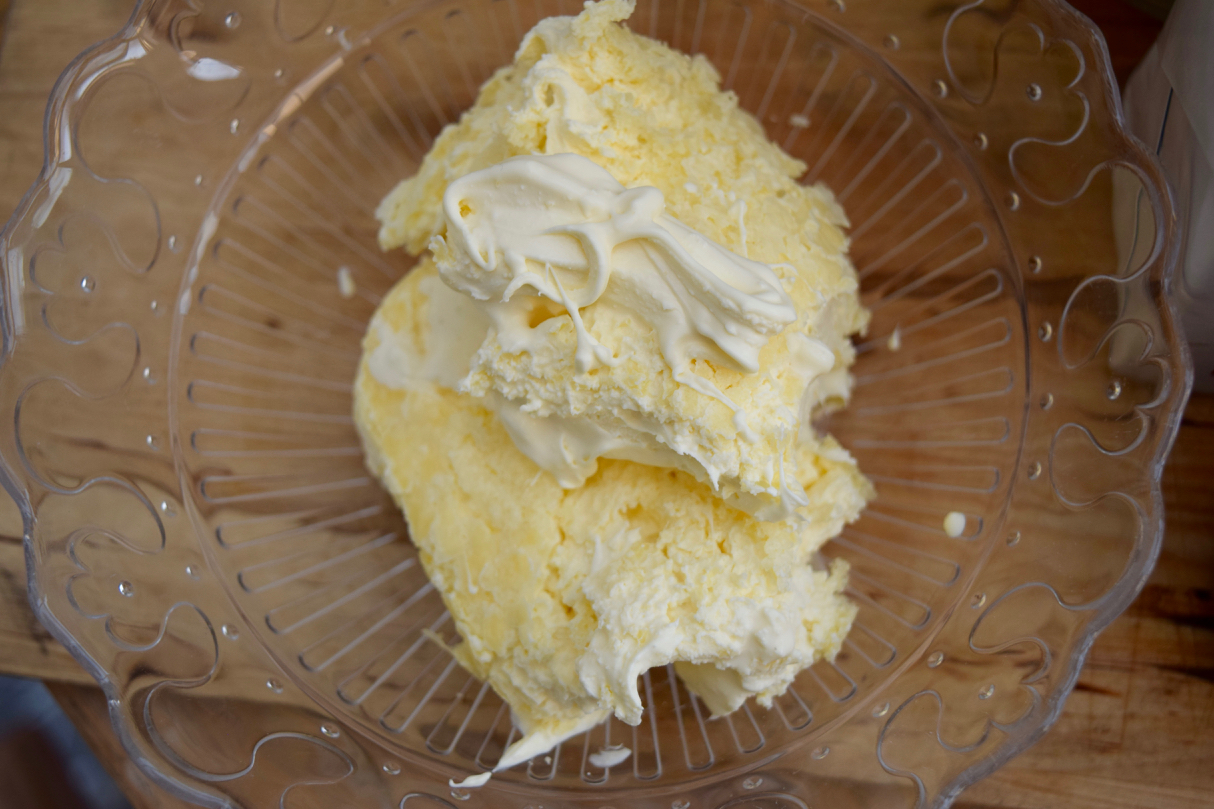 The temptation to just stick a spoon into this bowl and eat the clotted cream was super strong, but, for your sake and for the Gods of recipe sharing, I decided to show some restraint.
Because I could, I used my stand mixer for my Clotted Cream Shortbread, but do go ahead and use an old school bowl and spoon. Either way, make a start on this by pre heating your oven to 150 degrees fan assisted and buttering or lining your chosen tin. I made a recipe and a half so used a larger rectangular tin, but a 9 inch square or round one would work for the standard recipe below.
Start by beating the softened butter, clotted cream star of the show and the caster sugar until lighter in colour and texture.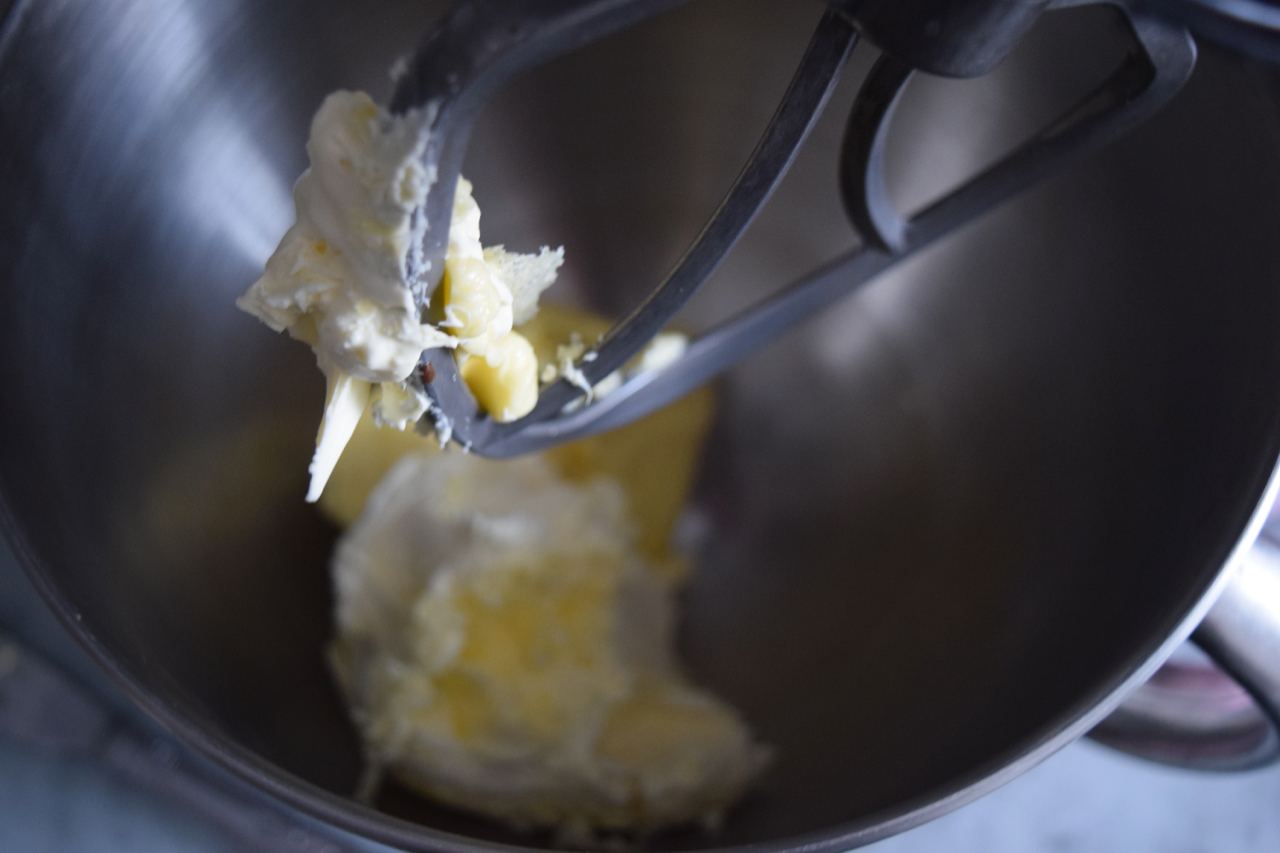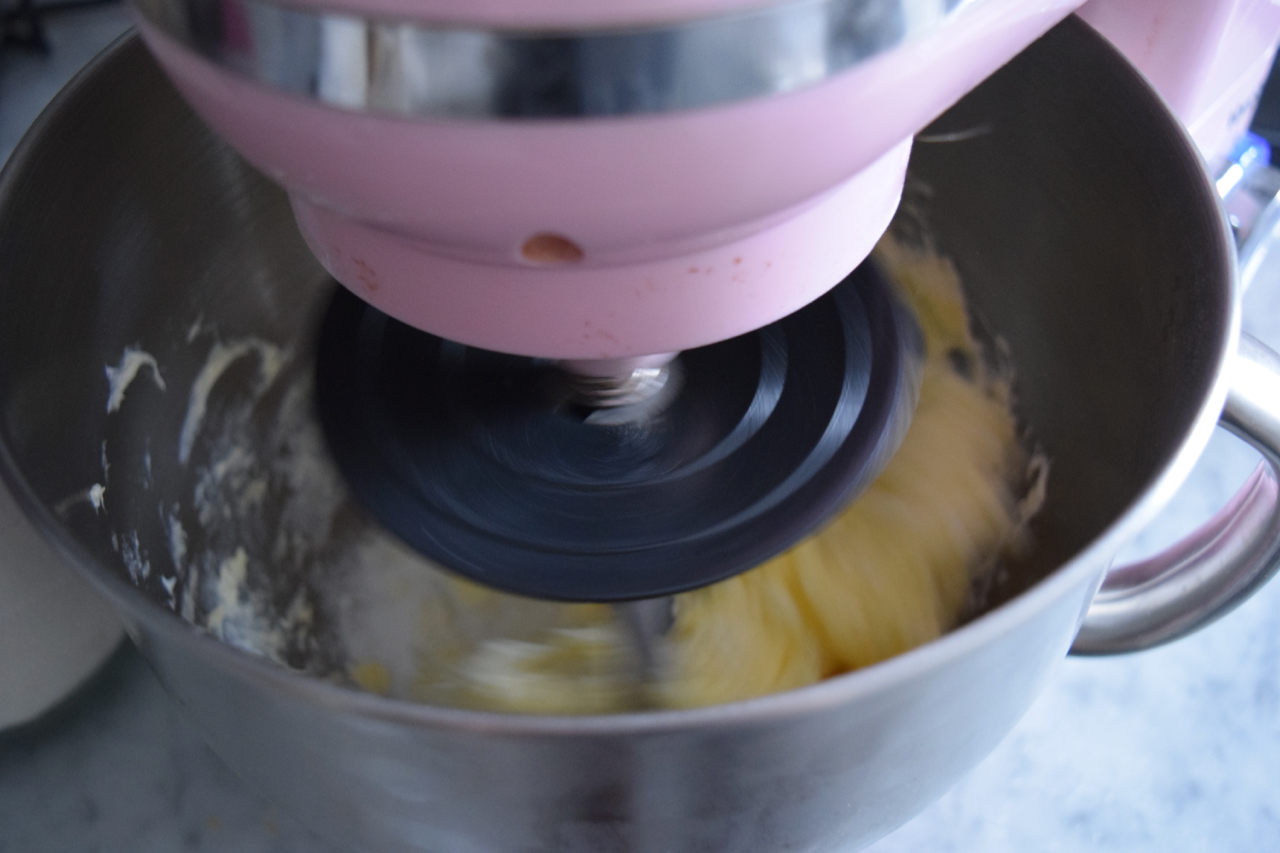 Next add the 4th of the 5 ingredients, the vanilla extract, and give it another mix. Then add the flour. You may want to add it in batches so you don't coat your whole kitchen in a layer of flour.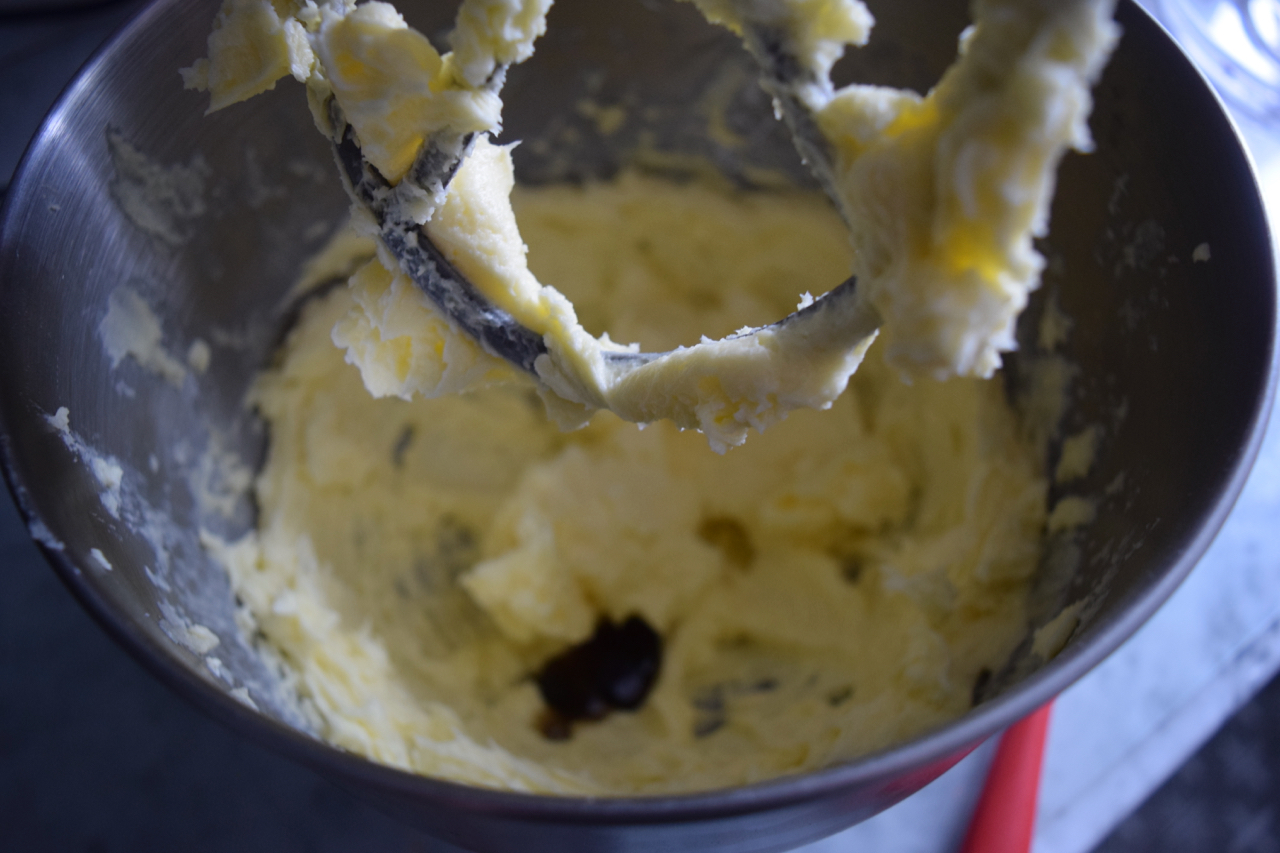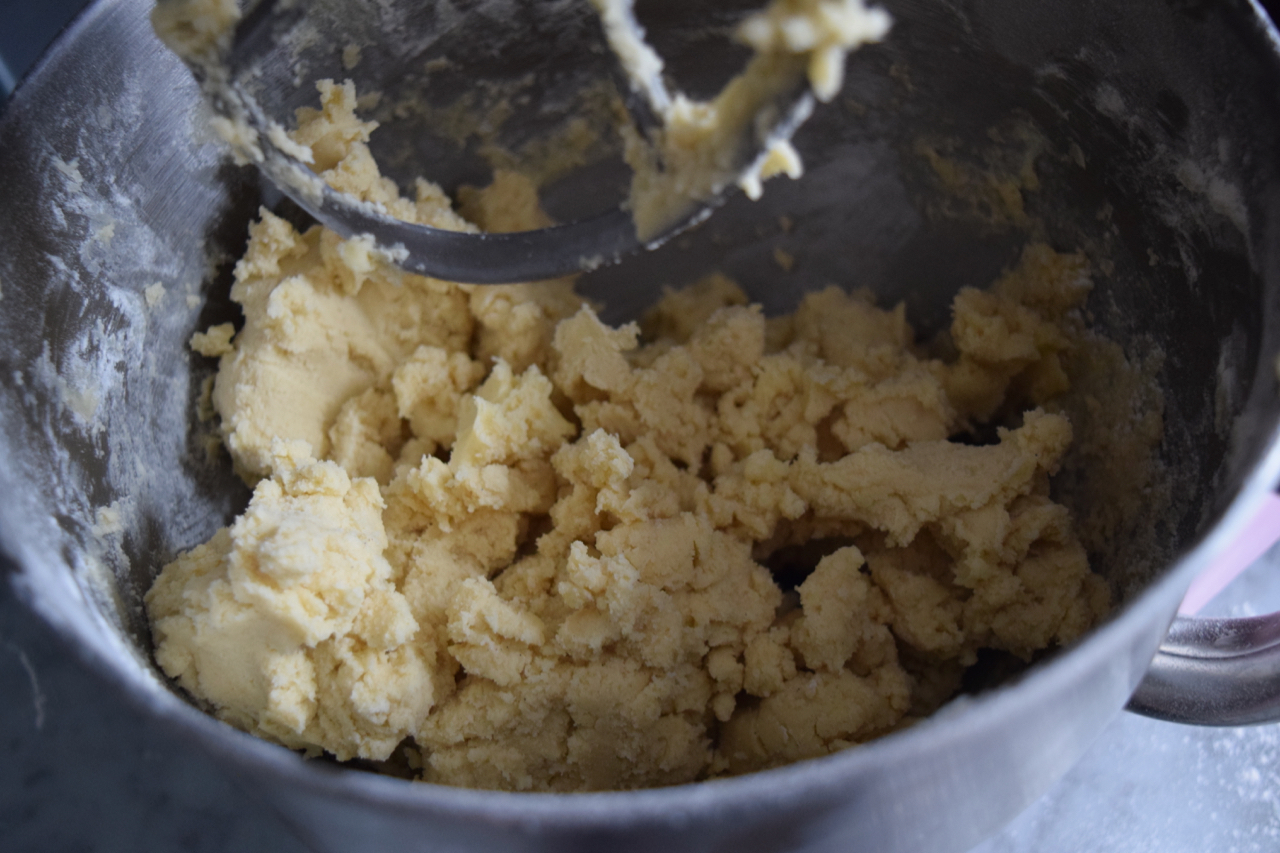 Once you have a soft dough, you have two choices. Either press into your tin, like I did, or roll out to the thickness of a pound coin and use a 7-8cm cutter to make shortbread biscuits.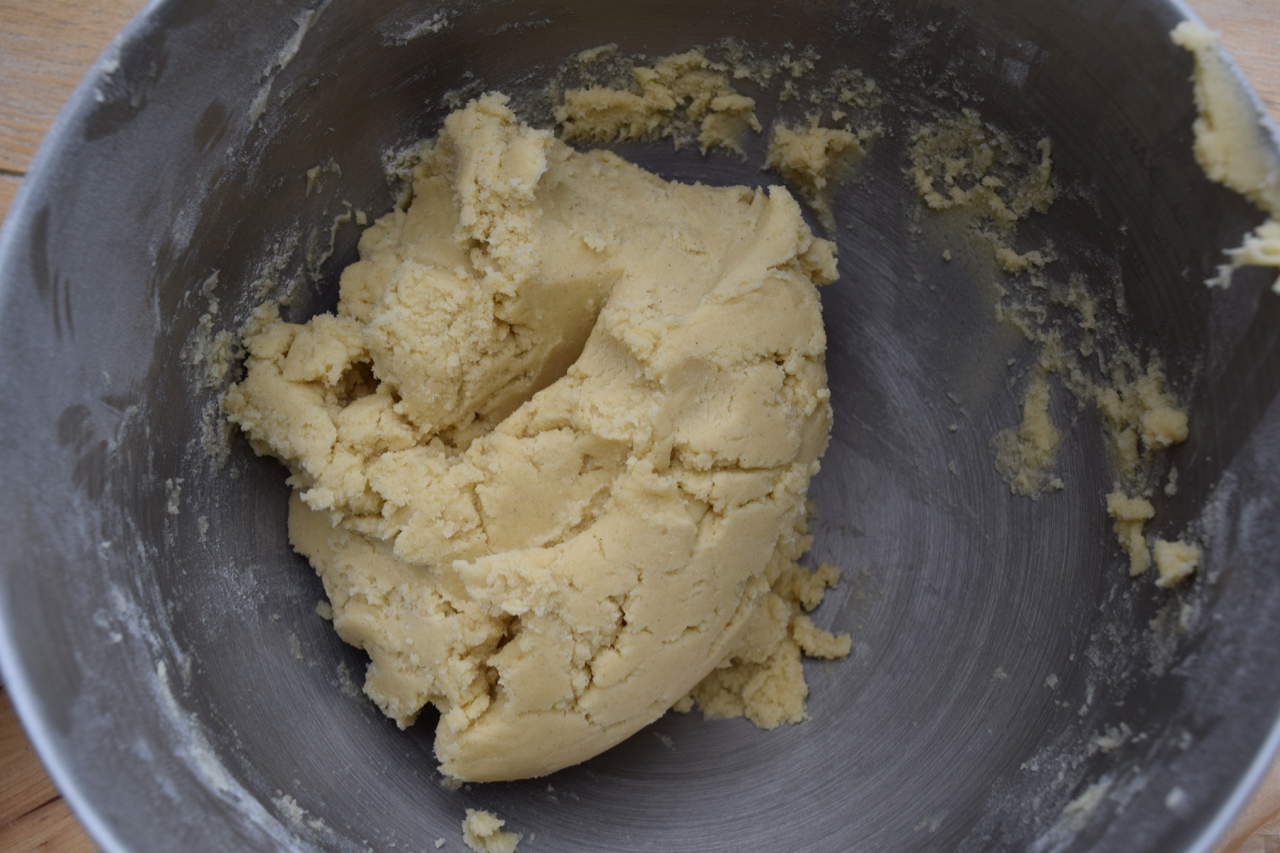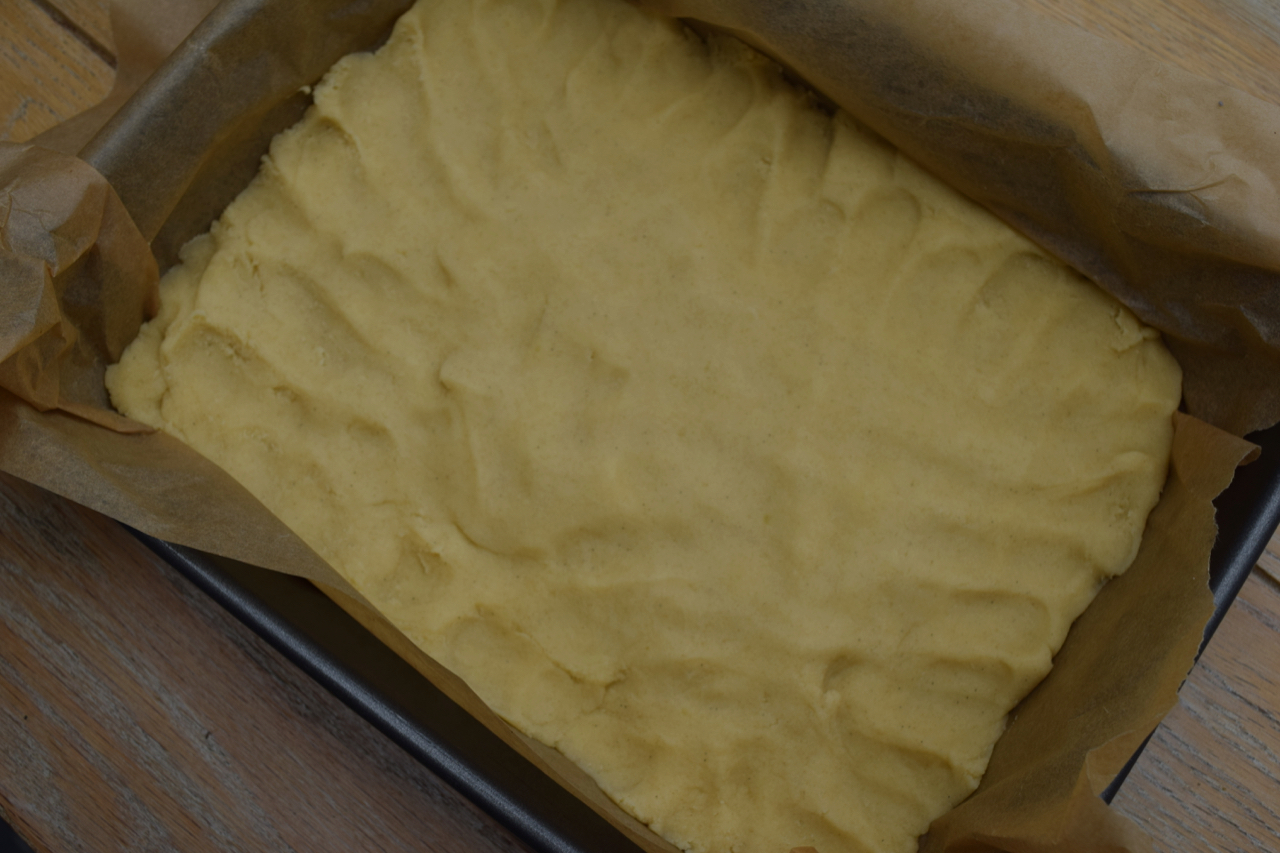 If you are using a tin to cook your shortbread in a slab, then give the dough a good all over prick with a fork, you won't need to do this if you are cooking it biscuit stylie.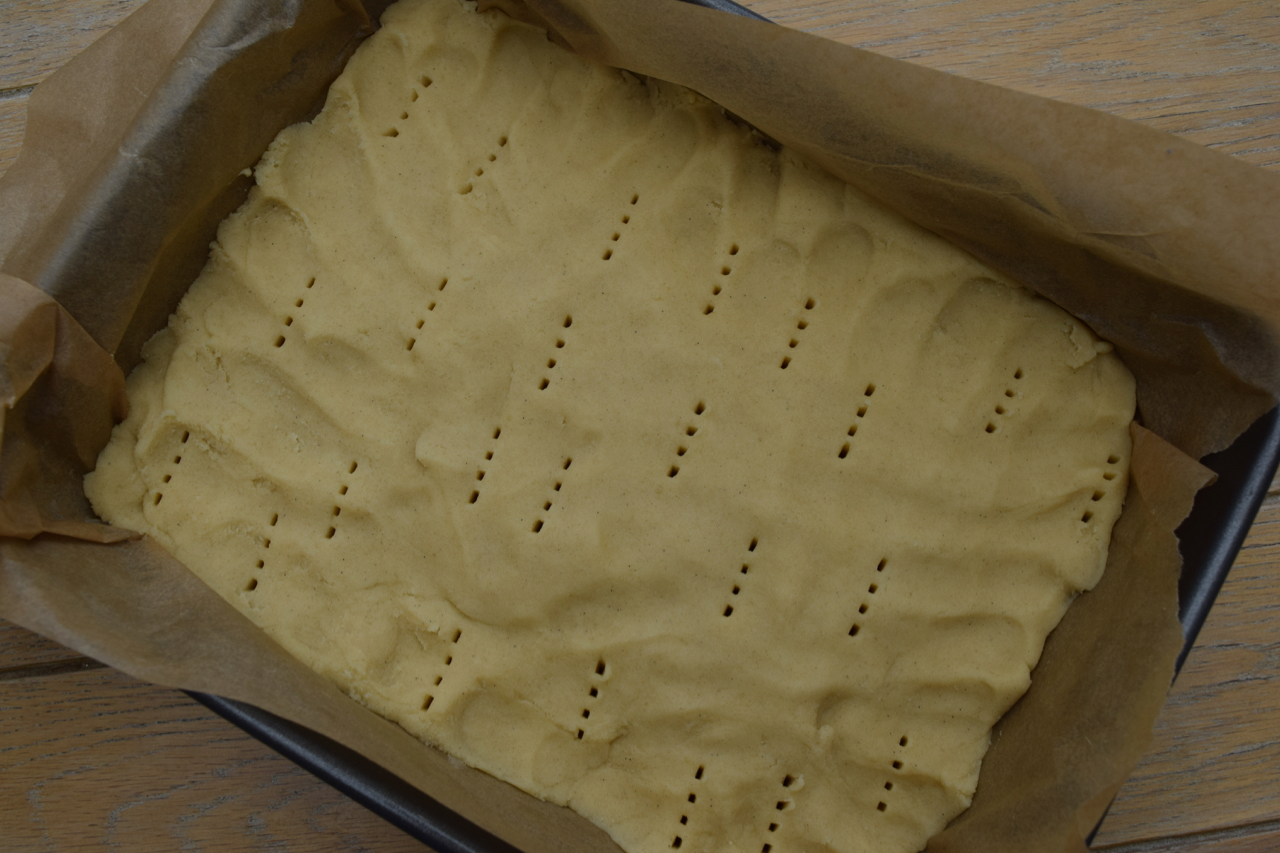 Bake for 25 to 30 minutes for a slab, or 15 to 20 minute for biscuits. The cooked Clotted Cream Shortbread with be just golden and firm, erring on the undercooked rather than over.
Sprinkle with some caster sugar, and once cooled slightly, cut your slab of shortbread into generous fingers.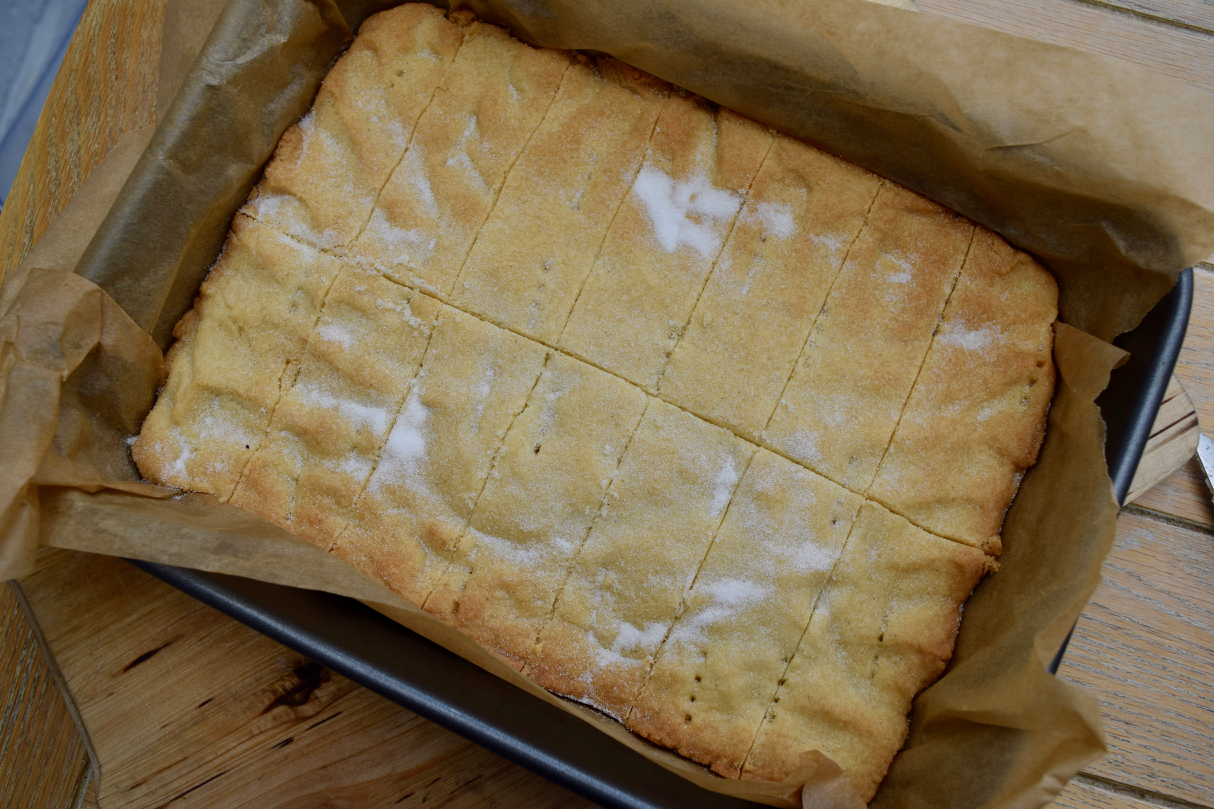 This is at it's best still slightly warm with anything from a cup of tea to a bowl of strawberries. With extra clotted cream being a must.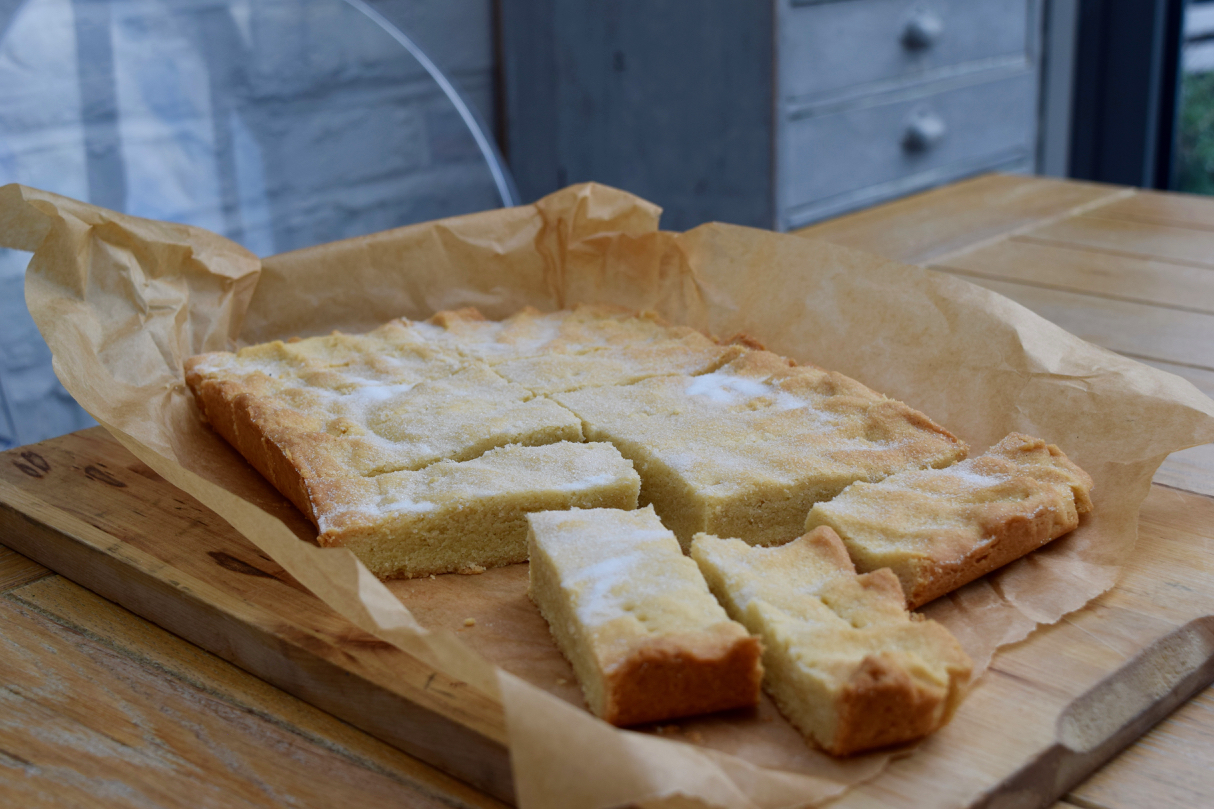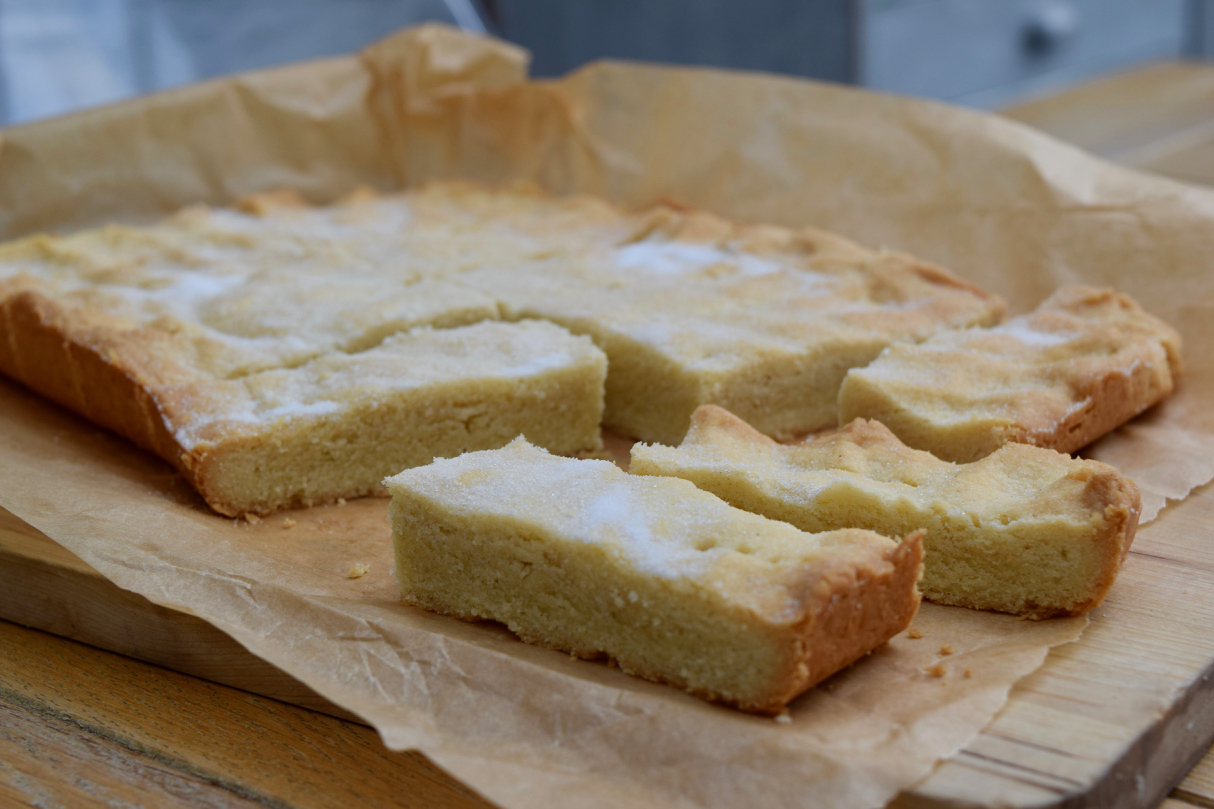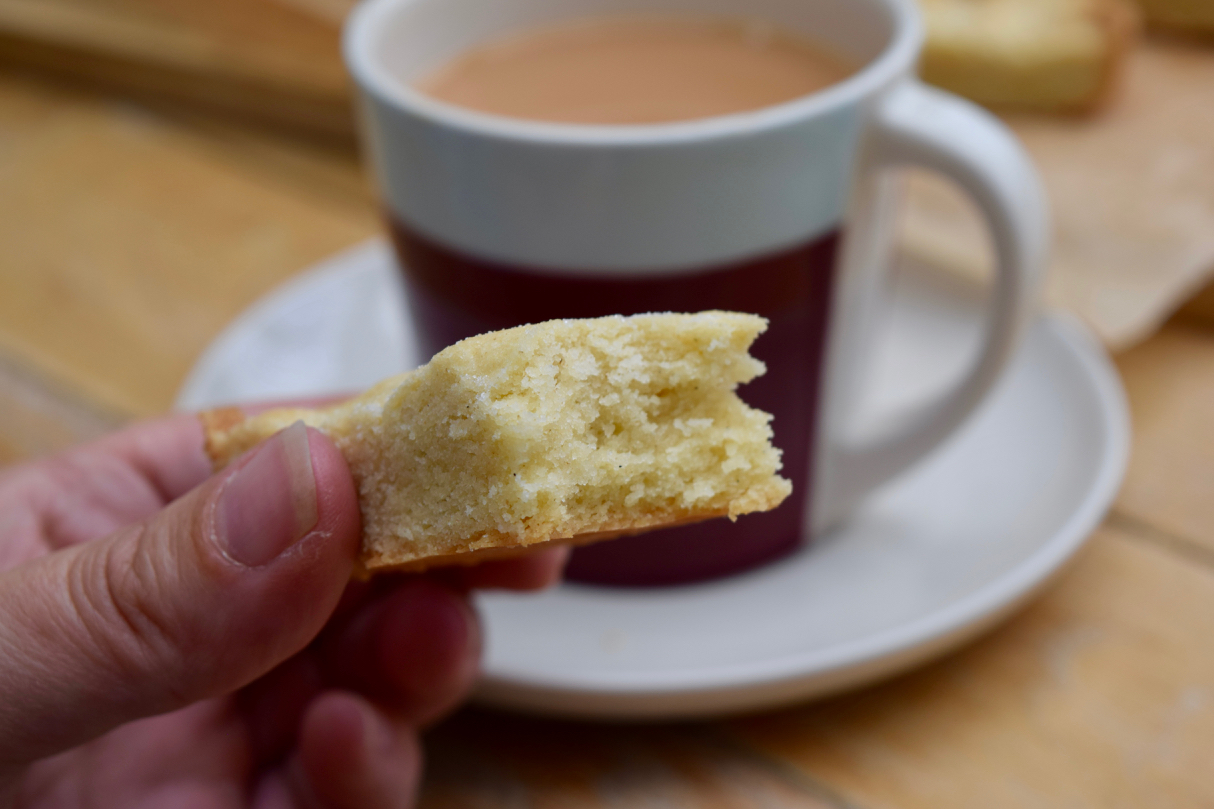 It's been a busy week so far. I feel I could sit down with a cup of tea and a piece of this shortbread and never get up. There are worse things you could be doing, to be fair.
Lucy x
Clotted Cream Shortbread Recipe
Makes a good 10 to 12 slabs or more if you're rolling out into biscuits
You can use a stand mixer or use a bowl and a wooden spoon and a lined 9 inch square or round tin or lined baking sheets
100g butter, softened
100g clotted cream
100g caster sugar, plus a little for sprinkling
1 teaspoon vanilla paste or extract
300g plain flour
Pre heat your oven to 150 degrees fan assisted and butter or line your chosen tin.
In a large bowl with a wooden spoon or in your stand mixer with a paddle attachment beat the butter, clotted cream and caster sugar until much lighter and smooth. Beat in the vanilla.
Mix in the flour, gently, until you have a soft dough. Now you have two choices. Either press your dough into a buttered 9 inch round or square cake tin until you have an even layer. Prick all over with a fork then place into the pre heated oven for around 25 to 30 minutes or until just golden and set.
Or you can roll the shortbread dough out to the thickness of a pound coin and cut into 7cm or 8cm circles. Re-roll any scraps until you have used all the dough. Place the biscuits onto lined baking sheets and bake for 15 to 20 minutes or until golden.
Once the shortbread is cooked, sprinkle with extra caster sugar. Cut the shortbread into slabs if you cooked it in a tray and store these or the biscuits in an airtight tin for up to 4 to 5 days. The uncooked dough can also be wrapped in clingfilm and frozen for up to a month.