Coconut Cashew Bars Recipe
Once again, I have been overindulging and being, quite frankly, a bit of a porker. I have so little will power when it comes to treats, or anything delicious, and, of course, gin, that I have to occasionally have a word with myself. So this week I have been baking slightly less horrifying sweet items to take the edge off my treats addiction.
Since sugar has now been branded the devils work, I have been looking at baking with less refined sugar, where at all possible. These Coconut Cashew Bars fit that brief brilliantly. Once you start eating less sugar, you certainly crave it less, however, I do still need something sweet at certain times of the day. These bars contain brown rice syrup, honey works as well apparently, and the natural sweetness of dates so they perfectly bridge the time between coat off to dinner's ready, which is definitely my weakest moment. The inspiration for these tasty nutty bars come via Sallys Baking Addiction, thanking you, Sally.
These are soft, but crisp, nutty with a warm toasted flavour, you will not miss sugar once you eaten one *or two* of these Coconut Cashew Bars. They are, of course, incredibly easy to make, just a bit of nut blitzing, stirring and pressing. The resulting bake keeps perfectly in a tin to last all week. Unless you have a Ben in your house, who, once he discovered where I had hidden these, inhaled half of them in one sitting. So, my tip of the week is to find a better hiding place for your stash of nutty bars than I did.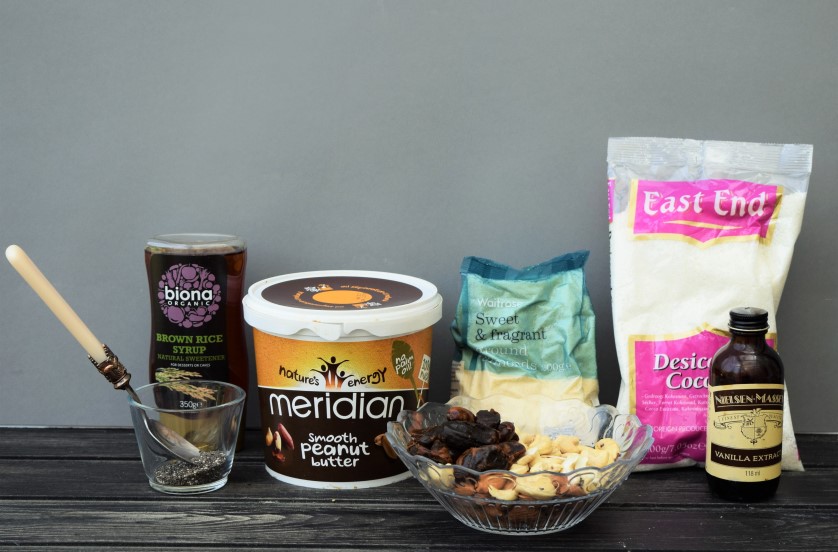 As always, here are the ingredients for this weeks sweet-ish treat. All nice and storecupboardy based and do adapt the ingredients to suit your culinary needs, and what you have to hand. Feel free to mix your nuts, replace the peanut butter for another nut butter and change the dates to apricots, dried cranberries or cherries. I liked the slightly fudgy sweetness of the dates, but you choose.
Make a start by lining your square tin with non stick baking paper and pre-heating your oven to a low 150 degrees fan assisted. Next take a mixing bowl and measure in your brown rice syrup.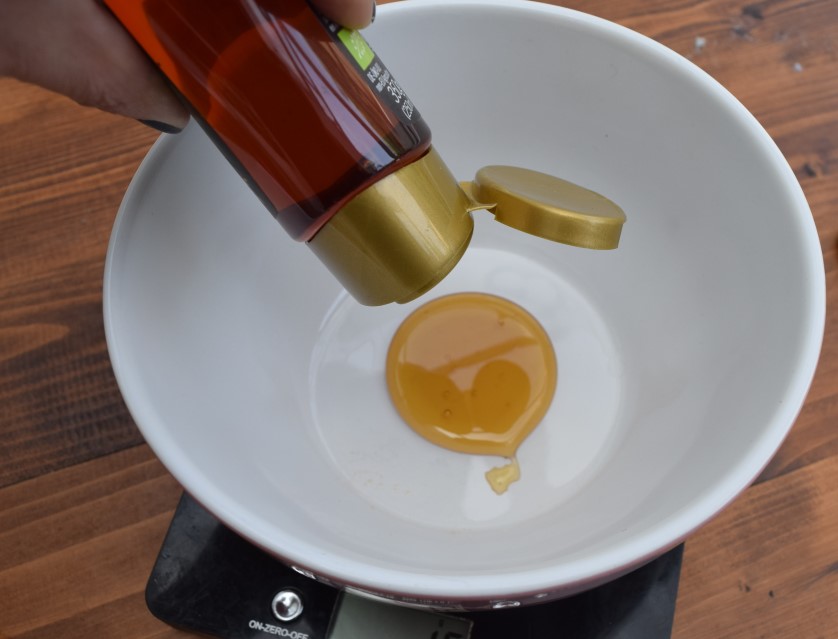 Weigh in the ground almonds and vanilla extract, then spoon in your peanut, or other nut, butter. I had a vat of natural peanut butter so I went with this healthier version.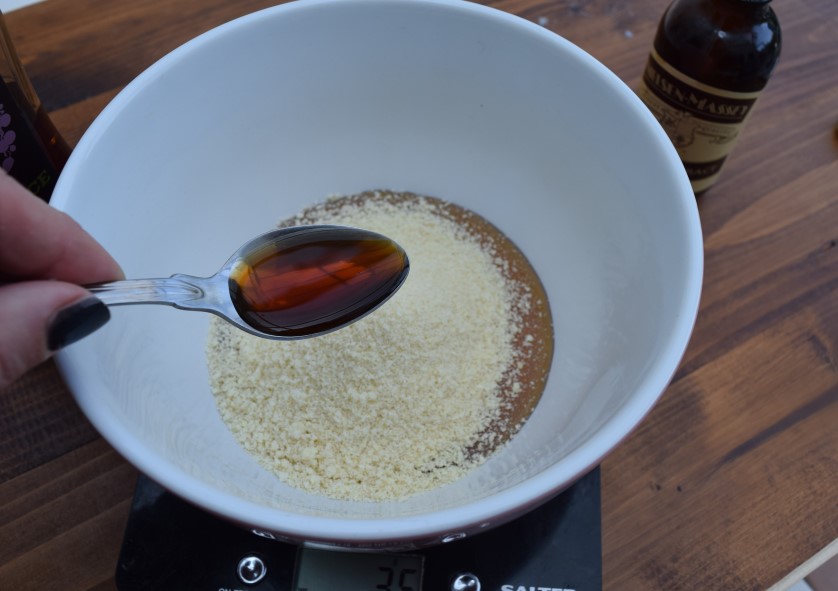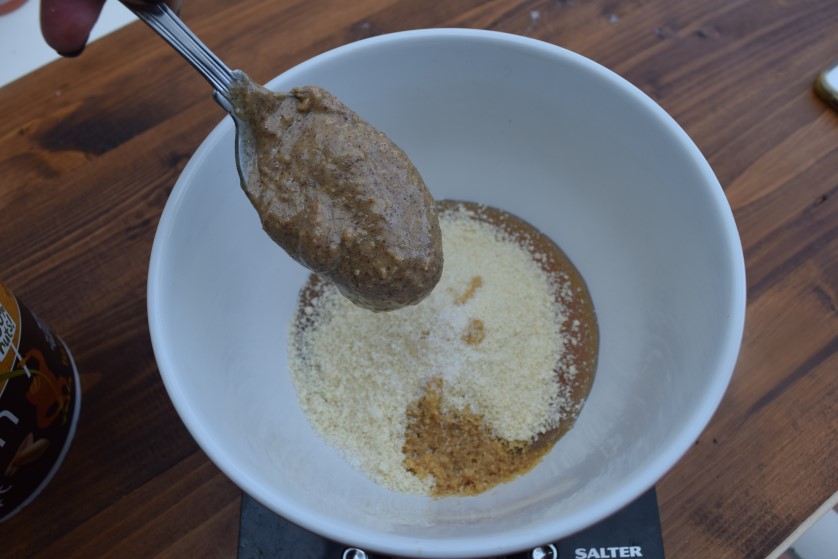 I could eat that spoonful of peanut butter at anytime of day or night as I have quite a dangerous peanut butter habit. Pop in the quarter teaspoon of salt then turn to your food processor or tiny chopper for your chosen nuts and fruits. Put them into the bowl of your mixer and process until they are a nut/date rubble. You don't want dust here, think chunky *like my legs*.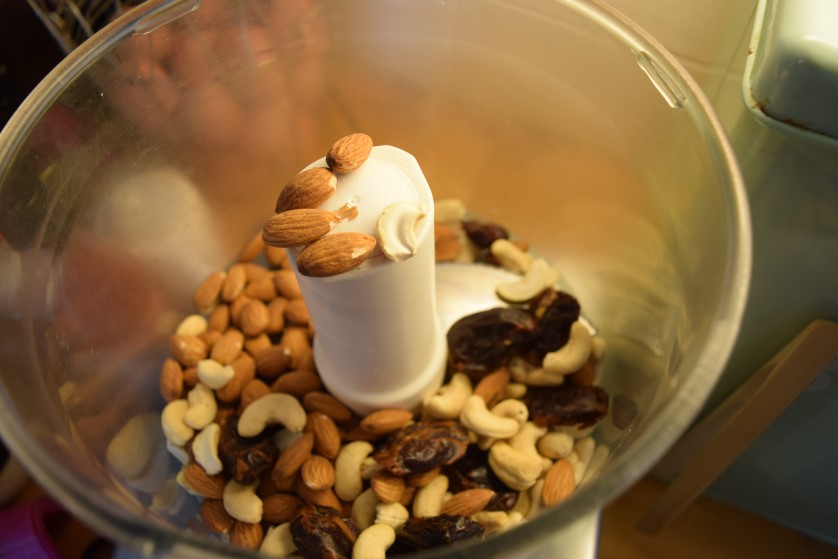 Tip these into the mixing bowl and give it a good stir.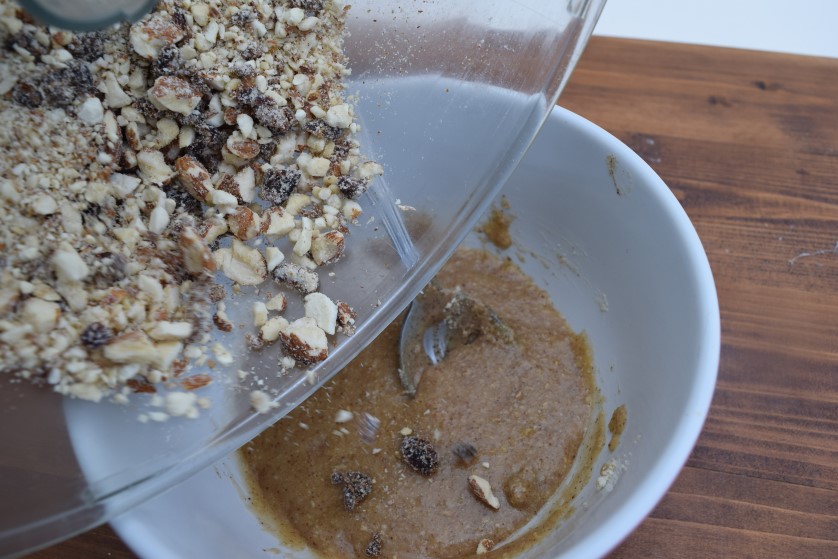 Then for more natural sweetness, good oils and fibre stir in the dessicated coconut and chia seeds. If you don't have chia seeds try another seed like sunflower, for example.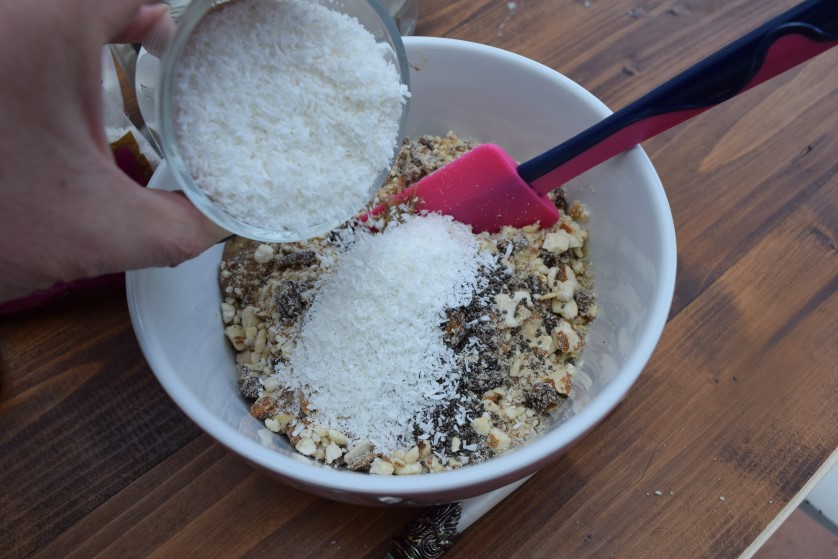 Mix this all again, super thoroughly, until the nutty mixture is starting to bind together. It's quite a thick, dry affair, but don't panic, it will all set in the low oven and whilst chilling afterwards.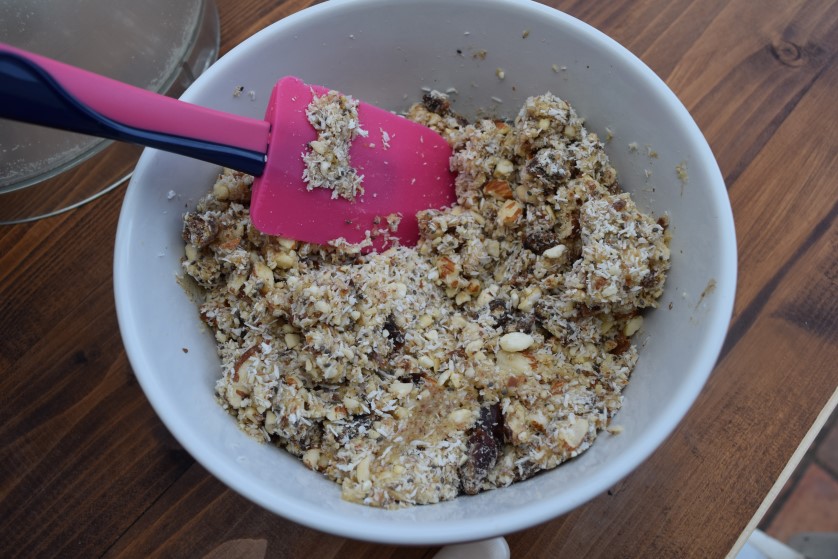 Press this naturally tasty mixture into your lined tin using the back of a spoon or your hands. Make sure it is well compacted and pressed well into the corners of the tin.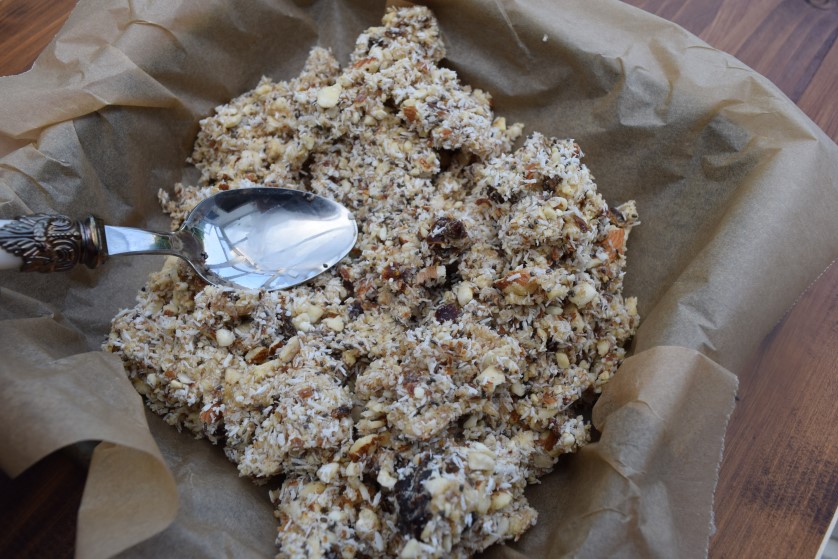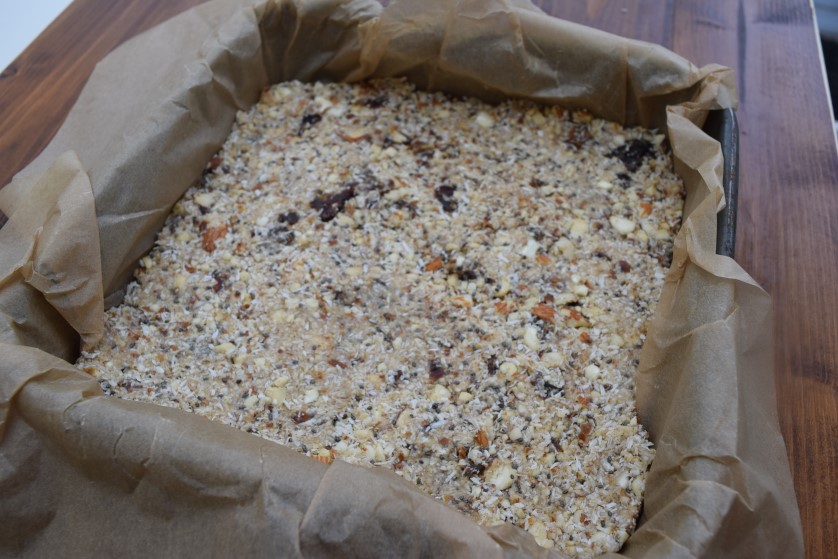 Pop your tin of nut based tastiness into the oven for 20 to 25 minutes or until firm and starting to brown evenly. The sweet wafts coming from the oven will be a tell tale sign these are nearly ready.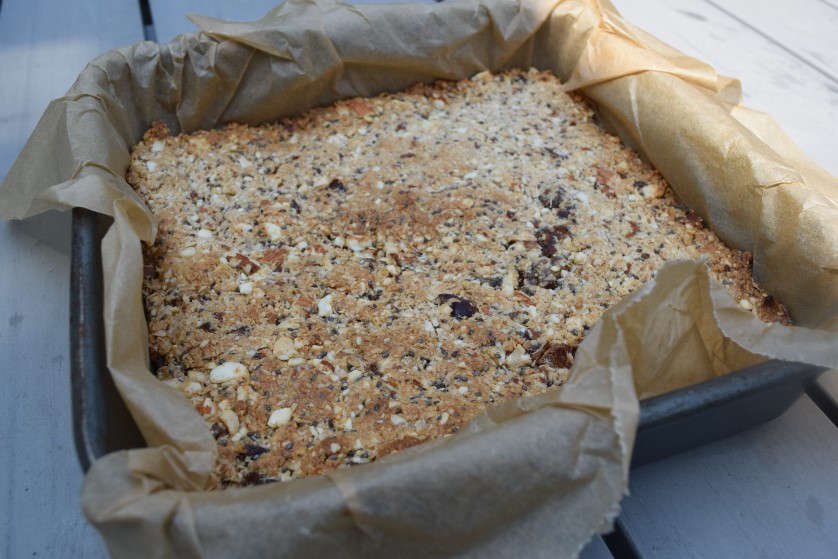 Now, here you have to show a modicum of restraint, which if you are a loyal reader, you will know is not my strong point. Your Coconut Cashew Bars need a hour to cool then a further 30 minutes in the fridge to chill down before cutting. This is quite important, otherwise you may end up with Coconut and Cashew Crumbs.
Once the agonising wait is over, cut the slab into 8 bar size pieces. Or if you are less greedy than me, you could choose smaller squares.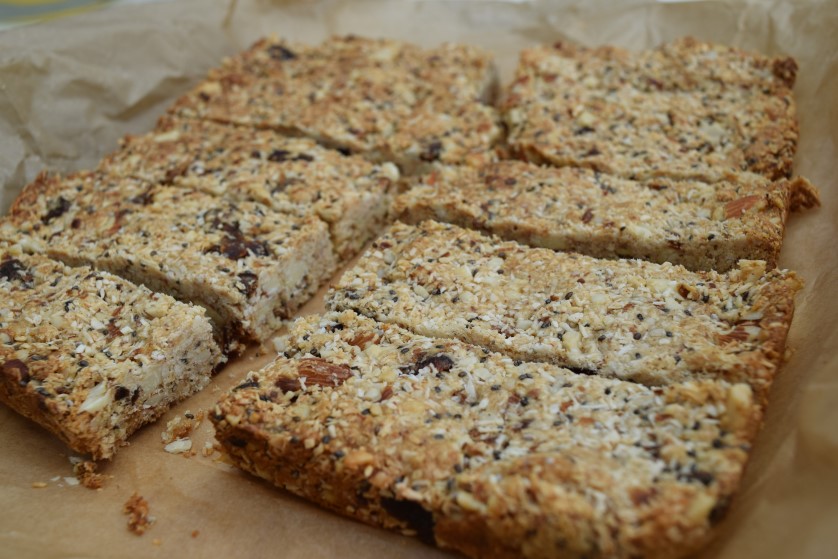 These are an incredibly tasty treat. Keep them in a tin, possibly under lock and key.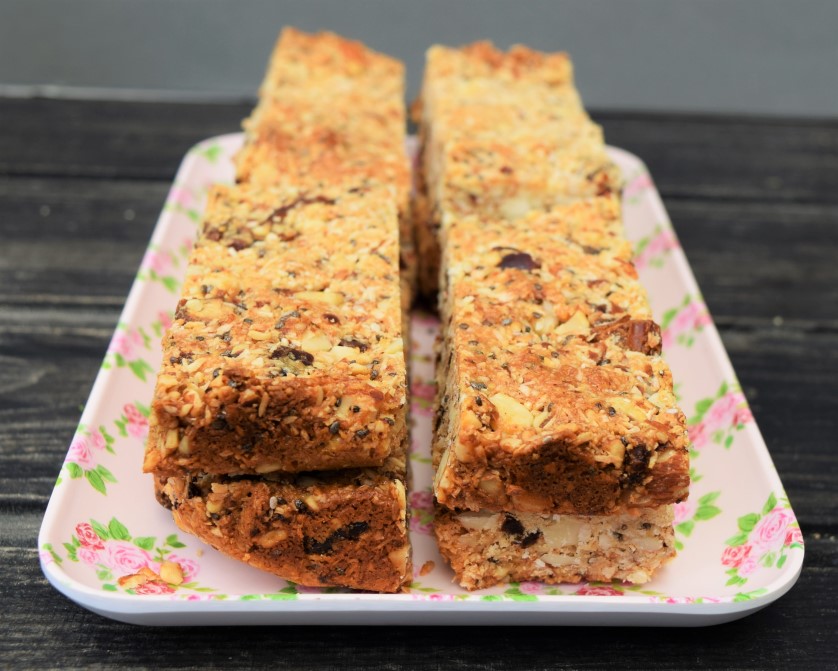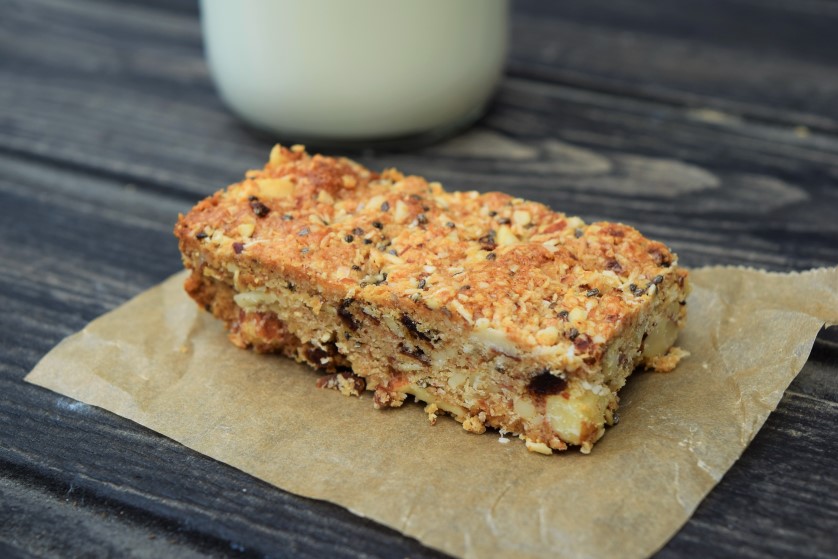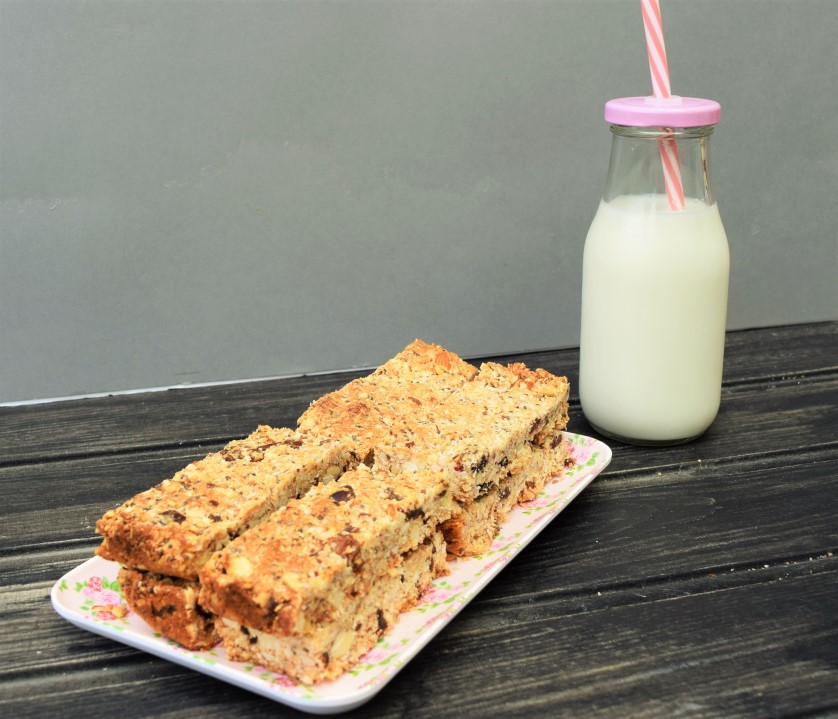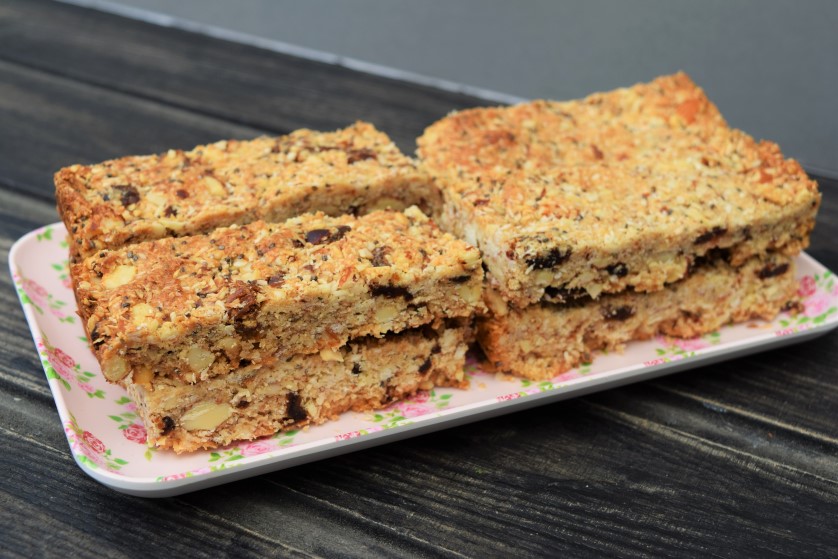 These are a brilliant healthier option. The chia seeds add omega 3 oils, the nuts provide vitamin B and fibre and the dates offer potassium and a natural sweetness. But, regardless of all that waffle, these are bloody tasty, satisfying and a top addition to your treats tin.
Lucy x
Coconut Cashew Bars Recipe
Makes 8-ish, size dependent
You will need a lined 20cm by 20cm square tin and a food processor or top knife skills
115g honey or brown rice syrup, Ocado had this readily available
1/4 teaspoon salt
30g ground almonds, or grind your own from whole almonds in the food processor
1 teaspoon vanilla extract
1 heaped tablespoon almond or peanut butter
200g cashew nuts or almonds, I used a mix of both
60g desiccated coconut
approx 75g dates, dried cranberries, dried apricots, you choose
1 tablespoon chia seeds, or other seeds of your choice
Pre heat the oven to 150 degrees fan assisted and line your square baking tin.
In a good sized bowl measure in the brown rice syrup or honey. Stir in the ground almonds and salt, vanilla extract and almond or peanut butter. Give the mixture a good stir.
In your food processor or with a sharp knife, chop the cashews or almonds and dates or other fruits into fine pieces, you want small-ish bits, nutty rubble, not dust. Then mix this into the syrup/honey mixture along with the coconut and chia, or other seeds. Stir this mixture really well, until all the nuts and fruit are  coated and starting to bind together.
Press this mixture into your lined tin using the back of a spoon or your hands. Bake for 20 to 25 minutes or until the bars are firm and turning golden brown. Leave this to cool for an hour then pop in the fridge for an extra half an hour to make sure they are firm before cutting.
Cut the slab into 8 bars, or more for smaller pieces, and enjoy. Keep them in an airtight tin for up to a week.