Cranberry and Orange Relish Recipe
Today I am sharing a classic Christmas recipe with you. It's short and sweet, given time is of the essence for everyone at this time of the year. I like to cram as much into the run up to Christmas as possible, so I am currently still battling with our kitchen refit, christmas shopping, seasonal illnesses and George off to Madrid for a Spanish exchange trip. My balls, if I had any, could not be any more to the wall if they tried. To get through this I am, as always, the Queen of Lists. I have a new list app on my phone which has changed my life. No more scraps of paper and post it notes in every coat pocket, I now have specific sections on my Wunderlist app for each of the 100 needy sections in my life. My driveling nonsense aside, here's a bloody delicious recipe for Cranberry and Orange Relish.
I only started making my own cranberry sauce a few years ago. I felt the jarred business was sufficient and couldn't be arsed to fork up my own. That was until I discovered this Cranberry and Orange Relish which is beyond simple and super quick to make. I serve it on Christmas Day with the turkey, of course, but then the tangy sauce makes a great accompaniment to my Chicken Liver Pate or just daubed on a cracker with some cheese. This recipe originates from the Queen of Christmas herself, Delia Smith, who else.
And the ultimate bonus is you can make my Cranberry and Orange relish now, and freeze it ready for the big day. Just pop it in a covered container, freeze, then whip it out on the 25th in time for lunch. Make sure you save a spoonful to go in your Christmas Day evening sandwich, always my absolute favourite part of the whole manic business. It makes all the list writing so worth while.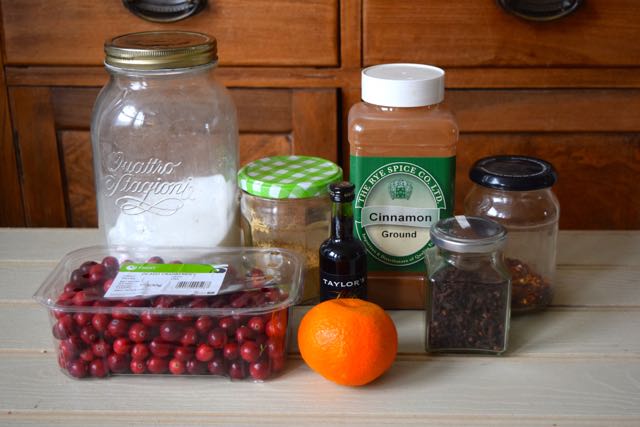 This is a simple recipe, and oh so quick. Those eagle eyed of you will be contacting the Trade Descriptions Act as I used a satsuma not an orange as that's what I had in the fruit bowl. Either is great, but if your satsuma is small you may need a little extra juice from a second one.
This is not rocket science, thank God, with my lack of sense of humour at the moment. Start by taking a medium sized saucepan or high sided frying pan. Add in the fresh cranberries. I am sure frozen would work as well here too.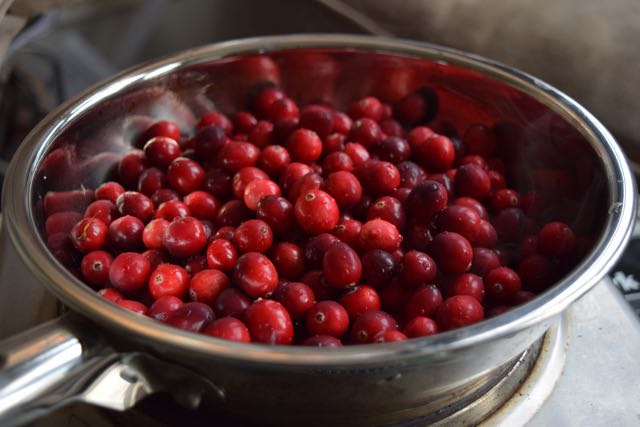 These are so picturesque. Delia suggests a blitz of the cranberries in your food processor prior to cooking them, but I didn't want the berries to become too mushy so I didn't bother, but it's up to you.
Next, add the citrus rind and then squeeze in the juice.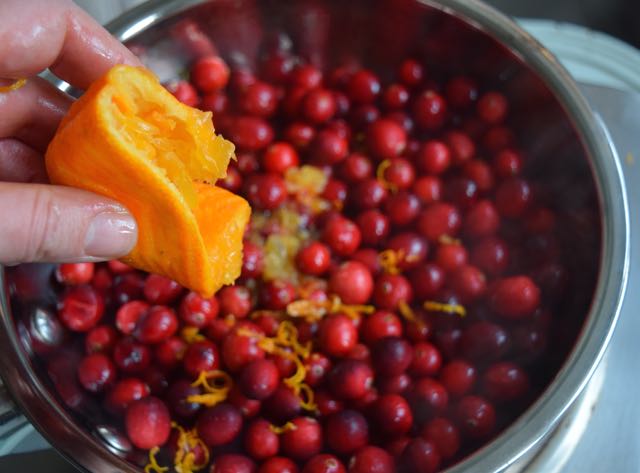 Then add the cinnamon, a stick or ground works here as I couldn't find my sticks. Follow in with the ground ginger, a pinch of chilli flakes, cloves and finally the caster sugar.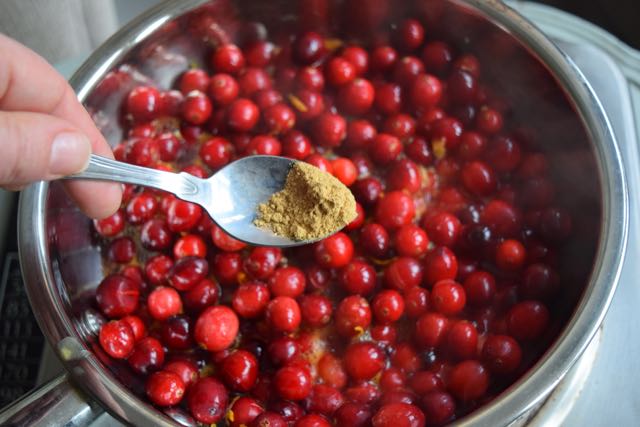 Now all that's left to do is bring this jewel like mix up to the simmer, pop a lid on, turn the heat down and leave to cook for 5 to 10 minutes. Keep an eye on it after 5 though, you don't want it to burn.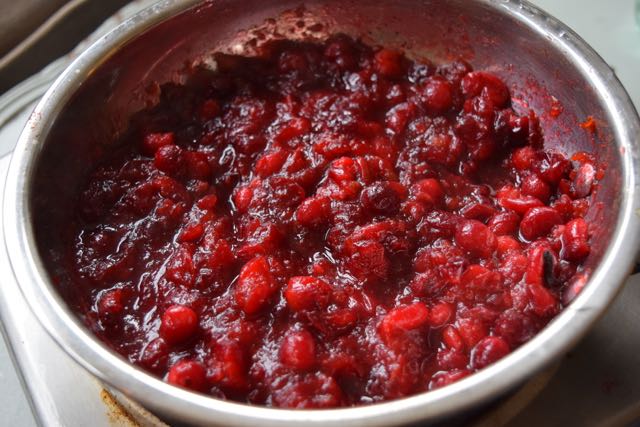 Stir through the port as a final flourish then leave this bowl of Christmas to cool. Not forgetting to remove the cloves and cinnamon stick, if used.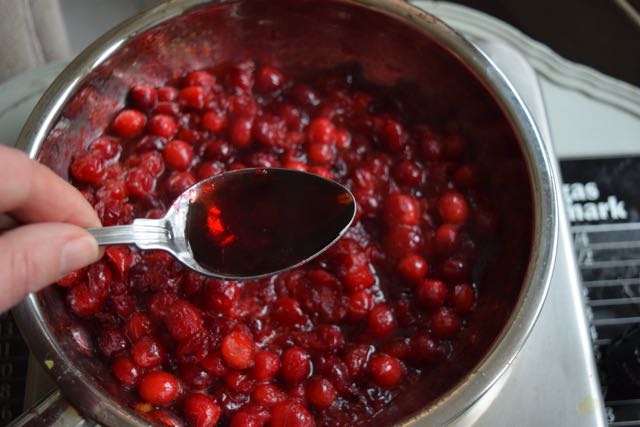 Either freeze for later or serve with a whole array of festive fodder.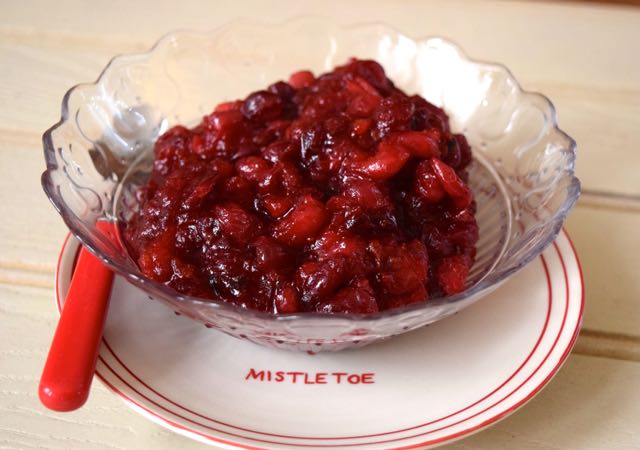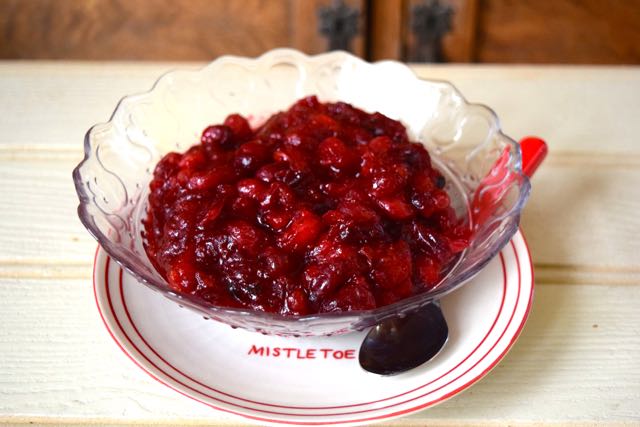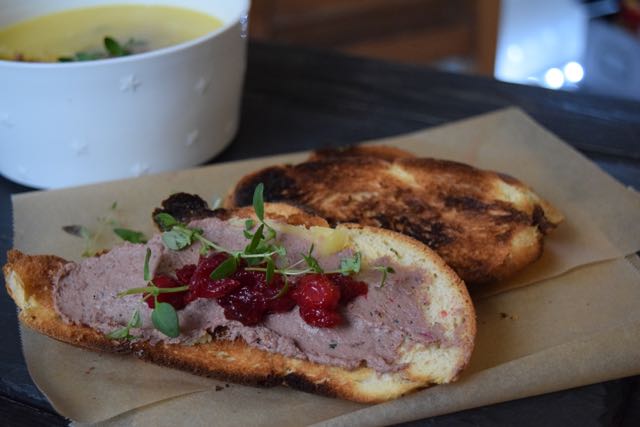 How pious will you feel to have your homemade Cranberry and Orange Relish made and in the freezer days before the main event. Thanks to Lucy Loves, I already have mine in the freezer too. Although I did eat quite a lot of it whilst photographing the recipe so I may have to whip up another batch before then. Damn me and my hog like appetite.
Lucy x
Cranberry and Orange Relish Recipe
Makes a nice big bowlful, serving around 8
400g fresh or frozen cranberries
The zest and juice from 1 orange, or I had a satsuma to hand, so used that
1/2 teaspoon ground ginger or a teaspoon grated root ginger
A pinch chilli flakes
75g caster sugar
1 cinnamon stick or half a teaspoon ground cinnamon
4 cloves
3 tablespoons port
Serve alongside your Christmas Day turkey, cold meats, cheese or paté
If you prefer a smoother relish, give your cranberries a quick blitz in the food processor before you start, I didn't bother and the relish was just fine. Then over a medium heat, add your cranberries to a medium sized saucepan. Add the zest of an orange or satsuma followed by the juice, ground ginger, ground cinnamon or cinnamon stick, sugar, pinch of chilli flakes and cloves.
Bring this up to the simmer, turn the heat down, then pop a lid on and cook for 5 to 10 minutes, but keep an eye on it as it can burn. Turn off the heat, stir though the port, remove the cloves and cinnamon stick if used, then put in a bowl and cover in cling film until needed.
This will keep in the fridge for around a week, maybe more and can be made in advance and frozen for up to a month.