Crispy Chilli Beef Recipe
When I first met Clyde, when the world was in black and white, a Chinese Takeaway was quite the pinnacle of a Saturday night treat. We would order all our favourite dishes, nip to pub for a sly g&t while it was being prepared/warmed through, then run home clutching our carrier bag full of tasty dinner time treats. We rarely tried anything new, and why would you when your top choices were a Chinese Style Chicken Curry and the classy Crispy Chilli Beef. Accompanied by a large special fried rice and a bag of pork balls, Saturday night life was sweet and we were young and slim. Now, with purse strings and waistbands tightening, I decided it was time to treat Clyde, and my older, podgier self to an updated, home-cooked version of our favourite takeaway classic. So today, to coincide with celebrating the ones we love, here's my Crispy Chilli Beef to woo with.
I know how to get my own way at home, and it revolves around Clyde's stomach. If there's something I need doing or something I am trying to get out of doing myself, the way to get it done is to butter him up with a world class supper. Crispy Chilli Beef is one of those suppers. Tender steak, lightly fried then coated in chilli and soy sauces. Stir fried along side some onions and carrots, and that's all there is to this takeaway classic. I based mine on this wonderful recipe from Frugal Feeding, with thanks for the inspiration. I have lightened my version by shallow-ish frying the beef, this way it still has a bit of bite to it and is on the medium rather than crisped to death side. Serve this however you please, I chose rice and a handful of bean sprouts for the 70's banter and some chopped chilli and coriander. If you're skipping the carbs, just go with some sesame stir fried greens instead.
Of course, you don't have to woo anyone with the wonderful dish, just make if for yourself and devour it, revelling in it's old school charm. My recipe serves a generous 4 guests however, so if you need quite a few favours called in, this is the dish for the job.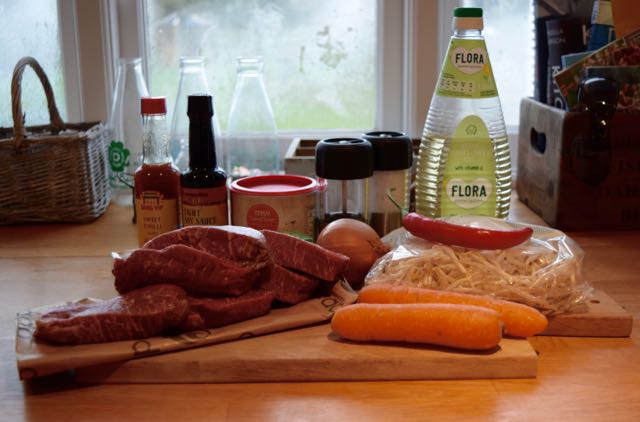 Short and sweet, just like myself. And yes, as you can see from my change of scenery, we recently had a lovely weekend in the Isle of Wight. The weather was grey and freezing, but the kitchen was snug, warm and smelt wonderful. I used my favourite feather steak for this recipe from Ocado. It is such amazing value, this 600g-ish portion was around £7, tender and full of flavour. If you can't get feather steak, just go with some frying steak, don't blow the budget here, however much you love your dinner guests.
This is super quick, so prepare all your ingredients in advance and put your rice or noodles on to cook so they are ready when you are. Start by measuring out the cornflour and seasoning it well.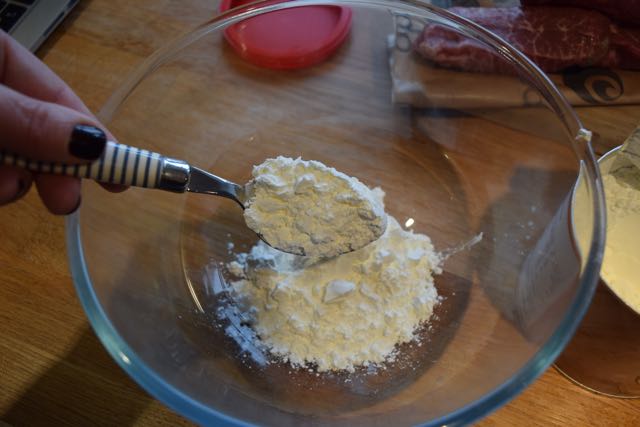 Slice your chosen steak into thin pieces, then toss this in the salt and pepper cornflour mix.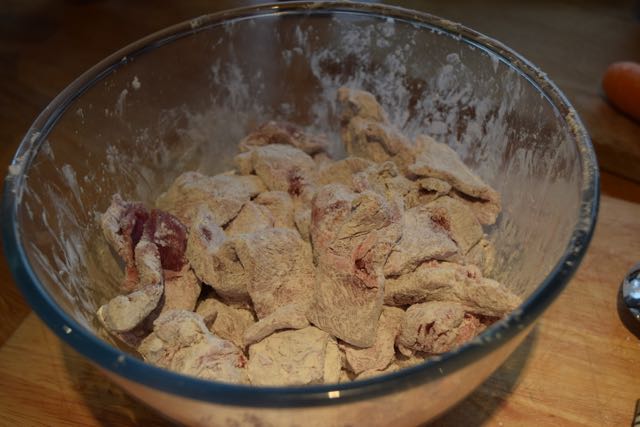 Sorry about the dubious lighting, I did say it was grey here on the coast this weekend.
Now, heat some oil in your deep sided frying pan. I used just enough vegetable oil to cover the bottom of the pan, so no precise measurement here. You don't want to drown it, but then you don't want it to burn.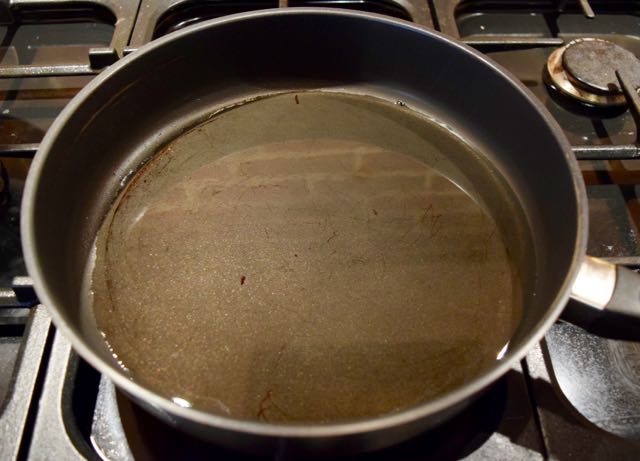 Cook off your beef in batches, if you over crowd the pan, it won't crisp, it will just go soggy. I cooked mine in 3 goes, transferring the cooked steak to a plate, whilst completing each batch.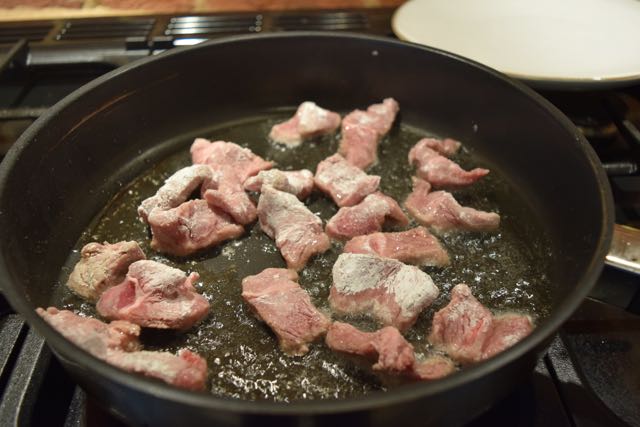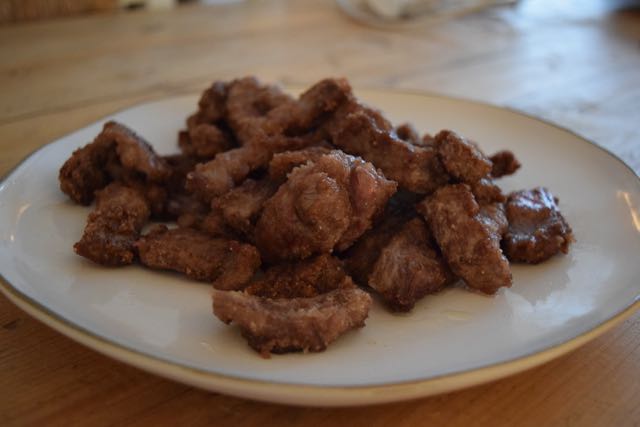 Once you have cooked all the beef, and sampled quite a few pieces *just me then?* wipe the pan round, leaving just a small amount of the oil to stir fry your vegetables.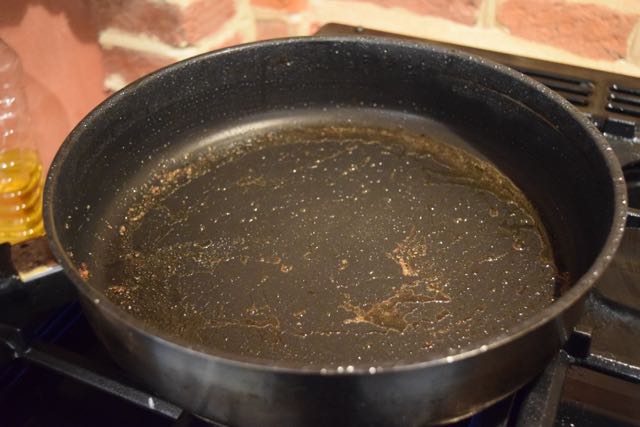 Throw in the thinly sliced onion and cook for a minute or two to soften and get a head start on the carrots.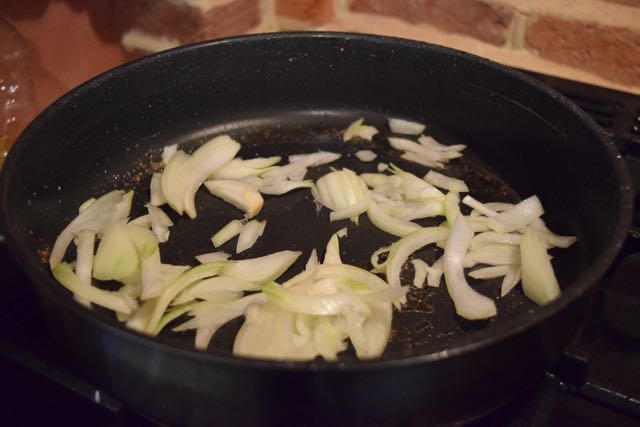 Next, add your baton shaped carrots. I think my under utilised spiralizer would have worked here, but I didn't have it with me on the Isle of Wight, it was far too busy at home gathering dust.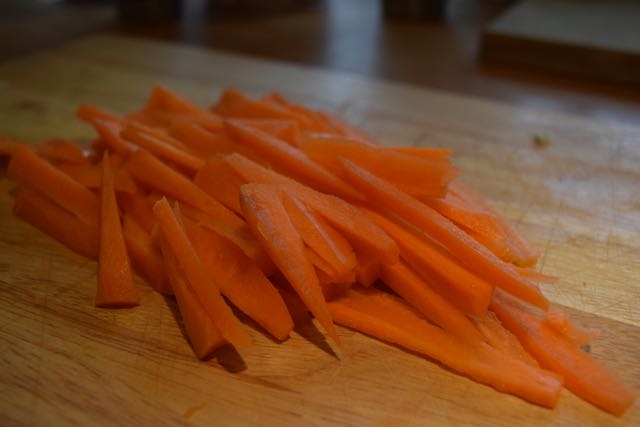 Give the carrots a minute or two more then stir in the sweet chilli sauce and soy sauce.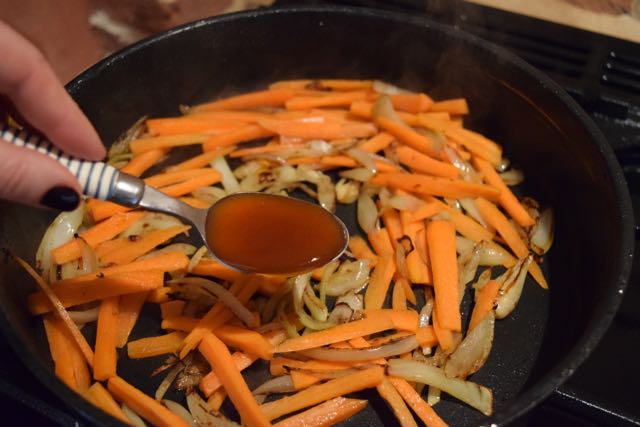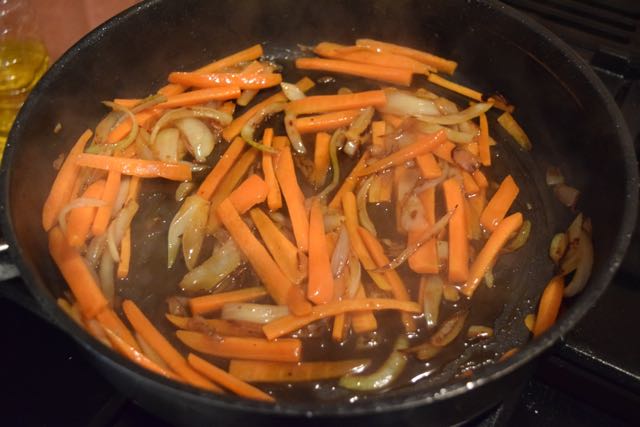 Finally, in this quicker than quick way to someones/your own heart, add the beef back into the pan. Ensure everything is well coated then simmer to guarantee it's piping hot.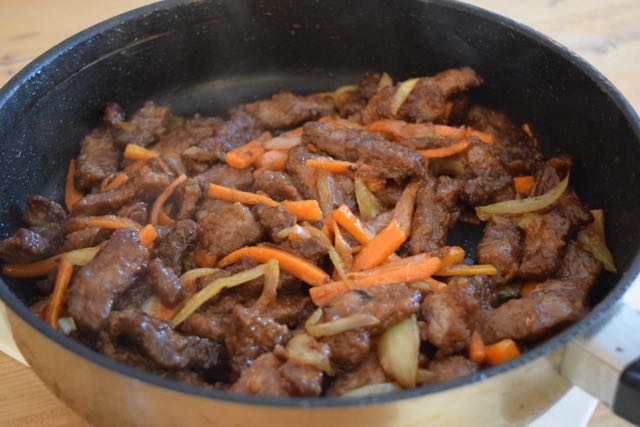 Now for the presentation. Serve with rice, noodles, beansprouts, stir fried greens and chopped fresh chilli. The choices are yours, just make sure you don't go all the way to the village to buy sesame seeds to garnish then forget to use them.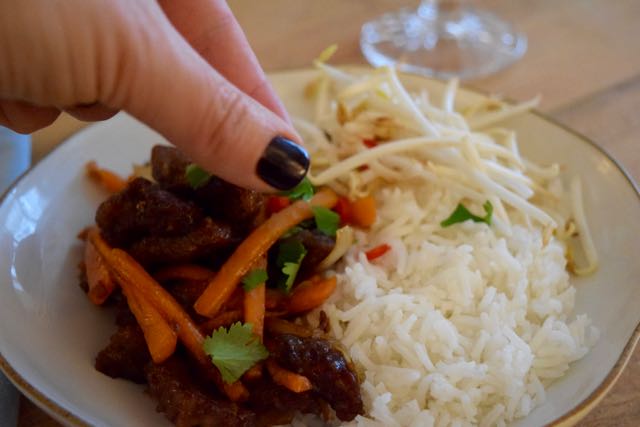 Manicure standing up nicely to all the stir fry action.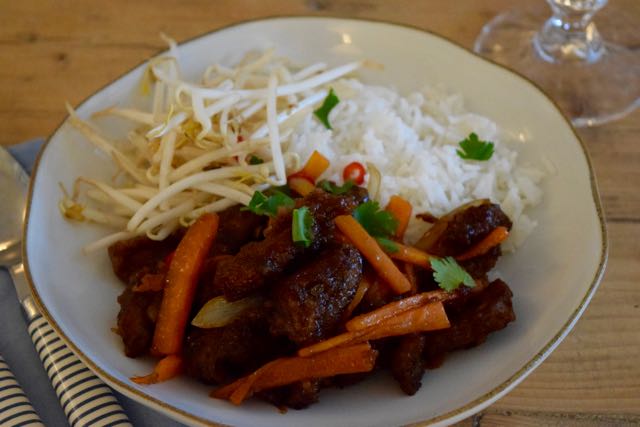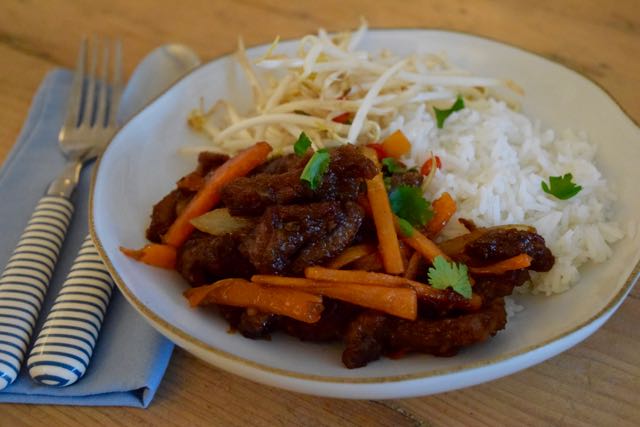 Washed down by a couple of bottles of red wine, this Crispy Chilli Beef was hugely well received by all in the Isle of Wight, and it wasn't just the wine talking. And I wasn't even trying to woo any of the guests. Apart from Clyde, who I always need favours from and of course who I love very much. Out of everyone I know, he is always the most grateful for my food offerings. He has to be, or he would starve.
Happy Valentines Day to you all.
Lucy x
Crispy Chilli Beef Recipe
Serves 4, generously, 6 if they are skinny and don't eat much
No challenging equipment needed here
600g frying steak, I used my favourite feather steak from Ocado
4 tablespoons cornflour
salt and pepper
oil for frying, around 100ml, or just enough to cover your frying pan in a thin layer
1 onion, thinly sliced
2 to 3 carrots, cut into batons or spiralized
6 tablespoons sweet chilli sauce
4 tablespoons soy sauce
salt and pepper to taste
Rice or noodles to serve, beansprouts, fresh sliced chilli, coriander and sesame seeds to garnish
Measure out your cornflour and season well with salt and pepper.
Thinly slice your beef and toss in the cornflour mixture to coat. In a large high sided frying pan, heat enough oil to just cover the bottom of the pan.
When hot, cook the coated beef in small batches for a couple of minutes, or until just crisping and starting to brown. Remove each batch to a plate while you cook the rest of the beef.
Wipe the pan round with some kitchen paper to remove all but a teaspoon of oil. Throw in the thinly sliced onions, cook for a couple of minutes to soften then add your carrot batons or spirals. Cook for a further minute or two then stir in the sweet chilli and soy sauces.
Add your sautéed beef back to the pan, stir well then bring up to the simmer to ensure everything is piping hot. Check for seasoning, then serve immediately with rice, noodles, stir fried vegetables, bean sprouts, chopped chilli and/or fresh coriander. Devour then have another bowl.