Dates in Bacon Recipe
How was your Christmas? Unless you have put on at least half a stone, I will go with not much fun then. I am a total porker, but in a good way, I have eaten so many delicious things and had some brilliant gifts, I am trying not to regret any of it. We had the most amazing time with the whole family on the Isle of Wight. We laughed, we cried *too much gin* and we played tons of Monopoly at which, it turns out, the Kellett family excel. We also took far too much food with us so yesterday, when we left Bembridge, we were all packed off with a mammoth amount of leftovers. We will be eating cheese for months to come and brace yourself for the post '100 ways with smoked salmon'. In the meantime, you will have to make do with this brilliant leftover nibble, Dates in Bacon.
It seems everyone who joined us for Christmas came armed with dates. Not a bad thing but I am pretty much the only one who eats them, so I am currently in possession of the EU date mountain. So, if you are on nibbles duty for New Years Eve, look no further than my Dates in Bacon. They are incredibly simple, barely even warranting a recipe, but I do love a ramble, as you know. The hot bacon compliments the sweet, rich dates and this makes the most savoury of nibbles. We have eaten these in Mallorca for years, they are always top of my tapas list, but they go just as well in the winter months, with a large bucket of gin and tonic. We served these with Christmas drinks and they were devoured. You can always make them in advance and re-heat at the last minute to save any bacon based wrapping kerfuffle as guests arrive.
Our Seaside based Christmas was just perfect, and I was even persuaded to represent the women of the family by joining the boys, their cousins and my brother in law in a Christmas Day sea swim.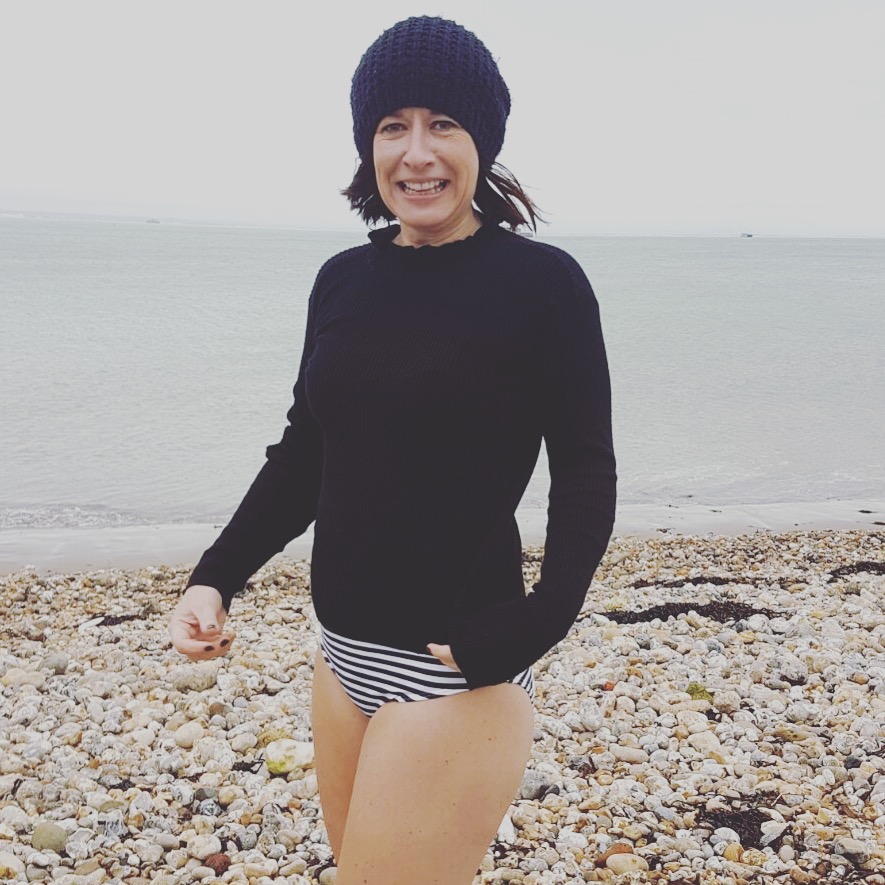 Don't be fooled by smiling face, I was dying inside, the water was bloody freezing. And please disregard what I like to call my 'strong thighs' as they are far, far worse than my ugly hands. I hope you too had a super Christmas, even without being made to swim in the sea. Dig out your dates and crack on with these, they are guaranteed to get any New Years eve shindig off to a blinding start.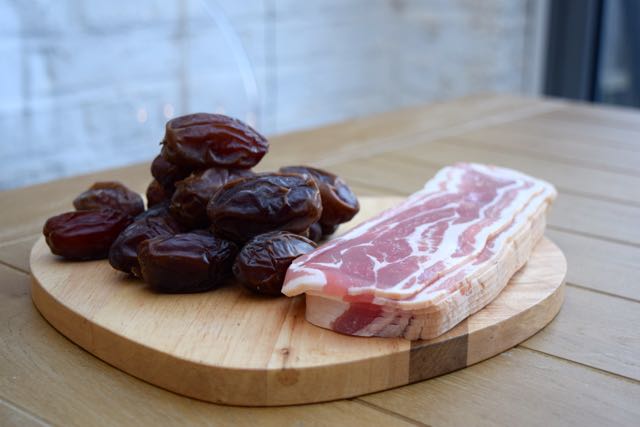 An embarrassingly simple array, and I even managed to forget to photograph the olive oil. My brain has turned to Christmas based mush.
This is only half of the leftover dates I have, I will be eating them for months. Which is fine as they are good for you if you don't eat 8 of them in one sitting, all wrapped in bacon. Make a start on this by pre-heating your oven to 180 degrees fan assisted and oiling a baking tray.
Next, using scissors for ease, snip each date in half and remove the stone, unless yours are already stoned.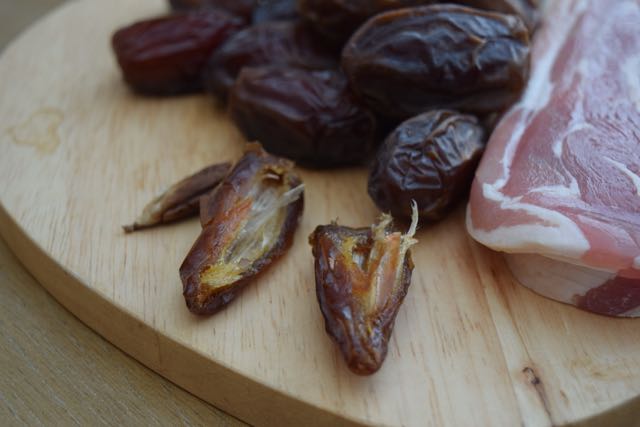 Take your bacon and half each large rasher vertically. Then cut each long strip into 2 shorter ones, giving 4 pieces from each rasher.
Now, wrap each date half in the bacon making sure the join is on the bottom.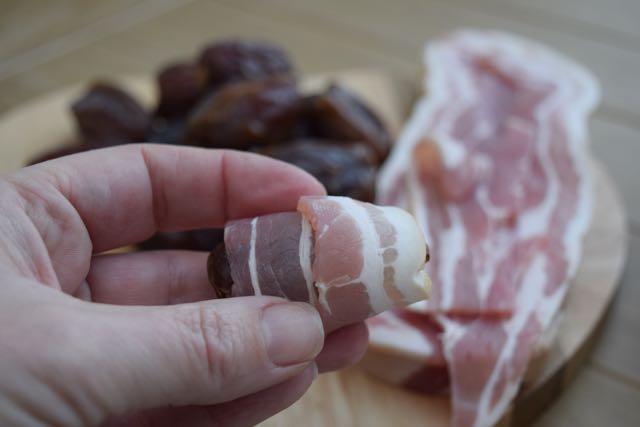 Place these on your oiled baking tray and finish assembling your dates until you have used all the bacon.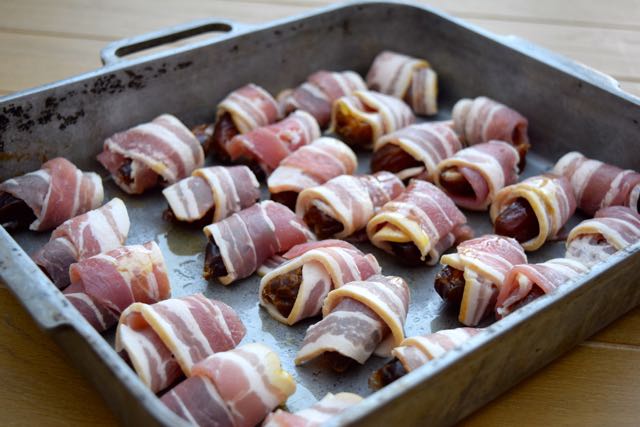 Give them a drizzle with olive oil then place in the pre heated oven for 15 to 20 minutes. The dates will be browning and the bacon starting to crisp.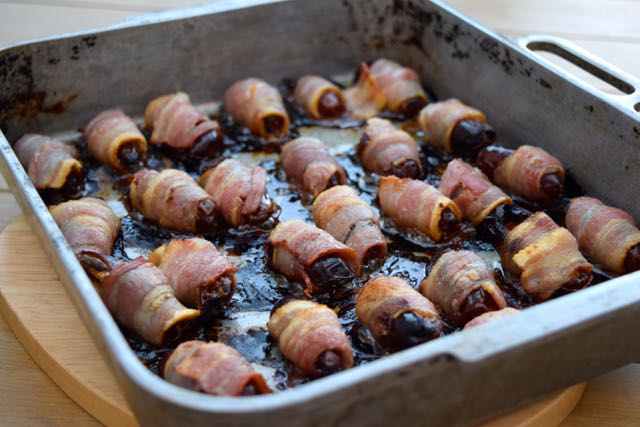 Leave for 5 minutes to cool slightly, garnish with a herb of your choice, then serve these delightful little beauties alongside a bloody great big glass of something chilled.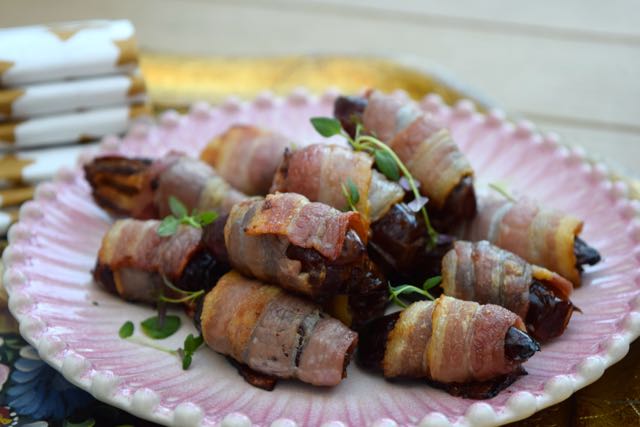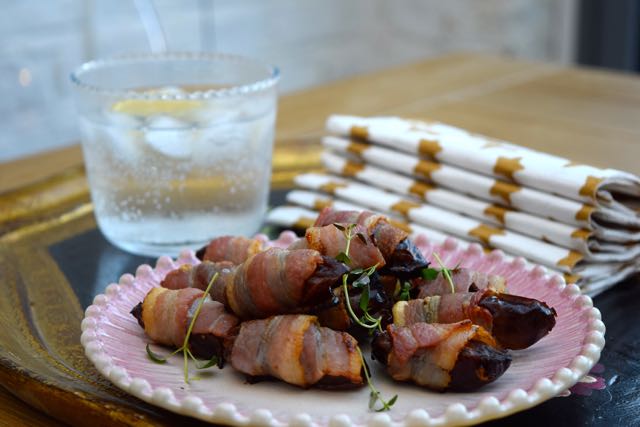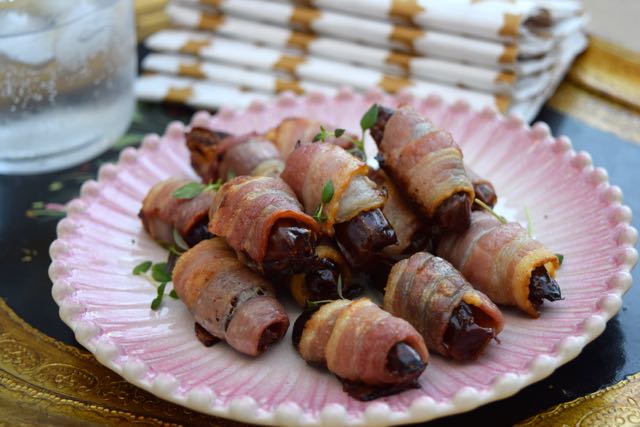 The post Christmas diet will have to wait given the fact I ate most of this batch washed down with the very photogenic gin and tonic. It was past midday, in case you were wondering, by about 2 minutes to be precise. It is still officially Christmas after all.
Lucy x
Dates in Bacon Recipe
Makes about 24 to 28, you won't need any exciting equipment
12 to 14 dates, cut in half, stones removed
200g streaky bacon
Olive Oil
A fresh herb to garnish
Pre heat your oven to 180 degrees fan assisted.
Take the dates and snip in half with scissors and remove the stones. Next, take your bacon and cut each slice in half vertically to make two long thin slices, then cut each long thin slice into two, making four pieces in total from each rasher.
Take each date half and wrap in one of the pieces of bacon ensuring the fold is on the bottom. Place on an oiled baking tray. Continue until you have used all the bacon.
Place in a hot oven for 15 to 20 minutes or until the bacon is browning and the dates are crisp. Leave to cool for a moment before devouring with a big glass of something.