Easy Apple and Berry Cobbler Recipe
I love a winter pudding. During the summer I love big bowls of fruit, rich ice creams and chilled mousses. However, now there are crisp leaves on the ground and it's dark before 6pm I crave hot, sweet stodge drowned in custard. I want the stodge, but I don't want to spend forever in the kitchen creating the stodge. Here's where my Easy Apple and Berry Cobbler steps up.
By the time you've spent a couple of hours roasting your Sunday lunch, who can be arsed to faff around with a pudding. Not me, unless it's my microwave Syrup Sponge, of course. Luckily, this simple cobbler style offering requires little more than some idle slicing and stirring. It also has the option of using a fruit filling of your choice. I like apples, but prefer them with a hint of berries. I added a handful of frozen fruits to my cobbler and it became something really quite delicious. If you don't like berries you could just drizzle your apples in a little caramel sauce for added interest. This fail safe pud is a meddled with version of one from the helpful Food.com, with thanks to them.
The topping just requires a modicum of stirring, sprinkling and drizzling, nothing to see here. Then this whole fruity sweet business is baked to a crisp perfection. Serve with cream, ice cream or custard *cold only for me* or all the above for quick, baked winter dessert perfection.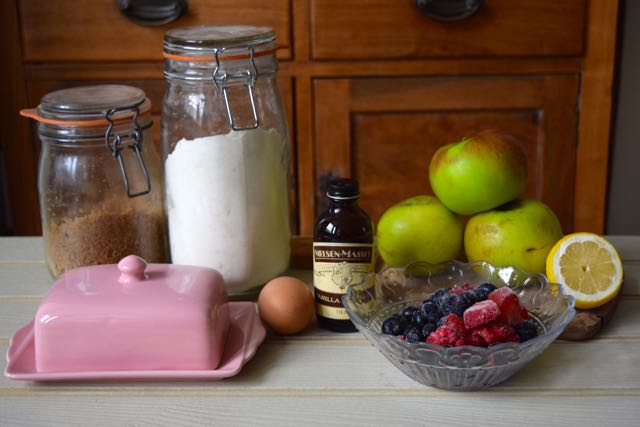 What a bold and artistic array of ingredients for this fruit based pudding. I used all soft brown sugar in my cobbler but you can use caster or a mixture of both. Likewise go with a fruit of your choice, the apples and berries were delicious.If your apples are particularly sour just sprinkle on an extra spoonful of sugar or tart them up with a drizzle of caramel or dulce de leche.
Make a start by pre heating your oven to around 160 degrees fan assisted then butter a 23cm round or 20cm square dish. Peel and slice your apples then pop into your receptacle of choice, drizzled with a little lemon juice.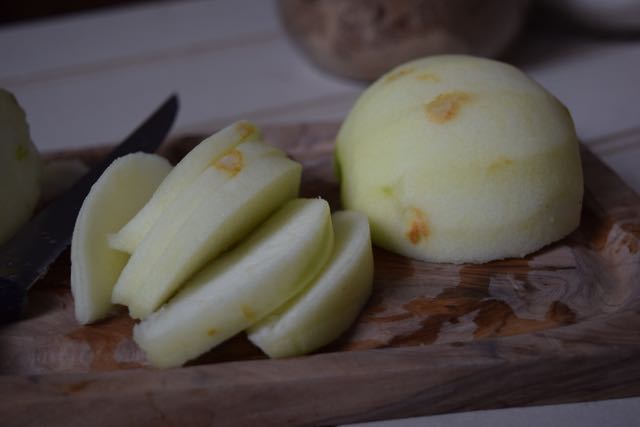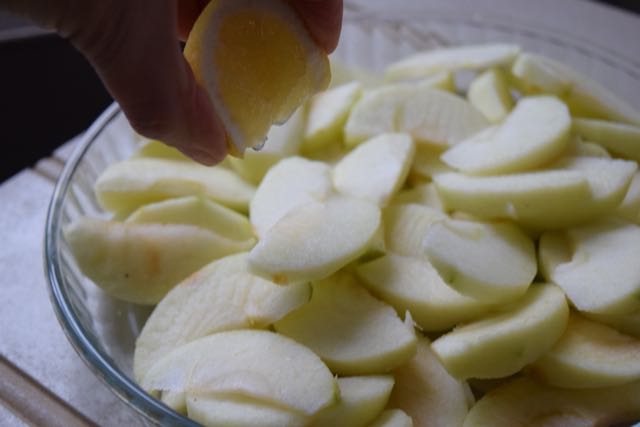 Sprinkle with added sugar if your apples are too sour or drizzle with some caramel if you're that way inclined. Next tip in the berries if you're including these.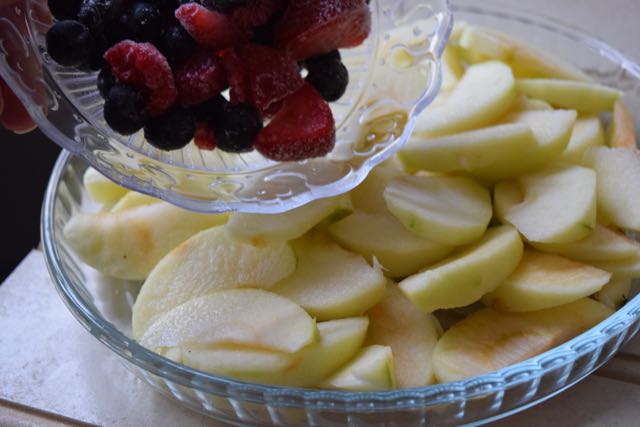 Next make a start on the topping. Take a large bowl and measure in the flour, sugar and optional cinnamon.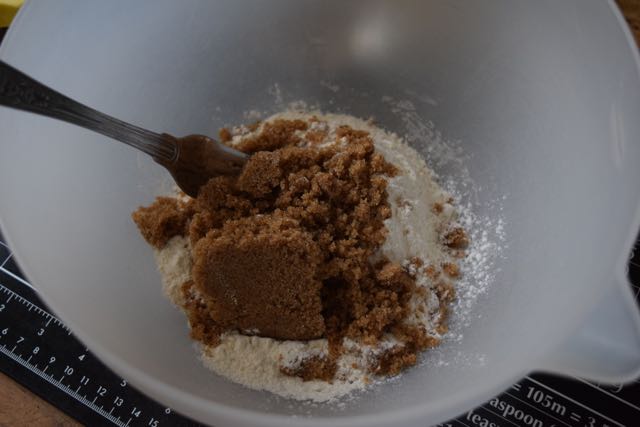 Mix in the egg and vanilla until the mixture looks like breadcrumbs.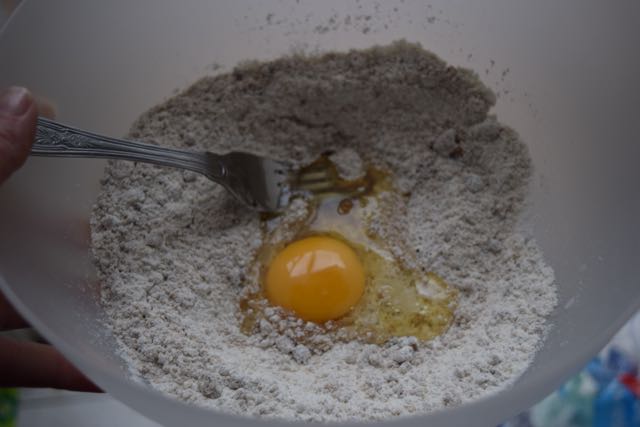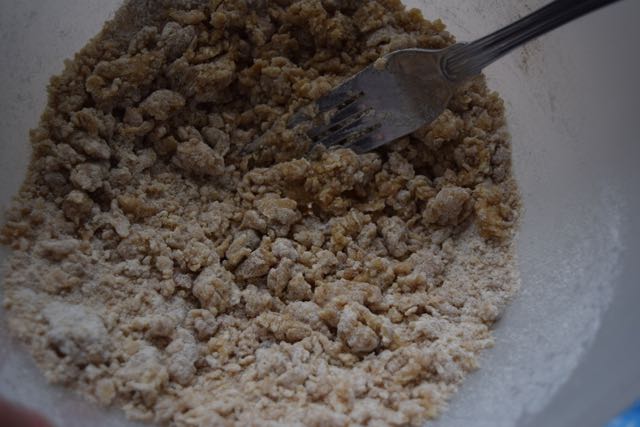 Tip this sugary rubble onto the fruit base in an even-ish layer.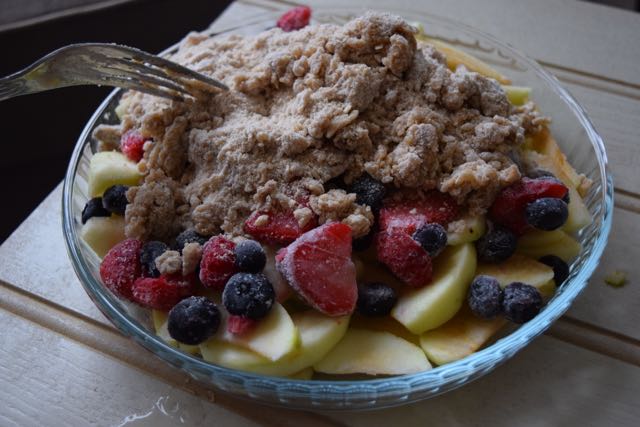 Finally, melt the butter and pour over the crumbly topping in a random fashion so it covers the whole business.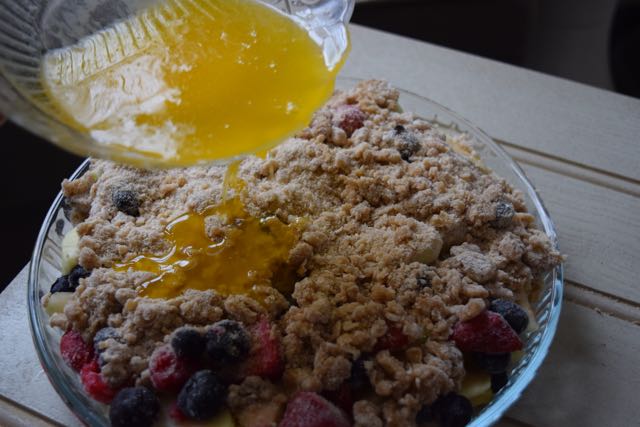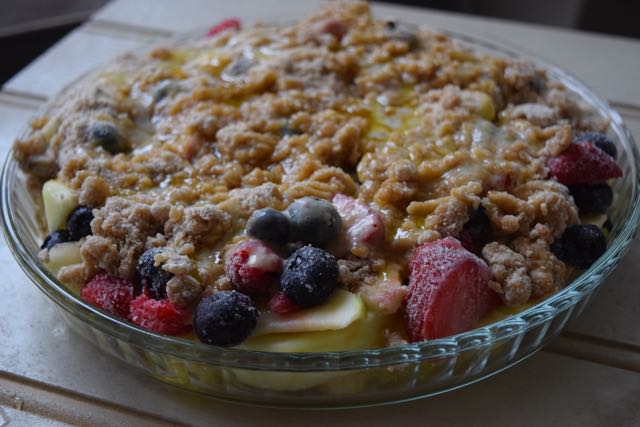 Bake this comforting dessert for 25 to 30 minutes or until crisp, golden, bubbling and the fruit is soft and oozing colourful juices.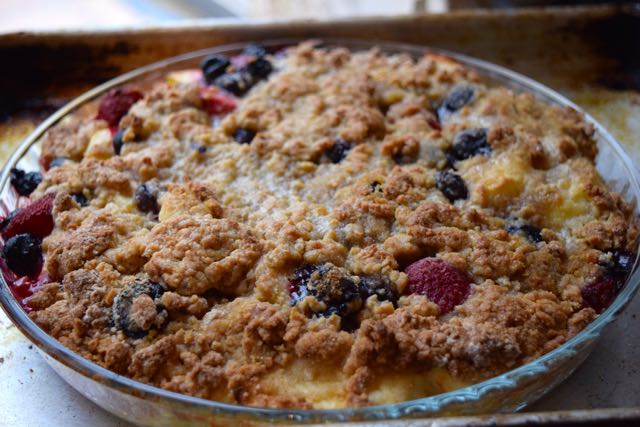 Let it sit for five minutes so you don't burn your mouth, then devour in huge bowlfuls.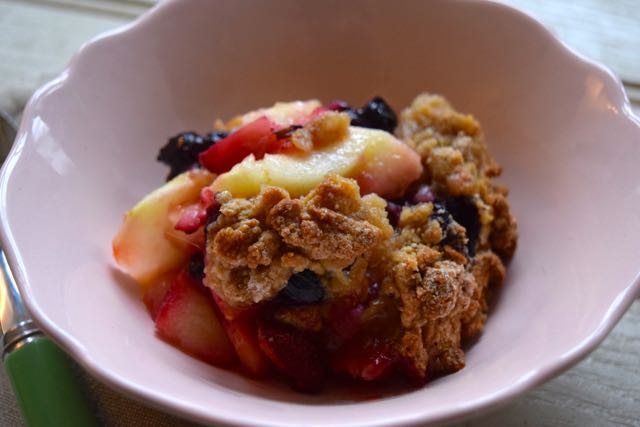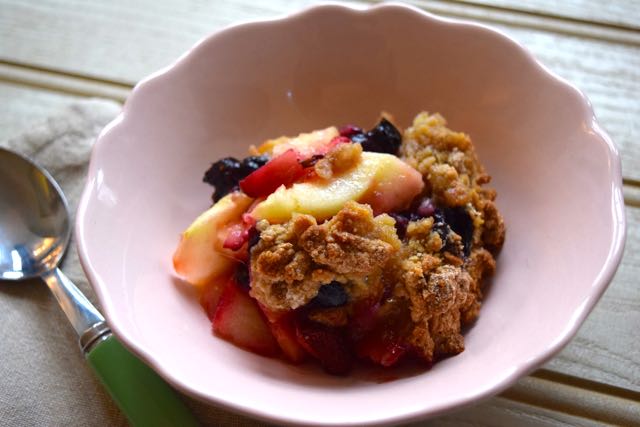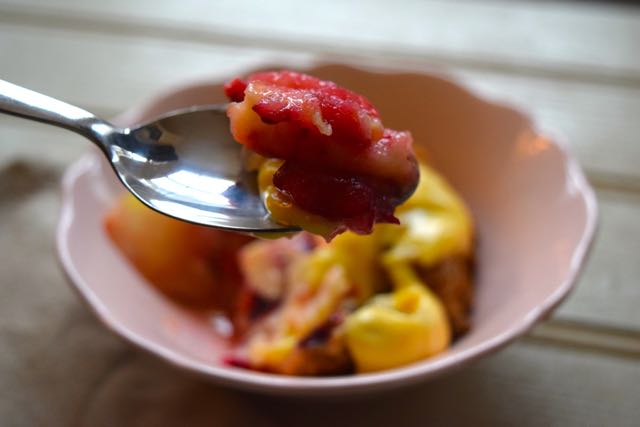 As I write this my stomach is rumbling and I am desperate for a bowl of Apple and Berry Cobbler. I am tempted to nip out and whip one up, but even my terrible eating habits will stop me from eating dessert at 11 o'clock at night. It does only take half an hour though….
Lucy x
Easy Apple and Berry Cobbler Recipe
Serves 4 to 6
3 cooking apples, if they are particularly sour, sprinkle with an extra tablespoon of sugar
Juice of half a lemon
approx 100g mixed berries, mine were frozen
150g plain flour
225g soft brown sugar or caster sugar, or a mixture of both
1 teaspoon cinnamon, optional
1 teaspoon vanilla extract
1 egg, size large works best, if not 1 and a half
115g butter, melted
Custard, thick cream and/or ice cream to serve
Pre heat your oven to 160 degrees fan assisted and line a 23cm round or 20cm square baking dish, buttered.
Peel, core and slice your apples and drizzle with the lemon juice to stop them discolouring then place in the buttered dish. If the apples are super sour, sprinkle with a tablespoon of caster sugar or drizzle with some dulce de leche. Add your berries and mix with the apples.
In a medium bowl mix together the flour, sugar and optional cinnamon. Stir in the egg and vanilla until the mixture looks like breadcrumbs. Spoon this mixture onto the fruit and fashion an even-ish layer.
Melt the butter and pour over the crumb topping. Pop into the hot oven for 25 to 30 minutes, or until the top is golden and the fruit is bubbling and soft. Leave for 5 minutes to settle before serving with a cream based accompaniment.