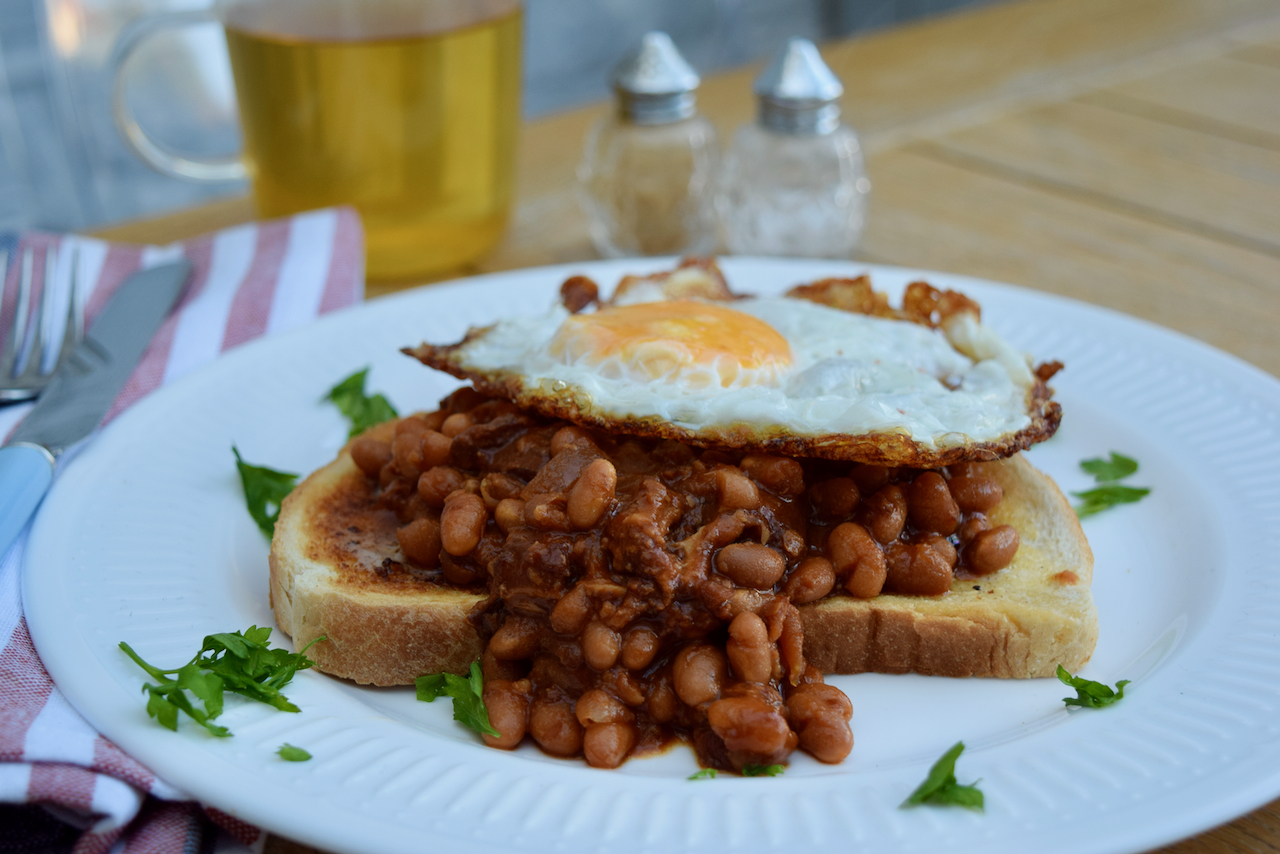 Slow Cooker Bacon Baked Beans Recipe
I've dusted off my slow cooker and it's back with a vengeance. It's your best friend at this time of the year when time is tight, inclination is low and it's bloody freezing. And did I mention I am beyond skint? Not only are beans an amazing source of protein, fibre and low in fat, they are also bloody cheap. The whole bag is just over £1, so that's a bonus with a 17th birthday and Christmas biting me on the arse. So, to summarise, my Slow Cooker Bacon Baked Beans are literally what you should be eating right now. Well, in 6 to 8 hours when they'll be ready.
We are big baked beans fans in our house, mainly based around the fact the boys liked to pass them off as a substitute for a green vegetable when they were little. They are a brilliant standby side, but these Slow Cooker Bacon Baked Beans are so much more than their tinned relative. The beans are layered with onion and bacon then cooked in a rich sauce made from black treacle, tomato and mustard. In around 8 hours, the beans are tender, saucy and bacon infused. This recipe makes a truck load so you can eat them all week and save the money you would have spent on other meals for Christmas pressies. Huge thanks to the Kitchn for this recipe.
Frugal, not too unhealthy and bloody delicious. This is a brilliant November dish if I ever saw one.
What a beautiful tableaux these create. Classic ingredients to make a tasty, winter staple. Making your own baked beans definitely elevates them to so much more than a weekday side dish. These beans are very much the star of any show.
Make a start the night before you want to cook your Bacon Baked Beans by taking a large bowl and adding your chosen white beans. Cover them in a lot of water then leave to soak for at least 12 hours. The next morning, take your slow cooker and switch it on low. Add the chopped bacon in a single layer on the bottom of the dish.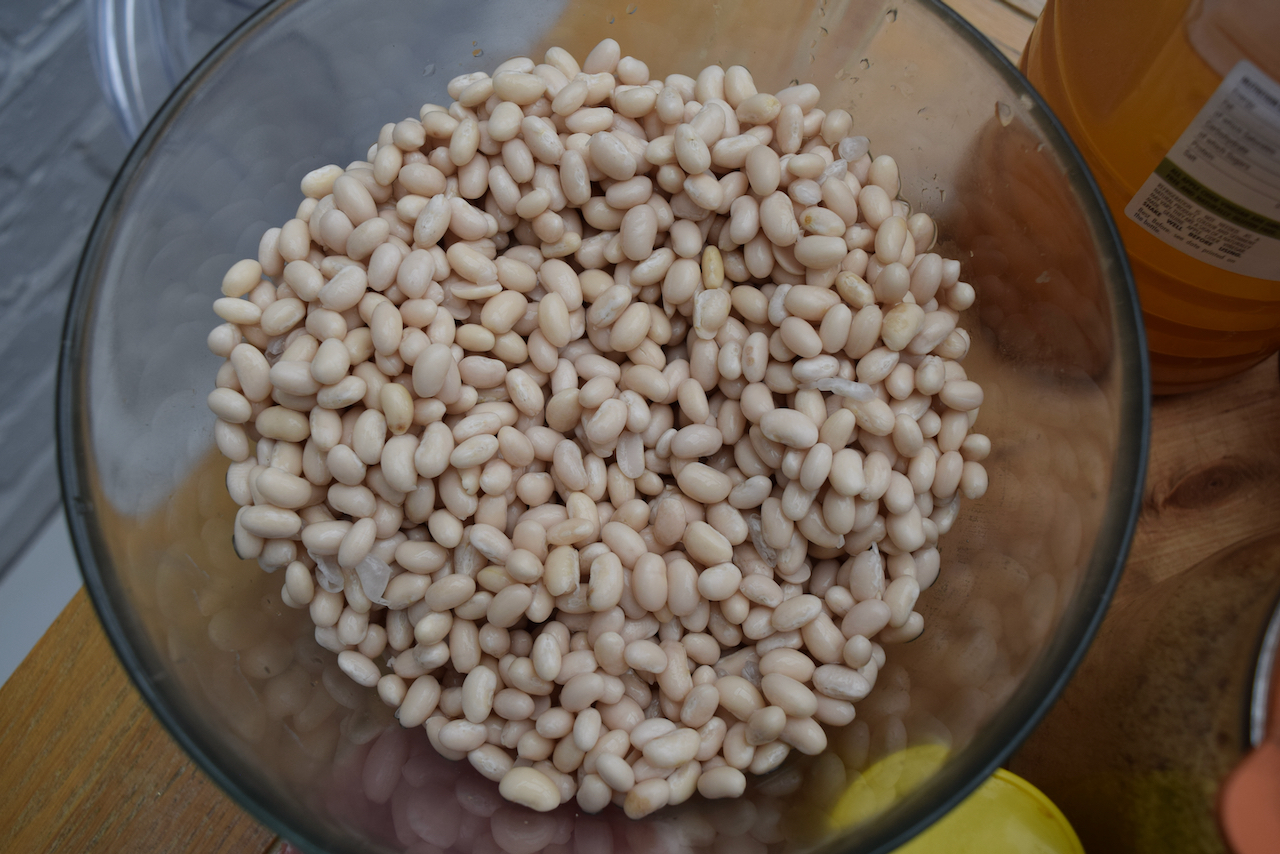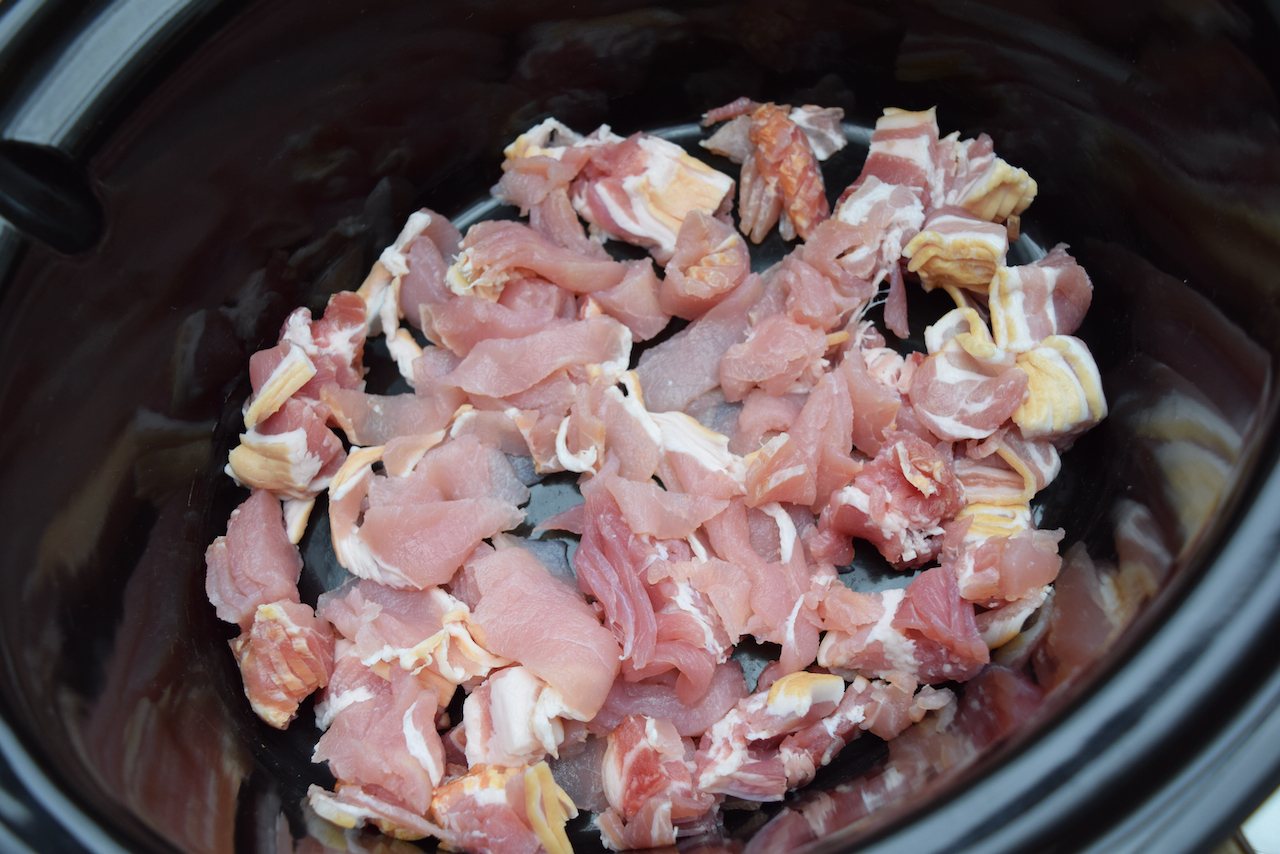 Tip on your drained white beans, again in an even layer, and without stirring.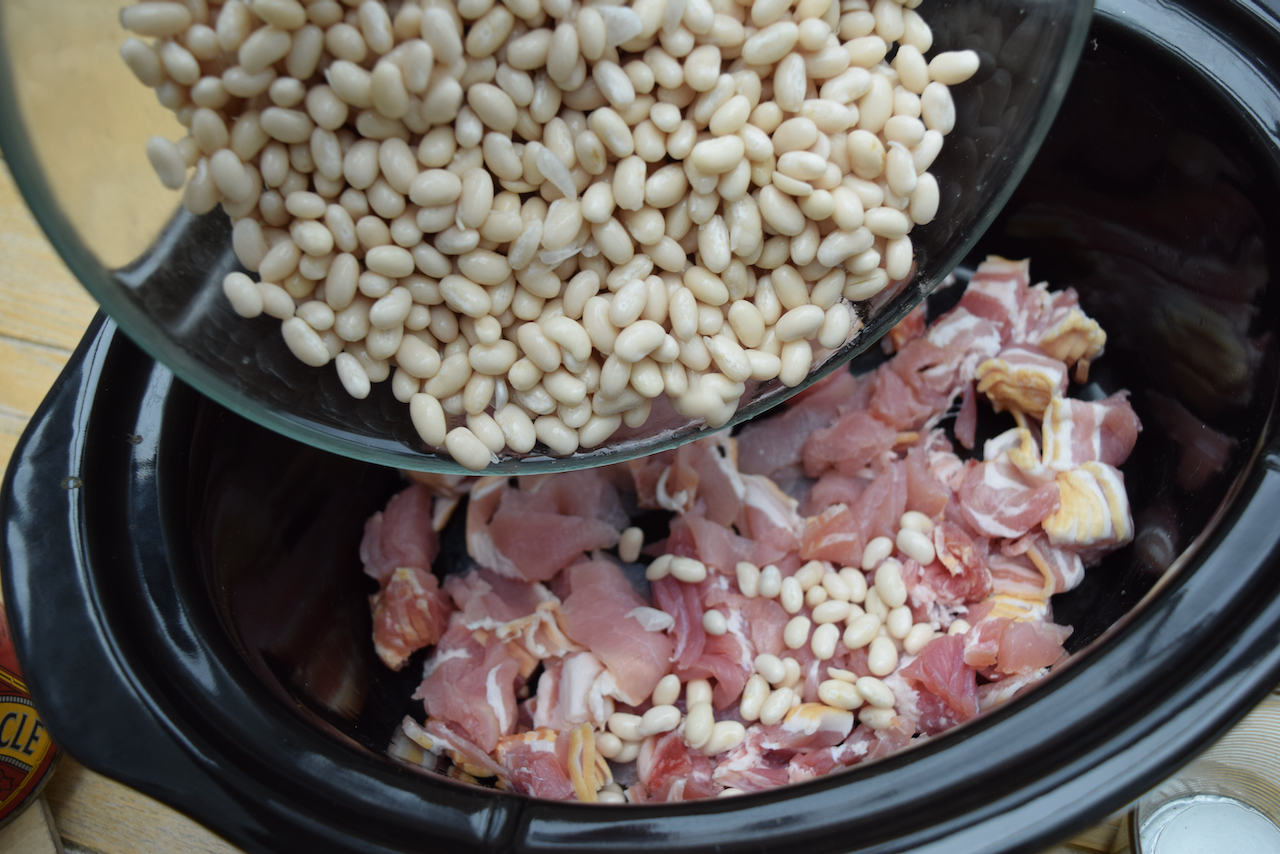 Finely chop the onion, mine was red, yours doesn't have to be, and add in a layer on top of the beans, again, without mixing.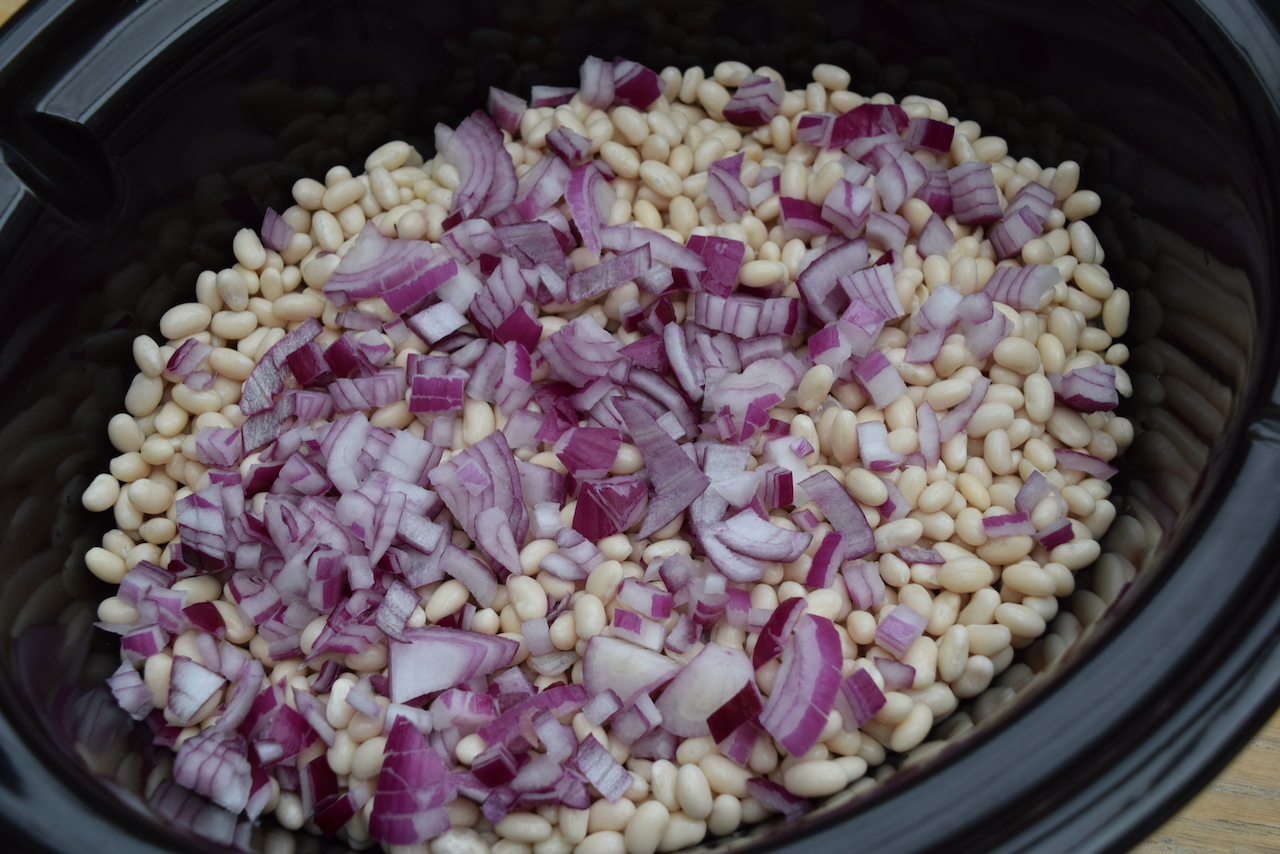 Now, make the flavoursome sauce. Mix the tomato puree, brown sugar, mustard, vinegar and black treacle until combined.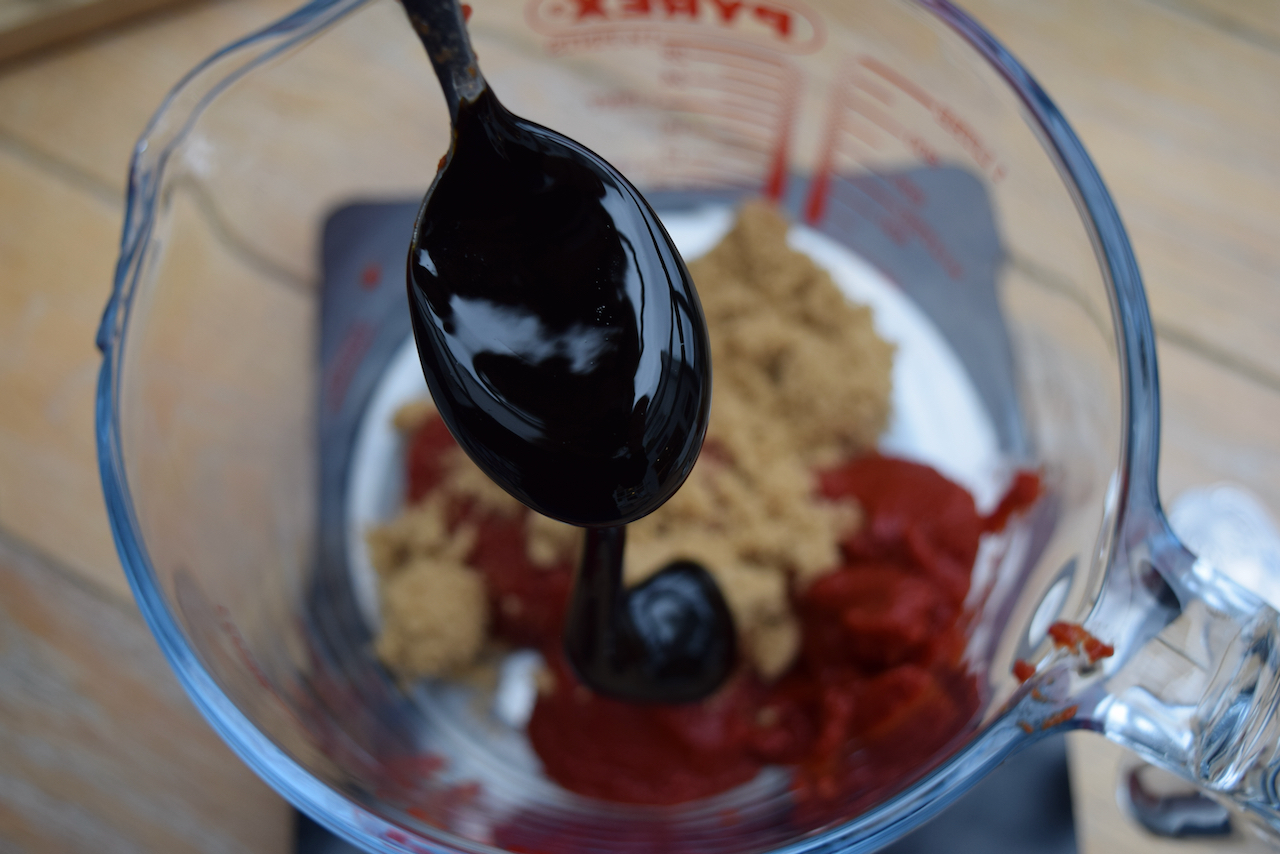 Whisk in the water, making sure everything is well mixed then pour this over the beans, bacon and onion. Do not stir this, just pour and leave.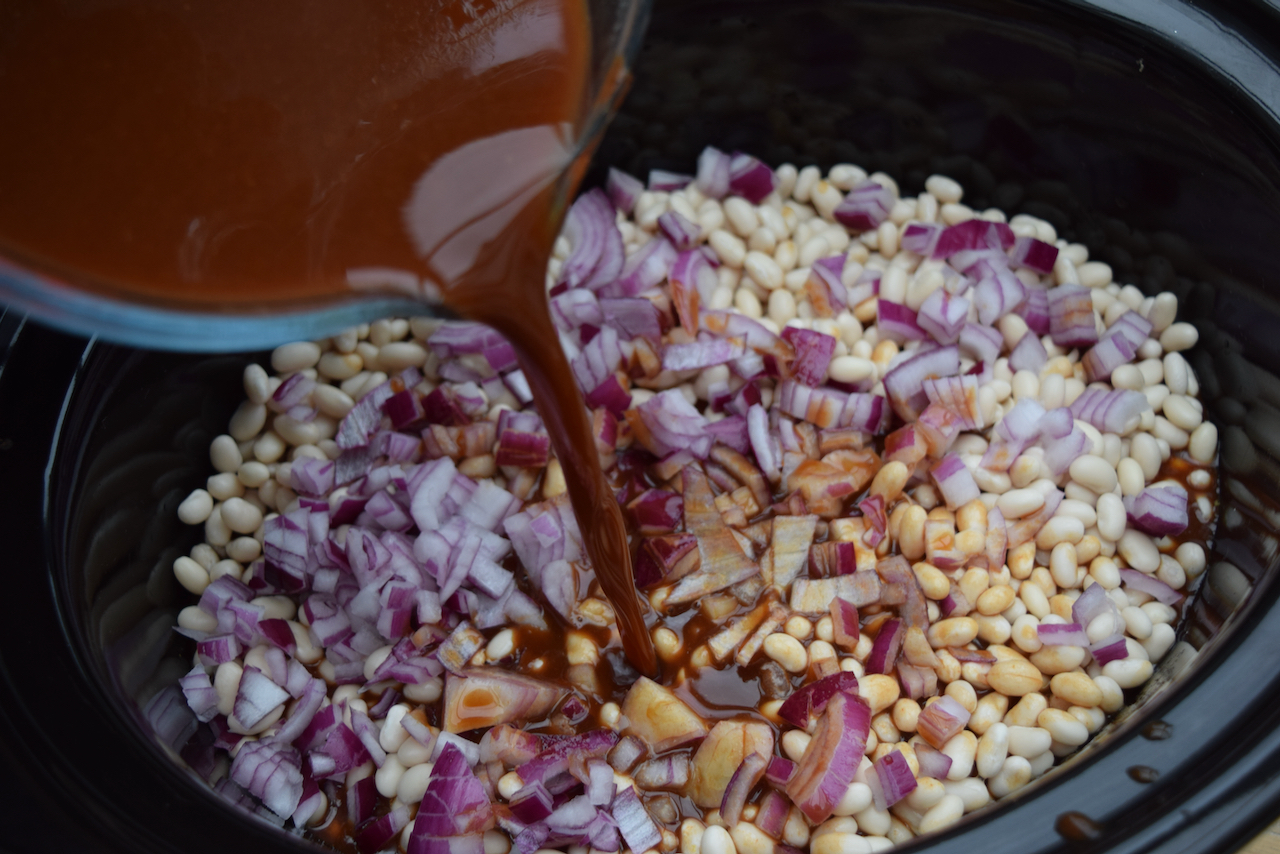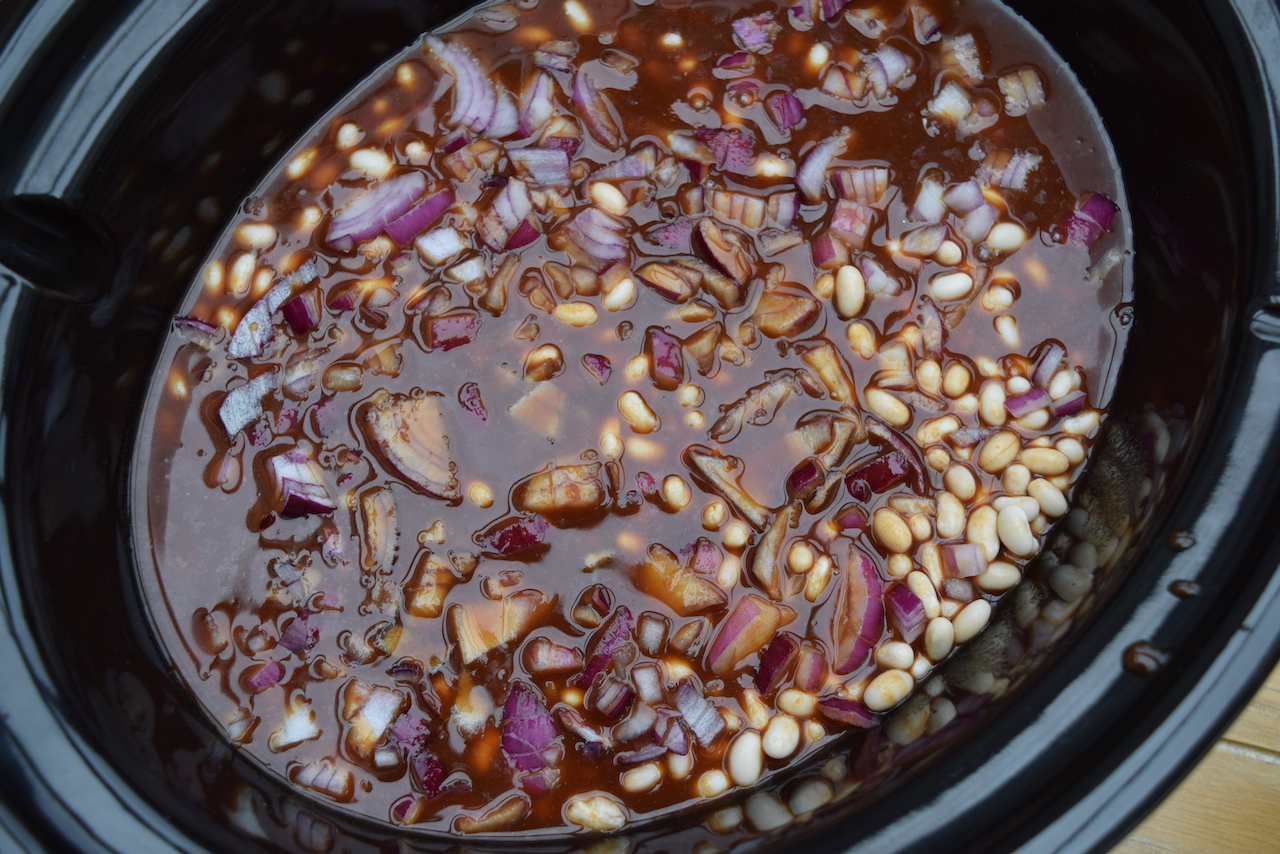 Pop the lid down and leave your slow cooker to work it's magic on low for 6 to 8 hours.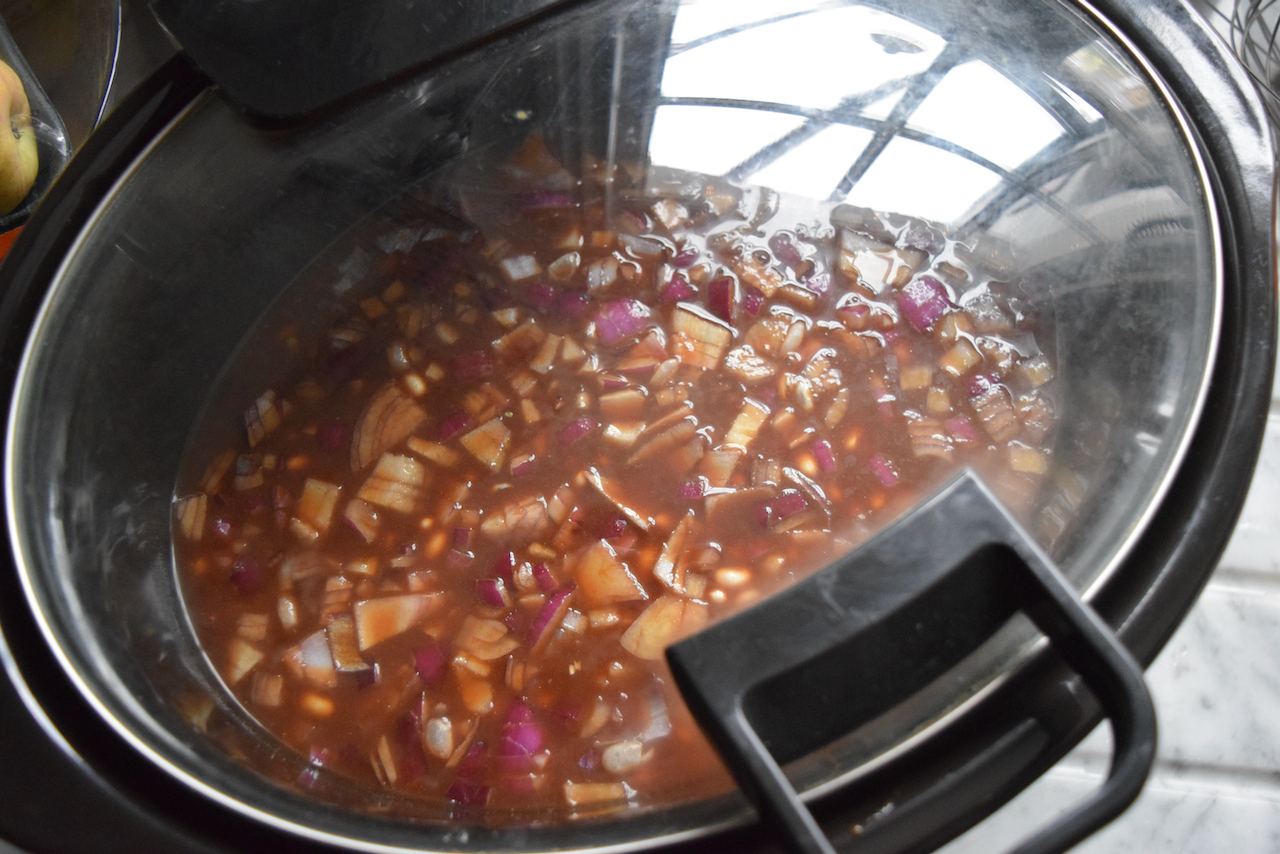 After 6 hours, check to see if the beans have softened sufficiently. Season with the salt and some pepper, then cook for another couple of hours, or until soft, creamy and covered in a rich sauce.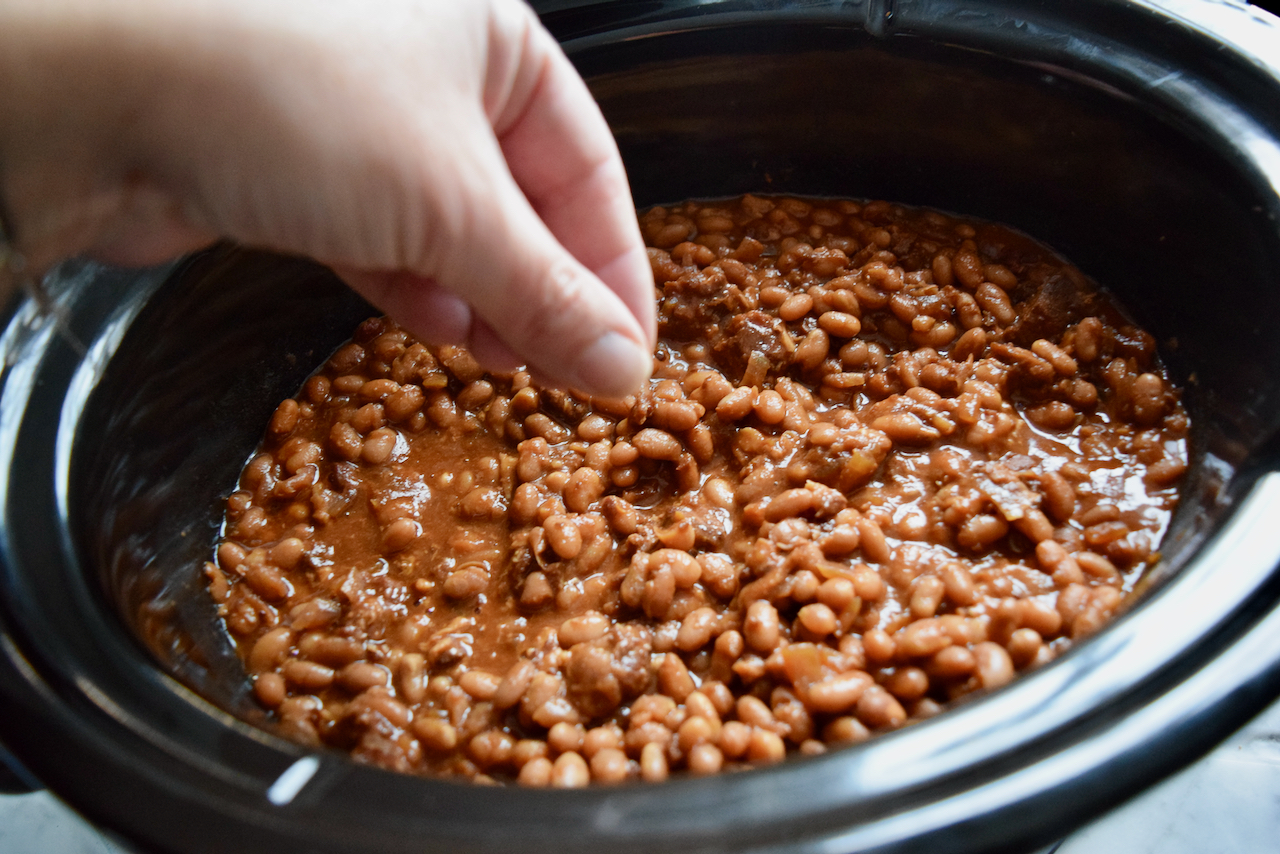 When your bacon infused beans are ready, feel free to serve them in any way you wish. If I may be so bold, I can highly recommend serving your beans on buttered toast, topped with a crisp, but still runny, fried egg. Rustic food at it's best.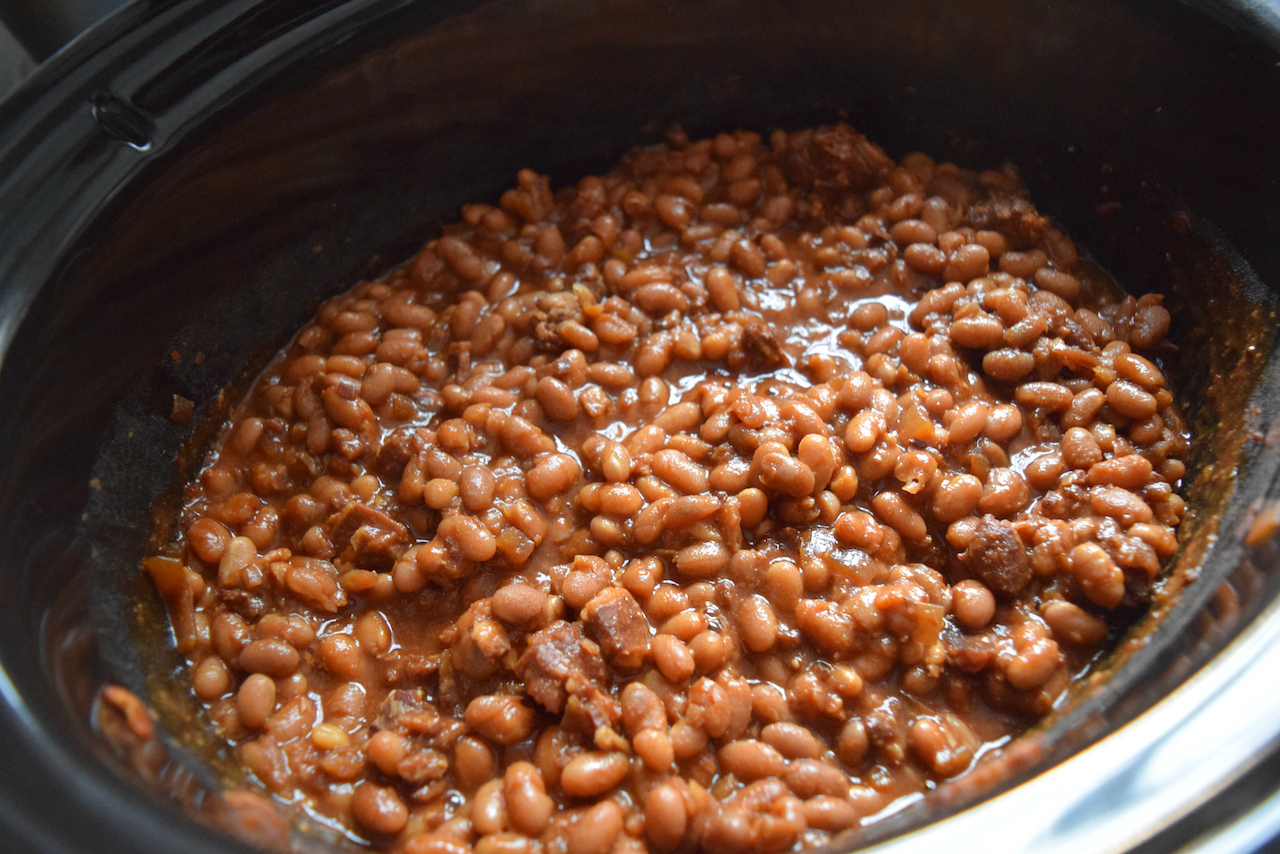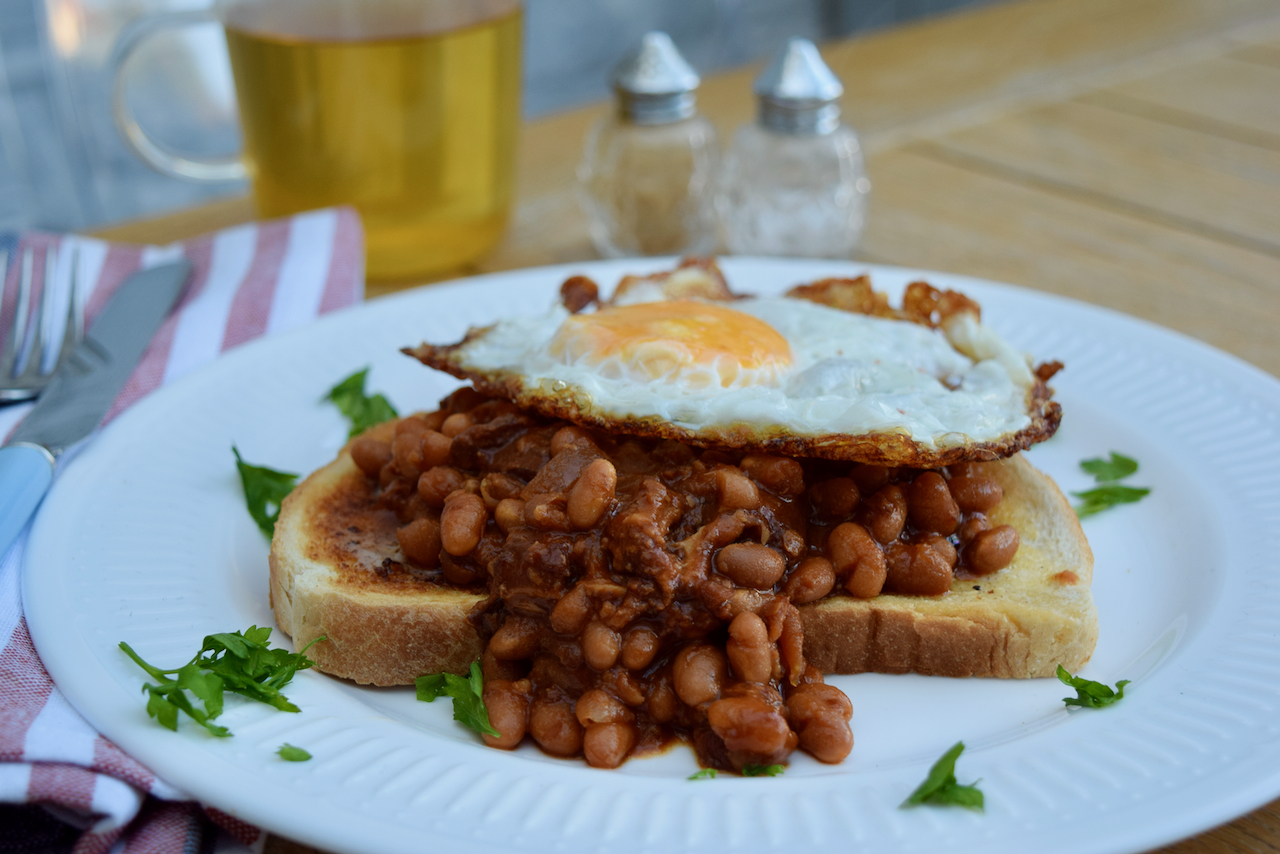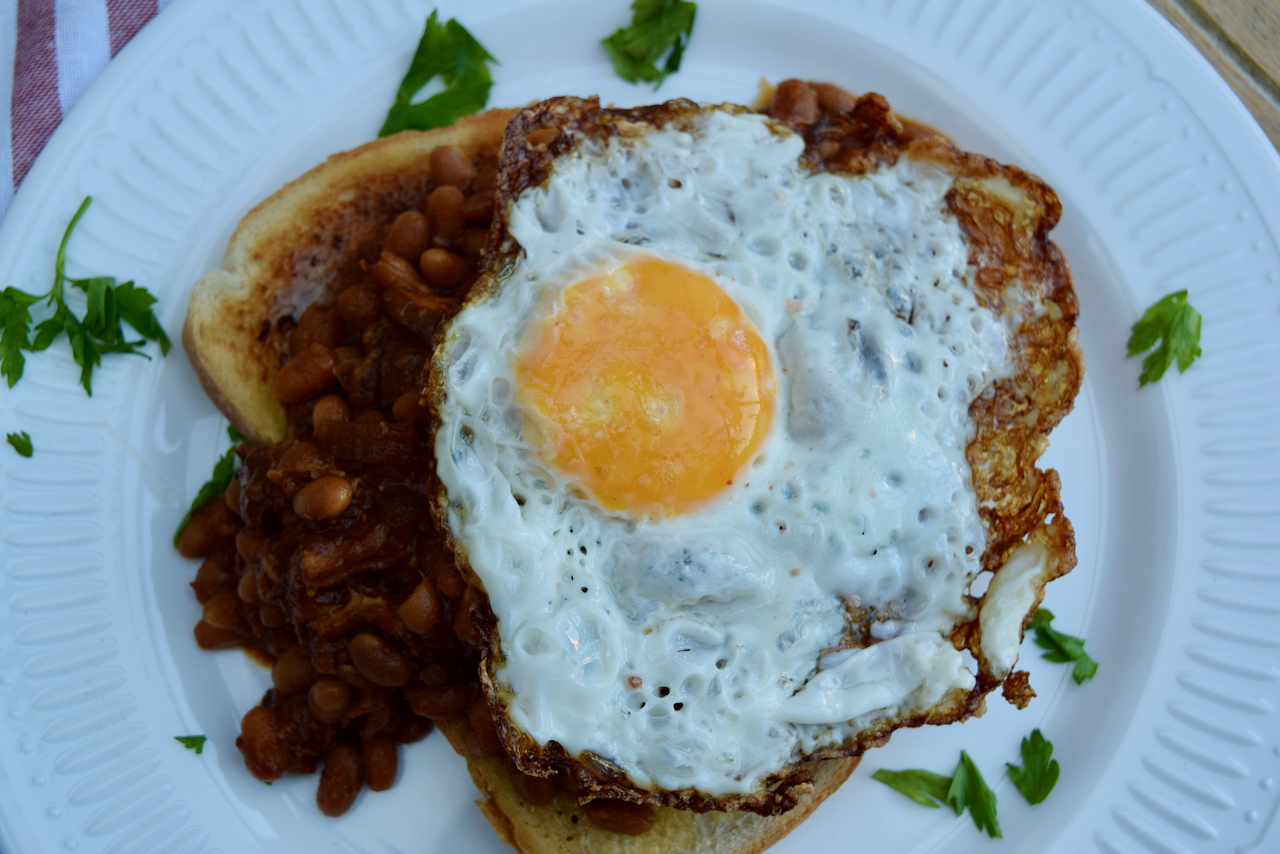 It's freezing and I'm permanently starving. A bowl of these protein laden, flavourful Slow Cooker Bacon Baked Beans are not only going to lift your spirits, they are going to keep you going through this busy time of year. They may give you a touch of wind too, but that's a bean based standard.
Lucy x
Slow Cooker Bacon Baked Beans Recipe
Serves a generous 6
You will need a slow cooker
500g white beans, cannellini or haricot are good
500g back bacon, roughly chopped
1 medium onion, finely chopped
140g tomato puree
80ml black treacle
50g soft brown sugar
1 tablespoon apple cider vinegar
1 tablespoon mustard, English or Dijon, or any you have to hand would be fine I imagine
750ml water
1 teaspoon salt
Black pepper to taste
Serve these how you like, on toast, as a warming side, it's up to you
Start this dish the night before by soaking your white beans in plenty of water for at least 12 hours.
The next day, drain your beans, and switch your slow cooker on to low. Chop your onions and bacon. Spread the bacon over the base of your slow cooker bowl. Tip on the drained beans then cover with the chopped onions.
To make the sauce, whisk together the tomato, black treacle, brown sugar, vinegar and mustard. Gradually whisk in the water then pour this mixture over the beans and bacon mixture, but do not stir. Pop the lid down and cook on low for 6 to 8 hours. Check on the beans from 6 hours, seasoning with the salt and and some pepper. The beans are ready when they are creamy and soft and well combined. Stir well and serve.
Enjoy piping hot, on toast with a fried egg or as a delicious side to any dish.
Leftovers will keep in the fridge for 5 days or these beans freeze well for a couple of months.