English Mojito Recipe
When I was looking for an predominantly English cocktail to celebrate St George's Day, who knew there was such a cocktail as the English Mojito. And as soon as I saw the word 'Gin', I knew this was the drink for me.
I had a slightly unpleasant *drank 9 of them* incident with regular Mojito's at a 30th Birthday party some years ago and haven't been able to enjoy one since. But with the fragrant inclusion of both my beloved Gin, and cucumber, this English Mojito is now my Mojito du jour. The muddled cucumber, mint, lime and sugar create the most wonderful flavours which are then complimented by the gin and made into a longer drink with the addition of soda.
I have to say, I found it hard not to gulp the whole glass down, without so much as a toast to St George. But I showed a moment of restraint and sat back and enjoyed this wonderfully scented Spring cocktail.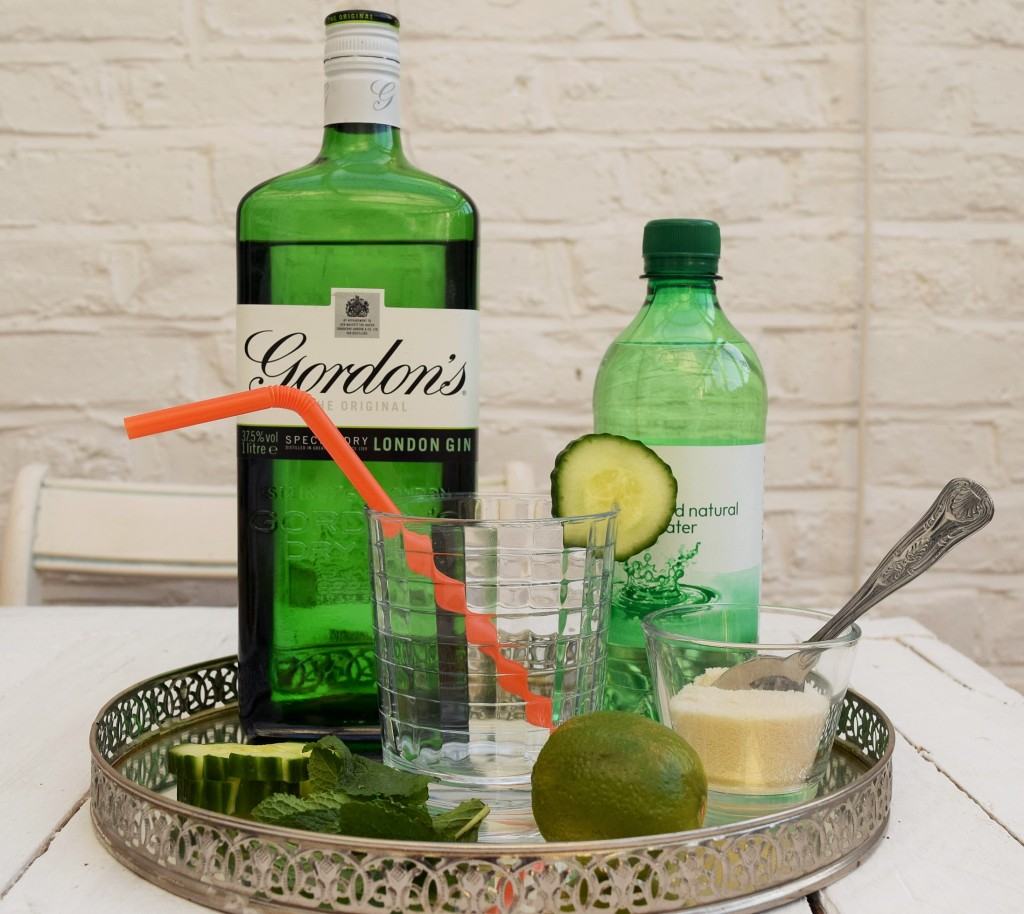 Here is the very green line up for the English Mojito. Yummy Gin with fresh mint, cucumber and a slightly tired looking lime. The recipe called for half a teaspoon of sugar, but if you prefer a sweeter drink, do add a little more.
Start by taking a good sized tumbler. Finely chop two slices of cucumber and add this to your glass.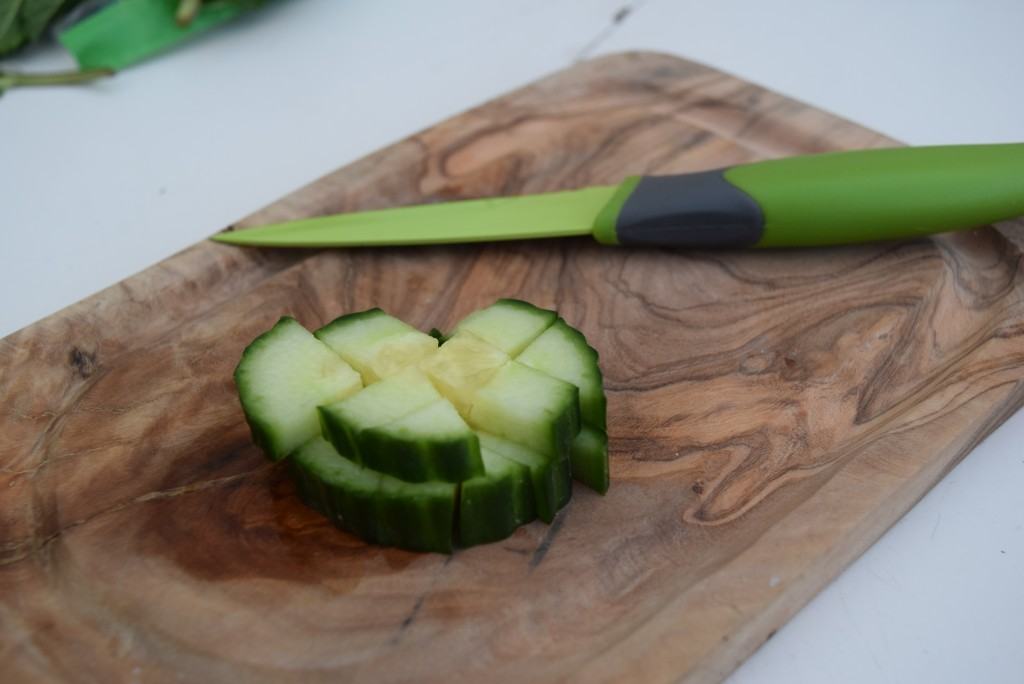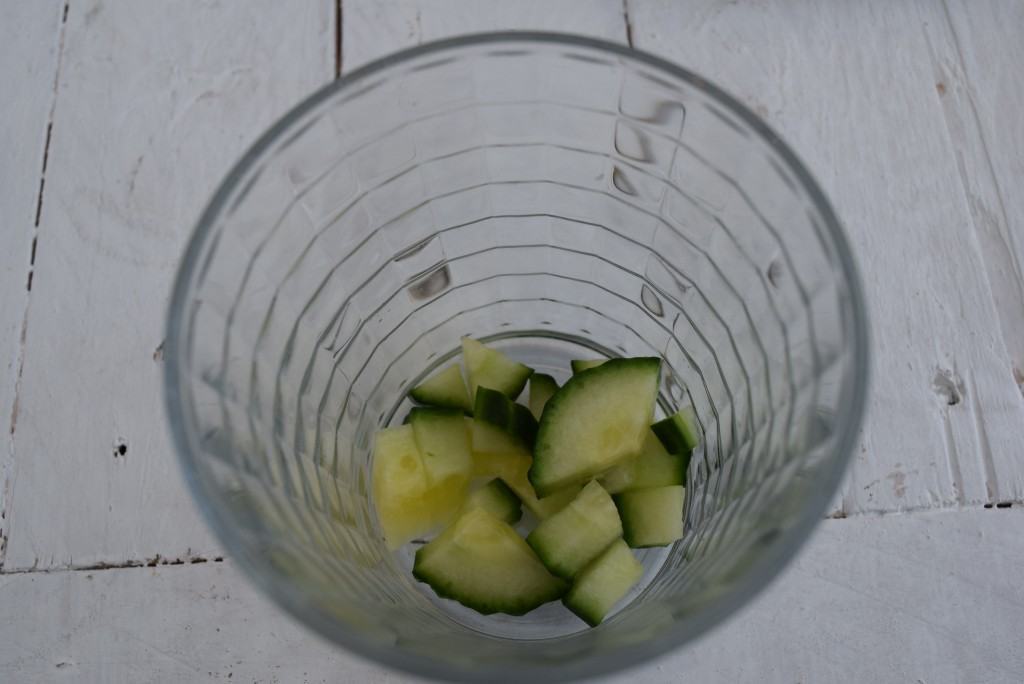 Cut the lime into wedges and squeeze the juice of two of them into the glass then add the wedges too.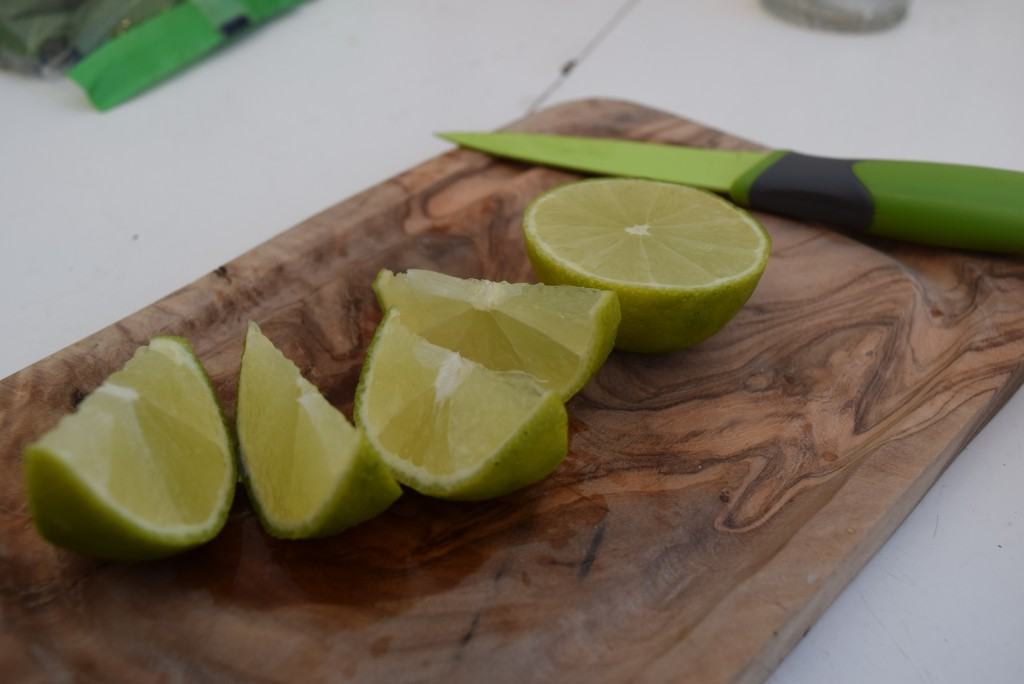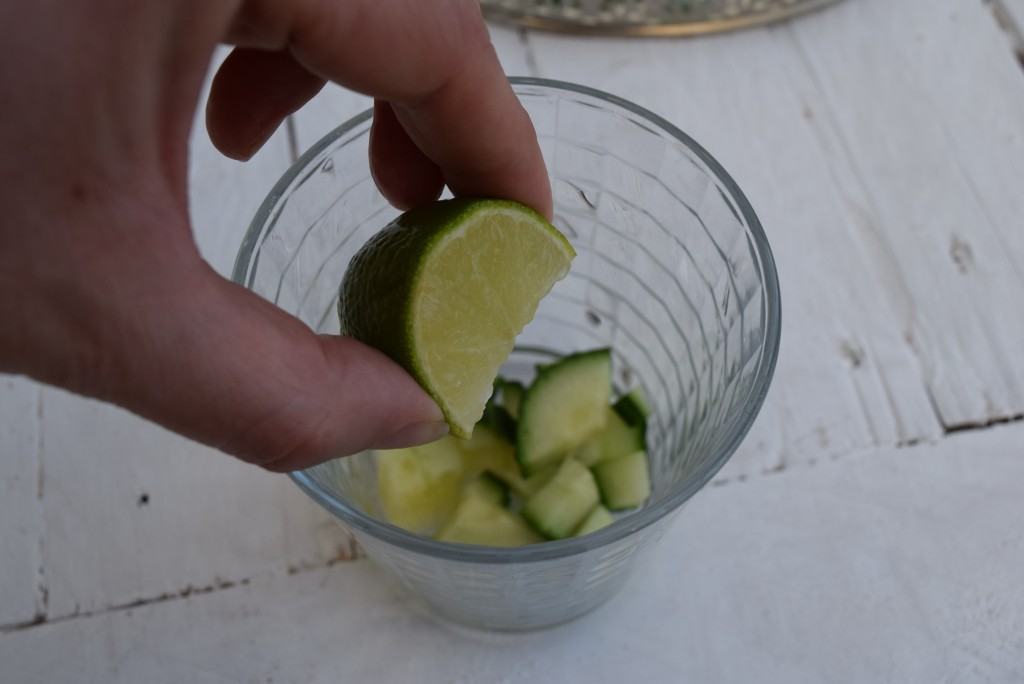 Then add the scented mint leaves and the half teaspoon of sugar.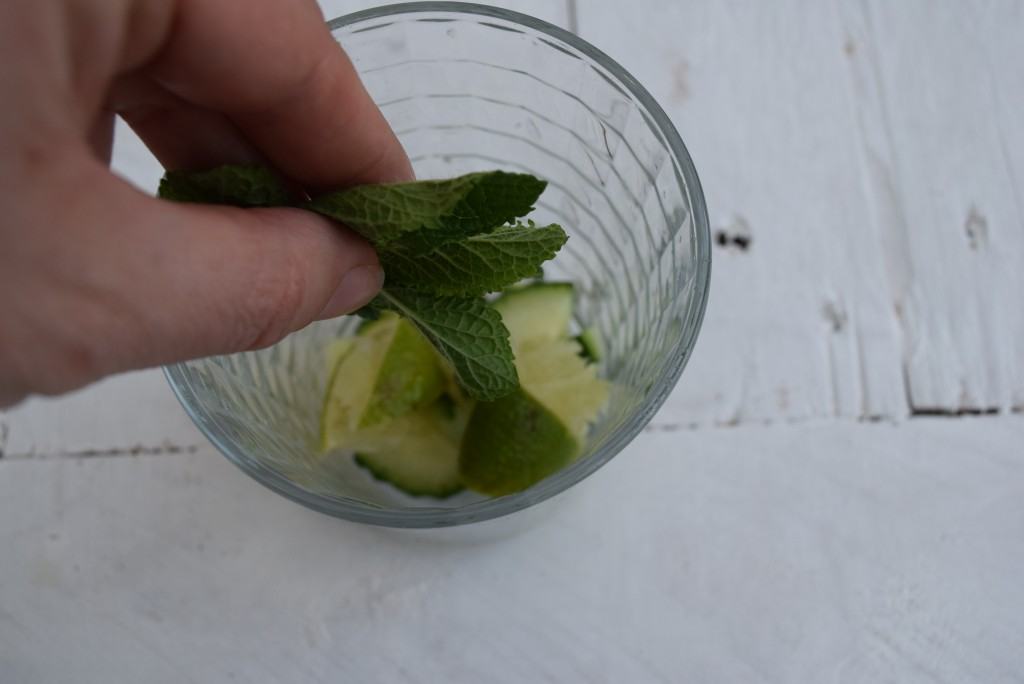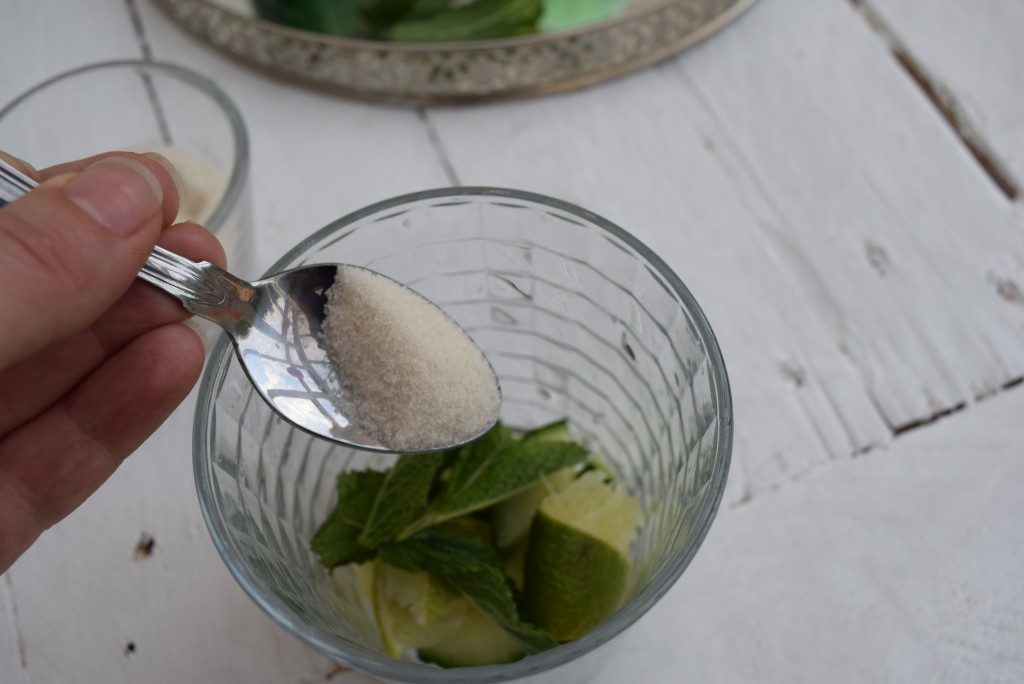 Muddle all these wonderful flavours together with some sort of muddling implement. I used my wooden juice reamer. Mix them all together for around 30 seconds or until the juices and flavours are released.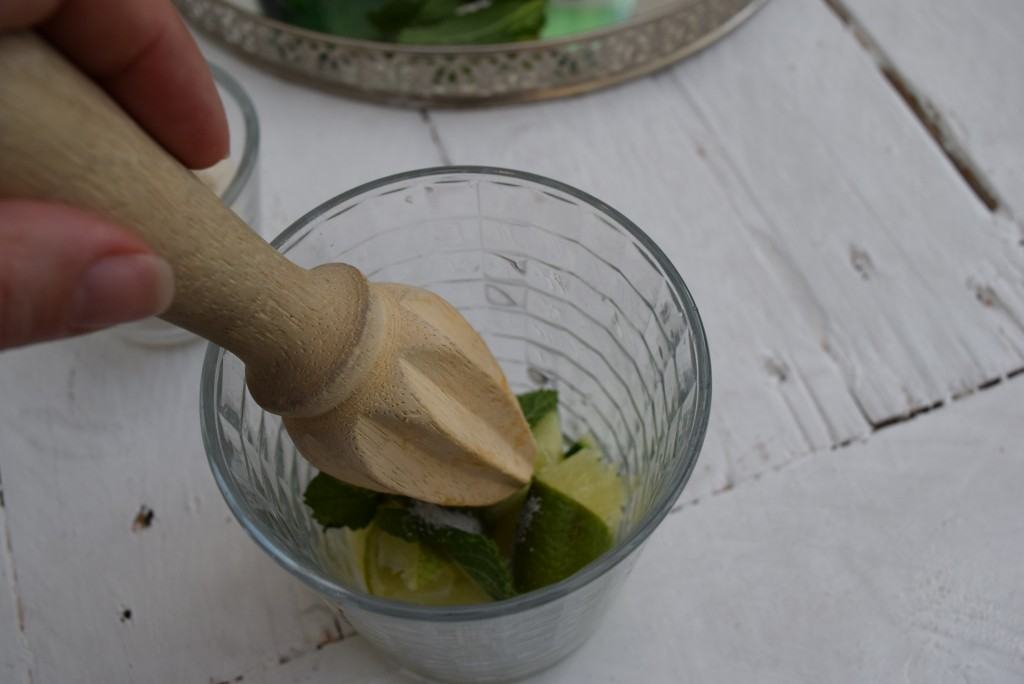 Next, add some ice, crushed if you have it – I didn't- and then pour on the shot of gin.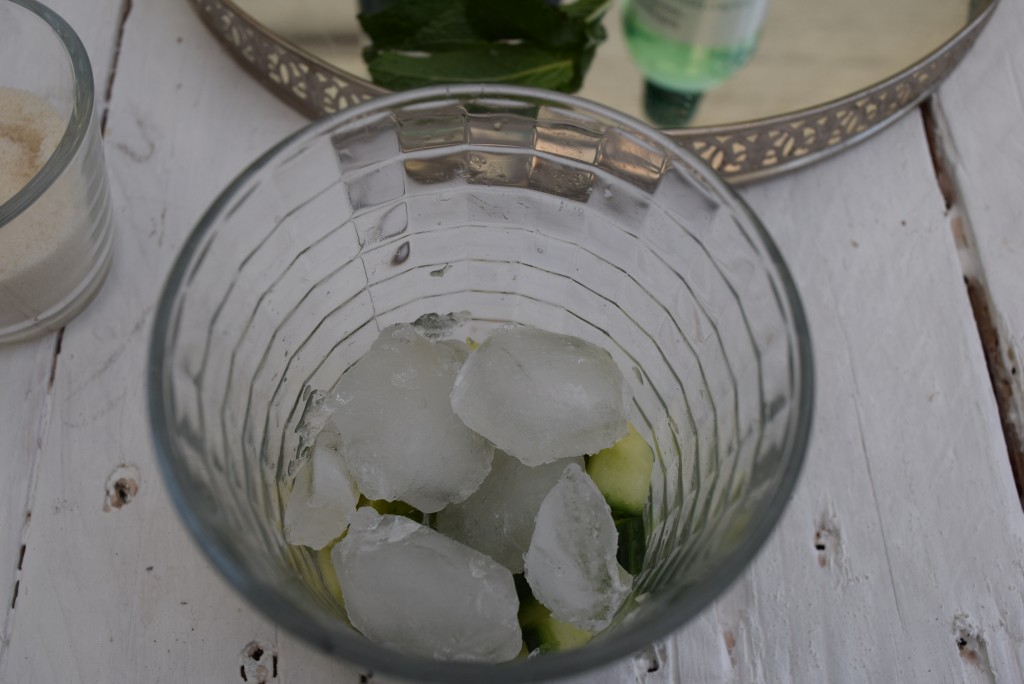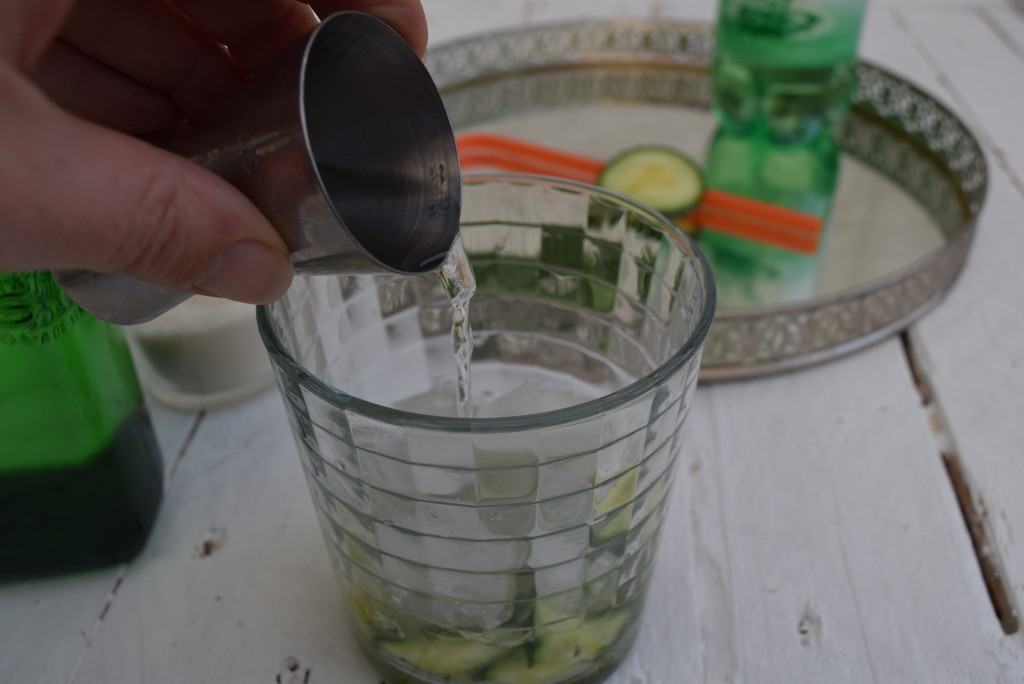 Top up with soda or fizzy water and give it a good stir.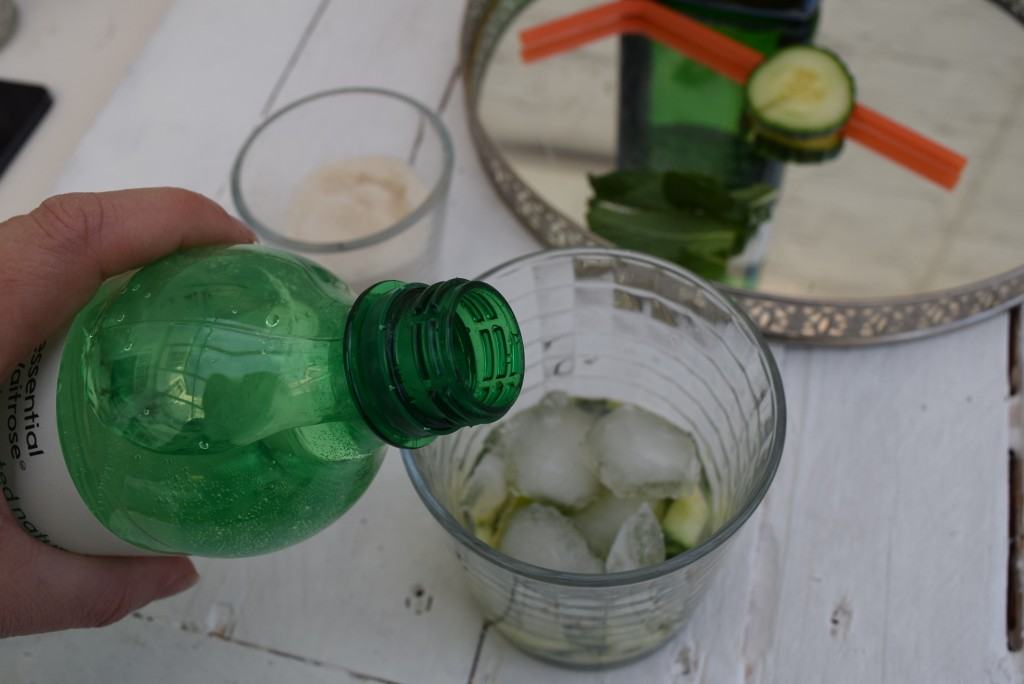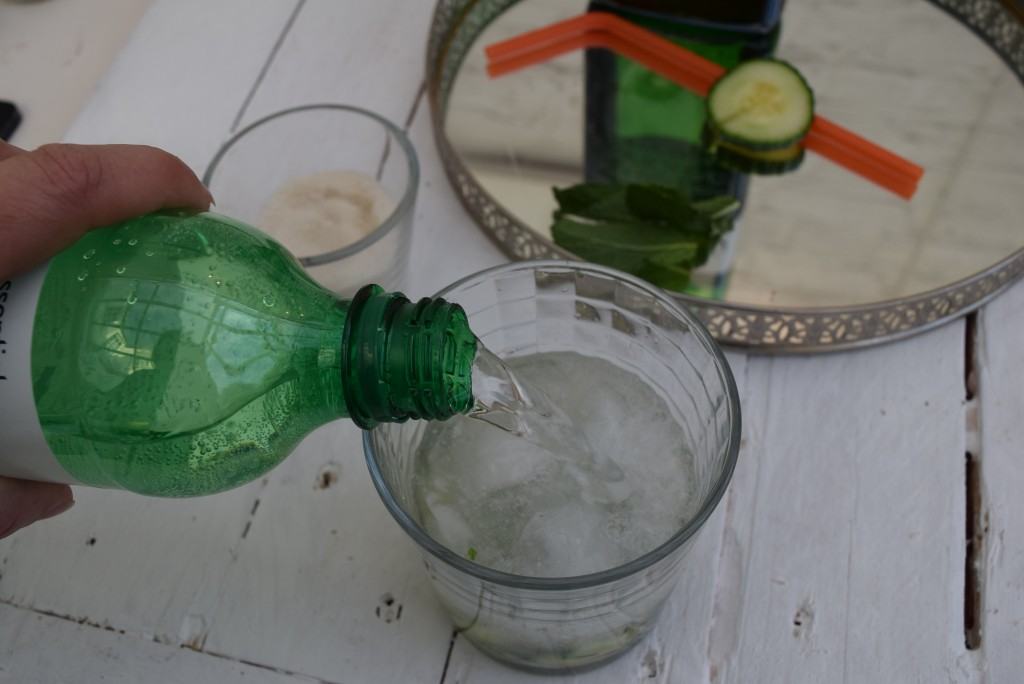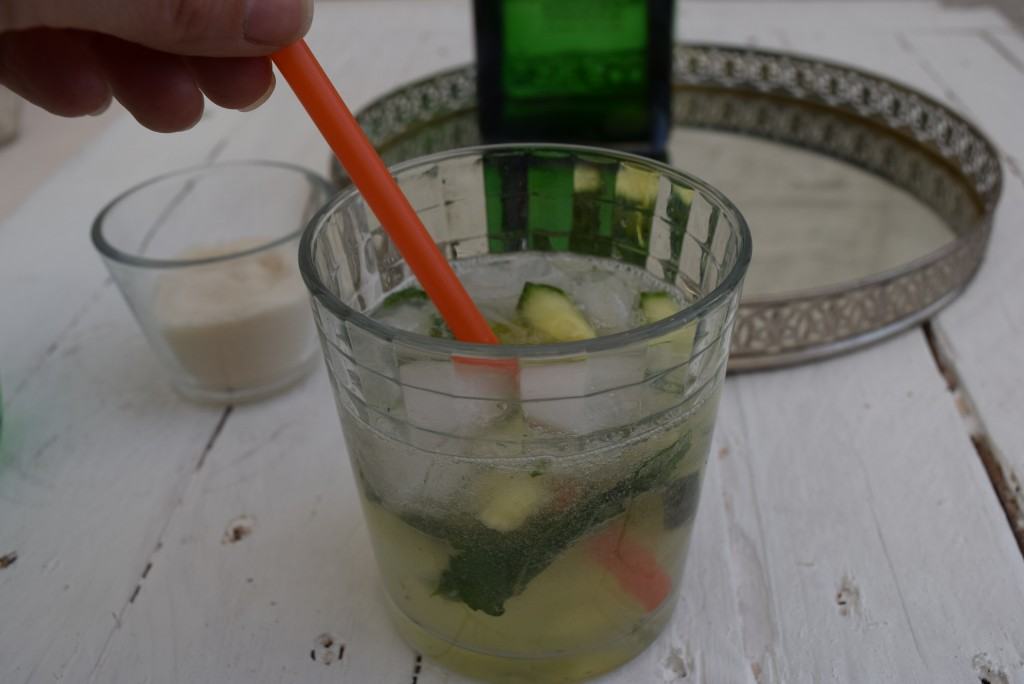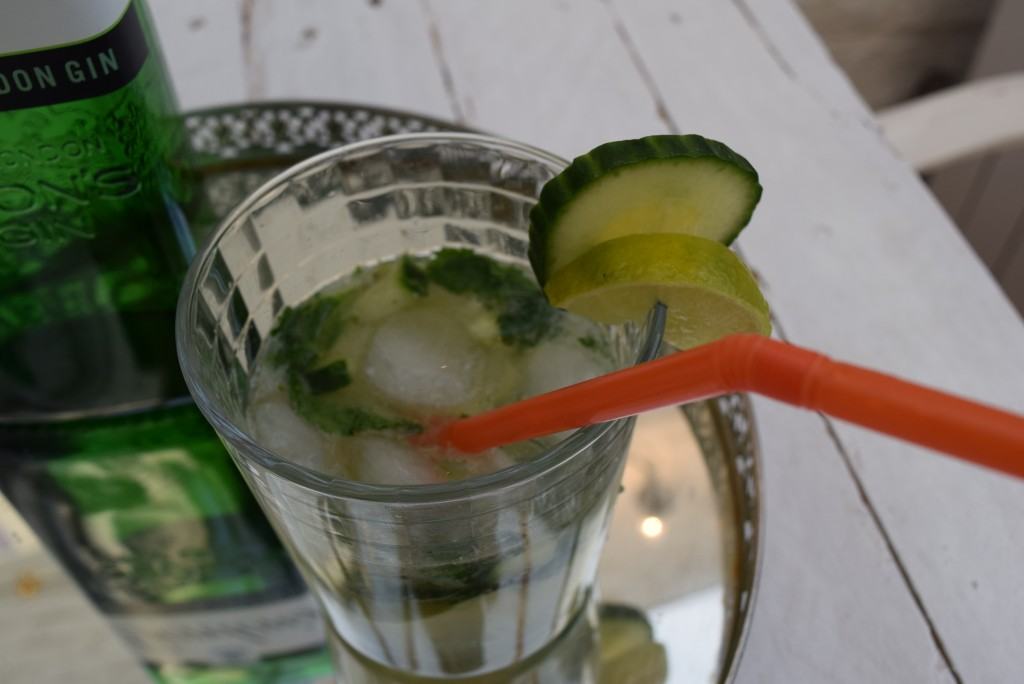 And that's it. Just a slice of cucumber and lime garnish then your English Mojito is ready for your full attention.
Please note the nearest thing I had to a St George's flag was a red and white striped napkin – lame, apologies.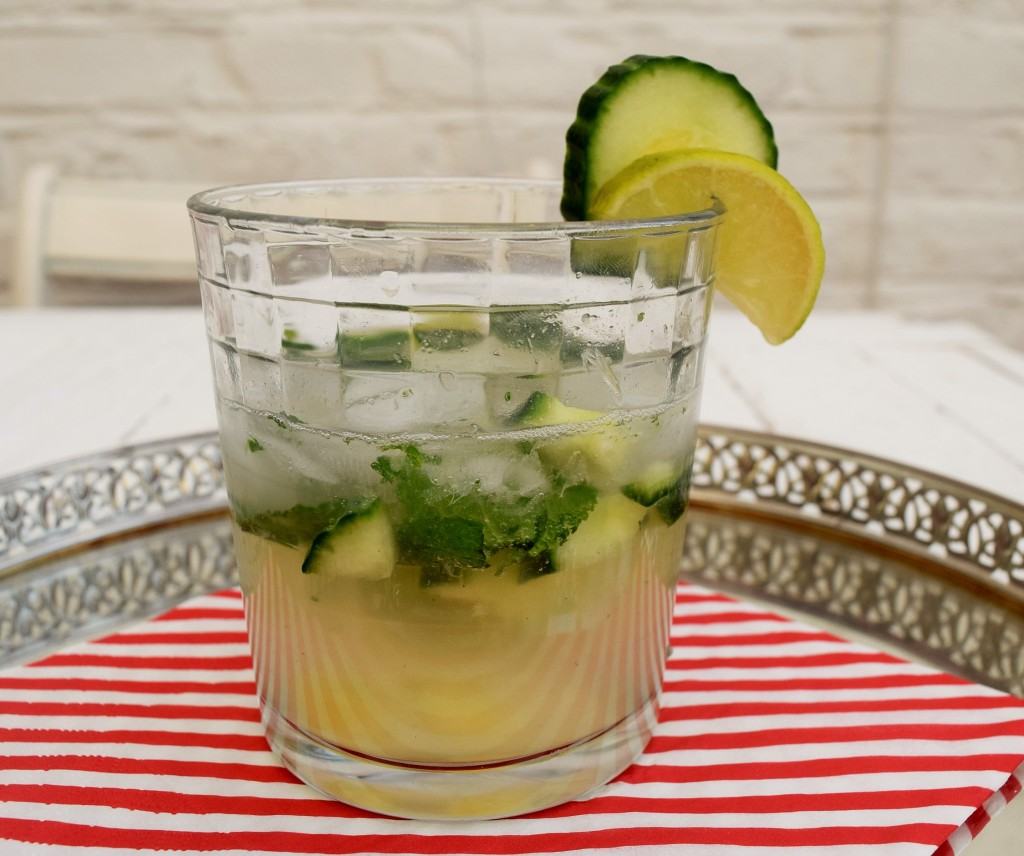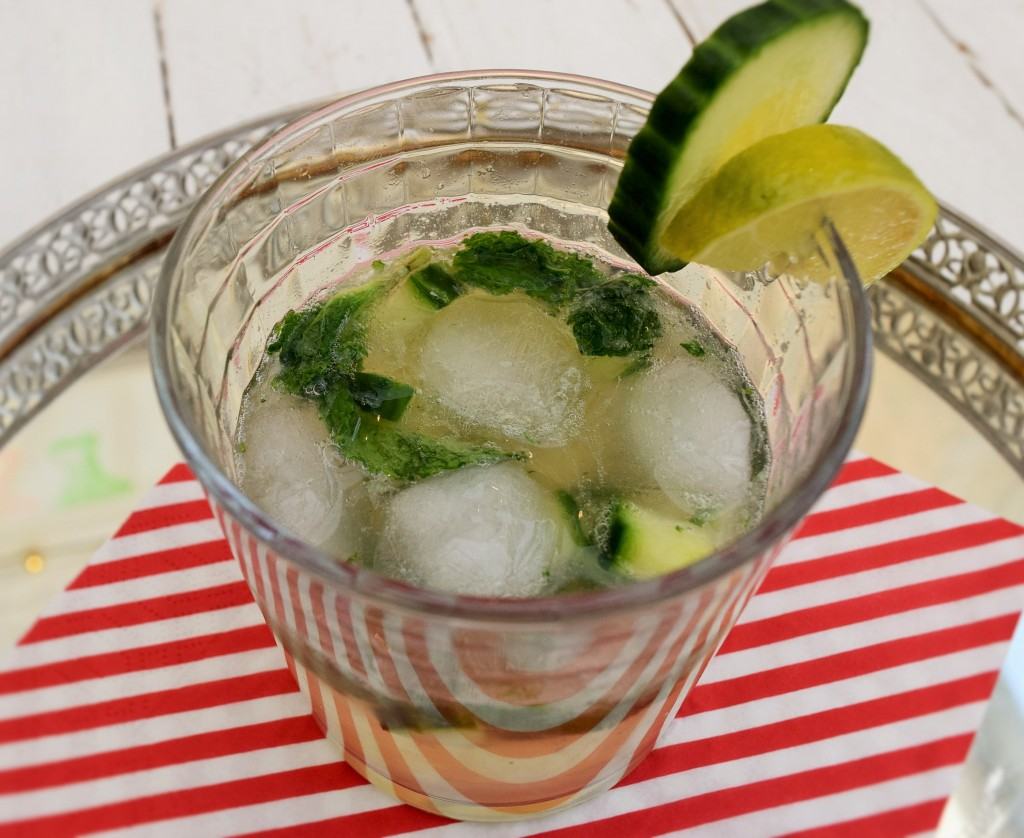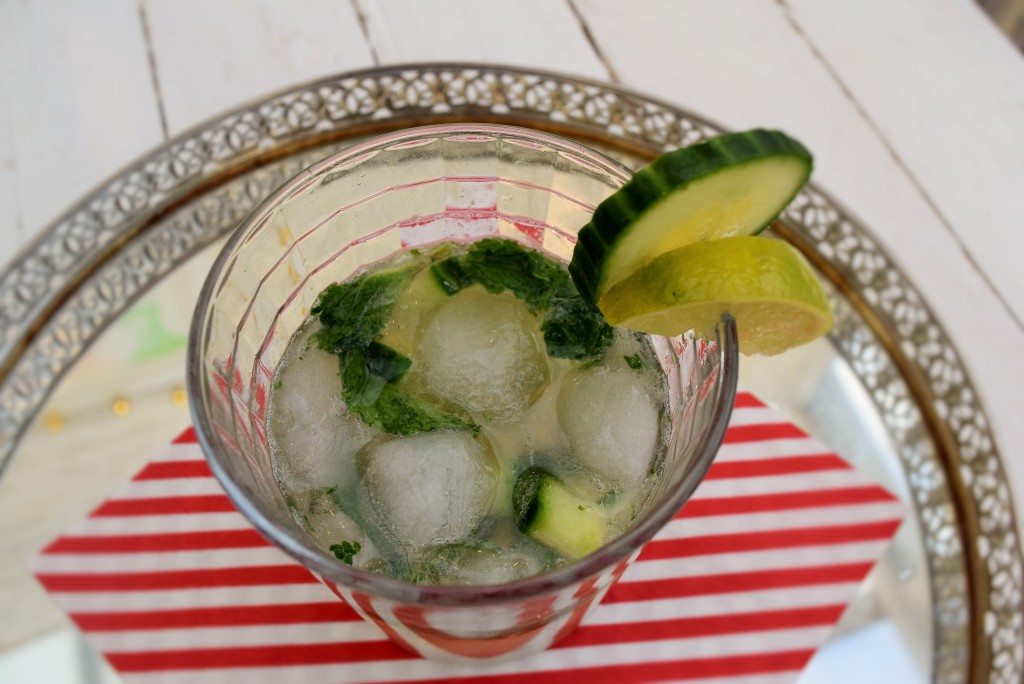 So raise your glass to St George, and enjoy this refreshing, simple, fragrant cocktail. And raise your glass to celebrate the safe arrival of another Cocktail Friday.
Have a wonderful weekend.
Lucy x
English Mojito Recipe
Serves 1
You will need a tumbler and something to muddle with
50ml Gin
1/2 teaspoon caster sugar, or a little more if you prefer a sweeter cocktail
2 slices of cucumber, chopped into small pieces
2 wedges of lime
5 mint leaves
A handful of ice
Soda or fizzy water to top up
Lime and cucumber slices to garnish
Take a tumbler and add the chopped cucumber. Squeeze in the juice from the two small lime wedges, then add the wedges to the glass too. Follow in with the mint leaves and caster sugar. Muddle this together for about 30 seconds until the mixture becomes fragrant and well mixed. Add the shot of gin, ice and then top up the glass with soda water. Give it all a good stir, garnish with an additional slice of cucumber and a wedge of lime and try not to drink in one gulp.