Frozecco Cocktail Recipe
Do I want a bottle of Prosecco to make their wonderful frozen fruit cocktail said Aldi? Oh go on then, you've twisted my arm. Who in their right mind would say no to Prosecco, not me, who still hasn't tired of this super drinkable fizz. Despite all the headline grabbing stories regarding Prosecco shortages, Aldi still have plenty of their delicious Valdobbiandene Prosecco Superiore and it comes highly recommended and not just by me, it has a five star rating and is only £7.99 a bottle. Coupled with some frozen, fragrant strawberries, fresh orange juice and honey today's Friday Cocktail, the Frozecco, is beautifully timed for a balmy start to the weekend.
Frozen cocktails are all the rage. We have been making frozen Margherita's all summer long for our bridal clients at William Norris and even hired slushy machines to serve them from. This Frozecco is much simpler though and only requires a blender or NutriBullet. You only need to remember to freeze your strawberries in advance then pop them in the blender with the fresh orange juice and honey, blitz, then top up with your heavily chilled Prosecco. The original recipe suggested blitzing the Prosecco too, but I didn't want to completely overshadow the wonderful fizz, so used it to top up afterwards. The strawberries and the Prosecco work so well together, with their fruit based flavours. After the oppressive temperatures we've had in London this week, this Frozecco is a welcome addition to your cocktail bar this Friday.
I love Aldi and their alcohol based gifts. Just as an FYI, Prosecco and cocktail recipes are definitely the way to my heart. And my head if you have more than one or two of these Frozeccos sitting in the sun.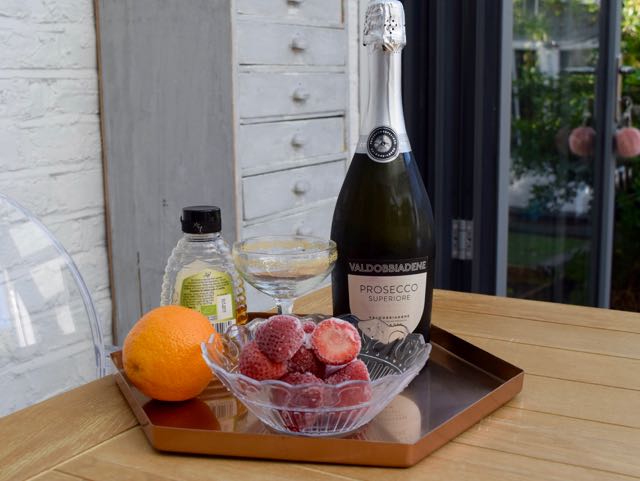 What a lovely fruity, refreshing line up for this week's Friday Cocktail – the Frozecco. I topped my strawberries then popped them whole into a food bag and froze them over night, so no real kerfuffle.
Make a start by taking your food blender or NutriBullet and adding the frozen strawberries.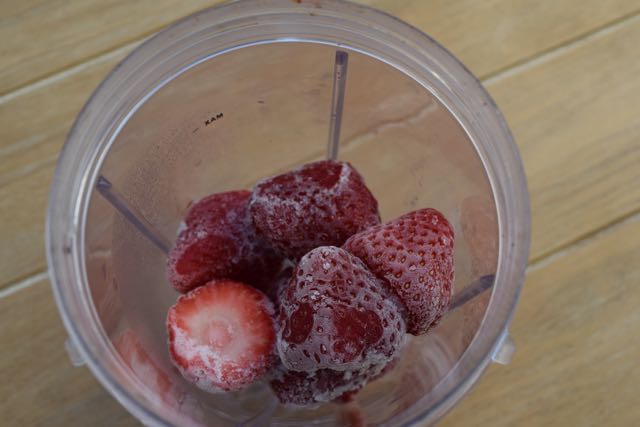 Follow in with the juice of a freshly squeezed orange and a teaspoon of honey.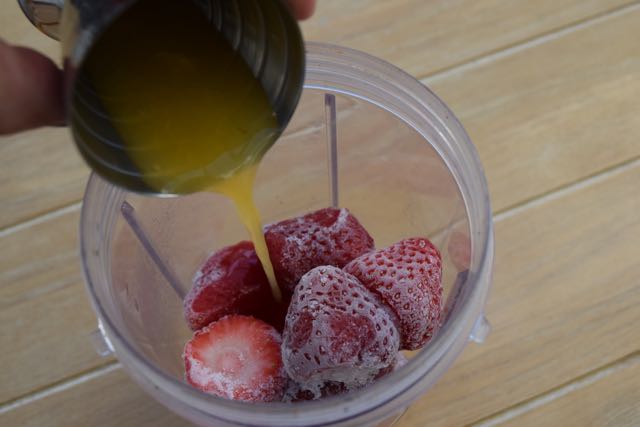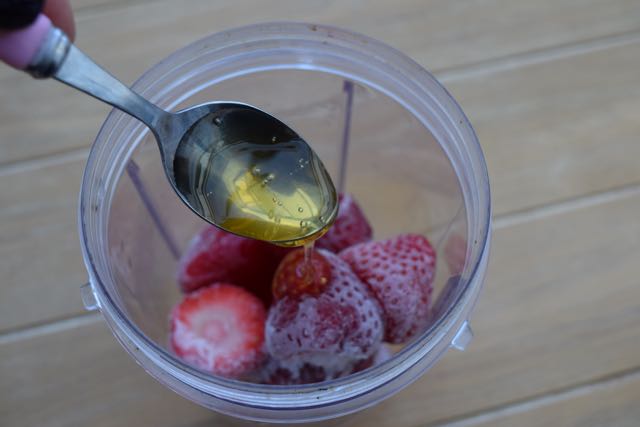 Blend these fresh and fruity ingredients together to form a colourful frozen fruit puree.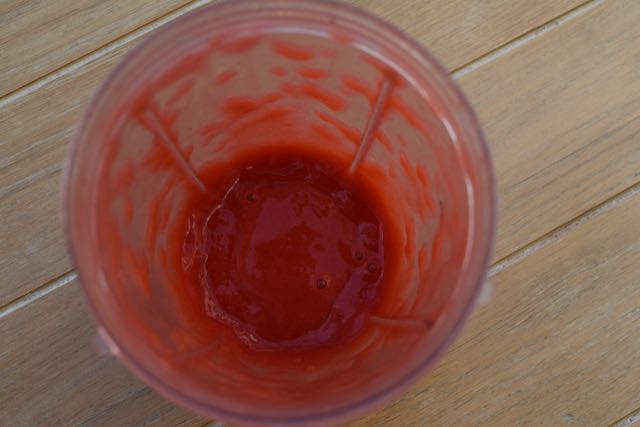 Pour an inch of this slushy into the bottom of a coup or flute glass then slowly top up with your delicious Prosecco.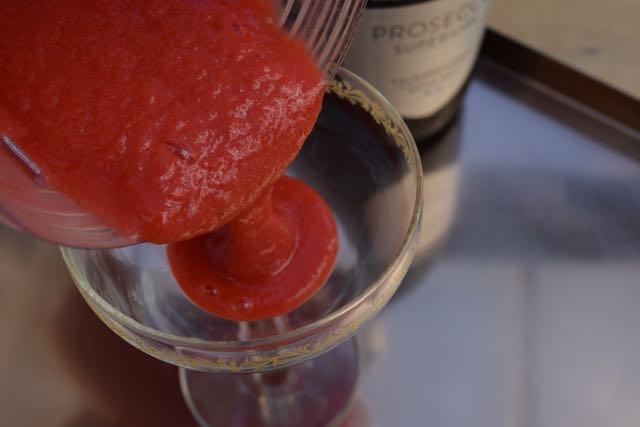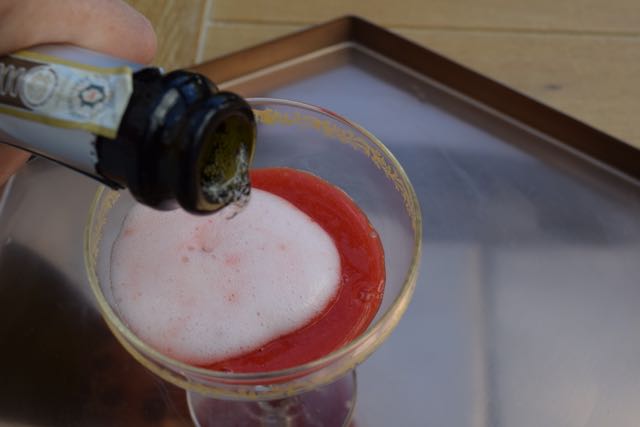 Give it a gentle stir to mix this frozen drink then garnish with a strawberry or slice of orange. Then sip, then almost instantly make yourself another one. Well, once the bottle of Prosecco was open, it seemed a shame to waste it.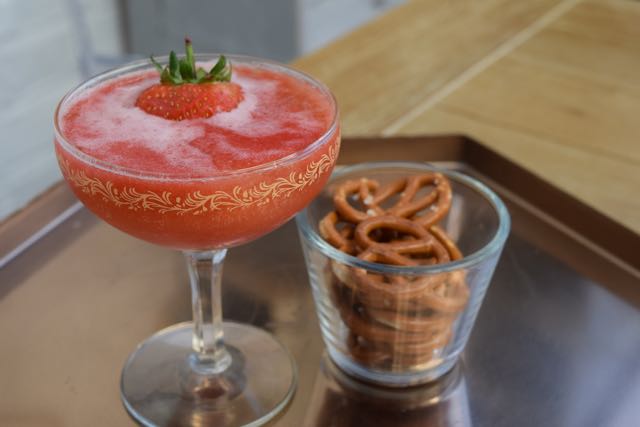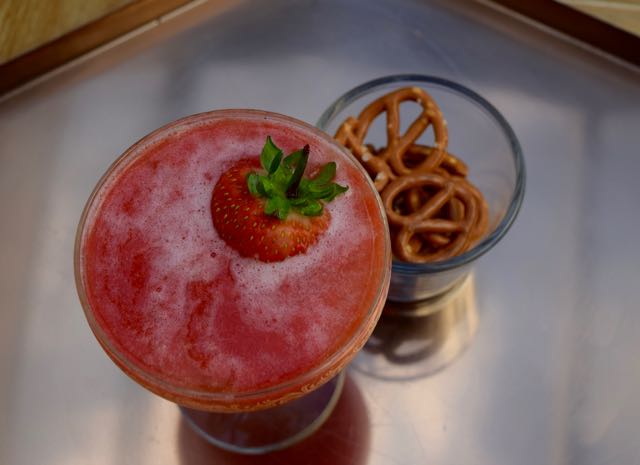 I am definitely the lucky one to receive treats like this in the post. I do feel that I have shared the love with you, vicariously through Lucy Loves, as this chilled, refreshing Frozecco should be in everyone's life on this balmy Cocktail Friday.
Have a restful weekend.
Lucy x
Aldi kindly sent me the Prosecco for this cocktail post, however, all opinions and ramblings are, as always, my own.
Frozecco Cocktail Recipe
This makes enough frozen puree to go with your whole bottle of Prosecco
You will need a blender and a lovely coup or flute glass
150g strawberries, frozen
Juice of an orange
1 teaspoon honey
150ml Valdobbiadene Prosecco Superiore per cocktail
A whole strawberry or an orange slice to garnish
Take your blender or NutriBullet and add the frozen strawberries. Pour in the juice of an orange, the teaspoon of honey then blitz together until you have a smooth frozen puree.
Add an inch of the puree into the bottom of a fancy glass and slowly top up with your Prosecco. Stir gently then garnish with a strawberry or an orange slice. Sip, then pour yourself another one.
SaveSave
SaveSave
SaveSave