Giant Cinnamon Roll Recipe
When I started baking I would, as a rule of thumb, stay away from yeasty recipes, with all their kneading and proving. But over the years, I have realised they are not so tricky after all. And when I came across this recipe, I just couldn't help myself, it looked simply irresistible and super worth a bit of kneading and such. As it turned out, the cinnamon roll was no trouble at all to make, and if you are pottering around at home over the weekend or after school, it can easily fit around you.
I first made this for a dear friend for her birthday and posted a picture of it on Instagram. This led to quite a few requests for the recipe and I have since ended up making the giant roll for various birthdays for friends and  family. It is delicious hot from the oven, drizzled with the vanilla glaze, or even after a day or two, warmed in the oven or microwave for a moment. The recipe hails from Sallys Baking Addiction, she is a complete pro, and has some fab pics should mine not be completely explanatory.
Do give this a go, its wonderful and much easier than it looks, and is so sweet and fragrant.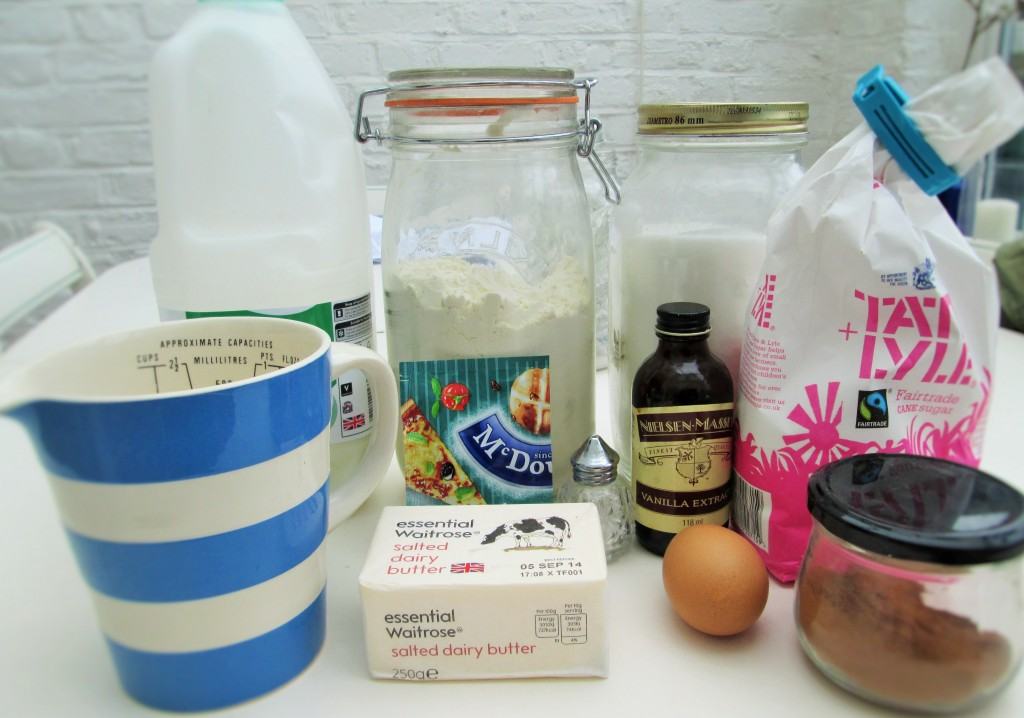 Here are the runners and riders, most things you'll have in your store cupboard. I buy large bags of cinnamon from Tiger as I do rather get through it making this, and a wonderful snickerdoodle blondie – will have to post that for you soon too, its so yum. Take the flour, sugar, salt and yeast and add to a bowl or the bowl of your stand mixer. I couldn't be arsed to get the mixer out so thought I would show you how easy this is to make by hand.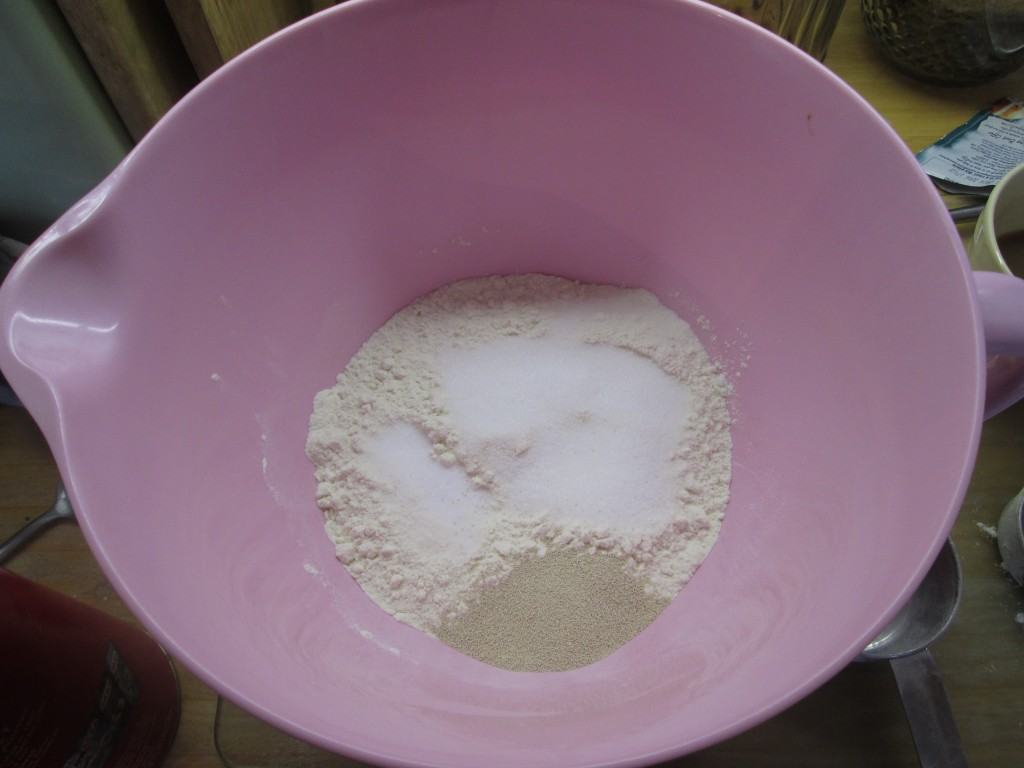 Then measure the water, milk and butter in a jug and pop in the microwave for around 30-45 seconds until the butter has almost melted and the milk/water mixture is hand hot. Stir the liquid until the rest of the butter melts.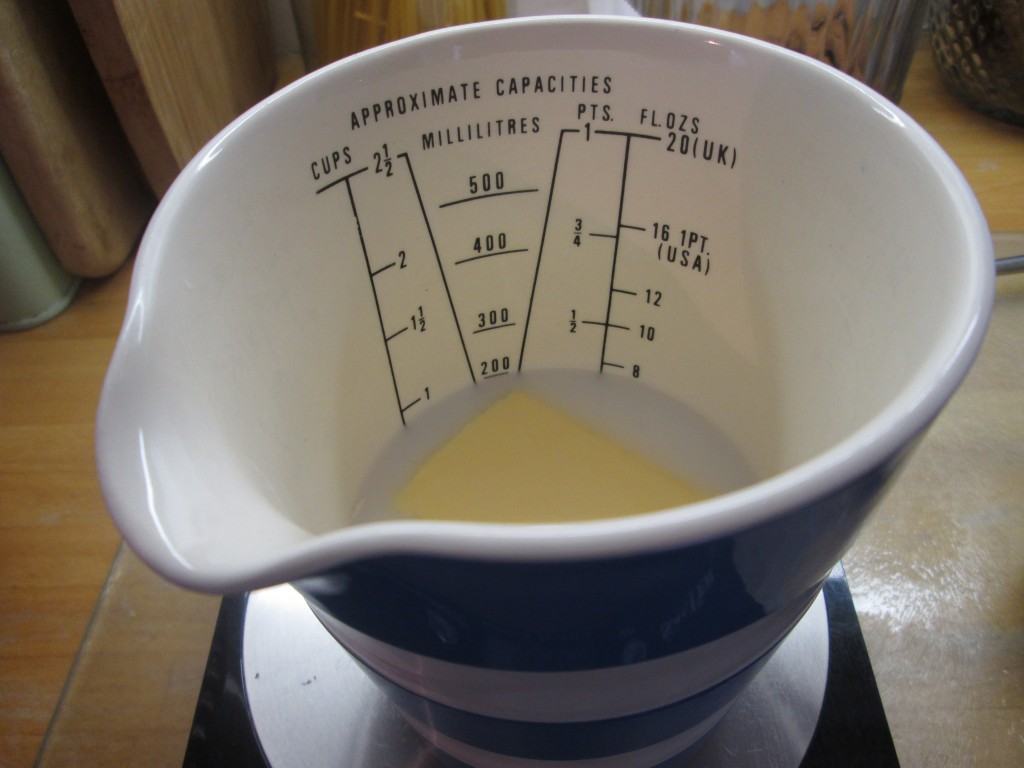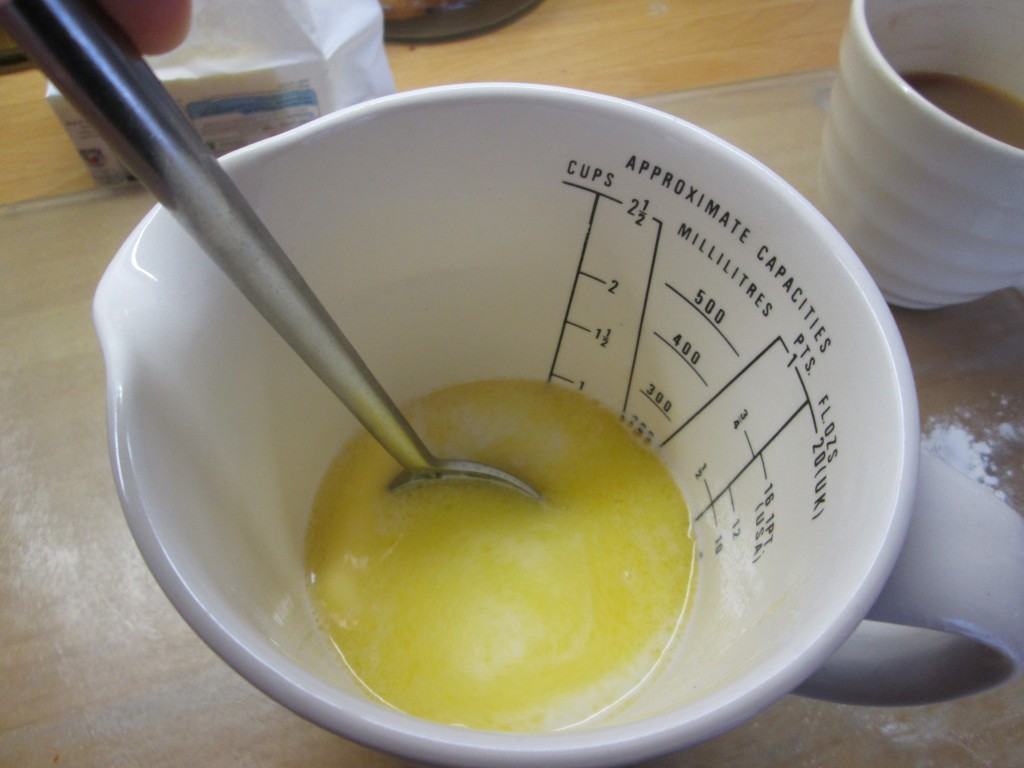 Pour this lovely buttery liquid, with the beaten egg, into the flour and stir with a spoon until the shaggy looking dough comes together.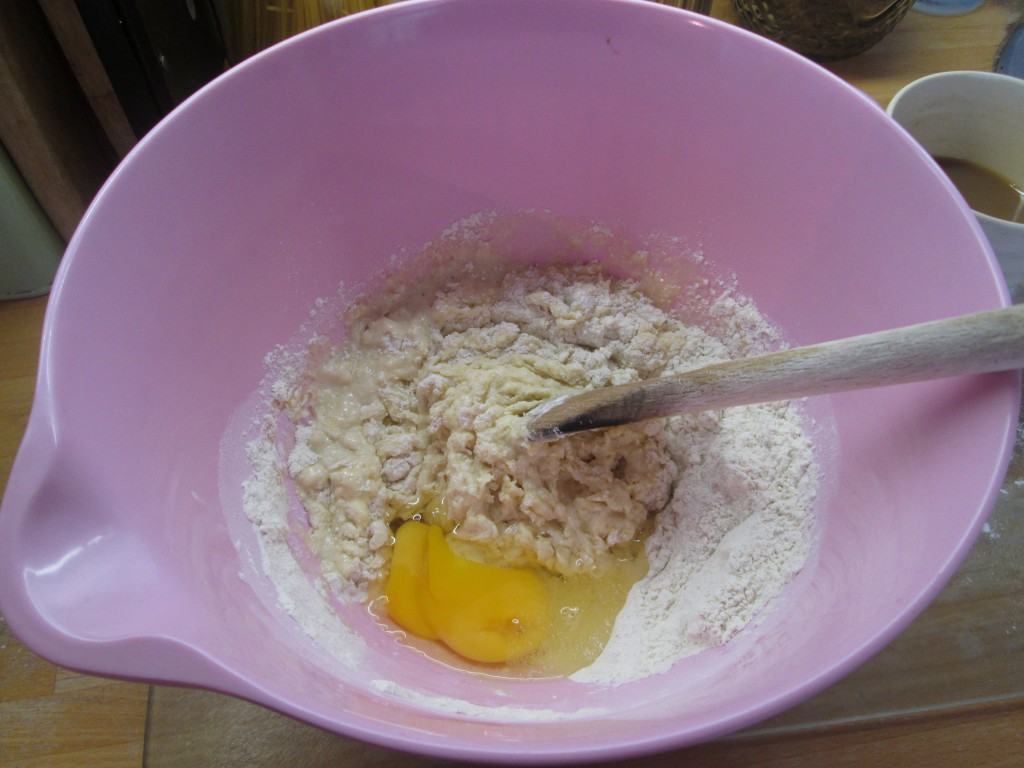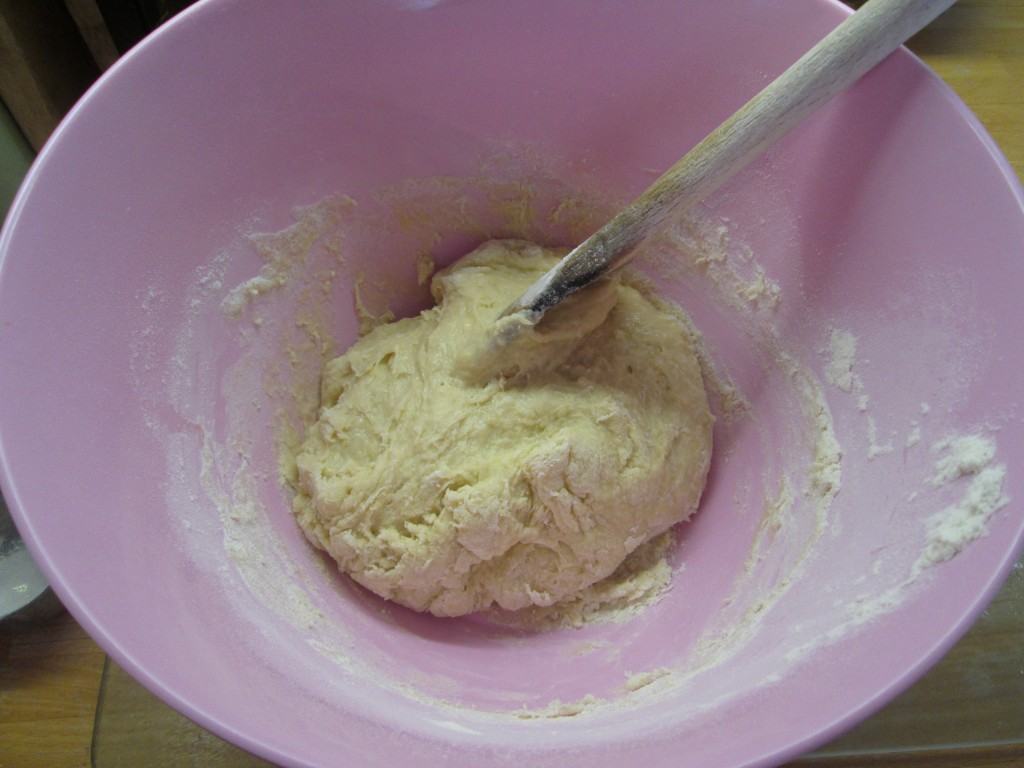 Tip the dough onto a floured work surface and give it a good roll around until it comes together. I had to add a couple of extra handfuls of flour to mine as it was quite wet, but be careful, as the dough needs to be soft not sticky, but also not too dry. Once in a soft ball, knead the dough for 3 to 4 minutes until smooth. At this point I wished I had used the Kitchen Aid, as I had a substantial amount of dough under my fingernails and we were going out that evening, but hey ho, it only took a bit of angle grinding and the dough came off a treat.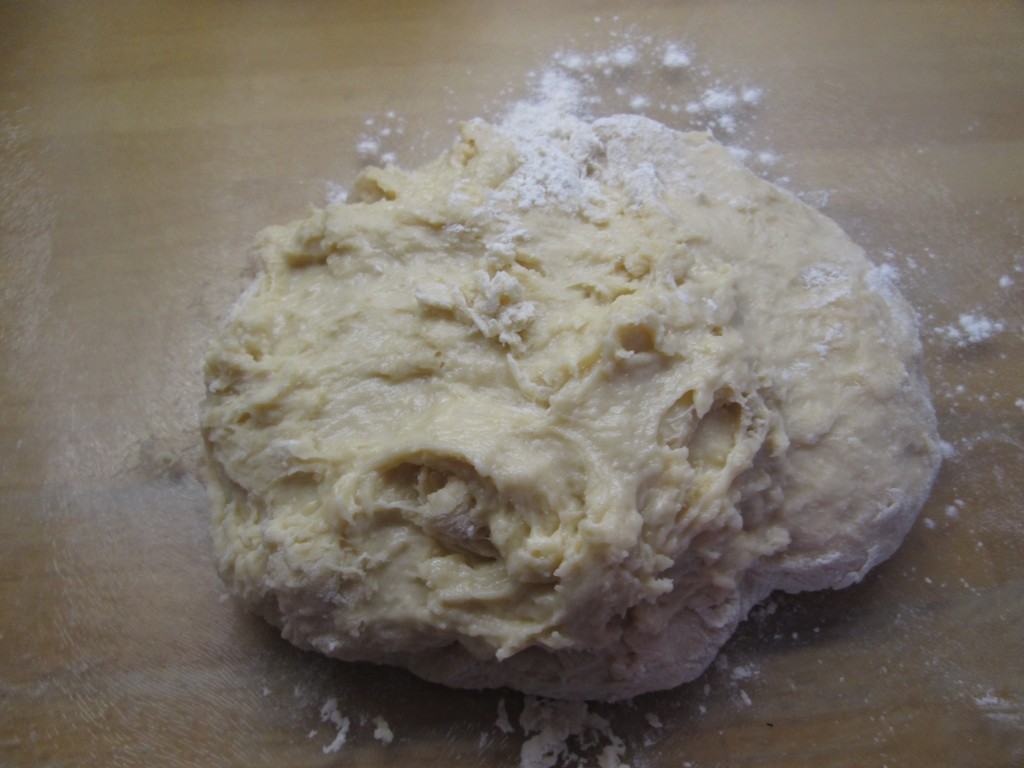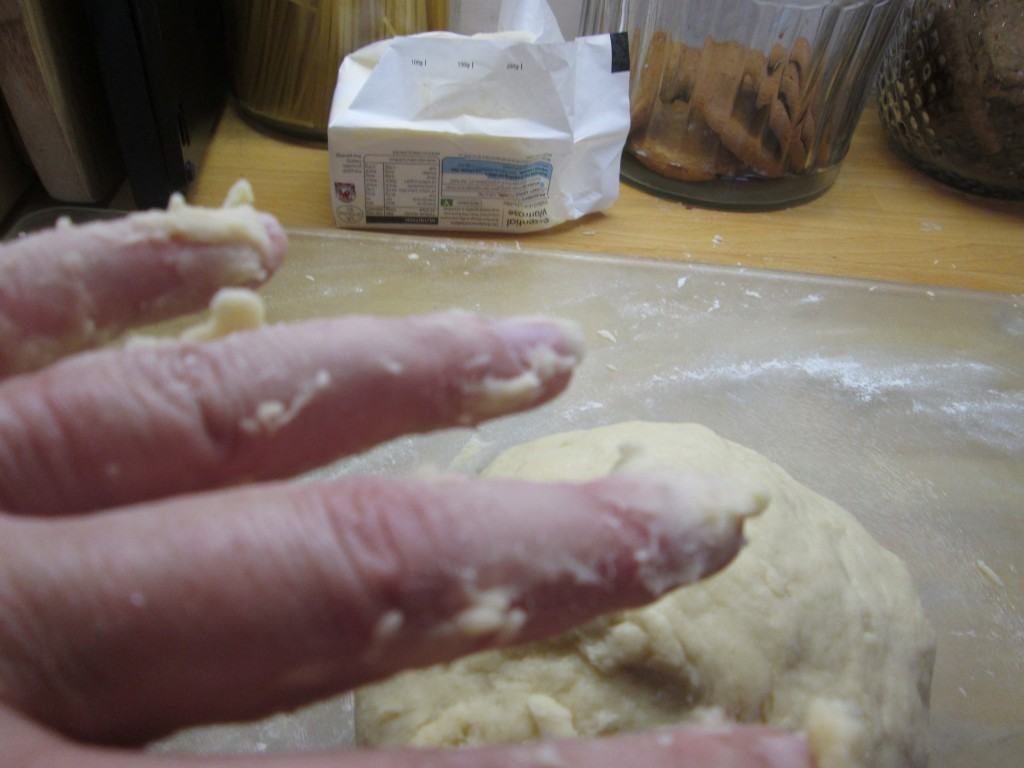 Sorry about the gratuitous sausage finger shot, but I felt it was necessary.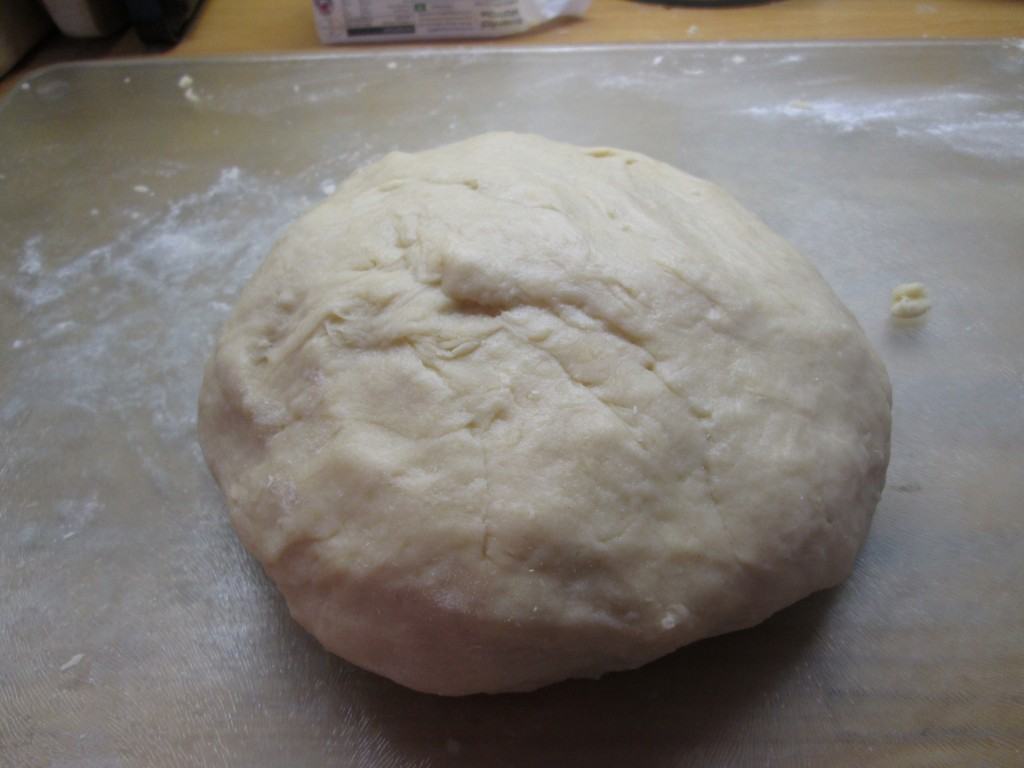 Put a dribble of oil in the bowl you used to make the dough(saves washing it up twice) to stop it sticking, then pop the freshly kneaded dough back in and leave it to rest for half an hour covered with a tea towel in a warm place. No commemorative towel today, this one has George's hand print on it from his day care nursery from about 8 years ago. Yes, I am a horder.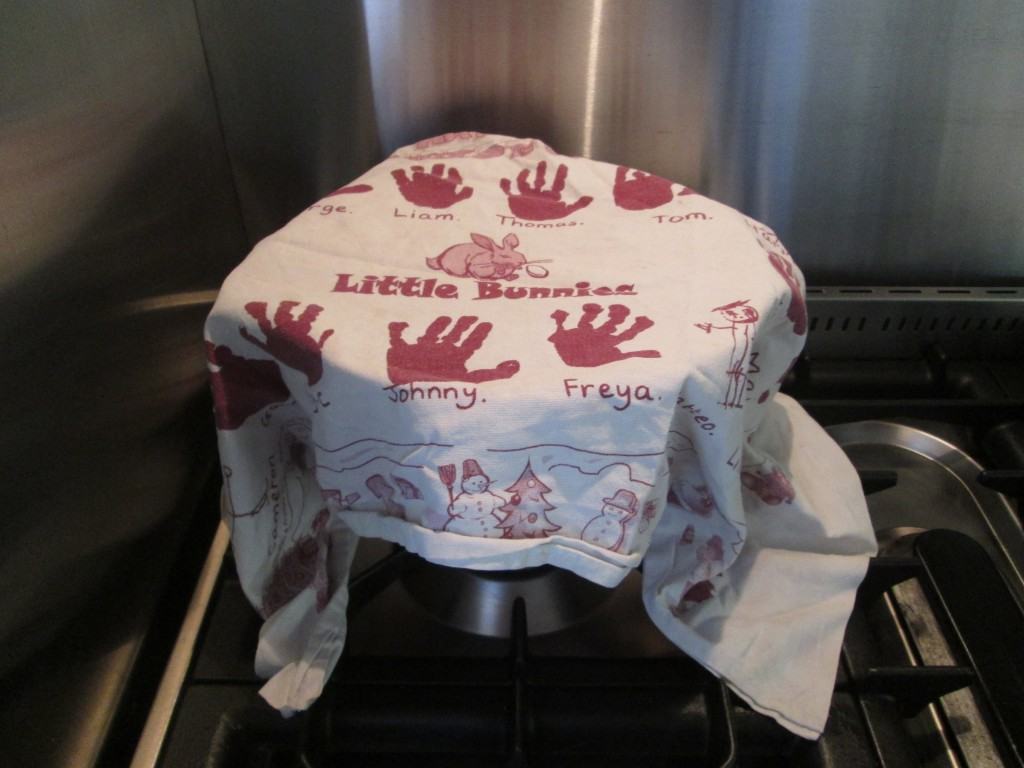 After half an hour, the dough will have risen slightly. Turn it out again onto your floured board and give it another super quick knead. Then form the dough into a rectangle.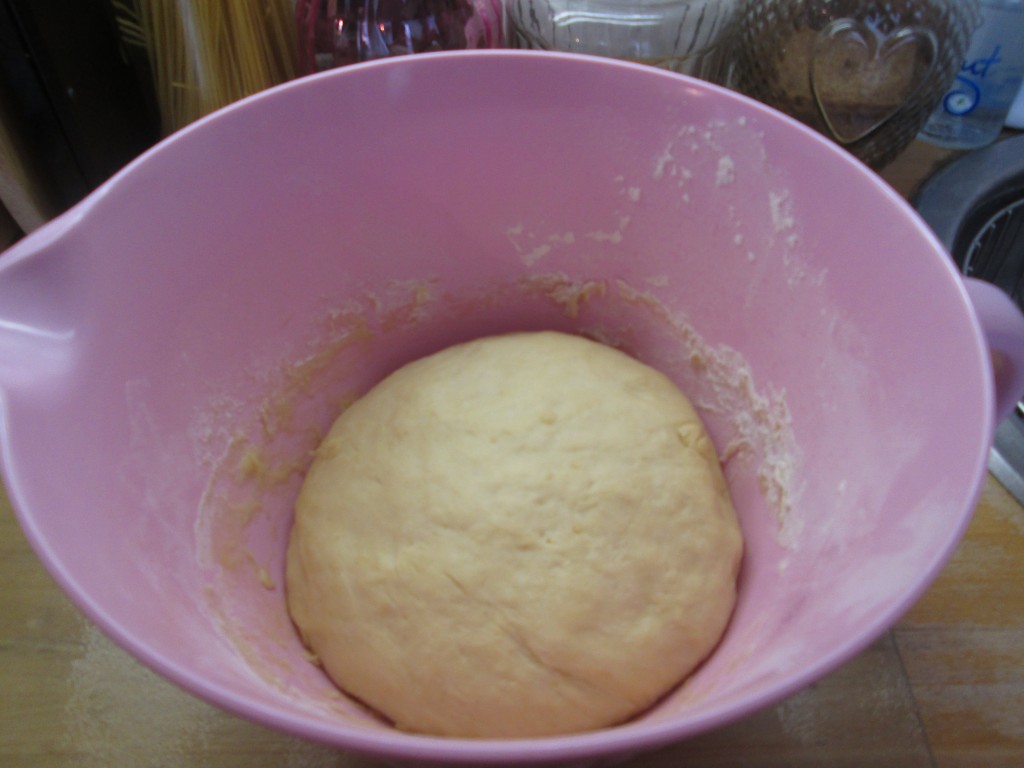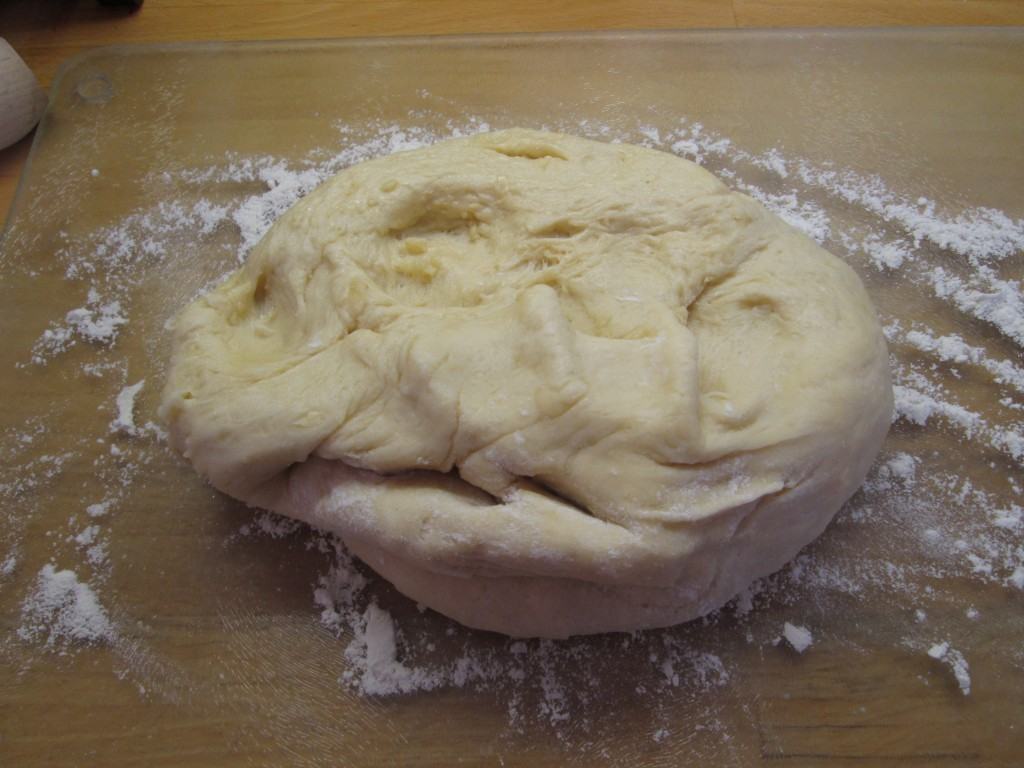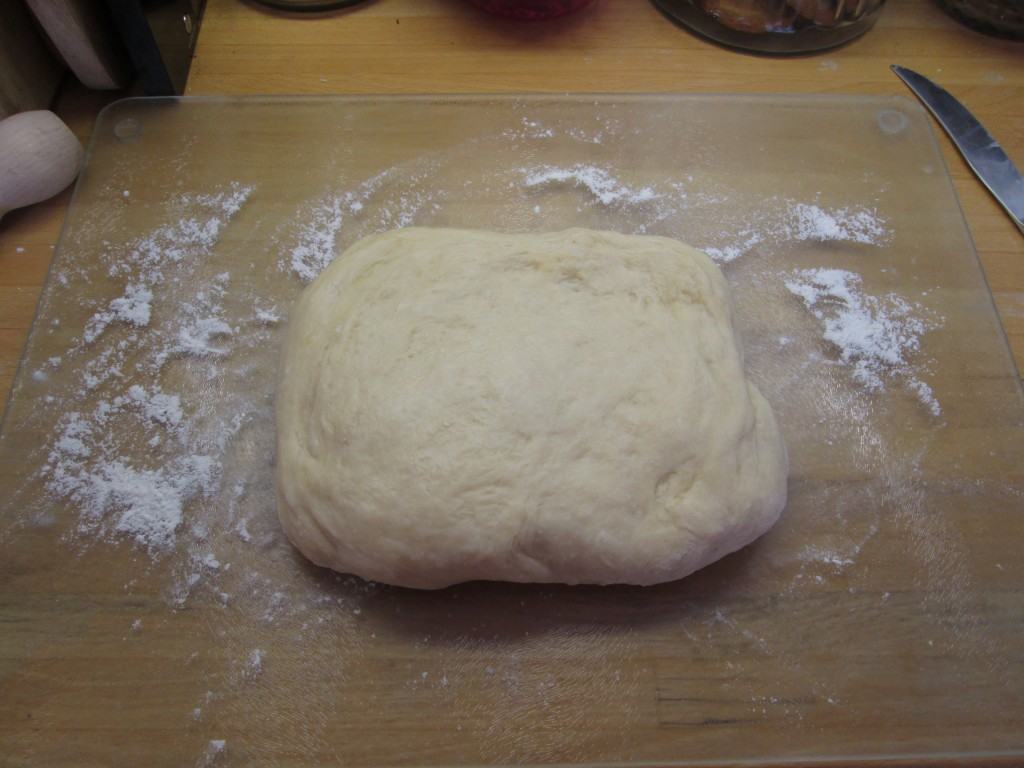 You are then looking to roll the dough into a 15 x 12 inch rectangle. This, luckily, is the size of my chopping board so this wasn't too tricky to work out and the dough is quite easy to roll.
Then take the soft butter and spread onto your rectangle of dough.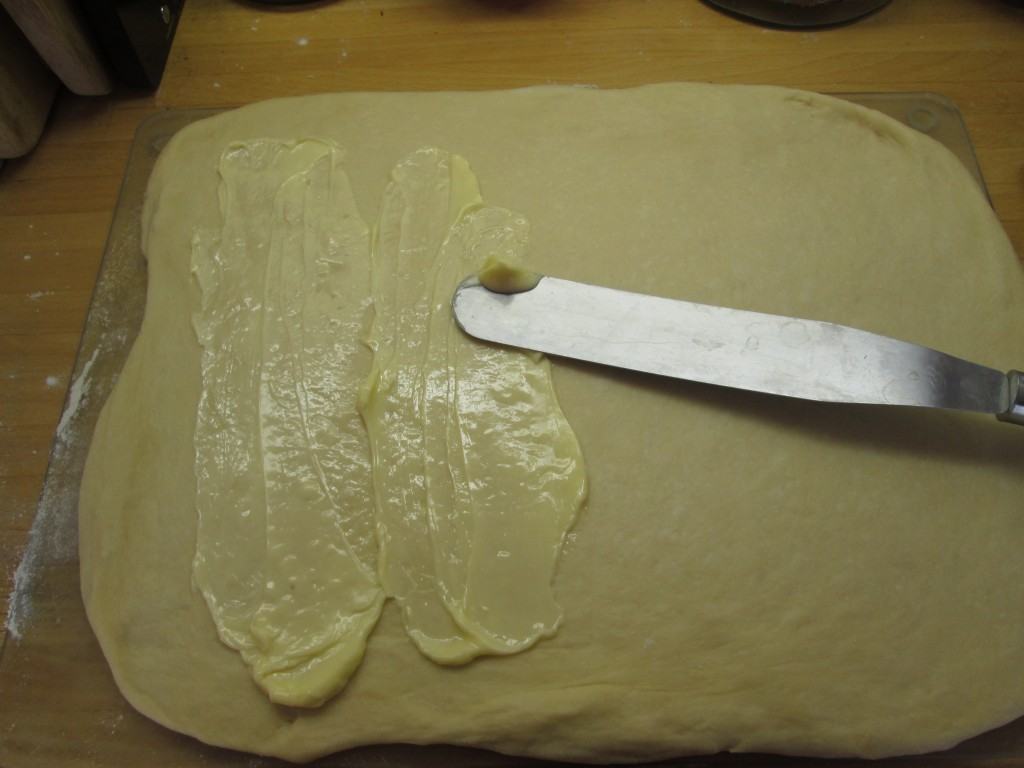 Look away now if you are on a diet. Mix the sugar and cinnamon together, then sprinkle all this on the wonderful buttered dough.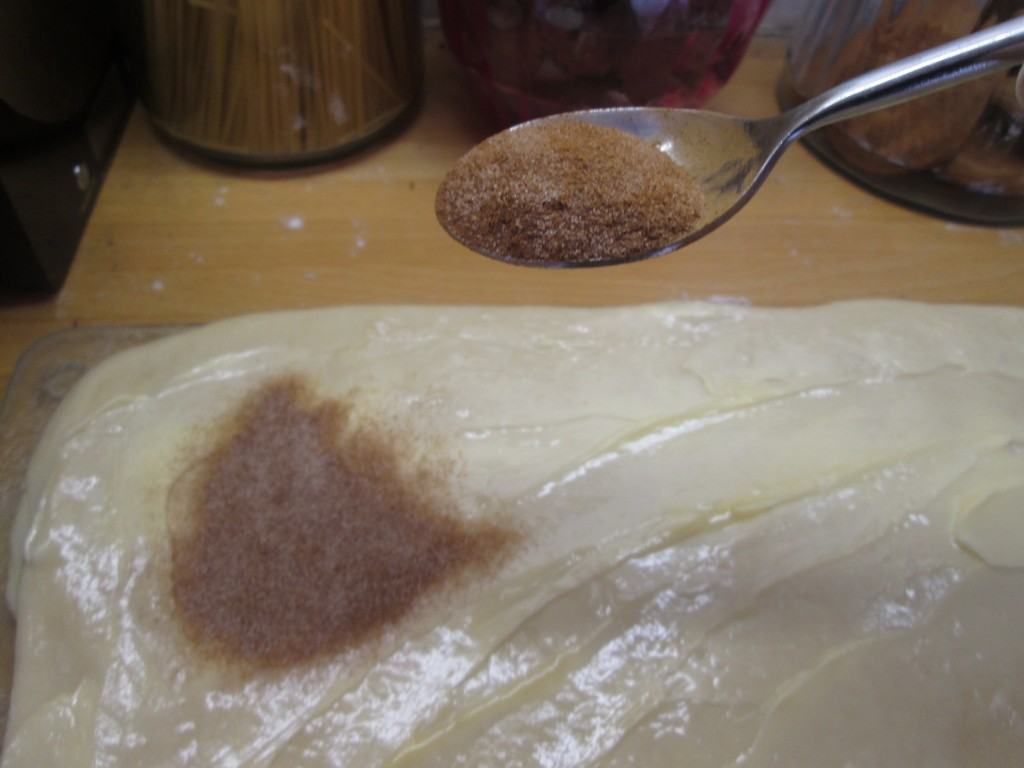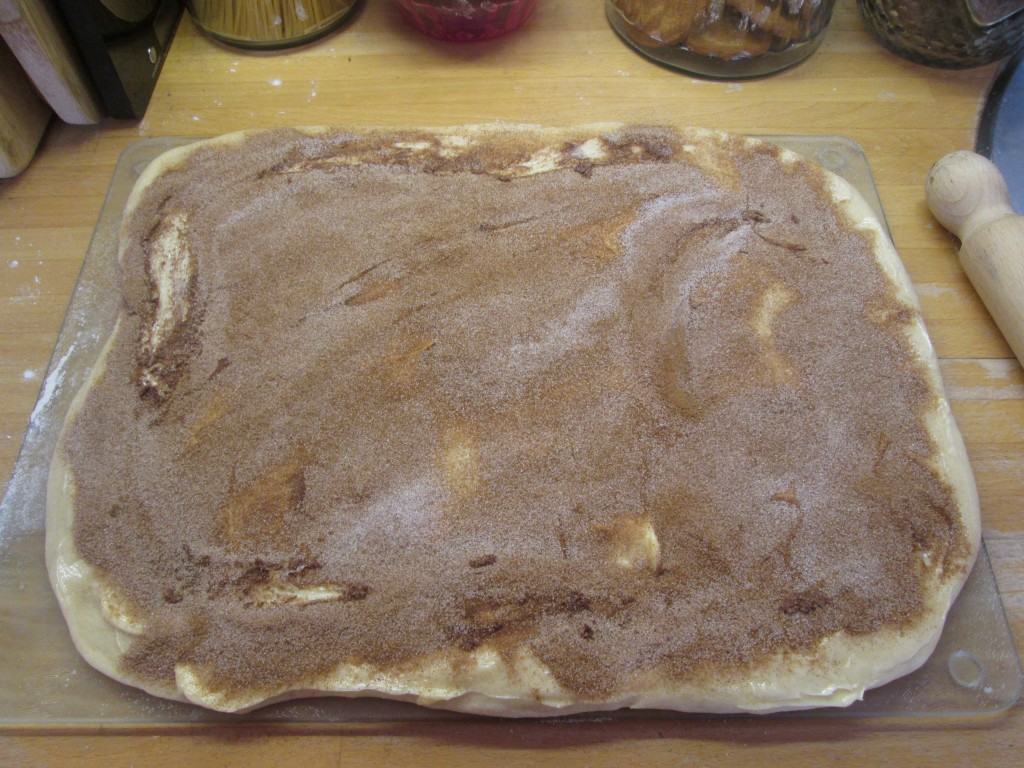 Now its all down to a bit of simple maths. Roughly divide the dough into 6 x 2 inch slices using a pizza cutter if you have one or a sharp knife if not. I had to snaffle for my pizza cutter in 'the drawer of doom'. Admit it, we've all got one of these drawers, where all kitchen utensils, and some other random things, go to die.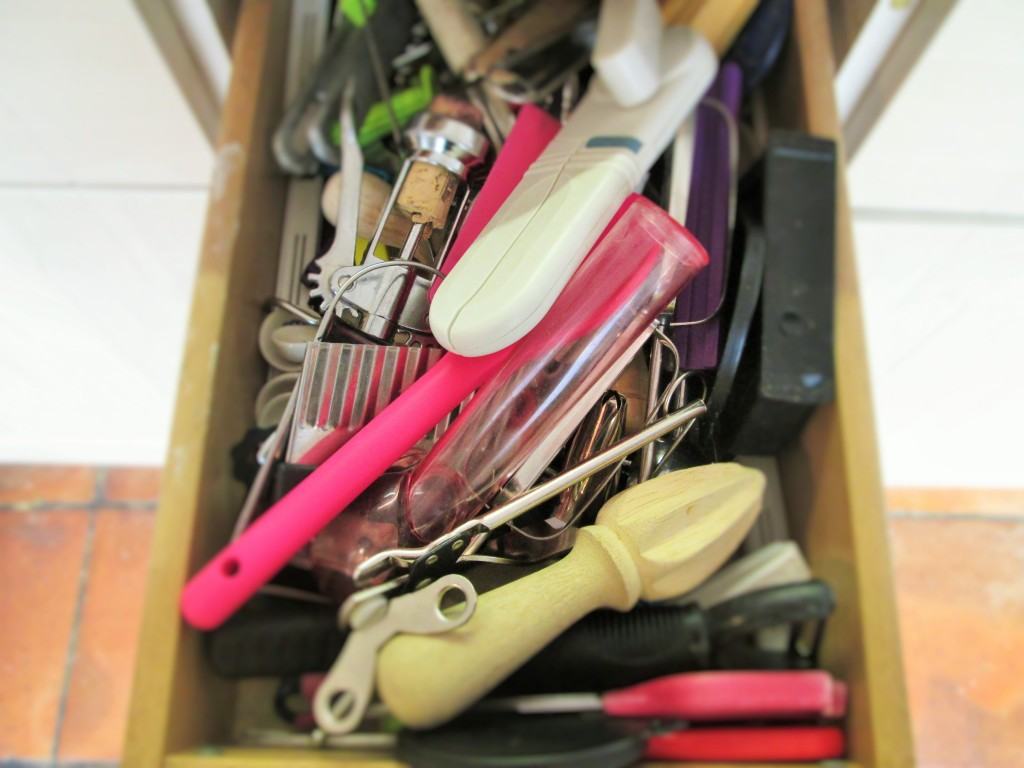 I digress. So back to the dough, cut it into the strips, as below.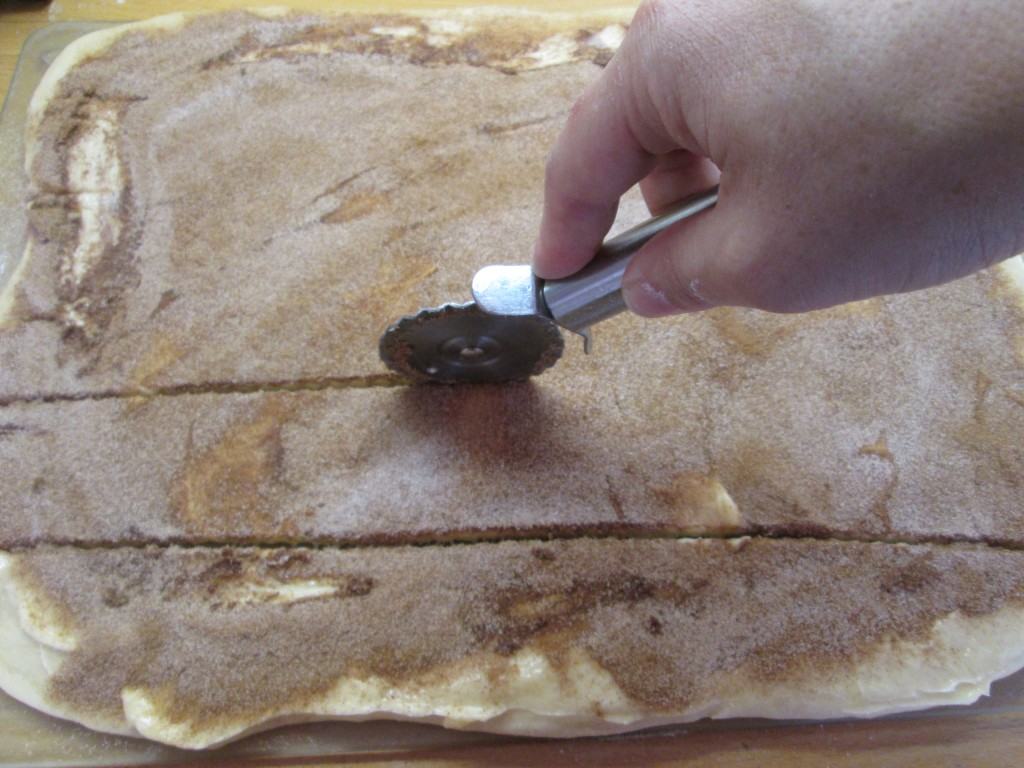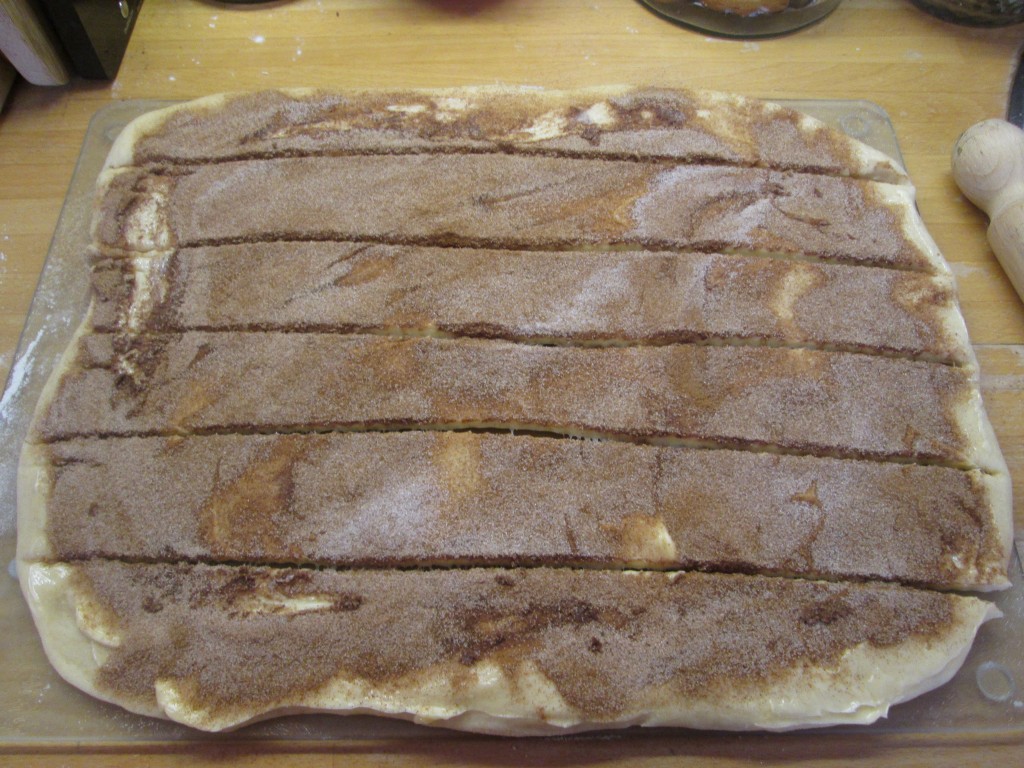 As you can see, precision is good, but not essential, it will still taste amazing even if all the strips aren't exactly 2 inches wide. Butter the 9 inch tin or flan dish so you are ready to start rolling the strips. The first one I rolled on the board and then added to the dish as a starting point.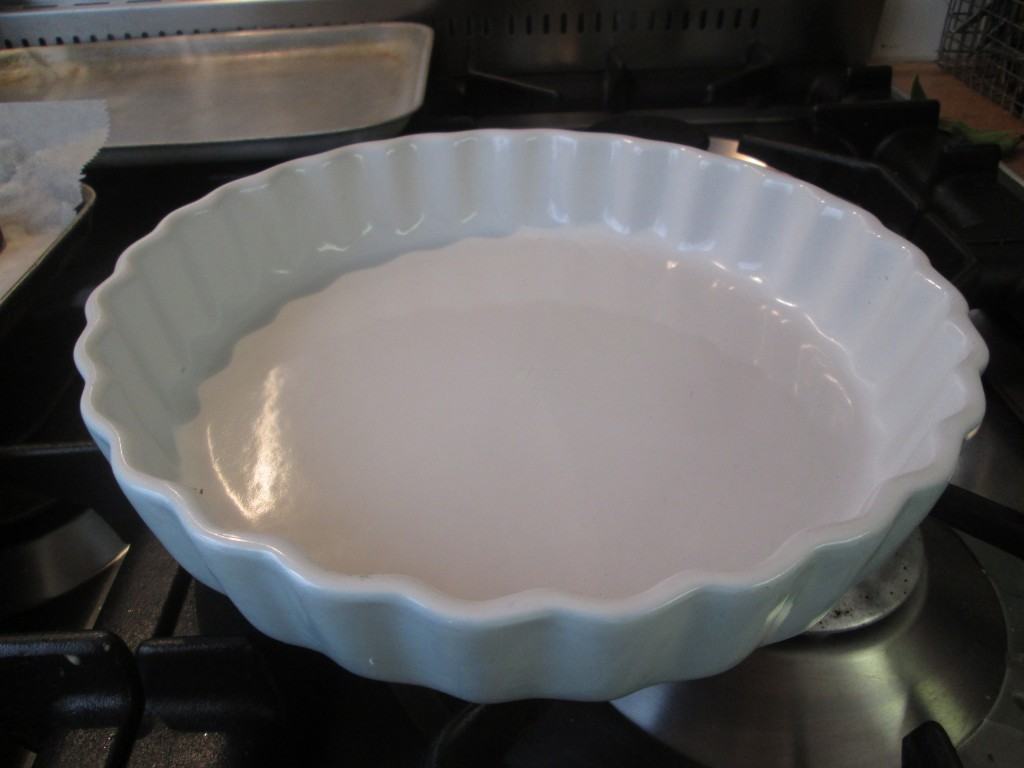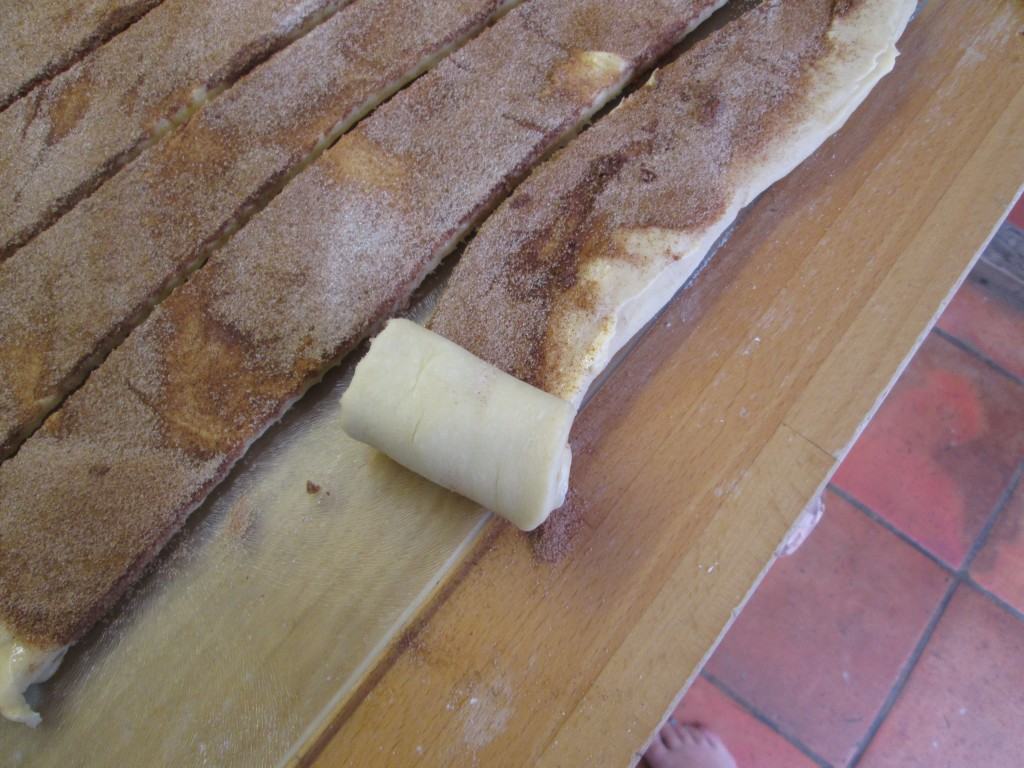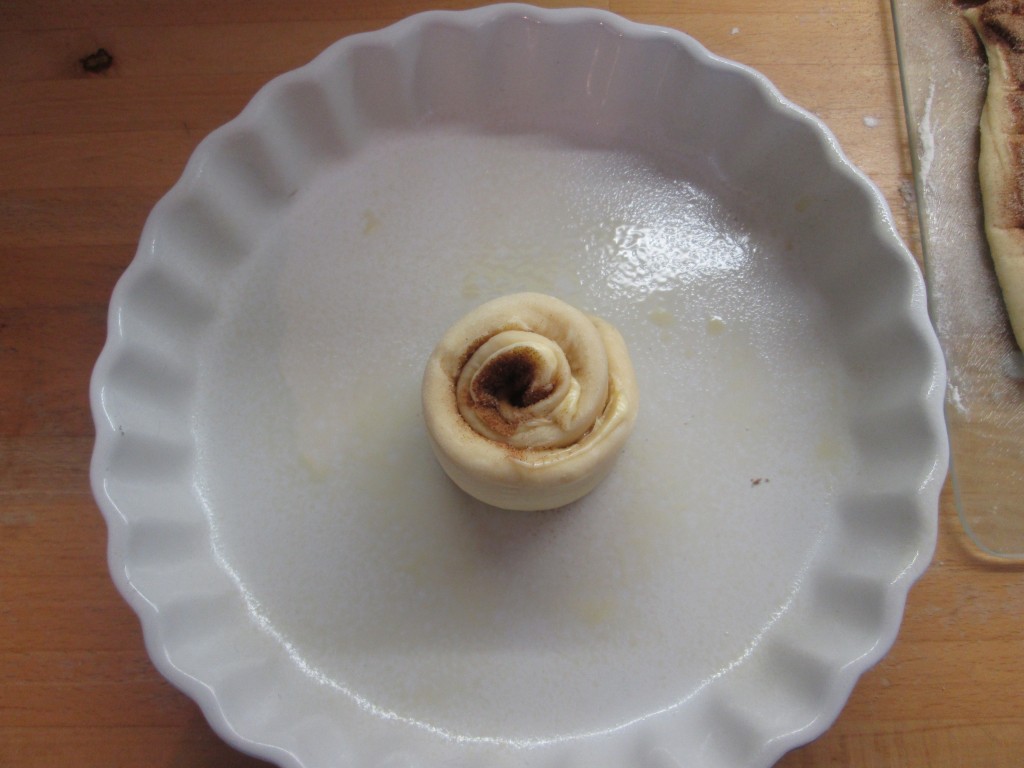 Then take the second strip and wrap it around the first roll, pinching the ends together where they join. I found folding up the strips, a little like when you transport wallpaper, helped with not losing all the sugar and cinnamon on the way to the dish.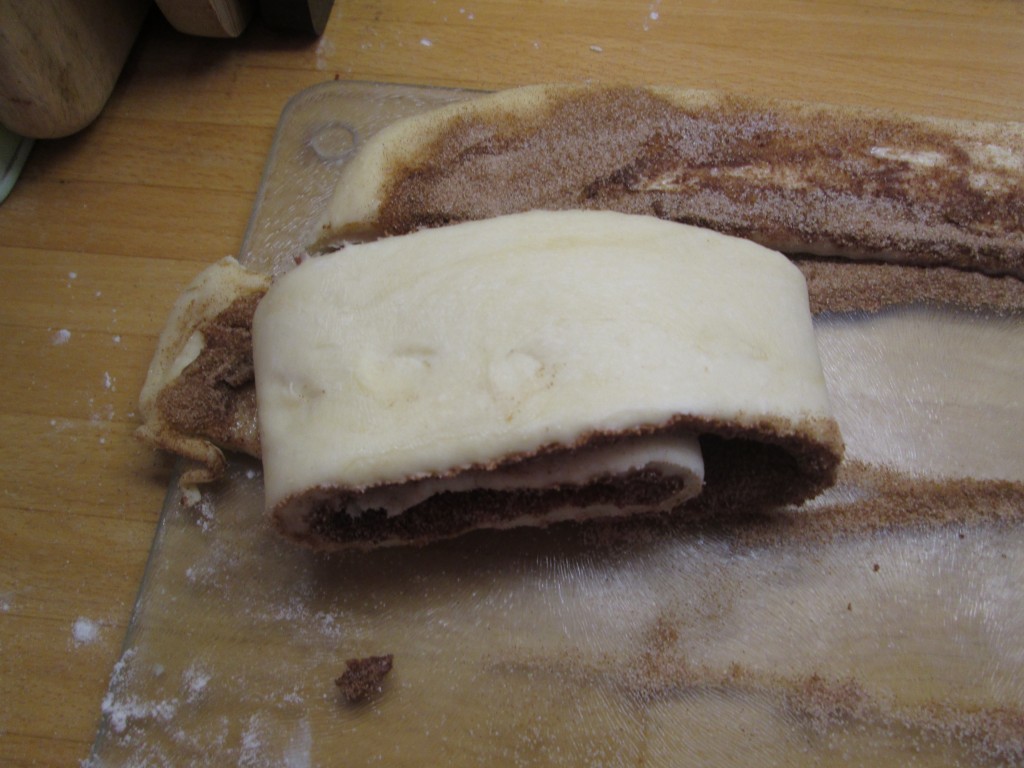 Keep going until you have used all the strips. Then if you have any excess sugar and cinnamon on your board, sprinkle this onto your completed roll. Pinch the ends to seal them, then cover in a tea towel to rise for a further 60 to 90 minutes.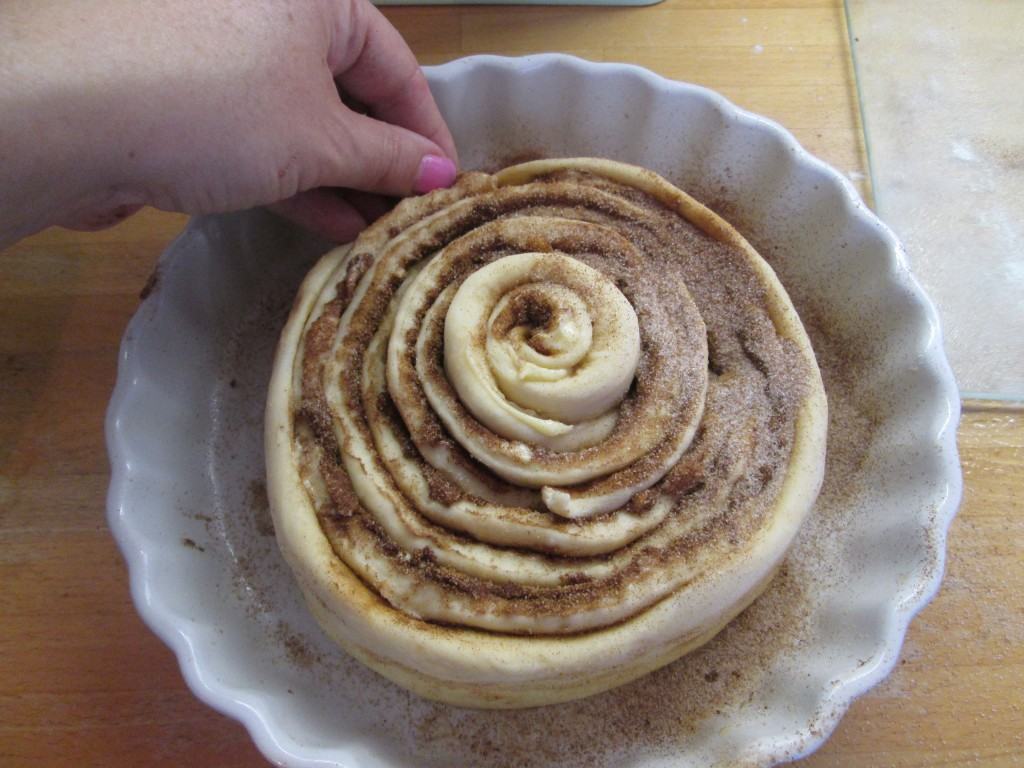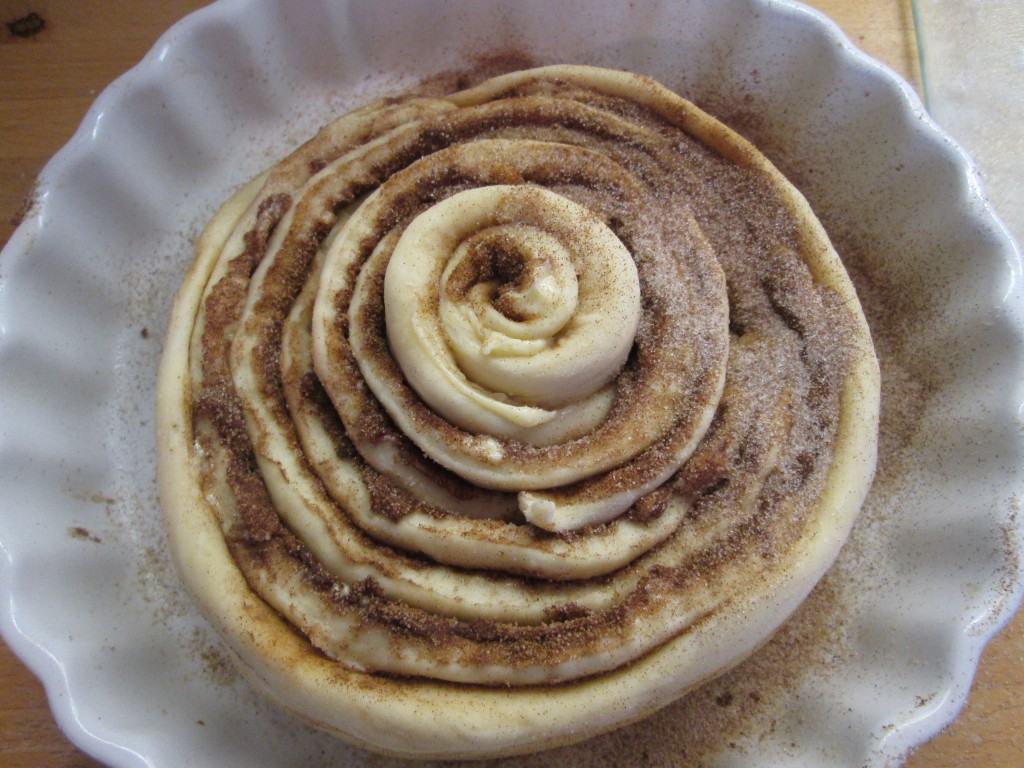 While this is rising, make the icing glaze. Take the icing sugar and sift into a jug or bowl. 'Sifting' isn't usually a word in my vocabulary. Its dull but necessary in this case as I didn't bother once and my glaze had an interesting lumpy, powdery quality. Add the vanilla extract and start with 2 tablespoons of cream and add any extra needed to create a dribbly consistency. (I used about 5 tablespoons).
When your roll has risen sufficiently to reach the edges of your tin or dish, pre heat the oven to 170 degrees. Put in the oven and set the timer for 15 minutes. Check the roll at this point and cover in foil if necessary so it doesn't get too brown. Reset the timer for a further 20 minutes, by which time you will be standing by the oven drooling in anticipation.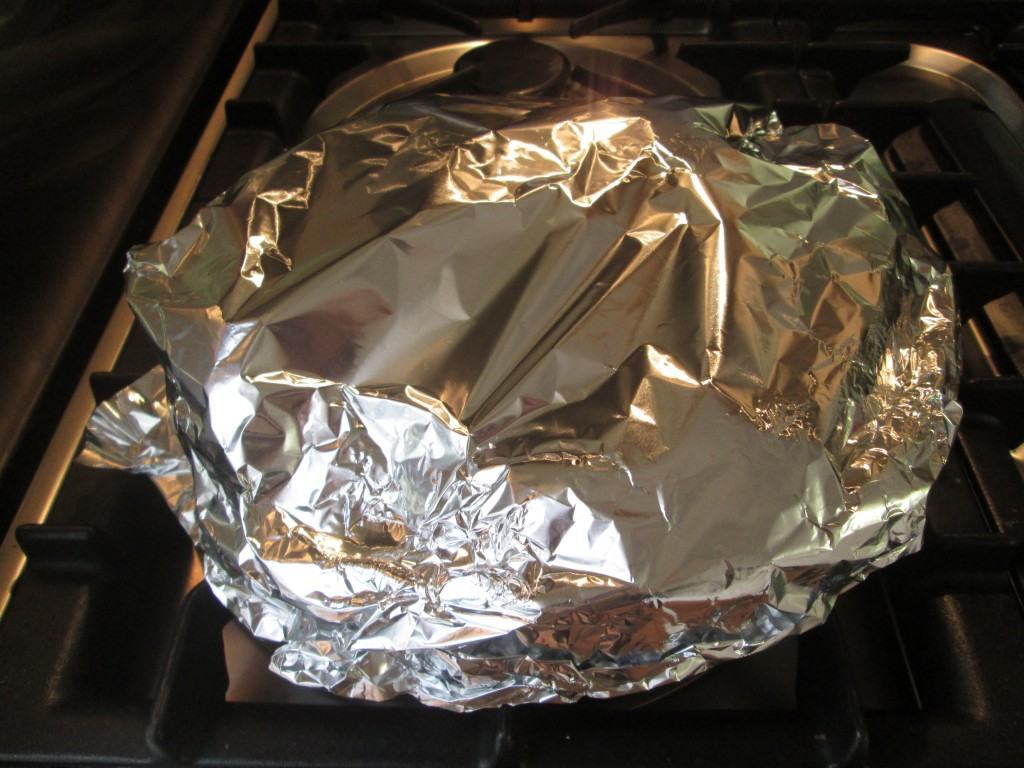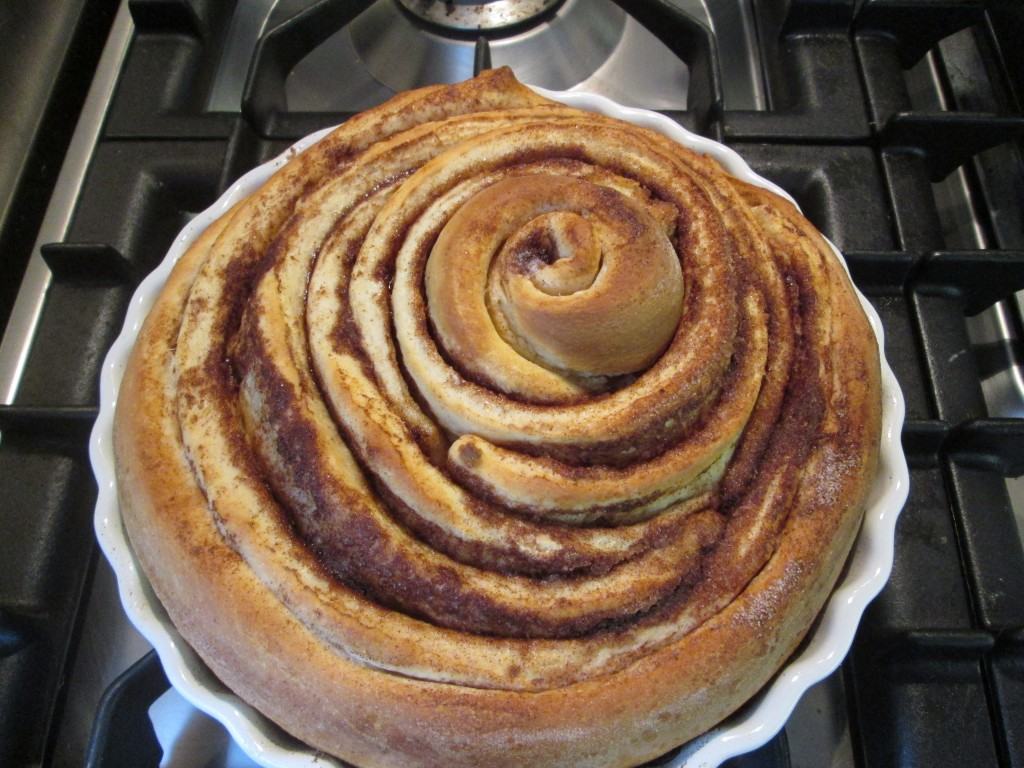 The smell of sugary cinnamon from this giant roll will be overwhelming and almost too much to bear. It does look magnificent. Don't worry about any bits which have risen higher than the rest, just press these down with a spatula.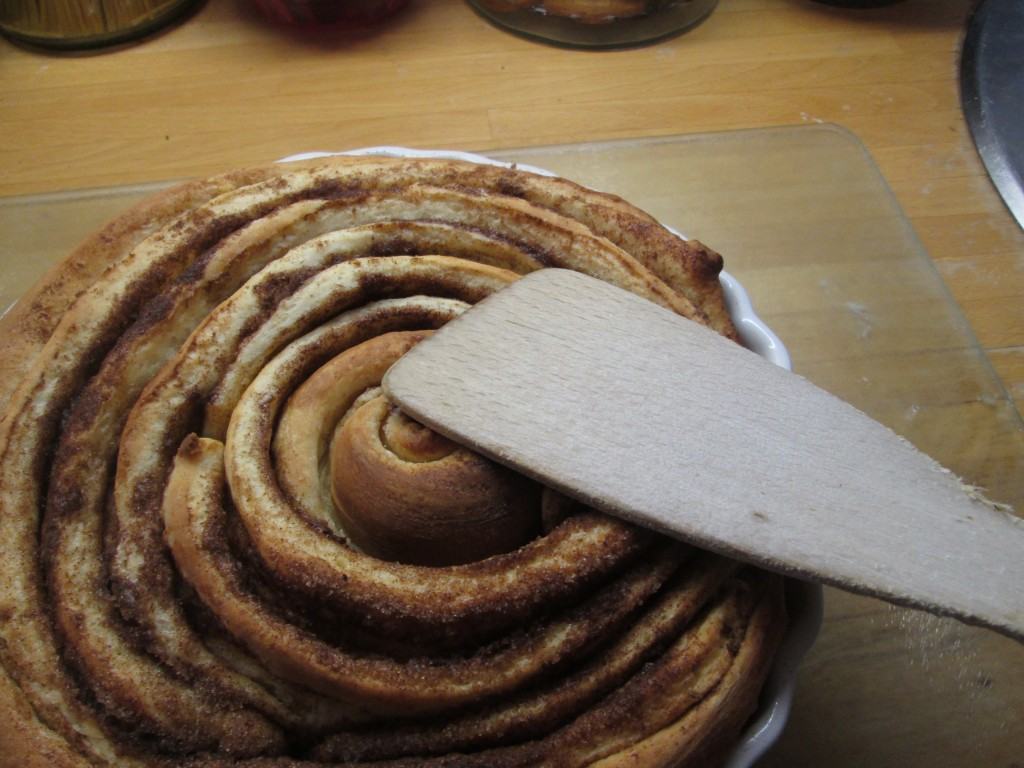 Then, while this whirl of deliciousness is still warm, drizzle with the vanilla scented glaze.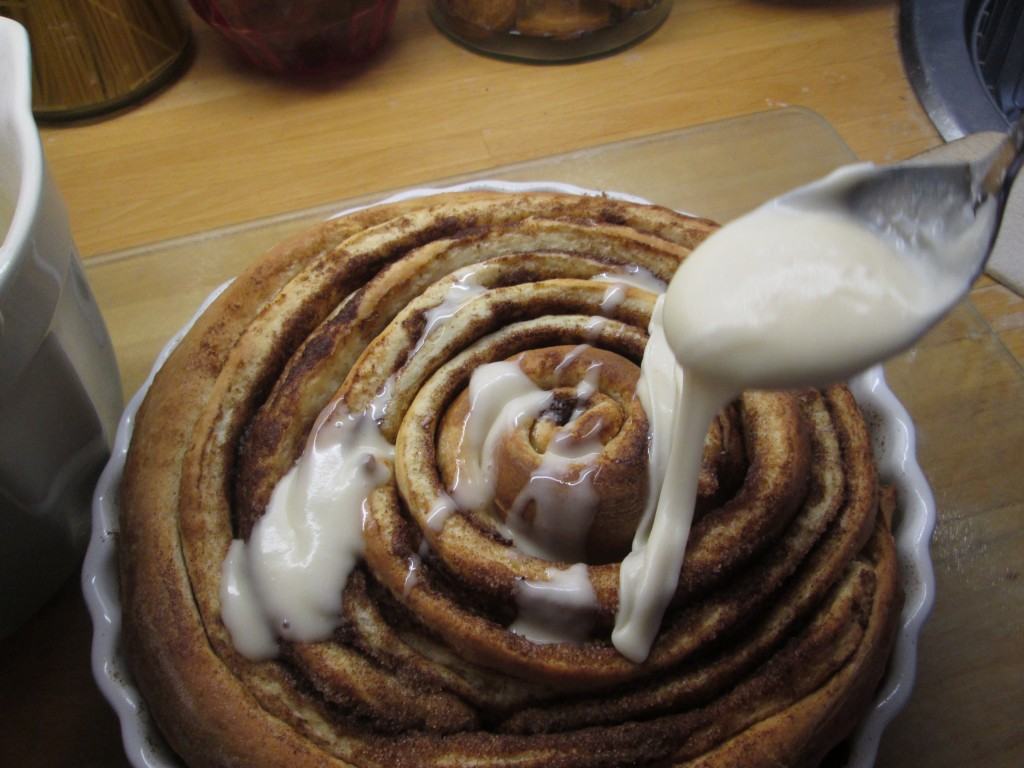 And there you have it. No real drama, but a huge reward. Cut enormous wedges of the giant roll whilst its still warm.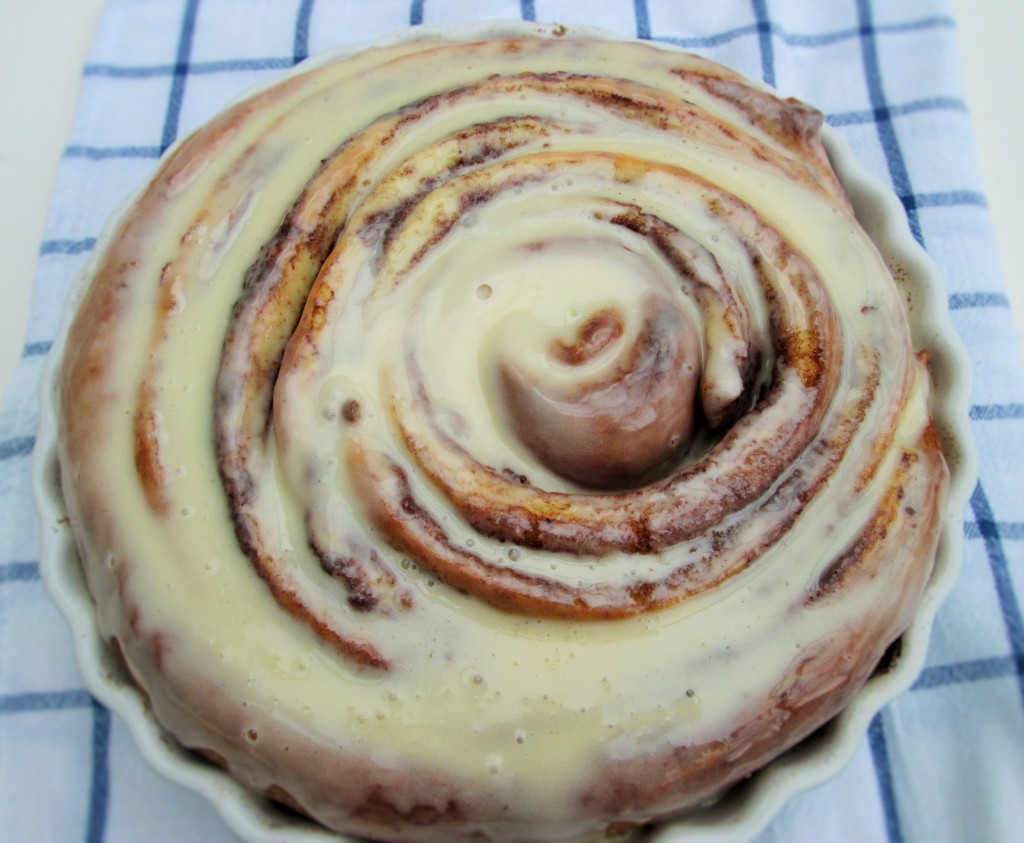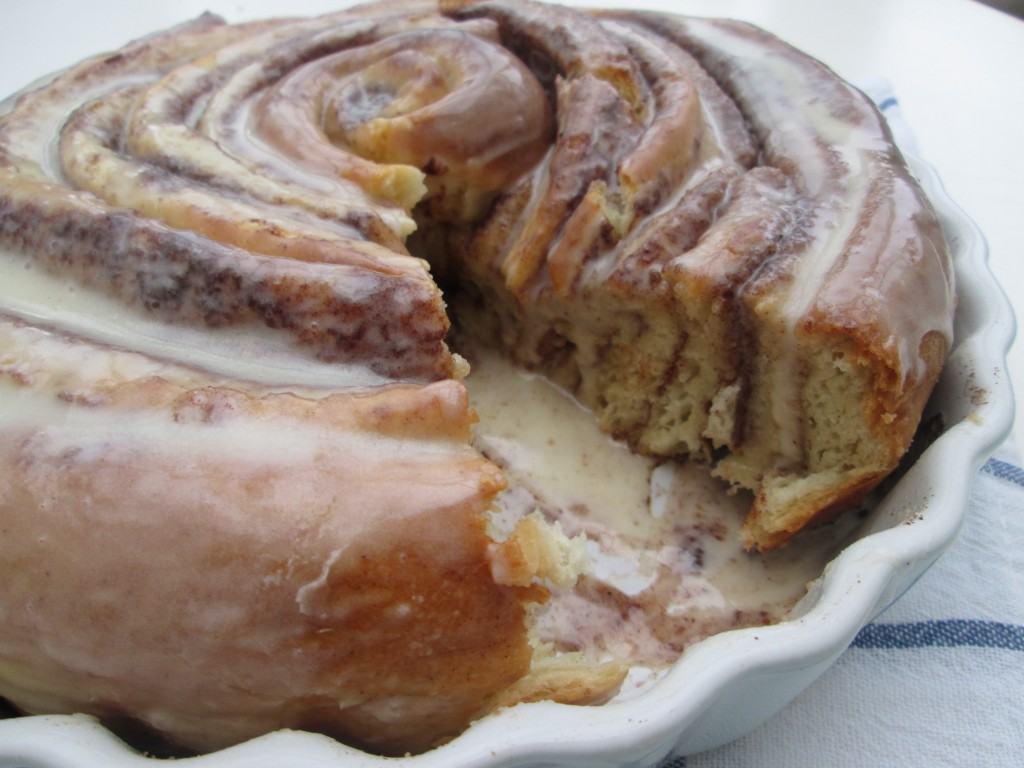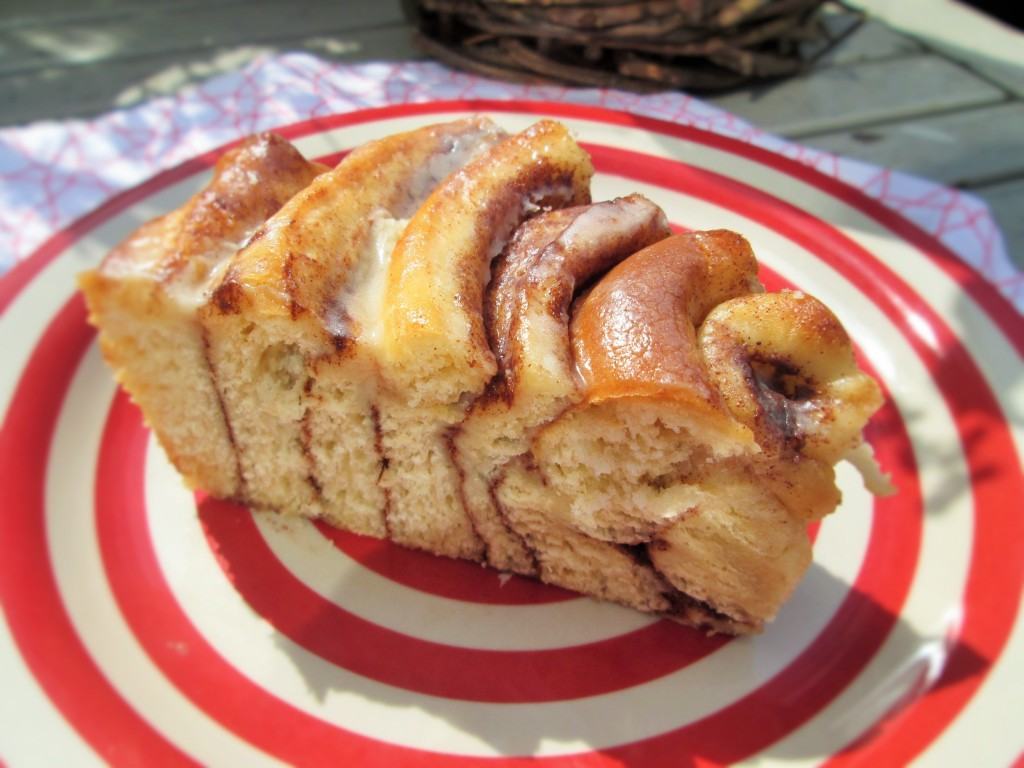 Now get the pictures on instagram and make all your friends jealous.
Lucy x
Giant Cinnamon Roll Recipe
Oil, butter, spray a 9 inch round tin or flan dish then once finished roll has risen, pre heat oven to 170 degrees fan assisted
Dough
350g plain flour
3 tablespoons caster sugar
1 teaspoon salt
1 sachet (7g) dried action fast yeast
120ml water
60m milk (full, semi skimmed or skimmed)
45g butter
1 egg, beaten
Filling
45g very soft butter
1 and a half tablespoons ground cinnamon
50g caster sugar
Icing Glaze
120g sifted icing sugar
2-5 tablespoons double cream or milk (the original recipe only called for one, but it took 5 for me to get the right consistency)
1 teaspoon vanilla extract
Measure the flour, yeast, sugar and salt into a bowl or the bowl of your stand mixer. Put the water, milk and butter into a jug and microwave until the butter has just melted and the liquid is hand hot. If you don't have a microwave, heat in a pan. Add the liquid to the flour, along with the beaten egg, and mix together until you have a shaggy ball. Turn this onto a floured work surface and bring together, adding a little more flour if need be to ensure the dough is soft but not too sticky. Knead on the board for 3 to 4 minutes until the dough is smooth and elastic.
Put in an oiled bowl (use the one you mixed in to save washing up) to rest, covered, in a warm place, for 30 minutes.
After this time, take the dough and give it a quick knock back on a floured board. Then form into a small rectangle, and roll out to 15 x 12 inches. Spread this large rectangle with your softened butter, then mix sugar and cinnamon together, and sprinkle  onto the buttered dough. As in the pictures, cut the dough, horizontally into six two inch strips. Roll the first one into a small rosette and add to the centre of your buttered flan dish. Add each further strip around this first roll until you have used all the dough. If there is any spilled sugar and cinnamon, sprinkle this on top of the newly formed roll. Cover the dish with a tea towel and put in a warm draft free place for between 60 and 90 minutes. The dough will be ready when its risen further and expanded to almost fill your dish or tin. While this is rising, make the glaze. Sift the icing sugar to remove any lumps and stir in vanilla extract. Then stir in two tablespoons of double cream or milk, to start, then add additional tablespoons until you reach a dribbly consistency. (I used 5 tablespoons of cream).
Put this into your preheated oven for 15 minutes. Check on it after this time and cover with foil if getting too brown. Return to the oven for a further 20 minutes (total baking time around 35 minutes). Remove from the oven and after a few moments drizzle with the delicious glaze. This is so good eaten warm from the oven, but will keep for 3 to 4 days wrapped in foil.