Goats Cheese, Basil and Pistachio Balls Recipe
This week I thought I would share some dinner party menus with you. Half the fun when friends or family come to dinner is the menu planning, if you like that sort of thing, as that statement did make me sound a bit of nerd. If you don't like cooking, dinner parties can be a bit of nightmare, likewise, sometimes I am not  in the mood for cooking and wonder if I can get away with dishing up a spag bol and hope for the best.
Rambling aside, as I do write a food blog, finding new recipes and investigating new ways to entertain our dinner guests is something of a way of life. So, when I discovered a cheese ball, I felt I had really been missing out on something delicious and frankly, depriving my guests of something brilliant. Getting to the point at last, here is my Goats Cheese, Basil and Pistachio Balls recipe. As it turns out, the Americans have been eating cheese balls forever. They make big ones, tiny ones on sticks, medium sized ones and serve them as canapés, as a first course or as a sort of communal dip served with crackers. Basically a cheese ball is just a ball of cheese *stating the obvious* rolled in all sorts of deliciousness. For mine, I chose a mixture of nuts, fresh basil and crispy bacon, but do feel free to leave the bacon out to make this a brilliant vegetarian first course or to use a cheese or herb your prefer. I fashioned my balls *I can hear my children sniggering from here* into golf ball sizes and served them as a sort of cheese pâté accompanied by toasted brioche and chutney. I modified this wonderful recipe from A Zesty Bite for my balls, with thanks.
It was so nice to discover something I had never cooked/rolled around and shaped before, especially with such super tempting end results. The soft cheese is complimented by the fragrant basil, crisp bacon and mellow nuts. Spread onto warm, sweet brioche, I have to immodestly admit, this was really rather lovely. So, if you are due to come to dinner at Chez Lucy Loves in the next couple of months, prepare to have balls as a first course.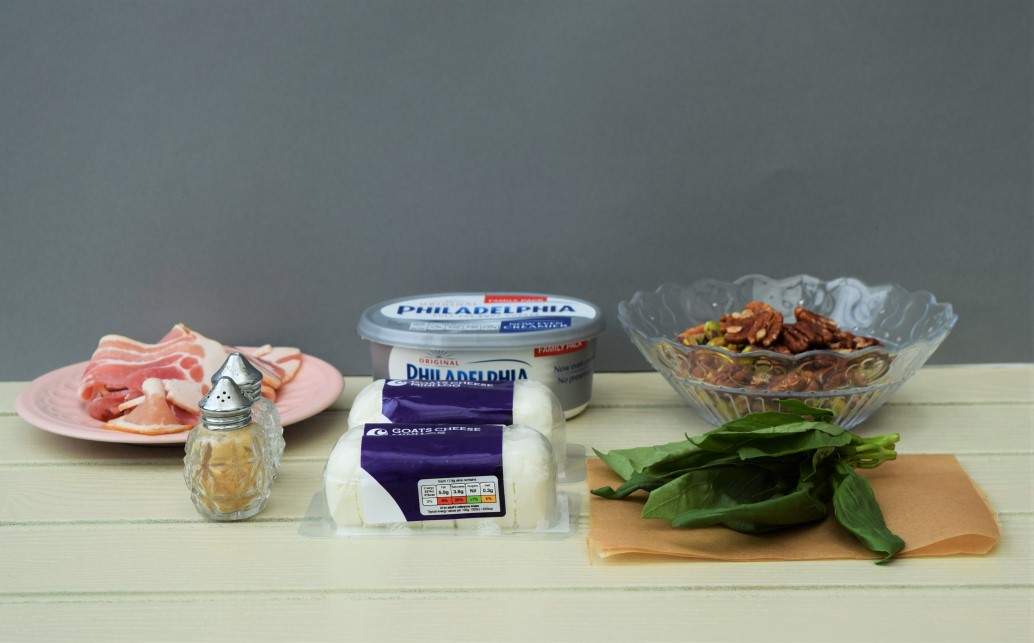 Here's the wonderful, elegant line up for my balls. I know goats cheese isn't everyones favourite, so do choose another if you'd prefer, any soft cheese would work here I presume. Likewise, choose your nuts and herbs to suit everyones taste. I chose colourful pistachios and sweet pecans for mine and they worked brilliantly.
Make a start by cooking your bacon if you are using it. The best, least messy way of cooking bacon is to pop your rashers on a lined baking sheet, putting the tray into a cold oven then cooking it at 200 degrees for 20 to 25 minutes. When your bacon is crisp, take out of the oven and remove the rashers onto kitchen roll to drain and cool.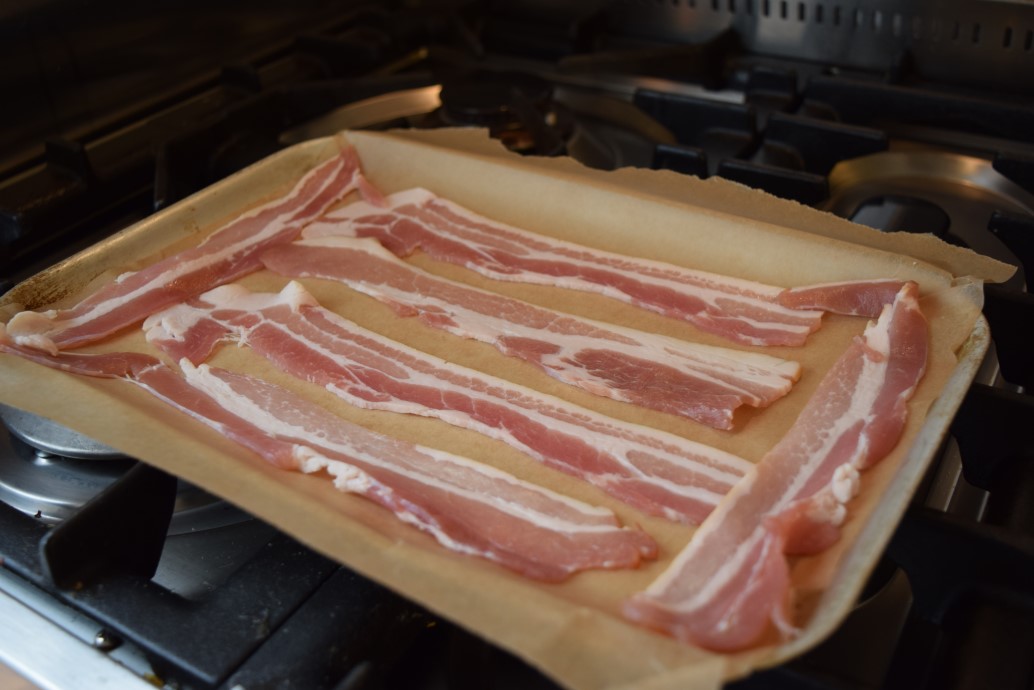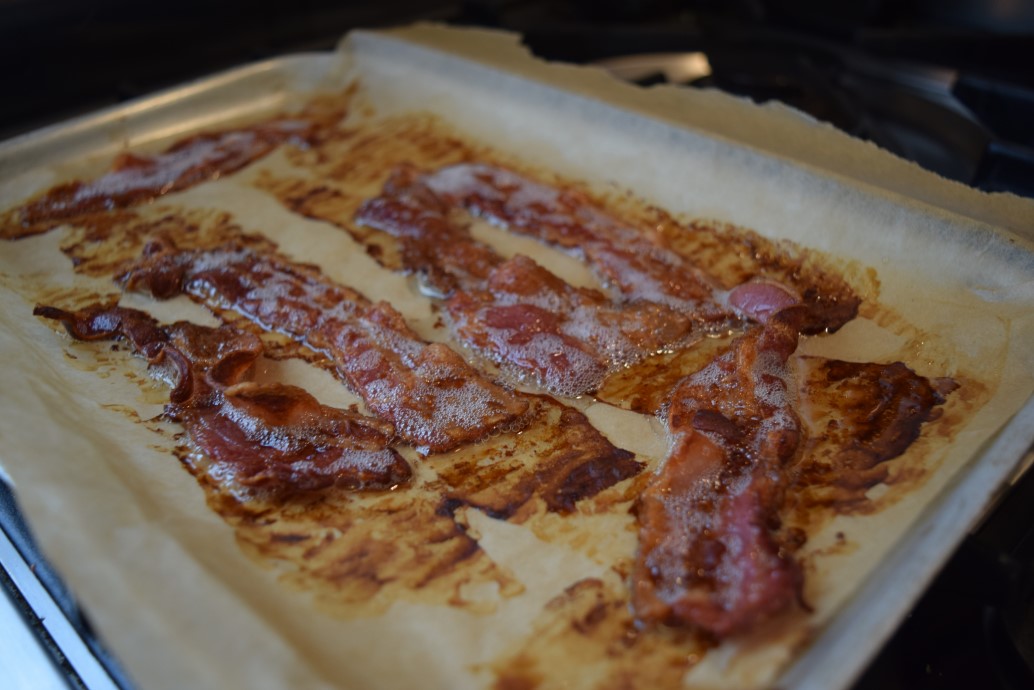 Whilst this is cooking, crack on with the cheese element. In a medium sized bowl add some chopped basil and your goats cheese.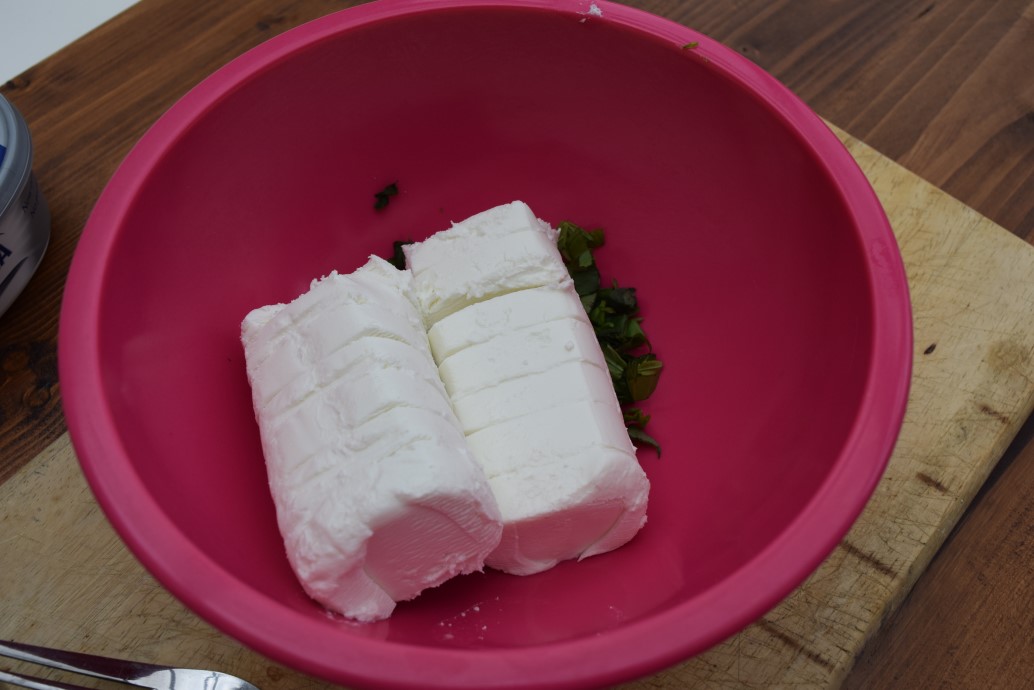 Add the soft cheese, I used full fat Philadelphia because it was on offer, but any soft cheese would work here. Season with a good amount of salt and pepper then mash with a fork until smooth-ish.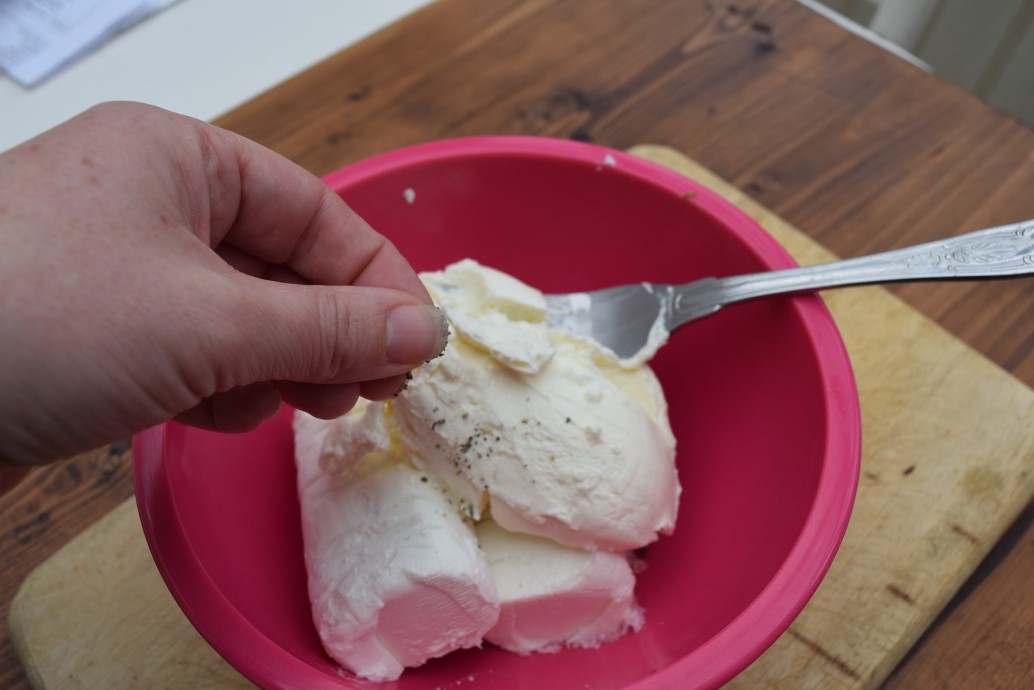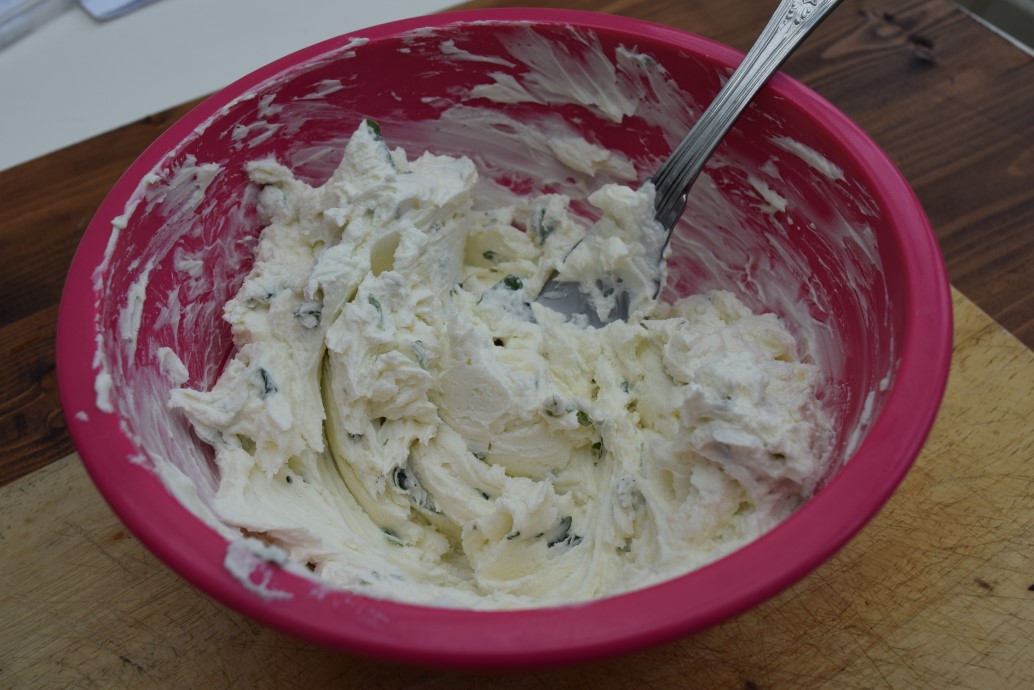 Next, with clean, damp hands, shape your cheese into six golf ball shaped balls. Place these balls onto a lined tray and pop them into the fridge while you make your crumbs. Don't worry if they are a little lopsided *like mine*, you can be more precise when you roll them in the nuts.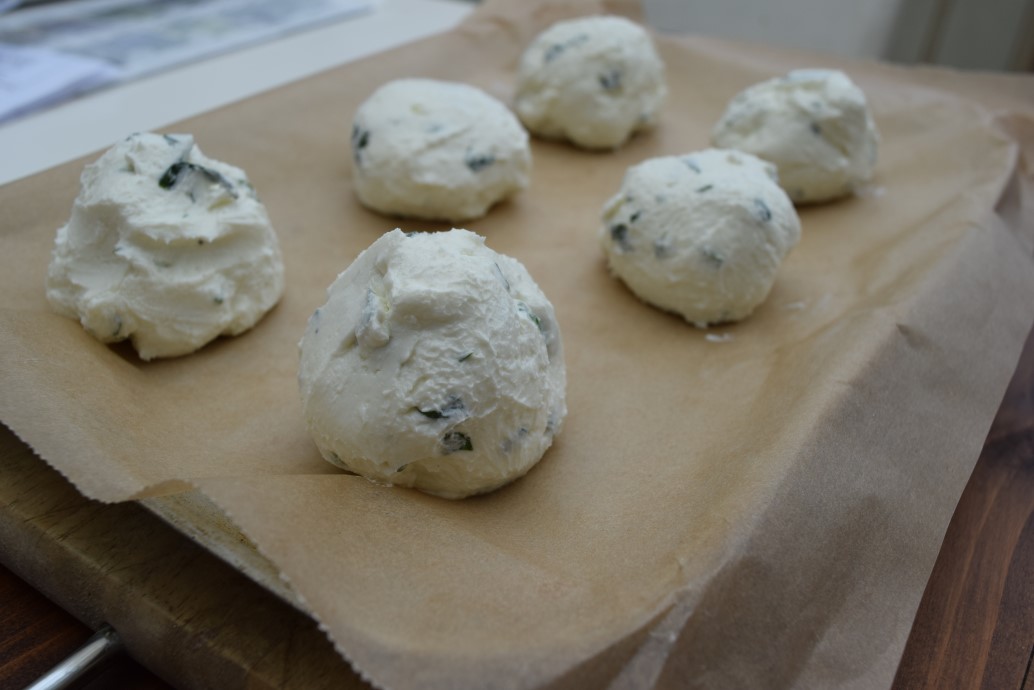 For your coating add your chosen nuts, herbs, bacon and salt to your food processor and process until you have a lovely green crumb consistency. If you don't have one, finely chop everything by hand and mix together in a bowl.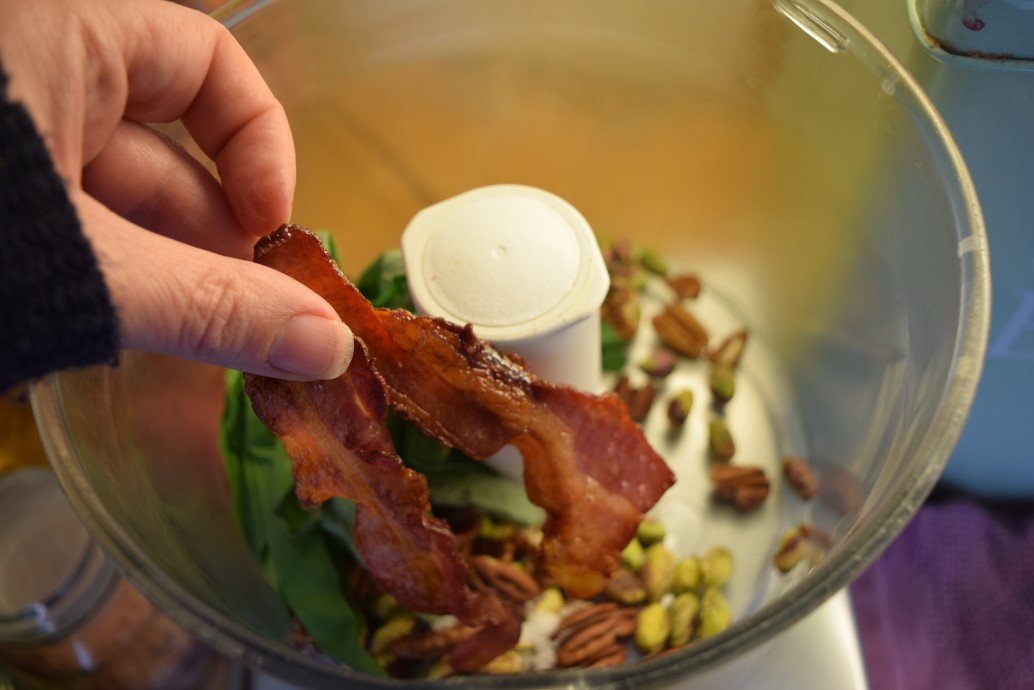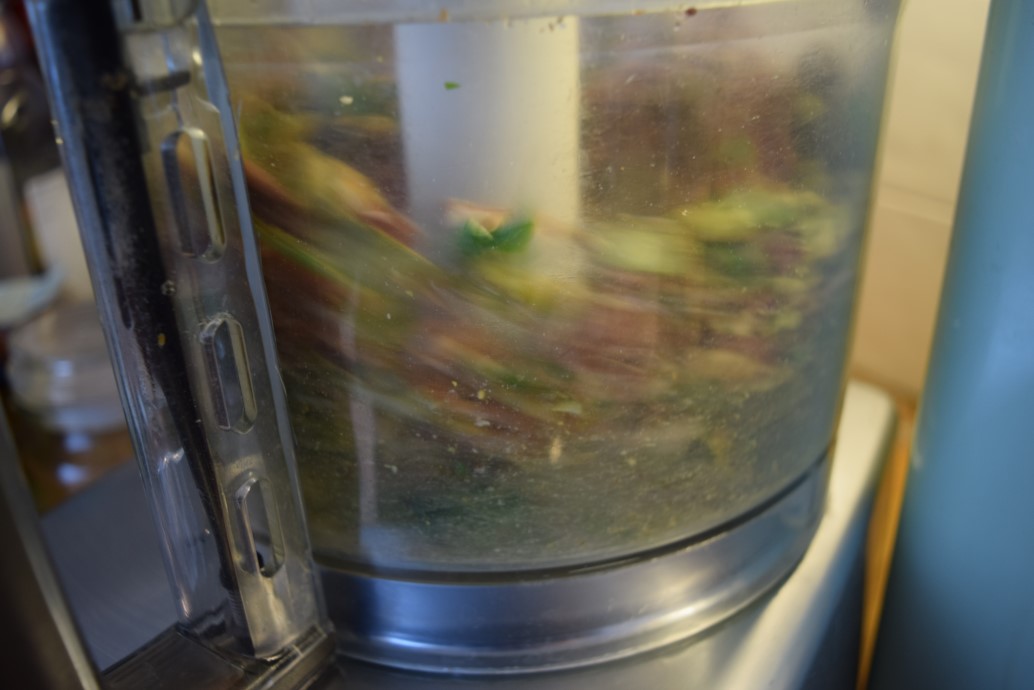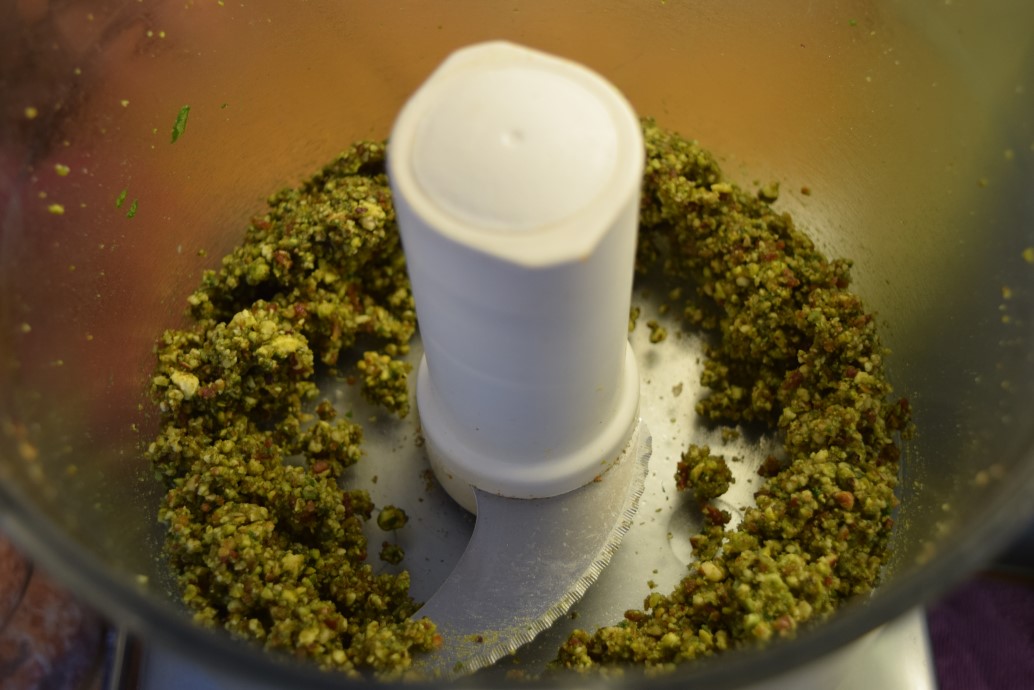 Tip these crumbs onto a plate then take your chilled cheese balls out of the fridge. Roll each ball in a thick coating of these super tasty crumbs. If you have any spare, just re-roll each ball until you've used them all up.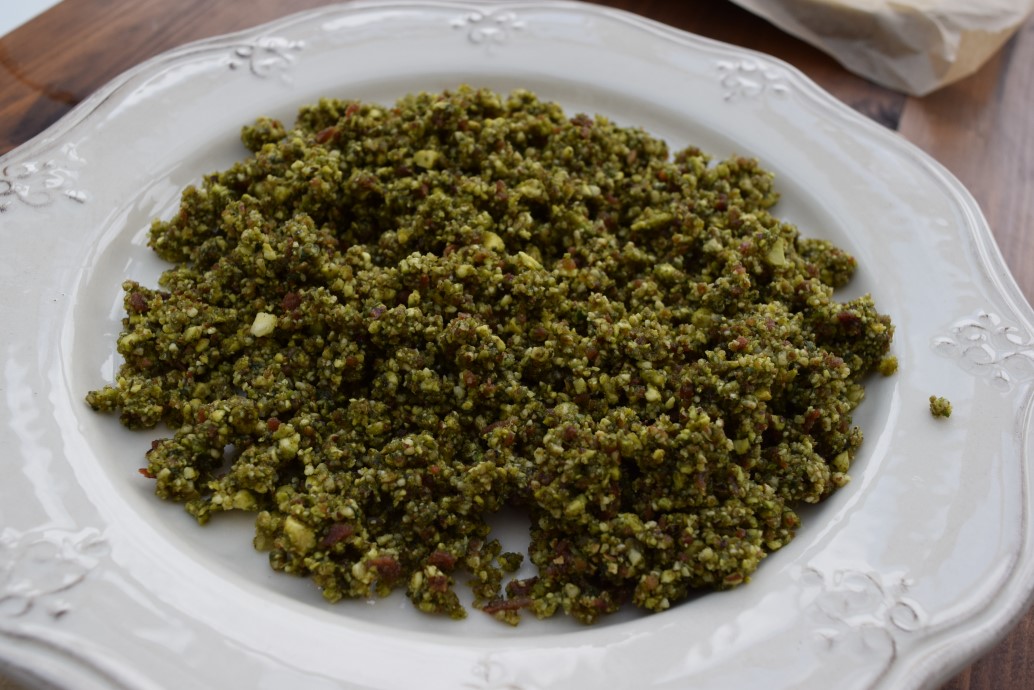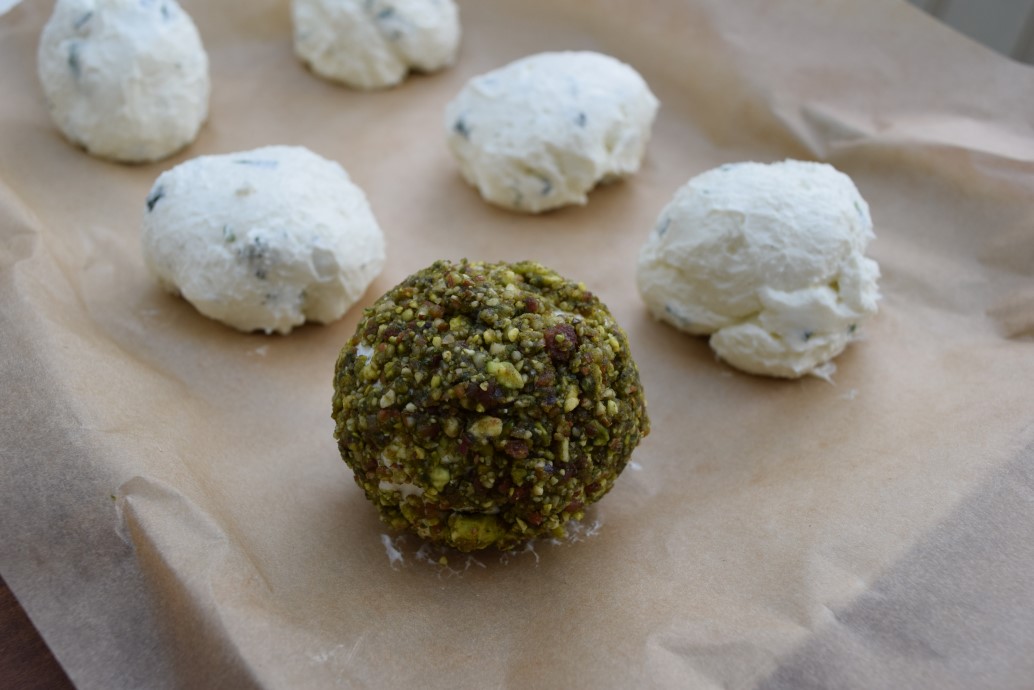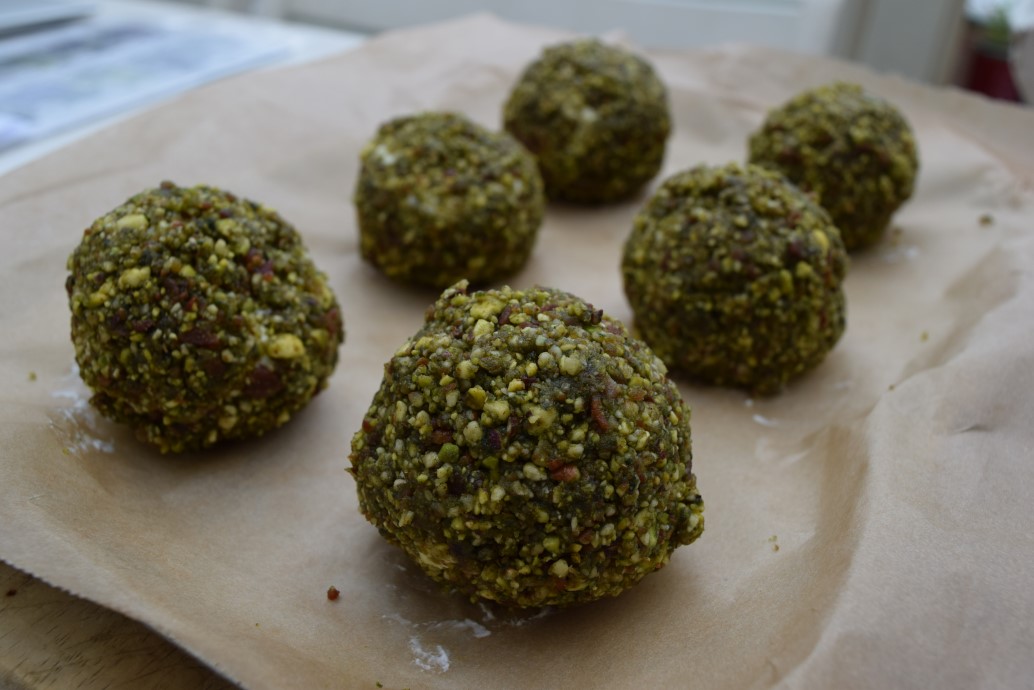 Place the fragrant balls back in the fridge to chill for at least an hour, or until needed.
When you are ready to serve, allow to come to room temperature for at least 15 minutes. I served these with toasted brioche, leaves and a chutney of your choice.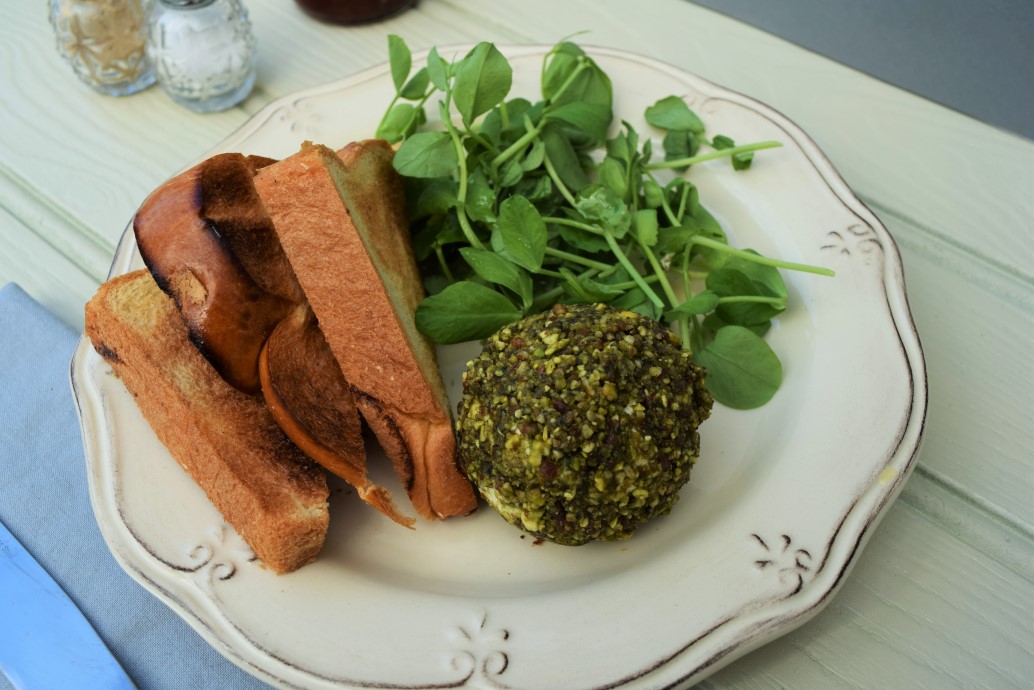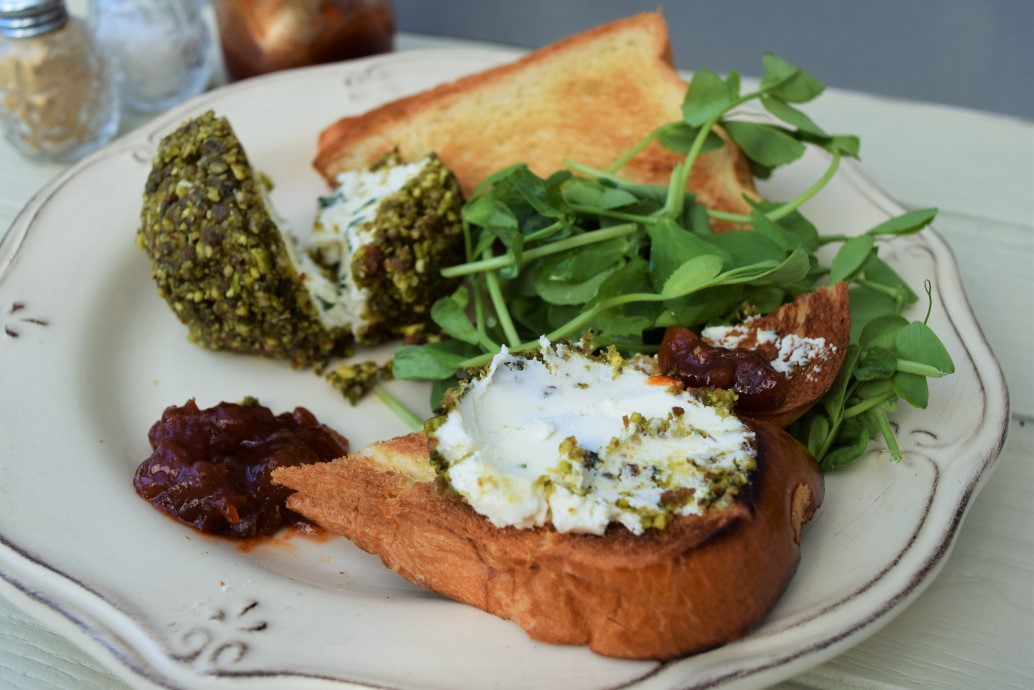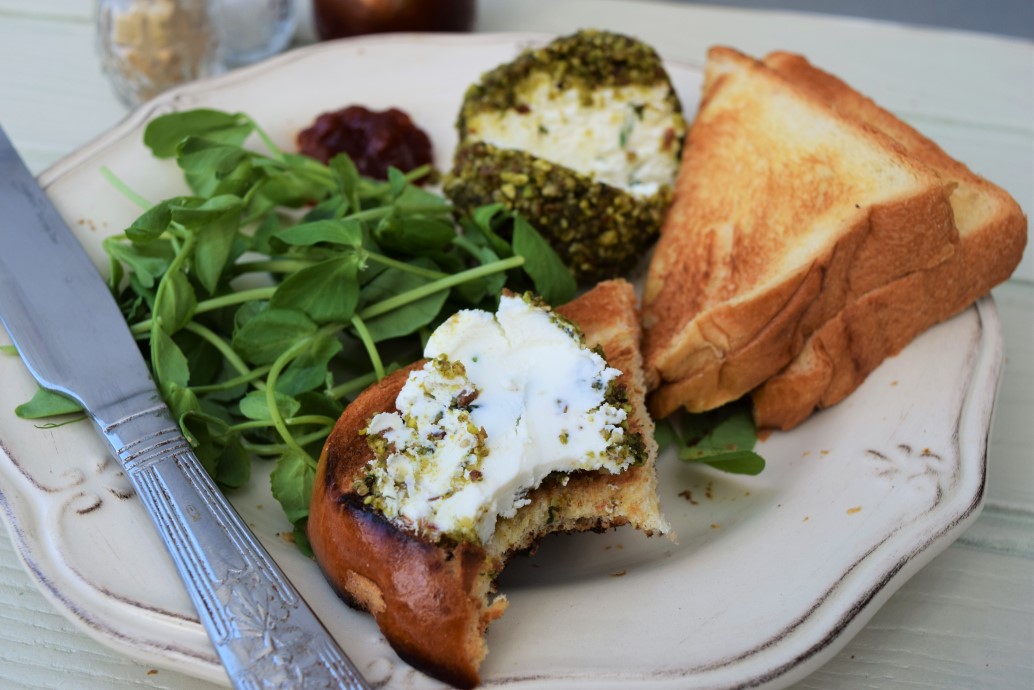 My tummy is growling at the sight of this. It's such a simple but creative first course, light lunch or nibble, your guests cannot fail to be impressed. These Goats Cheese, Basil and Pistachio Balls  are perfect for spring, if it ever bloody arrives.
Lucy x
Goats Cheese, Basil and Pistachio Balls Recipe
Makes 6 to serve as a first course or a light lunch
You will need a food processor, food chopper or sharp knife and chopping board
For the Cheese
250g goats cheese, the soft kind, best without a rind, but don't worry if it has though, just mash it in
150g soft cheese, full fat Philadelphia works well here
Roughly 2 tablespoons chopped fresh basil
salt and pepper
For the Coating
6 rashers streaky bacon, cooked til crisp
150g nuts, use a combination, I went with pistachios and pecans
roughly half a packet fresh basil, stalks removed
scant 1/2 teaspoon salt
Toasted brioche, leaves and chutney to serve
Make a start by cooking the bacon. Place the six rashers on a small baking tray covered with foil or baking paper. Put into a cold oven, turn up to 200 degrees fan assisted and cook for 20 to 25 minutes or until crisp. When cooked, drain on absorbent paper and leave to cool.
For the cheese take a medium sized bowl and add the soft goats cheese and soft cheese. Add the chopped fresh basil and salt and pepper to taste, then fork the cheese mixture together until smooth-ish. Use your hands to fashion the cheese mixture into 6 golf ball sized cheese balls. Place these on a lined tray and put in the fridge to chill whilst you make the coating.
Take your food processor, food chopper or a sharp knife and chopping board. Add the nuts, fresh basil, crispy bacon and salt and process until the mixture resembles a dry pesto-like texture. If doing by hand, chop each ingredient finely, then mix together in a bowl.
Tip the nut coating onto a plate and roll your chilled cheese balls in the crumbs until well coated. If you have any extra crumbs, re-roll the balls until it's all gone. Place the balls back on the tray and refrigerate until needed, or for at least an hour. Allow to come to room temperature for around 15 to 30 minutes before serving. These are delicious served with toasted brioche, salad leaves and chutney.