Black Magic Cocktail Recipe
Ordinarily I wouldn't drink Guinness if my life depended on it. Guinness was my much loved Grandad's favourite drink and I used to have a little sip to try and like it on numerous occasions. It looks so delicious and creamy and warming, but in reality it tastes like sucking a 2 pence piece. Clyde loves it too, so over the years I have tried to like Guinness again, but it's just not happening for me. However, when I found the recipe for this Black Magic Cocktail, I decided it was time to try again and, good Lord I am pleased I did.
This Black Magic is Clyde's dream cocktail. Bourbon and Guinness together, it's like his birthday all over again. The blueberries and grenadine add a sweetness and the bourbon a warmth which, for me, takes the edge off the Guinness. The hoppy stouty flavour does get through and makes this a grown up cocktail with just a hint of fruit. And to seal the deal for this weeks Friday Cocktail is it's Halloween look. Serve this in a spooky glass or alongside an amusing candle or plastic spider and your scary drinks needs this 31st October are all in hand.
I was so ready to hate this Black Magic cocktail, but ended up having a couple of hearty slugs before handing it over to Clyde to see off. This may be the start of a beautiful relationship between me and Guinness, after all these years. My Grandad would be so proud.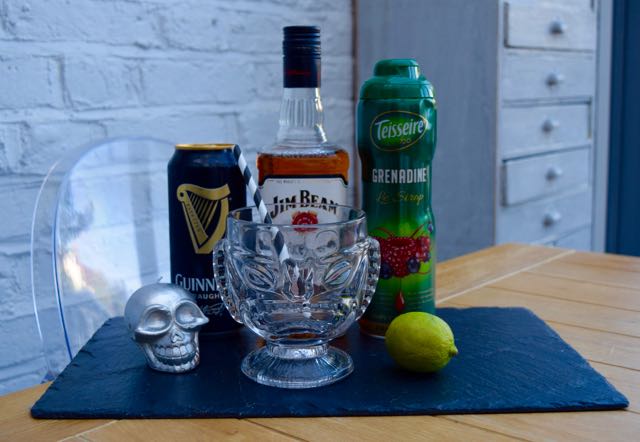 I love my angry looking Tiki glass, perfect for Halloween libations. My elderly lime is not as photogenic, apologies for that, but I do hate waste and try to use up even ugly, slightly aged fruit.
Make a start on your Black Magic with a cocktail shaker, the blueberries or blackberries and your bourbon of choice.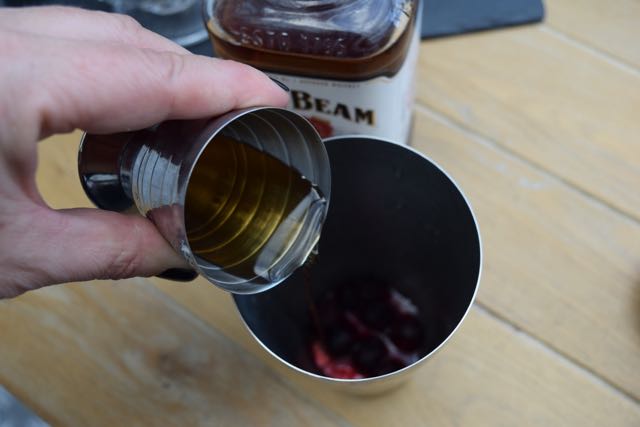 Pitch in with the lime juice and grenadine next.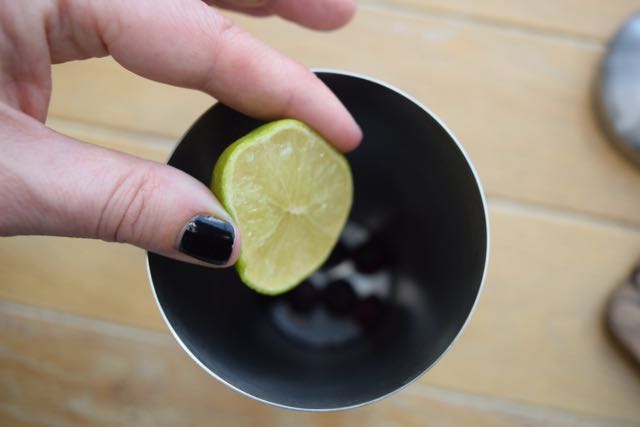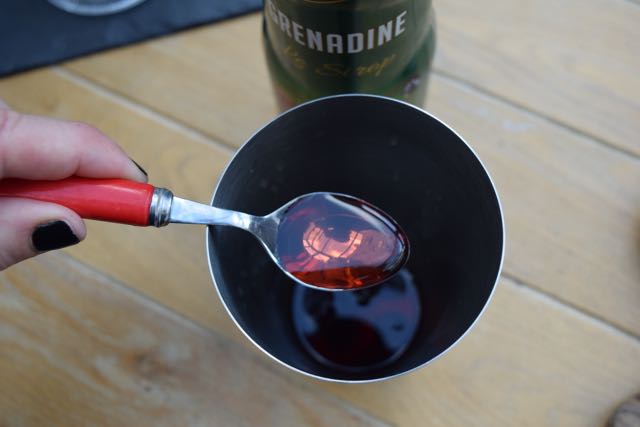 Muddle the berries and booze with the back of a spoon or a muddler then add an iceberg size lump of ice. Now it's lid on and shaky shaky until the body of the cocktail shaker is bloody freezing.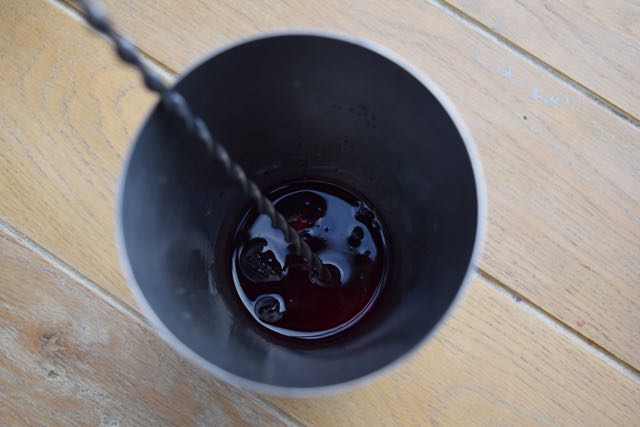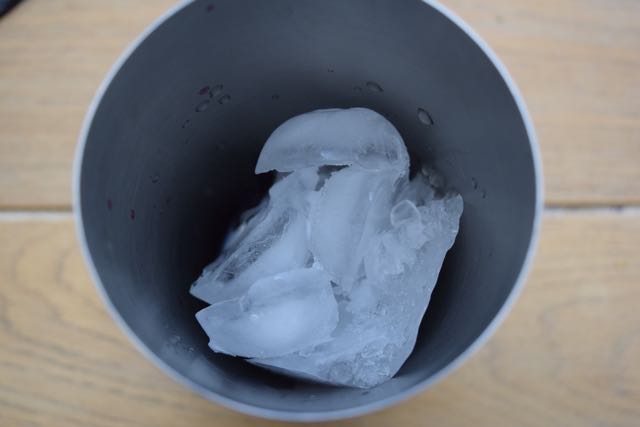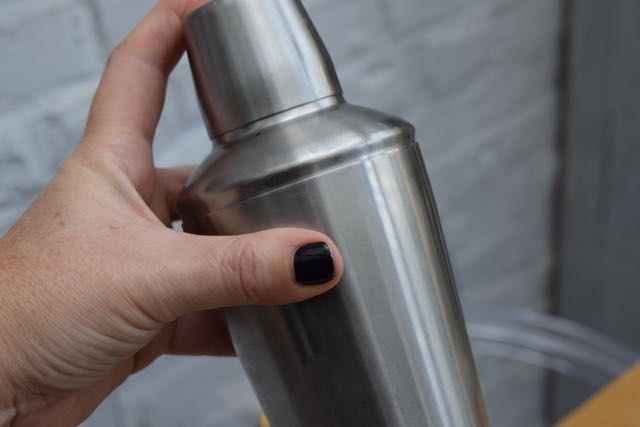 Sorry about the fat hand shot – it's been a while.
Add some more ice to your amusing glass then pour in the bourbon berry mixture.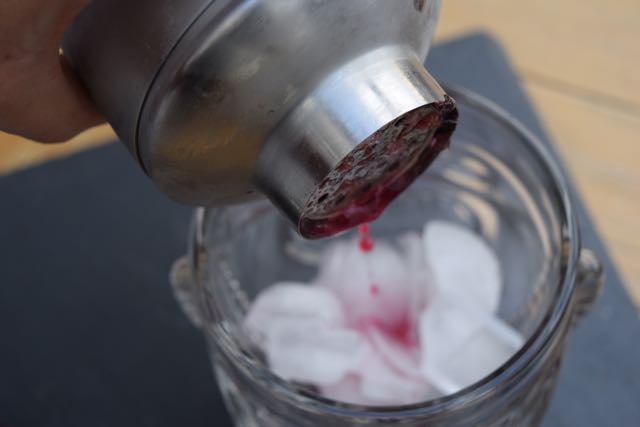 Top up with your chilled draught Guinness. This is where the black magic happens.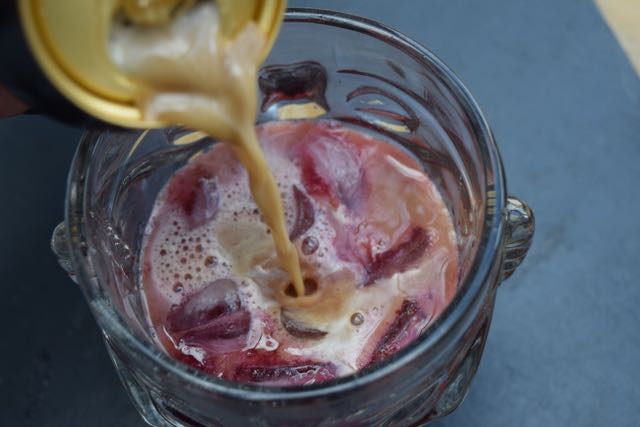 Give it a stir then garnish with a straw, a cocktail stick with berries and a wedge of lime.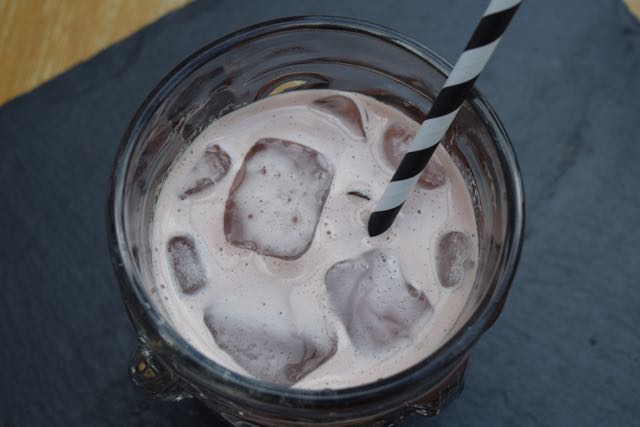 This is so surprisingly tasty, I think there must be some sort of magic at work here.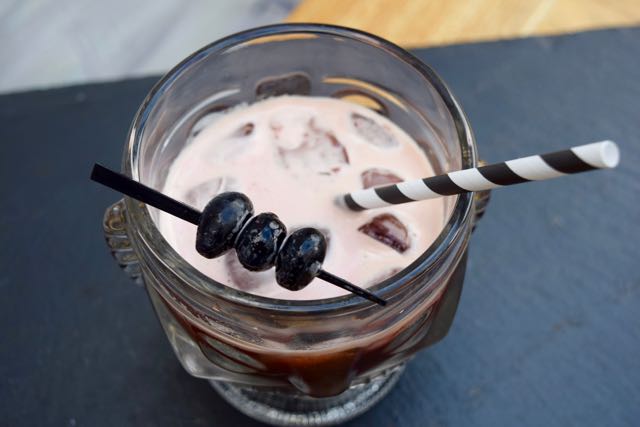 Halloween is very much just for the children in my eyes. But lets change that and make it more for the beleaguered grown ups who are up and down all evening opening the door to amusingly dressed youngsters. The evening would seem much more amusing with a Black Magic cocktail by my side.
Happy Halloween for next week.
Lucy x
Black Magic Cocktail Recipe
Makes 1
You will need a cocktail shaker and an amusing glass
40ml Bourbon
6 blueberries or 4 blackberries
1 tablespoon fresh lime juice
2 teaspoons grenadine
Approximately 150ml Guinness, canned draught is best
Ice
Blueberries on a cocktail stick and lime wedge to garnish
Take your cocktail shaker and add the bourbon, berries, lime juice and grenadine. Muddle the berries with a muddler or the back of a spoon to release their juices then add a handful of ice. Put the lid on and shake until the cocktail shaker is icy.
Pour into a large glass over more ice and top up, slowly, with the draught Guinness. Give the drink a stir then add a straw, lime wedge and cocktail stick with blueberries or blackberries. Sip and be afraid, very afraid. Then make another one.
SaveSave
SaveSave