Healthy Chocolate Banana Muffins Recipe
I fell off the diet wagon with a complete thud this weekend. Easter and all it's slimming food bit me on the arse and subsequently this week, I am back to trying to behave myself. I don't find it too tricky to behave during the week, but at the weekend I am lured by booze and treats. To add to my lack of will power we have 12 people for dinner on Saturday and the menu I am planning does not contain a single healthy option and does contain several litres of wine. These sort of conditions call for emergency measures, in the form of these Healthy Chocolate Banana Muffins.
My problem with being on a diet/attempting some healthy eating is the minute I say 'I am on a diet' I start to crave sweet treats or the food group I am trying to cut out. Which is where these Healthy Chocolate and Banana Muffins step up to the plate. Who would have thought a muffin containing next to no fat and just a smidgeon of sugar could taste so fudgey and delicious. And believe me they do taste fudgey and delicious as I have spent quite a bit of time eating them on your behalf. They are super *eek* moist from the apple sauce and abundance of bananas and really quite chocolatey. I didn't go so far as to add chocolate chips to mine as they added extra calories, but if you are not being so frugal, sling a handful of chopped up left over Easter egg and these become even more of a treat. This wonderful recipe came to me courtesy of the roguely named Yammie's Noshery, with huge thanks.
These Healthy Chocolate Banana Muffins are just right for those moments of weakness/being human when all you need is something sweet. I have been popping these in my bag to eat mid afternoon at my desk when all I really want is a cream tea. And at barely 100 calories each, it wouldn't be the end of the world to sling a second one in your bag too, just for good luck.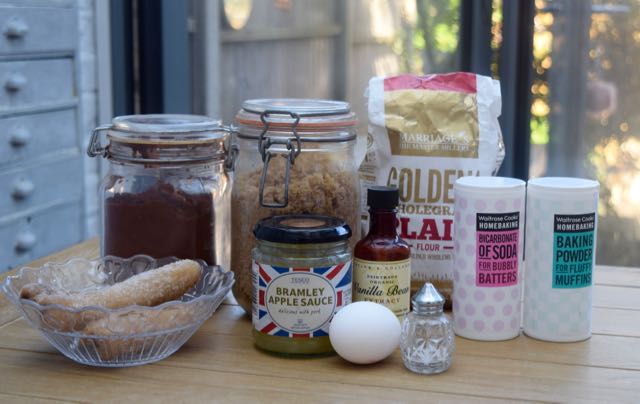 Nothing scary here, apart from my slightly amusing looking frozen bananas. I fight a constant battle to eat bananas before they go too brown and mushy. Once this happens, in an act of total frugality I then freeze the brown bananas for just such times as I wish to whip up a batch of these Healthy Chocolate Banana Muffins or an Espresso Banana Smoothie, for example.  Just a note on flour for these; I used some golden wholemeal as I had it to hand, but use plain white, spelt or blitz up some oats for an interesting change if you would prefer.
Make a start on these low fat treats by mashing your frozen, or not frozen super ripe bananas. You don't want them liquidized, just mashed with a bit of body.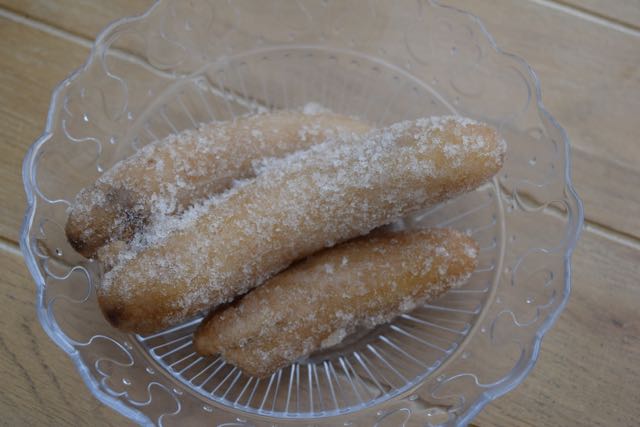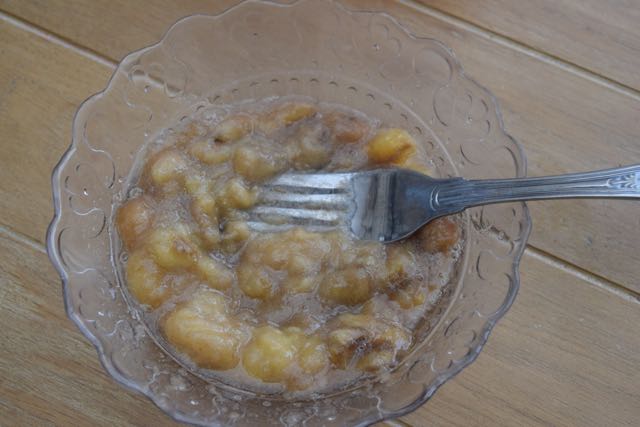 Add these to a large bowl along with the brown sugar, apple sauce, vanilla extract and the egg. Give this a whisk.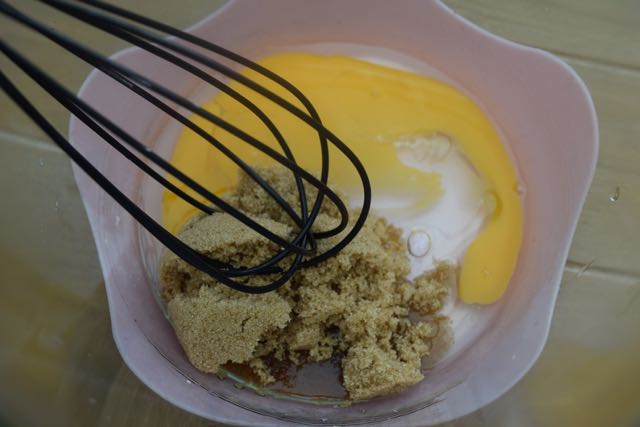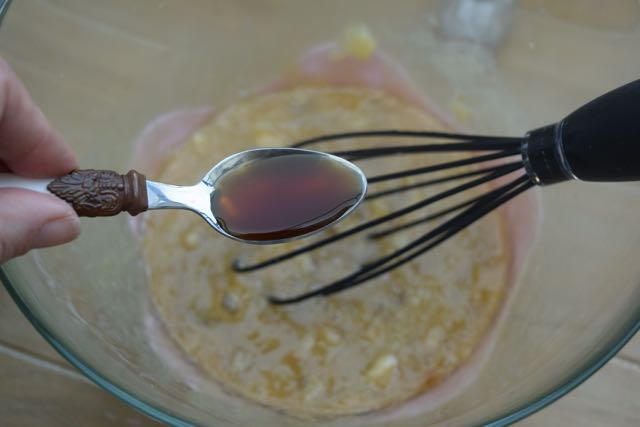 In another bowl add the dry ingredients including the flour of your choice, bicarb and baking powders, cocoa and salt.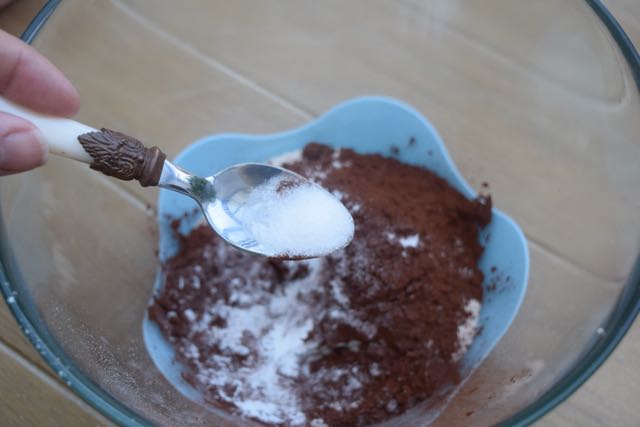 Fold these dry bits together.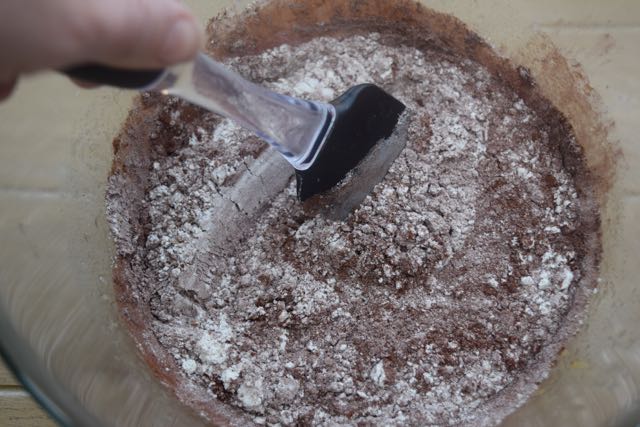 Then gently fold the dry ingredients into the wet ingredients. Add any chocolate here, if you wish and are naturally slim, you bastards. Don't over mix or you will have a tough muffin.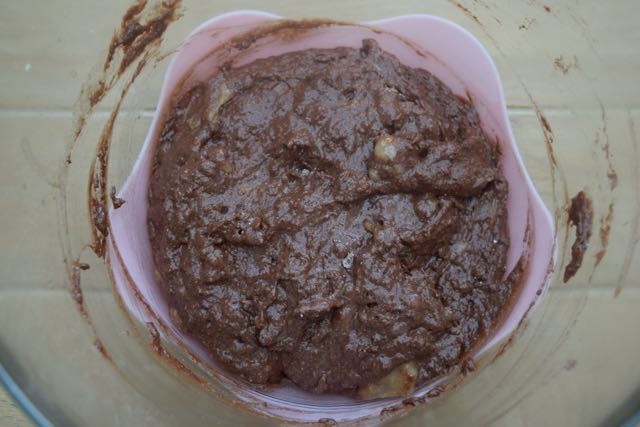 This doesn't look that impressive, but it tastes bloody lovely. I did QC the mixture, of course I did.
Spoon the muffin batter into your lined muffin tins, this batch will make 10 medium sized treats.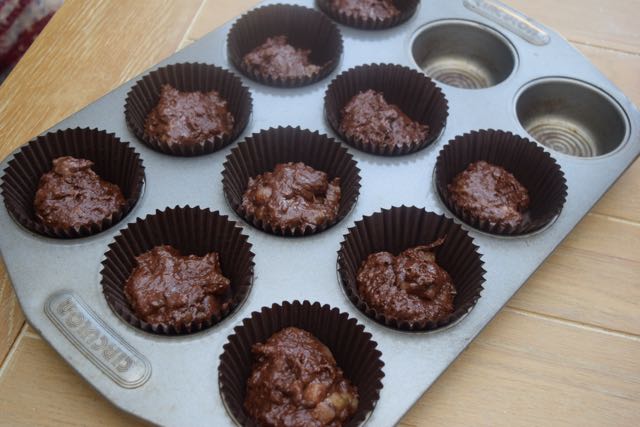 Bake for 18 to 20 minutes, or until they are just firm to the touch and a skewer comes out clean when poked in the middle. Have the courtesy to let them cool down slightly before hoovering up at least two in one sitting.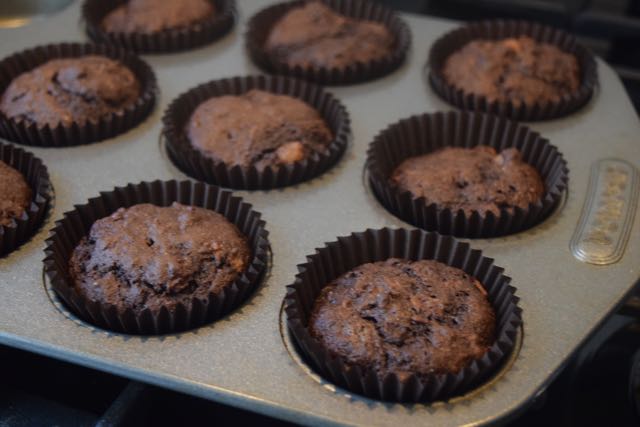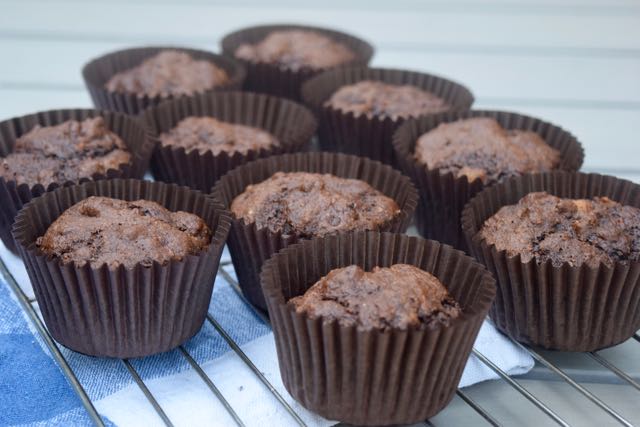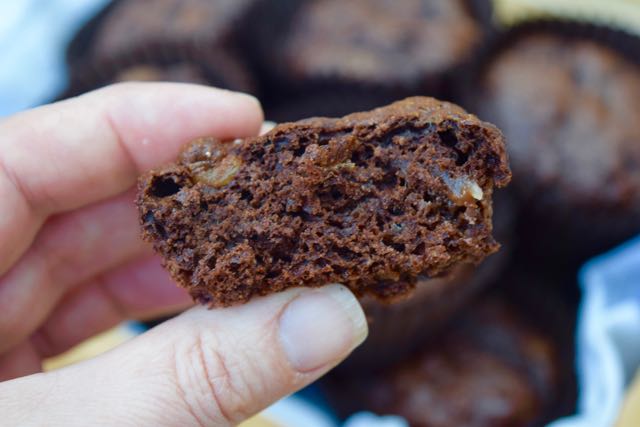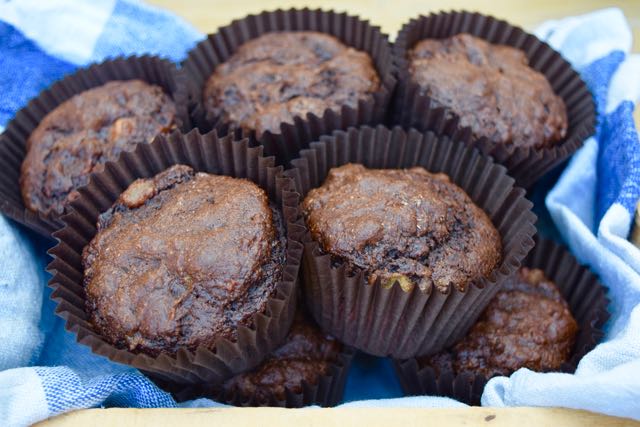 I have a batch of these in the freezer at all times at the moment. When resistance is low and I fancy eating a bag of Mini Eggs, I forage through the freezer and my collection of over ripe bananas to find myself one of these Healthy Chocolate Banana Muffins to indulge in instead. With their soft, fudgey texture and dark chocolate flavour these really do feel like quite the treat.
Lucy x
Healthy Chocolate Banana Muffins Recipe
Makes 10, moderately sized muffins
You will need a lined muffin tin
3 bananas, over ripe, mashed
50g brown sugar
85g apple sauce
1 teaspoon vanilla extract
1 egg
220g plain or wholemeal flour or the original recipe called for oats, blitzed into flour in the food processor
1/2 teaspoon baking powder
1/2 teaspoon bicarbonate of soda
1/2 teaspoon salt
30g cocoa
100g chocolate chips, optional
Pre heat the oven to 160 degrees fan assisted and line your muffin tin with 10 muffin cases.
Mash the three bananas and add to a large bowl. Mix in the sugar, apple sauce, vanilla extract and the egg and give the mixture a little whisk. In a separate bowl stir together the flour, baking powder, bicarbonate of soda, salt and cocoa.
Mix the dry ingredients into the wet ingredients and fold together until just mixed. Add in the optional chocolate chips here if you like.
Spoon the mixture into the muffin cases, filling 10. Put into the pre heated oven for around 18 to 20 minutes. The muffins are cooked when a skewer comes out clean when poked into the middle, but they are still fudgey and soft. Leave to cool slightly before storing in a tin for up to 5 days. These also freeze brilliantly.