White Chocolate and Cranberry Scones Recipe
A couple of Sundays ago we had a wonderful afternoon tea for a most welcome friend and head of the Lucy Loves Fan Club, Miami Branch. The most popular item by far on the tea time menu were the scones. Scones are an oft forgotten treat in our house, which is bizarre, as they are super delicious and so bloody easy to make. I doubled the recipe and the still warm, tiny scones with abundant jam and clotted cream, were annihilated by the tea party guests *mainly George*.
So when I asked George what he would most like to eat during half term, he announced scones. So, to mix things up a little I decided to rework an old scone round recipe and created these White Chocolate and Cranberry Scones for a pleasant change.
And what a pleasant change they are, albeit embarrassingly easy. Just a little light rubbing in of butter and stirring in of milk and you have a wonderful fruit and chocolate studded round of scone which in turn gives you 8 scone wedges of your dreams. They have a whiff of orange and a generous smattering of choc and cranberry and if you care to spread them with butter, and or jam and cream, these are quite the most delicious scones I have ever tasted *embarrassingly immodest face*. This wonderfully simple recipe hails from a work colleague from at least 20 years ago. She is sadly no longer with us, but her amazing scone round lives on in the guise of these tempting incarnations.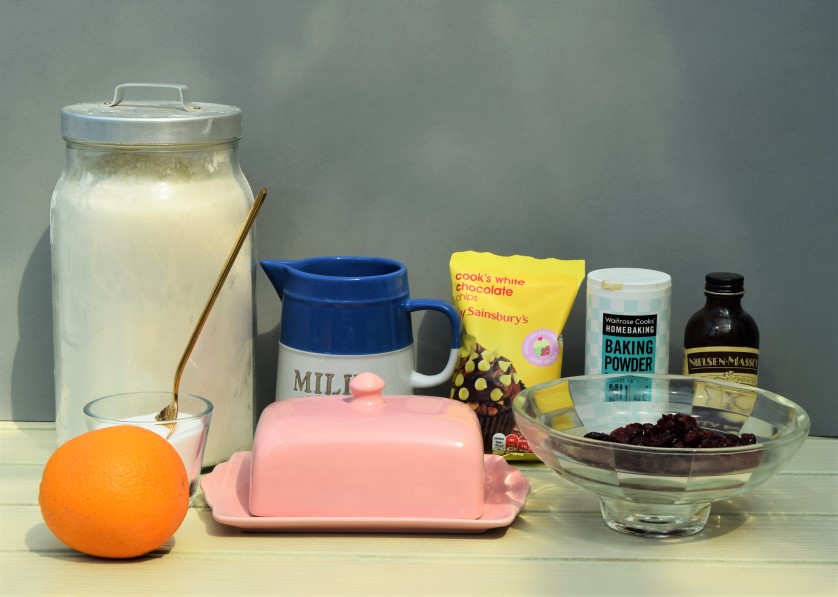 Nothing of any great excitement to see here. Just good simple scone like ingredients. Scones are crushingly underrated in my mind and should really be made at least once a week. They are relatively low in sugar and  fat and super easy to make.
Make a start on these simple baked treats by pre heating the oven to 170 degrees fan assisted. Next, weigh into a large bowl the flour, baking powder and cold butter.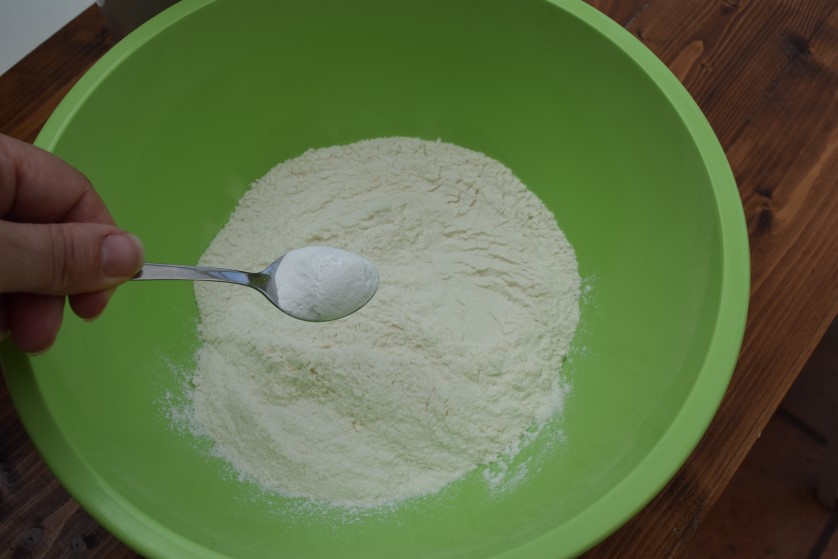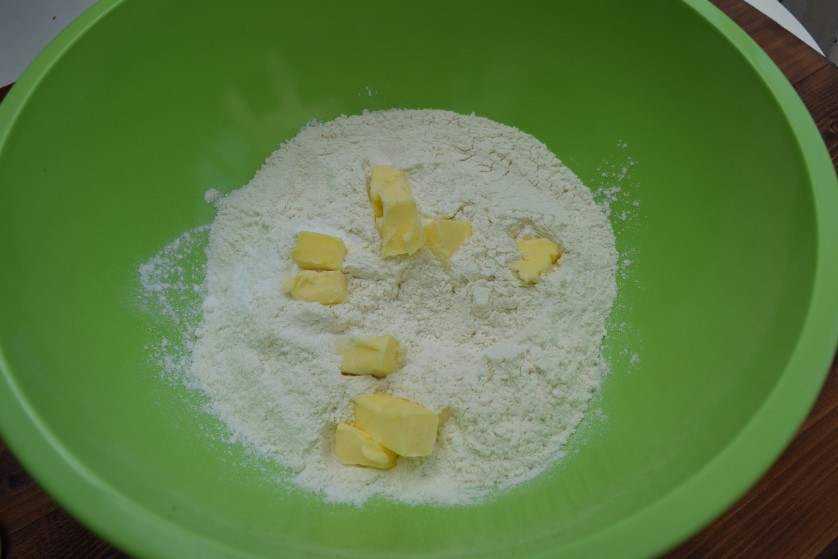 Rub the butter into the flour until the mixture resembles breadcrumbs then stir through the caster sugar and orange zest.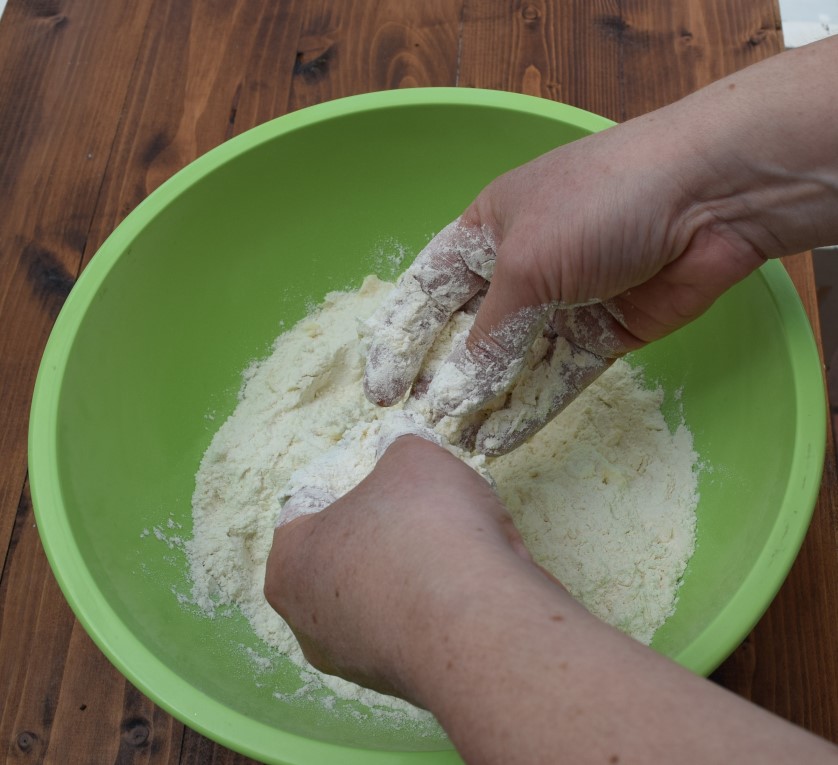 Clyde surpassed himself by making my hands look uglier than ever in this shot.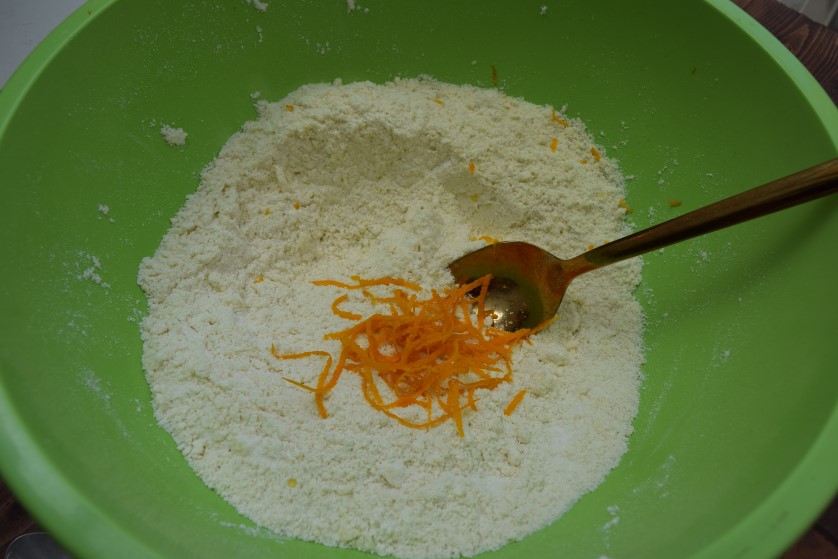 Mix the vanilla extract into the milk then slowly pour this into the flour and butter. You may not need it all,  so don't use all the milk at once.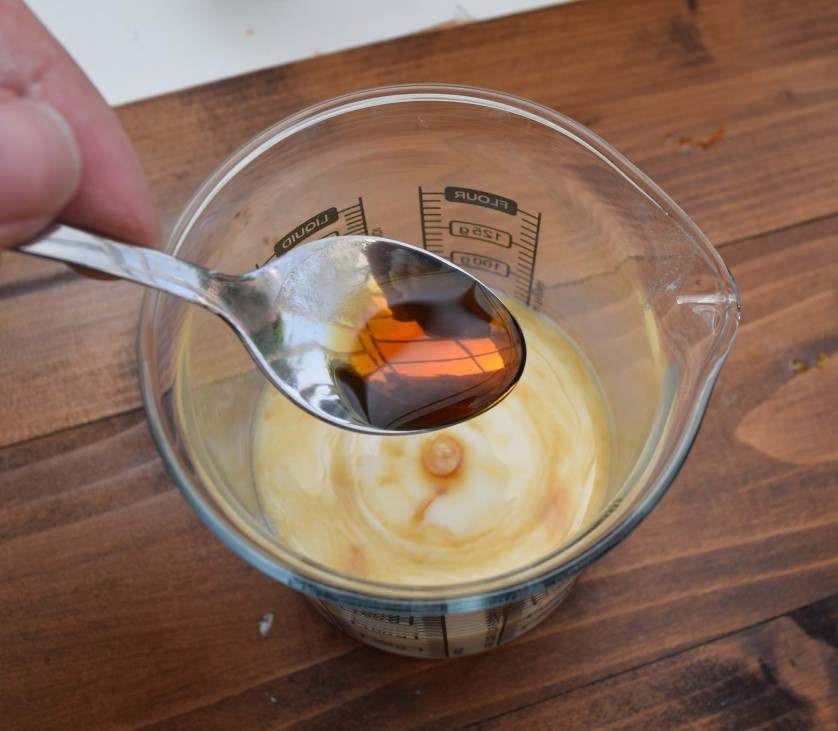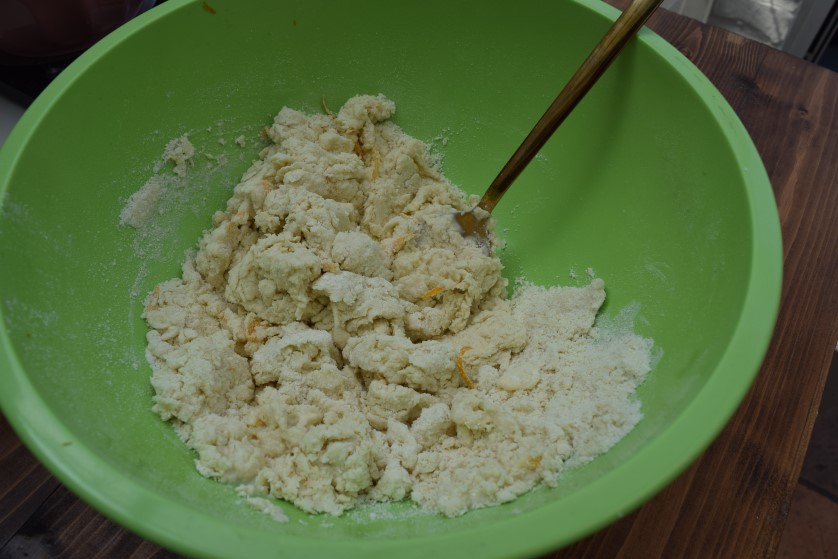 Before the dough comes together into a soft ball, pour in the chocolate and cranberries.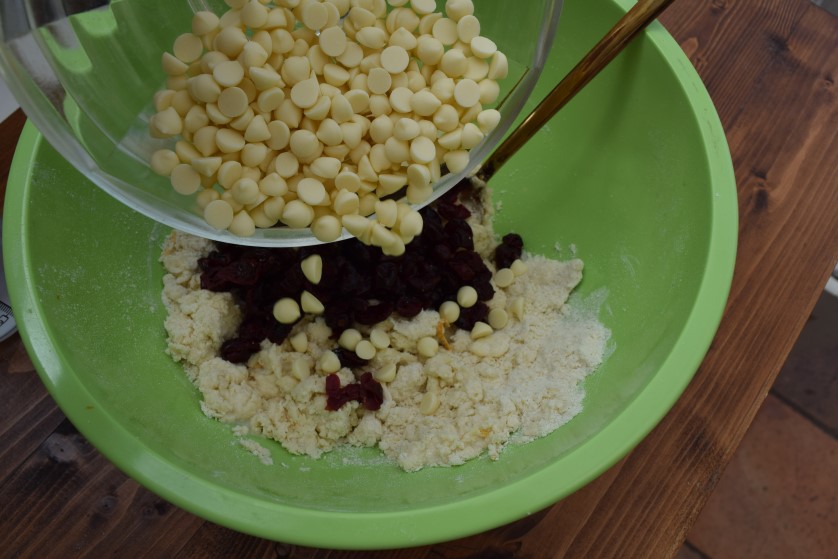 Use your hands or a spoon to turn the mixture into a soft dough then tip this out onto a floured work surface and knead lightly to bring it all together.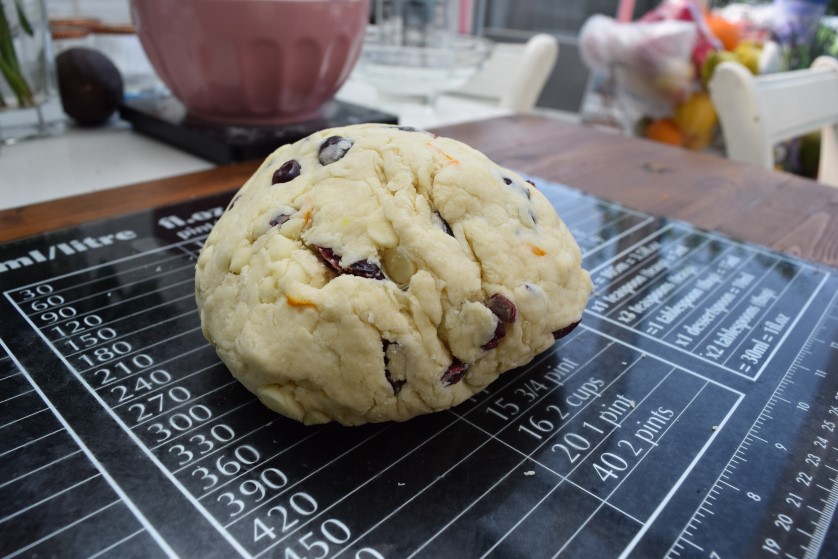 Using your hands and/or a rolling pin, shape the scone dough into an approximate 8 inch round which is 2cm-ish thick, but don't be too precise.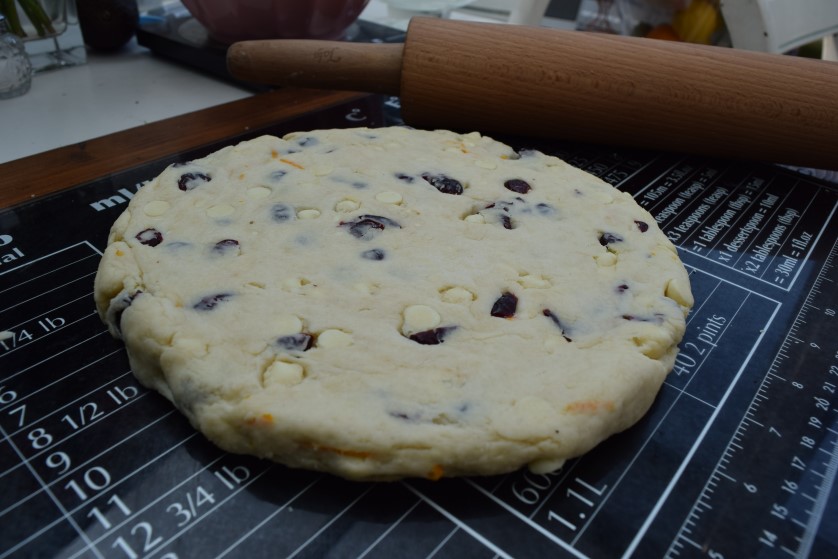 Place this scone round onto a lined baking tray and score it into 8 wedges using a sharp knife, but not cutting all the way through.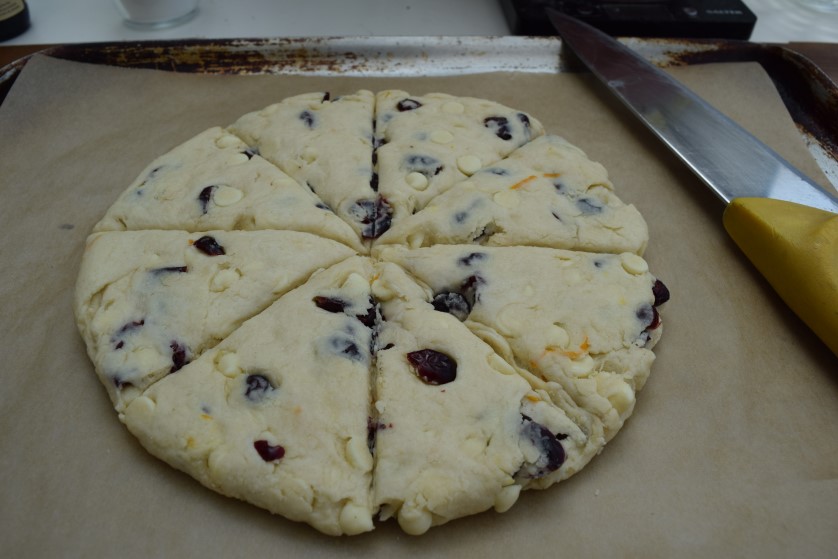 Glaze with an extra tablespoon of milk and a sprinkling of caster sugar then pop in the oven for 20 to 25 minutes or until golden brown and cooked through.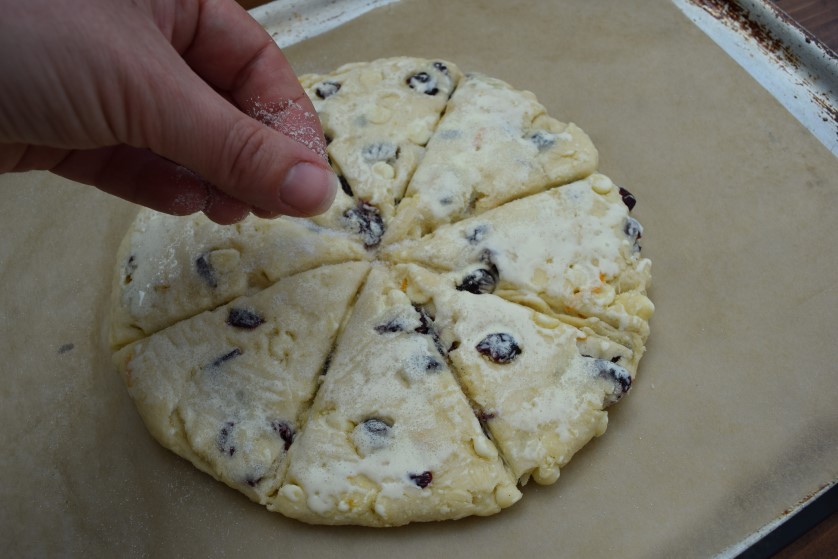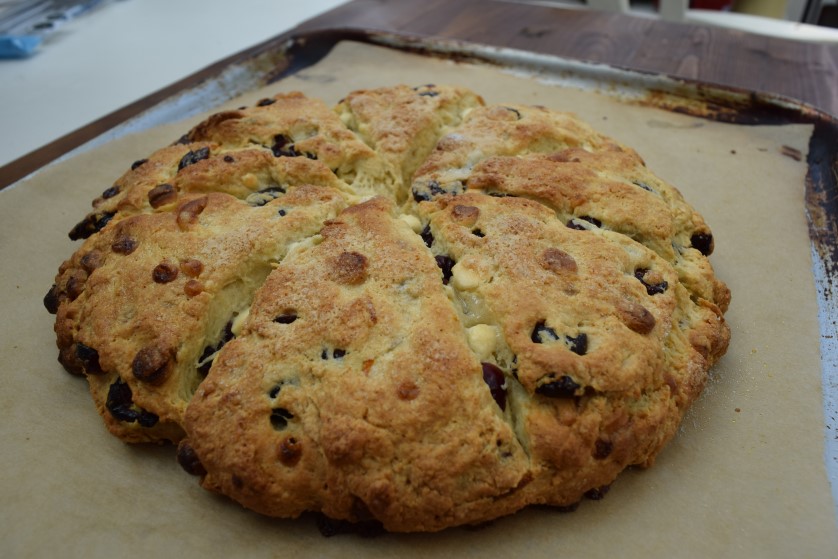 Leave this sweet smelling scone round to cool momentarily before you break it into wedges and devour with butter, jam and clotted cream. Or just warm, unadorned. It's completely up to you.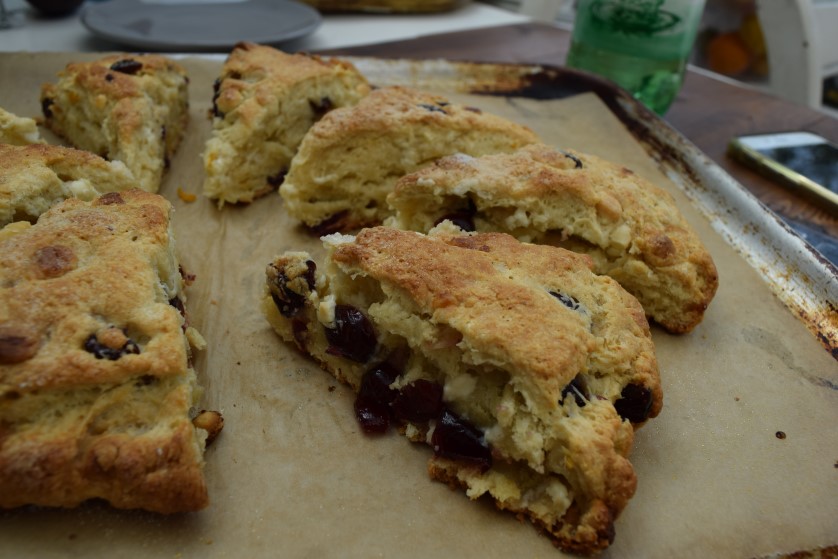 These treats should not just be reserved for tea parties, in my mind, they should feature on the menu weekly, as standard.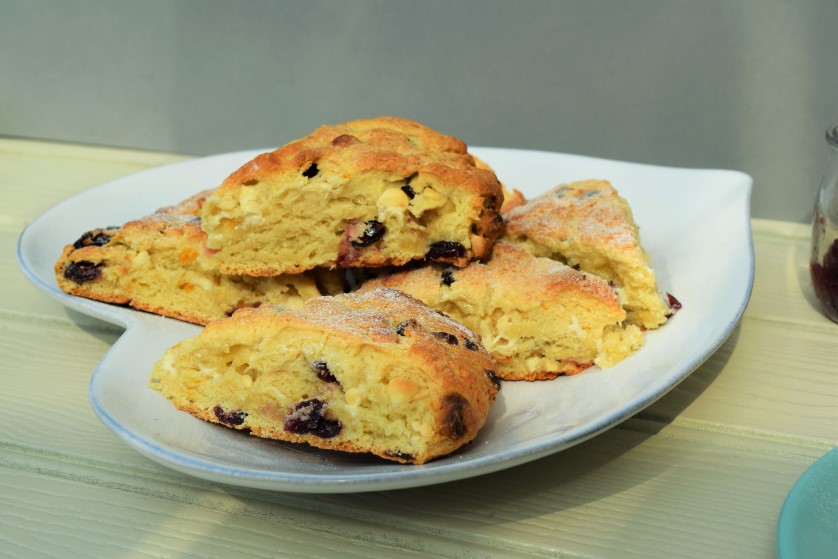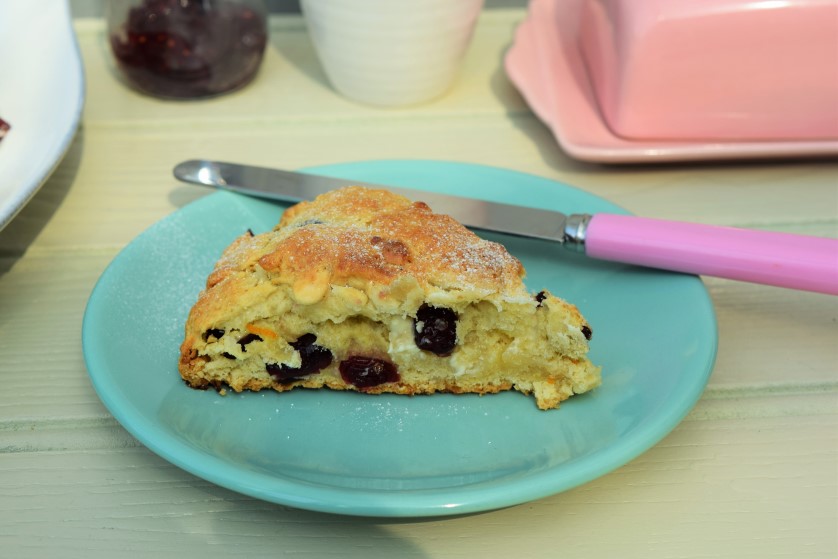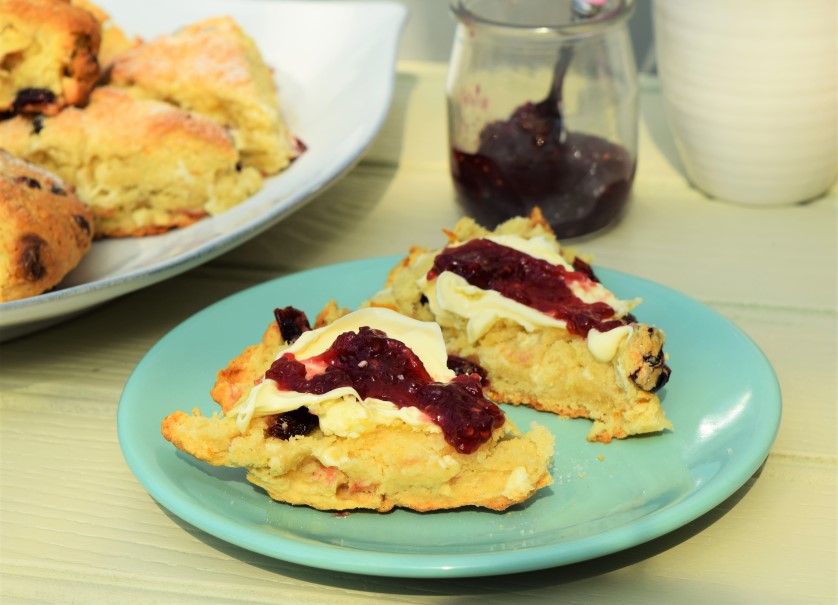 What a wonderful, simple baked treat these scones are. This batch barely had the chance to cool down before they were inhaled. They are soft, orange scented and packed full of white chocolate and dried cranberries. It's definitely time to put scones back on the radar, and these are the ones to make them the height of fashion.
Lucy x
White Chocolate and Cranberry Scones Recipe
You will need a lined baking sheet and a big mixing bowl
Makes 8 generous triangles
250g self raising flour
1 teaspoon baking powder
50g cold butter, chopped
zest of an orange
2 tablespoons caster sugar
75g dried cranberries or raisins if you prefer
100g white chocolate chips or chopped white chocolate
1 teaspoon vanilla extract
125ml milk
A little extra milk and a sprinkle of caster sugar to glaze
Butter, cream and jam to serve, if you wish
Pre heat the oven to 170 degrees fan assisted.
Take a large mixing bowl or your food processor and measure in the self raising flour and baking powder. Gently rub in or process the chopped cold butter into the flour so the mixture resembles fine breadcrumbs. Stir through the sugar and orange zest then mix the vanilla extract into the milk. Pour in enough of the milk to make a soft dough then stir in the chocolate and dried fruit.
Turn the dough out onto a floured work surface and knead gently for a moment to bring the dough together. Fashion the dough into a 20cm-ish round, approx 2 centimeters thick, but no need to be too precise. Place the dough round onto a lined baking sheet and brush with extra milk and sprinkle with a little sugar to glaze. Bake for 20 to 25 minutes or until golden brown and cooked through.
Serve warm, slathered with butter, jam and cream. These will keep in a tin for a couple of days, but are best, and very easily, eaten on the day of baking.