Portuguese Custard Tarts Recipe
When I was pregnant with Ben, about 100 years ago, I ate a lot, and I mean, a lot. No wonder he's 6ft 3 because he was nourished by large helpings of Giant Chocolate Buttons, chicken flavoured crisps, chocolate biscuit cake and Portuguese Custard Tarts. In the olden days, I am pretty sure you weren't allowed to eat custard during pregnancy, but such was my passion for these crisp, golden eggy treats, I threw caution to the wind and ate approximately 3 and a half stones worth. I had never attempted to make my own, believing them to be a right bloody drama. Had I known they were so easy, I am certain I would have put on at least another stone.
Thanks to those BBC Good Food types, I have discovered just how simple Portuguese Custard Tarts are. I can't vouch for their authenticity, as I have never been to Portugal; however, after years of extensive research *just being greedy* I can confirm, these PCT's are bloody delicious. Clyde and I ate several warm from the oven, but I can also vouch for them being just as wonderful chilled from the fridge a day or two later. These little sweet mouthfuls are a simple puff pastry case filled with a sweet, vanilla laced custard. The custard takes minutes to make and the pastry is a good, all butter shop variety, so there's no need to be put off this recipe thinking it's a kerfuffle. The resulting tart is crisp, soft and really rather addictive.
Thank God this recipe makes 12, as these will not last long in any custard tart loving home. Serve them with coffee, as a dessert with berries, or, as with all good recipes, scoff still hot from the oven savagely burning the roof of your mouth.
I was due to make a completely different recipe this weekend, but continuing on my mission to waste less food, I had the pastry in the fridge and it needed using up. So these tarts are somewhat of a special guest star. I had all the other ingredients to hand, making this another storecupboard-ish treat.
Make a start by pre heating your oven to 180 degrees fan assisted and buttering a 12 hole muffin tin. Next, take a medium saucepan and add the caster sugar, cornflour, whole egg and egg yolks and give it a whisk until smoothish.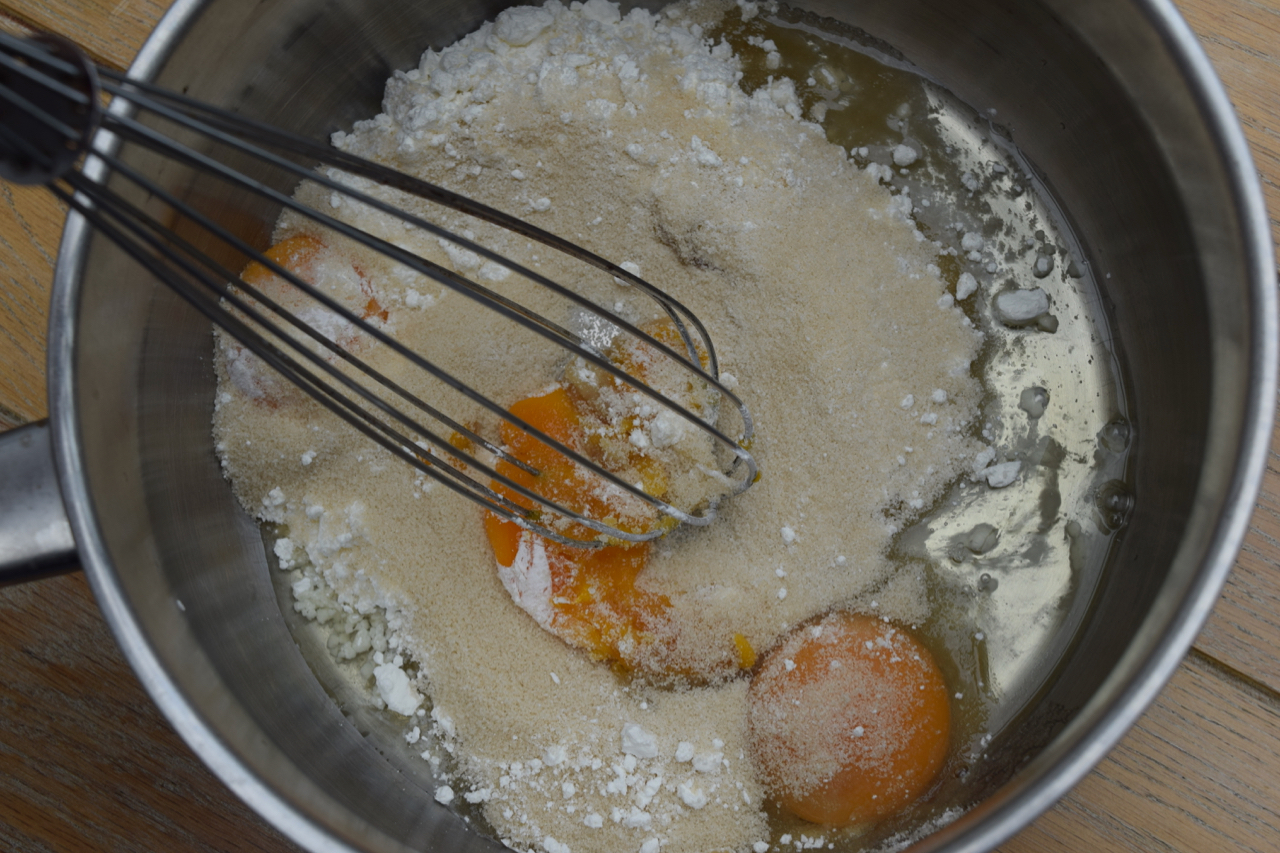 Now, whisk in the full fat milk, this is no time for skimmed milk. The mixture should be reasonably lump free. Pop onto the hob and bring up to the simmer, whisking constantly. Cook for a minute or two until thickened.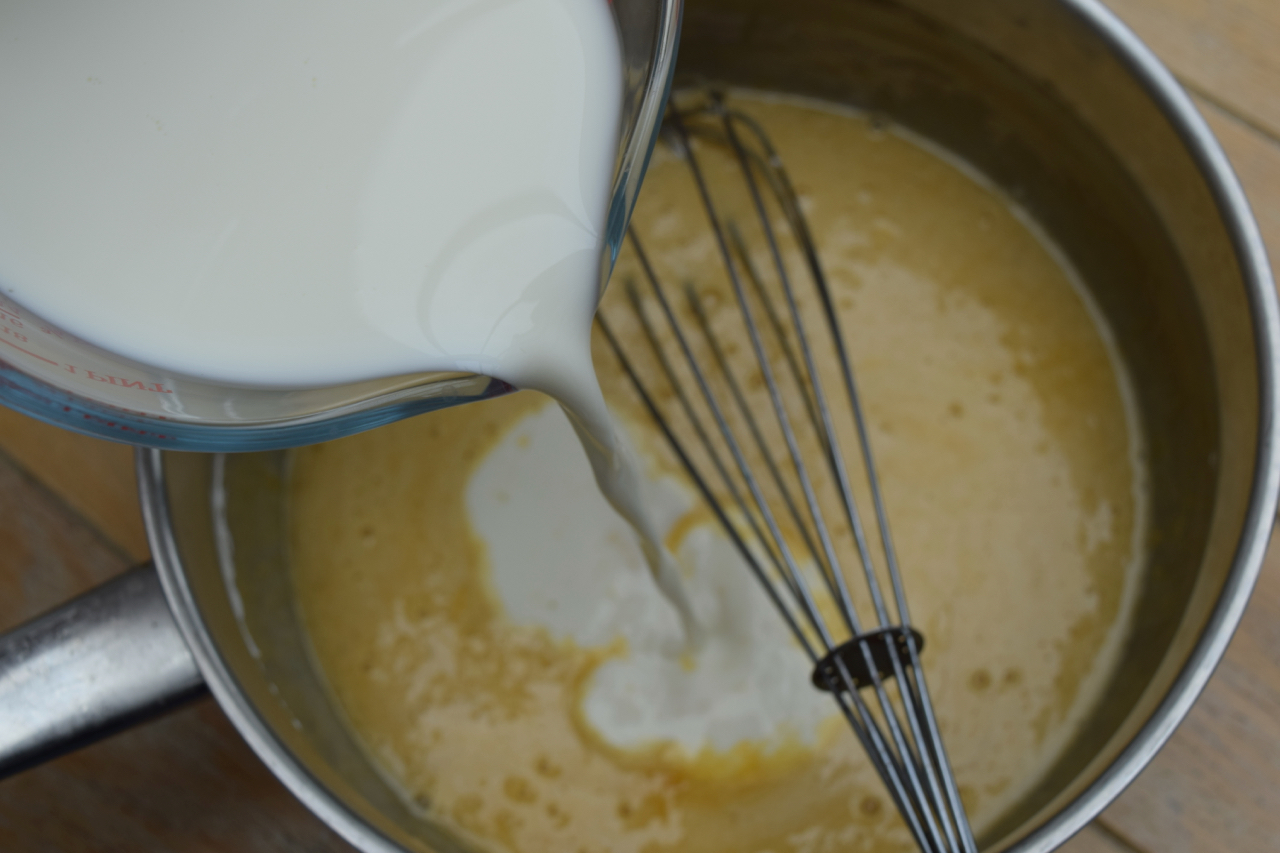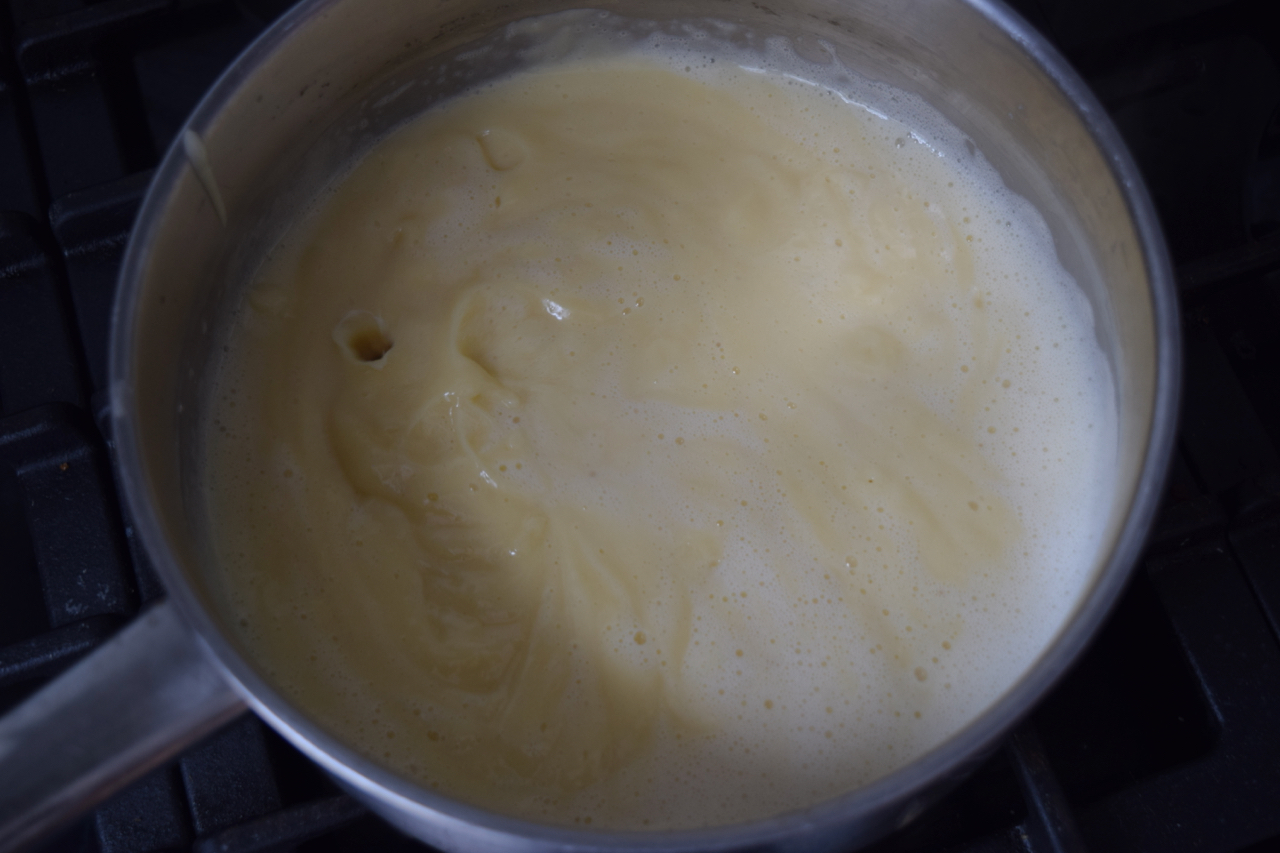 Take off the heat and stir in the vanilla extract or paste. Scrape the custard into a bowl then put a piece of clingfilm over it to stop a skin forming. Leave to cool whilst you crack on with the pastry.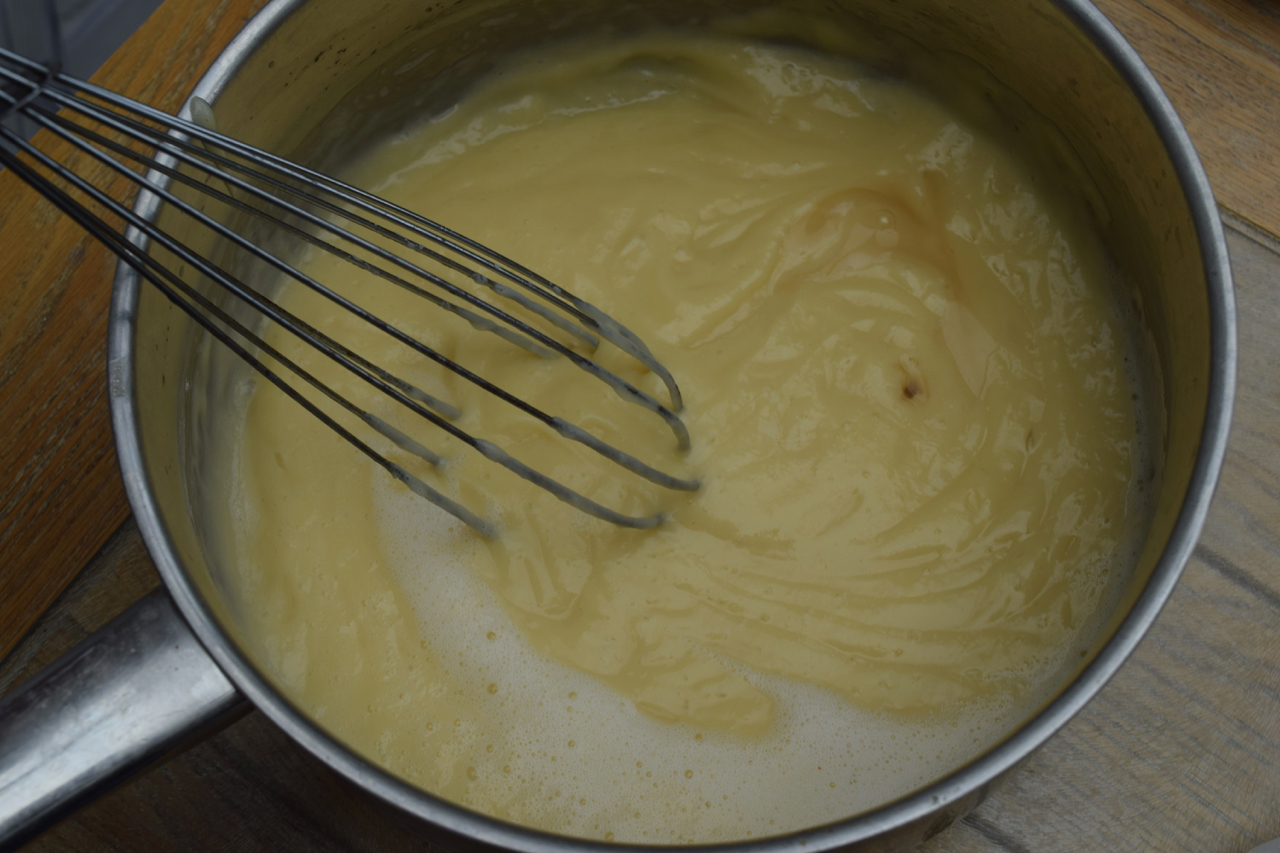 Remove the pastry from the packaging and unroll. Cut the sheet in half then lay one half on top of the other. It was bloody hot when I photographed this, so mine was a little soft, to say the least.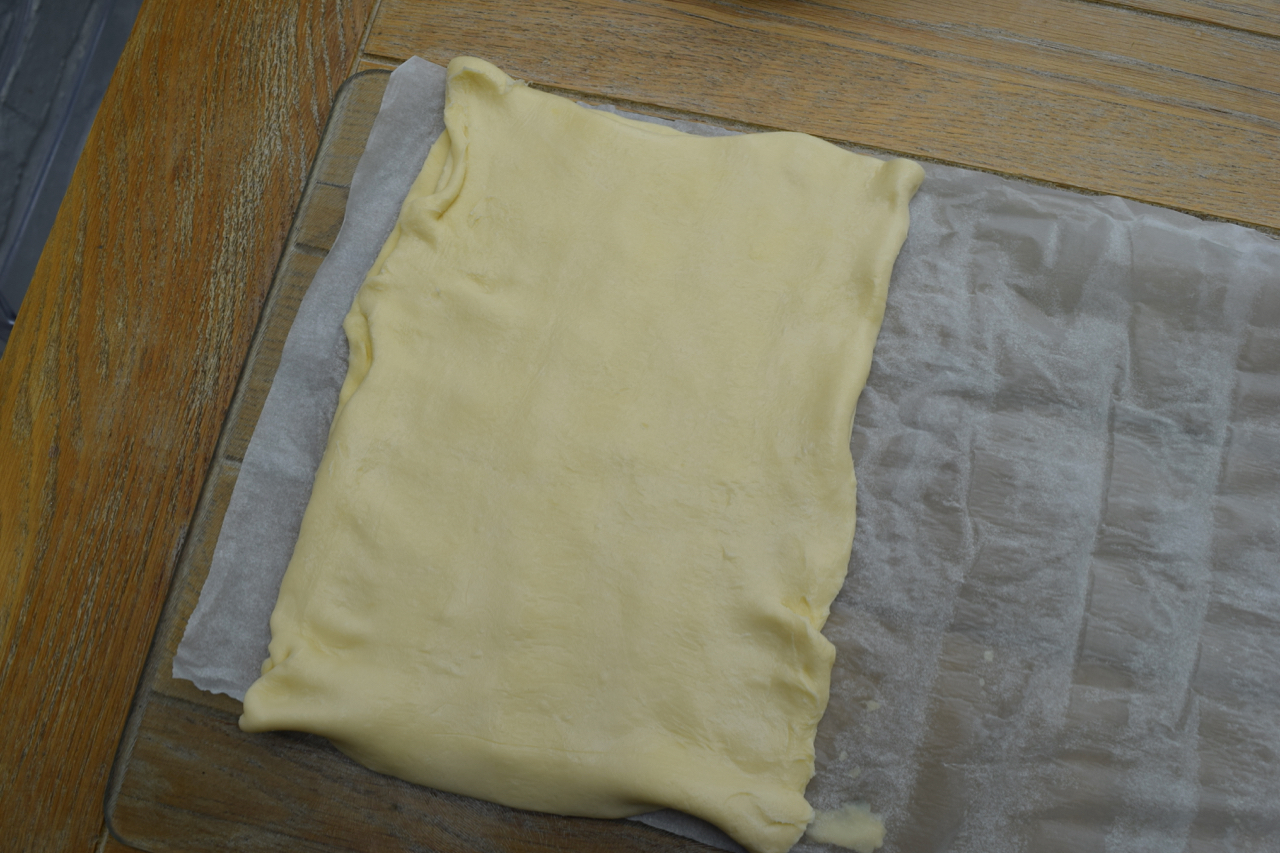 Roll the pastry up from the shortest side, into a tight roll. Cut the roll into 12 even sized pieces.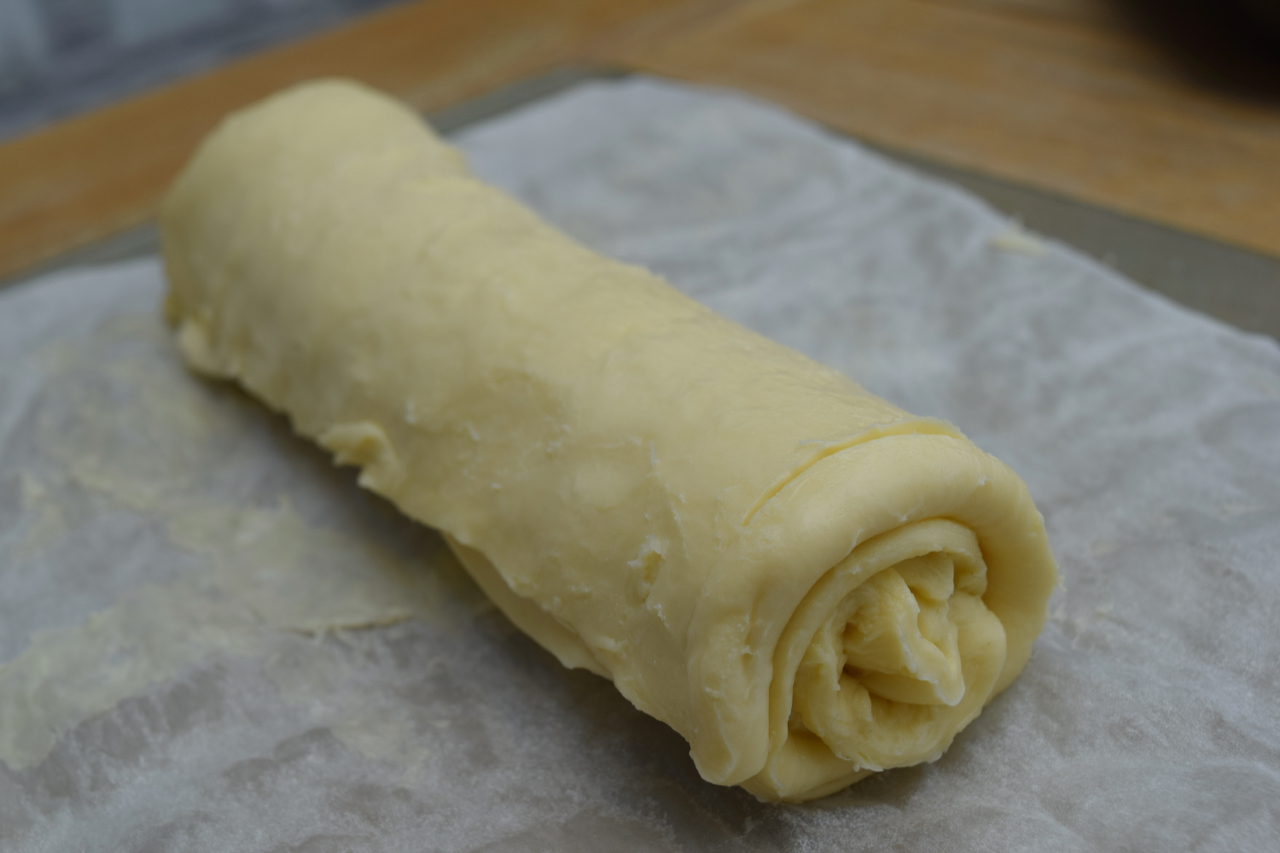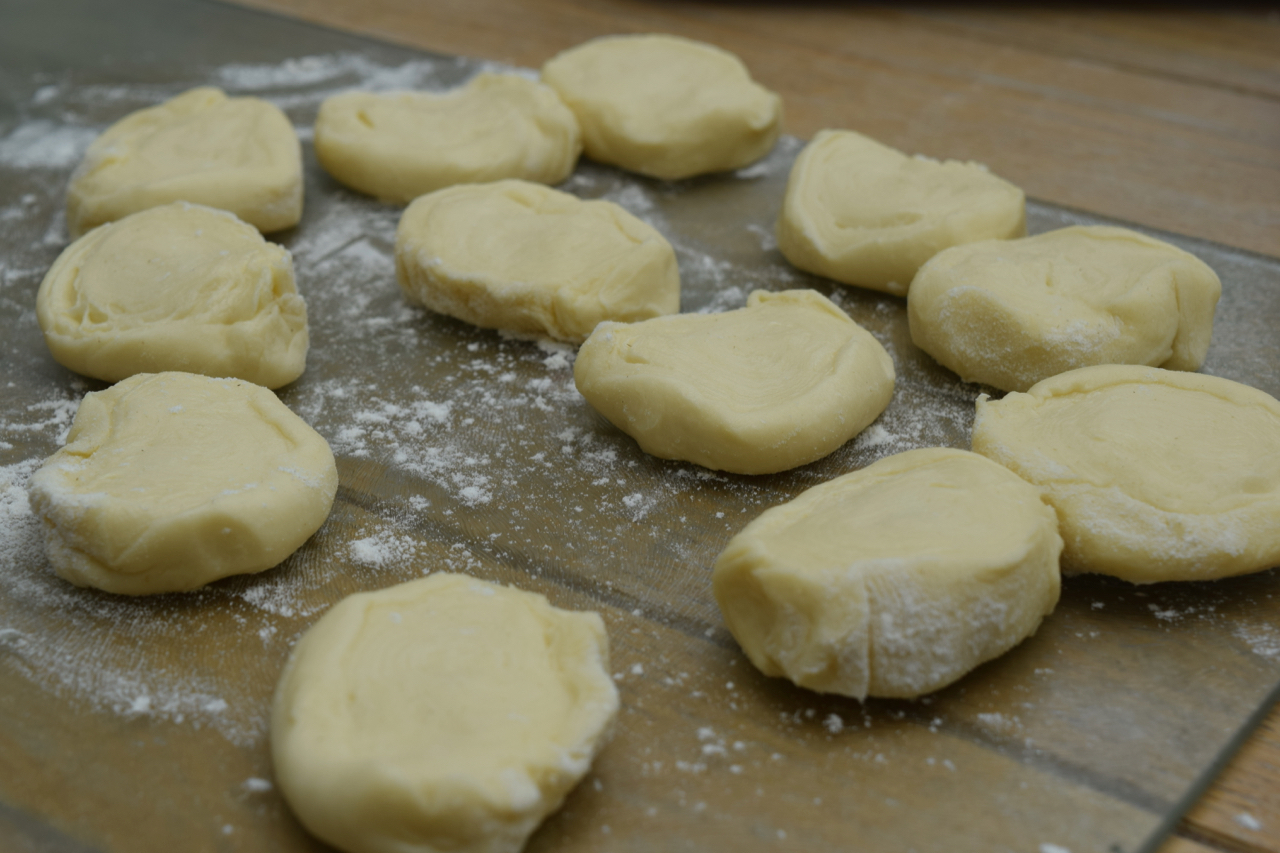 Roll each circle of pastry out into a round with a diameter of 10cm. Press each circle into your buttered muffin tins. Don't be too precise, these are meant to be rustic, or mine were.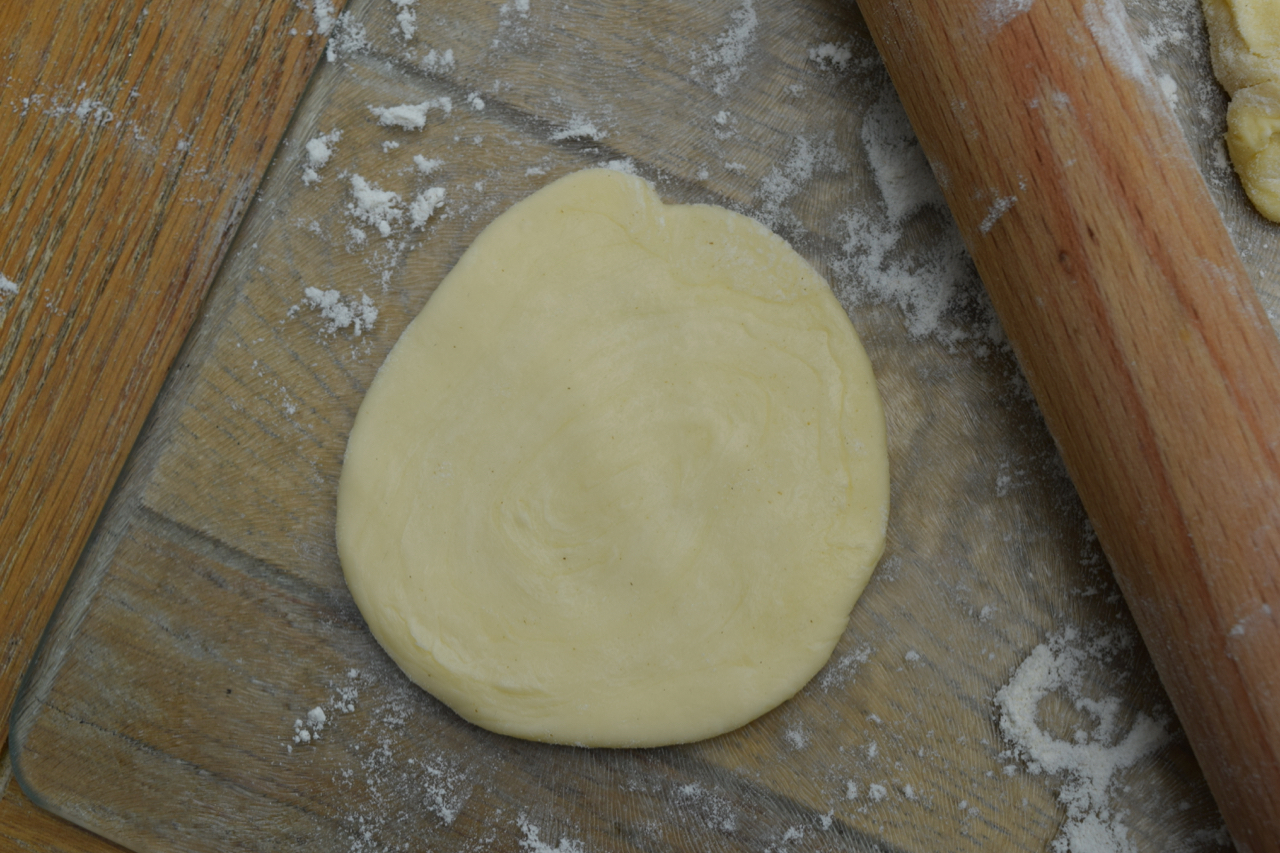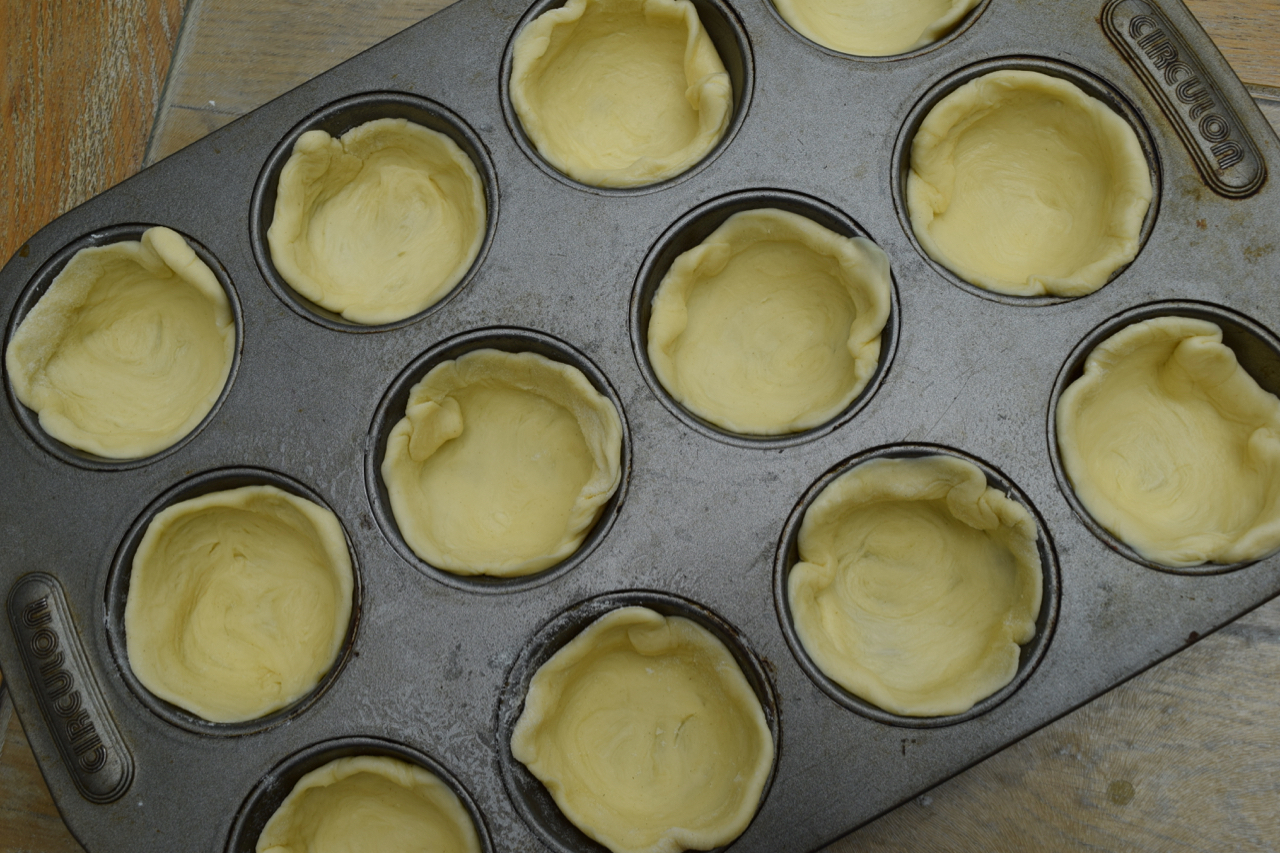 Spoon in your slightly cooled custard, filling each case up until nearly full.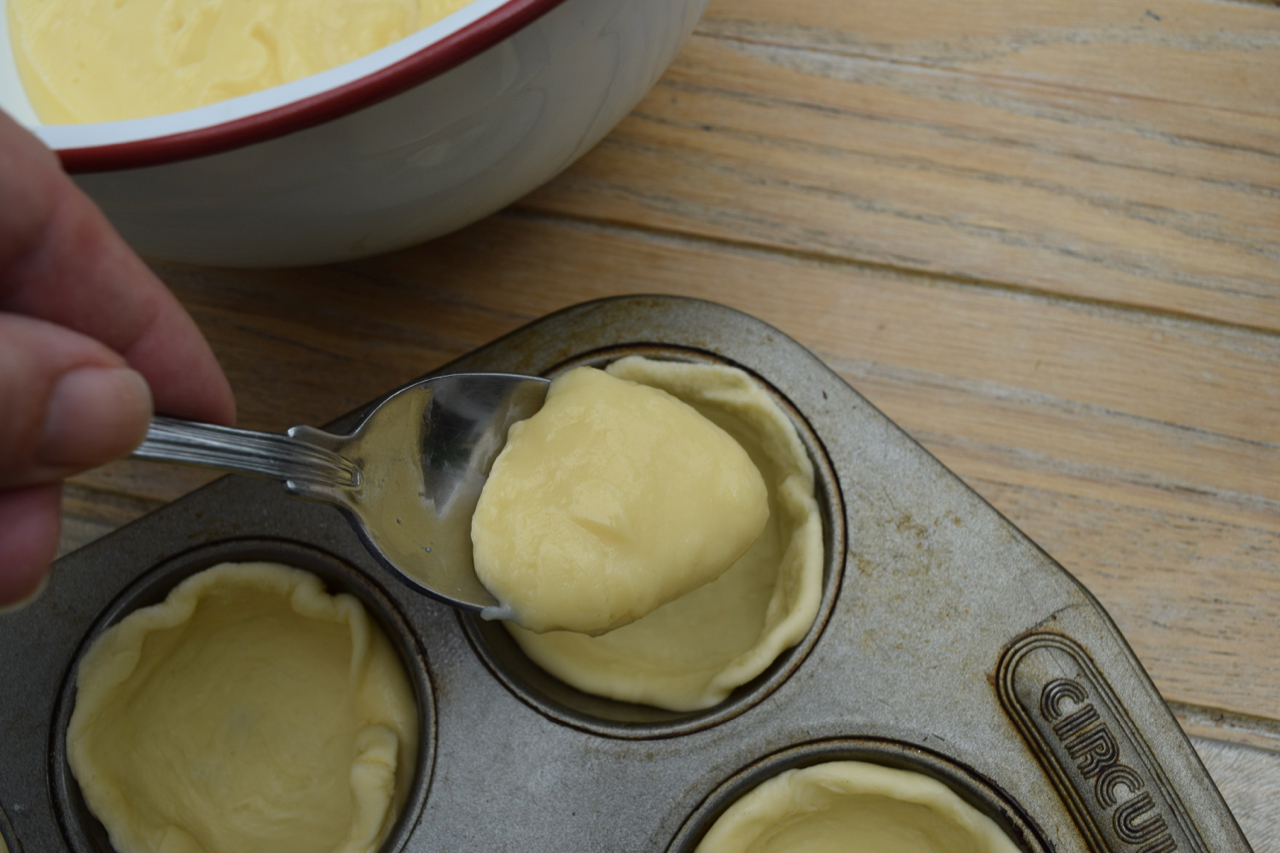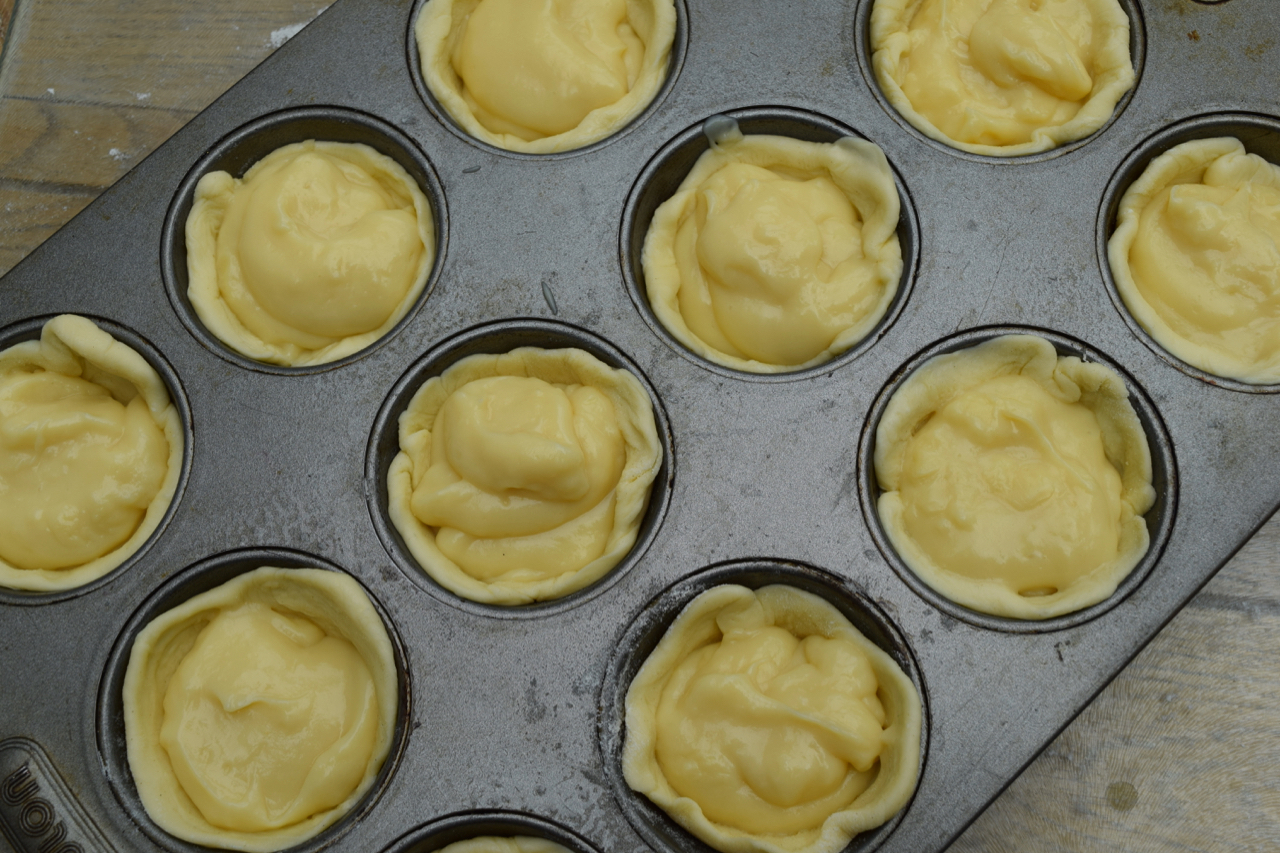 Pop them into the oven and cook for 20 to 25 minutes. Your cooked Portuguese Custard Tarts are ready when they are slightly scorched, the pastry's golden and you can barely wait to get them out of the tin.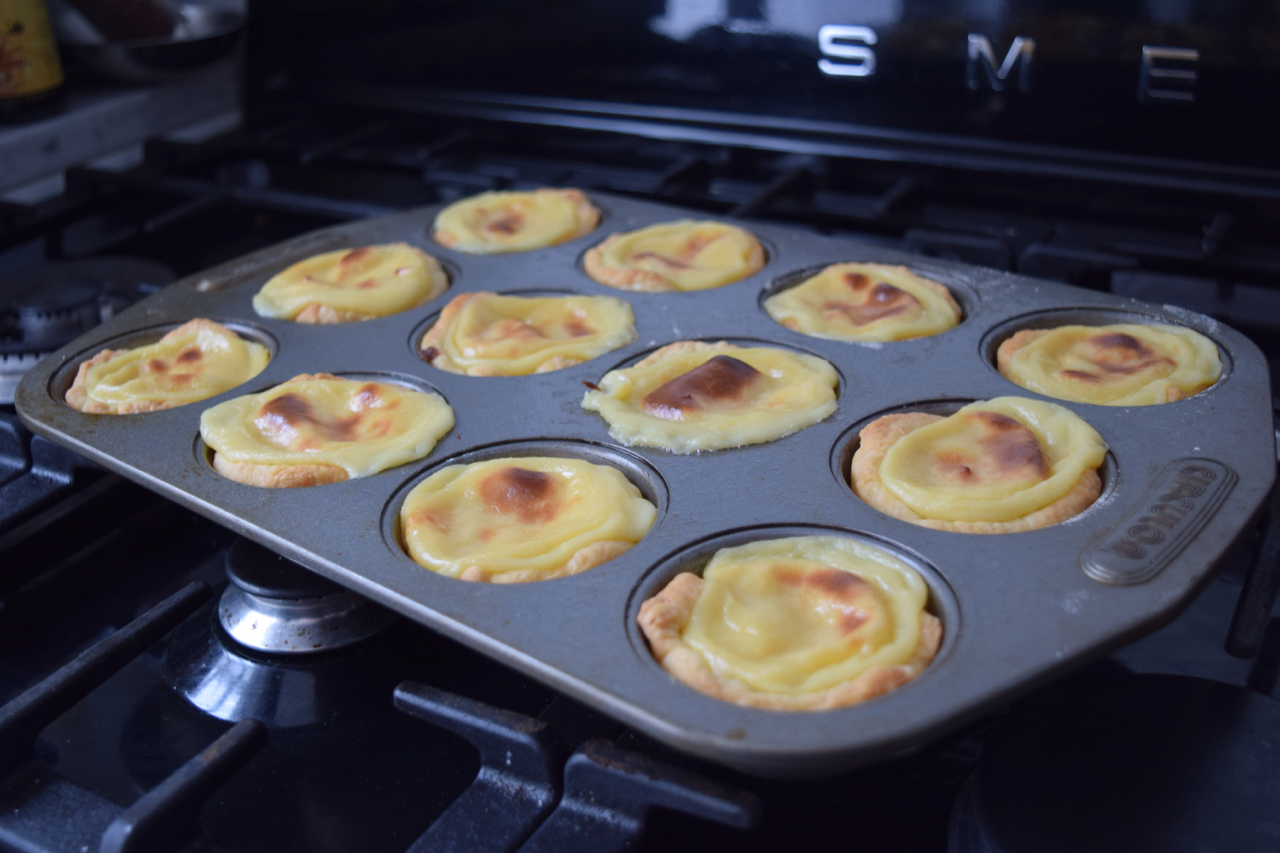 They will sink as they cool, so don't worry. Let them cool for 5 to 10 minutes before removing them from the tin. Devour whilst warm, or keep in the fridge for snaffling later.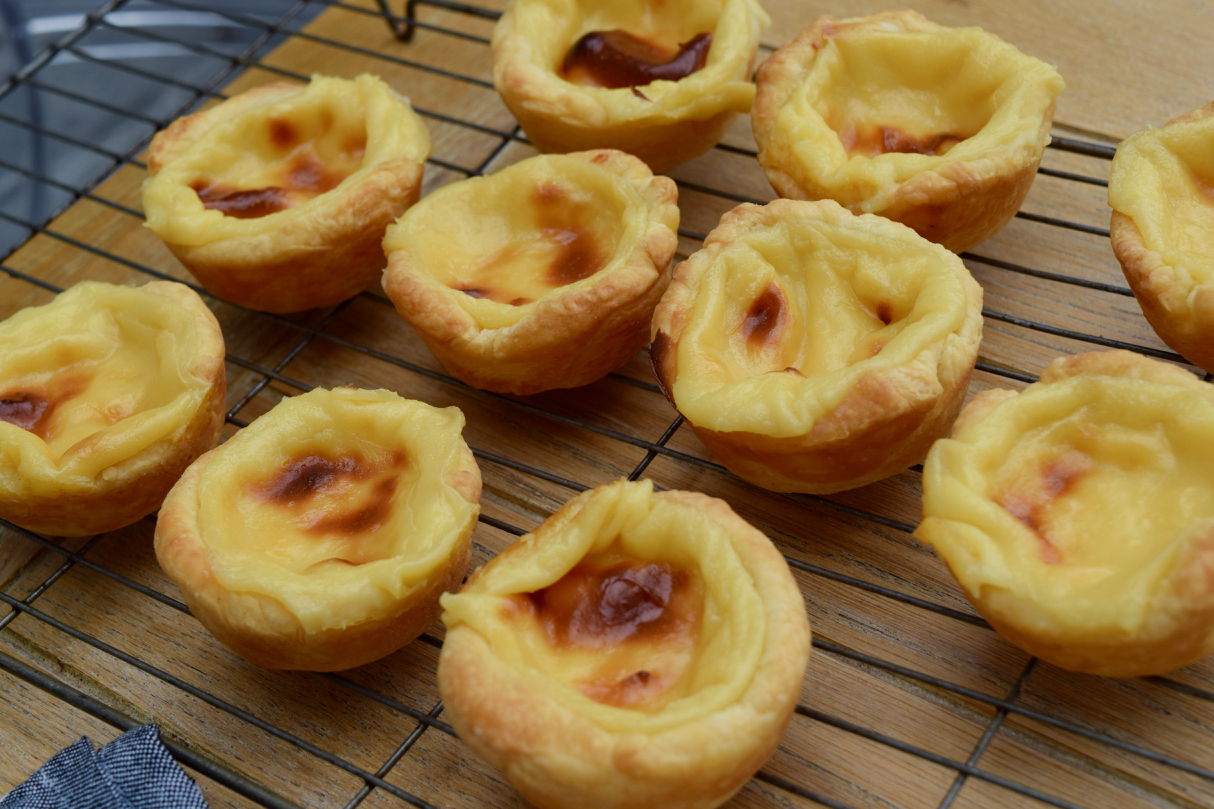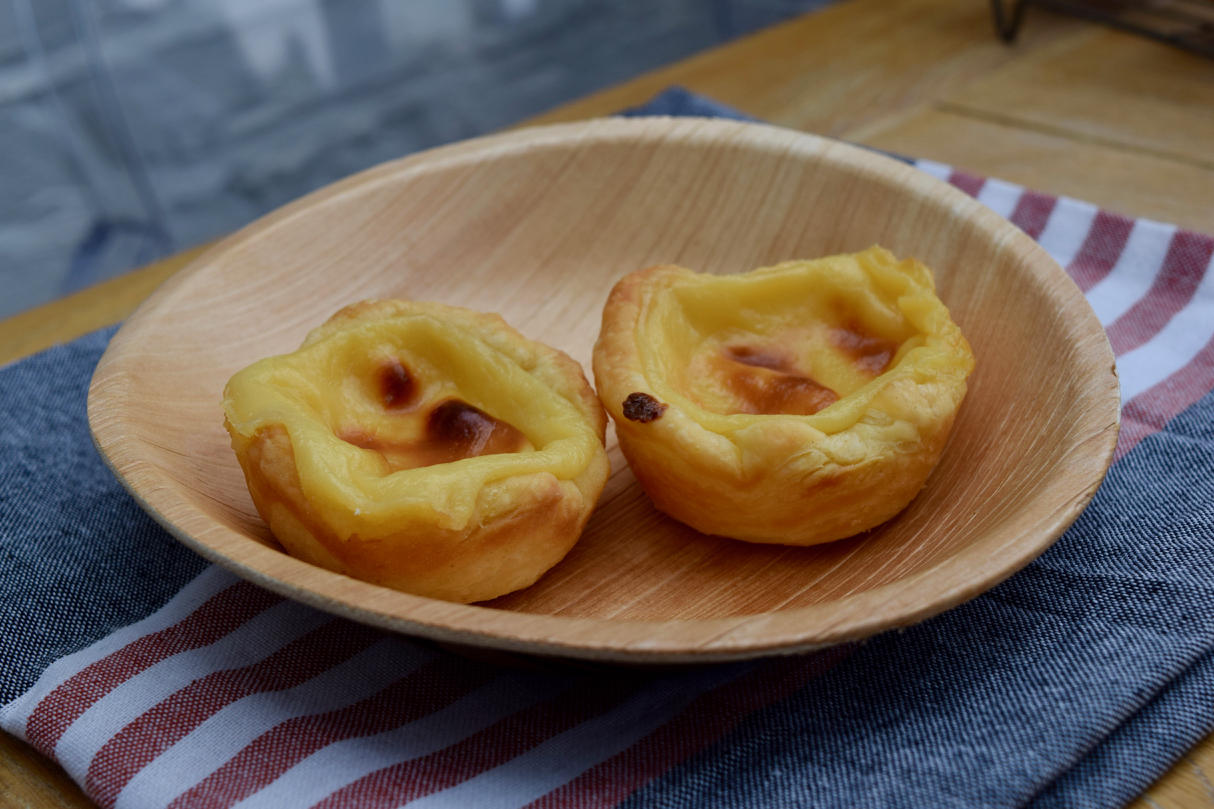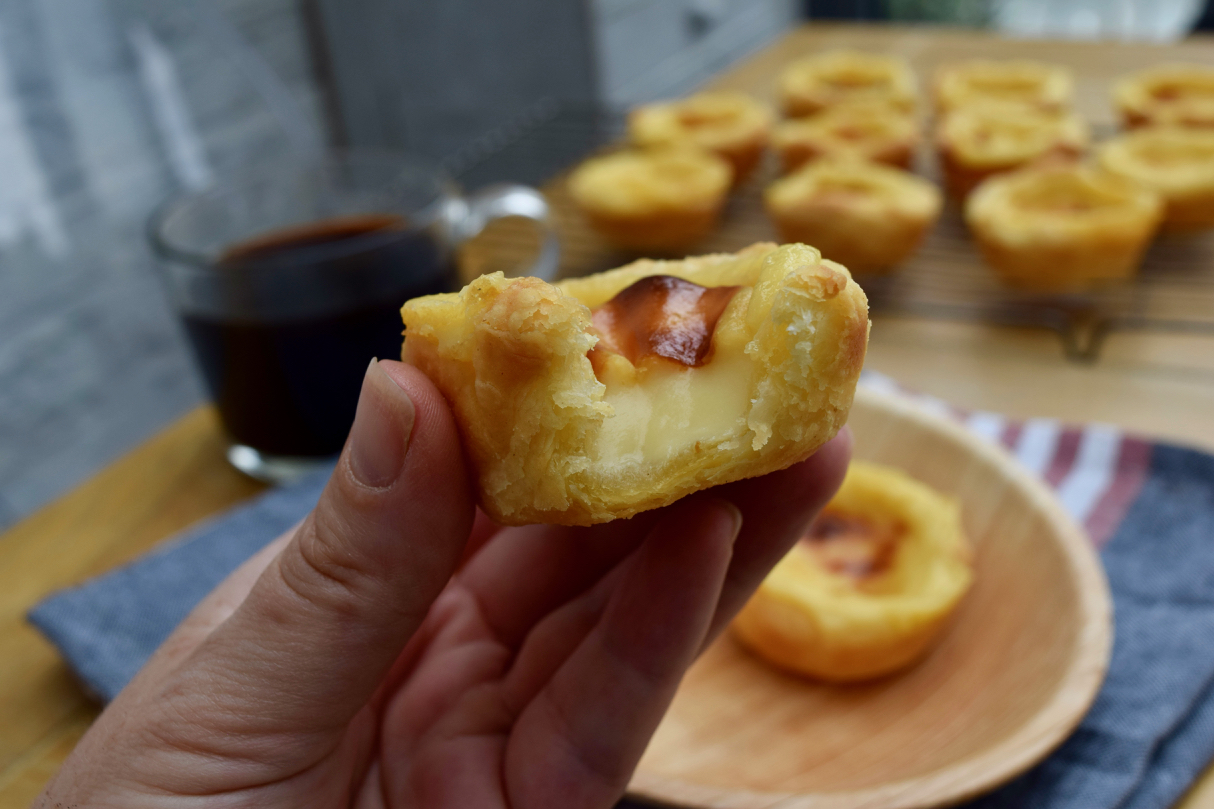 It's the legendary book group summer picnic next week which is the perfect opportunity for a pastry based treat. Balls to taking some sort of salad, I think a batch of Portuguese Custard tarts would go brilliantly with a bottle of rosé as my picnic offering.
Lucy x
Portuguese Custard Tarts Recipe
Makes 12
You will need a well oiled/buttered 12 hole muffin tin
1 egg
2 egg yolks
100g caster sugar
2 tablespoons cornflour
400ml full fat milk
2 teaspoon vanilla extract or paste
1 sheet all butter puff pastry
Pre heat your oven to 180 degree fan assisted and butter or oil your muffin tin well.
In a saucepan, whisk together the whole egg and yolks, caster sugar and cornflour until you have a smooth-ish paste. Whisk in the milk until smooth then put over a low heat on the hob and bring up to the simmer, whisking constantly.
Once thickened, take off the heat and whisk in the vanilla extract. Scrape into a bowl, cover the top with cling film to prevent a skin forming, then leave to cool.
For the pastry, remove from the packaging and unroll the pastry. Cut the sheet in half then lay one half on top of the other. Roll from the short side, into a tight roll. Cut the pastry into 12 circles. Roll each piece into a circle measuring around 10cm in diameter. Press into the muffin tin recesses.
Spoon the cooled custard into each pastry case. Bake for 20 to 25 minutes or until the custard has set and is scorched slightly on the top and the pasty is crisp and golden.
Leave to cool for 5 to 10 minutes before removing from the tin. Serve warm or cold, either way, they're irresistible. These will keep for a couple of days in the fridge.