Homemade Blackberry Liqueur Recipe
I love making my own liqueurs. There's something super satisfying about plonking a lot of fruit in a jar, covering it in booze and hey presto, you get a delicious spirit to fashion into the cocktail of your choosing. This wonderful recommendation came from my Dad who is the King of making his own tipples. His specialities are Limoncello and Damson Gin, both of which are always gratefully received at family gatherings. His recent offering of a Homemade Blackberry Liqueur or Crème de Mûre if you are going to be poncey about it, was showcased at Easter and loved by us all. So, as I follow in his footsteps in so many ways, I decided to take his lead and share his recipe with you.
The lovely Aldi were super generous and sent me a beautiful bottle of Merlot and their ever popular London Gin to make my Homemade Blackberry Liqueur. These work so well with my frozen blackberries what with it not being foraging season for these just yet. This is a lovely quick liqueur to make too, just a couple of days to marinate then it's ready to chill and use; I am not a patient person. The resulting drink is so fruity, rich and sweet but not in a sickly way. It makes a great addition to a glass of fizz, in a shot or next week I will be showcasing this in a Basil Bramble Sling, so watch this space.
This Homemade Blackberry Liqueur makes a brilliant weekend project. Just leave it to sit, simmer with the sugar, chill, then by Sunday you'll be ready to sip and fall in love with your handiwork.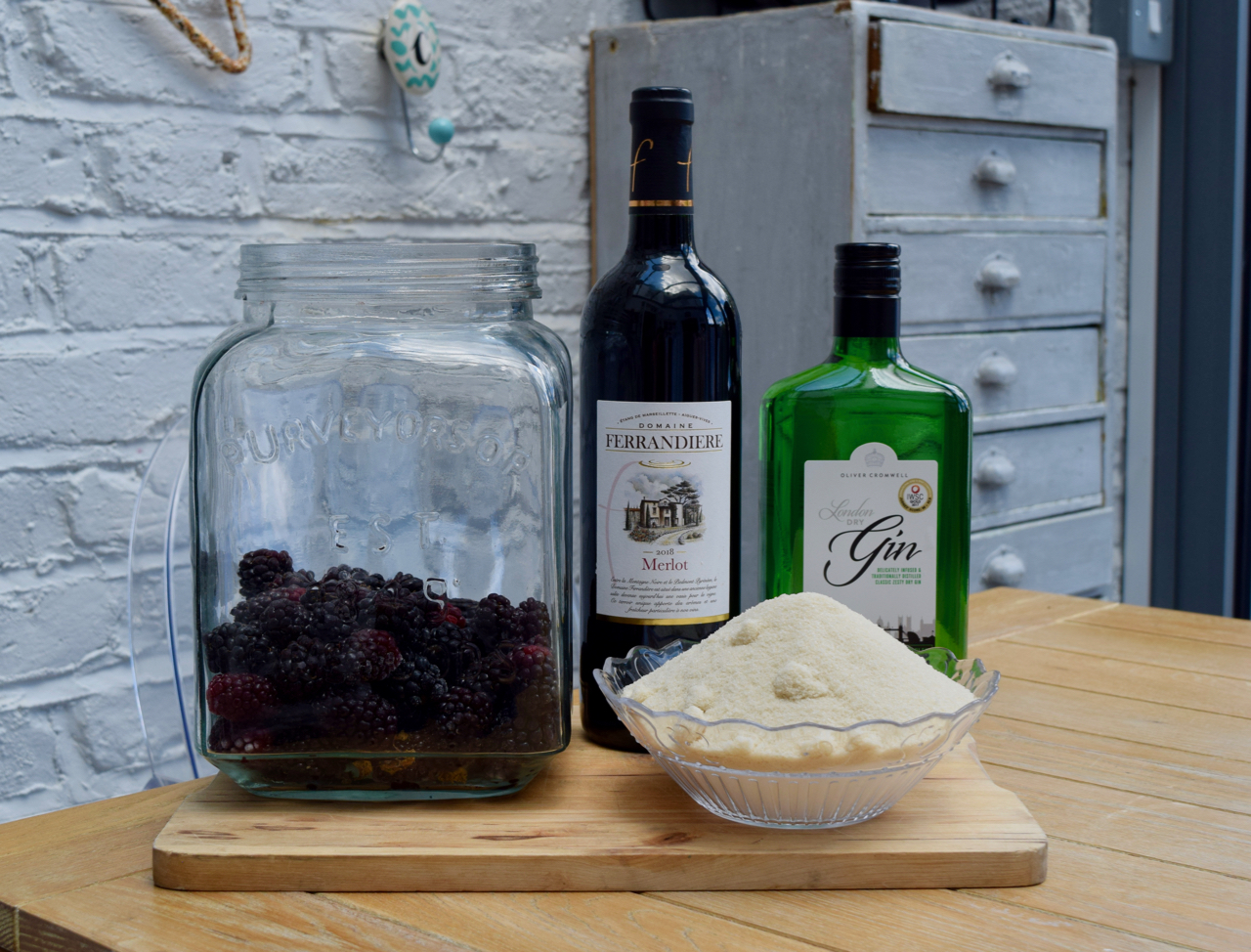 Here's the elegant line up for this sophisticated little number. Including the beautiful Merlot and my super favourite London Gin from Aldi. These, along with the tart but sweet blackberries are the stars of the show here.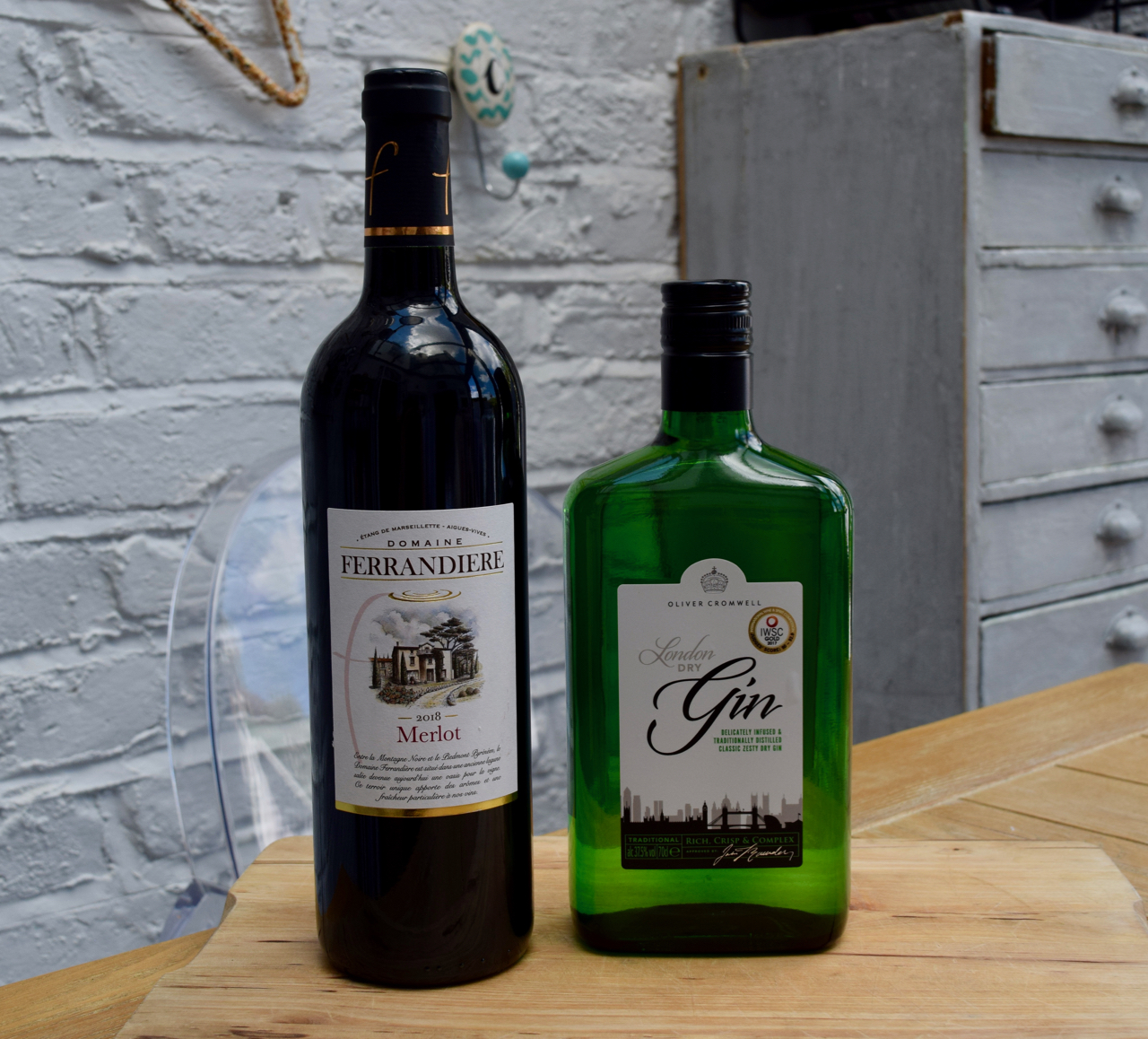 Make a start with a large, clean jar. Plonk in the blackberries, having removed any stalky bits, then pour on the whole bottle of red wine.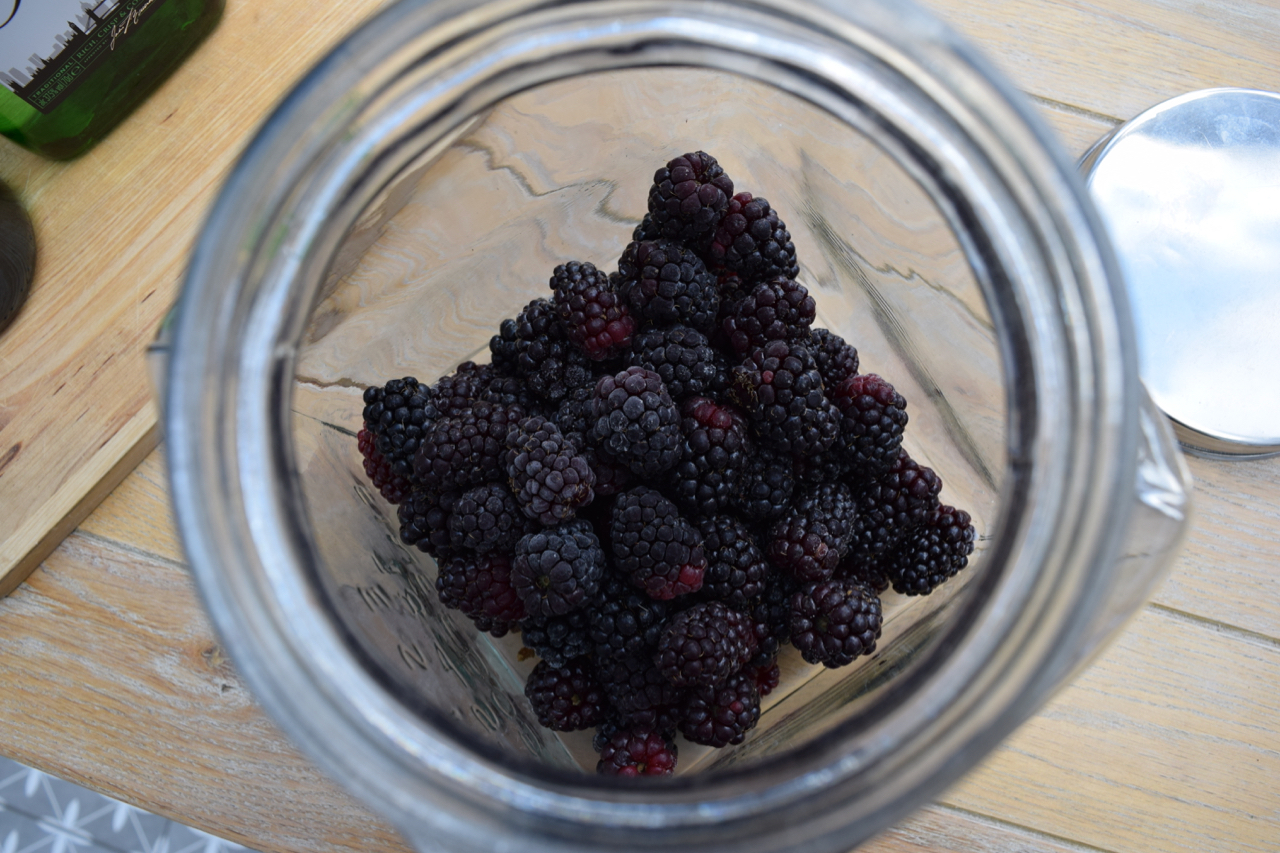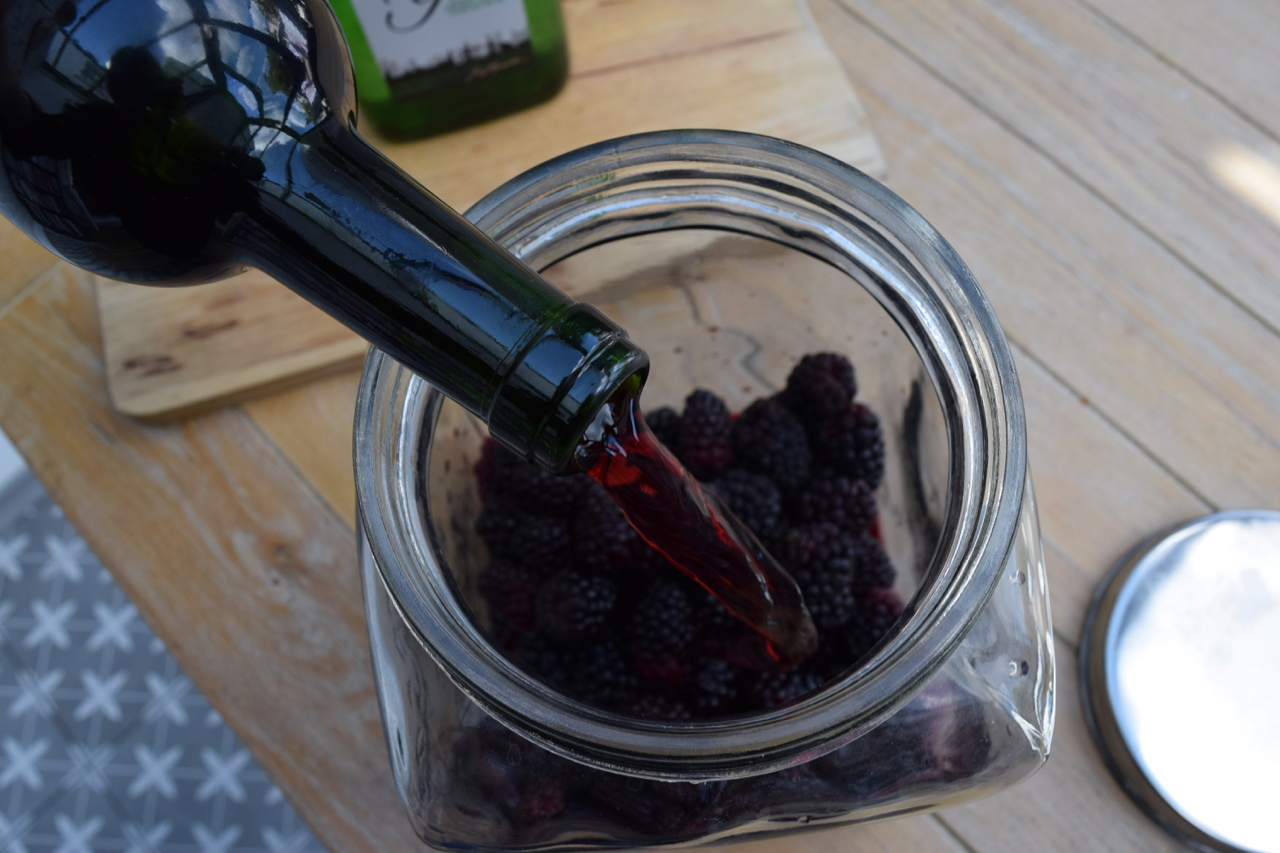 Next, go in with a masher or a big spoon and roughly mash up the blackberries.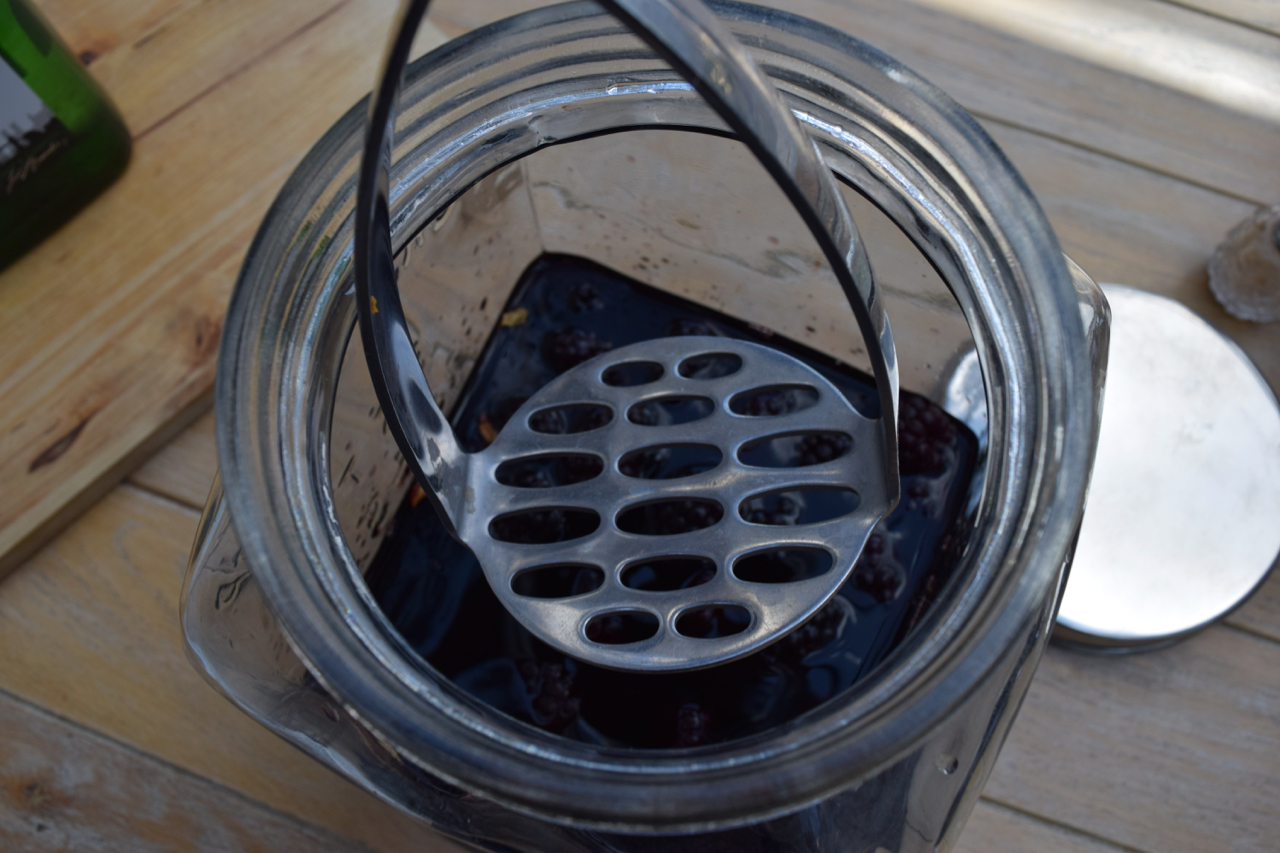 Pop the lid on the jar then leave for two days to meld together in a cool dark place.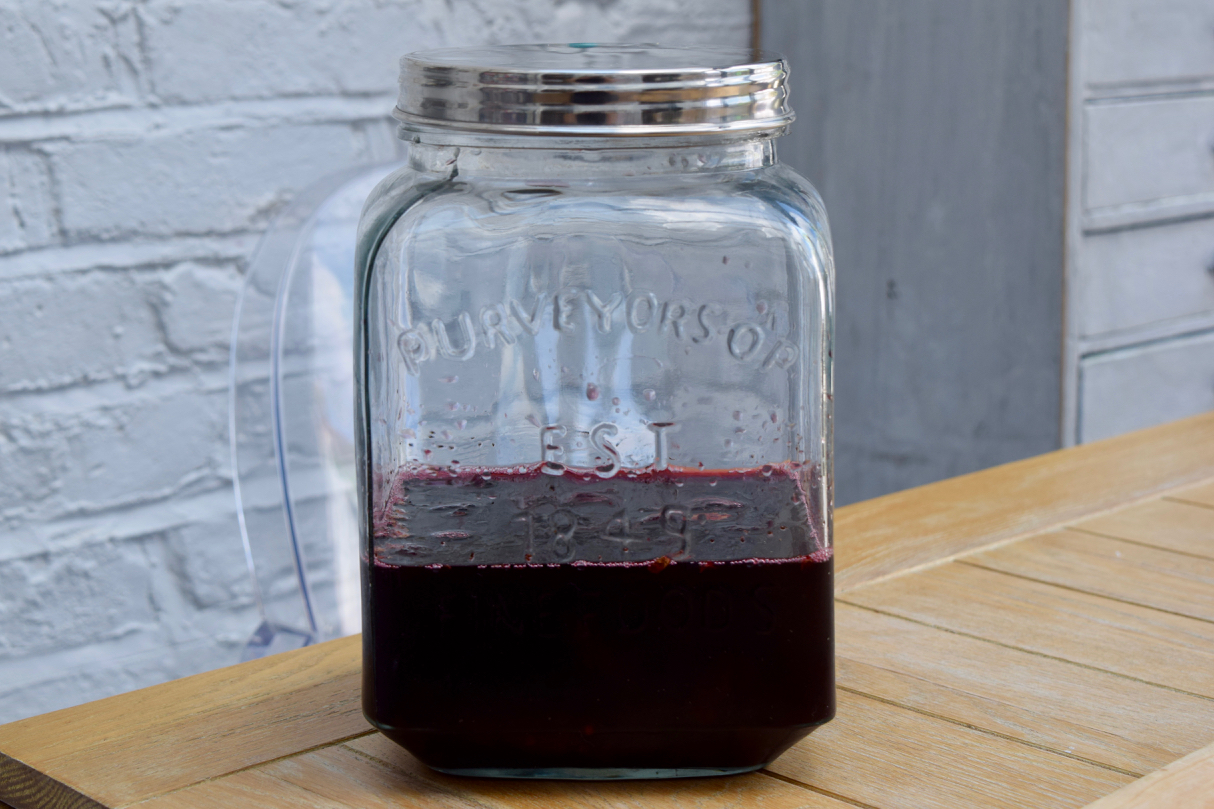 When the long, two days are up, take a fine sieve and line it with a piece of muslin or clean kitchen cloth and pop it over a large saucepan. Pour the contents of the jar, in two or three batches, into the sieve and allow to seep through to the pan. This will take a while, but be patient.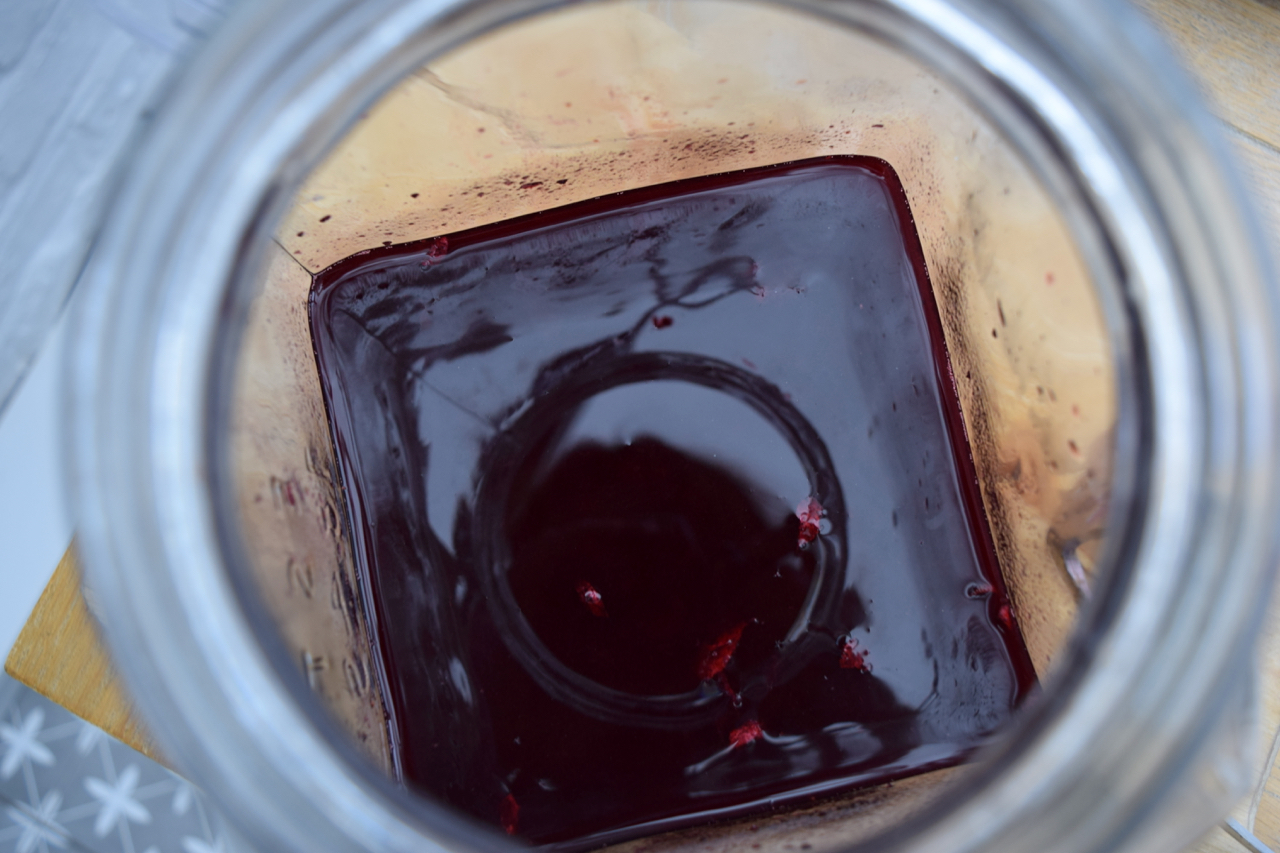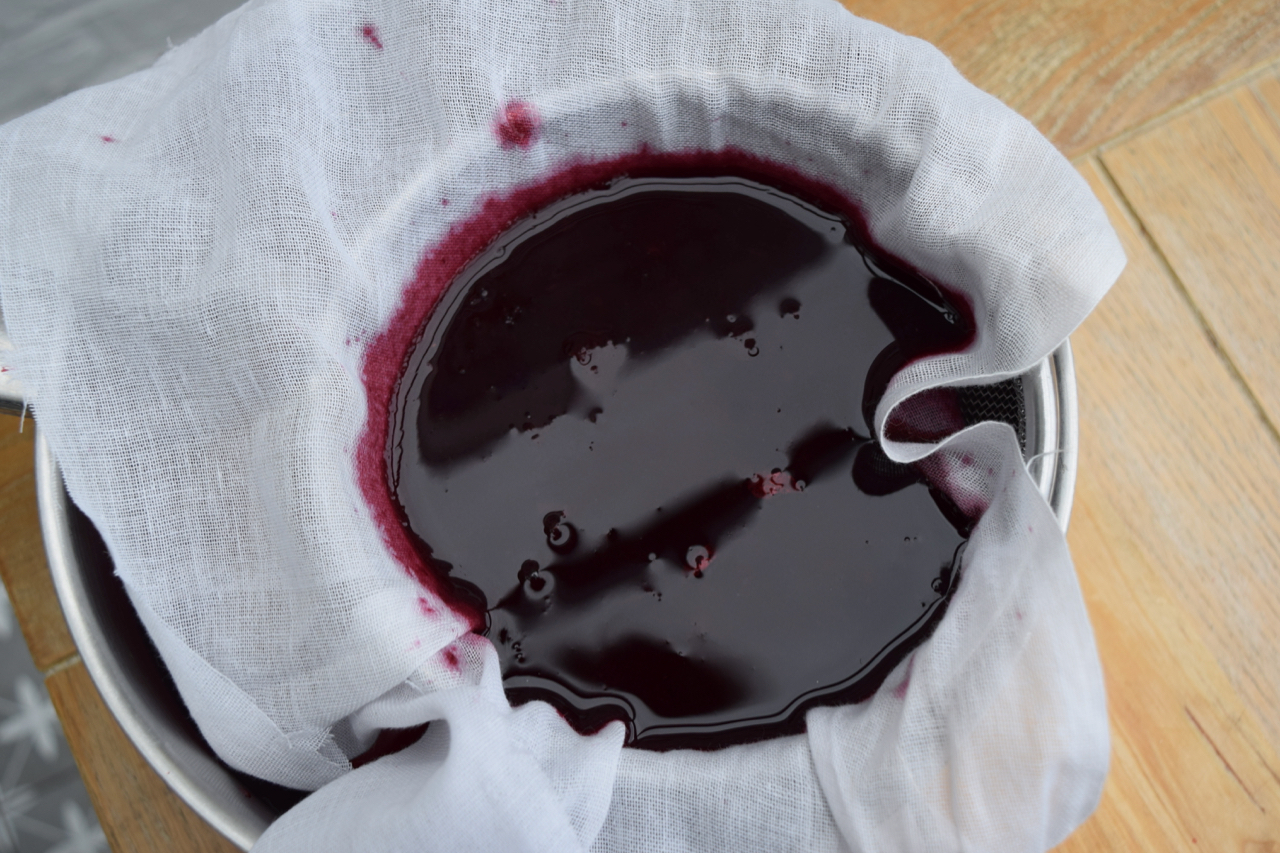 Once the liqueur has filtered through, tip the caster sugar into the pan, stir well then put onto the hob and bring up to the simmer. Simmer gently for 5 minutes or until the sugar has dissolved fully. Leave to cool.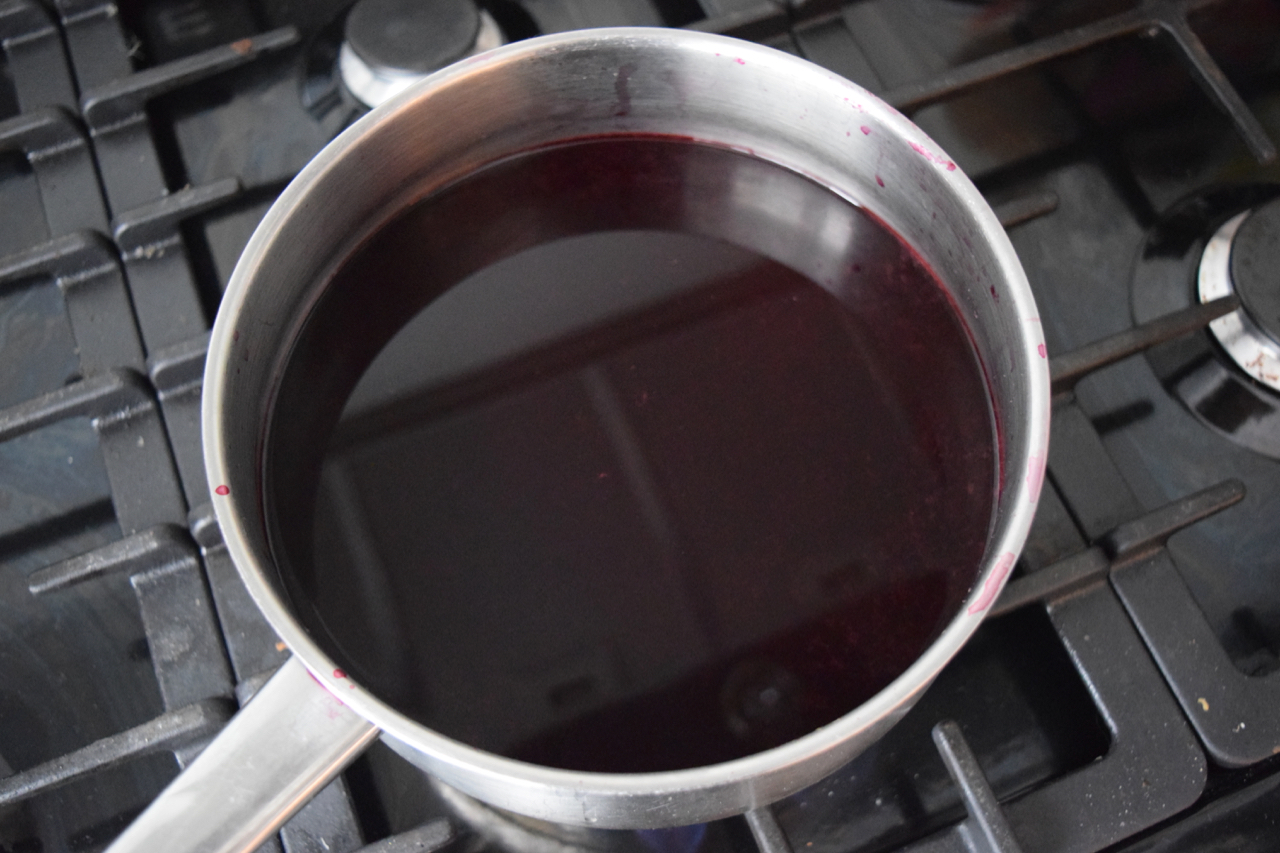 Finally, once cool, pour in the London gin and stir well.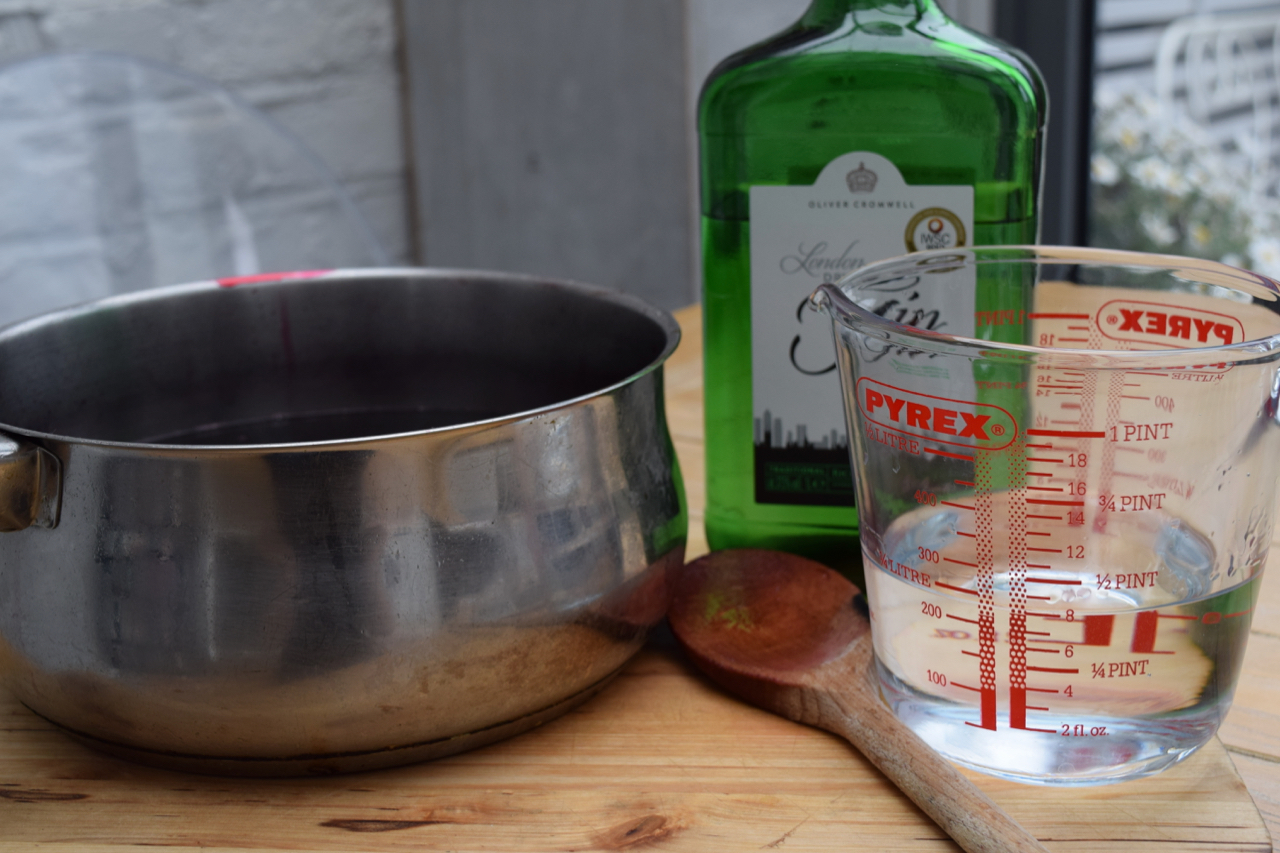 Using a small jug, decant this beautiful liqueur into some pretty bottles. I managed to slop it all over the place, so try and be slightly more delicate than me. Enjoy this in your glass of fizz for a touch of warm, dark fruit flavour.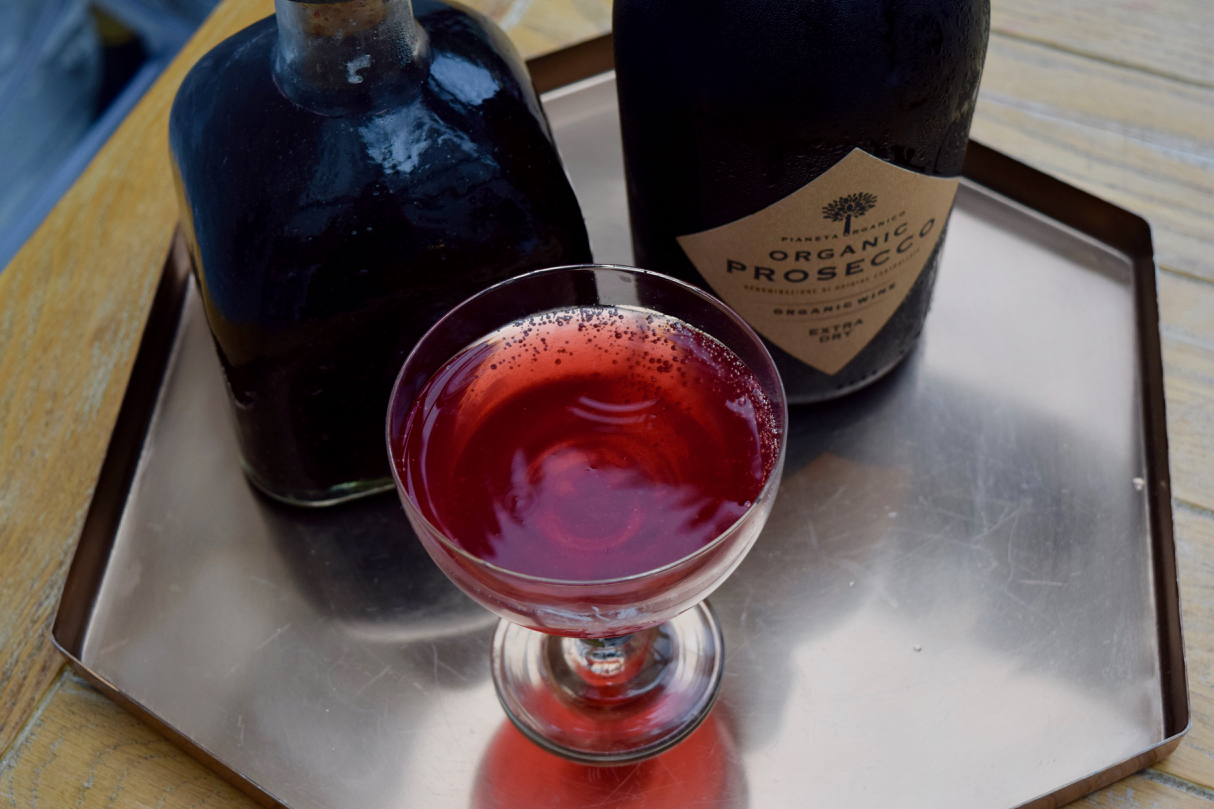 This Homemade Blackberry Liqueur is a simple, satisfying, elegant addition to your drinks cabinet. Not only is it quick to make, this recipe makes over a litre, so you can be adding this to all your cocktails, all summer long.
Have a restful weekend.
Lucy x
Aldi kindly sent me their Merlot and London Gin, however, my opinions and ramblings are, as always, my own.
Homemade Blackberry Liqueur Recipe
Makes around 1.25 litres
You will need a large jar and clean bottles to store
1 bottle of good red wine, I love this Aldi Merlot
600g blackberries, foraged if autumn, if not frozen are brilliant
500g caster sugar
250ml gin, I love Aldi London Gin or vodka
Serve added to some fizz or soda, as a shot or as part of a cocktail
Take a large jar with a lid and add your blackberries, having removed any stalks or leaves first. Pour on the whole bottle of red wine. Mash the berries with a large spoon or potato masher, put the lid on and leave for two days to meld. Give the jar a shake when you remember.
When the two days are up, take a large saucepan and place a sieve lined with muslin or a fresh kitchen cloth and strain the wine and blackberries through it into the pan. This may take a while but be patient.
Add the sugar to the wine mixture, stir, then place over a low heat and bring up to the simmer. Simmer for 5 minutes or until the sugar has fully dissolved. Remove from the heat and allow to cool.
Pour in the gin or vodka and leave too cool. Pour, carefully, into your clean bottles, seal and your Blackberry Liqueur is then ready to use. Store in a cool dark place for up to a year.