Strawberry Gin Recipe
It's a cliché, but this time of the year is all about the sunshine, strawberries and tennis. Well 2 out of 3 isn't bad, since we kissed a very passionate goodbye to last week's amazing heatwave and the Wimbledon Tennis Tournament starts next week.  I grew up watching Wimbledon as my Mother is a huge fan and I still love it today. The sounds, the commentary, the excitement I can't even bloody play tennis, but it's such an historic tournament I adore all the ceremony surrounding it. As for the strawberries, well I helped myself to a huge haul from my sisters wonderful garden in the Isle of Wight recently. They were so ripe, so sweet and smelled like summer in a bowl. Having discovered this Homemade Strawberry Gin recipe via Red Online, with thanks to them, there was nothing more to do than to utilise these amazing fruits accordingly.
My dear friends at Aldi had kindly furnished me with some of their amazingly tasty, superior quality London Dry Gin, so this joined the summer fruits and some sugar in the special enormous Lucy Loves fruity booze making jar. This Homemade Strawberry Gin is so simple to make and it's ready in just 3 days, so you won't be stuck staring at it, longingly, for months willing it to be time to drink it. Just chop and mash your fruit, stir in the sugar, pour on your favourite gin, mix it all around then leave to marinade for 3 days only. You may have to exert yourself by swilling the jar around a couple of times, but it's really not that taxing. Just in case you couldn't think of ways to enjoy this Homemade Strawberry Gin, I have kindly provided you with a little recipe for a Strawberry Gin and Ginger. If even that seems too much though, this fresh red gin makes an amazing change to the standard gin and tonic.
To be fair the Aldi London Dry Gin is tasty enough without the introduction of the summer scented fruits, however, they both marry together so well, they could be made for each other.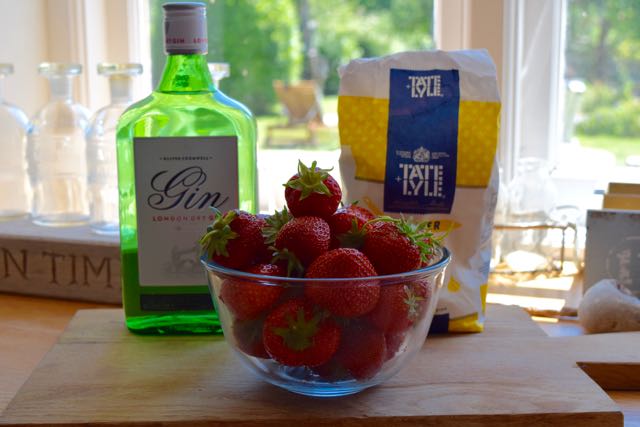 Look at these three simple ingredients, so fresh, so summery. These strawberries were freshly pilfered from my sister's garden in Bembridge. I ate tons before I finally put together this bowlful, they were so fragrant and fresh. Coupled with my super tasty Aldi gin and some sugar to sweeten it all, this little collection go together so perfectly.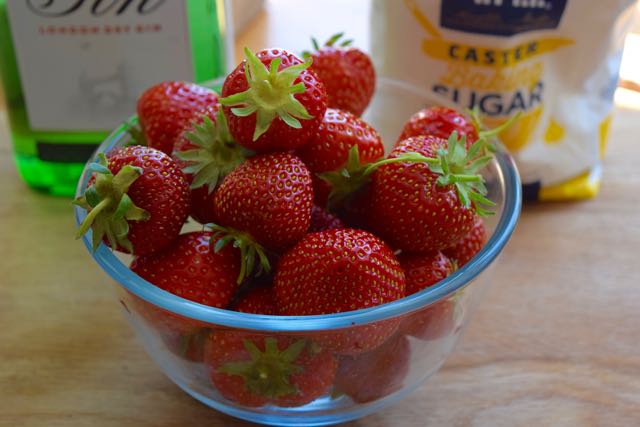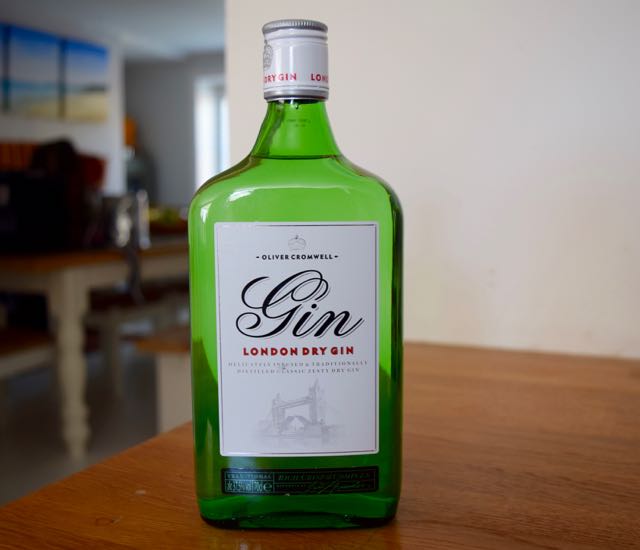 Make a start by topping and chopping your strawbs then putting them in a large jar.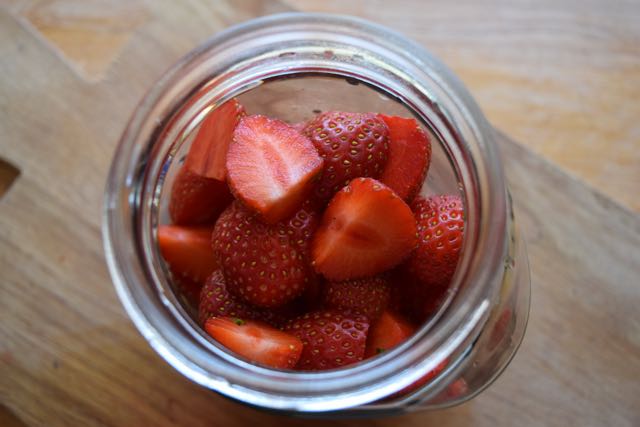 Mash the fruit up with a fork then pour on the caster sugar and stir. Then pour on the whole bottle of gin.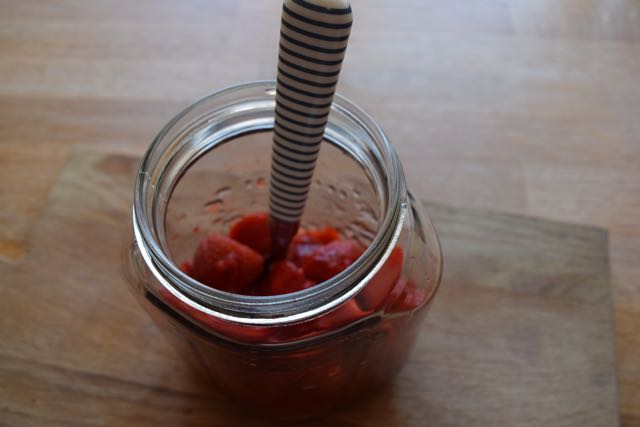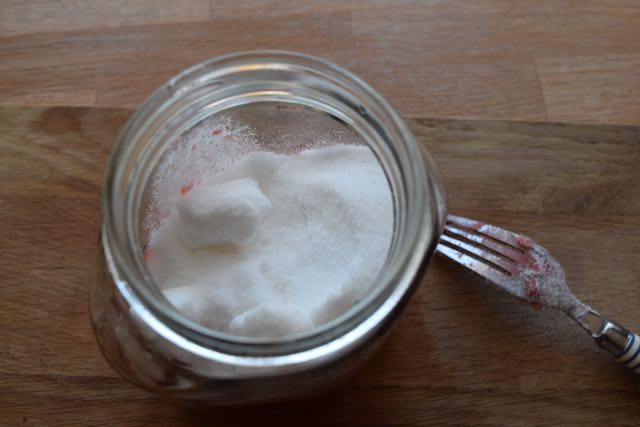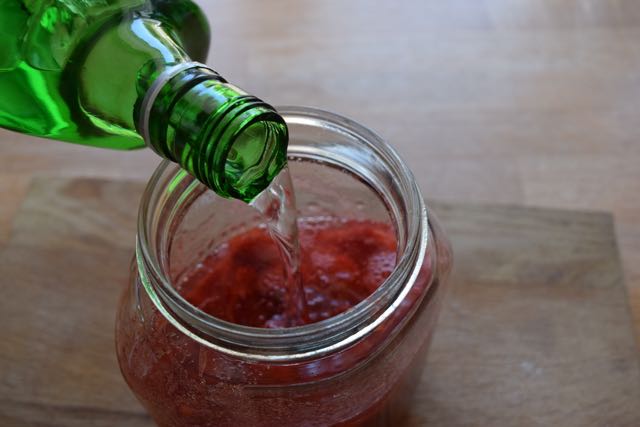 Give it all a really good stir, then tightly put the lid on and give the jar a really good shake to ensure the sugar starts to dissolve. Leave in a cool dark place for 3 days, shaking every day to amalgamate all the ingredients.
After 3 days, ta-dah, your Homemade Strawberry Gin is there for the taking. Strain out the strawberries through a sieve and into a large jug.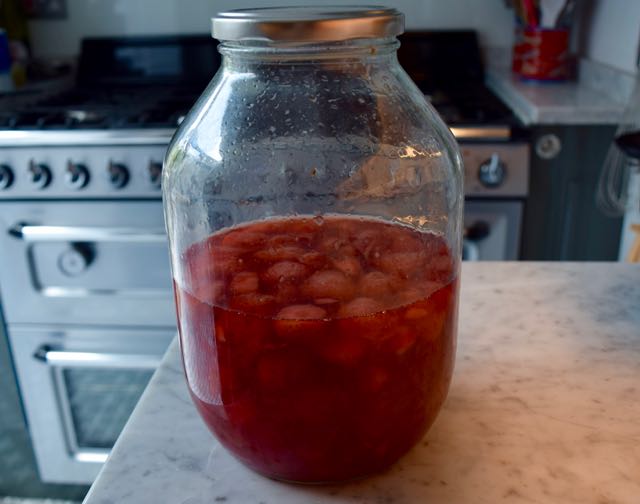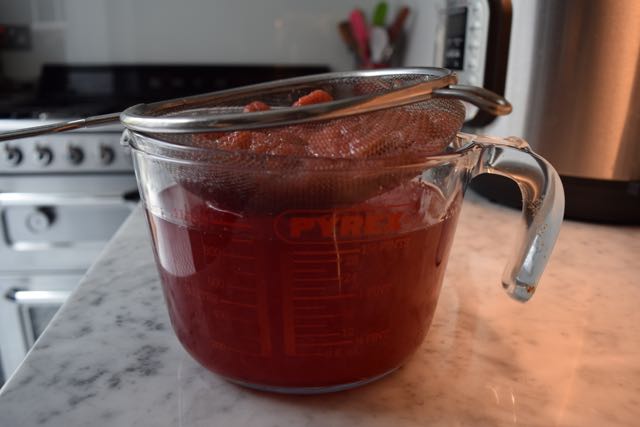 I enjoyed the gin soaked strawberries with some thick yoghurt. They were amazing, but I did feel pissed afterwards as they are beyond boozey.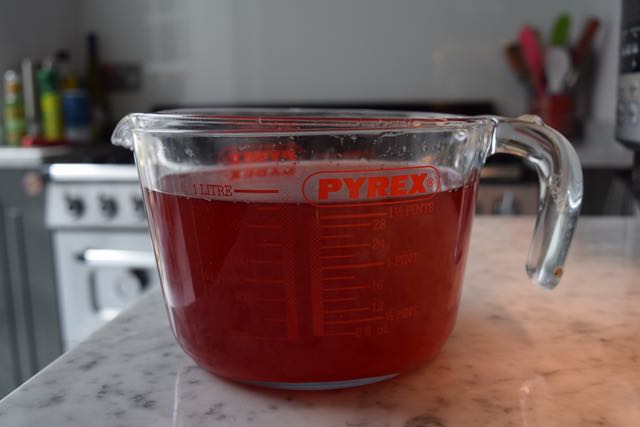 Pour this sweet, red summer gin into a bottle and store until needed. Which in my case was straight away, after all I had waited a whole 3 days for it to be ready.
And here's how to use it with my Strawberry Gin and Ginger.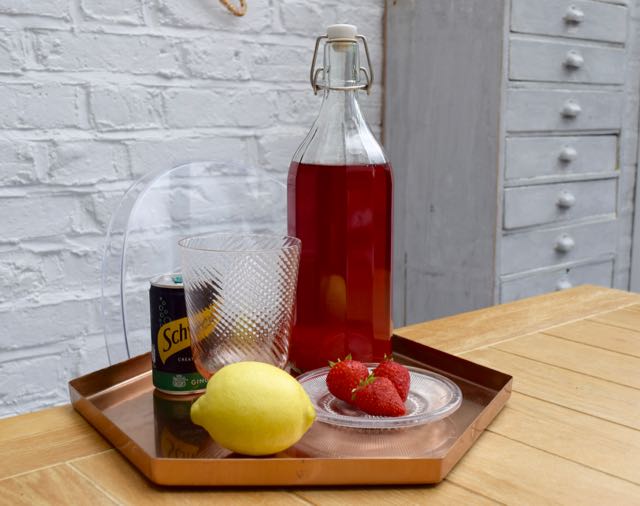 Pour the large shot of strawberry gin over a handful of ice into a tumbler.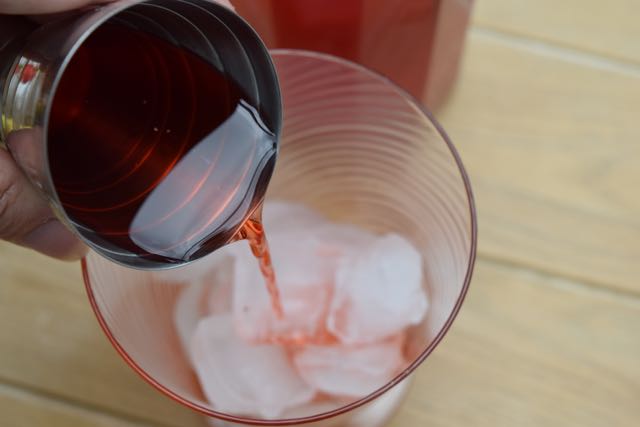 Add a generous tablespoon of fresh lemon juice. Then top up with ginger ale.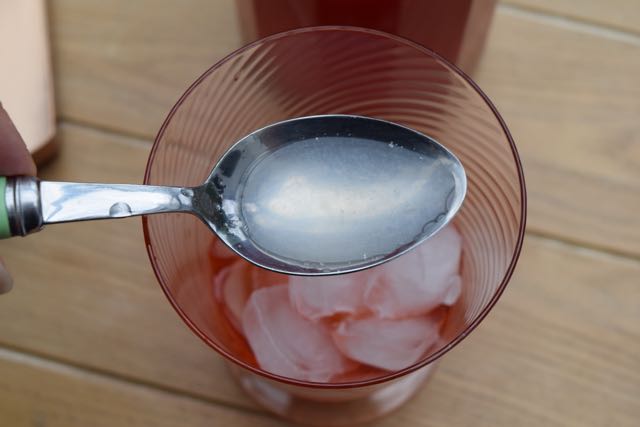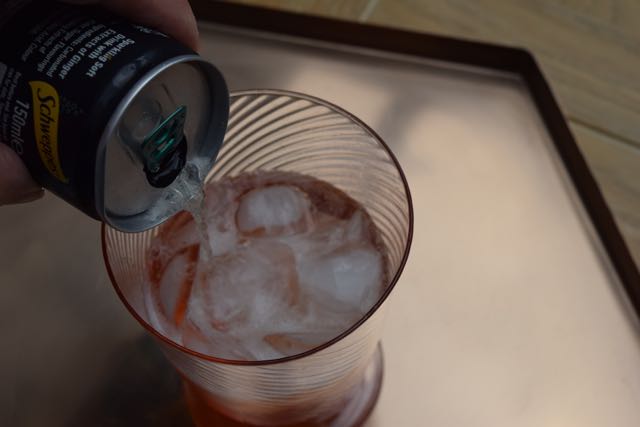 Garnish this pretty in pink cocktail with a whole strawberry then try not to drink the whole glass in one thirsty gulp.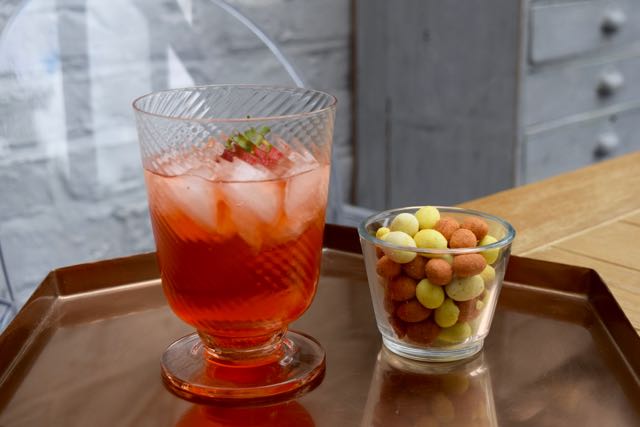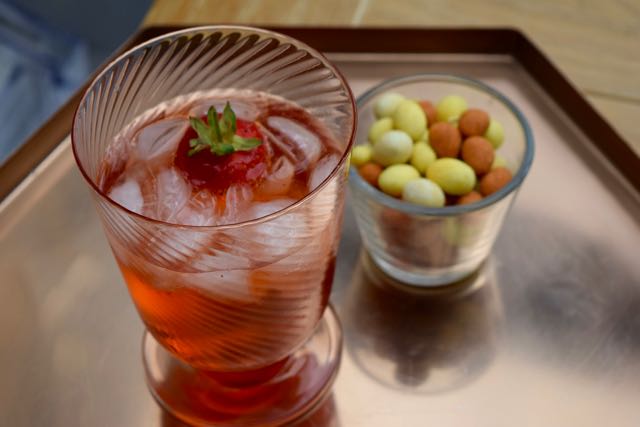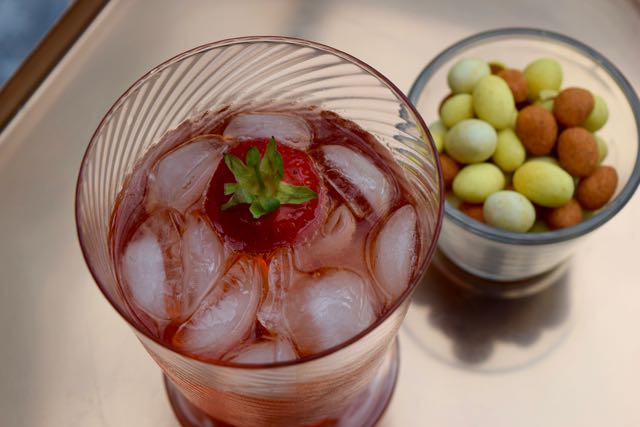 I had feared this Homemade Strawberry Gin would be too sweet. But it wasn't. The scent of summer radiating from the bottle and into your glass is just perfect and this is beyond delicious. Sipping this in November would be enough to transport you to a summer, late June evening in London, so you'd better pop an extra bottle in the cupboard and try to forget it's there until winter.
Have a restful weekend.
Lucy x
Aldi kindly provided me with the London Dry Gin for this recipe, however, all opinions and ramblings are, as always, my own.
Strawberry Gin Recipe
You will need a large jar and a litre bottle to store the gin
Makes around 800ml
Strawberry Gin
450g strawberries, topped and sliced if big
125g caster sugar
70cl London Dry Gin
Strawberry Gin and Ginger
60ml Strawberry Gin
1 tablespoon fresh lemon juice
150ml ginger ale
Ice and a strawberry garnish to serve
Take a large jar and add the chopped strawberries. Pour on the caster sugar and shake around to coat the strawberries.
Pour on the 70cl London Dry gin, place the lid on tightly and shake the whole lot well to mix everything together. Store in a cool dark place, shaking on a daily basis for 3 days.
After three days, sieve the gin into a large jug then pour into a big bottle and seal until needed.
For a Strawberry Gin and Ginger take a large tumbler and add a handful of ice. Pour in the strawberry gin and measure in the fresh lemon juice. Top up with ginger ale, stir then garnish with a whole strawberry. Sip and dream of summer.