Iced Espresso Brownies Recipe
I have been writing Lucy Loves for nearly 3 years now. Oh how time flies when you're having fun/staying up til midnight writing and trying to be amusing whilst tired and emotional. But mostly having fun. Someone asked me recently why I write a food blog when it doesn't really make any money. After I thought for a moment, cried a little bit and pushed aside the feelings of bitterness that I am not quite at the Deliciously Ella stage yet, I replied that I write a food blog because I love it. I love finding recipes to share with you, I love eating them and I love writing about them. Most of all I love hearing from you. Comments on the blog, stopping me in the supermarket, walking the dog, hearing that people are making and loving my ramblings, makes it worth my while. So, to mark another anniversary I thought I would go back to the start and share another brownie recipe with you. Brownies were, for me, where my recipe sharing days started so let's sling these Iced Espresso Brownies into the ring.
I have made so many brownies over the years, I feared I may never eat another one again. It sounds strange not to love brownies, but I would ordinarily prefer to eat something else. Until now. These Iced Espresso Brownies are quite a different story. They are rich, feisty with a generous layer of coffee icing. With an optional handful of chocolate chips these are decadent and stylish. I have made these at least once a week for the last 6 weeks, shared them and even posted a batch to a lovely friend who needed a boost, and the response has been wonderful. The ballsy hit of coffee, both in the brownie and the icing, takes these baked goods into a new realm. Not all brownies are the same it transpires and these have been quite the diet breaker for me. And all thanks to the super helpful All Recipes, God love them.
These Iced Espresso Brownies are the new generation of brownies. Or at least I like these ones much more than the regular type. I do love a strong coffee and chocolate. As it turns out, mix them up in a bowl, ice them and eat bloody great big slabs of them and they make the most delicious bedfellows.
Look at the lovely selection of ingredients which go together to make these Iced Espresso Brownies. I stole some of Clyde's favourite chocolate covered coffee beans to decorate these beauties, don't tell him.
I neglected to mention these tasty brownies are a one bowl affair, making them light on washing up where they are heavy on taste. After you have pre heated the oven to 160 degrees and lined your 9 x 13 inch tin, make a start by taking that one bowl and adding the butter. Microwave to melt or place over a pan of simmering water. Whisk in the rich cocoa powder.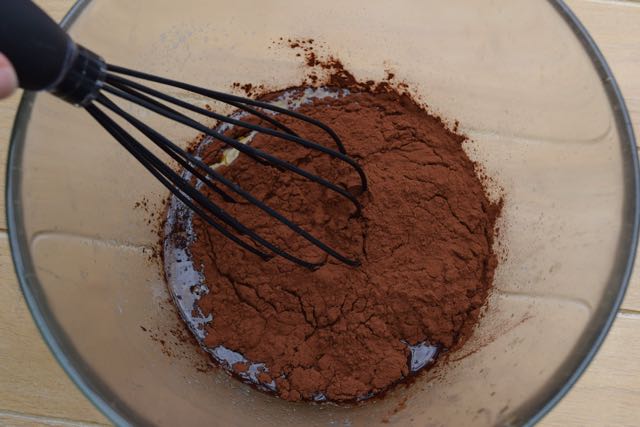 Then add the sugar. Don't balk at the amount of sugar in these, they make a huge great big tray so you won't eat the whole lot in one sitting *or will you?*
Now add the eggs and the all important espresso coffee powder. If you don't have this to hand, you can use instant coffee granules mixed with boiling water.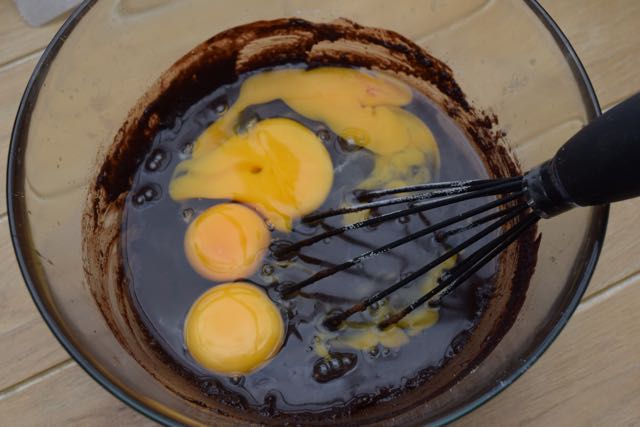 Finally fold in the flour, salt and optional *ha ha* chocolate chips and mix well, but not too well.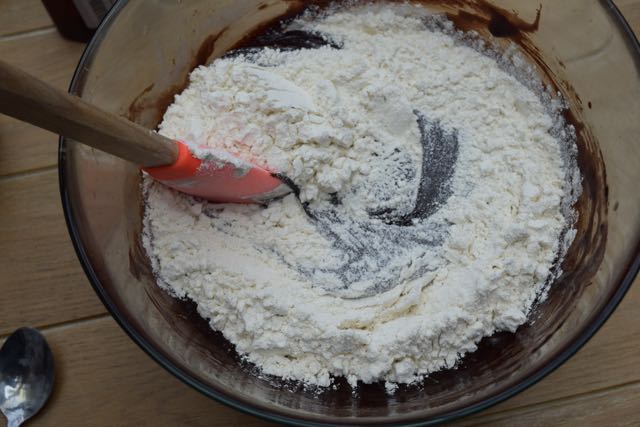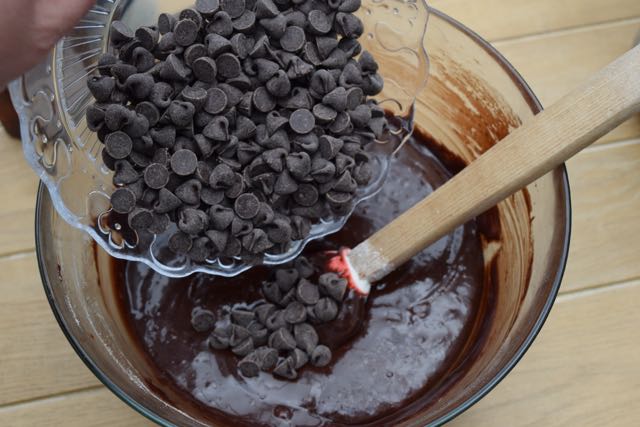 Tip this rich, fragrant batter into your lined baking tray and smooth into an even layer. Place in the oven for 25 to 30 minutes. You want the bake to be firm, turning brown at the edges yet still slightly fudgy and undercooked in the centre.
While they bake, crack on with the coffee buttercream icing.  Add the softened butter to your stand mixer or bowl with a wooden spoon and elbow grease and beat with the icing sugar and espresso powder. Beat until smooth, soft and tasting quite wonderful.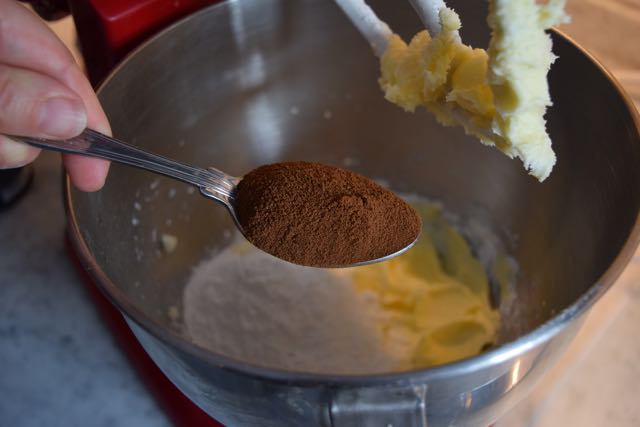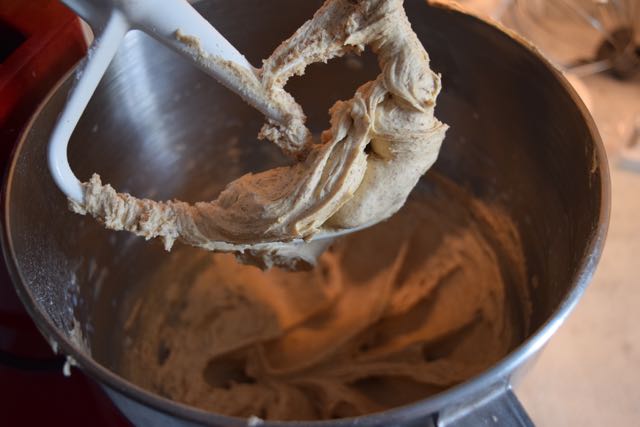 Pop this to one side away from snaffling hands while you wait for the now cooked coffee brownies to cool.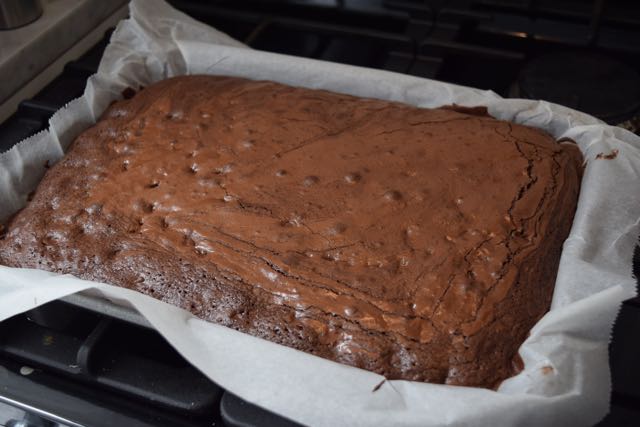 Leave this tray of mocha temptation to cool before removing them from the tin. After the agonising wait, dollop the icing onto the top of the brownies.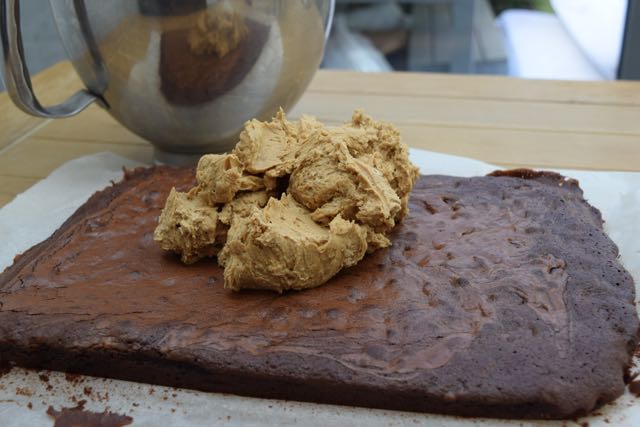 Smooth the icing into an even layer then dust with cocoa powder.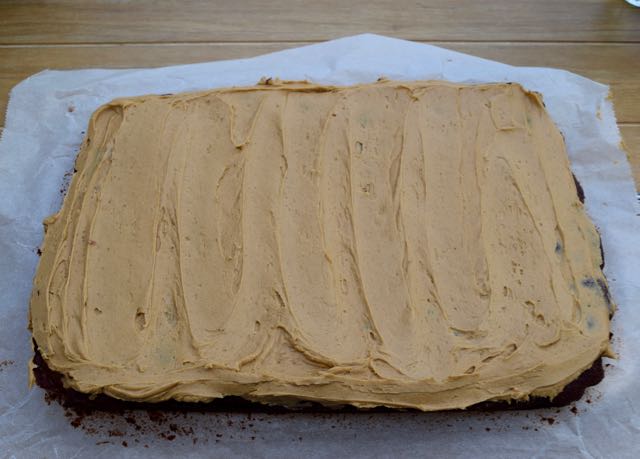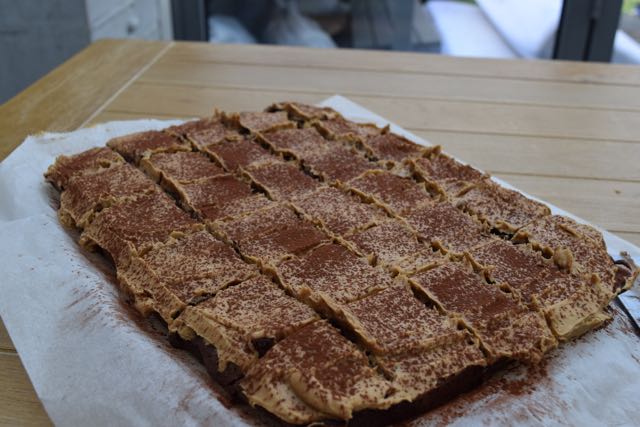 Decorate each square with a chocolate coffee bean then devour in giant slabs.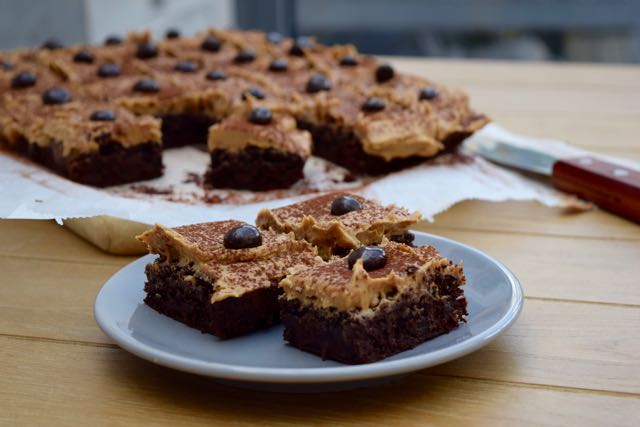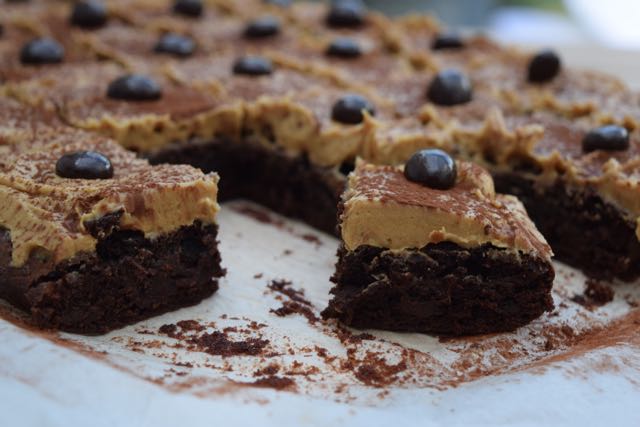 These *eek* moist little squares of chocolate coffee heaven are divine. Serve these for pudding with ice cream or as an afternoon treat. Or breakfast, if your will power is anything like mine.
Lucy x
Iced Espresso Brownies Recipe
Makes around 30 brownies, depending on how big or small you cut your squares
You will need a lined 9inch x 13inch baking tray
Brownies
225g butter
100g cocoa powder
400g caster sugar
5 teaspoons instant espresso powder, or 5 teaspoons instant coffee granules mixed with boiling water
4 eggs
130g plain flour
2 teaspoons vanilla extract
1/2 teaspoon salt
150g chocolate chips, I used dark-ish ones, optional
Espresso Icing
110g soft butter
1 teaspoon vanilla extract
260g icing sugar
1 heaped tablespoon espresso coffee powder or 1 tablespoon instant coffee granules mixed with 2 tablespoons milk
A dusting of cocoa powder and chocolate coffee beans to decorate
Pre heat your oven to 160 degrees fan assisted and line your 9 x 13 inch baking tray.
Take a large bowl and either microwave the butter or place the bowl over a pan of simmering water until melted. Whisk in the cocoa, sugar, eggs and coffee powder or granules mixed with water. Fold in the vanilla extract, plain flour and salt then finally mix in the chocolate chips.
Pour the mixture into a lined baking tray and put in the pre heated oven for 25 to 30 minutes or until the brownies are firm to the touch, browning at the edges yet still slightly soft and fudgy in the middle. Leave to cool completely.
While they are cooking, get on with the buttercream. In a stand mixer or bowl with a spoon beat the soft butter with the icing sugar, vanilla and the instant espresso or coffee granules blended with milk. Beat until smooth, adding more milk if need to be to reach a spreadable consistency.
When the brownies are cool, remove from the tin and spread with the coffee icing, fashioning a smooth, even layer. Dust with cocoa powder then cut into squares. Decorate each square with a chocolate coffee bean, if you like. These will keep in a cool place for 3 to 4 day of keep in the fridge if it's warm.