Lamb Kofta with Flatbread Recipe
I stumbled across this recipe while sitting in traffic on the way home from work. I was parked up, no need to notify the authorities, because Ben had informed me he 'wasn't feeling' what I had in mind for his supper that evening. I had, in my usual style, grabbed a mystery item from the freezer for supper while running out of the house, only to find out it was a rogue pound of lamb mince later on in the day. I had planned to make this into a keema style mince curry, but this was not what the moody, GCSE beleaguered teenager fancied, so the mystery mince became these delicious Lamb Kofta with Flatbreads.
This could not be an easier, or quicker supper – coat off to table time is 35 minutes, tops. I would certainly not have attempted these if they had been taxing, strenuous or involving yet another trip to Waitrose. I found the Kofta inspiration on the BBC Good Food website and Flatbreads from the ever brilliant, Jamie Oliver. Most of the ingredients were store cupboard favourites, which is always a complete bonus. I adapted the recipes to suit our tastes, I increased the spices and used an old trick I use with burgers, which is to add a tablespoon of mayo, as this keeps the kofta moist *twice in one week, sorry* and binds them brilliantly.
I have now made these several times, and they are always inhaled. The lamb is soft and fragrant and the bread is buttery and addictive, one piece is never enough. Which is just as well as the recipe makes eight.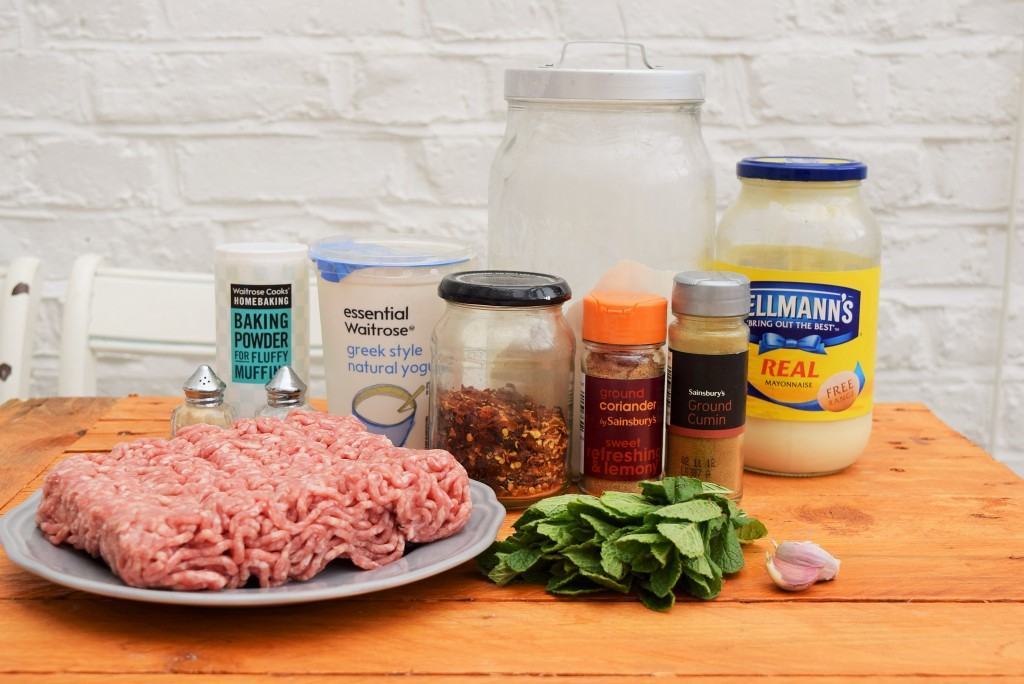 Here's everything you'll need for this wonderfully quick supper. Minus some butter for the flatbreads, because, let's face it, it wouldn't be traditional unless I'd forgotten something.
Start with the Kofta. Pop the lamb mince in a big bowl and add in the cumin, coriander, fresh mint and crushed garlic.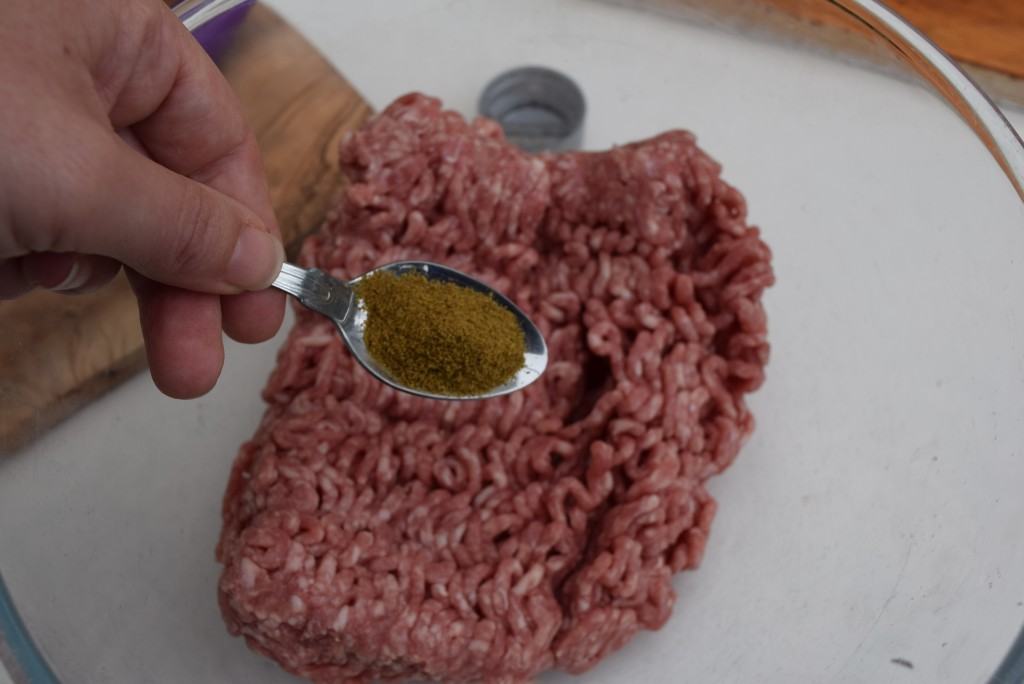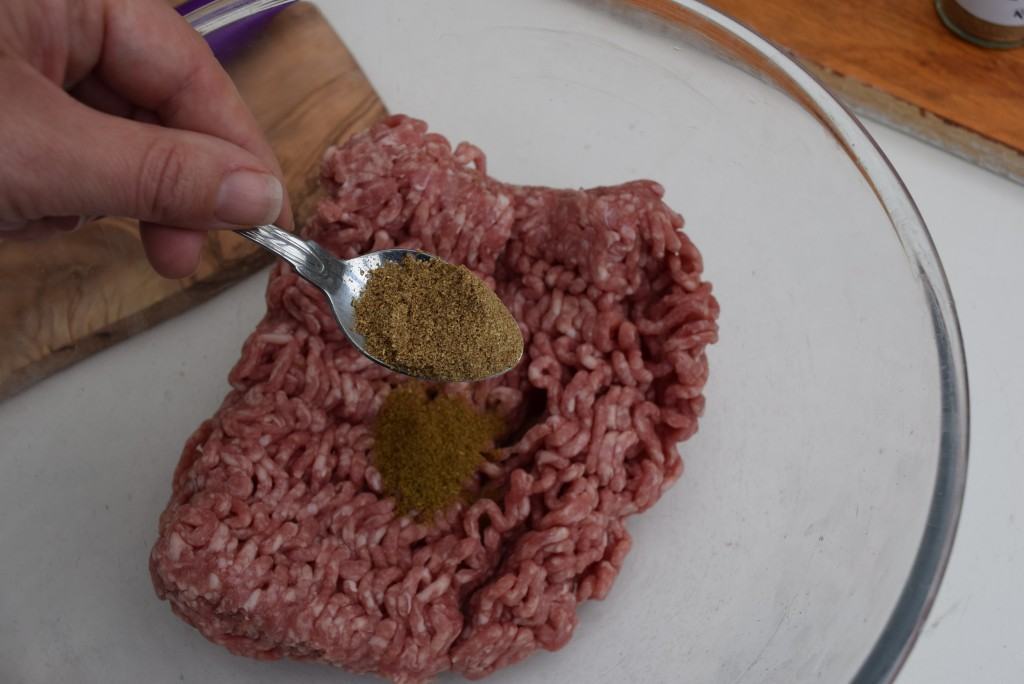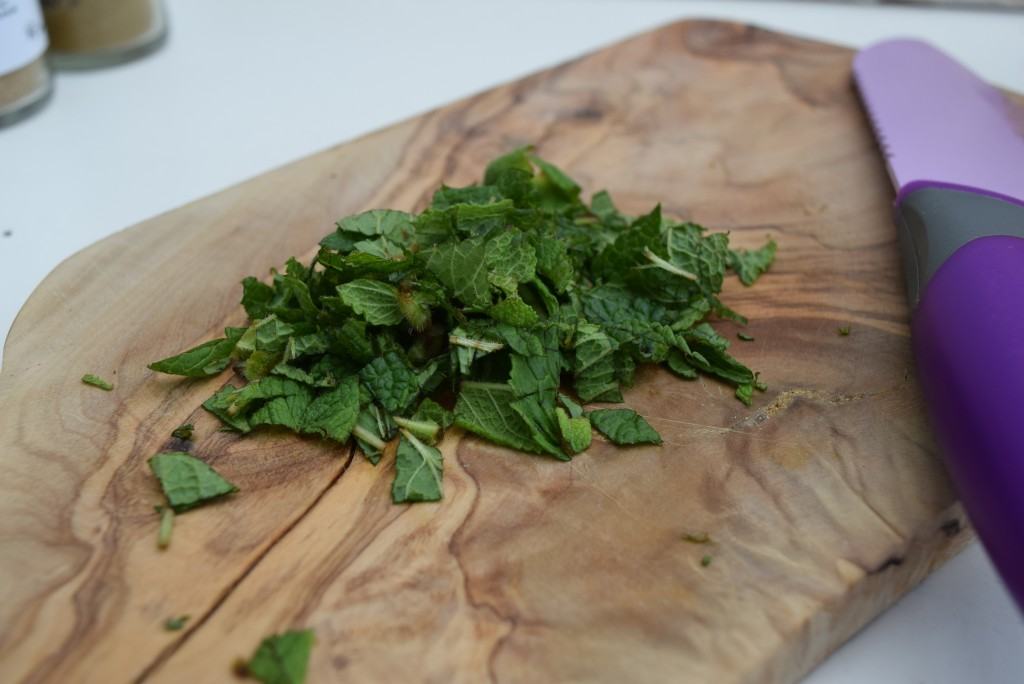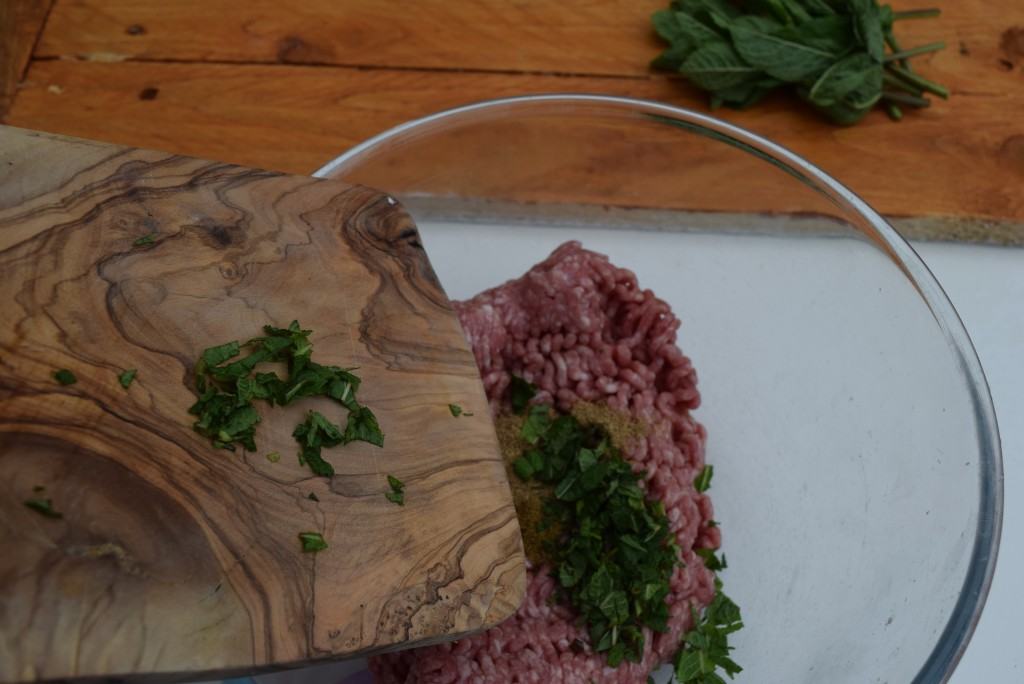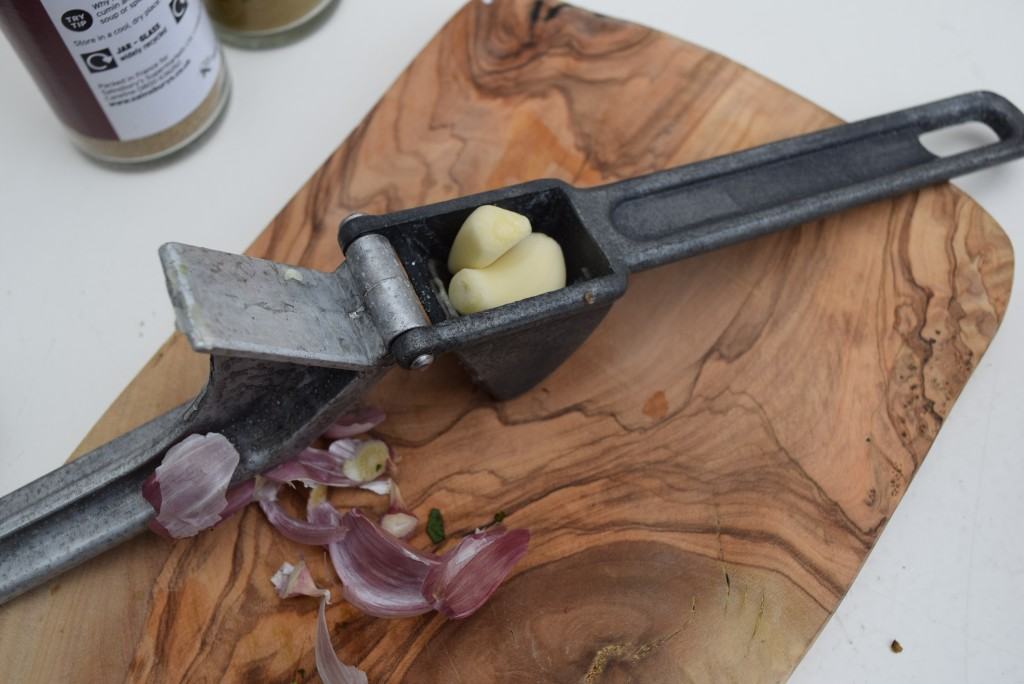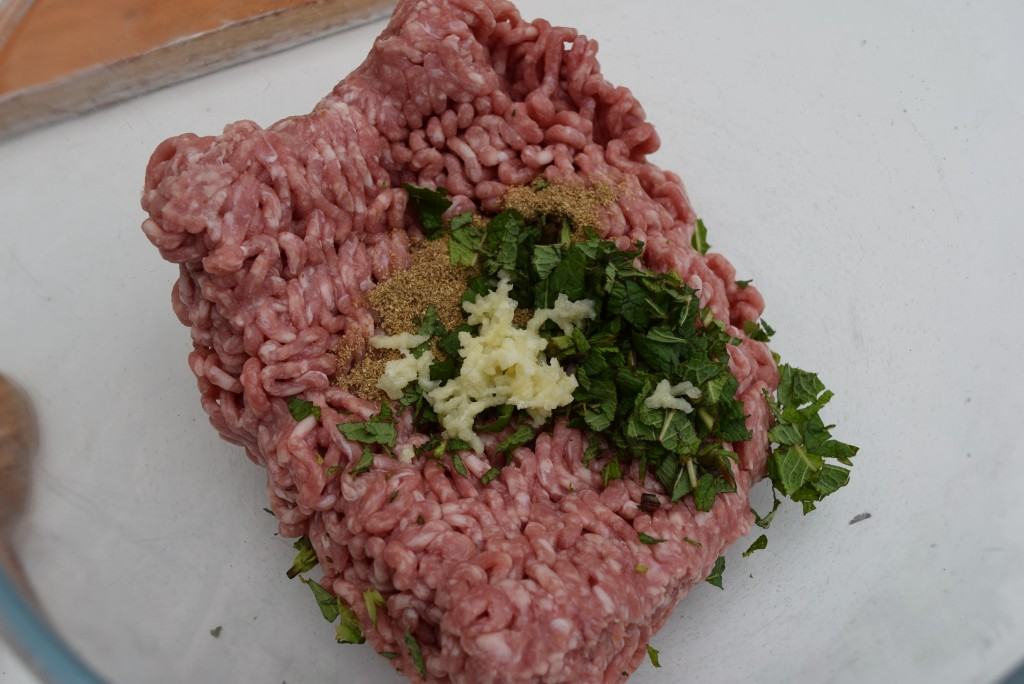 Next add a large tablespoon of mayonnaise to hold the mix together and keep the kofta good and juicy. Add a teaspoon of salt and some pepper then give it all a bloody good mix with a spoon or your hands if you are feeling that way inclined.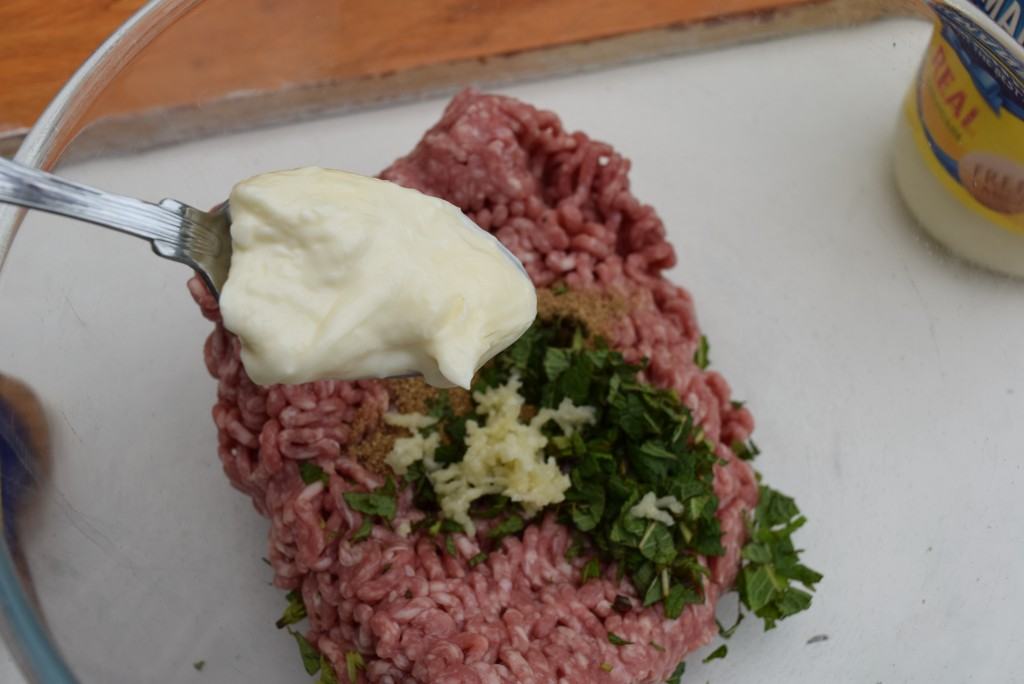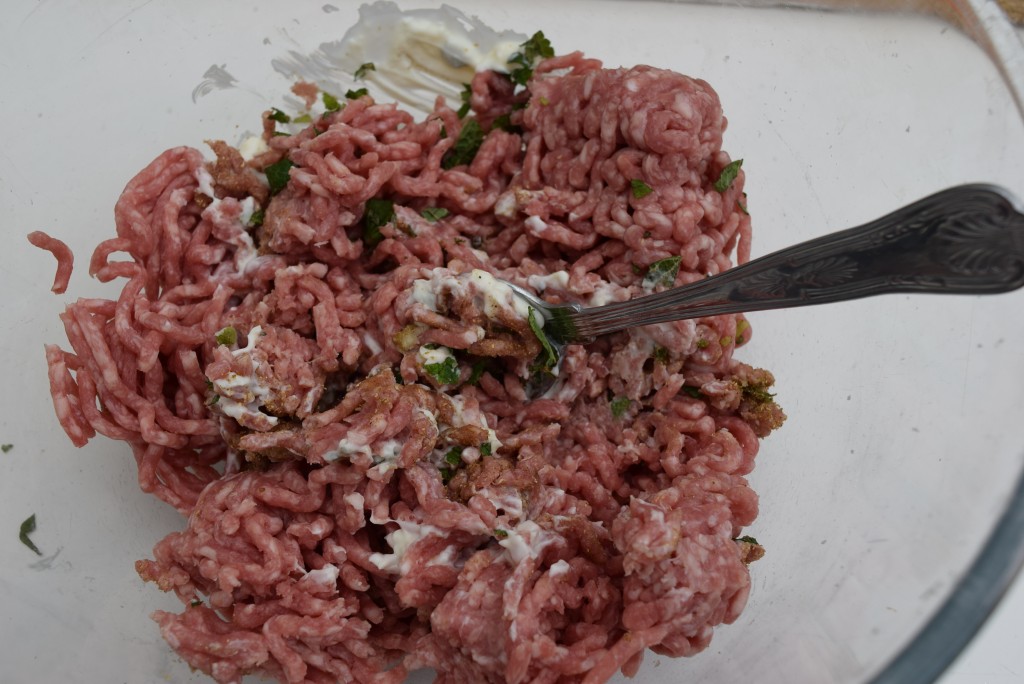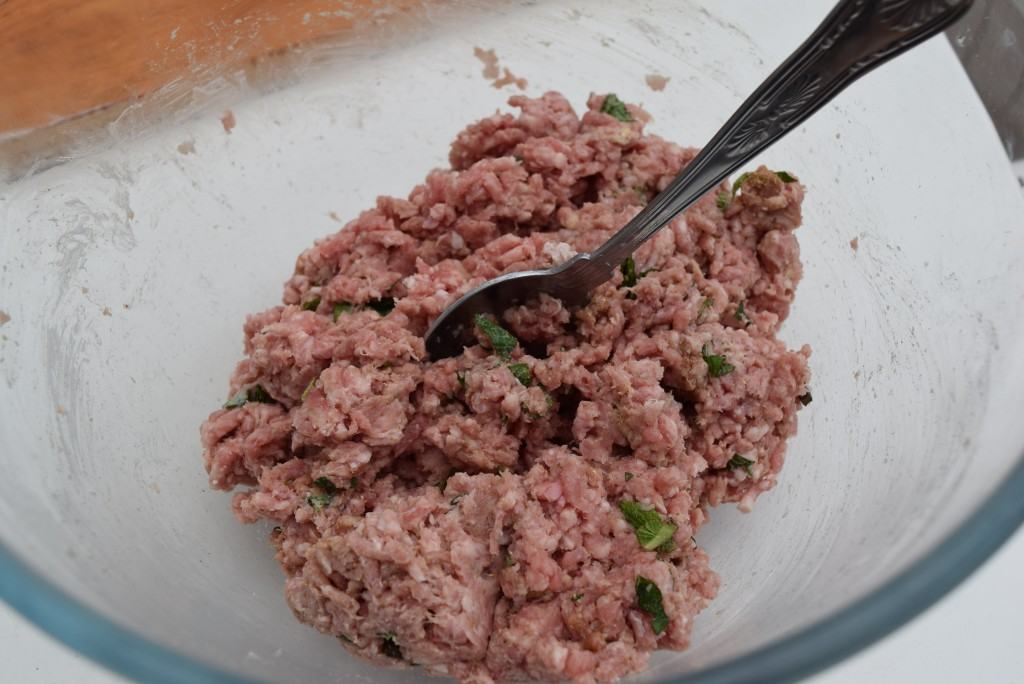 Take your grill pan and line with foil unless you want to wash up a really nasty mucky pan later. Then fashion the lamb into eight small burger sized patties or if you want to stick with tradition, press it around pre soaked bamboo or metal skewers. Set the kofta to one side while you crack on with the flatbreads.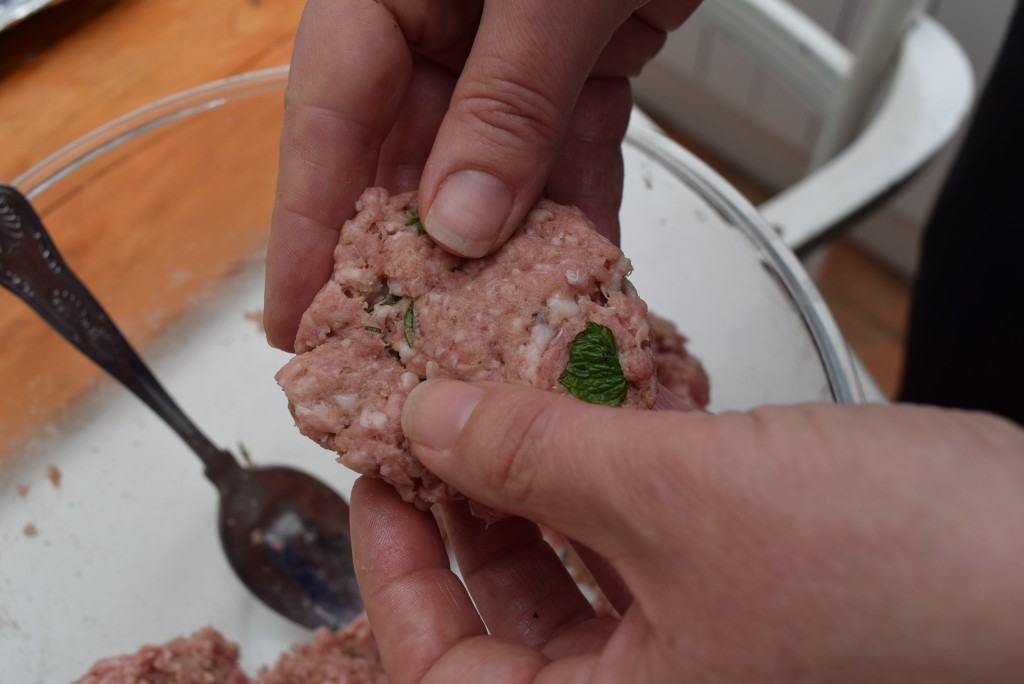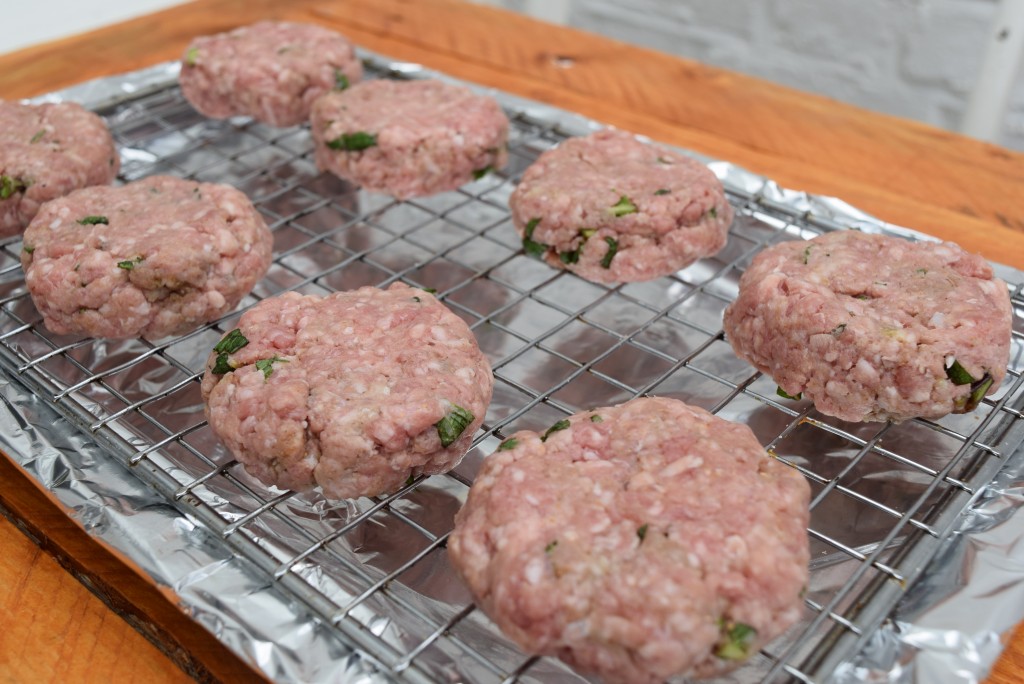 For these wonderful breads, weigh out the flour and add the baking powder and salt. Add in a pinch of chilli flakes if you like a hint of heat.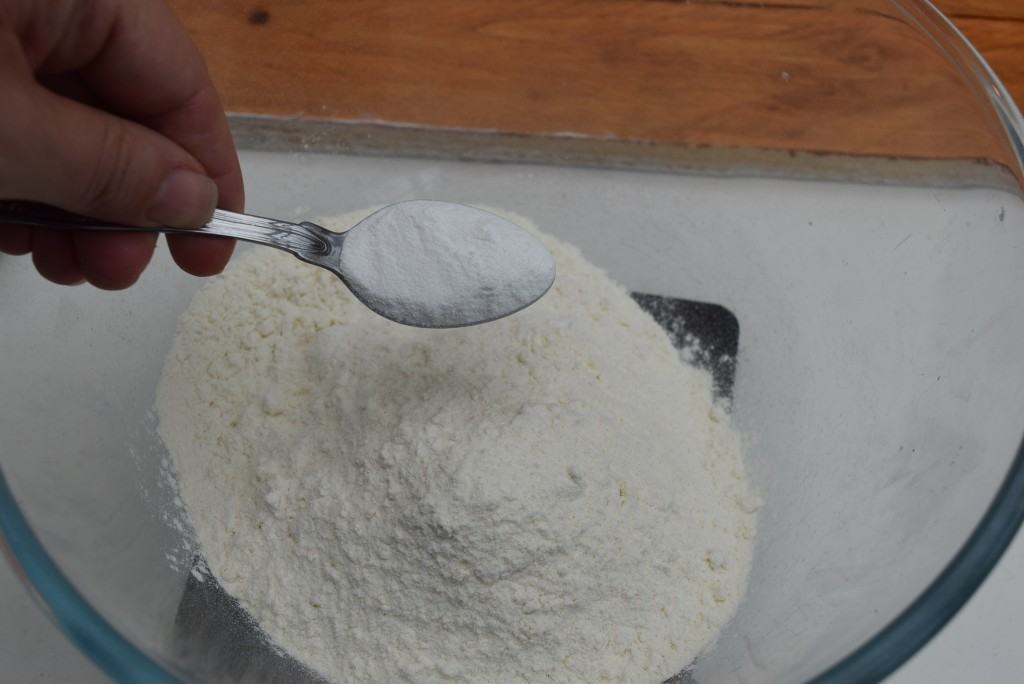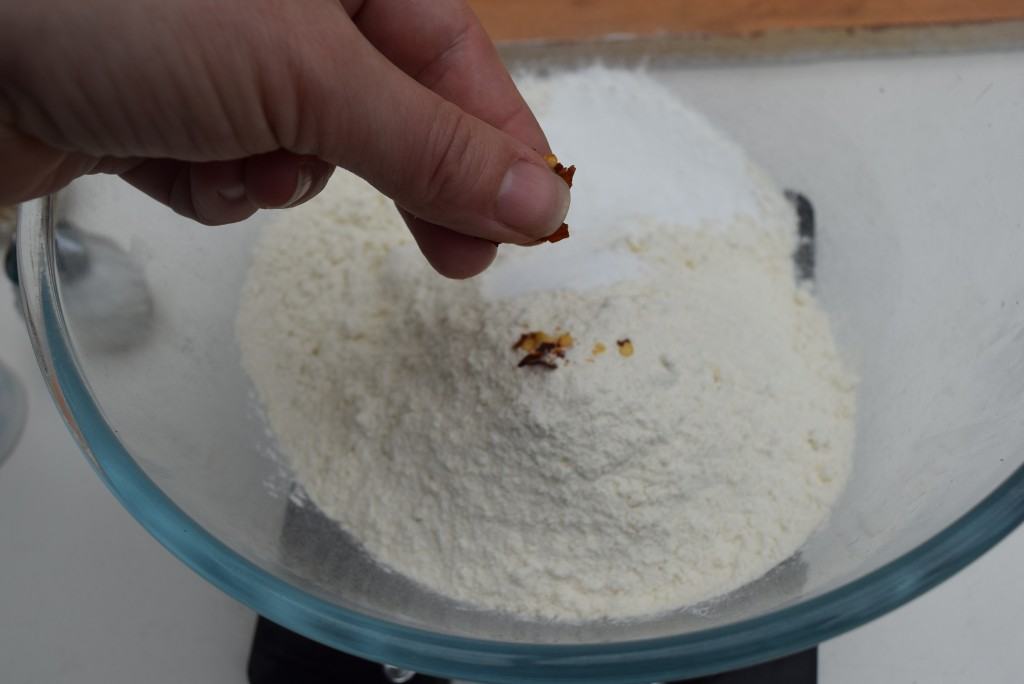 Next, stir in the yoghurt. I had Greek style yoghurt but any plain yoghurt would do here. Form this into a loose ball of dough and tip onto a floured surface.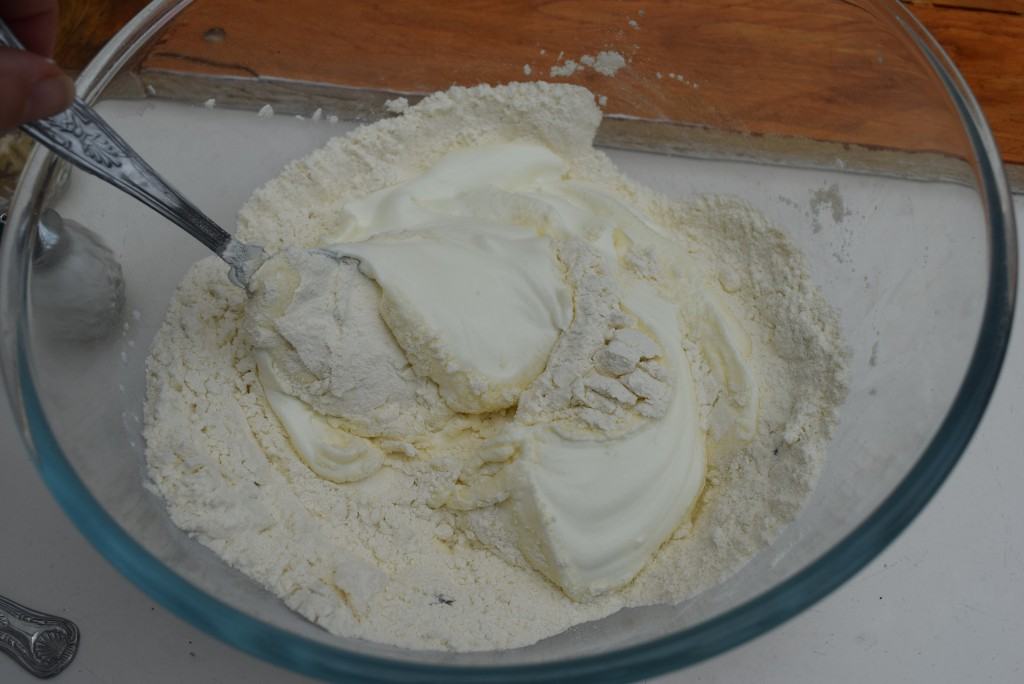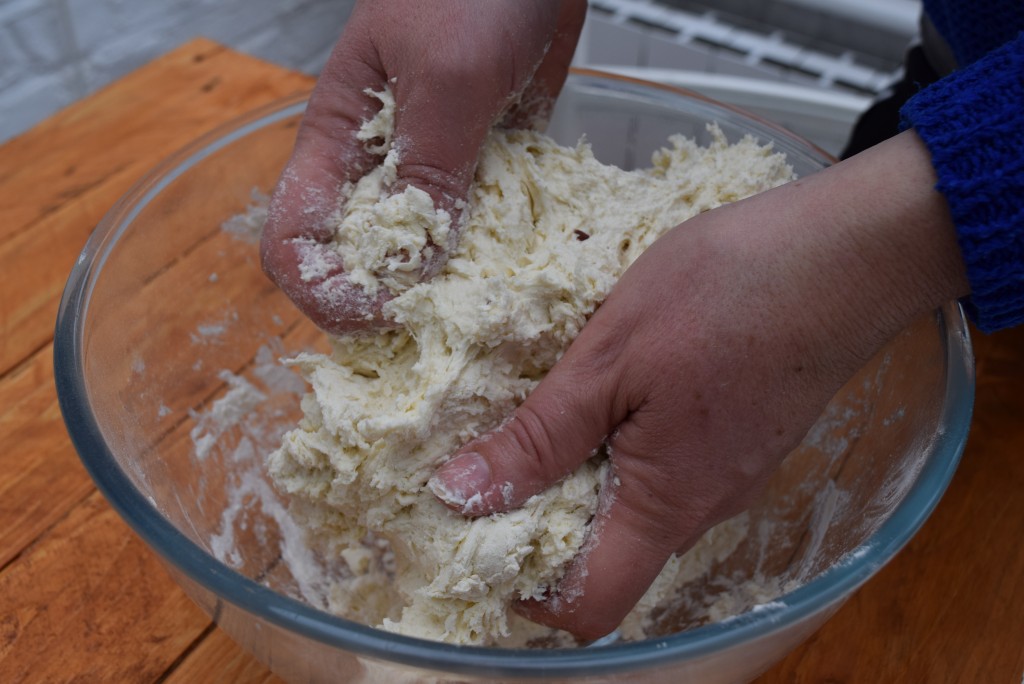 It's so sticky at first, but bear with it, the dough will come together in the end. Especially if you have big hands like me.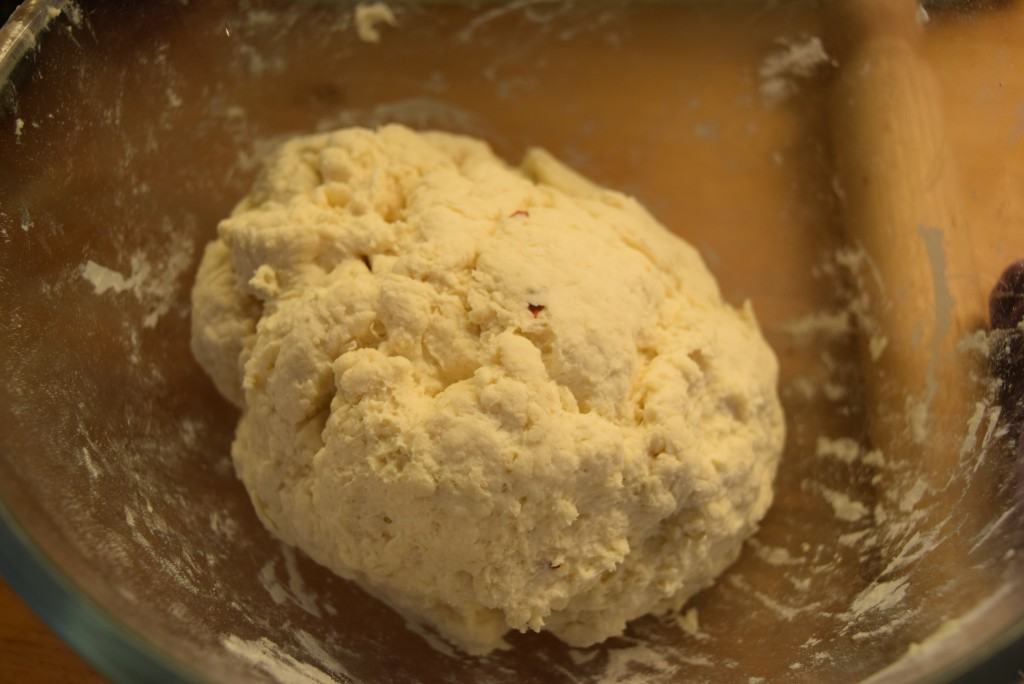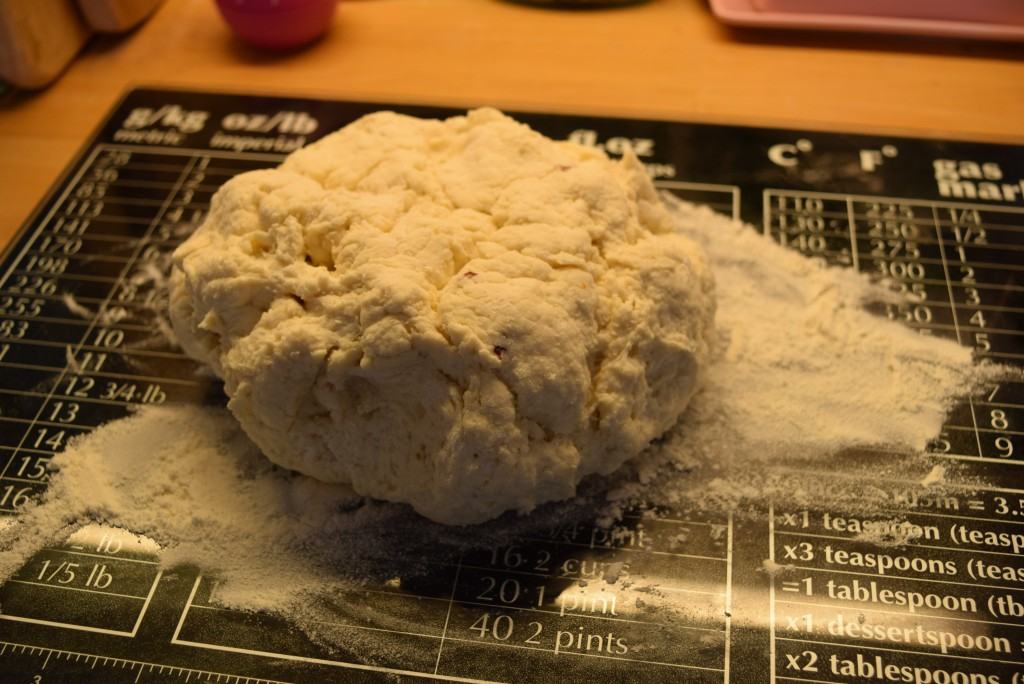 Put your griddle or lightly oiled frying pan onto heat up for the breads and put the grill on medium to heat up for the kofta.
Give the dough a little knead then cut it into eight equal-ish pieces. Roll each piece into a rustic *rough – as I am rubbish at making things look perfect* circle.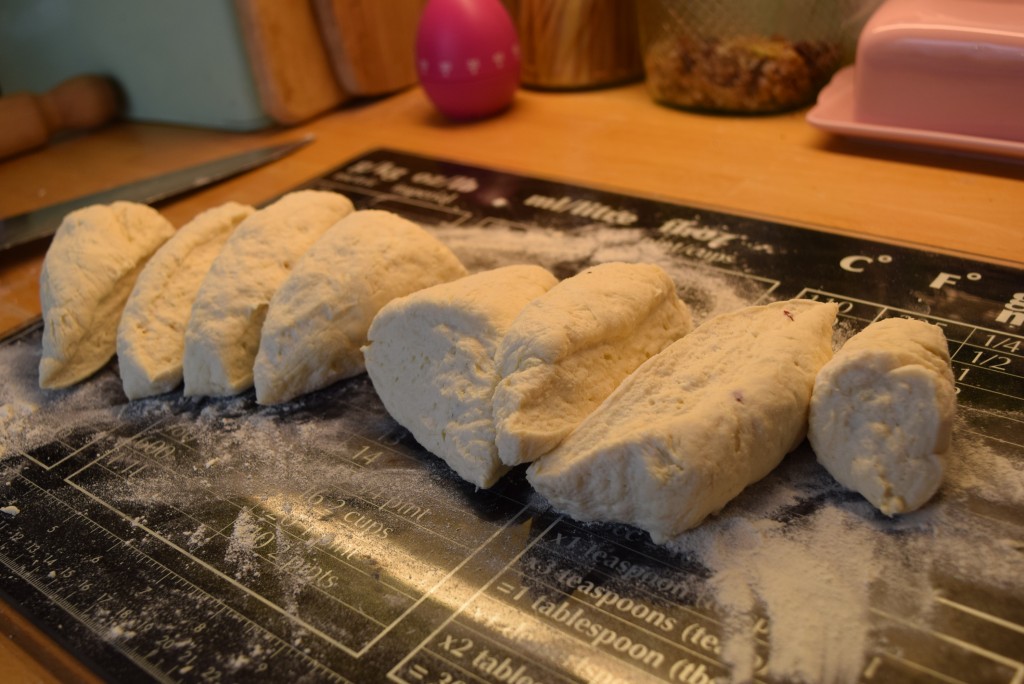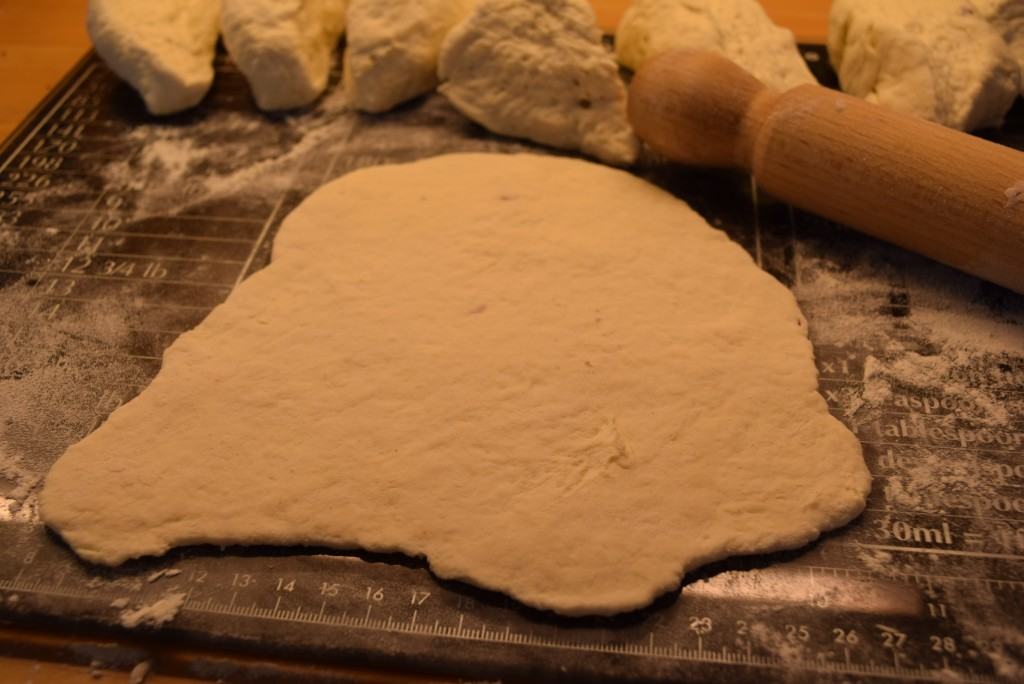 And now it's time to bring this lovely dish together. Put the lamb kofta under the pre heated grill to cook and at the same time start griddling your breads. Pop each piece of dough onto the pre heated griddle and press down.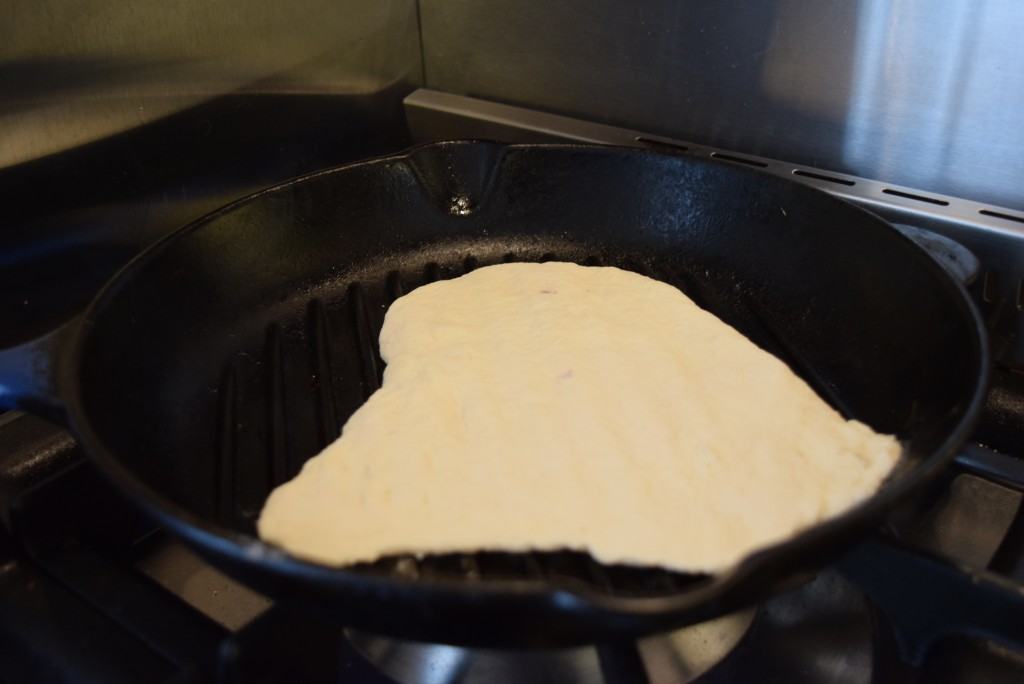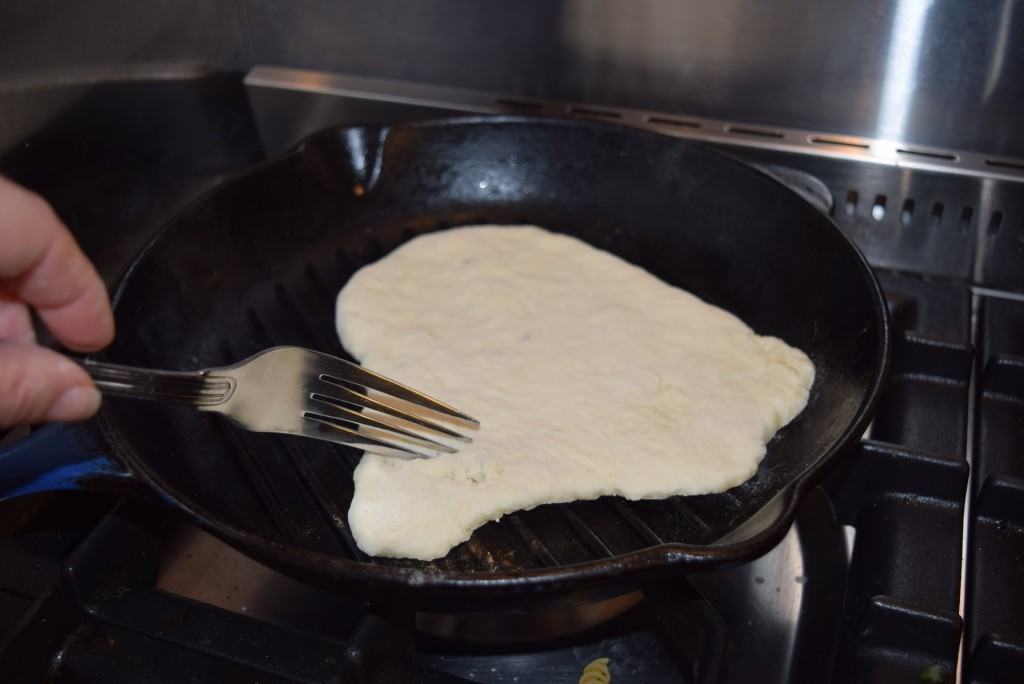 After around two minutes or when the bread has puffed up slightly, turn it over. Once the bread is nicely browned on the other side, pop it onto a baking tray, add a knob of butter and put in a low oven to keep warm while you continue with the rest of the dough.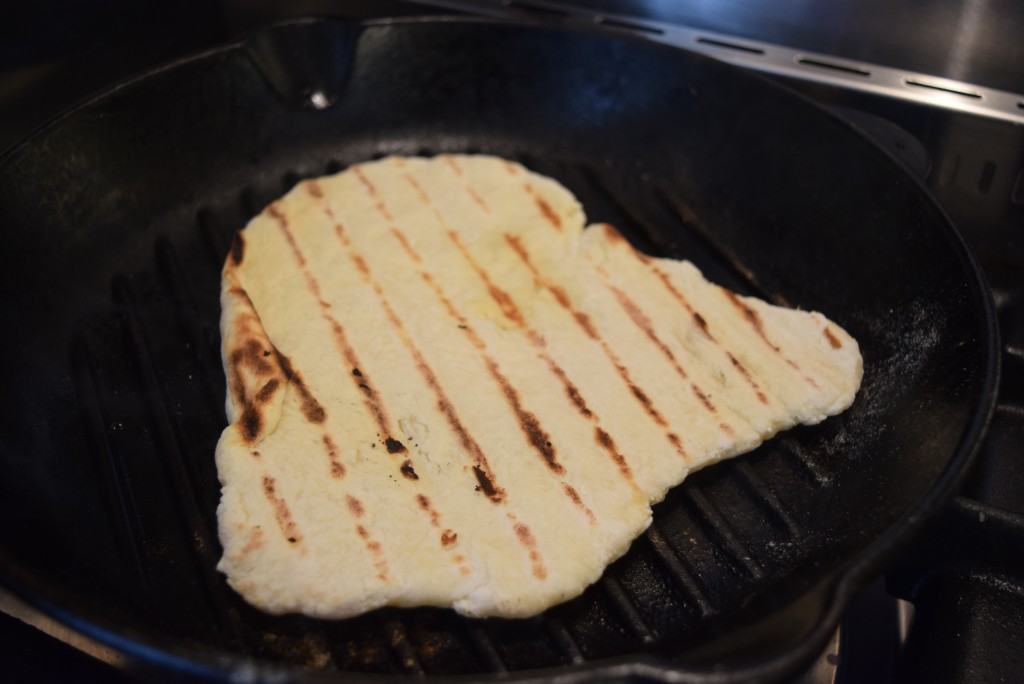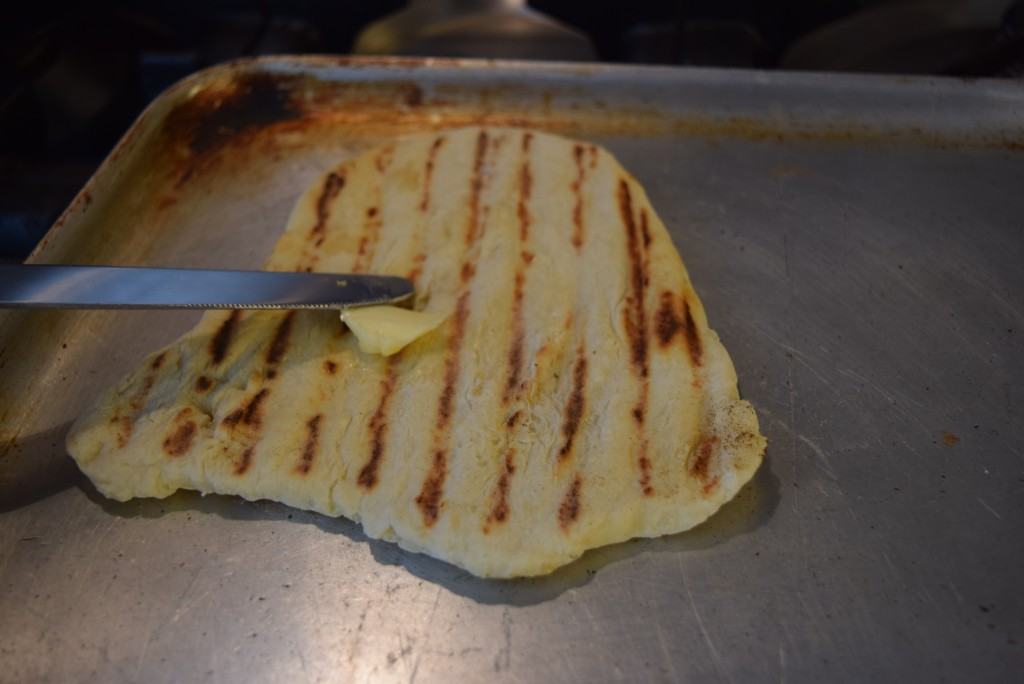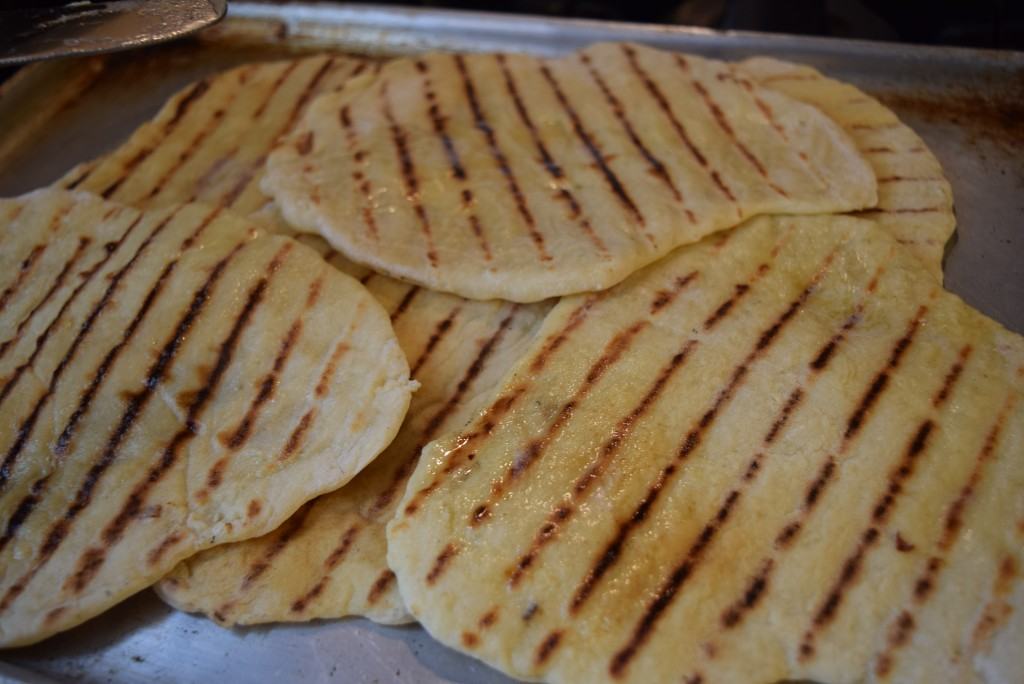 Your lamb will need turning after about 5 to 6 minutes, then the second side will need a further 4 to 5 minutes. The kofta are cooked when they are golden and sizzling and cooked through.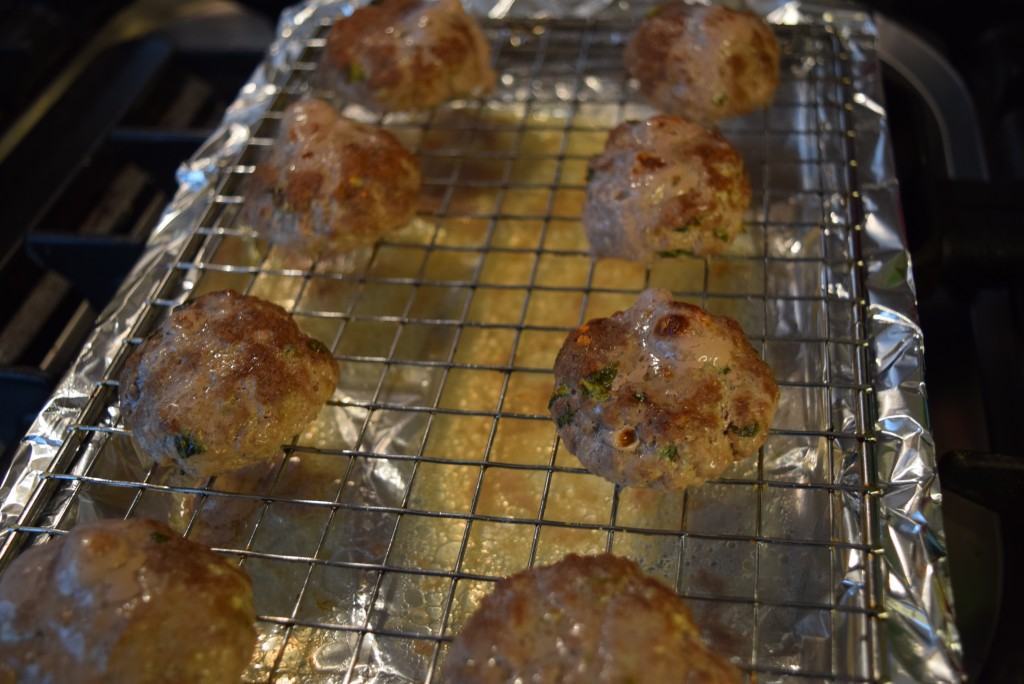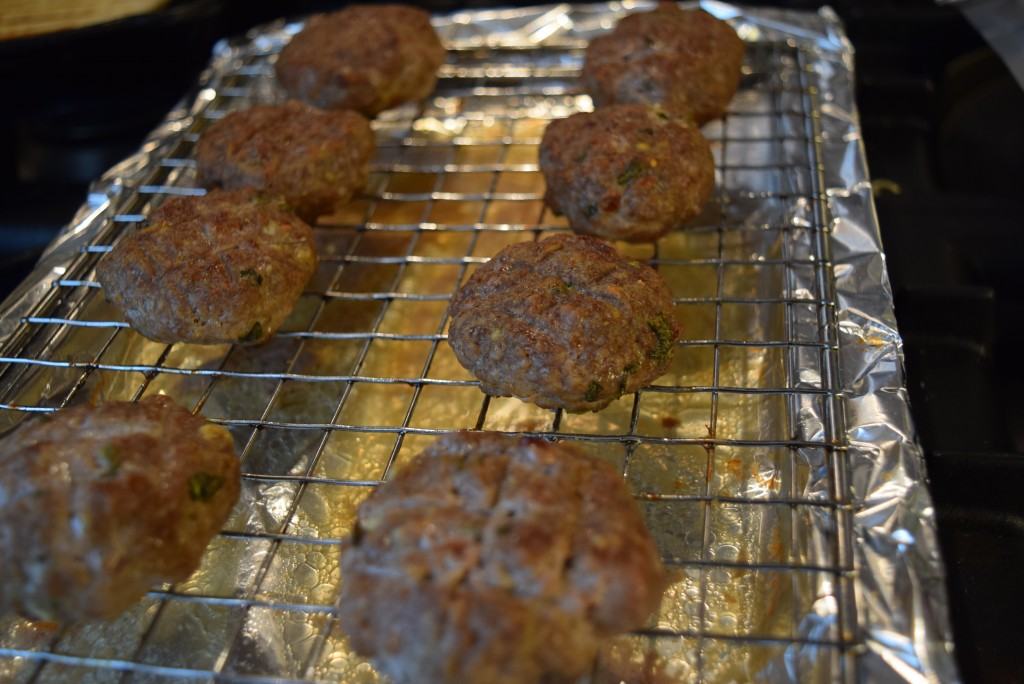 Now this brilliant, fragrant dish is ready to assemble. Serve these kofta with a minty, cucumber, yoghurt dressing and leaves. Or any accompaniments of your choice – Ben couldn't eat his without a large dollop of ketchup.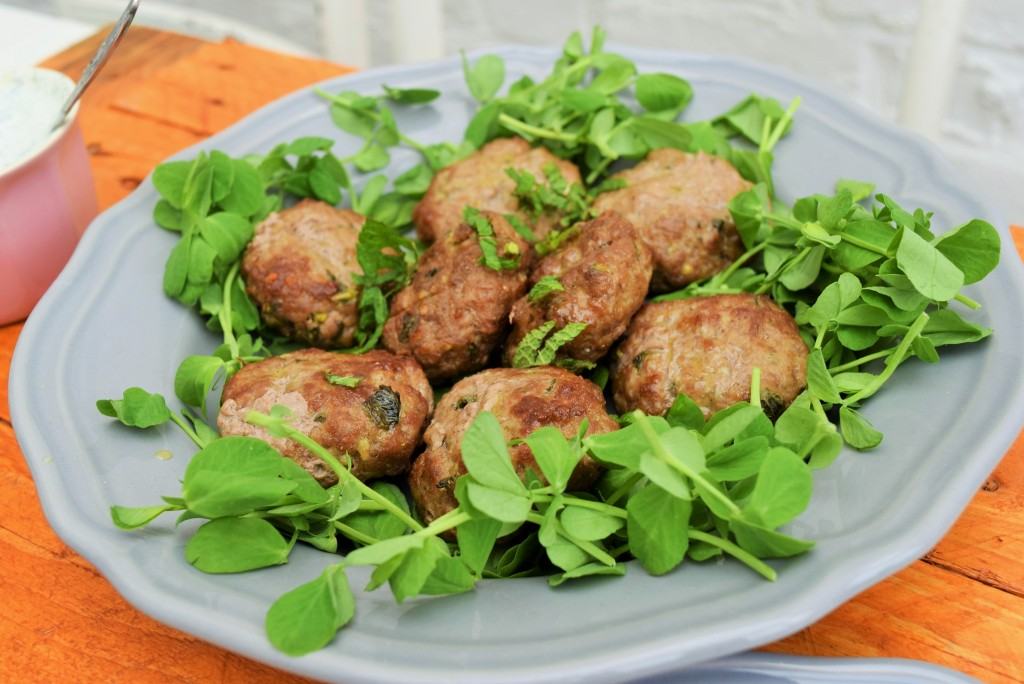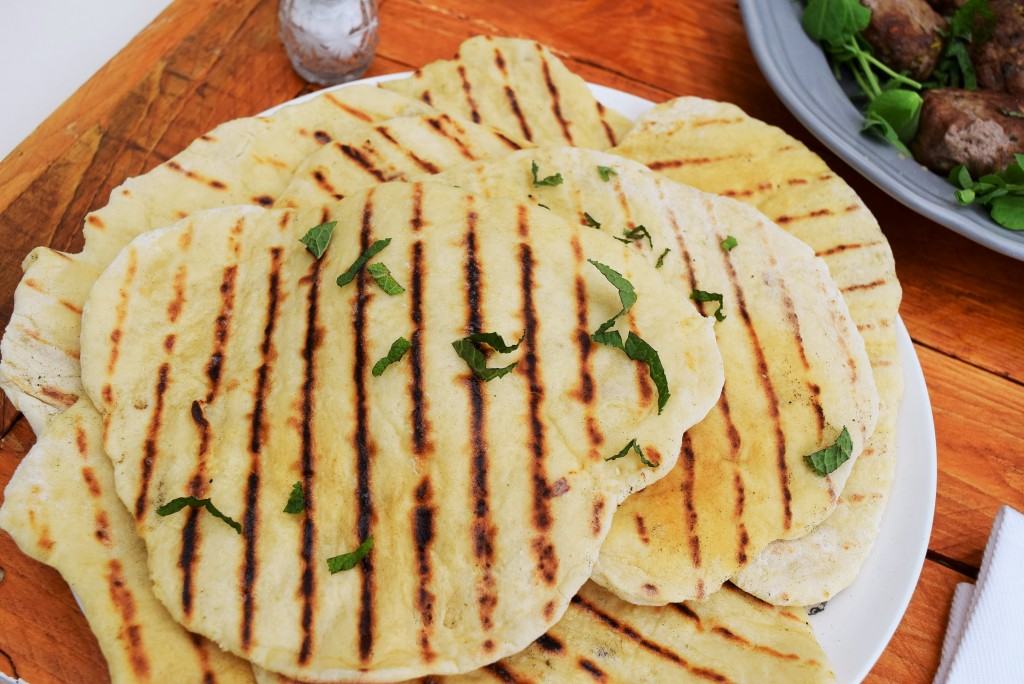 The bread to kofta ratio is not equal so you will have plenty of bread left over. We didn't as I ate about three while I was making them.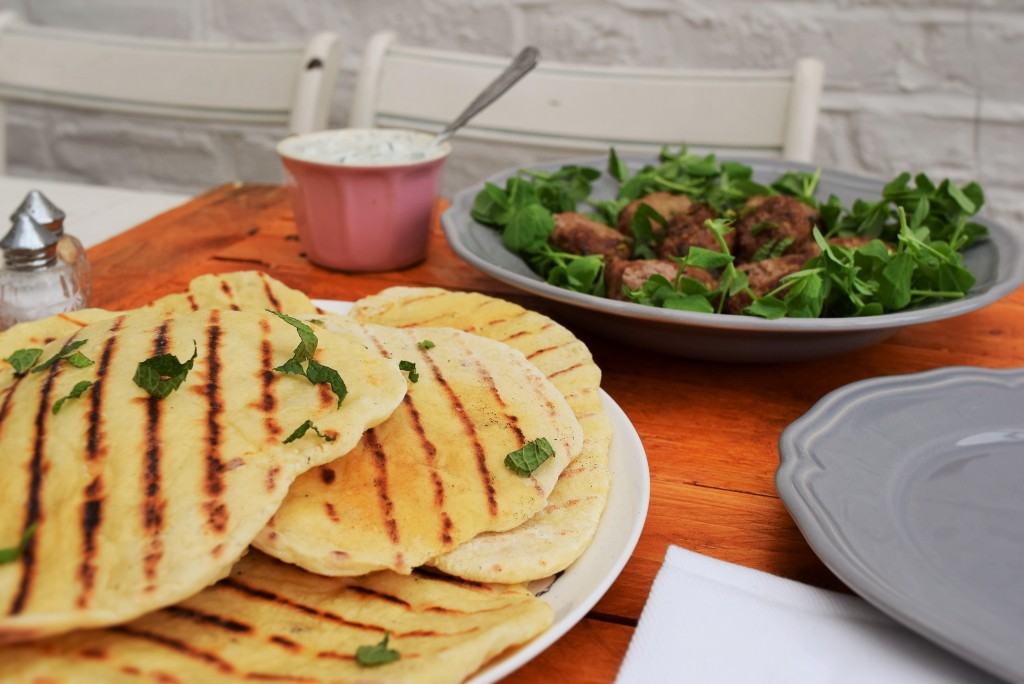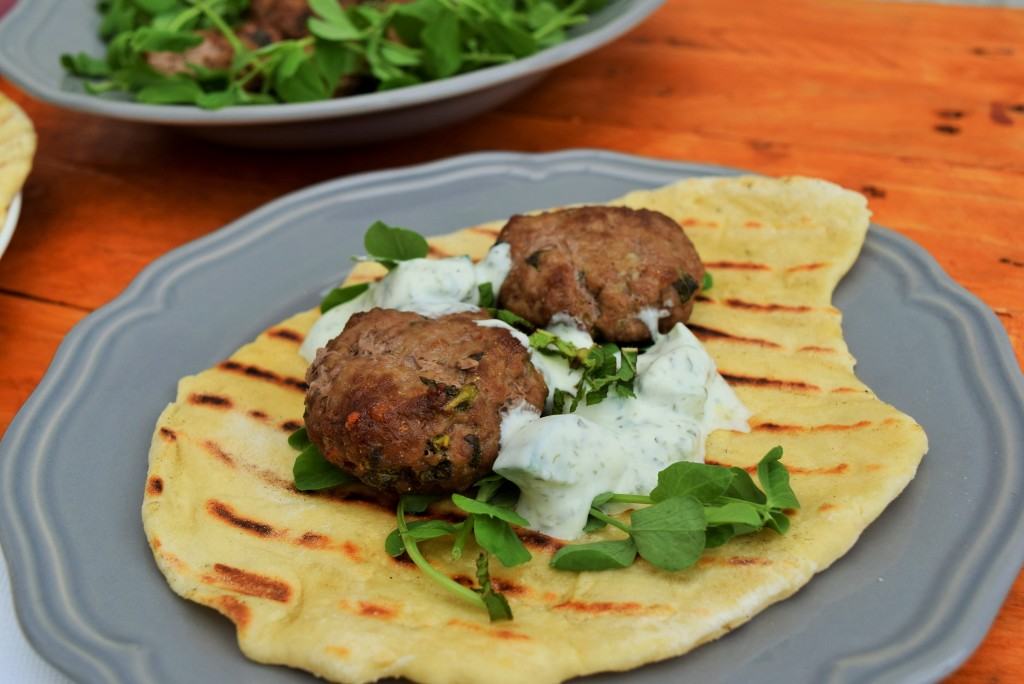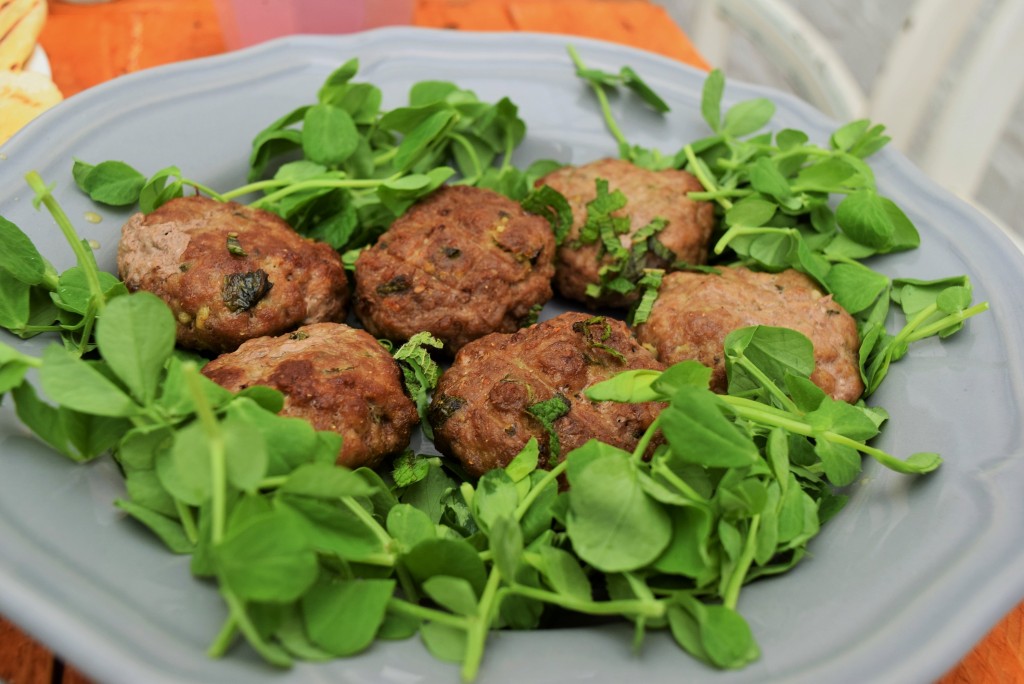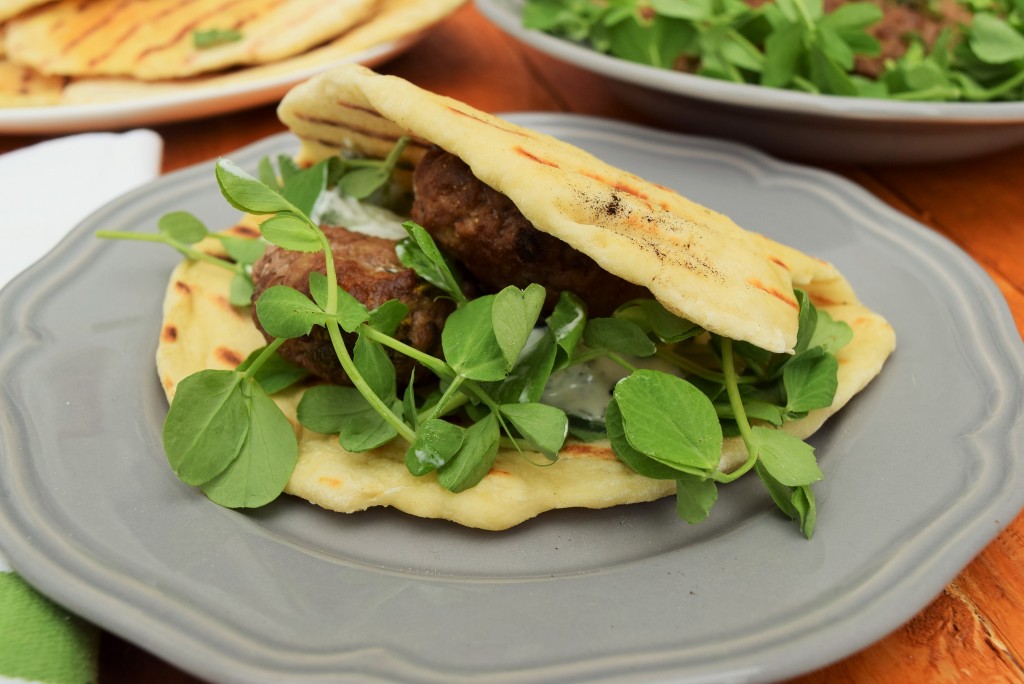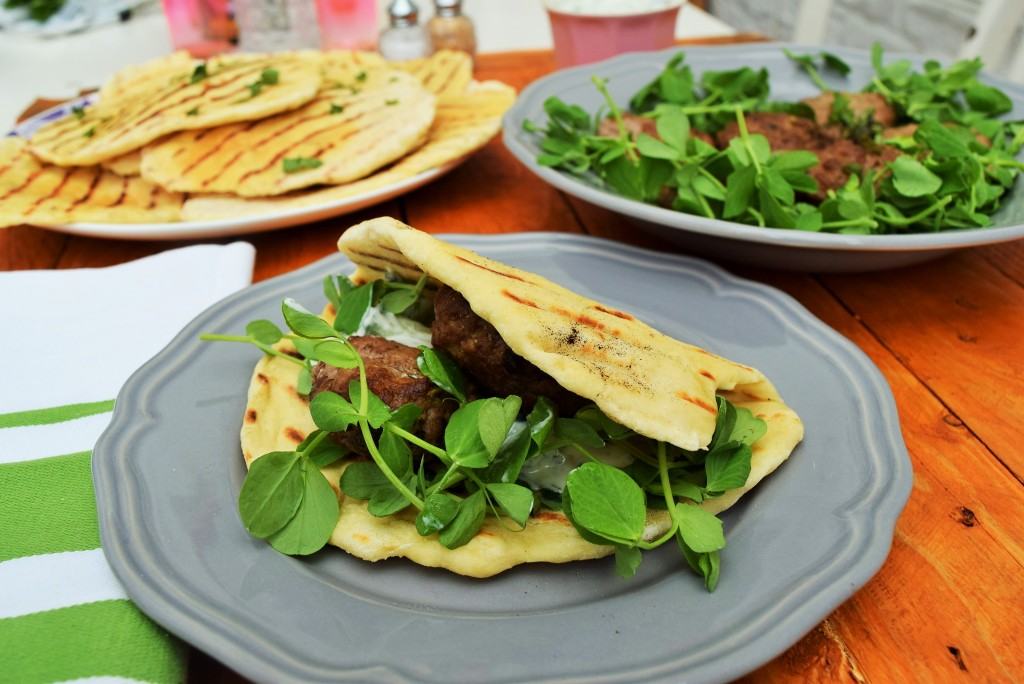 I love this recipe and am really excited to pass it on. It's just the kind of time saving, fly-by-the-seat-of-your-pants supper making I like. And the family inhaled every last Kofta and every last buttery bread. Well, the ones I hadn't already eaten myself.
Lots of love
Lucy x
Lamb Kofta with Flatbread Recipe
Optimistically serves 2 to 4 people as a light meal (in our house, serves 1)
You will need a griddle and grill pan – or you could barbeque both the kofta and the breads, weather permitting
Koftas
500g lamb mince
2 teaspoons ground cumin
2 teaspoons ground coriander
2 cloves of garlic, crushed
1 teaspoon salt and a sprinkle of pepper
1 tablespoon chopped fresh mint leaves
1 tablespoon mayonnaise
Flatbreads
350g self raising flour
1 teaspoon salt
1 teaspoon baking powder
350g plain yoghurt
a pinch of chilli flakes or additional herbs of your choosing
oil for griddle and soft butter for slathering on the breads
Serve the kofta and breads with leaves and minted yoghurt or accompaniments of your choosing 
For the Kofta
Take a large bowl and add the lamb mince. Follow in with the ground cumin, coriander, crushed garlic, fresh mint and mayonnaise. Add the teaspoon of salt and shake of pepper, then mix with a spoon or go in with your nice clean hands, and mix until the spices are interspersed and the mince holds its shape. Fashion the spiced lamb into 8 patties or form into traditional kofta shapes around pre soaked bamboo or metal skewers. Leave these to one side while you prepare the flatbreads. These can be grilled or barbecued while you griddle your flatbreads.
Lightly oil your grill pan or barbecue and add the kofta. Grill for around 5 to 6 minutes on a medium heat, on each side, turning once they are golden and sizzling nicely.
For the flatbreads 
Pre heat the oven to keep the cooked breads warm.
In a large bowl put the flour, salt, baking powder, yoghurt and herbs and spices, if you using, and mix it all together with a wooden spoon or with your hands. Fashion the dough into a ball and place onto a floured work surface. Knead briefly to bring it all together then cut into 8 even-ish sized balls.
Roll each ball into an artisan/rustic/rough circle and pop to one side while you heat your griddle or frying pan. Put your lightly oiled griddle/pan onto heat then cook each flatbread for roughly 2 minutes on each side, or until puffed slightly and with lovely brown char grilled lines. Melt a knob of butter on each bread before putting on a baking tray to keep warm in a low oven until all your breads and kofta are cooked.
To serve
Serve your fragrant kofta on a warm flatbread, slathered with a minty, cucumber yoghurt dressing and fresh leaves.