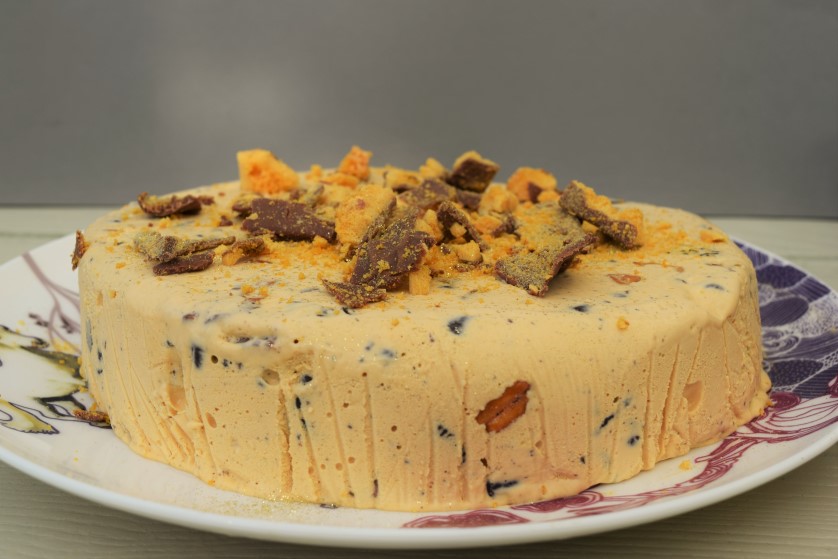 Loaded Caramel Ice Cream Cake
Well this will jinx it, but the forecast for this weekend actually looks relatively rain free. Compared to last week when it was covers on and covers off at Wimbledon every five minutes, we may be able to relegate the umbrella for more than a day. God, I am a weather bore, apologies for that, but I can't help myself. So to celebrate, let's have a frozen dessert to cheer us all up. And this Loaded Caramel Ice Cream Cake is the frozen dessert to end all desserts.
This is based on a cheats recipe from Nigella's Express book, which I made years ago, when the book first came out. Where Nigella used bought ice cream, I decided to use my own, no churn ice cream, but on this occasion I made it caramel flavoured. This, along with a sprinkling of salt, gives this ice cream cake a fantastic base to load with any of your favourite chocolate and biscuits bits and bobs. It's a wonderful, flexible recipe, feel free to include any of your hankerings. I added Oreos, honey roast peanuts, chopped up Snickers and Mars bars and some dark chocolate chips to add a whiff of sophistication. But it's up to you, add white chocolate, Twix's, Matchmakers, there's no real rules here, just tuck right in.
This is a simple recipe, the only thing needed is your time, whilst the ice cream freezes then re-freezes, so make sure you leave plenty for this. Then it's just chopping and stirring, and tasting, of course, lots and lots of tasting to check you have included all the right flavours. I tasted so much of the mixture I *almost* struggled a get full portion of the cake down me after I'd photographed it. I did say almost, you'll be pleased to hear I soldiered on and did manage to finish it in the end, so well done me.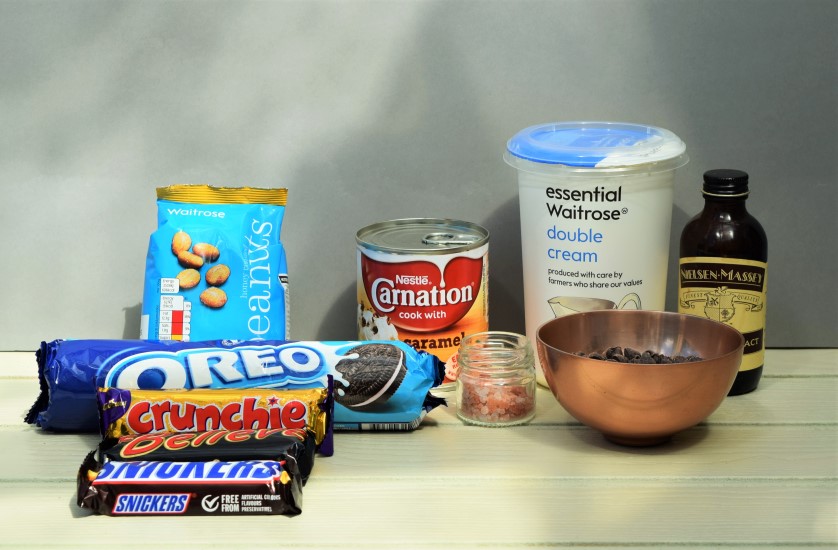 And there's the aforementioned sunshine, slightly annoying when I'm trying to photograph but I am not moaning, it's so good to feel the sun on your face at last.
There's my choice of additions, quite peanut heavy, as standard. My sister did point out the other day you are slightly buggered for choice on Lucy Loves if you have a peanut allergy, so apologies for yet another peanut based inclusion. They are optional here, though, just add what suits you and yours.
Start this simple but stunning recipe by making the no churn caramel ice cream. Pour your whole pot of cream into a large bowl or bowl of your stand mixer along with the tin of caramel and vanilla extract.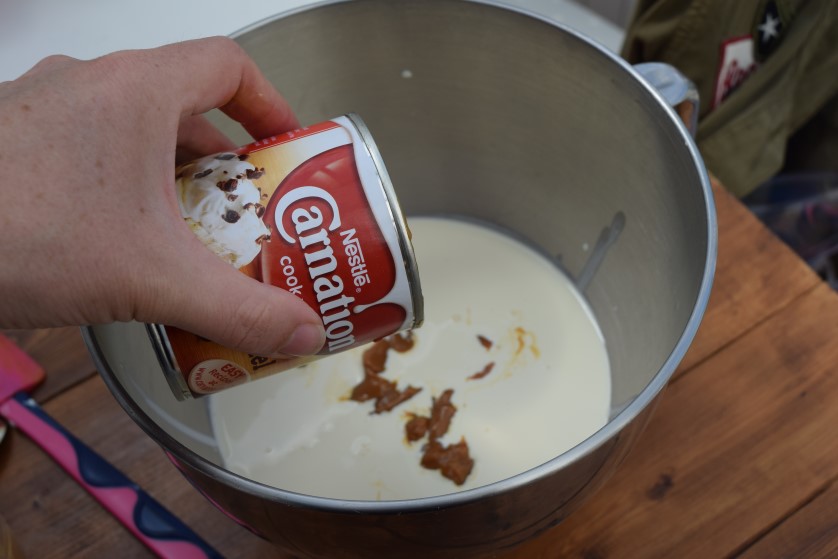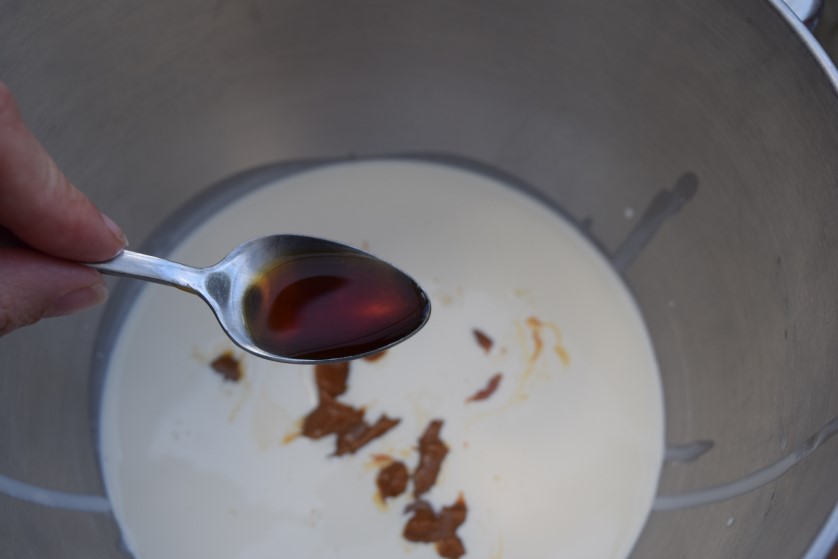 Whisk this together until just thickening nicely.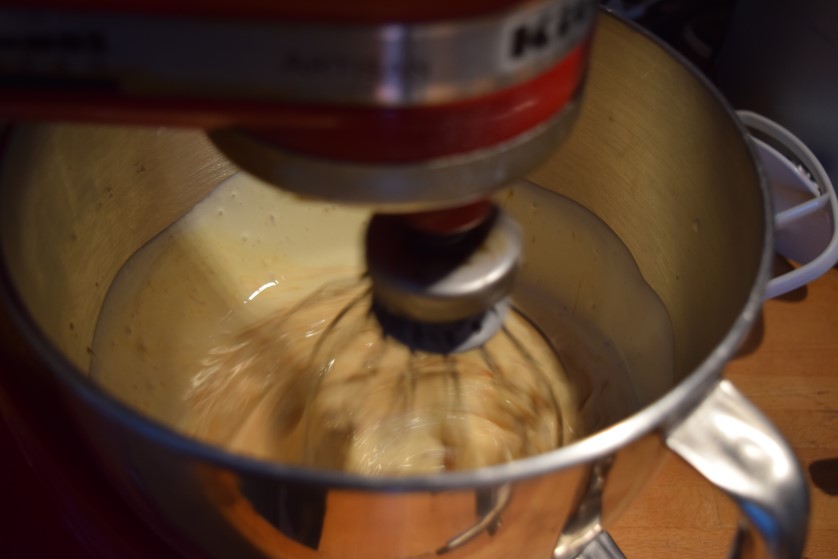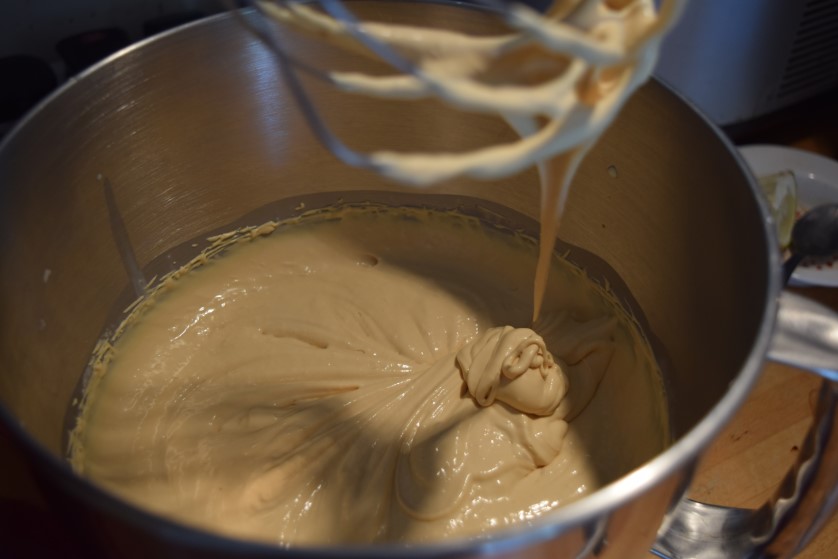 Plop this into a freezer safe dish, sprinkle with sea salt, or I used Himalayan pink salt *what a ponce* then cover and put in the freezer until just frozen.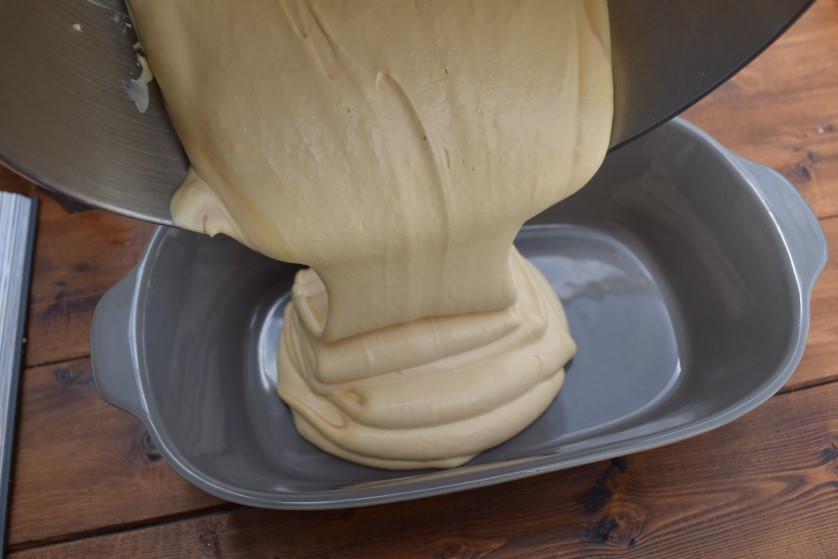 Drool.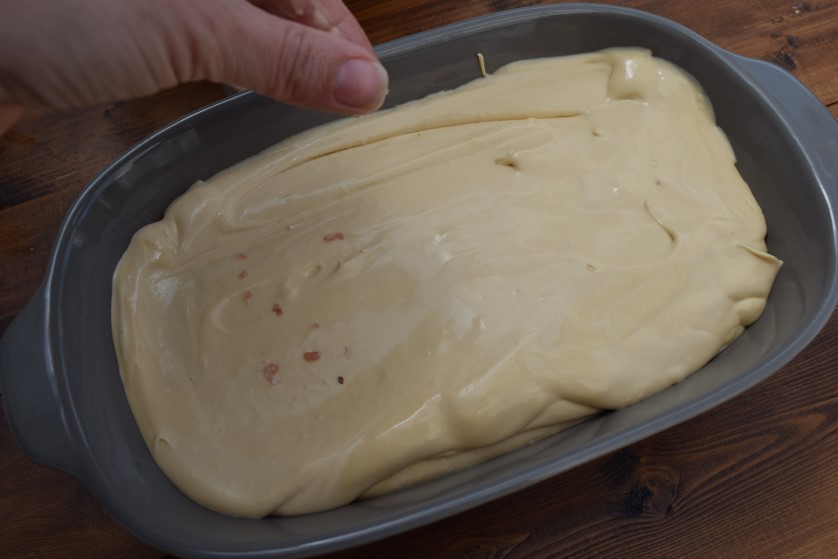 While this is freezing, do feel free to make some toffee sauce from my Sticky Toffee Pudding post, this goes brilliantly with the ice cream cake. I ran out of time, so please imagine you can see a big, dribbly pool of hot toffee sauce on my dessert, instead of none.
While you have a moment, line your chosen cake tin and chop your choice of choccie bars and biscuits.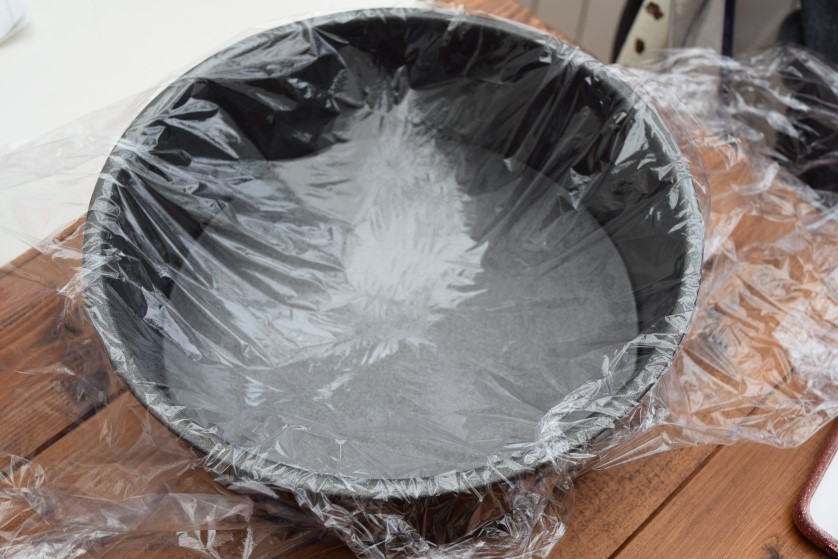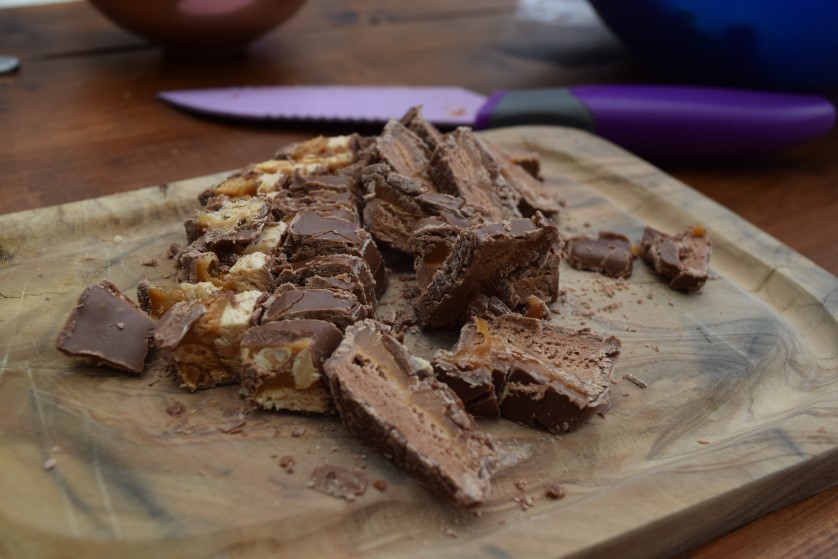 When the ice cream is nicely starting to freeze, remove it from the freezer and tip into a bowl ready for the additional treats.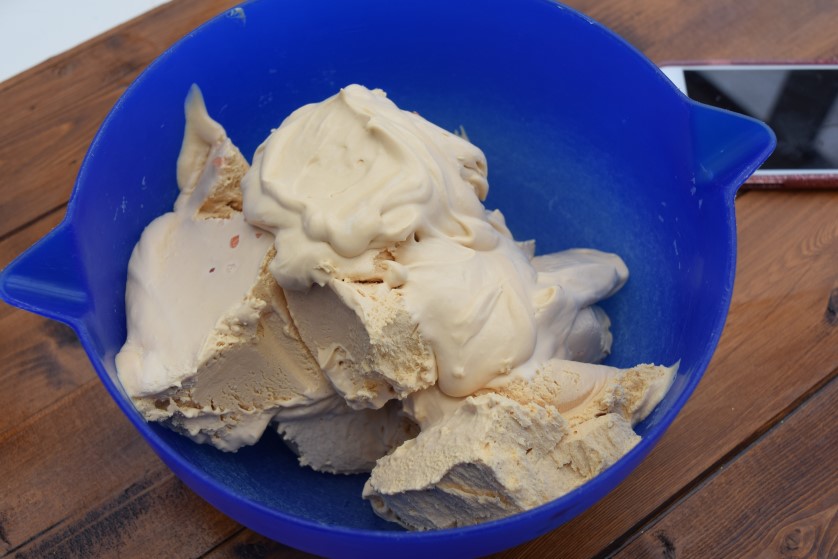 Tip in the chocolate chips then crumble in the biscuits.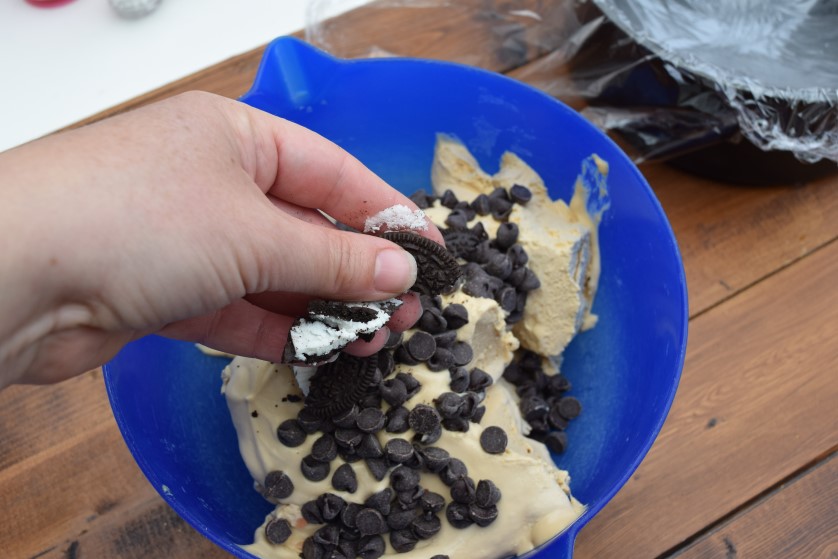 Yes, I ate a few, I can't help myself.
Tip in the peanuts and chopped chocolate bars then give the whole glorious gloop a good stir.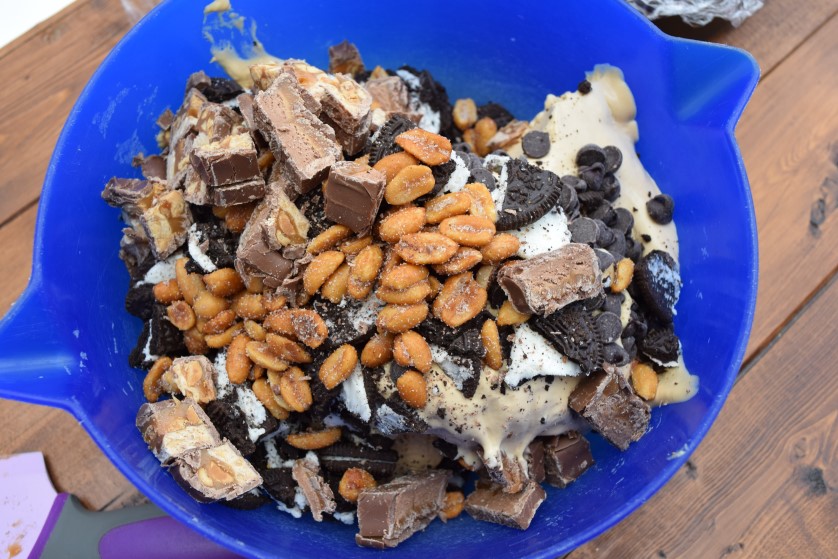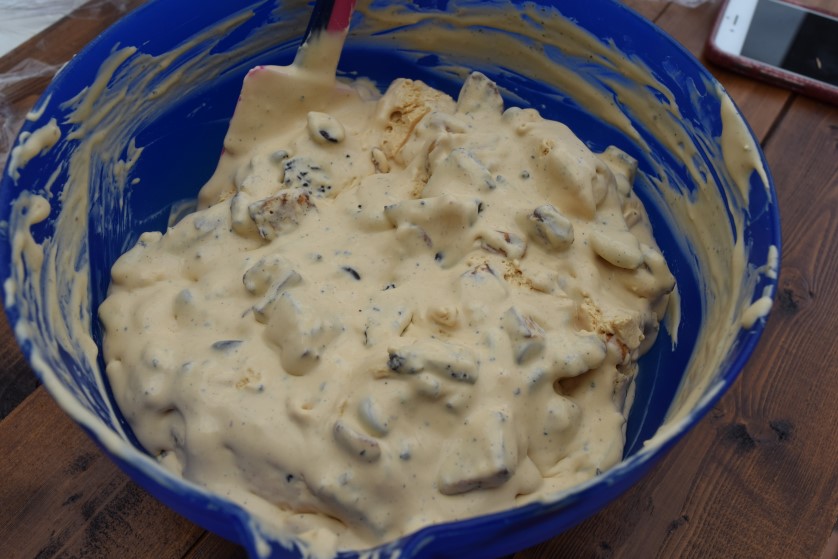 Pour this beautiful mess into your cling lined cake tin and level the top. Cover again and put back in the freezer until solid.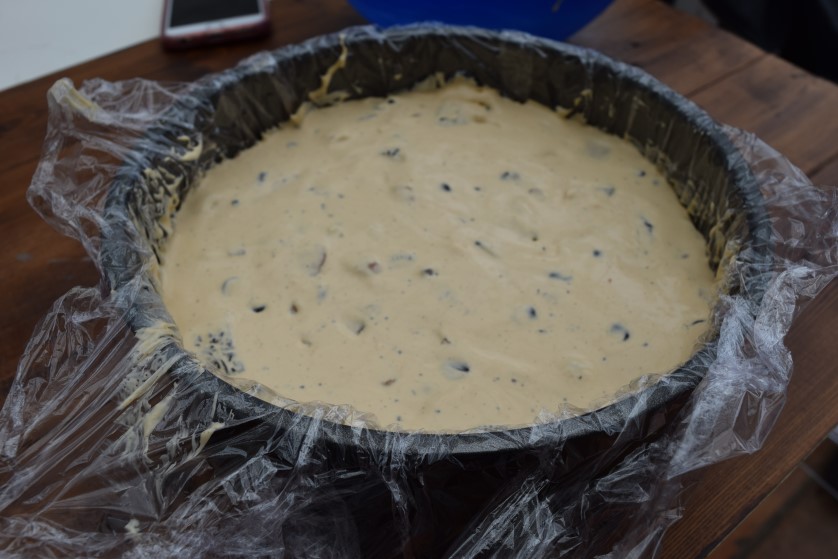 Just before you are ready to serve your ice cream cake, get it out of the freezer and turn, upside down, onto a plate. Remove the cling film then crumble another chocolate bar onto the top of the cake. I went for a Crunchie as they are quite photogenic. And then for extra showbiz glamour I added a sprinkle of edible glitter.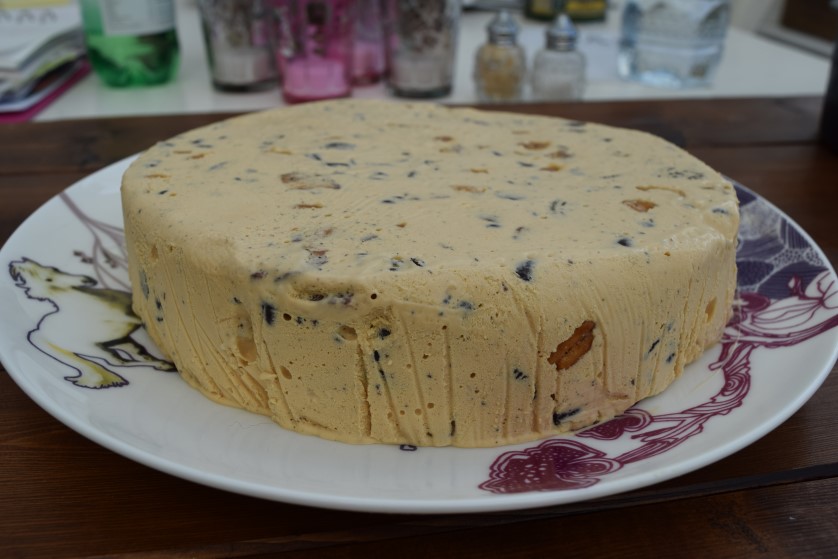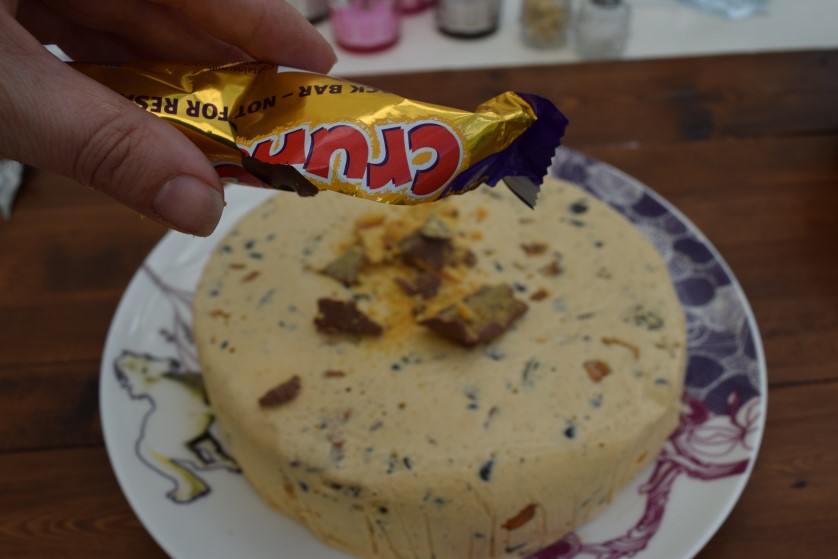 Enjoy this cake by the bowlful, with or without hot toffee sauce. Without if you are busy/lazy like me.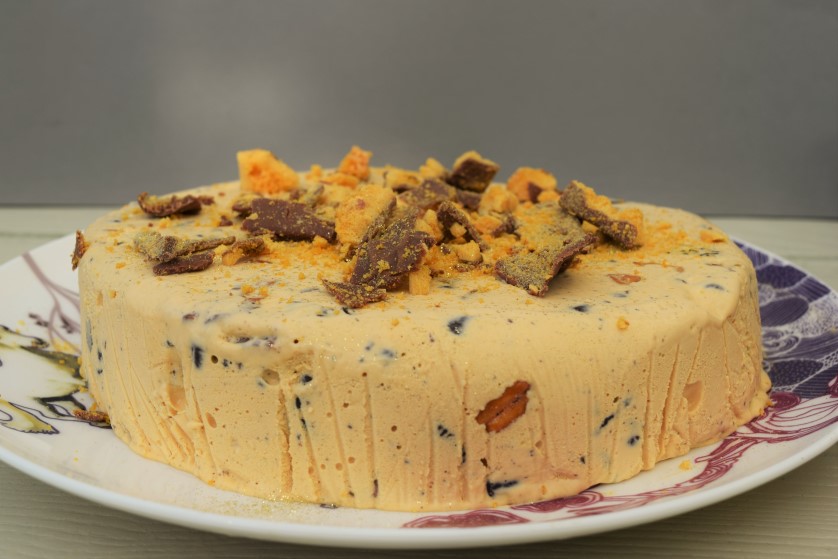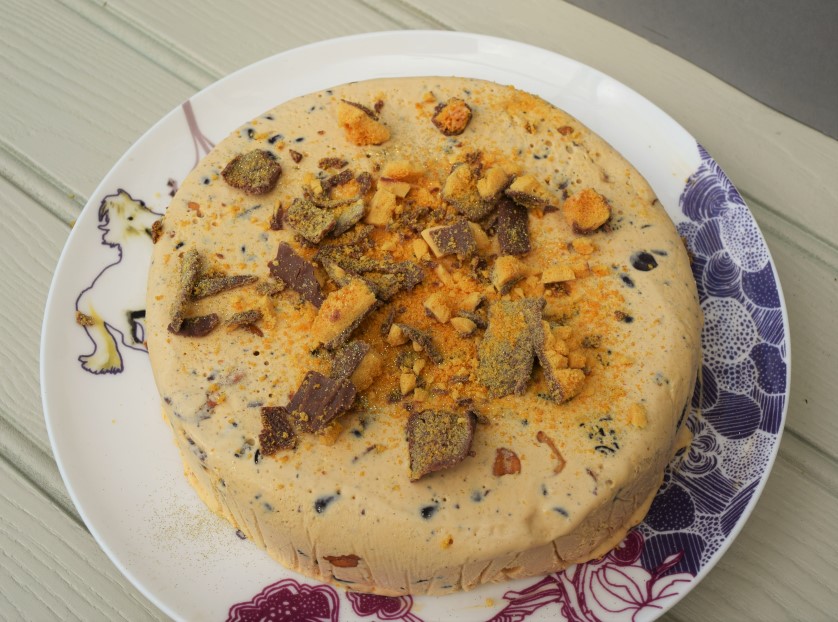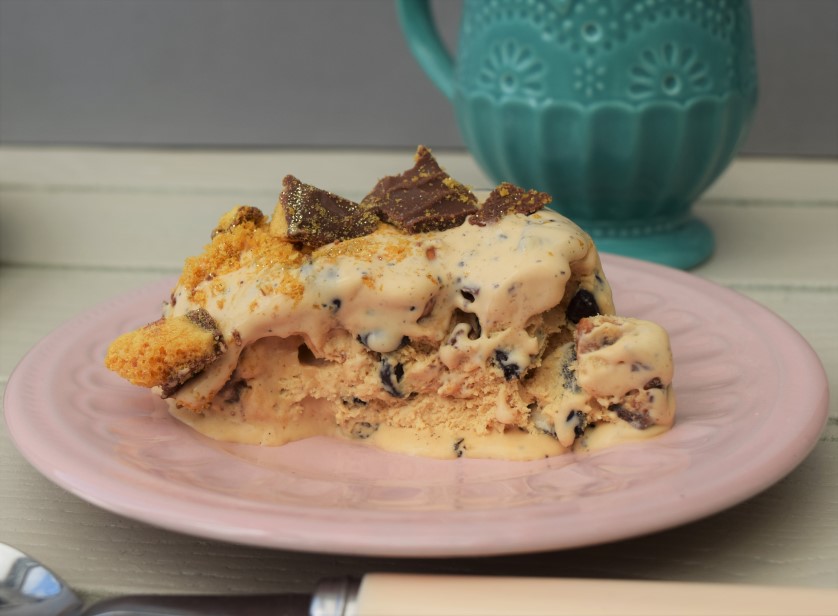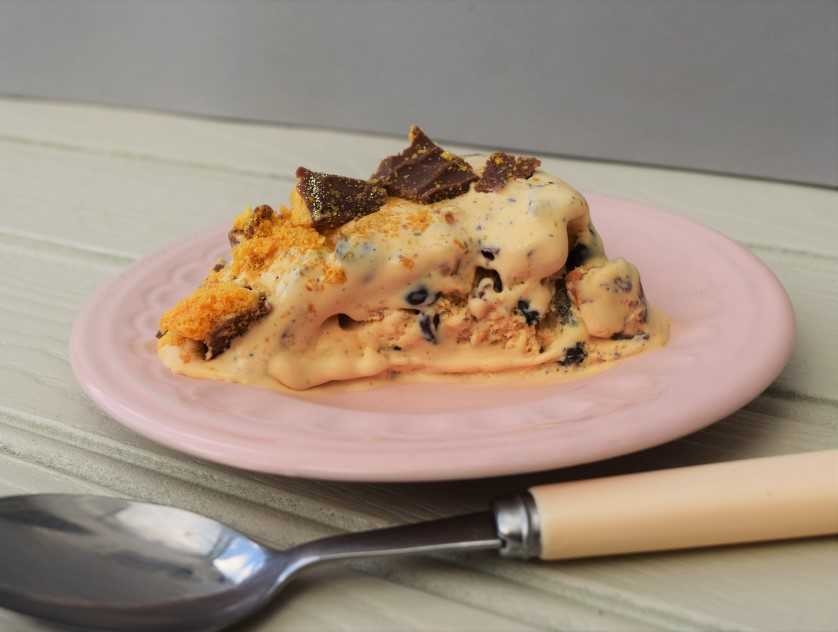 Photographing an ice cream cake on a warm Sunday was not my greatest plan, but melty or not, this Loaded Caramel Ice Cream Cake is a breath taking dessert. I served this at a recent dinner party and there wasn't a drop left on anyones plate. So make the most of this warm spell and start thinking about which treats you'd like to add to your Loaded Caramel Ice Cream Cake.
Lucy x
Loaded Caramel Ice Cream Cake
Serves 8 deserving guests
You will need a 7 to 8 inch cake tin lined with cling film and a hand or stand whisk
Ice Cream
600ml double cream
397g tin Carnation Caramel or dulce de leche
1 teaspoon vanilla extract
a pinch sea salt
Bits and Bobs
2 or 3 chocolate bars, e.g., Snickers, Mars, Crunchie
100g crushed biscuits, Oreos or Bourbons are lovely here
75g honey roast peanuts or salted peanuts – if you don't like peanuts just add more chocolate chips or chopped chocolate bars
100g chopped chocolate or chocolate chips
An additional crushed Crunchie to decorate, optional glitter and a batch of toffee sauce, if you wish 
Make a start by making the no churn ice cream. Into the bowl of your stand mixer or in a large bowl pour in the double cream, caramel and vanilla extract. Whisk until thickening, but not stiff, then pour into a freezer proof bowl, sprinkle with a pinch of sea salt then cover and put in the freezer until just set firm, this should be around 3 to 4 hours, dependent on your freezer.
When this first freezing time is up, line your cake tin with cling film, chop your chosen chocolate bars and crumble the biscuits. Take the ice cream from the freezer and scrape into a bigger bowl. Mash it around to break it up a little then stir in the chopped chocolate bars, crumbled biscuits, peanuts and chocolate chips. Mix well then pour into the lined cake tin. Smooth the top then put back in the freezer until set firm, around another 2 to 3 hours.
When you are ready to serve, remove the ice cream cake from the tin and carefully turn it out, upside down, onto a plate. Crumble an additional Crunchie bar onto the top and add edible glitter and anything else you wish to decorate your cake with. Serve in large wedges with toffee sauce, if you wish. Any leftovers *really* can be kept in the freezer for a month or so.