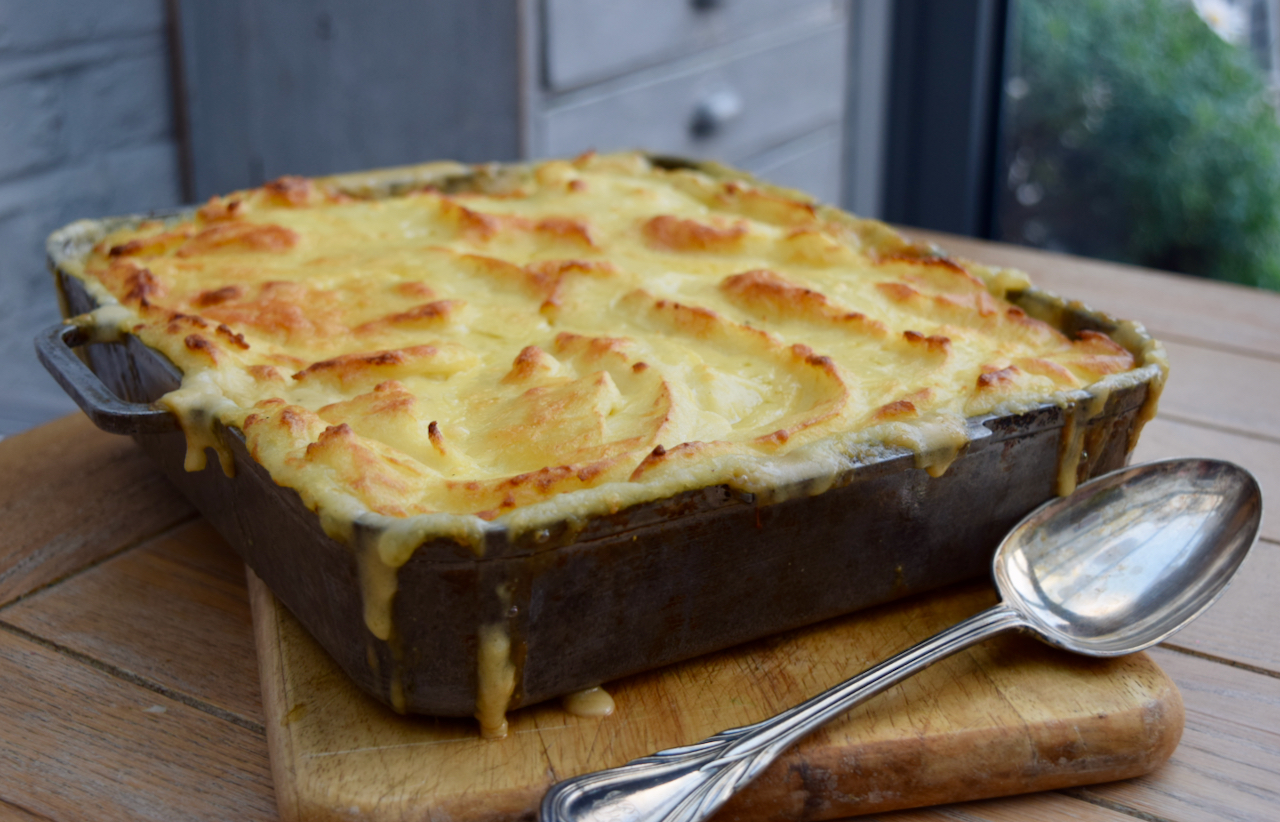 Cheesy Sausage and Mash Pie recipe
Bloody Hell. That should probably just be the end of the post, but you know me, I love a good ramble. Christmas has all gone tits up in these parts, as we've entered the unchartered realms of Tier 4, so I don't know if I'm Arthur or Martha. Our plans have all gone up in smoke and it's now just the four of us on Christmas Day, eating and drinking our way through what will be the strangest Christmas ever. Christmas Eve is usually a big night for us, but this year this Cheesy Sausage and Mash Pie may be just the comfort food we all need this year.
This recipe came to me in a dream a while ago. I love sausage and mash with onion gravy so why not fashion it into a pie? I chose some spicy sausages from our local butchers and I went for 12 for 4 of us, as we are a family of walking appetites; you can pop in as many as suits your eaters. The onion gravy is rich, creamy and almost good enough to eat on it's own; put the whole business together, top it with cheesy, buttery mash and this is the supper we all need for Christmas 2020.
Cheesy Sausage and Mash Pie is misery eating at it's finest. Warm, comforting and washed down with a large glass of something, this dish could turn Christmas around for us all.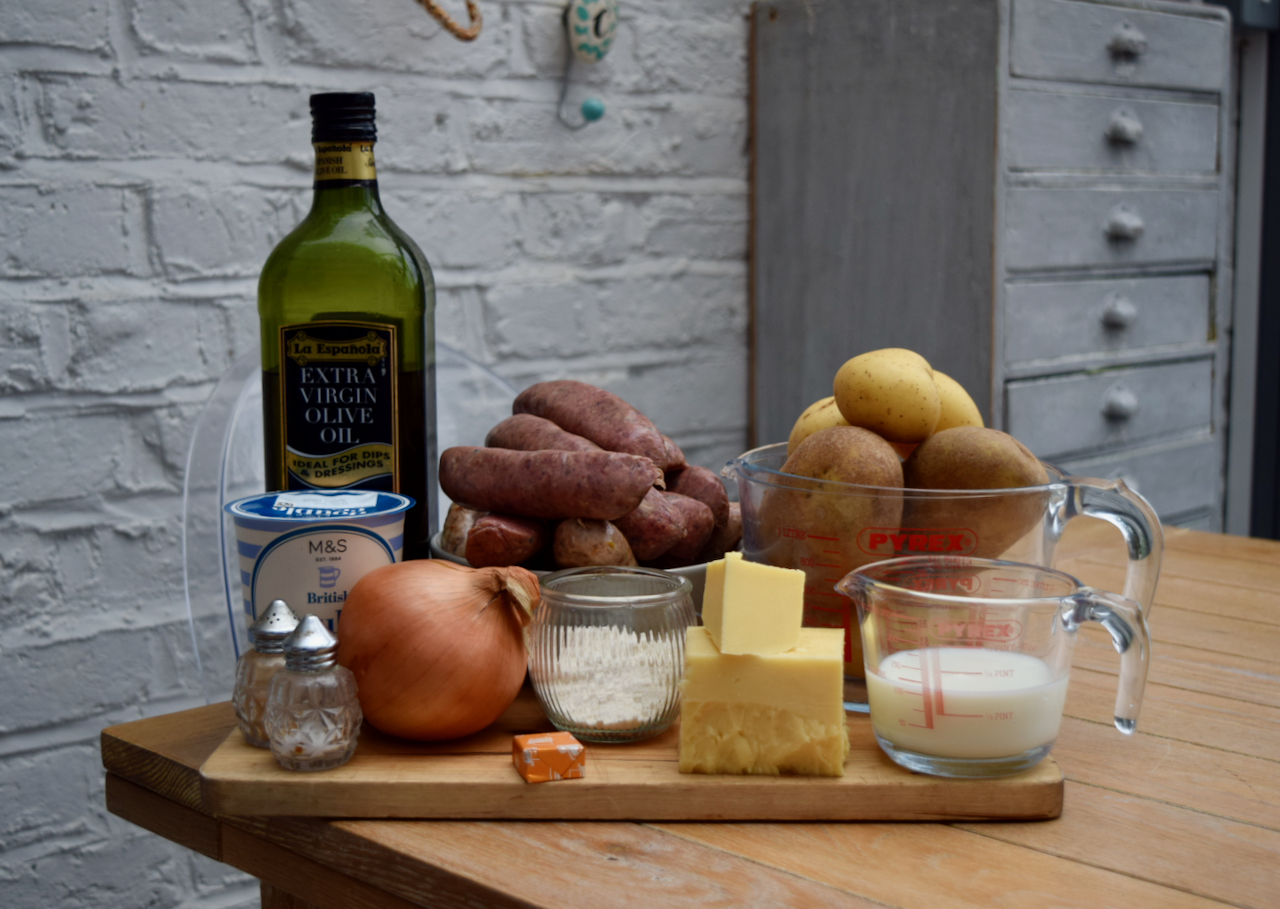 Nothing alarming to see here, just a wholesome, delicious line up. This simple, but incredibly tasty dish is quick too; I fitted this in between a pre tier 4 hair do and a mercy dash to visit our Mum, so if I can squeeze this in, you can too.
Start by choosing your baking dish for this recipe and pre heating the oven to 180 degrees fan assisted. Next, prepare your chosen sausages, add a splash of oil to the pan then pop your bangers in.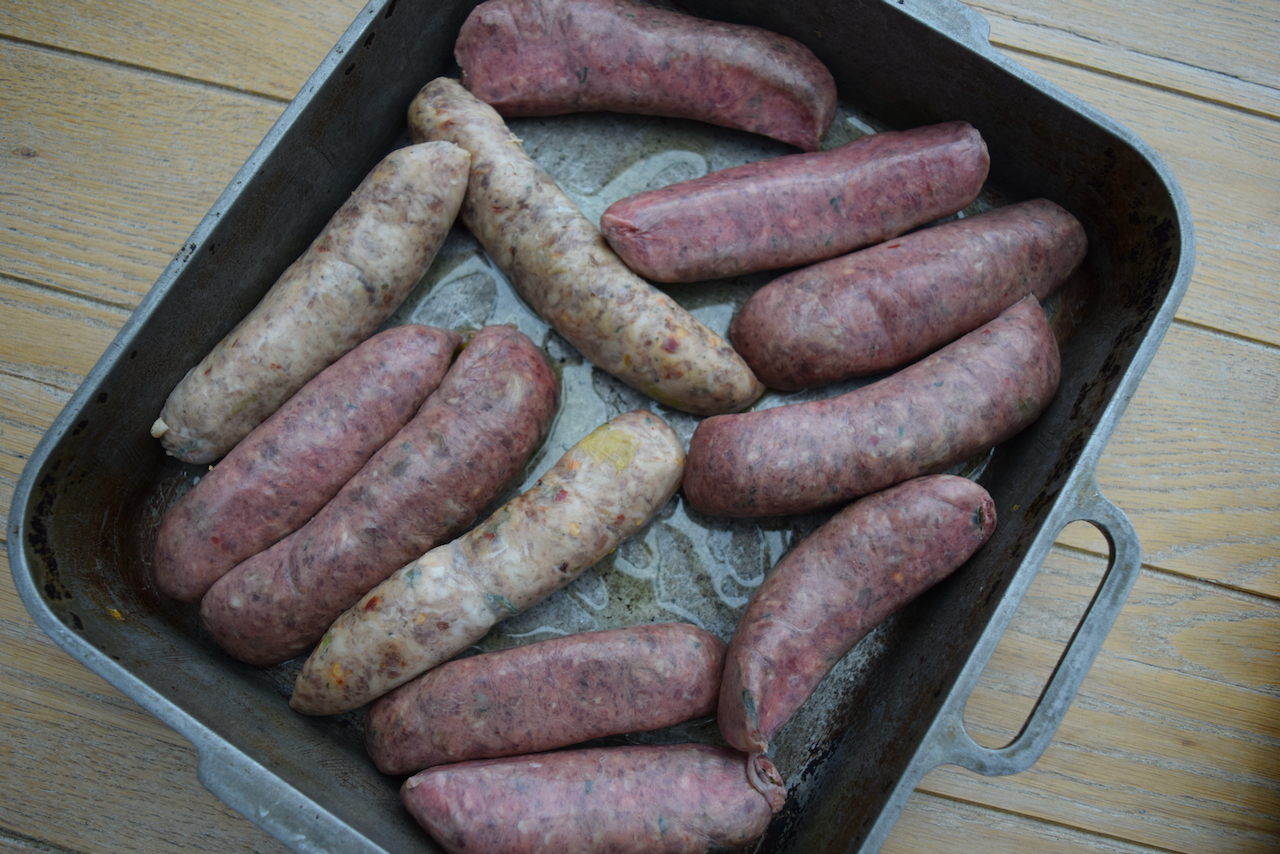 I had some spicy beef and some pork and chilli sausages, and they were amazing. Bake these for around 20 minutes until just turning golden.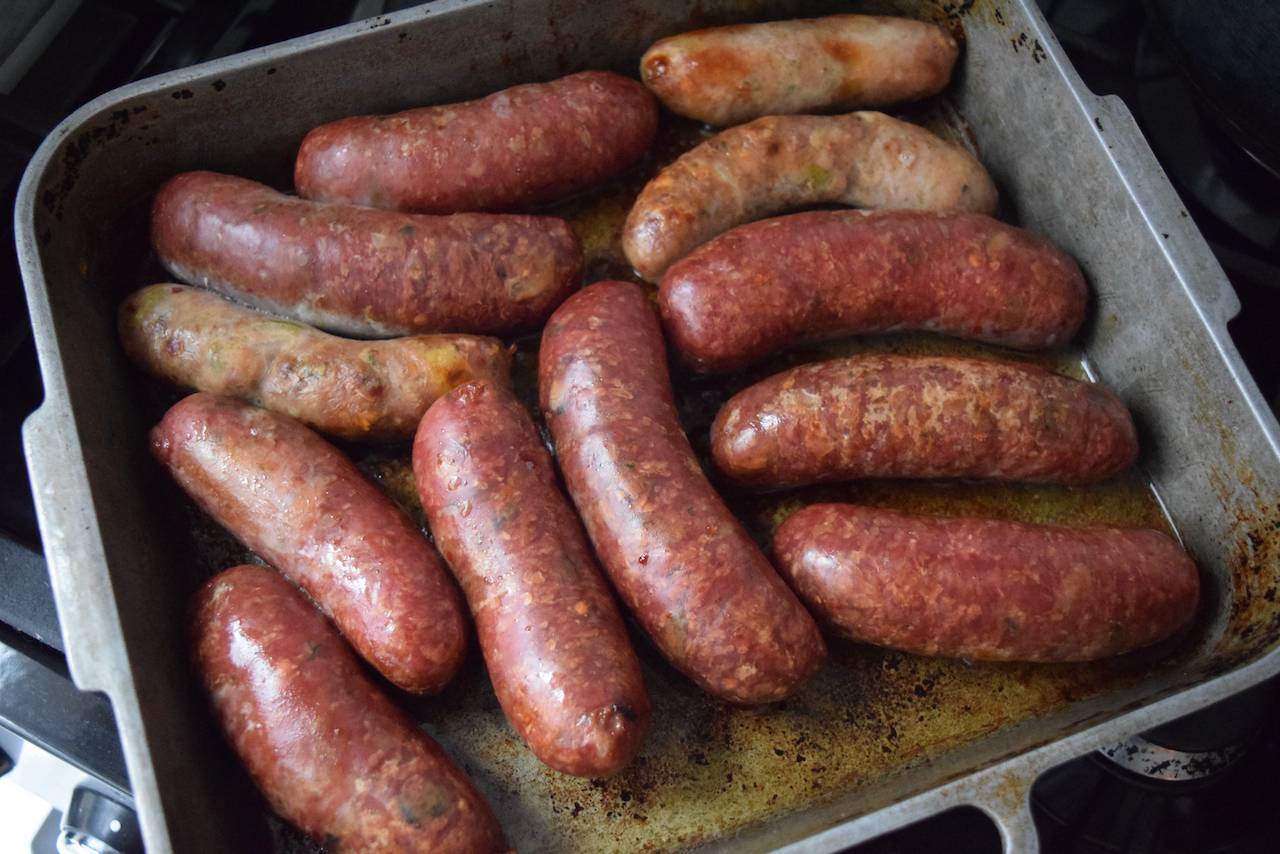 Drain off any excess oil from the pan then pop them to one side whilst you get the mash underway. Peel and chop the potatoes into chunky pieces. Cook in boiling salted water with the lid on for around 20 minutes or until soft. Then drain well.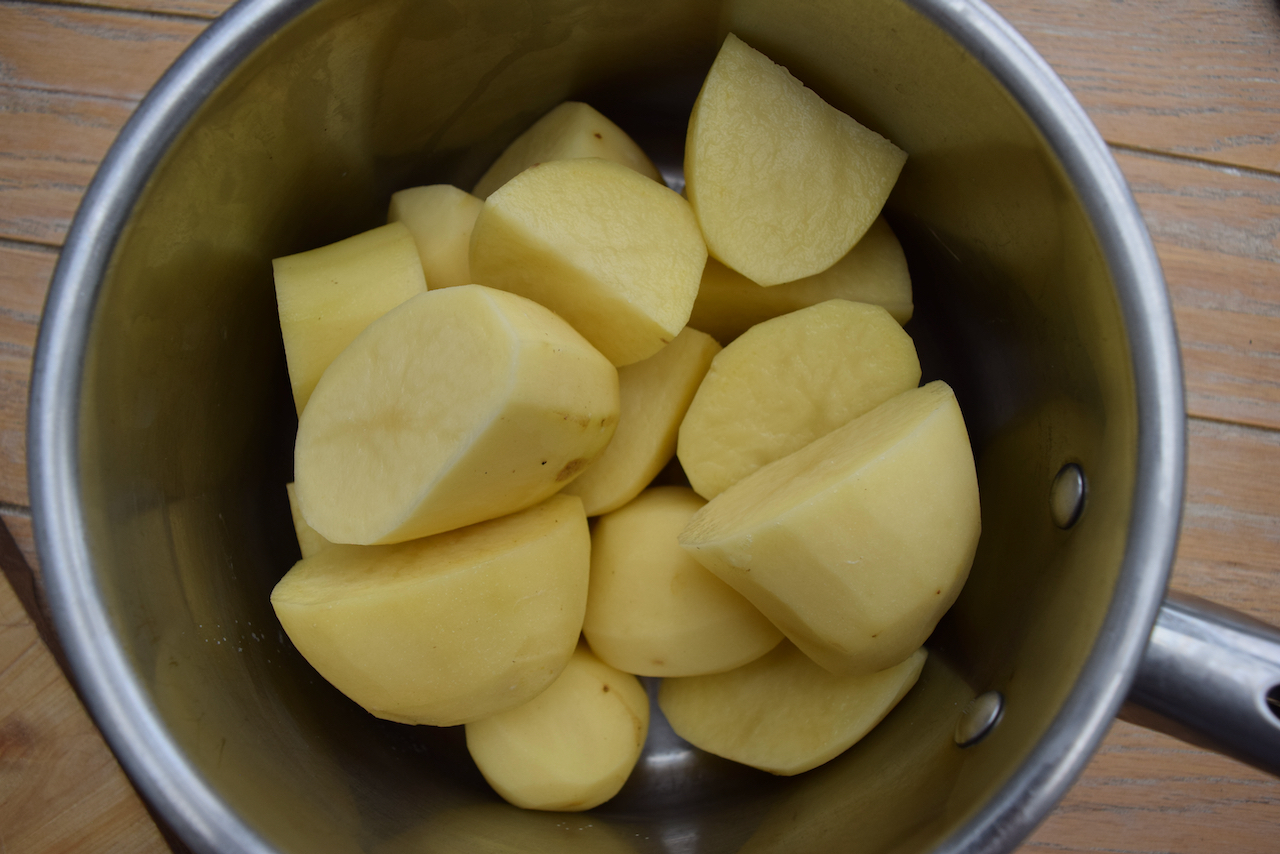 My top tip is to make your mash in the stand mixer. It's so good at lump reducing and tons less work than a hand masher. Either way, beat/mash your potatoes until fluffy. Add the butter, plenty of salt and pepper then beat again.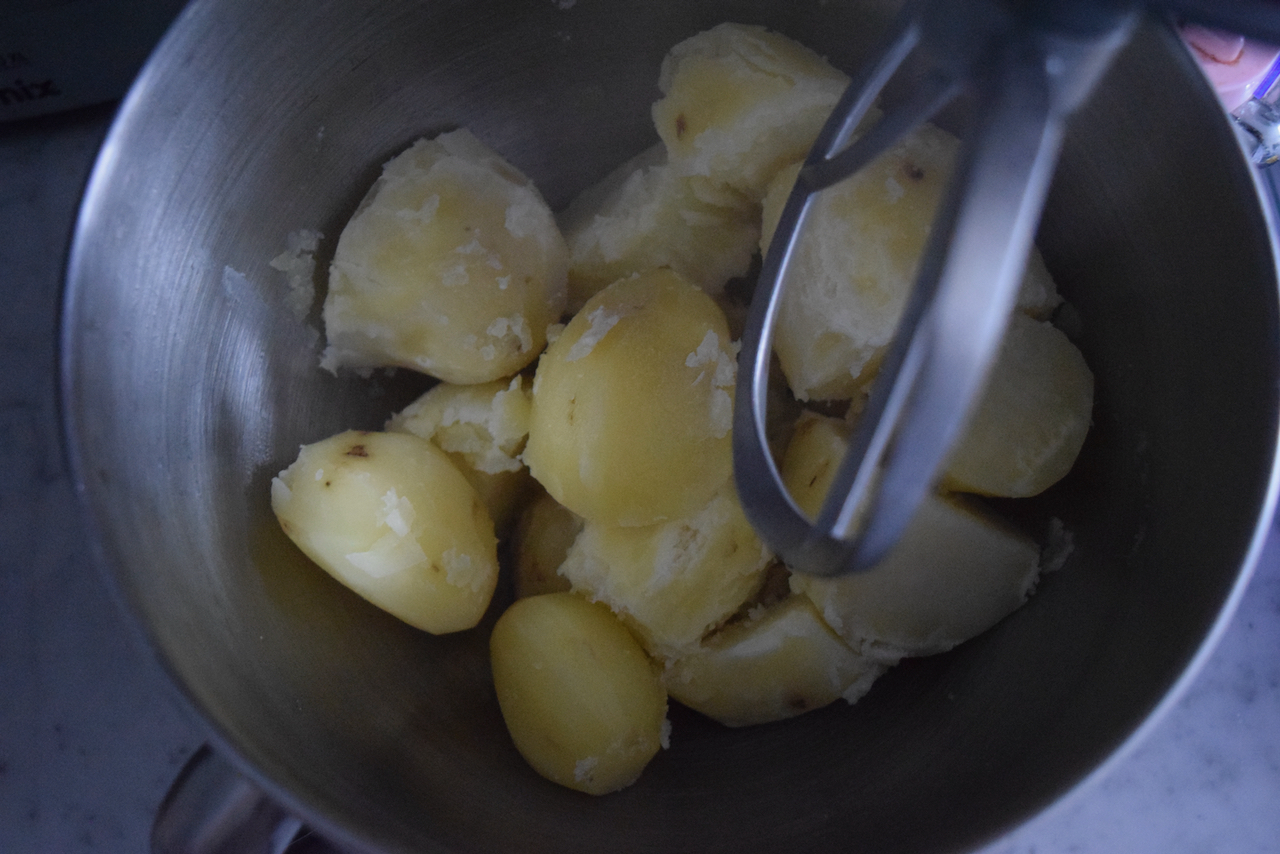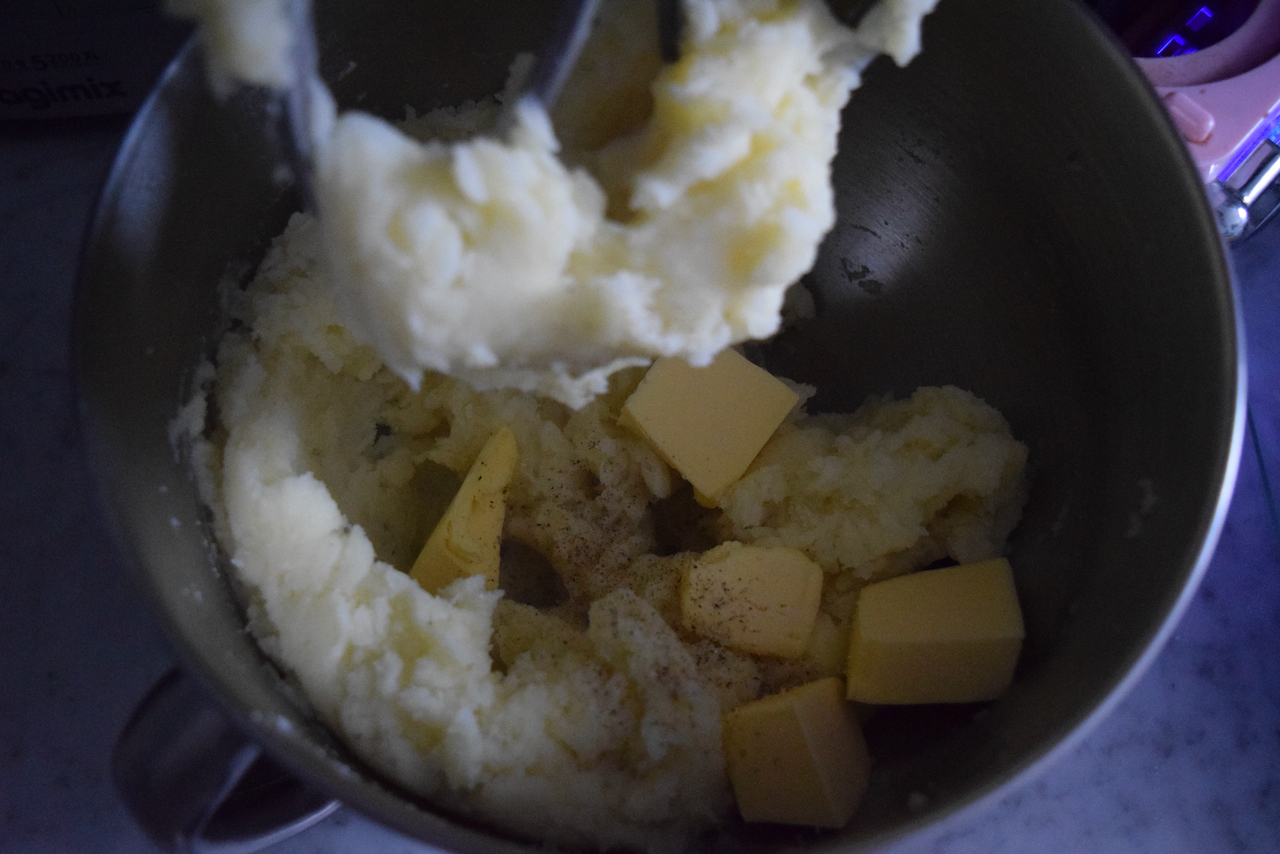 Finally, add the milk and most of the cheese, saving a handful for the topping, then beat/mash again until smooth and divine.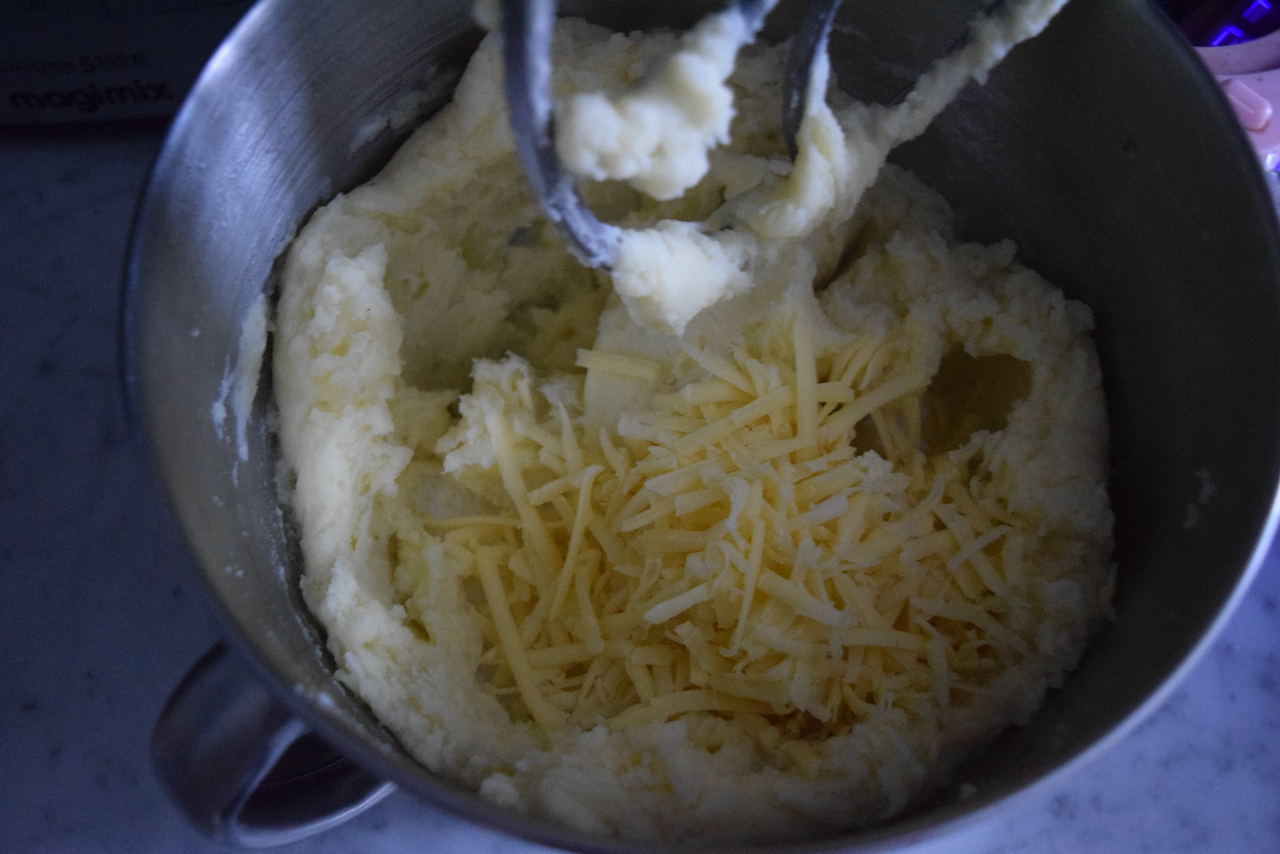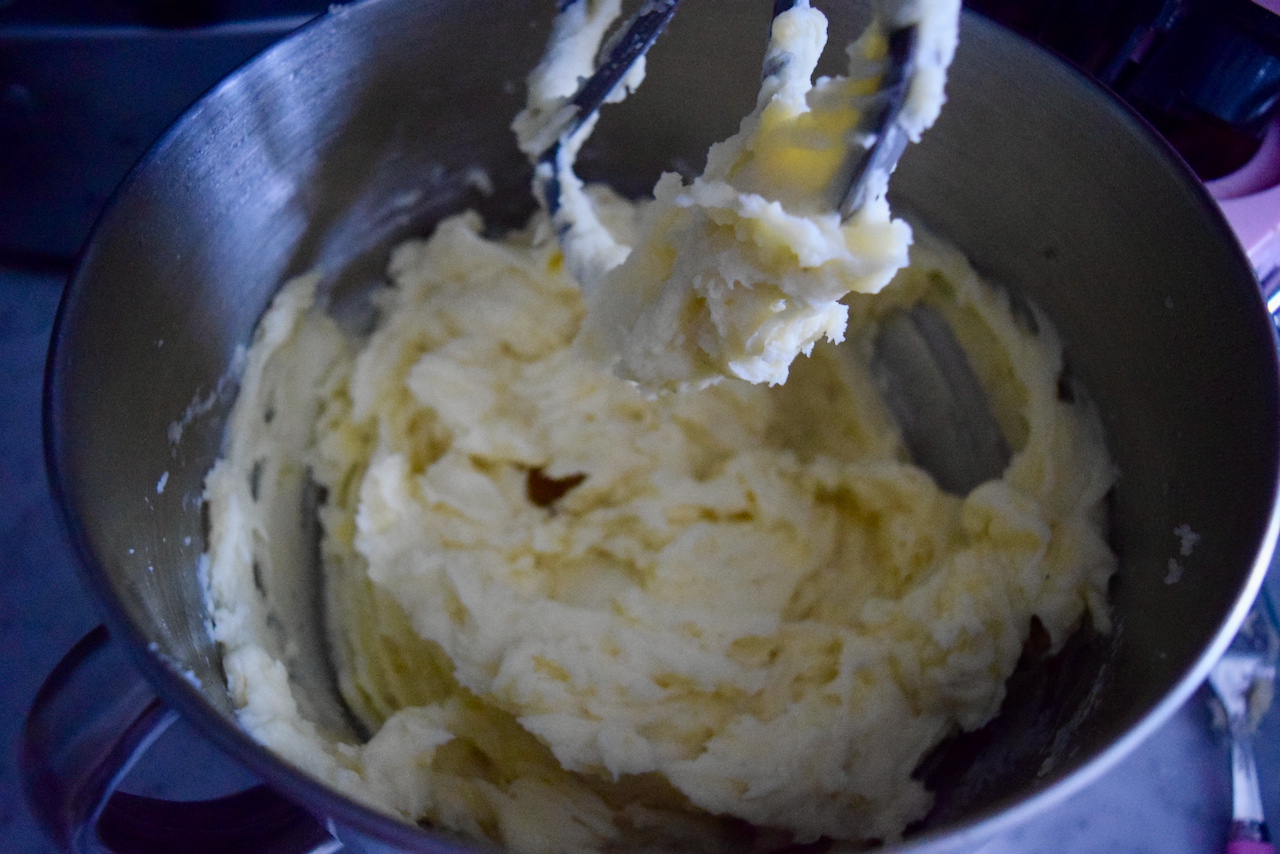 Finally for the creamy onion gravy, take a good sized frying pan and add the butter with a splash of oil and heat over a low heat. Add the thinly sliced onion and cook, uncovered, for around 20 minutes or until the onions are soft and golden, but not browned.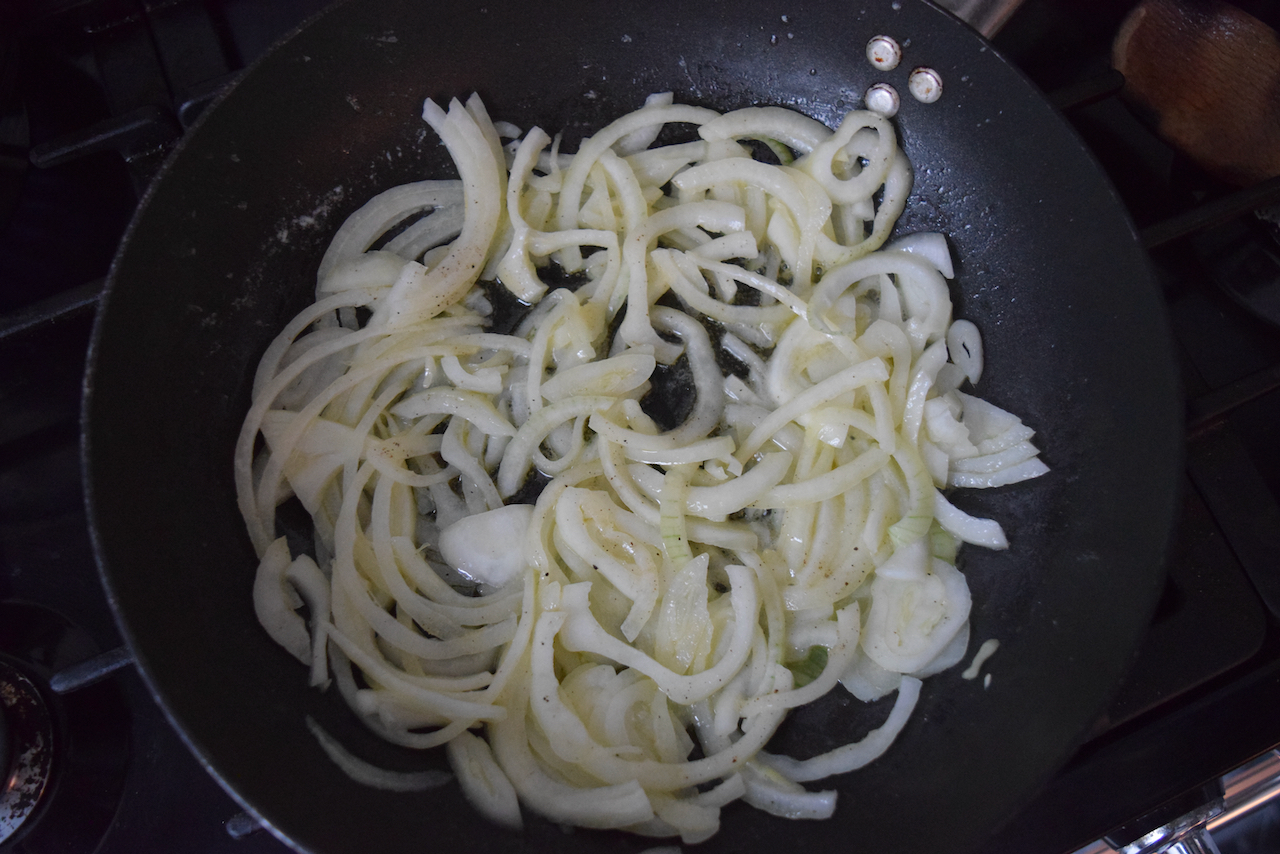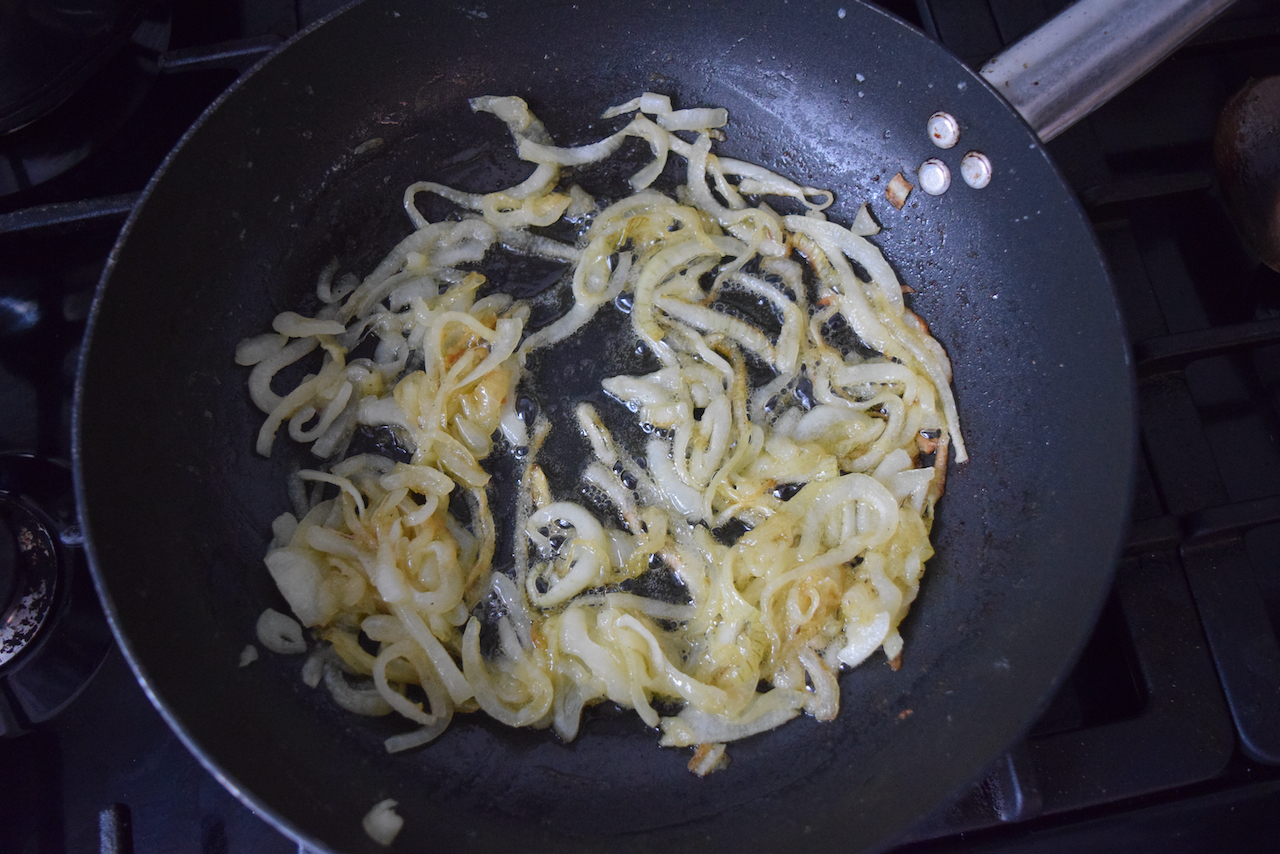 Tip in the flour, stir and cook for a minute, then gradually start to pour the stock in, stirring as you do so to ensure a lump free business.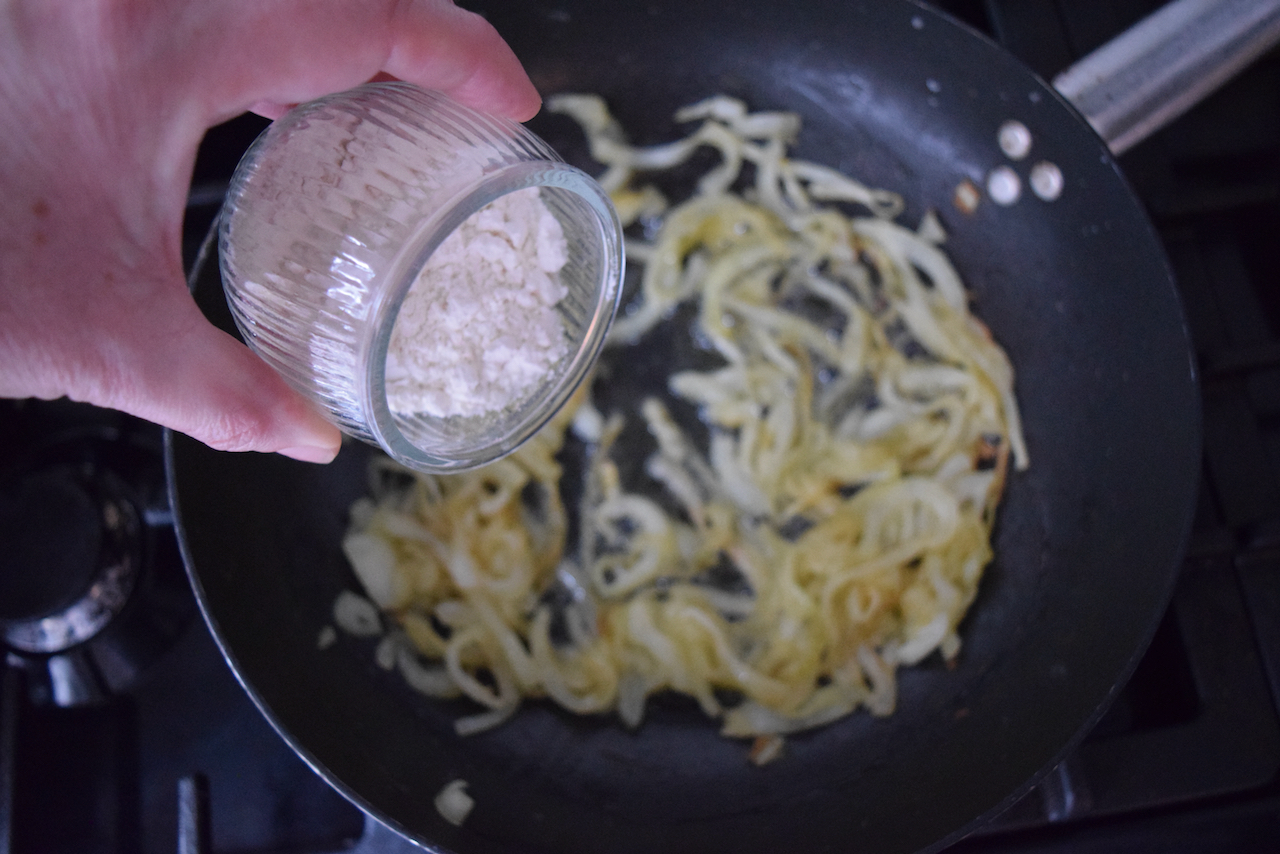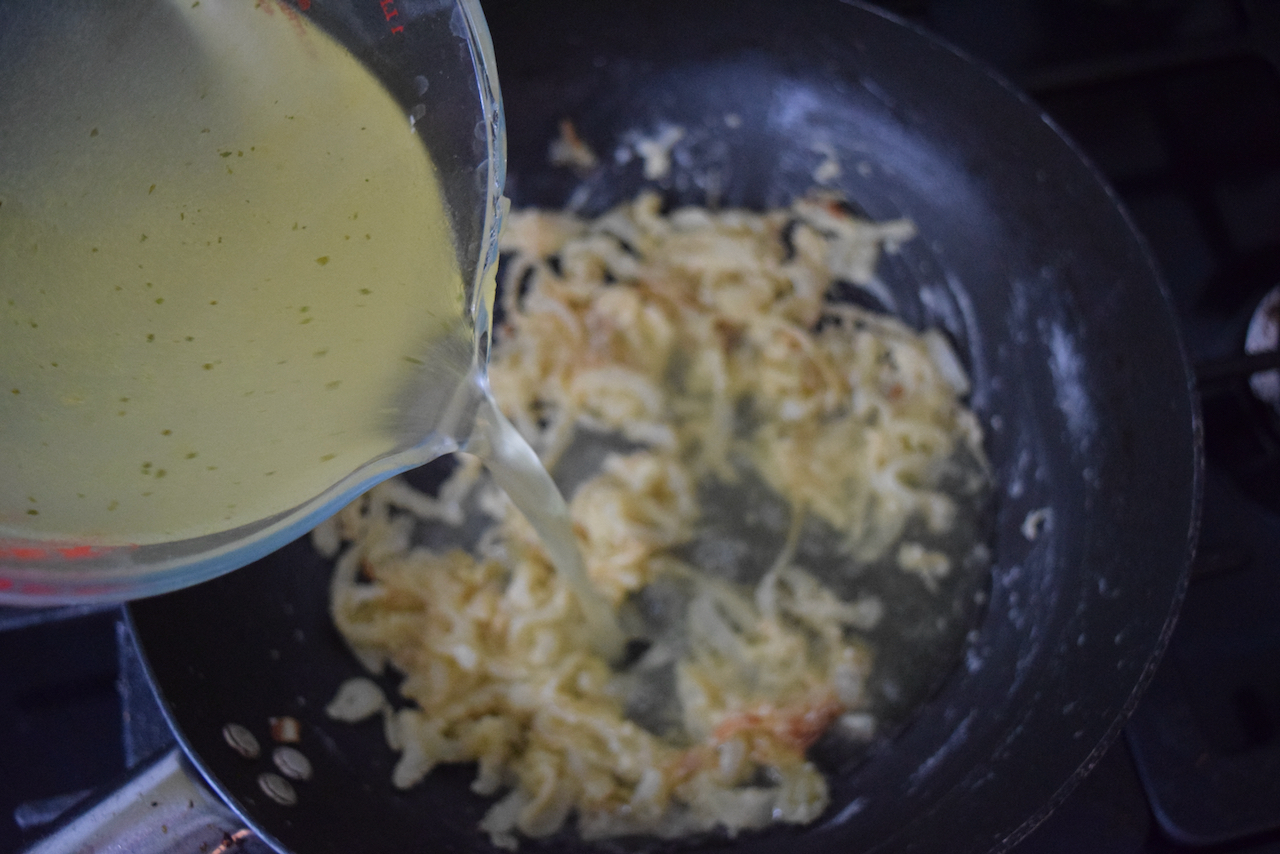 Let the gravy bubble and thicken for a couple of minutes then stir in the cream. Bring it back up to the simmer, taste to check for seasoning, trying not to eat too many spoonfuls.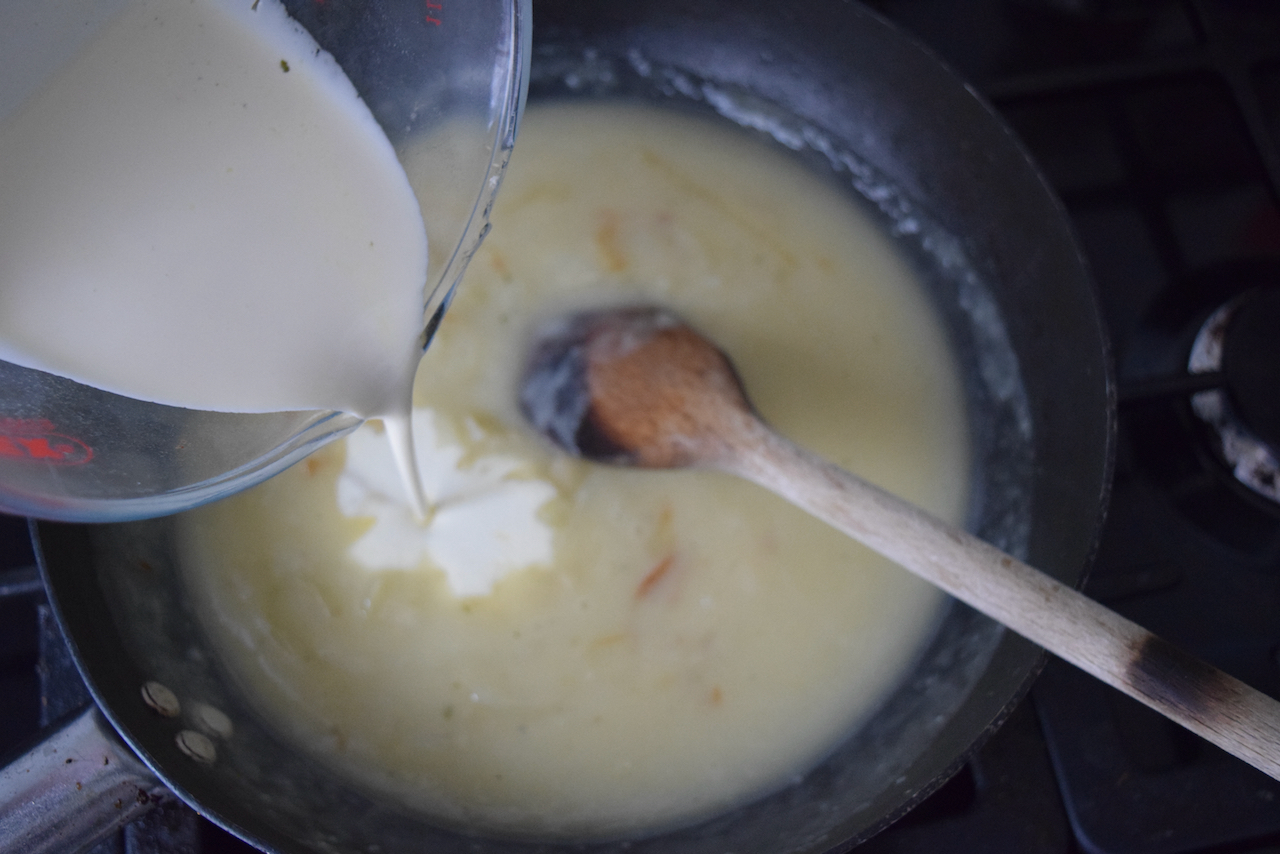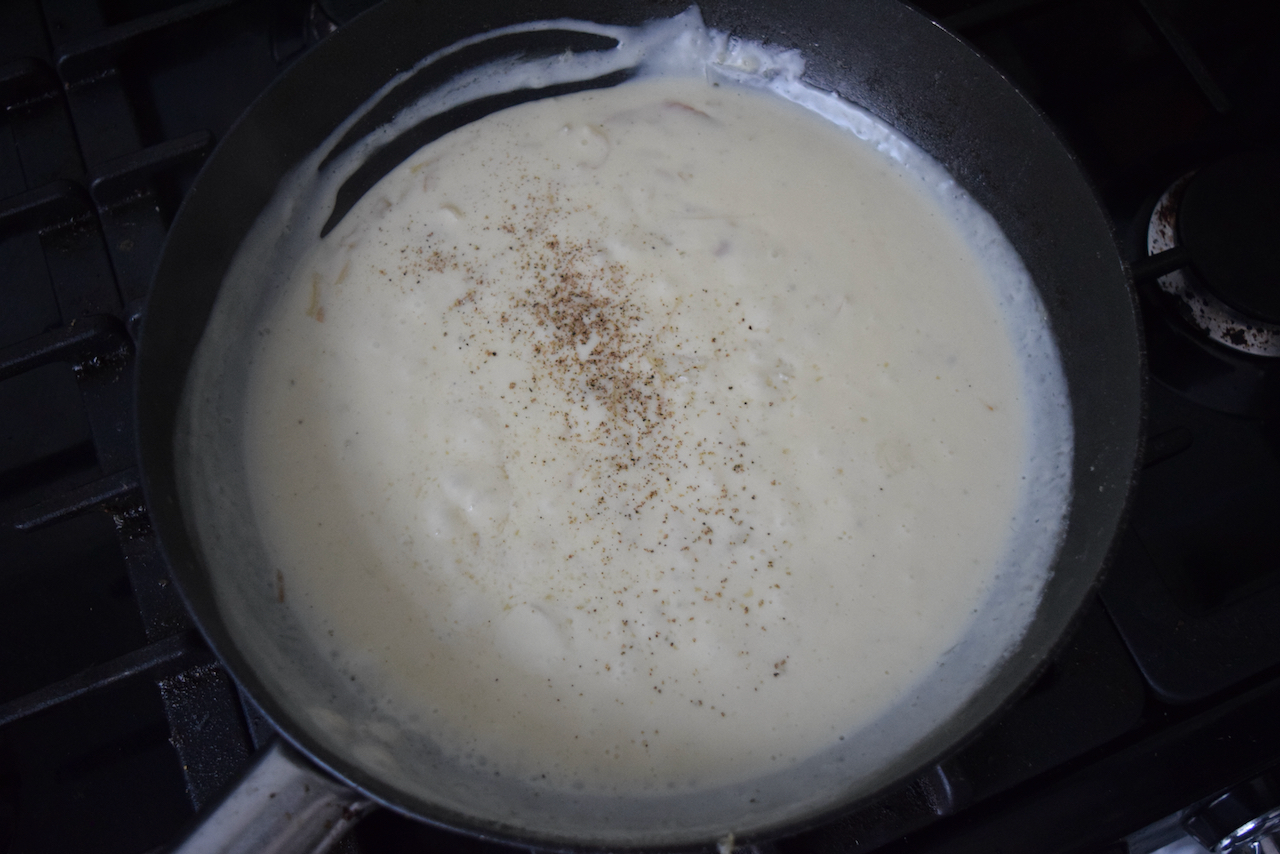 Pour your creamy onion gravy over the browned sausages.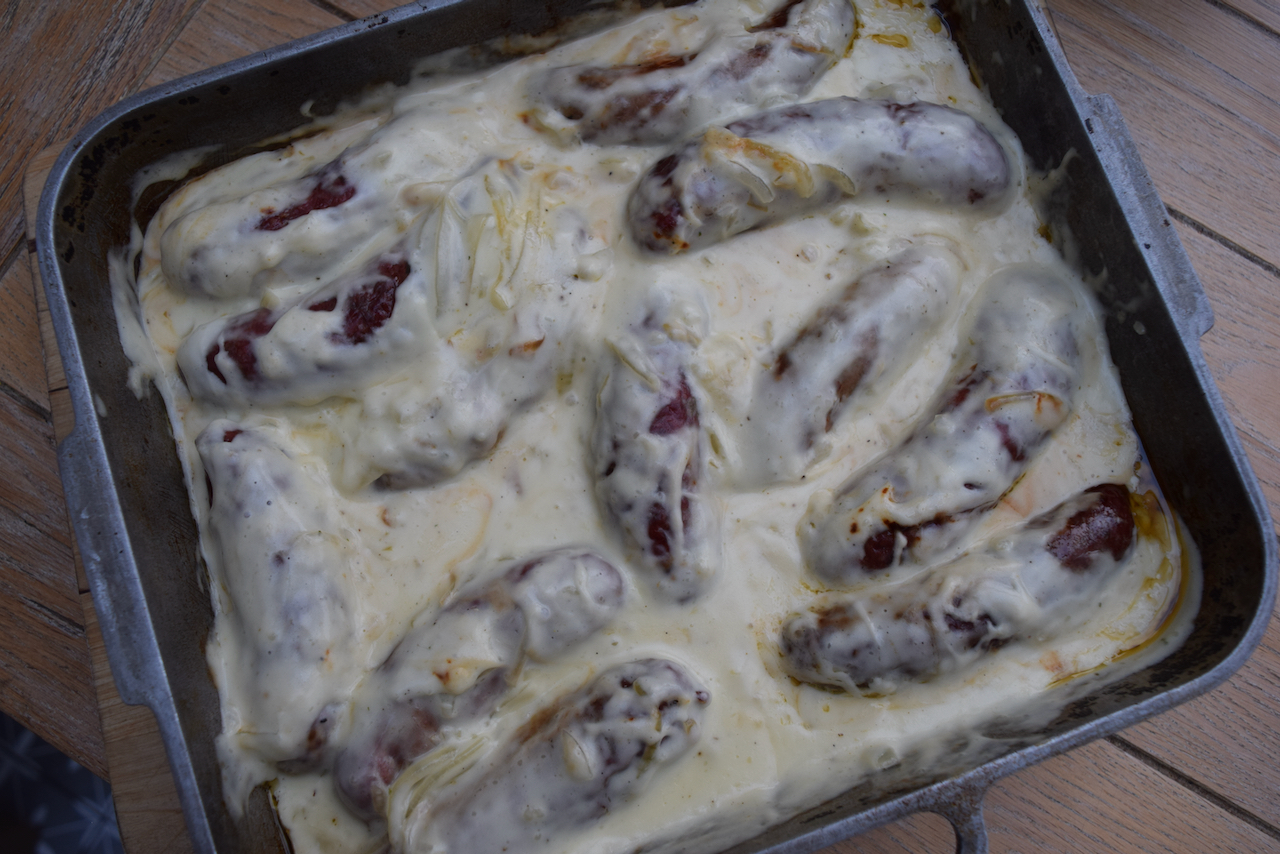 Next spoon over the cheese mash. Another top tip is to put the potato around the edges first then fill in the middle last. Smooth over the top then sprinkle on the reserved grated cheese unless you've absentmindedly eaten it all.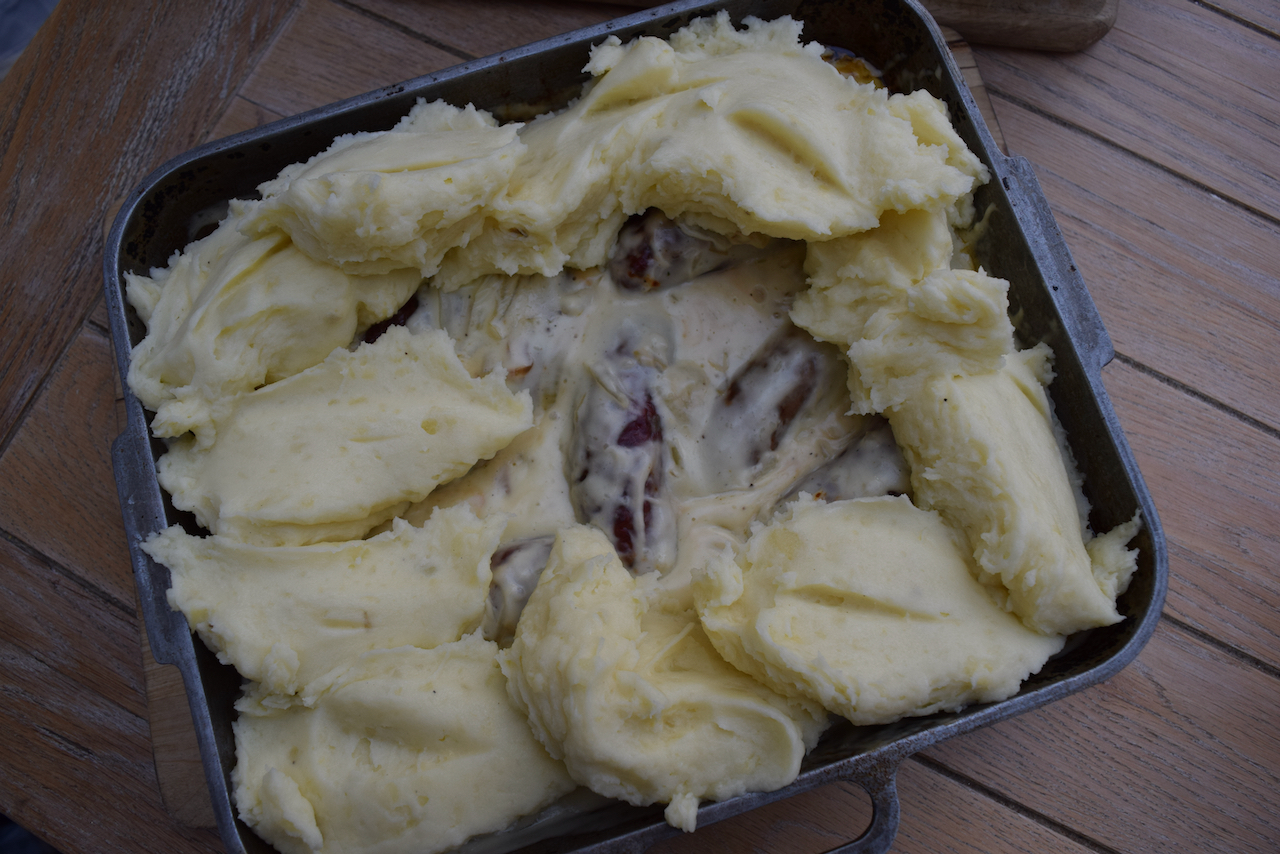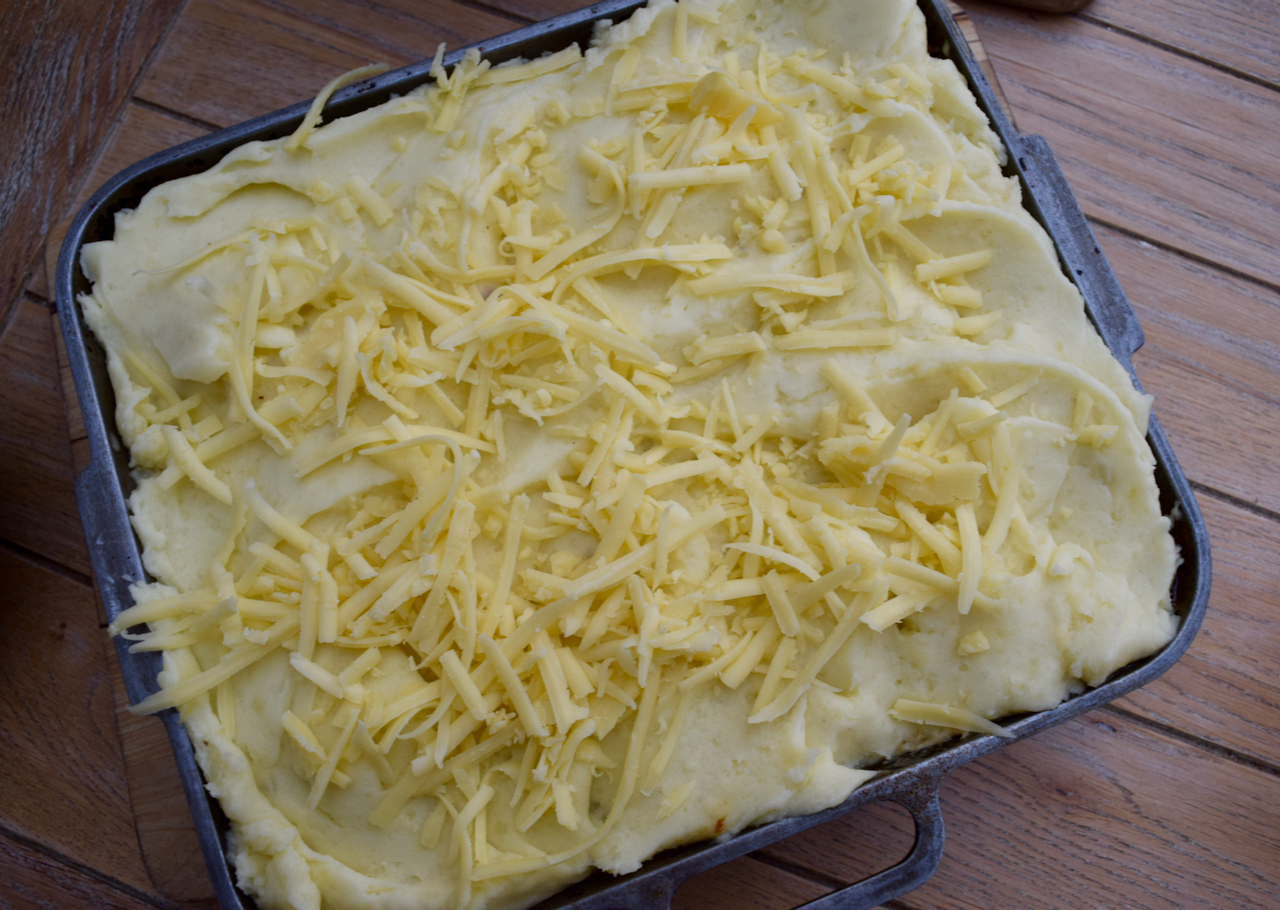 Place this onto a baking sheet then cook for around 20 to 25 minutes. I didn't put mine on a tray and then spent the next 2 days cleaning cheesy bits off the bottom of my oven.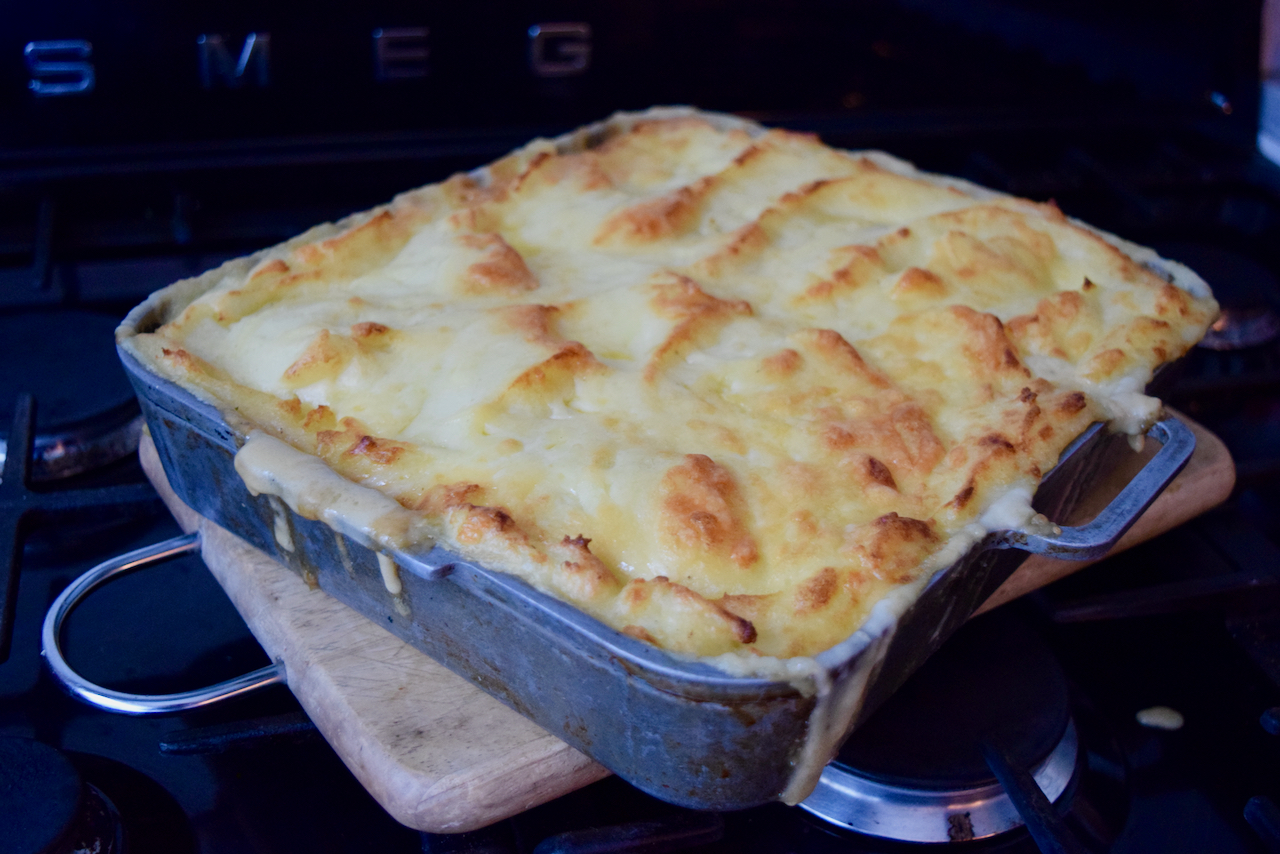 Your cooked pie will be sizzling, bubbling and smelling so good. Serve in large portions with a green vegetable of your choice. It's peas all the way for me, and a lot of them. Classy.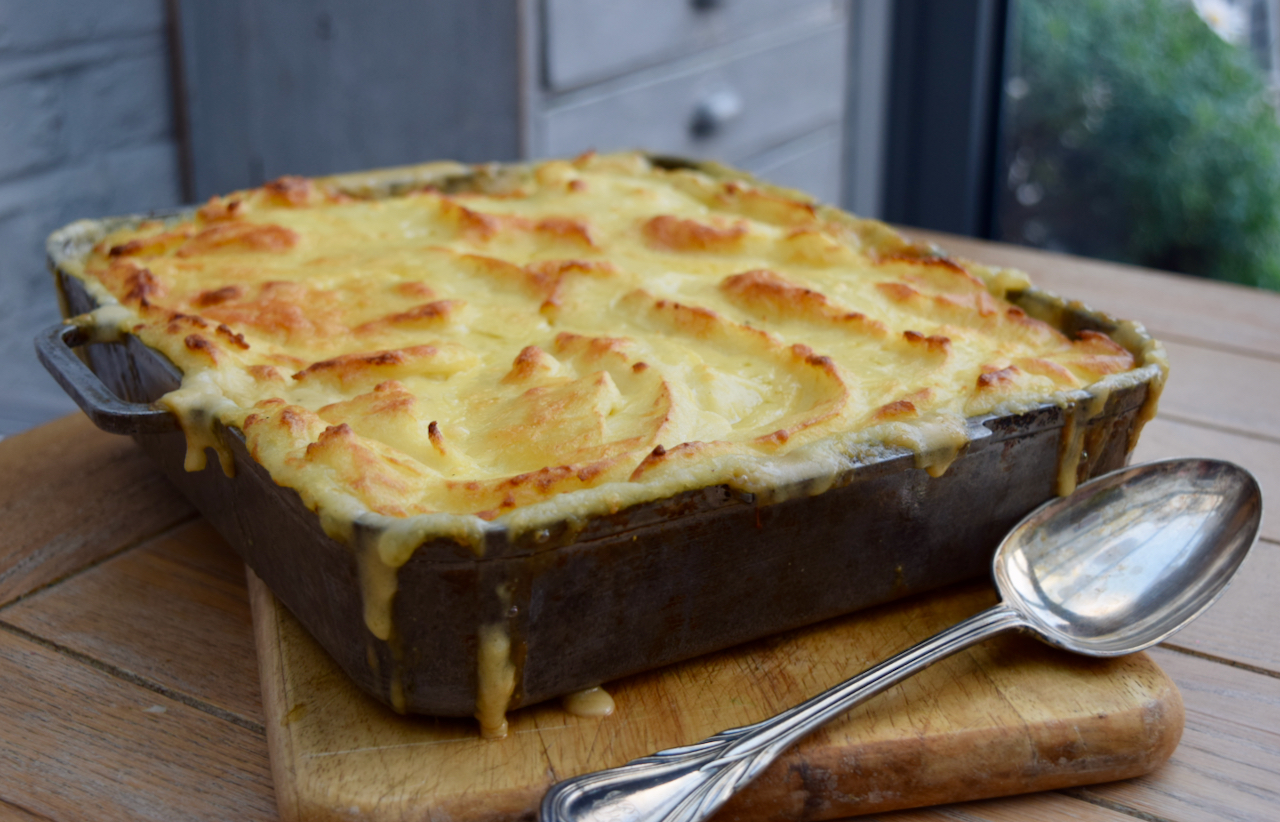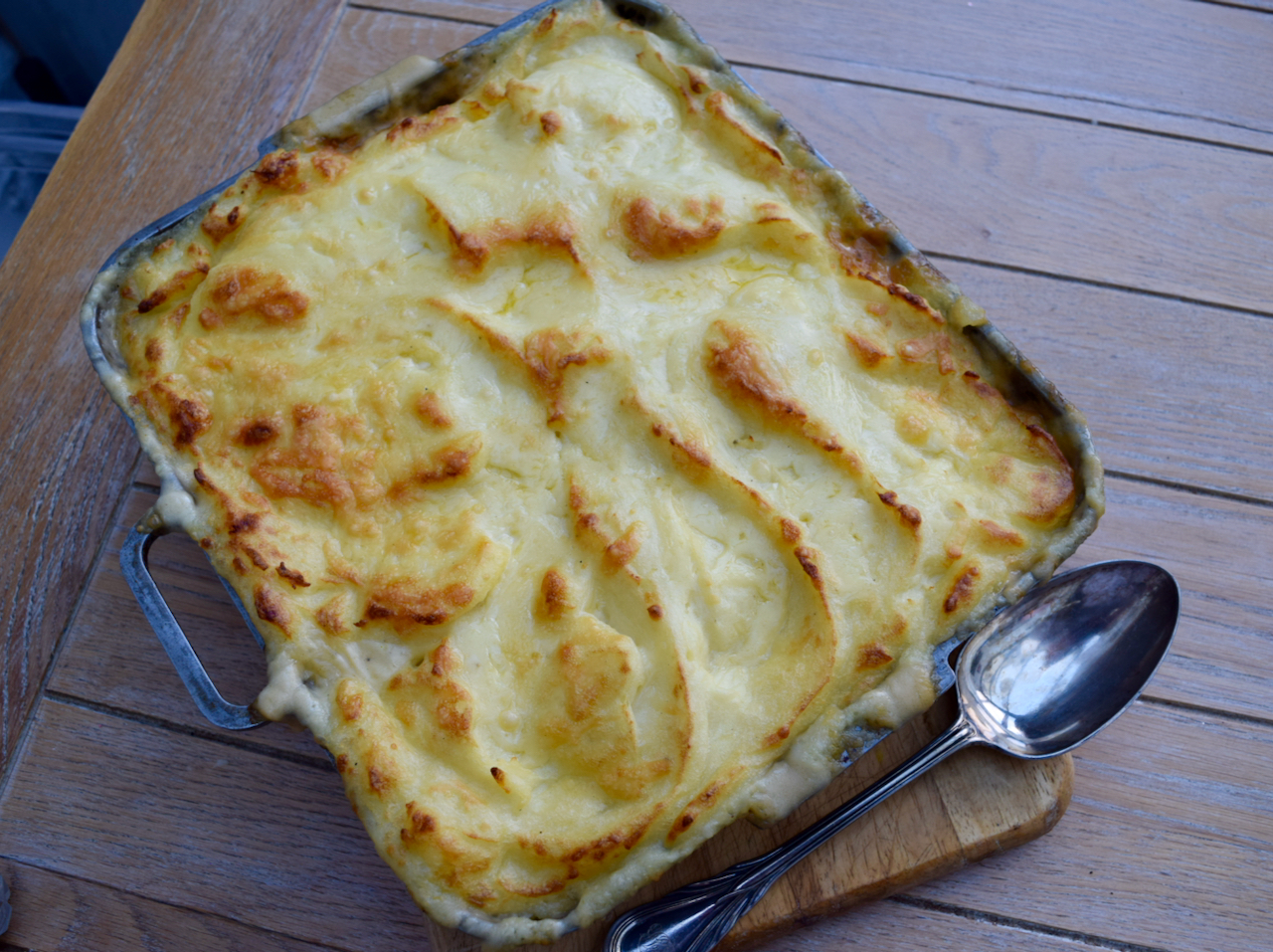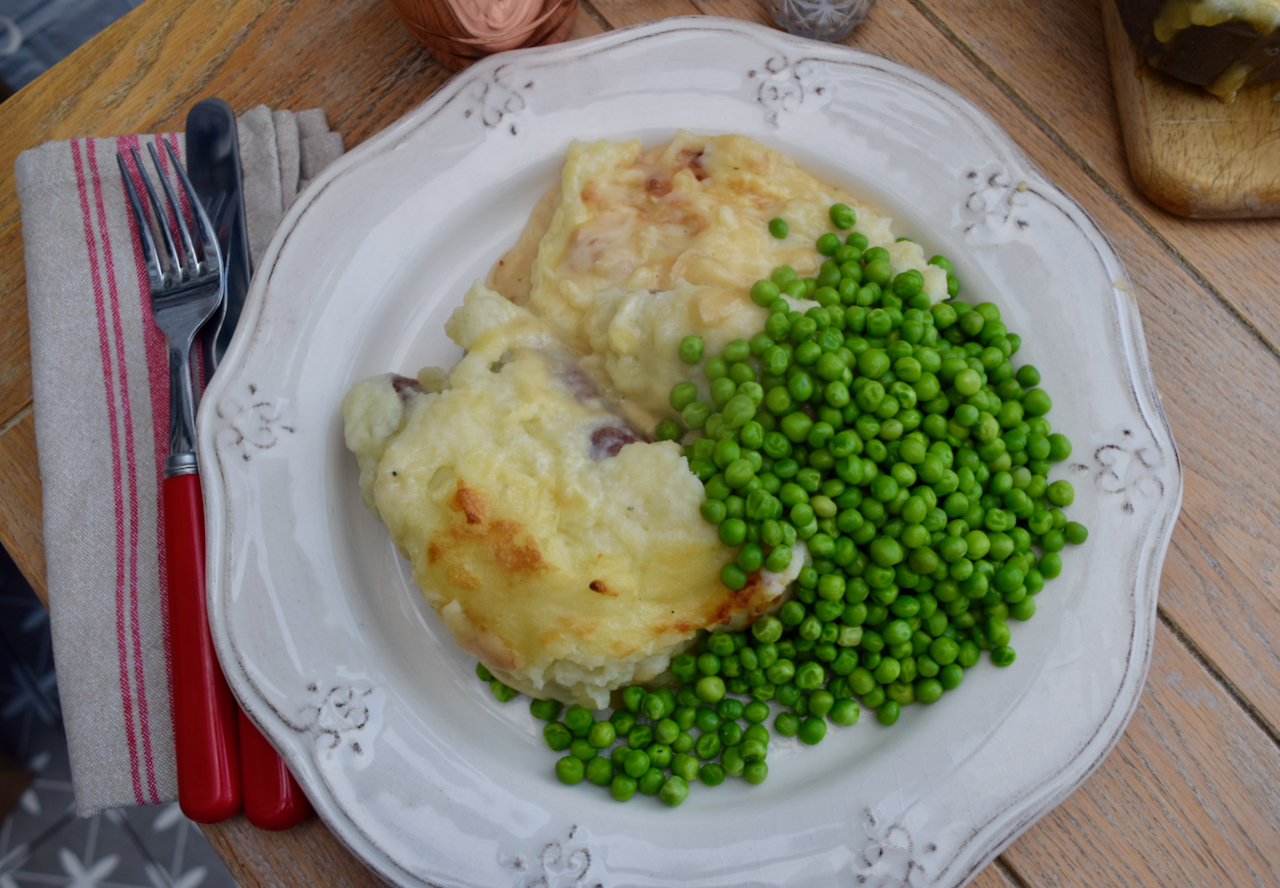 Who needs fillet of beef and dauphinoise for 10 on Christmas eve? Sausages are the new steak for 2020, especially given the current state of my finances.
Chins up lovely people, and good luck with doing your last bits of shopping If you're in tier 4, that'll be at the supermarket or a garage.
Lucy x
Cheesy Sausage and Mash Pie recipe
Serves 4 to 6, hunger dependent
You will just need a large roasting dish or pie dish plus pans
Sausages
12 good butchers sausages, around 900g
A splash olive oil
Creamy Onion Gravy
45g butter
A splash olive oil
1 large onion, peeled and thinly sliced
3 tablespoons plain flour
600ml chicken or vegetable stock
100ml double cream
Salt and pepper
Cheesy Mash
1kg potatoes, peel and chunkily chopped, you may need another 200g to 300g to cover a have a larger dish
100g butter
100ml milk
200g strong cheddar, grated
Salt and pepper
Pre heat your oven to 180 degrees fan assisted. Make a start by adding a splash of olive oil to a pie dish or medium roasting tin then arrange your sausages in the dish. Roast the sausages for around 20 minutes or until just browning. Remove from the oven and drain off any excess oil.
Peel then chop your potatoes into large chunks. Add to a pan of boiling salted water and cook, lid on, for around 20 minutes, or until cooked through. Drain the potatoes, then either in your stand mixer, or by hand with a masher, give the potatoes a good mash. Add the butter, mash again, then add the milk and cheese (reserving a handful to top the pie) and mash until well combined and lump-free. Season generously with salt and pepper, to taste.
For the creamy onion gravy, in a large frying pan, heat the butter and just a touch of olive oil to stop it burning, over a low heat. Add the sliced onion and cook gently, for around 20 minutes. You want the onions to become soft and sticky but without colouring. Once they're soft, stir in the plain flour and cook for a minute. Gradually add the stock, stirring all the time to avoid lumps, then bring up to the simmer. Stir in the cream, cook for a further minute or two, season to taste then turn out the heat.
Pour your creamy onion gravy over the browned sausages then spoon the cheesy mash over the top. Sprinkle the top with the remaining cheese, then bake for around 20 minutes or until the pie is piping hot and bubbling around the edges.
Serve piping hot in big bowlfuls with a green of your choice.