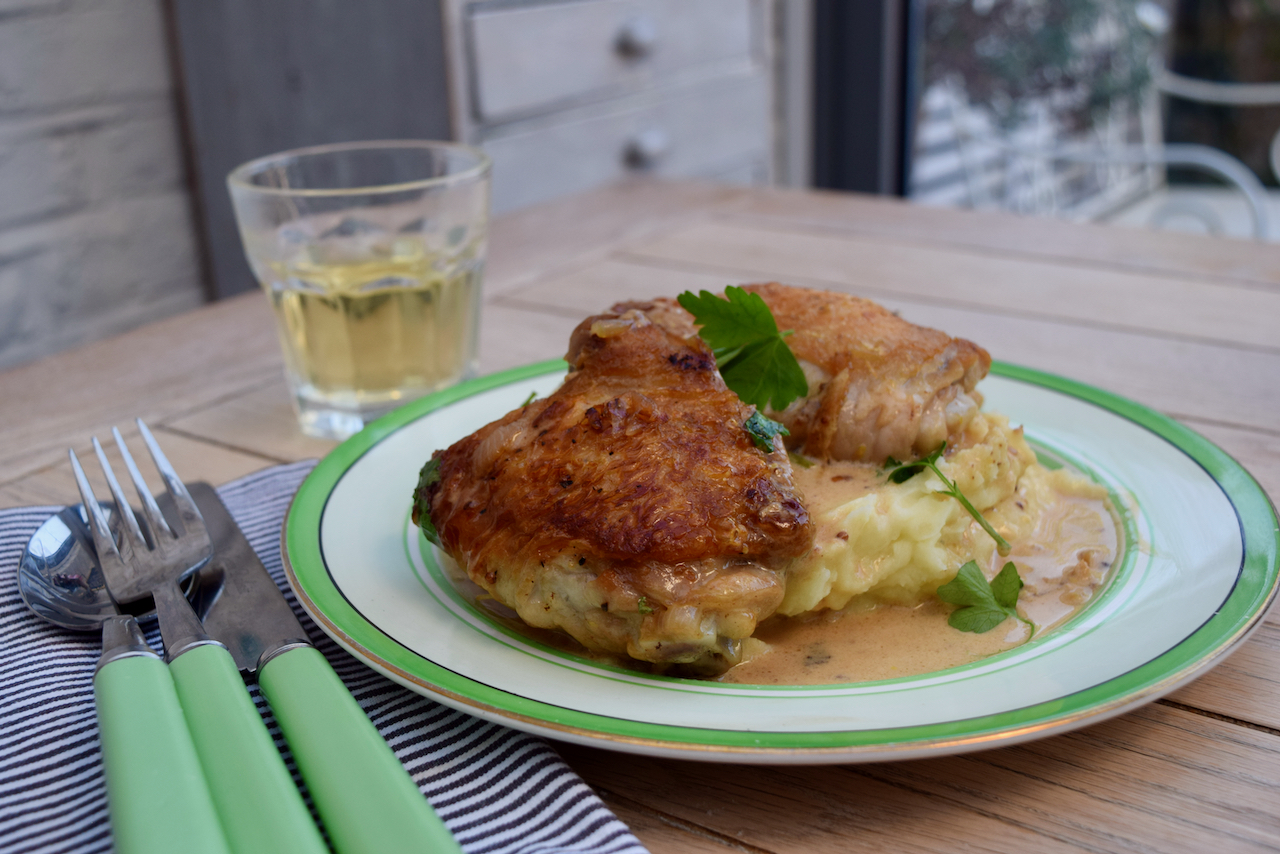 Chicken Thighs with Mustard Cream recipe
When Clyde and I first moved in together, approximately 400 years ago, one of our most favourite dishes was kidneys in a mustard sauce. Now, bear in mind I was bought up eating offal, so this was an absolute treat of a supper dish then, even though 90% of you will be not loving the idea of it now. These wonderful Chicken Thighs with Mustard Cream have more than a whiff of my favourite retro dish, sans the kidneys, for the squeamish amongst you.
Much like offal, bone in chicken thighs are the great value ingredient I think we all need at the moment. And these are cooked to crisp, skin-on perfection in this one pot dish. This recipe is light on ingredients, but huge on flavour; onions are cooked along side the chicken until golden making this rustic, but delicious enough to serve to guests, not just your ungrateful family. The sauce is creme fraiche with both Dijon and grain mustards, all three bringing tanginess to the party. I served mine on a bed of far too buttery mash, but this would be super with rice or some buttered tagliatelle. Parsley gives colour and a touch of 70's charm.
My early housewife cookery skills and the lovely Ina Garten are to thank for this dish. I hope you'll be thanking me for it too.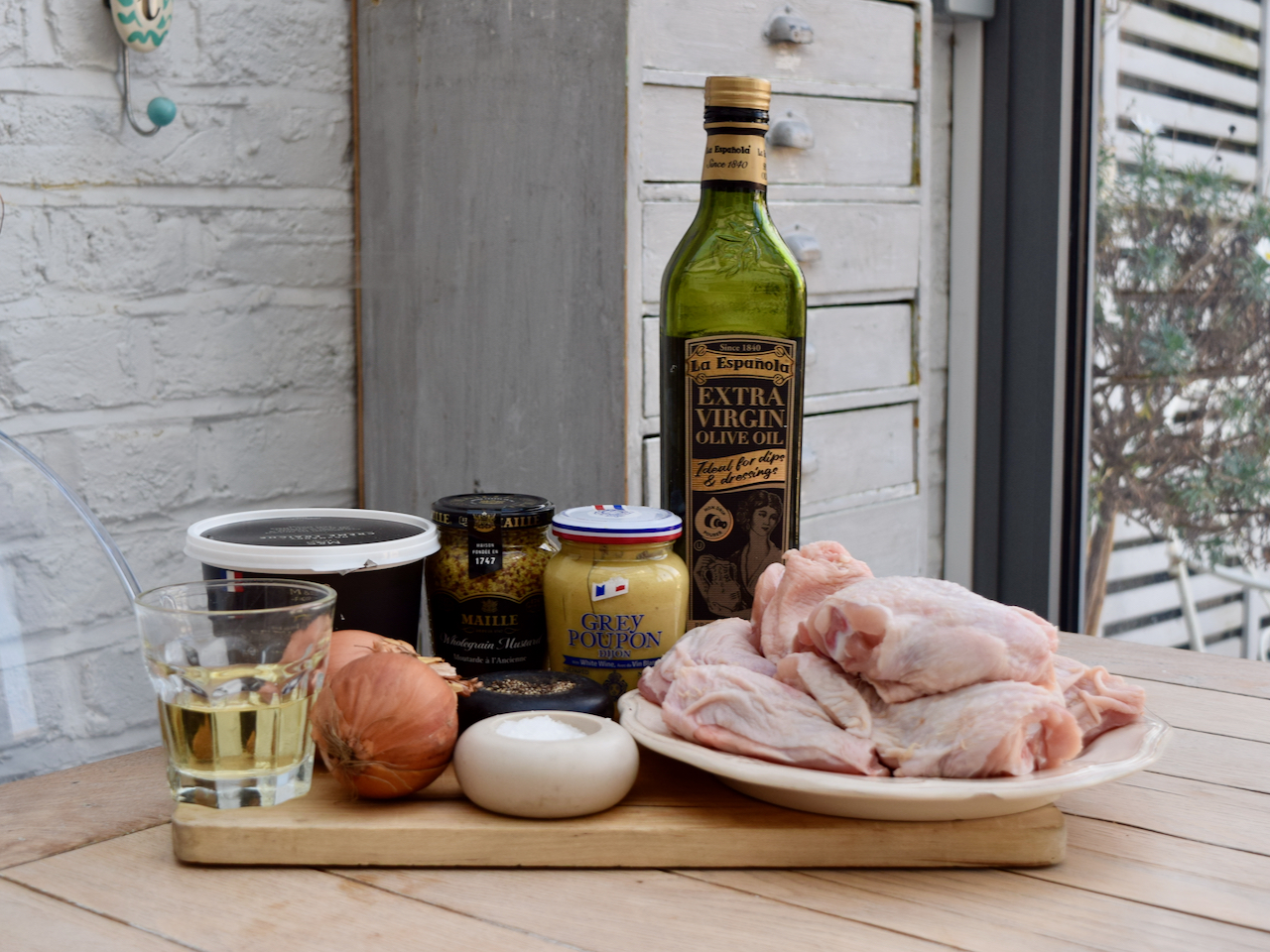 Quite the elegant little line up for this super simple, but oh so delicious dish. This isn't too mustardy, they'll be no tingling sinuses from the sauce, just a gentle, fragrant warmth from both the Dijon and wholegrain mustards.
Start by taking a large heavy bottomed pan with a couple of tablespoons of oil over a medium high heat. While it's heating, dry the chicken thighs with kitchen paper, then season generously with salt and pepper on both sides. Once the oil's sizzling, place the seasoned chicken thighs, skin side down, into the pan.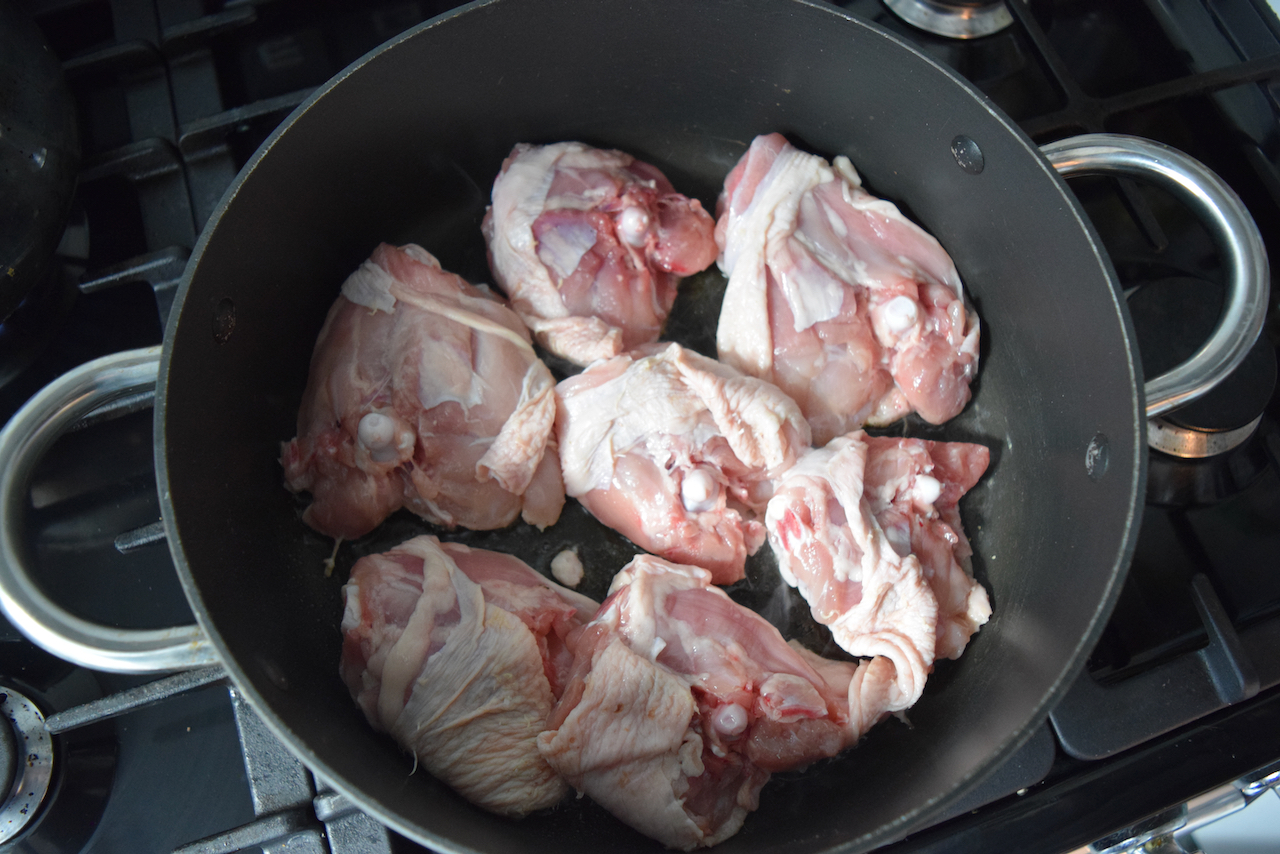 Cook for 15 minutes, without moving, so the skin turns golden and crisp. Check half way through, and turn the heat down slightly if it's getting too brown.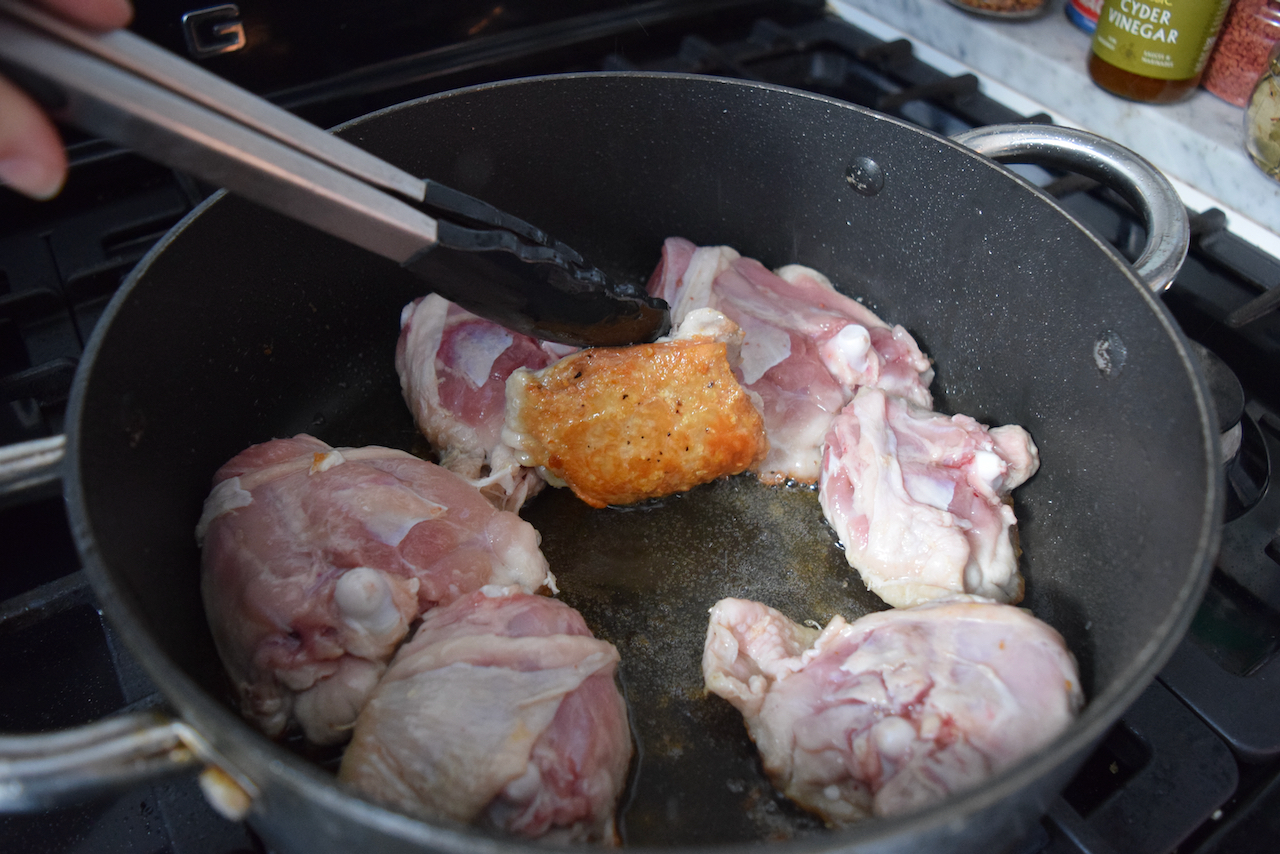 When the 15 minutes is up, turn the chicken over and add the two thinly sliced onions. Turn the heat down a touch and let the onions and underside of the chicken cook for a further 15 minutes. Keep the onions moving so they brown evenly.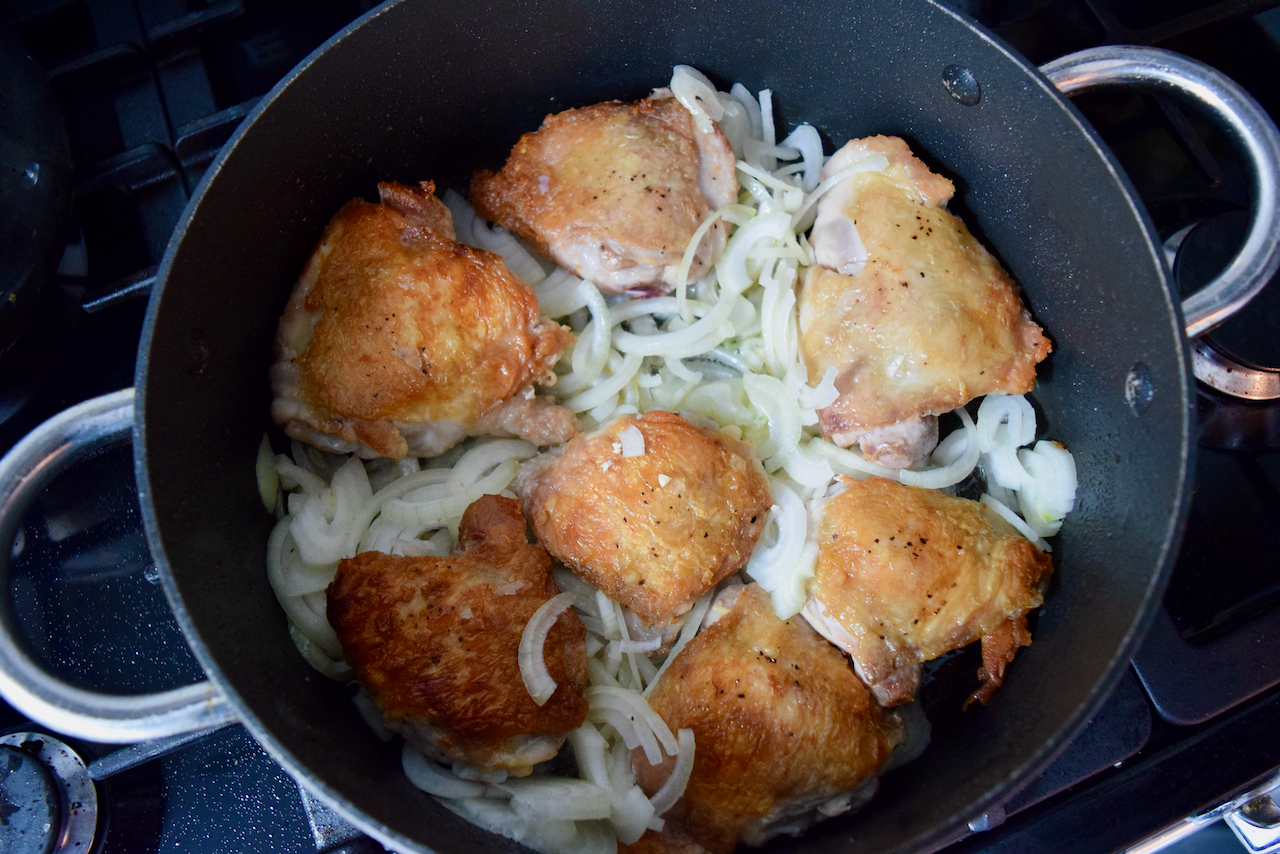 After 15 minutes, check the chicken is cooked through with a knife to see if the juices run clear or with my fancy new easy read thermometer which should read approximately 160 degrees. Pop the chicken on a plate to rest while you add the wine, both mustards and creme fraiche to the pan of onions.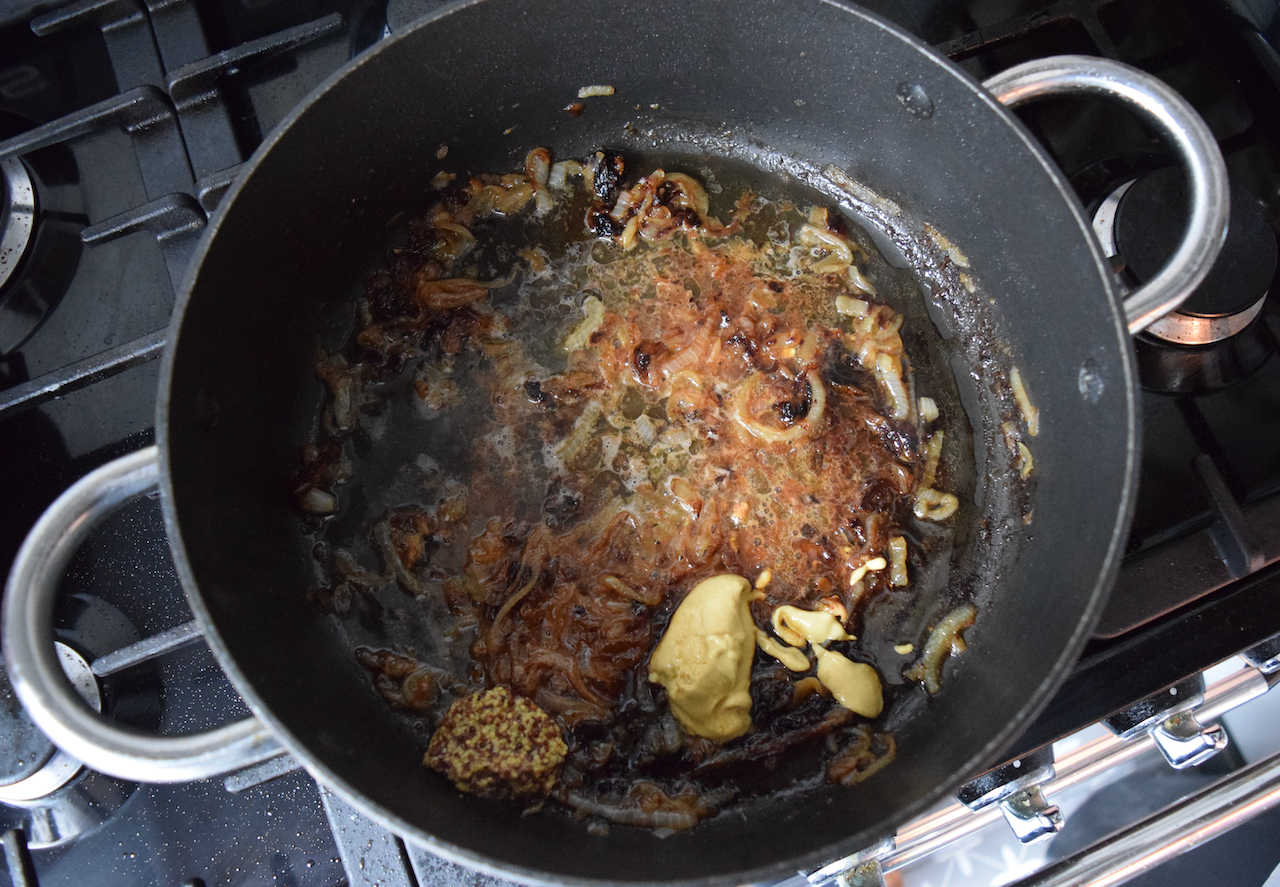 Stir well and simmer for a minute.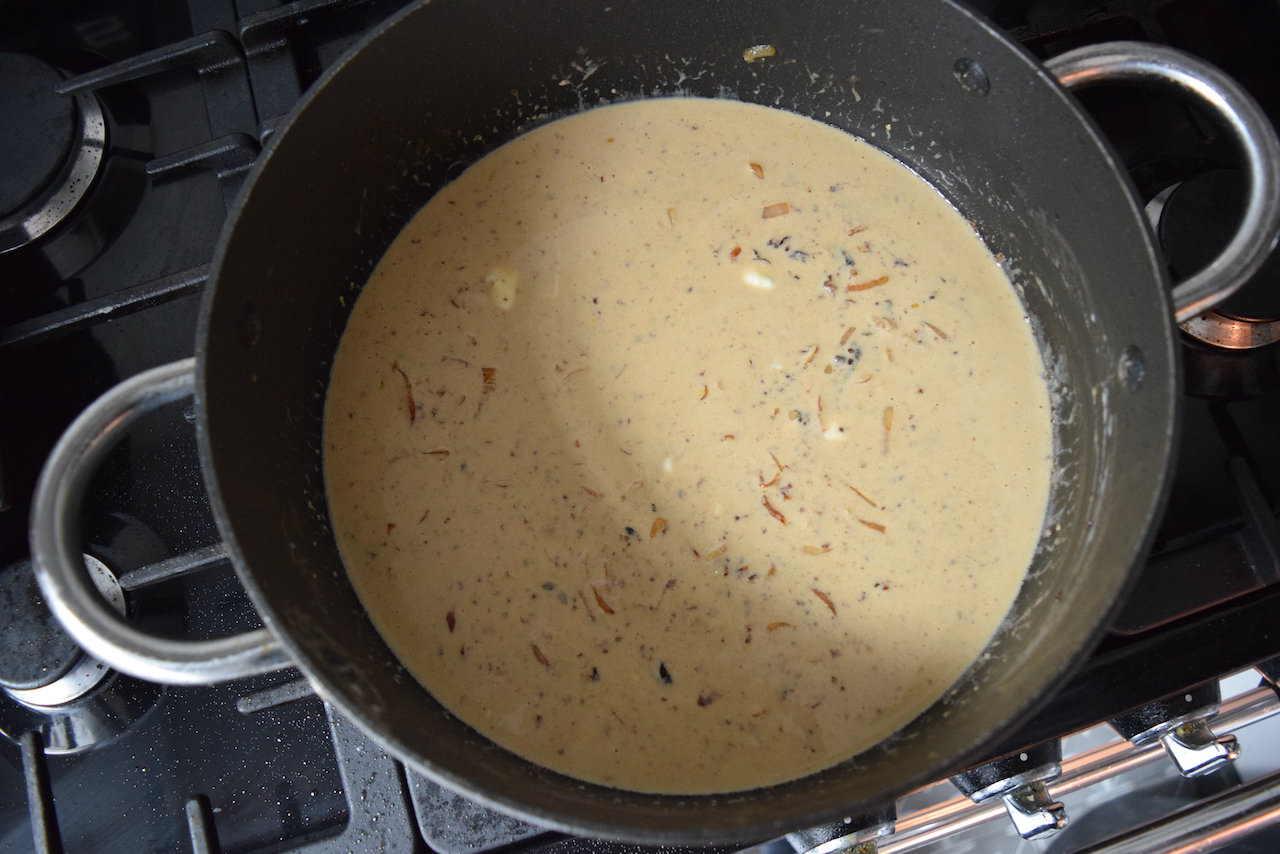 Add the chicken back to the sauce, along with any meat juices, simmer for another minute or two until the whole wonderful affair is piping hot. Have a little taste to check for any extra seasoning.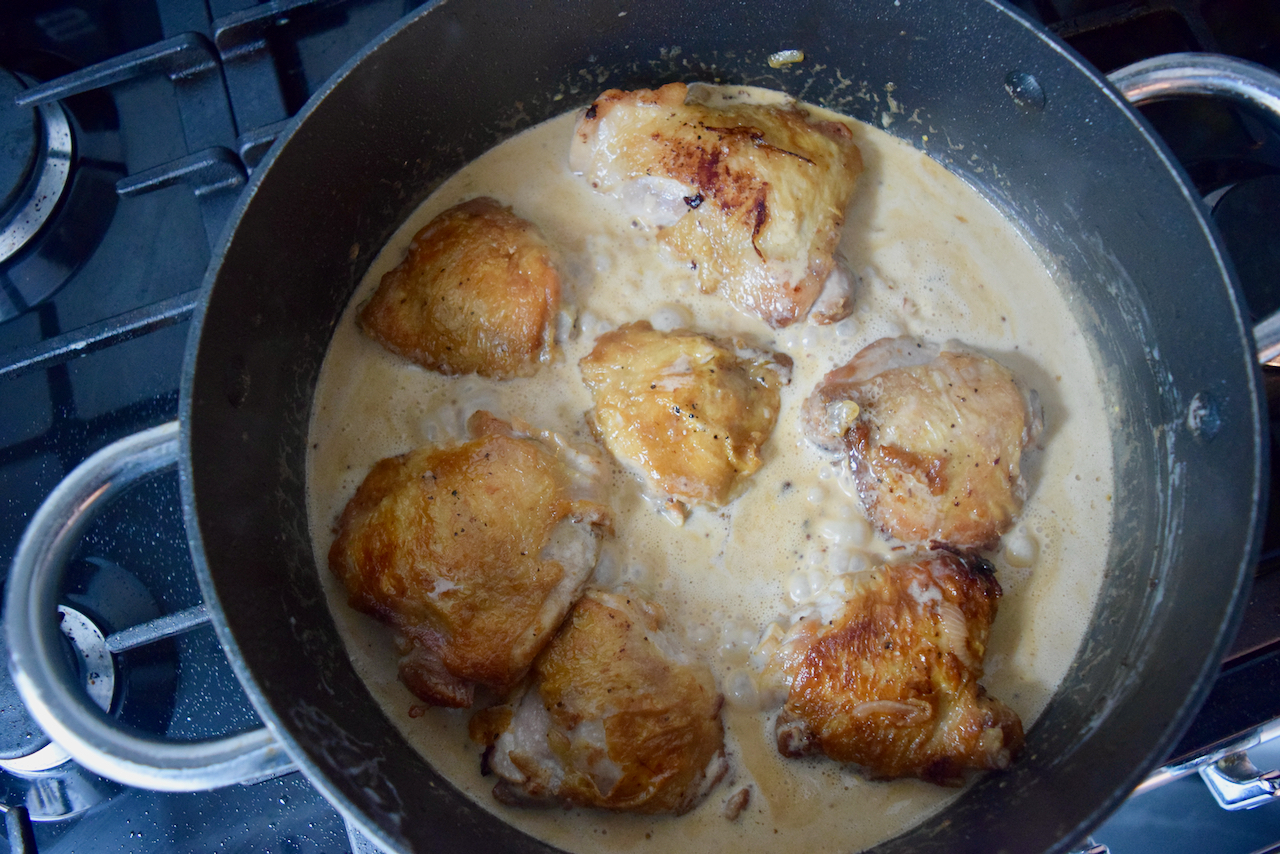 Scatter with fresh parsley and serve with the carb of your choice. And a green vegetable if you like, I chose unphotogenic peas, so added them later.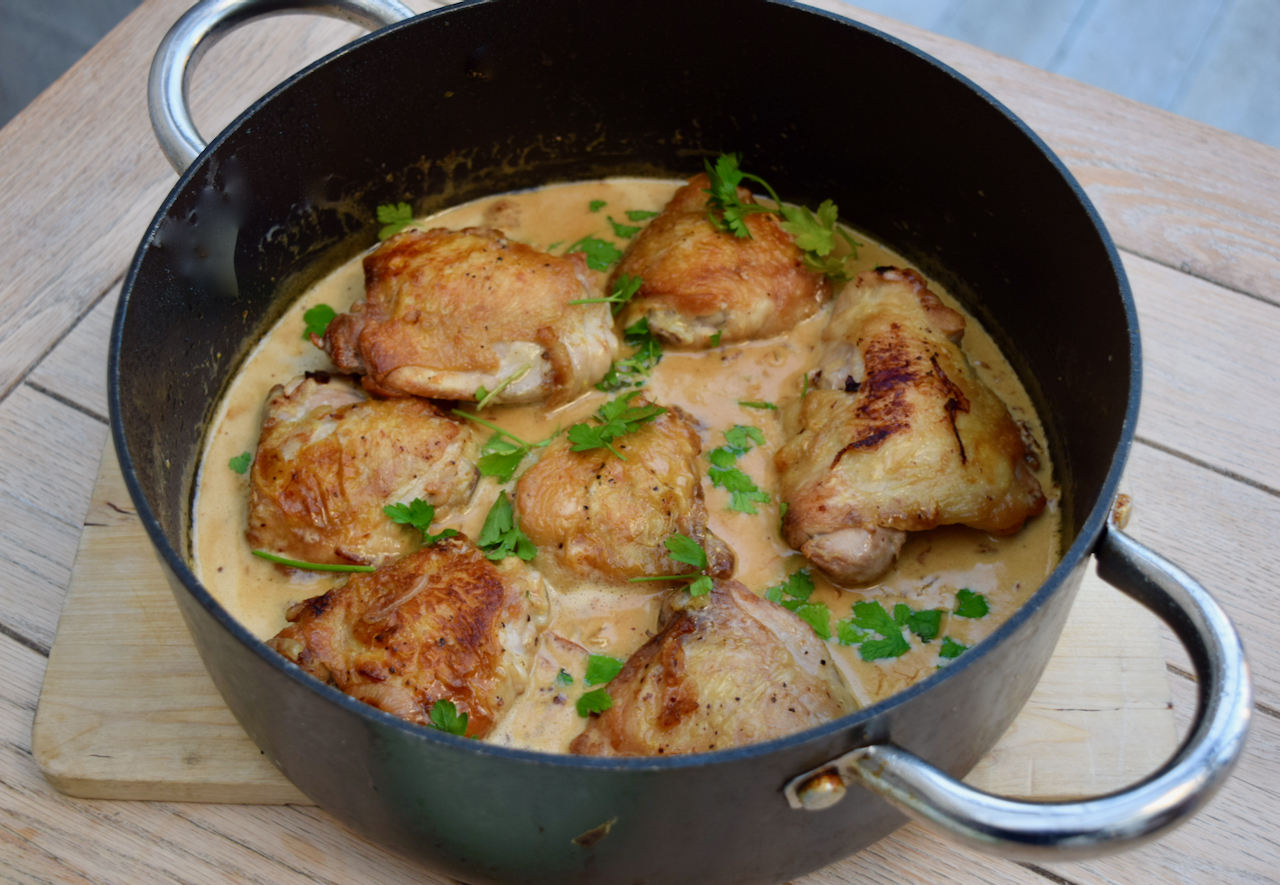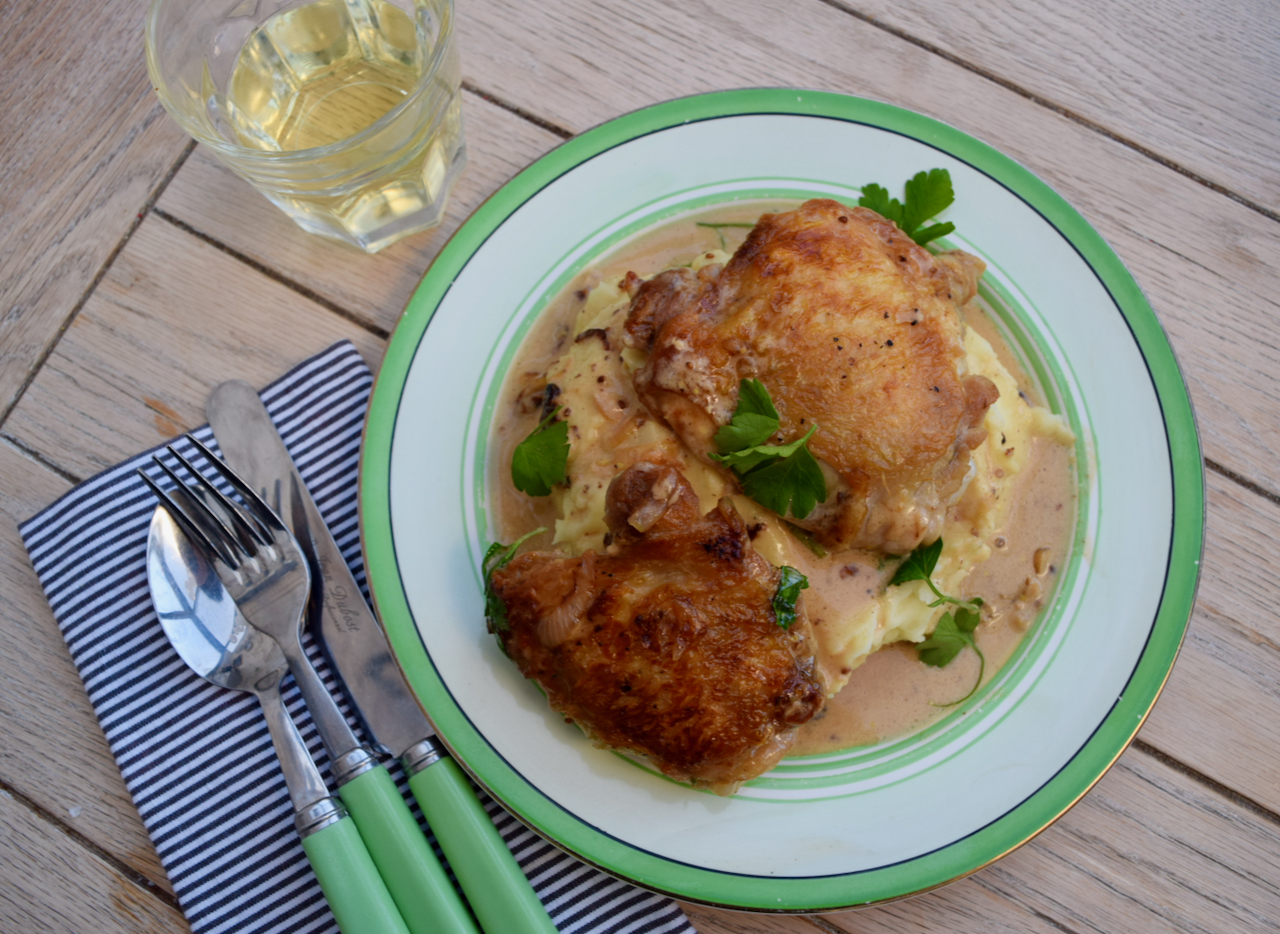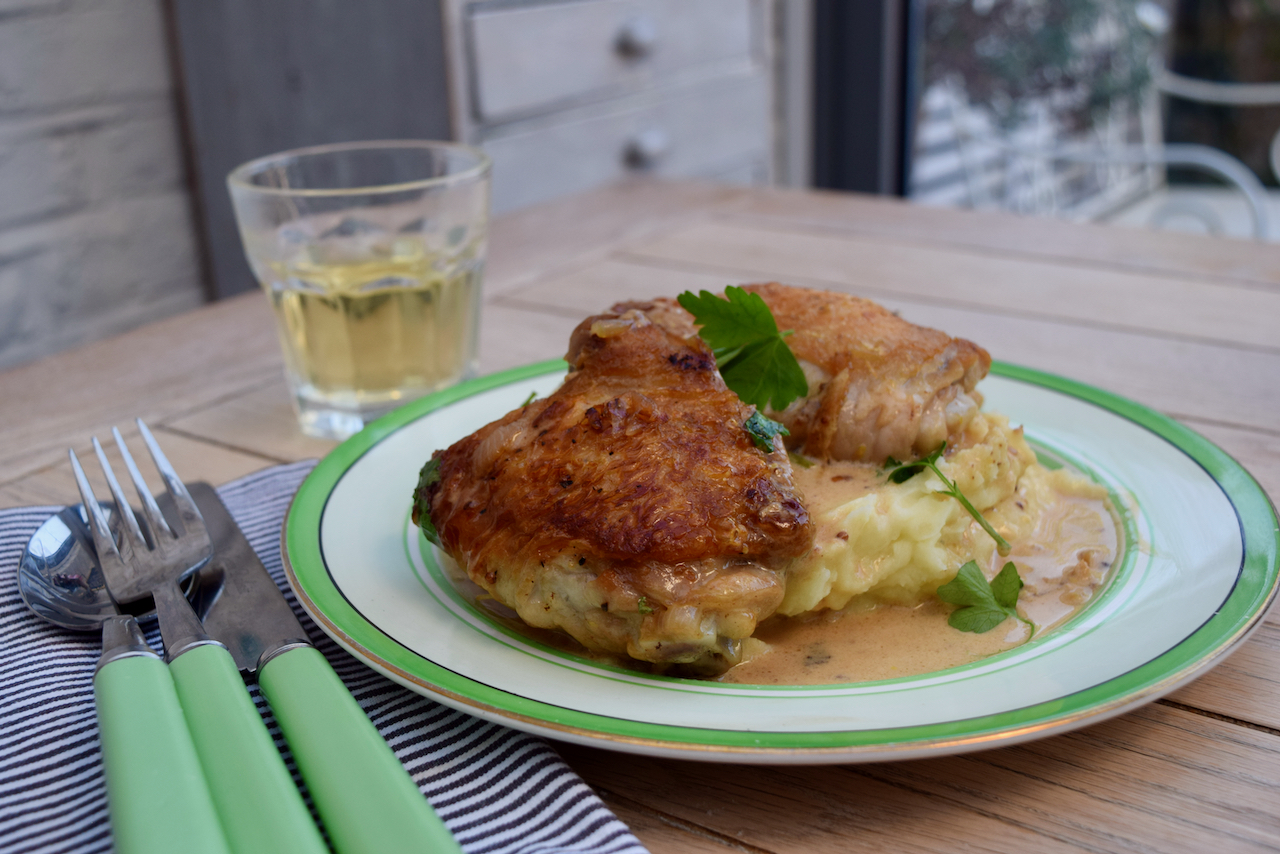 This dish is so simple, but elegant and tastes as though you've been standing over the hob for hours. Maybe if you're looking for elegant, give the peas a miss.
Lucy x
Chicken Thighs with Mustard Cream recipe
Serves 4, with mash, pasta or rice
You will just need a heavy bottomed frying pan for this
2 tablespoons olive oil
1kg bone in skin on chicken thighs, about 8 thighs
Salt and pepper
2 onions, sliced
50ml white wine
250ml creme fraiche
1 tablespoon Dijon mustard
1 teaspoon wholegrain mustard
A handful chopped parsley, to garnish
Buttery mash, pasta or rice, to serve
Take a large high sided frying pan and heat two tablespoons of olive oil over a medium flame. Pat your chicken thighs dry then season generously on both sides. Add them, skin side down, to the hot pan and cook for 15 minutes, when the skin will be golden brown and crisp. If they're getting too brown, turn the heat down a touch.
Turn the chicken thighs over and add the sliced onions to the pan, coating them in the pan juices and continue to cook the chicken for a further 15 minutes at which point the chicken should be cooked through (so it reads 155 to 160 degrees on a thermometer in the thickest part of the chicken) and the onions are soft and golden.
Remove the cooked chicken to a plate, but leave the onions in the pan. Turn the heat down and add the white wine, both mustards and the creme fraiche and stir well. Allow this to simmer for a minute then taste for any additional seasoning needs. Return the chicken to the pan, along with any pan juices, and heat until the sauce and chicken is piping hot.
Garnish with a generous sprinkling of fresh parsley, and serve, piping hot, with some mash, pasta or rice.