No Knead White Pizza Recipe
I have a real dislike of takeaway pizza. Given the choice, naff pizza seems the least attractive option. Give me a sloppy korma or a bright orange gloopy sweet and sour chicken any day. A delivery pizza is so often stodgy with an almost fried crust, so the need to be able to make your own, at a moments notice, without the drama, is imperative to me. I am also averse to a faux pizza scone-style base, as that just isn't a pizza at all. So when I found this wonderful No Knead White Pizza recipe via my BFF Food 52, it was love at first sight.
Not only is this pizza a no knead, no rise version, I have topped it with all white, mainly cheese based toppings. My family are divided on the love of a tomato so I thought I would try a white pizza for a change. And, by God I am pleased I did, this ricotta based base is a total revelation to me. Slather it over the no effort crust, top with mozzarella, parmesan and tons of fresh basil and this is a cheese based dream and you don't even miss the marinara/tomato business. The base has a brilliant flavour, which is even better if you can reserve the water from your mozzarella package and use this as some of the liquid in your pizza mix. It adds a salty/sourness and makes the dough even tastier. No drama if you don't have the moz liquid, just use all warm water and it will still be fab. You only need to blitz the dough until smooth in your food processor, fashion it into a ball then roll out into a circle. No energetic kneading and no tedious wait for the dough to rise, love love love. This recipe makes enough for two bases, if you are only using one, keep the spare dough in the fridge for up to 5 days, well covered, so you have pizza dough on hand for the rest of the week. I used my spare base to fashion some last minute garlic bread by just slathering the dough in melted butter, crushed garlic, garlic salt, pepper and dried oregano and it was something really rather special, even if I do say so myself.
This No Knead White Pizza is just revelation after revelation. Who knew a pizza could be so good without elbow grease, time and a tomato based bottom. I hope you are as won over by this recipe as I am. If not I am going to look like a right sad bastard, so do please at least fane enthusiasm to humour me.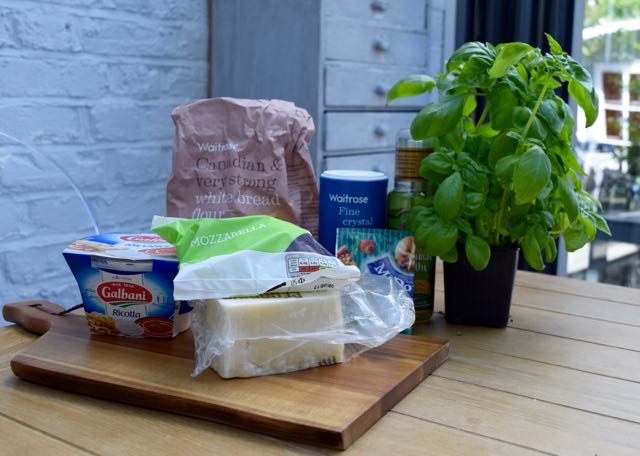 A slightly skew-whiff set of ingredients for this wonder-pizza. It looks like I was about to fall over when I took this shot. Regardless, what a lovely simple selection here. You can, of course, top this fab, simple base with whatever you like, don't feel you have to stick with my all off white, slightly Farrow and Ball, colour palate.
If you are going to cook this pizza straight away, then set to by pre heating your oven to its highest setting. I have a pizza stone, bought at the bargain price from Amazon, so I put this in the oven to pre heat at this stage too. If you don't have one you could always pre heat a good quality baking tin. Then, take the flour, yeast and salt and give it a quick whizz in the food processor.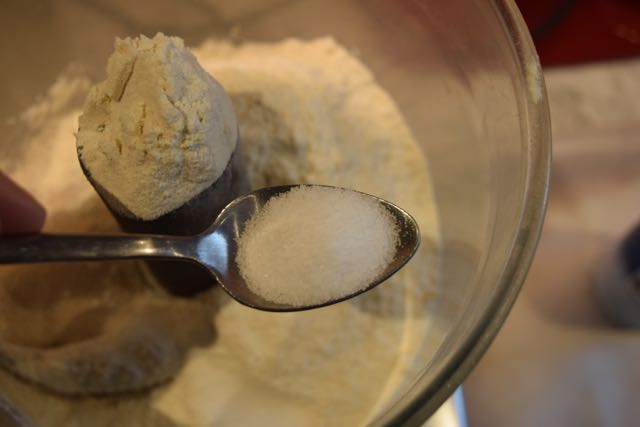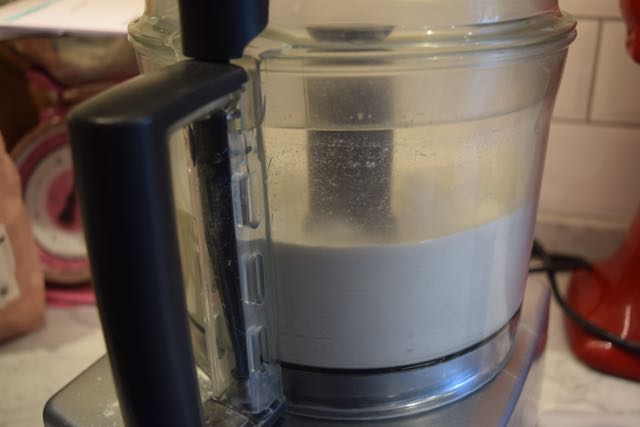 Now for the liquid. If you do have the drained liquid from a mozzarella, this is great to use here. I used it, then topped it up with hot water to create 250ml of lukewarm liquid. If not, just go all water. Measure in the two tablespoons of olive oil.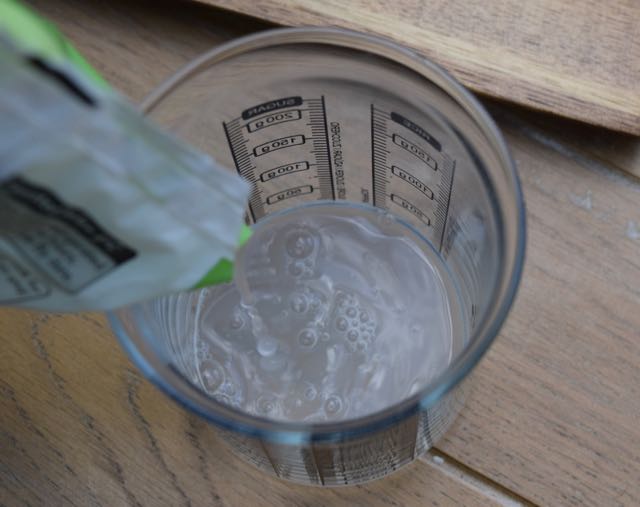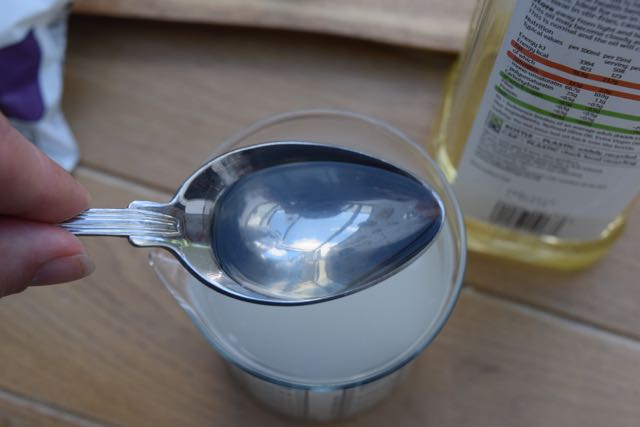 With the food processor running, pour in the warm liquid until you have created a soft dough. You may not need all the liquid, or you may need a little more. You are looking for a soft dough you don't want it to be too dry.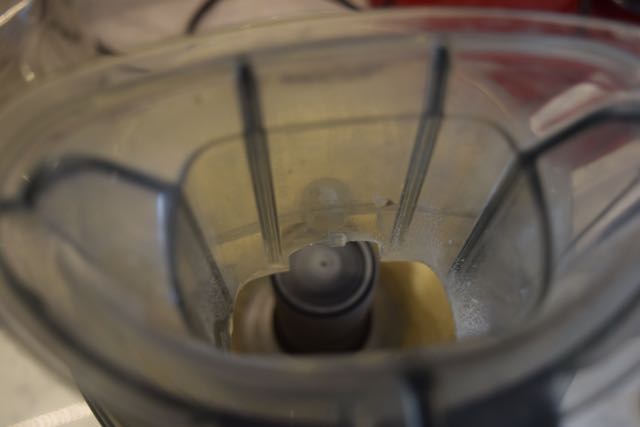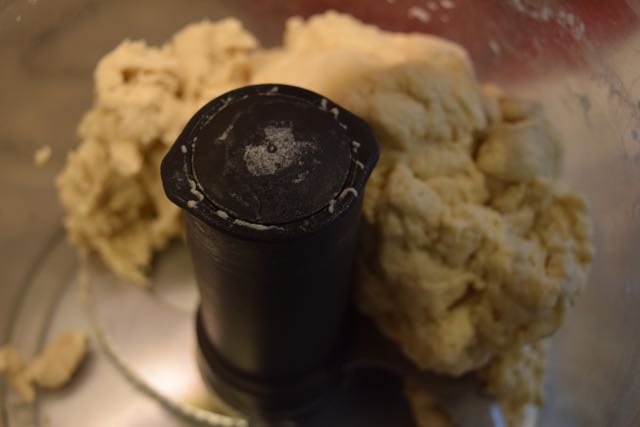 Once you have fashioned a lovely soft dough, tip it out onto a floured work surface and give it a quick turn or two to create a smooth ball of dough. Cut this into two equal-ish pieces, keeping the one you are not working on, well wrapped until needed. If you are not cooking the other ball of dough immediately, this will keep brilliantly in the fridge for up to 5 days.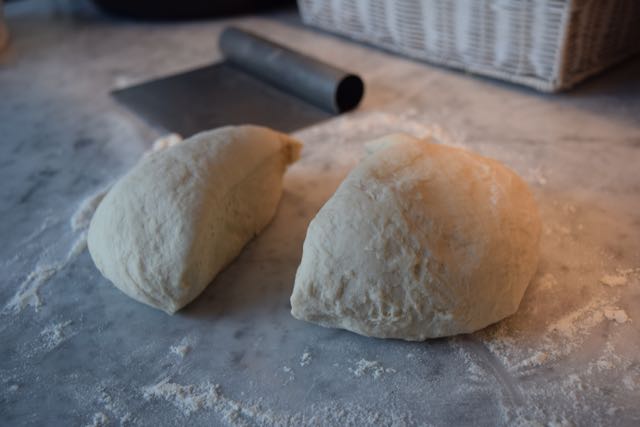 Roll one of the pieces of dough out into a large circle, about the same size as your pizza stone or tray, around 12 inches in diameter. I rolled mine out directly onto greaseproof paper for ease of moving. With my circle being a very rough circle. No need for a protractor here.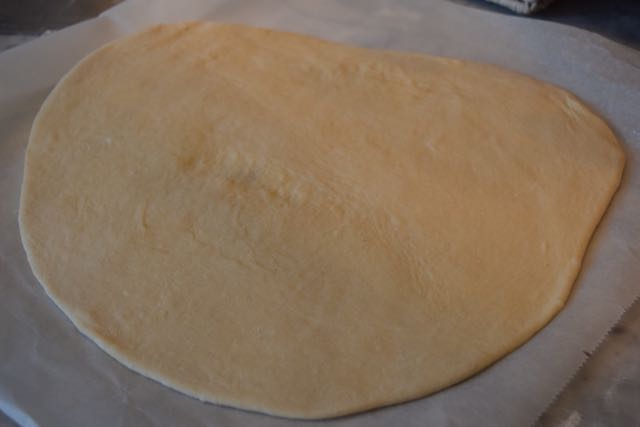 Spread the ricotta onto the rolled out base then tear up some mozzarella and dot it around. Sprinkle on a little dried oregano for a hint of the Mediterranean.
Load on plenty of freshly grated parmesan, a drizzle of olive oil, salt and pepper and a tear up a good handful of fresh basil.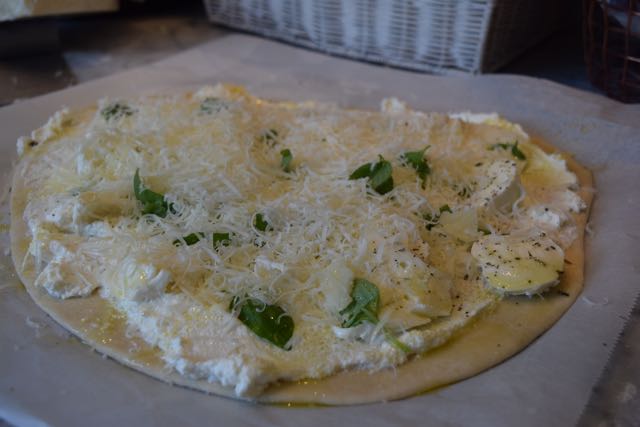 Transfer this pizza, baking paper included, onto your pre heated pizza stone or baking tray then place into your furnace-like oven for between 10 to 15 minutes.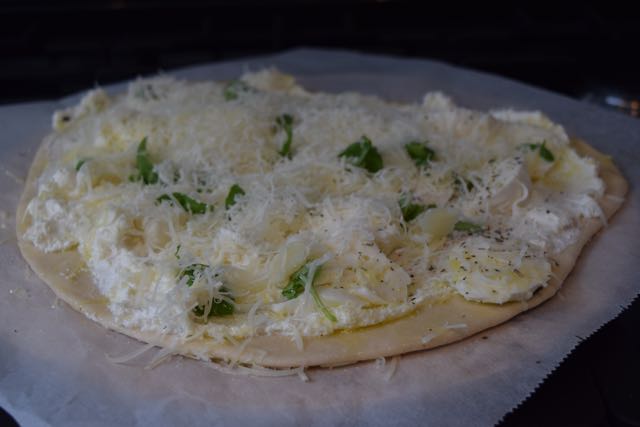 Be super careful with the hot pizza stone at his stage, it's as hot as molten lava. I cooked mine for 15 minutes when it was bubbling beautifully and the edges of the pizza were crisp and golden.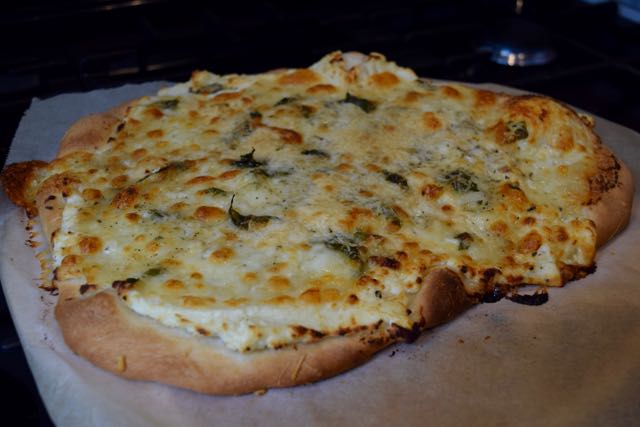 Serve piping hot, drizzled with a touch more olive oil and some extra torn fresh basil.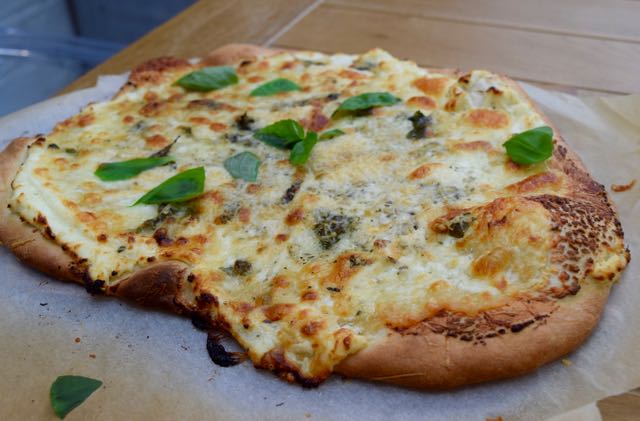 This is fragrant and divine, I can almost taste it from here.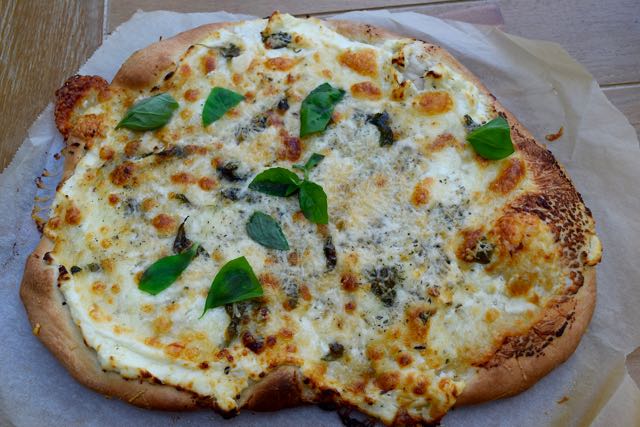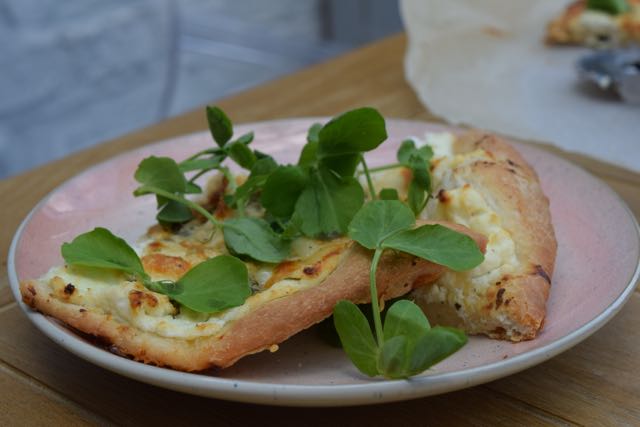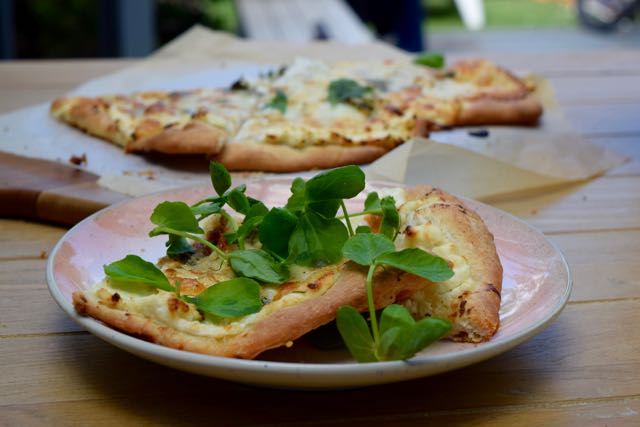 We all inhaled this pizza within minutes, with the crisp dough and all white, cheesy toppings making a welcome and refreshing change. You can top this brilliant no knead base with any or all of your top toppings. I can't believe I've made it to 46 *that's the cat out of the bag* without having a white based pizza before, but now I have, there's no going back to the tomato-ey olden days for me.
Lucy x
This post contains an affiliate link to Amazon. Should you choose to make a purchase through this link, Lucy Loves will receive a tiny commission at no extra cost to you.
No Knead White Pizza Recipe
Makes 2 x 12 inch-ish pizzas
You will need a food processor
Pizza – this recipe makes two
360g plain or strong white bread flour
1 x 7g sachet fast acting dried yeast
2 teaspoons salt
250ml lukewarm water,  use some of the liquid from the mozzarella package, if you have it mixed with hot water
2 tablespoon olive oil
Toppings – for one pizza
125g ricotta cheese
100g mozzarella cheese
50g parmesan, finely grated
1 teaspoon dried oregano
A handful fresh basil leaves, torn
A drizzle of olive oil
Salt and pepper
Extra olive oil and fresh basil to garnish
Pre heat your oven to it's highest setting around 225 degrees fan assisted if you are going to cook your pizza straight away. I used a pizza stone, if you have one, put it in the oven to heat up now. Or just use a solid baking sheet.
In a small jug, measure out the 250ml lukewarm water, adding some of the mozzarella water to make it up to 250ml if you have it. Spoon in the 2 tablespoons of olive oil and mix.
In your food processor, mix together the flour, yeast and salt then pour in enough of the warm liquid with the processor running, until you have a soft, slightly wet, dough. Tip the dough out onto a floured work surface and knead for a moment to bring together into a soft ball. Divide the dough into two pieces, keeping the second piece covered until you need it.
On a piece of baking paper, roll the dough out until it is a rough 12 inch diameter circle. Top with a layer of ricotta, torn mozzarella, grated parmesan and a sprinkling of dried oregano. Tear on some fresh basil then drizzle with some olive oil and season with salt and freshly ground black pepper.  Place on your pizza stone or pre heated baking sheet, still on the baking paper for ease, and cook until the edge of the pizza is crisp and the toppings are bubbling. This should take between 10 and 15 minutes, dependent on your oven and the size of the pizza and the amount of toppings.
Serve, piping hot with an extra drizzle of olive oil and a smattering of fresh basil.