One Bowl Chocolate Sheet Cake Recipe
Sometimes, only a cake made in a big baking tin will do. Say for example, you have to make a cake for a children's tea date, have to bake for a school fair or you are just bloody miserable and need more than a tiny slice of cake to lift your mood. Then this One Bowl Chocolate Sheet Cake is for you.
When I was little you could get, I think from Sainsbury's as my mother always shopped at Sainsbury's, six chocolate cupcakes in silver cases with quite thick chocolate fondant icing. They also came in lemon and orange but they were nasty so forget about those. There is a point to this story – this brilliantly enormous sheet cake tastes just like those aforementioned chocolate cupcakes. The sponge is dark and sweet and soft with really fudgy chocolate icing, delicious. And it's made in one bowl – no need even to dirty the Magimix, hooray. And the icing is made in a saucepan – what could be simpler, or quicker. You can have this monster of a chocolate cake on the table within the hour. This cake is a combination of two contributors the brilliant Six Sisters Stuff provided the cake recipe and the inimitable Pioneer Woman for her tasty Sheet Cake Icing, many thanks to both for the tips.
Don't feel though, because this cake is so enormous, that it's inelegant. That is the joy of my One Bowl Chocolate Sheet Cake – you can top it with what ever you fancy to tart it up. Go with colourful sprinkles or glitter for the children, or edible flowers or gold leaf for the grown ups. This can be wolfed down in giant slabs or nibbled in elegant squares, the choice is yours. Do with this cake as you wish, but once you've tried it, you will make it again and again, I am certain, because I have.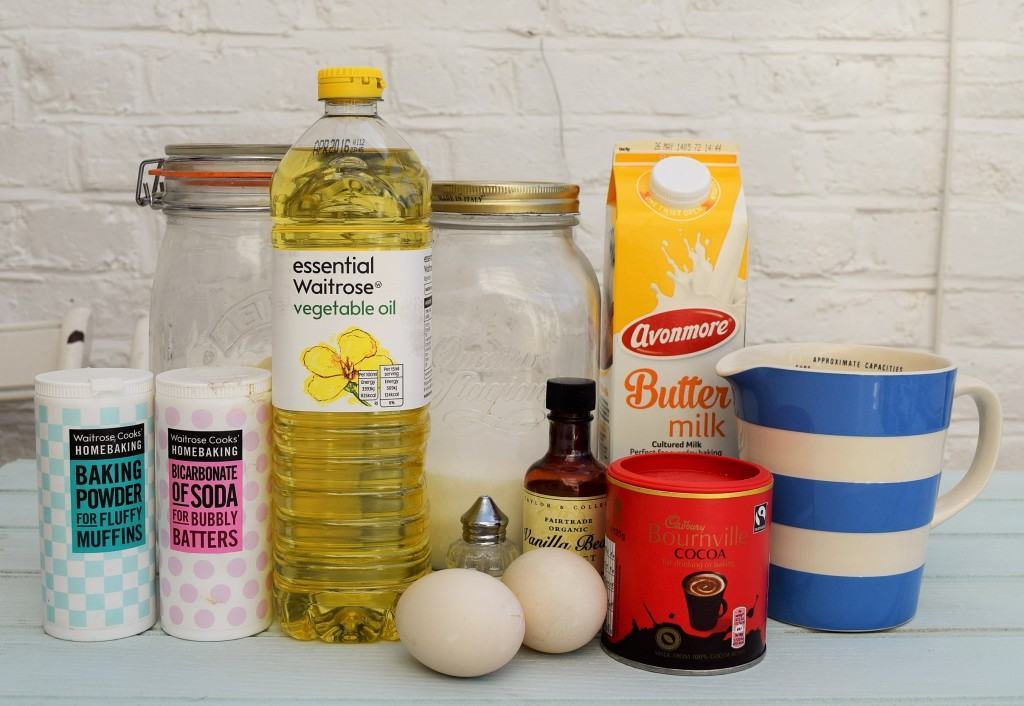 Here are the ingredients for this cake to end all cakes. And below are the icing ingredients. Yes, I forgot to put them in the original line up – I may or may not have been a tiny bit hungover when I made this cake.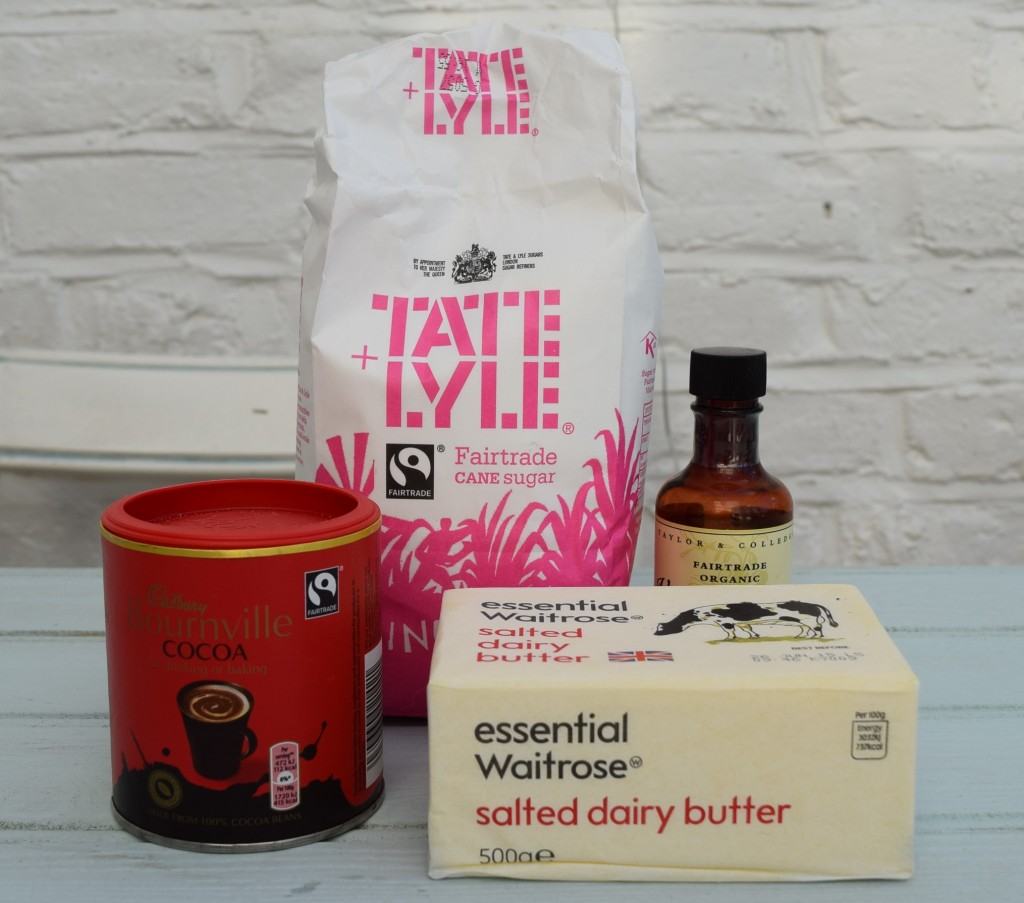 Regarding buttermilk – I often have this in the fridge as it features in a couple of recipes I use, but if you don't have it, there is a simple solution. Just take a jug with 250ml of milk in it and add a tablespoon of vinegar and leave for 5 minutes. And that makes a buttermilk substitute. Yes, I am a font of all useless knowledge.
Back to the cake. Start by weighing out the flour, sugar, cocoa, bicarb, baking powder and salt in a large bowl and give it a good stir to mix.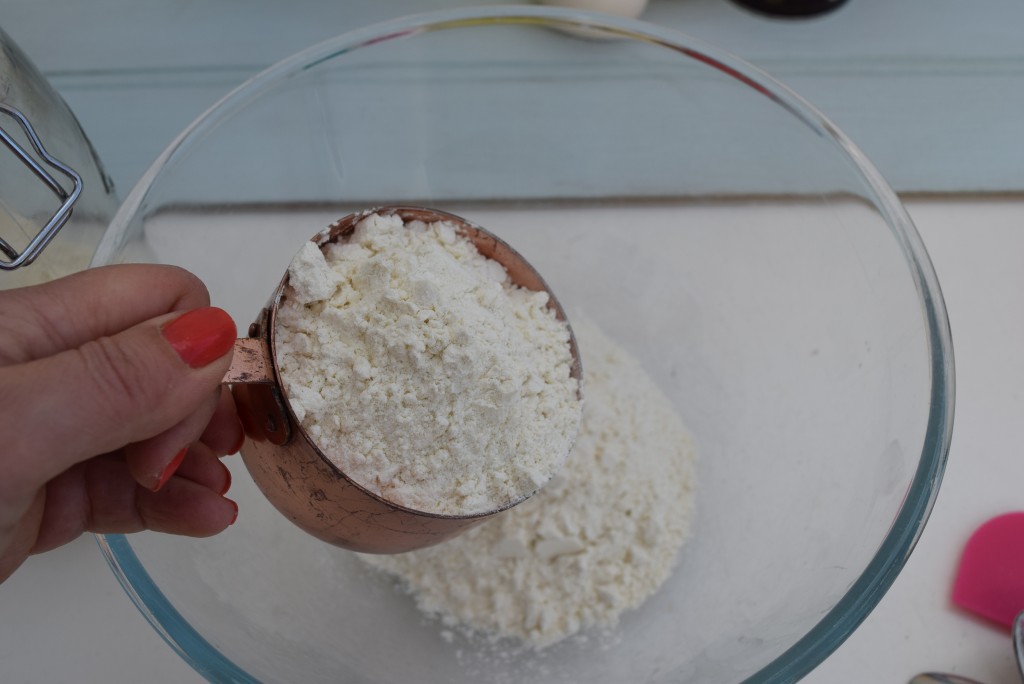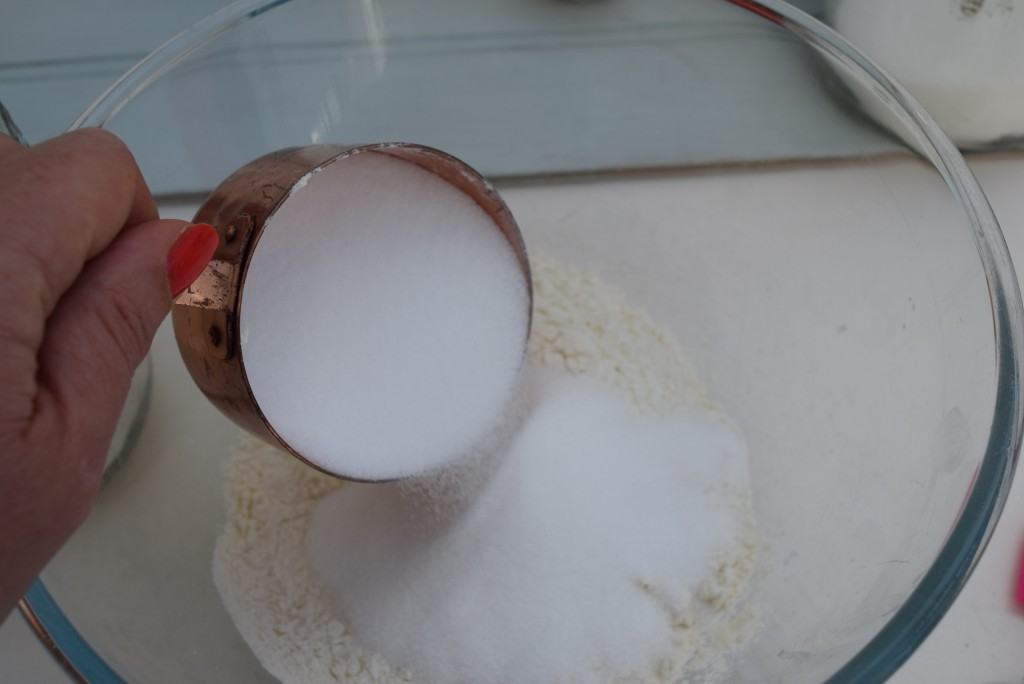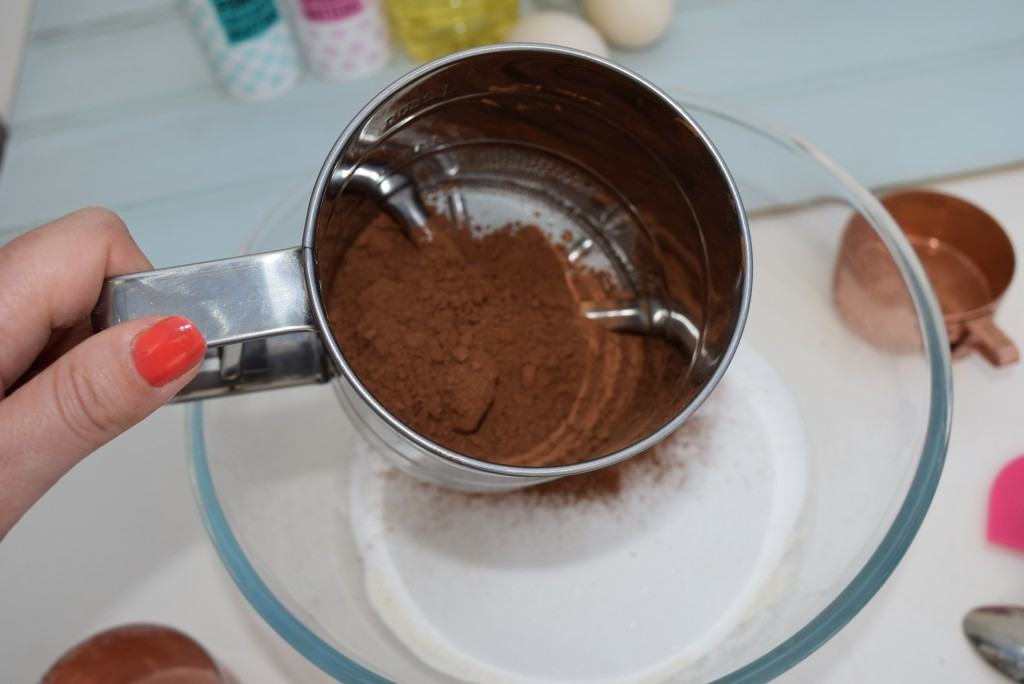 I went against my principles and sifted the cocoa as it can be so annoyingly lumpy.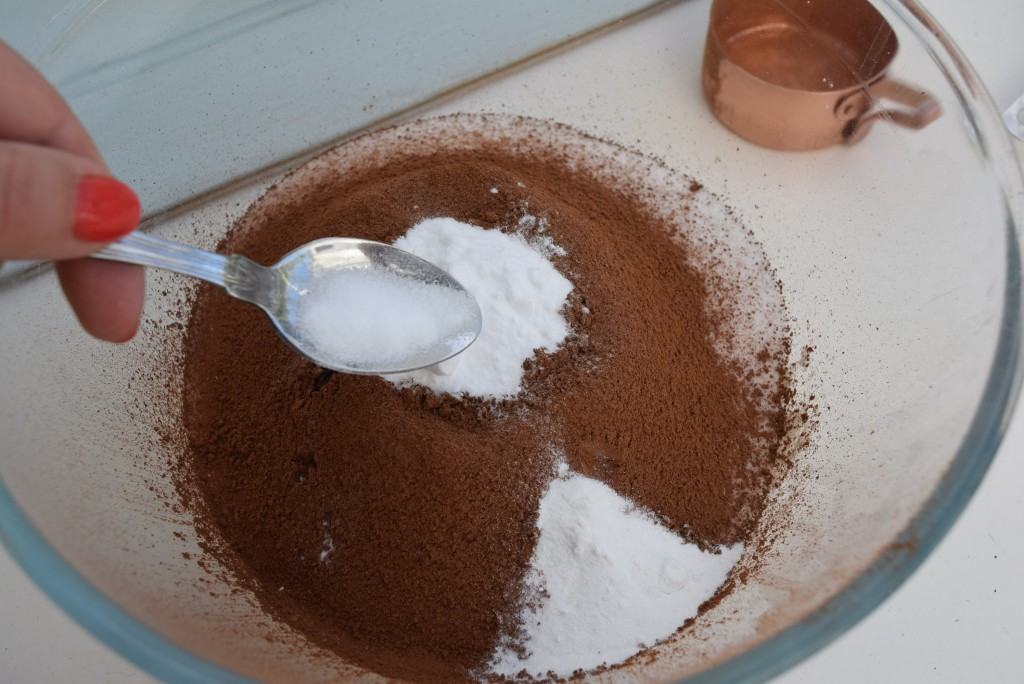 I am not even mentioning my dreadful hands and tarty nail colour so as not to draw unwanted attention to them.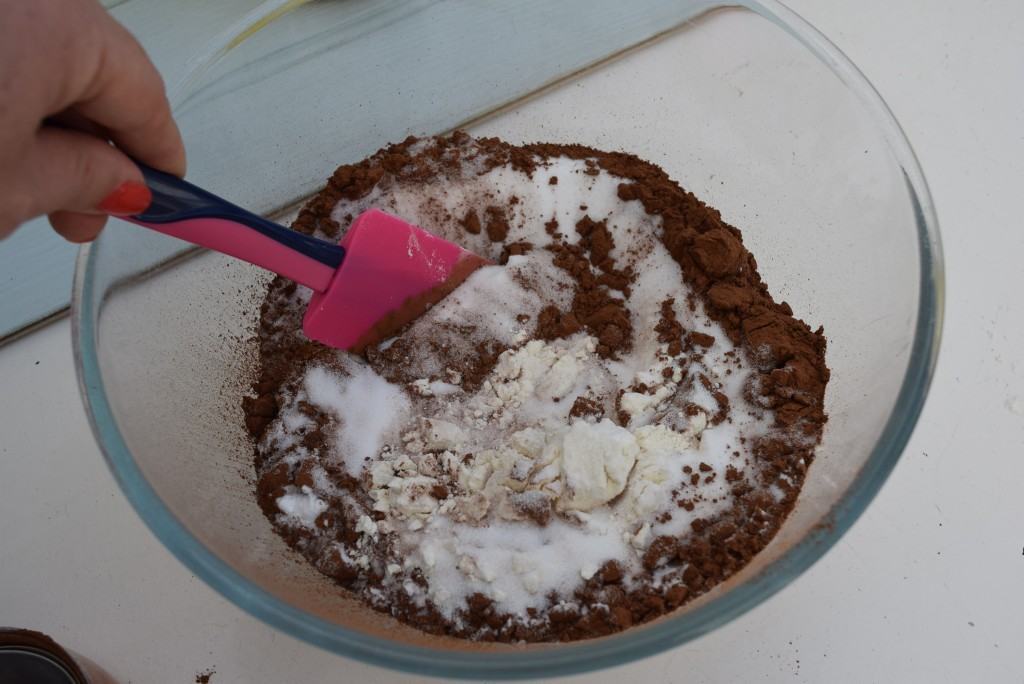 Now, phone the trades descriptions act people if you like, but for the wet ingredients I introduced a jug so this does technically negate the recipe title of 'One Bowl Chocolate Sheet Cake'. Sadly a 'One Bowl and One Jug Chocolate Sheet Cake' just wasn't as catchy. You don't actually need the bloody jug anyway, you can add the wet ingredients straight into the bowl, but I just liked mixing them in a jug first. Right, now that's that settled, add to your jug, or straight into the bowl, the oil, buttermilk, teaspoon of vanilla extract and eggs and give them a whisk.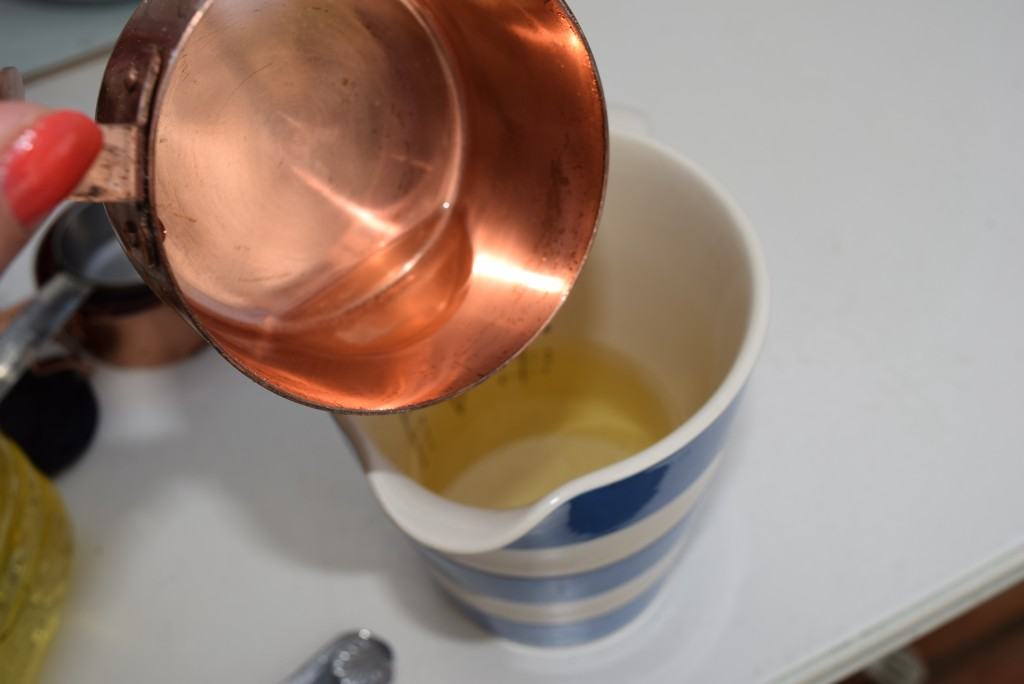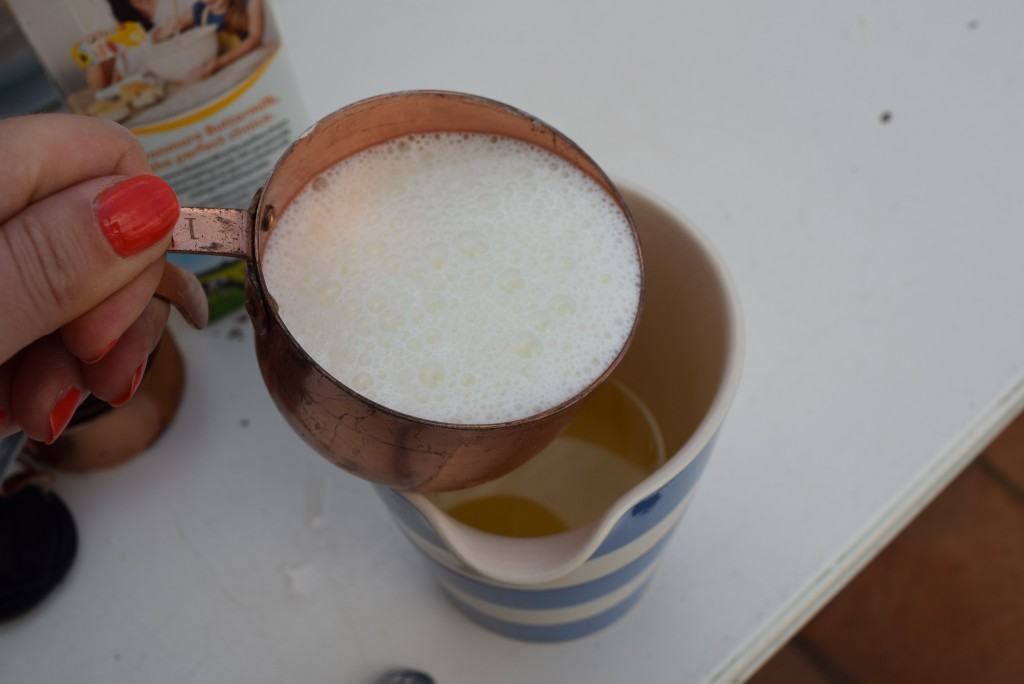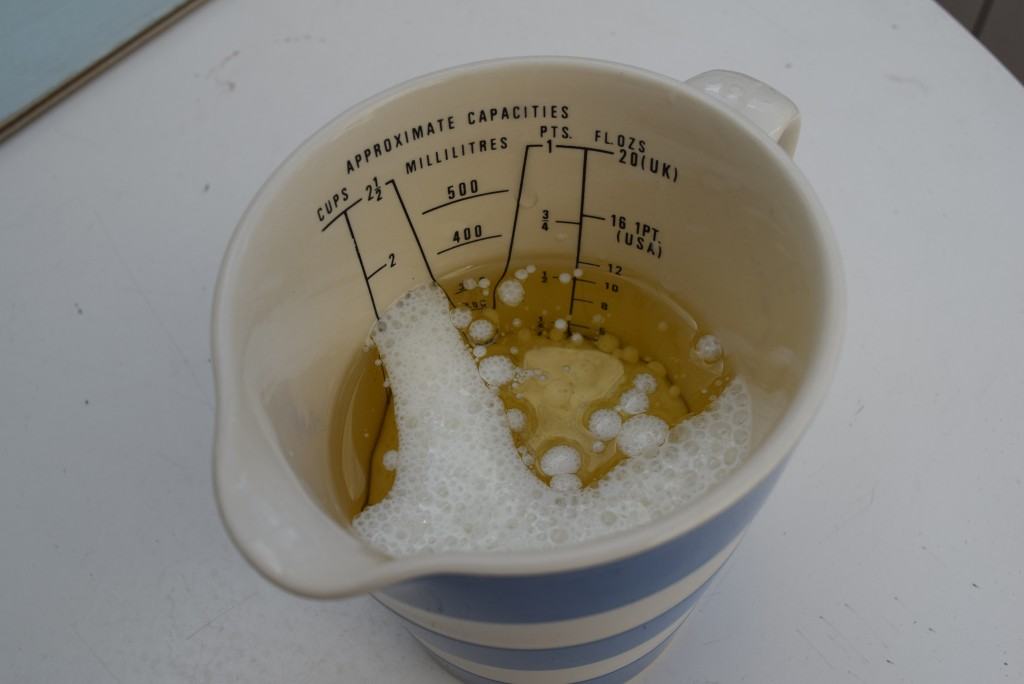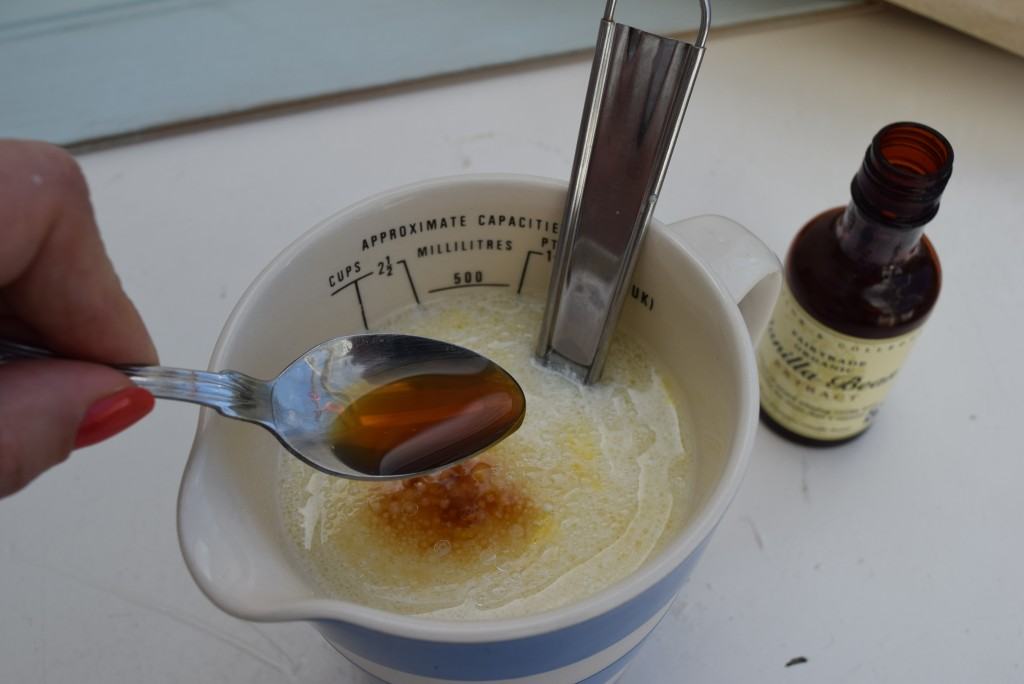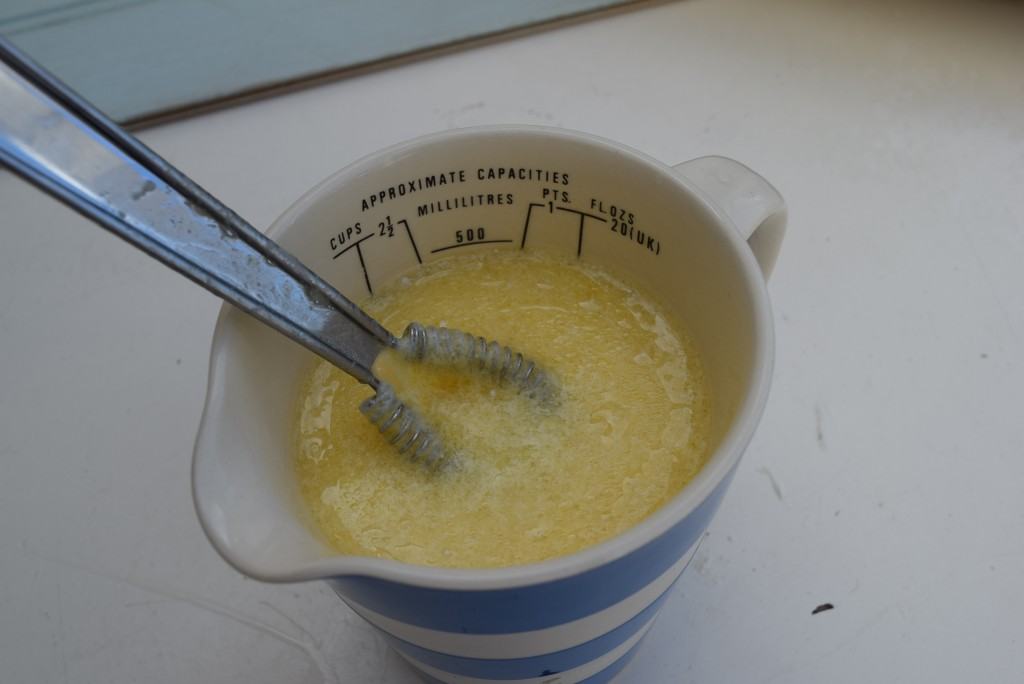 Mud pie stylie, mix the wet ingredients into the dry ingredients, until just blended. Don't over mix or you will have a tough cake.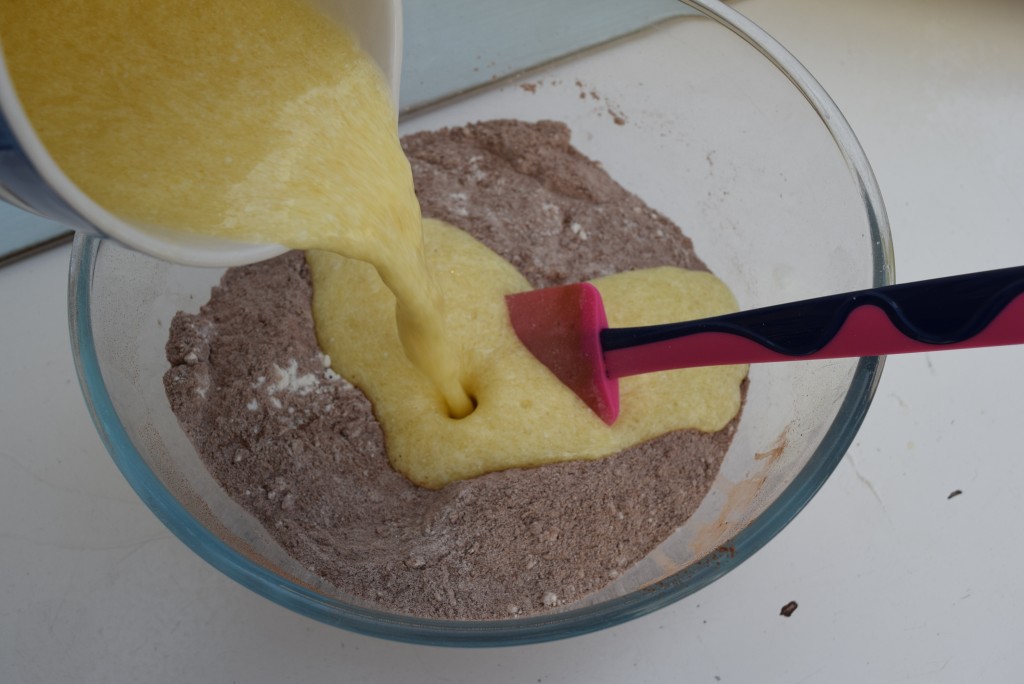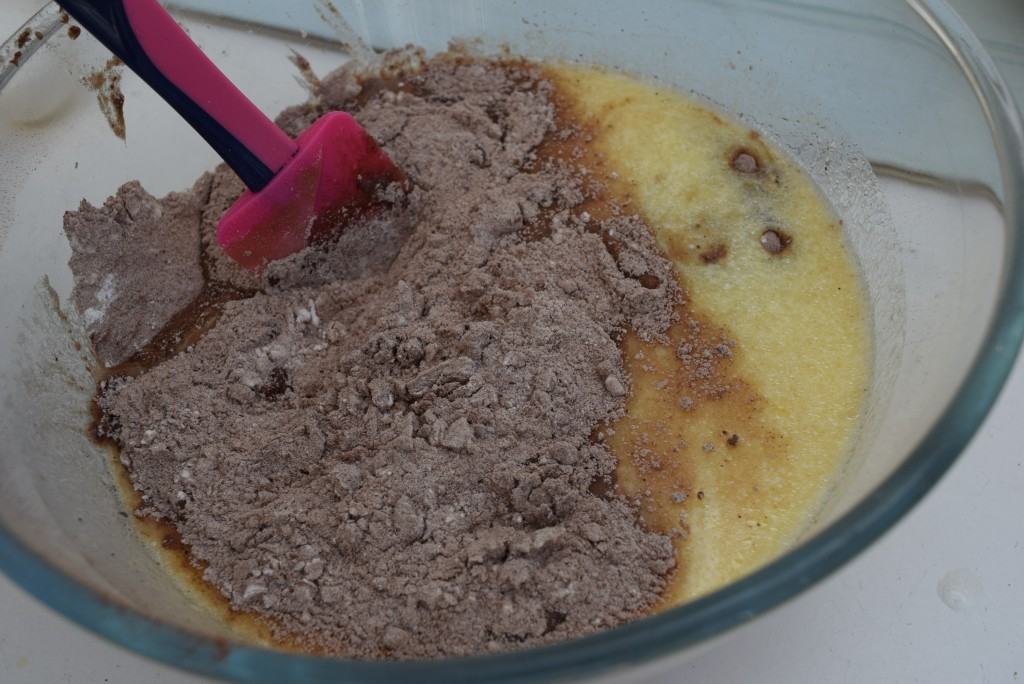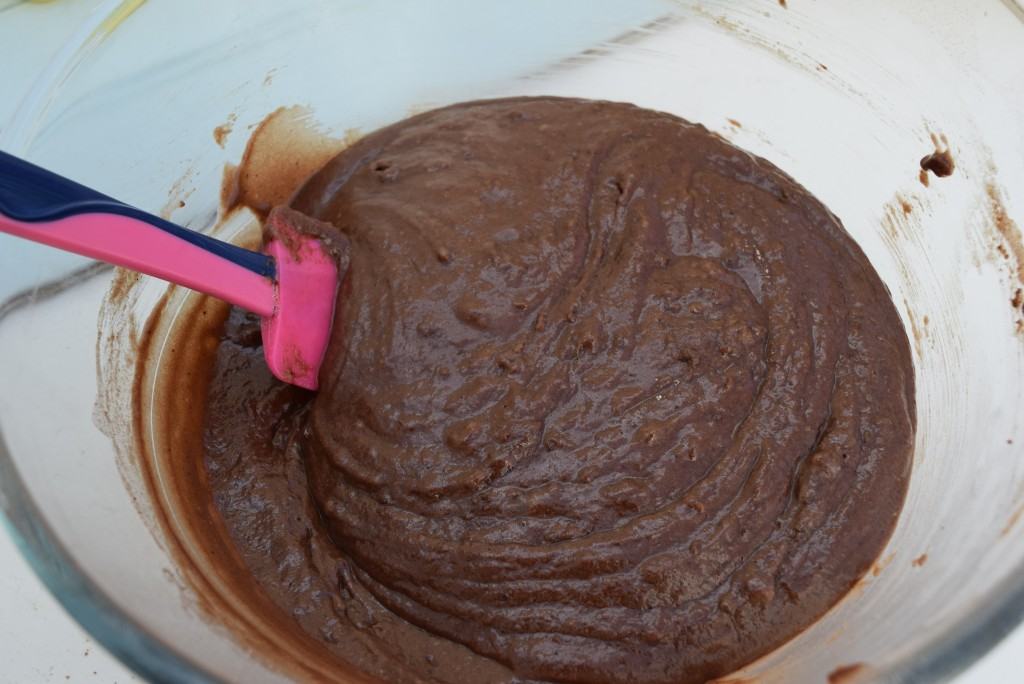 Then, to this bowl of deliciously luscious chocolate cake mixture, pour in 250ml of kettle hot water. Brace yourself, it will be wet, sloppy and a bit of a mess. But persevere by gently folding the water into the mix. You will end up with a bowl of shiny chocolate batter.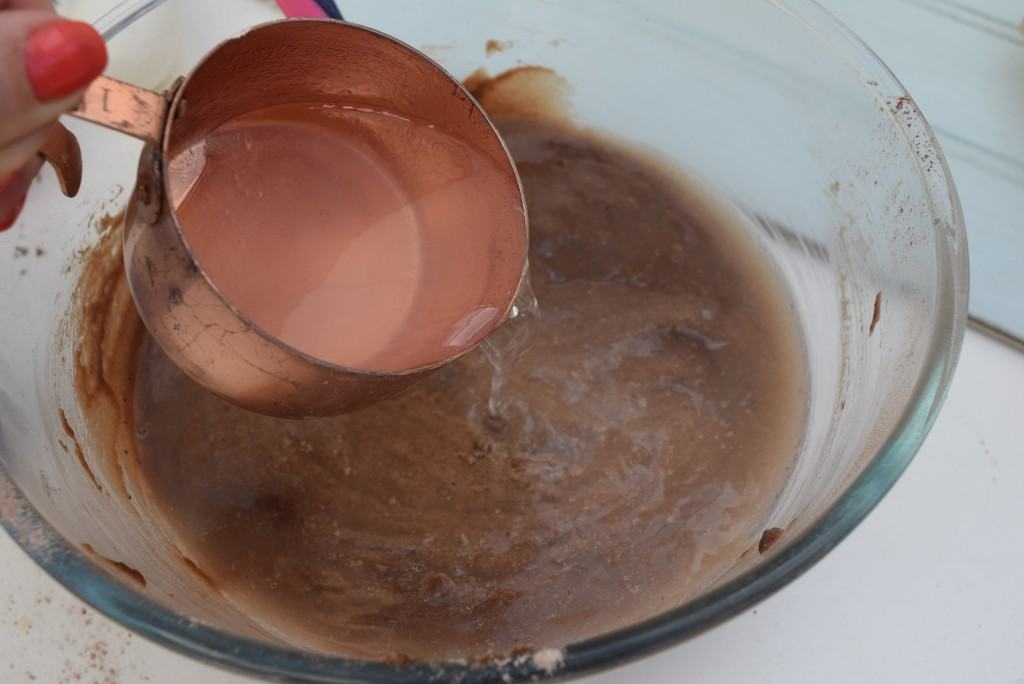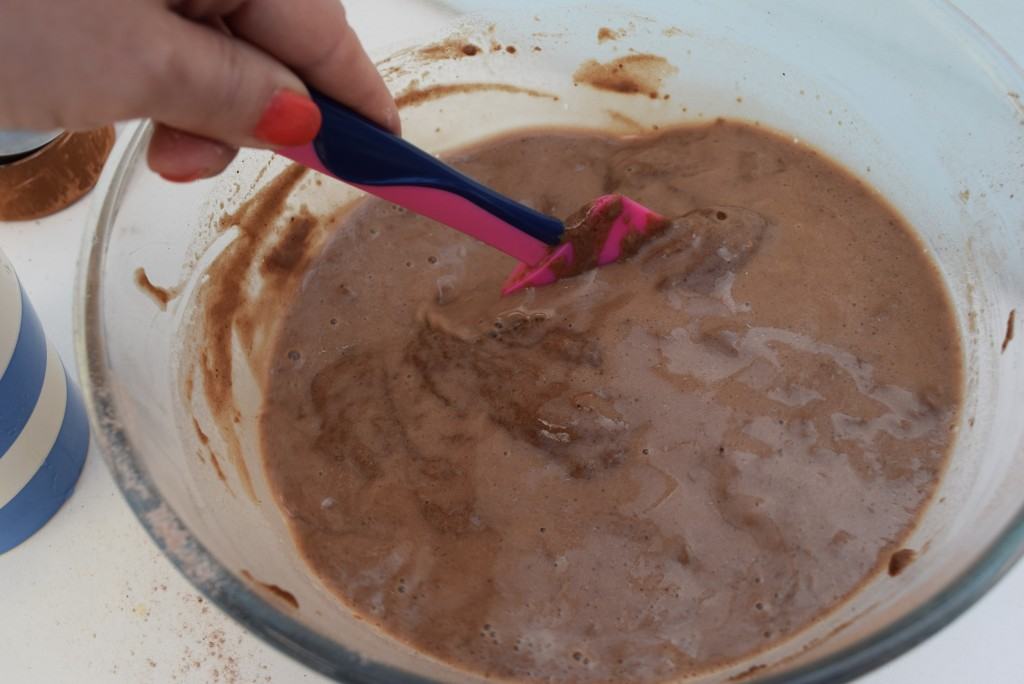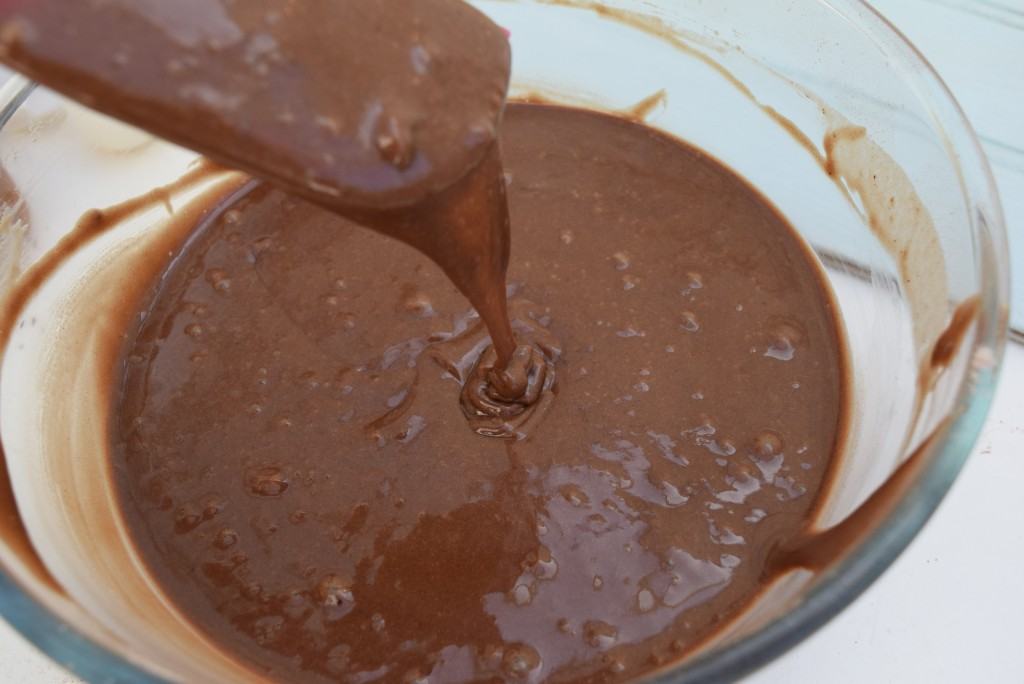 Pour this thinnish batter into your lined baking tin and cook for around 30 to 40 minutes. The cake will be cooked when a skewer put in the middle comes out clean or with just a few crumbs on it.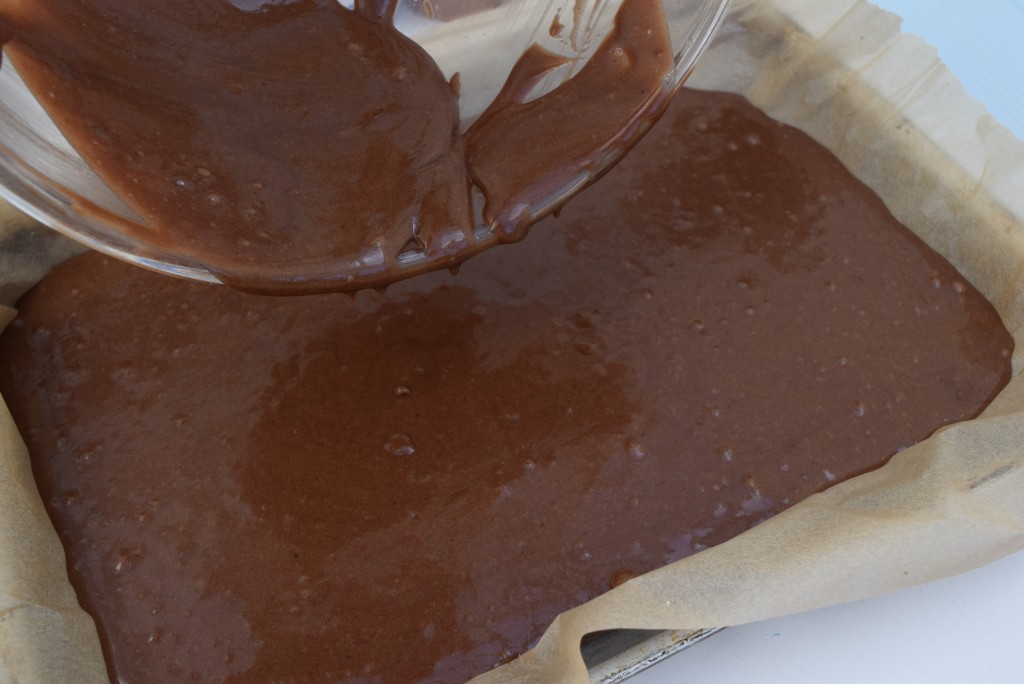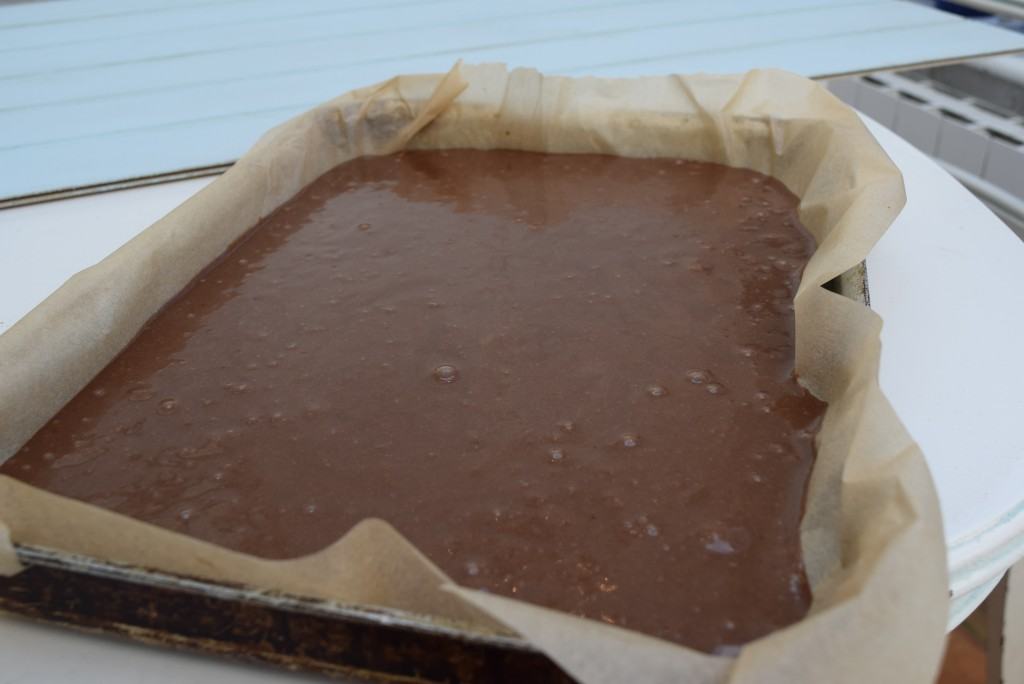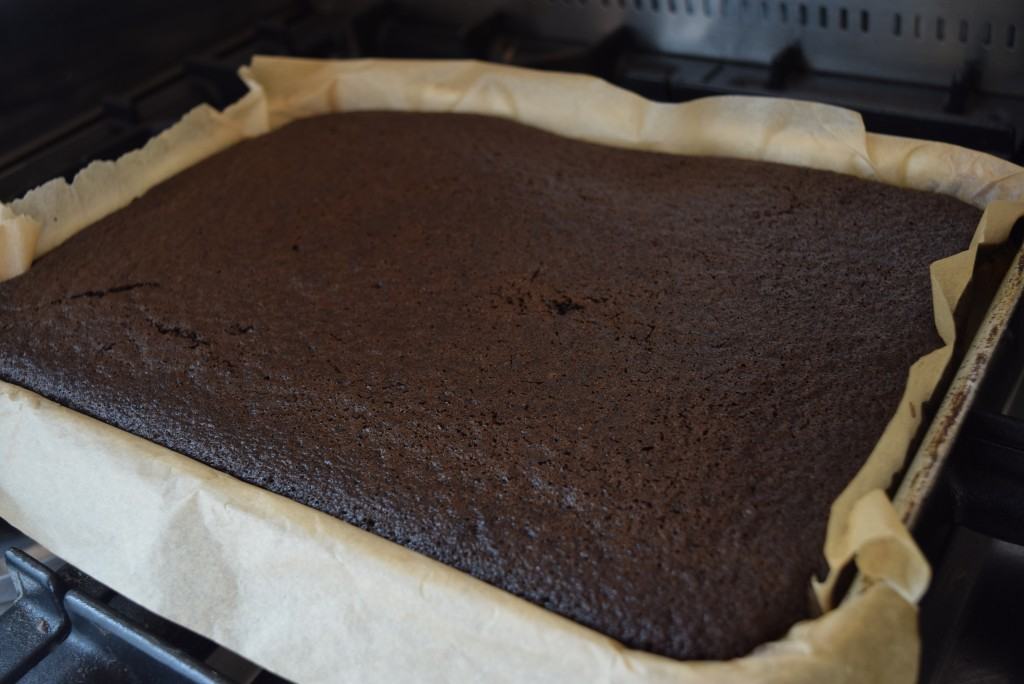 Perfect. Now while the cake is baking, make the super speedy simple fudgy icing. Take a medium sized saucepan and add the butter. Melt over a low heat then whisk in the cocoa powder.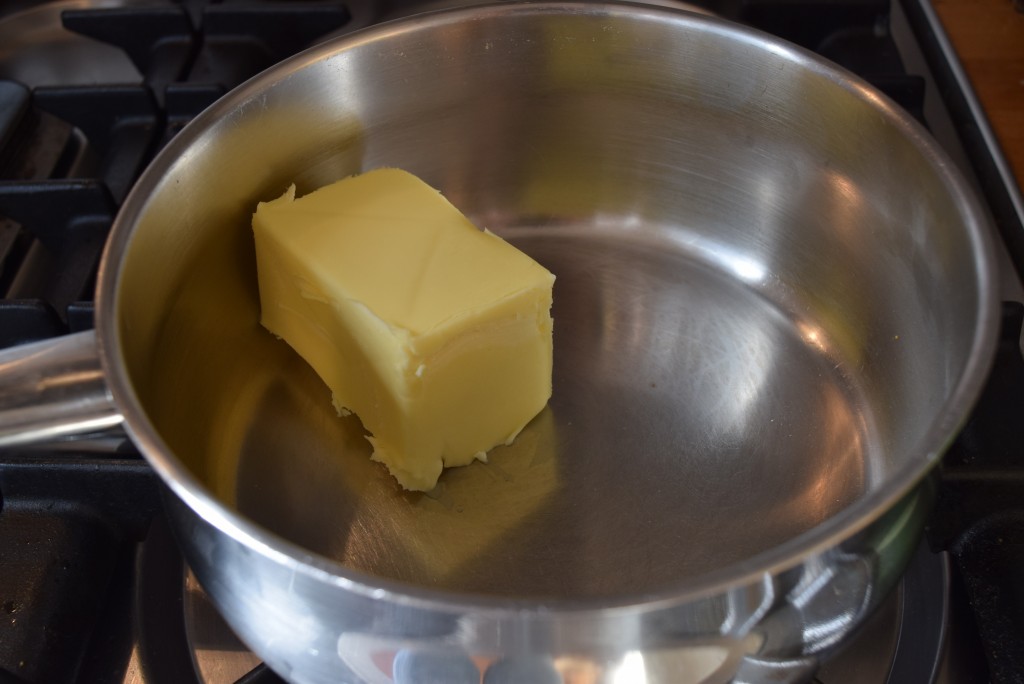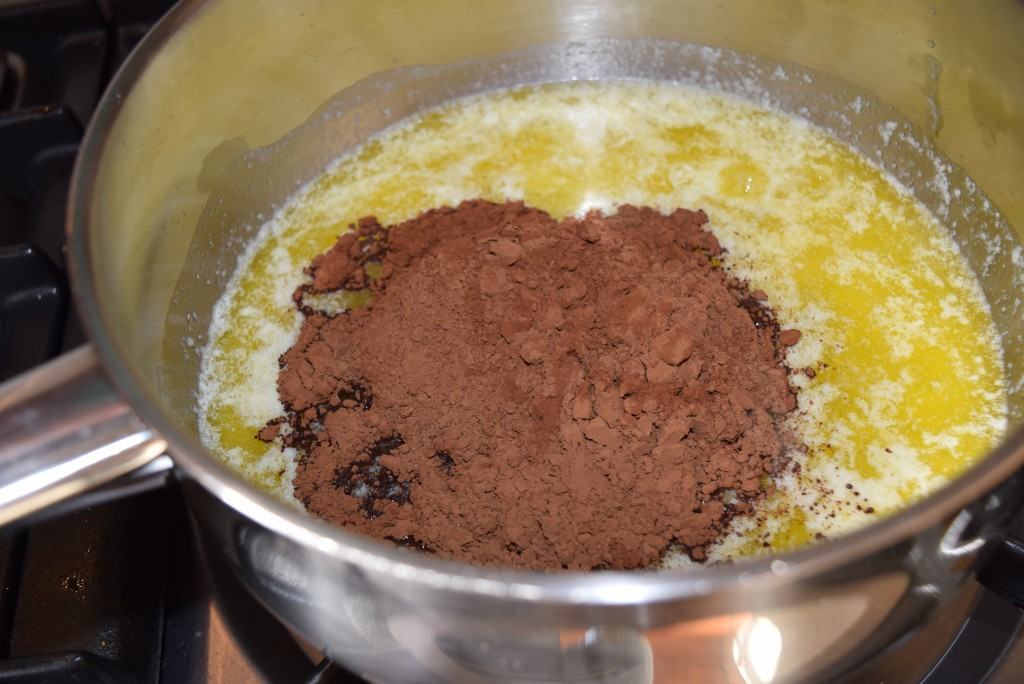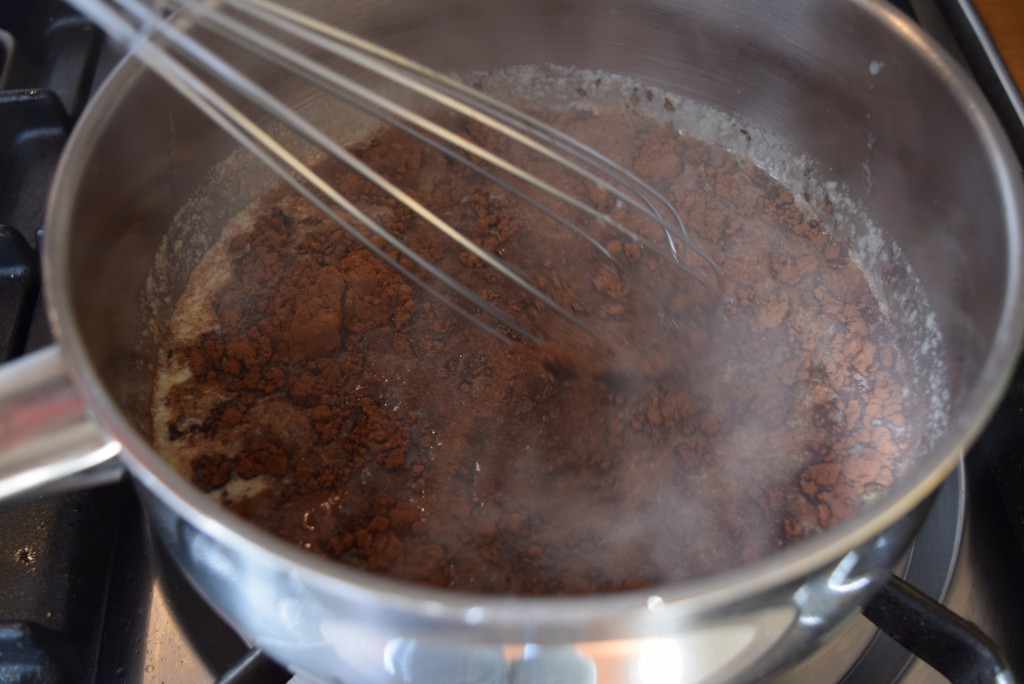 Then off the hob, whisk in the milk and vanilla extract. Then fold in the icing sugar, mixing until smooth and chocolatey.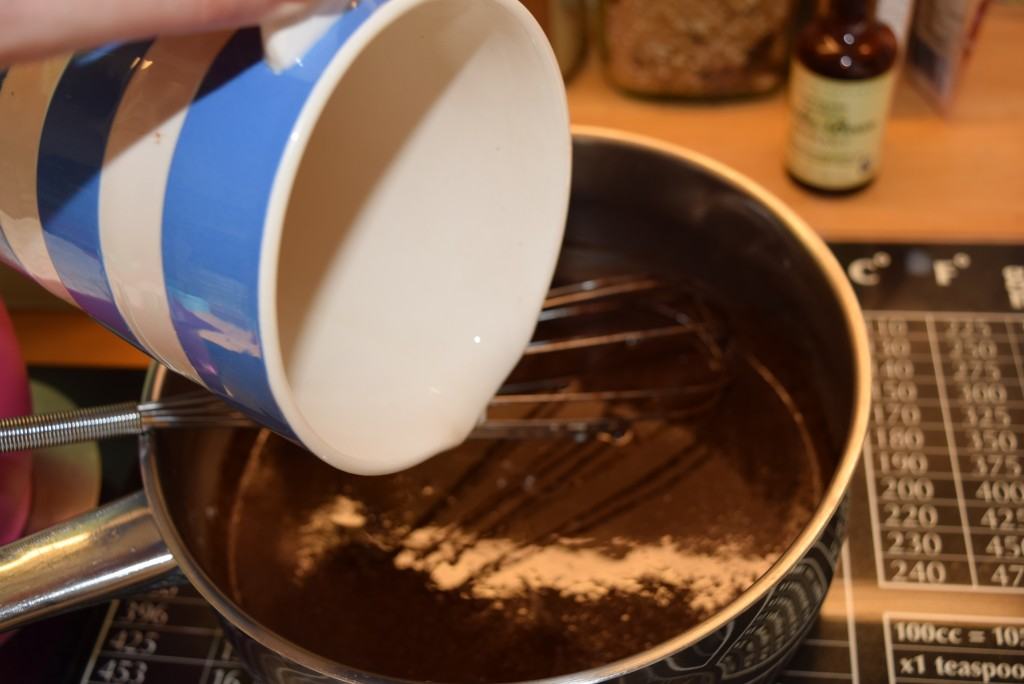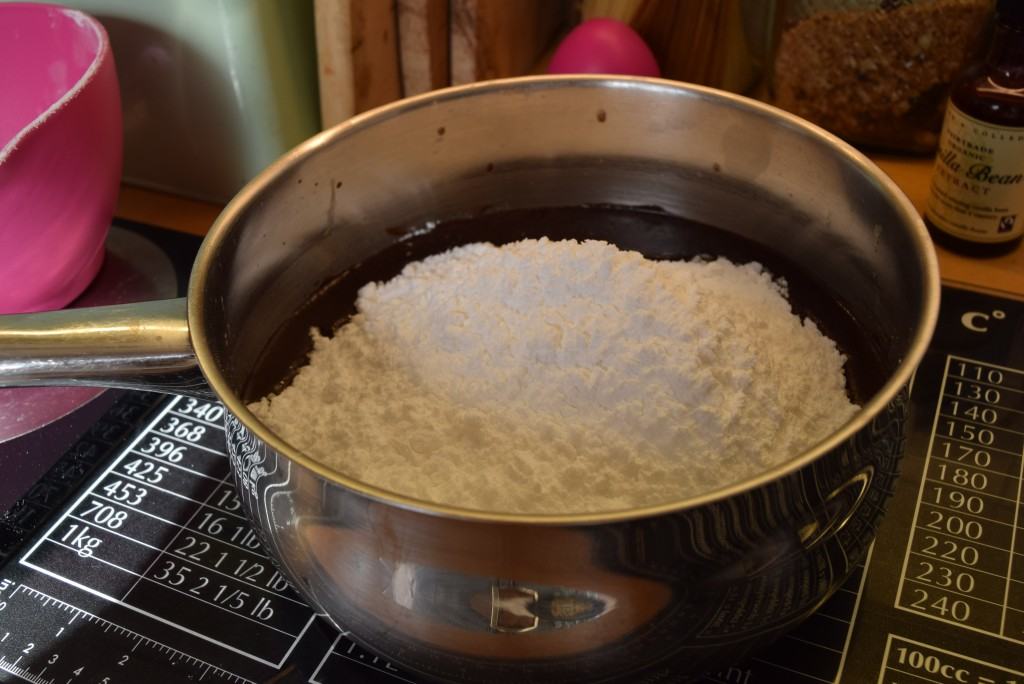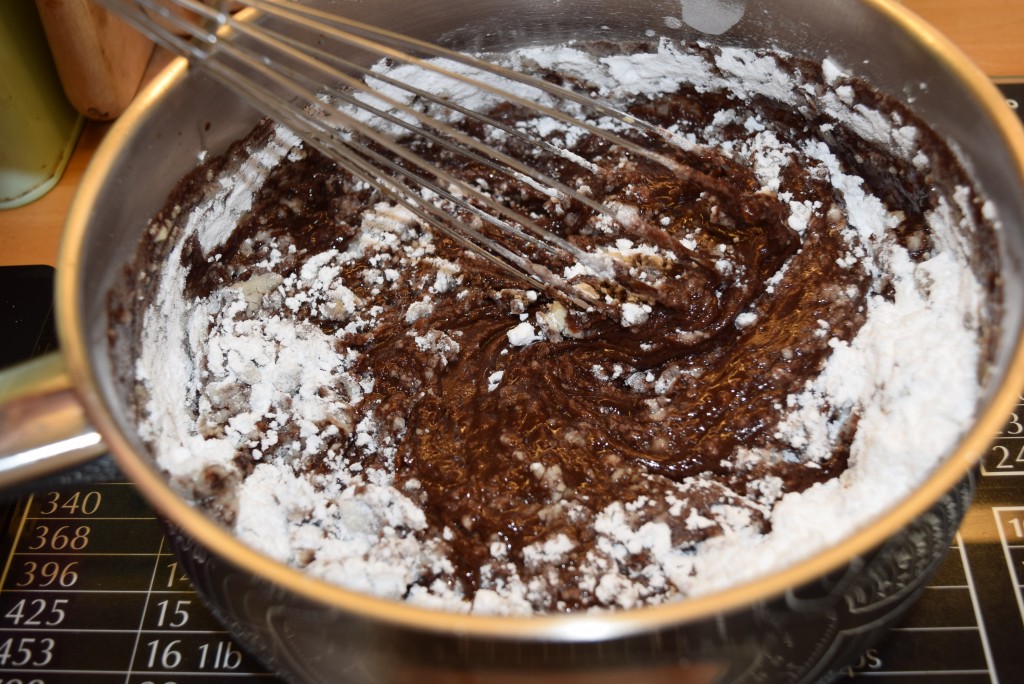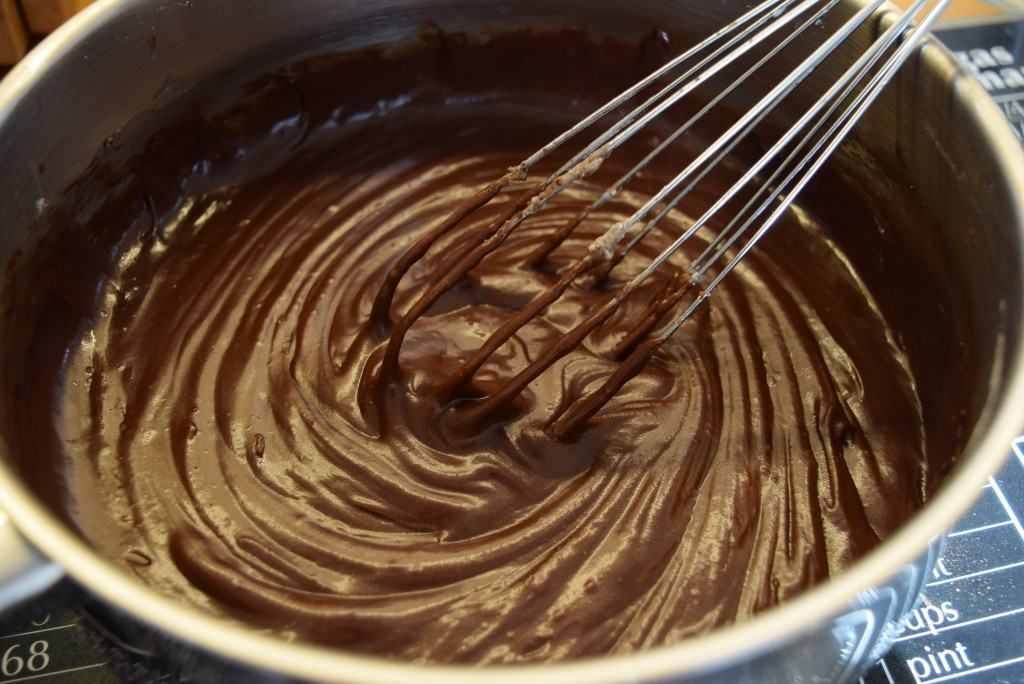 This icing is truly wonderful. So simple, sweet and fudge-like. It compliments this cake so well, having said that I think it would work with most chocolate cakes. Or just leave the cake and eat it from the pan, your call.
Pour it onto your just warm cake and smooth the surface. Leave to cool completely before cutting into slices of your choice.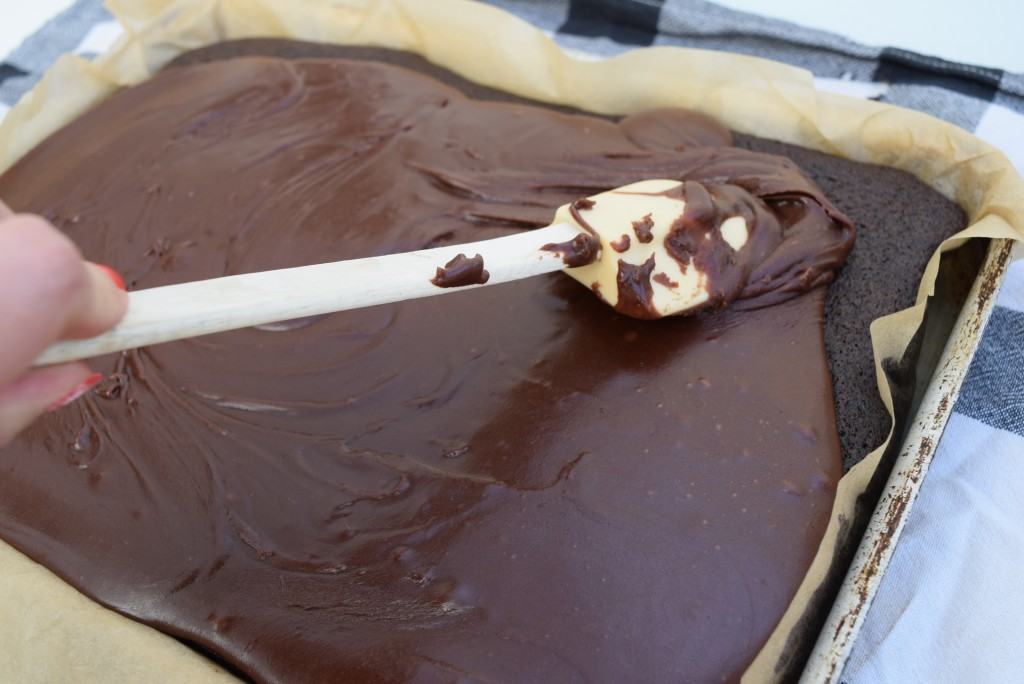 Don't be put off by the size of this cake. I can vouch for the fact that it will get eaten and it's also great to give away, if you are feeling strangely generous.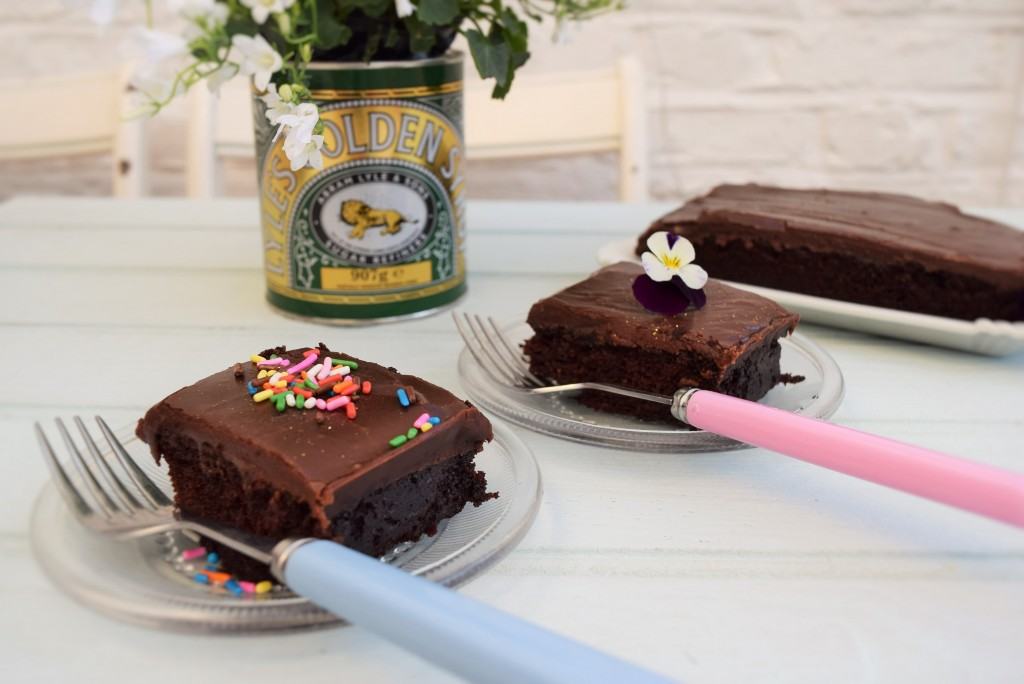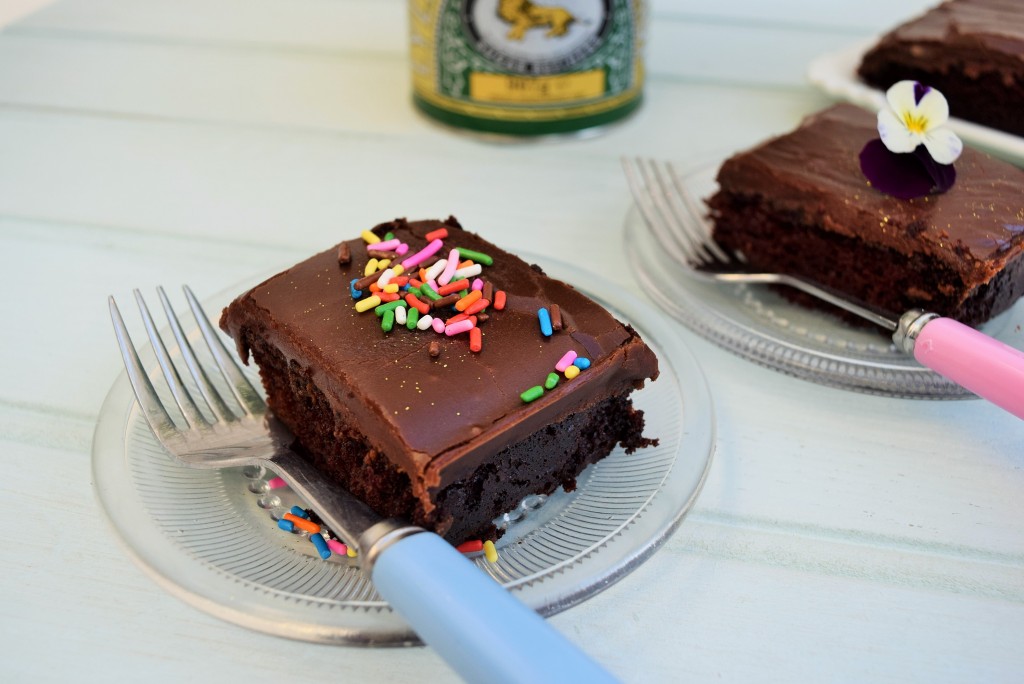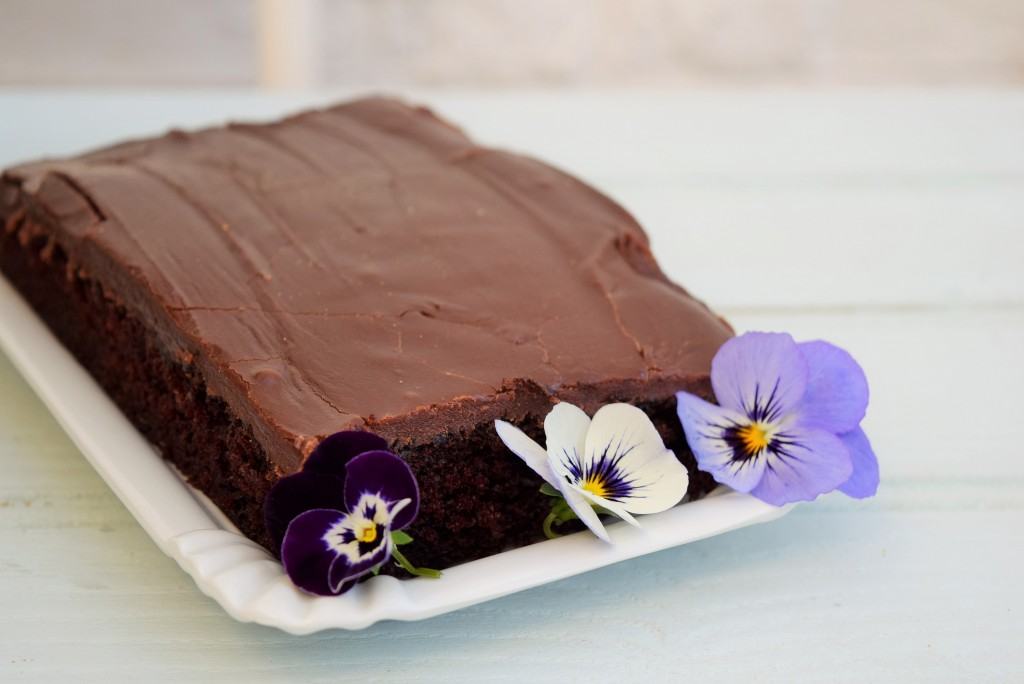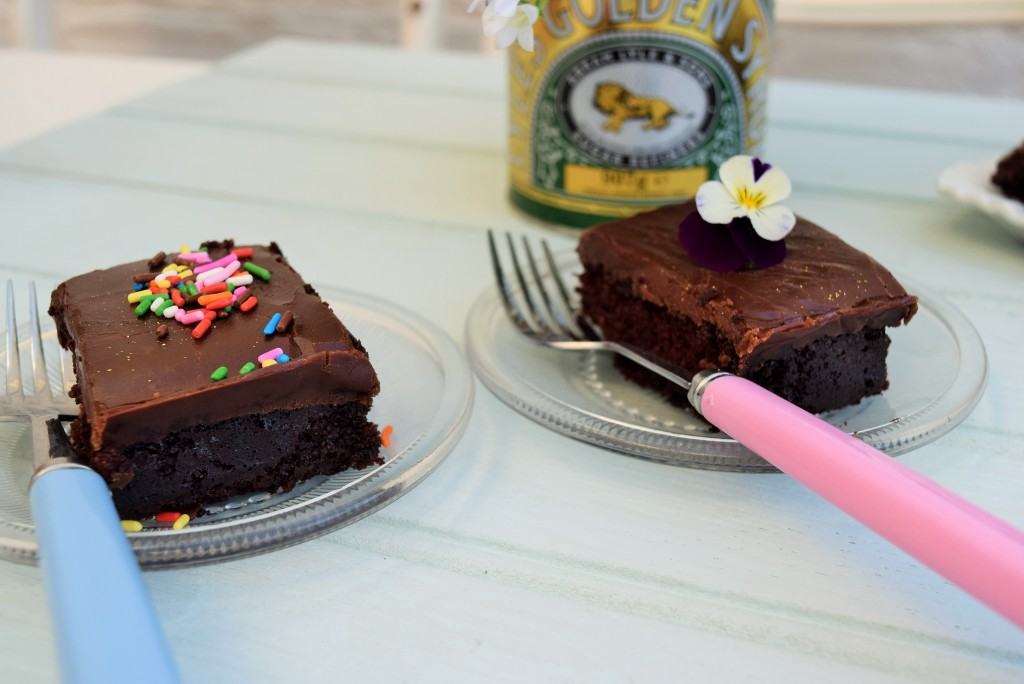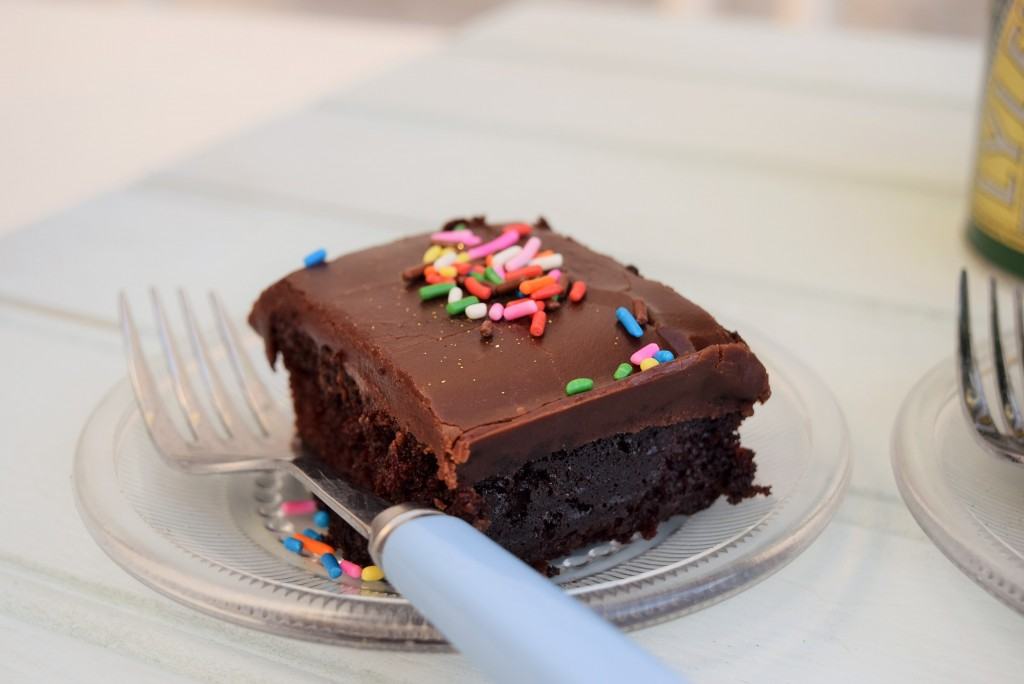 With the Bank Holiday weekend approaching, if you have a large crowd to please, then this is the cake for you. Serve it with a tea or coffee or with ice cream as a pud, this will keep you going all the way through to Monday. And let's face it, it's bound to rain so you'll be glad you had this enormous cake for company.
Have a great long weekend.
Lucy x
One Bowl Chocolate Sheet Cake Recipe
You will need a lined 9inch x 13inch baking tin – google what that is in centimeters as my brain is tired and old
This cake serves a big crowd, around 40 squares
Cake
260g plain flour
400g caster sugar
65g cocoa powder
2 teaspoons bicarbonate of soda
1 teaspoon baking powder
1/2 teaspoon salt
250ml vegetable oil
250ml buttermilk (if you don't have buttermilk, add a tablespoon of vinegar to 240ml milk and leave for 5 minutes)
1 teaspoon vanilla extract
2 eggs
250ml just boiled hot water
Icing
200g butter
4 heaped tablespoons cocoa
6 tablespoons milk
1 teaspoon vanilla extract
400g icing sugar
Pre heat the oven to 160 degrees fan assisted.
Take a large bowl and weigh out the flour, sugar, cocoa, bicarb, baking powder and salt then mix. In a jug measure out the vegetable oil, buttermilk, eggs and vanilla and lightly whisk. Fold the wet ingredients into the dry until just mixed then pour on the 250ml of hot water and mix it in. The batter will be quite liquid but that's fine. Pour the mixture into your lined baking tin and put in the oven for between 30 and 40 minutes depending on your oven. Mine was ready at just about 30 minutes.
While the cake is baking, make the icing. Take a medium sized saucepan and put on a low heat. Melt the butter then whisk in the cocoa powder. Remove from the heat and mix in the milk and vanilla extract. Add the icing sugar and beat well, until smooth.
When the cake is cooked (a skewer comes out clean when poked in the middle of the cake), leave to cool slightly, then pour the icing onto the still warm cake and leave until completely cold before cutting.
Remove from the tin and cut into elegant slices or dirty great big slabs and decorate with sprinkles, glitter, chocolate buttons, edible flowers, gold leaf….the list is endless. This keeps in an airtight tin for up to a week.