One Pot Garlic Parmesan Pasta Recipe
This week, Lucy Loves is all about the children. No change there then, as frankly, in our house, it's always all about the children. And the dog, of course. I rarely get a look in, running a sorry sixth place behind George's goldfish. Even if you haven't got children, there always seems to be something else going on in your life which puts cooking at the bottom of the list. I love cooking, but on a week night, I have too much else going on to fanny around cooking elaborate meals. Enter the cooking forum my One Pot Garlic and Parmesan Pasta.
My beloved Pinterest is choc full of these one pot pasta type of recipes, but I hadn't found one which I really liked the look of. Until now. Damn Delicious, thanking you kindly, came up with the inspiration for this delicious Garlic and Parmesan Pasta. Like quite a few Lucy Loves recipes, this tasty, quick, washing up shy dish is for you fiddle with to suit your tastes. I added bacon to mine as my family are bacon obsessed, but you can add ham, sautéed mushrooms, spinach, chorizo, just use this recipe as a template. The end result is a wonderful, al dente, creamy, cheesy, garlicky pasta made without even having to boil an irritating pan of water.
With the boys being at home everyday now until September, funds and sense of humour are at a minimum.  So once this post is up and live, rest assured I will be leaving a link open to it on our computer and asking them to make this for themselves. It is such a simple recipe, I think even the dog could have a decent crack at making it without too much drama, let alone a 13 and a 17 year old boy.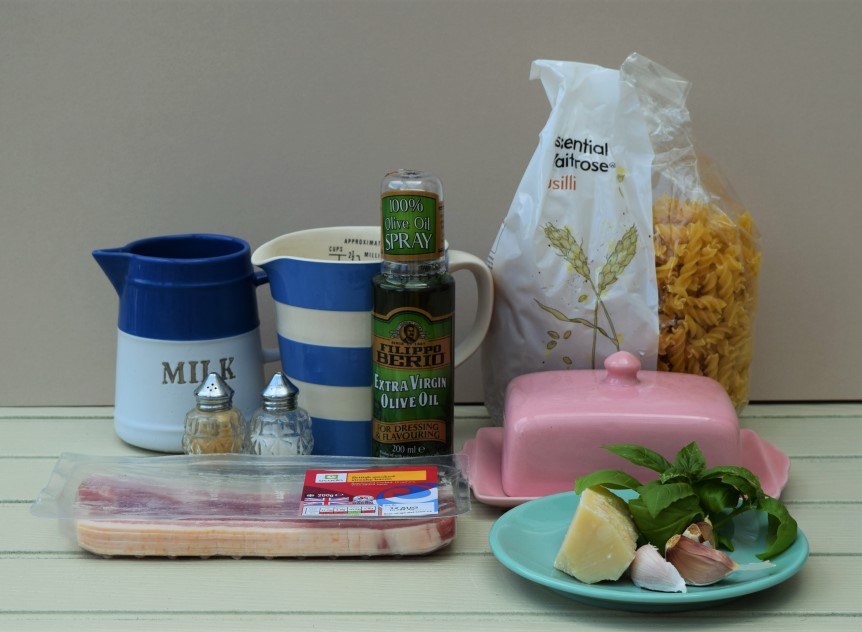 Here's my choice of pasta ingredients for this fantastic One Pot Garlic Parmesan Pasta. I don't think pasta shape matters here either, the original recipe called for fettuccine, but I only had fusilli, it began with an 'f' so I used it and it worked brilliantly.
Make a start on this one pot pasta by not boiling a pan of water – hooray. Instead, take a large frying pan and add a tablespoon of olive oil. If you are using bacon, chorizo or chicken breast add it at this point and fry off until starting to turn golden brown.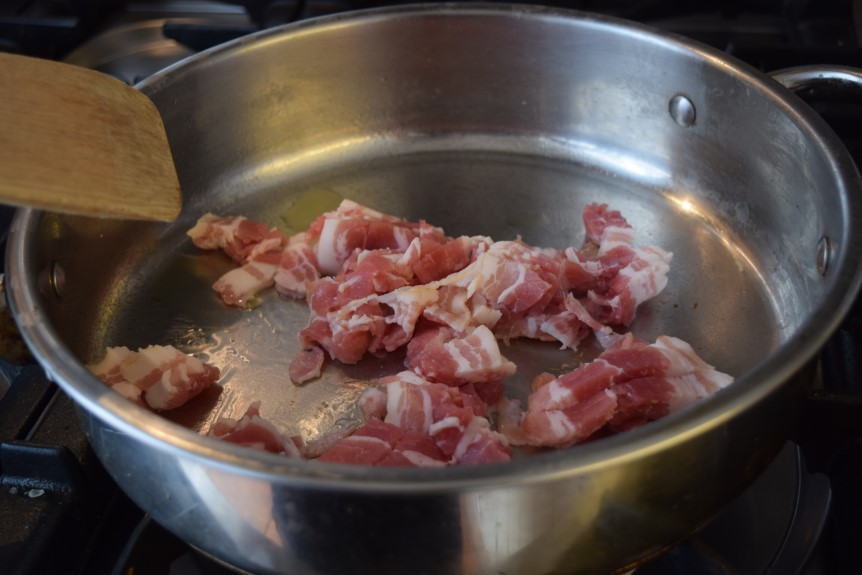 Add the crushed garlic cloves and cook for a minute or until they also start to brown. Don't burn the garlic, as burnt garlic tastes like cyanide *I am guessing*.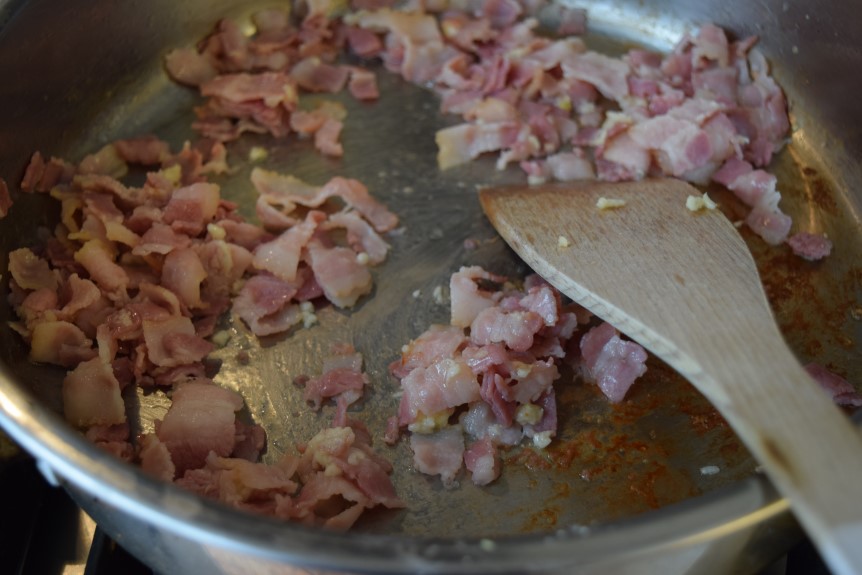 Pour your chicken stock and milk onto this crisping garlic and bacon mixture and stir, scraping all the tasty flavour from the bottom of the pan.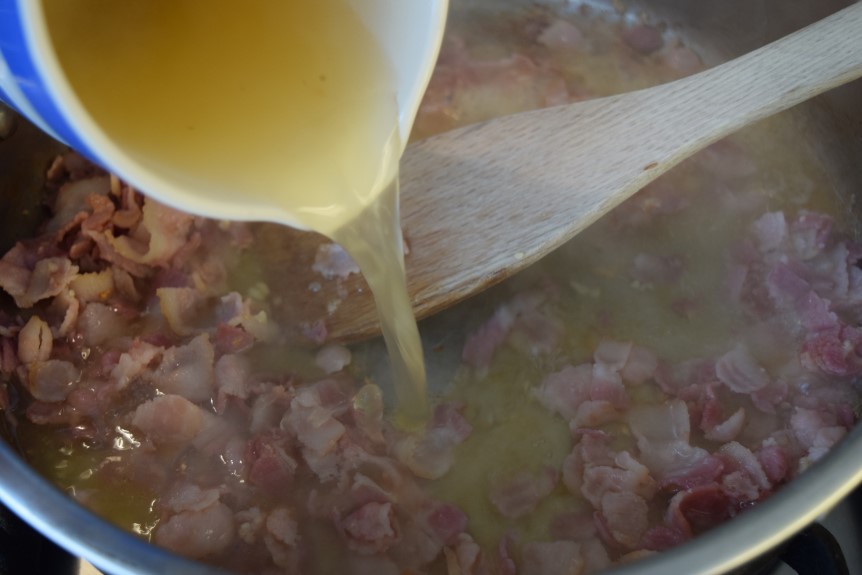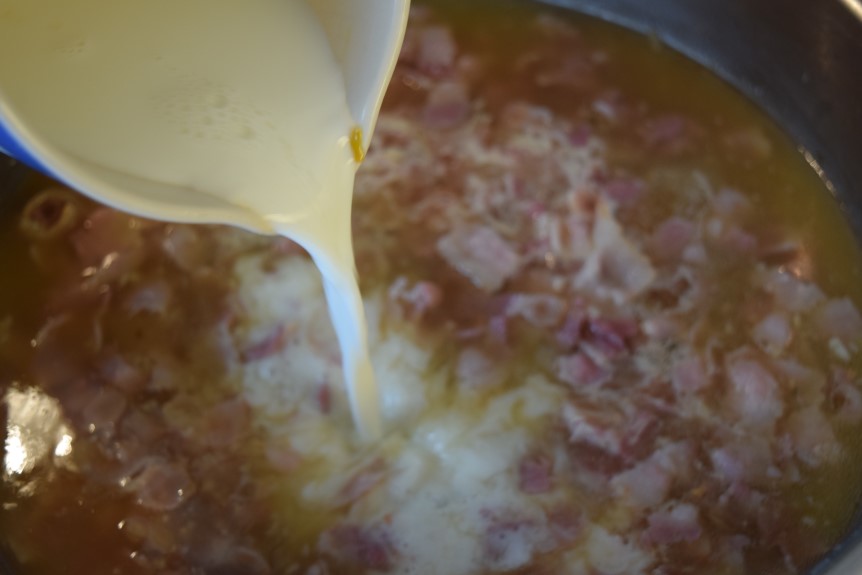 Drop in the piece of butter then stir in the pasta shape of your choice.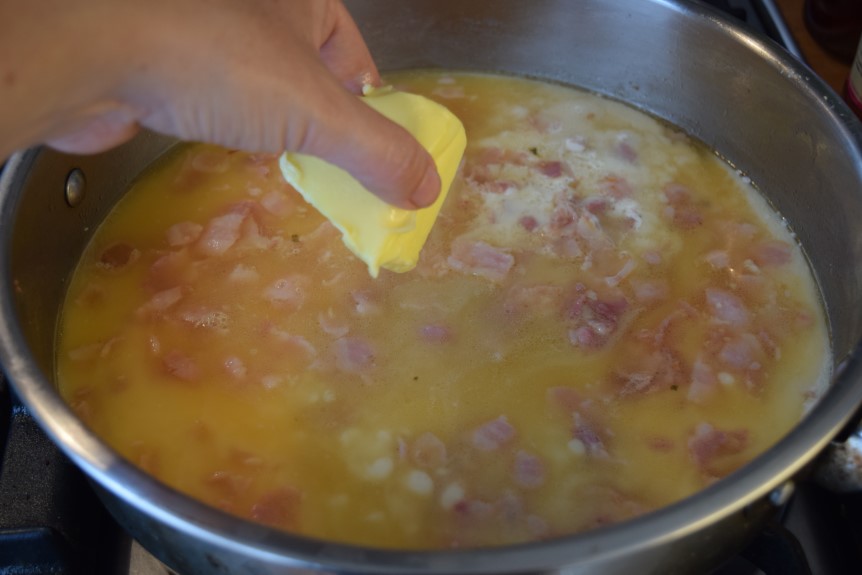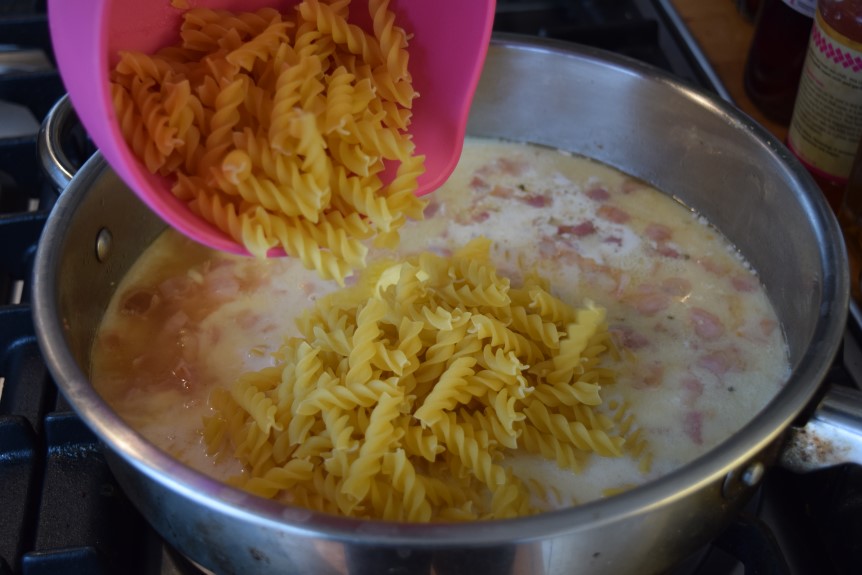 Give this a good mix together then bring up to the simmer.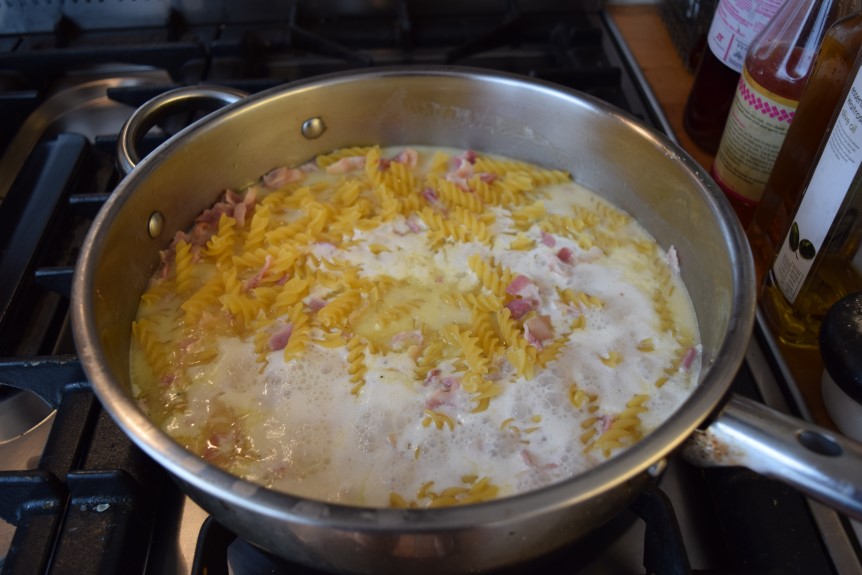 Cook for between 18 and 20 minutes, stirring on and off to make sure it doesn't stick to the pan. If the pasta is looking too dry, add a splash more milk. There's no need to add a lid.
Once the pasta is suitably al dente, or nice and soft if you prefer, stir through a splash of cream, your grated parmesan and have a big mouthful to check if it needs any salt or pepper.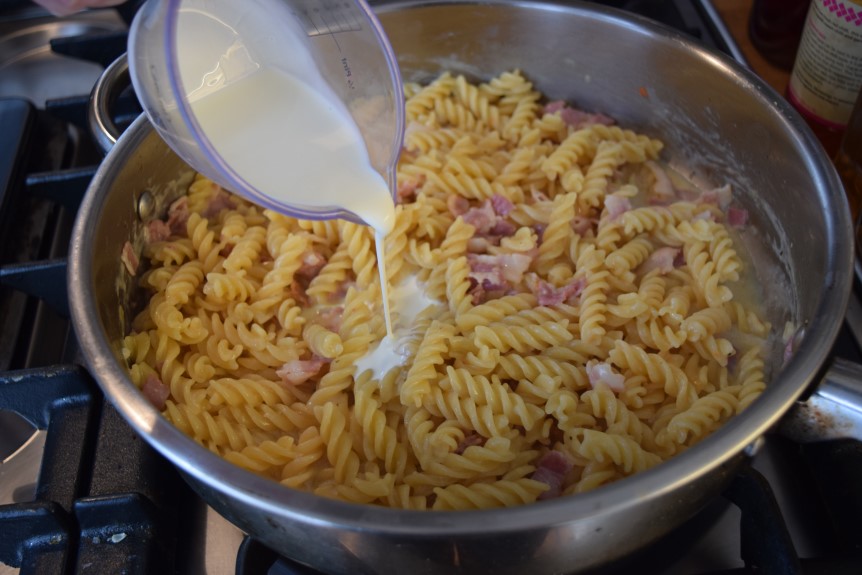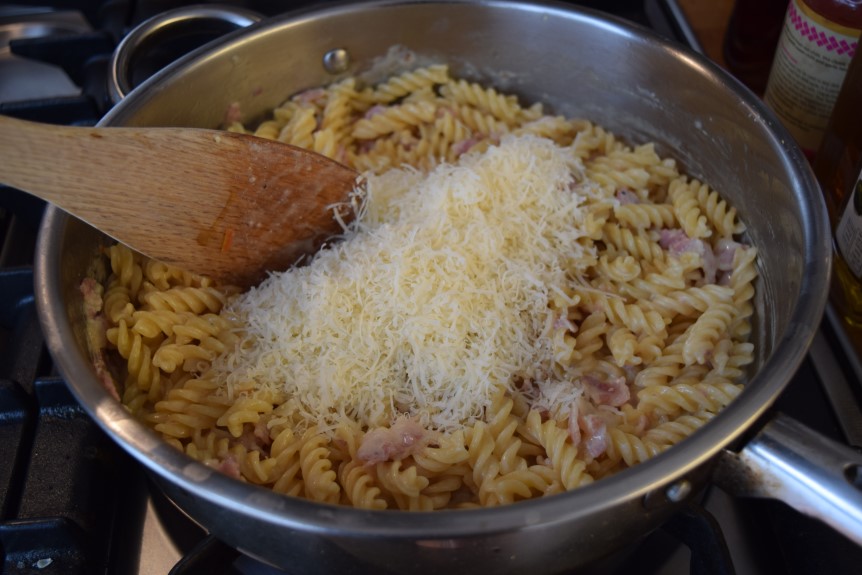 Finally, if you haven't eaten it all straight from the pan, stir through some freshly chopped parsley or basil and serve immediately in large bowlfuls.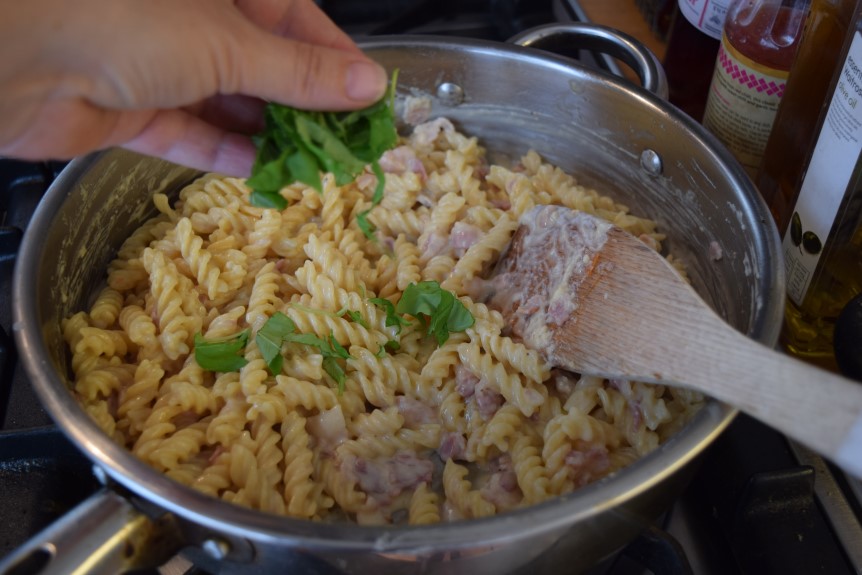 Garnish with some extra herbs and devour this creamy, full flavoured pasta, safe in the knowledge you only have one pan to wash up.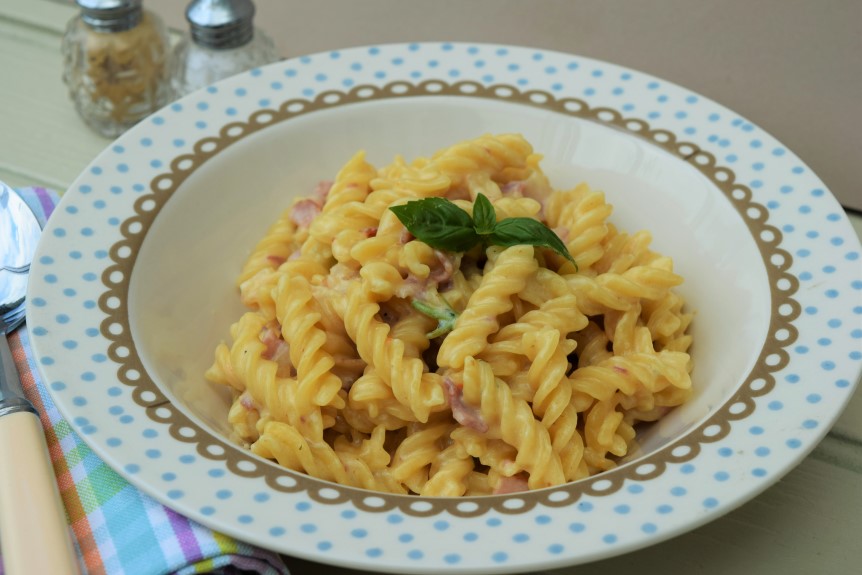 Who'd have thought it, pasta in one pot, without the need to boil it first. What a time to be alive. Ok, I'll admit, it's not rocket science, but it is quite exciting if you hate washing up. And if it means the children can prepare their own dinner for a change then it's at least one less item on your to do list.
Lucy x
One Pot Garlic Parmesan Pasta Recipe
Serves 2 to 4, dependent on portion control
You will just need one large frying pan
1 tablespoon oil
200g bacon, chicken, chorizo, ham, I went for streaky bacon, chopped – leave this meat element out if you prefer
2 to 3 large cloves, crushed or finely chopped
500ml chicken stock
250ml milk, I used full fat
30g butter
250g pasta, spaghetti, penne, fusilli, you choose
50ml double cream
60g parmesan cheese, grated
Salt and pepper
A handful fresh basil or parsley, chopped
Extra fresh basil or parsley to garnish
Take a large frying pan and heat the tablespoon of oil. Add the chopped bacon rashers, and cook until starting to turn golden brown. Add the crushed garlic and sauté until just browning, be careful not to burn.
Pour on the chicken stock and milk, add the knob of butter, then stir through the pasta. Bring up to the simmer then turn down and cook for 18 to 20 minutes, or until the pasta is cooked through. If the mixture gets dry at any point, add a splash more milk.
When the pasta is cooked al dente or to your taste, pour on the splash of double cream, stir through the parmesan and check for seasoning. Add the chopped fresh herb of your choice then serve immediately in big bowlfuls, garnished with some more herbs.